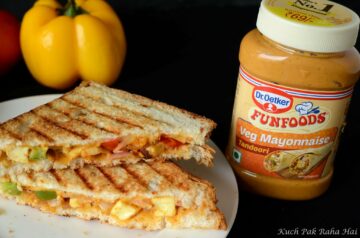 Paneer Tikka Sandwich is a delectable grilled sandwich recipe infused with delicious rustic flavours of paneer tikka. The recipe is vegetarian, simple to make and you can enjoy it in breakfast or snack with hot cuppa masala chai or coffee.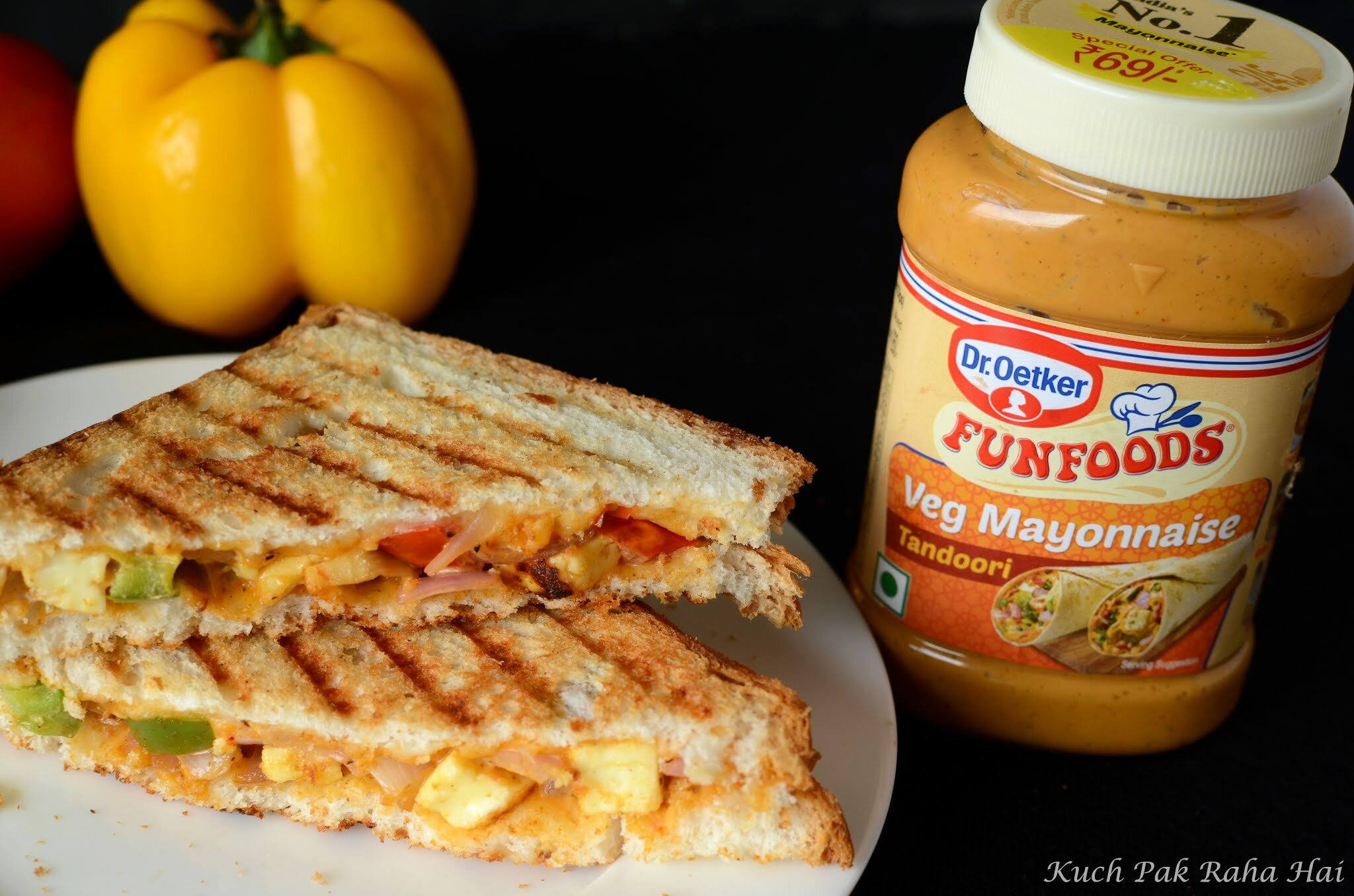 Authentic paneer tikka is made by marinating big chunks of paneer (Indian cottage cheese) in a mixture of yogurt (curd) and various aromatic spices; then grilling it in a tandoor or charcoal oven.
In this recipe, it has been tried to bring the similar flavour & smokiness of paneer tikka in these grilled sandwiches. The recipe is not cumbersome and requires just few ingredients.
Ingredients to make Paneer Tikka Sandwich:
Bread:
You can use whole wheat, multigrain or sandwich bread to make these tikka sandwiches.
Paneer & Vegetables:
I have used onions, green bell pepper (capsicum) and deseeded tomatoes in this sandwich just like the way you use in paneer tikka. You can use store bought or homemade paneer, just make sure it is fresh and soft. Instead of paneer, you can also use tofu or masala (herbed) paneer.
The vegetables & paneer have been grilled on high flame in a grilling pan so that it imparts a slightly charred taste to the filling.
Tandoori Mayo:
For making this sandwich filling, I have used Tandoori Mayonnaise from FunFoods brand (not a promotional post). These days different brands have introduced Tandoori flavour mayo in market, you can use any of them.
It has a nice punch of Indian flavours, aroma and imparts a rustic taste to the filling with creaminess. It saves a lot of time and effort of adding different spices which we would have otherwise required in making traditional paneer tikka.
If you want, you can also make tandoori mayo from scratch. Use store bought or homemade plain mayonnaise. I have listed all the spices & herbs in the recipe that need to be mixed in it to make tandoori mayo at home.
Youtube Video:
More vegetarian sandwich recipes:
Ingredients: (Makes 4 sandwiches)
Medium Onion – 1
Medium Tomato – 1
Bell Pepper (Capsicum)- ½
Paneer- 100 grams
Cooking Oil – ¾ tbsp
Black Pepper – 1 tsp
Salt – To taste
Bread Slices – 8
For Tandoori Mayo:
Mayonnaise- 4 tbsp
Garlic (minced)-1 small
Ginger Paste- 1 tsp
Red Chilli Sauce-1 tbsp
Red Chilli Powder-1/2 tsp
Coriander Powder-1/4 tsp
Cumin(Jeera) Powder-1/4 tsp
Garam Masala-1/4 tsp
Kasuri Methi- 1/2 tsp
Directions:
Step 1:
Cut all the veggies and paneer into big chunks.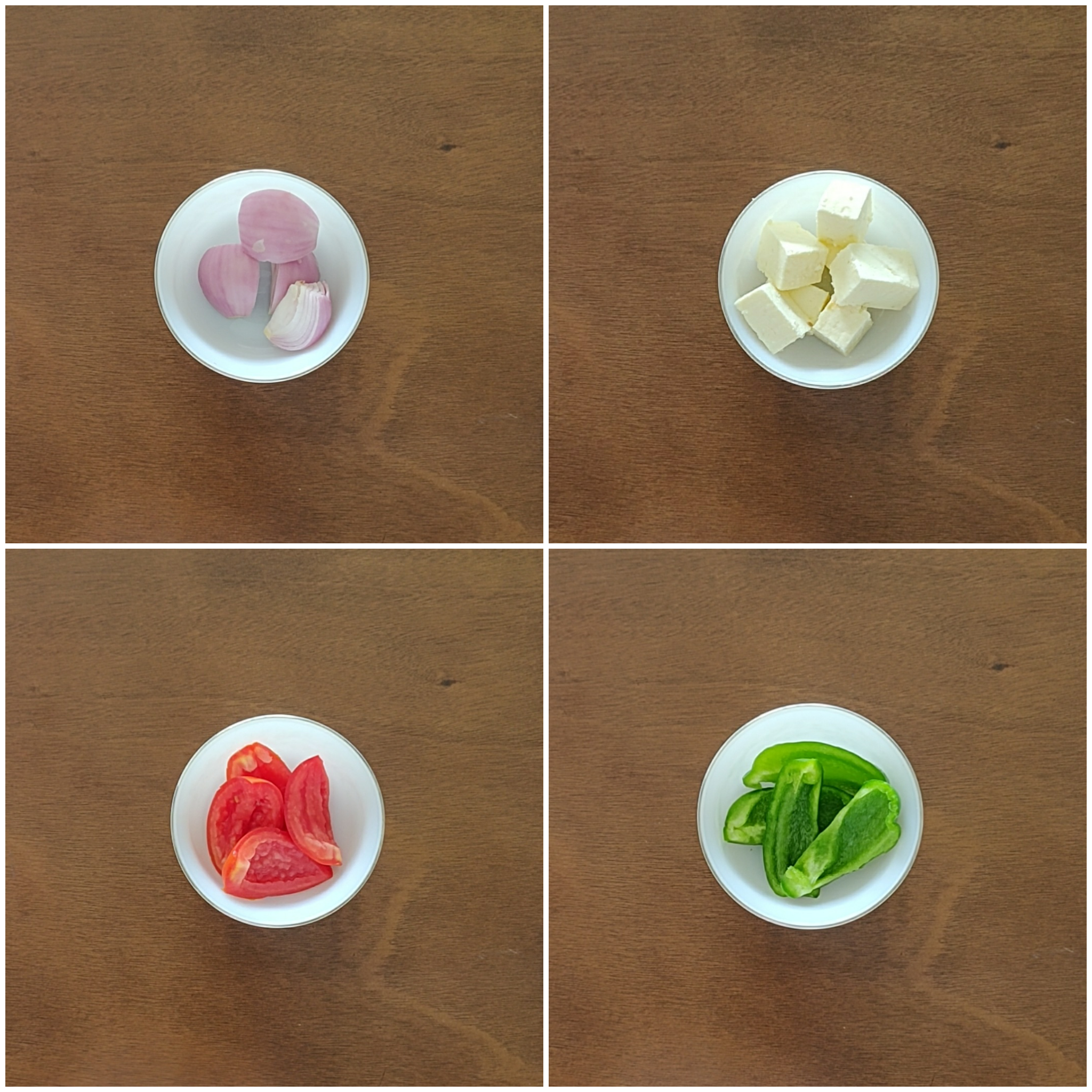 Step 2:
Brush some oil on a grilling pan. Grill the veggies till they get slightly charred lines on them. We need not soften the veggies but just grill them to get that smoky flavour in our sandwich.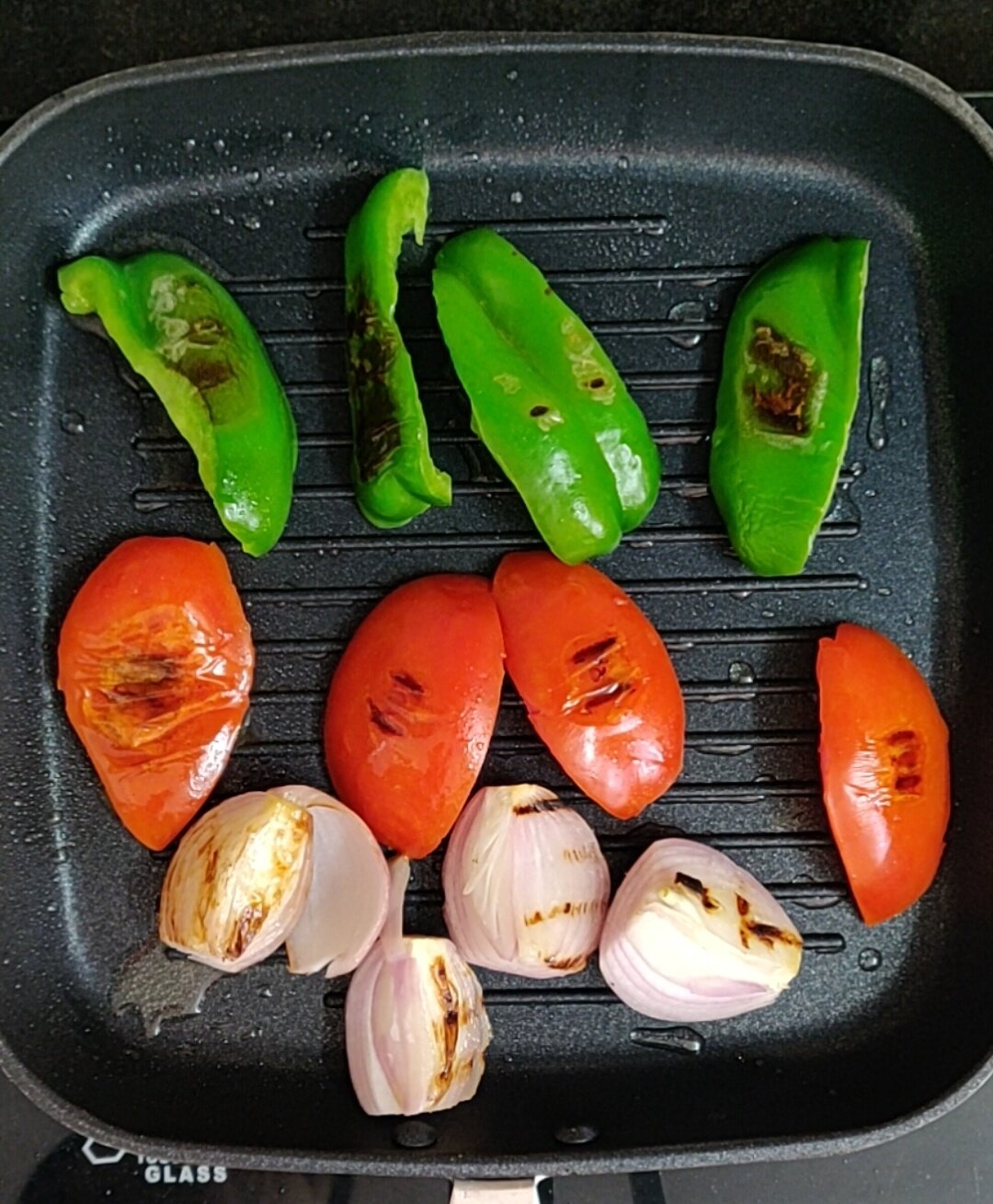 In a similar manner we will grill paneer cubes also.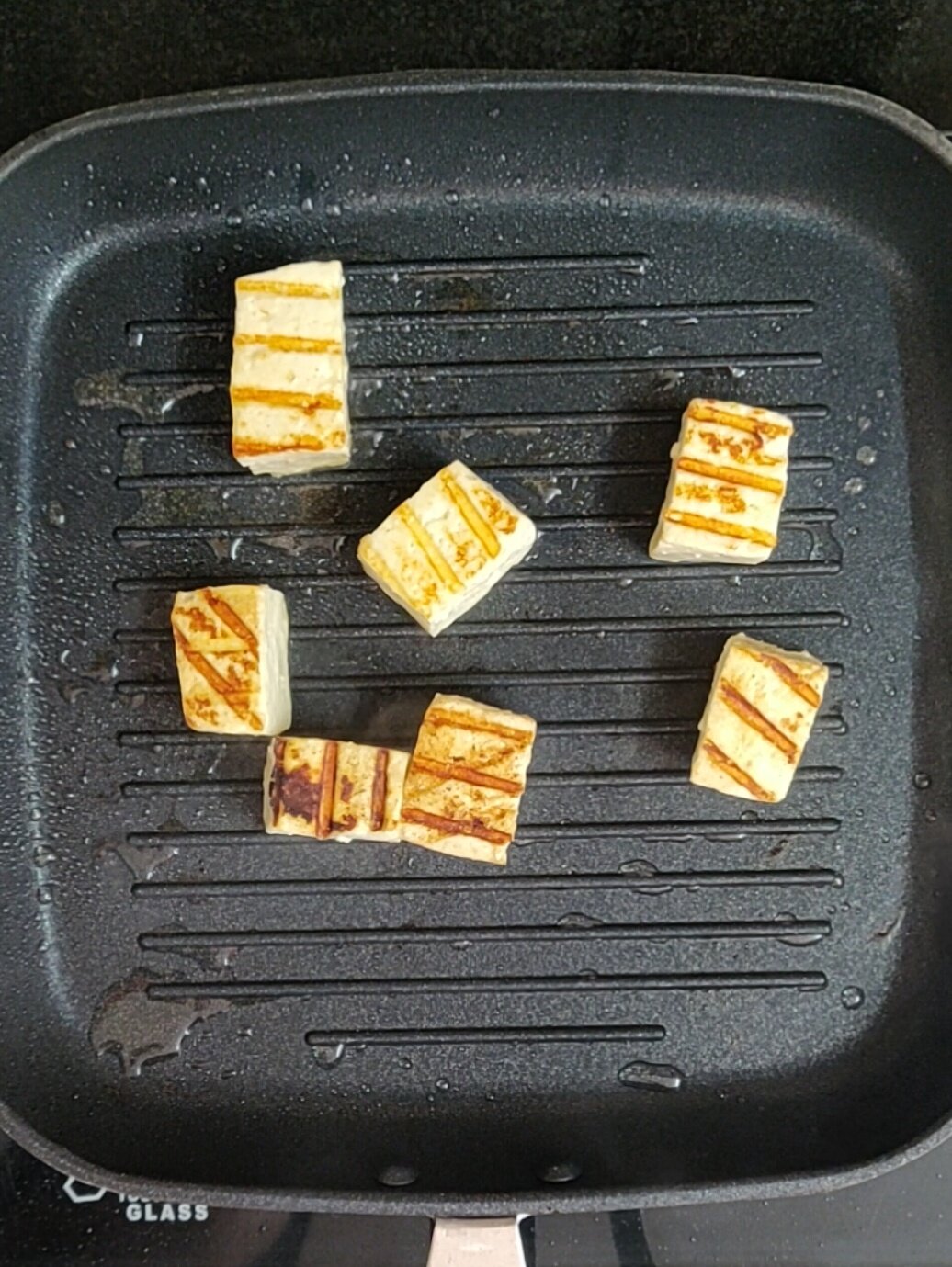 Step 3:
Finely chop all the veggies and paneer now. Transfer these chopped veggies in a  mixing bowl. Keep them aside.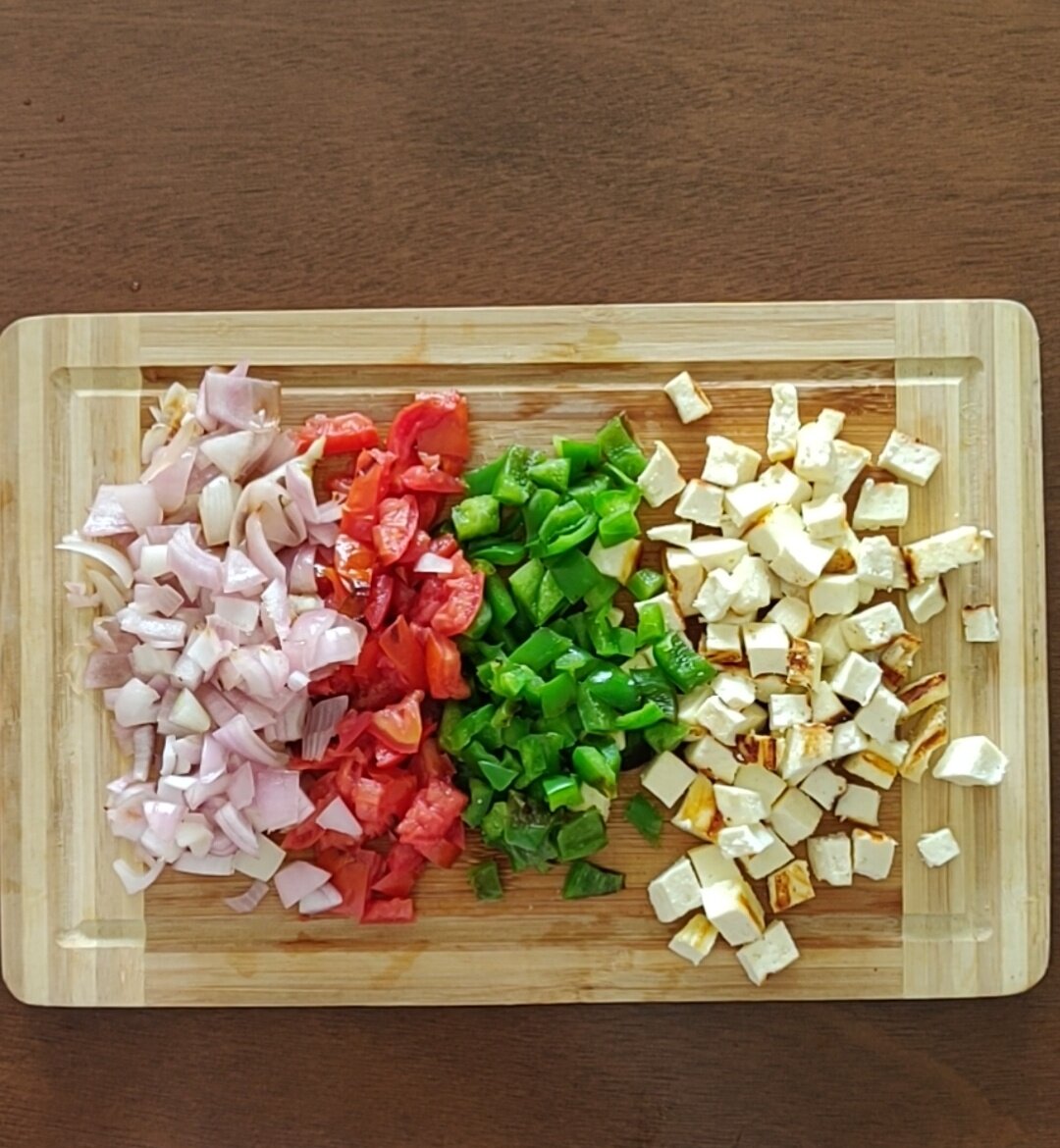 Step 4:
If you are using store bought mayo, then skip this step. To make tandoori mayo, take mayo & all the spices in a small bowl. Mix well.
Step 5:
Add tandoori mayo, black pepper and salt to the vegetable bowl. Mix gently. This will be our filling for the sandwich.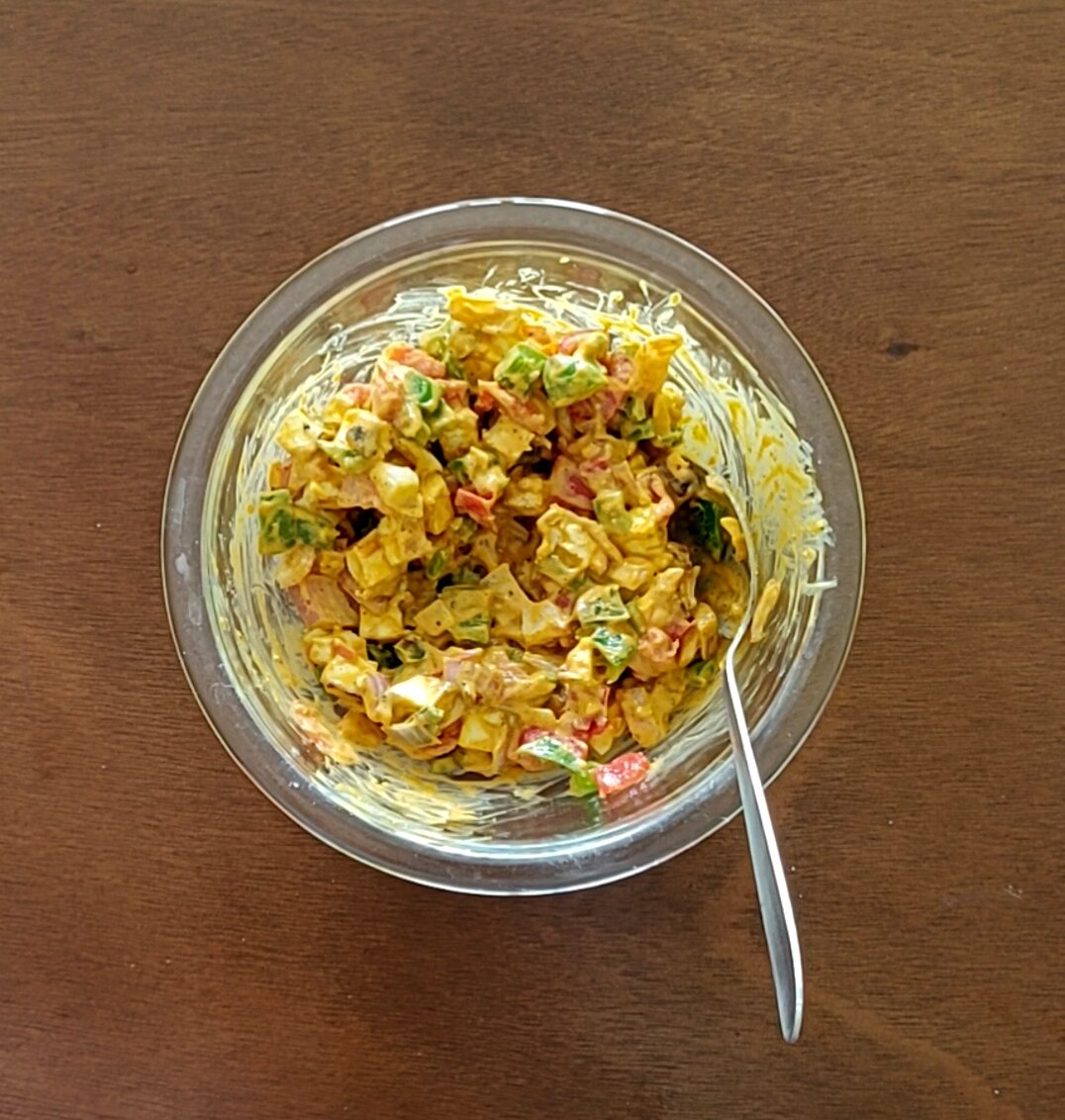 Step 6:
Take a bread slice and spread the sandwich mixture on it using a spoon. Place another bread slice over it and gently press it with your hands.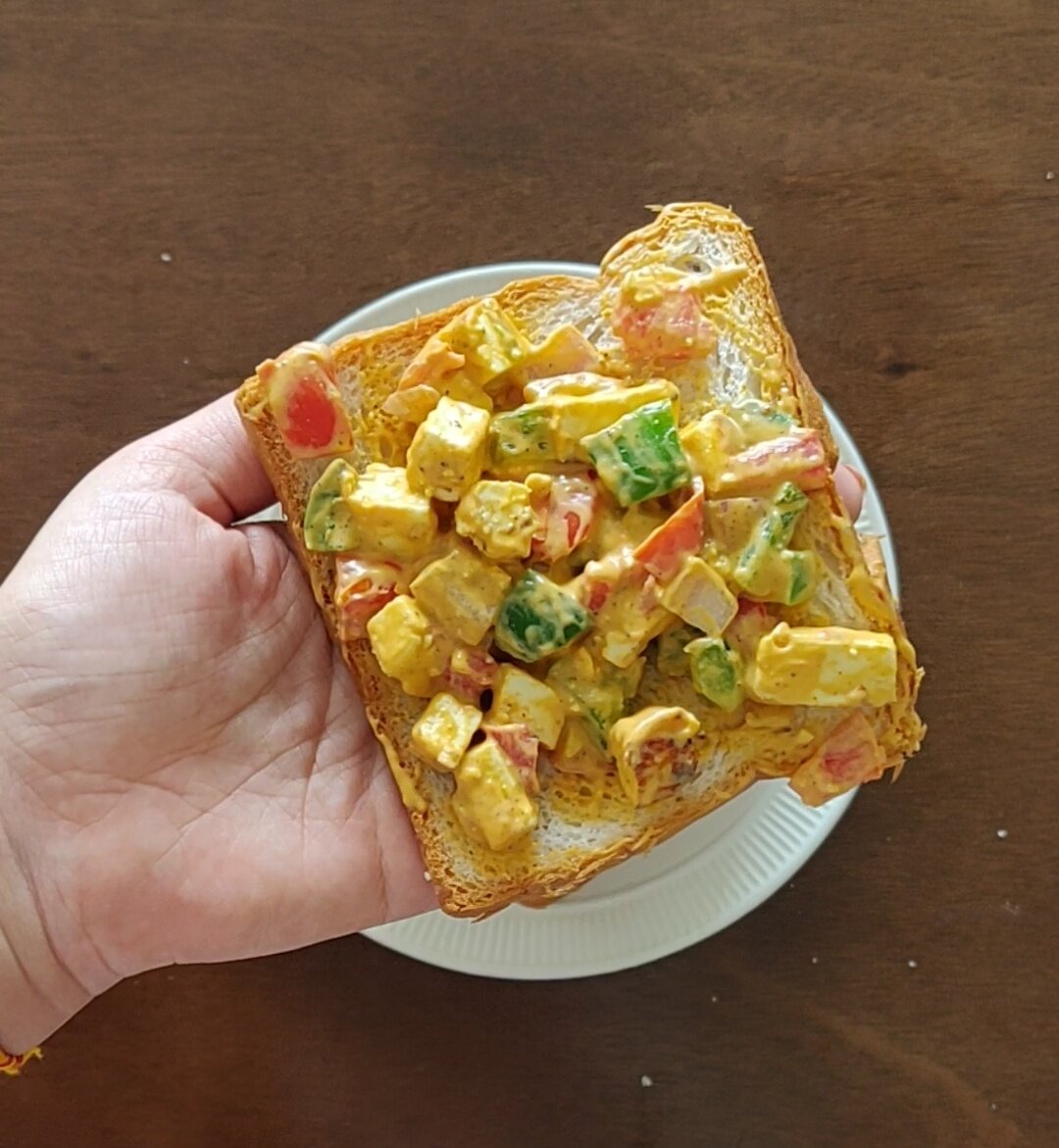 Step 7:
Brush some oil or butter on the grill plates of sandwich maker. Grill these sandwiches till they are golden brown from outside.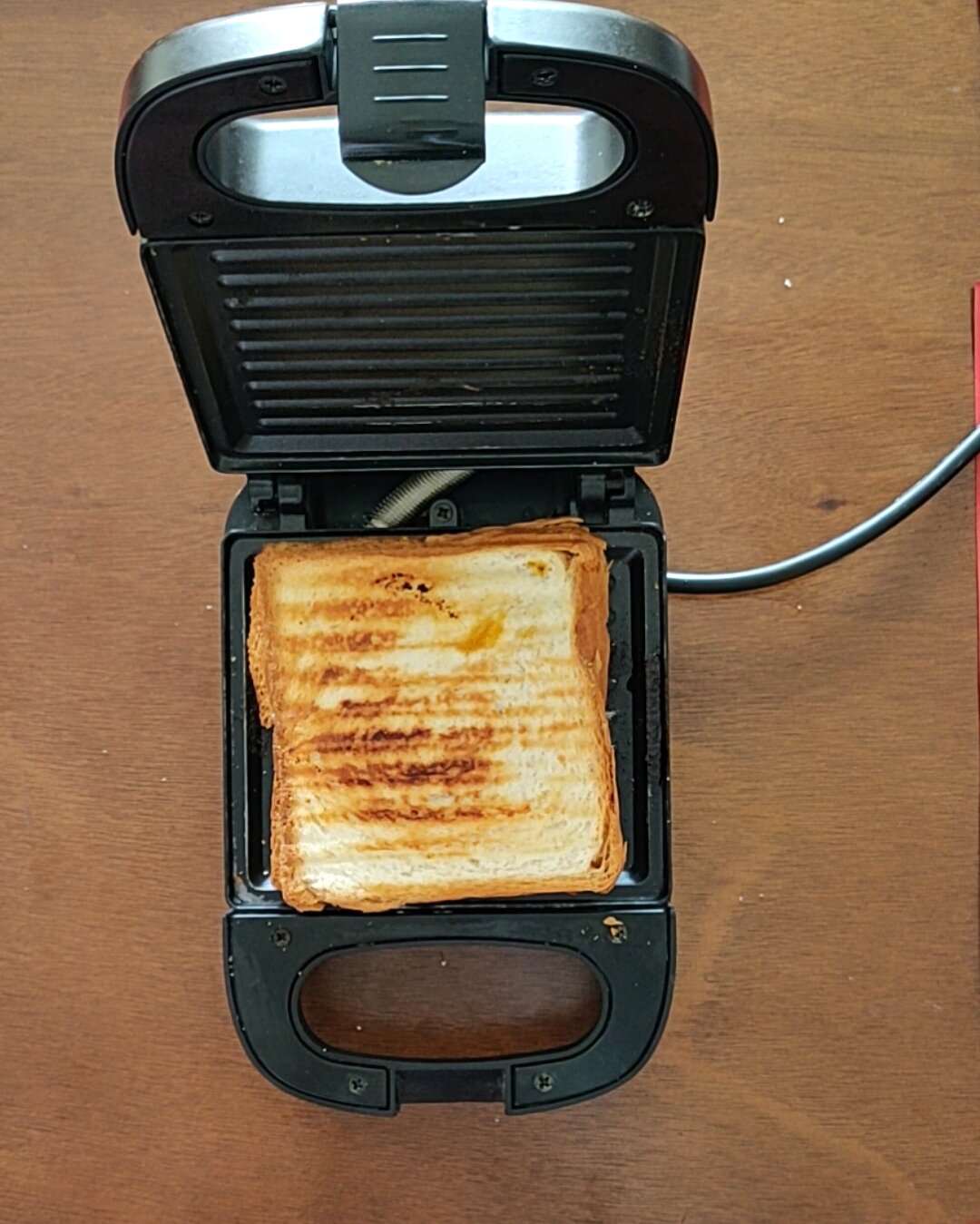 You can even use a grilling pan for making these sandwiches.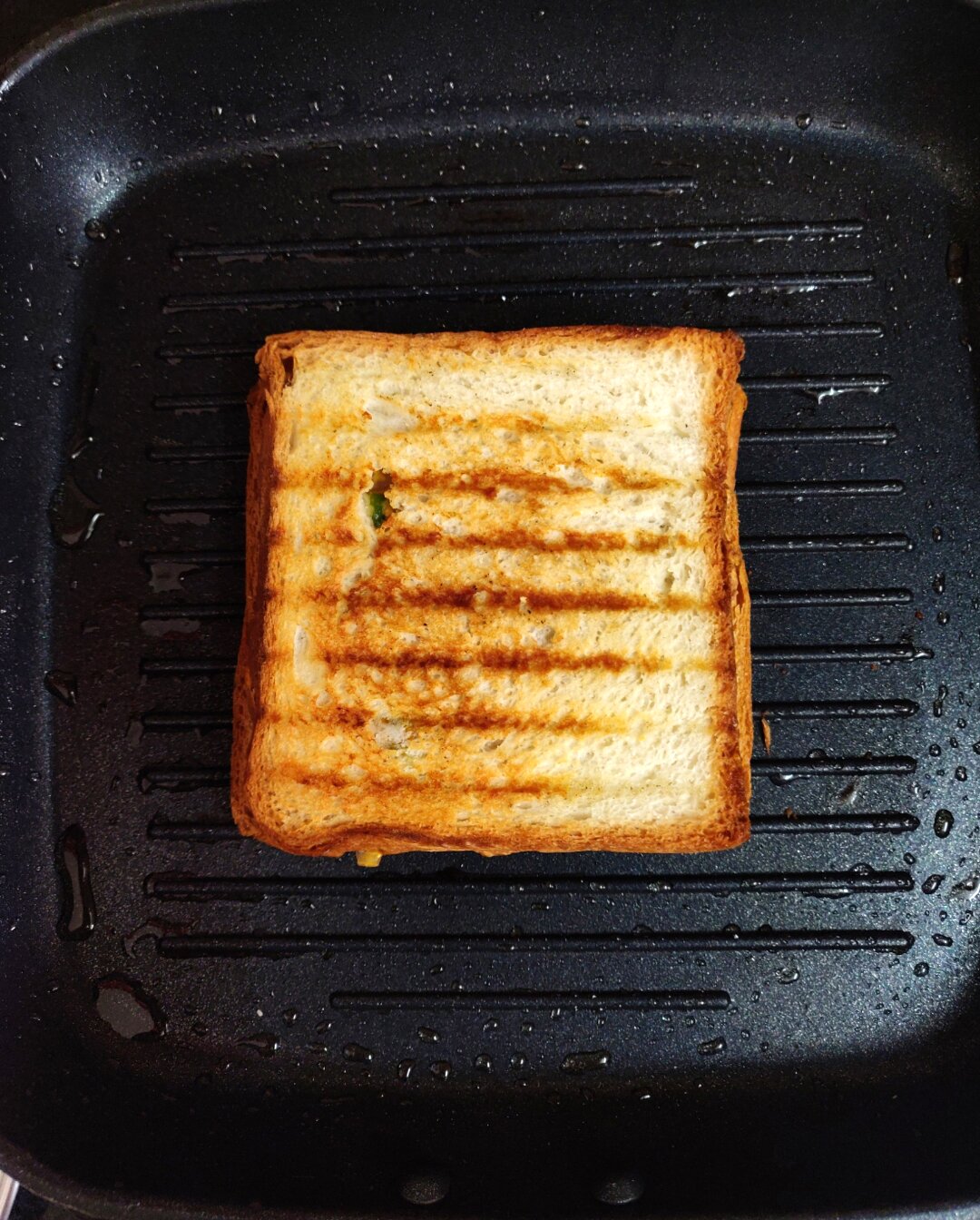 Delicious smokey Paneer Tikka Sandwiches are ready. Enjoy them with fresh coriander mint chutney or tomato ketchup!!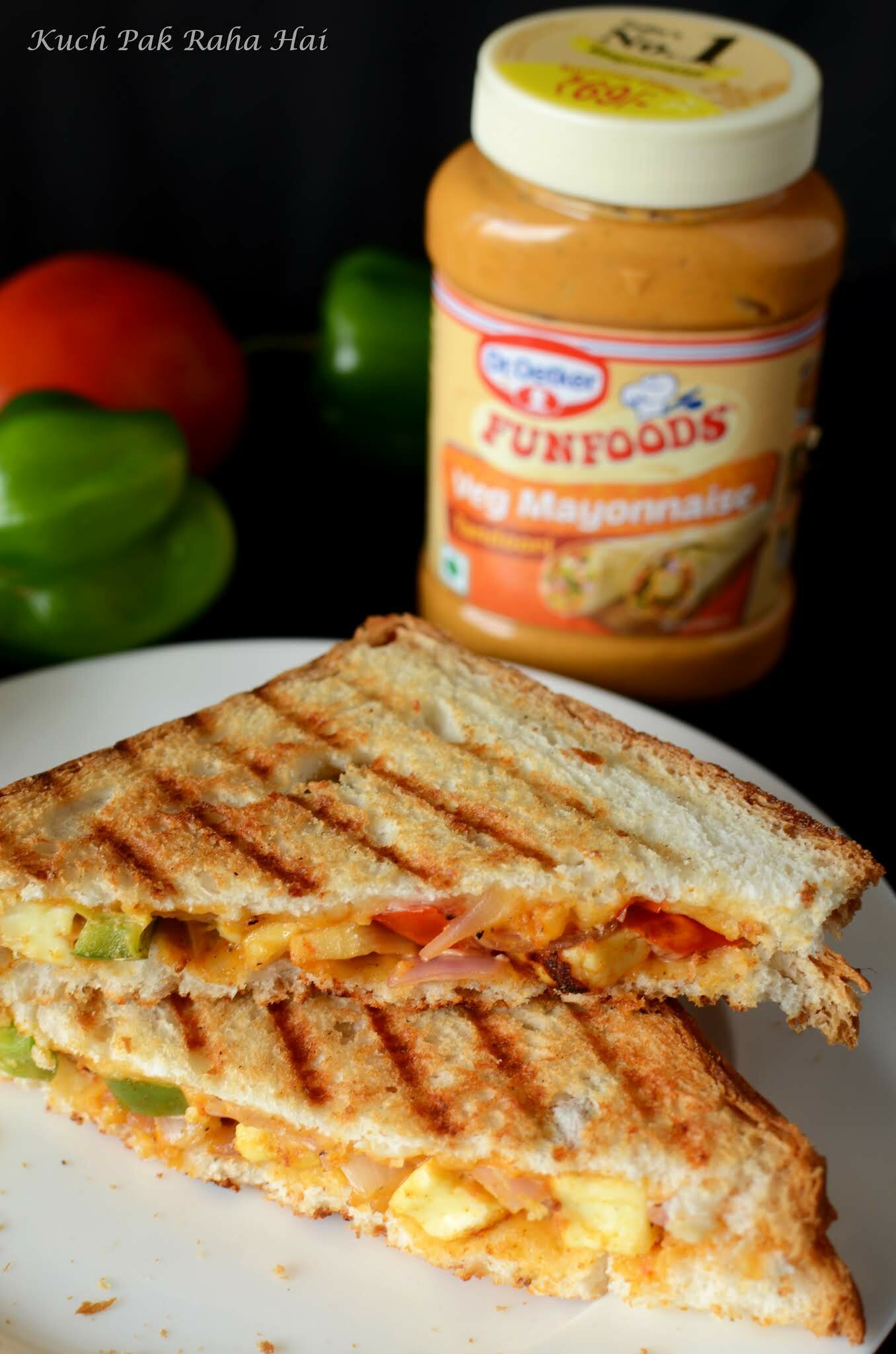 Kitchen Products Used:
(P.S: The links shared above are amazon affiliate links. For more details, refer to privacy policy page.)
If you try this easy paneer sandwich recipe & share pics on social media, then don't forget to tag on Facebook, Instagram or use #kuchpakrahahai.
Let's stay connected
Facebook | Instagram | Pinterest| Youtube