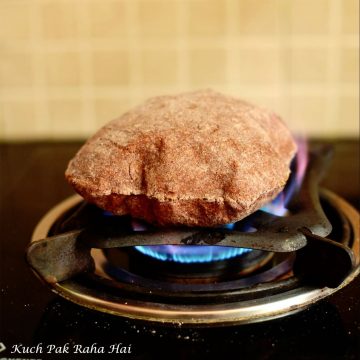 Ragi roti or rotti is a gluten free roti recipe made using ragi flour. Ragi is also known by other names like 'Nachni' or 'Mandua'. It belongs to millet family & is called 'Finger Millet' in english.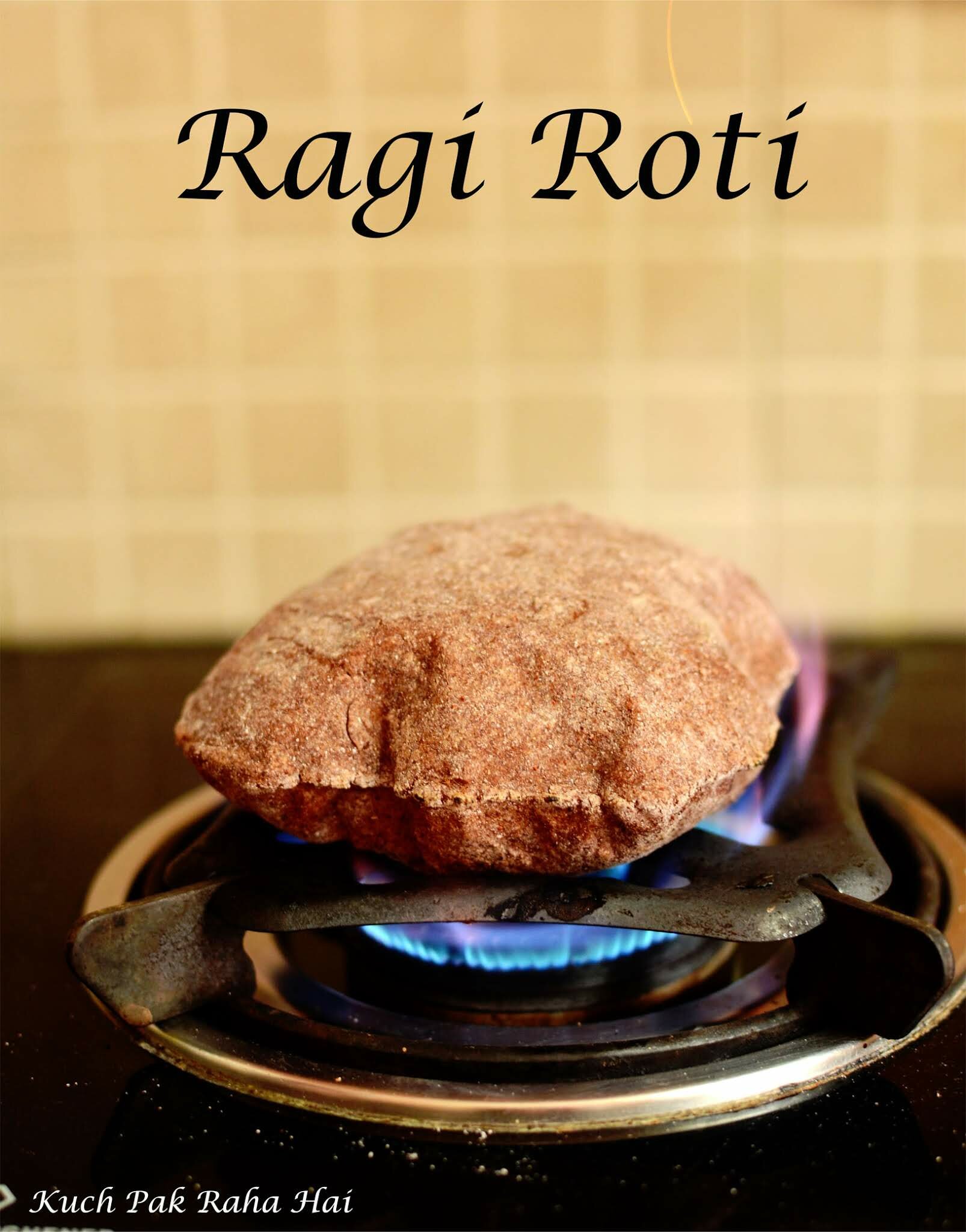 Millets had been part of regular diet in India since old days. However with time these got forgotten and replaced by wheat and rice. There are different types of millets- Barnyard millet, Foxtail Millet, Finger Millet (Ragi), Pearl Millet (Bajra) and Little millet etc.
With recent rise in gluten allergies and also unavailability of pure wheat flour (chemically bleached or treated), people's attention has again gone to these ancient millets.
One such grain is Ragi, also known as Nachni or Finger millet. Ragi roti is fast gaining popularity because of number of health benefits that comes with it, especially when you compare it with wheat roti.
Ragi roti is completely gluten free which makes it a great substitute of wheat roti, especially for people with gluten allergies. It is also recommended to diabetic people by many dieticians/nutritionists as it helps in maintaining blood sugar levels.  
Ragi is helpful in weight loss due to its high fibre content which keeps cravings at bay and makes one feel full for longer. Apart from this Ragi is considered to be a source of good carbs, protein, calcium and minerals. It consists of  micro nutrients like manganese, phosphorus and iron etc.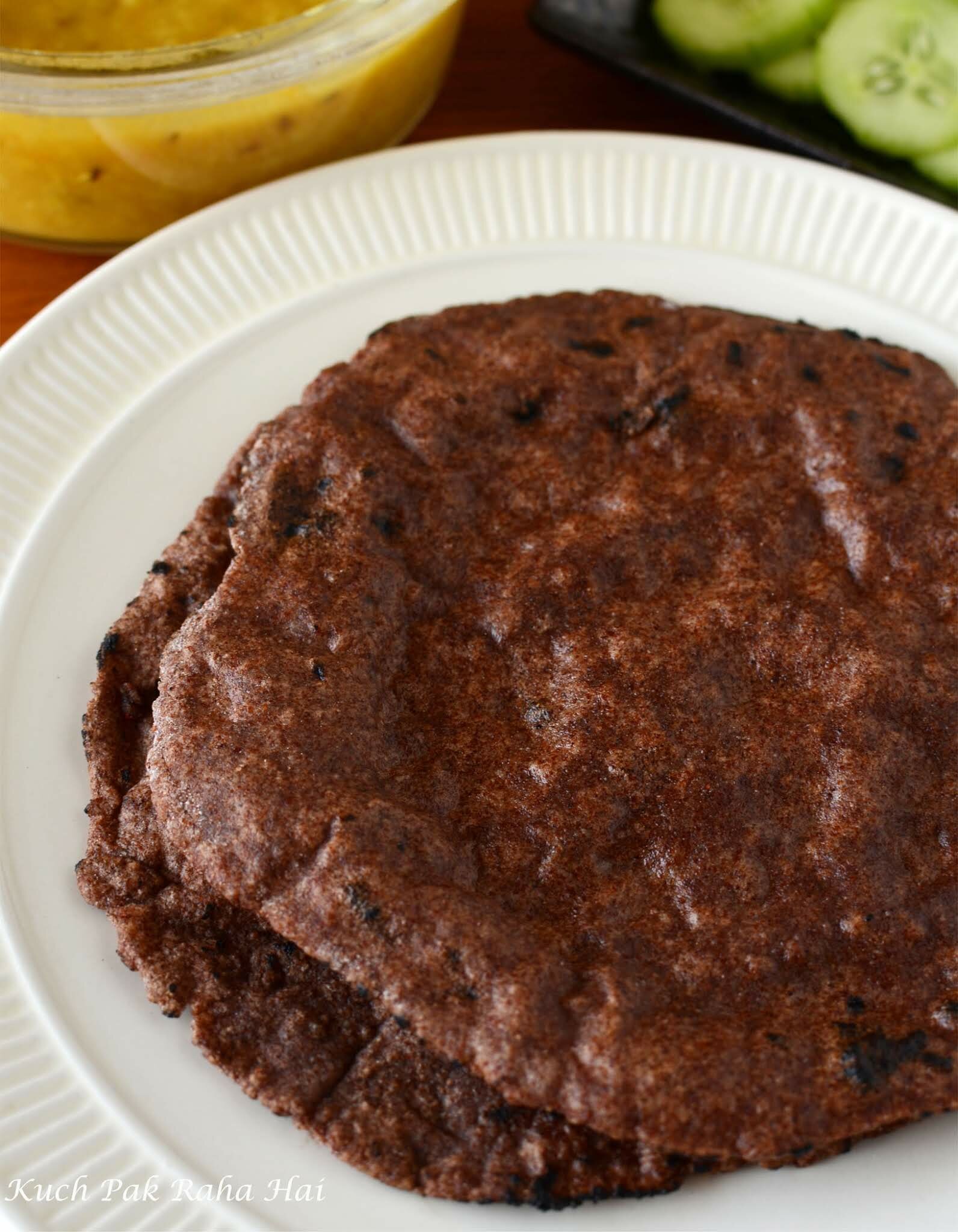 Initially when I tried to make ragi rotis, they came out thick and chewy. Also, the dough was kind of sticky and difficult to handle. However on my recent trip to home, my nani (grandmother) shared her recipe of ragi rotis and I was surprised to see how simple it is to make them. I would request you to follow the exact proportions and steps as mentioned below and I am sure you will get soft thin Ragi rotis in first attempt only.
It is an easy and quick to make Ragi Roti recipe. I have used 100% ragi flour here. No wheat flour or other flour has been mixed. You can easily buy Ragi flour from Amazon.
Also, I have shared a Youtube video for the same in case you have some confusion at any step.
Youtube Video:
More recipes with millets:
Ingredients: (Makes 4 rotis)
Ragi flour (Finger Millet Flour) – ½ cup + 2tbsp
Water – ½ cup
Salt – to taste
Ghee – 1 tbsp
Directions:
Step 1:
Measure 1/2 cup of Ragi flour and keep it aside. Please note we are saving remaining dry flour for making rotis at later stage.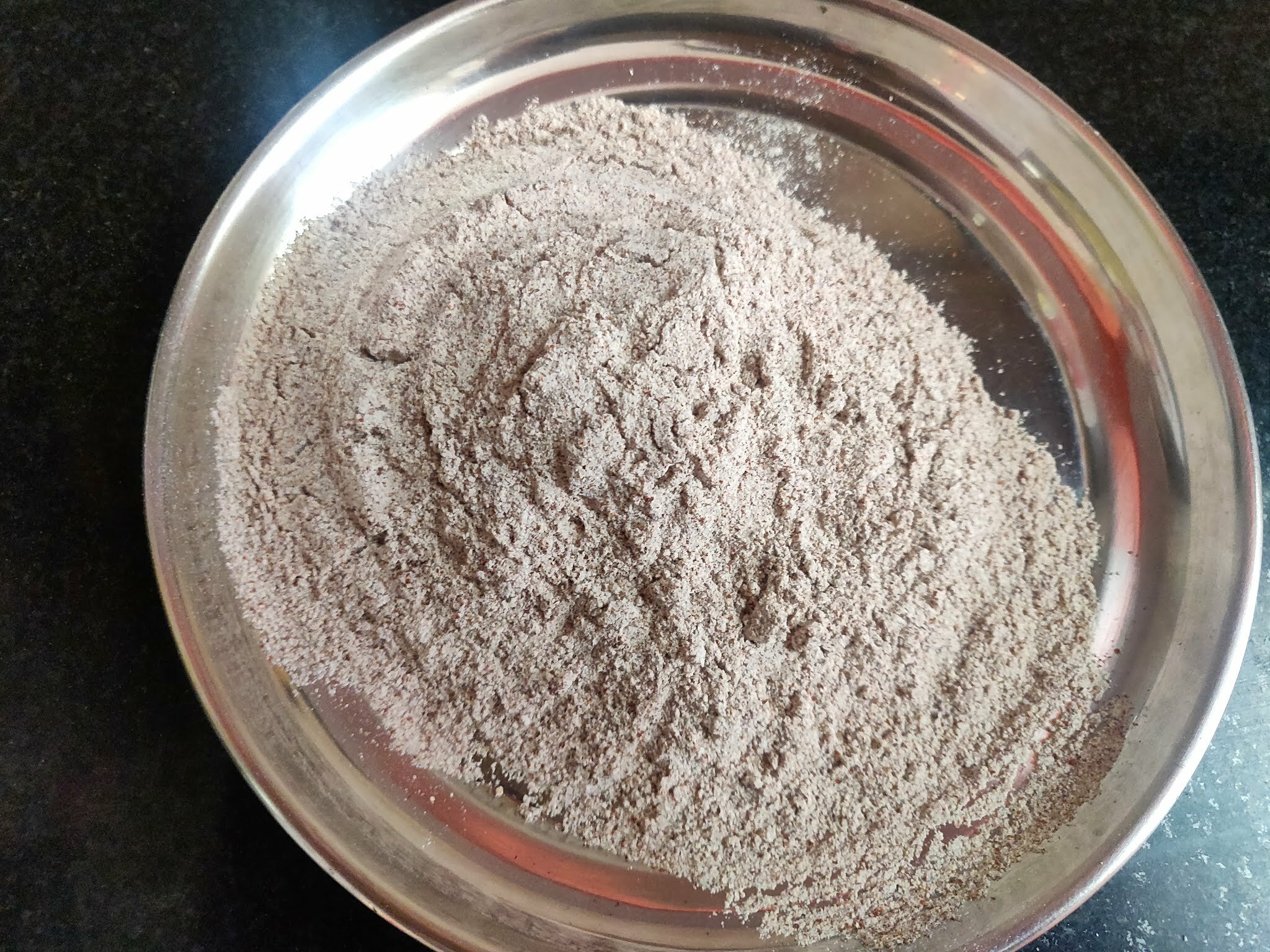 Step 2:
Heat water in a heavy bottomed pan. Add some salt to it. Let the water boil completely.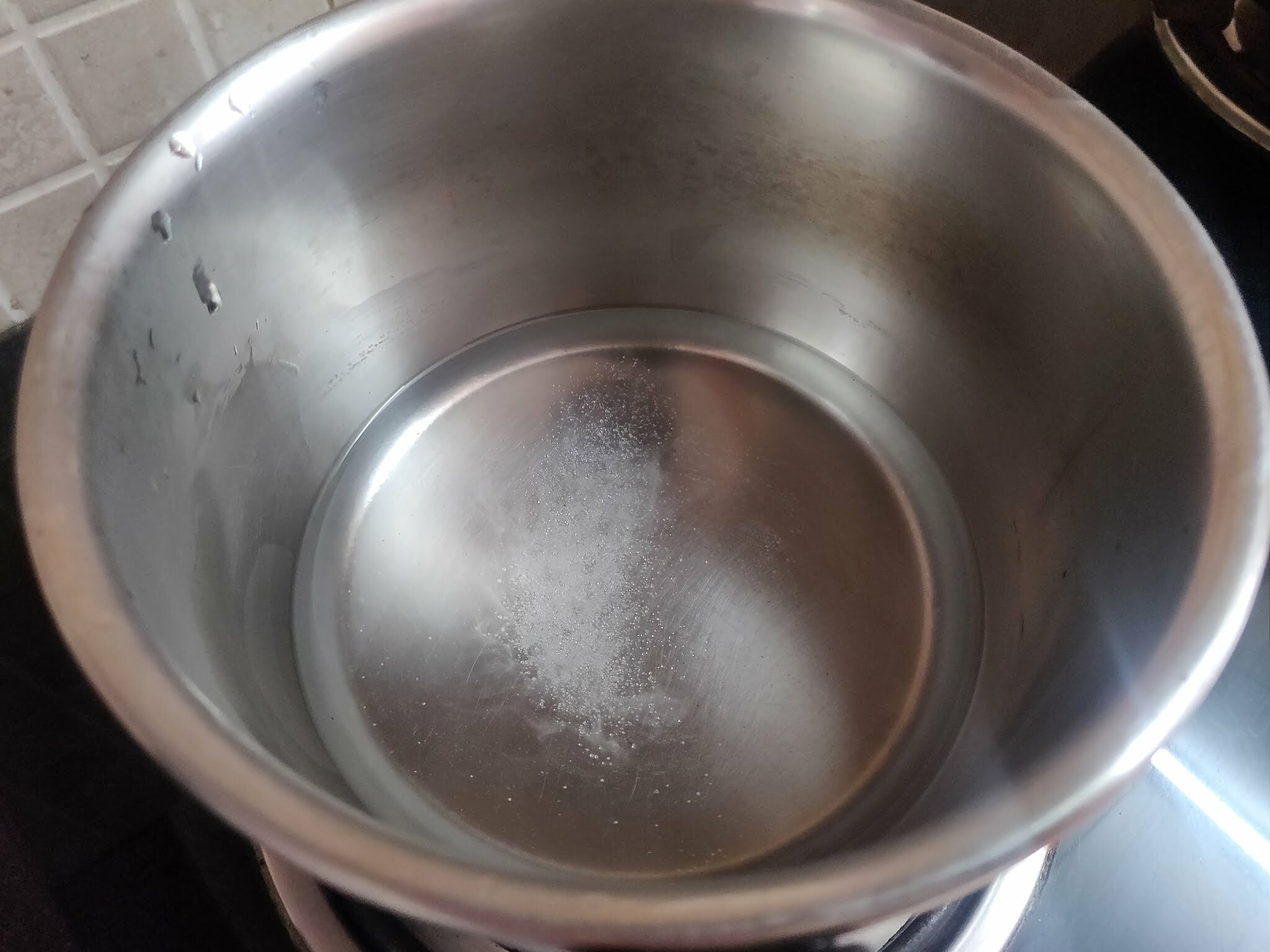 Step 3:
Add the measured Ragi flour to boiling water. Mix it well with spatula. Switch off the flame in 5 seconds. Keep mixing it till there is no water left behind. You will notice the flour will change colour and release an earthy aroma.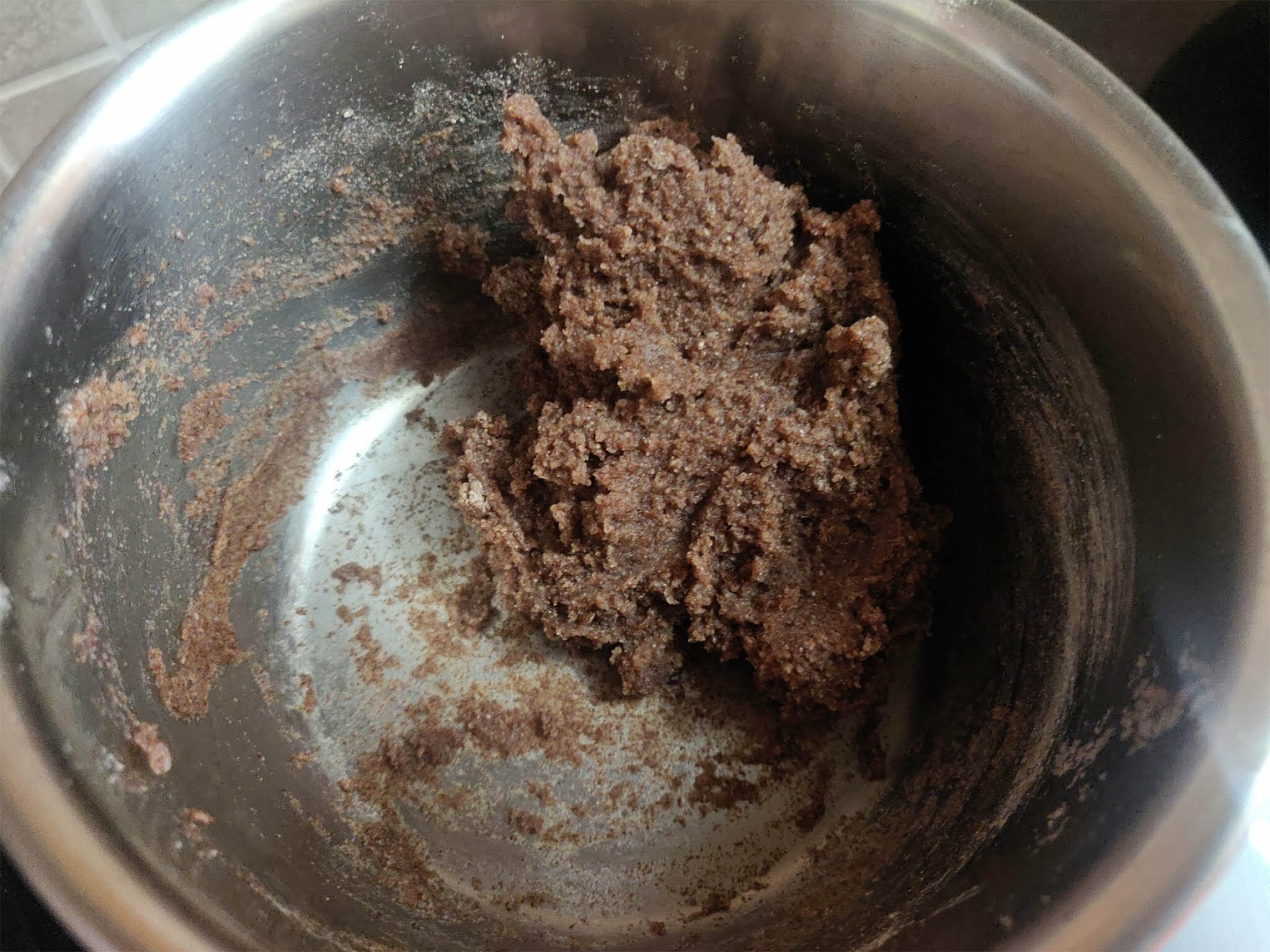 Step 4:
Transfer it in a plate and let it cool down. Rub some ghee on your palms and knead the dough well till it is nice and smooth.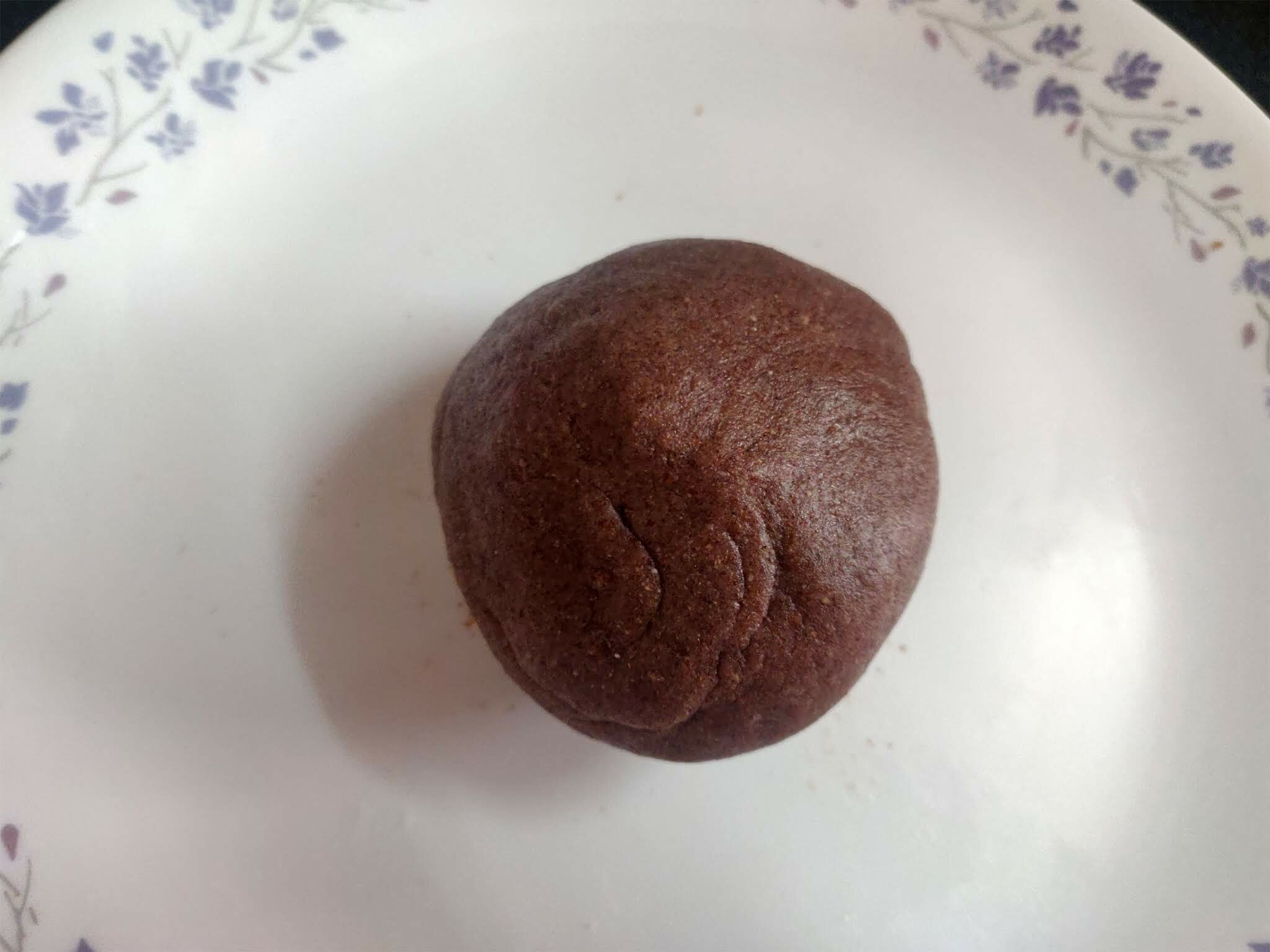 Step 5:
Divide it into 4 equal parts. Roll them into smooth balls.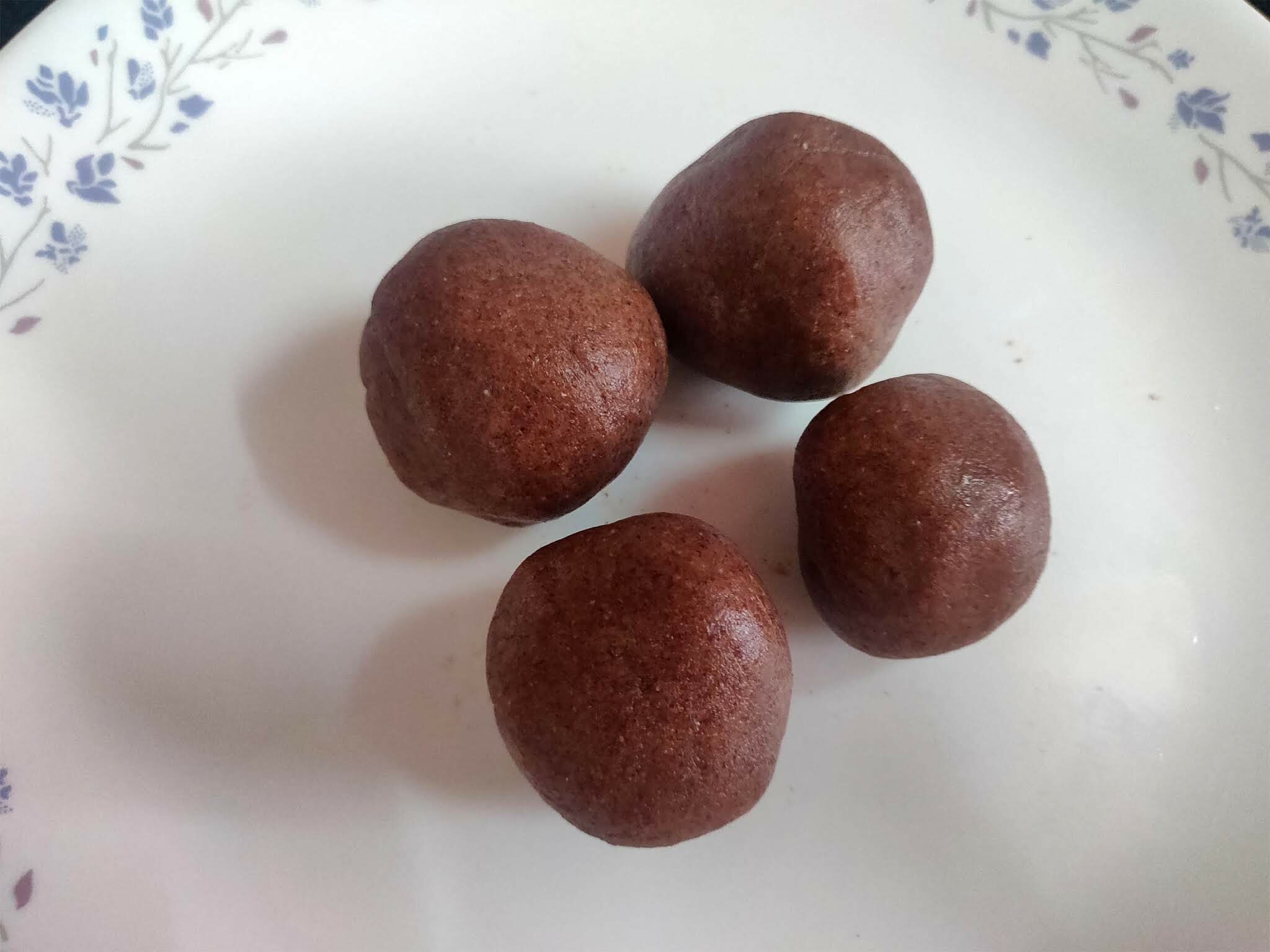 Step 6:
Take one ball, press it gently between your palms. Apply some dry flour on it and roll it into a circle. Keep it aside. Repeat this for remaining three balls.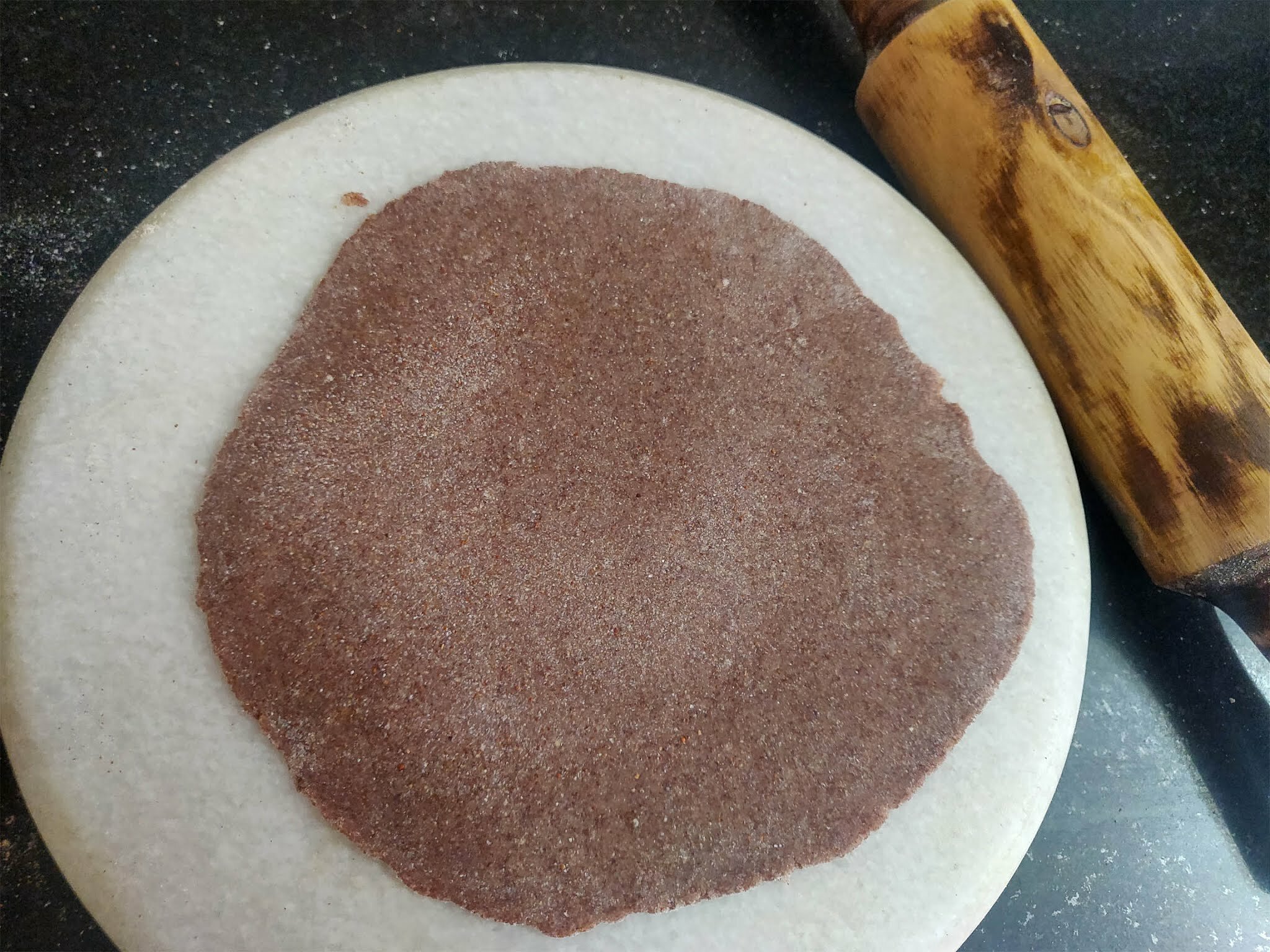 Step 7:
Heat a tawa or non-stick pan. Place this rolled roti on it. Let it cook for a 30-40 seconds.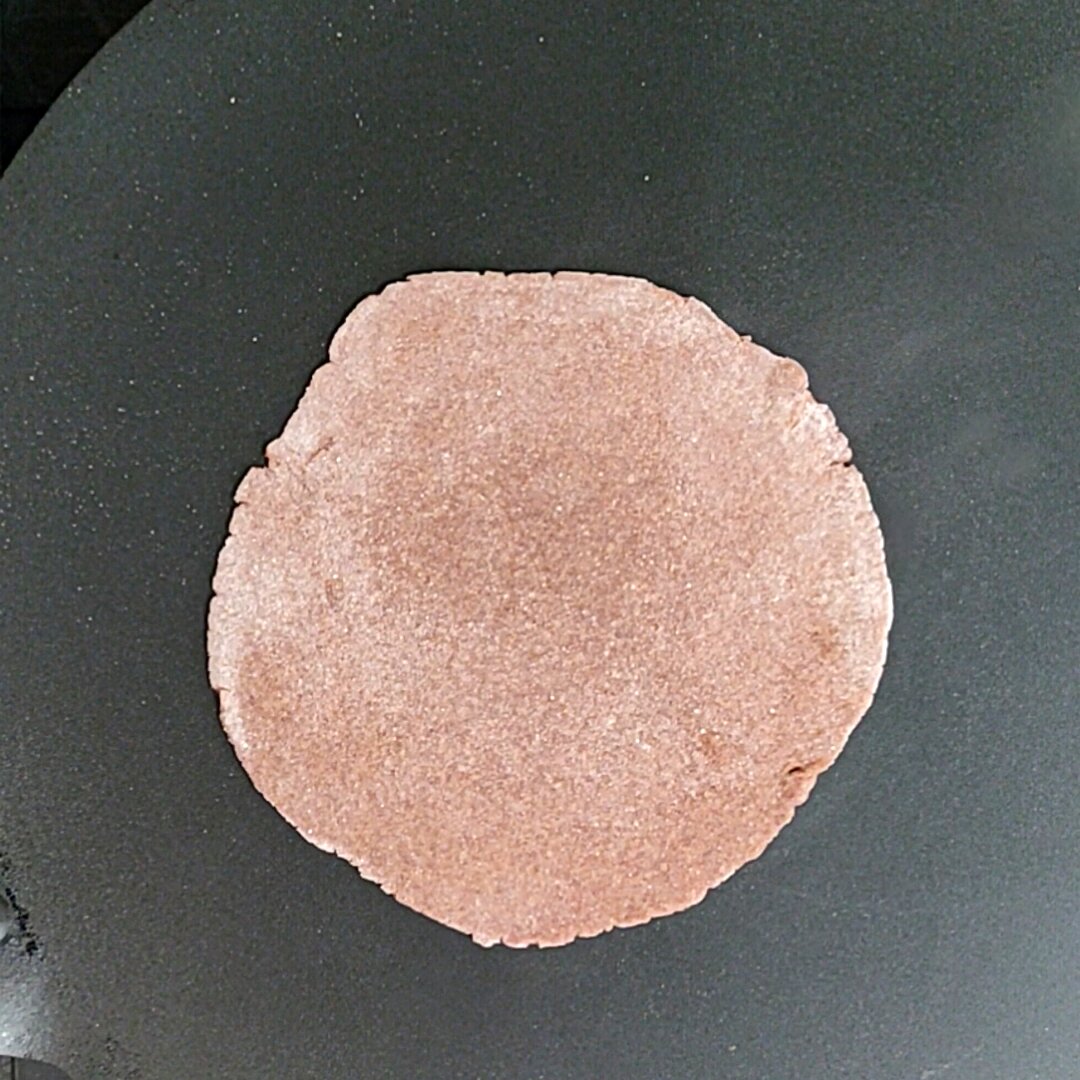 Flip it and let it cook from other side too. This side should be cooked slightly longer than the first side.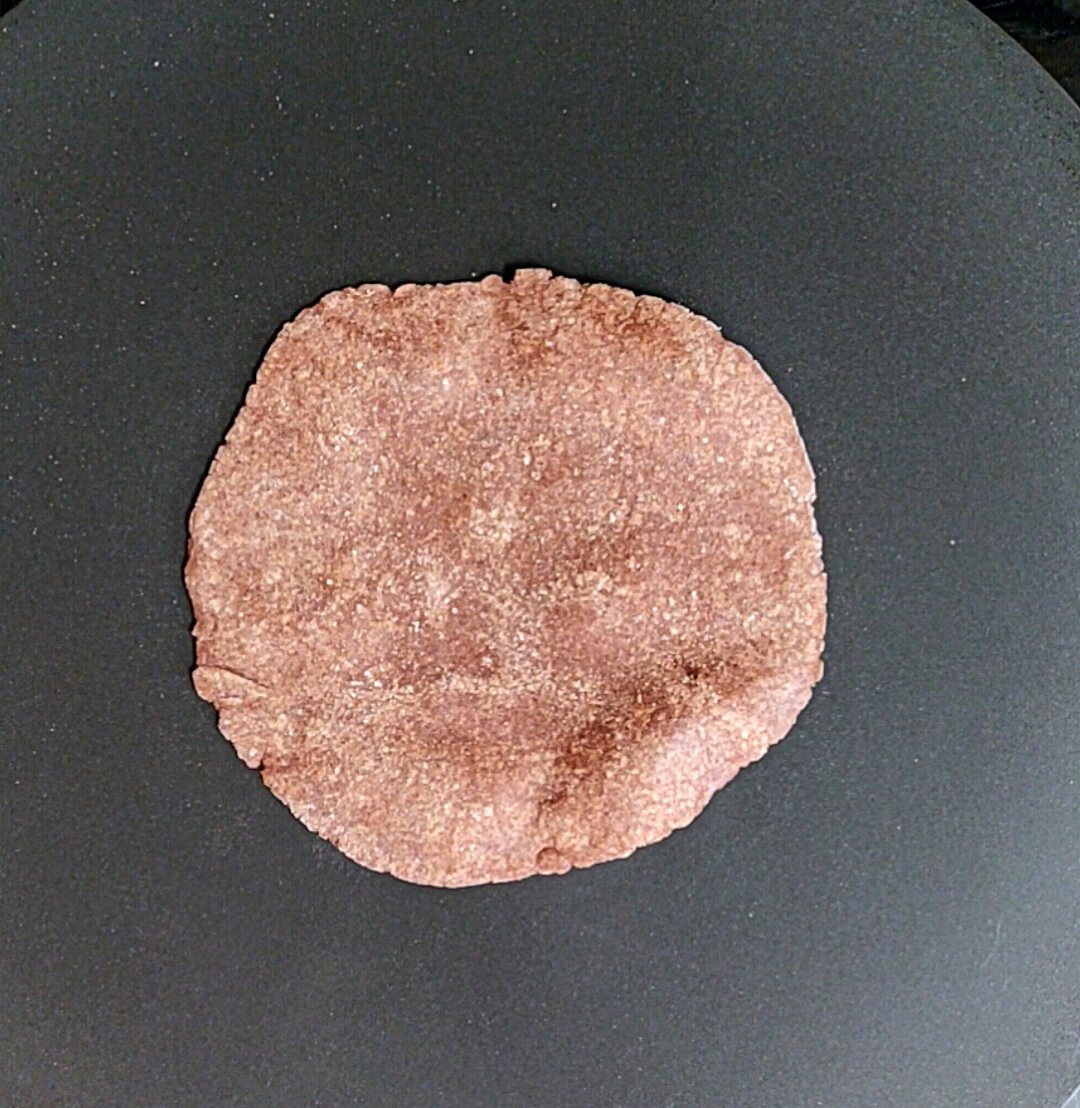 Step 8:
Place the half cooked roti on flame now.  It will puff up. Cook it on flame from both sides. (You can use second way of puffing the roti where you gently press the roti on tawa/pan with kitchen tissue and it gradually puffs up.)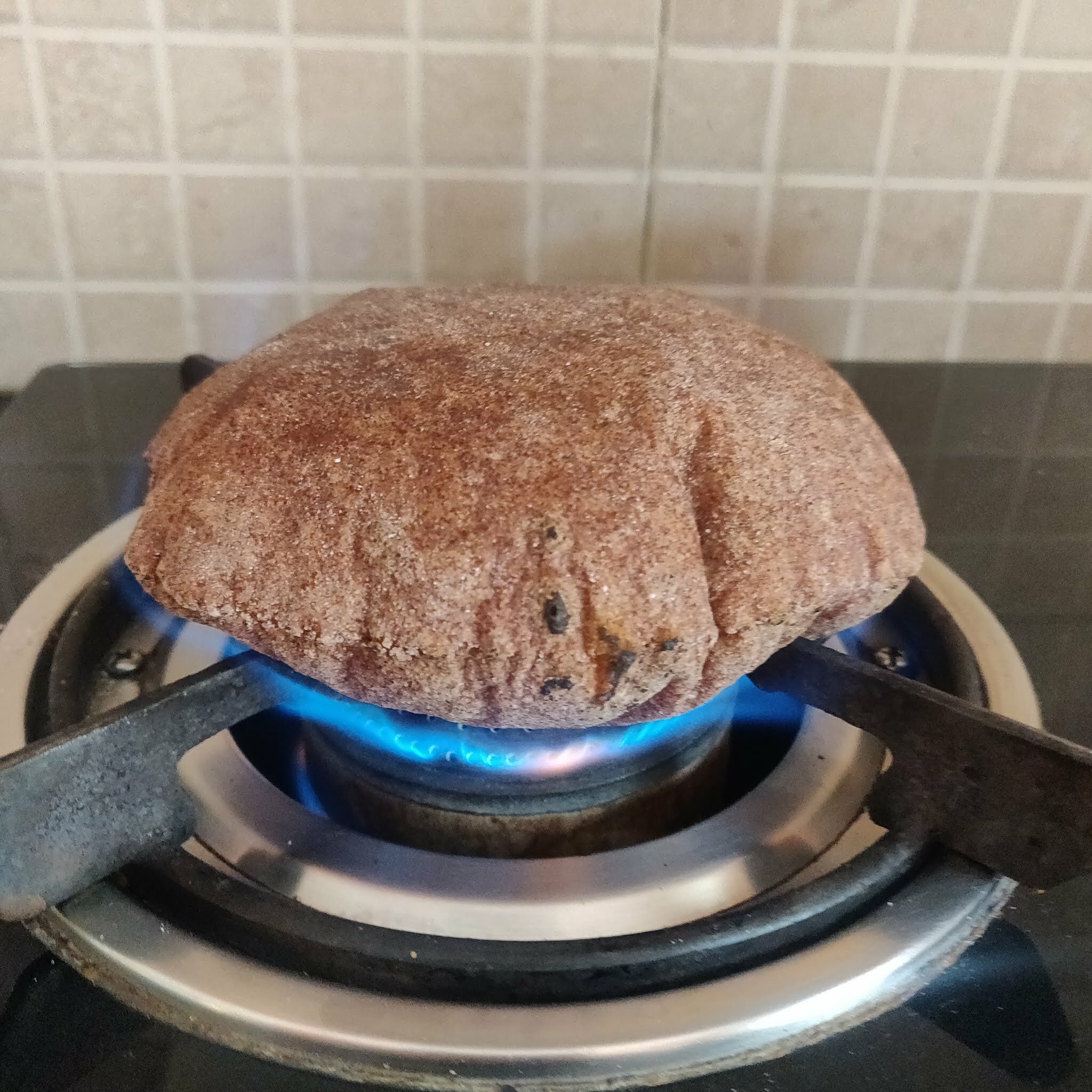 Step 9:
Apply some ghee on it. In a similar manner make all the rotis.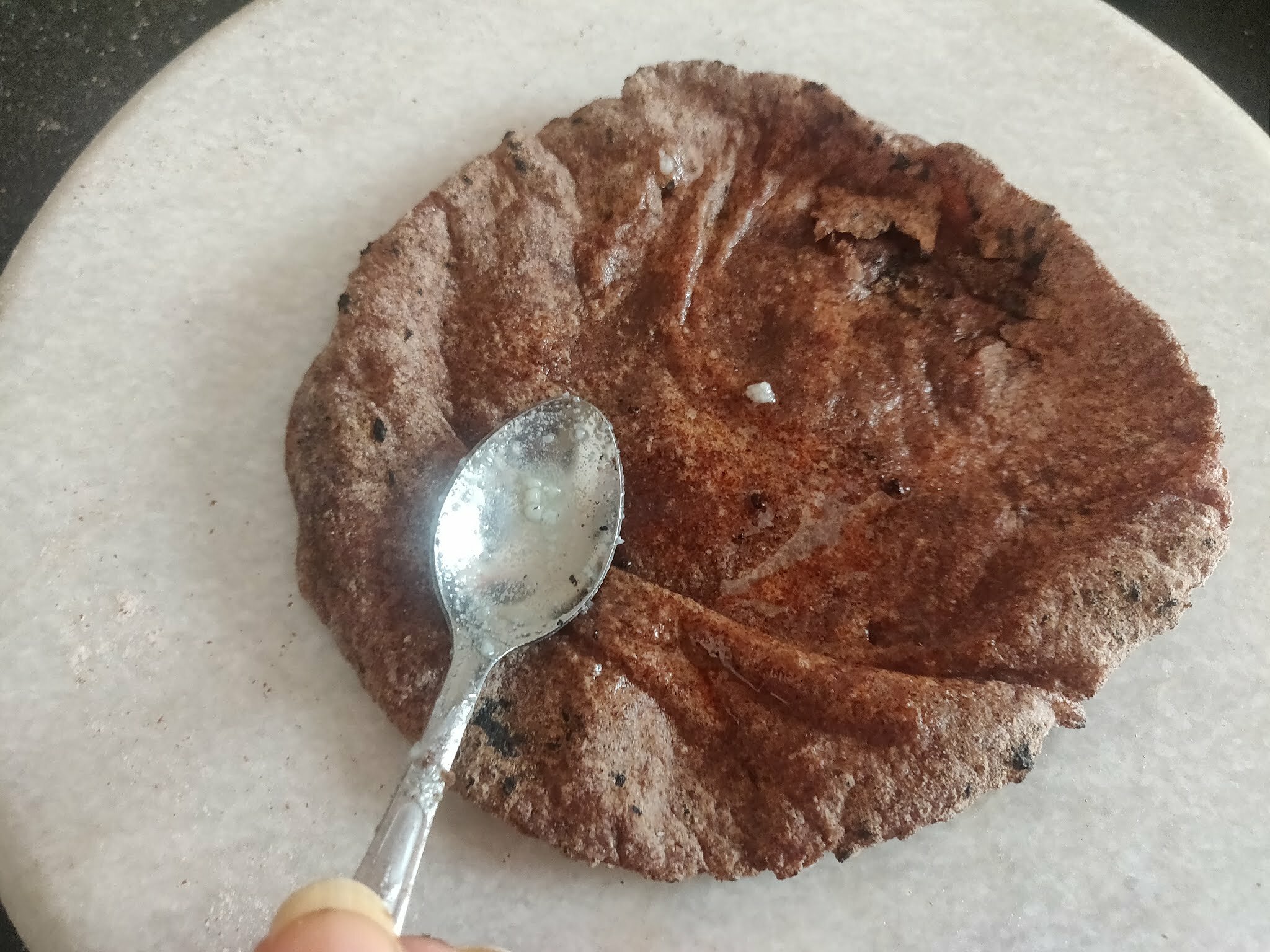 Enjoy these soft ragi rotis with your dal or sabzi. You can pack them in tiffin also, as these remain soft for a long time.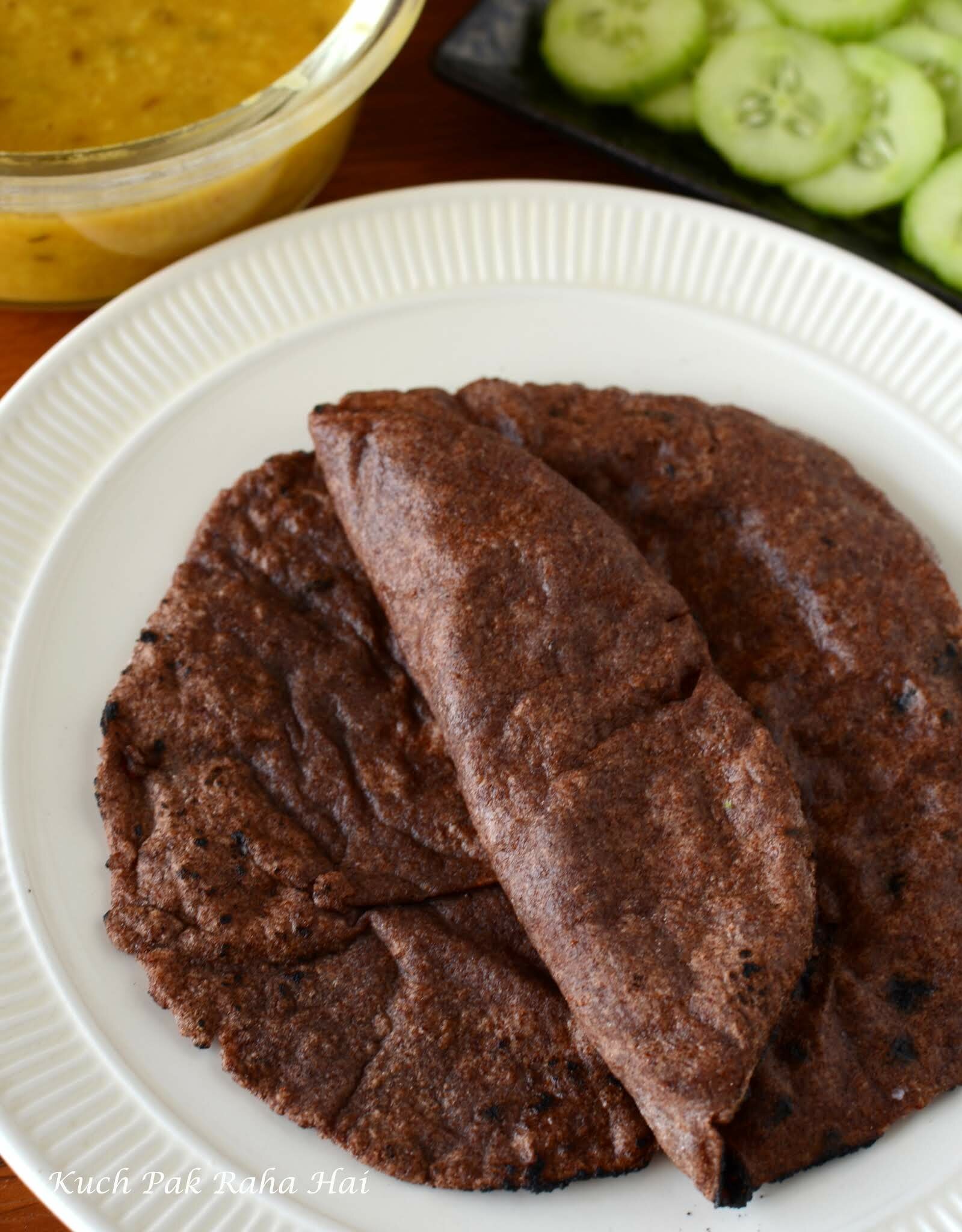 Bon Appetit!! You can serve these ragi rotis with:
If you try this easy ragi roti recipe & share pics on social media, then don't forget to tag on Facebook, Instagram or use #kuchpakrahahai.
Let's stay connected
Facebook | Instagram | Pinterest| Youtube