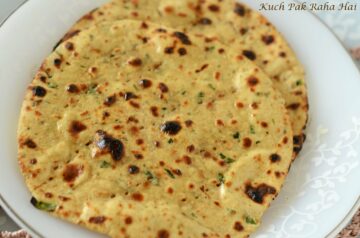 Hope you would like this delicious Saunfili Roti recipe!!
List Of Ingredients: (Makes 7-8 pieces)
Whole Wheat Flour (Aata)-1 cup
Gram Flour (Besan)-1 cup
Salt-2 tsp ( or to taste)
Asafoetida (Heena)- A pinch
Red Chilli powder- 1 tsp
Fennel (Saunf) powder-2 tsp
Sugar-1/4 tsp
Yoghurt- 2 tbsp
Chopped Coriander-1/4 cup
Finely chopped Green Chillies-1
Ghee- 2 to 3 tbsp
Water-For kneading
Steps To Prepare:

Step1:
Take whole wheat flour, gram flour, salt, asafoetida, red chilli powder, saunf powder, sugar, yoghurt, chopped coriander and green chillies in a mixing bowl. Mix well all the ingredients.
Step2:
Start adding water to the mixture to knead into a smooth dough. The dough should not be too hard or soft. It would take around 3/4 cup of water for kneading. Keep it covered in an air tight container for around 30 minutes.
Step3:
Make a ball out of this dough. Press it between your palms and apply some dry flour on it. Roll it into a 4-5″ circle.
Step4:
Dry roast this rolled roti on a flat pan or tawa till you get golden spots on both sides.
Step5:
Pierce the surface of roti randomly using a fork or knife as shown.
Step6:
Flip the roti once over flame on both sides to further crisp it.
Step7:
Apply a generous amount of ghee over the hot roti.
Enjoy this delicious hot Saunfili roti with your favourite paneer or Dal Makhani.