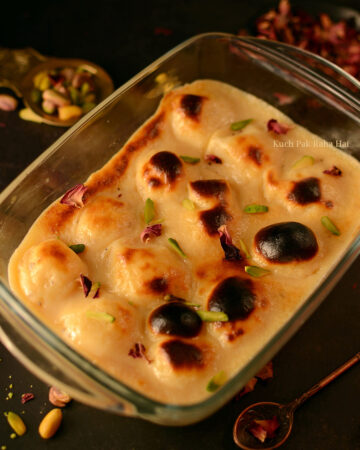 Baked Rasgulla or Rosogulla is a delicious Indian bengali sweet. This delectable dessert is made using rasgullas, milk, condensed milk, khoya , cardamon (elaichi) and some pistcahios. It tastes so heavenly that no amount of culinary adjectives can do justice to it.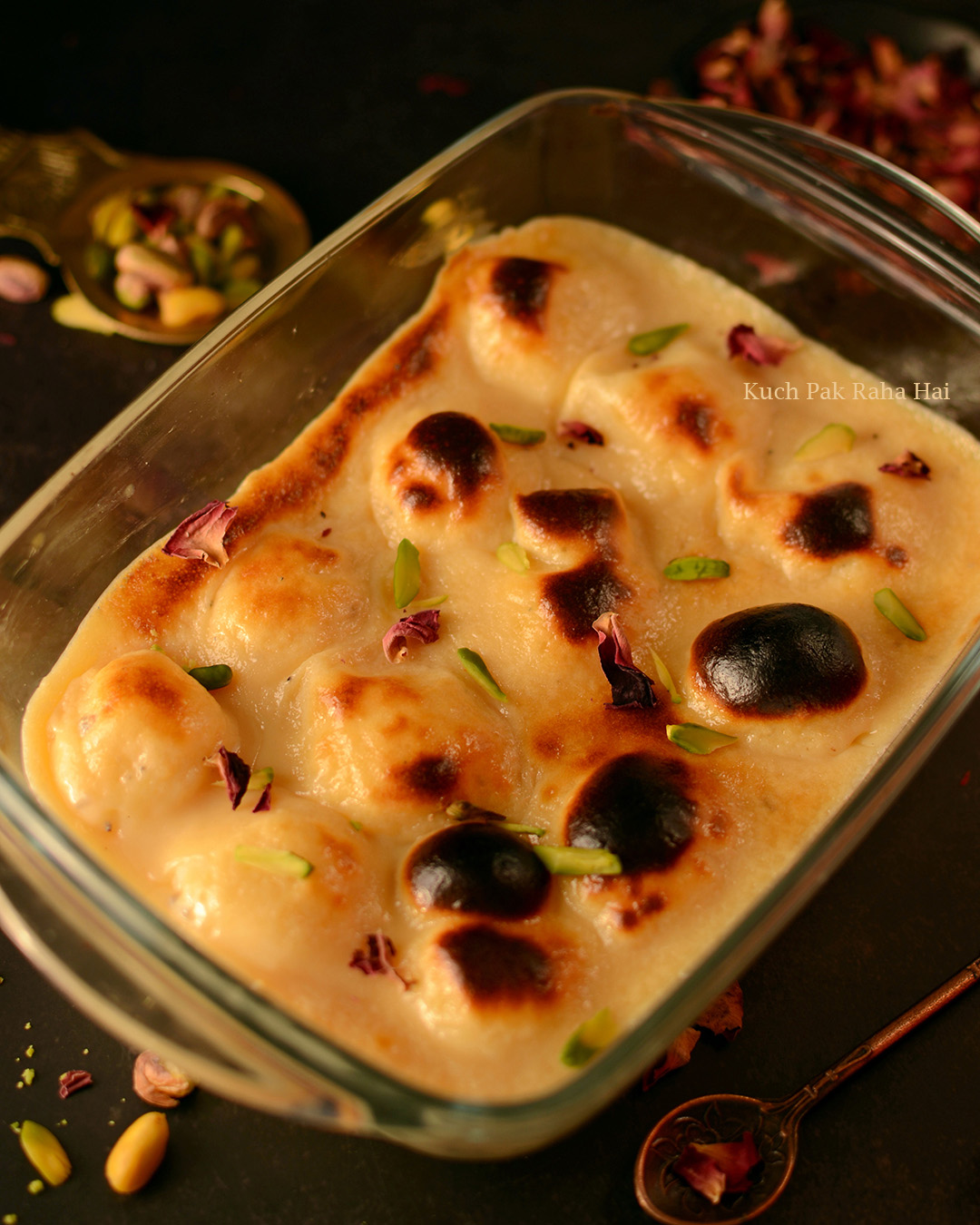 I tasted this baked rasgulla first time when one of my friends got it from Kolkata (Calcutta). To be honest, I am not a big fan of rasgullas (please don't judge) and even when she asked me to try baked rasgullas I wasn't very enthusiastic about it. They were packed in aluminium foil container, dunked in creamy thick milk with golden brown caramelized spots on top and garnished with chopped pistachios. Look wise of course they looked quite tempting. I remember how their first bite made me instantly fall in love with them.
How does baked rasgulla taste?
If I have to describe its taste, it was a beautiful amalgamation of rasgulla, rasmalai, shahi tukda, caramel..in short divine!! The slightly charred rasgulla top with soft insides, combined with thick caramelized milk is a match made in heaven. Hats off to the person who came up with this idea originally.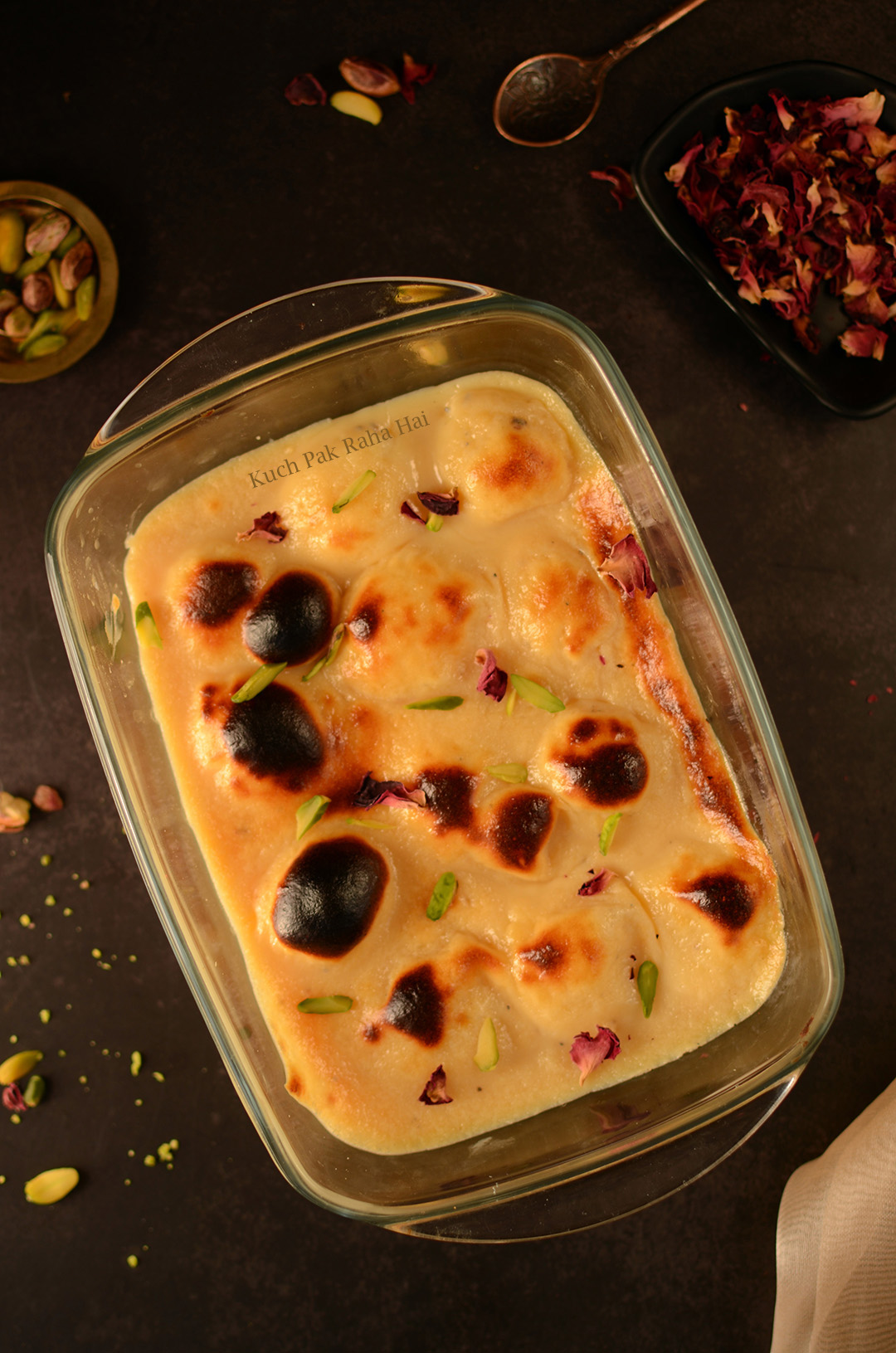 What is baked Rasgulla made of ?
You need following ingredients to make this lip smacking Indian dessert:
Rasgulla
Milk
Condensed Milk
Khoya
Cardamom (Elaichi)
For making this recipe, the first step is to make rasgullas. If you are looking forward to make them at home from scratch, then do check out out rasgulla recipe in pressure cooker. If you are short of time, then feel free to buy it from any local sweet shop or packed rasgulla tin.
I have used Nestle Milkmaid condensed milk here. You can use any other brand of your choice. Just make sure to use sweetened condensed milk. For richer taste, use whole milk or full fat milk but toned milk also works fine in this recipe.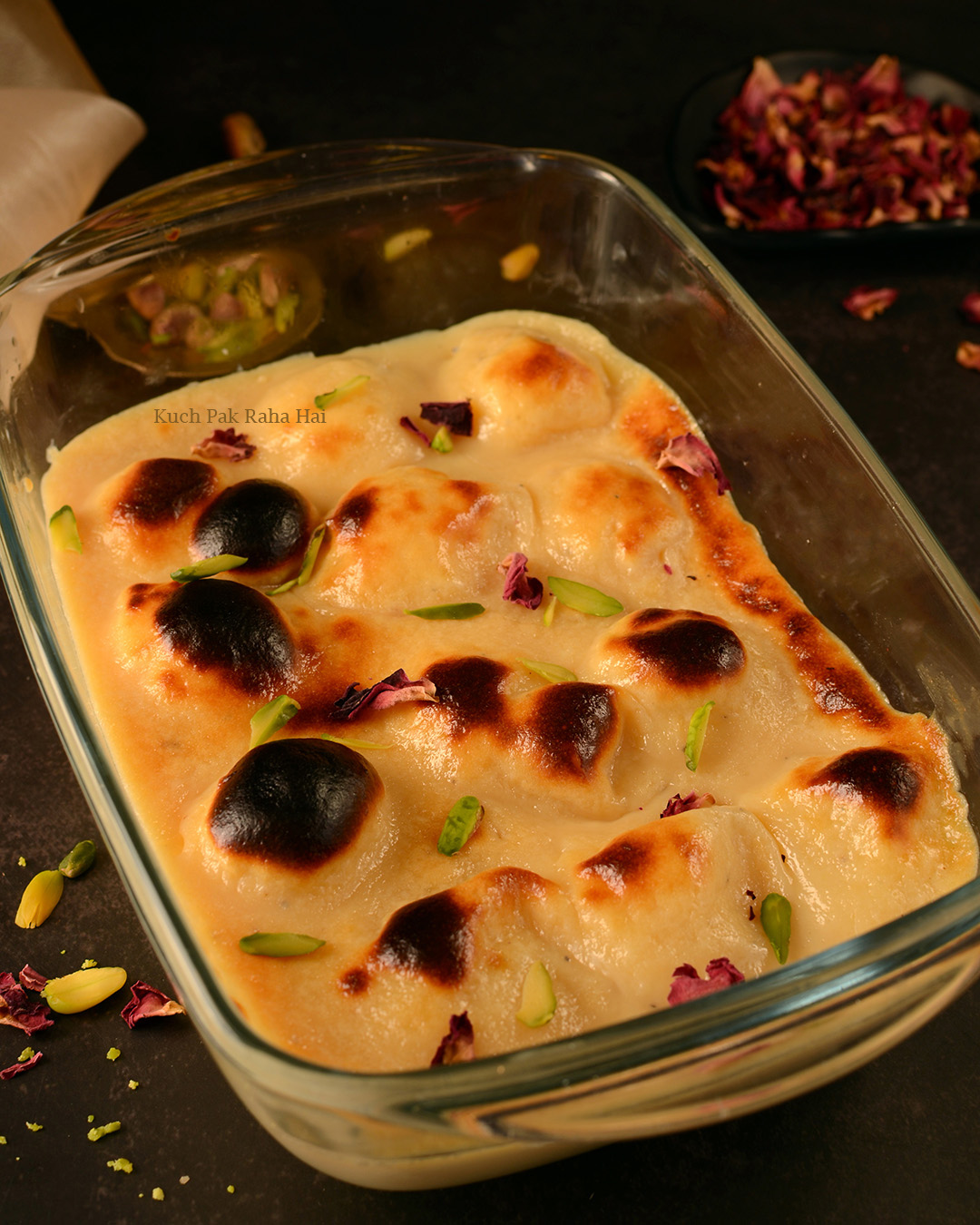 How to eat baked rasgulla?
You can easily prepare this dish few hours before. If you plan to serve it hot or warm, bake it just before serving & if serving chilled, then bake it & keep it in fridge for 2 to 3 hours.
As I have told many times in my earlier posts also, my cooking inspiration mostly comes from the dishes I try and like. This baked rasgulla was something which I would definitely love making at home again & again.
Too much milk & the mixture remained watery even after baking and too much condensed milk made the recipe over sweet. The ratio for milk, condensed milk & khoya here in this recipe is by my experience just perfect. Follow it exactly & I am sure you will nail Baked Rasogullas in first attempt!
I have also shared its video on my youtube channel. Do subscribe to our channel if you love watching cooking videos 🙂
Youtube Video:
Diwali festival is just around the corner and we all look forward for easy & unique recipes to delight our friends and family members. Do try these baked rasgullas and you will also fall in love with these gorgeous golden beauties.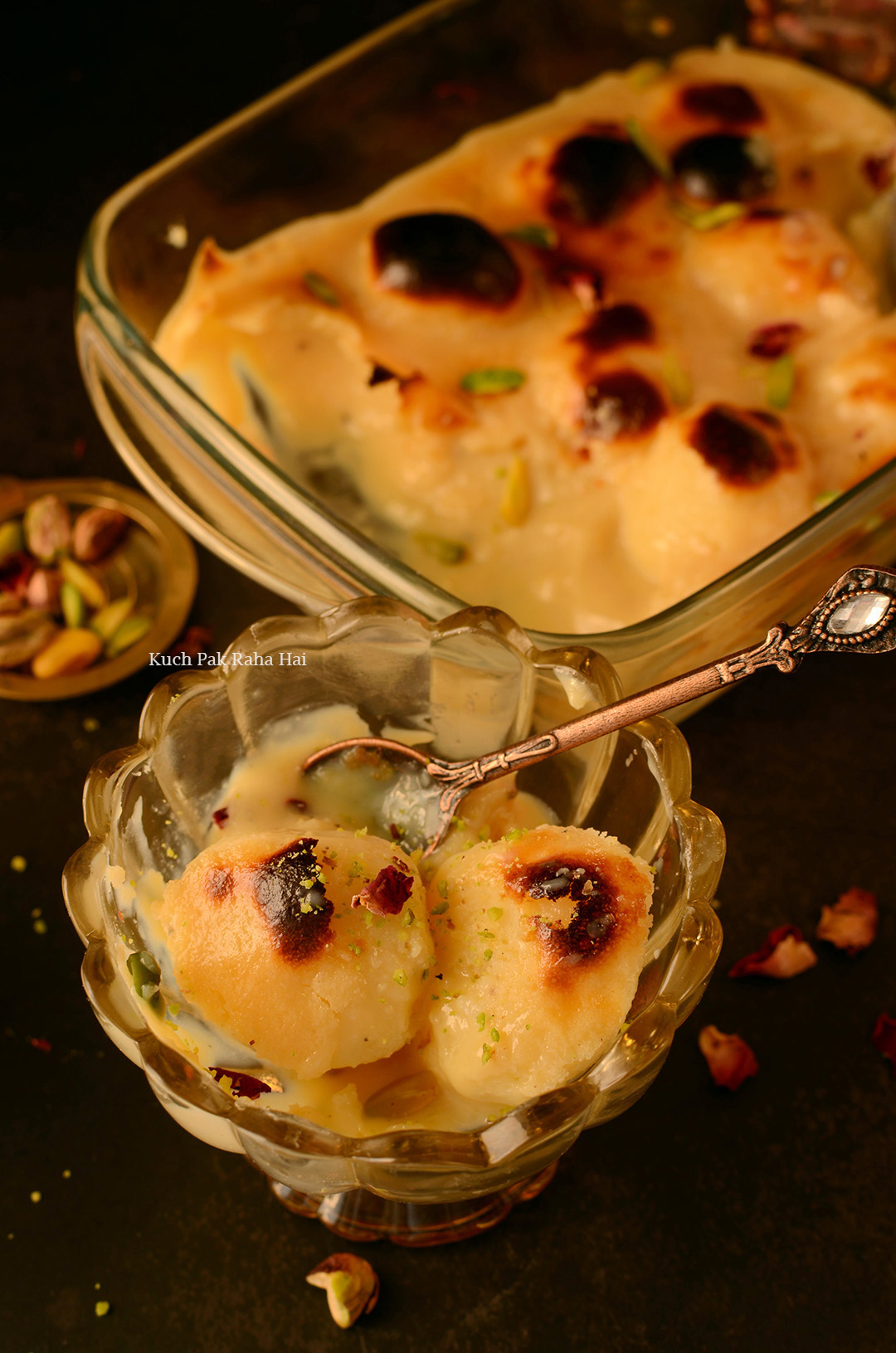 More sweets recipes you might like:
Ingredients:
Rasgulla – 12 pieces
Milk – 1 cup
Condensed Milk – 200 grams
Khoya – 50 grams
Cardamom Powder – 1/4 tsp
Chopped Pistachios – 2 to 3 tsp
Rose petals – 8 to 10 (optional)
Notes:
For baking, I have used Pyrex baking dish. If you don't have it you can even use cake tin.
Don't overcook the milk mixture as it will thicken up more during grilling also. It should be just slightly thick.
Directions:
Step 1:
You can make rasgulla at home from scratch, use store bought ones or buy tins from – Haldiram's, Mother Dairy, Bikano, Bikaji etc.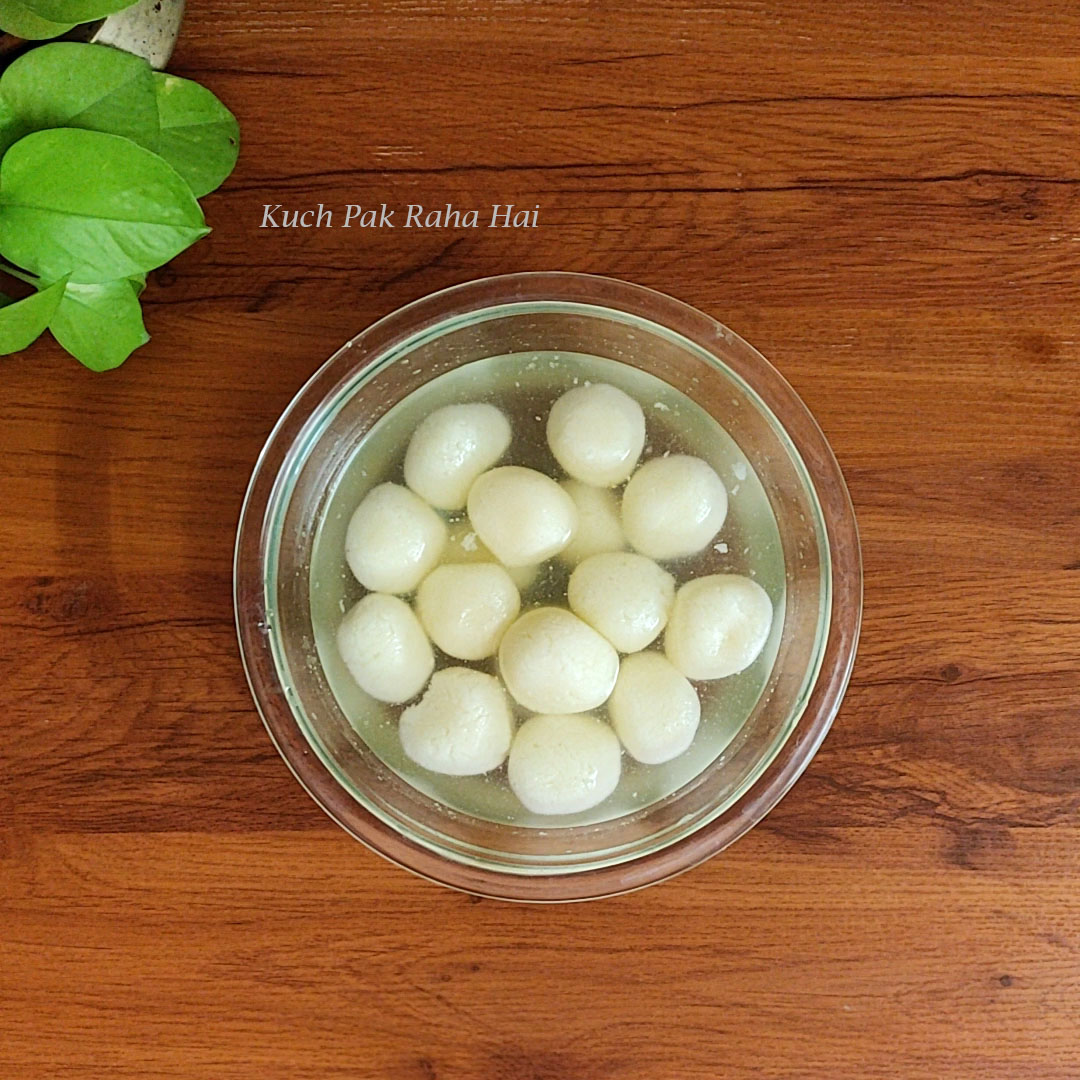 Step 2:
Once you have rasgullas with you, squeeze them to get rid of sugar syrup. Don't put too much pressure as it can break them. Arrange them in a baking dish. Keep this dish aside.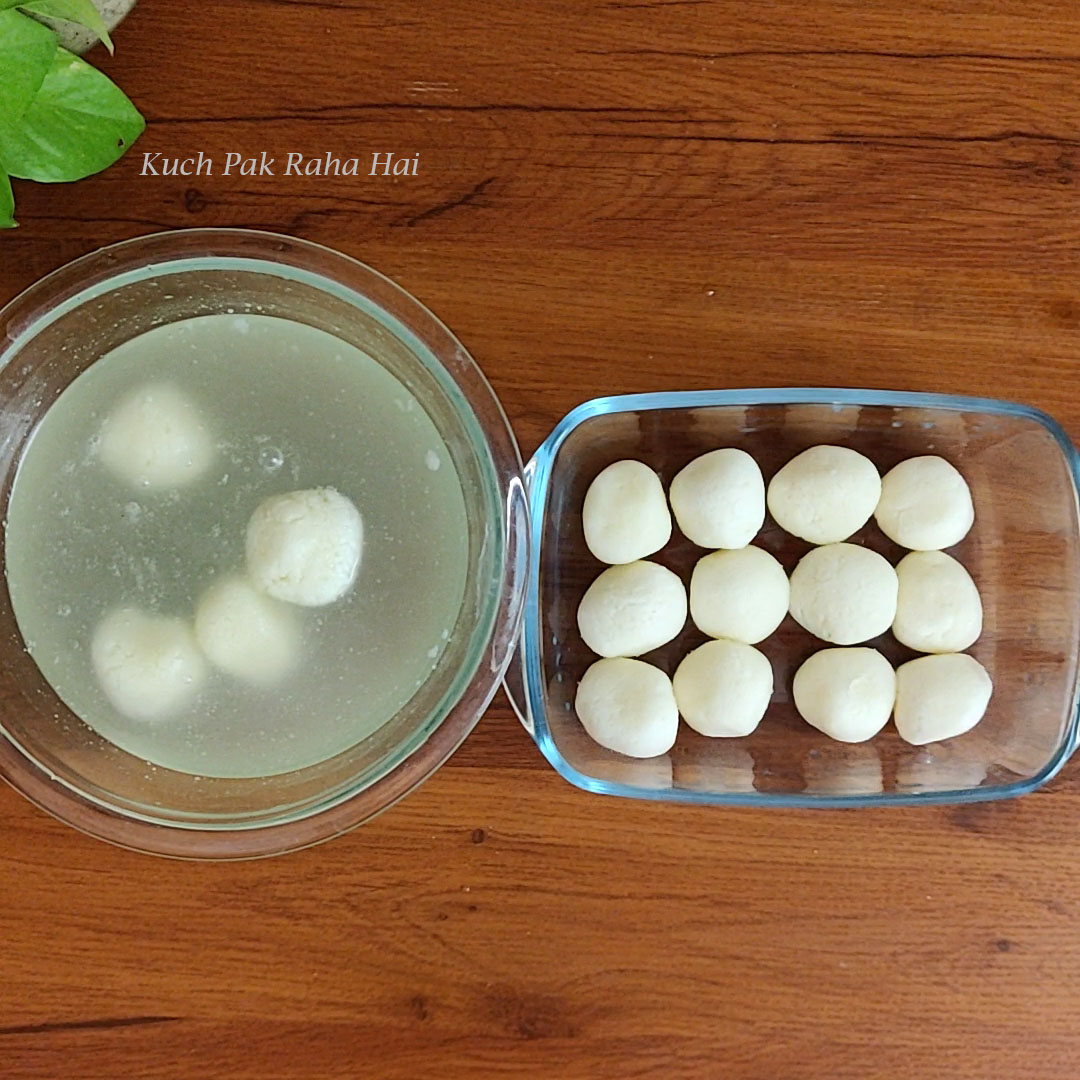 Step 3:
Start heating milk in a heavy bottomed or non stick pan.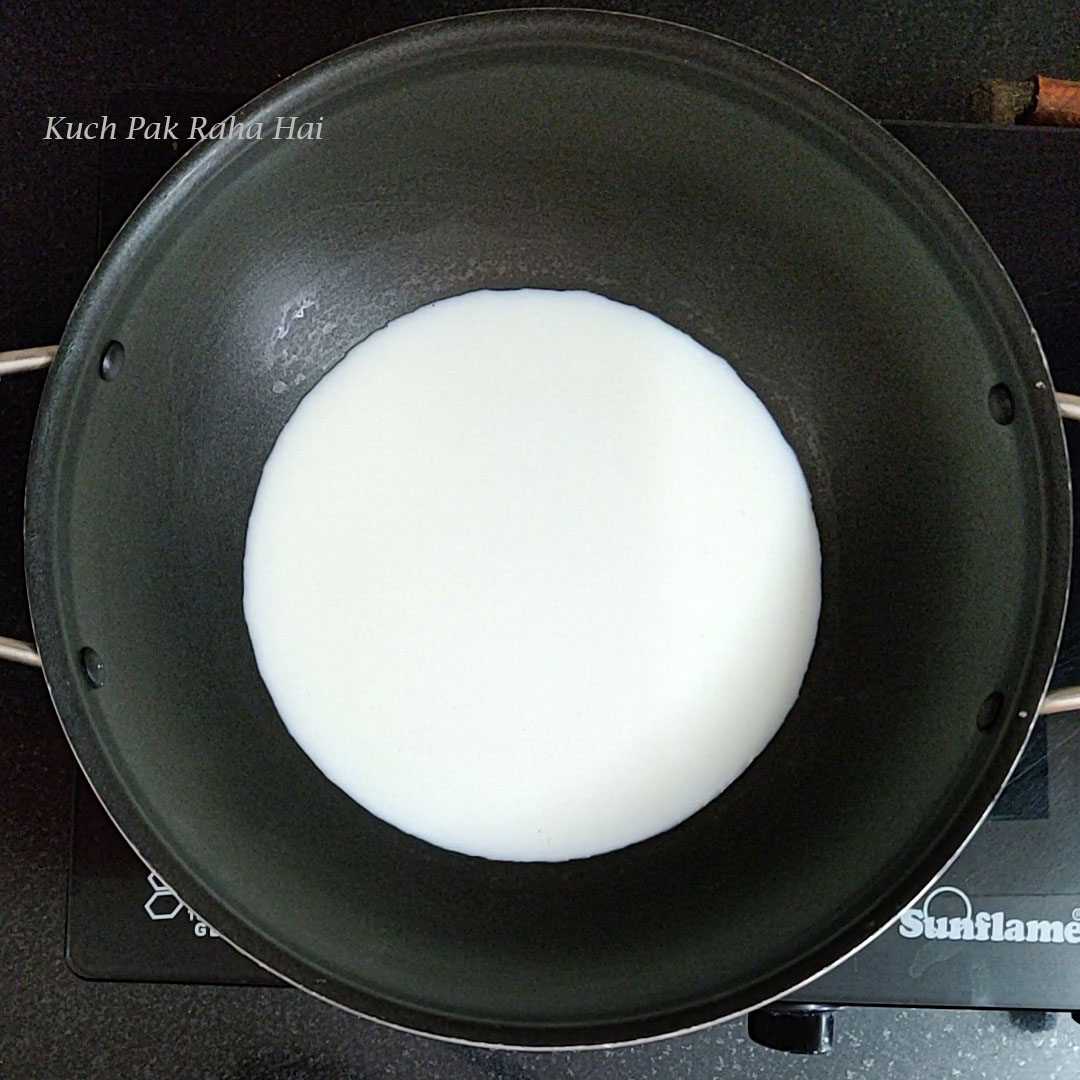 Once the milk comes to boil, add khoya or mawa to it. Turn the flame to low & continue stirring till the khoya dissolves completely.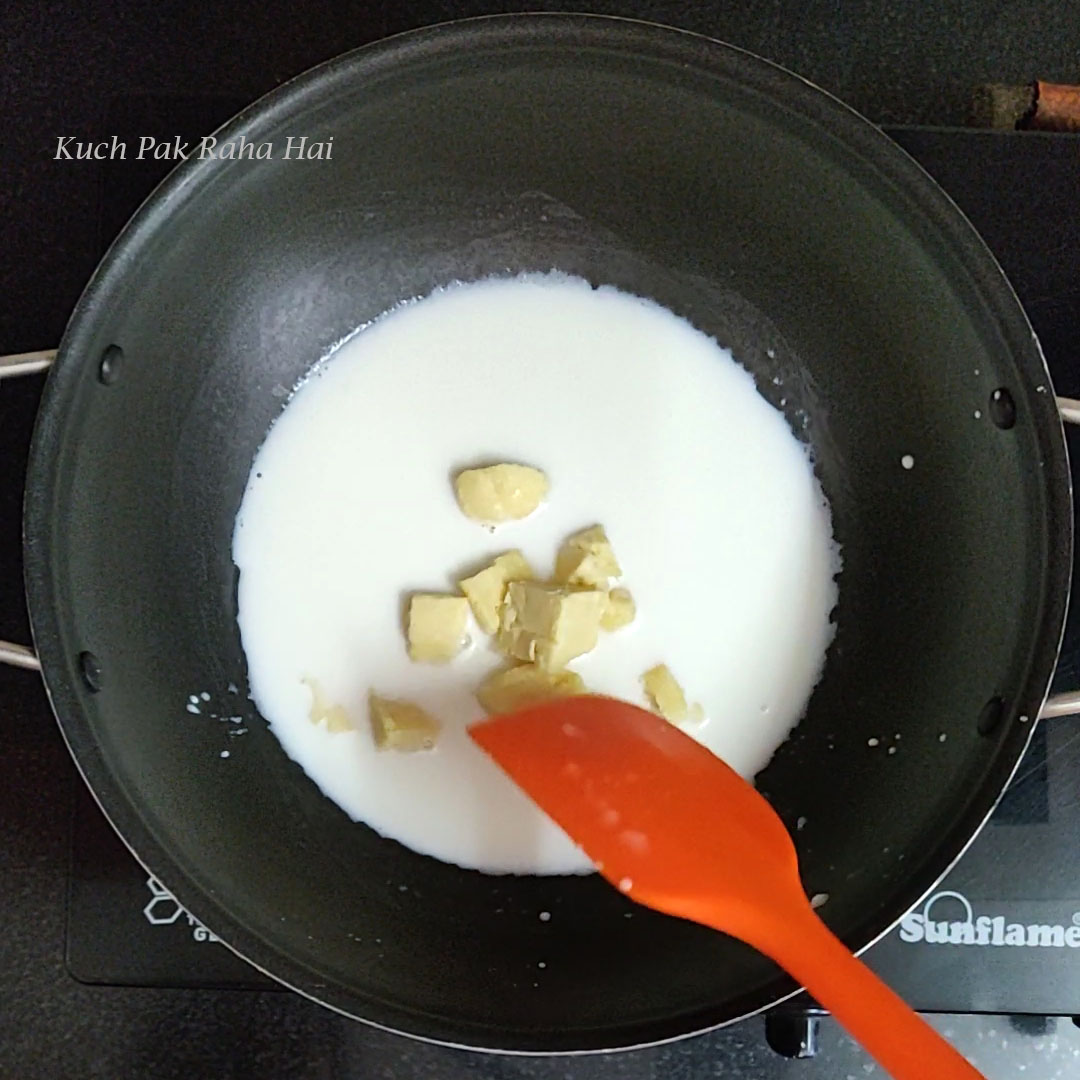 Once the khoya dissolves, add condensed milk to it and continue heating. Keep stirring in between as we don't want to burn this mixture. Cook it for 15-20 minutes.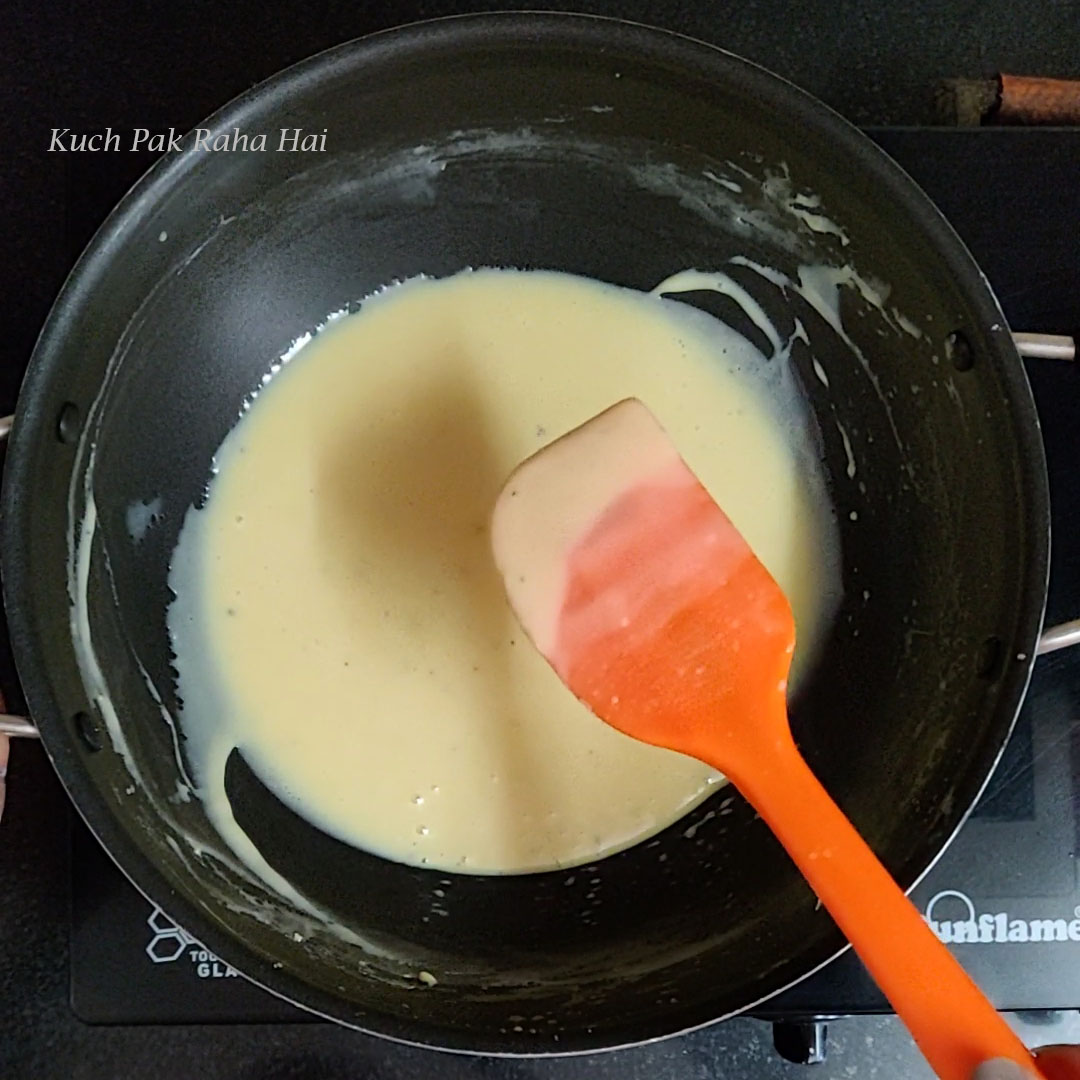 Add cardamom powder. Test the consistency of the mixture. It should have slightly thickened up.
Step 4:
Pour this creamy mixture on rasgullas that we arranged in baking dish.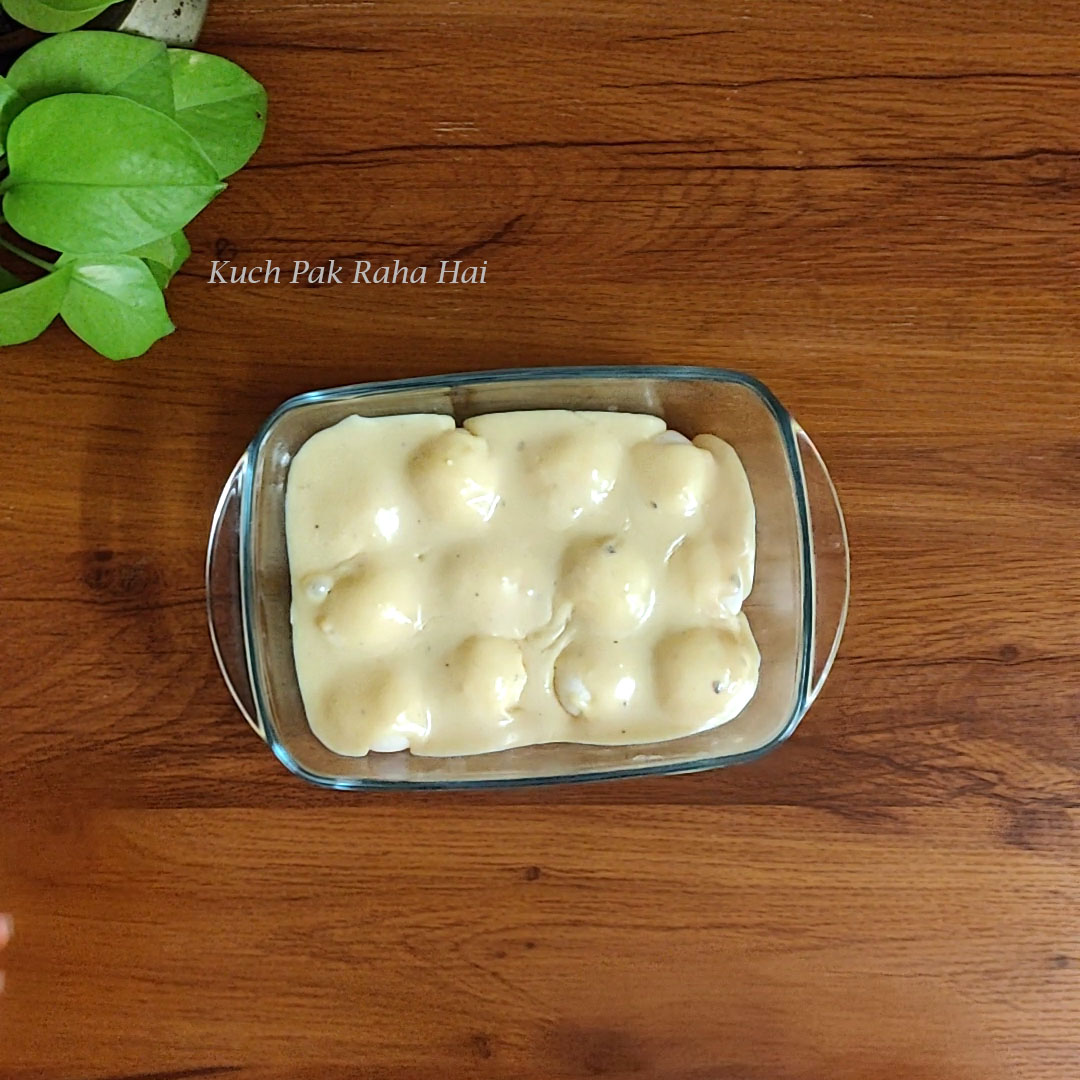 Step 5:
Grill it for 5 to 6 minutes at 200°Celsius. Keep an eye after 5 minutes as we just want brown colour & does not want to burn the top. If you are using microwave-convection use grill mode & for OTG keep it on top rack with top rod on (as you can see in video also).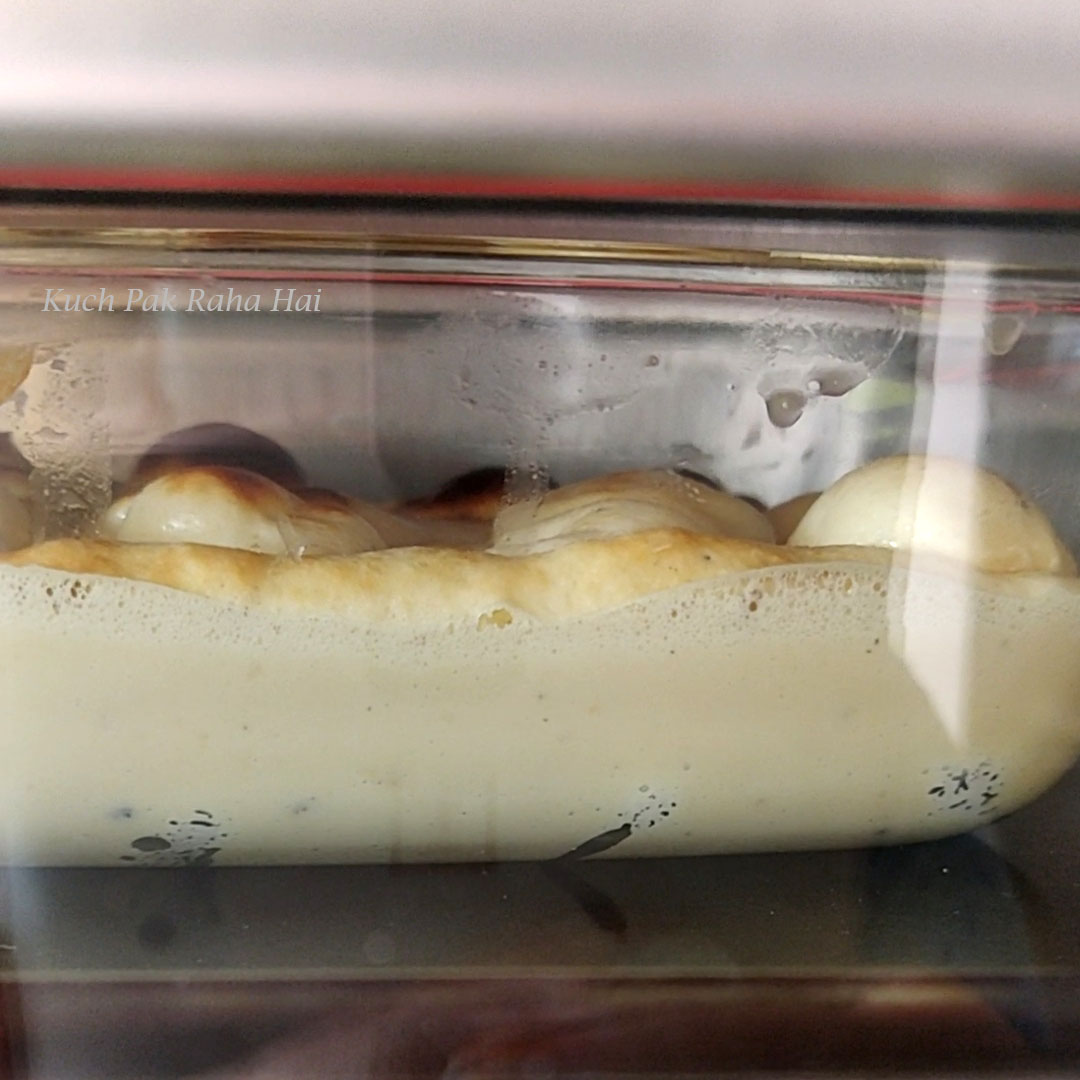 You can serve these baked rasgullas warm but I like it better when they are chilled. For that chill them in fridge for 2-3 hours. Garnish them with some chopped pistachios or rose petals before serving.
Pin for later: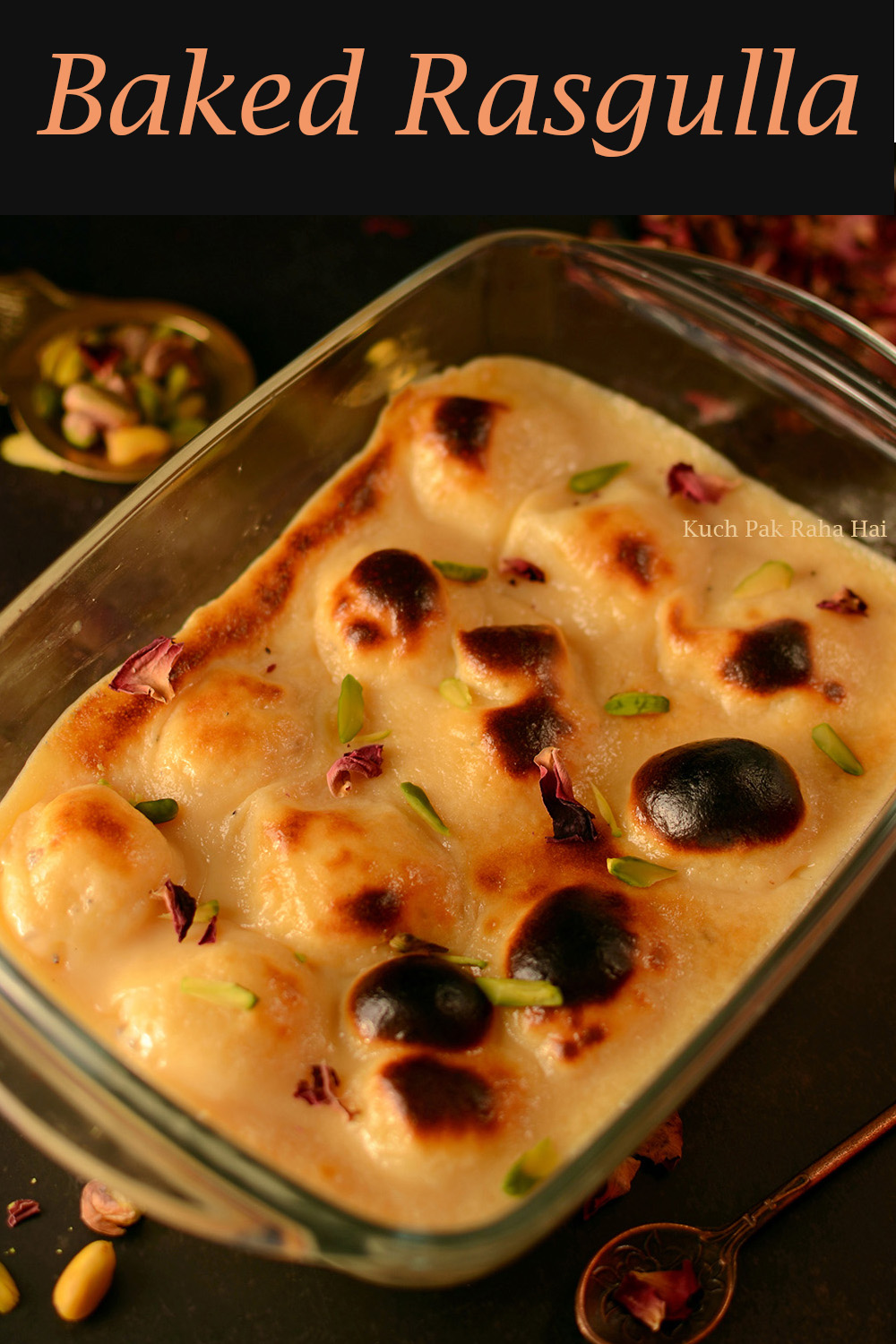 If you try this bengali baked rosogolla recipe & share pics on social media channels, then don't forget to tag on Facebook, Instagram or use #kuchpakrahahai.
Let's stay connected
Facebook| Instagram| Pinterest| Youtube