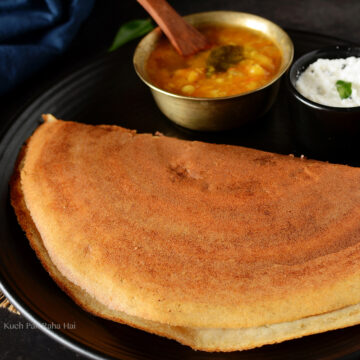 Quinoa Dosa is a tasty crispy healthy dosa made with quinoa & lentils (urad dal, moong dal). It is a no rice dosa recipe which is high in proteins, vegan & gluten free. You can enjoy it with sambhar, masala potatoes or simply with any chutney.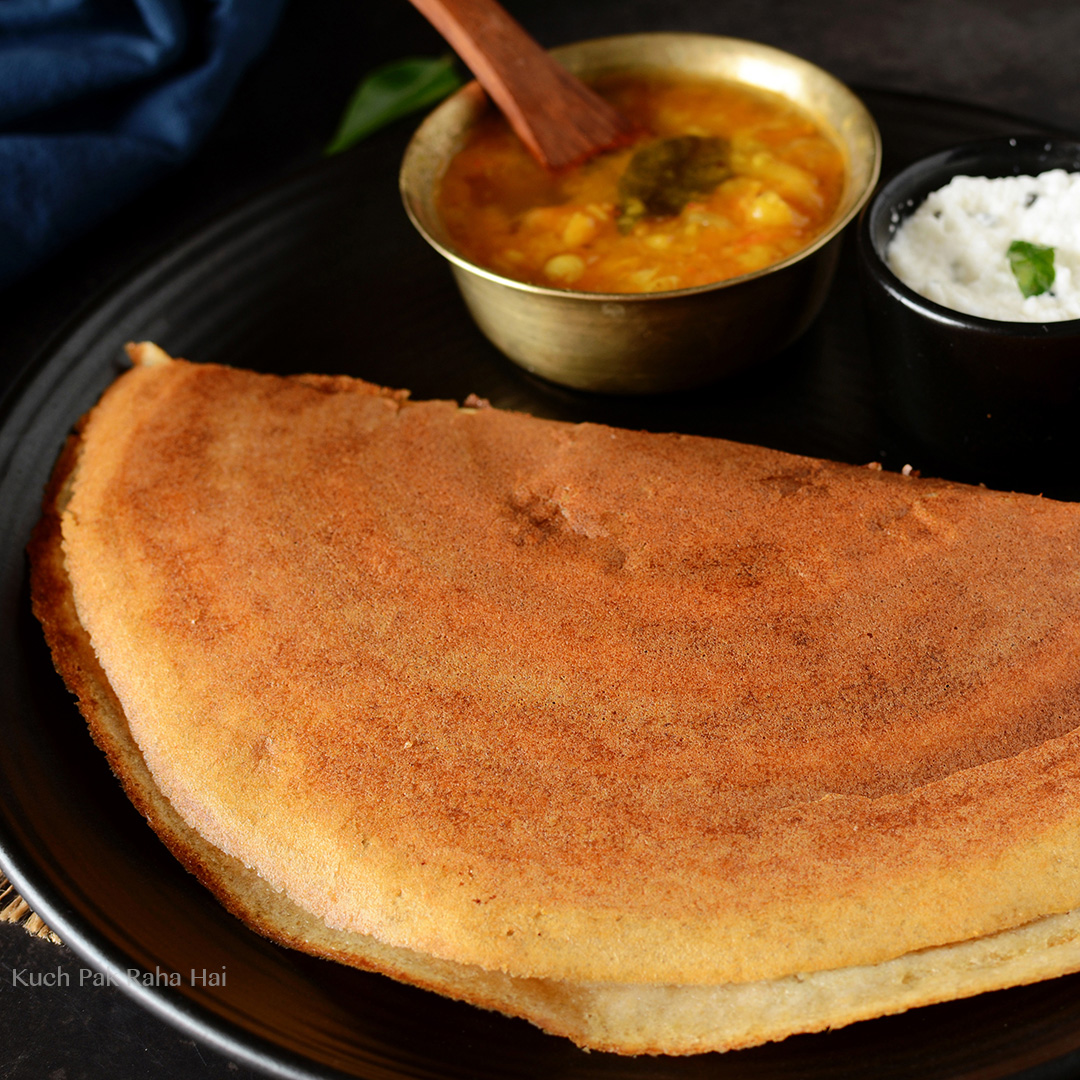 What is Quinoa?
Quinoa (pronounced as KEEN-Wah) is often referred to as superfood or supergrain because of its high fibre and protein content. Its origin is from South America & is technically seed of the flowering plant 'Chenopodium quinoa'. It is a quite nutritious gluten free grain and contains all nine essential amino acids. 1 cup of cooked quinoa (185 grams) has approx 222 calories, 8.2 grams protein, 5 grams fiber & as it makes one feel full for longer, it is often recommended for weight loss also.
What is Quinoa Dosa?
Dosas are South Indian thin savoury crispy crepes made using a fermented batter of rice and urad dal (split & skinned black gram). In this quinoa dosa recipe, we have replaced rice from the traditional recipe & replaced it with quinoa. The dosas still turn out absolutely crispy and my family couldn't even guess that they are made of quinoa.
For a hearty filling healthy breakfast, you can enjoy them with some coconut chutney, onion tomato chutney or some hot piping homemade sambhar & masala potatoes.
The quinoa lentil dosa recipe shared here is :
Vegan
Gluten Free
High Protein
Made without rice or oats

Quinoa Dosa Ingredients:
Apart from quinoa, this no rice dosa recipe has lentils like moong dal & urad dal which increase the protein content and also gives a lovely golden colour to dosas. Fenukgreek seeds (methi seeds) are added in this recipe to escalate the fermentation process.
How to make Quinoa Dosa?
To make quinoa dosa, we first begin by washing the quinoa & lentils together. They are then soaked for 4-5 hours just like we soak rice, urad dal in traditional dosa making process. Once the soaking process has softened up the quinoa & lentils, we proceed to blend the ingredients to make a smooth uniform dosa batter.
This dosa batter will them be rested for 6 to 8 hours till it is fermented completely. One thing to note here is to add salt in the batter once the fermentation is completed. Also, the fermentation time depends a lot on climatic conditions. In summers, the batter ferments in 3-4 hours and in winters it takes upto 8 hours. Right now the temperature in Hyderbad (India) is rangin from 20-25 degree celsius, so I am going to keep this batter overnight to ferment.
After the batter is fermented well, we proceed to make dosa on a heated well seasoned tawa.
More Quinoa Recipes: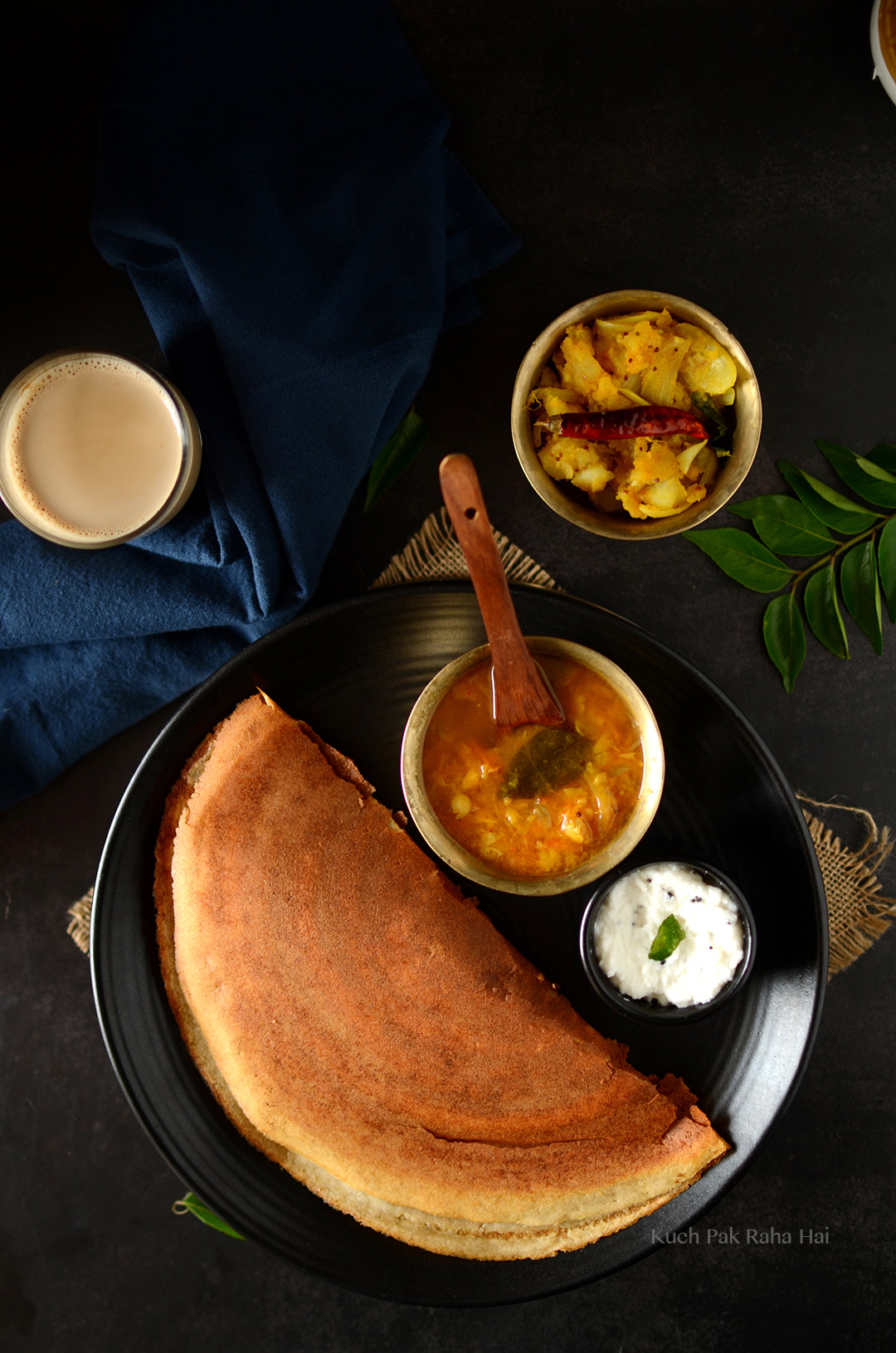 Some more dosa or idli recipes on the blog which you might like to try:
Hope you would like this easy & yummy Quinoa Dosa recipe!!
List of Ingredients:
Quinoa – 1 cup
Moong Dal (Yellow lentil) – 1/4 cup
Urad Dal (Split & Skinned black gram) – 1/4 cup
Methi seeds (Fenugreek seeds) – 8 to 10
Salt – 1 tsp ( or to taste)
Ghee/Oil – For cooking
Notes:
You can make these dosas without moong dal also but I would advice adding it as it imparts a nice golden colour to dosas.
You can roast these dosas in ghee or oil both. However if you want them to be vegan, use cooking oil.
Quinoa needs to rinsed thoroughly as if it is not washed properly it can give a bitter taste to dosas.
Directions:
Step 1:
Wash urad dal & moong dal well under running water while constantly rubbing with fingers. Repeat this process with quinoa too. Washing lentils & quinoa seeds is an important step as it helps in getting rid of impurities & dirt.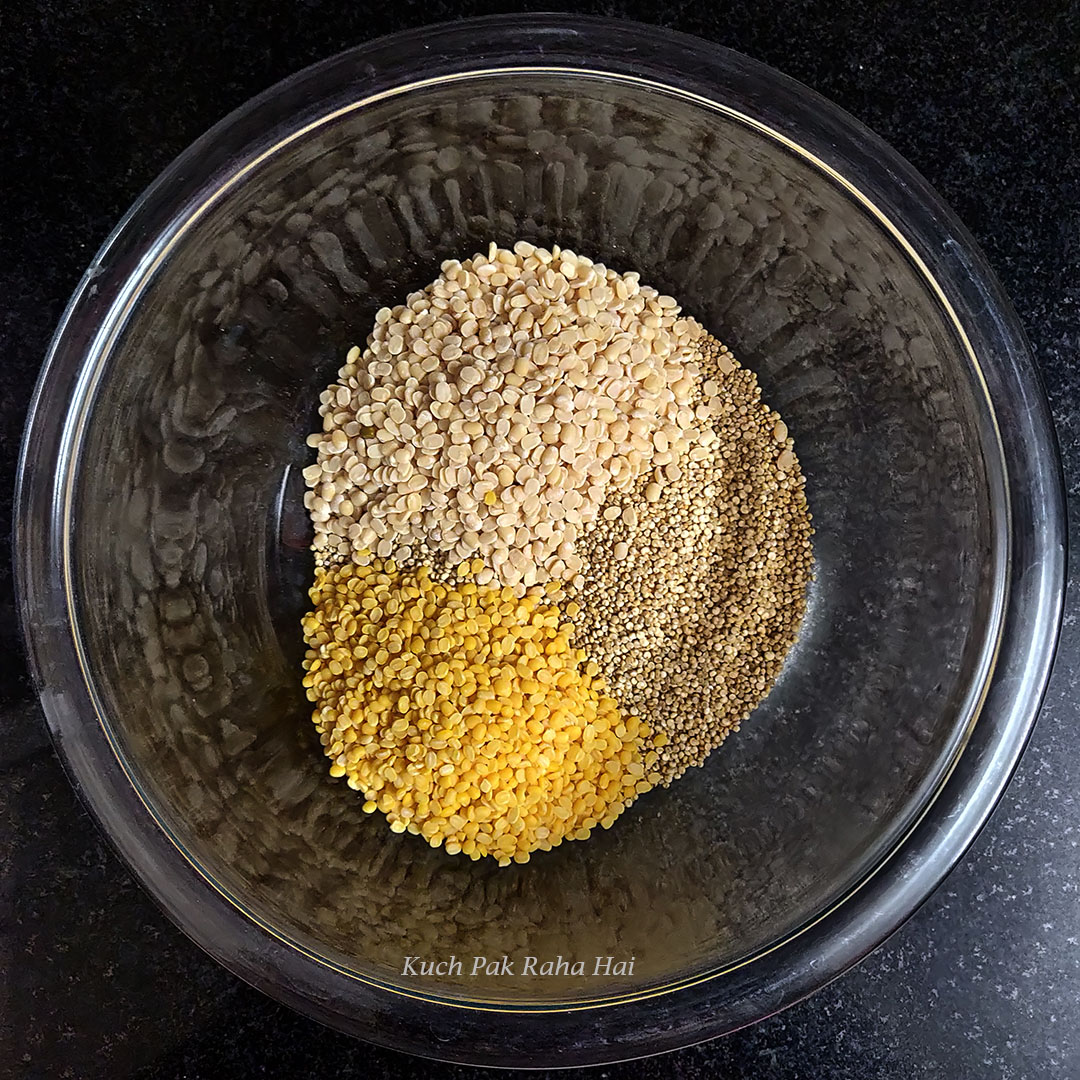 Add all the above ingredients with fenugreek seeds(methi) in a mixing bowl  & add water. Soak these lentils & quinoa for 4-5 hours.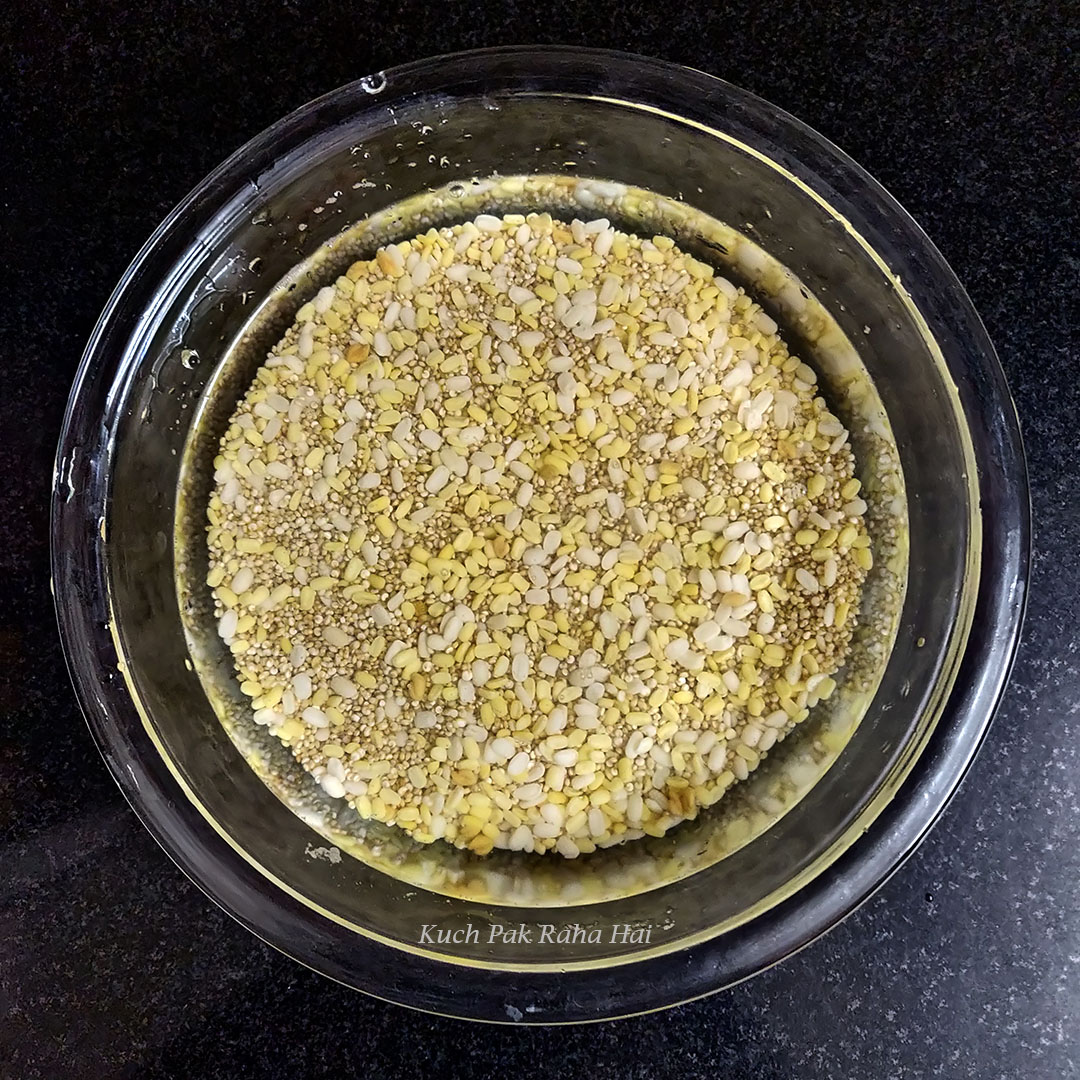 Step 2:
Discard the water in which quinoa and lentils were soaked. Add all the soaked ingredients in a grinding jar. Add 1/4 cup of water. Grind till you get smooth batter. Transfer the batter in a container & let it ferment for 7-8 hours. The container should be big enough as volume of the batter increases after fermentation.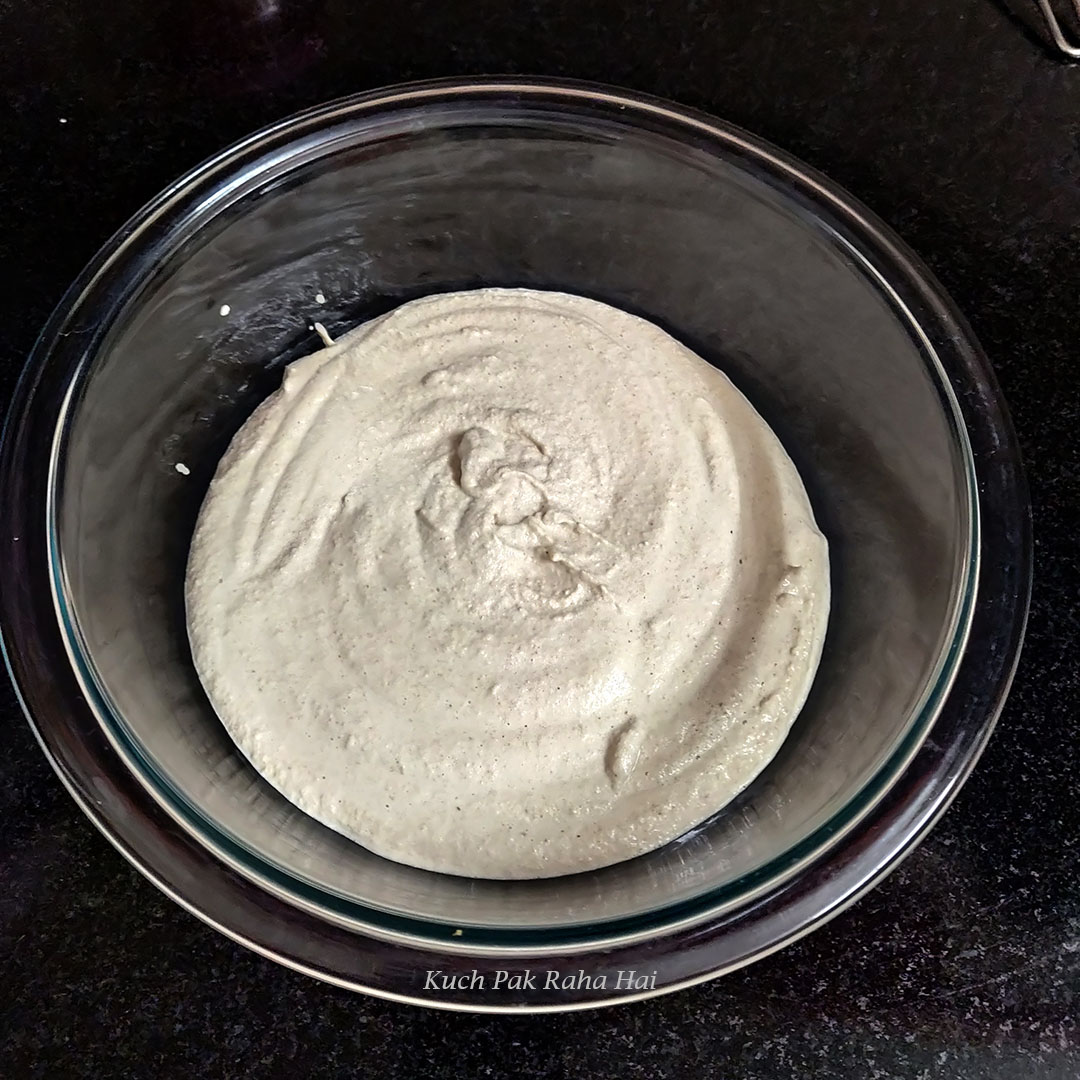 Step 3:
As you can see below, this is how the batter will look after fermentation. The fermentation time varies depending on climatic conditions & temperature. In summers, it gets fermented in 3 to 4 hours & in winters it might take upto 8 hours. The batter which you are seeing below was kept overnight.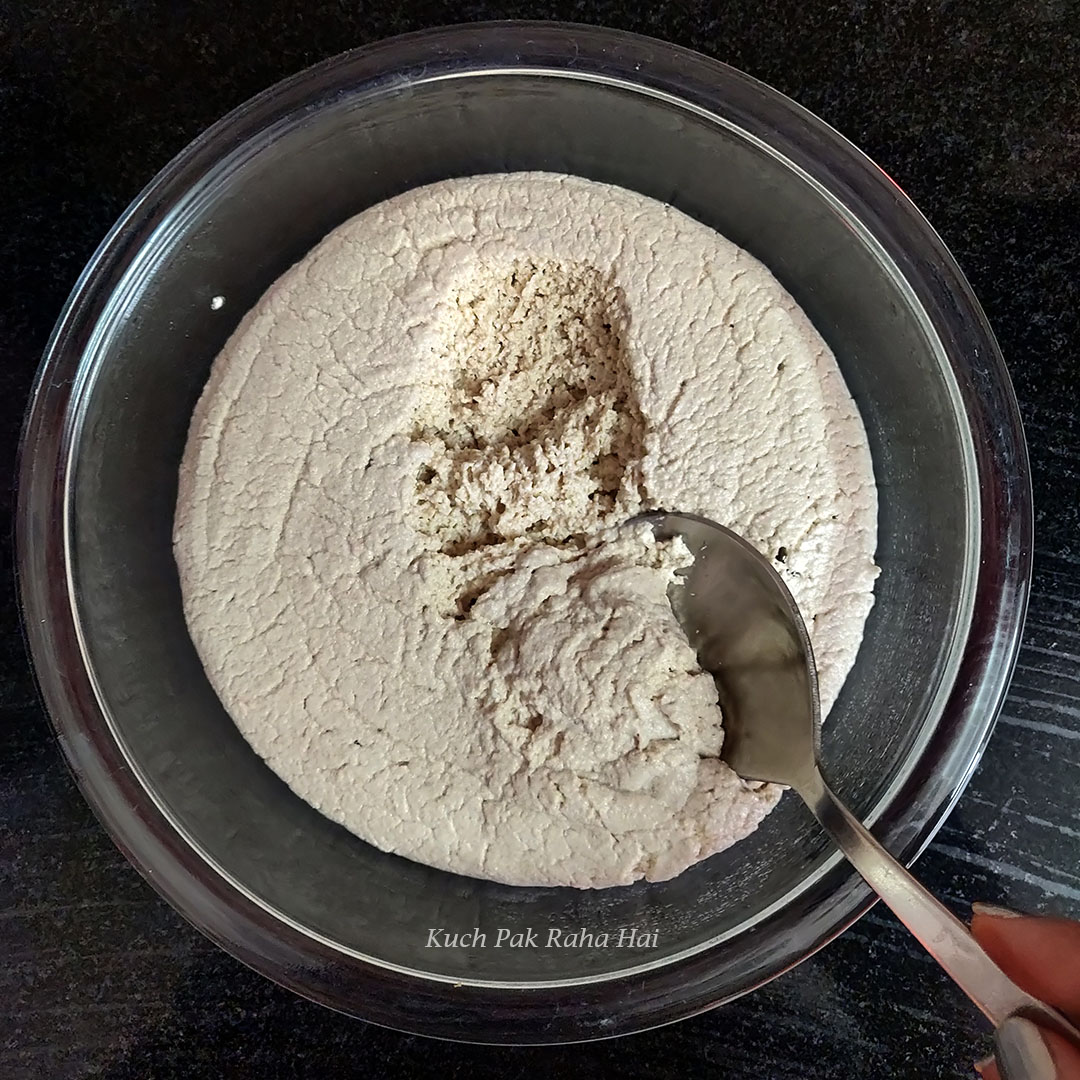 Step 4:
Add salt and some water to it. The water should be added gradually till you get smooth pourable consistency. Keep it for half hour more.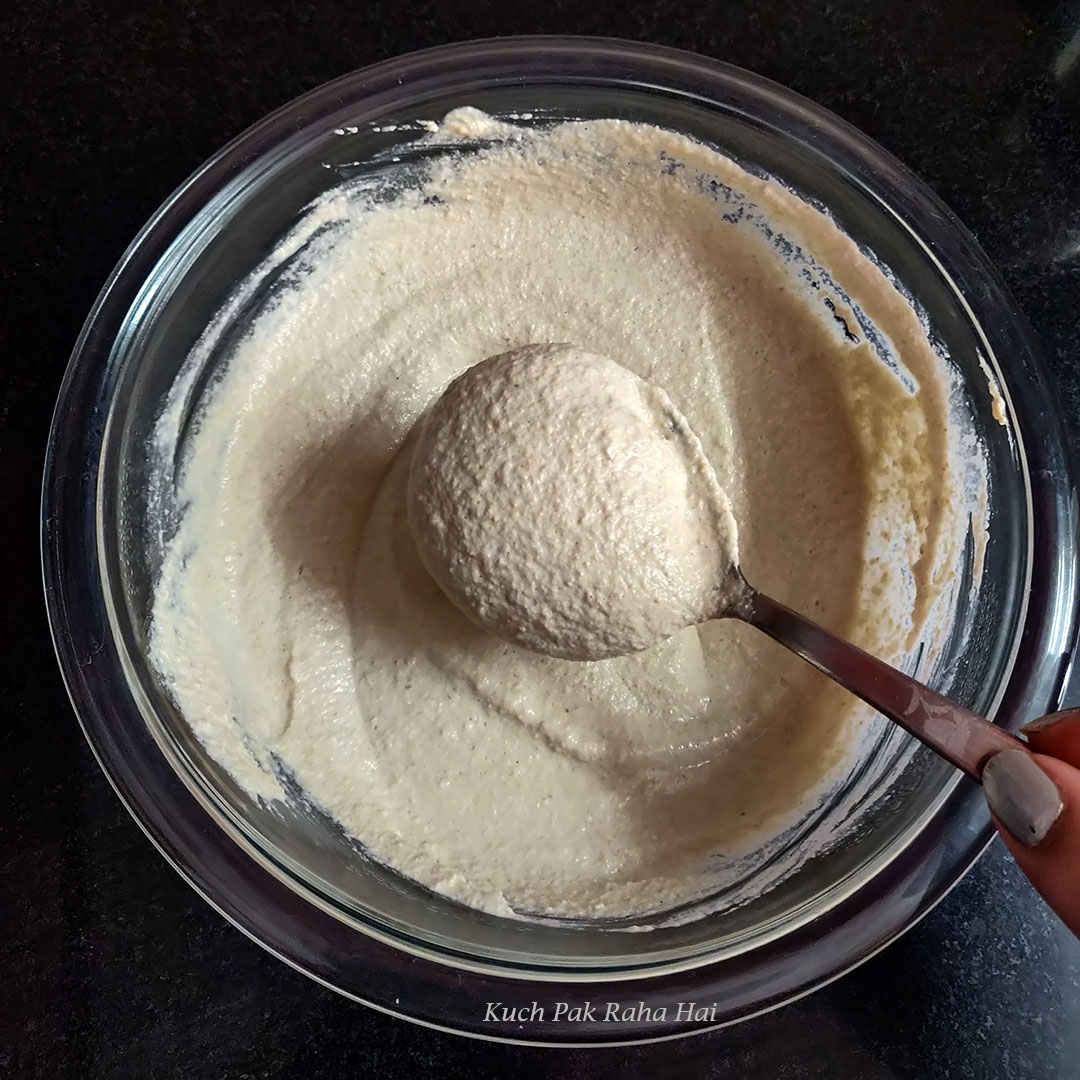 Step 5:
Heat a heavy bottomed non stick tawa or pan. Brush some oil & wipe it with kitchen tissue or cloth.
Step 6:
Take a laddle full of batter & pour batter on tawa (pan). Spread the batter in circular motion while moving laddle from centre to outwards. The flame should be low while you are spreading the batter. Drizzle some oil or ghee near edges & in the centre.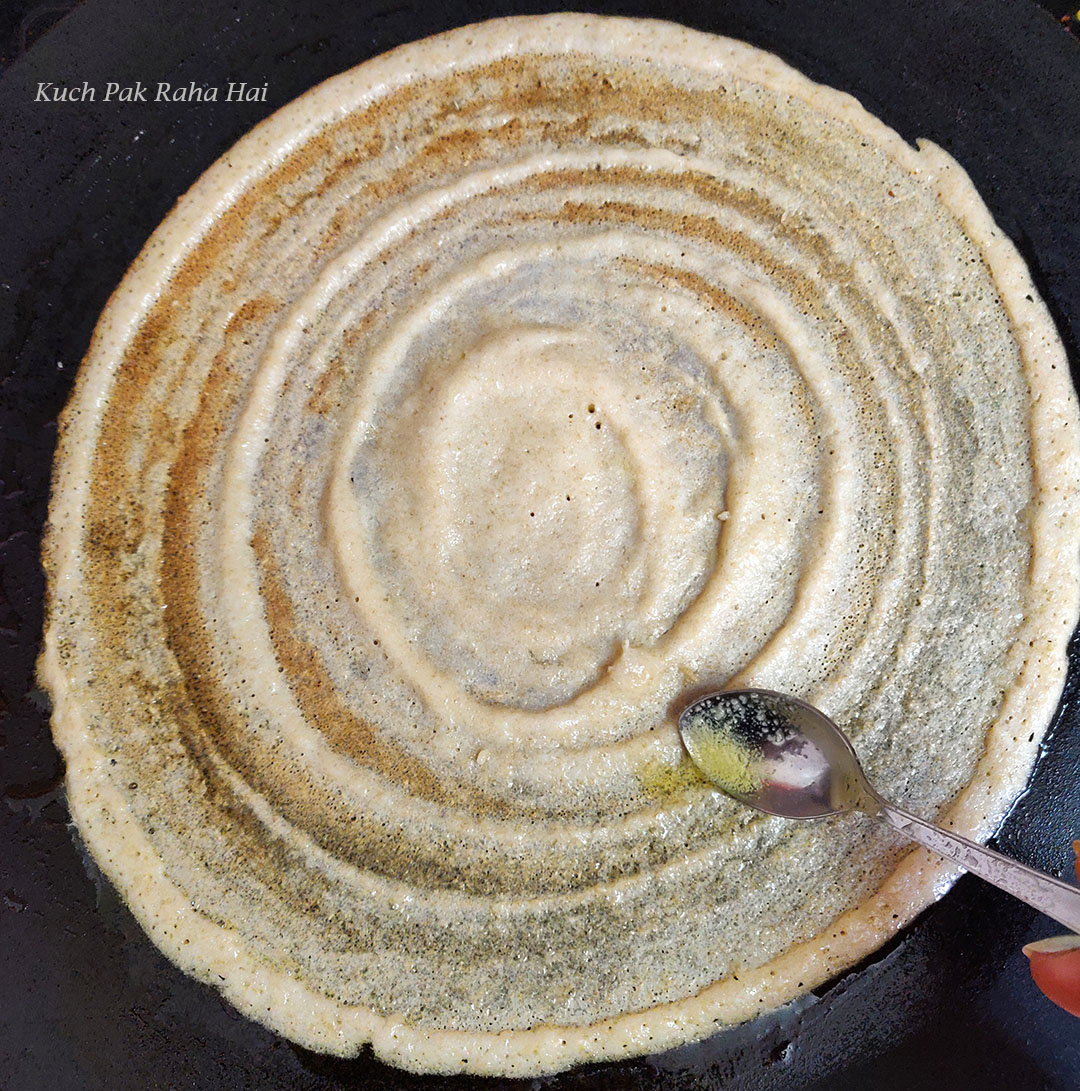 Dosa Tawa used: https://amzn.to/3f7sYKt
Step 7:
Switch the flame to medium-high once you have spread the dosa batter.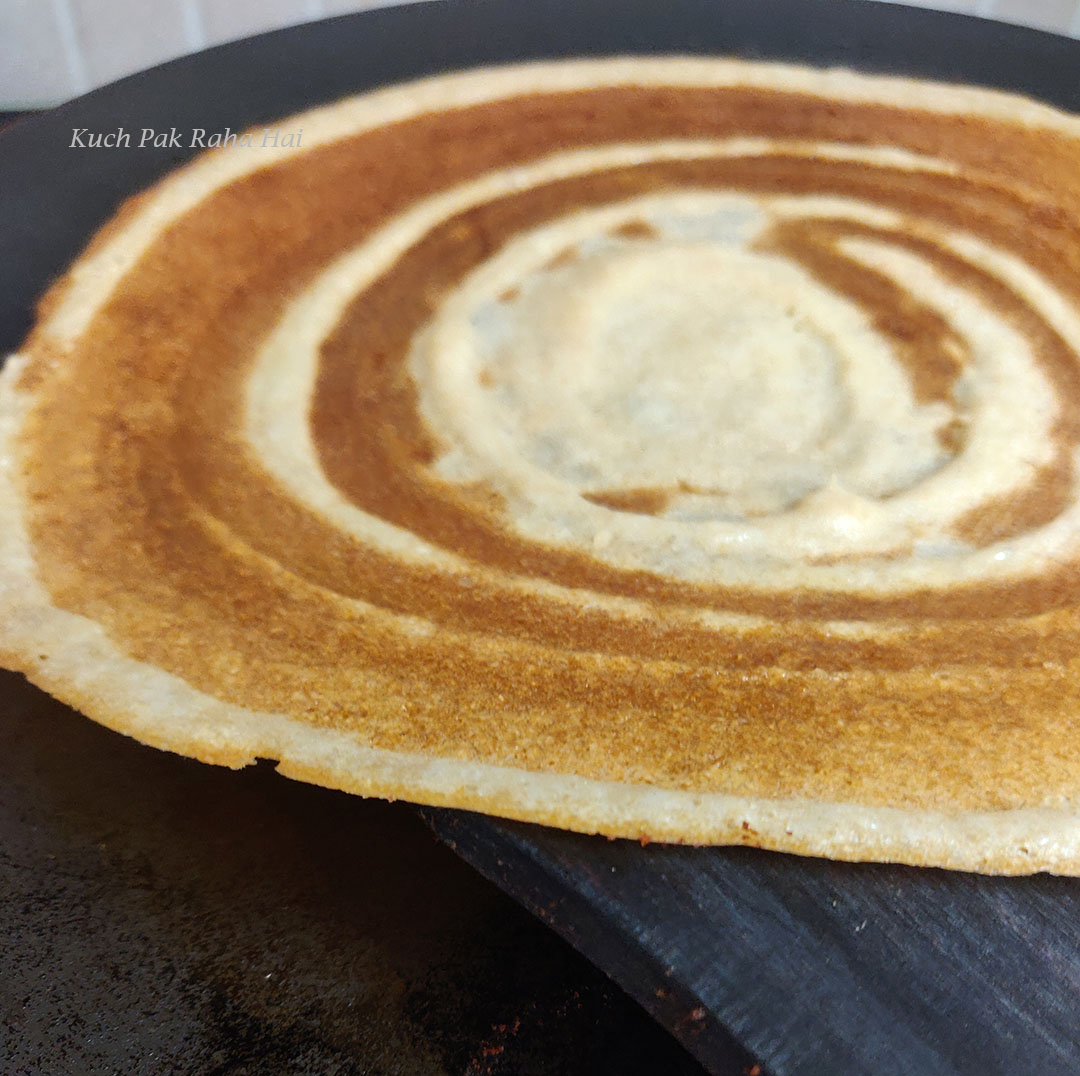 Let the dosa cook for 2-3 minutes till it is crispy & golden in colour. Fold it gently in half.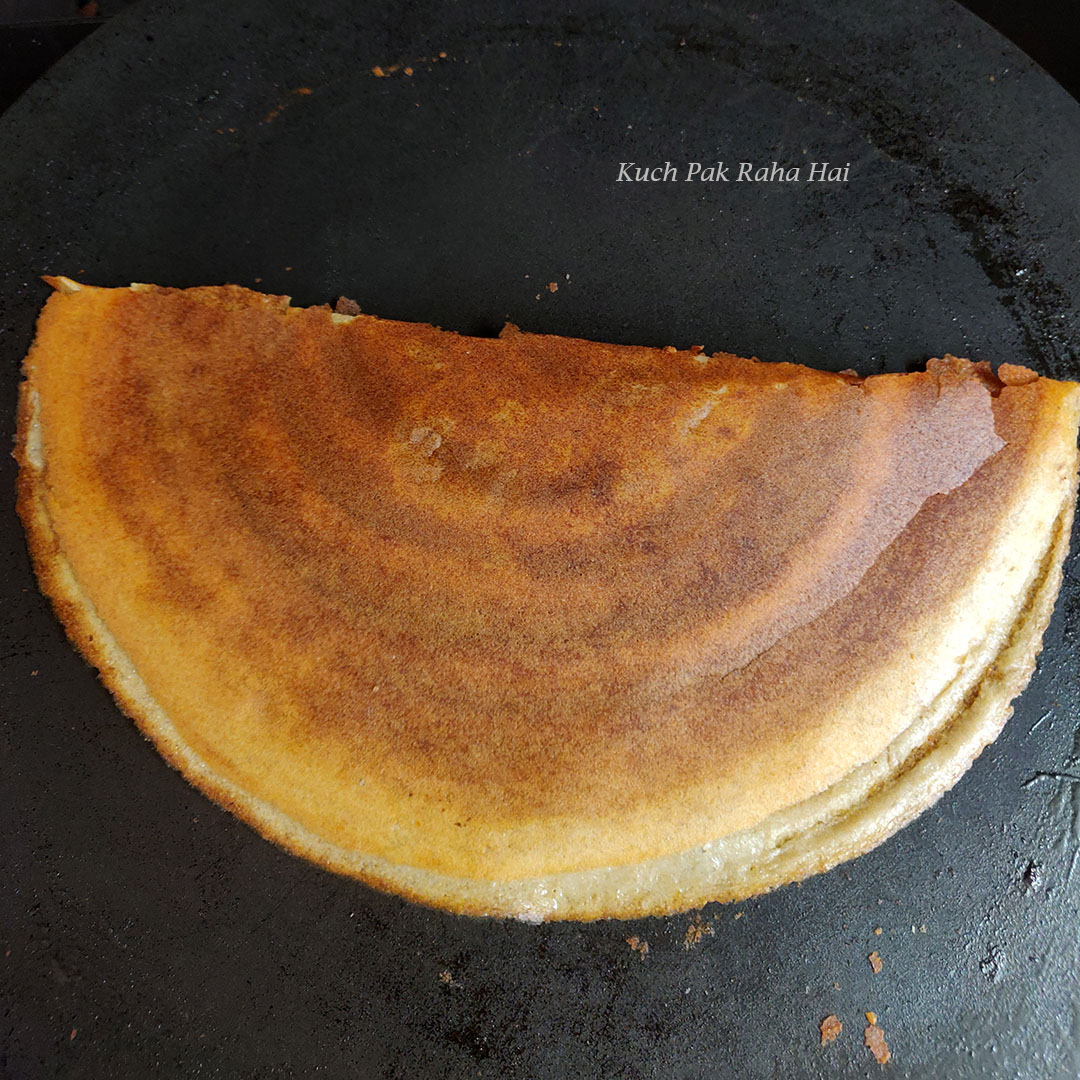 Serve these crispy delicious healthy quinoa dosa with sambhar, coconut chutney & aloo masala. Bon Appetit!!!!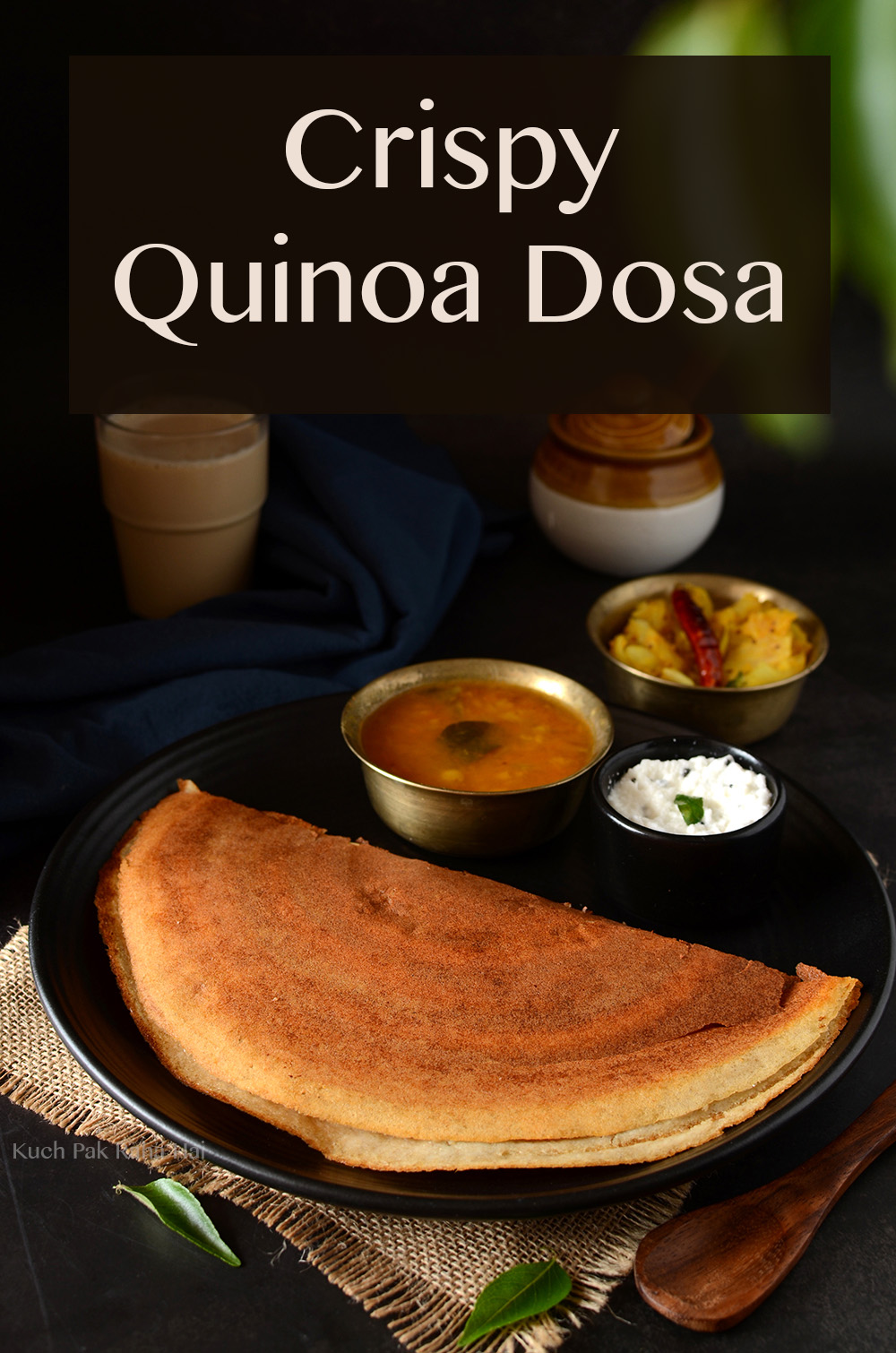 If you try this recipe & share its pics on social media channels, then don't forget to tag us on Facebook, Instagram or use #kuchpakrahahai.
Let's stay connected
Facebook| Instagram| Pinterest| Youtube
Kitchen Products Used:
(Disclaimer: The above shared links are amazon affiliate links. For more details, please refer to our privacy policy page.)