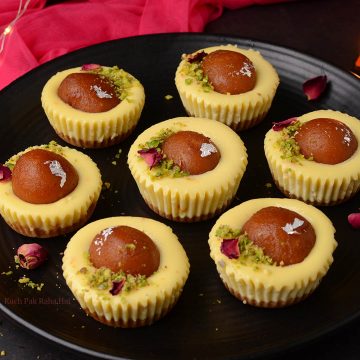 Eggless Gulab Jamun Cheesecake is a delicious Indian fusion dessert recipe made by merging succulent gulab jamuns with classic cheesecake flavours. We will make mini gulab jamun cheesecakes here which are great to serve in parties, potlucks or get-togethers.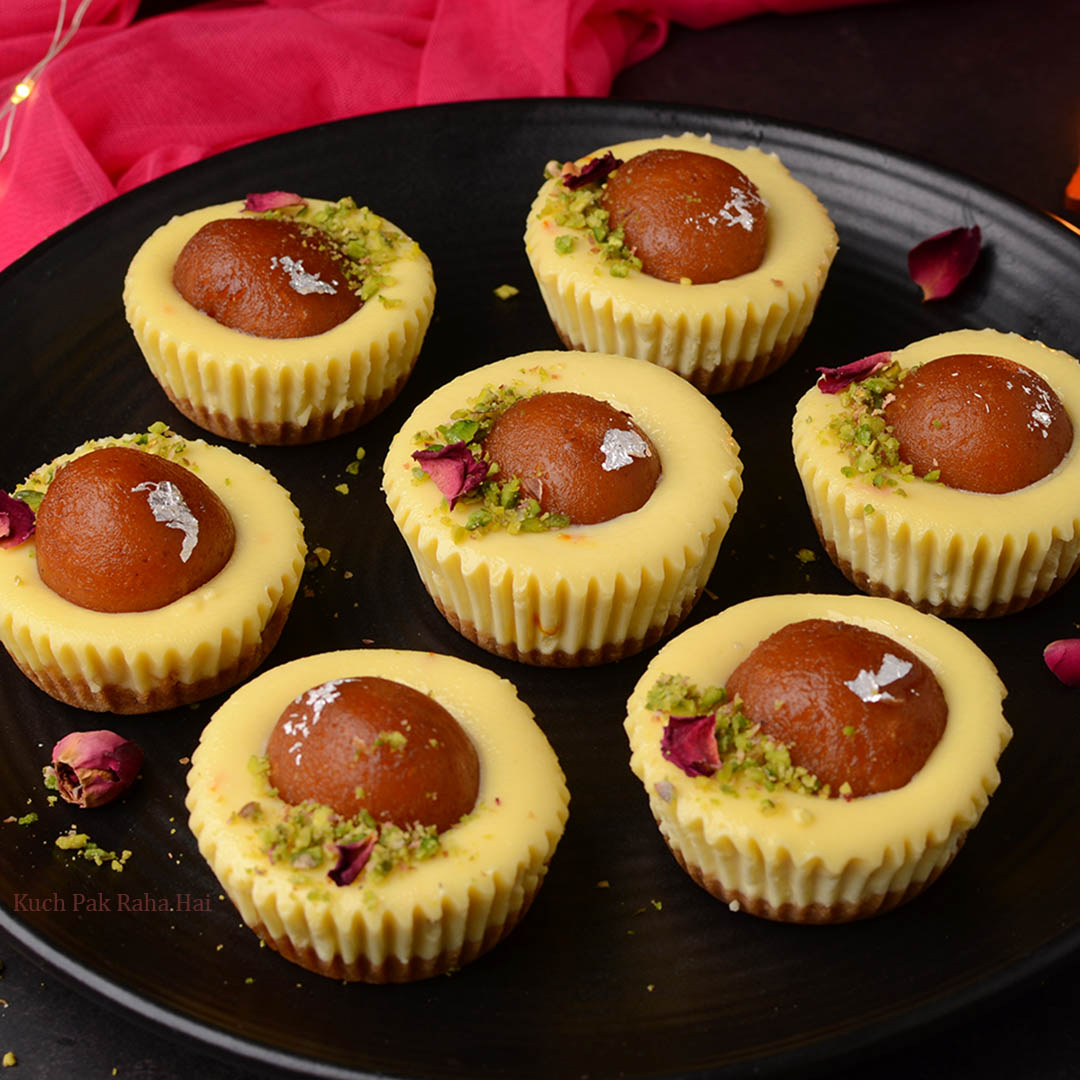 These mini eggless gulab jamun cheesecakes are:
Easy to make
Easy to serve
Made without gelatine or agar agar
Does not require spring form pan
Can be made ahead of time
& Of course taste heavenlyy…!!!
Do you need any more reasons to try this delish tempting gulab jamun cheesecake recipe this Diwali season ?? 😀
This indian fusion dessert is perfect for festivals like Diwali, Holi or Raksha Bandhan when you are looking for a crowd pleaser dessert that everyone can just pick & enjoy. You can make it before time and store in fridge.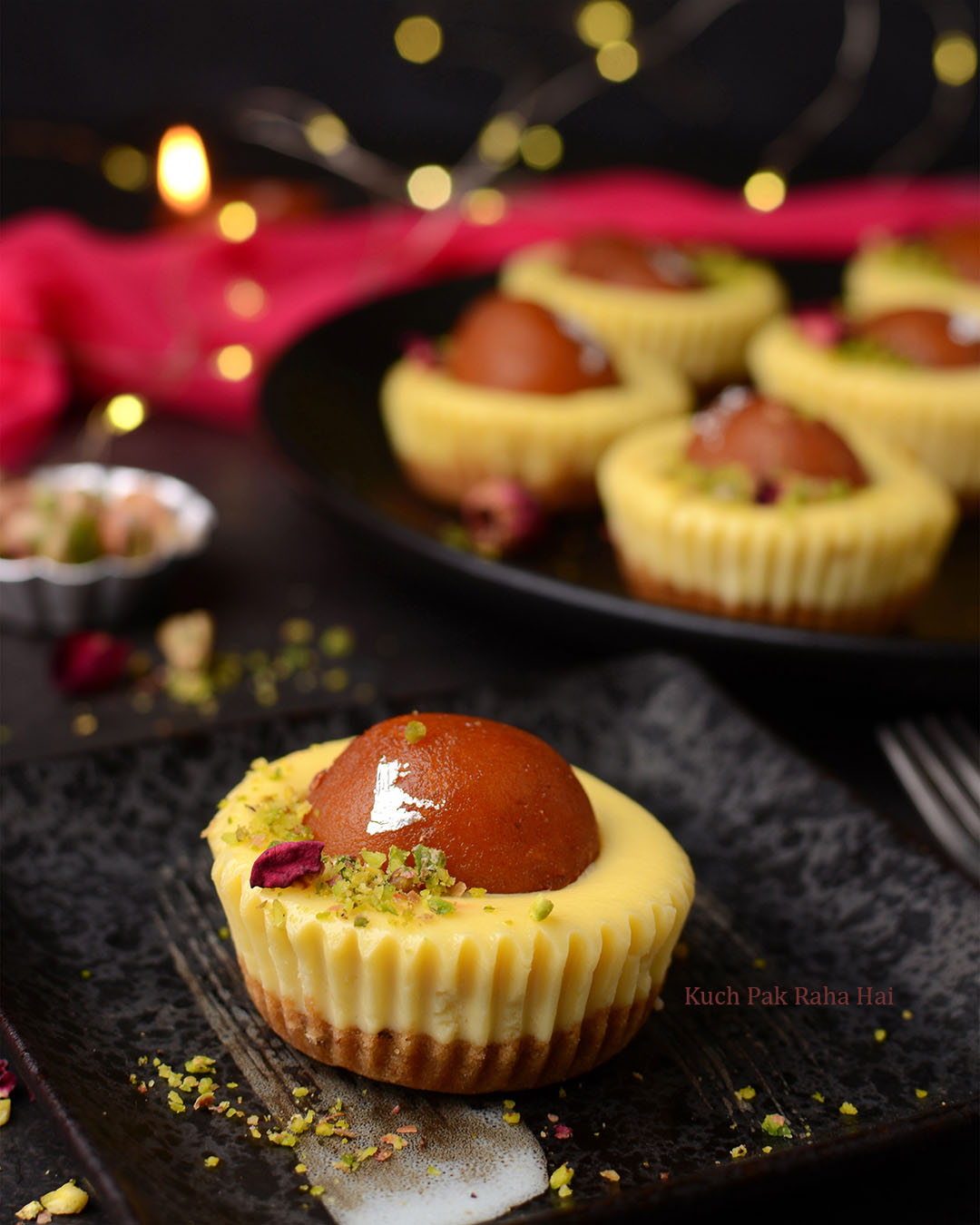 Gulab Jamun is a popular Indian sweet made by dunking fried dough balls in sugar syrup. Though it is a complete dessert in itself but as the festivals are all about indulgences and cravings, its fusion with cheesecake takes it to another level thus instantly satiating your craving for gulab jamun & cheesecake together.
Many of you will doubt that this dish might taste overtly sweet but trust me with the right proportions of ingredients this dessert is just right enough to hit your sweet spot. Every bite of this gulab jamun cheesecake consists of soft juicy gulab jamun, crunchy biscuit crust and luscious slightly salty cheesecake with hints of cardamom & saffron.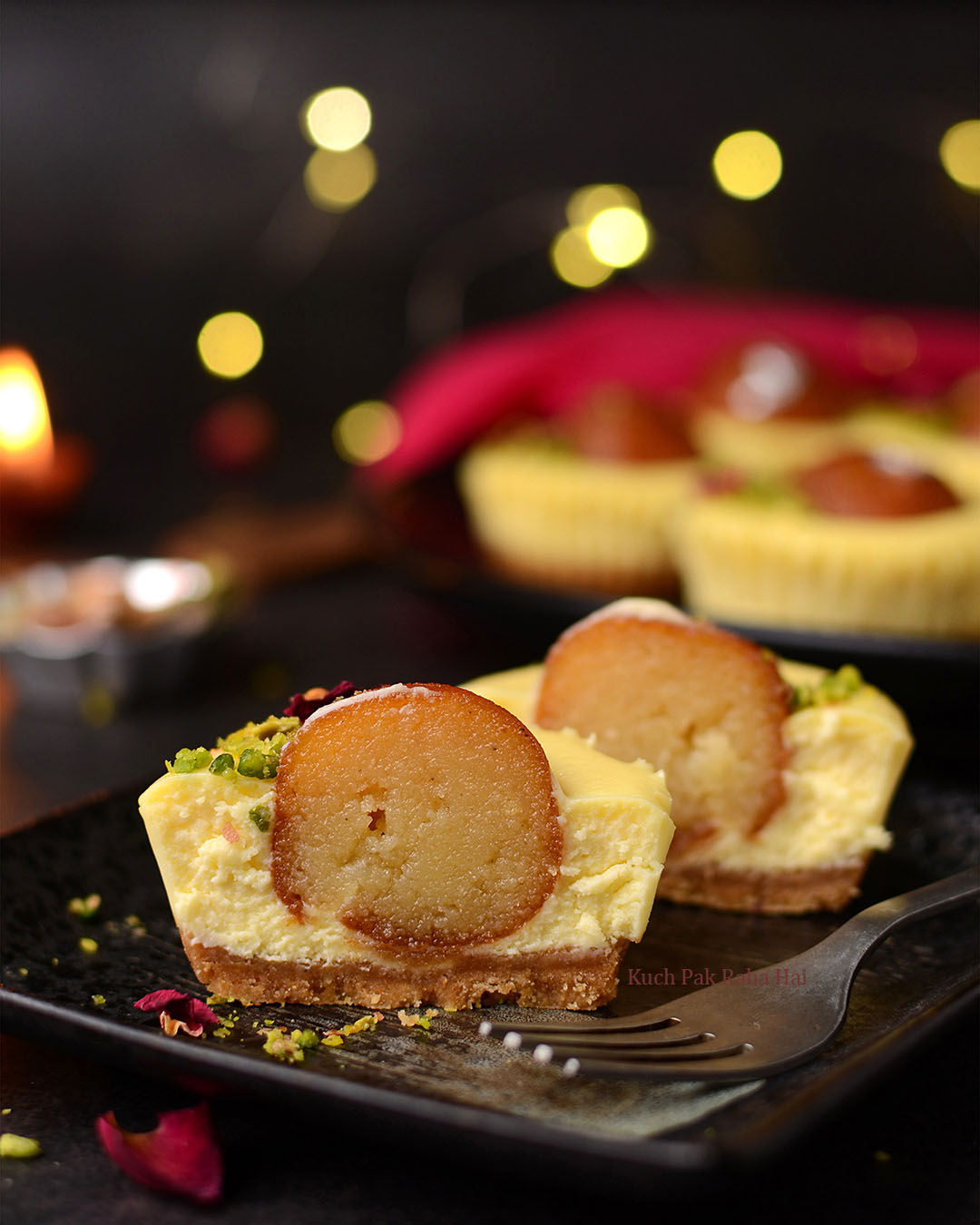 Components of Mini Gulab Jamun Cheesecake:
1. Biscuit Crust:
This is the bottom most layer of the mini cheesecake made with biscuits, butter & cardamom. As the cream cheese filling and gulab jamuns are sweet components, digestive biscuits are used in crust. You can use salted butter or a mix of salted-unsalted butter as little bit of saltiness balance the sweetness of dessert.
2. Cream Cheese Filling:
The luscious cream cheese filling is made with cream cheese, condensed milk & cream. To give it festive twist, some saffron milk is added to it which gives a lovely aroma and golden hint to the cheesecakes. Adding sugar in this layer is optional and you can add it as per your taste.
3. Gulab Jamuns:
In this recipe you can use homemade or store bought gulab jamuns. I have used Haldiram gulab jamun tin to make this recipe. If you are buying it from shop or making them at home just take care of their sizes as too big gulab jamuns will not leave enough space for cream cheese filling.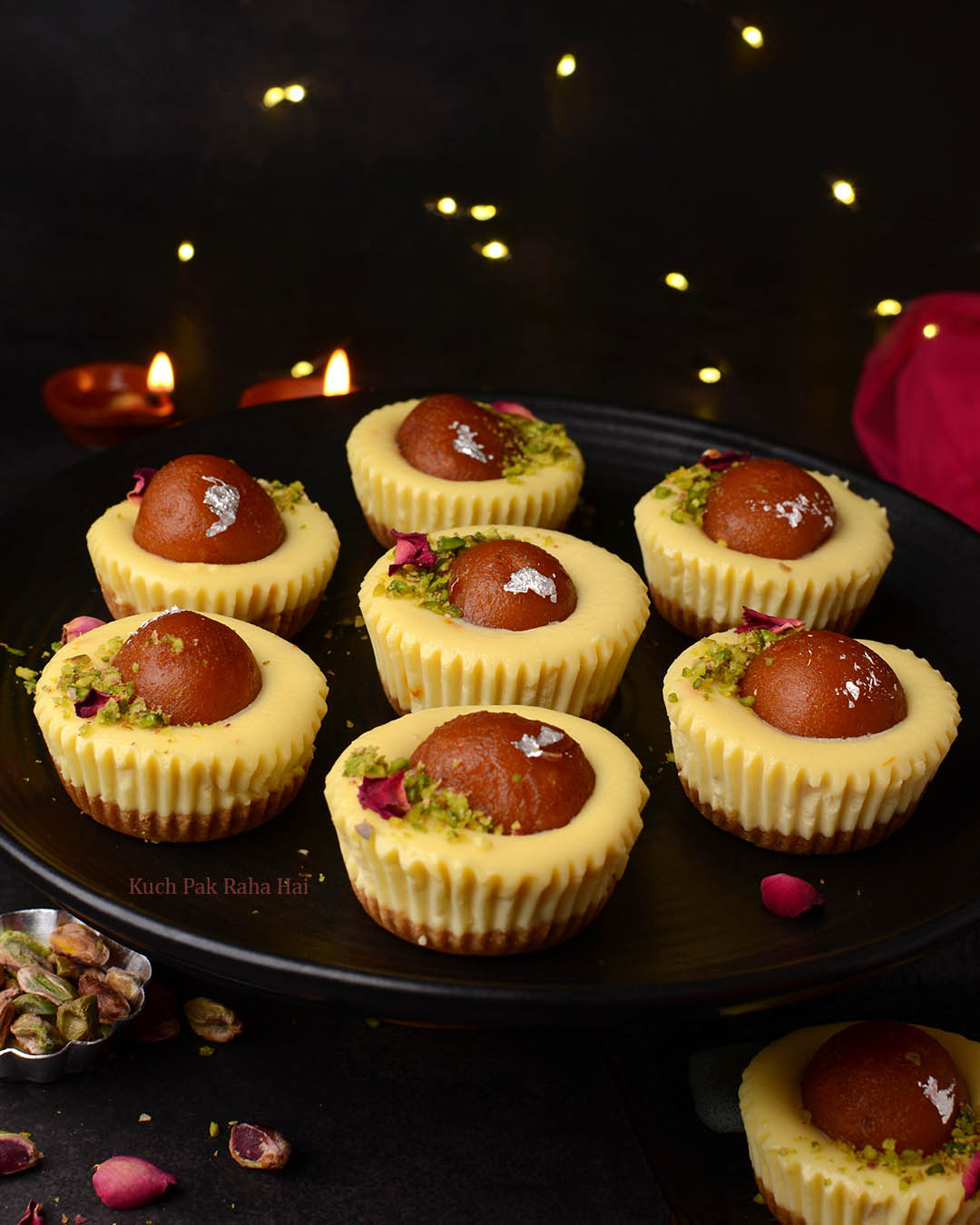 How to make these mini gulab jamun cheesecakes?
To make gulab jamun cheesecake first drain all the excess syrup from the gulab jamuns by transferring them on a sieve. This is an important step as you don't want sugar syrup seeping into the cream cheese layer , ruining it consistency.
We begin by coarsely grinding biscuits, cardamom & them adding melted butter to it. While this layer is setting in fridge we prepare the saffron cream cheese filling. It is then added over the biscuit layer & then finally topped with a gulab jamun piece. You can opt for mini gulab jamuns or halving the gulab jamuns before adding for lighter version.
These mini gulab jamun cheesecake are then finally baked in 'water bath'. To make water bath the muffin tray is placed inside a baking tray & then this tray is filled with hot water. The addition of hot water creates steam in the oven thus making sure the cheesecakes do not crack and turn out absolutely creamy and luscious.
The cheesecakes are set completely in fridge for 6-8 hours which gives them ample of time soak in all the flavour. Before serving, these divine looking gulab jamun cheesecakes are decorated with some crushed pistachios, rose petals and varak (silver edible leaf).
Youtube Video :
I have also share a youtube video for this recipe. Incase you have doubt at any step feel free to watch it. Hope you would like this easy mini gulab jamun cheesecake recipe.
More Diwali special recipes:
Ingredients:
Digestive Biscuits- 10 to 12
Melted Butter-3 tbsp
Cardamom (Elaichi)- 2
Warm Milk- 2 tsp
Saffron (Kesar)- 8 to 10 strands
Dairy Cream- 1/4 cup
Cream Cheese- 1/2 cup
Cornflour- 2 tsp
Powdered Sugar – 1 tbsp (optional)
Lemon Juice- 1/2 tbsp
Condensed Milk-1/3 cup
Gulab Jamuns- 8 pieces
Crushed Pistachios- For garnishing
Dried Rose petals- For garnishing
Substitutions:
1. This recipes yields 8 pieces. Measuring Cup used 1 cup=250 ml
2. You can use unsalted butter or a mix of salted & unsalted butter for the biscuit crust.
3. Instead of digestive biscuits you can use marie, graham crackers, parle-g, good-day biscuits or any flavoured biscuits.
4. I have use Amul fresh cream (25% fat) for making these mini gulab jamun cheesecakes. You can use any brand of your choice.
4. You can use home made or store bought gulab jamuns for this fusion dessert.
Directions:
Step 1:
Add saffron strands to warm milk and crush them with spoon. Keep this saffron milk aside.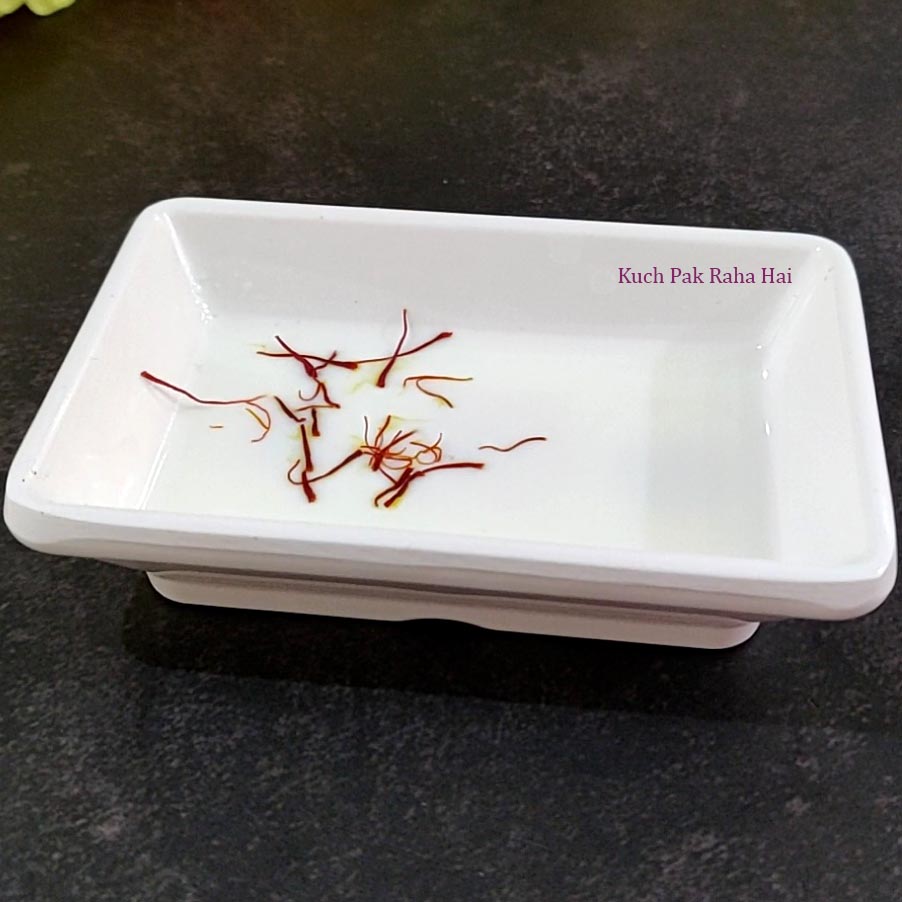 Step 2:
Add digestive biscuits and cardamom seeds in a grinder jar and grind them coarsely. Add melted butter to it and grind once or twice. Line the muffin tray with liners and transfer this biscuit mixture in it. Press it with back of spoon. Keep it in fridge for 20-30 minutes.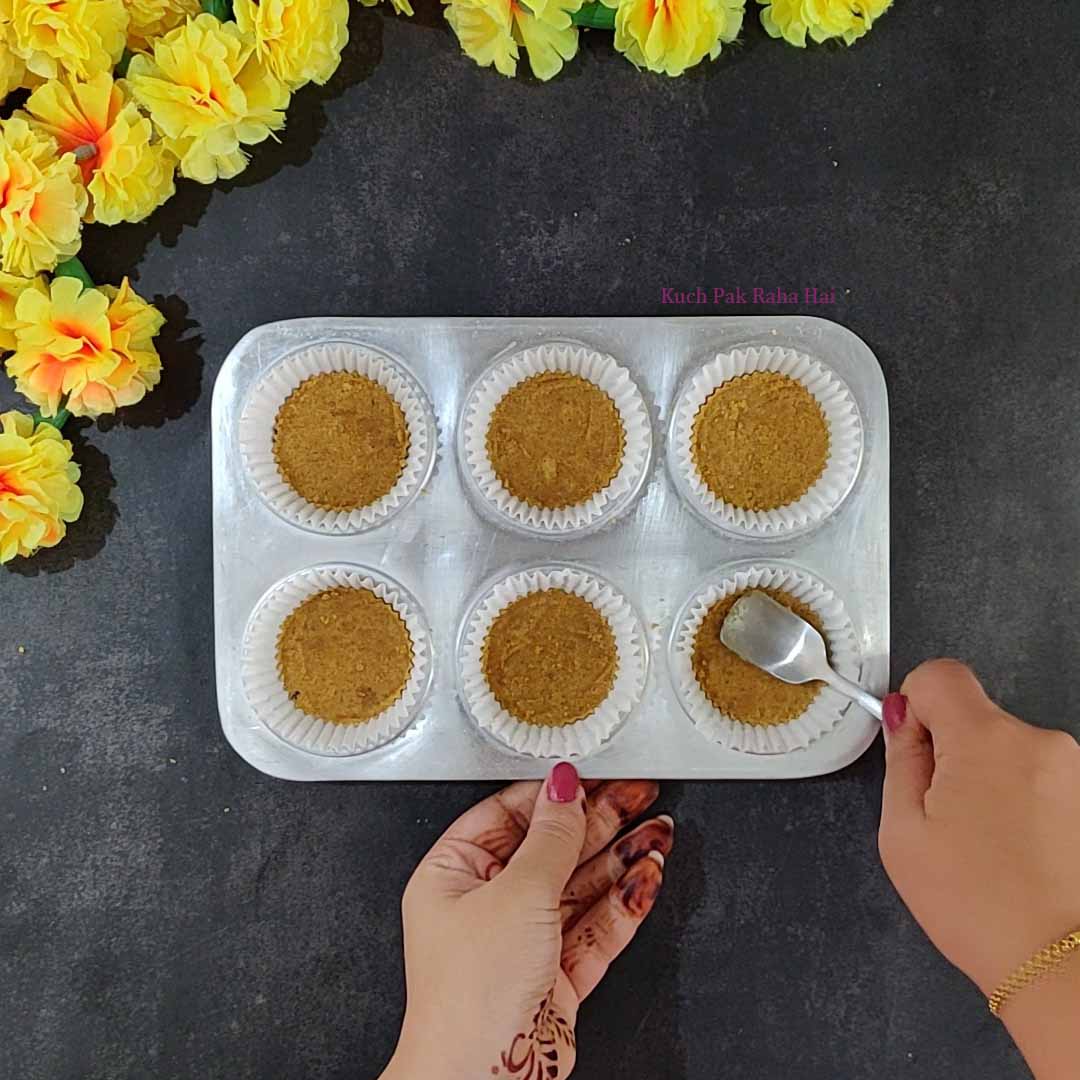 Step 3:
Take cream in a mixing bowl. Start whipping it using a whisker or electric mixer. After 1-2 minutes add saffron milk to it. Whisk for total of 3-4 minutes. We just want to lighten the cream but don't want 'peak' consistency. Keep this cream aside.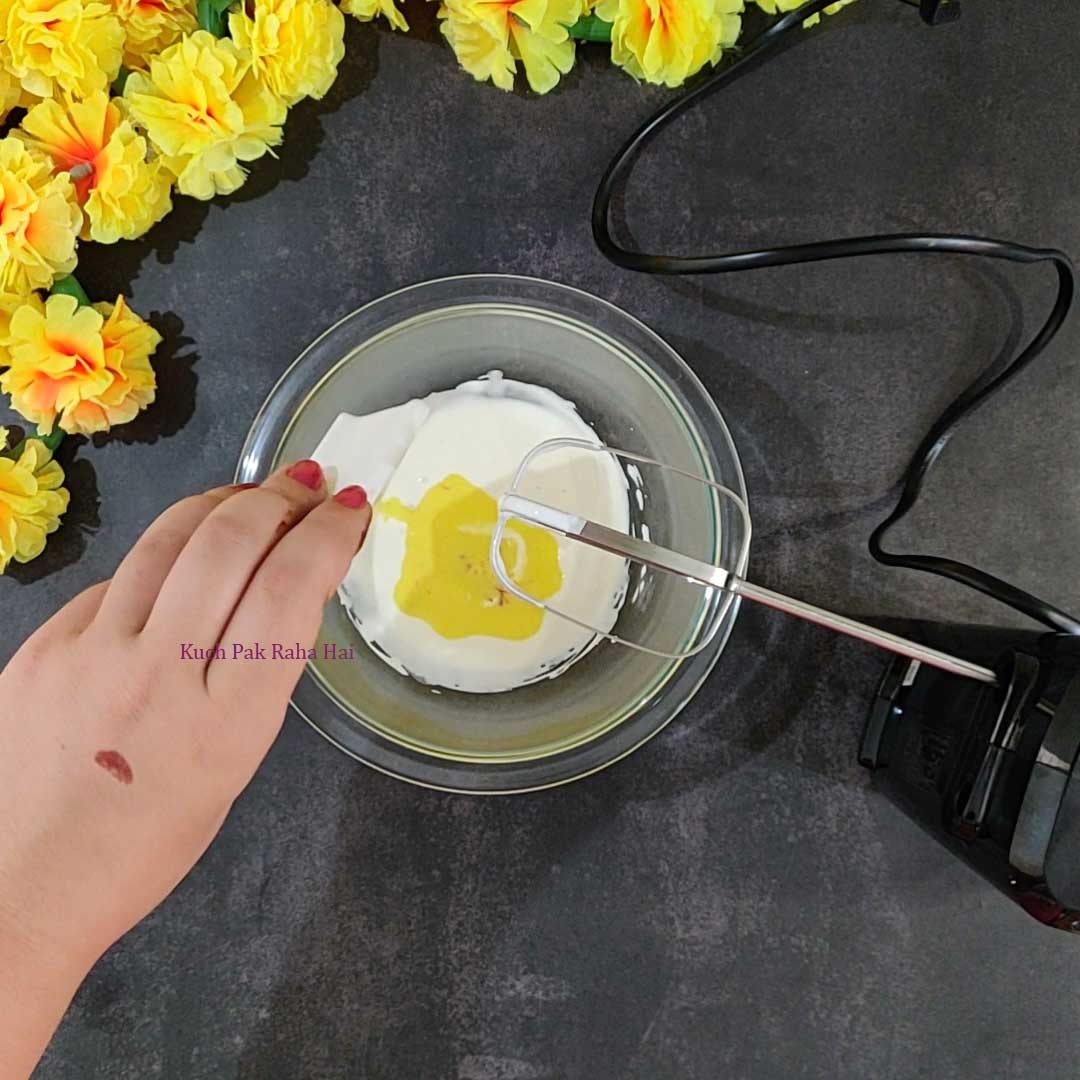 Step 4:
Transfer the gulab jamuns over a sieve in order to get rid of all the excess sugar syrup. Keep them aside.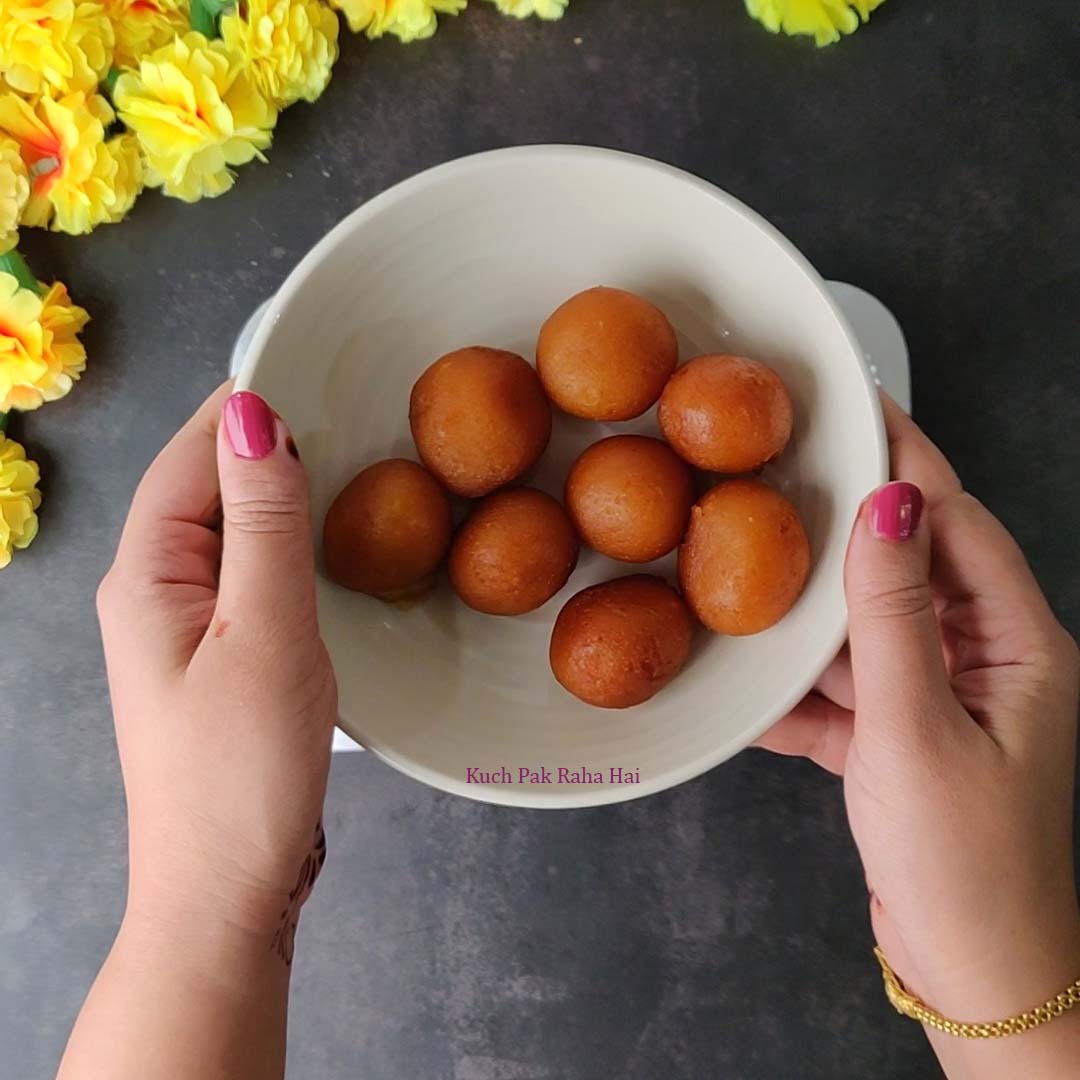 Step 5:
In another mixing bowl, add cream cheese, cornflour, condensed milk, lemon juice. Whisk it till the mixture becomes smooth & creamy. Add whipped saffron cream to it and mix it gently using a spoon or spatula. Taste the mixture once and then add powdered sugar to it as per your taste. Mix once again.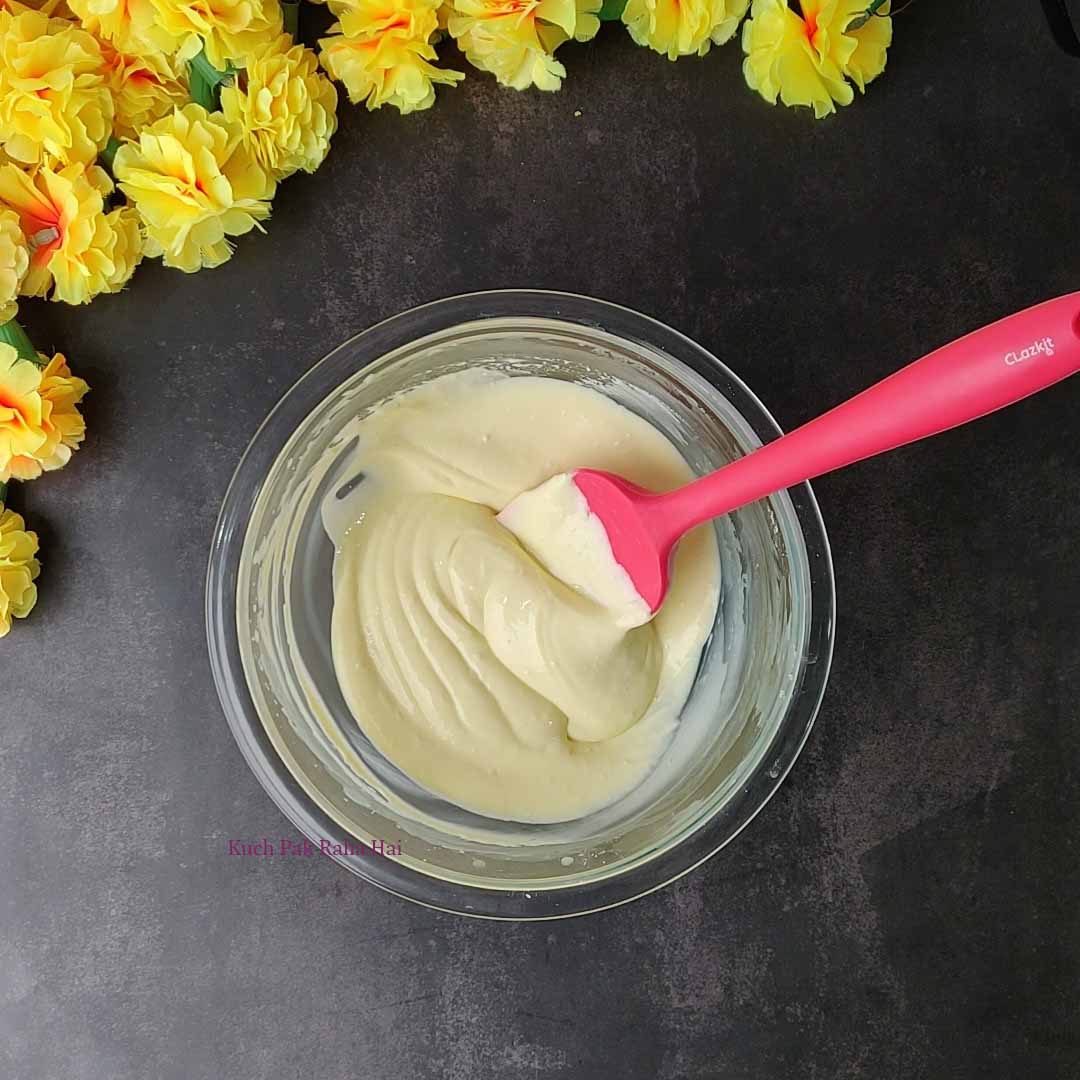 While adding sugar please keep in mind that gulab jamuns are also sweet. You can also skip adding sugar.
Step 6:
Transfer this cream cheese mixture in muffin mould over biscuit layer and keep a gulab jamun in centre of each piece. Please this muffin tray inside a baking tray and fill it with hot boiling water (as shown in video). You can even fill the water after keeping it in oven to avoid spilling.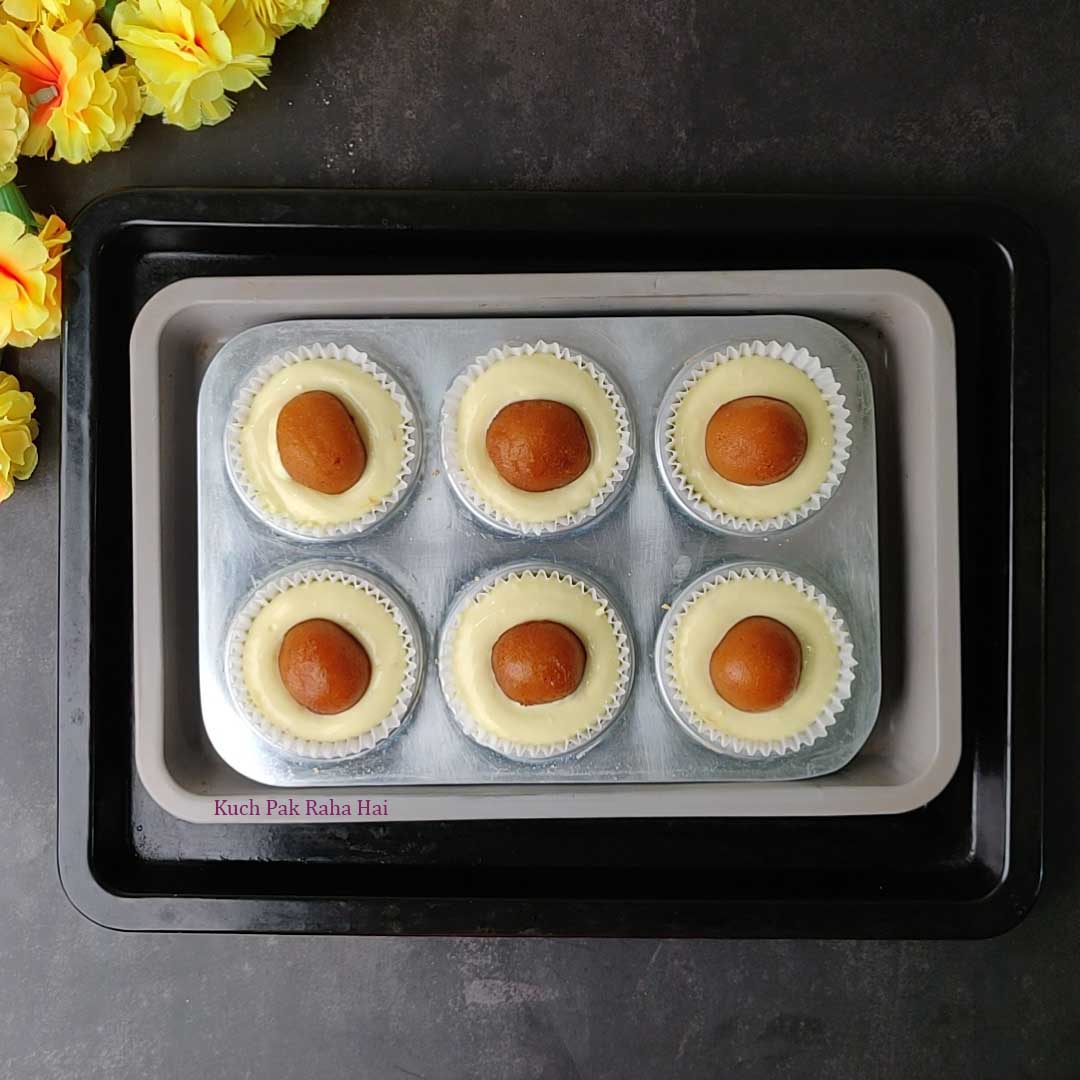 Step 7:
Bake them in a preheated oven at 160°Celsius for 30 minutes. Let them cool down in the oven for another 15 minutes.
Step 8:
After bringing the cheesecakes out of the oven let them cool down completely at room temperature first and then let them chill in fridge for 6 hours or preferably overnight.
Decorate them with some chopped pistachios or dried rose petals before serving. Enjoy this delicious luscious mini gulab jamun cheesecakes!!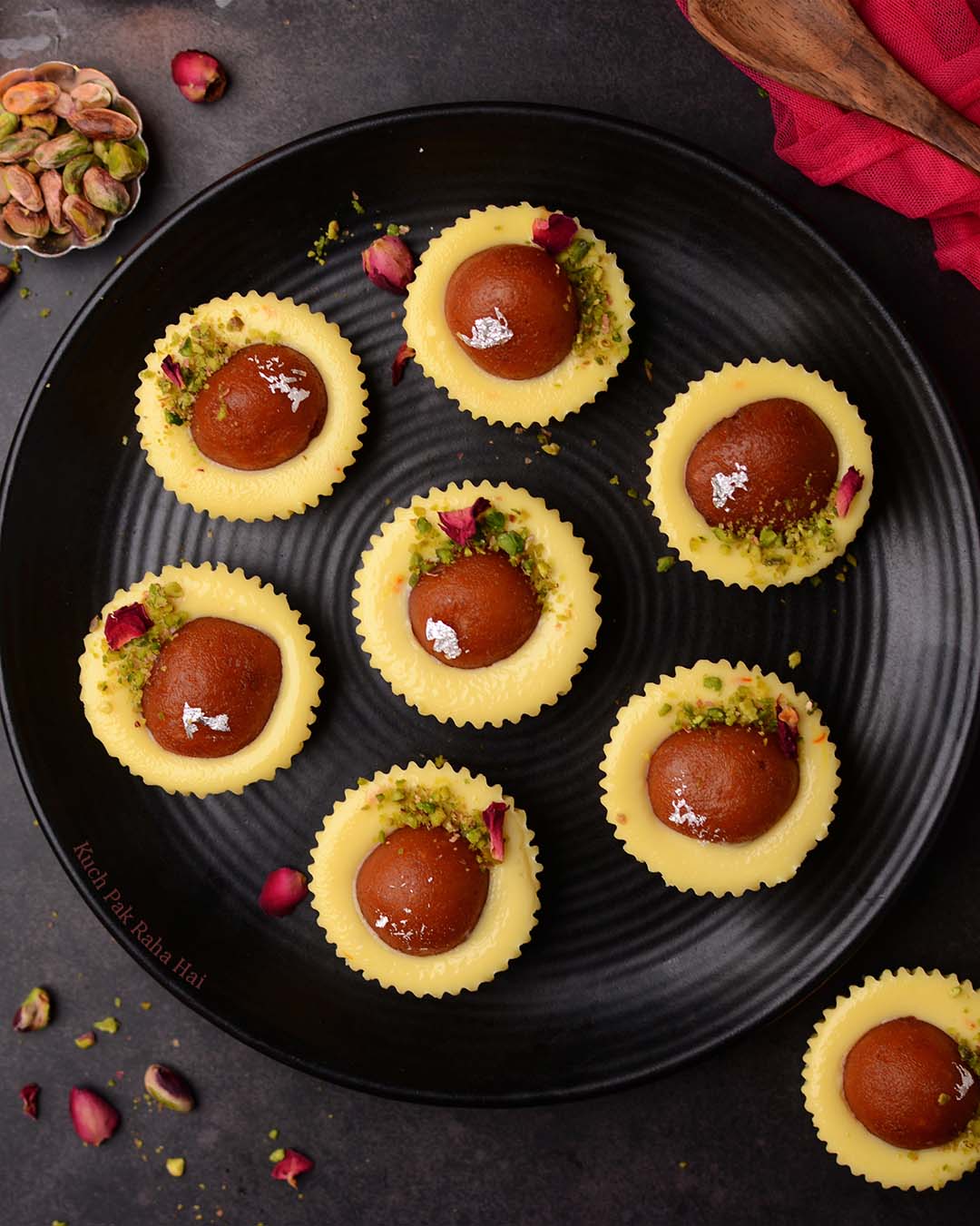 Can I make this gulab jamun cheesecake in advance?
Yes, you can make them in advcane anad store them in fridge for upto 3 days. I can't tell beyond that as this irresistible dessert gets finished really quickly !!
Tips:
Place the cheesecake tray in hot water bath is important step as it creates steam in the oven & prevents the cheesecake from cracking on top.
Always drain the gulab jamun over a seive to get rid of sugar syrup as otherwise they will release that moisture in cheesecakes. If required, gently squeeze them also.
Make sure all ingredients are at room temperature before you start making cheesecake.
Avoid over-mixing the cheesecake mixture as it can incorporate more air in the cheesecake mixture which will make it sink later on while cooling.
Pin for later: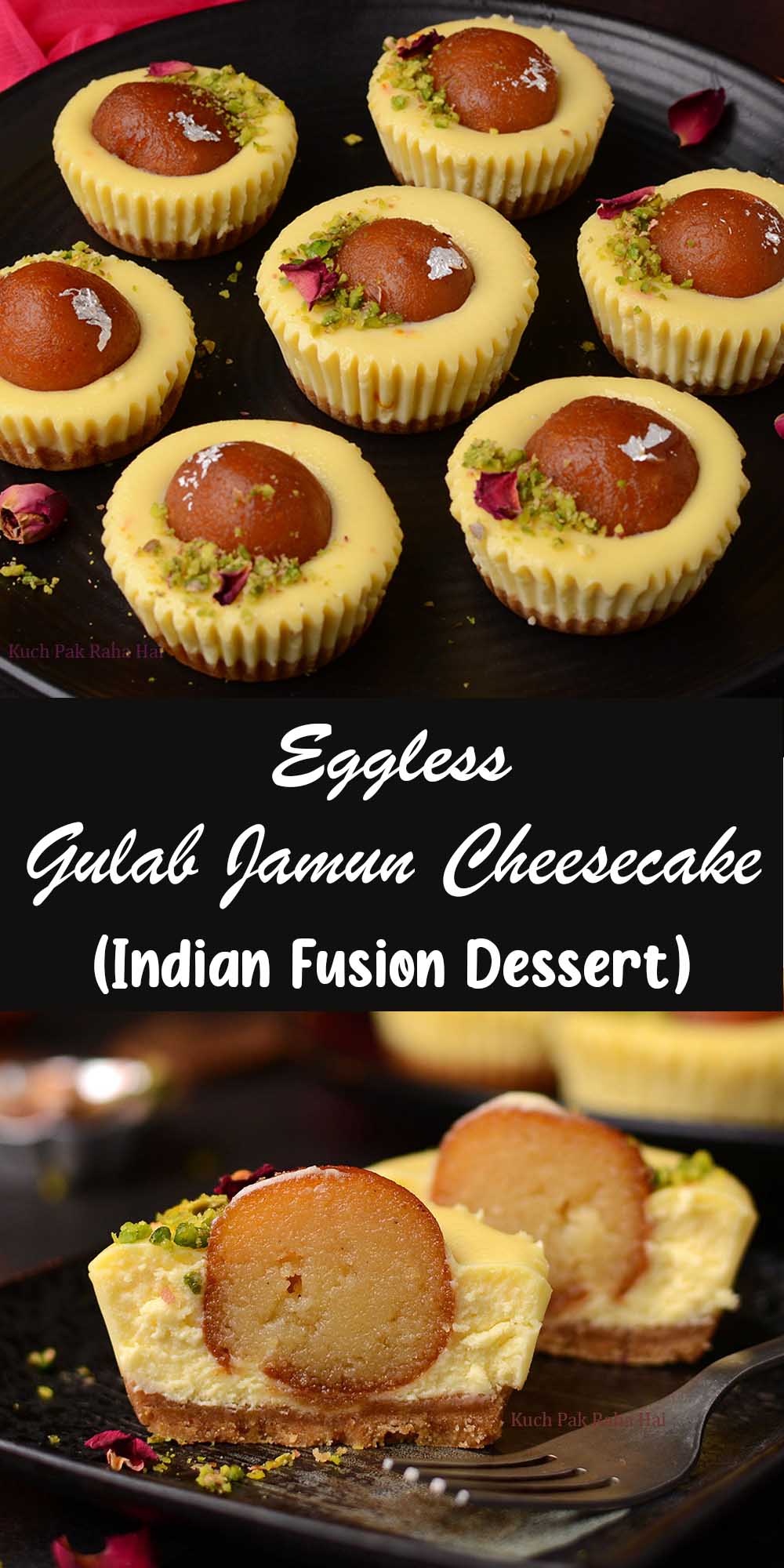 Kitchen Products used:
If you try this gulab jamun cheesecake recipe & share pics on social media, then don't forget to tag us on Facebook, Instagram or use #kuchpakrahahai.