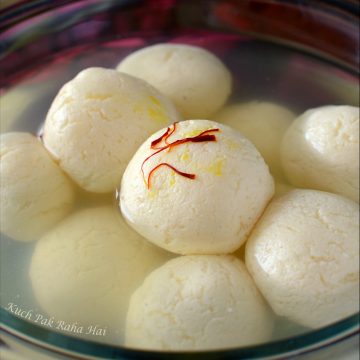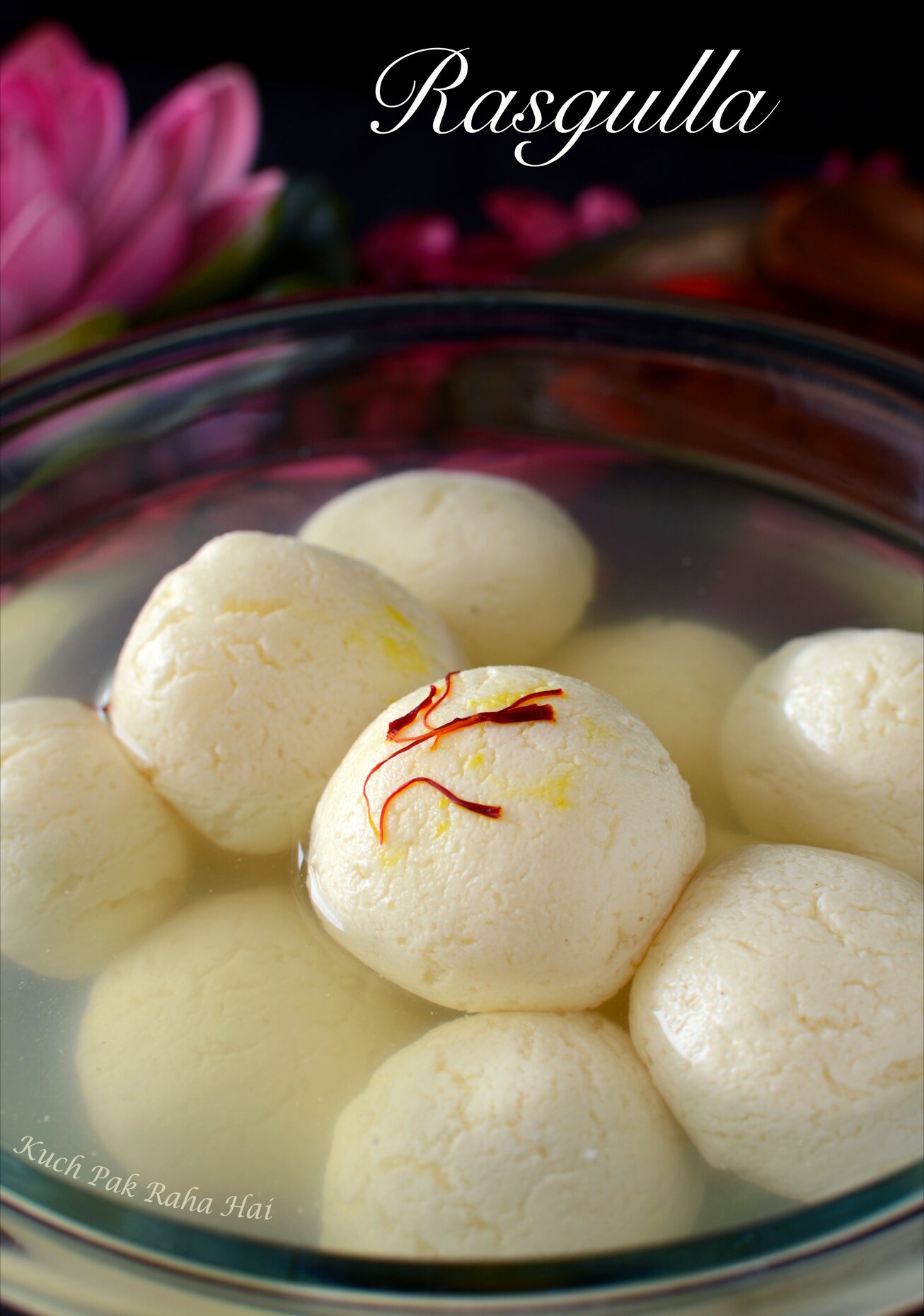 Rasgulla is a popular Indian dessert made by boiling Chenna & semolina dumplings in hot sugar syrup. This sweet is served chilled and has soft-spongy texture. With the divine aroma of Cardamom (Elaichi) & Saffron(Kesar) / Rose water, these spongy Bengali Rasgulla or Rosogolla are perfect for summers. In this post we will be making these rasgullas in pressure cooker.
For those who are unaware of Chenna, it is basically cottage cheese made by curdling milk using an acidic medium like lemon juice or vinegar. Most of the Indian sweets like Gulab jamun, Jalebi, Imarti, Besan Ladoo, Ghewar etc are deep fried and hence loaded with fats. However this Chenna Rasgulla does not require any deep frying and you can make it with just few easily available kitchen ingredients. As it is made using milk mainly, it has nutritional benefits of milk like protein, calcium & vitamins to it. The best part about this dessert is that the level of sweetness can be adjusted as per one's own taste. For example, I like my desserts to be mildy sweet so I squeeze the extra sugar syrup before having it. My husband has got a sweet tooth so he relishes these rasgullas completely dunked in sugar syrup plus additional syrup with each bite😝.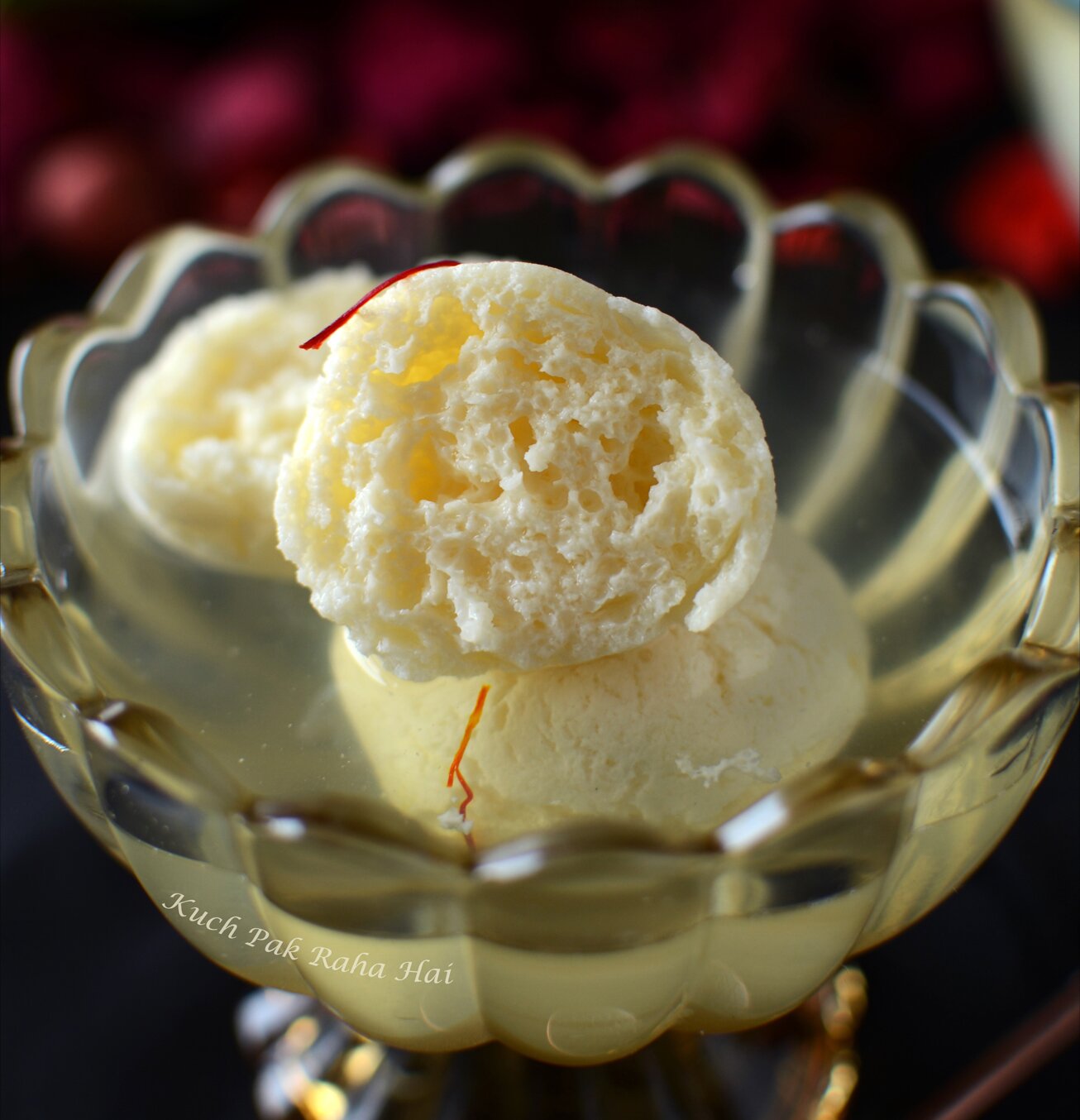 Coming to the method of preparation, these Chenna Rasgullas (or Bengali Rosogullas) can be made two ways- In a deep pan (or Kadhai) & in a Pressure Cooker. Initially I tried making these in open pan however did not like the results much. Some people recommend to cook them in open pan, some ask you to cover it for the entire cooking duration. Also, the recommended cooking time varied from 15-30 minutes. I called my nani 😇(yes! as she has answers to almost every query of mine) and asked for her exact recipe. I was surprised when she told me that she makes these yummy spongy rasgullas in pressure cooker. It is such a short & precise method and I am sure once you try this you will make your rasgullas every time in pressure cooker.
For binding purpose, I have added little bit of sooji or semolina. Some people add maida/cornflour but I like the results better with sooji. One of the main things to take care about is the consistency of paneer or chenna as it is the hero of our dish.
Tip: Before you start kneading it, check out its consistency. It should be crumbly, non sticky & should not leave moisture between your fingers on crushing. If there is too much moisture in chenna, the rasgullas will burst later on while cooking in sugar syrup.
Follow the exact proportions and steps as mentioned in this post & I am sure you will nail these soft spongy chenna rasgullas in first attempt only 🤓
Some more recipes using milk:
I have shared a Youtube video too for this recipe. Do check it out and please subscribe to our channel "Kuch Pak Raha Hai" if you like the recipe 😊
Youtube Video:
List of Ingredients: (Makes 10 pieces)
Toned Milk-1 litre (Fat-3.5 %)
Lemon-2 tbsp
Water-1/4 cup
Semolina-1 tsp
For sugar syrup:
Sugar-1 cup
Water-4 & 1/2 cups
Cardamom (Elaichi)- 2
For garnishing: (optional)
Saffron (Kesar)- 10-12 strands
Steps To Prepare:
Step1:
Transfer milk in a heavy bottomed pan or container. I have used Cow milk here. Bring it to boil & switch off the flame. Dilute lemon juice with equal quantity of water. Add it to the milk. Keep stirring till it starts curdling.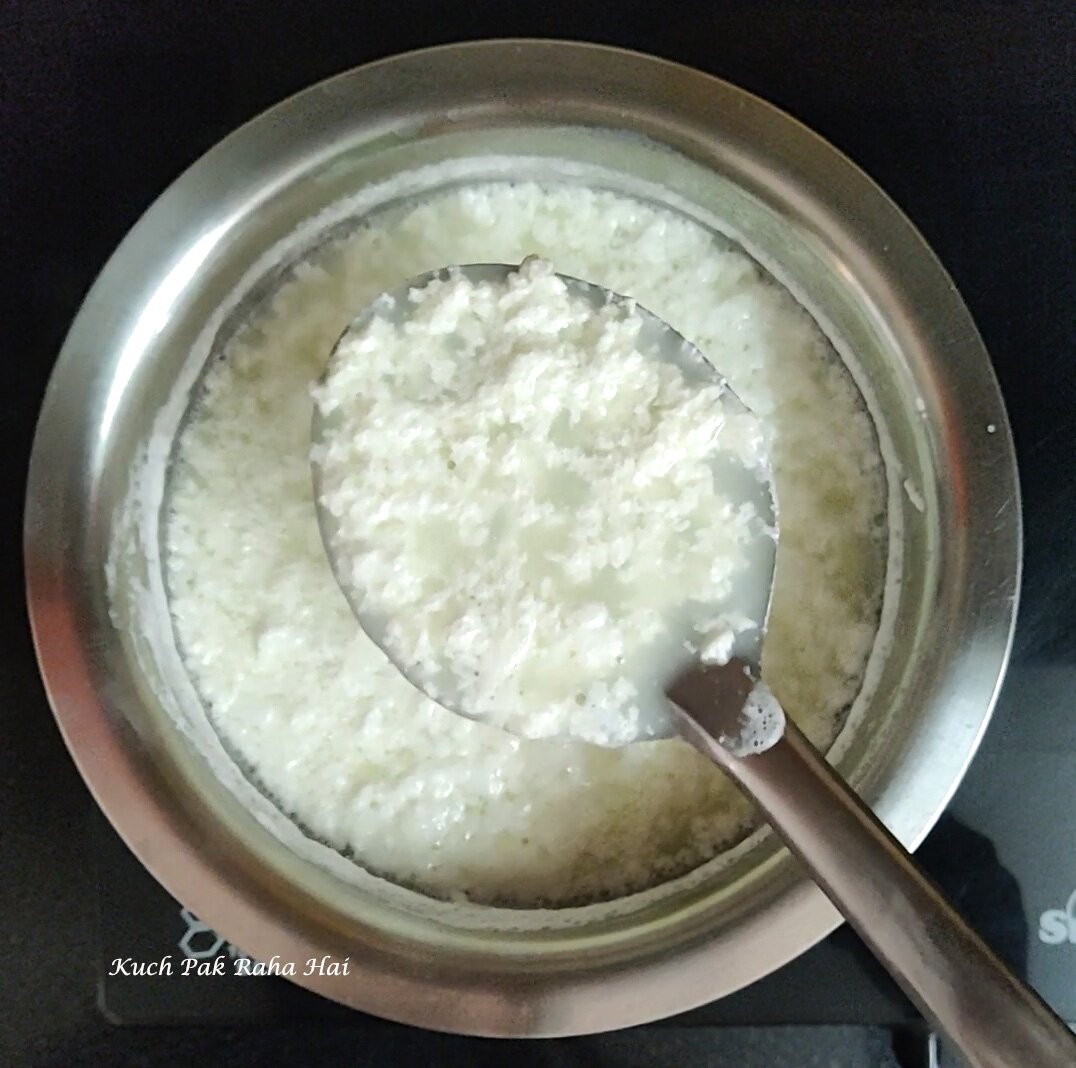 Step2:
Transfer the curdled milk through a muslin cloth to separate paneer from leftover liquid. Wash it with chilled water to cool down. This will also help in rinsing off the sour taste of lemon from paneer. Squeeze the muslin cloth so that all excess water is drained out. Don't squeeze too much as it can dry out the paneer. Hang the muslin cloth with paneer for at least an hour.
Muslin Cloth: https://amzn.to/2A6BzwB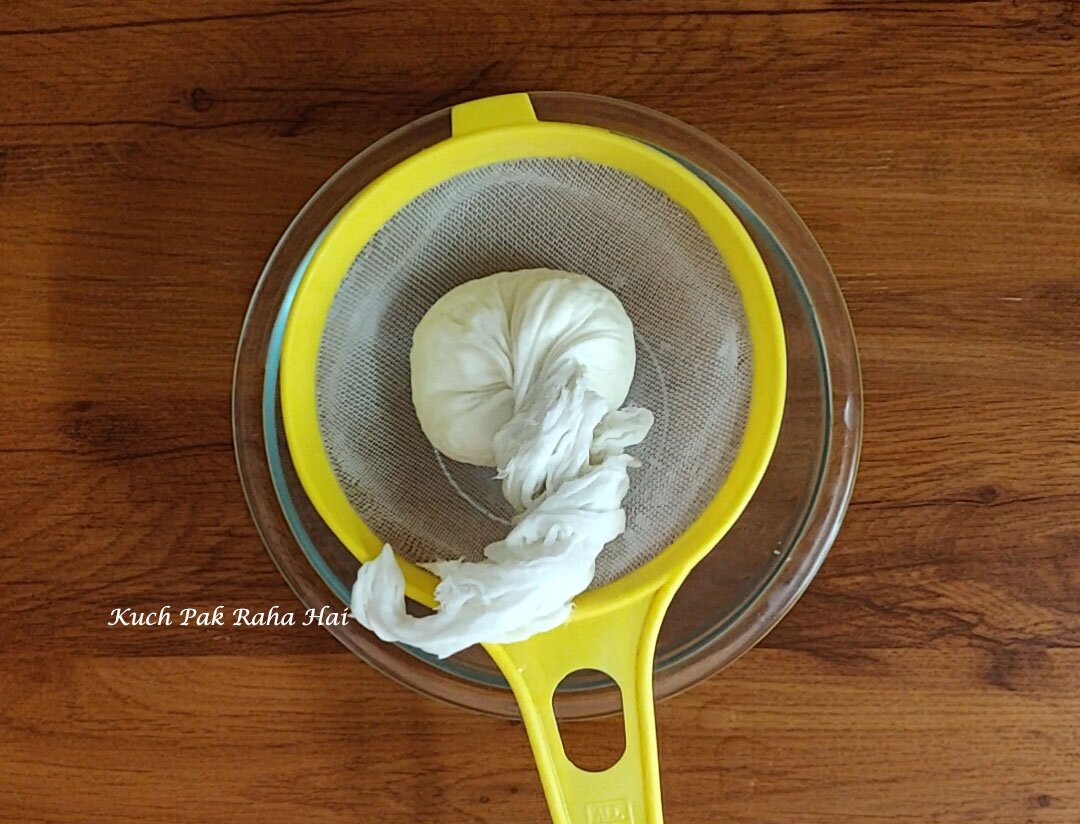 Step3:
To check whether paneer is ready or not, rub a small piece of it on plate & try to make a ball with it. It should not leave moisture on plate & fingers, also should have crumbly texture. The paneer should not have much moisture or else the rasgullas will burst later on.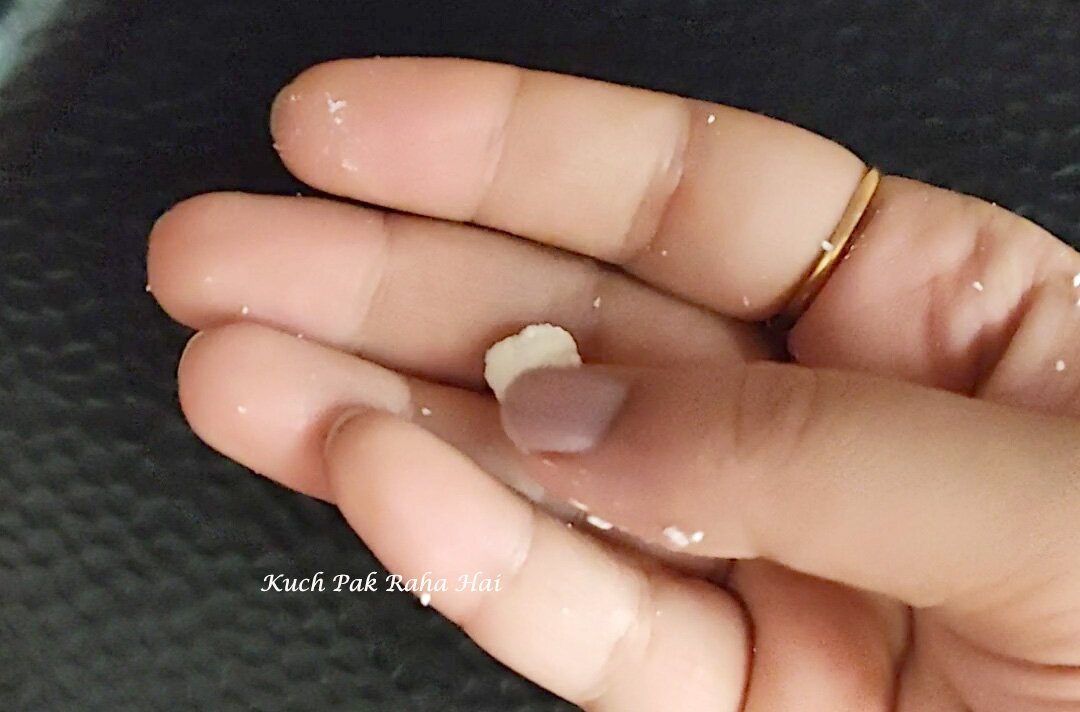 Step4:
Add semolina to paneer. Start rubbing it using palms on plate. Keep repeating so that the 'chenna' turns out smooth and there are no crumbs left.This will take roughly 7-8 minutes.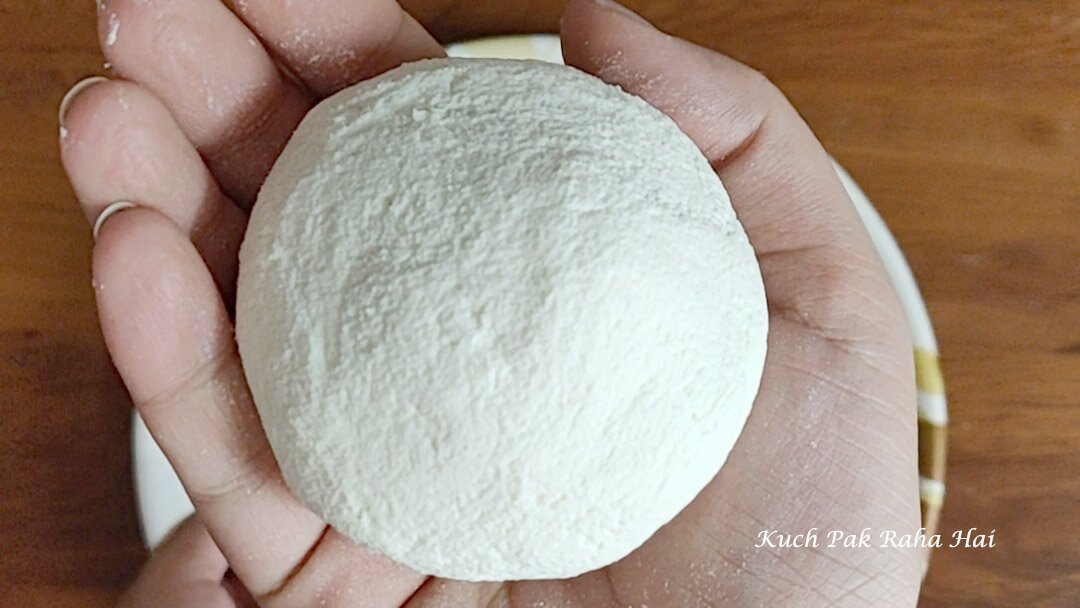 Step5:
Make small balls out of the chenna. Using this much quantity you will be able to make roughly 10 balls.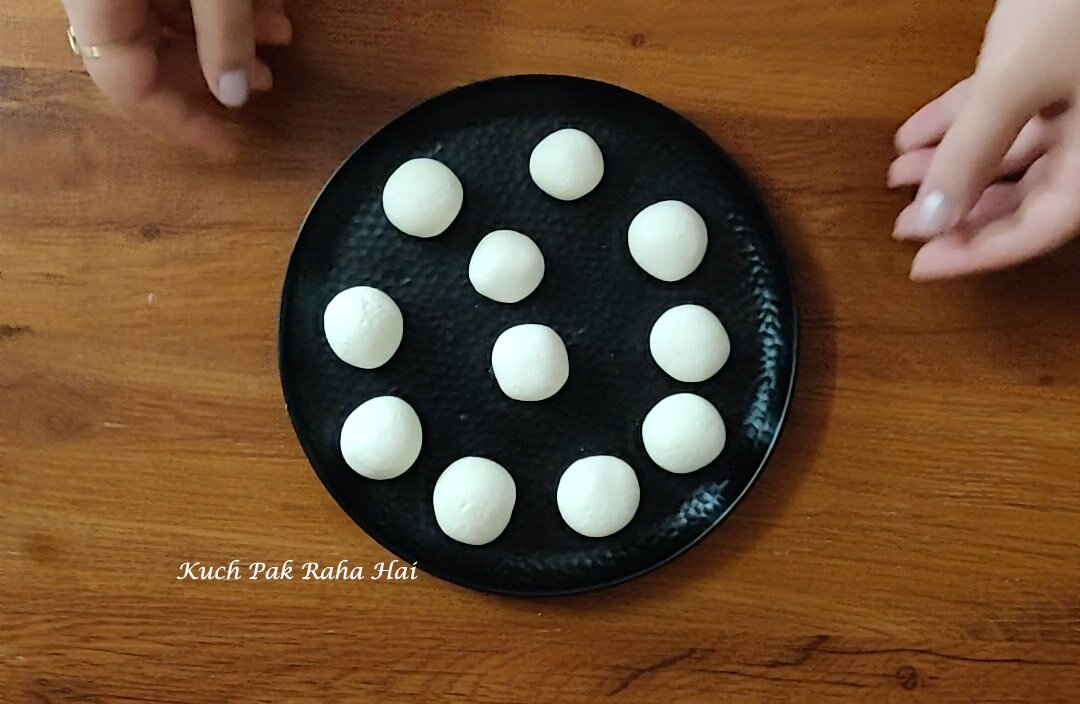 Step6:
Add sugar, water and crushed cardamom in a pressure cooker. Bring it to boil. Add the chenna balls in it.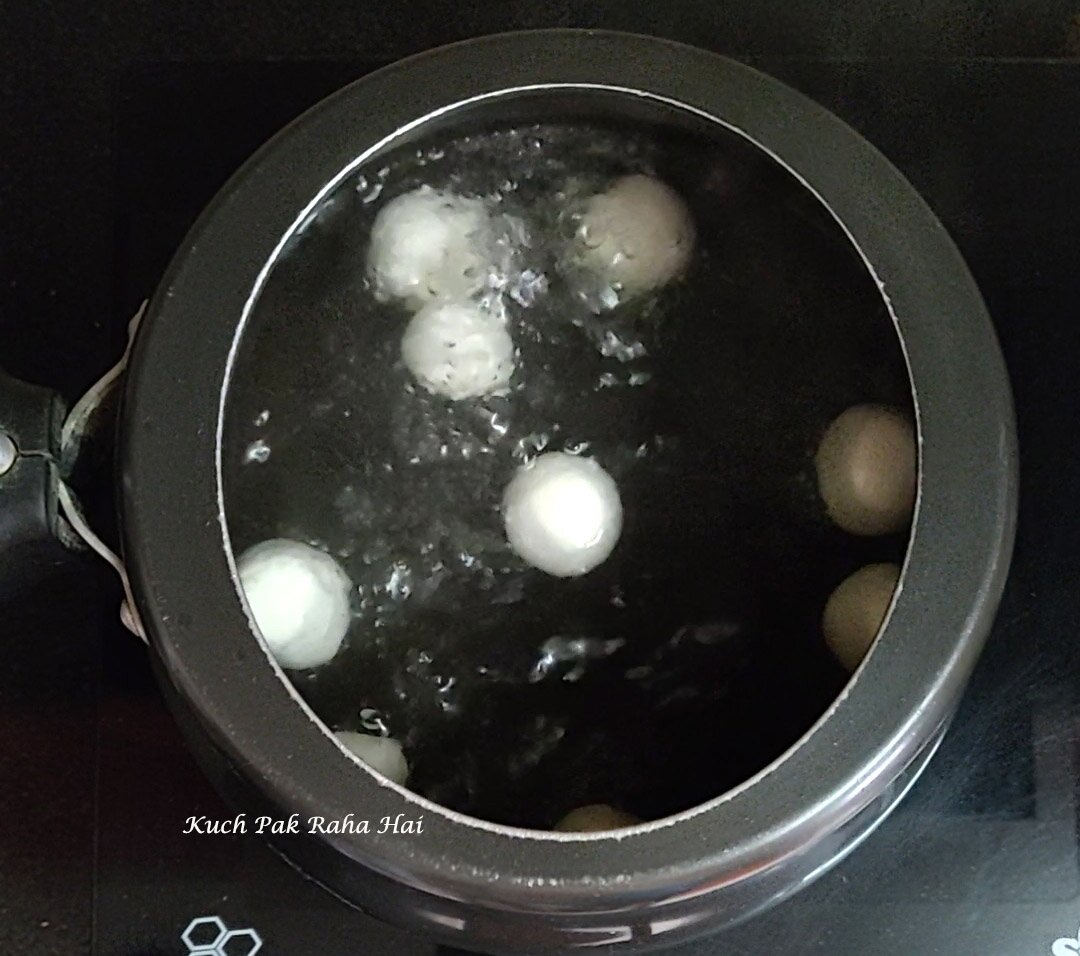 Step7:
Close the lid. After 2 whistles, turn the flame to medium and let the rasgullas cook for exactly 7 minutes. Switch off the flame. Let the pressure release on its own.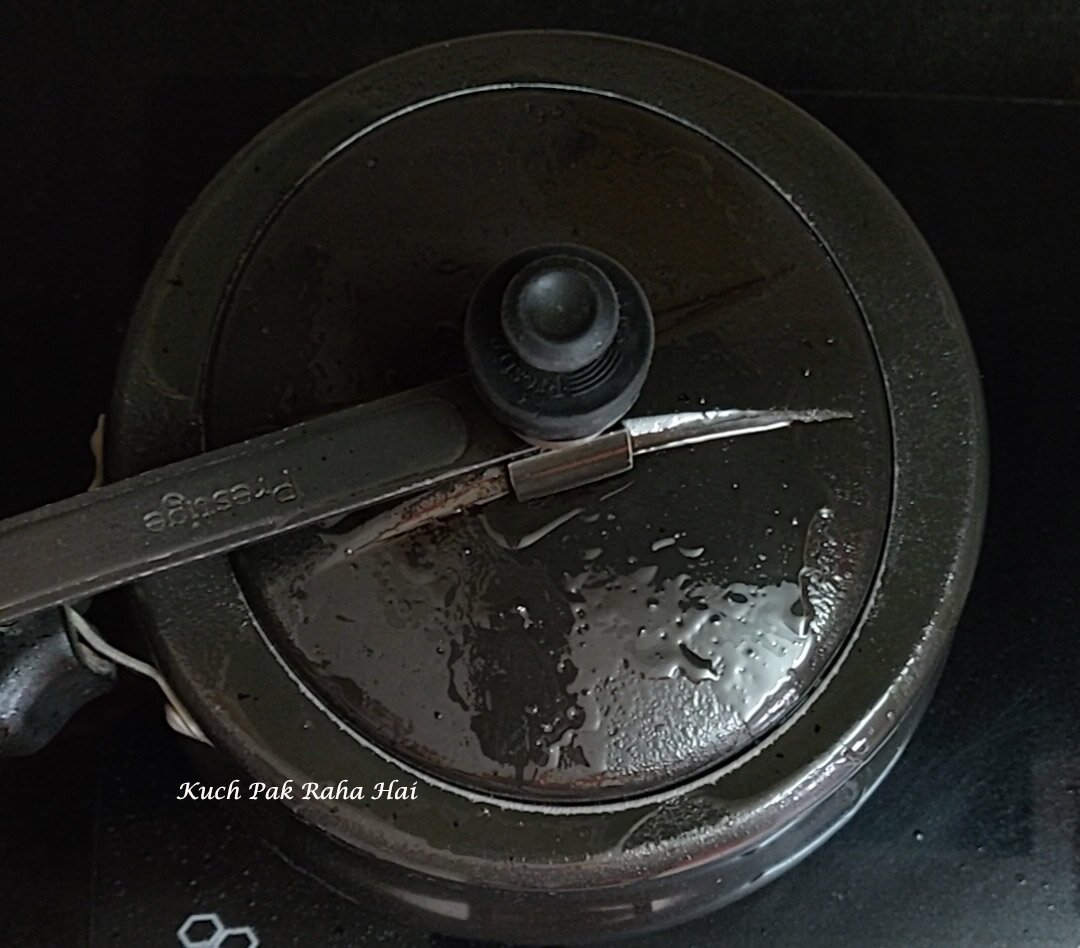 Step8:
Once the pressure is released from cooker, open the lid. Let the rasgullas cool down for another 15-20 minutes in cooker only.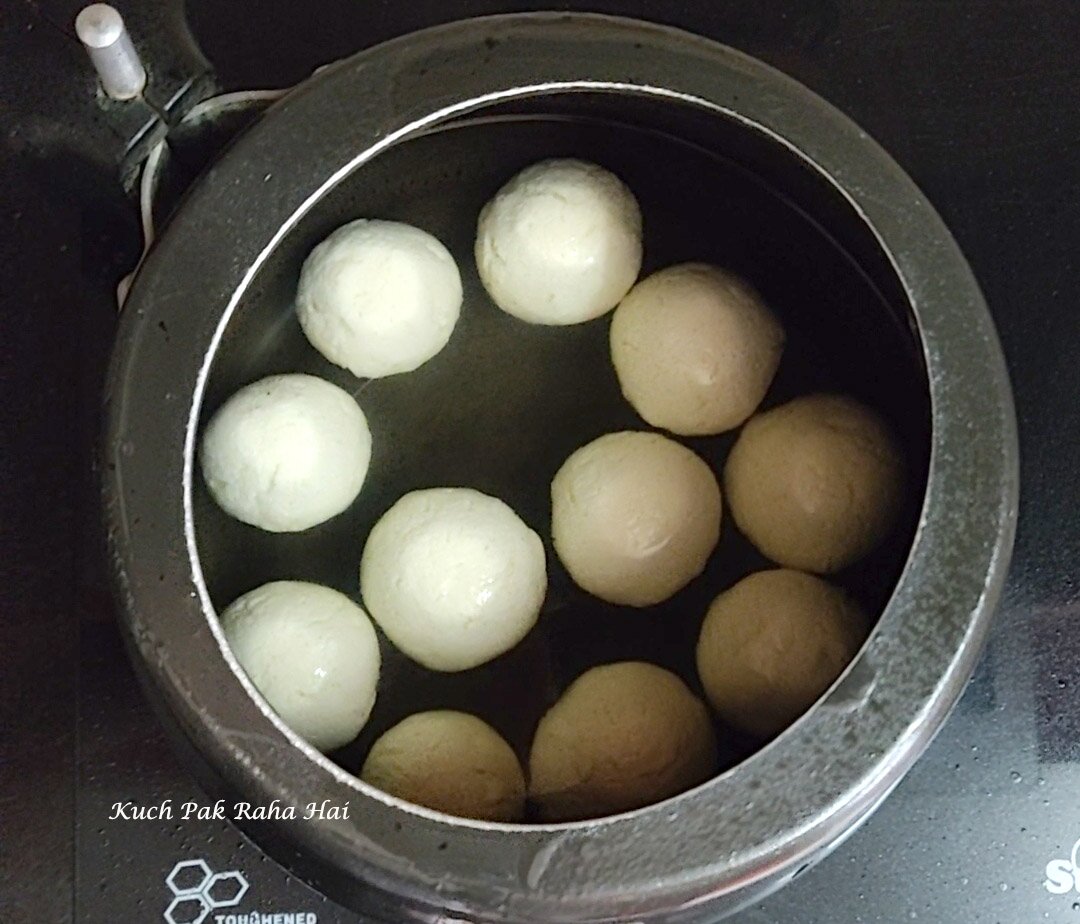 Later transfer them in a serving bowl and let them chill in refrigerator for at least 3-4 hours.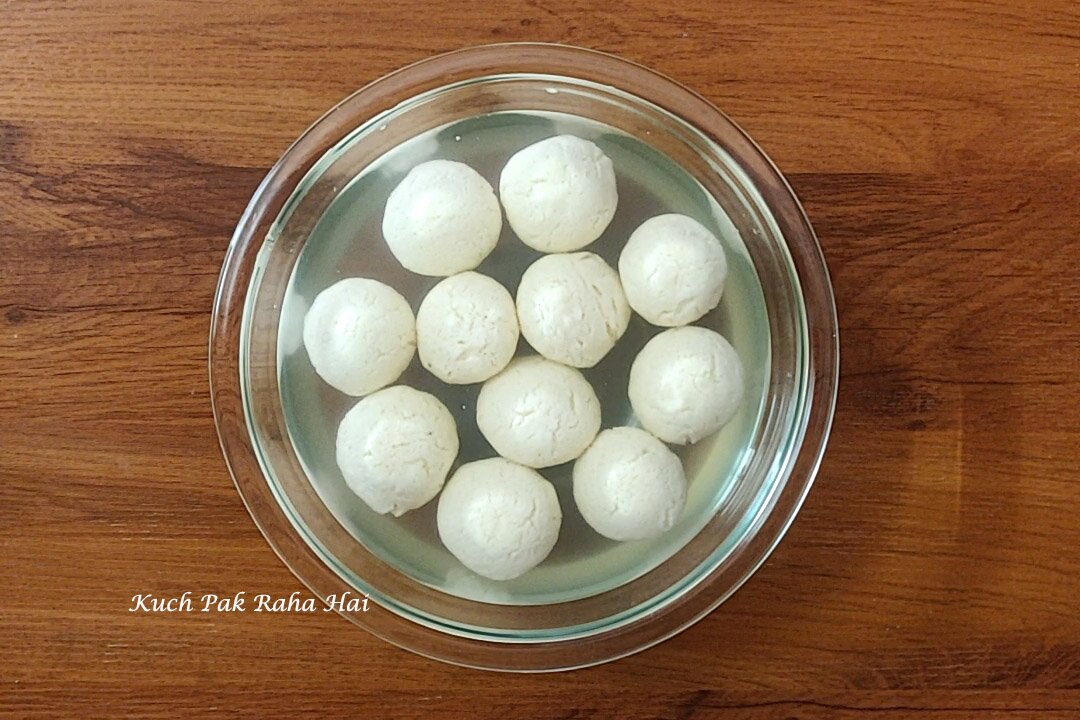 Borosil Glass Bowl: https://amzn.to/2X5W1a3
Soft spongy Rasgullas are ready. Serve them chilled!!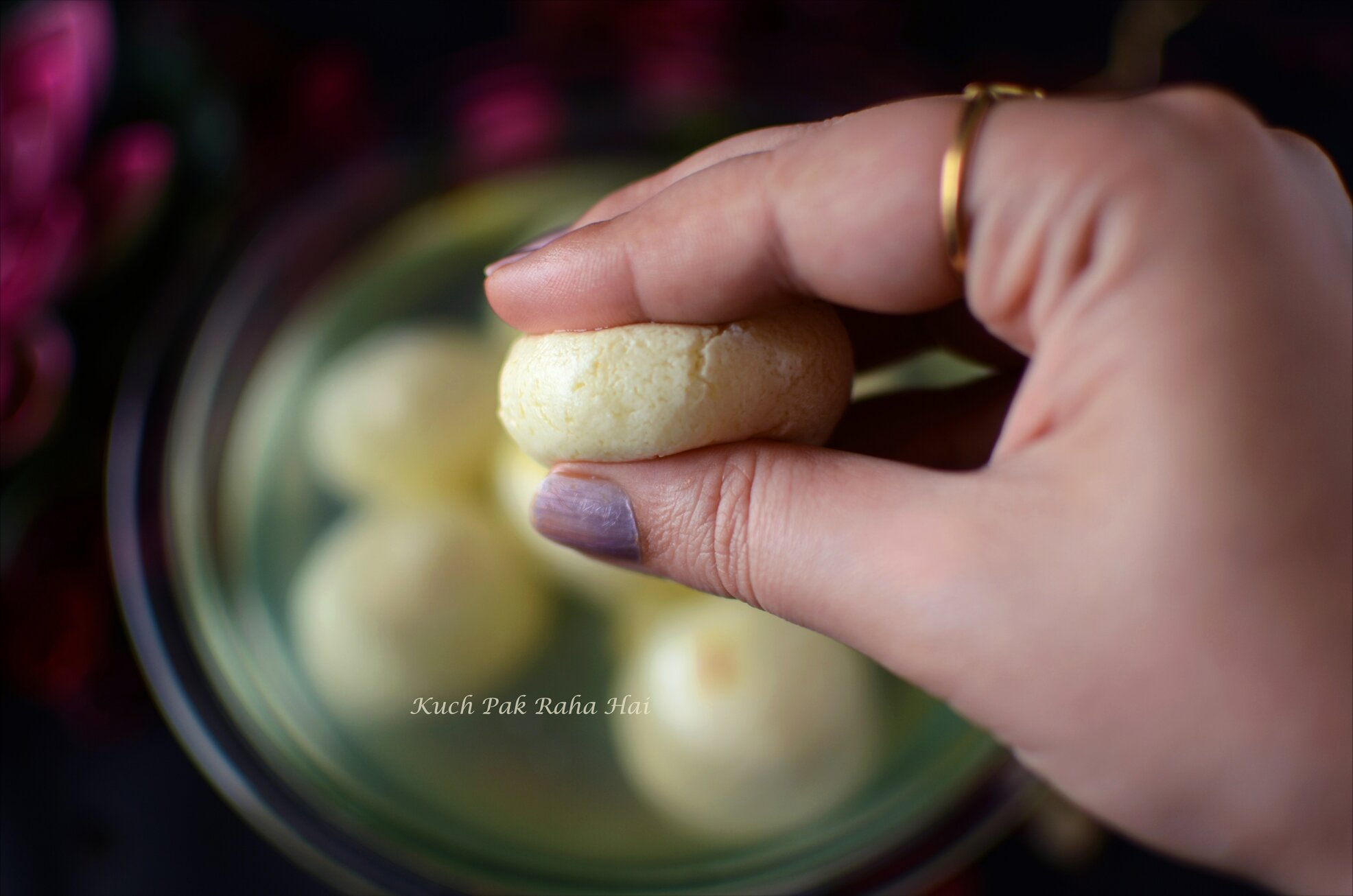 If you try this recipe & share pics on Facebook or Instagram then don't forget to tag us or use the hashtag #kuchpakrahahai.
Bon Appetit!!
You might also like: