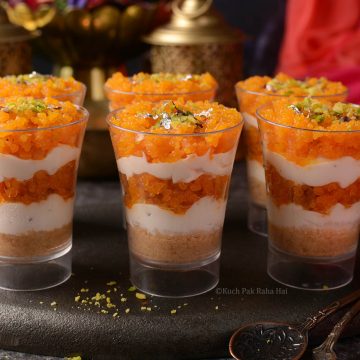 Motichoor Ladoo Cheesecake shots is an absolutely delightful irresistible Indian fusion dessert recipe with layers of buttery biscuit crust, luscious cream cheese filling, sweet motichoor ladoos & finally topped up with some crunchy pistachios.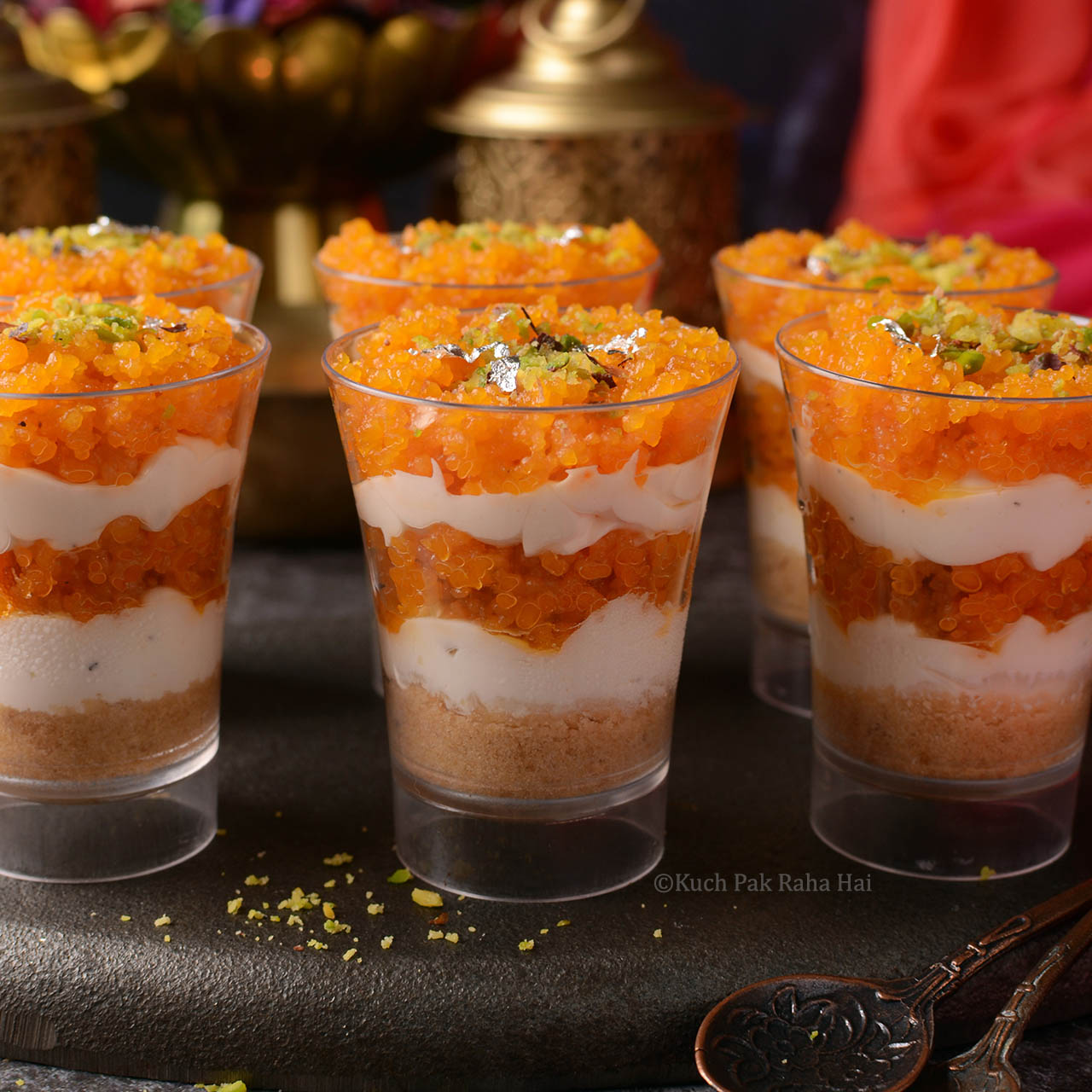 These Motichoor Laddoo cheesecake shots are easy, quick to make & perfect addition to you Diwali or Holi menu.  The recipe shared here is:
Eggless
No Bake
Easy & Quick to make
Can be made in advance
Great option for large gatherings or potluck
Motichoor Laddu is one of the most popular Indian sweet (I mean who does not love them!!). Combined with cheesecake flavour, it makes for a perfect enticing fusion recipe. It is made without gelatine or agar agar.
Diwali is just around the corner and we all look to whip something traditional yet different on this special occasion. Last year I had made mini gulab jamun cheesecakes which were loved so much by my family & friends. This year also I have tried to come up with another easy to serve, quick, no cook & no bake Indian fusion dessert as these motichoor laddoo cheesecake shots
Ingredients to make motichoor cheesecake shots:
You will need below mentioned ingredients to whip this yummy fusion dessert:
Biscuits: I have used marie digestive biscuits for the crust. You can also use Parle-g or any elaichi (cardamom) flavoured cookies.
Butter: Butter is an essential part of the crumb crust in cheesecake as it binds the crust & also gives it richness. Use melted unsalted butter or a mix of salted & unsalted butter.
Motichoor Ladoo: I have used store bought motichoor laddu. You can also use sweet boondi or boondi laddoo. Both motichoor & boondi ladoos are made of besan (chickpea flour), however the main difference is in the size of boondis used in making them.
Cream Cheese: Always use full fat cream cheese meant for making cheesecakes like Philadelphia or D'lecta. Don't use 'cream cheese spreads' as they have milk in it making them difficult to set.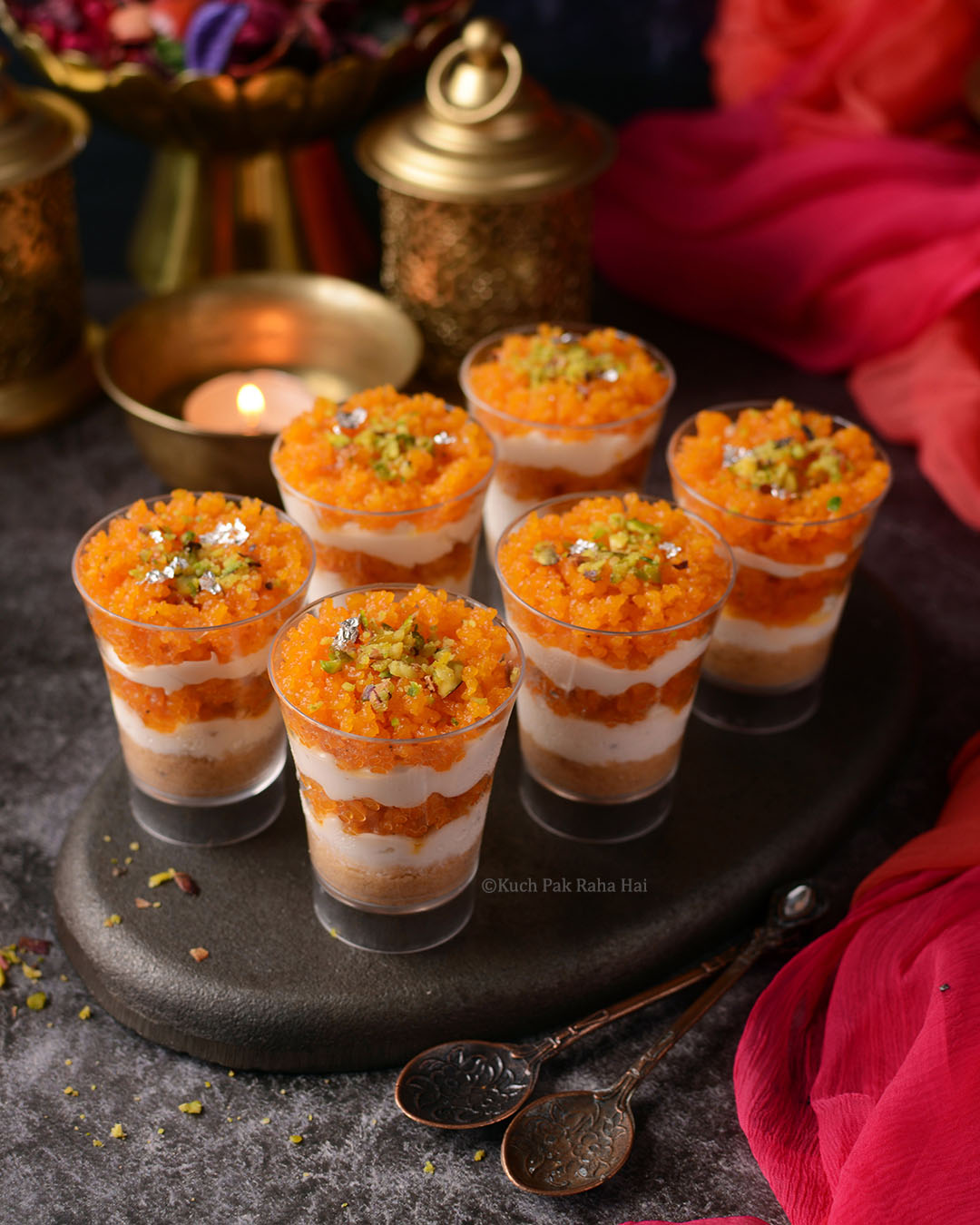 Heavy Cream: Heavy cream or whipping cream makes the cream cheese layers smooth & luscious. Use heavy cream with at least 30% fat. Make sure it is chilled before you start whipping it. Also, always whip it on low or medium speed to avoid splitting.
Powdered Sugar: Use powdered sugar in cream cheese filling. Don't use regular white sugar as it has bigger crystals & may not dissolve completely.
Cardamom: Some freshly ground cardamom or elaichi is added to cream cheese layer. You can also use some saffron milk or a few drops of rose water.
Chopped Nuts: You can use chooped almonds, pistachio or cashews to decorate the cheesecake shots for the perfect festive look.
Can I make these in advance?
These motichoor cheesecake shot glasses can be made well in advance and kept chilled in fridge till the time of serving. Here I have used shot glasses to set this dessert as it makes for an ideal serving size. You can even set it in small dessert jars or bowls.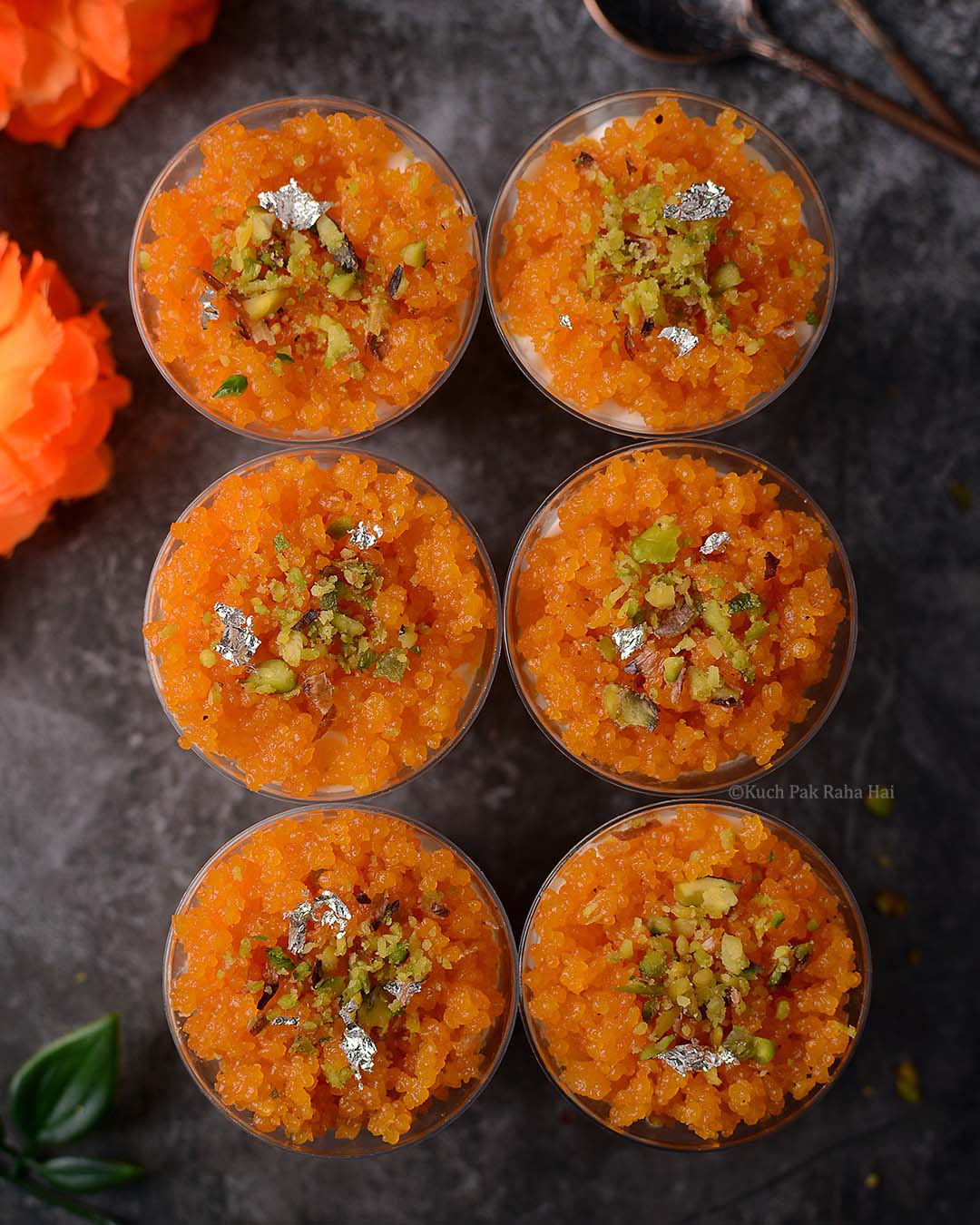 Important Tip:
As this recipe is very simple, there is barely anything that can go wrong here. The only tip here is to balance the sweetness of cream cheese filling & motichoor ladoo as we don't want the dessert to be overtly sweet. Once the cream cheese filling is ready, taste it with little bit of crumbled ladoo. If you feel it's less sweet as per your taste, then increase the amount of powdered sugar in filling.
Youtube Video:
More Indian fusion food recipes you might like to try:
Hope you would like this easy yummy laddoo cheesecake shots recipe. Do try this recipe this Diwali & share your comments or feedback in comments section.

Ingredients:
Motichoor Ladoo-4 to 5 (250 grams)
Marie / Digestive Biscuits- 12 (72 gams)
Melted Butter-2 tbsp (28 grams)
Cream Cheese- 150 grams
Heavy Cream-1/3 cup (80 ml)
Powdered Sugar- 1/3 cup (35 grams)
Lemon Juice-1/2 tsp
Cardamom powder-1/2 tsp + A pinch
Pistachios- 8 to 10 (finely chopped)
Notes:
1. Bring the cream cheese to room temperature to soften it up.
2. The heavy cream or whipping cream should be chilled before you start whipping it.
3. Instead of cardamom, you can also use some saffron milk for flavouring.
4. The above recipe makes 10 to 12 servings.
Directions:
Step 1:
Add biscuits in a grinder jar or food processor & coarsely grind them. Transfer these biscuit crumbs in a bowl & add melted butter, a pinch of cardamom powder to them. Mix well using a spoon.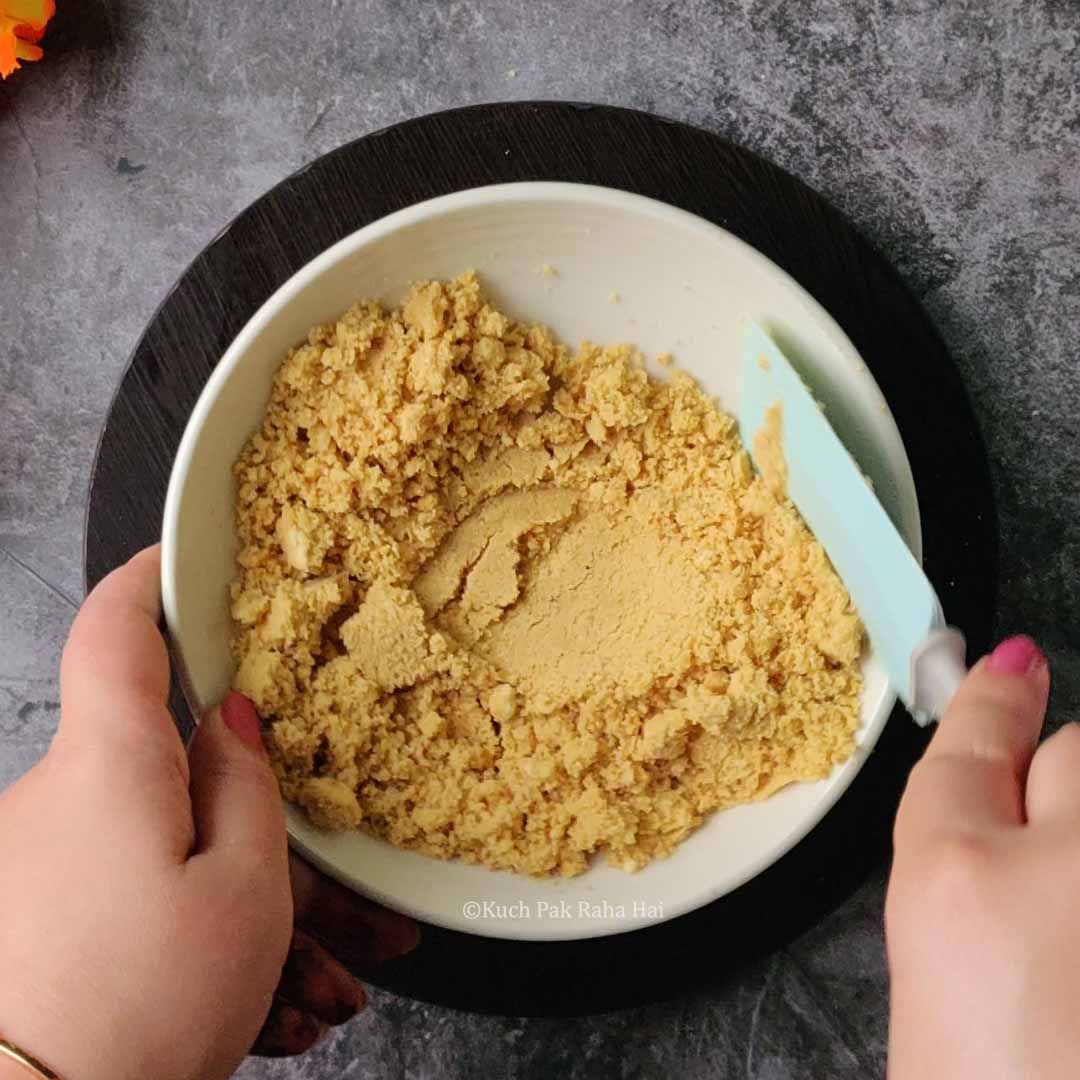 Step 2:
In each of the shot glass, add 1 tbsp of this crumb mixture and press gently with a spoon. Let them chill in refrigerator (fridge) while we move to next step.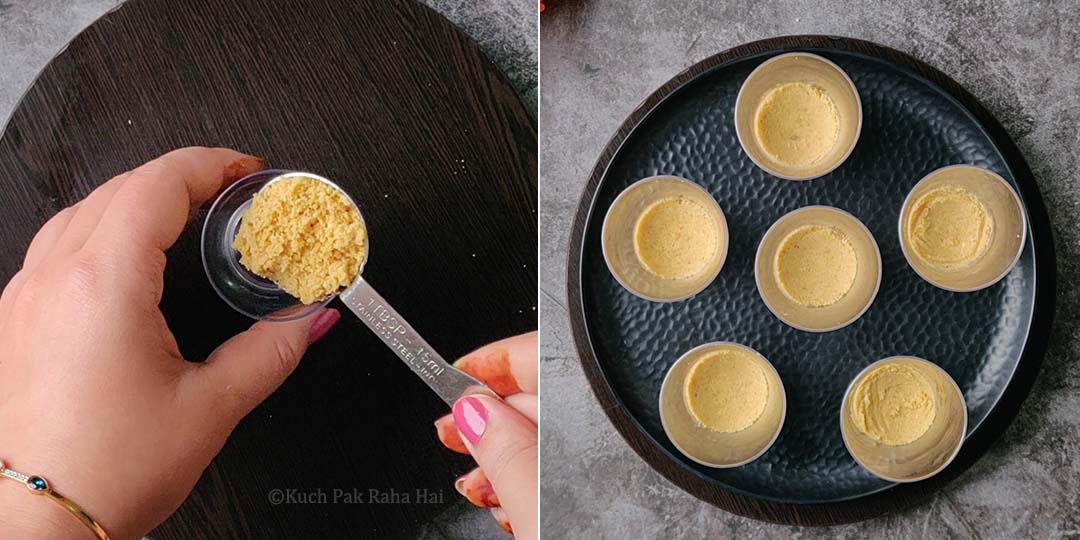 Step 3:
Take motichoor ladoos in a bowl and crumble them roughly with a fork. Keep them aside.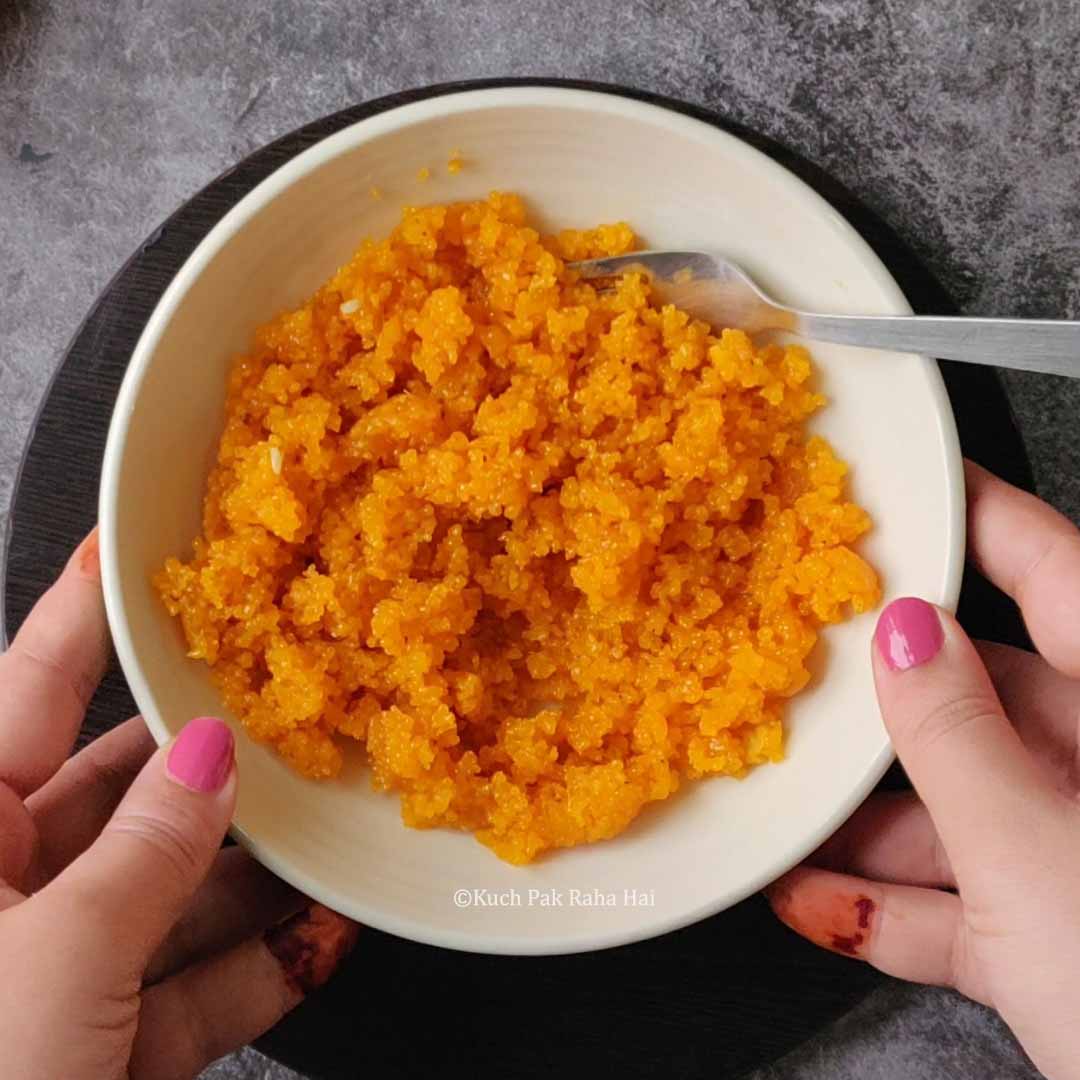 Step 4:
Take chilled heavy cream in a bowl and whisk till you get stiff peaks. Keep it aside.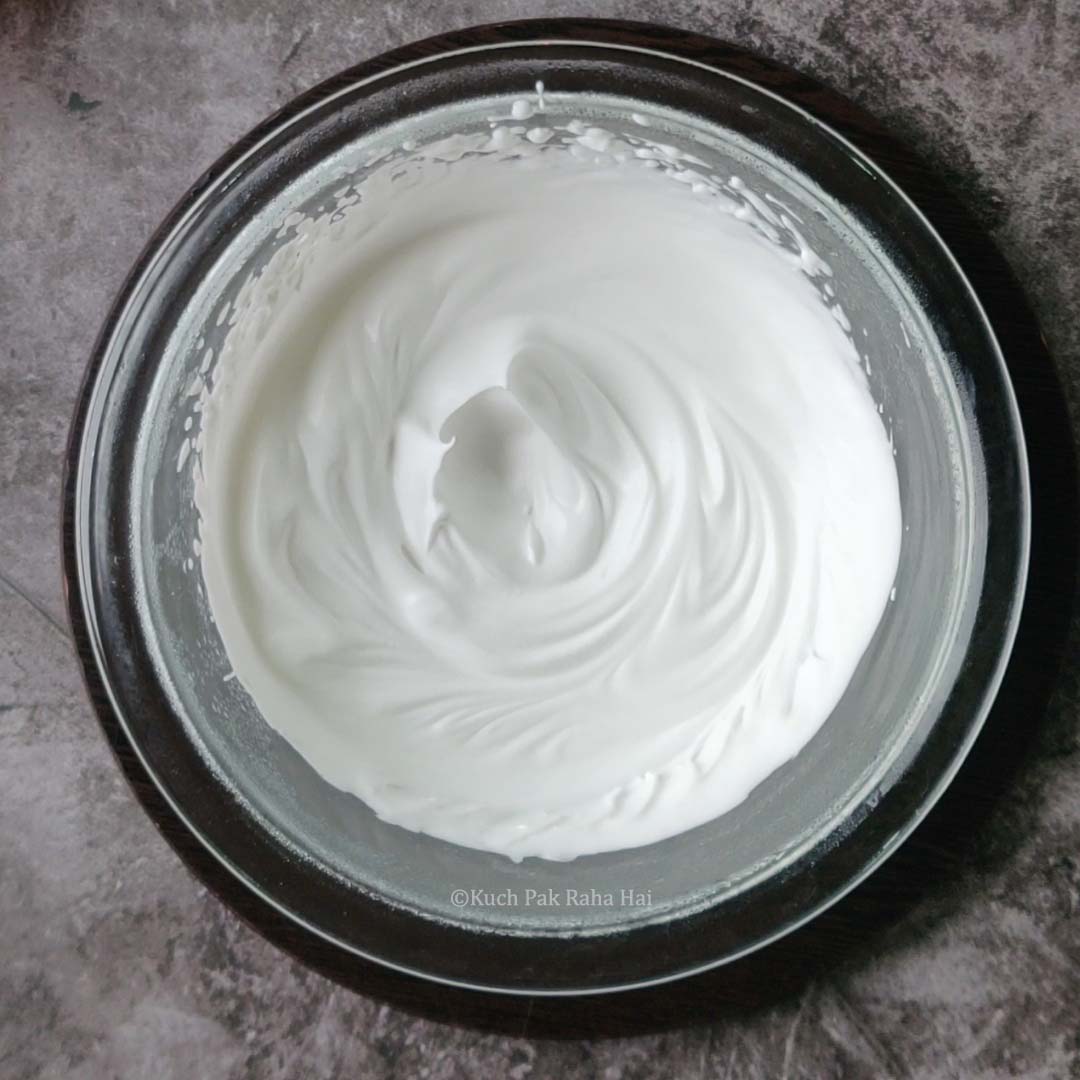 Step 6:
In a big bowl, add cream cheese. Whisk well for 2-3 minutes using a hand whisker or electric whisker. Add powdered sugar, lemon juice & cardamom powder. Whisk again till the cream cheese mixture becomes light in texture.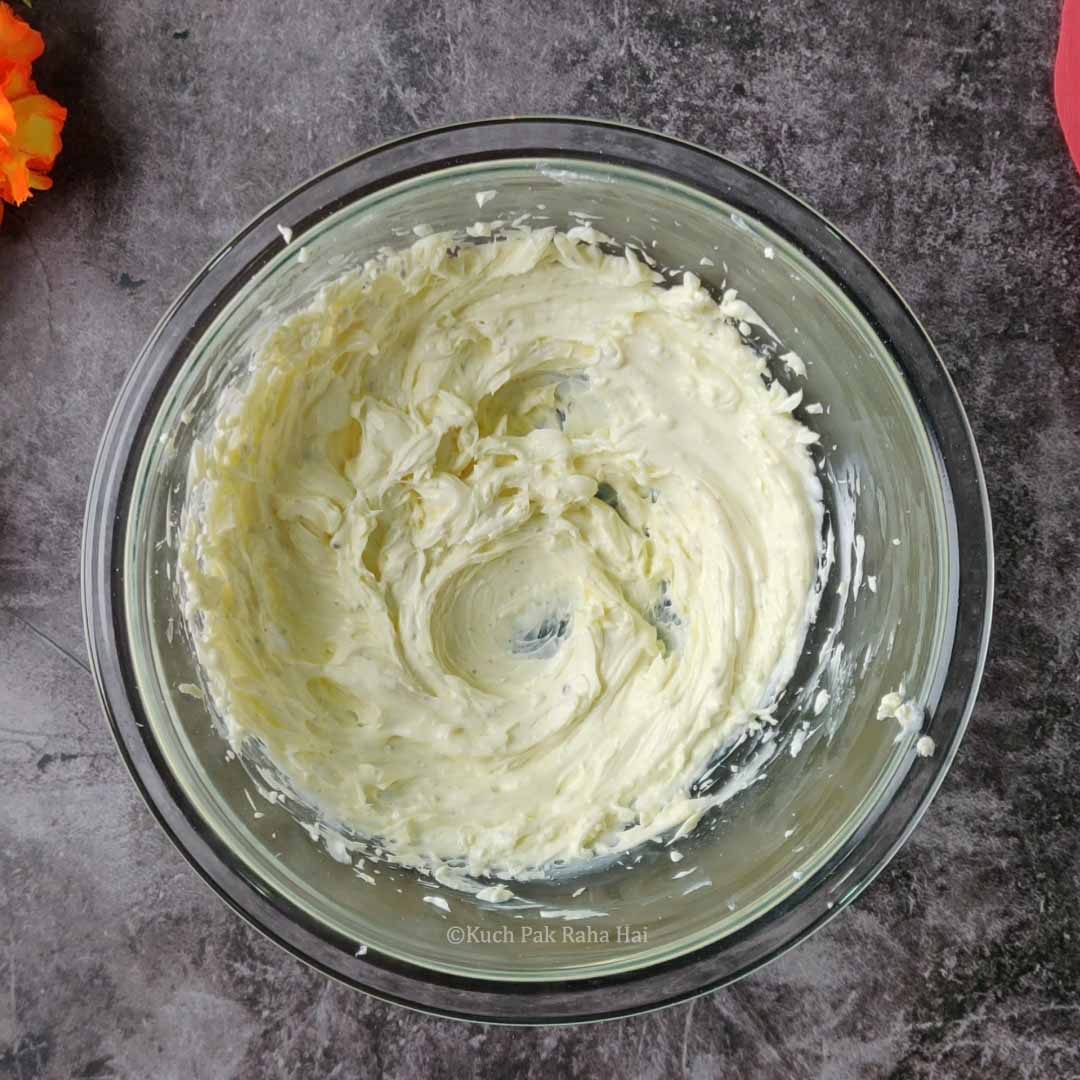 Add whipped cream to it & mix for 2 more minutes till it is incorporated completely. Taste this prepared filling with little bit motichoor ladoo to test the sweetness. If its less sweet as per your taste, increase the sugar.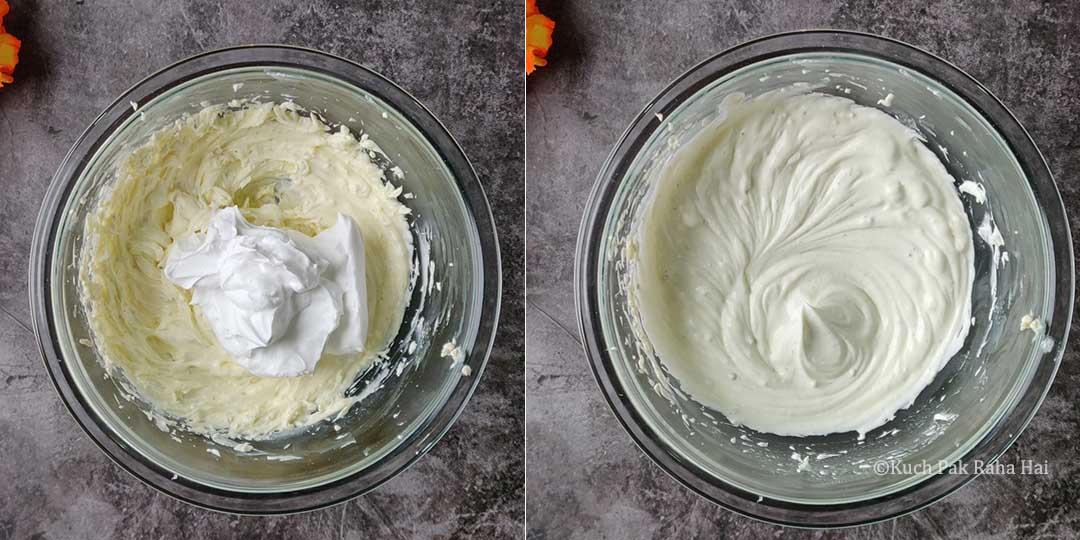 Step 6:
Transfer this cream cheese in a piping bag fixed with a nozzle (If you don't have a piping bag, check out the tips at the end of post). Chill this prepared frosting for 15 minutes in fridge.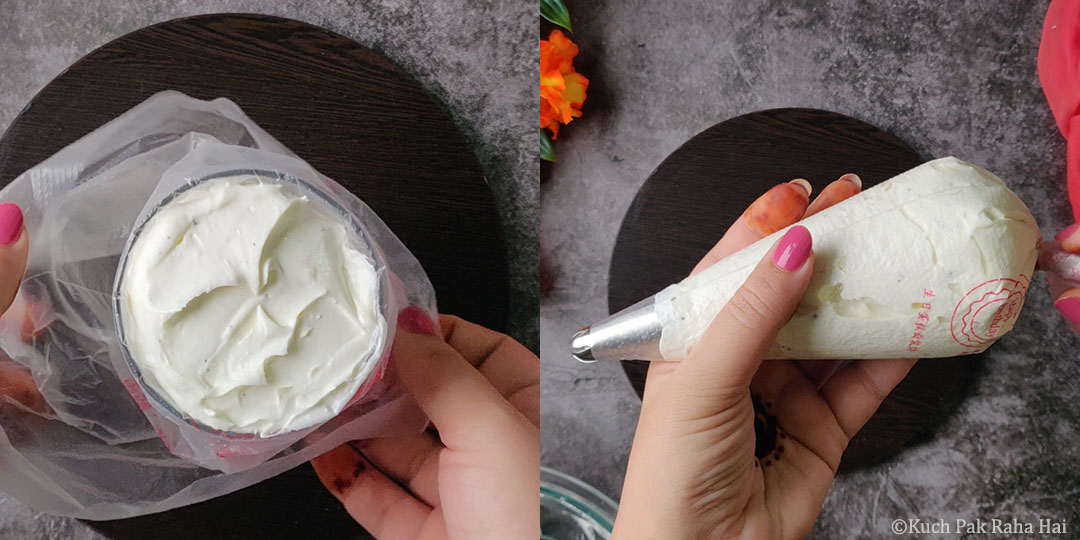 Step 7:
We will now finally assemble the layers. Pipe a layer of cream cheese filling in prepared shot glasses, followed by a spoonful of crumbled motichoor ladoo. Repeat these two layers again. Similarly fill all the shot glasses.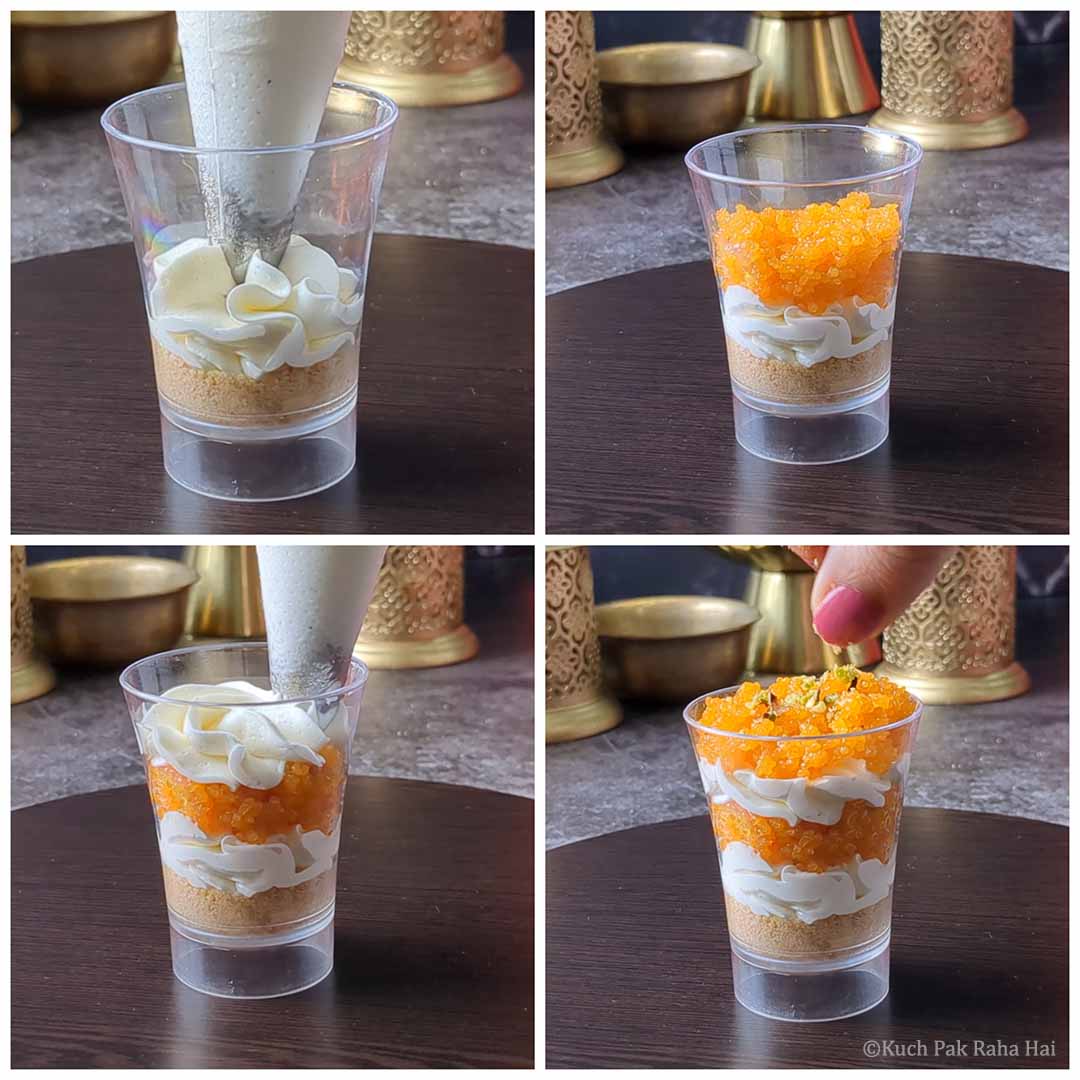 Chill these glasses in fridge for 3 to 4 hrs or overnight before serving. Garnish with some chopped pistachios or rose petals before serving. Enjoy!!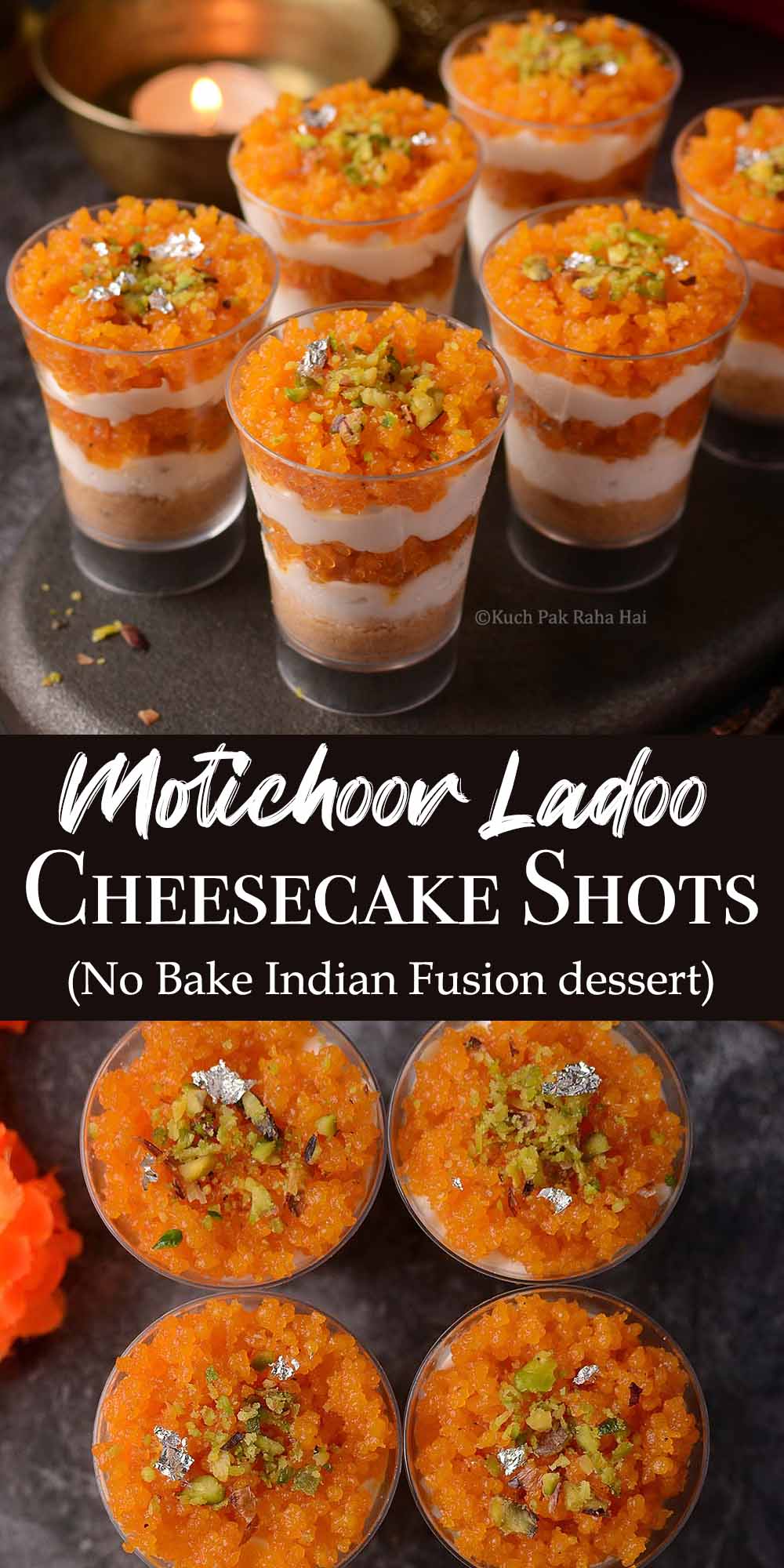 Tips:
1. If you don't have piping bag, you can transfer the cream cheese filling in a clean ziploc or re-sealable bag. Seal the bag & make a cut at one of the tips with the help of scissor and use that bag to pipe filling in glasses. If you are in hurry, you can even use a spoon & spatula.
2. Instead of alternate laddu & cheesecake layers, you can just keep 3 main layers- biscuit crust, cheesecake & crumbled motichoor laddu.
3. Chilling the glasses for 2-3 hrs makes sure that all layers are set properly.
4. You can make these motichoor cheesecake jars or glasses in advance and store them in fridge easily for 3-4 days. I would advice putting a cling film on their top so that the ladoo doesn't get dry and doesn't absorb other odours from fridge.
5. If you are using sweetened heavy whipping cream, reduce the amount of sugar to half.
If you try this motichoor ladoo cheesecake fusion recipe & share pics on social media, then don't forget to tag on Facebook, Instagram or use #kuchpakrahahai.
Let's stay connected
Facebook | Instagram | Pinterest| Youtube