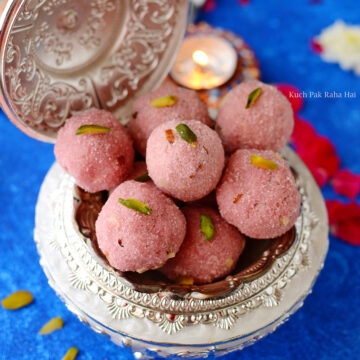 Rava Ladoo or Sooji Ladoo is a delicious and easy Indian sweet recipe made with rava (semolina), ghee, sugar, nuts & raisins. The best part about this dessert recipe is you don't need any special ingredients or make prior preparations for it.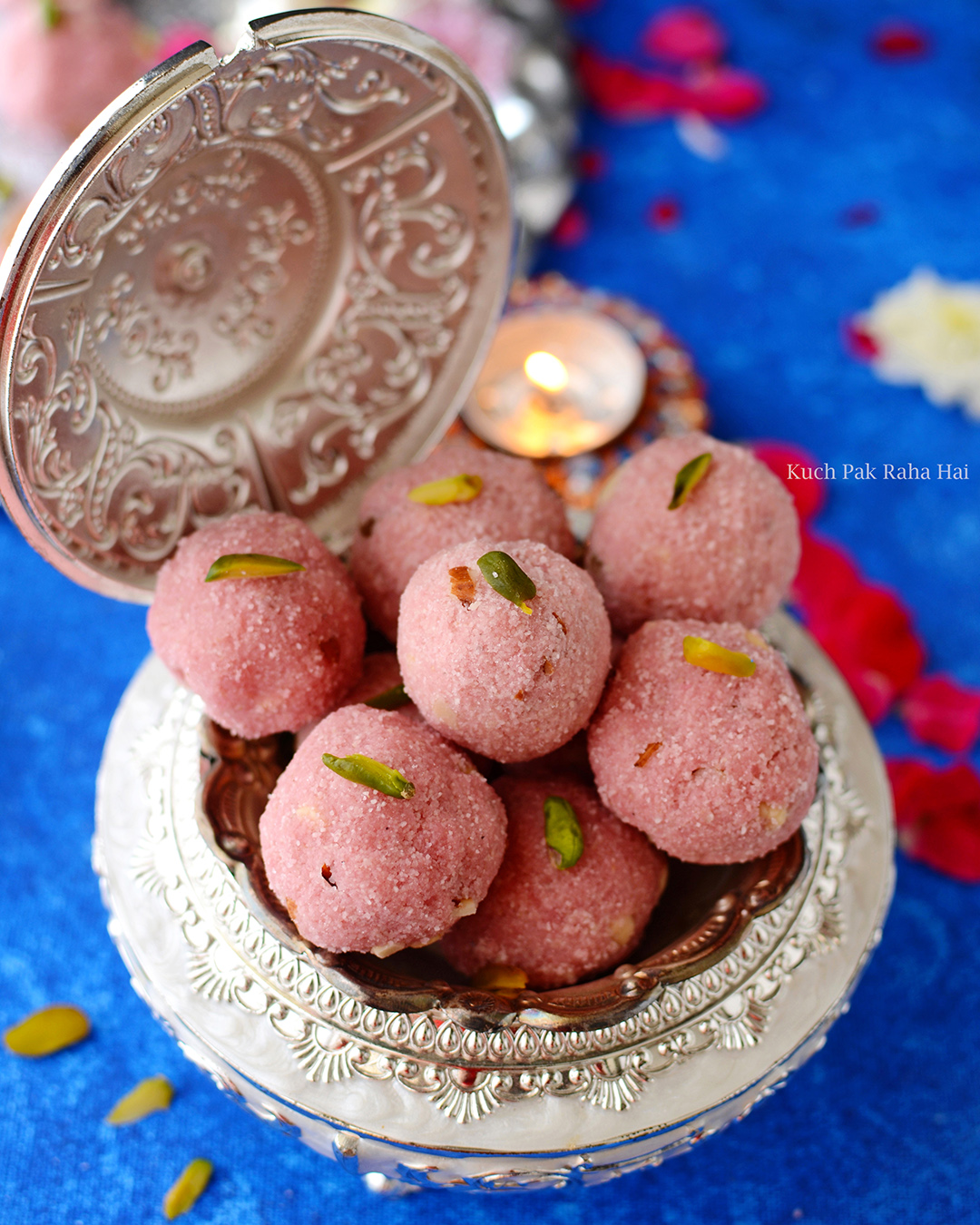 If you are looking for some easy diwali sweets recipes, then this rava ladoo has to be there in that list. They turn out absolutely delicious & aromatic with hints of desi ghee, cardamom and crunchiness from roasted nuts. These ladoos are made without khoya or condensed milk. Just few basic ingredients from kitchen pantry & you are good to go!!
In this Rava ladoo recipe, I have given a slight twist by incorporating beetroot powder. This gives a natural pink colour to them & no one can even guess by taste about it. Beetroot is also known as beets or 'chukandar' in hindi. You can replace it with some rose syrup, pink food colour or even skip it.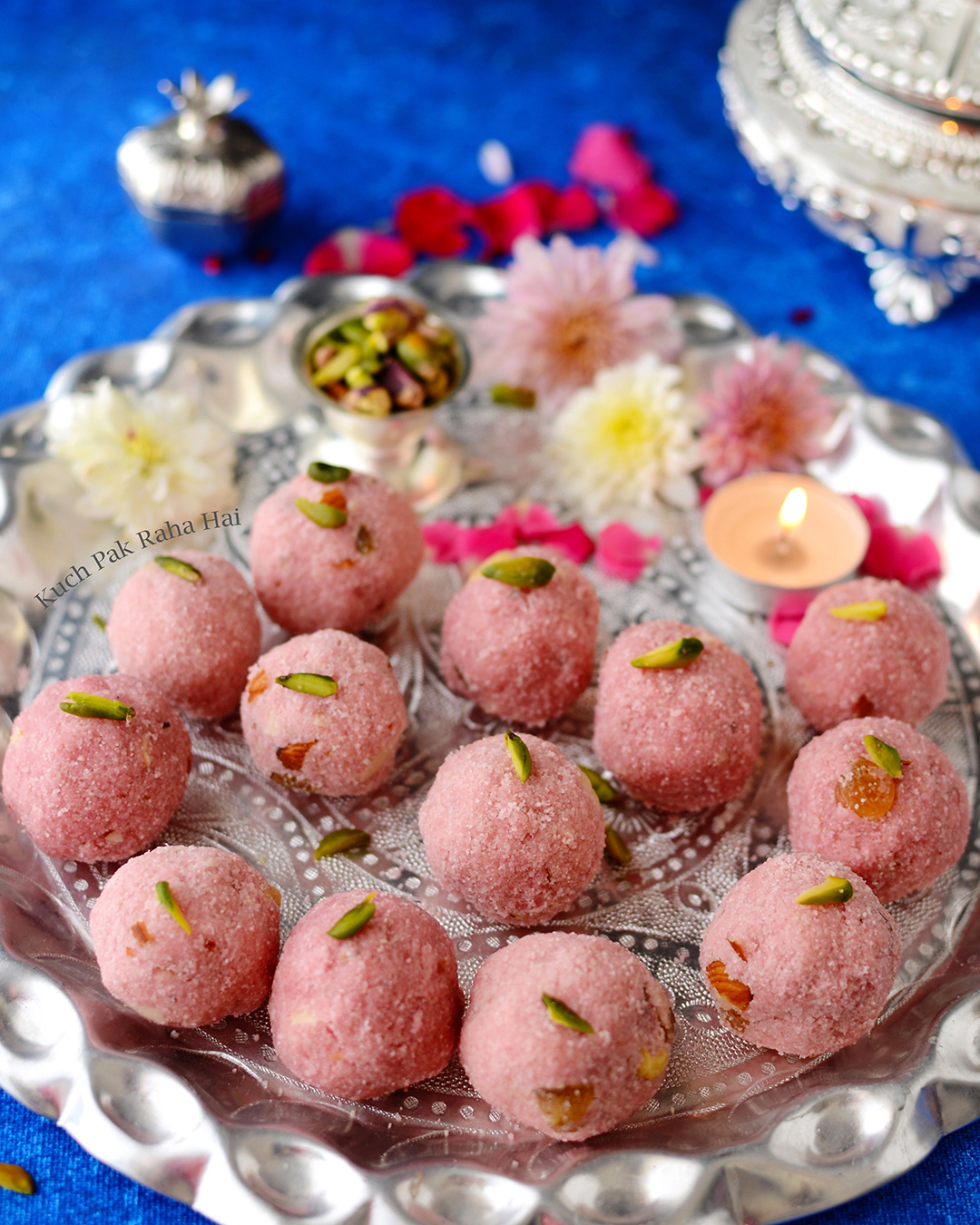 I have used here KoKos Natural Beetroot Powder and like the versatile ways this can be used in different recipe like raitas, poori, parathas & roti etc. (P.S: Not a promotional post, just sharing my experience). You can use any other brand's beetroot powder too.  I used this powder in day to day recipes but never thought of adding it in dessert. This time when I was making ladoos, I experimented by adding some of it in the mixture & got this lovely gorgeous pink colour. You can skip it if you don't want this pink color in ladoos.
Other Indian sweets recipes you might like to try :
I have also shared a youtube video for the same recipe. If you like it, don't forget to subscribe to my channel 🙂
Watch Video :
Hope you will like this easy delicious Beetroot Rava Ladoo recipe!!
List of Ingredients: (Makes 12-14 pieces)
Rava (Semolina)-1 cup
Ghee (Clarified Butter)-1/4 cup
Powdered Sugar-1 cup (to taste)
Chopped Almonds/Cashews/Pistachios-1/4 cup
Raisins (Kishmish)- 8 to 10
Dessicated coconut- 2 tsp (optional)
Full Fat Milk-1/4 cup
Cardamom Powder- 1/2 tsp
Beetroot Powder– 3/4 tsp (optional)
Notes:
Beetroot powder is added to give pink colour to ladoo. You can skip it or use pink food colour or rose syrup.
For better taste & binding, include some 'malai' also with milk in making these ladoos.
Adjust the sugar as per your taste. First add 3/4 cup sugar & taste the mixture. Add the remaining part or increase the quantity as per your preference.
Please choose the rava carefully. Use 'Bombay Rava' and not 'Idli rava' for making these ladoos.
Don't add the sugar to the rava mixture when it is too hot to prevent it from turning into syrup or liquid. Sugar is to be added when the mixture is warm enough that you can touch it.
If while making ladoos the mixture gets dry or you are not able to make ladoos using it, add some warm milk or ghee to it.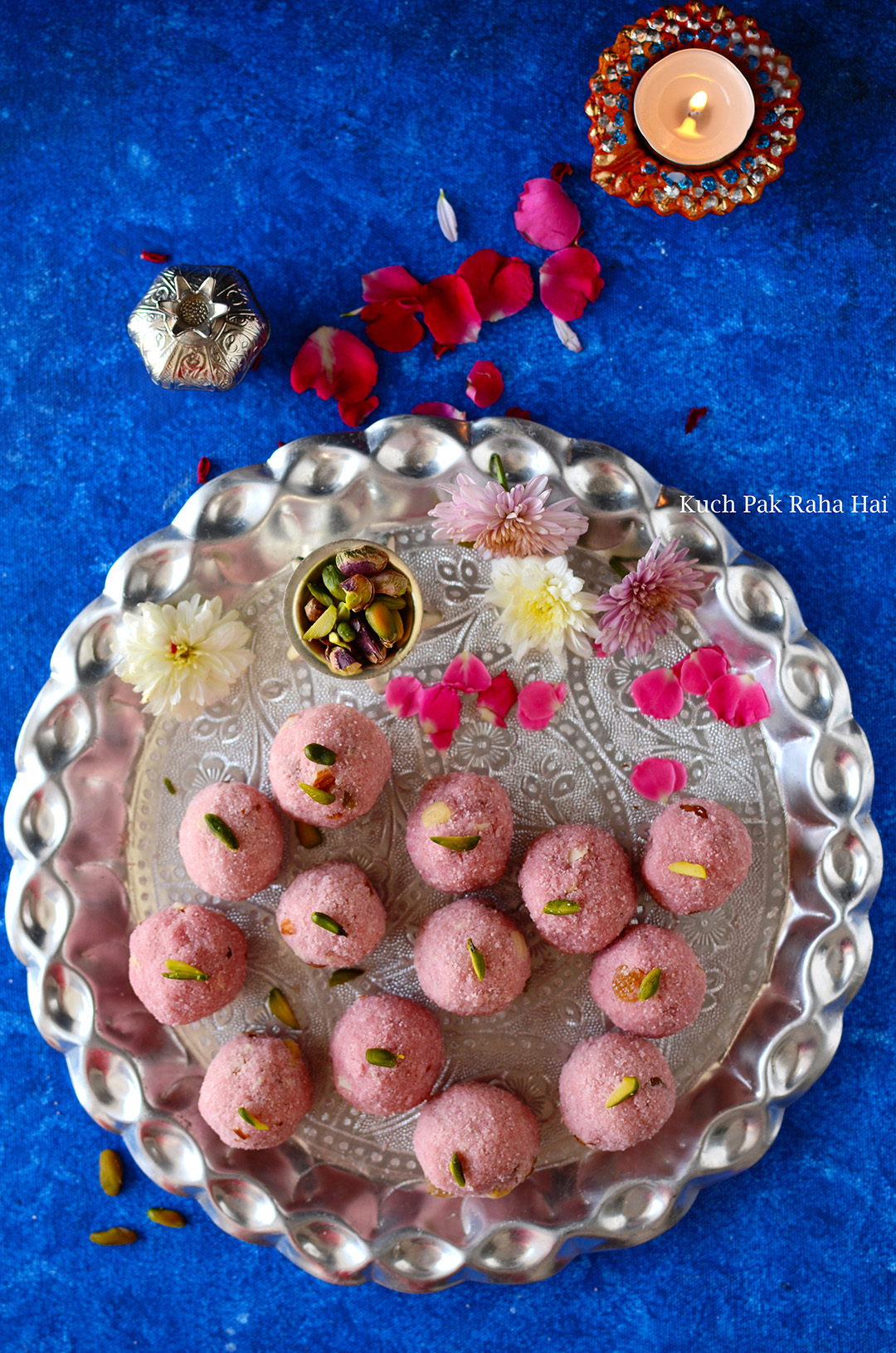 Steps To Prepare:
Step 1:
Add the rava or sooji in a grinder jar & grind it for 2-3 pulses. This ensures that rava particles are further broken to smaller particles which will make binding ladoos easier in later step.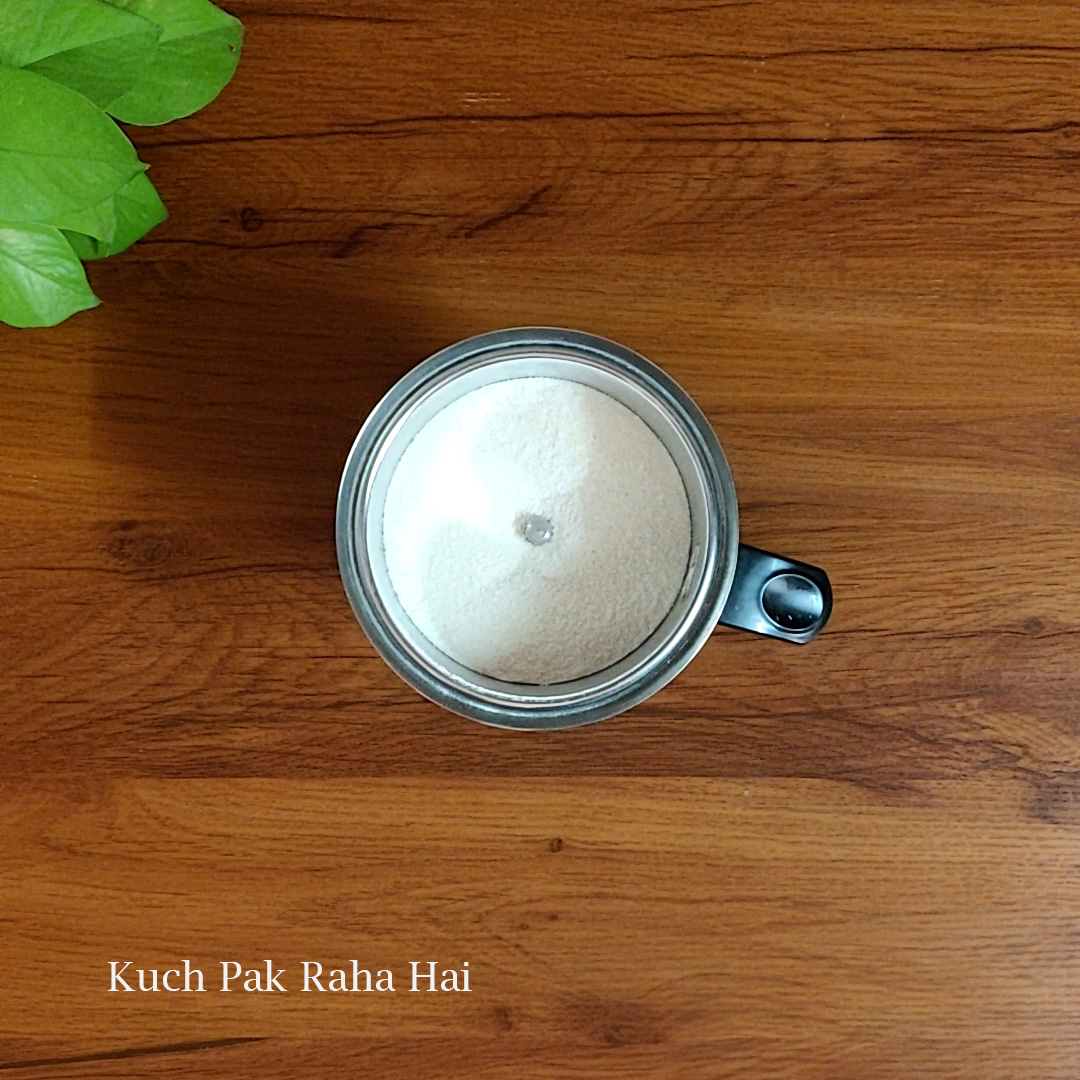 Step 2:
Add ghee in a non stick pan or kadhai & add this grounded rava to it. Start roasting it on low flame.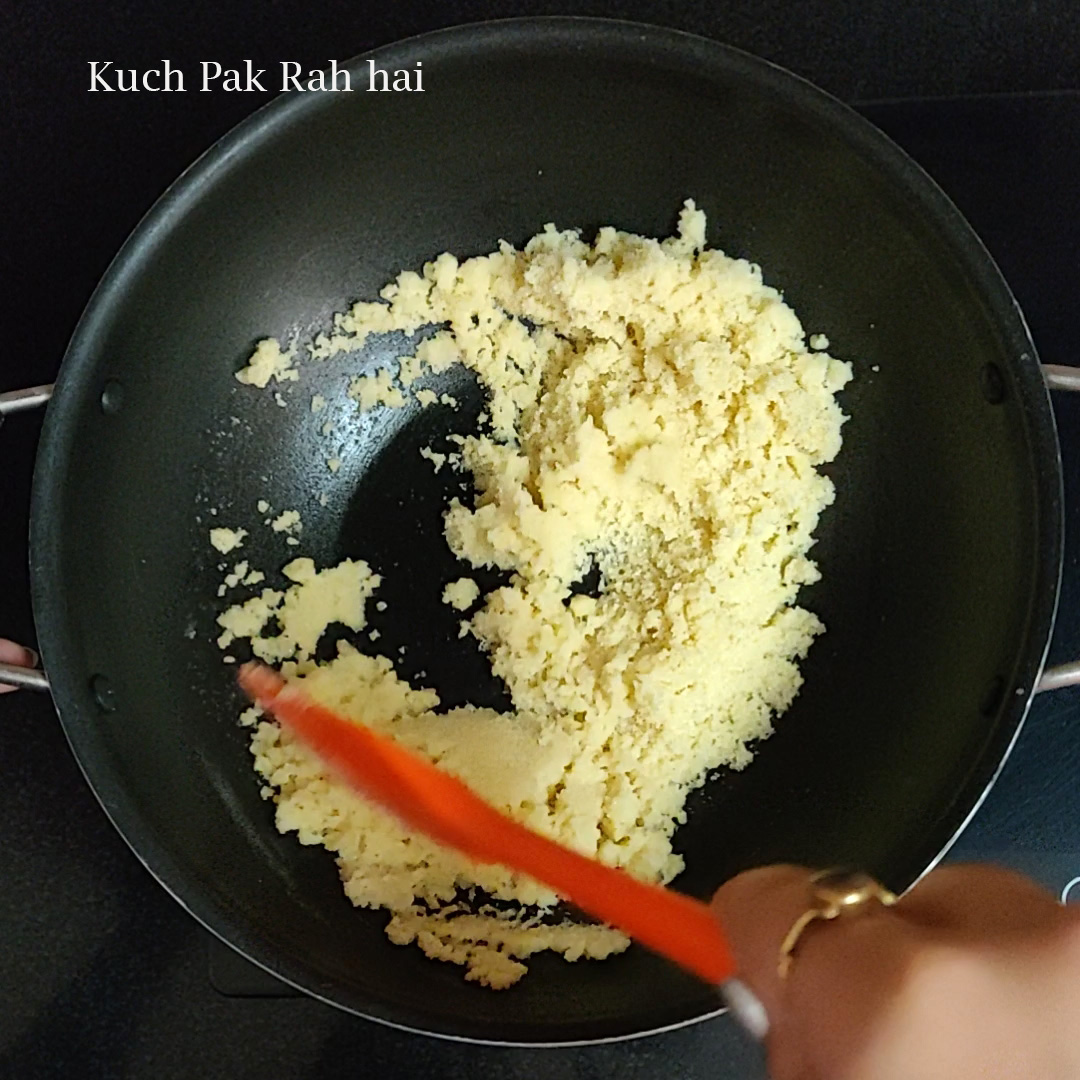 Step 3:
After 3-4 minutes add chopped almonds & cashews to it. Continue roasting on low flame. If you want to use desiccated coconut in the recipe, add it at this step. The nuts & coconut will gets roasted along with semolina.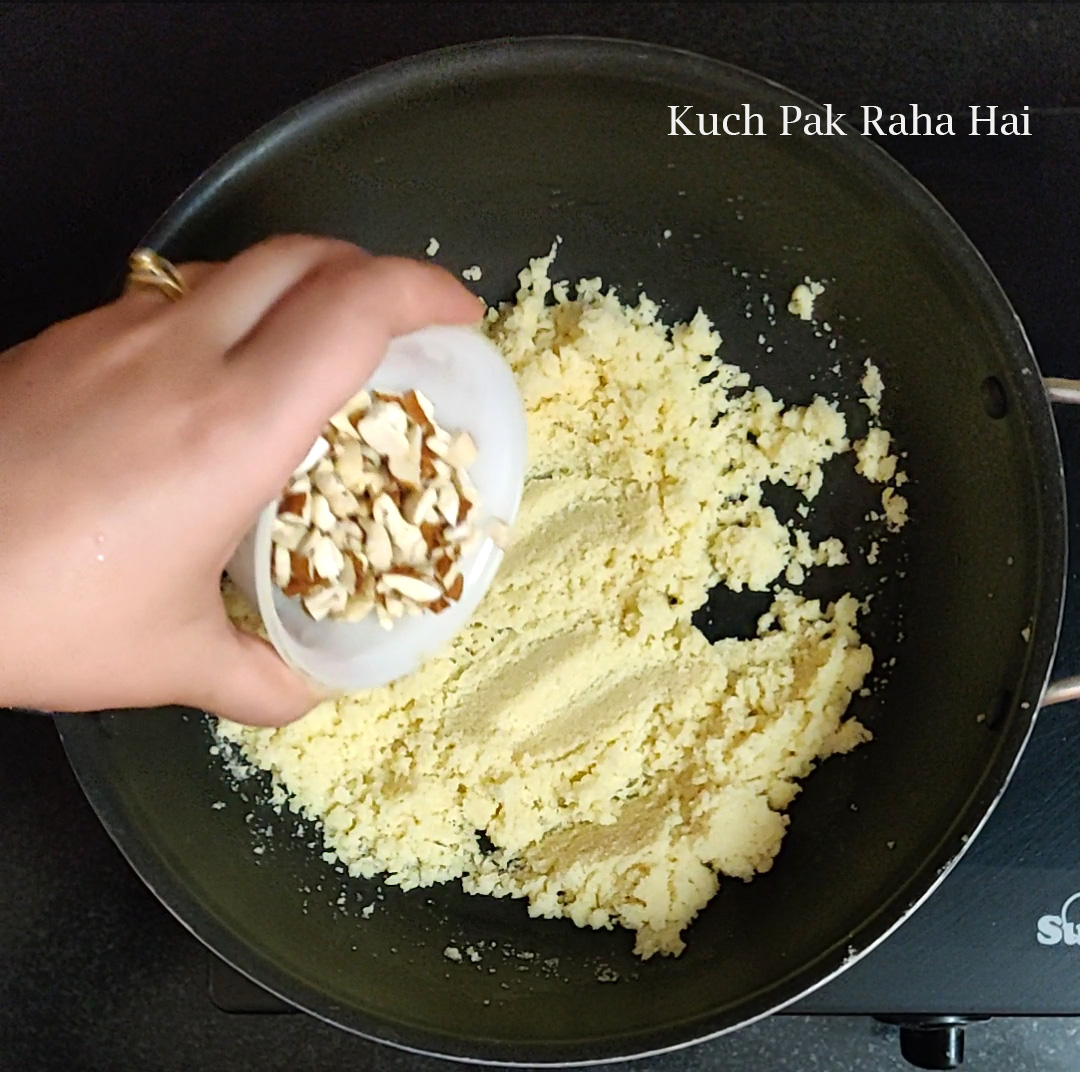 Step 4:
We will roast semolina for 10-12 minutes in total. Towards the end add chopped raisins & cardamom powder. Mix well.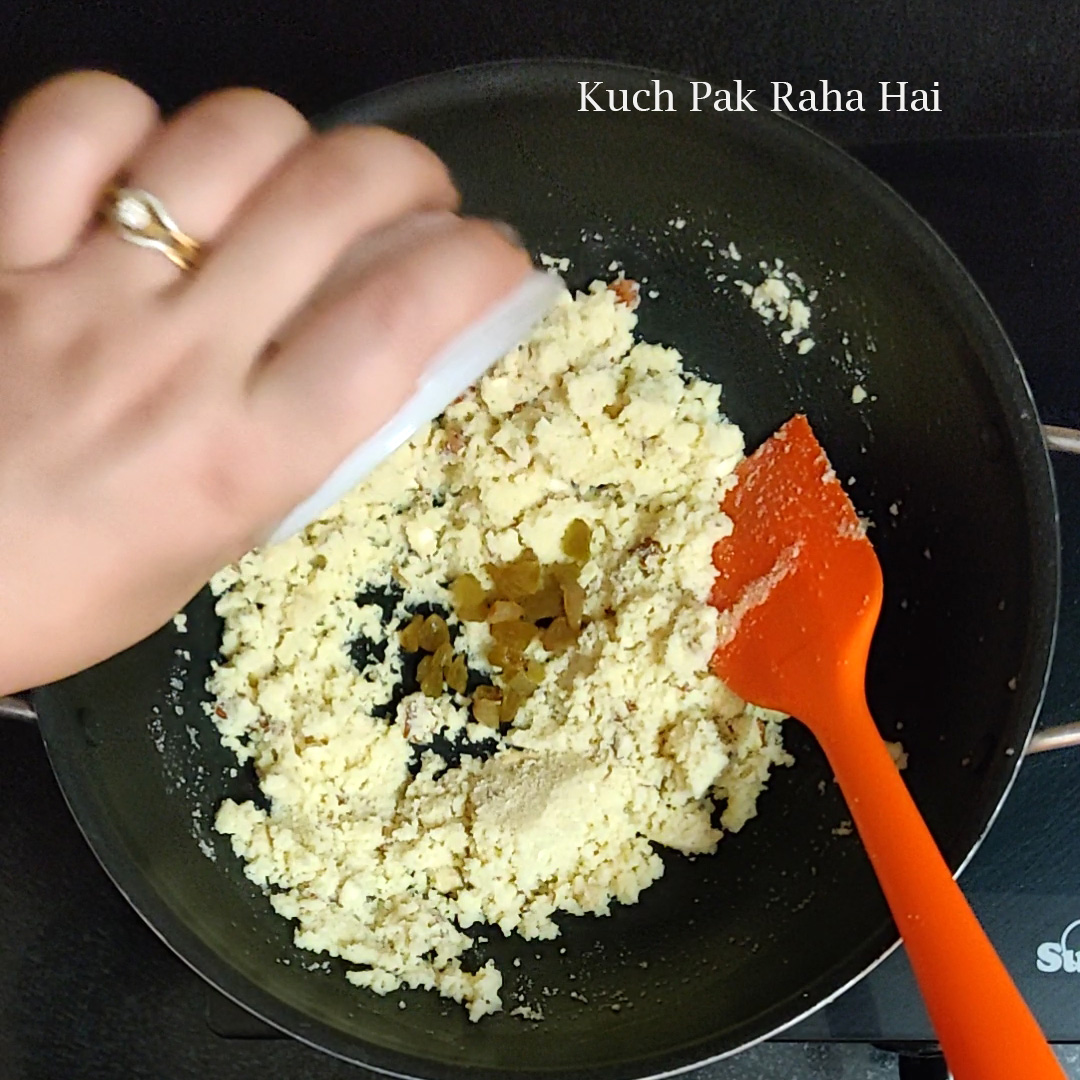 Step 5:
Transfer this roasted mixture in a mixing bowl. We will let it cool down slightly, just enough so that you are able to handle it. We will not add sugar while the mixture is still hot as it will cause the sugar to melt & the mixture will turn runny.
Step 6: 
Microwave or heat milk till it is warm. Add beetroot powder to warm milk & mix well. (This beetroot powder is totally optional. If you don't want pink colored ladoos skip it)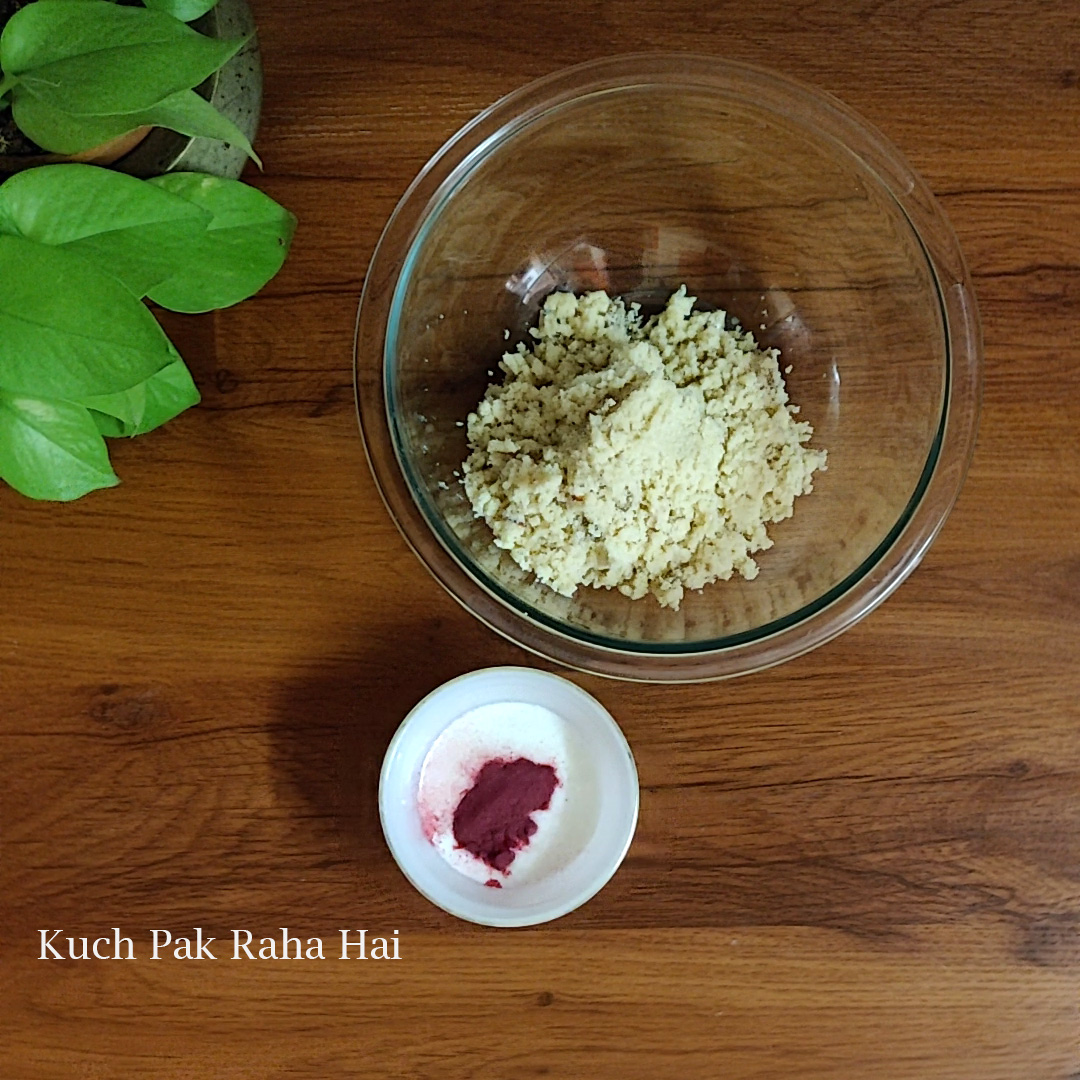 Step7:
Add powdered sugar & this warm milk to roasted rava mixture. Mix well using spatula or hands. The milk should be added gradually as its quantity can vary depending on the quality of semolina. Sometimes 2 tbsp is enough & sometimes it takes upto 1/4 cup to bind the ladoos.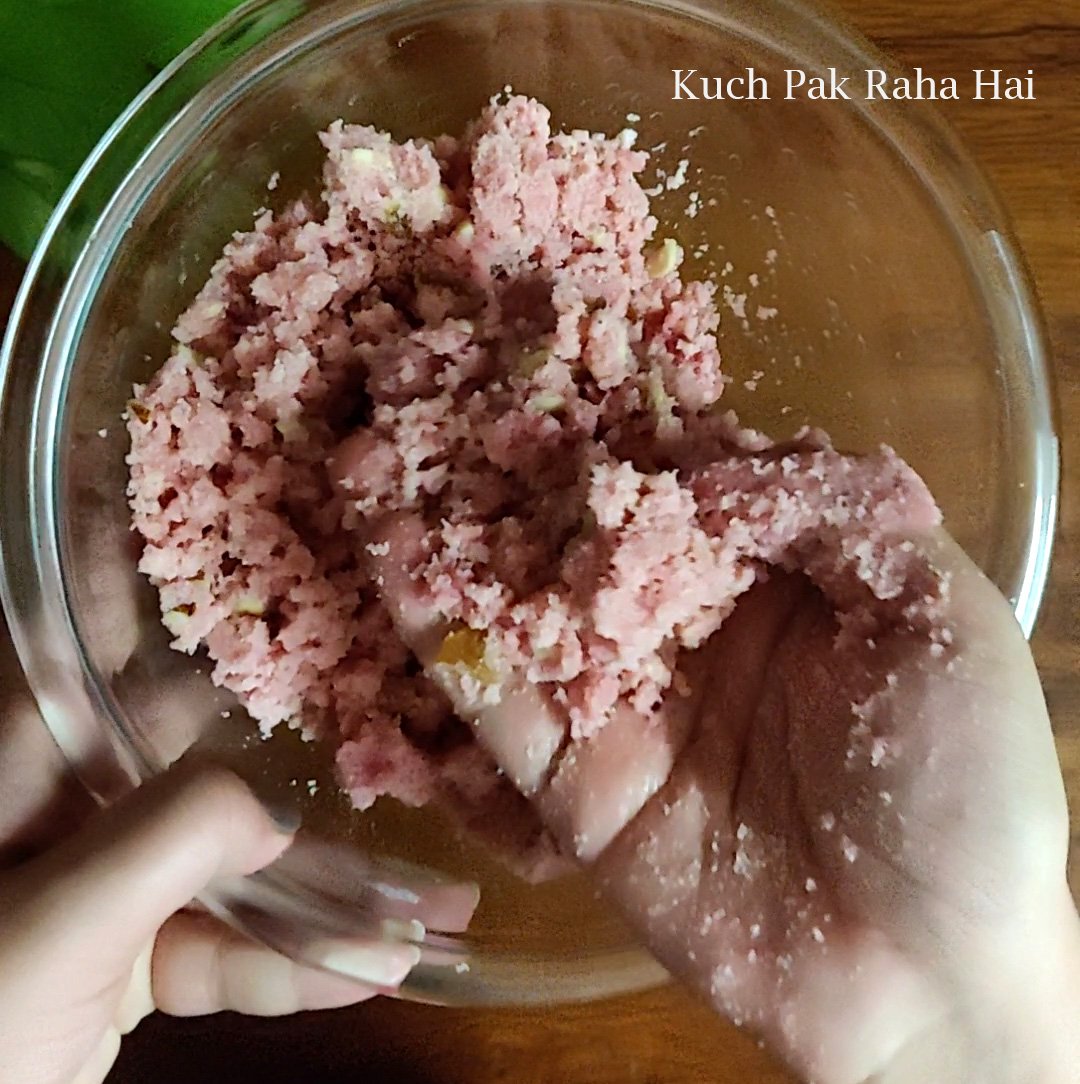 Step 8:
Take spoonful of mixture & start binding it into ladoos using your palms. Repeat this for the entire mixture.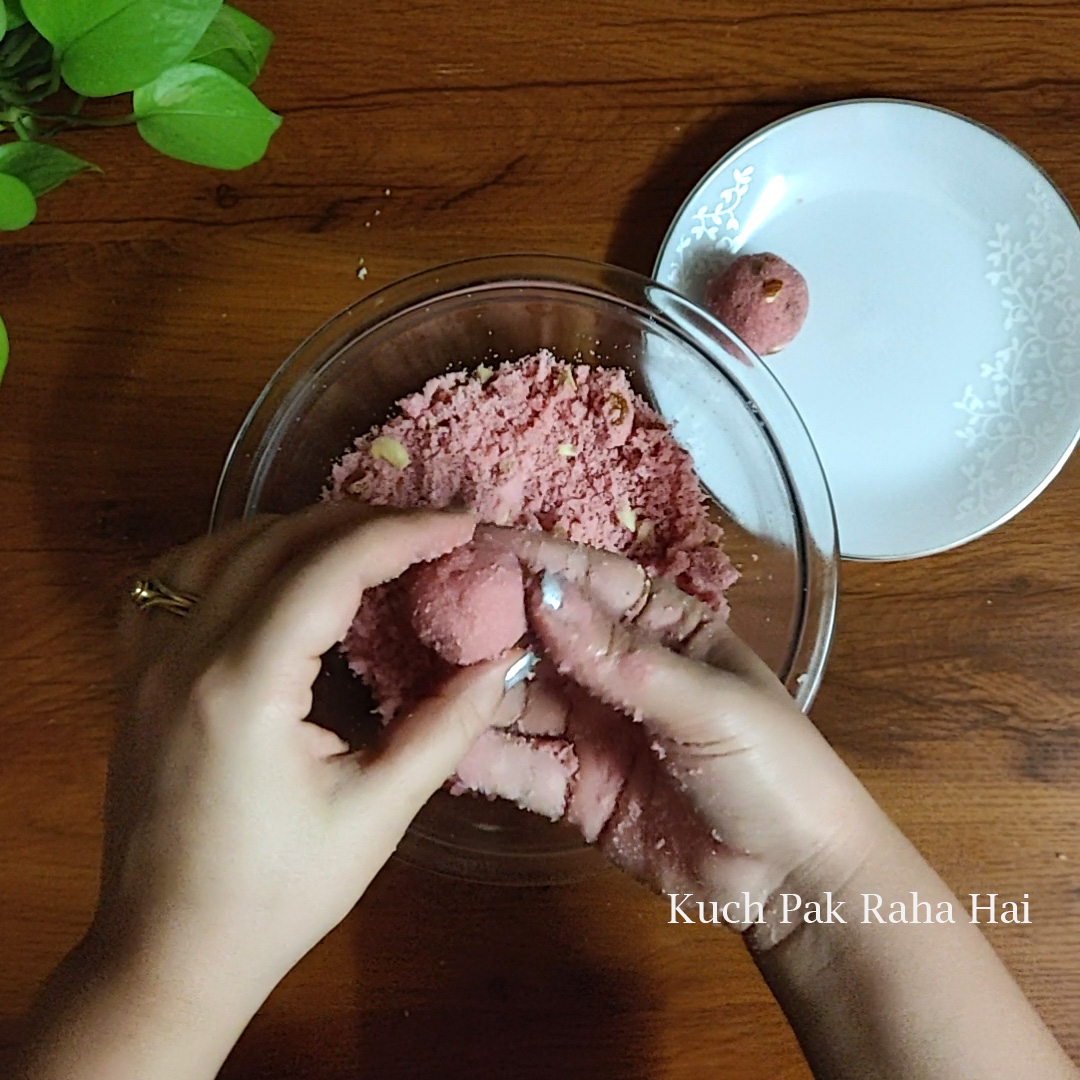 You can garnish it with some more chopped pistachios. Enjoy these delicious rava ladoos with your friends & family. Festive wishes to you & your family :).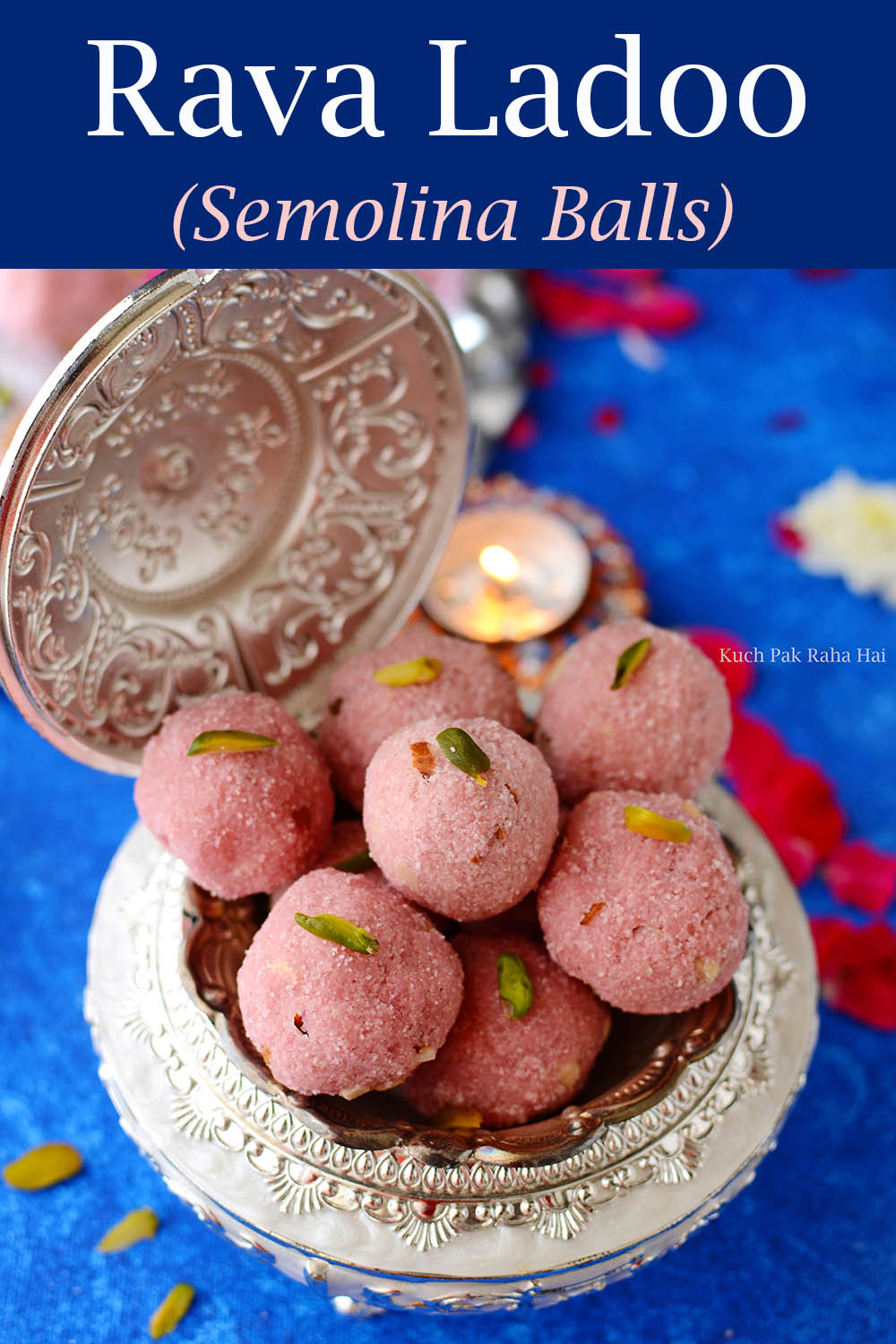 Wasn't this rava ladoo recipe an easy one? Do try it & share your food pics with us on Facebook or Instagram or use the hashtag #kuchpakrahahai.
Bon Appetit!!
Let's stay connected
Facebook | Instagram | Pinterest | Youtube