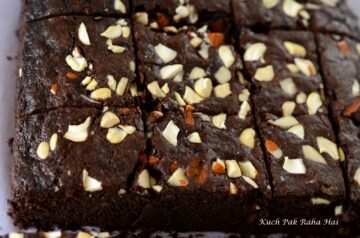 Rich, decadent, fudgy brownies recipe made without condensed milk or eggs. They are super easy to make & tastes absolutely divine.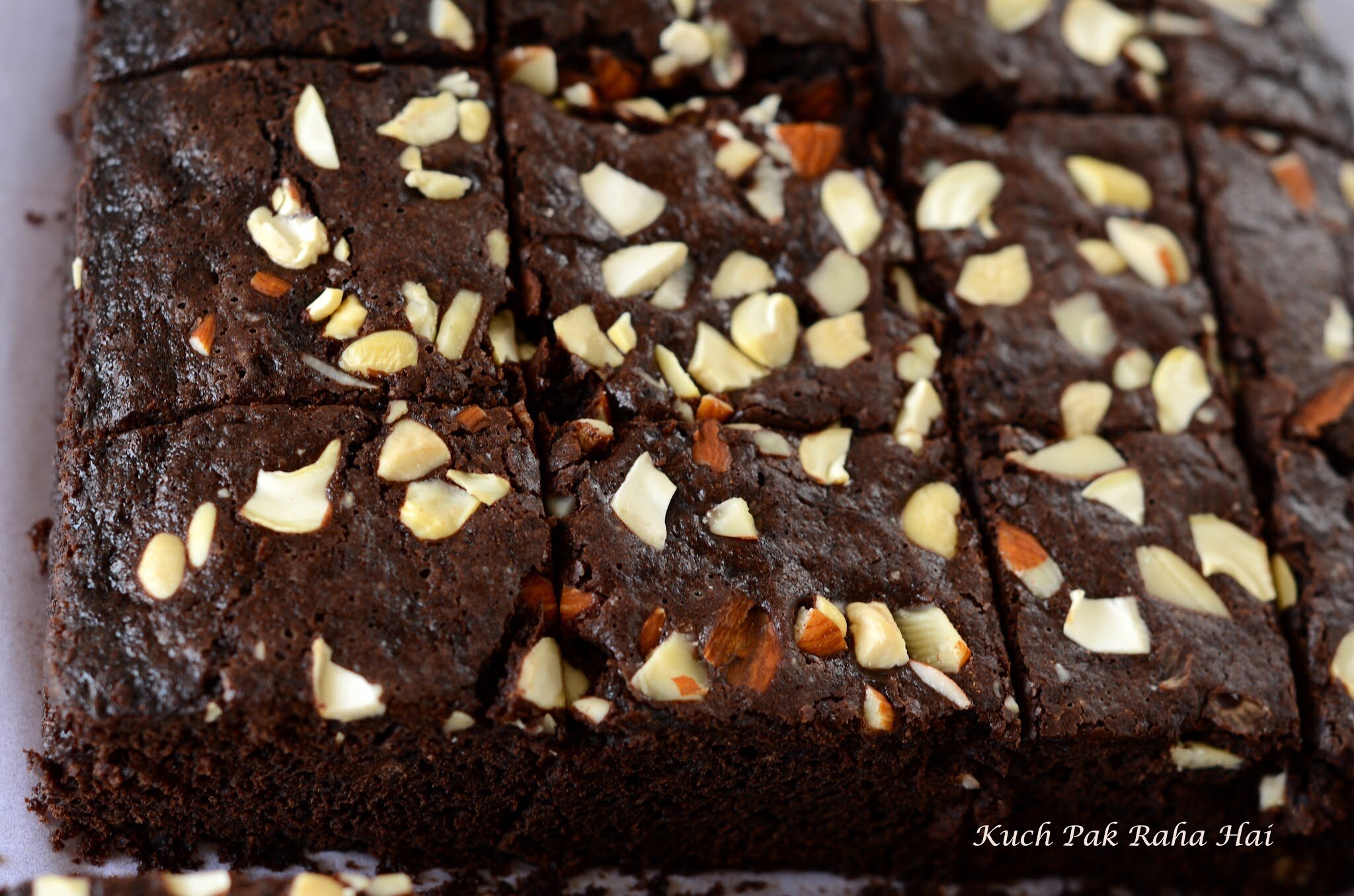 The chocolate brownie recipe shared here is:
Eggless (No eggs)
Made without condensed milk
Made without yogurt (curd)
Simple to make
Fudgy & yummy!!
Generally people have their own preferences when it comes to brownie. There are generally three varieties of it- fudgy, cakey and chewy. I personally like my brownies to be on fudgier side with a scoop of vanilla ice-cream and chocolate sauce drizzle on a hot sizzling plate!! In this post I am going to share the eggless version of fudgy chocolate brownies with crackly top.
Brownies are liked by people of almost every age group. As it is one of my favourite desserts too, I decided to share Eggless Brownie recipe on completion of 3 years of this blog "Kuch Pak Raha Hai"!! 🙂 🙂
Many people often compliment me on this blog that the recipes shared here are really quick and the step-by-step explanation along with the pic makes them easy too!! Keeping the same momentum and intent, I have tried to keep this brownie recipe simple, keeping the steps to minimum without compromising on the taste and texture.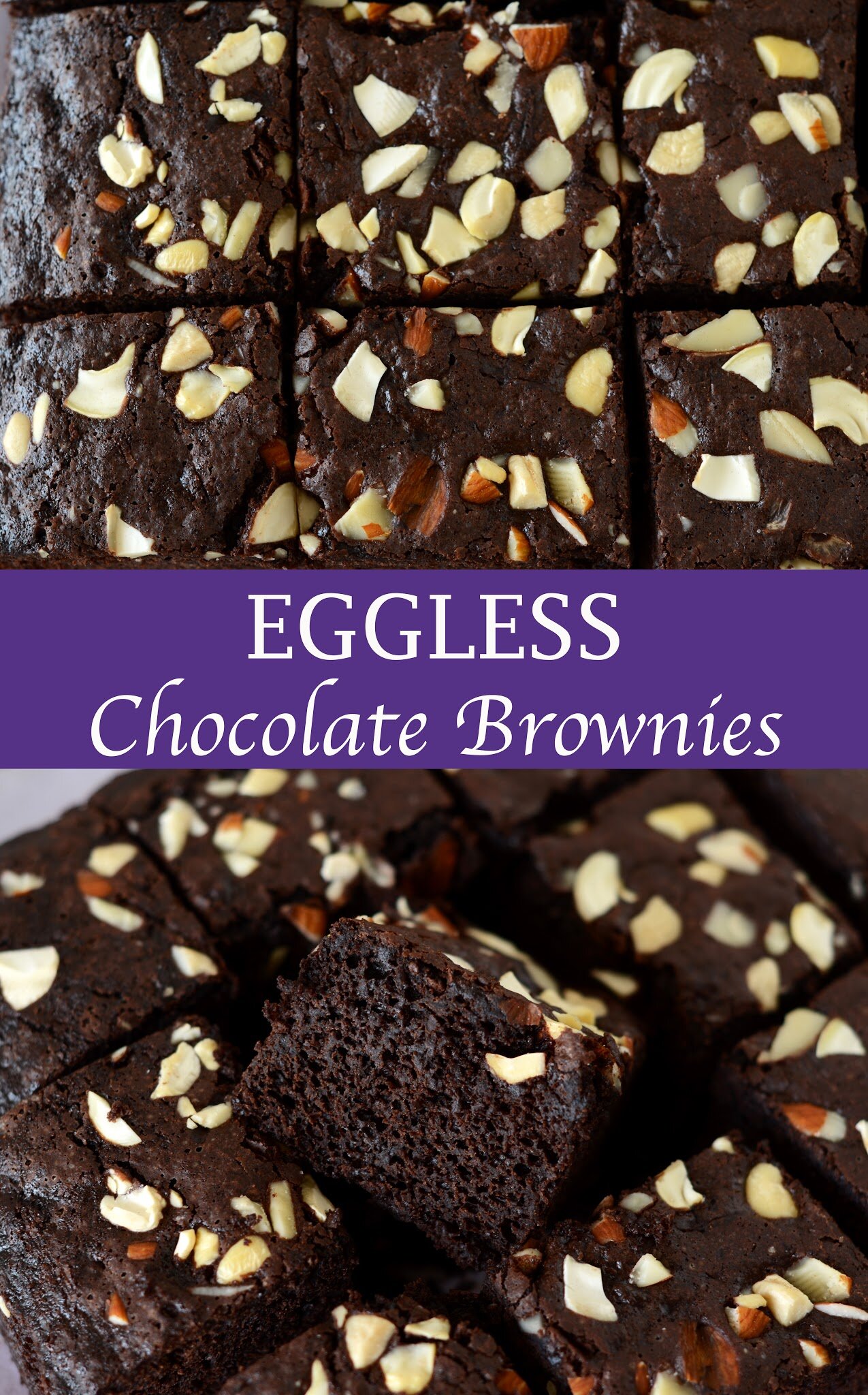 The brownie recipe is adapted from my mother's brownie recipe. After making few changes and some random trials, I have zeroed down on this no-fail recipe which is perfect for an eggless version of fudgy brownie.
I have topped these brownies with chopped nuts- cashews and almonds. You can use walnuts or even chocolate chips also. Just a few points before you actually move onto the recipe:
1. I have used 7″inches square aluminium tin for making these brownies. If you want the brownies to be of lesser height you can use a tin with slightly bigger dimensions.
2. Unsalted butter has been used in the recipe. If you are using salted butter please skip the salt from the recipe.
3. I have used melted milk chocolate in this recipe, which already has some sugar in it. If you are using dark chocolate then feel free to adjust the quantity of sugar as per your taste.
I have also shared youtube video for this same recipe. In case of any doubt or confusion, you can refer to it as well. If you like this recipe, please subscribe to our Youtube channel 🙂 .
Youtube Video:
Hope you would like this simple fudgy brownies recipe!! More such eggless baking recipes:
Ingredients:
All Purpose Flour (Maida) – 1 cup + 2 tbsp
Unsweetened Cocoa powder – 1/4 cup + 2 tbsp
Baking Soda- 1/2 tsp
Milk- 1cup
Vinegar-1 tsp
Salt- 1/4 tsp
Instant coffee powder-1/2 tsp
Unsalted Butter- 1/4 cup (~55 gms)
Chopped Chocolate-100 grams
Powdered Sugar – 3/4 cup
Vanilla Essence- 1 tsp
Chopped Almonds / Walnuts-1/4 cup
Oil – 2 tsp (For brushing on tin)
Directions:
Step 1:
Sieve together all purpose flour (maida), cocoa powder & baking soda.These are all the dry ingredients of our recipe. Sieving is an important step as it helps in the aeration and uniform distribution of baking soda in the flour. Keep it aside.

Step 2:
Take milk in a bowl & add vinegar to it. Mix well & keep this bowl aside for 10-15 minutes. Vinegar will eventually curdle the milk. By the time, lets move to next step.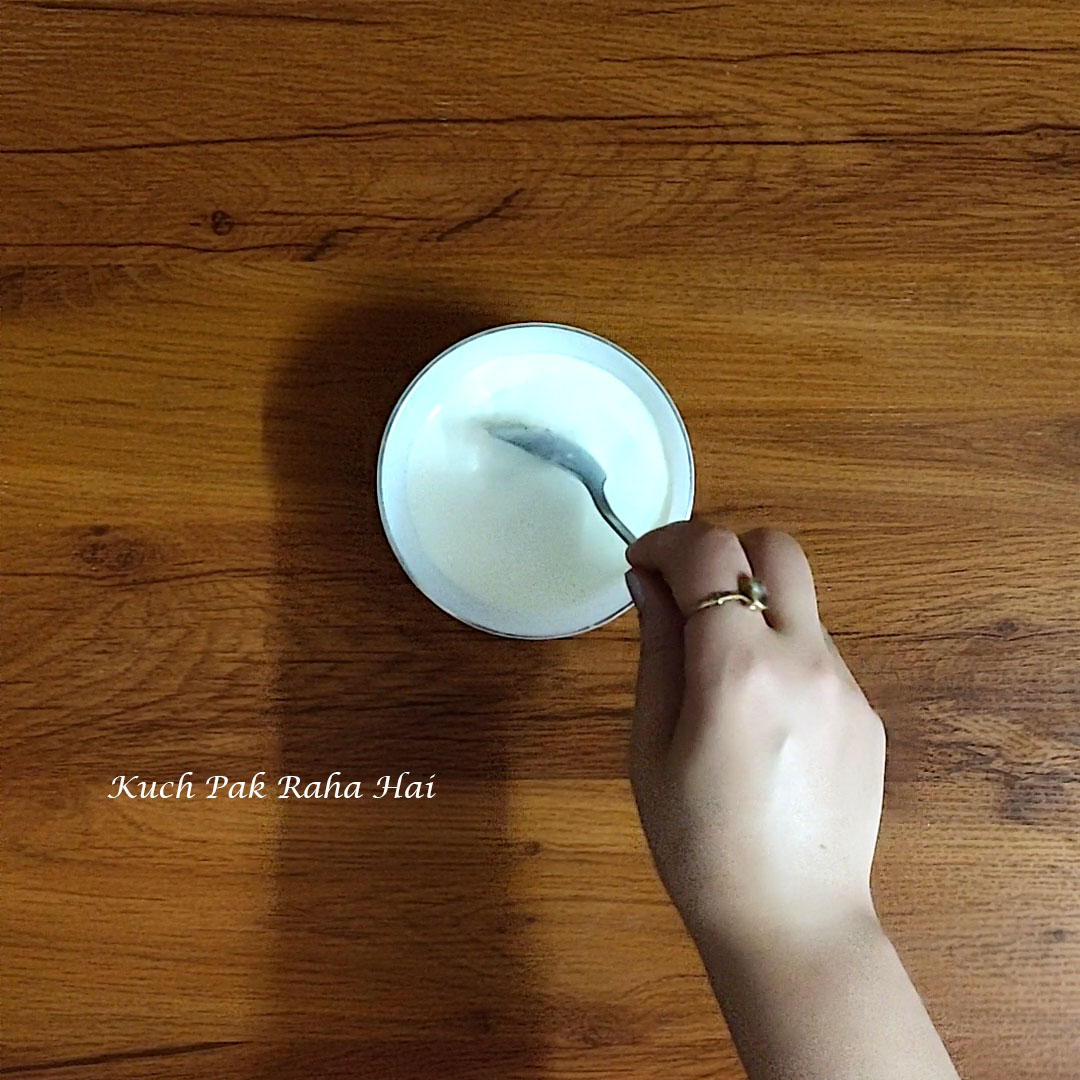 Step 3:
We will now melt the chocolate in double boiler. For this, heat some water in a pan. Place a glass bowl over it & add chopped chocolate to it. In few seconds, it will start melting, Start whisking it. Add chopped butter, salt & instant coffee powder to it. Whisk well all the ingredients. Keep it aside.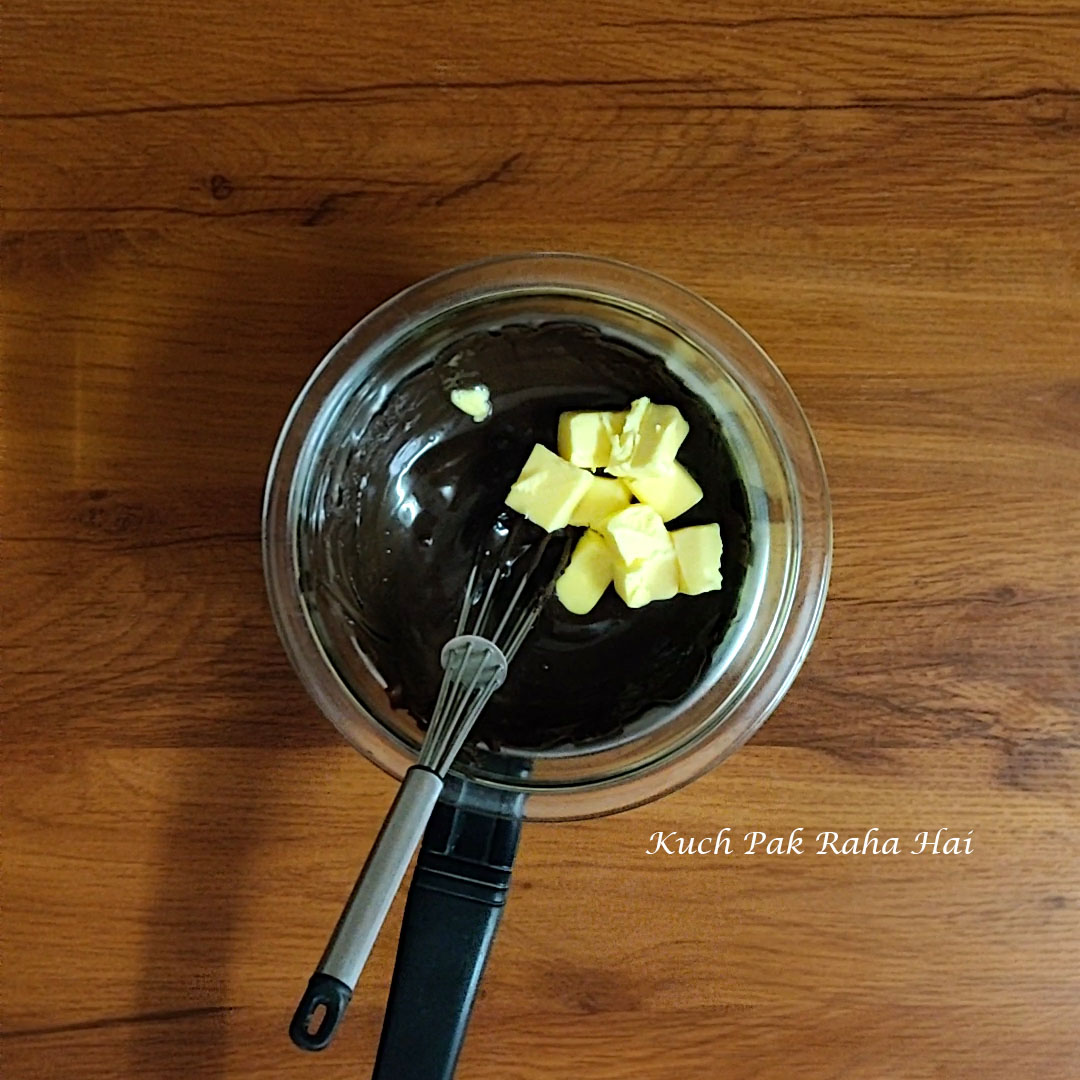 Step 4:
Brush some oil or butter inside the brownie tin. Line the tin with a parchment or butter paper and again brush oil over it. I have used 7 inches square baking tin here.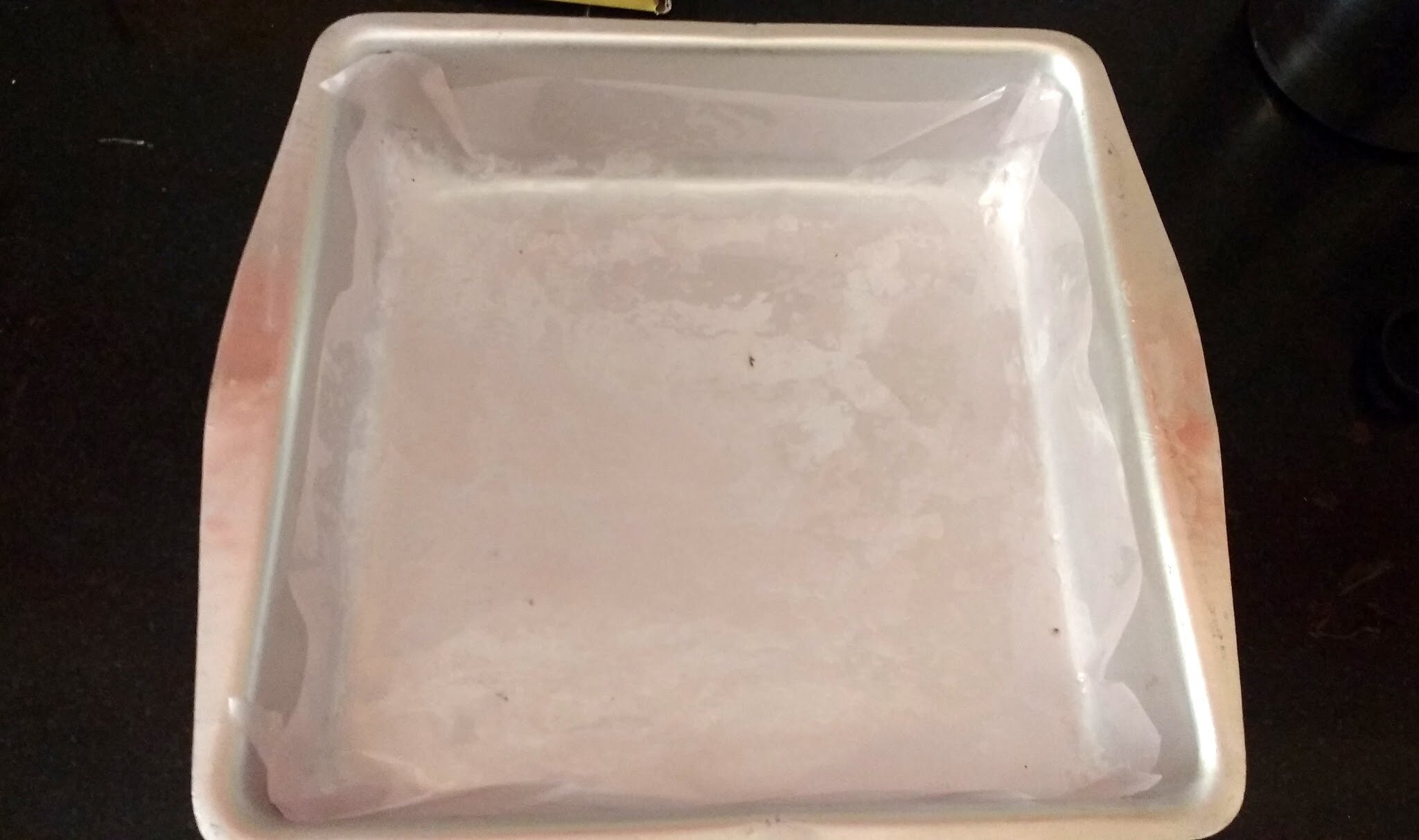 Step 5:
Set the oven for preheating at 170 degrees Celsius. By the time you prepare the batter, the oven will get preheated.
Step 6: 
This is the final mixing step. In a big bowl, transfer (milk & vinegar) mixture which we prepared in step 2. Add powdered sugar & vanilla essence to it. Mix well till all sugar is dissolved.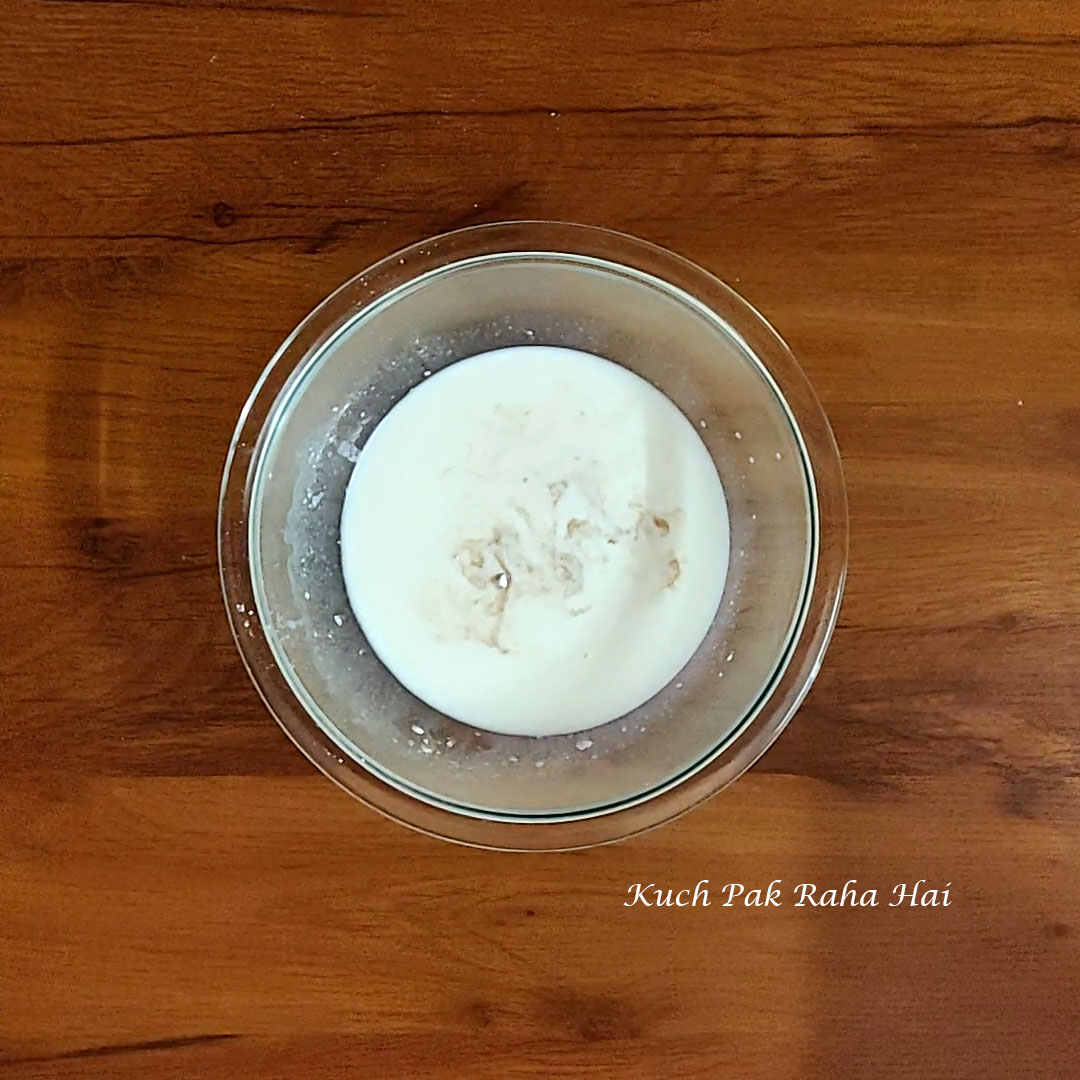 Add the melted chocolate & butter mix to it which we prepared in step 3. Whisk once again. Now fold the dry ingredients (which we kept aside in step1) in it gradually in 2 -3 parts. Just mix them enough so that there are no lumps left.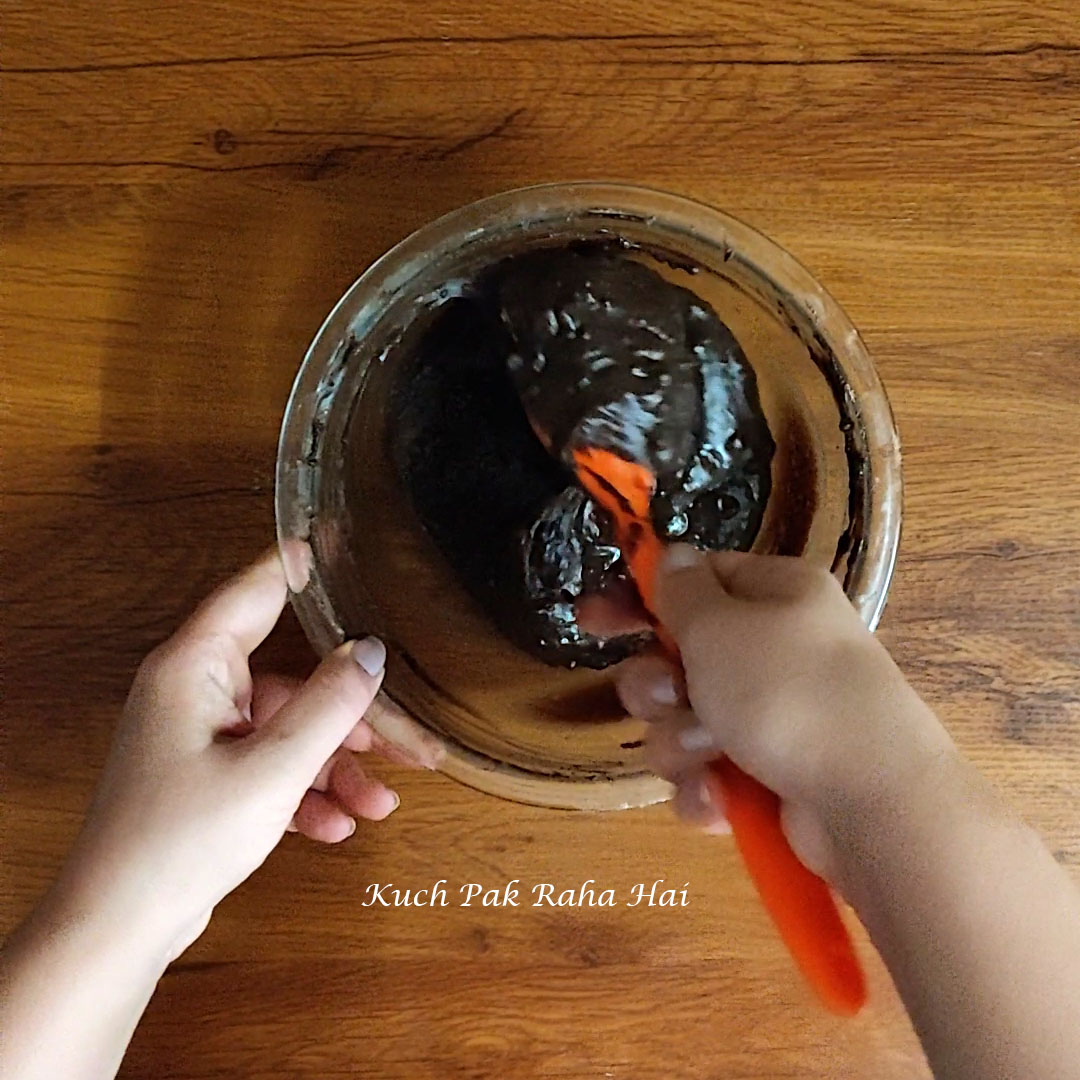 Step 7:
Pour the batter into cake tin. Pat it gently on kitchen counter so that all air bubbles are removed. Top it with chopped almonds or walnuts.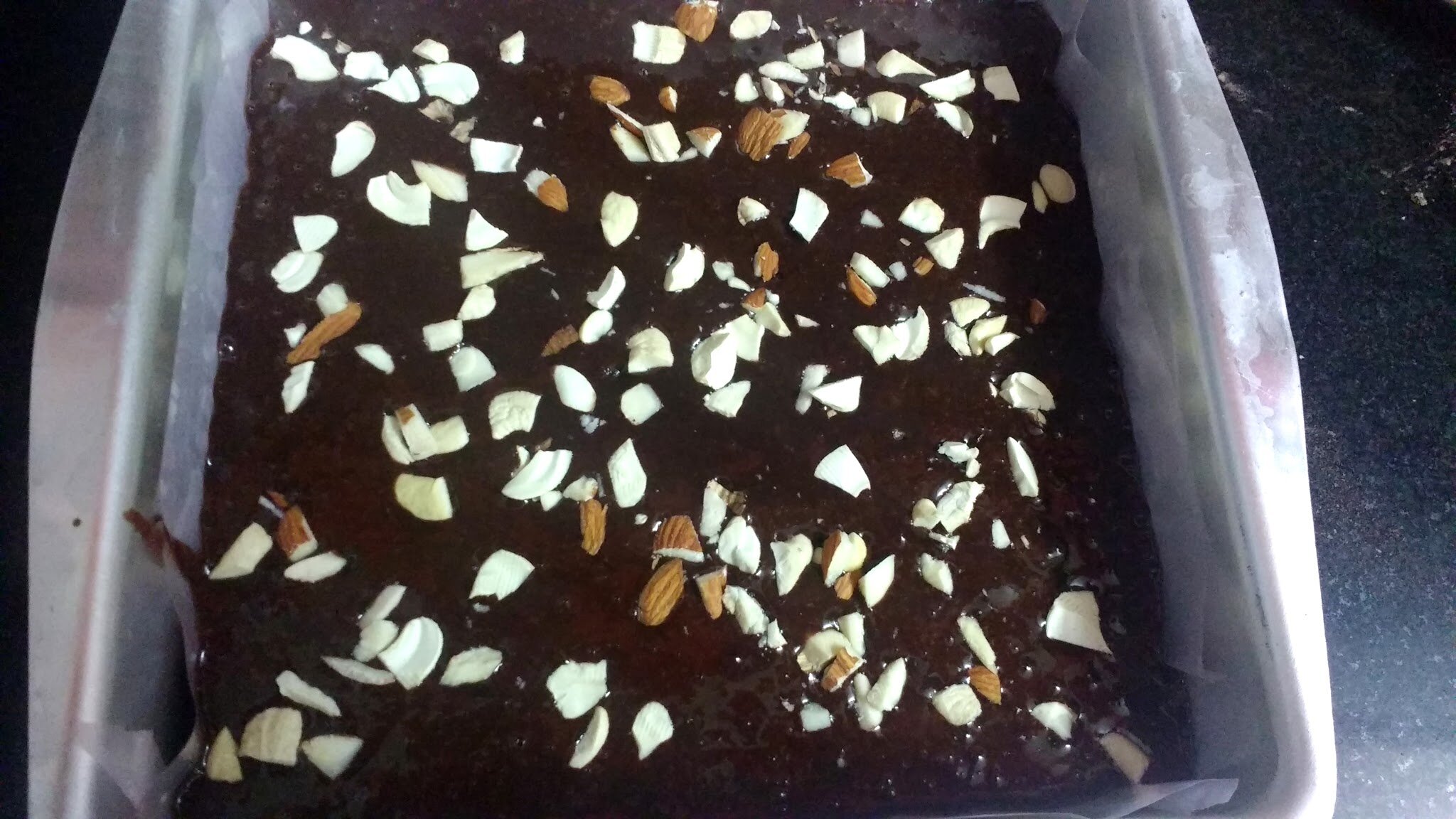 Step 8:
Bake the brownie for 170 degrees Celsius for 30 minutes. Bring it out of oven & let it cool down in cake tin itself for 15 minutes. Don't be in the hurry to bring it as it will be very soft. After 15 minutes pull it out using the parchment paper (see the video). Let it cool down completely on wire rack.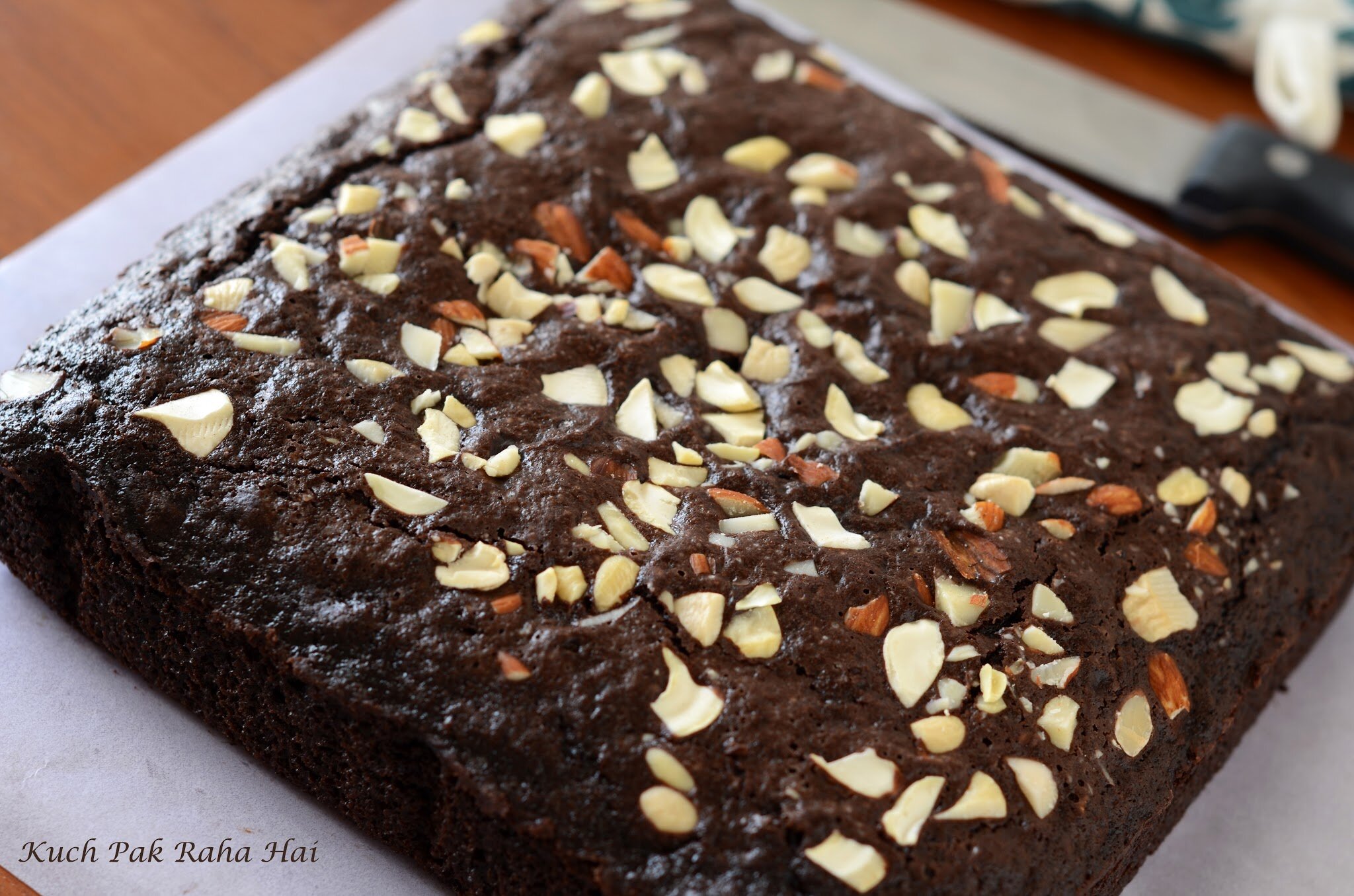 Serve this delicious fudgy brownie with a scoop of vanilla ice cream or as it is!! 🙂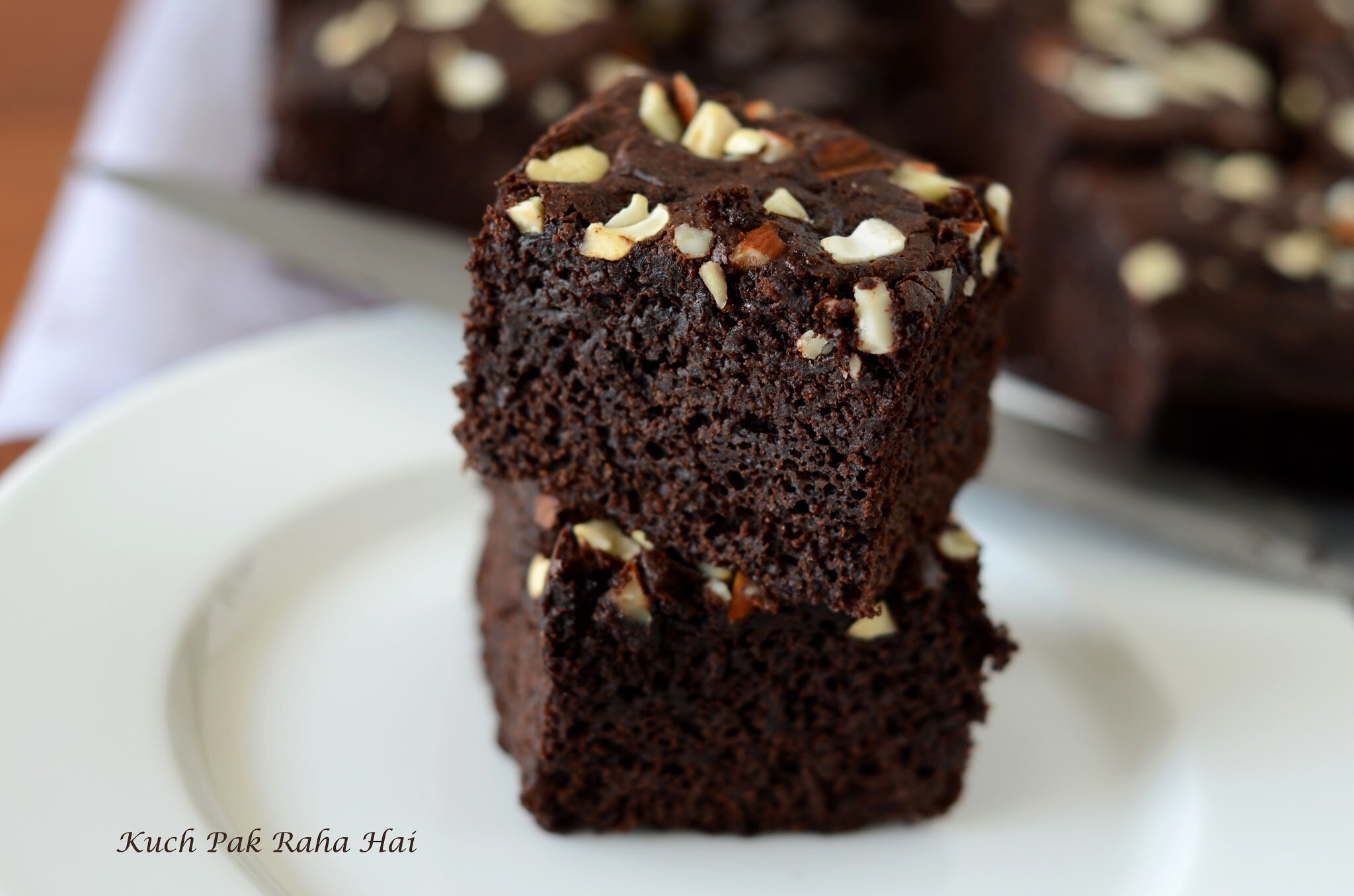 If you try this eggless brownie recipe & share pics on social media, then do tag us on Facebook or Instagram. You feedback & suggestions are valuable.
Let's stay connected
Facebook| Instagram| Pinterest| Youtube