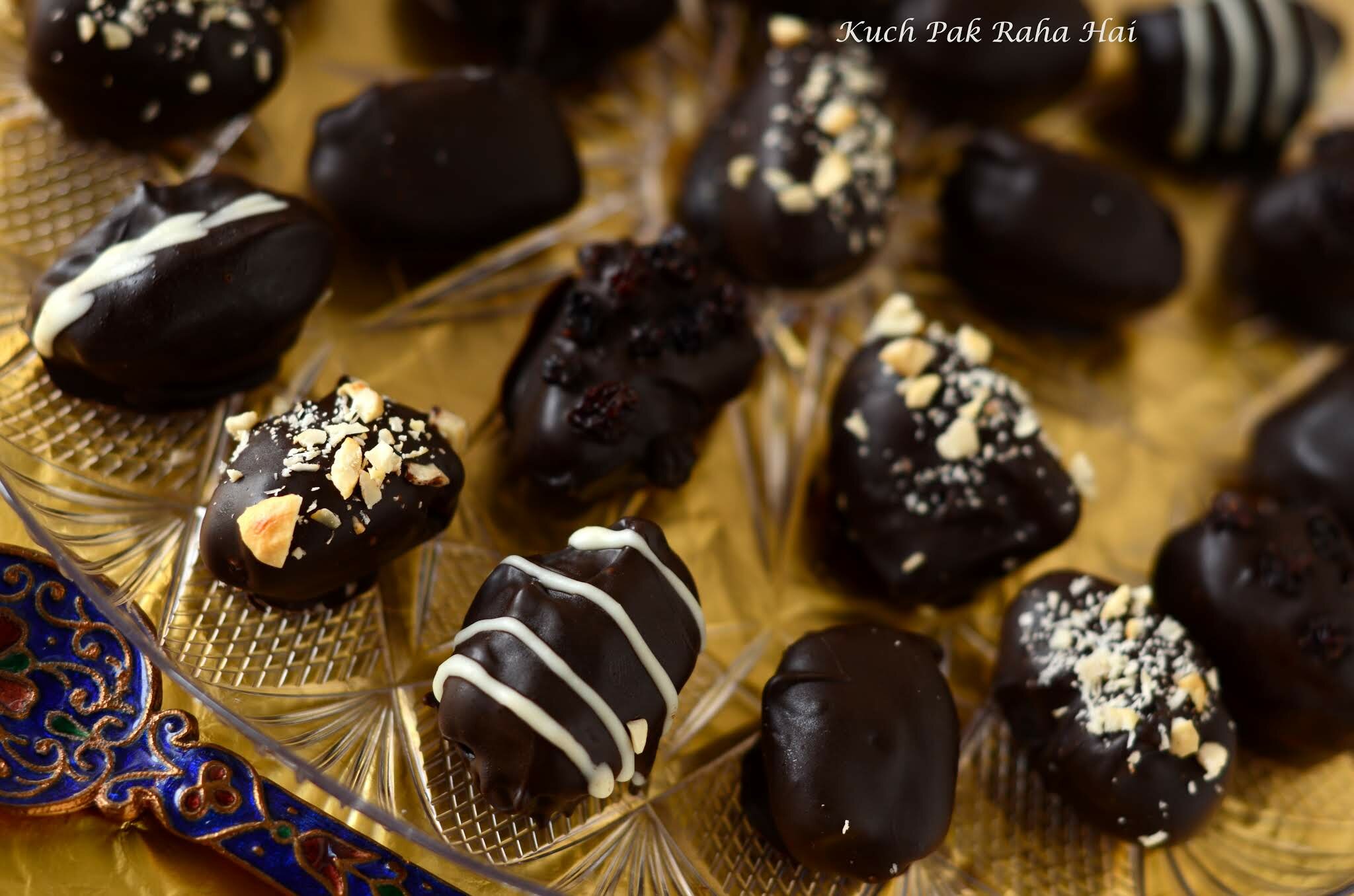 Ramadan Mubarak to all the readers!! In this post I am going to share a recipe using Dates or 'Khajoor' as called in Hindi. Dates are little tricky to use as one of the ingredients in recipes as it has its own peculiar sweetness with aroma (which many people often complain about when used in making cakes or some desserts) of its own.
My inspiration of this post comes from my recent trip to Sharjah (UAE). I have shared some pics from the trip on my Instagram account which you can checkout by clicking here. I always enjoy exploring the local markets/grocery stores of the places I visit as it gives a lot of insight in understanding the regional cuisine and food preferences of people residing there. In Sharjah, one of the most sighted and popular food items were "Dates". The supermarket shelves were flooded with so many variety of dates- seeded, deseeded, stuffed, date syrup, dates chutney etc. What caught my attention were the trays of dates with each piece stuffed with a whole almond. I decided that I surely going to try out something with them after returning home.
Chocolate covered Stuffed dates as the name also suggests is dulcet combination of chocolate and dates. The dates are stuffed with some roasted nuts and desiccated coconut powder combined together with condensed milk. To balance the sweetness altogether, a pinch of salt has also been added. I have used almonds, cashews and pistachios for filling. You can use any nuts of your choice.
<p">The recipe has been tried and kept simple yet interesting. Hope you would like this recipe!!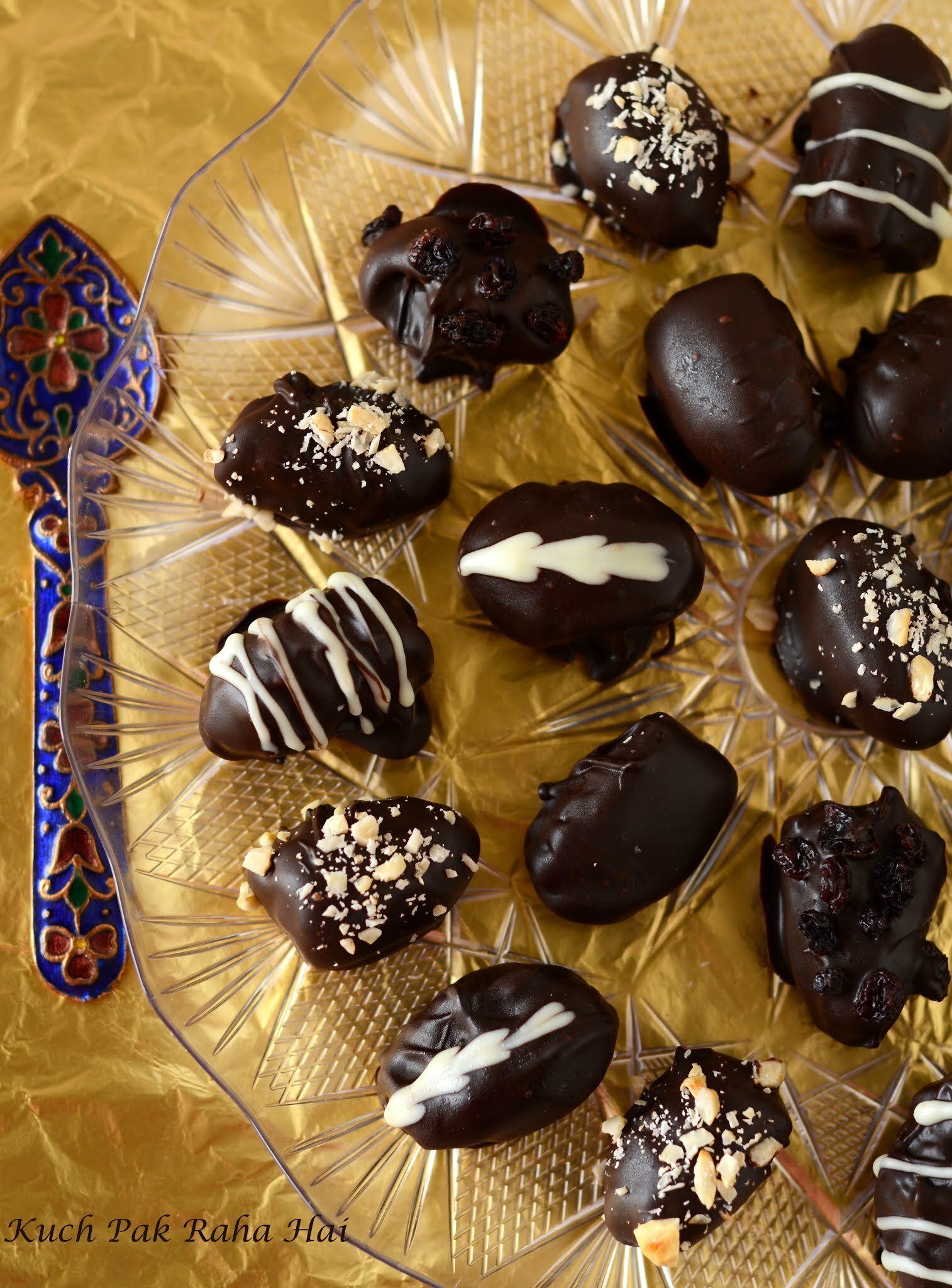 List of Ingredients: (Makes 30 pieces)
Dates/Khajoor- 30 pieces (approx 200 grams)
Finely Chopped Nuts- 1/4 cup (Take any nuts of your choice-walnuts, almonds, cashews, pistachios)
Desiccated Coconut Powder -1/4 cup
Condensed Milk – 1/4 cup
Salt- 1/8 tsp
Milk Chocolate-100 grams
White Chocolate/Roasted chopped Nuts- For garnishing
Steps To Prepare:
Step1:
In a non-stick pan, Roast the finely chopped nuts and desiccated powder on medium flame for two minutes till they turn slightly golden in colour and start giving nutty aroma. Add salt to it.
Step2:
Switch off the flame and add condensed milk to it. Mix it with the help of a spatula or spoon. This is the mixture we are going to stuff in our dates. Keep it aside so that it can cool down. In the mean while, let us proceed to next step.
Step3:
In this step we are going to de-seed the dates. I have used LION brand Dessert dates for this. I really liked the dates quality as each piece was clean and whole, making it perfect to use in this recipe.
Make a small slit on dates with a knife and pull the seed outside. Be careful as you don't want the dates to break into two pieces.
Step4:
Stuff the mixture prepared in step2 in de-seeded dates. Keep the stuffed dates in fridge for 10-15 minutes.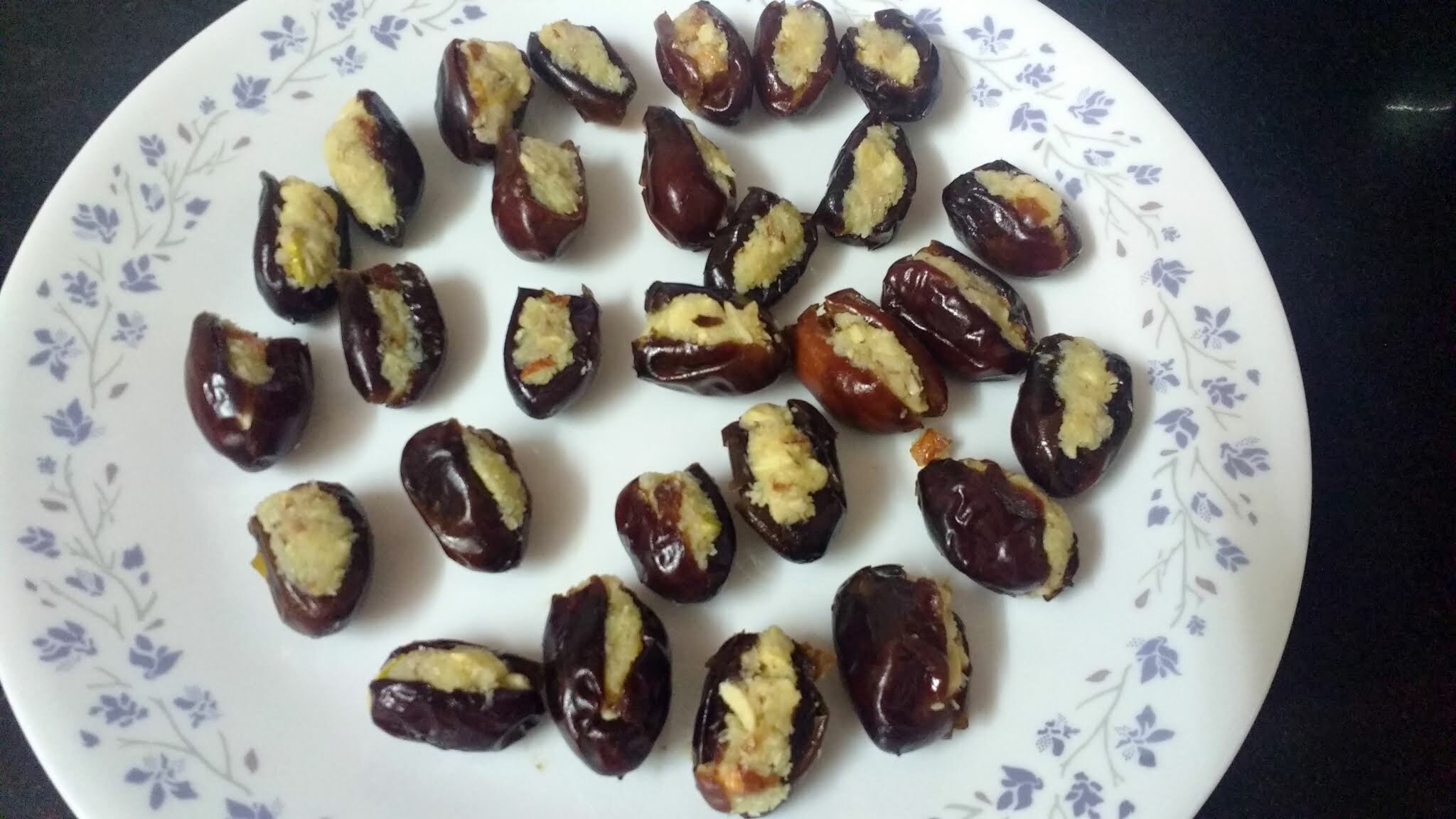 Step5:
Chop the chocolate into pieces. Heat them in microwave for 30 seconds at 80% power. Mix the melted chocolate with spoon. If some chunks are still there, microwave it for 20-30 seconds more till the chocolate is melted completely.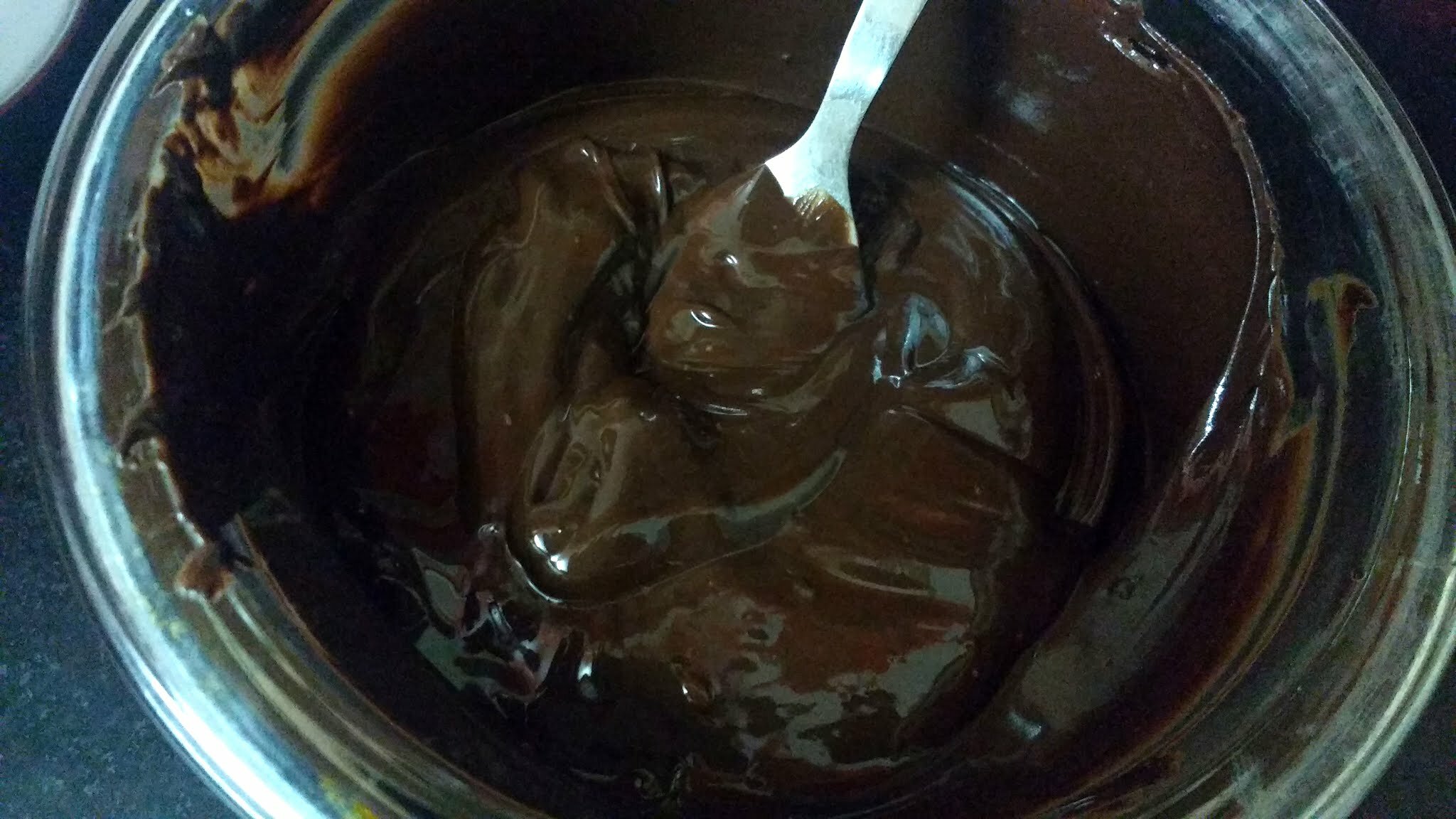 Step6:
Dip a stuffed date into melted chocolate and pick it with help of fork to remove excess chocolate. Place these dates on a tray/plate with butterpaper/parchement paper on it. Repeat the process for remaining dates.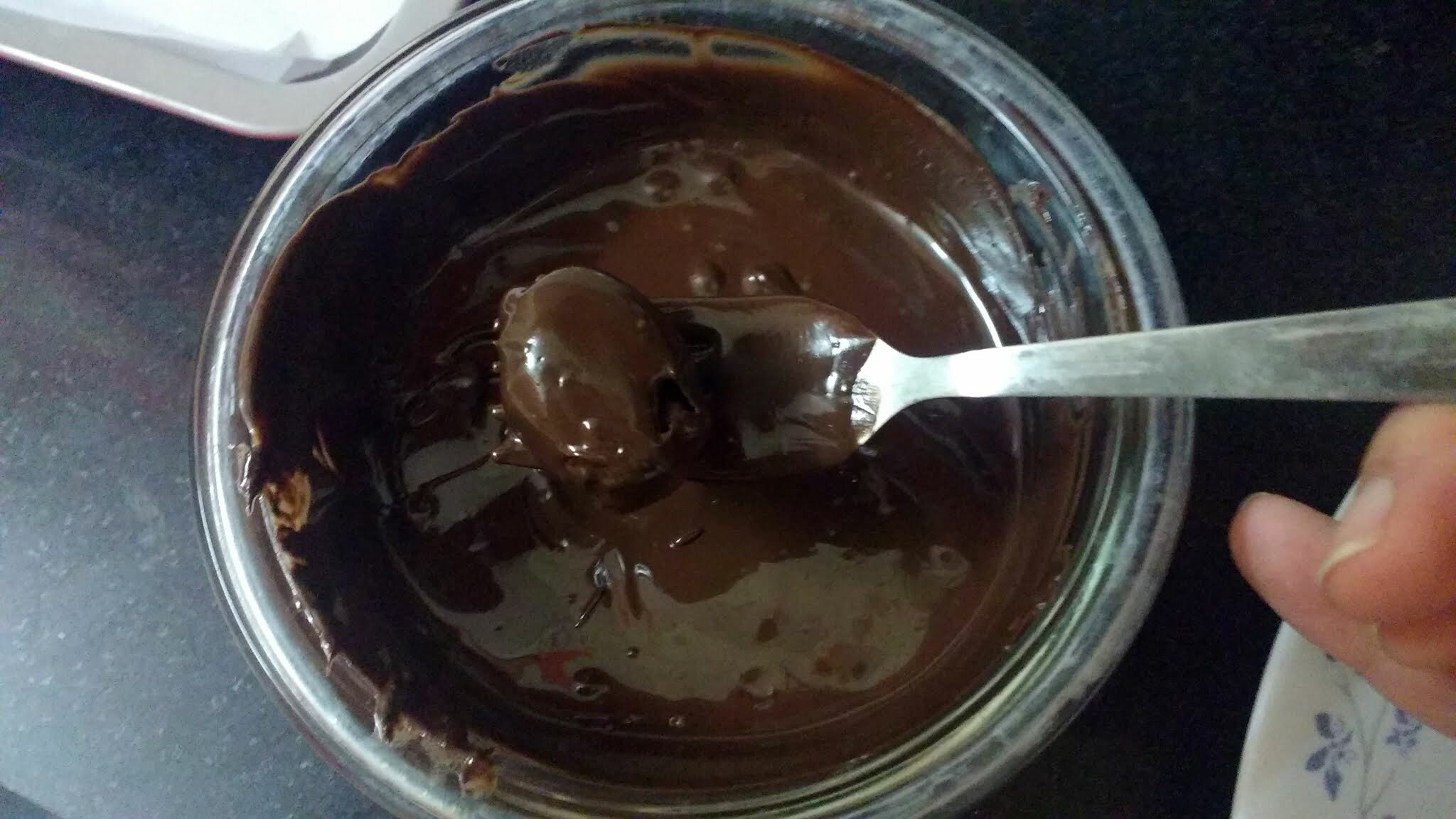 Garnish them with chopped nuts or a drizzle of white chocolate!!I have even used some dried blackberries for garnishing.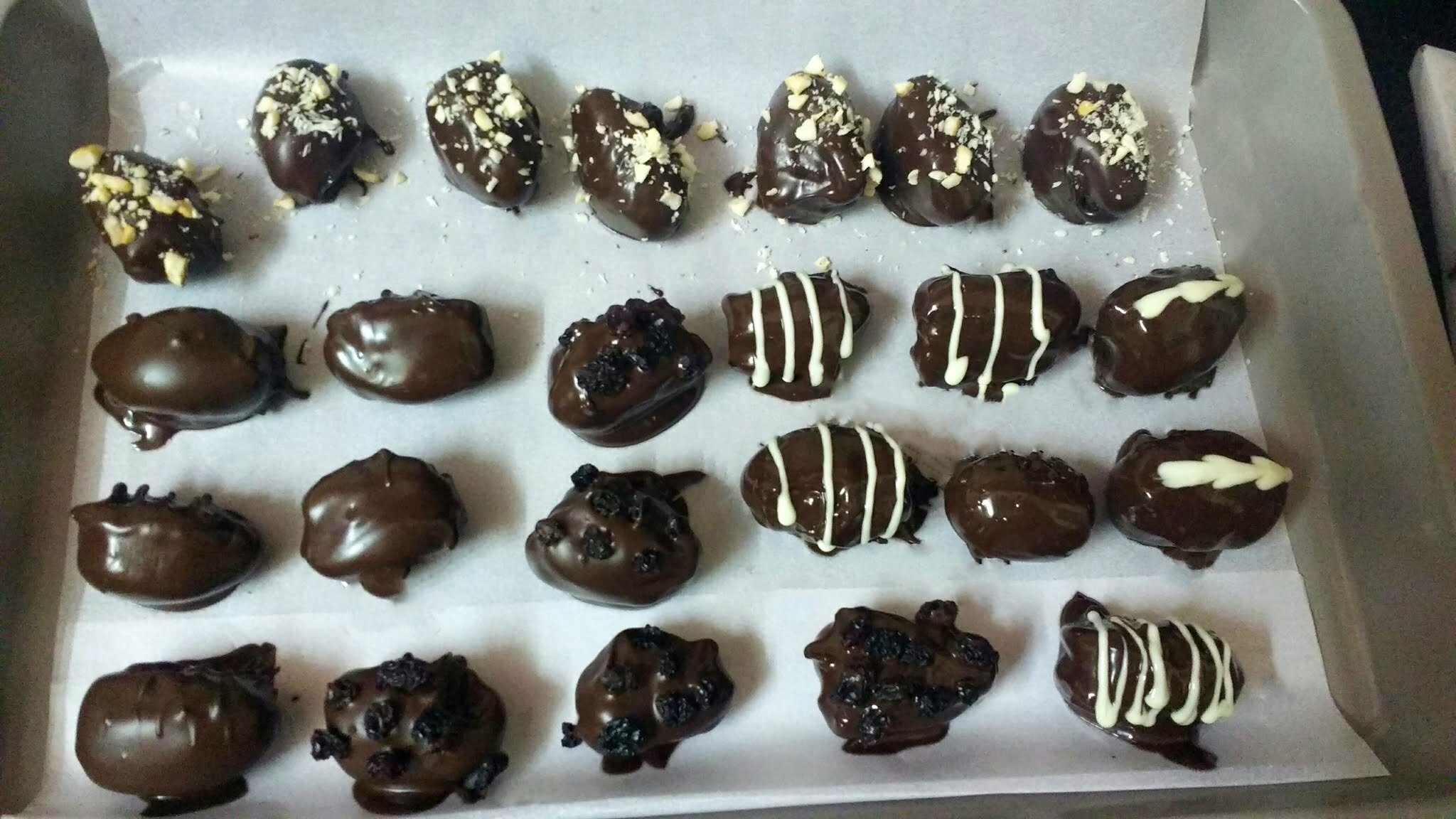 Step7: 
Keep the chocolate covered dates in fridge for 15-20 minutes to set completely.
Enjoy these relish Chocolate covered Stuffed dates with flavours of nuts & coconut!!