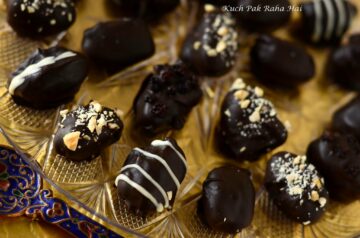 Stuffed Chocolate Dates is a delicious and easy dessert recipe made by stuffing dates (or 'Khajoor') with crunchy roasted nuts & then dipping them in decadent dark chocolate. It is a quick, no bake dessert recipe.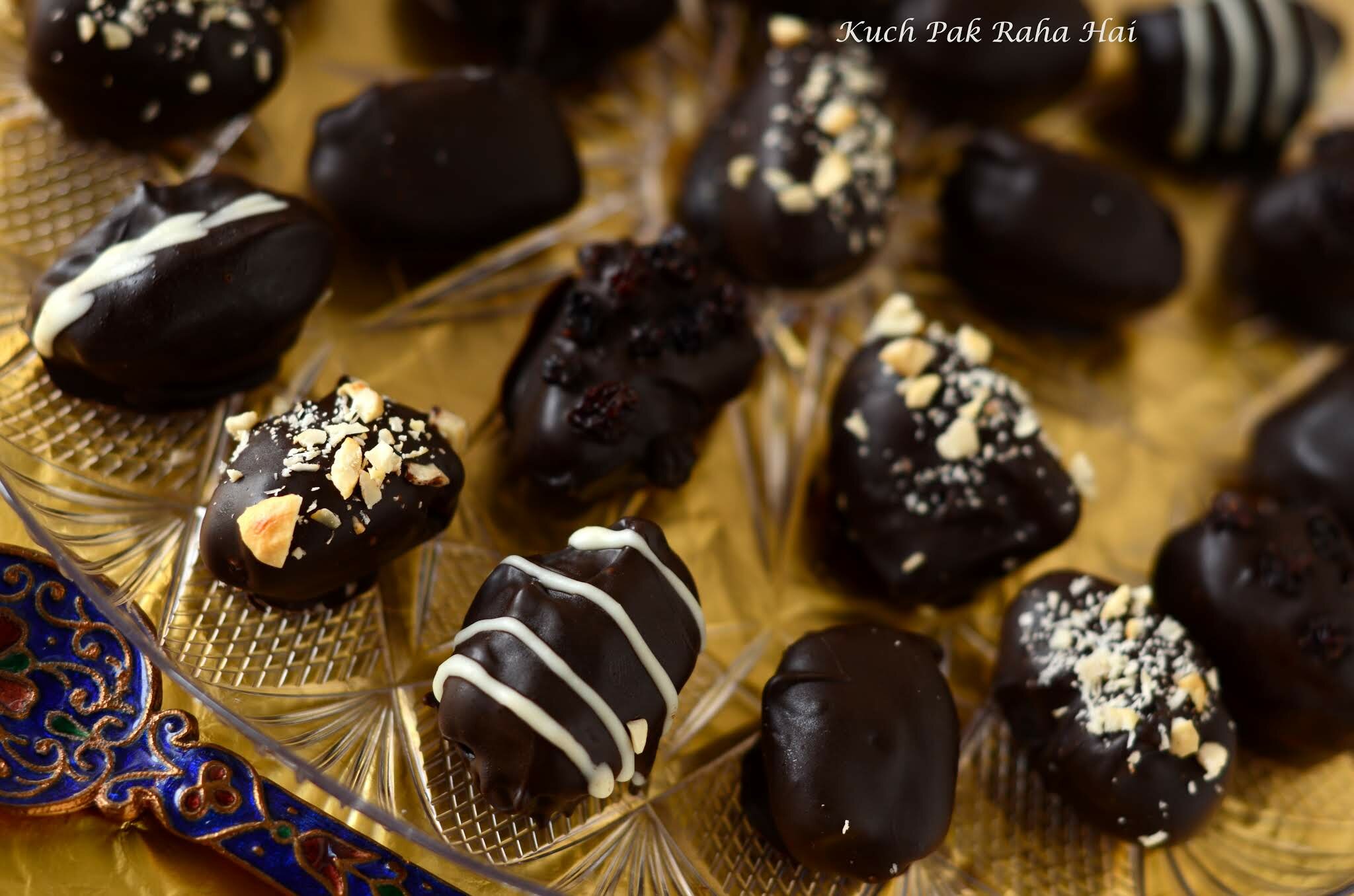 These stuffed dates are great option for edible gifting or for festivals like Diwali, Eid, Christmas or Raksha Bandhan. It is a simple dessert & ideal for big gatherings or potluck.
You can be as creative you want while decorating these chocolate dates. You can use powdered or chopped nuts, melted white chocolate or even edible gold or silver leaf to make them look more exquisite.
My inspiration for these stuffed dates recipe comes from my recent trip to Sharjah (UAE). I always enjoy exploring the local markets/grocery stores of the places I visit as it gives a lot of insight in understanding the regional cuisine and food preferences of people residing there.
In Sharjah, one of the most sighted and popular food items were "Dates". The supermarket shelves were flooded with so many variety of dates- seeded, deseeded, stuffed, date syrup, dates chutney etc. What caught my attention were the trays of dates with each piece stuffed with a whole almond. I decided that I surely going to try out something with them after returning home.
Chocolate covered dates as the name suggests is dulcet combination of chocolate and dates. The dates are stuffed with some roasted nuts , desiccated coconut powder combined together with condensed milk. I have used almonds, cashews and pistachios for filling. You can use any nuts of your choice.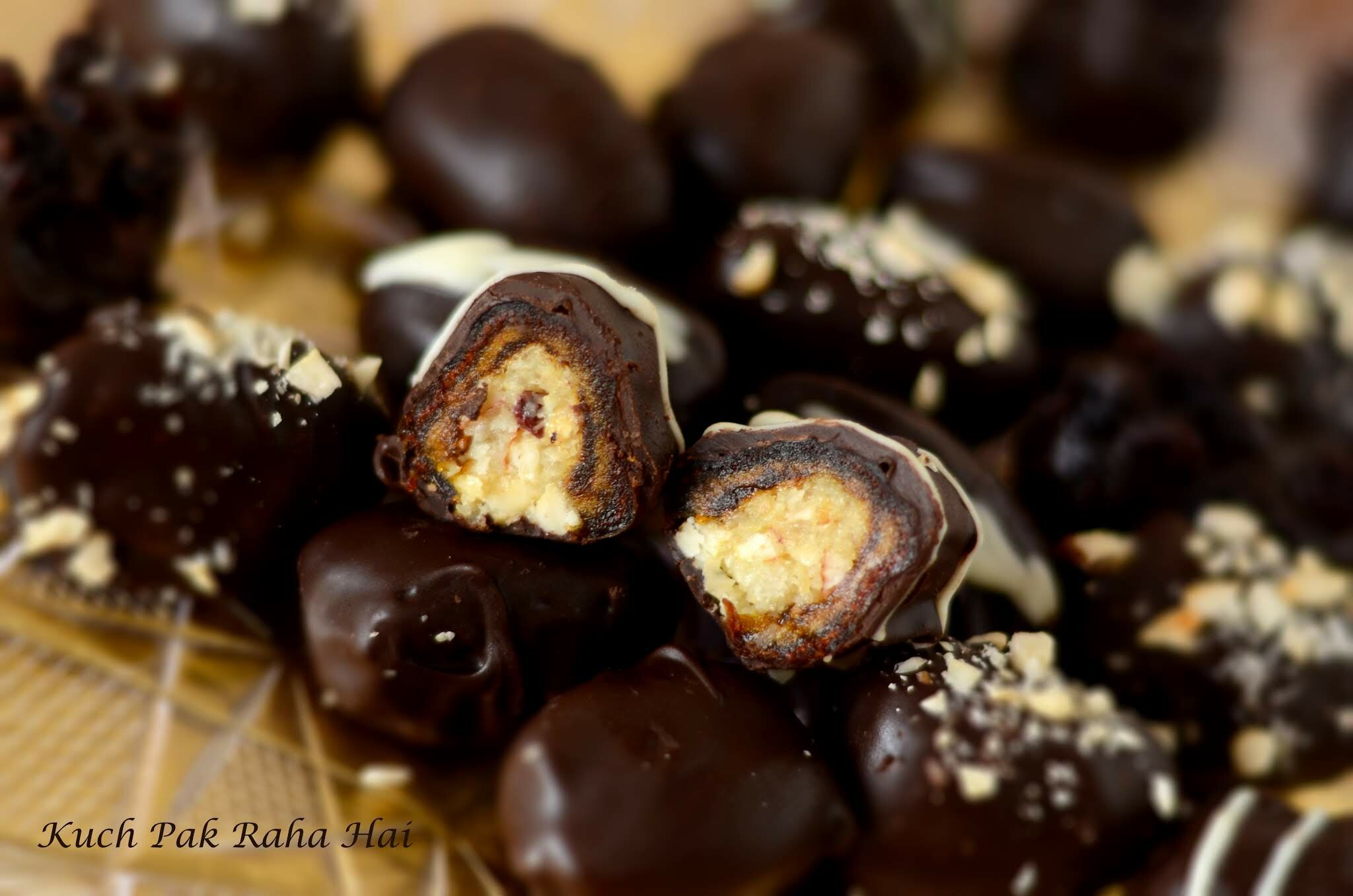 As dates & condensed milk are already sweet, I would advice using dark chocolate for this recipe. The slight bitterness of dark chocolate balances the overall sweetness.
Hope you would like this simple yet delicious Stuffed Chocolate Covered Dates recipe!!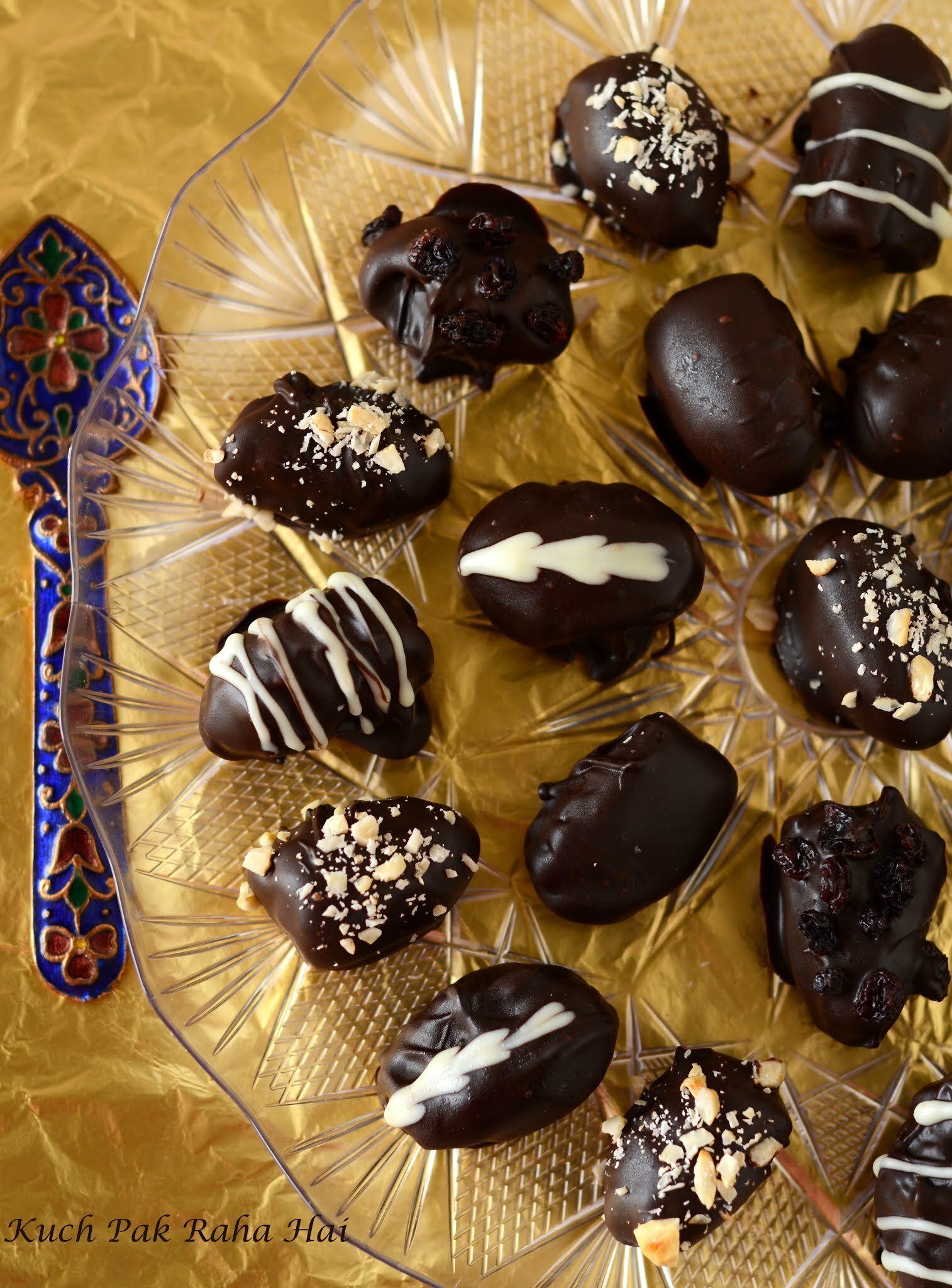 More easy healthy dessert recipes with no refined sugar:
Ingredients: (Makes 30 pieces)
Dates (Khajoor)- 30 pieces (approx 200 grams)
Milk or Dark Chocolate-100 grams
White Chocolate or Roasted chopped Nuts- For garnishing
For Filling:
Chopped Nuts- 1/4 cup
Desiccated Coconut Powder -1/4 cup (optional)
Condensed Milk / Peanut Butter – 1/4 cup
Sea Salt- A pinch
Notes:
1. You can use any nuts of your choice-peanuts, walnuts, almonds, cashews, pistachios.
2. If you want to keep sweetness on lighter side, use dark chocolate for coating instead of milk chocolate.
3. For a lighter & healthier version of stuffed dates you can skip making the filling & instead stuff each date with whole almond.
Steps To Prepare:
Step 1:
In a non-stick pan, Roast the finely chopped nuts and desiccated powder on medium flame for two minutes till they turn slightly golden in colour and start giving nutty aroma. Add salt to it.
Step 2:
Add condensed milk to these roasted nuts. If you are looking to make healthy dessert then use unsweetened peanut butter. Mix it with the help of a spatula or spoon. This is the mixture we are going to stuff in our dates. Keep it aside so that it can cool down (You can even keep the mixture in fridge to quickly cool it down). In the mean while, let us proceed to next step.
Step 3:
In this step we are going to de-seed the dates. Make a small slit on dates with a knife and pull the seed outside. Be careful as you don't want the dates to break into two pieces.
Step 4:
Stuff the mixture prepared in step2 in de-seeded dates. Keep the stuffed dates in fridge for 10-15 minutes.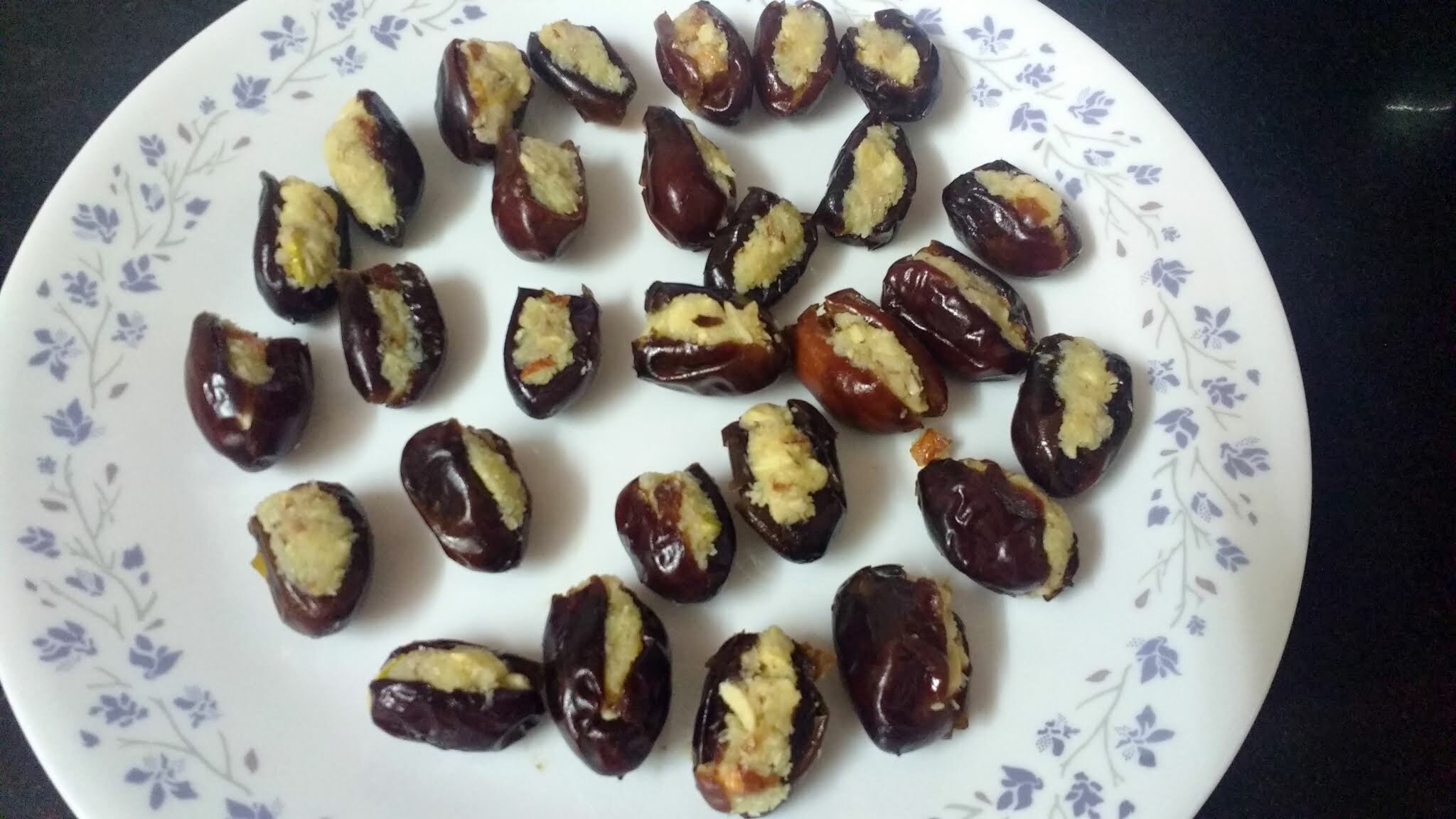 Step 5:
Chop the chocolate into pieces. Heat them in microwave for 30 seconds at 80% power. Mix the melted chocolate with spoon. If some chunks are still there, microwave it for 20-30 seconds more till the chocolate is melted completely.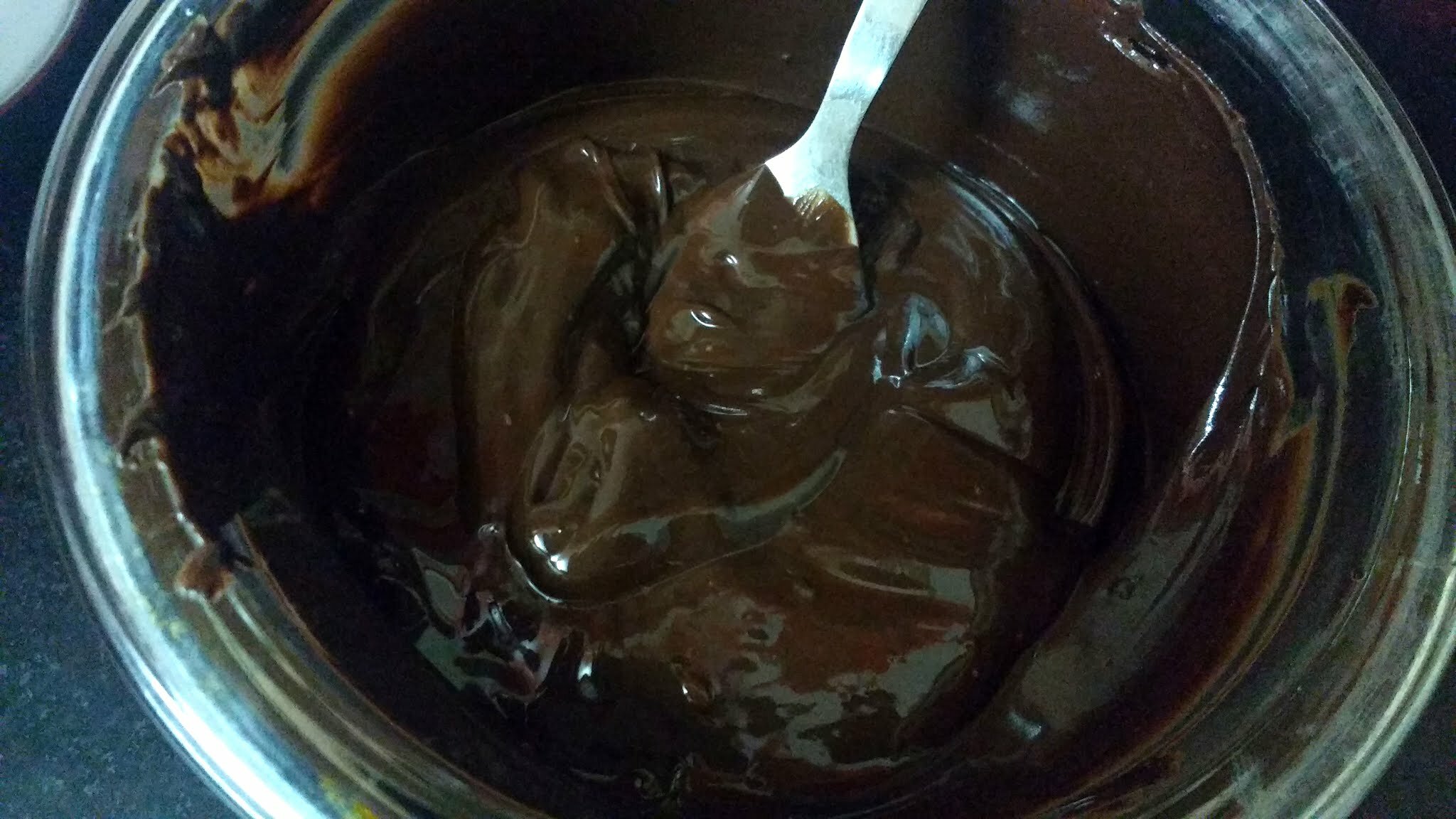 Step 6:
Dip a stuffed date into melted chocolate and pick it with help of fork to remove excess chocolate. Place these dates on a tray/plate lined with parchement paper. Repeat the process for remaining dates.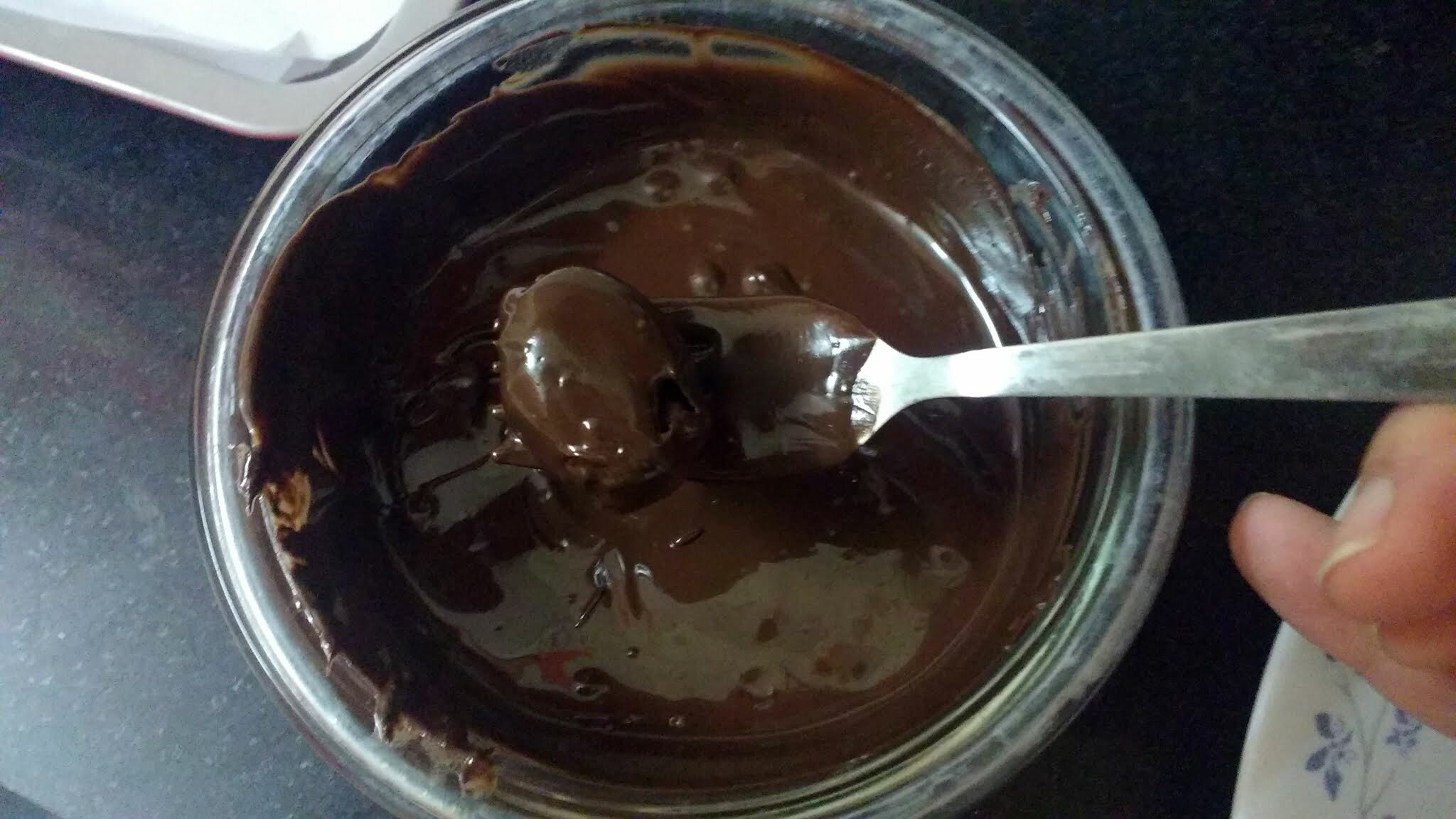 Step 7: 
Garnish them with chopped nuts or a drizzle of white chocolate.I have even used some dried blackberries for garnishing. Keep the chocolate covered dates in fridge for 15-20 minutes to set completely.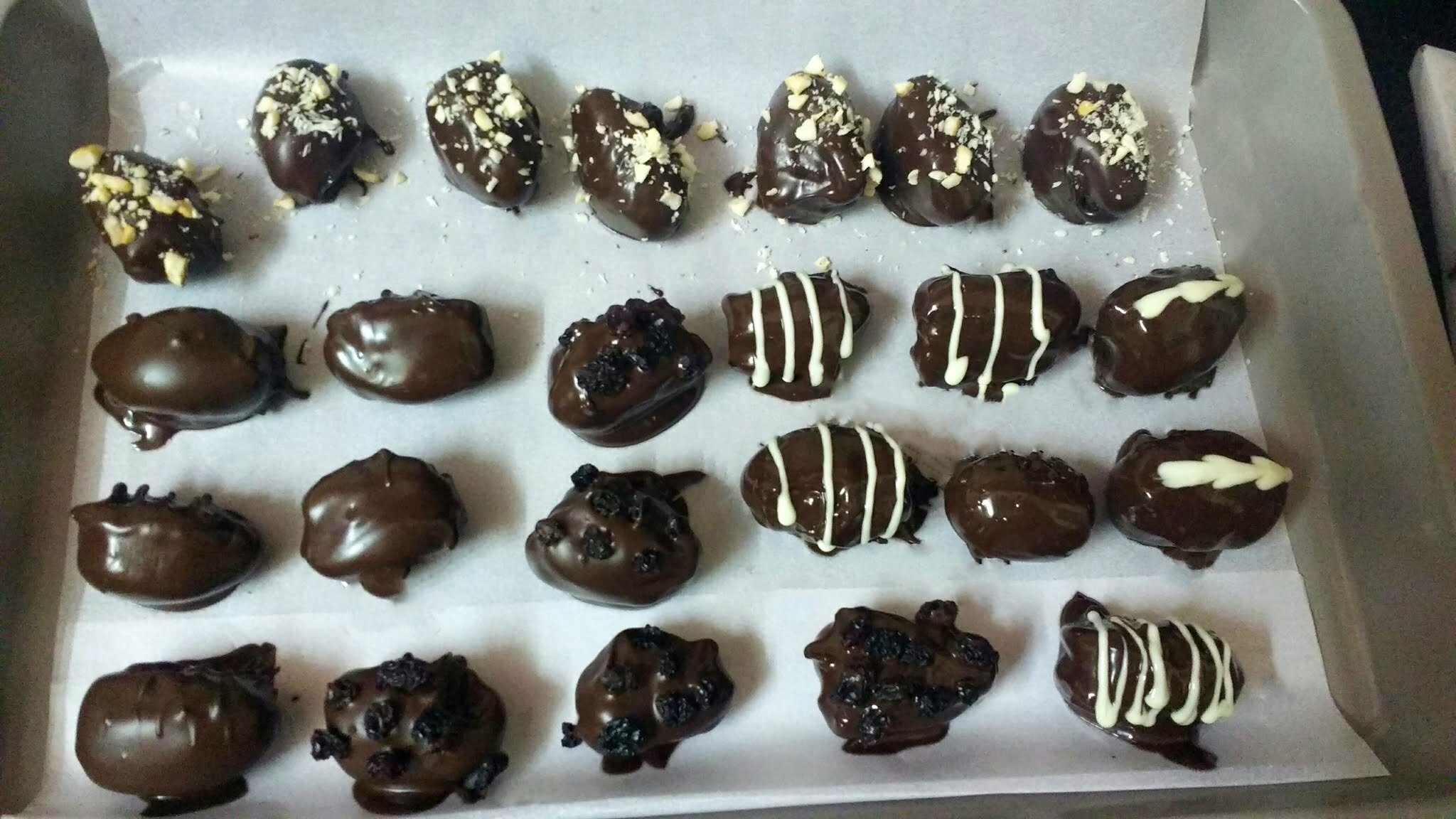 Enjoy these relish Chocolate covered Stuffed dates with flavours of nuts & coconut. Bon Appetit!!
Pin it for later :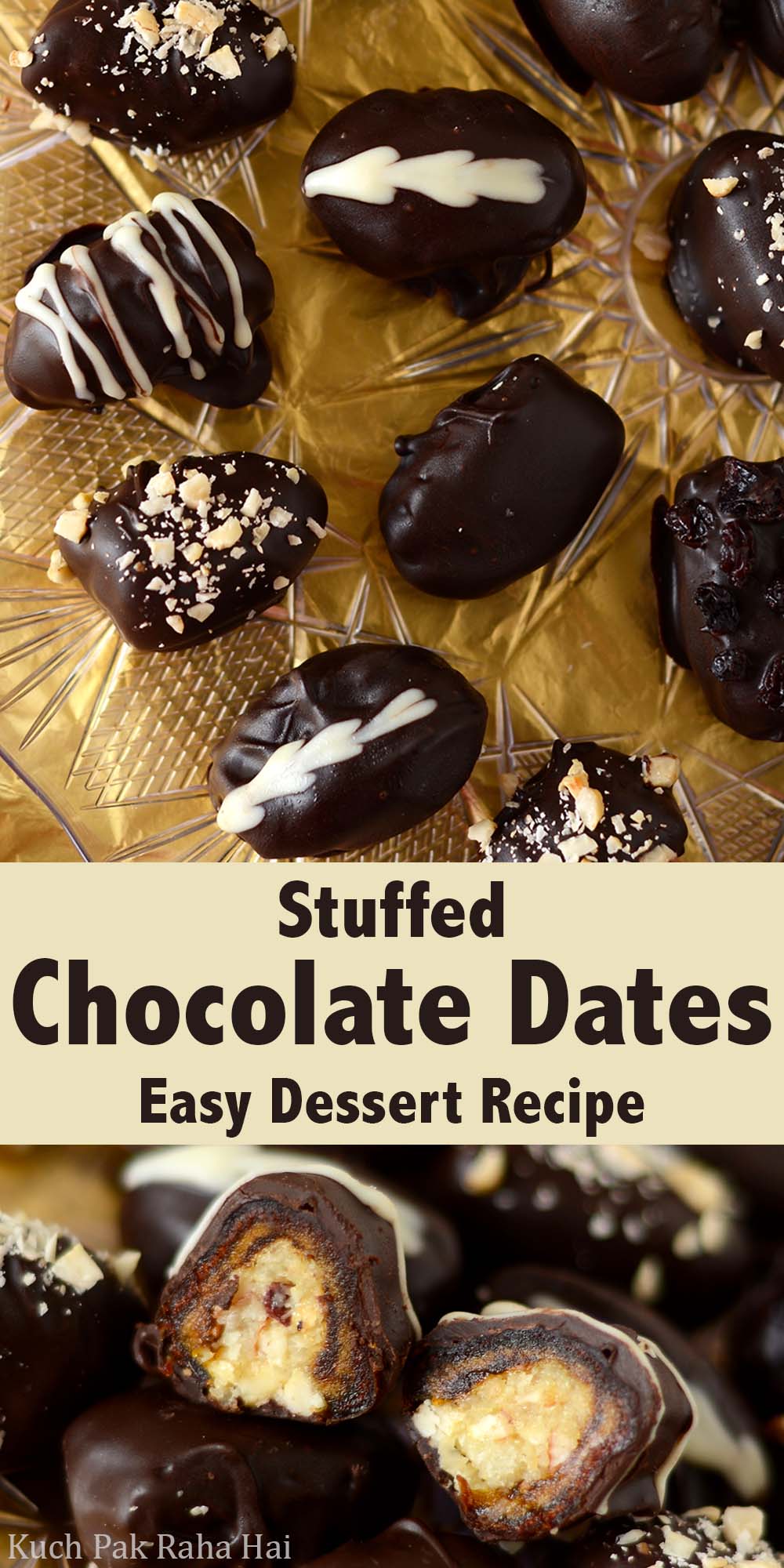 How to store these chocolate dates?
Store them in airtight conatiner. These dates remain good in fridge for 7 to 10 days.
Kitchen Products Used:
The above shared links are amazon affiliate links. As an amazon associate, I earn from qualifying purchases. For more details, you can refer to privacy policy page.
If you try this recipe & share pics on social media channels, don't forget to tag us on Facebook or Instagram or use #kuchpakrahahai.
Let's stay connected
Facebook | Instagram | Pinterest | Youtube