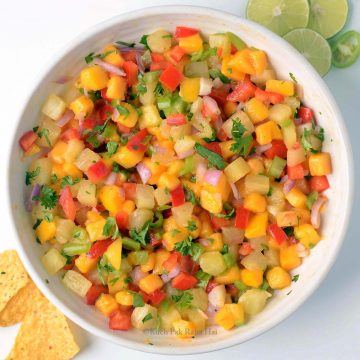 Sweet spicy tangy pineapple mango salsa bursting with fresh tropical flavours is a quintessential summer delight. You can serve it as side dish, salad or enjoy with tortilla chips.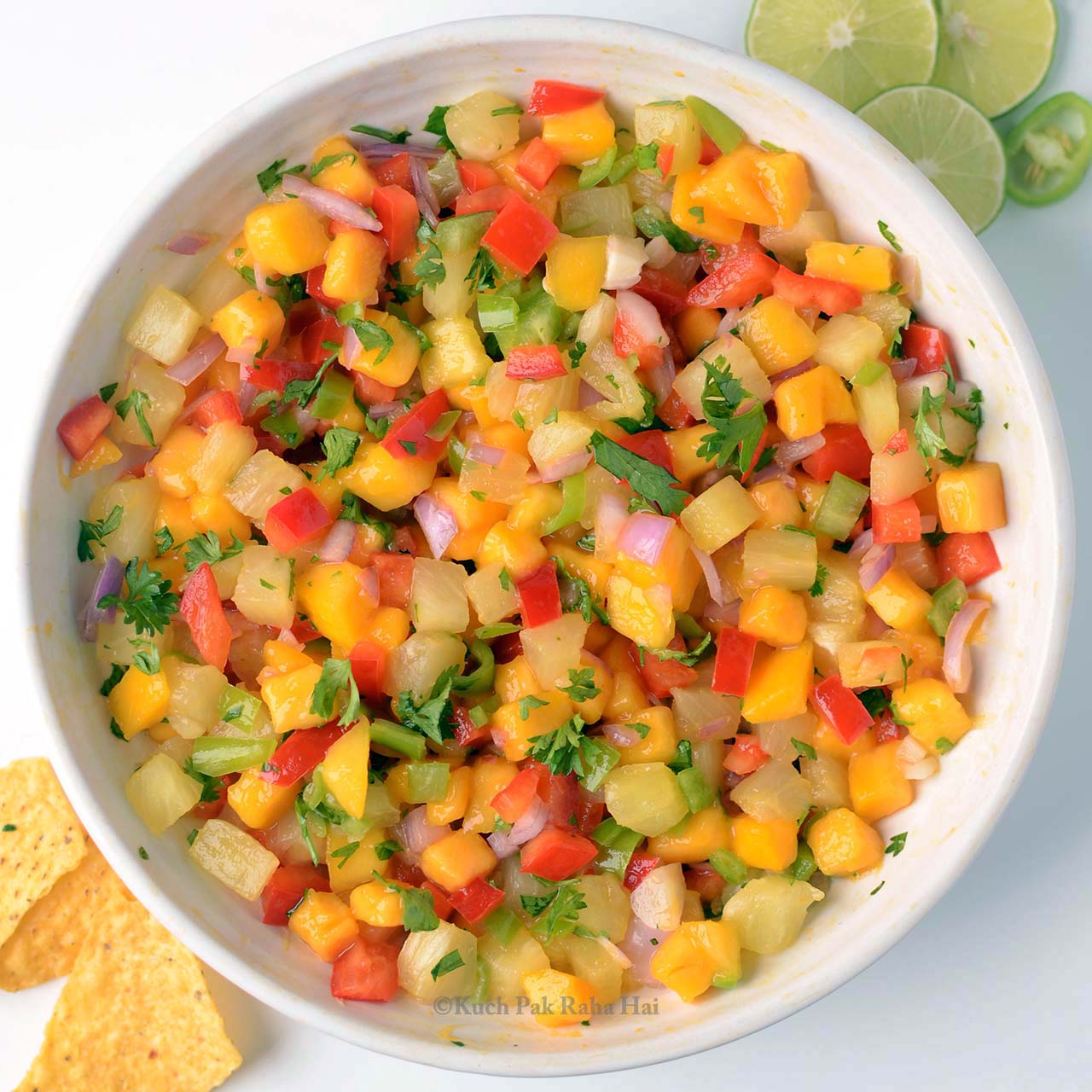 This fruit salsa is an absolute flavour bomb with juicy mangoes, sweet sour pineapples, spicy jalapeño topped up with tangy lime juice & earthy fresh cilantro. You can do endless variations with it by using strawberries, avocado, habanero or peaches etc.
It is a perfect crowd pleaser & can be a lovely addition to cinco de mayo party or potluck. The mango pineapple salsa recipe shared here is :
Vegan / Vegetarian
Gluten Free
Zero oil
No bake / No cook
Pineapple Mango Salsa Ingredients:
Mangoes: You can use any variety of mangoes to make this salsa, Just taste it once to check for sweetness before proceeding to make the salsa. It should neither be bland nor sour.
Pineapple: You can use fresh or canned pineapples in this salsa recipe. If you are using canned pineapple, please drain it by transferring over a colander (to get rid of all sugar syrup as otherwise the salsa can turn out too sweet).
Jalapeño: It adds heat to the salsa and balances the sweet flavour from mango & pineapples. If fresh jalapeños are not available, you can use pickled ones. You can it if making this salsa for kids.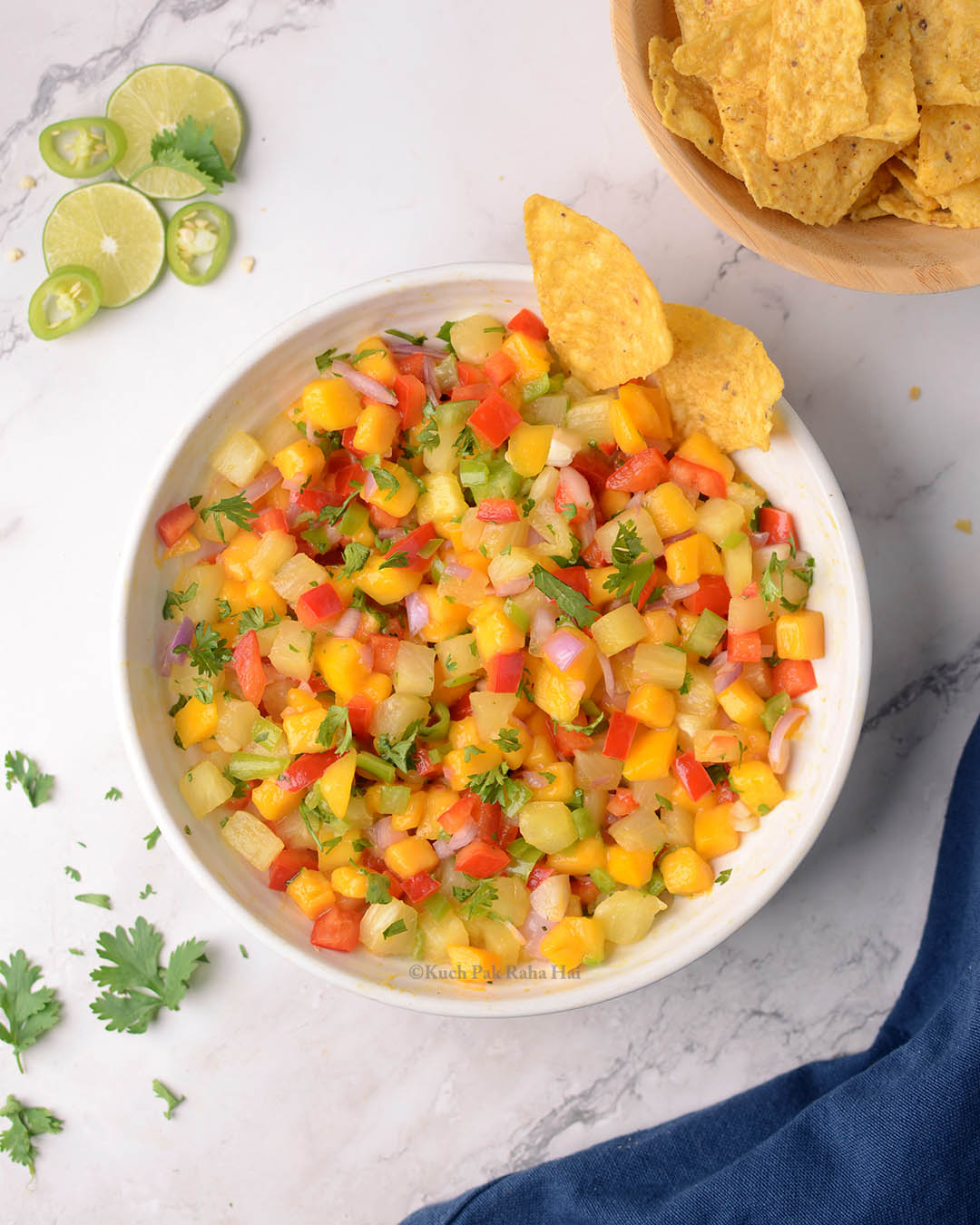 Red Onion & Bell pepper: Both the vegetables add crunch and colour to the salsa. The sharp taste of onions along with mild sweetness of red bell peppers goes very well in this fruit salsa.
Lime Juice & Cilantro: The tanginess from lime juice & citrusy aroma from fresh cilantro instantly elevates the taste of this lip smacking mango pineapple salsa (If you are in India, you can coriander instead of cilantro).
Salsa Variations:
Mango Salsa: Replace the pineapple with mangoes to make only mango salsa.
Strawberry Mango Salsa: The pineapple in this recipe can be swapped with some diced strawberries.
Mango Avocado Salsa: To make creamy salsa, you can skip adding pineapples and add once diced avocado to this salsa.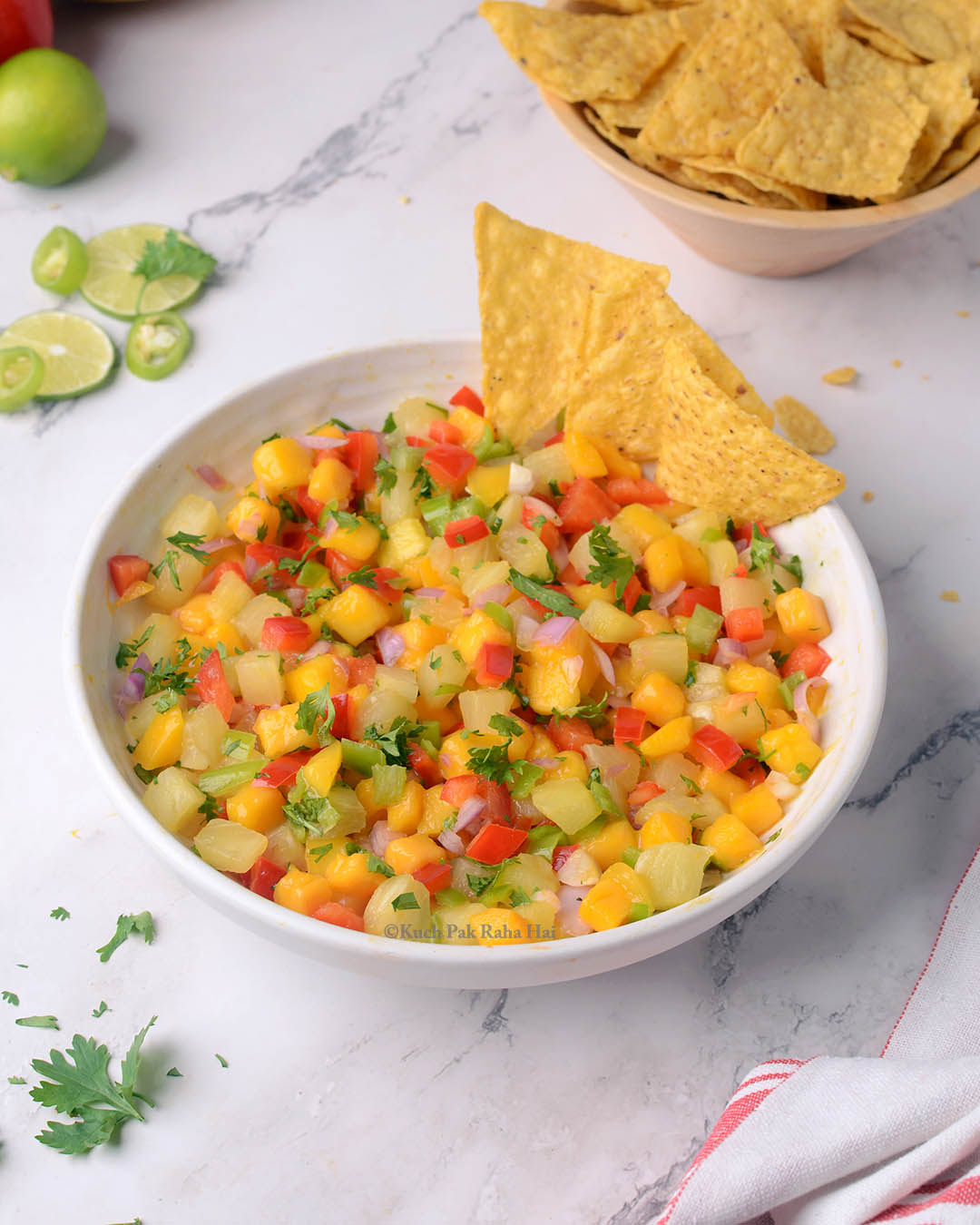 Tips:
1. Keep the diced mango, pineapple pieces small & of even size so that you can enjoy their flavour in every bite.
2. You can enjoy this salsa straight away but chilling it in fridge for 20 to 30 minutes is better as it helps in amalgamation of flavours.
Hope you would like this easy recipe for pineapple mango salsa. More summer special recipes:
Ingredients:
Mangoes (diced)-1 cup
Pineapples (

diced

)- 3/4 cup
Red Bell Pepper (diced)- 1/3 cup
Red Onion (finely chopped)- 1/4 cup
Jalapeños – 1 (deseeded & finely chopped)
Cilantro (finely chopped)- 2 tbsp
Lime Juice- 3 tbsp
Salt-1/4 tsp (to taste)
Directions:
Step 1:
Add diced mangoes, pineapple, red bell pepper & onion in a mixing bowl along with cilantro & jalapeno. Sprinkle lime juice & salt over them.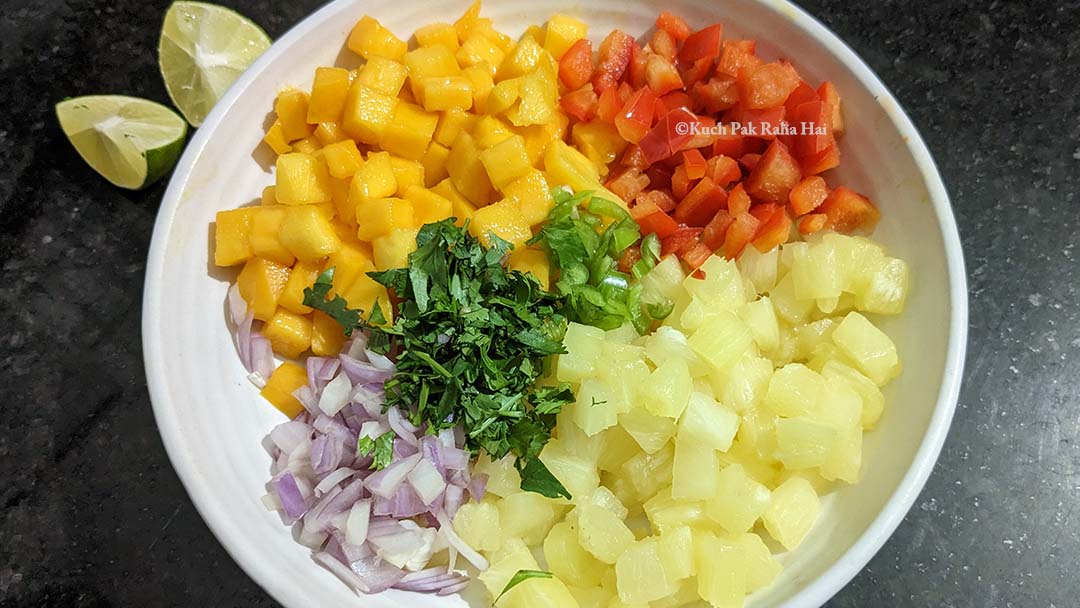 Step 2:
Mix gently using a spoon or spatula. Chill for 20-30 minutes before serving. Enjoy with nachos or chips.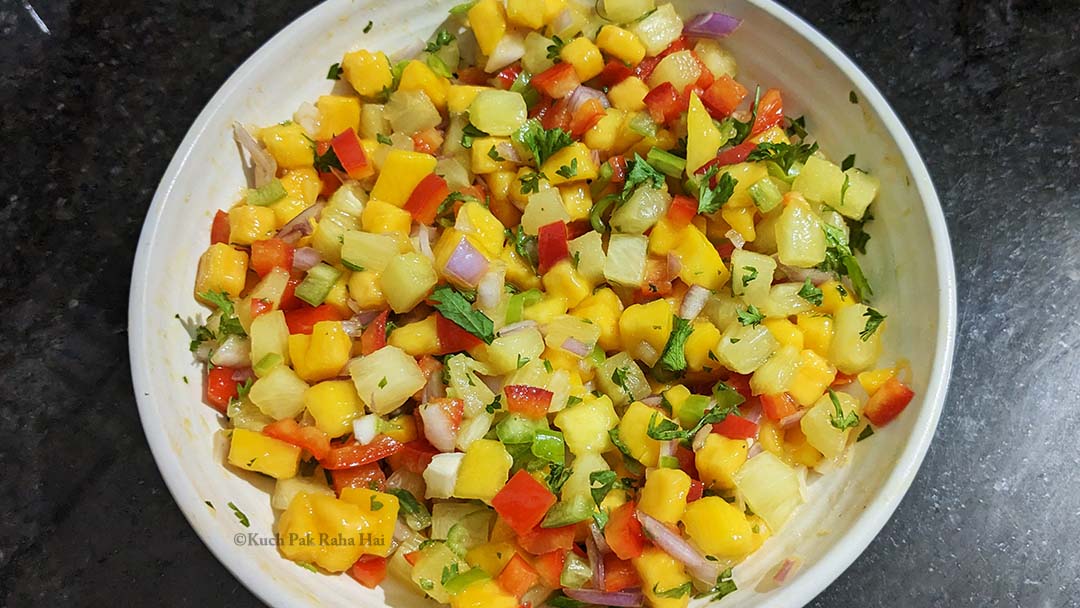 Can I freeze this pineapple mango salsa?
I would not recommend freezing it as the fruits become soggy & mushy after thawing. It is best to make and enjoy it fresh.
Pin for later: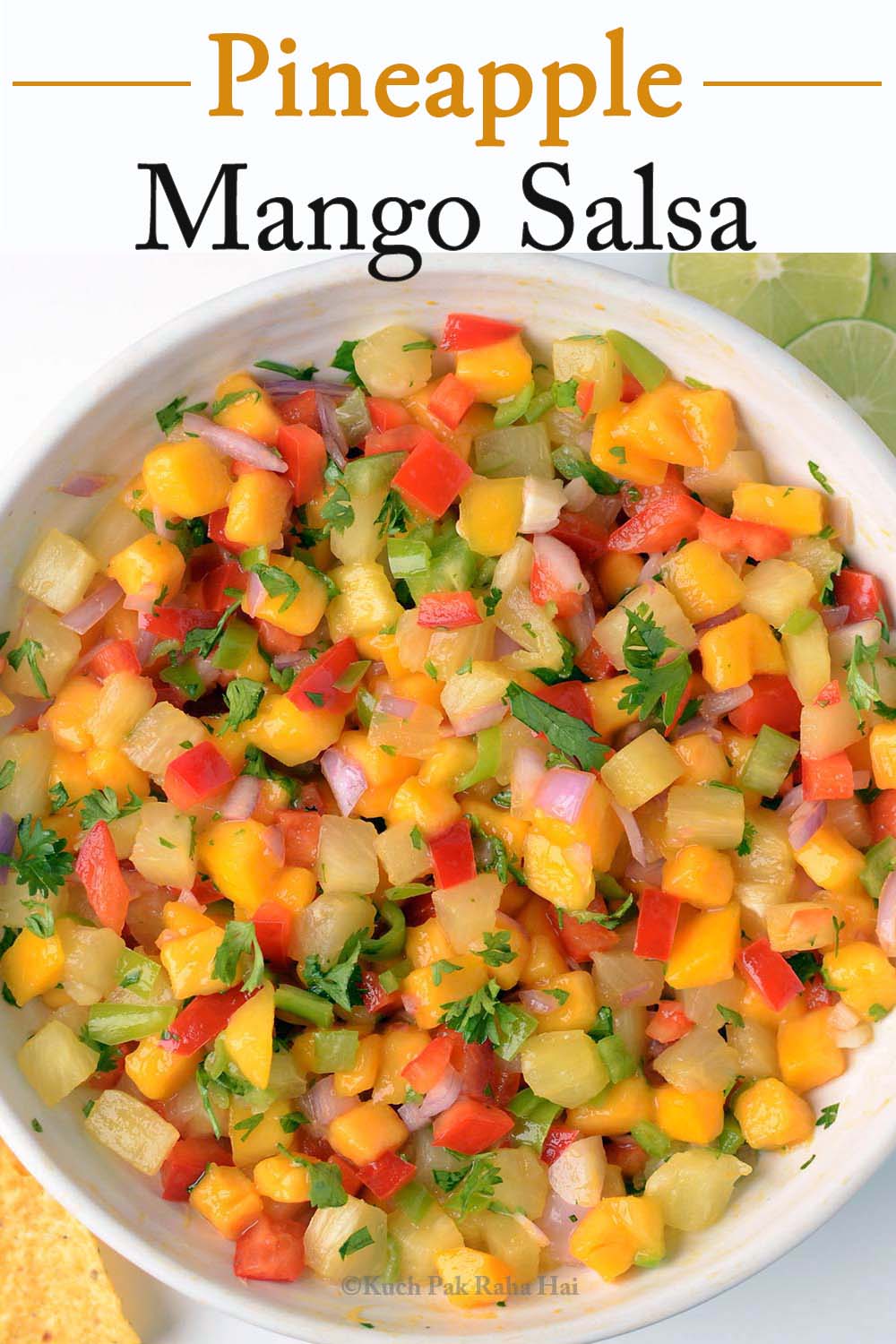 If you try this mango and pineapple salsa recipe & share pics on social media, then don't forget to tag on Facebook, Instagram or use #kuchpakrahahai.
Let's stay connected
Facebook | Instagram | Pinterest| Youtube