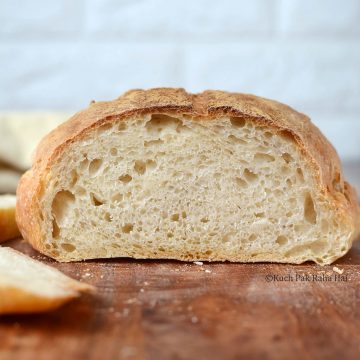 Crusty golden exteriors and soft chewy insides, this 4 ingredients no knead air fryer bread recipe is a must try. It is so easy to make, needs such little effort & time that you would want to bake it every week.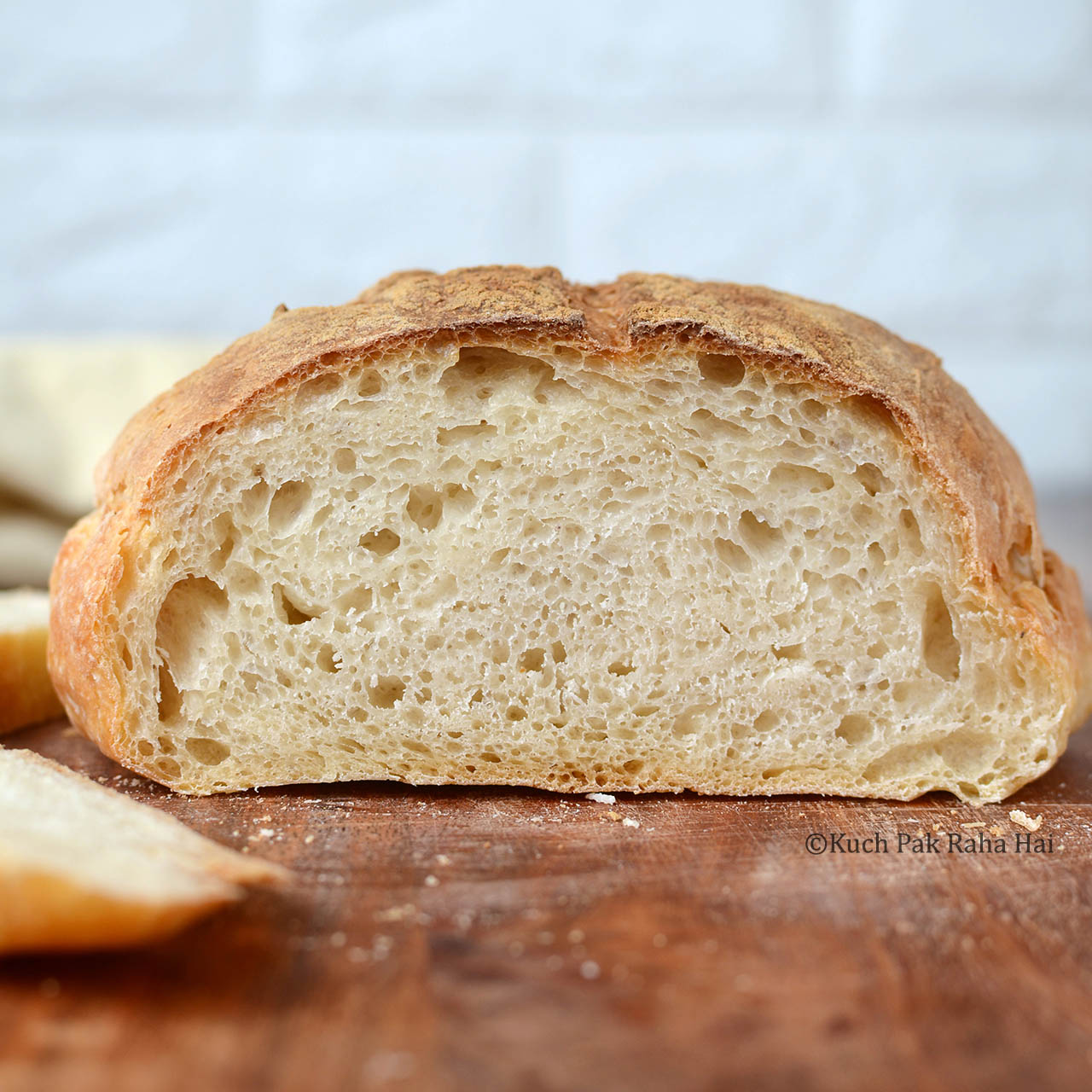 The air fryer artisan bread recipe shared here has:
No eggs
No dairy
No oil
No sugar / No honey
Last month I had shared a 3 ingredients air fryer cookie recipe which was much appreciated by so many of you. This time I decided to share this another easy vegetarian / vegan no knead artisan bread recipe which I tried in air fryer this month.
Air fryer Bread Ingredients:
All you need is 4 ingredients- flour, warm water, salt, yeast and 5 minutes of your active time to make bread in air fryer. You can make it with both all purpose flour or whole wheat flour.
Optional Ingredients: You can flavour this bread by adding herbs of your choice like rosemary, thyme or some garlic powder.
Can you bake bread in an air fryer?
Yes you can definitely bake bread in air fryer. We begin by mixing warm water, yeast, flour and salt in a bowl to make a shaggy dough.
Once the dough is ready, just wait for it to proof (double in size). Once the dough is proofed, shape it into a boule, wait for second proofing and bake in air fryer. You will be amazed how lovely the loaf turns out in air fryer with perfect golden brown crust and porous airy crumbs.
As my air fryer is small, I have baked a small boule in air fryer (perfect for 2). If you have got L, XL air fryer basket, you can easily double the recipe. I have followed 70% hydration rule (100 parts flour, 70 parts water), so whatever measurement you take just make sure water is at least 70% of flour by weight.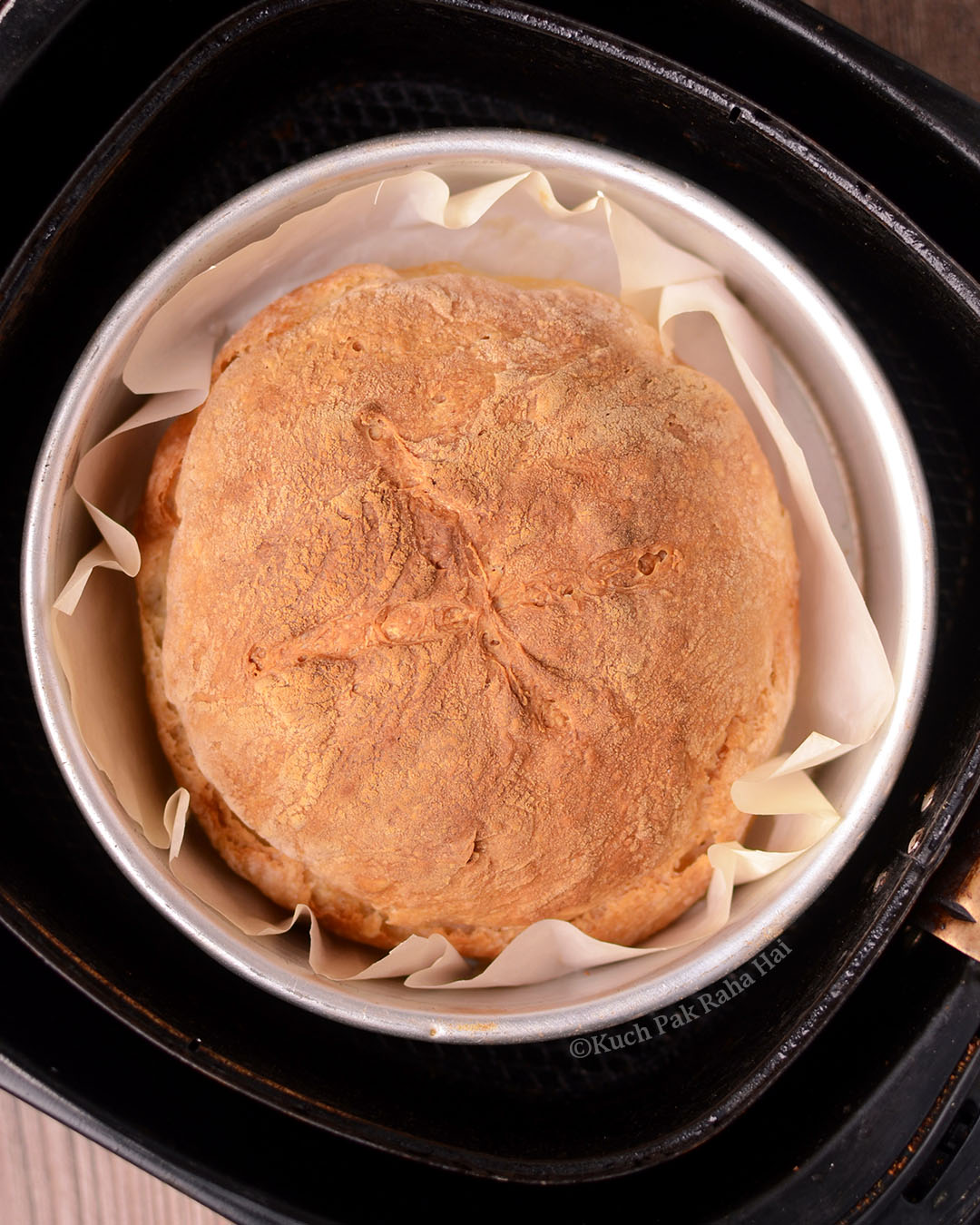 I have followed the traditional method where dough is rested overnight for fermentation. I tried with 2-3 hr fermentation recipe also but I liked the texture & taste of overnight version more. I generally prepare the dough in night after winding up the dinner and then bake it in morning to enjoy a warm slice of freshly baked bread.
How to make air fryer bread?
Traditionally such no knead artisan bread are baked in dutch ovens but here I have tried to mimic the similar baking environment in air fryer.
First of all the tin in which we are going to bake the bread will also be preheated (just like you preheat dutch ovens). Secondly, the first half of baking (20 min) will be done by covering the tin with aluminium foil.
Covering the tin is important as it traps the steam inside, thus creating hot steamy environment for bread to rise. Also, If you don't initially cover the tin, the top gets baked quickly while the bread is still raw from inside.
The second half of baking (13-15 min) is done after removing the foil so that the top gets a beautiful golden brown crust.
Youtube Video:
Serving Suggestions: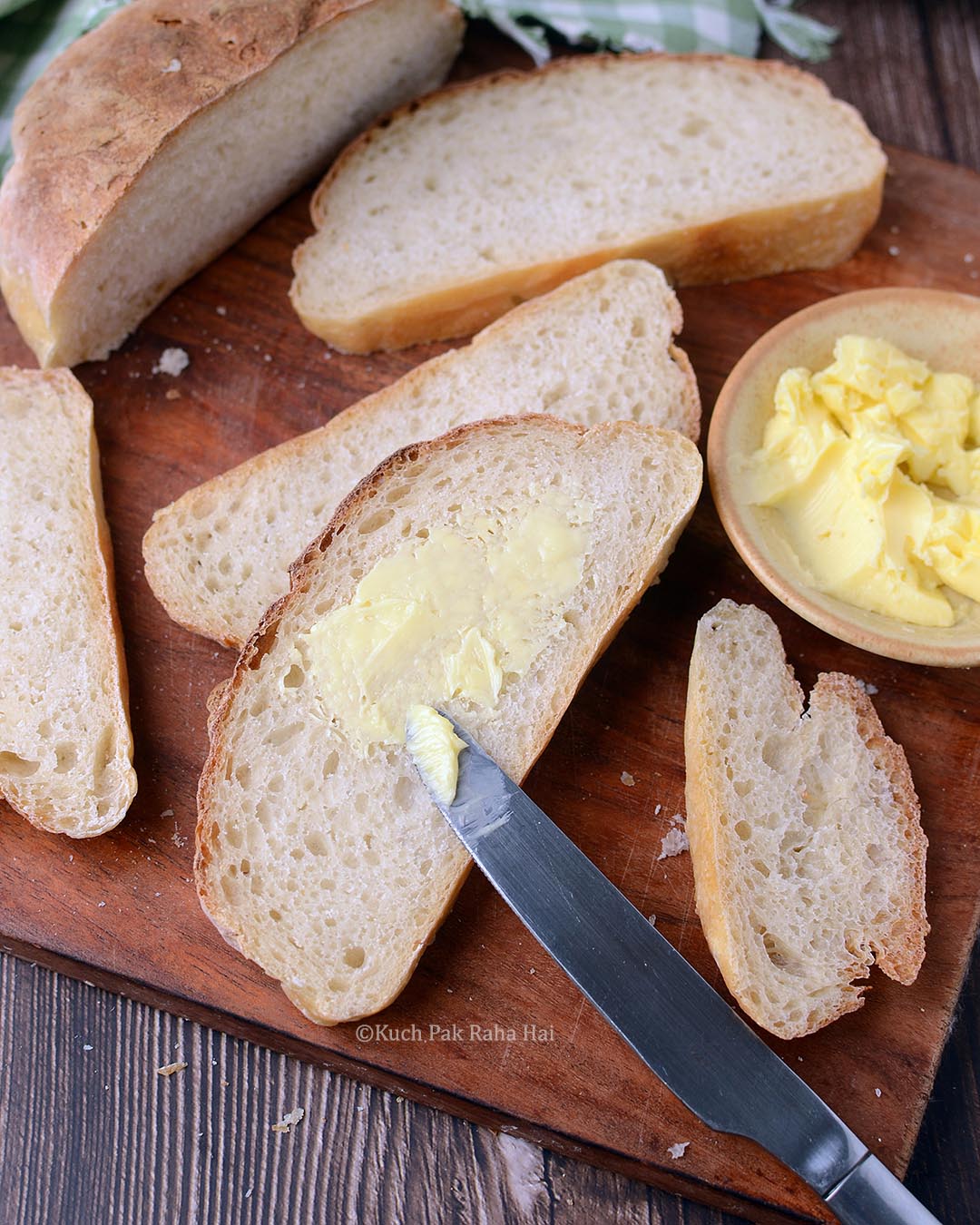 More egg free air fryer recipes:
Ingredients:
All purpose flour (maida)- 1 +1/2 cups (188 grams)
Warm Water – 1/2 cup + 1 tsp (130grams)
Salt- 1/2 tsp
Active Dry Yeast – 1/2 tsp
Measuring Cup Used: 1 cup = 250 ml (Check the notes at the end of post for whole wheat flour proportions & images).
Directions:
Step 1:
In a large mixing bowl, add lukewarm water, yeast, flour and salt. Mix with the help of a spatula or back of wooden spoon till you get a shaggy dough (no spots of dry flour). (If required add 1-2 tsp more water gradually as moisture absorption also depends on the quality of flour.)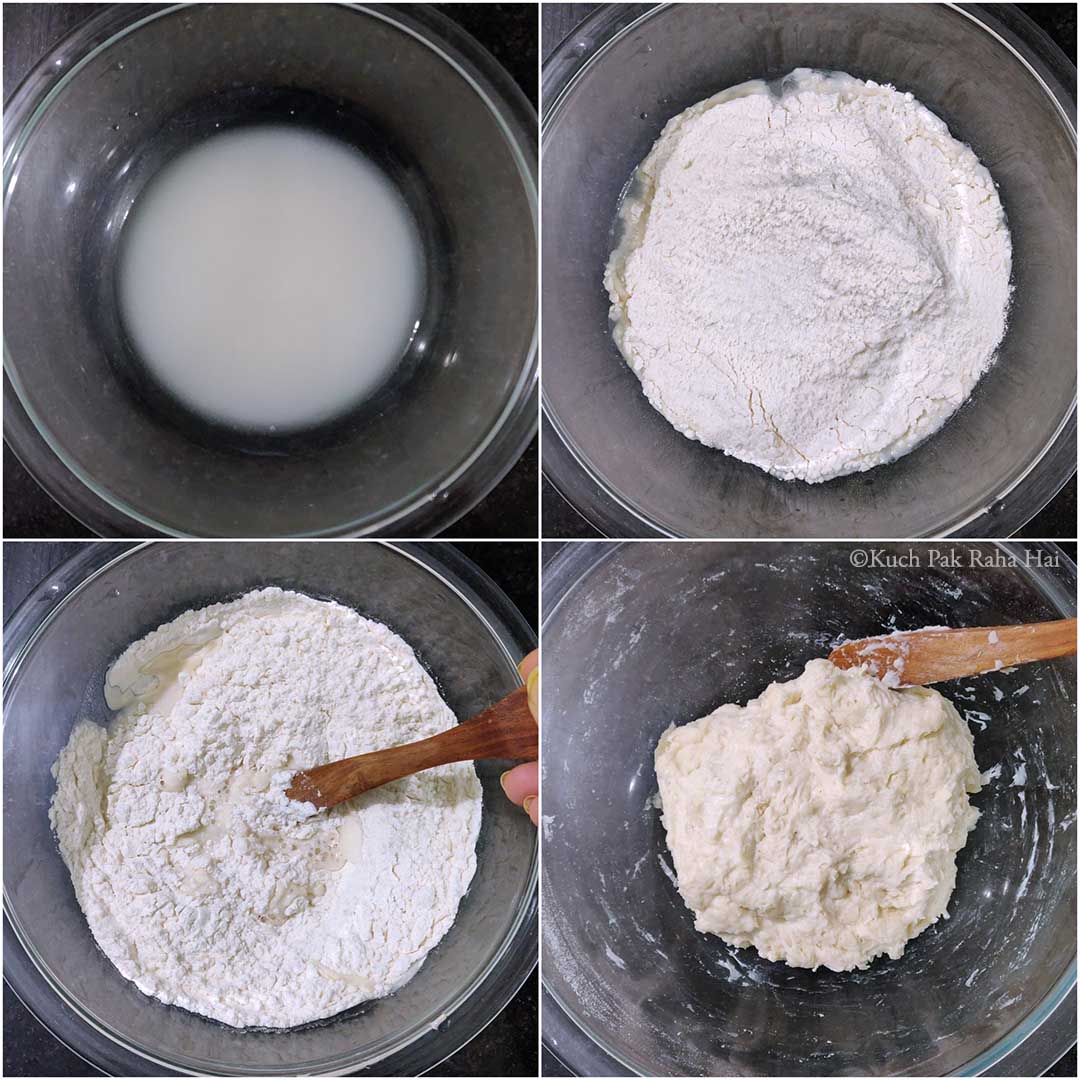 Step 2:
Cover with a cling film and leave it on kitchen counter overnight (7-8 hours). In summers it will take lesser time as fermentation speed also depends on the climate & humidity. Ideally the dough should double in size.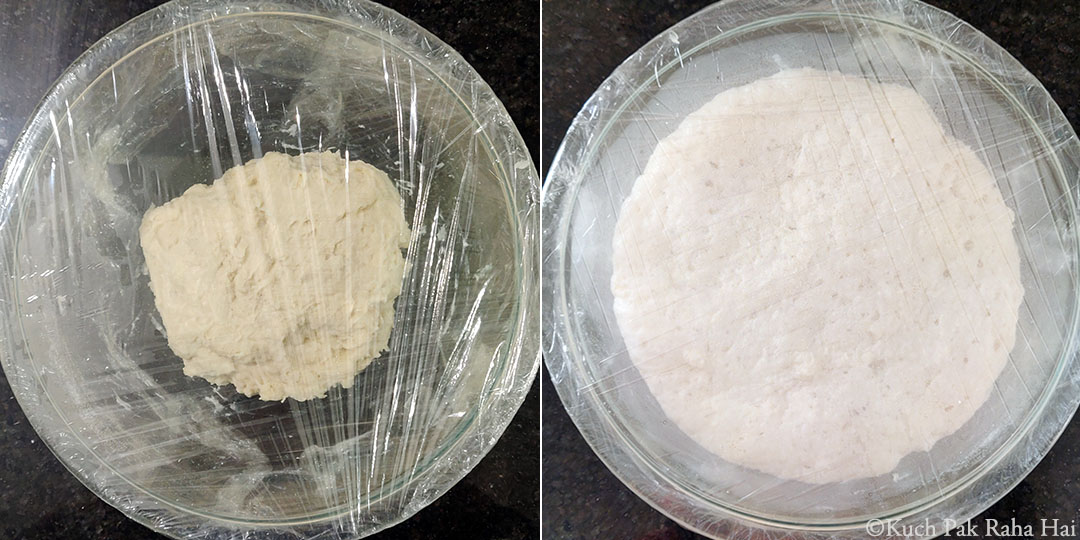 Step 3:
Dust dry flour on kitchen counter. Transfer this proofed dough on it with the help of silicon spatula or scraper.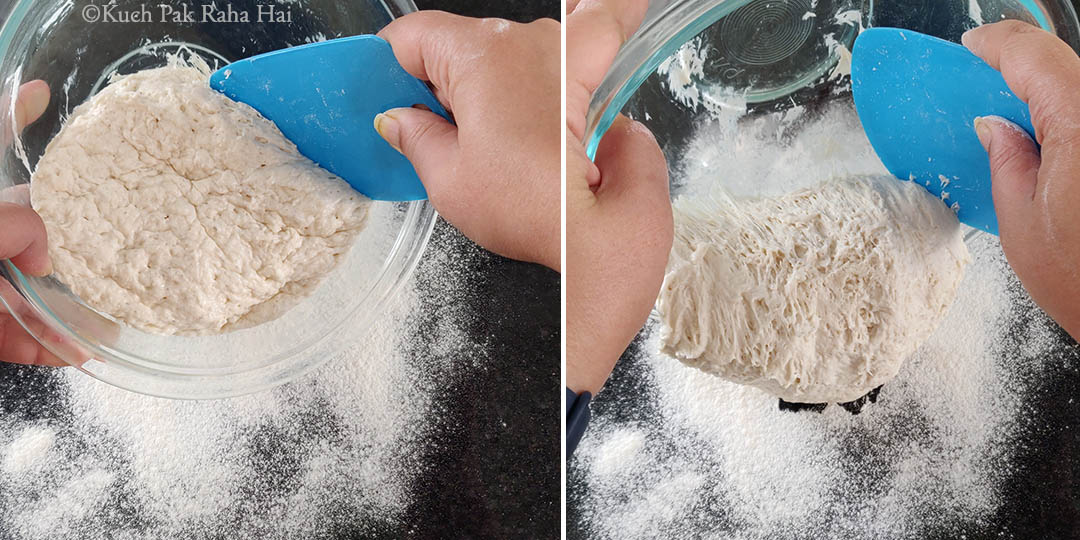 Apply some flour on your fingers and swiftly tuck the dough (as shown below) and seal from beneath. Please don't try to knead the dough as it will be very sticky.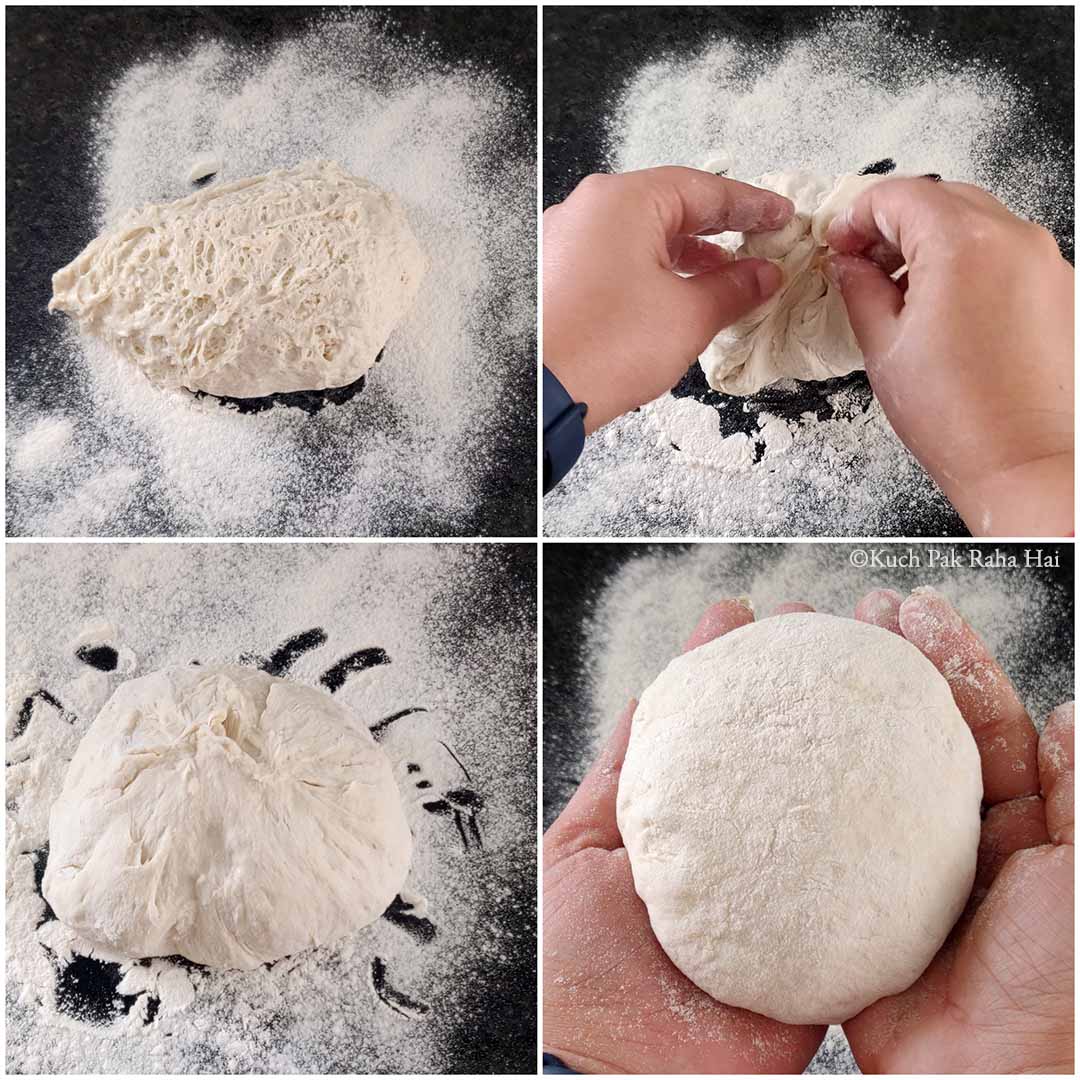 Step 4:
Transfer this shaped dough on a square parchment paper. Lift the ends of parchment paper & transfer it in a round tin or bowl (of similar size in which we will bake it finally). Cover with cling film and leave it for second rise (or proofing) for 1 hr.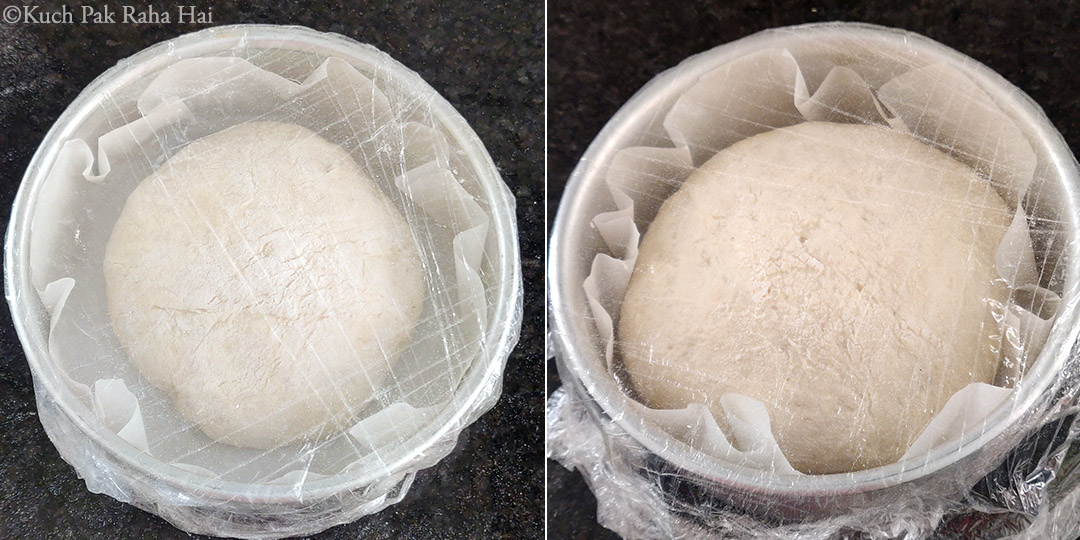 Step 5:
Place a 6″ round baking tin inside airfryer and preheat at 200°C (392°F) for 15 minutes. Once preheated, take out the tin from airfryer carefully as it will be very hot. Lift the shaped dough with the help of parchment paper & transfer as it is in the heated pan. Make 1-2 cuts  (called 'scoring') on top using sharp knife. Spray some water on top, cover with aluminium foil and seal the edges.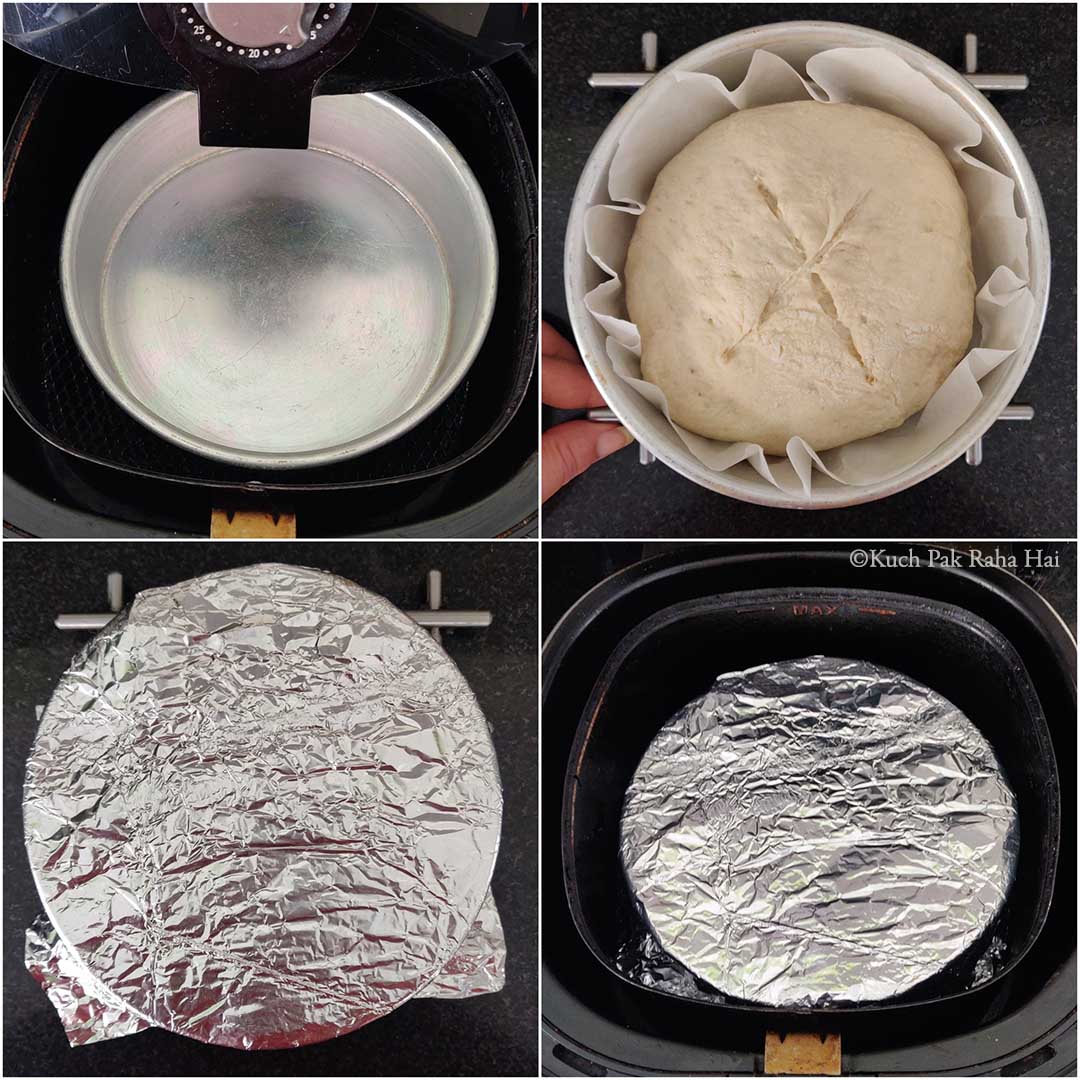 Step 6:
Bake this bread in air fryer covered for 20 minutes at 200°C (392°F). After 20 minutes, remove the foil and air fry for another 13-15 minutes till you notice golden brown colour on top.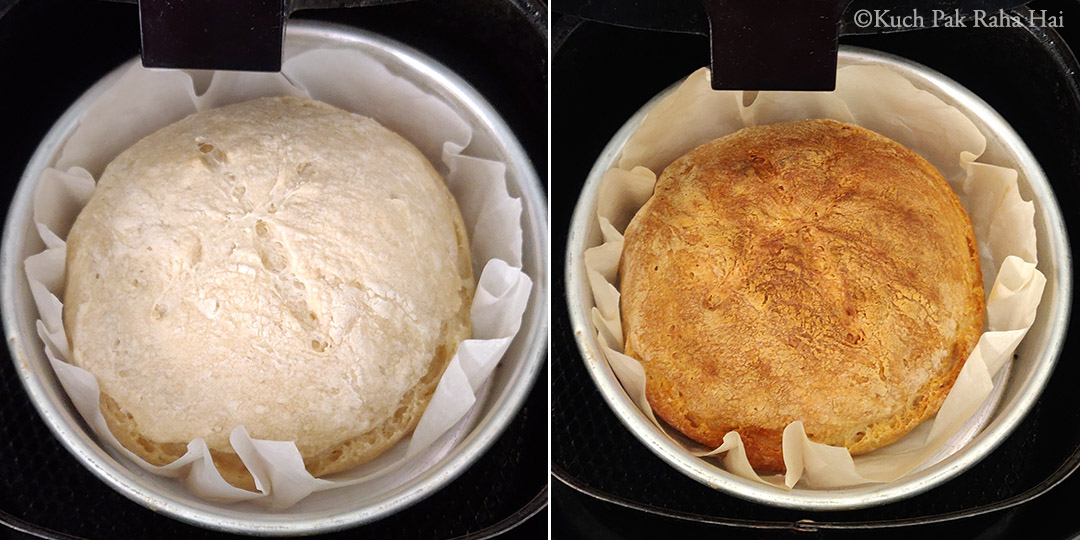 Knock the top & bottom of the bread. If it sounds hollow, then bread is ready. Let the bread cool completely on cooling rack.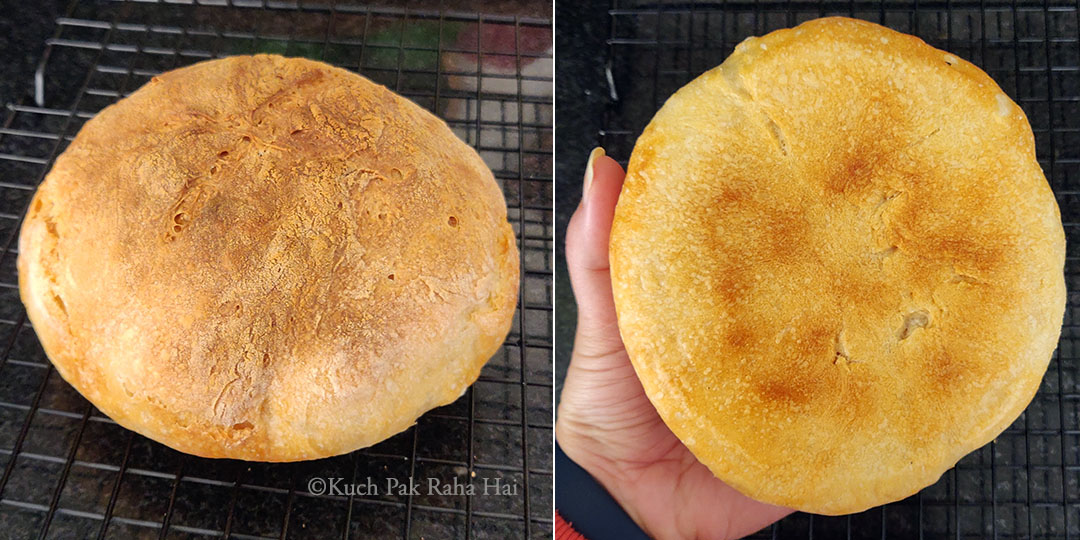 Once cooled, slice the bread with a serrated knife and enjoy.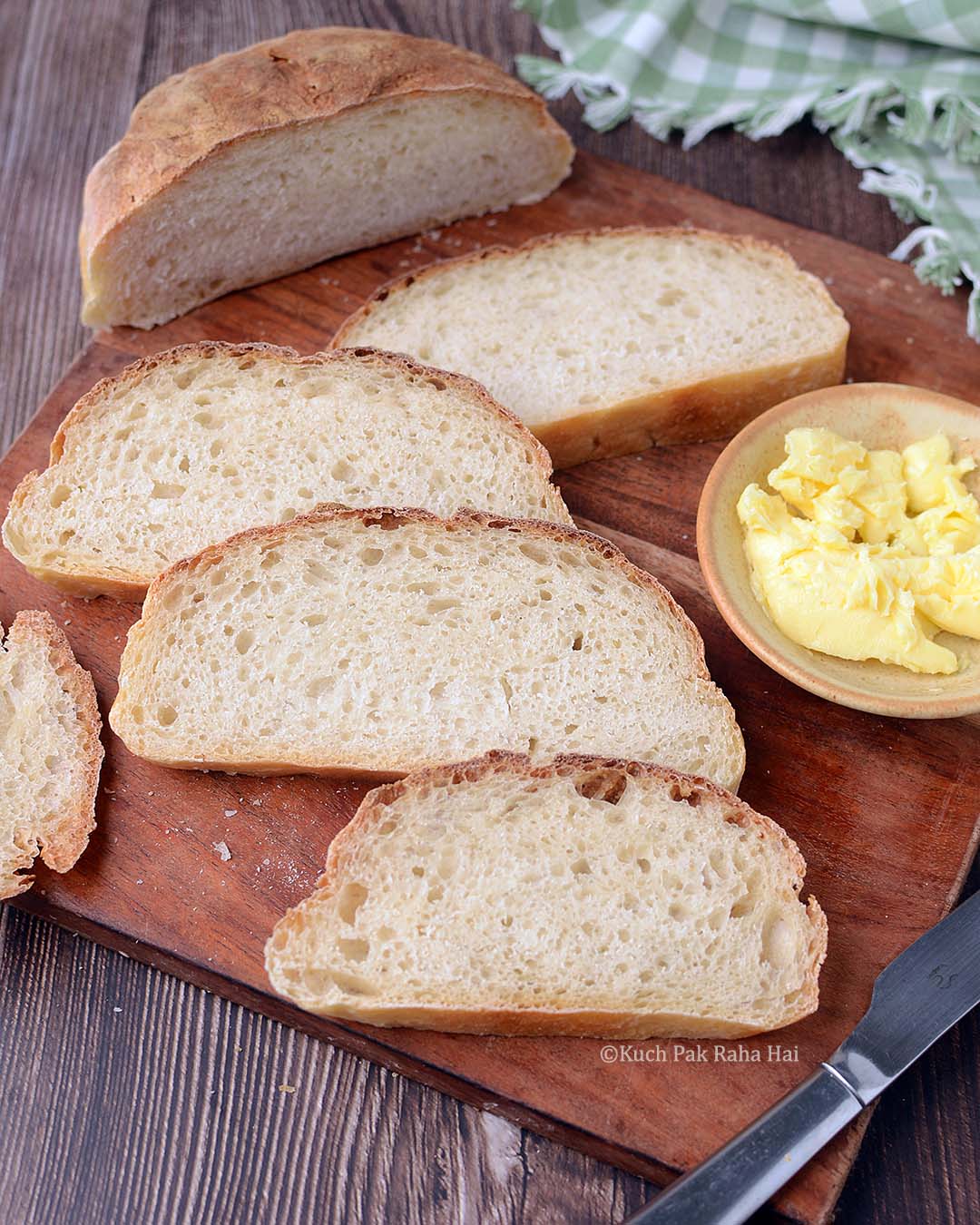 Notes:
Can I make this bread with whole wheat flour?
Yes, you can make this artisan bread with whole wheat flour too. As whole wheat flour (wwf) is high in fibre, it turns out slightly dense & darker in colour but taste wise it is good. For 180 grams (1+1/2) cups of whole wheat flour it took me around 170 grams (1/2 cup + 3 tbsp) water. If while mixing the dough you see dry specs of flour remaining, add 1-2 tsp of water more. Rest of the process and recipe will remain same.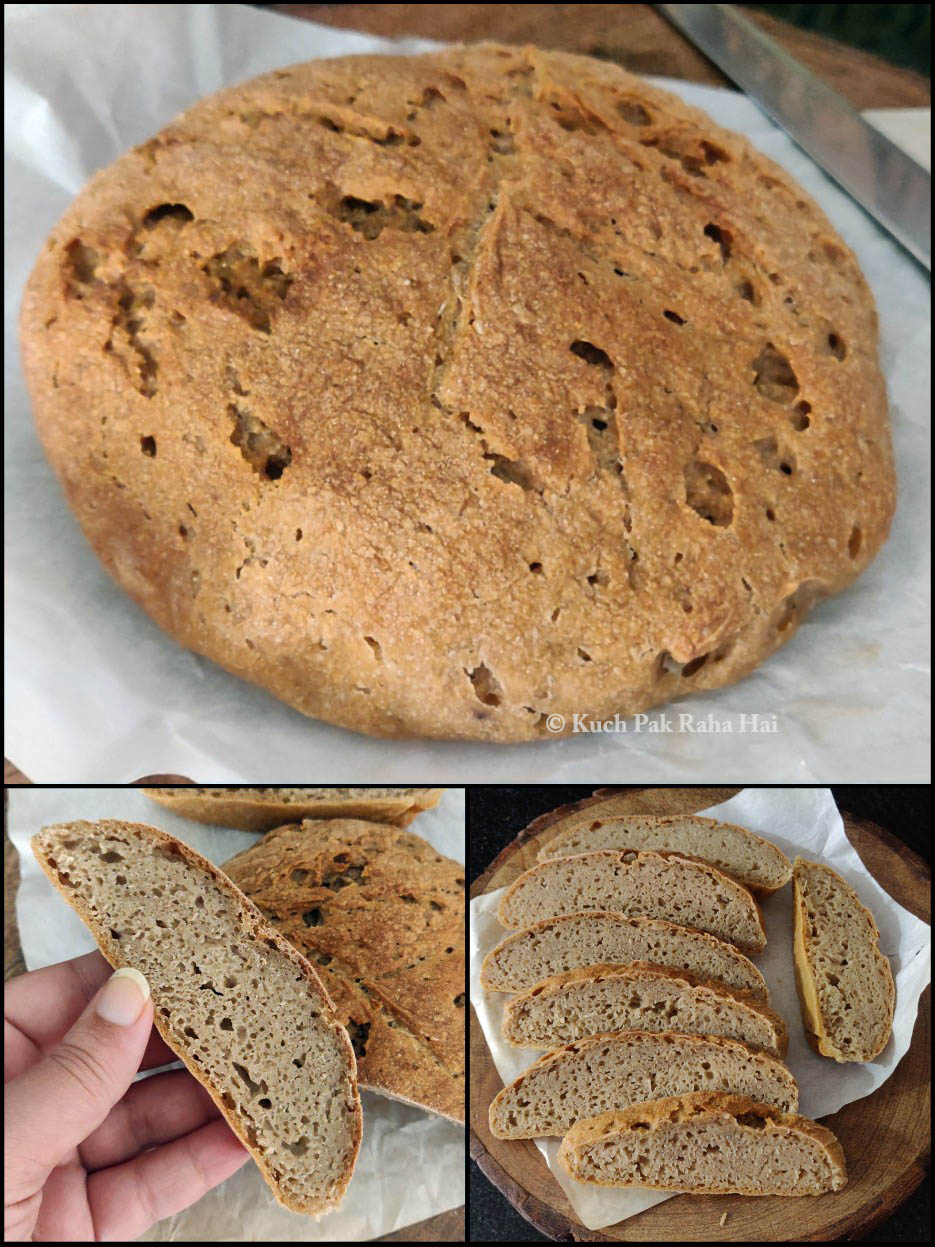 How to store air fryer bread?
Once the bread is cooled, wrap it with aluminium foil to prevent from drying. You can store it like this on kitchen counter for upto 3 days. Whenever you want to have bread, cut the slices and store the remaining by wrapping in foil.
Can I store the bread dough for later?
If you get busy in morning or later in day when you had planned to bake bread, just transfer the covered dough as it is in fridge. This way you can store it in fridge for 2-3 days (cold fermentation). Before beginning to bake it, bring the bowl out of fridge and keep on kitchen counter for 1 hr. After then proceed with recipe as explained above.
Pin for later: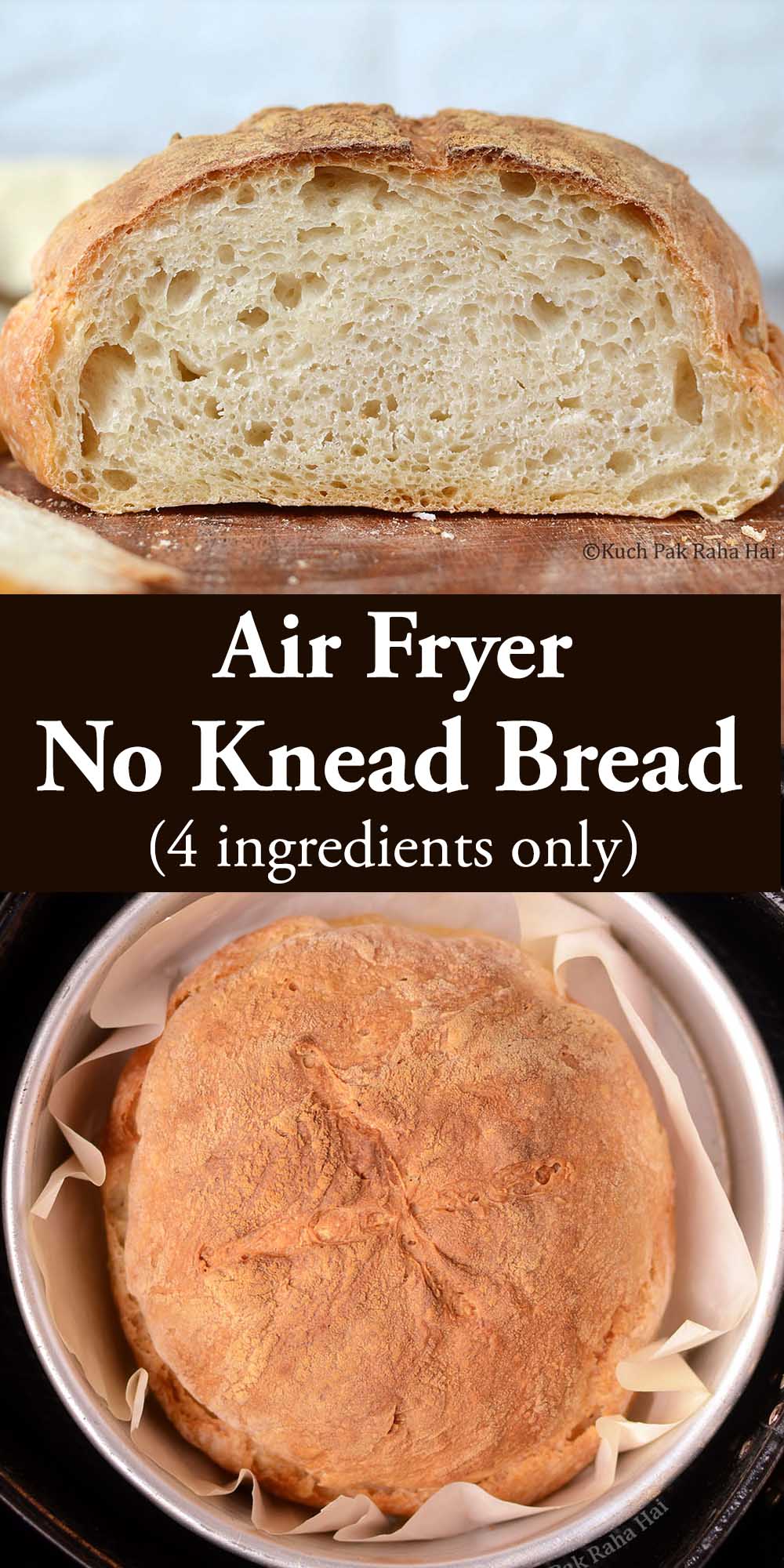 Tips:
1. You can apply some oil inside the side of bowl before you keep dough for proofing. The oil helps in easy gliding of dough from the bowl.
2. Applying dry flour on spatula / scraper or on your hands prevents the dough from sticking.
If you try this air fryer no knead bread recipe & share pics on social media, then don't forget to tag on Facebook, Instagram or use #kuchpakrahahai.
Let's stay connected
Facebook | Instagram | Pinterest| Youtube