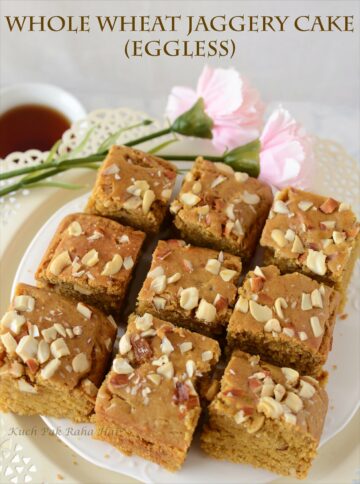 Eggless Whole Wheat Jaggery cake is an absolutely delightful tea time cake made with whole wheat flour & sweetened using jaggery powder. It is a healthy cake recipe as it has no maida, no butter & no refined sugar.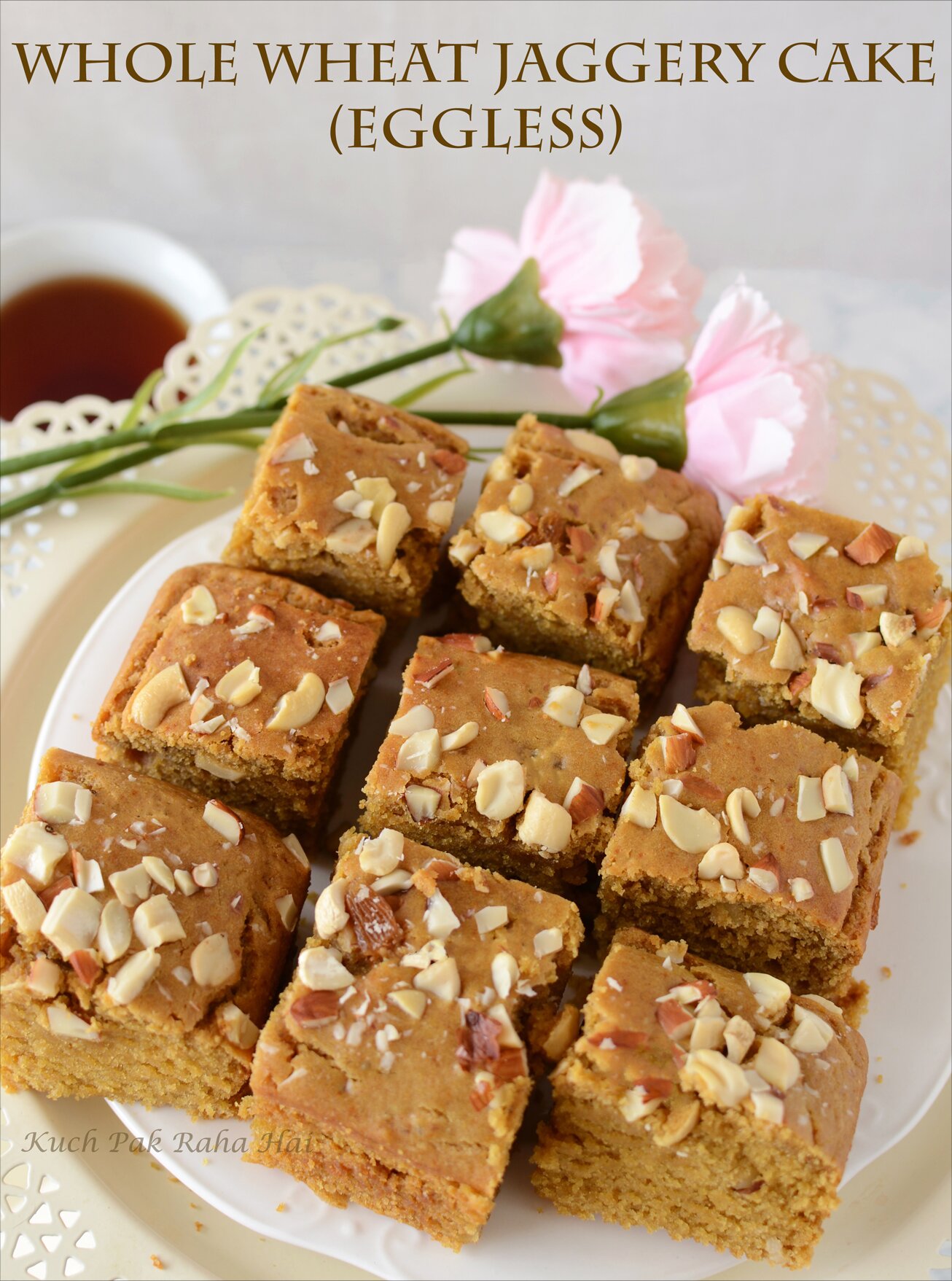 In the past I had made cakes using All purpose flour (Maida), Whole Wheat flour or mixture of both. Occasionally refined sugar was substituted with brown sugar for healthier version. This time I was out of brown sugar and due to lockdown I couldn't find it at any of the grocery stores. I remembered having some jaggery powder(gur) in my pantry but couldn't imagine how it would taste in a cake. I like jaggery powder in my tea but never tried using it in baking.
After bit of hesitancy, I used jaggery as sweetener in cake and was myself surprised as the cake smelled so good almost like a Christmas cake and the texture turned out so soft & fluffy. The combination of whole wheat flour & jaggery together gave subtle golden hints on the cake.
With the crunch from nuts, hints of cinnamon and slight bursts of sweetness from raisins, this whole wheat cake is a great option for guilt free indulgence without compromising on  taste. This whole wheat jaggery cake is:
Egg free
Made with whole wheat
Uses jaggery as sweetener
Loaded with nuts & raisins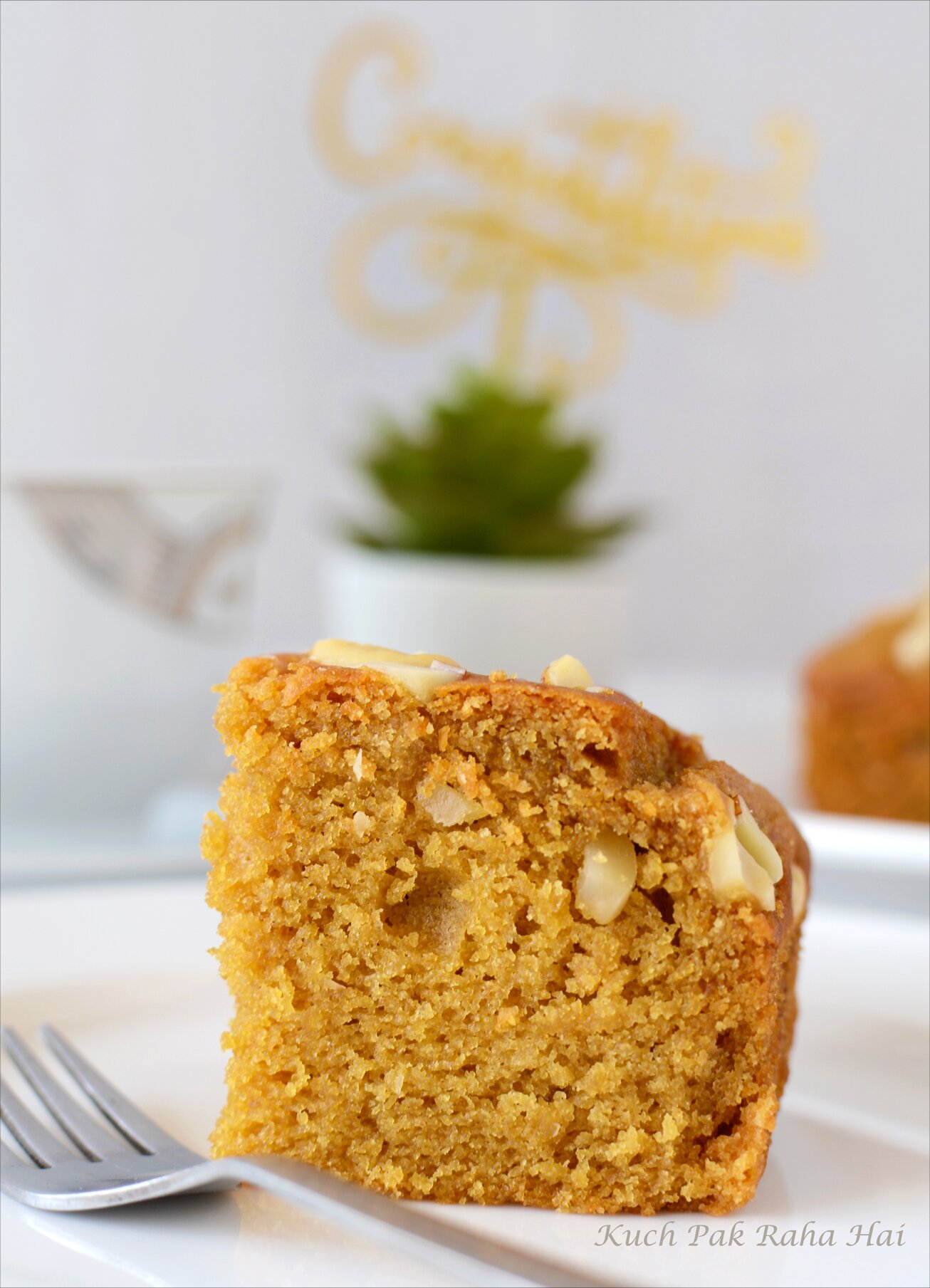 The best part about this eggless whole wheat jaggery cake recipe is, it can easily be made with few staple ingredients from pantry. It mainly uses yogurt (curd), milk and oil as wet ingredients and wheat flour (aata) as dry ingredient. I have used vanilla extract but you can easily replace it with some cinnamon.
The nuts and raisins can be added as per your own choice. I have used almonds, cashews and raisins. If you are allergic to any of these you can replace them with equal quantities of other nuts of your choice.
The quantity of milk will have to be slightly adjusted as it depends on the quality of wheat flour. I have used sunflower oil here. You can replace it with olive oil or any other oil which is tasteless & odourless.
More healthy recipes:
This post is a special one as with this we are celebrating 5 year anniversary of "Kuch Pak Raha Hai". I am using the word "We" as there are so many people who have directly & indirectly helped me in building this blog for the past 5 years. I can't thank my mother enough without whose constant support & motivation this wouldn't have been possible. Everyday cooking tricks from my nani, photography tips by my husband & such encouraging feedback from so many readers, have made it a great learning & sharing experience.
This year is extra special as we have started our Youtube Channel too 🎥. The focus will be on sharing more & more cooking techniques which any reader would otherwise find difficult to comprehend just by reading. With a heart filled gratitude and positivity, I hope our culinary journey will continue like this for coming many more years!!
I have also shared a YouTube video for this Whole Wheat cake recipe. In case you are not able to understand any step or want to take an idea about the consistency of batter, then you can refer to this video.
Youtube Video:
Ingredients:
Whole Wheat Flour – 1 & 1/2 cups
Jaggery powder – 3/4 cup
Yogurt (Curd) – 1/2 cup
Sunflower Oil – 1/2 cup
Milk – 3/4 cup
Vanilla Extract – 1 tsp
Baking Powder – 1 tsp
Baking Soda – 1/2 tsp
Salt – A pinch
Cinnamon – 1/4 tsp
Chopped Nuts & Raisins – 1/2 cup
For Cake Tin:
Sunflower Oil – 1/2 tsp
Wheat Flour – 1 tsp
Notes:
1. Cake Tin Used: I have used a 7″ square aluminium tin.
2. Measuring Cup Used: 1 cup = 250 ml
3. You can use any nuts of your choice like almonds, walnuts, cashews and pistachios.
Steps to Prepare:
Step 1:
Take yogurt (curd) in a mixing bowl and add jaggery powder to it. Mix well till jaggery is completely dissolved. Add vanilla essence and oil to it and mix once again with a whisker. Keep this bowl aside.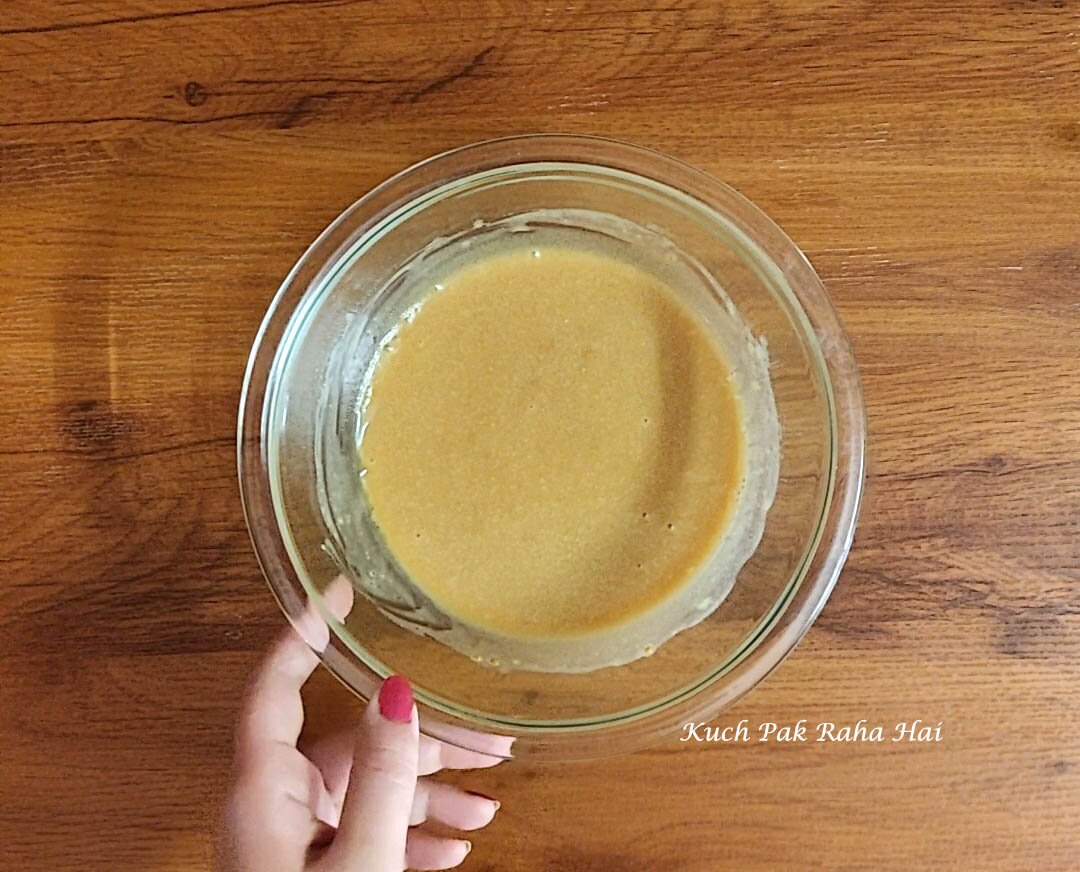 Jaggery Powder: https://amzn.to/2M6kuWf
Step 2:
Prepare the cake tin for baking. Add 1/2 teaspoon of oil to baking tin. Brush it well with spatula. Add 1 tsp of flour to it and tap it from all directions. This will prevent our cake from sticking to base. Keep this tin aside.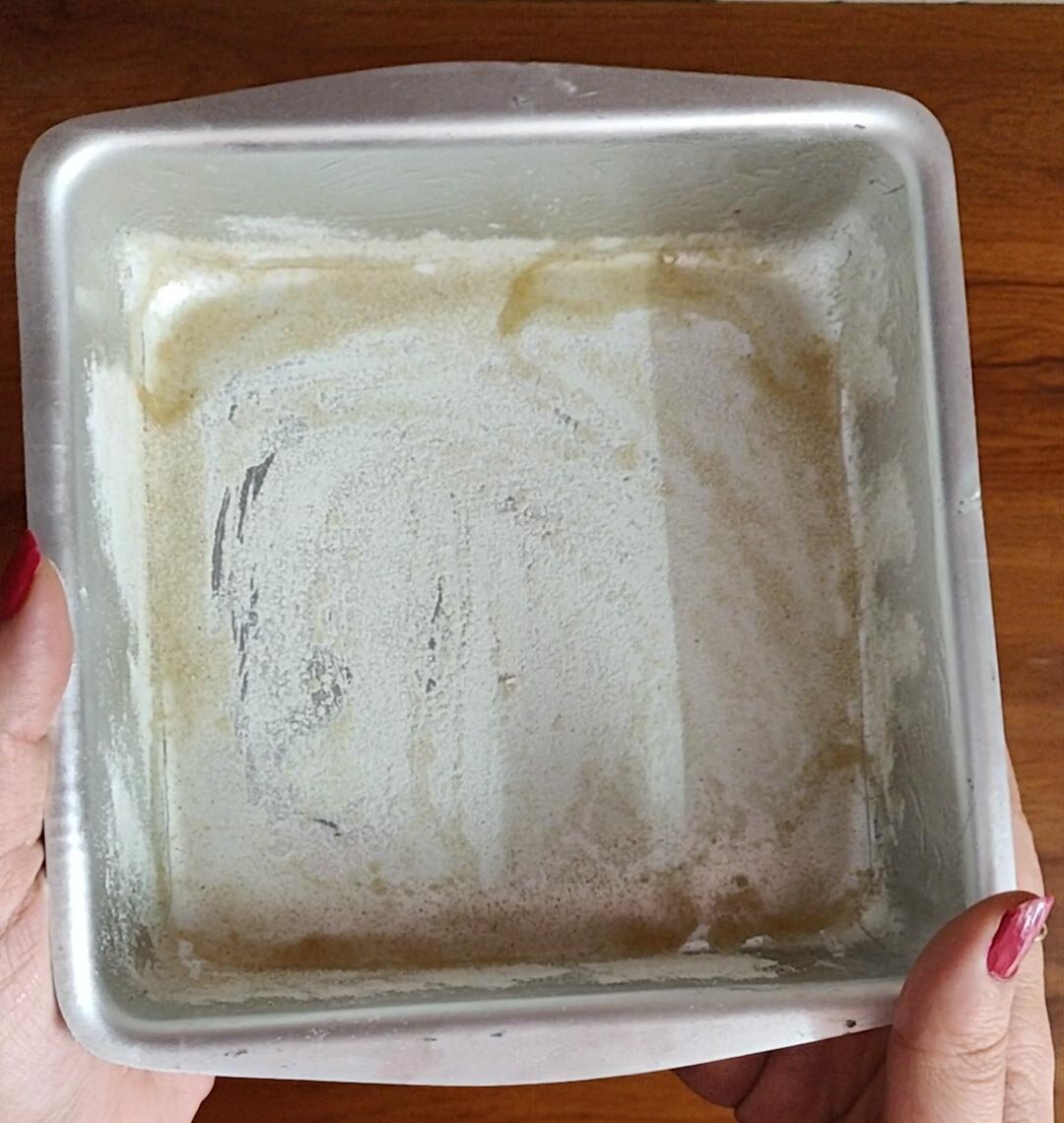 Cake Tin: https://amzn.to/3gzsRaP
Step 3:
ide chopped dry fruits & raisins in two parts. One which you are going to add in cake batter & the one which you will use as garnishing. To the part which you are going to add in batter, add 1/2 tsp of wheat flour and gently mix with spoon so that all nuts are coated with it. This will not let the dry fruits sink to the bottom. Keep these aside.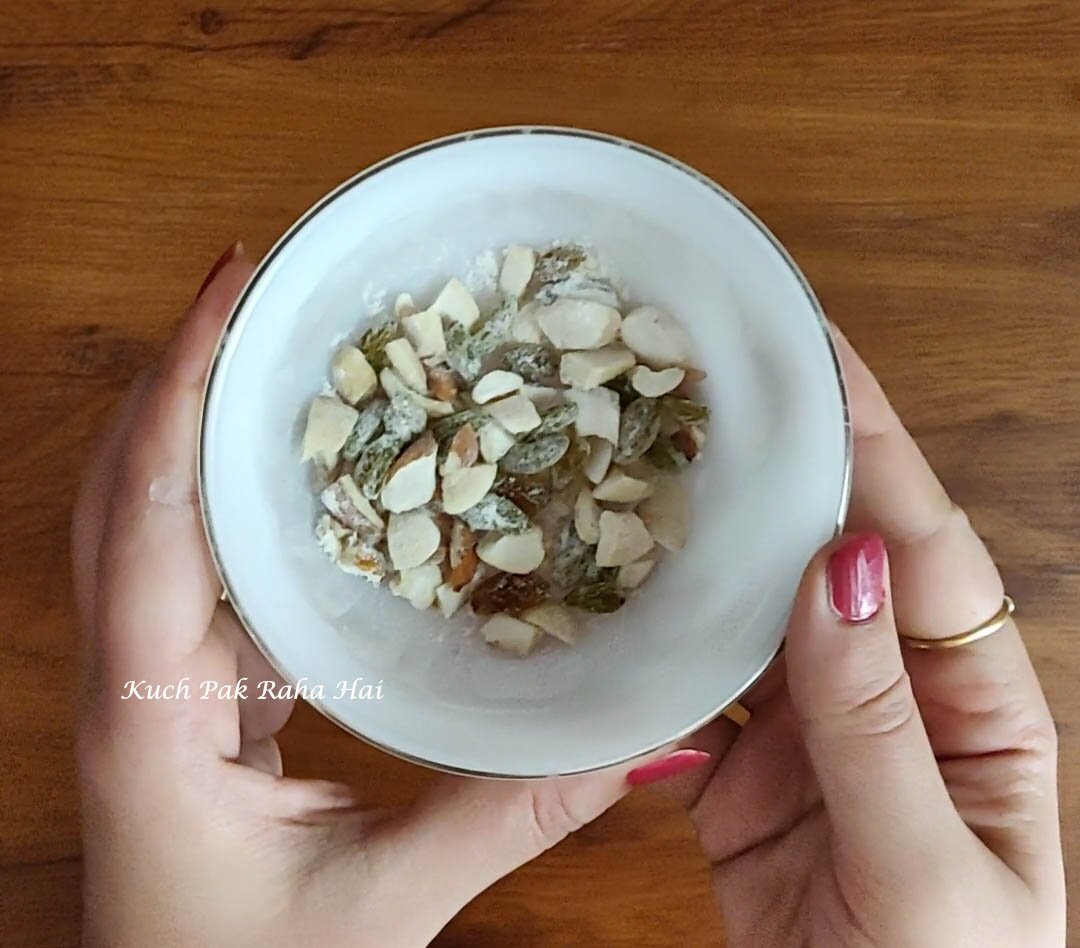 Step 4:
Take a bowl/plate & sieve wheat flour, salt, cinnamon powder, baking powder & baking soda in it.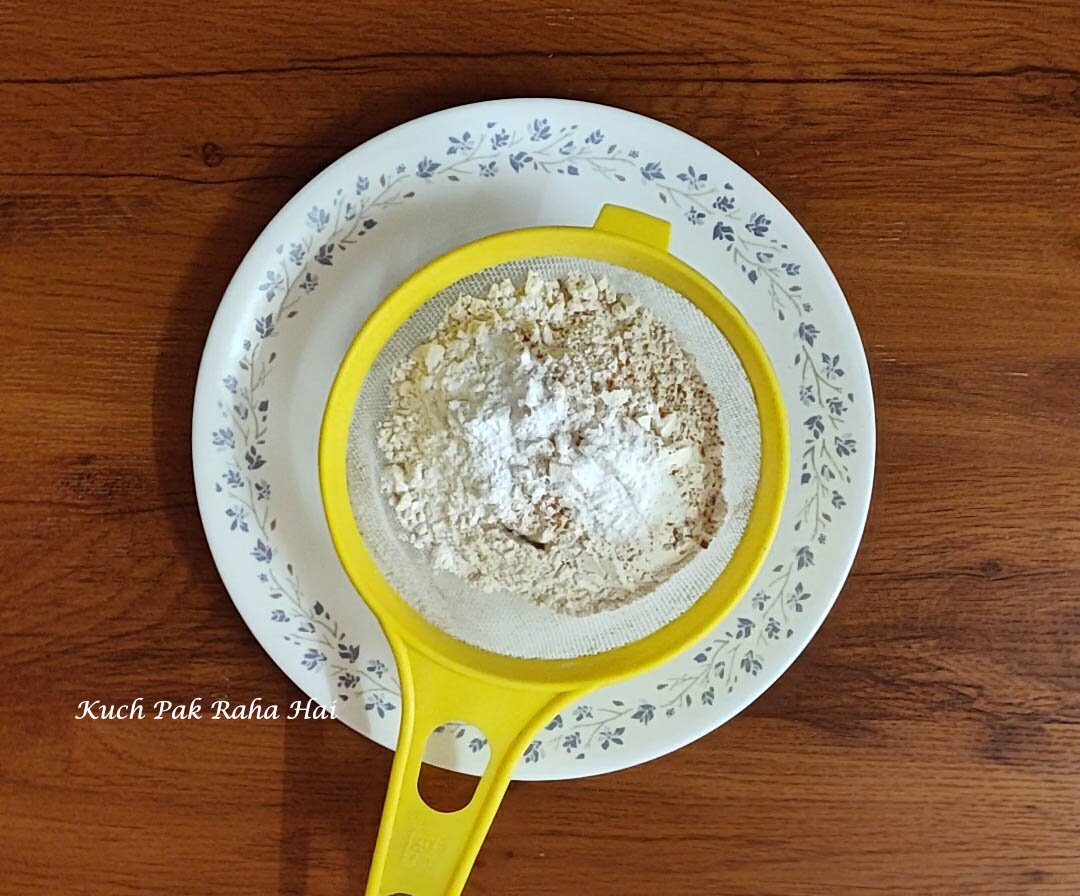 Keep these dry ingredients aside.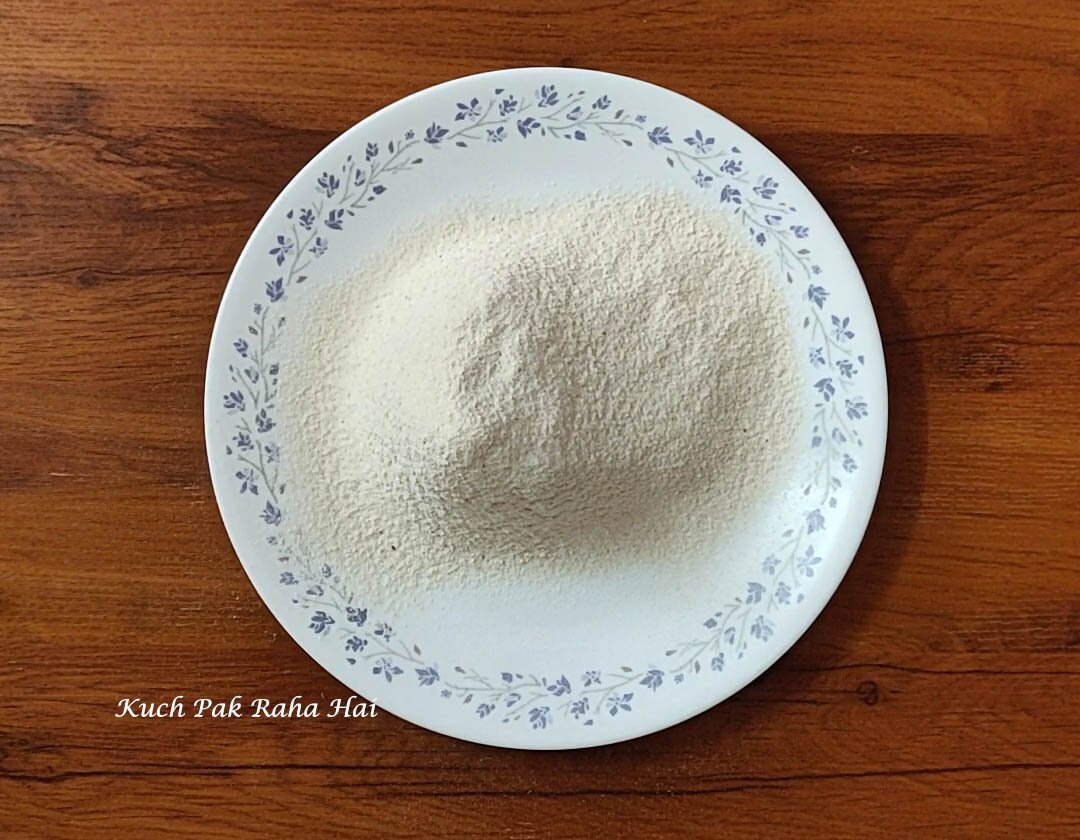 Step 5:
Before we start mixing the wet & dry ingredients, set the oven for pre-heating at 180 degree Celsius. By the time our oven is preheating, lets move to next step.
Step 6:
Add the dry ingredients & milk into the wet ingredients bowl gradually in 2 or 3 parts. The quantity of milk can slightly vary depending on the quality of wheat flour you are using. If the batter seems too thick add 1-2 tbsp of milk more. The batter should not be too thin or thick. Towards the end, add the flour dusted chopped nuts into the batter.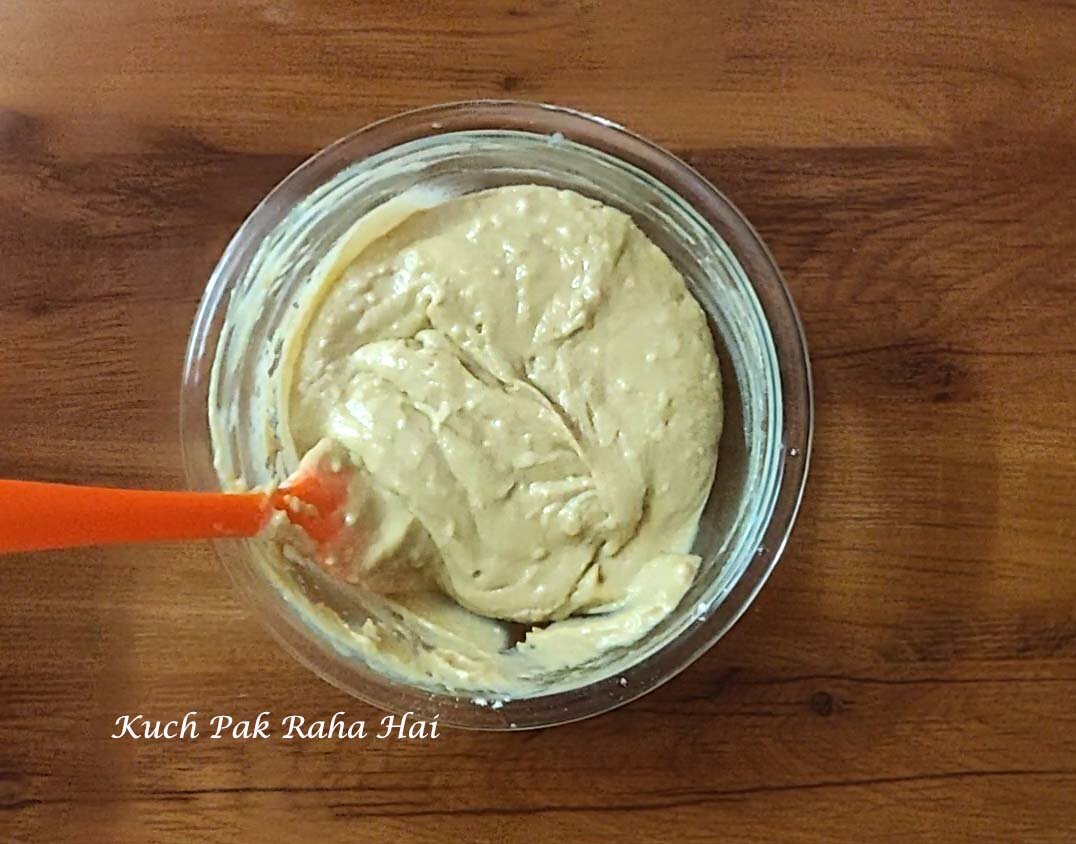 Once the batter is ready, transfer it to the baking tin which we have prepared before. Garnish with some chopped nuts.
Step 7:
Bake it in the oven at 180 degree Celsius for 35 minutes.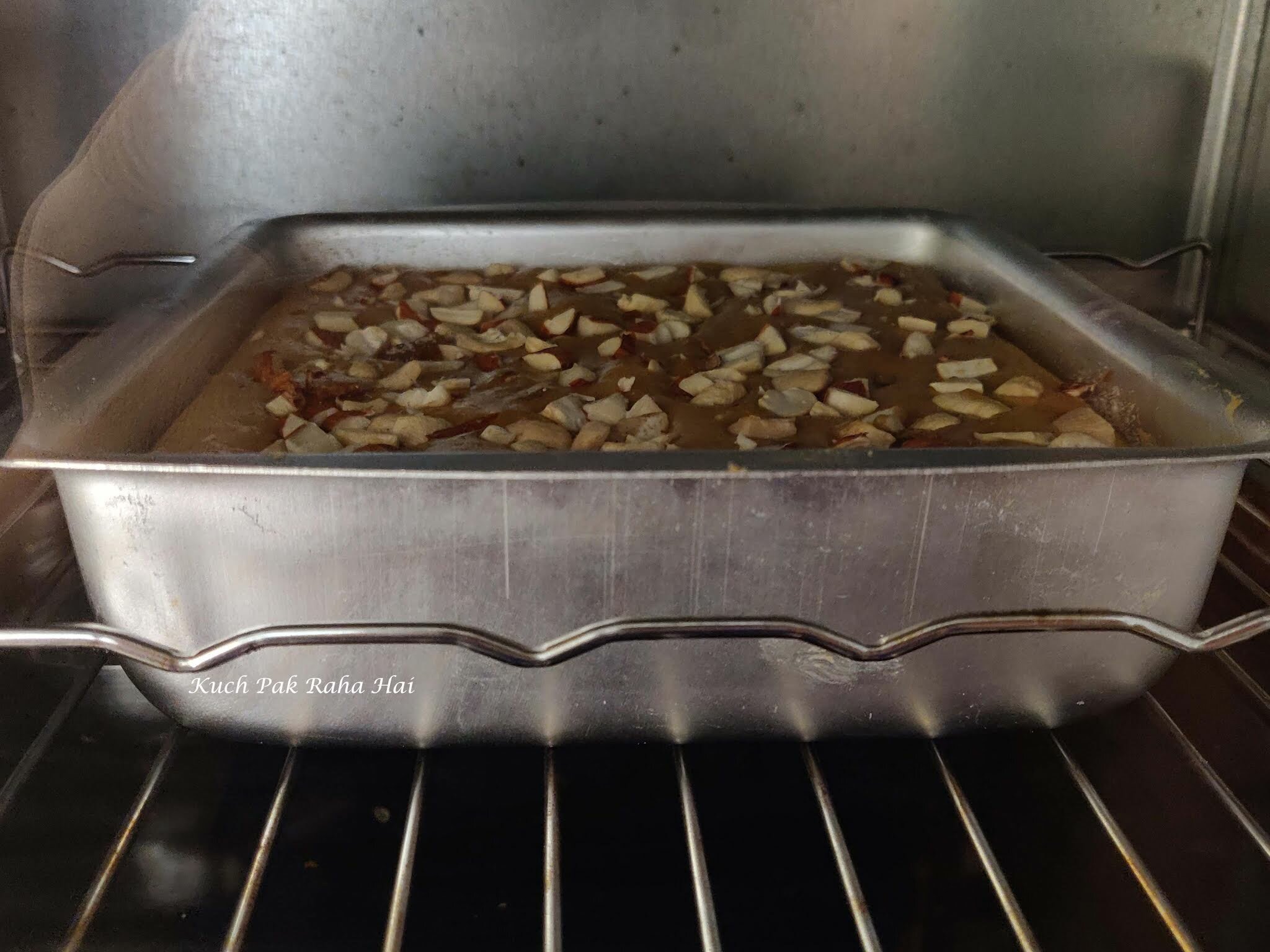 Check its centre with a skewer or knife after the baking time is finished; it should come out clean else bake for 2-3 minutes more.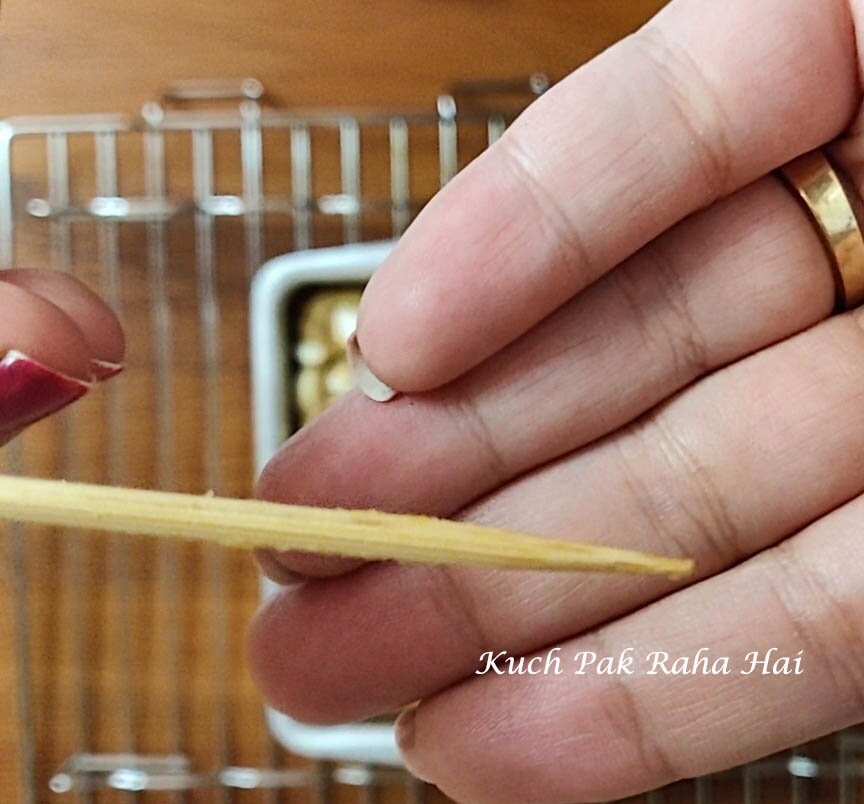 Once baked, let the cake cool down in cake tin for 10-15 minutes. After that transfer it over a wire rack to cool completely.
Enjoy this soft spongy delicious whole wheat jaggery cake with tea/coffee or give them to kids without any guilt!! Store it in a airtight container in fridge.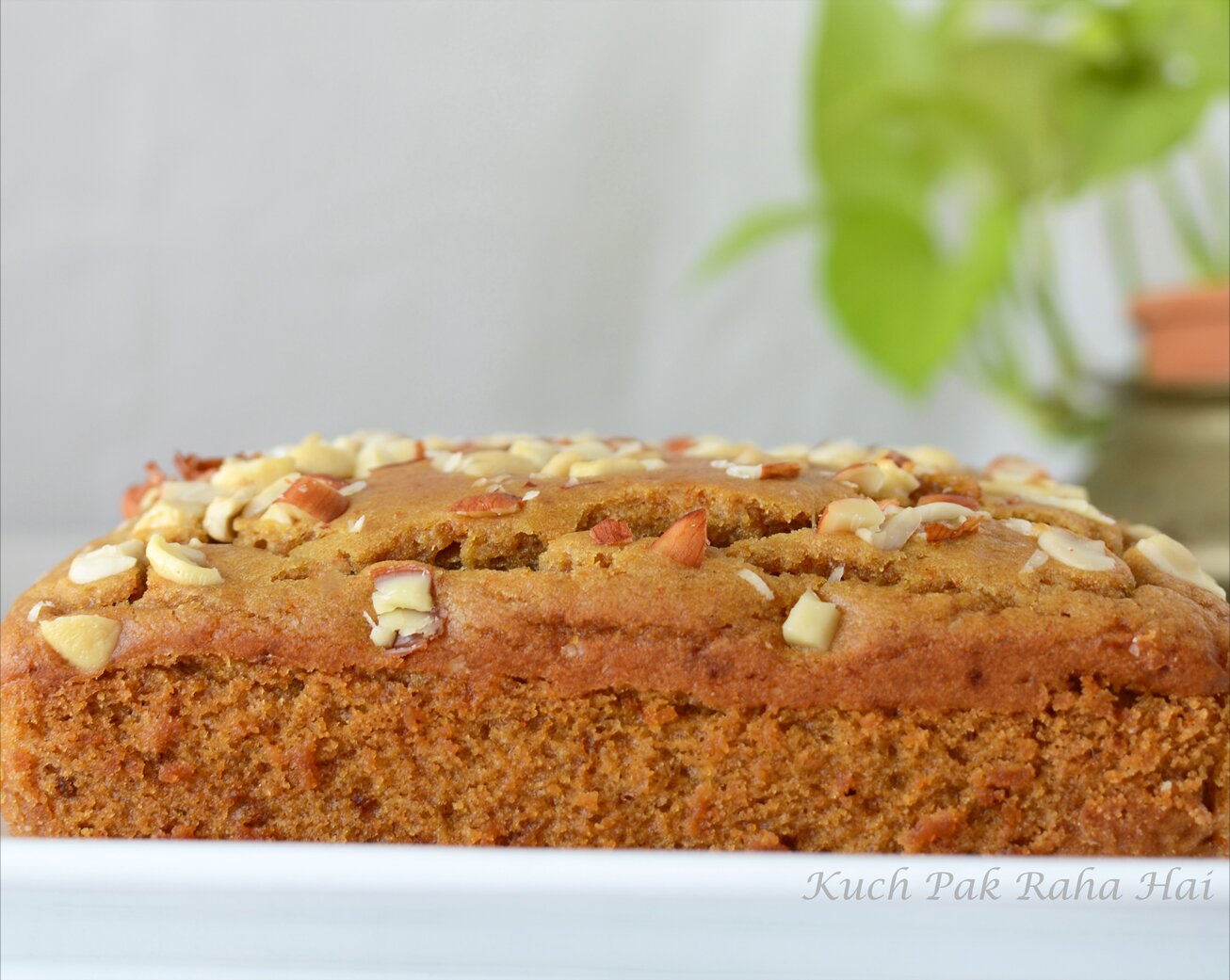 If you try this recipe & share pics on social media, don't forget to tag us on Facebook or Instagram or use the hashtag #kuchpakrahahai.
Bon Appetit!!
Pin it for later: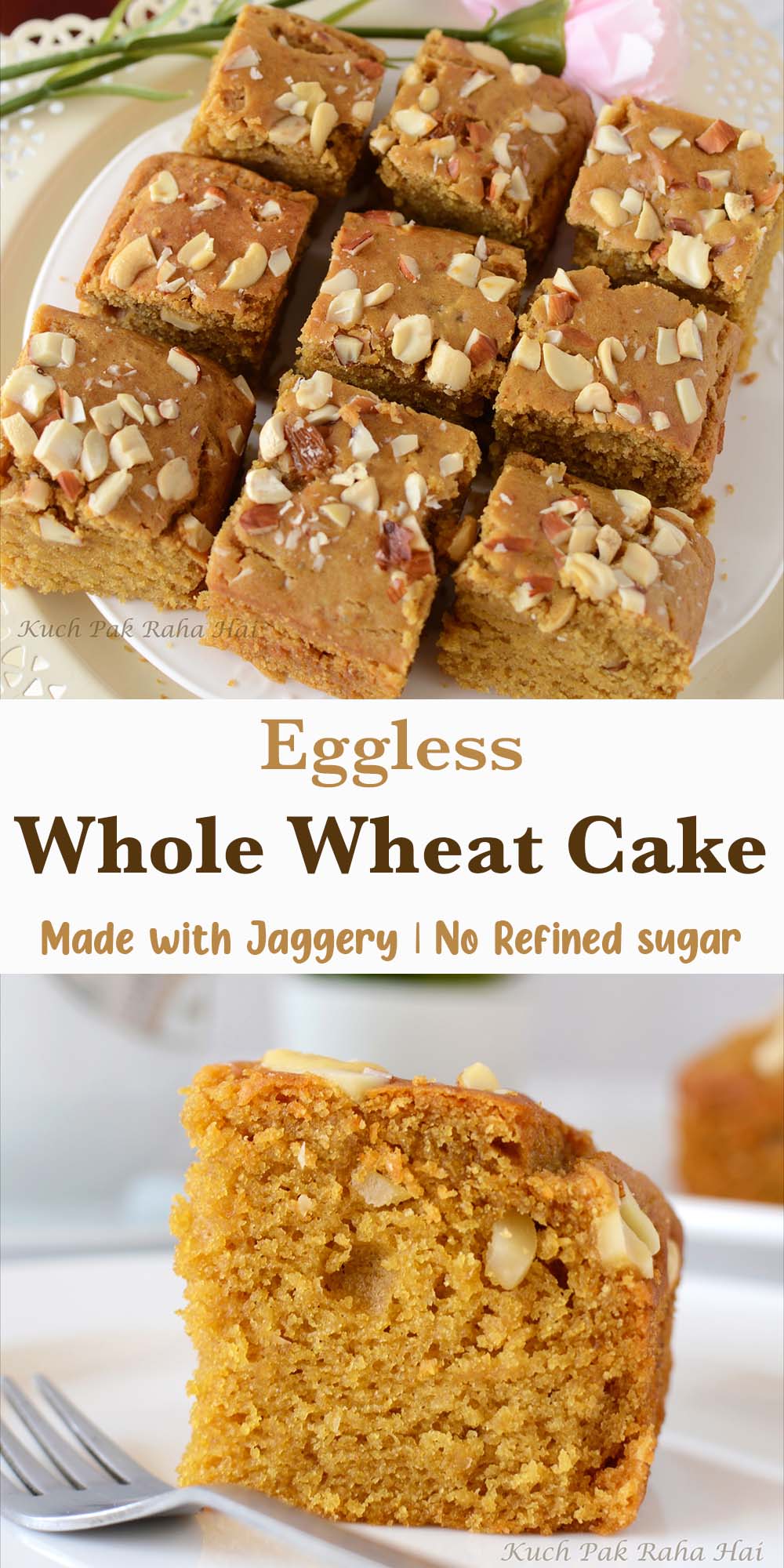 (P.S: The post above contains Amazon affiliate Links. Please refer to privacy policy page for more details.)