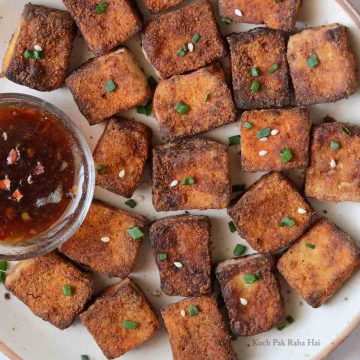 Amazing crispy tofu made in air fryer using very little oil in less than 30 minutes!! You can enjoy it as a snack or add it to your salads, curries, noodles or pasta.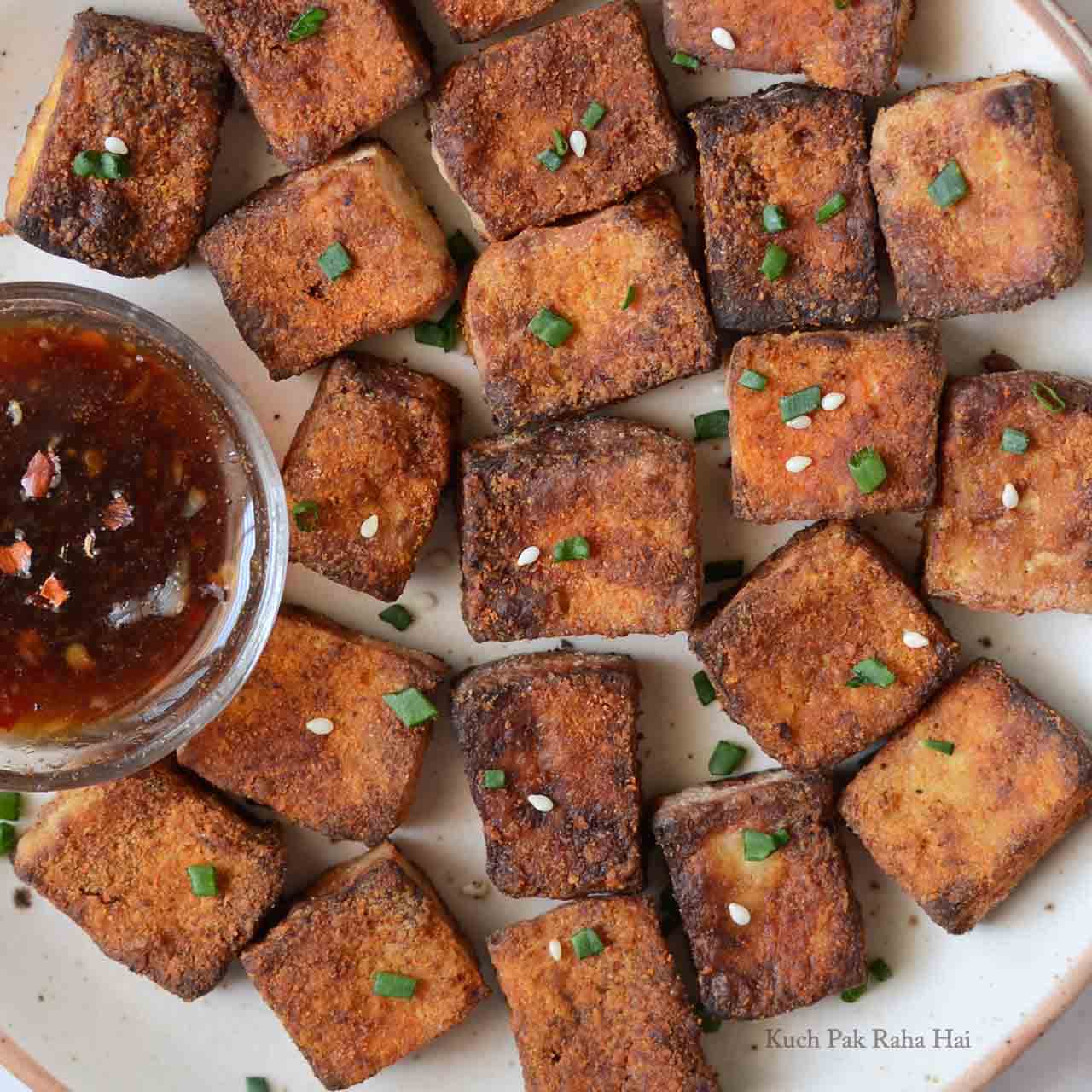 The air fryer crispy tofu recipe shared here is:
Vegan
Gluten Free
High Protein
Made using minimal oil
Easy & quick to make
For me air frying is the best way to cook tofu as you get the perfect, takeout style crunchy tofu without worrying about the hassles of deep frying. The air fryer works by circulating hot air inside the basket which ensures the tofu is becoming crispy from all sides simultaneously.
You just need handful of ingredients to prepare this crispy tofu in air fryer at home. It can be enjoyed as it is with some dip or tossed in any sauce of your choice like sweet & sour, chilli garlic, sweet chilli or honey sesame sauce as per your liking.
Ingredients for air fryer tofu:
Tofu: A 100 gms block of tofu has roughly 8 gms of protein so is considered to be good source of protein especially in vegan or vegetarian diet. Use firm or extra firm tofu for this recipe as it is easier to cut and you get neatly cut cubes each time. Silken tofu does not hold its shape and becomes crumbly quickly so avoid using it.
Seasoning: As tofu does not have any flavour of its own, we will use a mix of salt, paprika, onion powder and garlic powder to season the tofu cubes. You can also use red chilli powder or black pepper.
Soy sauce: We will also soy sauce to marinate the tofu cubes as it adds umami flavour and saltiness to the cubes. If you are looking to make gluten free crispy tofu then check out its packaging as sometimes soy sauce contain gluten. Instead of soy sauce you can use coconut aminos.
Cornstarch: Cornstarch, also known as cornflour, is a white coloured gluten free flour derived from the endosperm of corn. It helps in making the tofu crispy by absorbing all its excess moisture.
Cooking Oil: Use any oil of your choice like olive oil, avocado or sesame oil in this tofu recipe. You can even use cooking oil spray.
Optional Ingredients: If you like sweet and sour tofu then add you can also add some honey (or maple syrup) and vinegar with soya sauce in marination step.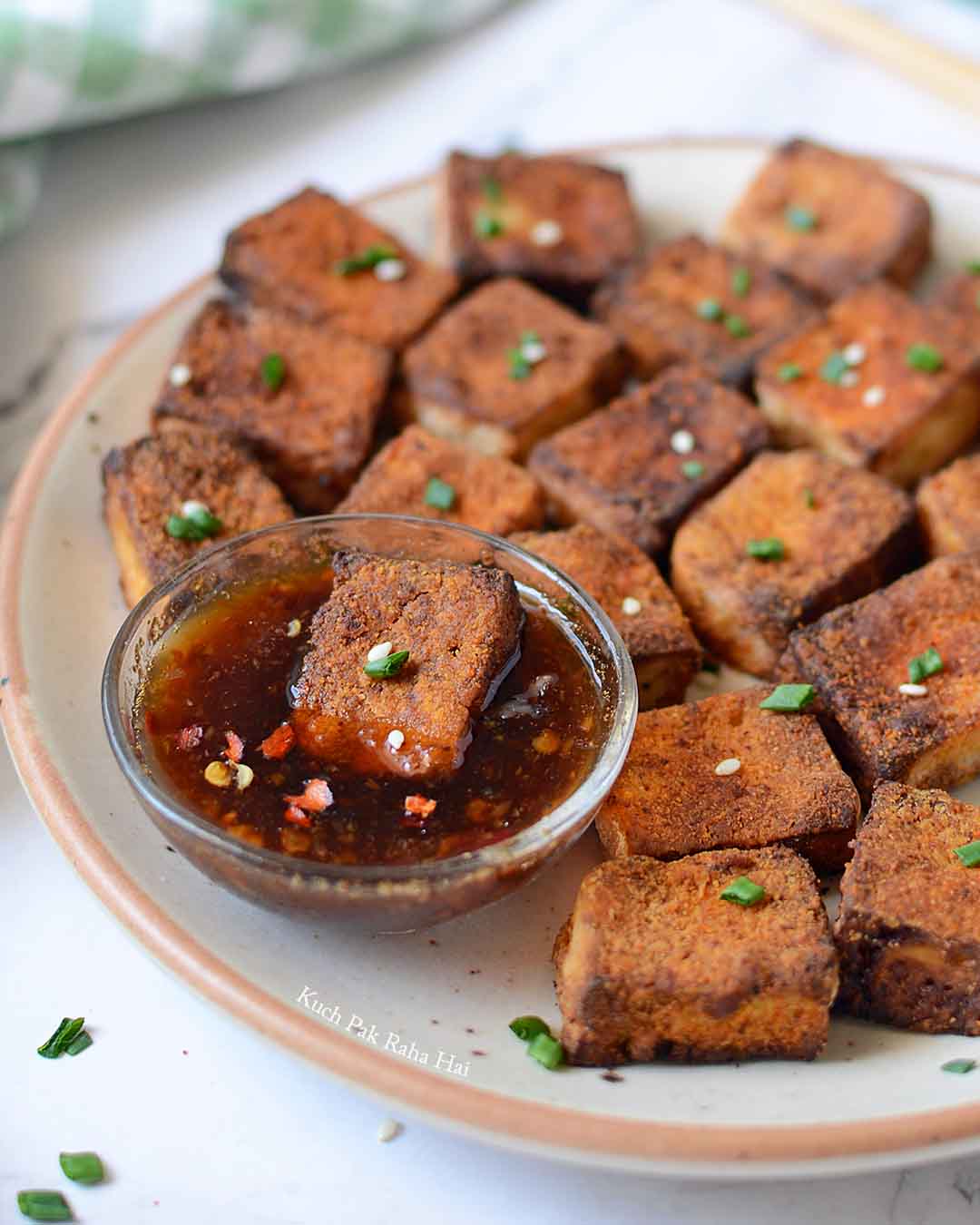 How to make crispy tofu in air fryer?
Pressing the tofu: Wash the tofu once under running water. Then press it between multiple kitchen tissues or towels to get rid of all excess moisture. You can gently press it with your palms or keep some weight over it like a book, plate or pan.
Marinating the tofu: We will then cut the tofu into cubes and marinate it with some soy sauce, olive oil followed by sprinkling of seasoning, salt and cornflour. If you have time you can rest the tofu for 20-30 minutes so that it absorbs all flavours.
Air Frying the tofu: While the tofu is resting with spices on, set the air fryer for preheating at 200°Celsius (400°F). Once the air fryer is preheated,  spray or brush some oil inside the basket and arrange the tofu cubes in it. Avoid crowding or overlapping for even browning. You can even air fry it in batches if making in bulk.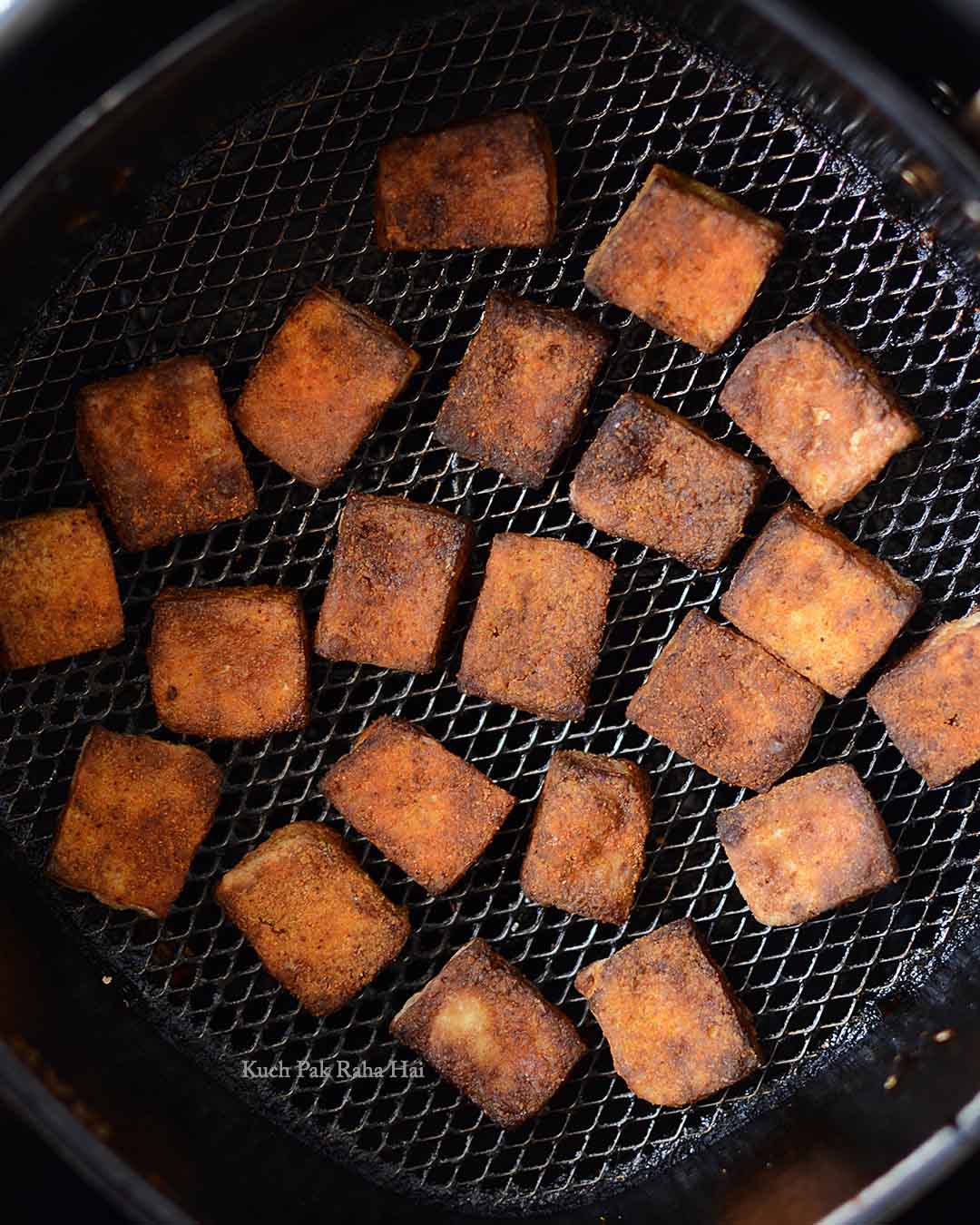 How long should I air fry tofu?
The air frying time varies slightly depending on the brand and size of the air fryer. Also always remember to preheat the air fryer as it cuts down the cooking time later on. In my air fryer it takes roughly 11 to 13 minutes to get perfectly crispy tofu but sometimes it can take upto 15 minutes so keep an eye on it in last 2-3 minutes.
What do you eat fried tofu with?
These crispy air fryer tofu can be used in versatile ways:
More heathy air fryer recipes:
Hope you would like this quick & easy air fryer tofu recipe.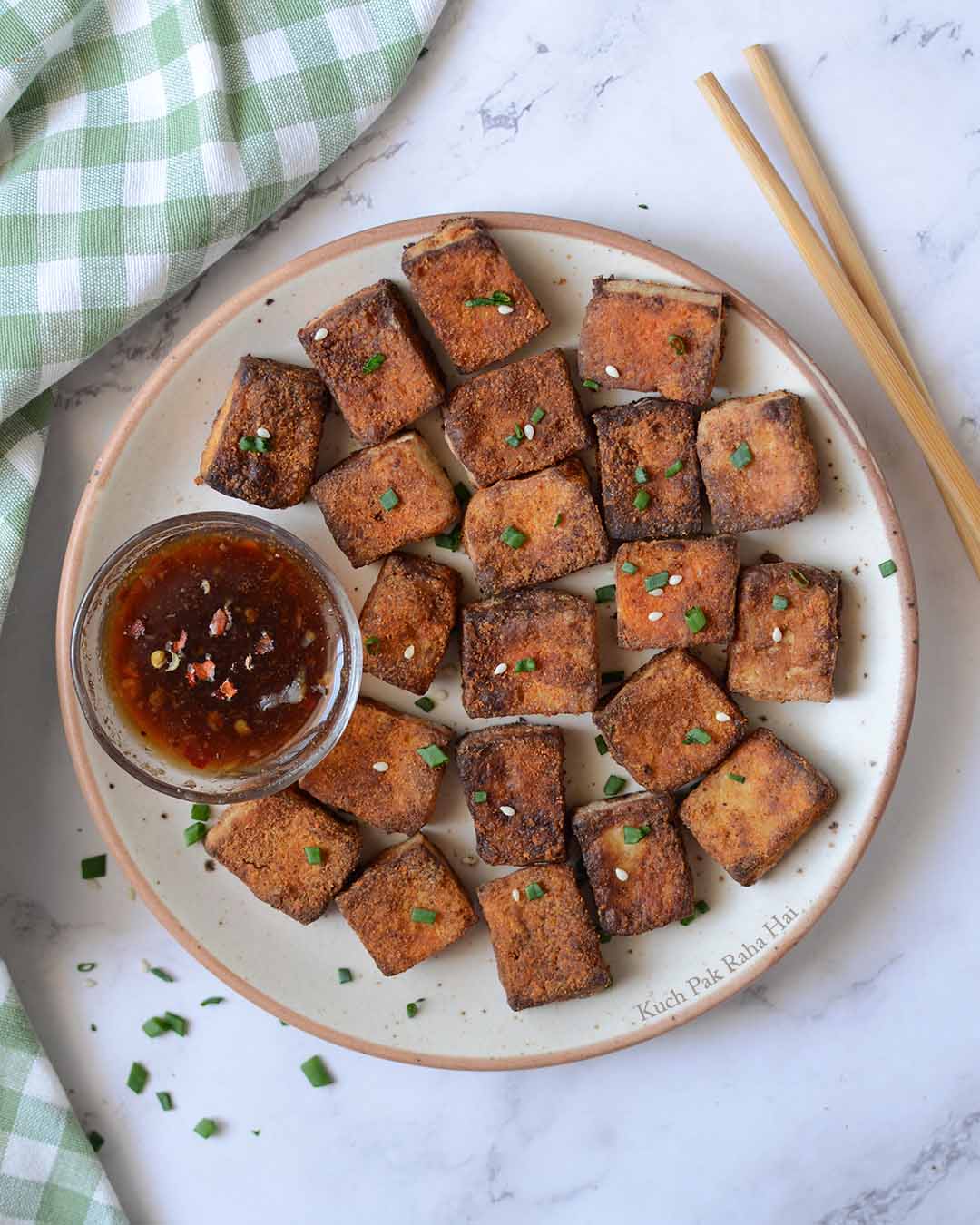 List of Ingredients:
Tofu (extra firm)- 200 grams (7 oz)
Cooking Oil-1 tsp
Soy sauce- 1 tsp
Cornstarch- 2 tsp
Paprika – 1/2 tsp
Garlic Powder- 1/2 tsp
Onion Powder- 1/4 tsp
Salt- 1/4 tsp (to taste)
For garnishing:
Spring Onion greens- 1 tbsp
Note:
As soy already has salt, I have used very little salt while marinating. If you like salt on lighter side you can skip adding it.
Instead of paprika you can also red chilli powder or crushed black pepper.
Directions:
Step 1:
Press the tofu between kitchen tissues or towels. You can put some weight on it (like a pan or book) or press it with your palms. Leave it like this for 10-15 minutes.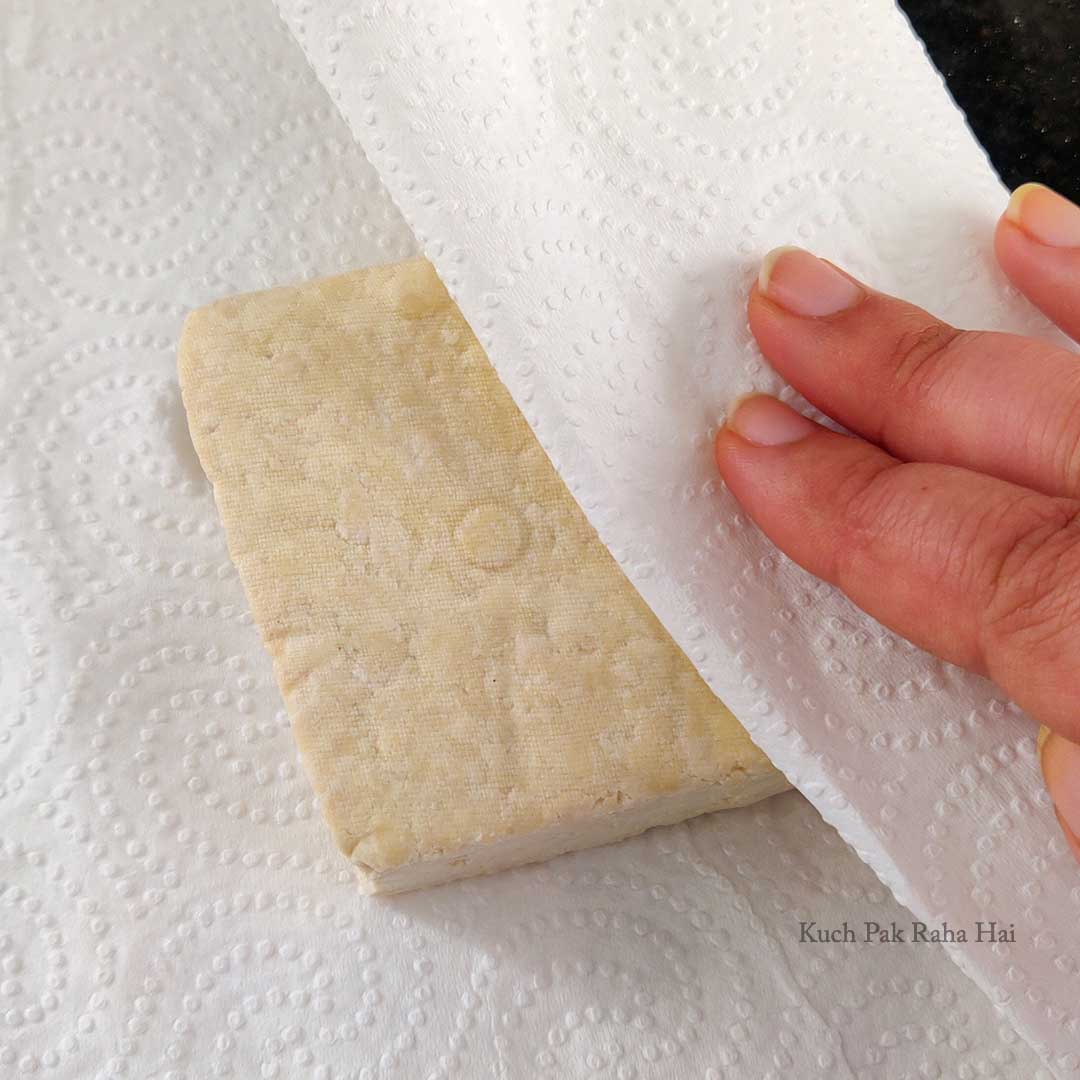 Step 2:
Cut the tofu block into equal size cube and place dab them with kitchen tissue again to get rid of any extra moisture.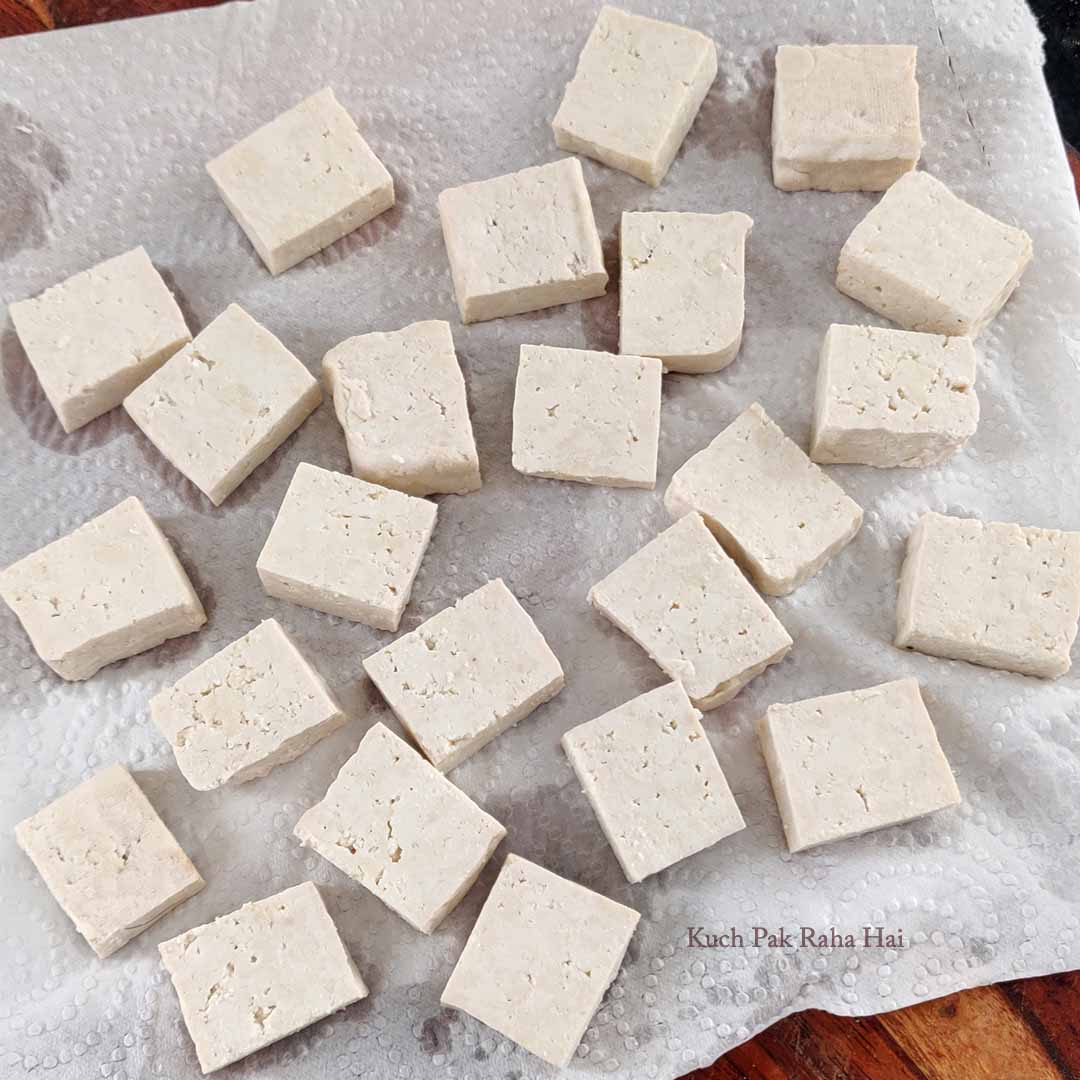 Step 3:
Transfer these cubes in a bowl or box (with lid). Drizzle soy sauce & oil over them and toss carefully. If you are using a box, close the lid and shake gently.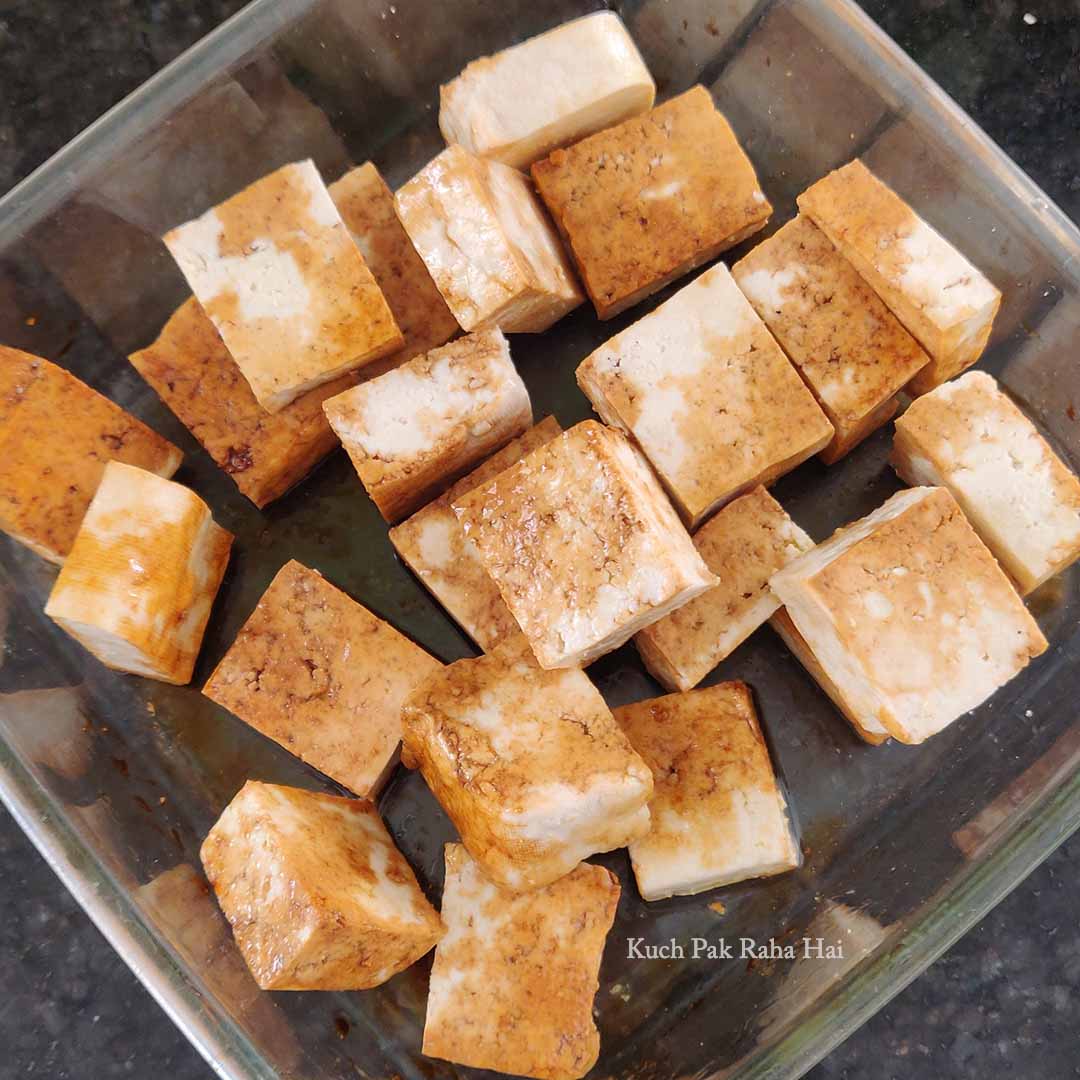 Step 4: 
Mix cornstarch with salt & rest of the seasoning. Sprinkle it over these pieces (you can use a sieve so that all pieces are coated). Toss once again.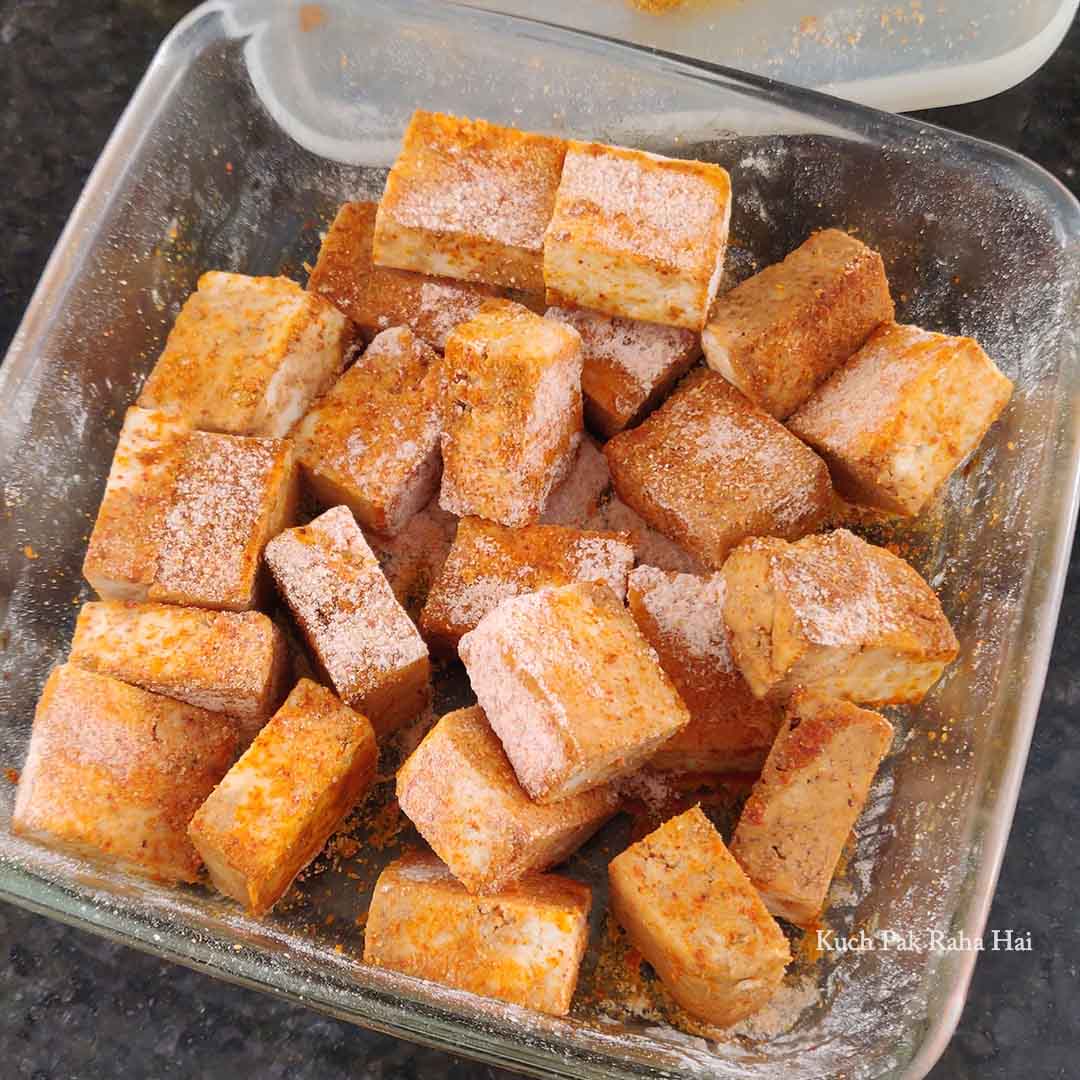 Step 5:
Set the air fryer for preheating at 200° Celsius. By the time it is preheating tofu will get time to absorb the flavours. If you have more time, you can even rest it for 20-30 minutes.
Step 6:
Spray or brush some oil in air fryer basket and air fry the marinated tofu in preheated at 200°Celsius (400°F) for 12 to 15 minutes.
After 7 to 8 minutes shake the basket gently or flip the pieces. Spray some more oil if required. Air fryer times varies as per the size & model so keep an eye after 12 minutes. In my air fryer it gets done in 13 minutes.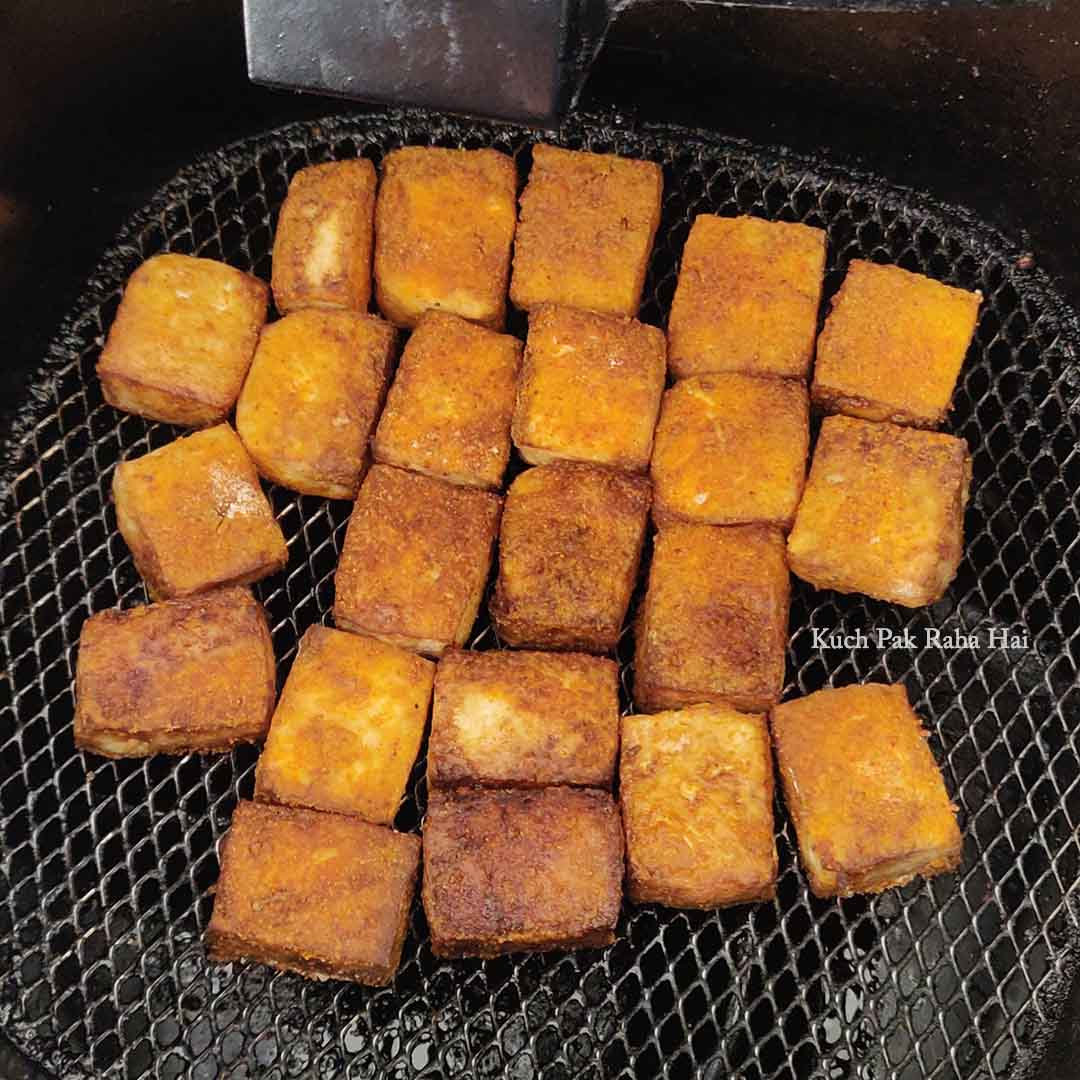 Garnish with chopped spring onion greens or parsley. Enjoy yummy crispy tofu with any dip or sauce.

Tips:
1. Don't miss pressing the tofu between kitchen towels. It's a small step but makes a lot of difference.
2. Avoid overlapping the tofu pieces in air fryer basket. Leave some space between them for proper air circulation.
3. Resting the tofu after marination give it time to absorb all flavours.
4. Cut the tofu block in equal sized pieces for similar cooking time.
How to store leftover crispy tofu?
Air fried tofu tastes best when it is fresh & hot. However if you have some leftovers, you can store it in a container in fridge for upto 2 days. Make sure the container or box is airtight otherwise the tofu will dry up.
How to reheat leftover tofu?
To reheat the leftover tofu, air fry it again for 2 to 3 minutes. You can microwave it also but air frying is a better option.
Some more vegan recipes you might like to try:
If you try this air fried tofu recipe & share pics on social media, then don't forget to tag on Facebook, Instagram or use #kuchpakrahahai.
Let's stay connected
Facebook | Instagram | Pinterest| Youtube