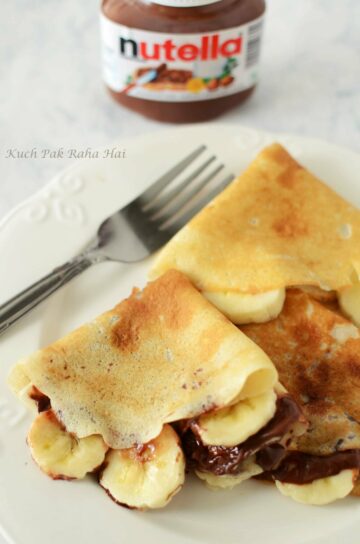 A crepe is a type of thin pancake served with fruit compote, fresh fruits, whipped cream or chocolate spread . It can have either sweet or savoury filling but generally the former version is more popular amongst people.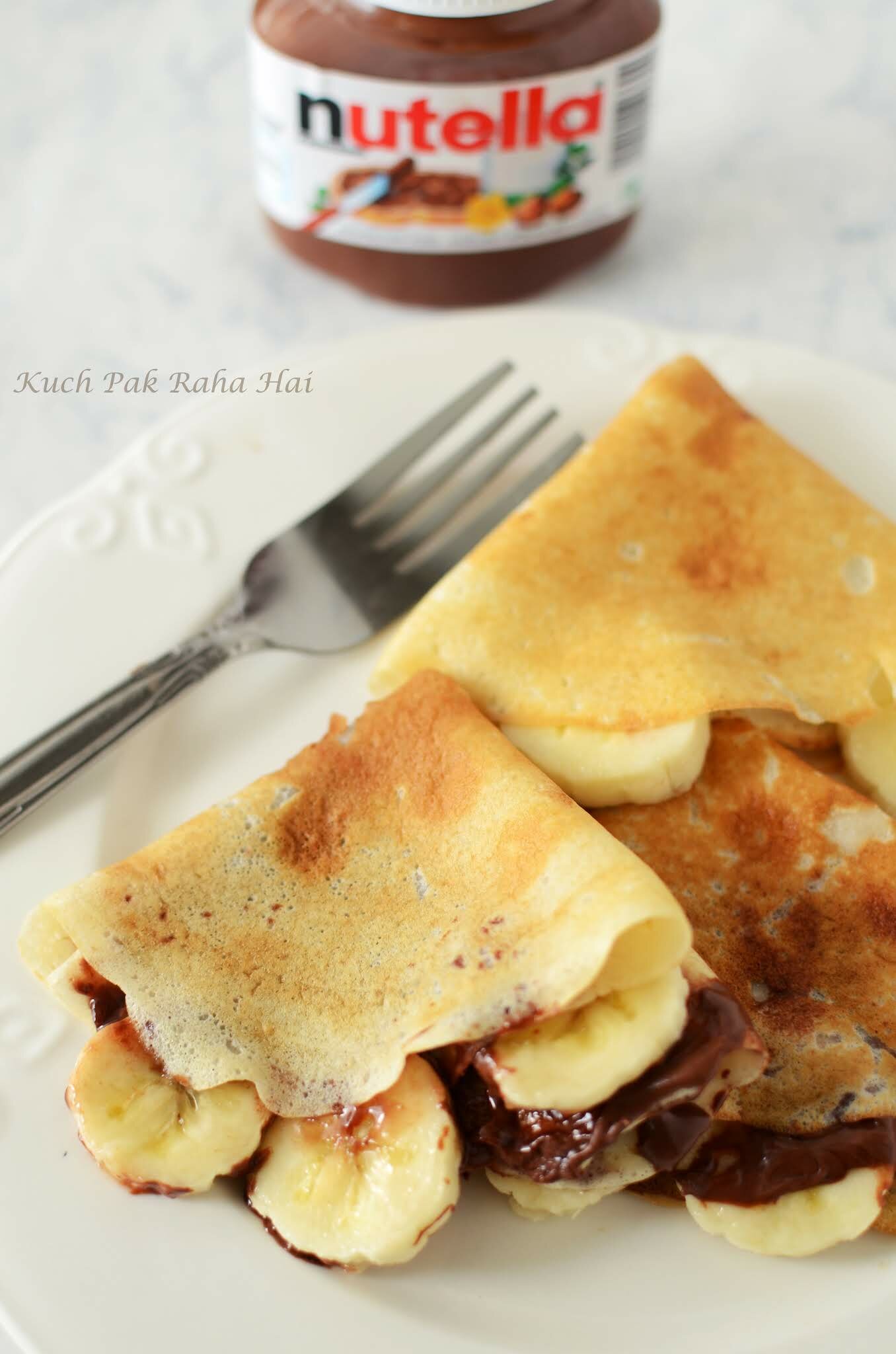 I had my first crepe in Paris on our Europe trip and was completely swooned by it. Since then I tried it at many places and restaurants but none could match it. From here, began my quest to find a perfect recipe to reminiscence that perfect melt in the mouth crepe I had in Paris.
As I searched for authentic crepe recipe, I found out that the original recipe uses eggs. Owing to the fact that we are a family of vegetarians and don't eat eggs, I had the challenge of replacing the egg such that the softness and thinness of the crepe is not compromised. After few failed attempts, I have discovered this easy eggless crepe recipe using which anyone can make crepe in minutes.
The crepes are quite similar to pancakes, with only difference that they are quite thin and delicate. The crepes take lesser time to cook, however you just need a little practice in spreading them.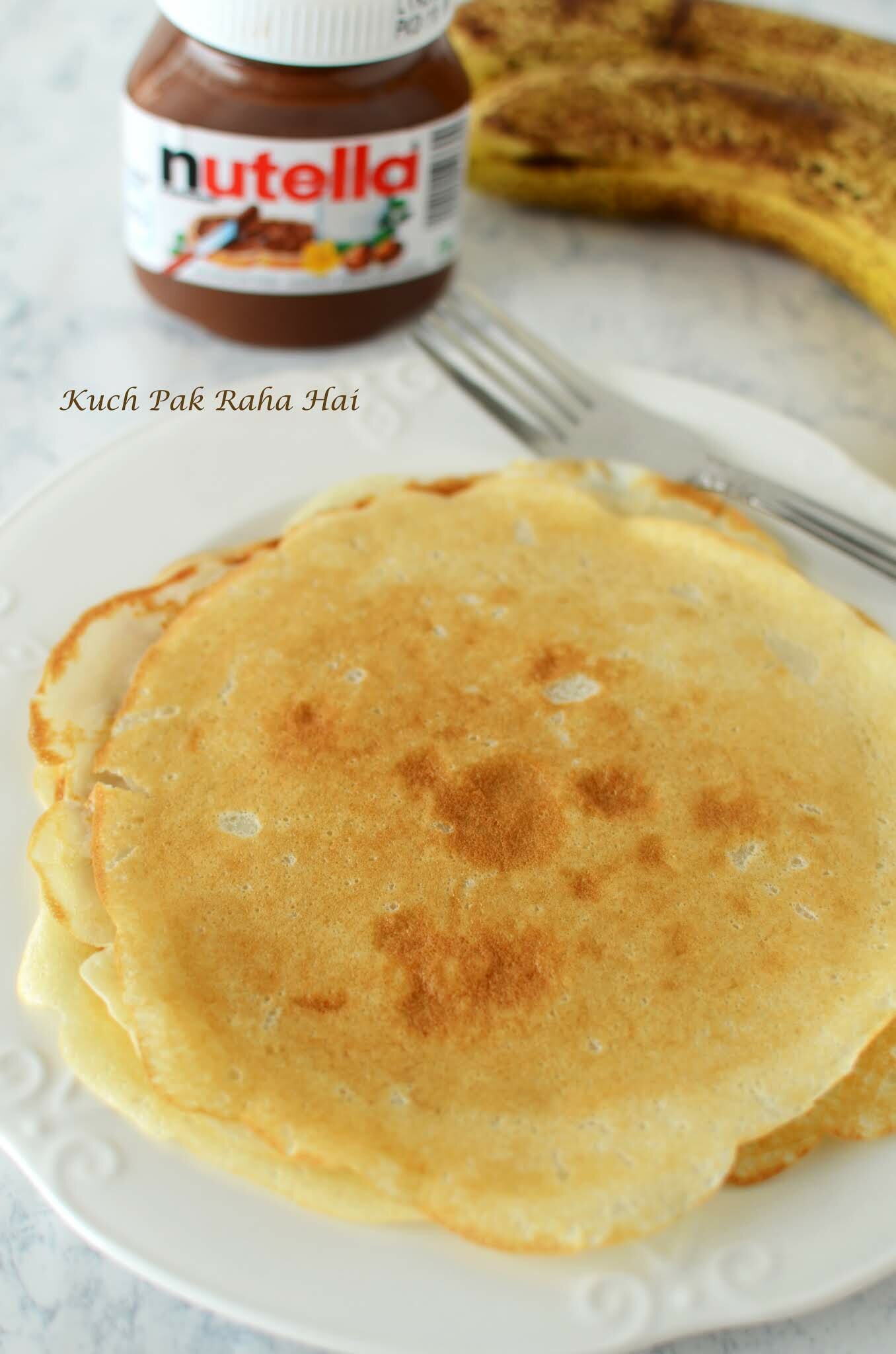 In this eggless crepe recipe, the ingredients used are easily available at home. By mixing the exact proportions as given below in the recipe, I am sure you will also be able to nail the recipe.
Tip to make perfect crepes:
The batter for the crepes should neither be too thick or runny. The trick is to check the back of spoon after dipping it in the batter. If it 'just' coats it then the consistency is perfect otherwise something is wrong with the batter. You will understand it better with the images I have shared with the steps below.
Serving Ideas:
Serve these delicious, soft and warm crepes with any fresh fruit, jam, fruit compote along with a dollop of whipped cream, nutella or a scoop of ice cream. This recipe is an absolute delight for your Sunday mornings or brunch.
I had these crepes first time with banana and nutella combination so I used the same for presentation purpose. Feel free to experiment with as many combinations you like. For example, if you are not a big fan of Nutella you can replace it with peanut or almond butter. Bananas and peanut butter make an excellent combination together. You can even experiment with savoury fillings.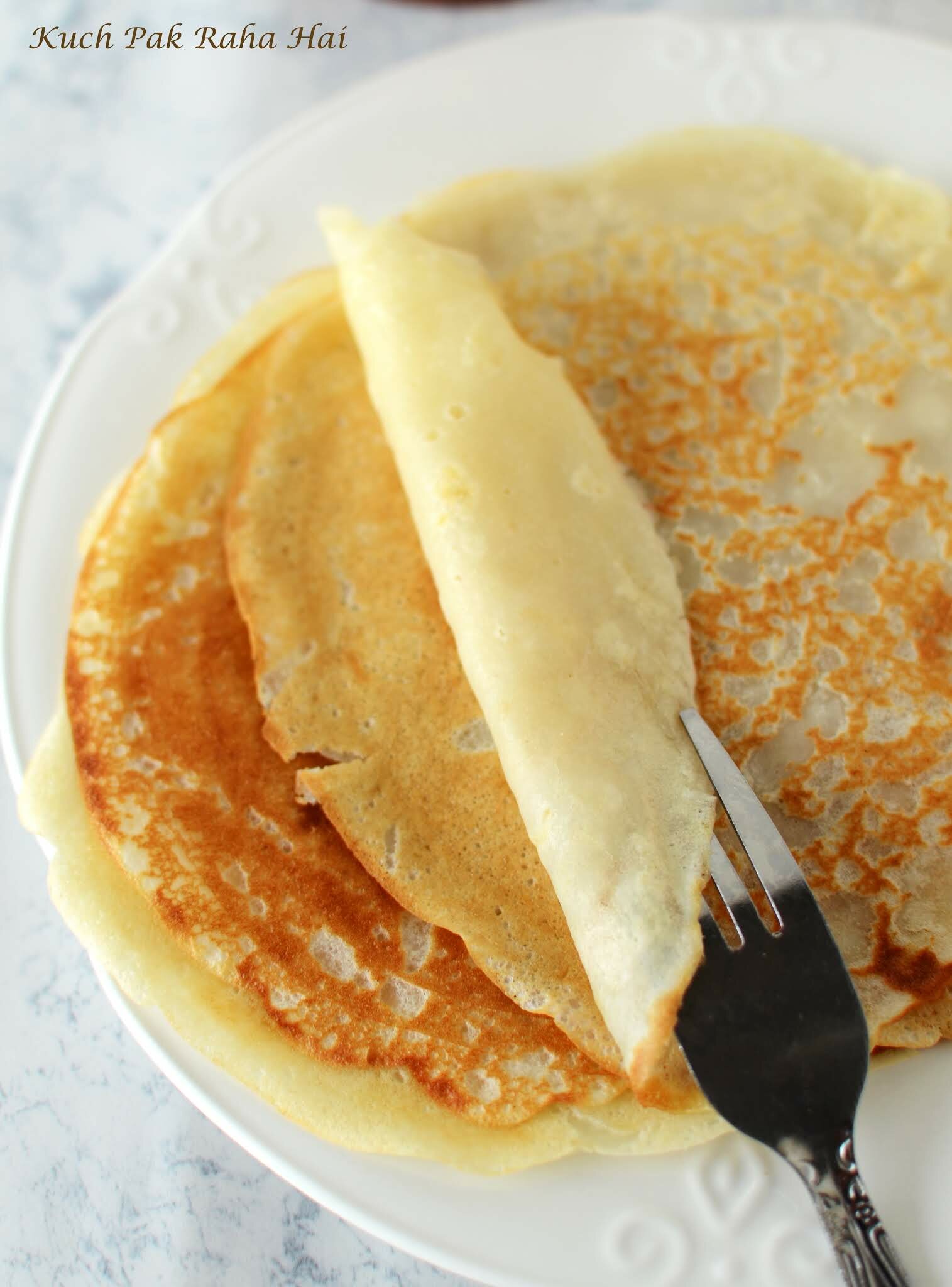 More eggless recipes:
Hope you would like this simple easy eggless crepe recipe.
Ingredients: (Makes 8 pieces)
All Purpose Flour (Maida)-1 cup
Milk-1&1/4 cup (at room temperature)
Unsalted Melted Butter – 1tbsp
Vanilla Essence-1/2 tsp
Salt-1/2 tsp
Sugar- 1 tsp
Baking Powder- 1tsp
Canola Oil/Melted butter-1tbsp (for cooking)
For Filling: 
Nutella / Jam / Fruit Compote- 2 tbsp
Banana – 2 (You can use any other fruit of your choice)
Directions:
Step 1:
Take all the dry ingredients APF or maida, salt, sugar and baking powder in a mixing bowl. Mix well.
Step 2:
Add milk, vanilla essence and melted butter to the above dry mix. Whisk it well till you get a smooth batter. You can use a hand whisker or even a blender for the same.
The consistency of the batter should be such that it covers the back of spoon as shown below.
Keep this batter aside for at least an hour. I generally make these crepes for breakfast, so I prepare the batter a night before and keep it in fridge.
Step 3:
Heat a non stick pan and spray/spread some oil over it. You can even use melted butter (roughly 1.5 tsp) but I find it easier to cook these crepes in oil. The pan should not be too hot otherwise the batter will stick to it and not spread evenly. Take a ladle full of batter, lift the pan from flame, pour the batter over it and spread it while rotating your wrist. As the batter is thin, it will spread by itself. You can use measuring cup instead of ladle for equally sized crepes.
Increase the flame to medium high. When the crepe batter seems to be cooked from top, try to lift the edges using a knife or spatula. If the edges are cooked and there is no more wet batter, using the same spatula swiftly turn the crepe. We don't want to cook the crepe for too long as it will make them crisp and not too soft.
Let it cook for 5 seconds from other side and then transfer it on a plate.
Repeat this step for other crepes as well. Brushing oil or butter for every crepe is not necessary. However if you feel the pan has become a bit dry use a bit of it to grease it.
Step 4:
Apply some Nutella or jam on insides of crepe. Place some slices for fresh fruit like banana and fold it in four folds (like a handkerchief).
Enjoy these warm and soft crepes in breakfast with a cup of hot coffee or cocoa.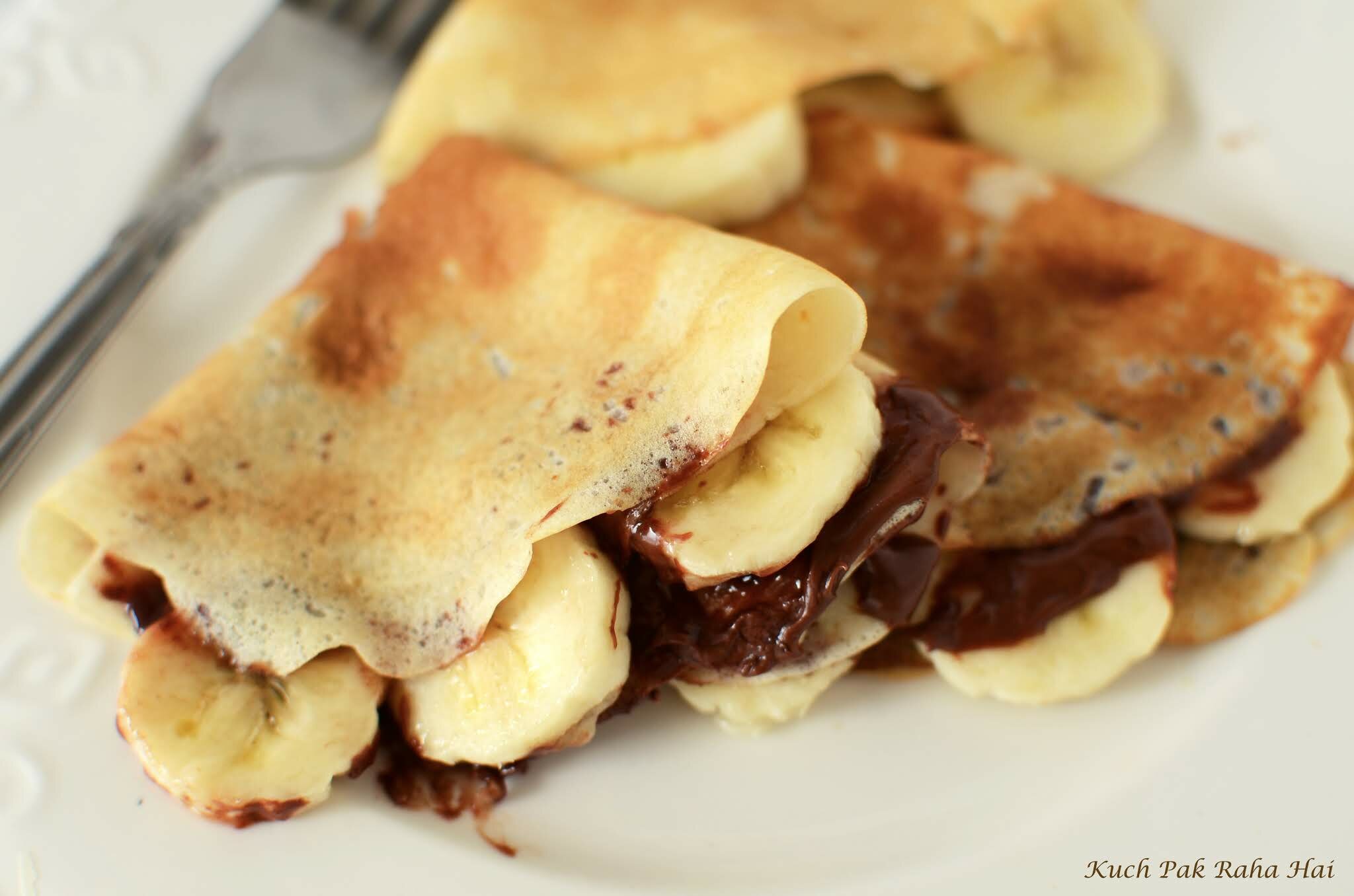 If you try this recipe & share pics on social media, then don't forget to tag on Facebook , Instagram or use #kuchpakrahahai.
Let's stay connected
Facebook | Instagram | Pinterest| Youtube