Stuffed Capsicum rings is a delicious dish consisting of spicy potato mash stuffed into hollowed capsicum rings. It can be served as a snack or side dish. The dish is quite simple to make and does not even take much time to cook.
I am literally crazy for capsicums and this is my all time favourite dish. It not only looks attractive but tastes really nice too. The crunch of potatoes on the top and soft spicy potato mash inside encased in the bright coloured capsicum makes the dish irresistible. With just handful of ingredients required for this dish, it is perfect when you are short of time or ingredients in your pantry.
Along with green capsicum, I have used red and yellow bell peppers here. The spices in this Stuffed capsicum recipe can be adjusted as per one's own taste. Especially if you are making it for kids then please skip green chillies. You can even add some finely chopped onions, mashed paneer or any other vegetable in the stuffing mixture.
Other stuffed veggies recipe shared on the blog are:
Hope you would likes this Stuffed Capsicum Rings recipe!!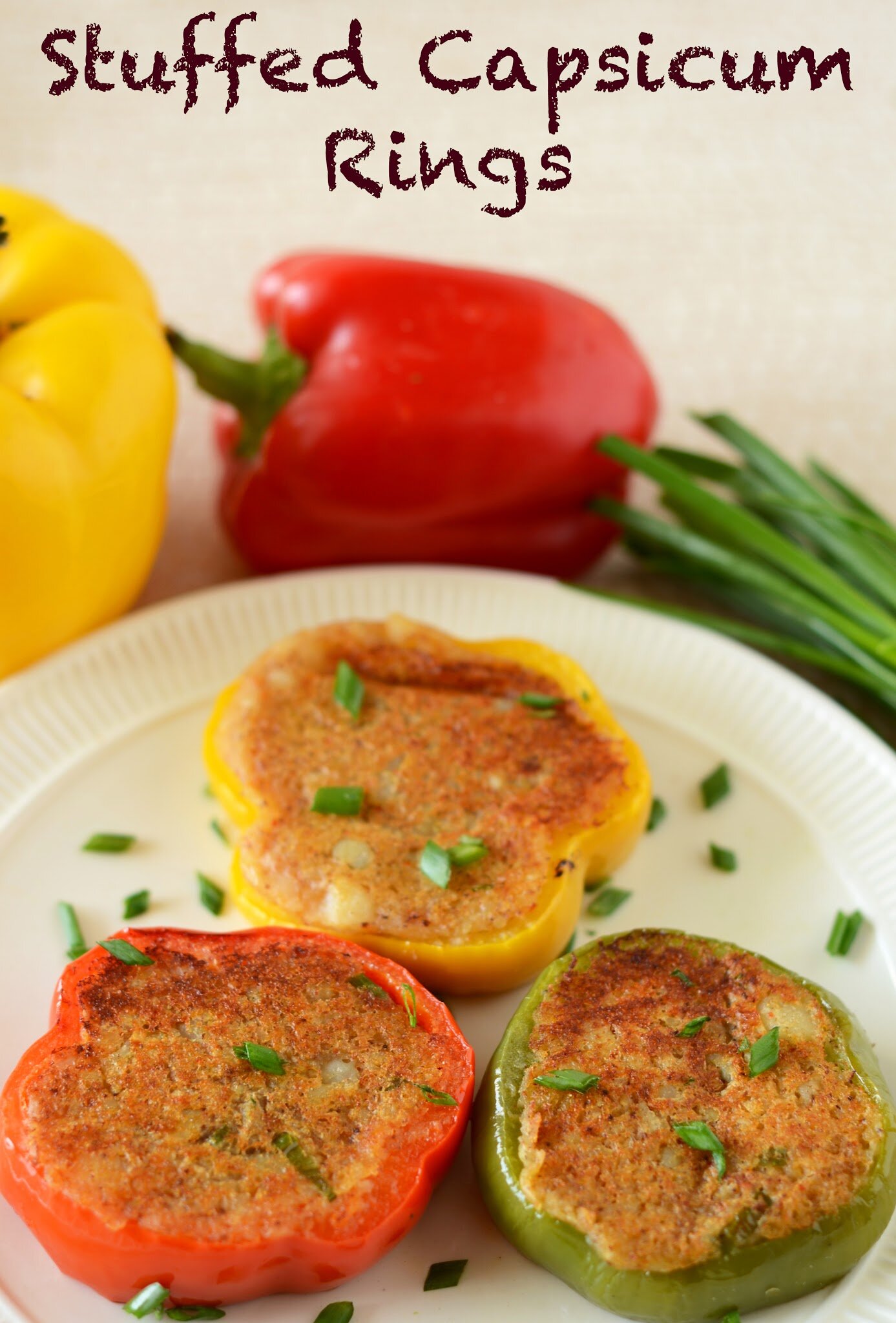 Ingredients: (Makes 6-7 pieces)
Boiled Potatoes-5
Capsicum-3
Chopped Green Chillies-2
Salt-1tsp (or to taste)
Red Chilli Powder- 1 tsp
Garam Masala – 1/2 tsp
Coriander Powder-1 tsp
Mango Powder- 1/2 tsp
Finely chopped coriander/Spring Onion- For garnishing
Directions:
Step 1:
Mash all the potatoes. Add chopped green chillies, salt, red chilly powder, garam masala, coriander powder and mango powder. Mix well. (You can even add finely chopped onions or mashed paneer).
Step 2:
Wash the capsicum thoroughly under running water to get rid of germs or dust.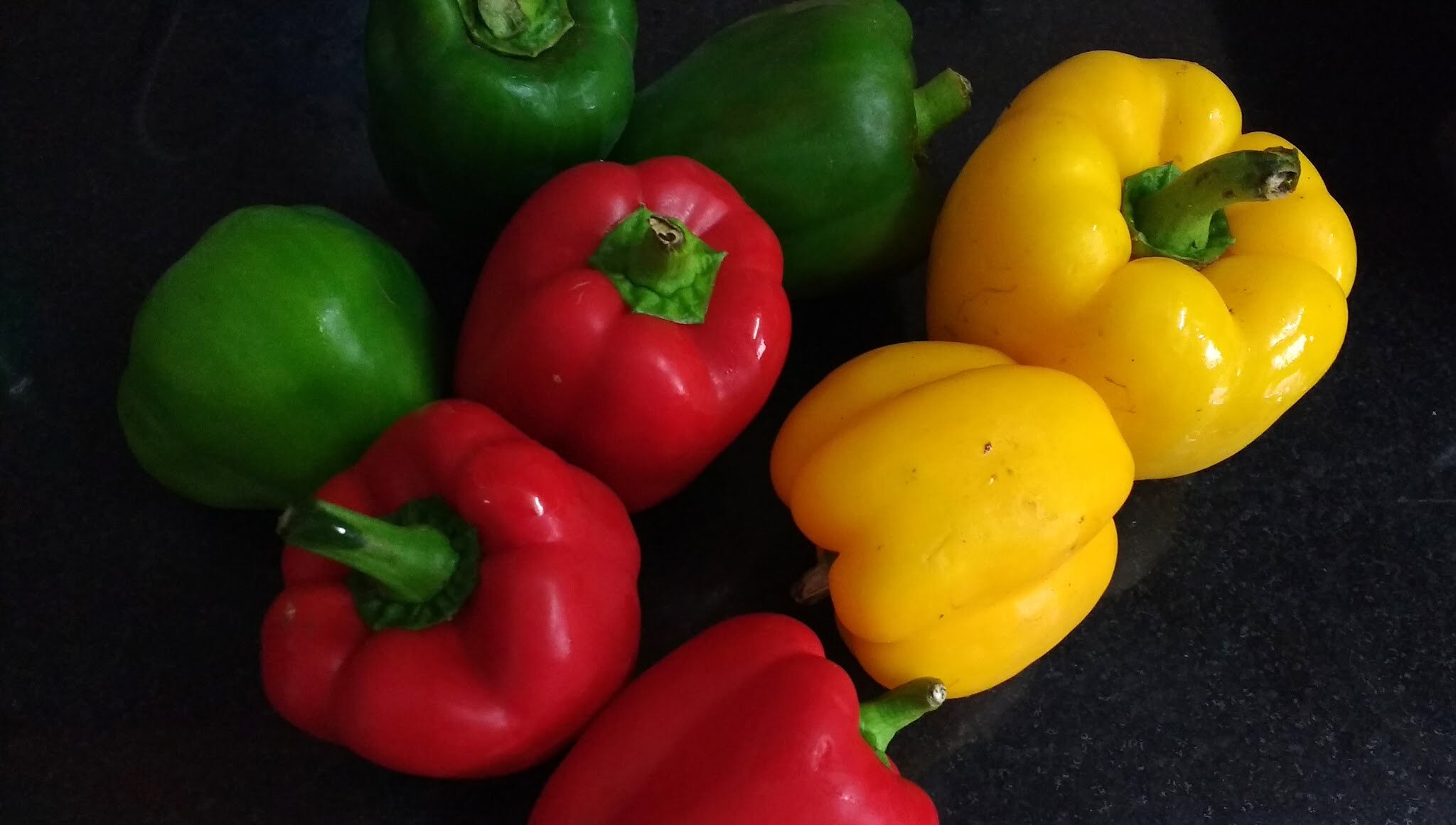 Cut the capsicum horizontally into half inch rings. Here I have used one capsicum of each colour. Whatever capsicum cuttings are left behind you can us them in making bread pizza, sooji toast, poha or mix veg.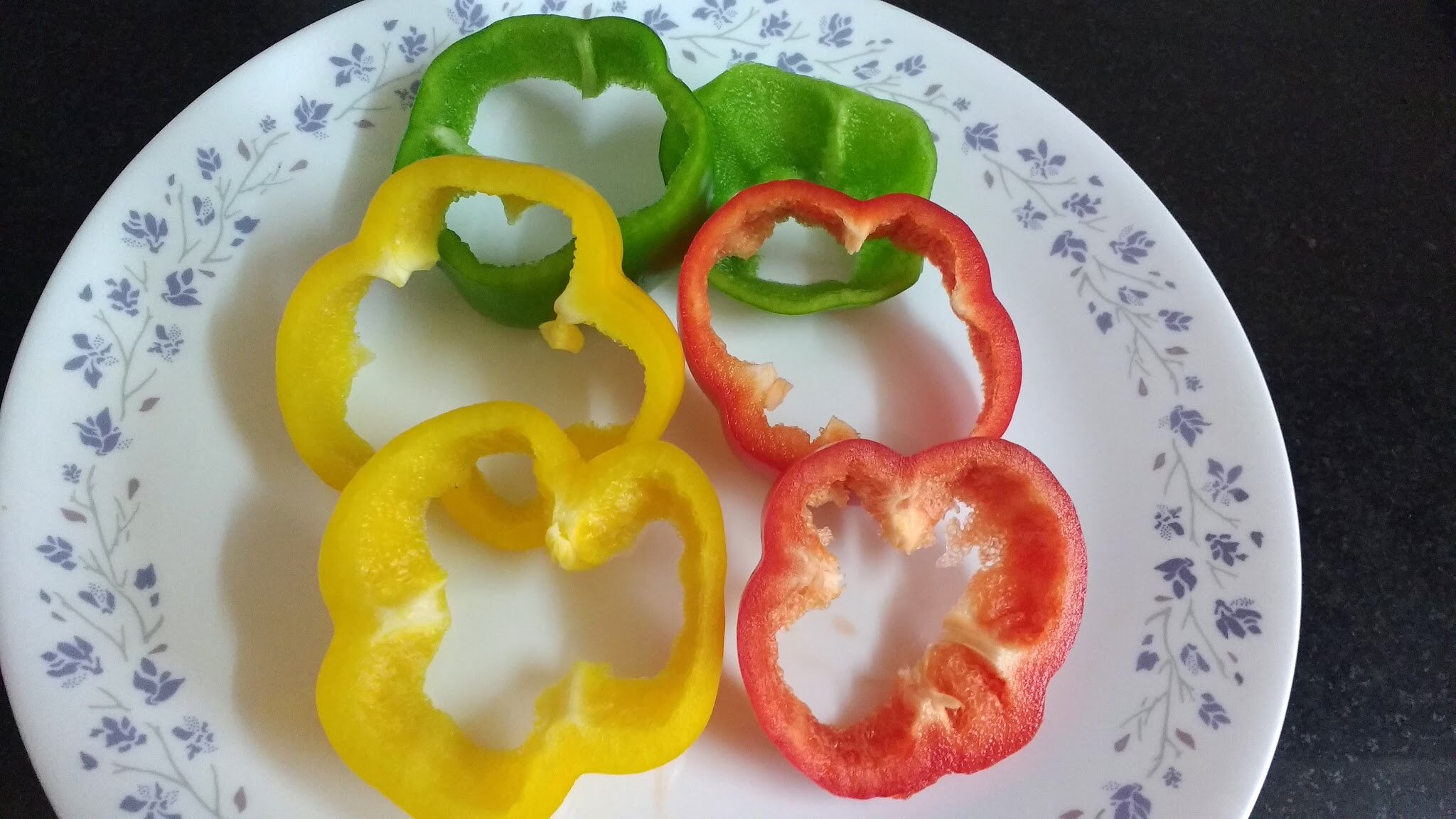 Step 3:
Stuff the mashed potatoes into the capsicum rings levelling it from both the sides.
Step 4:
Brush some oil on a non stick pan and let it heat on low flame for 1 minute.
Step 5:
Gently transfer the capsicum rings on the pan and cover it with a lid.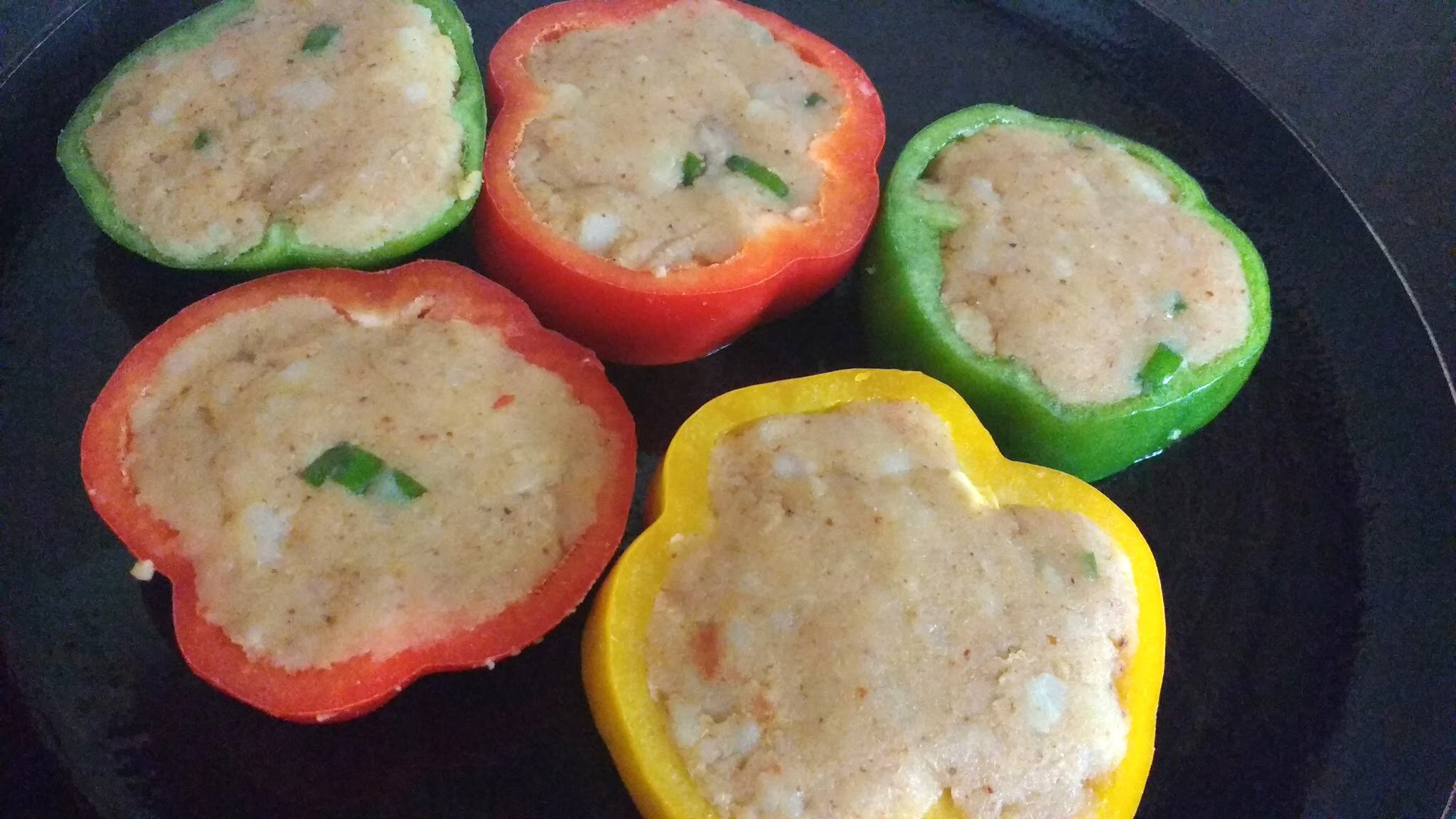 After 3-4 minutes, open the lid and turn around the capsicum rings carefully with the help of a flat spoon or spatula.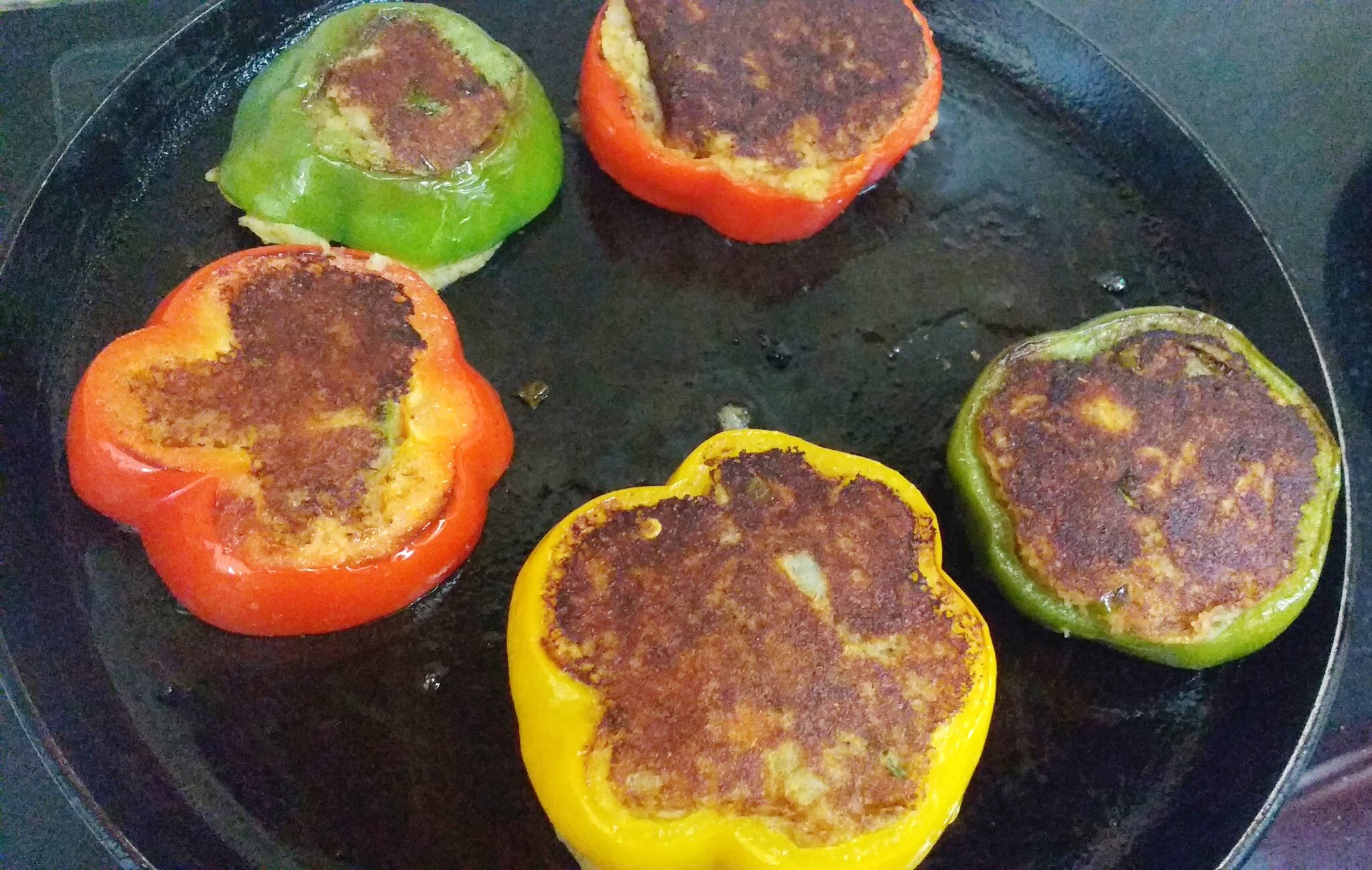 Drizzle some more oil on the pan if required and cook for 4 minutes more without lid. You can increase the cooking time if you want the outer surface to be more crispier and brown.
Golden-Brown yummy Capsicum rings are ready!! Enjoy them as a snack or side dish with Dal-Roti.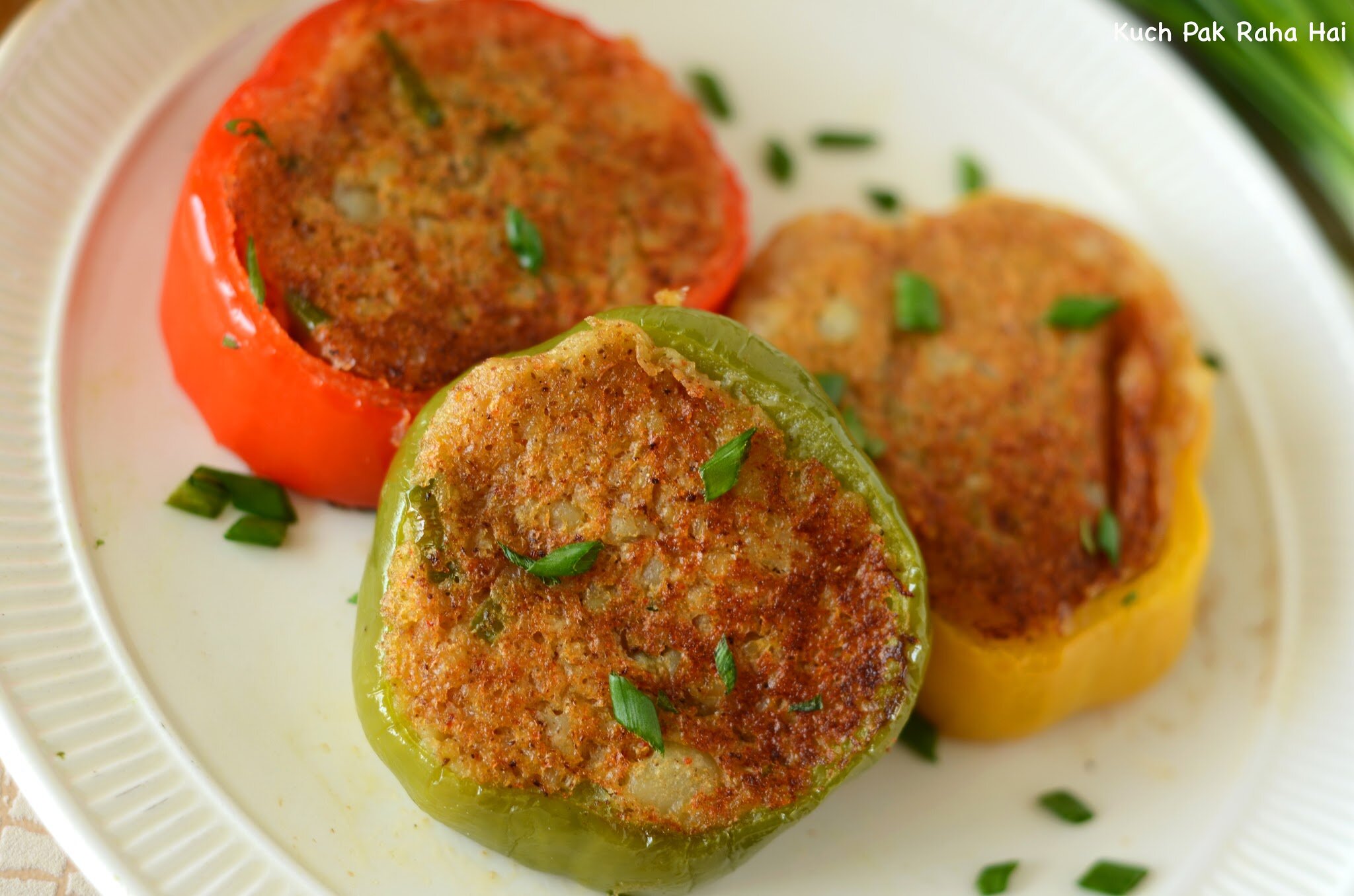 If you try this stuffed capsicum recipe & share pics on social media, then don't forget to tag on Facebook, Instagram or use #kuchpakrahahai.
Let's stay connected
Facebook | Instagram | Pinterest| Youtube