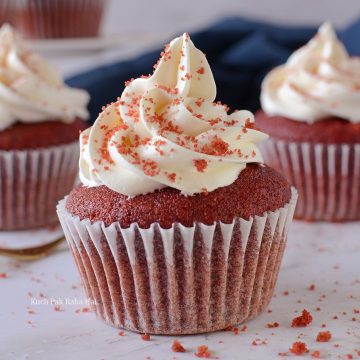 Easy to make, delicious and soft eggless red velvet cupcakes recipe with delectable smooth cream cheese frosting. These are perfect for birthday celebrations, Valentines day, anniversary or in fact I should say they taste so good that you don't need any special occasion to relish these decadent red velvet cupcakes.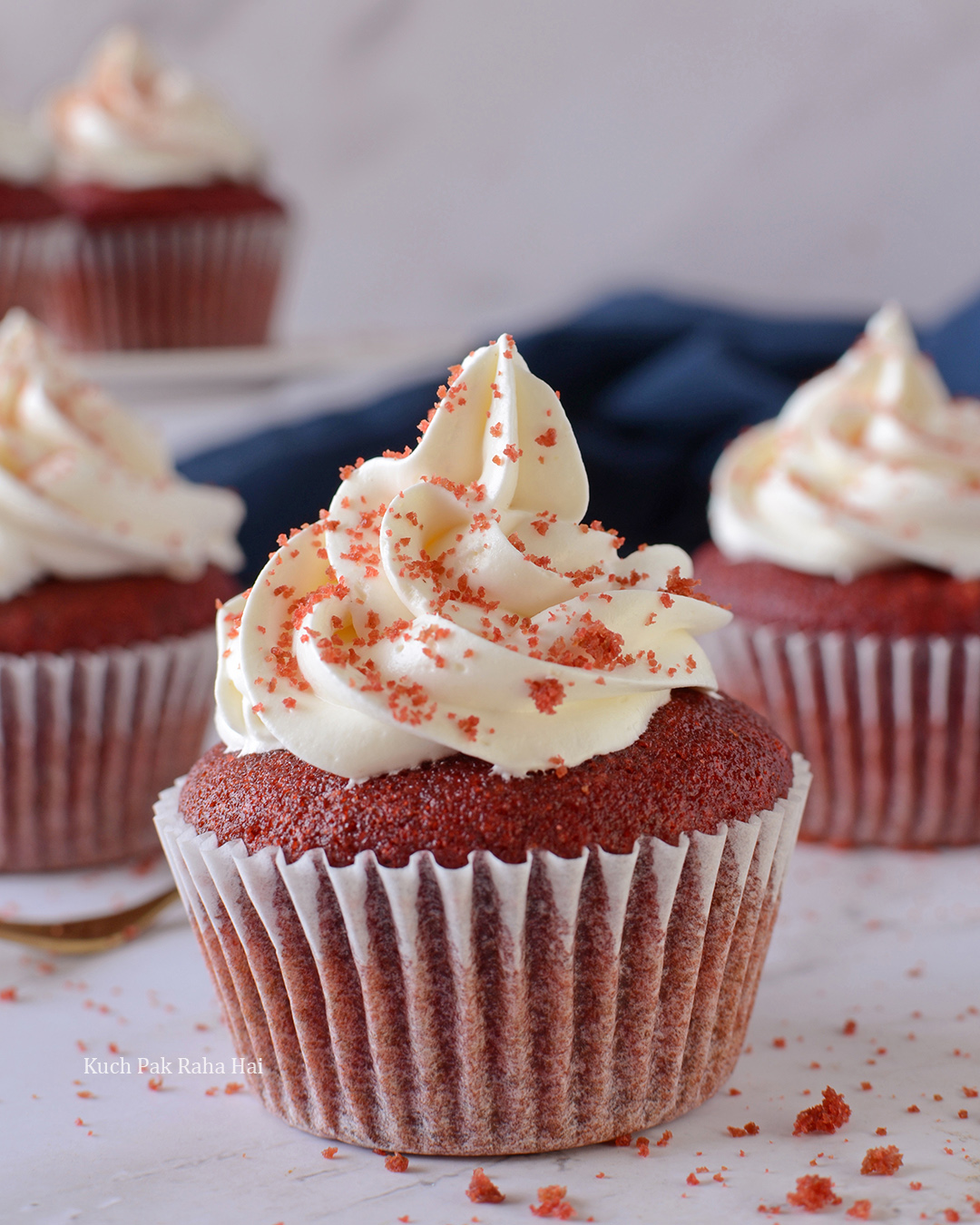 I made these gorgeous looking, egg free red velvet cupcakes on Valentines's day this year. The recipe is very simple and the cupcakes turn out so soft with tender delicate crumbs & smooth velvety exteriors . The luscious, rich & slightly tangy cream cheese frosting elevates the taste manifolds. I could not find time to post a detailed recipe for it last month but then why to wait until next year to post this tasty egg free red velvet cupcakes recipe.
My next favourite cupcakes after chocolate flavour are red velvet cupcakes. I specifically like them with cream cheese frosting instead of butter cream or whipped cream frosting as cream cheese compliments the flavour of red velvet so well. When you are in no mood for simple vanilla & don't want to indulge in chocolate flavour, then these pretty red velvet cupcakes are the best option.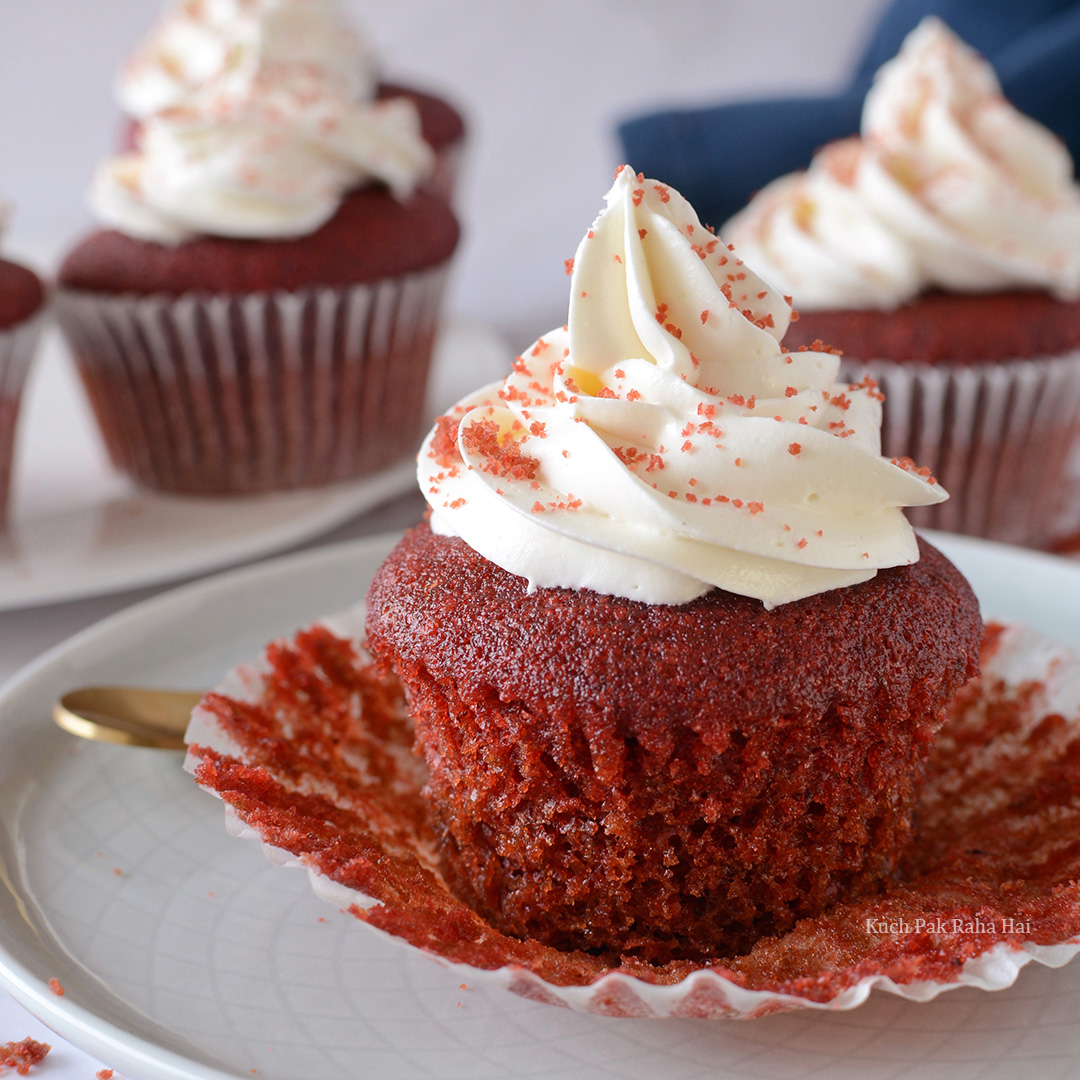 The recipe for these eggless red velvet cupcakes is simple and does not take much time or effort. If you are looking for a quick dessert then you can skip the frosting otherwise I would totally request you to make this easy peasy smooth cream cheese frosting that takes these red velvet cupcakes to another level.
Few Notes about the ingredients used in making these eggless red velvet cupcakes:
Milk : I have used toned milk here in making these cupcakes. I generally avoid using full fat milk as sometimes fat from milk combined with the oil in recipe makes the cupcakes oily.
Cocoa Powder : Little bit of cocoa powder makes so much of difference in these red velvet cupcakes. Use a good quality of cocoa powder for a richer taste and colour. I have used Hershey's unsweetened cocoa powder.
Food Colouring : A few drops of Red Gel food colour has been used in this recipe. I have shared amazon link for the same in the end of the post.
Oil : Use any colourless or flavourless oil of your choice in making these red velvet cupcakes. I have used sunflower oil here.
Icing Sugar : For cream cheese frosting, using icing sugar is always a better option as it gives more stability to the frosting. However, if you don't have it, you can replace it with powdered sugar.
Whipped Cream: I have used Tropolite brand whipping Cream which is already sweetened. If you are using unsweetened variety, increase the amount of sugar accordingly.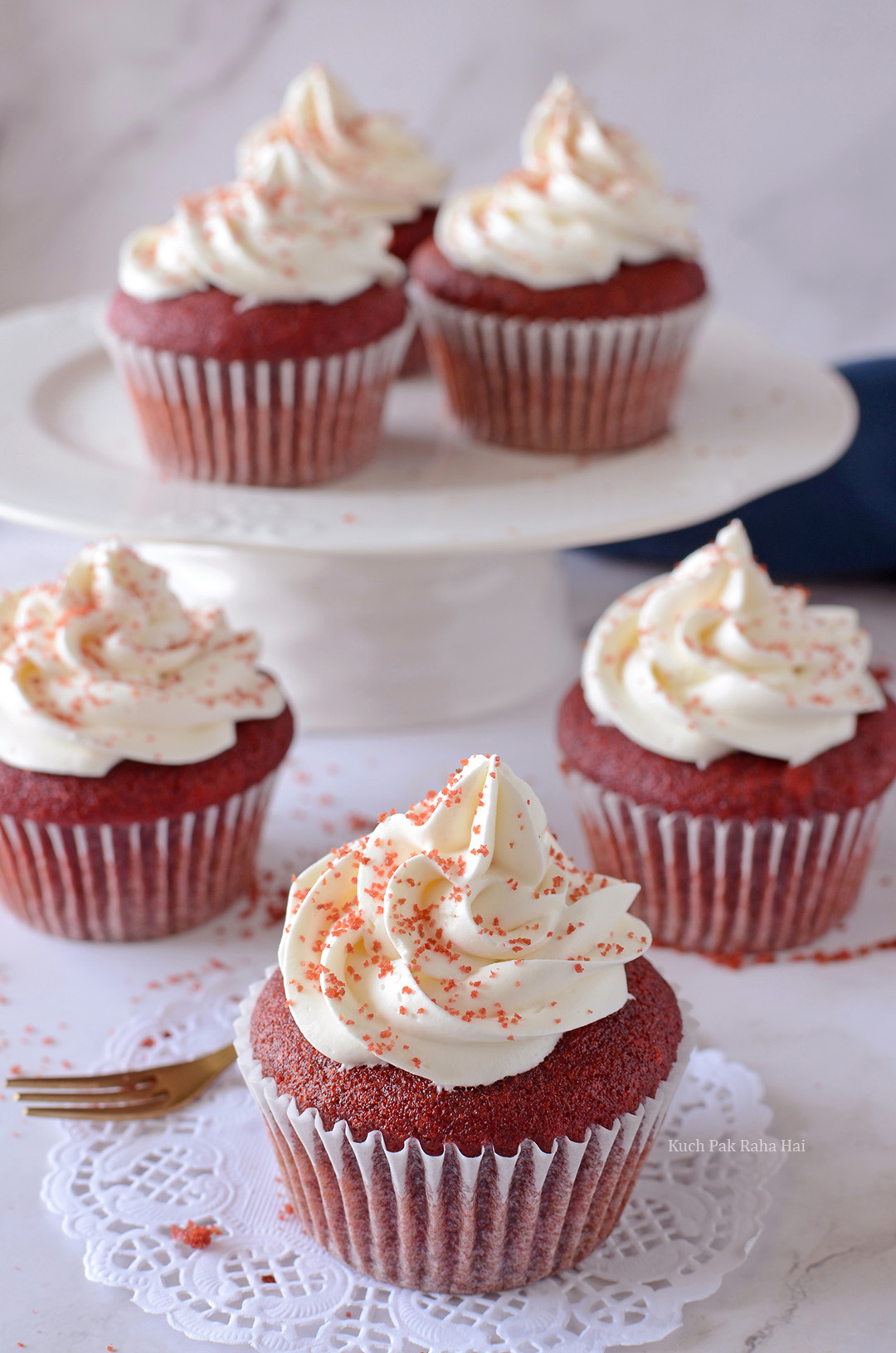 Why are we adding cocoa powder in red velvet cupcakes?
People often use only red colour in making these red velvet cupcakes, thus rendering a bright red colour to them. However, traditionally they are supposed to be maroon in colour having a velvety texture because of the use of cocoa powder & its reaction with other ingredients. In this recipe a bit of food colour is used along with cocoa powder to get that lovely maroon colour and velvety smooth texture which totally justifies the name 'red velvet'.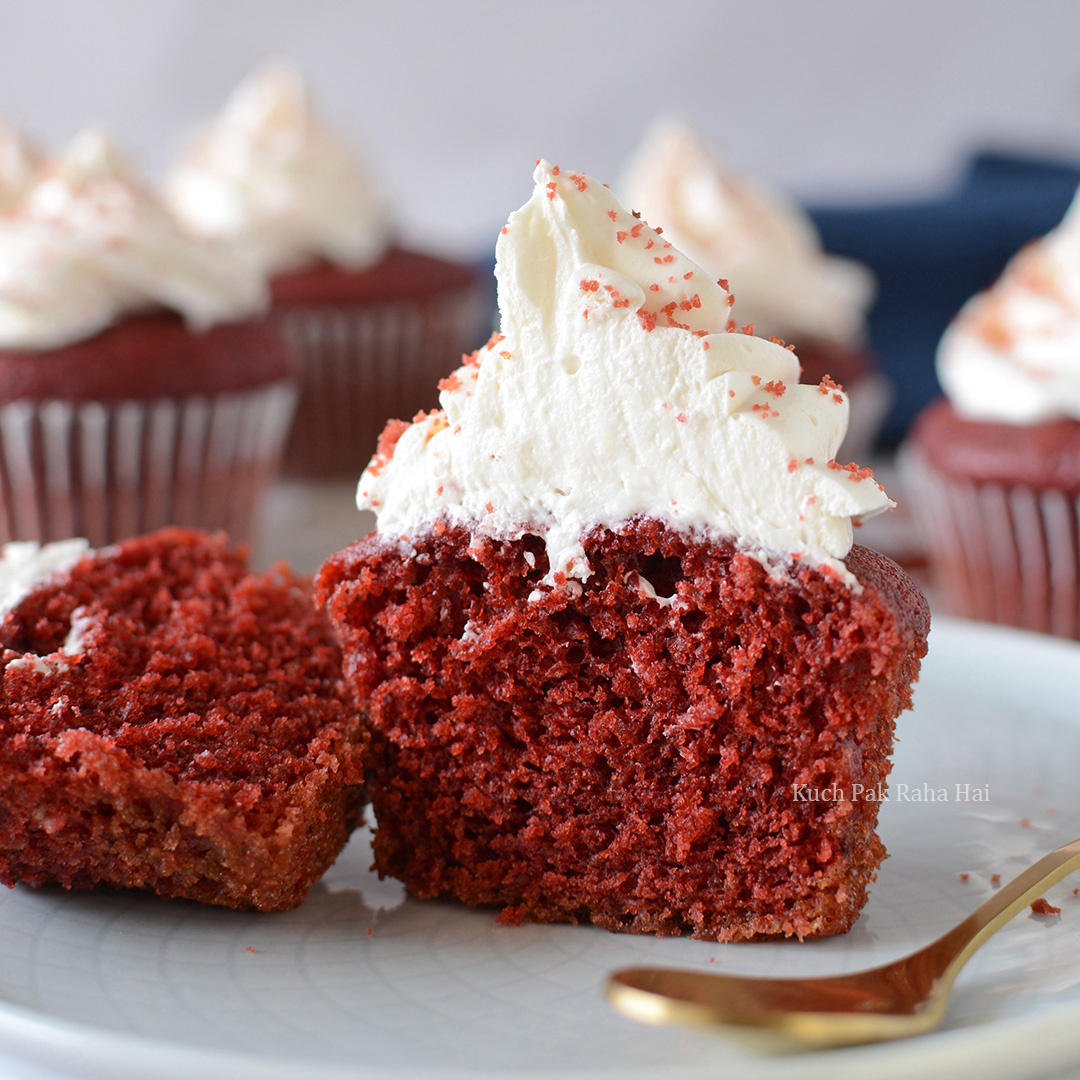 I have also shared few tips at the end of the post which will definitely help you in nailing these red velvet cupcakes in first attempt. You can also check out the video for this recipe on our youtube channel.
Watch here :
List of Ingredients: (Makes 7 cupcakes)
All Purpose Flour (Maida) – 1 cup
Cocoa powder-2 tsp
Granulated Sugar-1/2 cup
Baking Soda- 3/4 tsp
Warm Milk – 2/3 cup
Vinegar-2 tsp
Red Gel Food Colour- 1/8 tsp
Oil- 1/3 cup
Vanilla Extract-1 tsp
Salt-1/8 tsp
For Cream Cheese Frosting:
Cream Cheese-1/4 cup
Icing Sugar-4 tsp
Whipped Cream*-1/2 cup (sweetened)
Vanilla Extract-1/4 tsp
Note :
*Cream was first whipped & then measured.
Steps To Prepare:
Step 1:
Sieve flour, cocoa powder, baking soda and salt together. These are the dry ingredients of the recipe. Keep them aside. Sieving is done to make sure there are no lumps left in flour.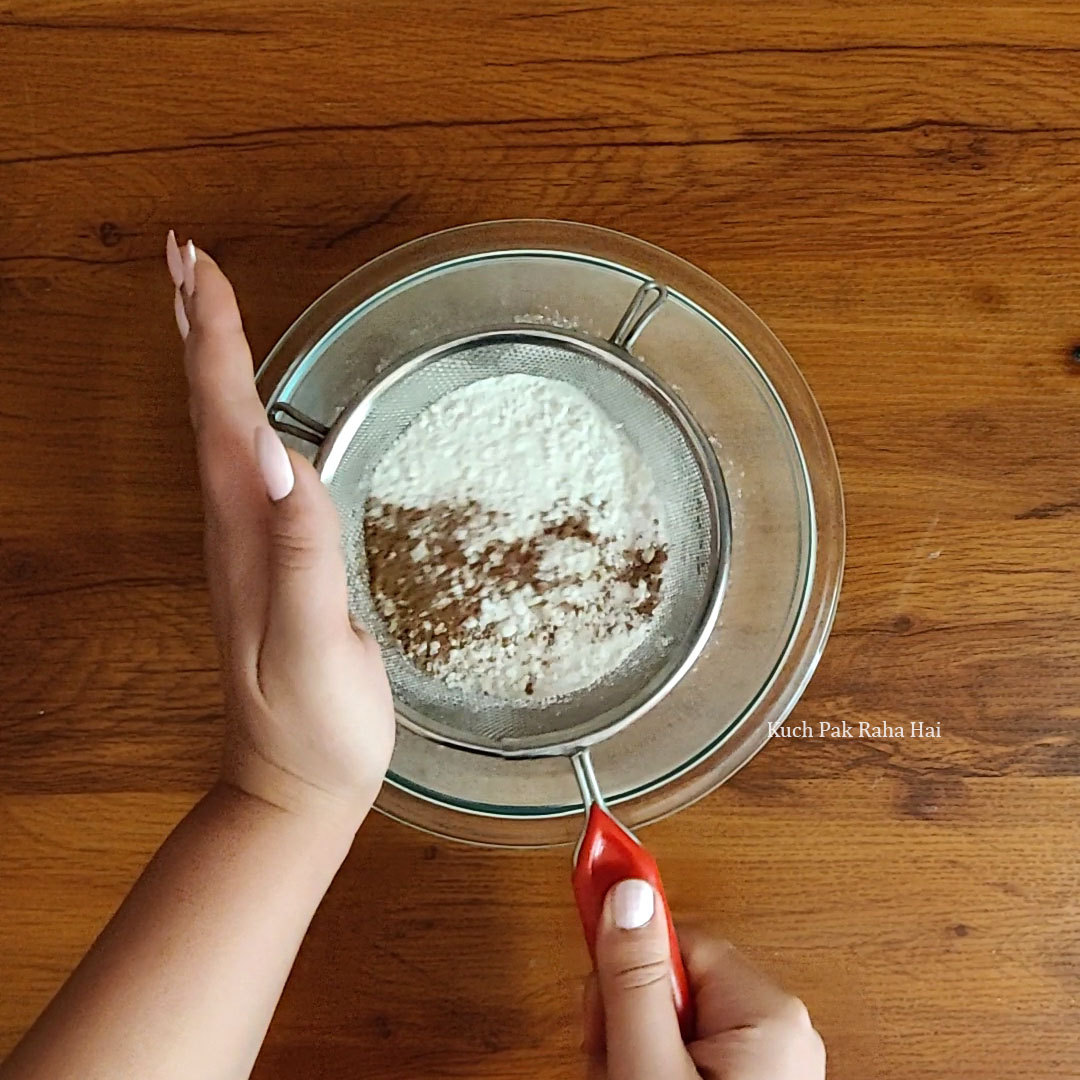 Step 2:
Take warm milk in a bowl and add vinegar to it. We will rest this mixture for 15 minutes. After sometimes you will notice the mixture will begin to curdle.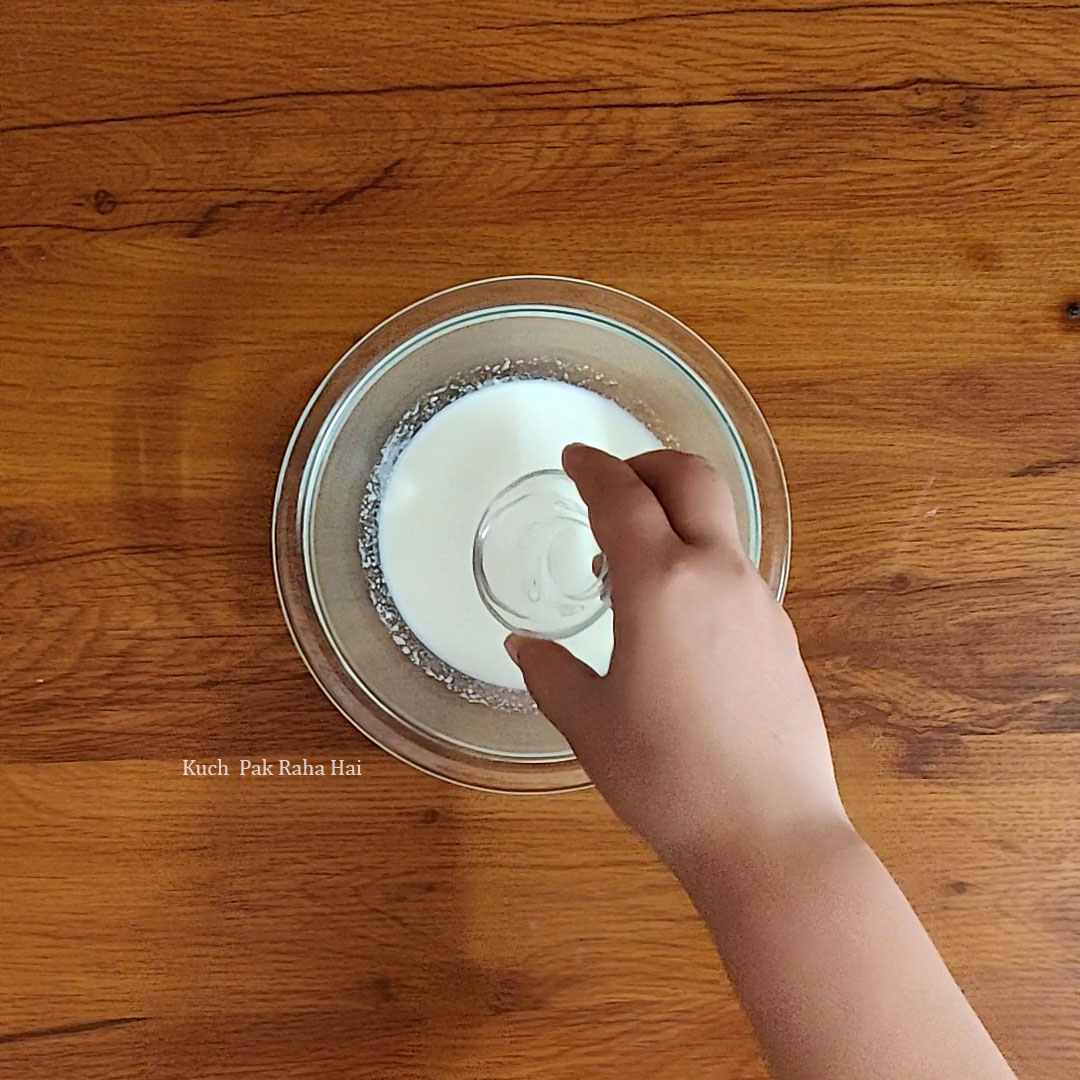 Step 3:
In a large mixing bowl take (milk + vinegar) mixture. Add sugar to it and start whisking till sugar is completely dissolved.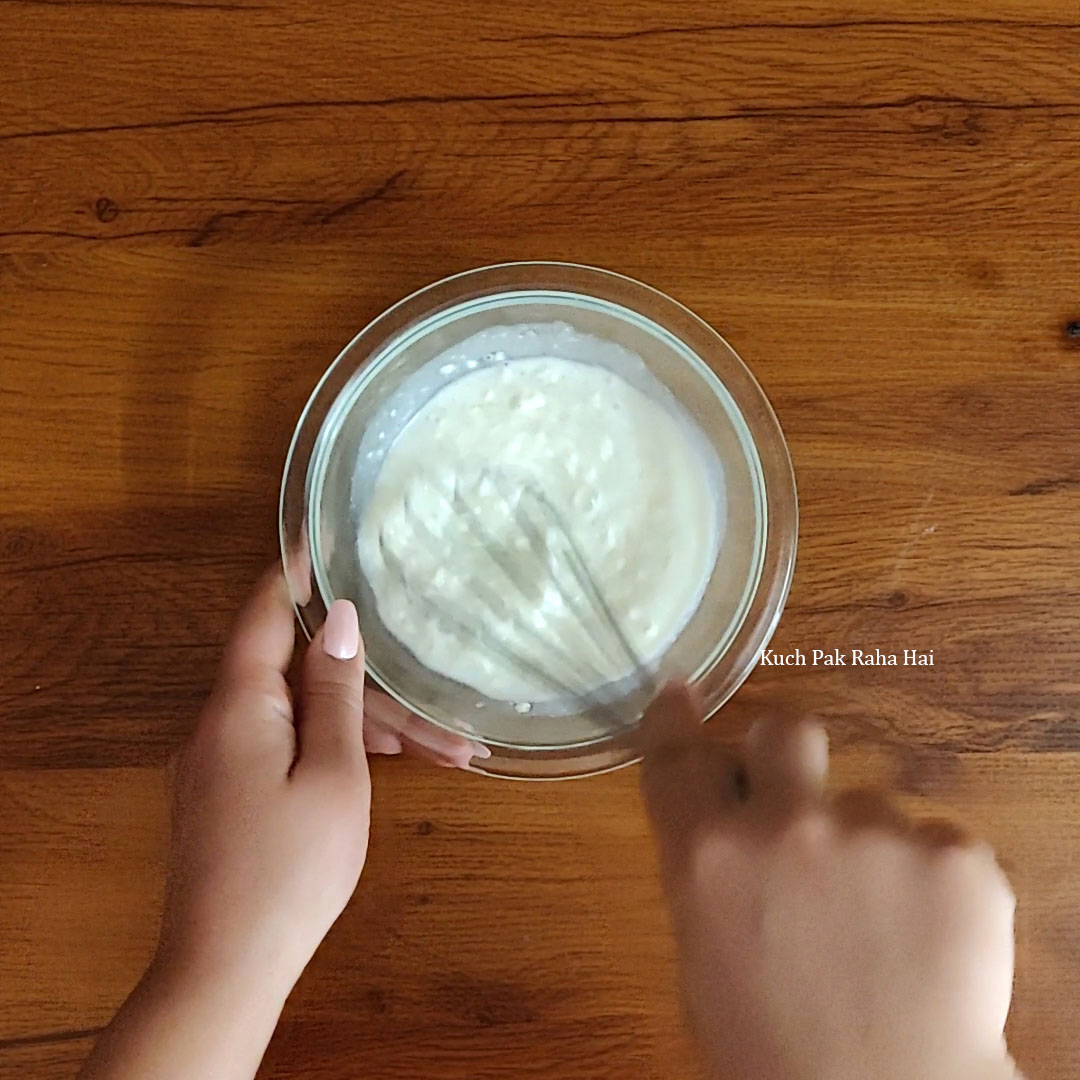 Add oil, red gel food colour and vanilla extract to it. I added roughly 4 to 5 drops of red gel food colour. Mix well. At this stage you will get an idea about the colour of red velvet batter. If required you can increase quantity of food colour used. Mix well.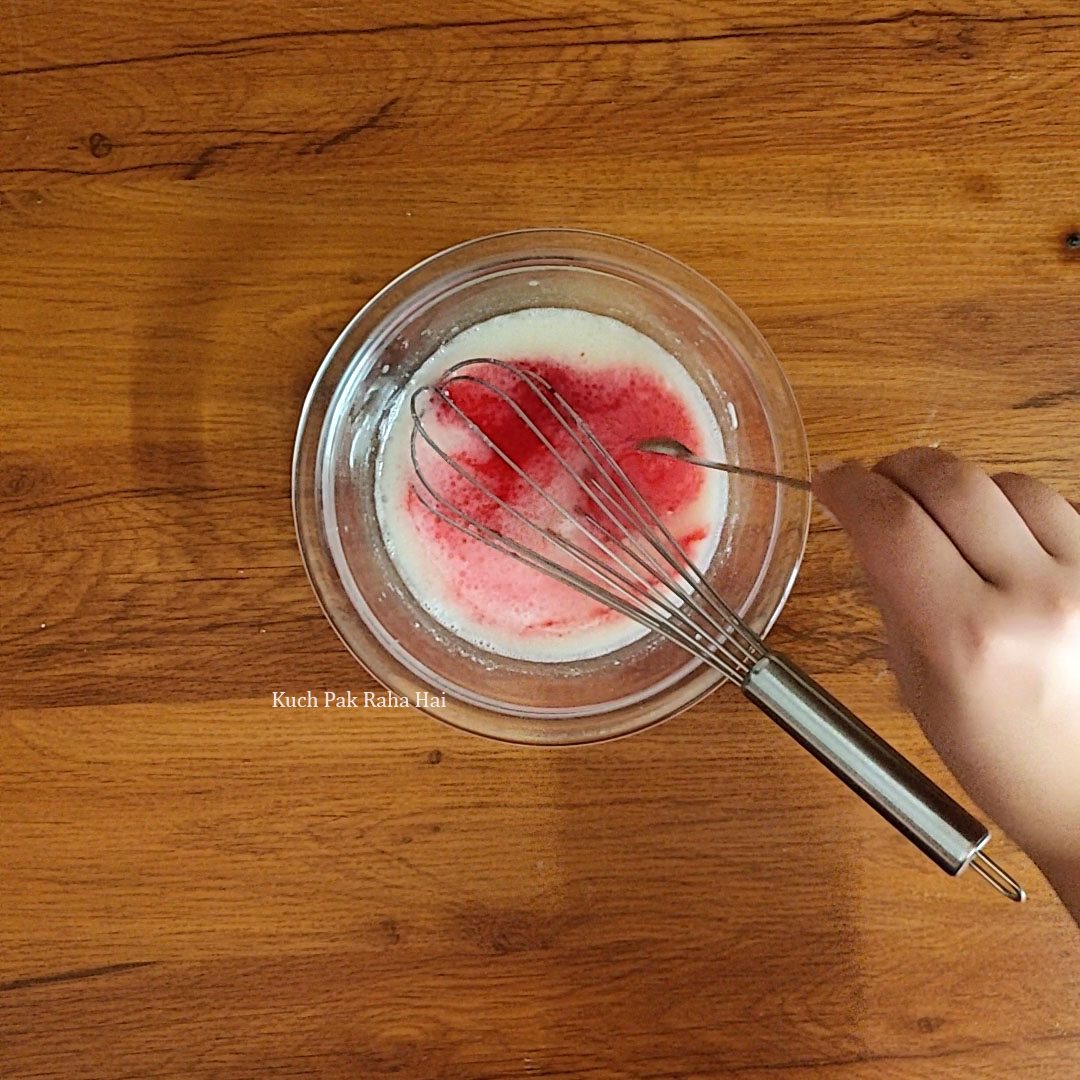 Step 4:
Before we start preparing the batter, pre-heat the oven at 180 degree Celisus. By the time oven is preheating let's move to next step.
Step 5:
Add the sieved dry ingredients into the above mixture in batches of two. Fold the batter gently and don't mix too vigorously as we don't want to incorporate too much air into the batter.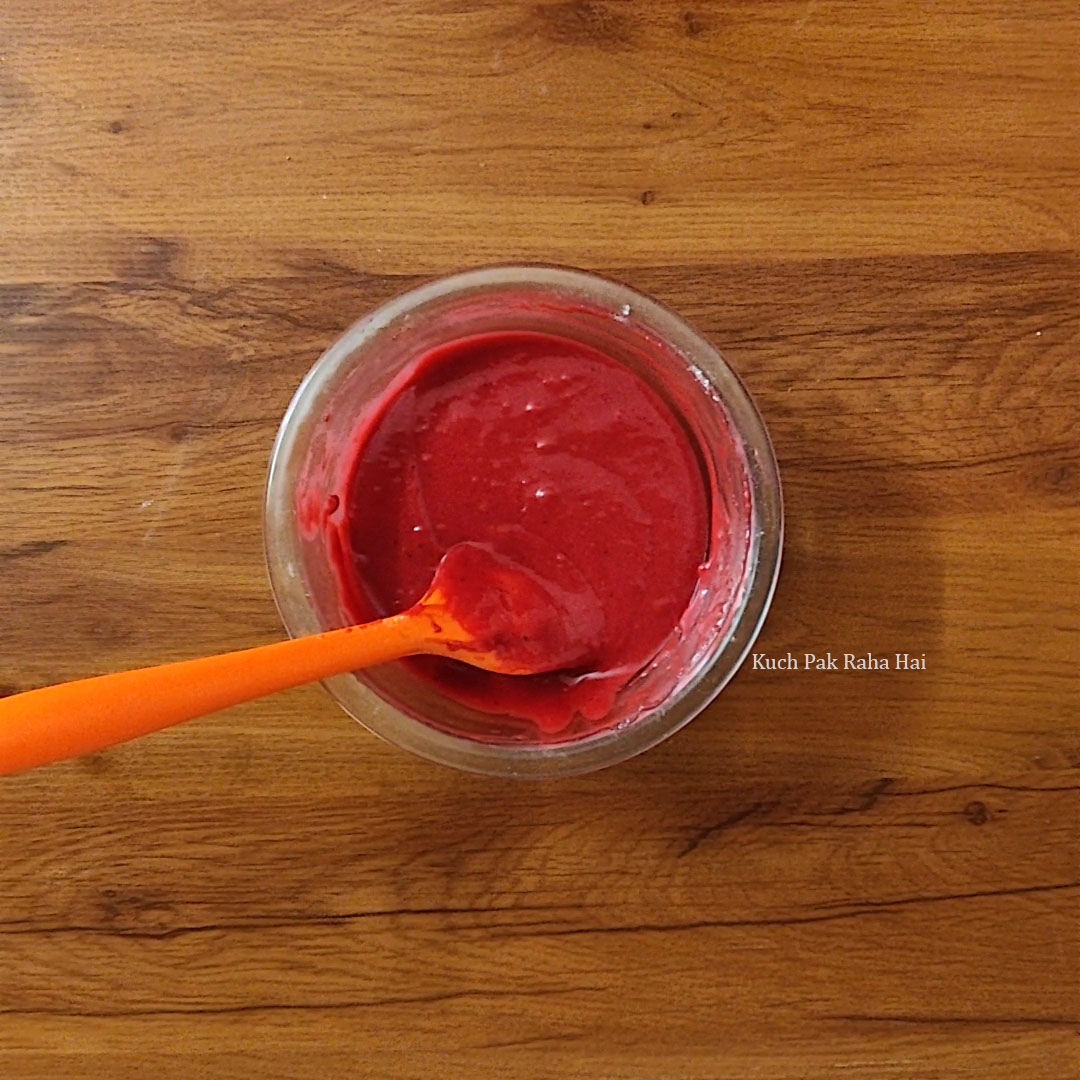 Step 6:
Line your muffin tray with liners and add the cupcake batter to it such that each liner is filled to 2/3rd of its capacity.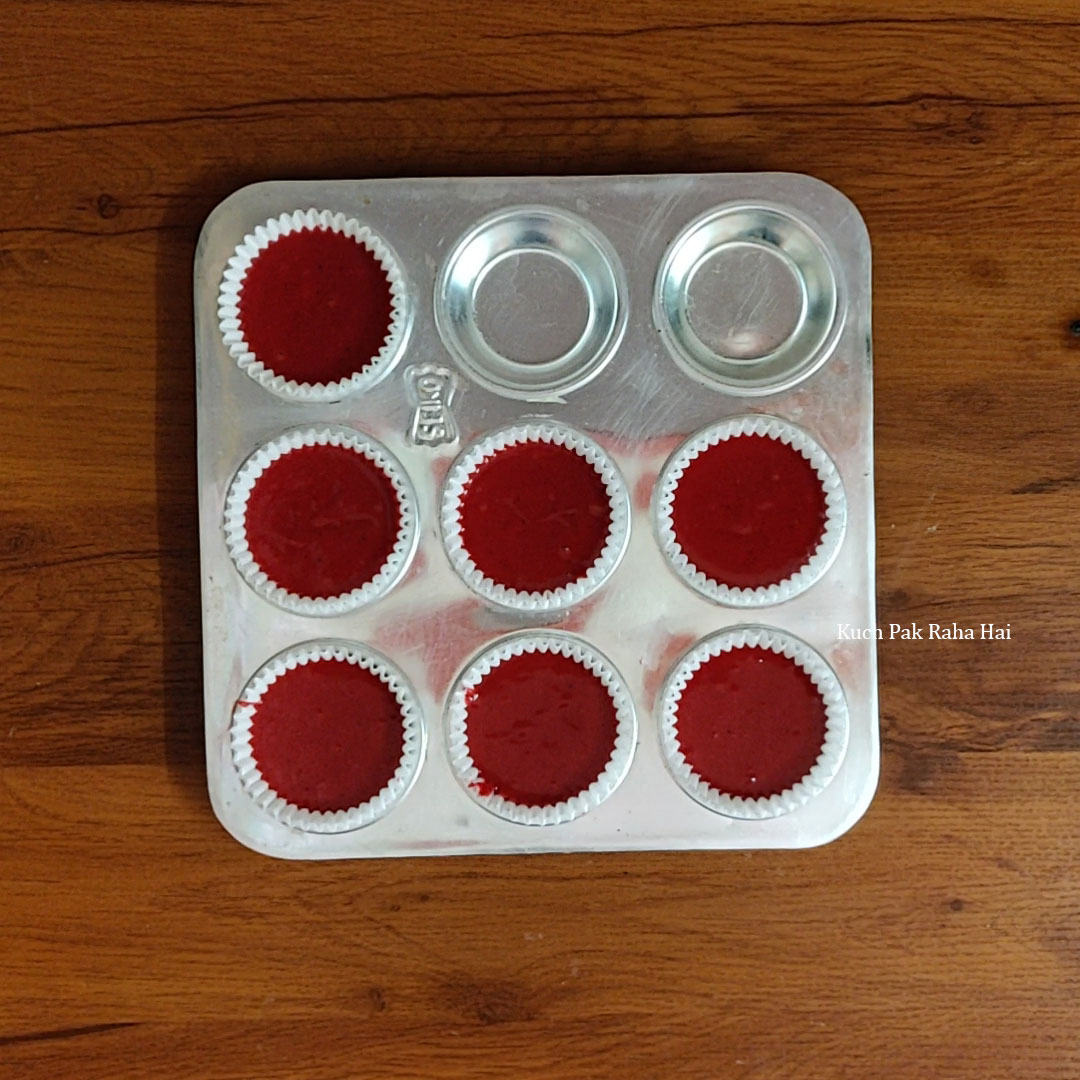 Step 7:
Bake these muffins at 180 degree Celsius for 18 minutes. Once the baking time is over, check the centre of cupcakes using a skewer or knife. If you notice some batter on its tip, bake for 2 more minutes.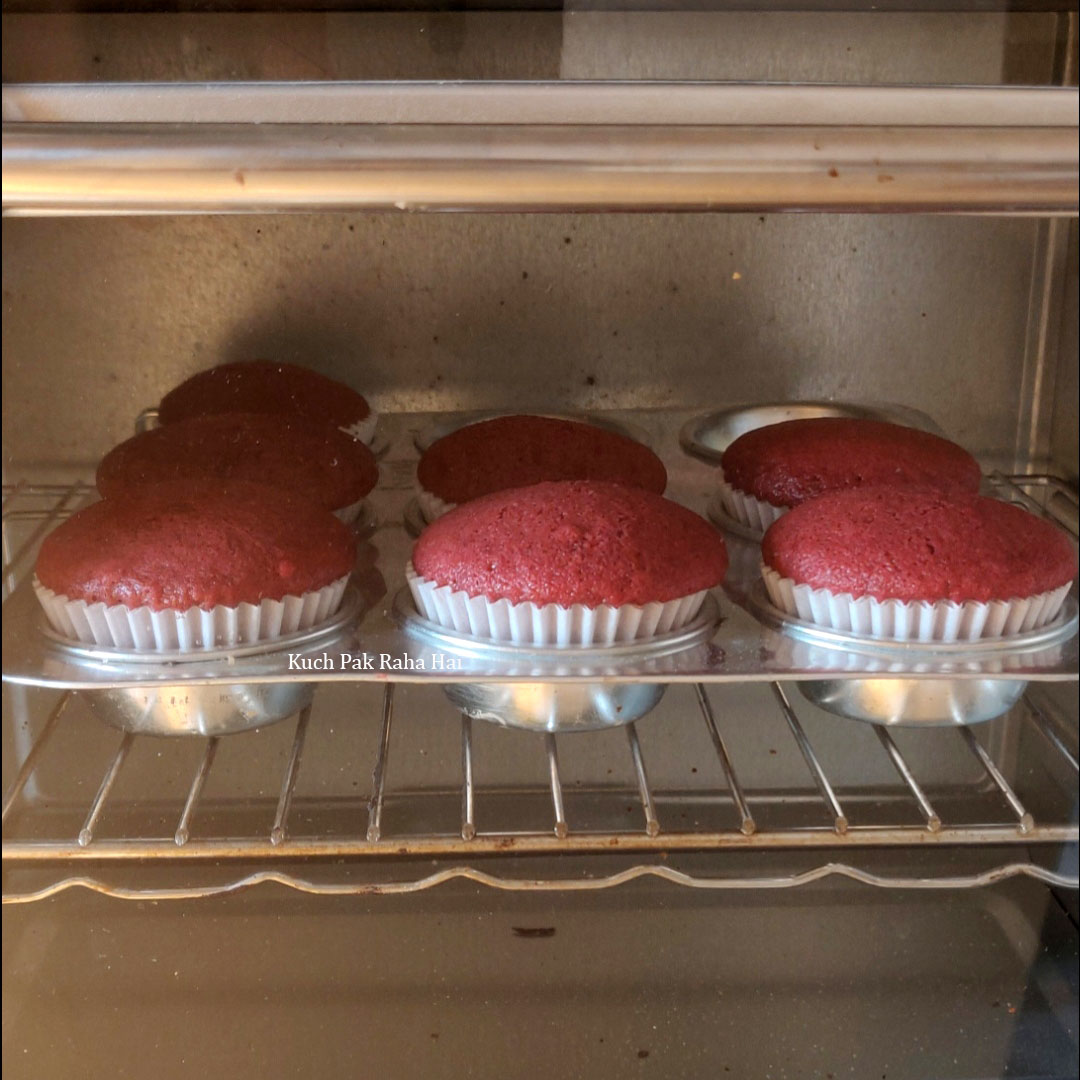 Let these red velvet cool down completely on a wire rack, By the time they are cooling, lets prepare cream cheese frosting.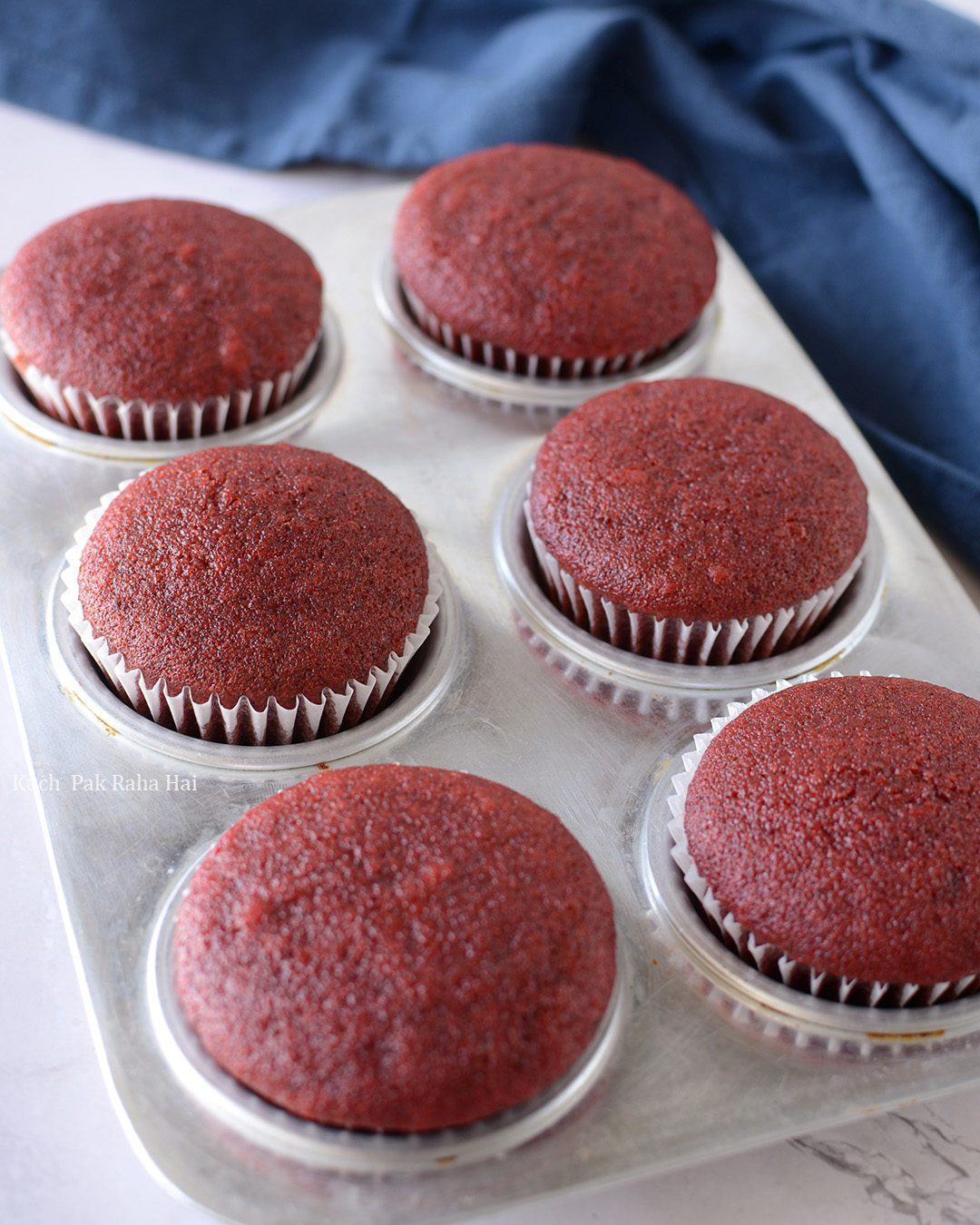 How to make Cream Cheese Frosting for Cupcakes?
I have used already whipped & sweetened cream. If you are whipping cream from scratch, take 3-4 tbsp of cream and start whipping it using a electric or hand whisker till it doubles up in volume. Keep this whipped cream aside.
In a big mixing bowl, add cream cheese and start whisking it. After a minute, start adding icing sugar to cream cheese gradually. Then add Vanilla extract to it. Once the cream cheese becomes light, add whipped cream to it. Whisk this frosting for 1-2 minutes more. Once ready, chill this frosting in refrigerator for 30 to 40 minutes.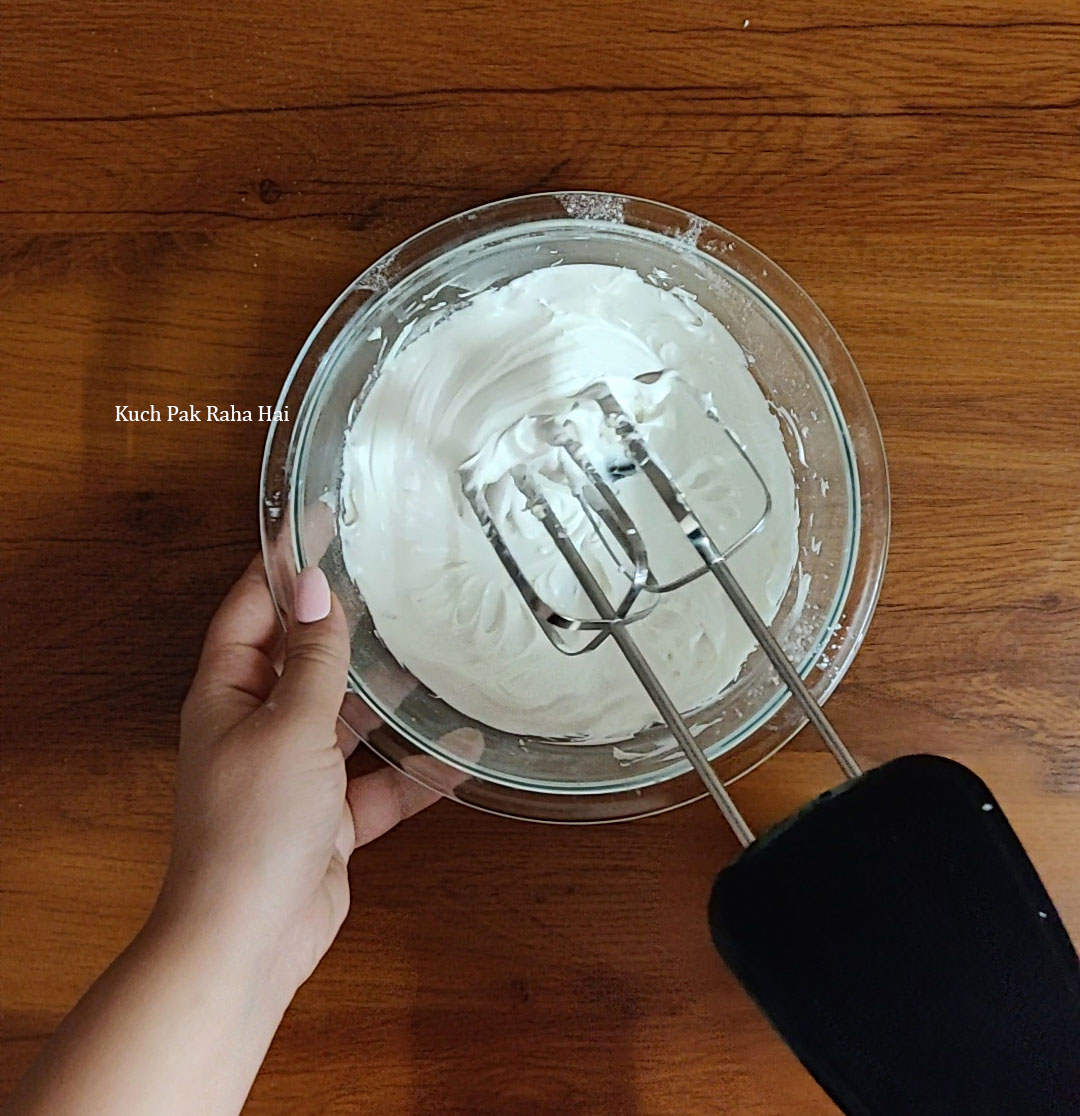 Transfer this cream cheese frosting in a piping bag with a Star nozzle. Pipe this frosting on red velvet cupcakes. You can refer to the video to see the exact procedure.
I like to chill these cupcakes for 15-20 minutes before serving but can be served straightaway too. You can add some heart shaped sprinklers on top or make crumbs from one of the muffins and sprinkle them on top.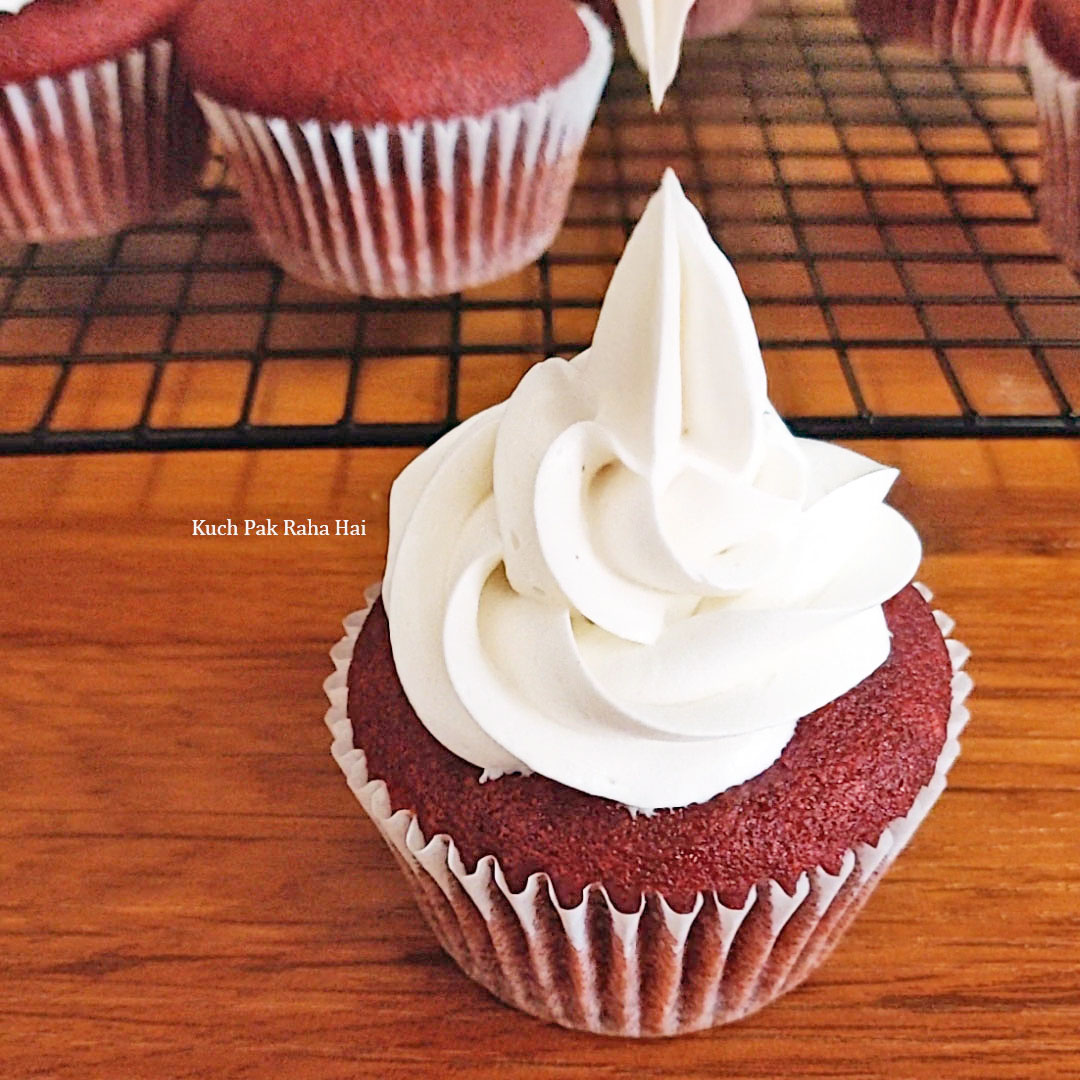 Enjoy these soft yummy red velvet cupcakes with this absolutely delightful cream cheese frosting.
Pin it here: https://pin.it/4foFJUL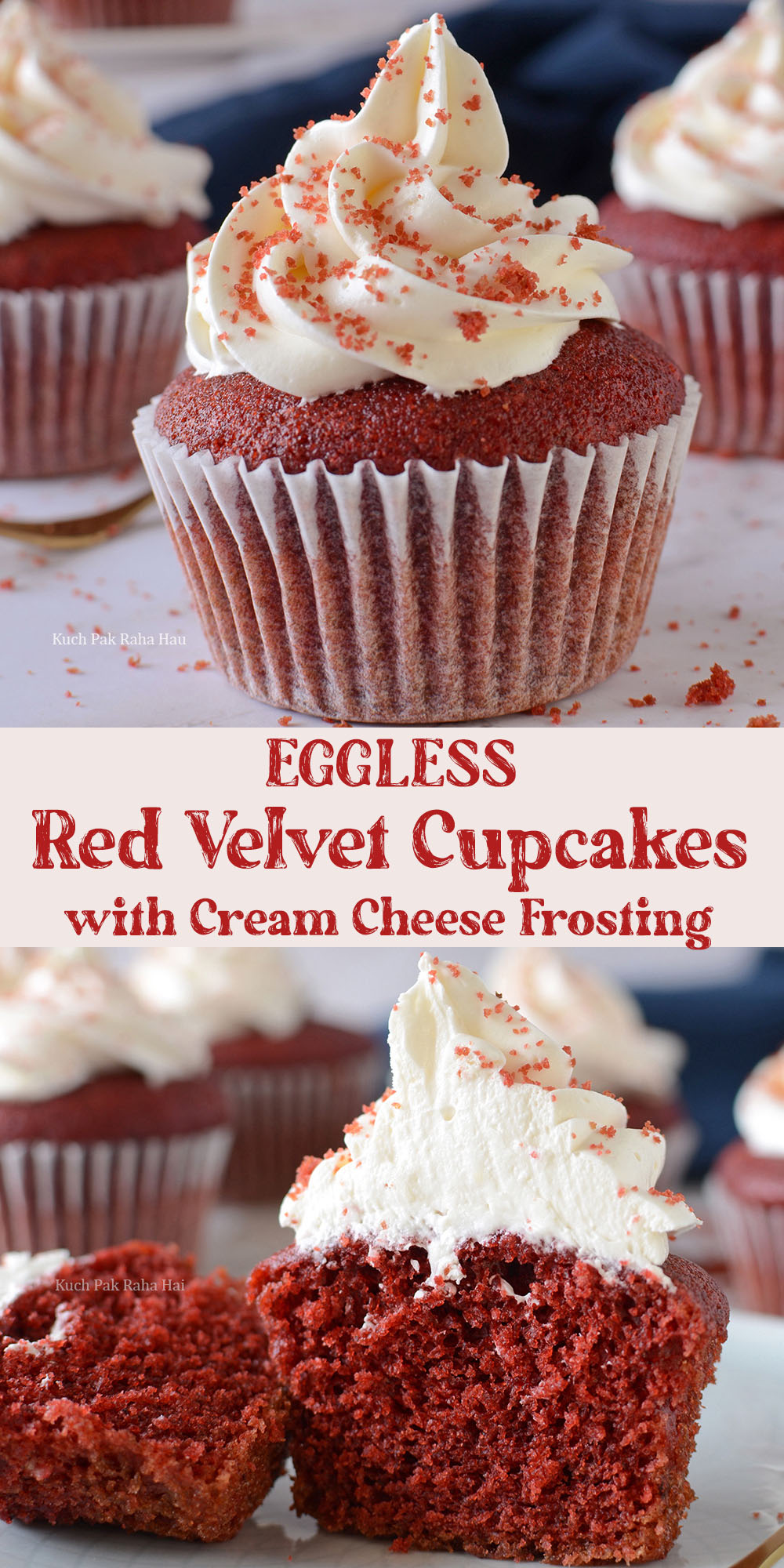 Tips:
1. Do chill the frosting before you start piping it. It makes the piping process easier & gives cleaner results.
2. Let the muffins cool down before you put frosting on them.
3. If you are using dairy whipping cream then make sure it is completely chilled before you start whipping it.
4. The whipped cream I have used here was already sweetened. If you are using unsweetened variety then increase the quantity of sugar accordingly.
Can these red velvet cupcakes be made using whole wheat flour?
Whole wheat flour renders a more dense structure to baked goods. Also, you might have to increase the liquid ingredients little bit. You can use half APF (Maida) and half whole wheat flour also.
What is the substitute for red gel food colour in red velvet cupcakes?
You can use beetroot powder to give colour to these red velvet cupcakes. Though the hue might not exactly be red but it is a great option if you are trying to avoid artificial food colour.
Baking Products Used:
(P.S: The above links are amazon affiliate links. Please refer to the privacy policy page for more details.)
More Eggless Muffins/Cupcakes you might like:
Let's stay connected
Facebook| Instagram| Pinterest| Youtube