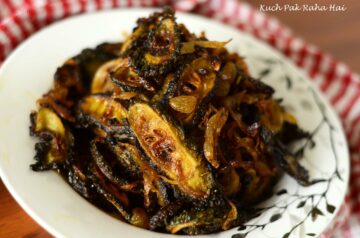 Crispy karela is a delicious flavourful Indian vegetarian dish made with bittergourd (karela), onion and few spices. It can be enjoyed with roti, paratha or served as side dish with everyday meals.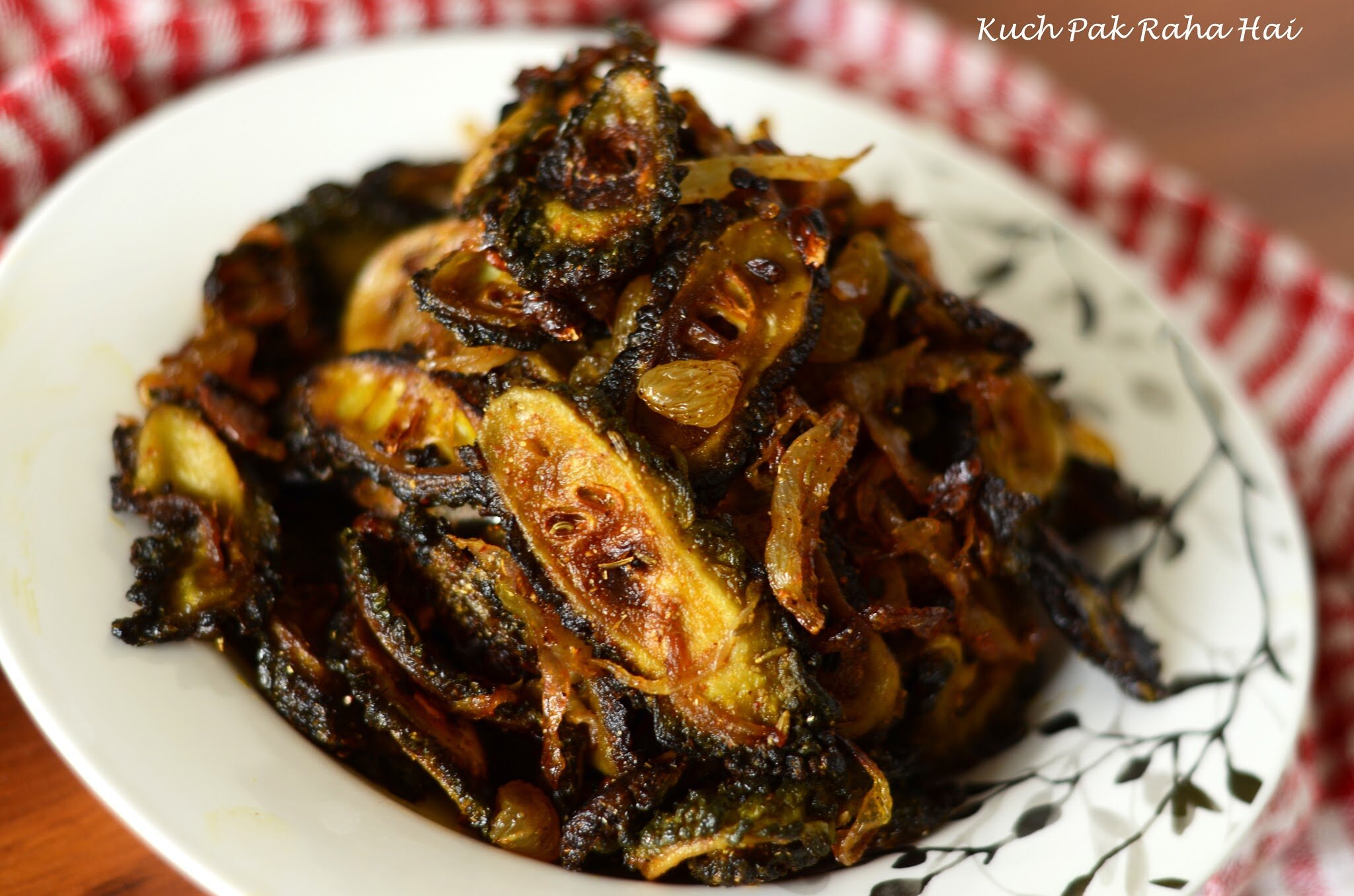 Karela is known as bitter gourd or bitter melon in English. It is a rich source of antioxidants, aids in digestion, acts as a blood purifier and beneficial for constipation patients when consumed regularly.
The crispy karela recipe shared here is:
Vegetarian
Vegan (Dairy free)
Gluten free
Healthy & tasty
Many people dislike karela or bitter gourd because of its bitter taste. Personally, it is one of the recipes in my favourite list. This is my mom's crispy karela recipe which wonderfully balances the bitterness of karela with sweetness from raisins and caramelised onions.
Apart from it, little amount of potato mash can also be added but it is totally optional. I would recommend adding potato to the dish if you are trying to make your kids eat this dish or for someone who is trying it for first time.
This dish is made specifically in mustard oil as it really suits the overall flavour combinations of this dish. Apart from the usual spices like coriander powder, red chilli powder; fennel or Saunf powder is also added which imparts mild sweetness to the palate at the end of every bite.
The recipe is quite simple and does not take much preparation time. If you are not adding potatoes in this recipe, you can easily store it in refrigerator for 3-4 days (which is what I generally do!!).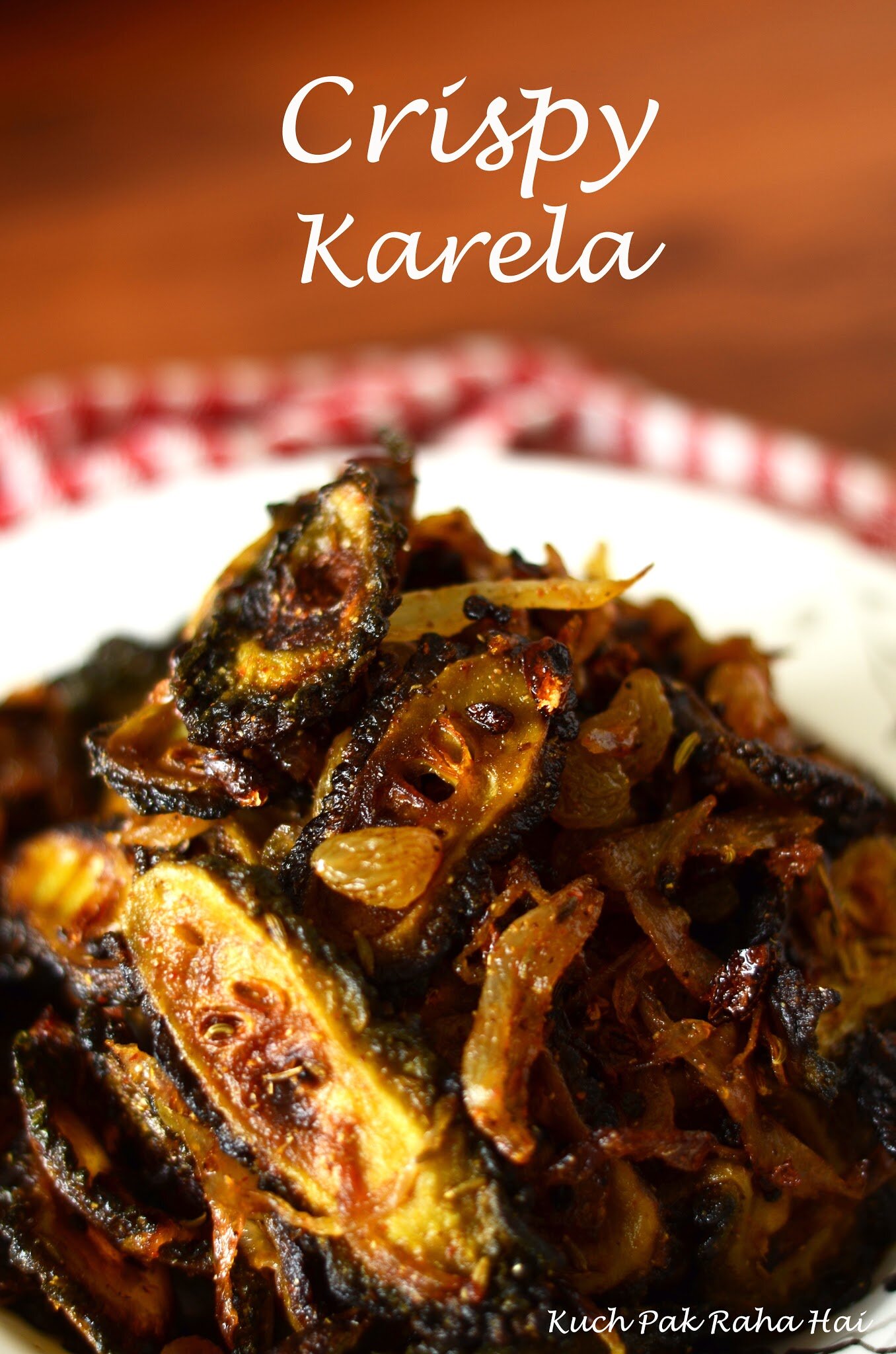 Other Indian recipes you might like:
Hope you would like this easy crispy karela recipe. 
Ingredients: (Serves 3-4)
Medium Sized Bitter gourd- 4
Medium sized onion- 2
Small Boiled Potato- 1 (optional)
Mustard Oil- 4 tbsp
Salt- 1/2 tsp (to taste)
Turmeric powder (haldi)- 1/2 tsp
Red Chilli Powder- 1/2 tsp
Coriander Powder- (1 + 1/2) tsp
Fennel (Saunf) Powder- 1 tsp
Dry Mango Powder (Amchoor)-1 tsp
Raisins (Kishmish)- 2 tbsp
Directions:
Step 1:
Wash the Karela (bitter gourd) thoroughly. Slice them horizontally keeping the knife slightly angled so that you get elongated slices. Sprinkle some salt over it. Let it stand like this for half an hour.
Step 2:
After half an hour you will notice that karele slices have started releasing water. Wash the slices under running water and squeeze them using hands or wrap them in kitchen cloth and then squeeze. This step is necessary for removing the bitterness of bitter gourds (Karele). Keep them aside.
Step 3:
Heat mustard oil in a heavy bottomed pan. Cut the onion into half and chop into fine slices. When the oil is hot add onion slices to it. Let them fry on medium-high flame till there ends start turning brown. Stir them in between.
When the onions start turning golden brown, take them out of pan and place them on a tissue paper. Keep these fried onions aside.
Step 4:
In the same oil, fry the bitter gourd slices on medium-high flame. 
When the slices start turning brown from edges, turn the heat to low. Let these slices become crisp on low flame.
Step 5:
Mash the potatoes roughly using hands or knife. Once the karela slices turn crisp, add this mashed potato to it. Add salt and all the spices to it. Mix well. Let it roast for 1-2 minutes.
Step 6:
Add the fried onions and raisins (kishmish) to it. Mix well once again. 
After cooking for 1-2 minutes more, turn off the heat. Enjoy crispy karela with some hot chapati or parathas.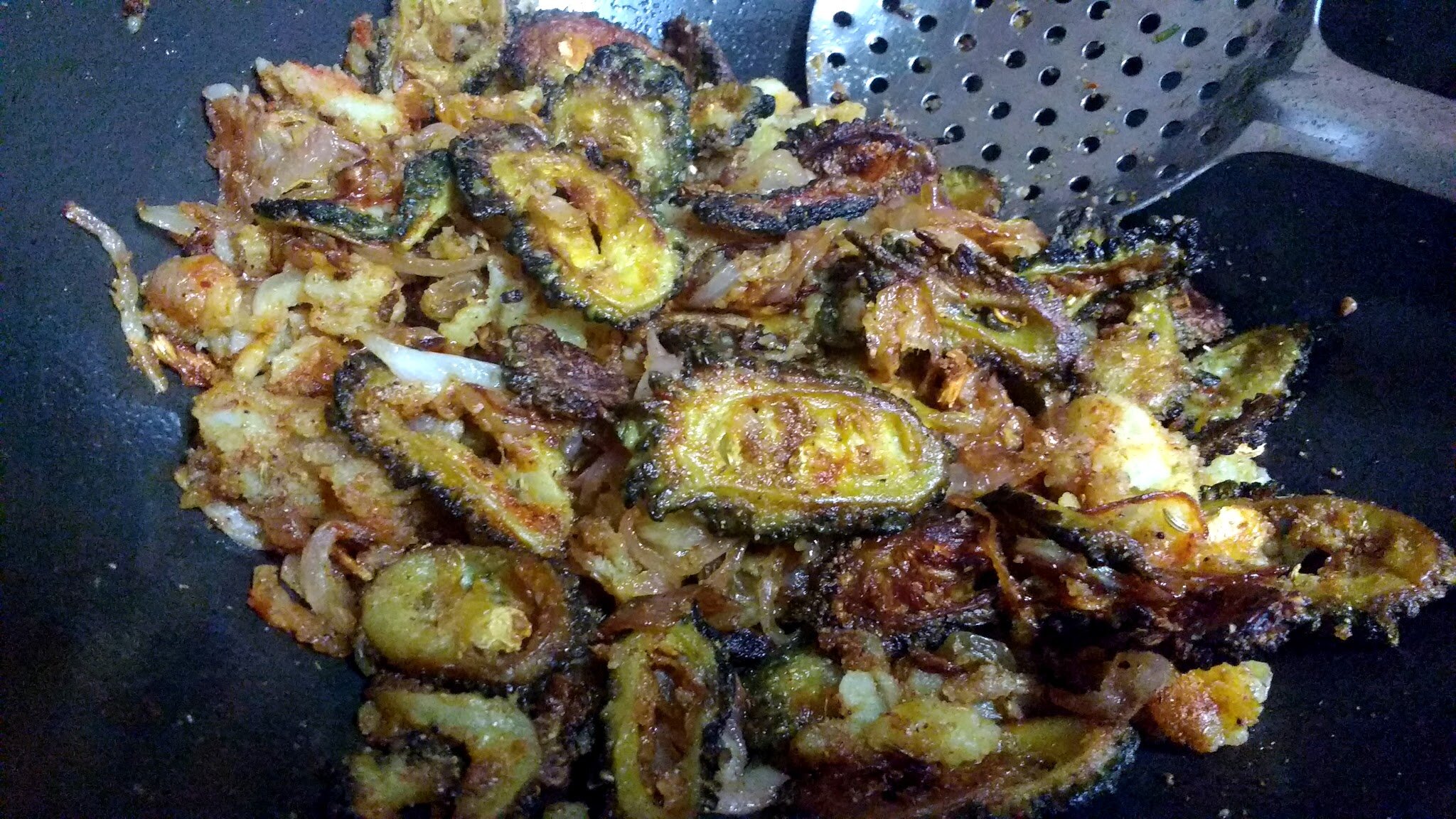 If you try this karela recipe & share pics on social media, then don't forget to tag on Facebook, Instagram or use #kuchpakrahahai.
Let's stay connected
Facebook | Instagram | Pinterest| Youtube