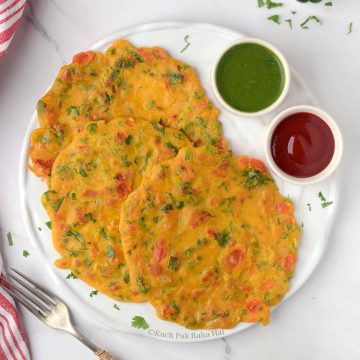 Besan Chilla is a tasty healthy savory pancake recipe made with besan (or chickpea flour), vegetables like tomatoes, onion, bell peppers, ginger and few spices. It is vegan, gluten free & a great option for breakfast, snack or quick meal.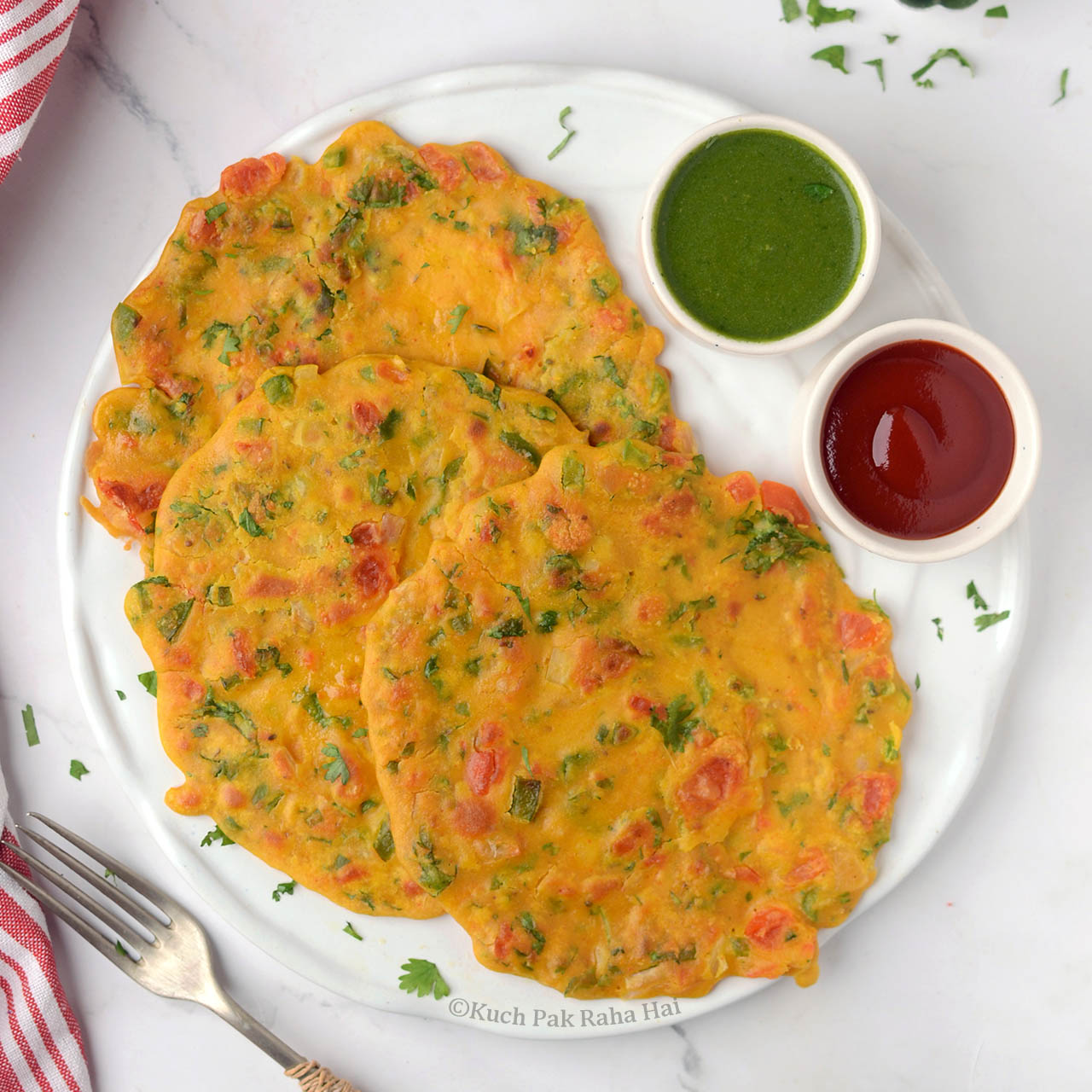 Besan chilla is a popular Indian breakfast & is known by other names like- Besan ka chilla, pudla, puda, cheela, besan ka cheela, chila etc. These Indian savory pancakes are delicious, wholesome, easy to make, packed with protein, fibre, nutrients from chickpeas and vegetables.
They can be enjoyed with fresh cilantro mint chutney, tamarind sauce, tomato ketchup or yogurt. The chickpea pancakes recipe shared here is:
Eggless (no eggs used)
Dairy free
Gluten Free
Soy free
No baking powder or soda used
Ingredients to make besan chilla:
Gram flour / Chickpea Flour:
Besan, also known as gram flour or chickpea flour in english, is used in this pancake recipe. This flour is completely gluten free as it is made with split chickpeas (chana dal). Chickpea flour (or garbanzo flour) made with white chickpea (kabuli chana) can also be used in this recipe.
One cup (~100 grams) of besan or chickpea flour made of chana dal has approx 384 calories and 21 grams of protein. As this flour is high in protein, it is a great option to include in weight loss diet. It can be used in various recipes like flat breads, curries, pancakes or fritters recipe like zucchini fritters, onion fritters etc.
Vegetables:
Finely chopped veggies like onion, tomatoes, capsicum, bell peppers, carrots, ginger, cabbage etc can be added to these savoury pancakes. I would definitely recommend adding tomatoes as their moisture makes the chilla soft and prevents it from drying while cooking. You can even add some grated zucchini in the batter for moisture and fiber.
Fresh Herbs:
Fresh herbs like cilantro, coriander, spring onion greens, scallion or chives add freshness and aroma to the pancakes. You can add one or more herbs as per availability.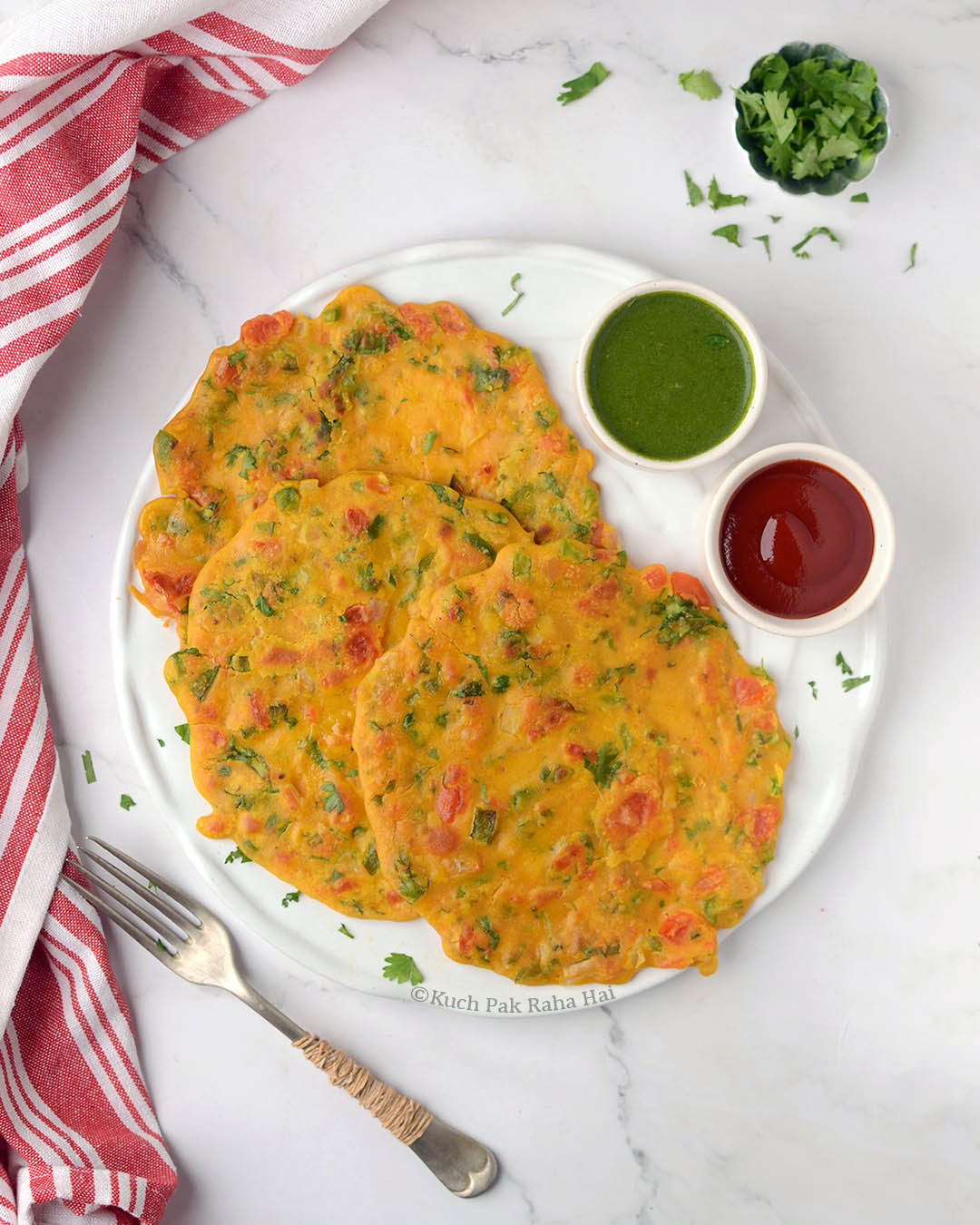 Seasoning:
Some turmeric powder, red chilli powder or cayenne pepper adds heat & colour to these pancakes. You can adjust the quantity of red chilli powder as per your taste or skip adding it if you are making these pancakes for kids or toddlers. Carom seeds or ajwain is known to help in digestion and adds its subtle aroma to these chickpea flour pancakes.
As I have never eaten egg in my life I am not sure how it tastes but some of my friends who eat eggs recommend black salt (kala namak) for eggy taste. Due to its high sulphur content, it tastes and smells like egg.
Oil:
Use any cooking oil of your choice for making these cheela like olive oil, avocado or canola oil etc. These can be cooked in ghee (clarified butter) too but if you want to make these savoury pancakes vegan then cook them in oil only.
Besan Chilla Variations:
Paneer Besan Chilla: To make them healthier & protein packed, you can add 1/2 to 3/4 cup of finely grated paneer (Indian cottage cheese) in the pancake mixture.
Spinach Besan Chilla: In winter season my family loves this variation where I add lots of chopped spinach (palak) and fenugreek (methi) leaves in chickpea flour batter.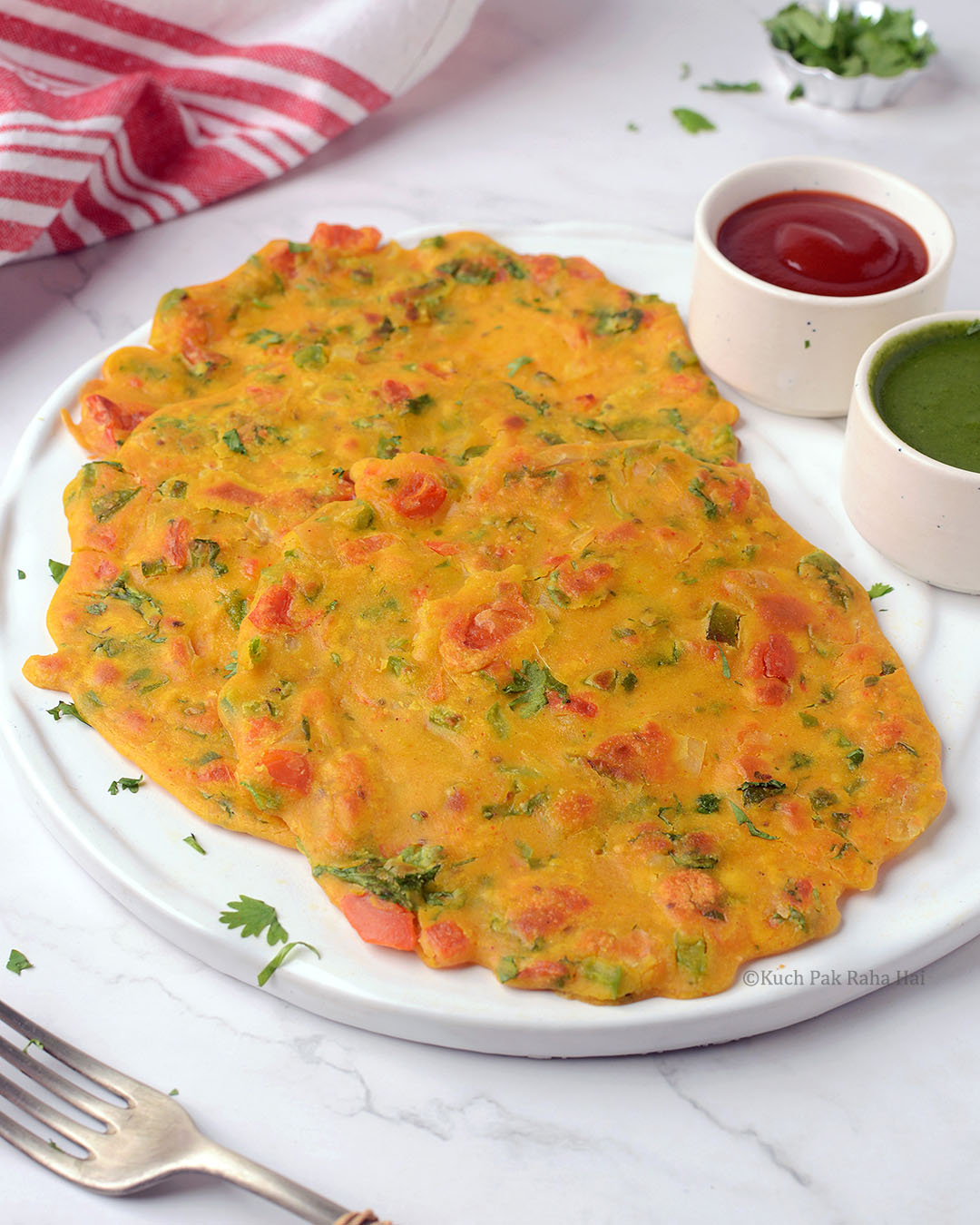 How to make chickpea pancakes?
The quickest way to make these chilla or savoury pancakes is to begin with prepping the veggies. Roughly chop the vegetables which you are planning to use in quarters. Add them to a chopper or food processor and blitz until all veggies are finely chopped.
Transfer them to a bowl with chickpea flour (besan), salt & spices. Add water gradually & make a flowy batter (not too thick or too thin). Heat a skillet or non stick pan. Pour laddle full batter of this pancake mixture while spreading in circular motion. Drizzle some oil near edges and on top. Cook on both sides till golden brown.
More breakfast recipes you might like: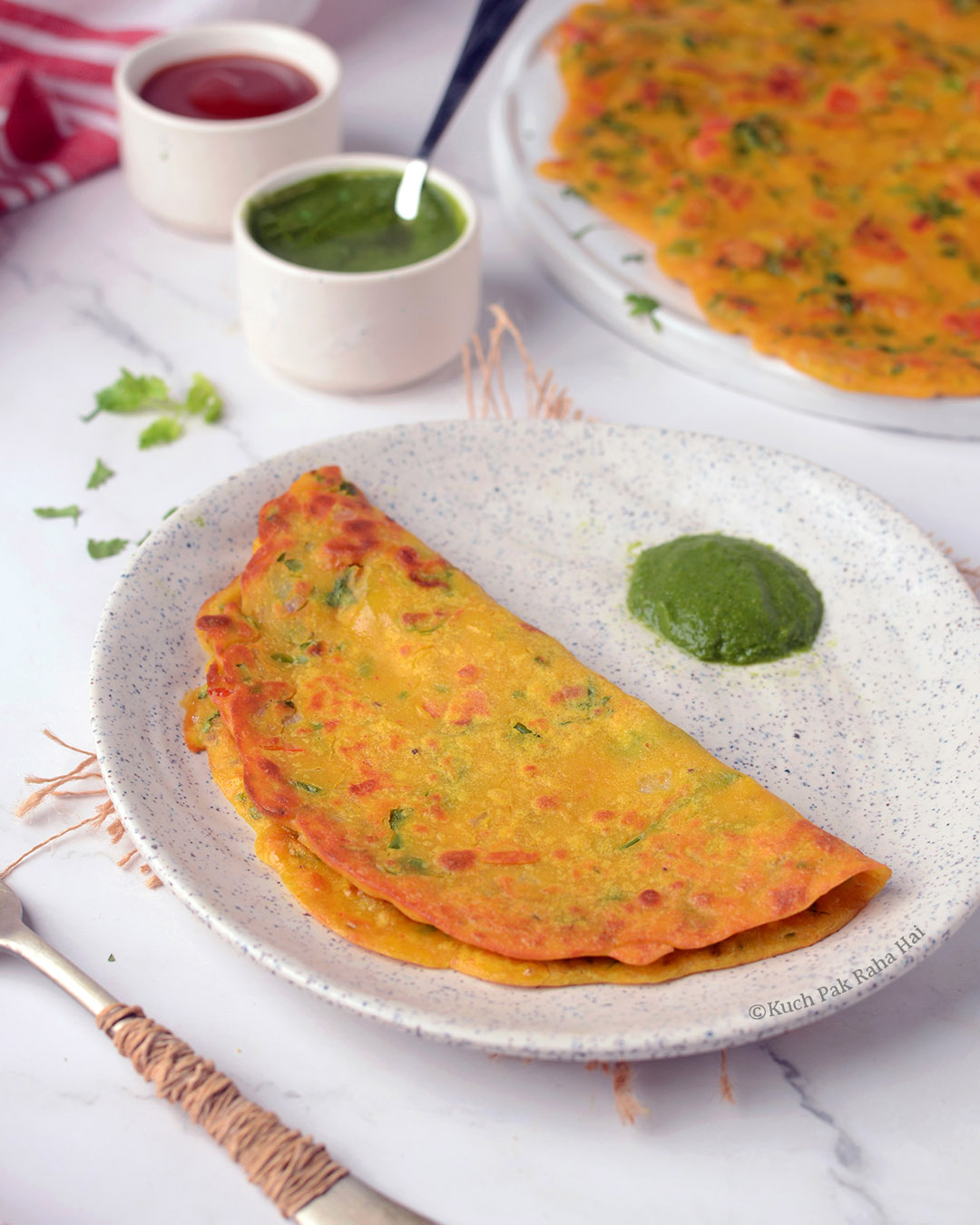 Ingredients: (For 6 pancakes)
Besan / Chickpea Flour- 1 cup
Water – 1/2 + 4 tbsp (as required)
Onion (finely chopped)- 1/4 cup
Tomatoes (finely chopped)- 1/4 cup
Bell peppers (finely chopped)- 1/4 cup
Chopped cilantro (coriander)- 2 to 3 tbsp
Green chilli (deseeded & chopped)- 1
Grated ginger- 1 tsp
Carom seeds (ajwain)- 1/4 tsp
Red Chilli Powdered / Cayenne pepper- 1/4 tsp
Turmeric Powder- 1/8 tsp
Salt- 1/2 tsp (to taste)
Oil- For cooking
(Measuring cup used: 1 cup = 250ml)
Directions:
Step 1:
Add besan or chickpea flour, salt, grated ginger, spices and chopped vegetables, herbs in a large bowl. Add water gradually while whisking continuously so that all lumps get dissolved and you get smooth flowing batter.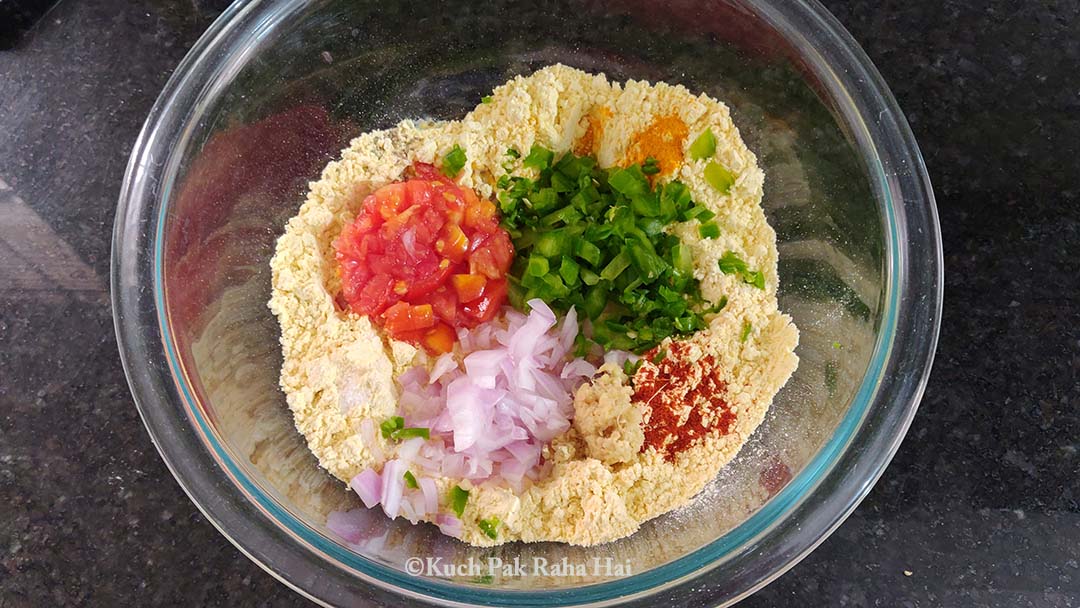 Here it took me (1/2 cup+2 tbsp) water to reach this consistency. The quantity of water can vary slightly depending the quality of flour and vegetables used (as they release moisture on coming in contact with salt).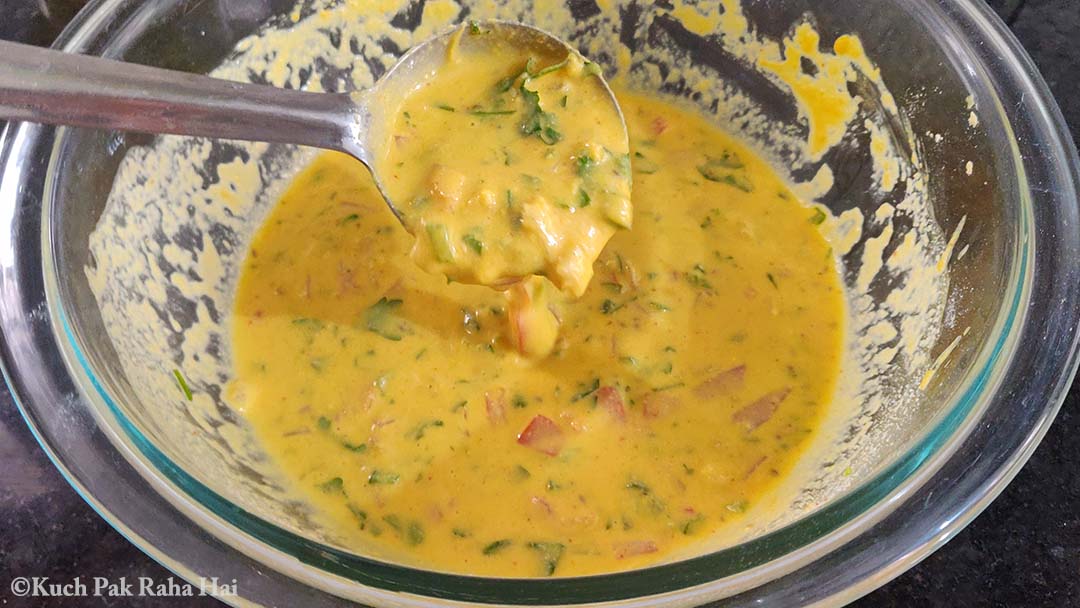 Step 2:
Heat a non stick pan or cast iron skillet. Brush or drizzle oil on it and wipe with tissue paper. Take roughly 1/4 cup of this batter & pour it on pan while gradually spreading it outwards.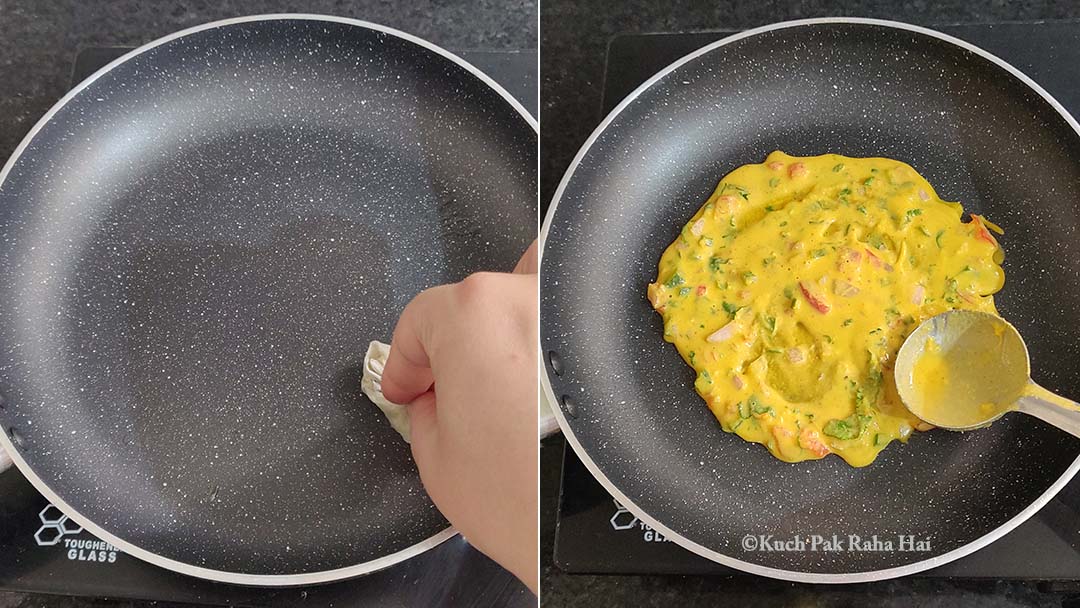 Step 4:
Cook these chilla or pancakes on medium low flame. Drizzle some oil near the edges of this pancakes.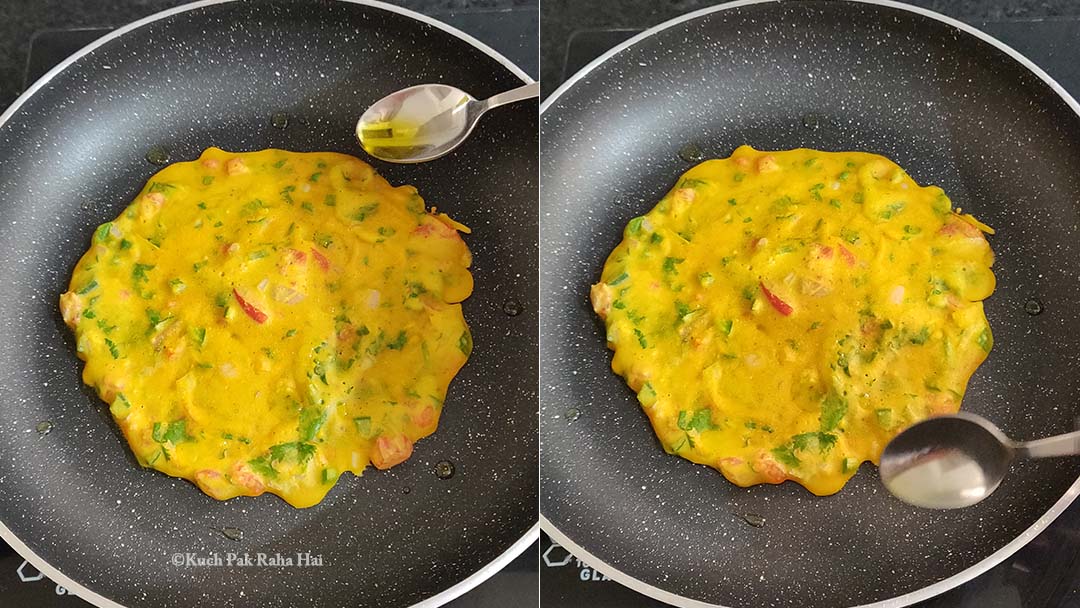 Step 5:
After 3-4 minutes, you will notice the top of cheela is cooked (not wet anymore). Drizzle some oil on top and flip with the help of a spatula . Let it cook on other side for 2-3 minutes. Similarly make rest of the cheela or pancakes.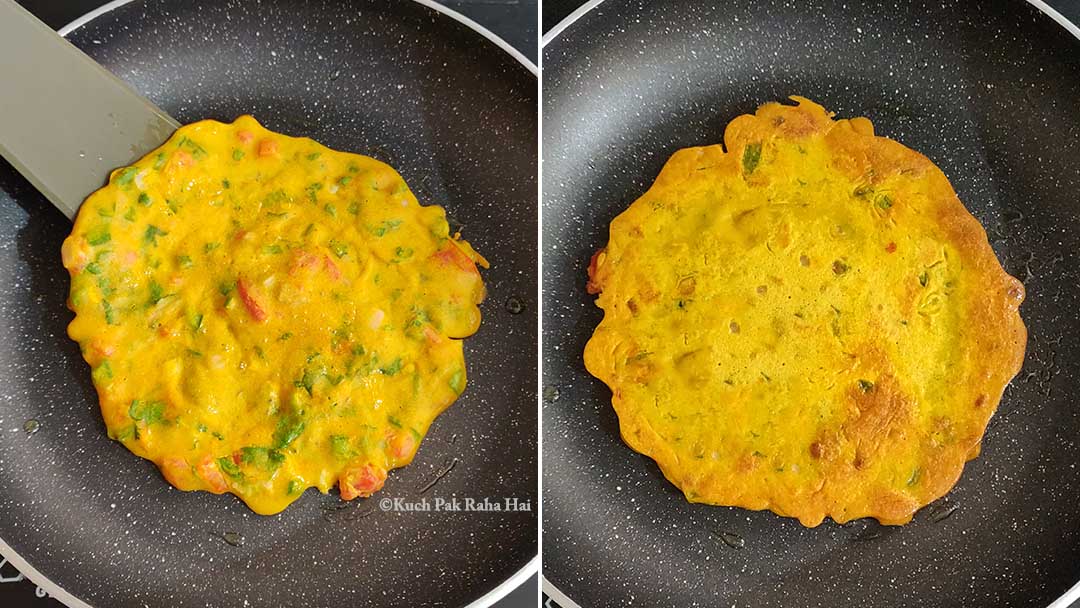 Enjoy these besan cheela or vegan savory chickpea flour pancakes with yogurt, ketchup or chutney.
Tips:
1. For thinner pancakes (crepe like), you can add more water in the pancake batter.
2. Never cook them on high flame as their outside will get cooked quickly & the insides will taste raw.
Pin for later: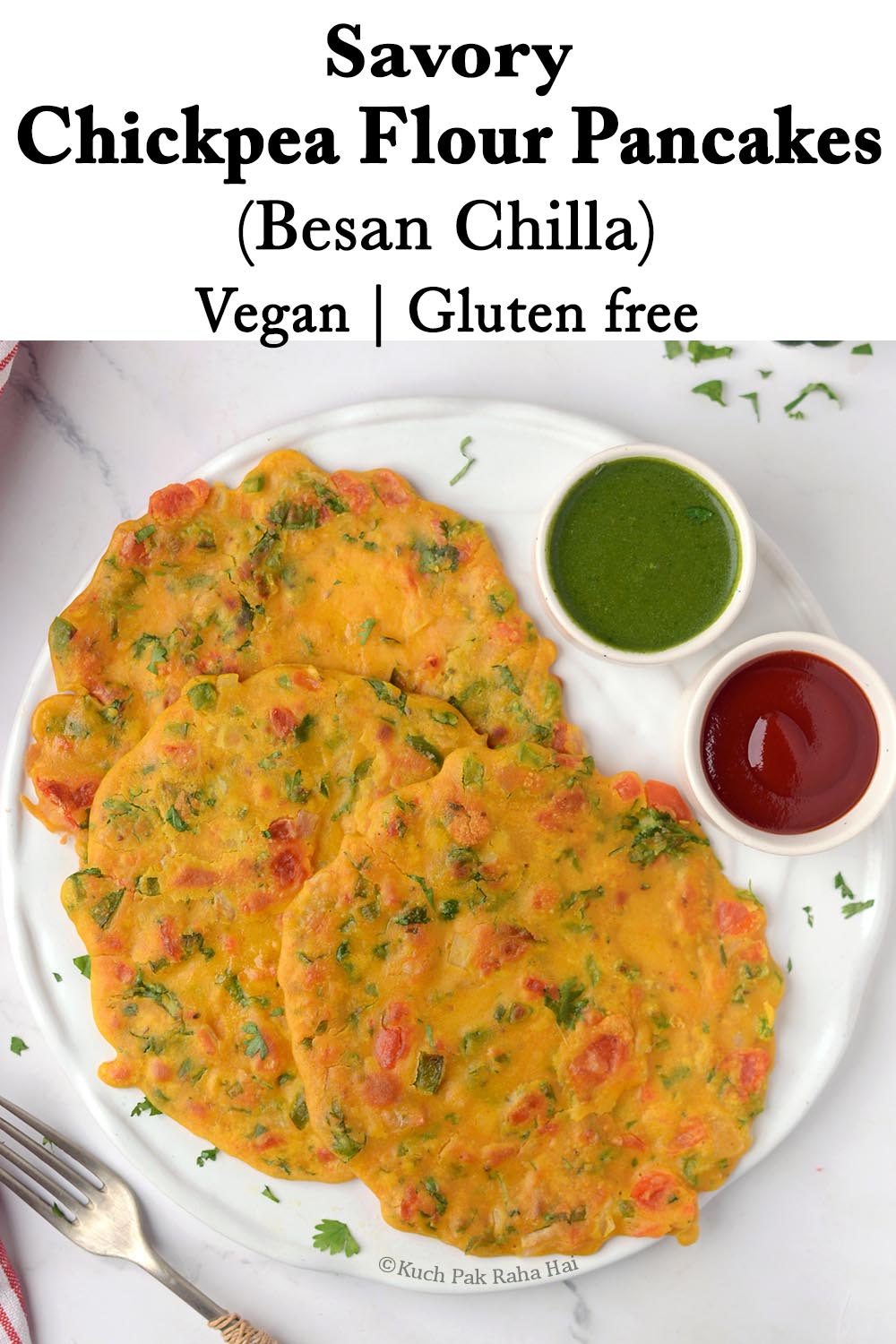 FAQ:
Can I store the cheela (pancake) mixture?
You can easily store the leftover pancakes mixture in fridge in an airtight container for upto 2 days. Whenever you want to make cheela, bring the mixture out of fridge and mix well. Heat a pan and proceed with making pancakes as explained in steps above.
Why my chickpea flour pancakes are sticking to the pan?
Seasoning the pan is very important before you start making these besan chilla. Also the pan should be medium hot. If you try to spread the batter when the pan is too hot, then instead of spreading it will stick to the pan. Always spread and cook the cheela on medium low flame.
If you try this vegan chickpea flour pancakes recipe & share pics on social media, then don't forget to tag on Facebook, Instagram or use #kuchpakrahahai.
Let's stay connected
Facebook | Instagram | Pinterest| Youtube