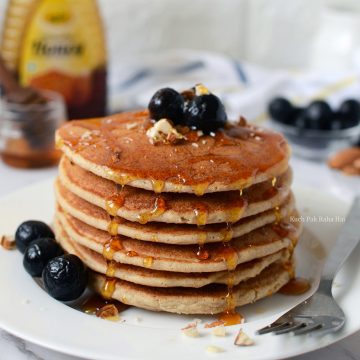 Eggless Oats Pancakes is a delicious healthy pancake recipe made using oats. The pancakes turn out absolutely soft, fluffy & make for a nutritious filling breakfast. This oats pancakes recipe is completely gluten free as no wheat flour or maida is used in making them.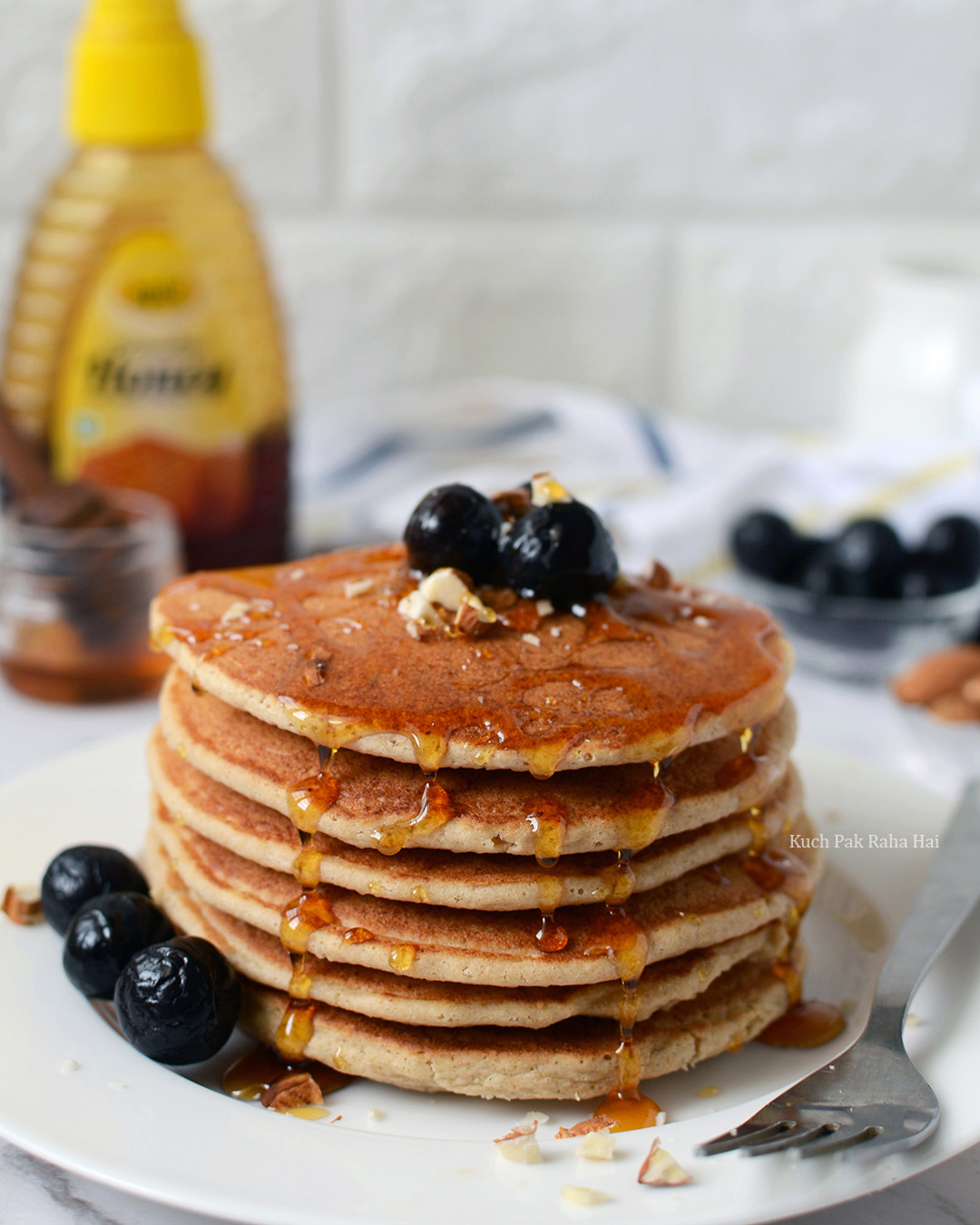 These oats pancakes are a great way to kickstart your day as they make for a yummy wholesome breakfast. The best part about it is you don't have to spend too much time in kitchen to make them.
Apart from the oats, the pancake recipe has milk and yogurt as liquid ingredients. You can also use greek yogurt instead of plain yogurt and almond milk instead of regular milk to increase the nutritional value in pancakes.
As these pancakes have very less sugar, I would suggest serving them with some fresh fruits like strawberries, banana, blueberries etc ; honey/maple syrup and chopped nuts to enhance their flavour.
Which types of Oats should be used for making pancakes?
I have tried this oats pancakes recipe with both Rolled Oats and Instant Oats and they turned out fine each time. Rolled Oats are also referred to as 'Old Fashioned Oats'. As oats do not contain gluten, the pancakes made using them are also gluten free. Just make sure to check the packaging details of the oats for gluten free tag before using them.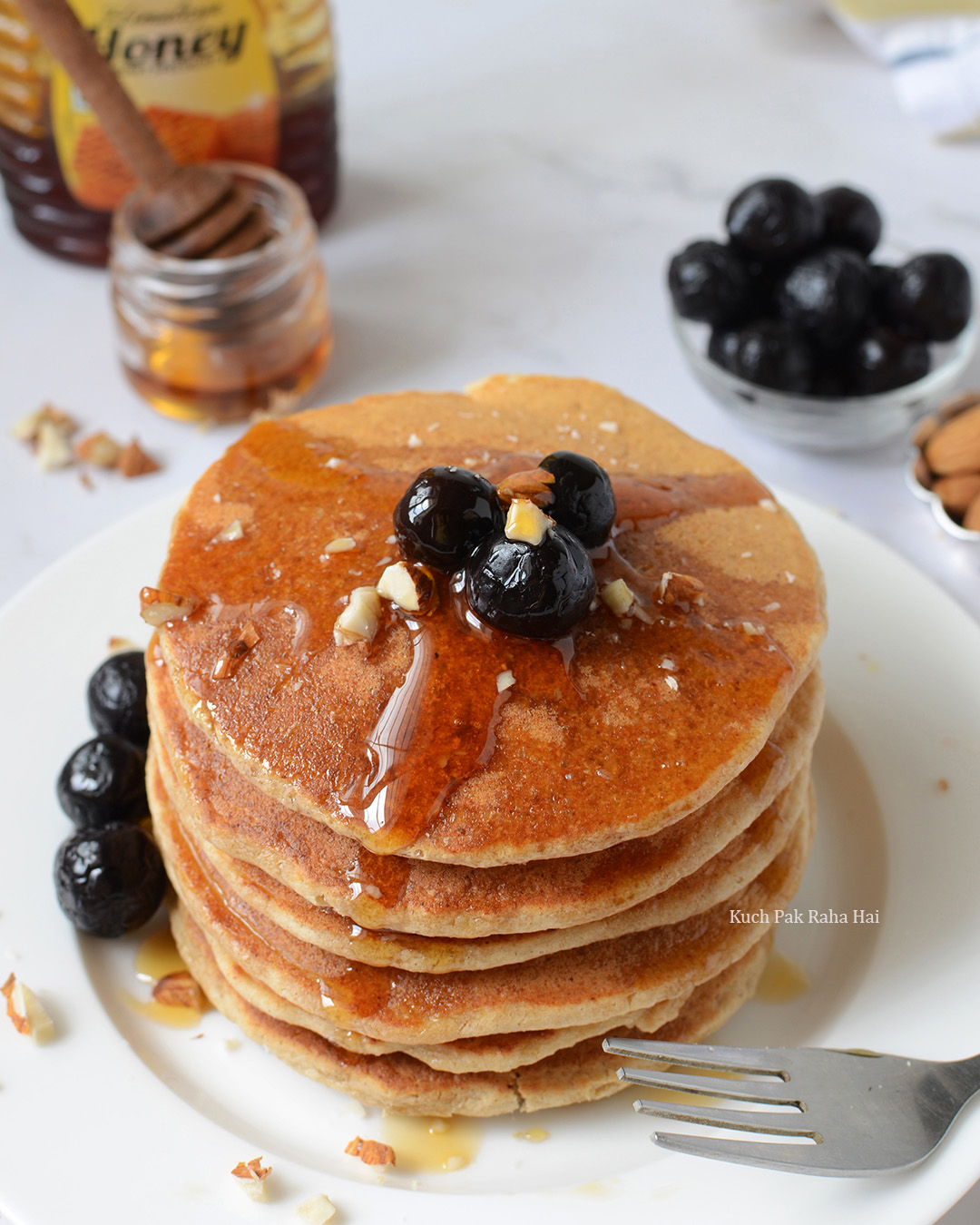 Resting the pancake batter is important step in this recipe. It makes sure that oats have absorbed the necessary moisture thus rendering soft pancakes. As these oats pancakes are egg free, to make them fluffy I have used a little bit of baking powder. The baking powder is added to the batter after the resting period.
A little bit of vanilla extract adds subtle aroma to these pancakes, however feel free to skip it. You can even add a handful of fresh berries or chocolate chips to the pancake batter.
Which is the best pan for making pancakes?
People often complain that even after following the exact pancake recipe we don't get that perfect golden colour on pancakes. It is not always about the recipe but sometime about the cooking technique & utensil used. Using a heavy bottomed pan or skillet ensures equal distribution of heat and makes sure the pancakes is evenly cooked. If you use a light pan, the chances are it will heat too much resulting in uneven cooking of pancakes.
Apart from these oats pancakes, I have shared few more Oats recipes on the blog here :
I have also shared a youtube video for this recipe. You can view it in case of any doubt and if you like this recipe, then don't forget to subscribe to our channel for more such healthy yummy recipes 🙂
Watch here :
List of Ingredients : (Makes 5-6 Pancakes)
Oats- 1 cup
Milk- 1/2 cup + 3 tbsp
Yogurt- 1/4 cup
Brown Sugar- 2 tbsp
Melted Butter- 2 tbsp (unsalted)
Baking Powder-1 tsp
Vanilla Extract- 1/2 tsp
Salt- 1/4 tsp
Butter/Oil- For cooking
For Serving :
Honey/Maple Syrup
Fresh Fruits
Chopped Nuts
Substitutions:
1. I have used rolled oats for this pancake recipe. You can use Instant oats or Oats flour too.
2. Instead of brown sugar, you can use coconut sugar. If you don't have brown sugar even white sugar can be used.
3. In case you want to skip butter in this recipe, replace butter with any flavourless odourless oil.
4. To increase the nutritional value, you can use greek yogurt instead of plain yogurt.
5. If you are using salted butter, skip adding salt in the batter.
6. You can increase the quantity of sugar in the batter as per your taste.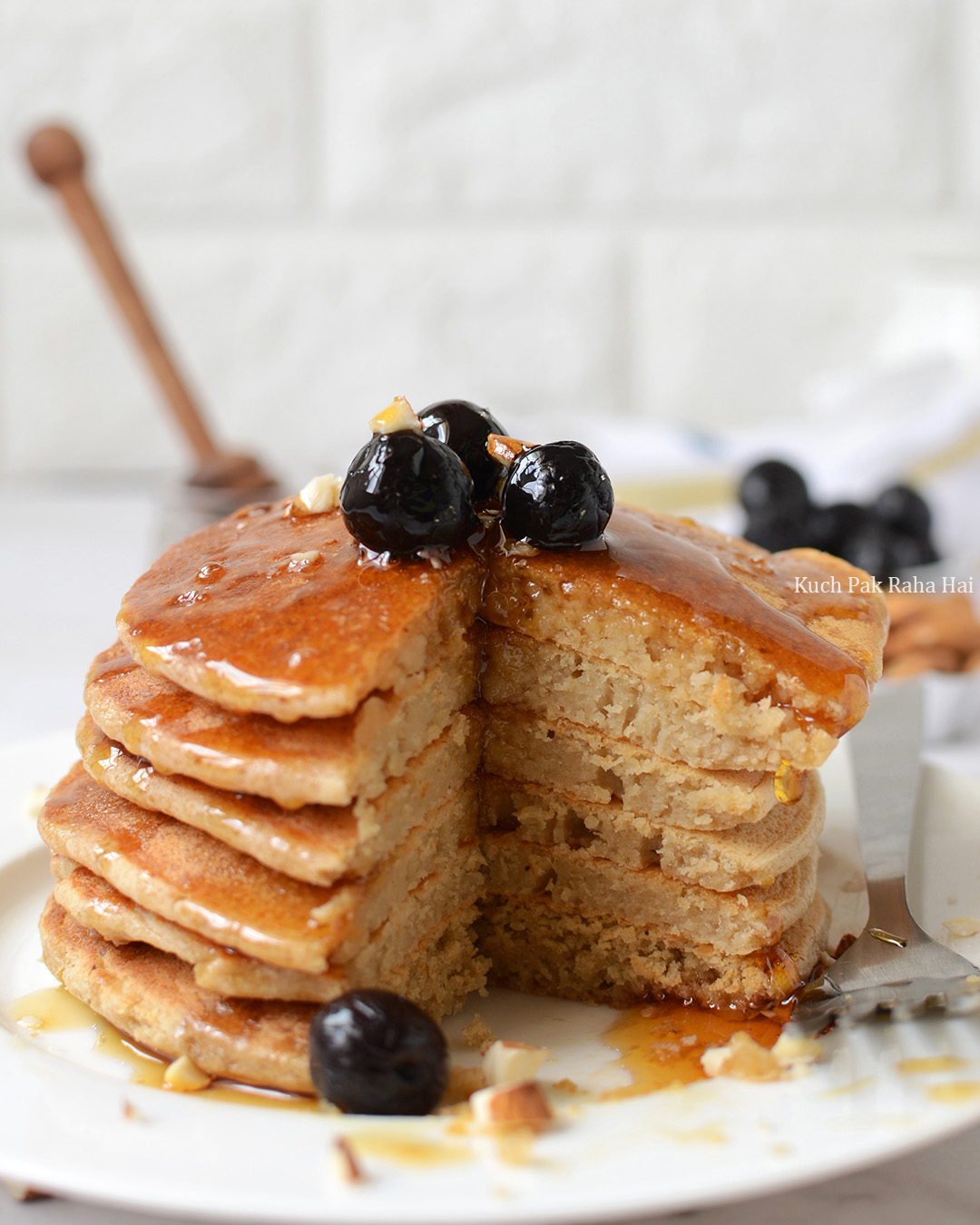 Steps To Prepare:
Step 1:
Add oats in a grinder jar and grind it coarsely. If you wish you can dry roast the oats before grinding but here I am directly grinding them.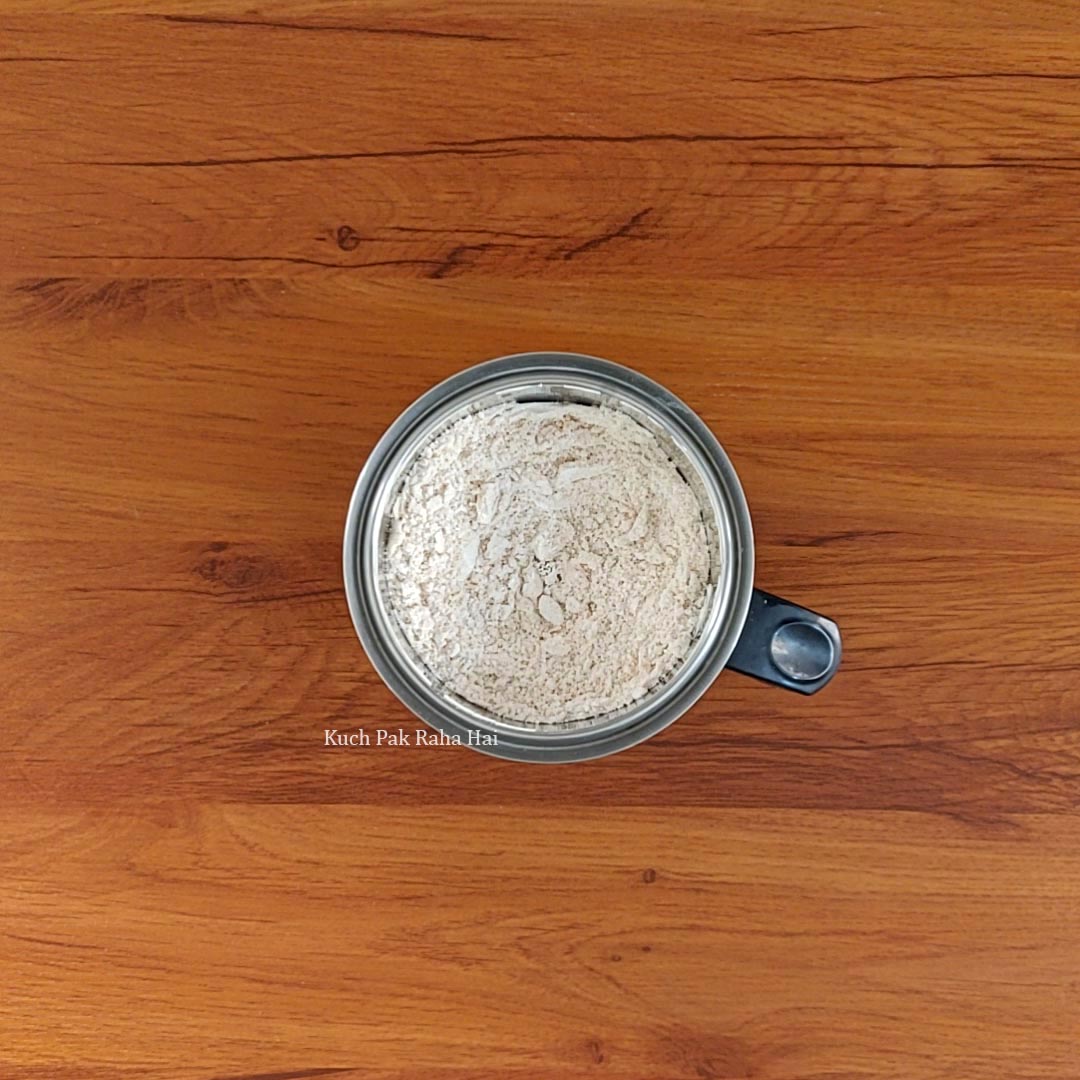 Step 2:
Add these oats, milk (1/2 cup + 2 tbsp) and rest of the ingredients except baking powder. We are saving little bit of milk to add later as the oats absorb moisture with time. Keep whisking and make a smooth batter.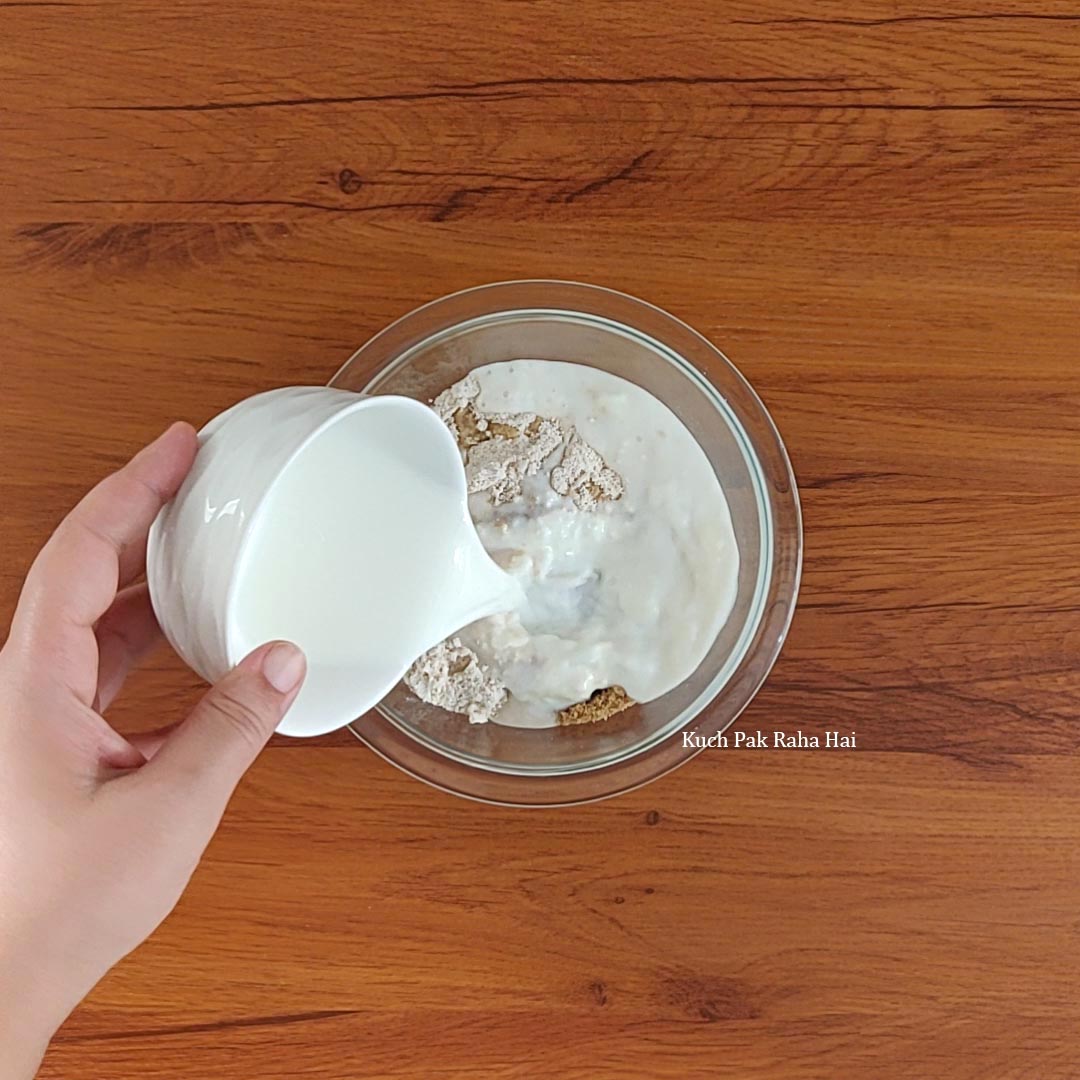 Step 3:
Cover & rest the batter for 15 minutes. Resting is an important step as it allows the oats to absorb the moisture hence making the pancakes soft & fluffy.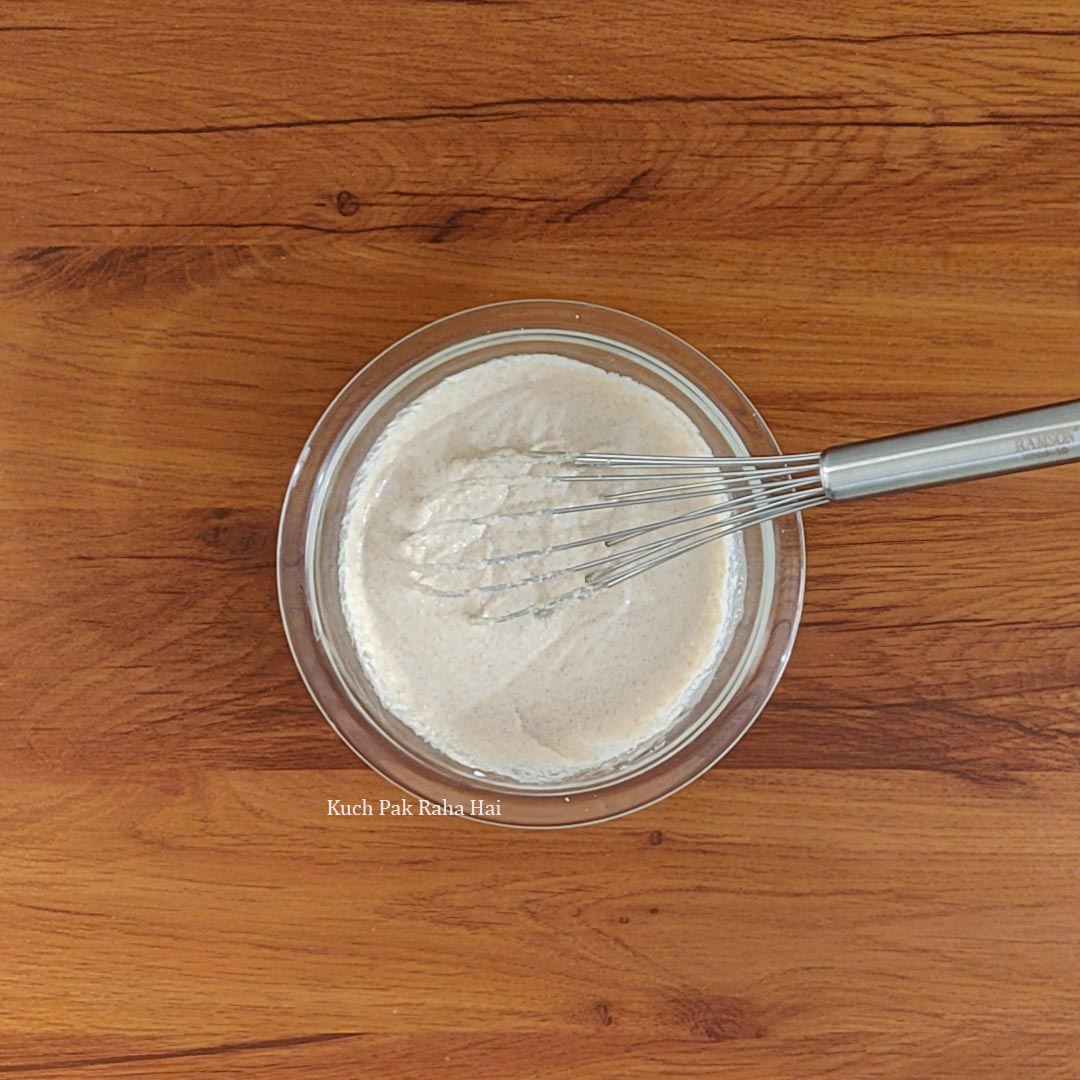 Step 4:
Once the batter is rested, check its consistency. If the batter has turned thick add 2-3 tsps more milk gradually. Add baking powder and mix well.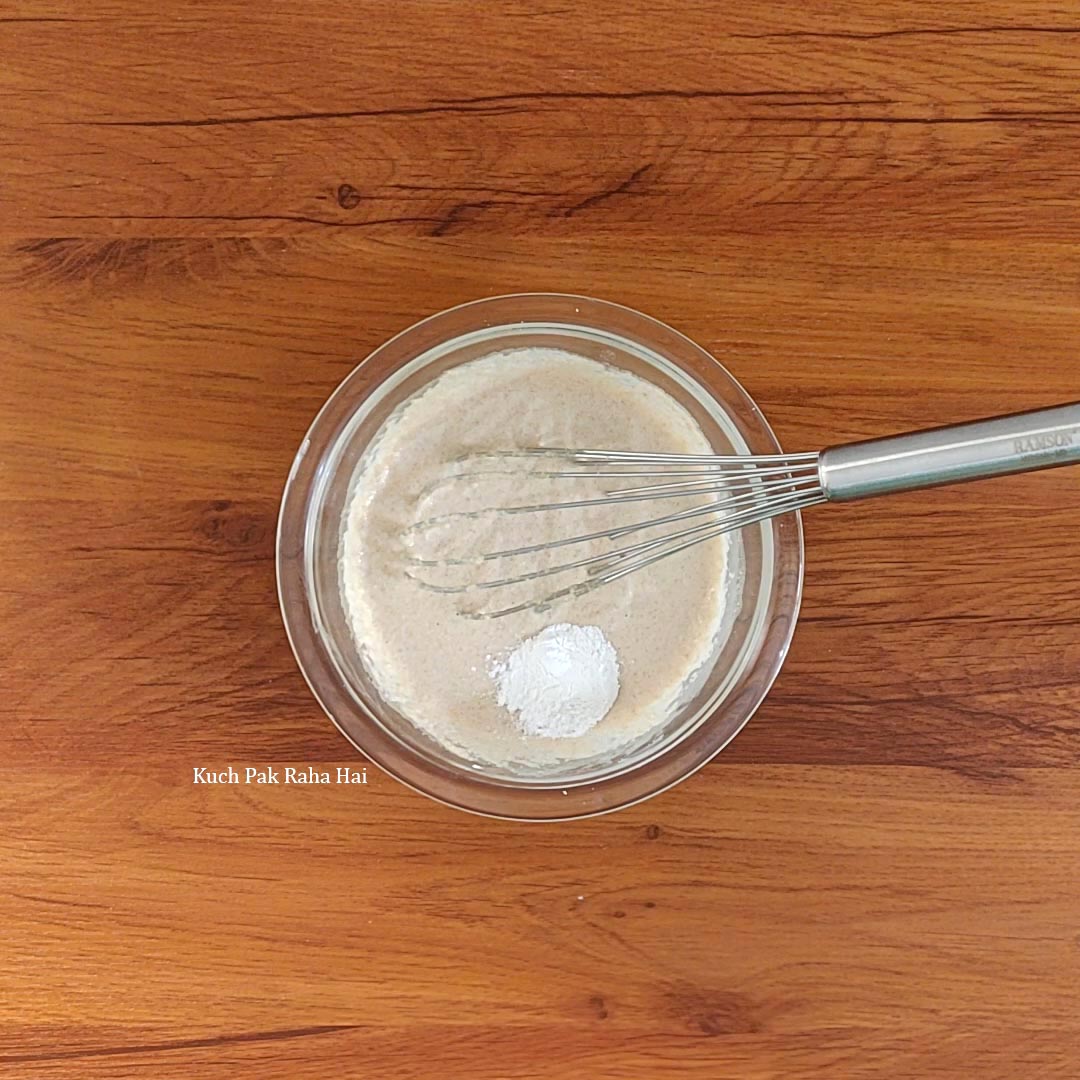 Step 5:
Heat a heavy bottomed pan or skillet. Brush some butter/oil on it & wipe with some kitchen tissue. Use 1/3 or 1/4 measuring cup for scooping the batter & pour it on this pan. Using a measuring cups for scooping the batter makes sure that all pancakes are of same size.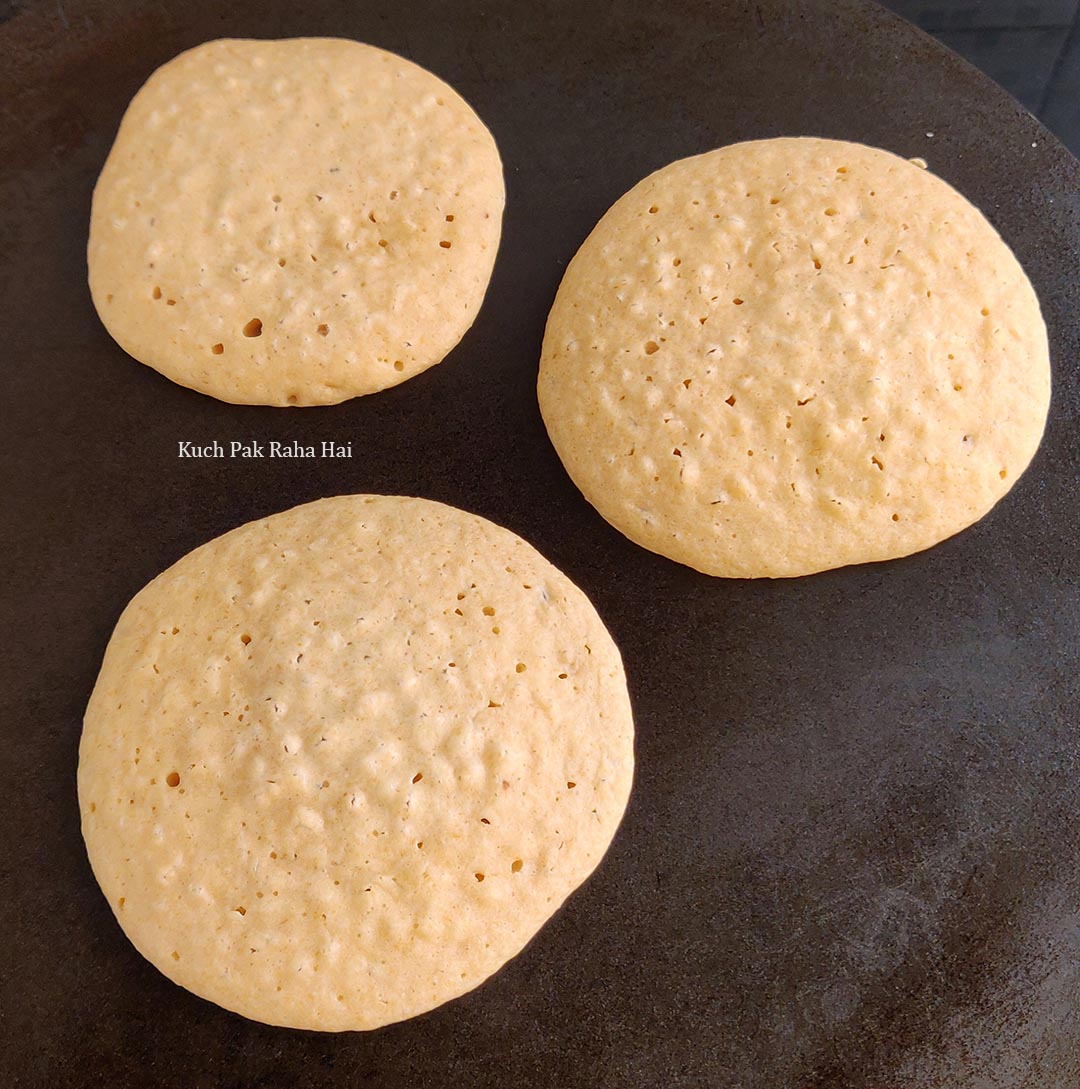 Let the pancakes cook on low flame.
Step 6:
Flip them when you notice the bubble on pancake and there is no more wet batter. Cook them from other side too for 10-15 seconds.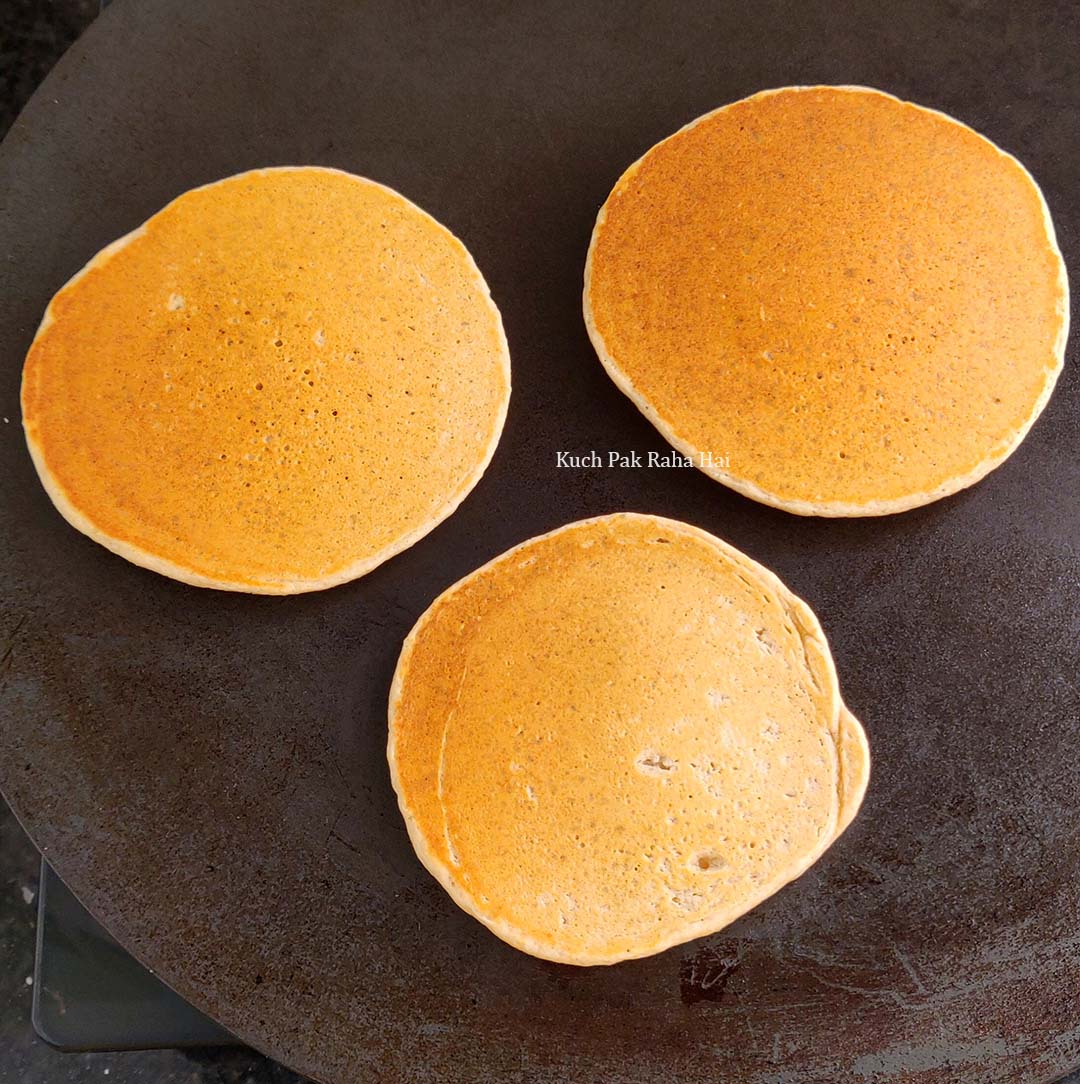 Serve them warm with some fresh fruits, nuts and drizzle of honey or maple syrup.
Pin it :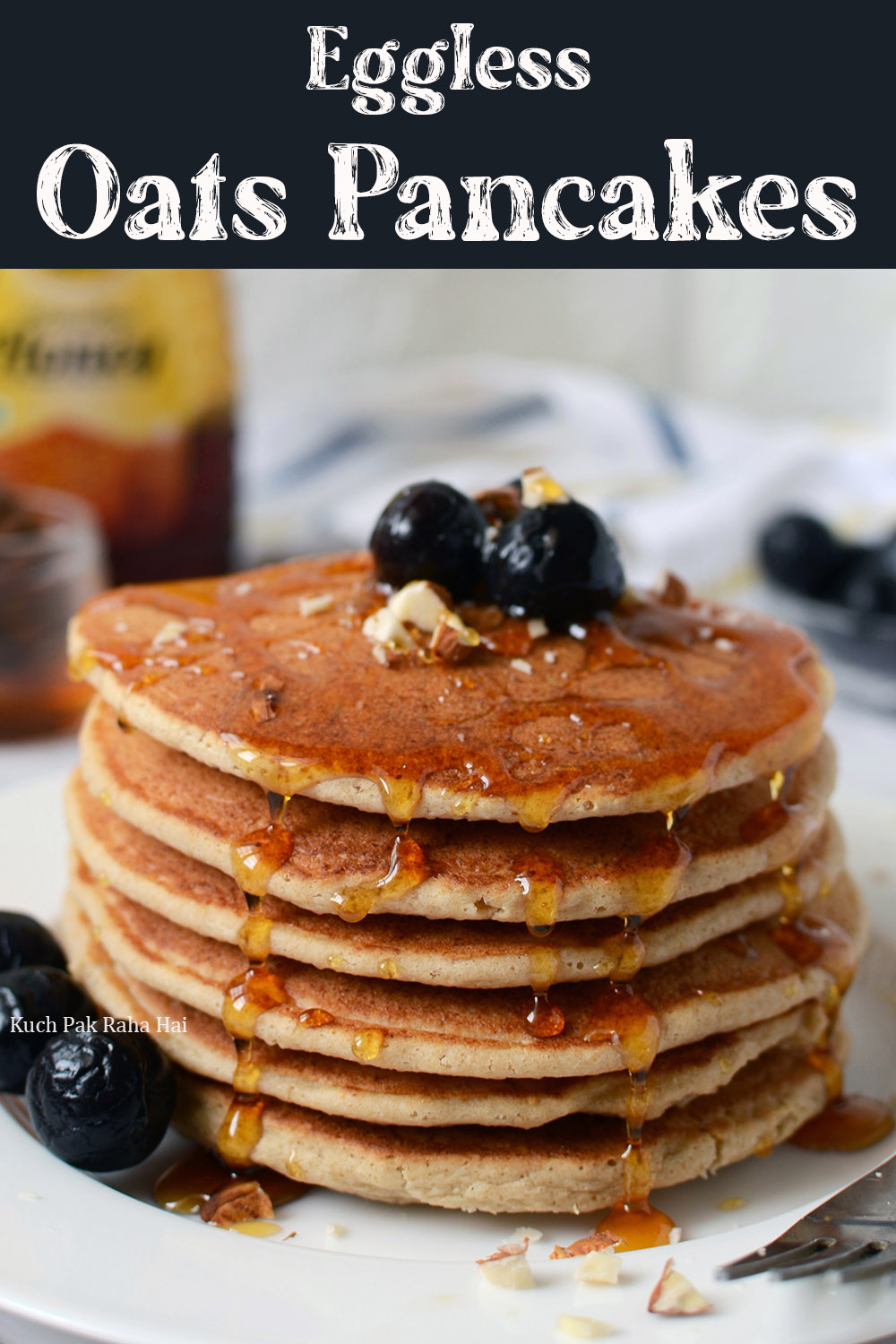 Kitchen Products Used :
(Please note the above shared links are amazon affiliate links. For more details refer to the privacy policy.)
You might also like :
If you try this recipe & share pics on social media, then don't forget to tag us on Facebook or Instagram or use the hashtag #kuchpakrahahai.
Let's stay connected