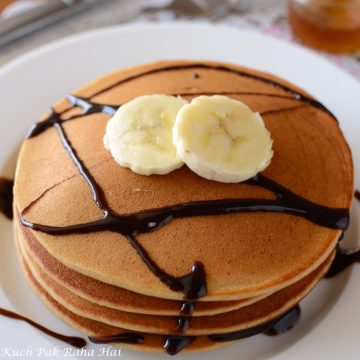 Eggless Banana Pancakes is an easy to make, healthy and delicious pancake recipe made with whole wheat, bananas and milk etc . These soft & fluffy eggless pancakes are perfect for breakfast or  snacks. It is a kids friendly recipe so you can even pack these in their lunch box.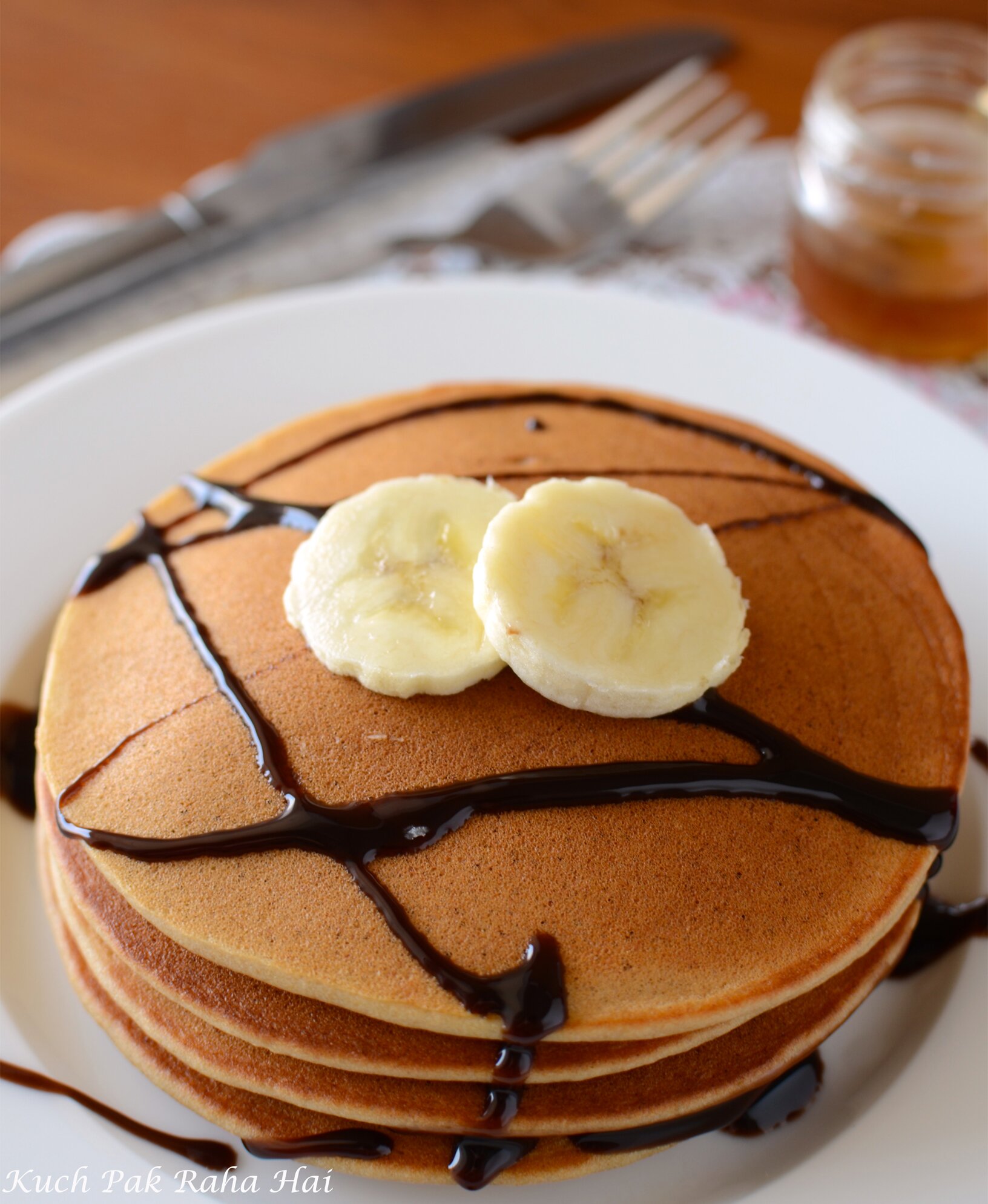 I made multiple attempts before coming up with this perfect fluffy whole wheat banana pancake (eggless) recipe. The ingredients used in making these pancakes are very basic and easily available in every kitchen pantry.
It is a must try for all those people who are constantly searching for pancakes recipe without eggs. These eggless banana pancakes turn out so delicious, soft and are nutritious too at the same.
Bananas are good source of vitamin C, vitamin B6  fibre and potassium & milk is rich in calcium, vitamin D and vitamin B12 etc. The goodness of bananas and milk when combined with whole wheat flour make them an ideal choice for kick starting your day.
As per various health journals and articles, breakfast must never be skipped in the morning as it slows down the metabolism rate making you feel weak, dizzy or bloated for the entire day. If you are looking for more such healthy pancakes recipe then do try Eggless Oats Pancake Recipe too.I am sure you will love them.
More Banana recipes:
My efforts have been towards making this recipe as healthy as possible without compromising on the texture and taste of the pancakes. I have used brown sugar and ripe banana puree for the sweetness. More the bananas are ripe more they will be sweeter, hence adding natural sweetness to the pancakes.  Hope you all will like this recipe!!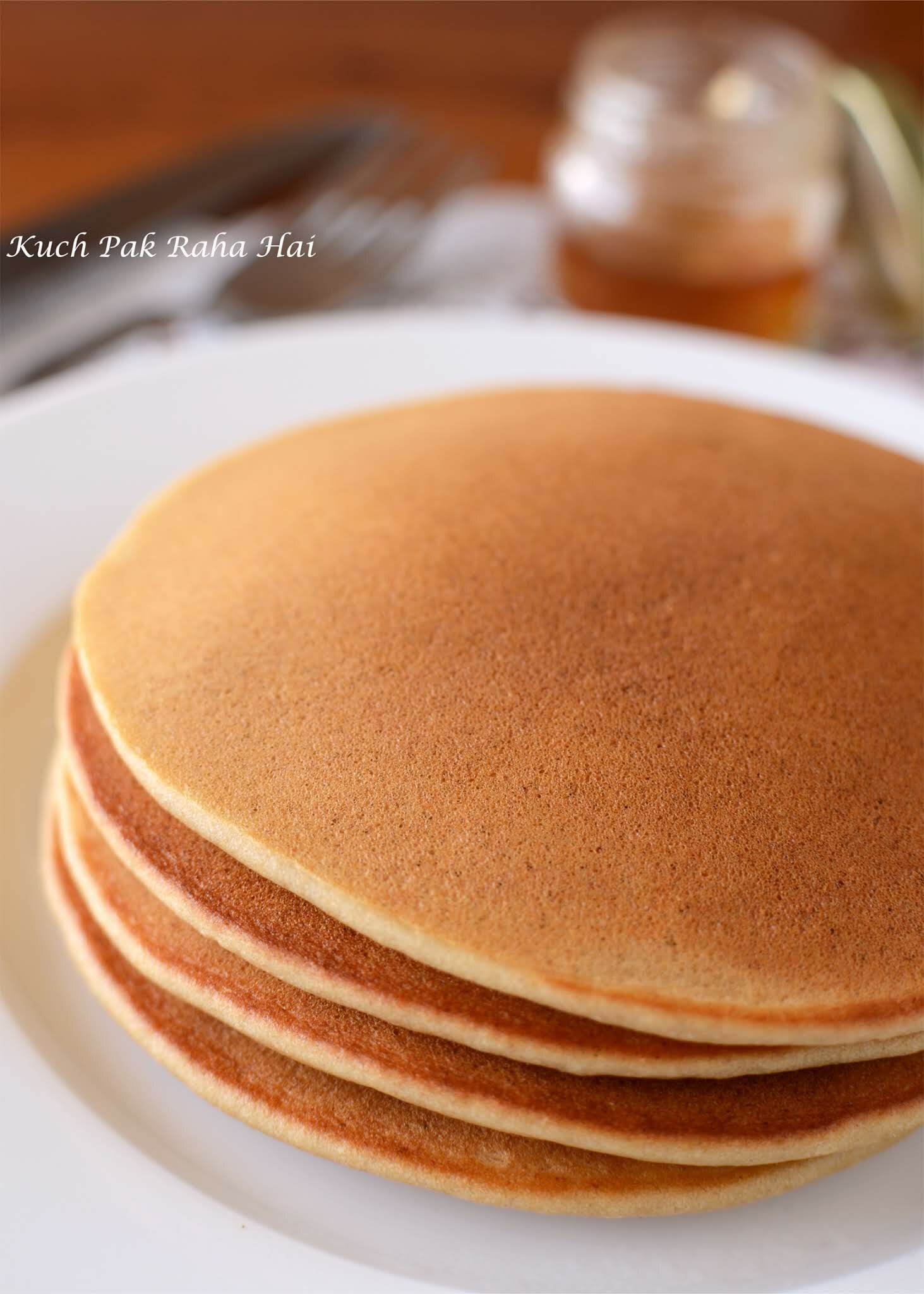 I have also shared a video for this recipe on my Youtube Channel. You can check it out too. Please Like or Subscribe if you enjoy this recipe 🙂
Watch the Video:
List Of Ingredients:
Whole wheat flour – 1 cup
Salt – A pinch
Brown Sugar – 3 tbsp
Baking Powder – 1/2 tsp
Baking Soda – 1/4 tsp
Milk – 1 cup
Banana Puree – 1cup (~ roughly 2 bananas)
Vanilla essence – 1/2 tsp (optional)
Melted unsalted butter – 1 tbsp
For cooking:
For garnishing:
Banana – 1
Honey/ Maple Syrup/ Chocolate Sauce – 2tbsp
Notes :
1. Instead of brown sugar, you can use normal white sugar, coconut sugar or any sweetener of your choice.
2. Instead of butter you can also use oil for cooking these eggless pancakes.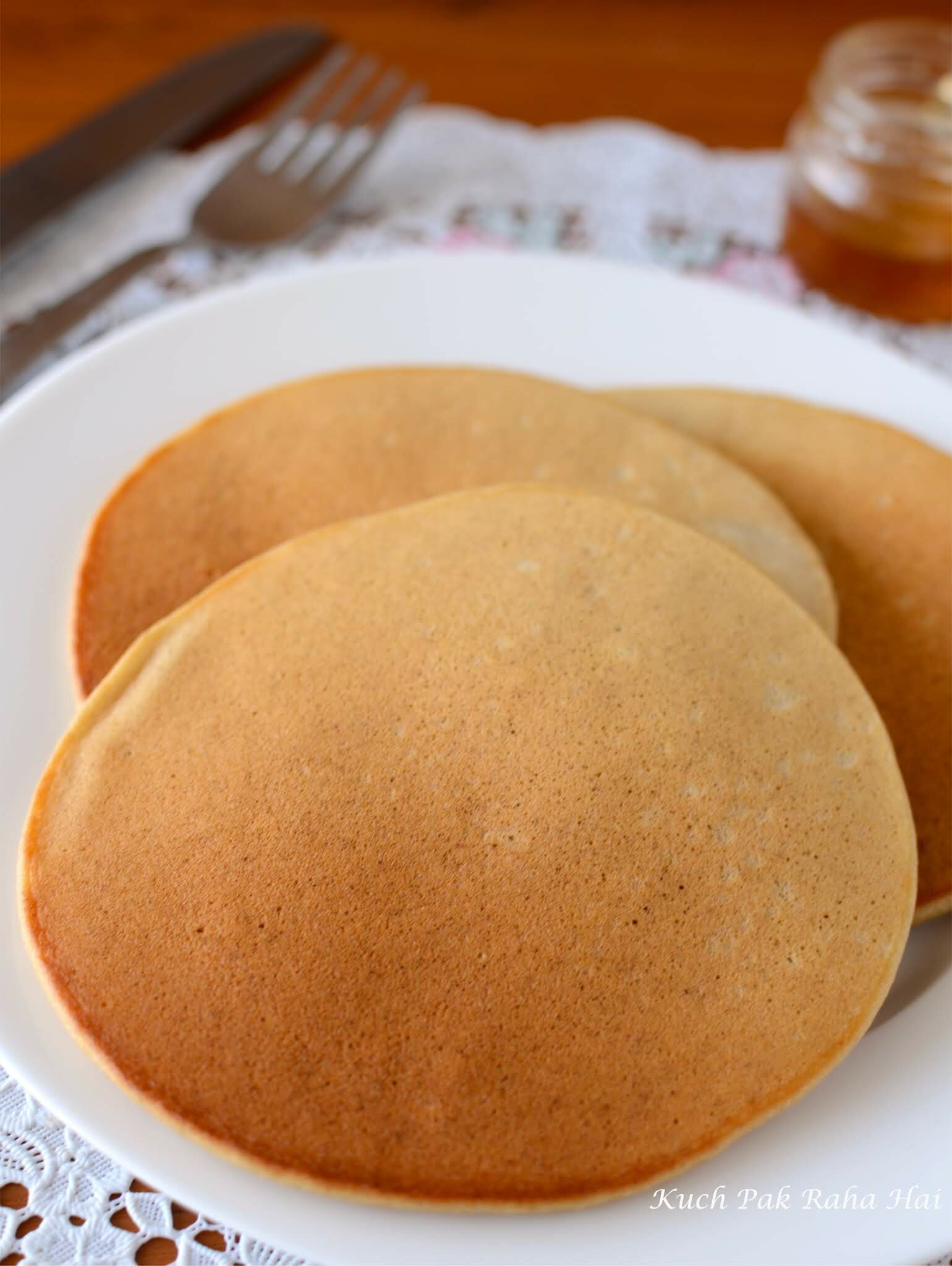 Steps To Prepare:
Step 1:
Whisk together all the wet ingredients i.e. milk, banana puree and vanilla essence using a whisker or hand blender.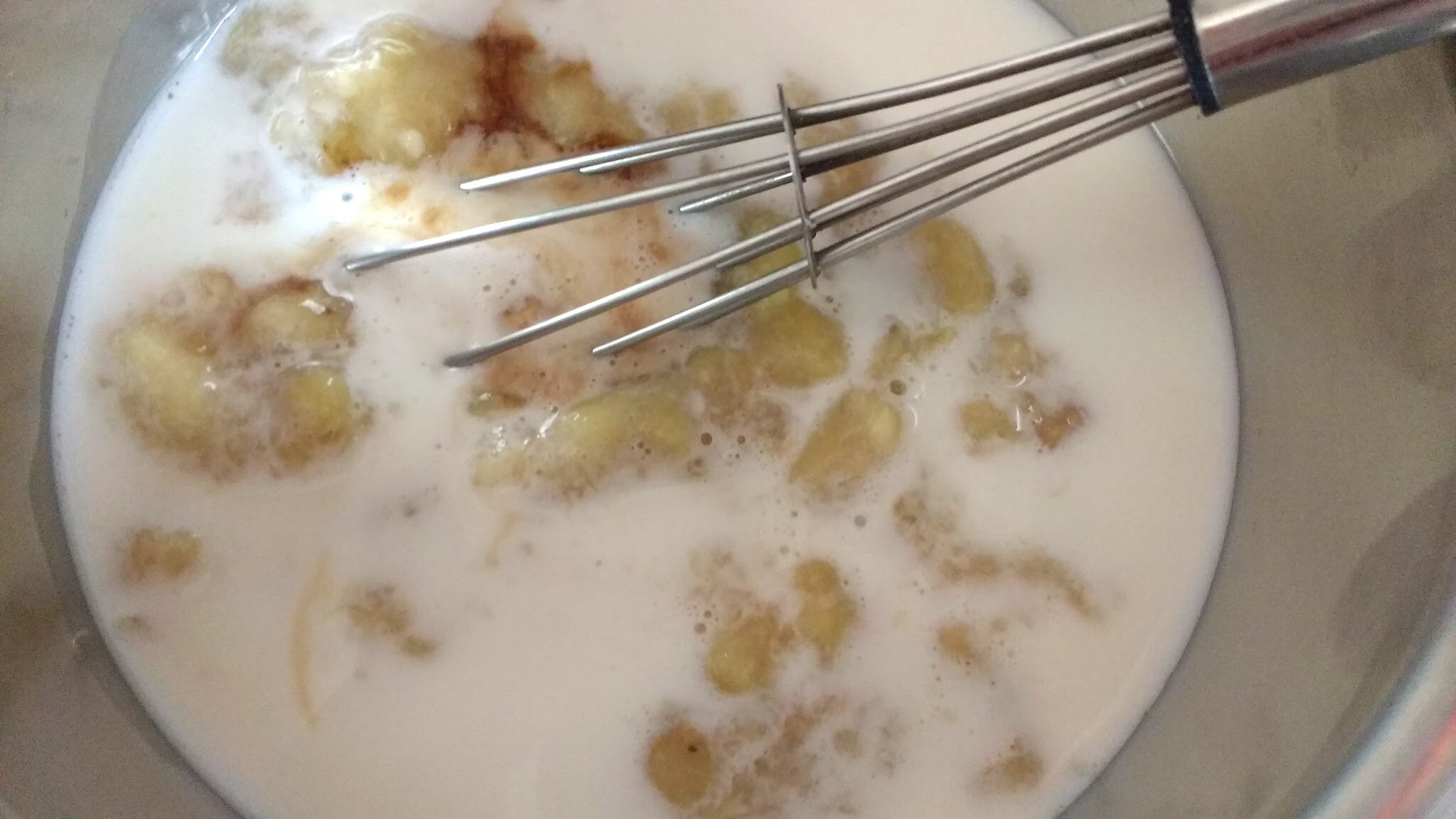 Step 2:
Take whole wheat flour in a mixing bowl. Add salt, brown sugar, baking soda & baking powder to it. Mix well.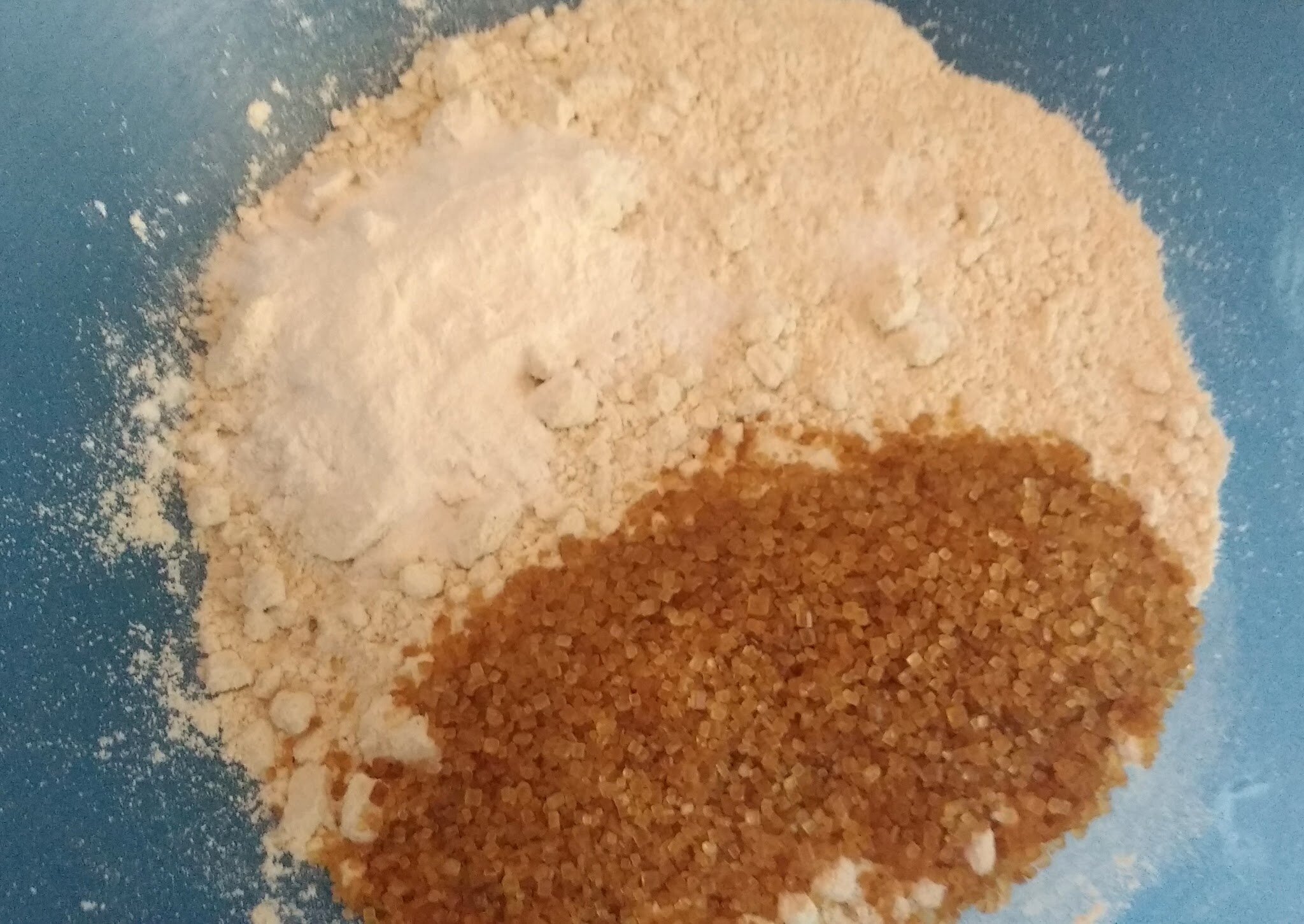 Step 3:
Place a heavy bottomed or non stick pan on low flame so that it is ready by the time we prepare the pancake batter.
Mix well all the ingredients of step1 and step2 gradually using a whisker till you a get a smooth batter. Make sure there are no lumps left and sugar is dissolved completely. Towards the end add 1 Tbsp melted unsalted butter & mix once again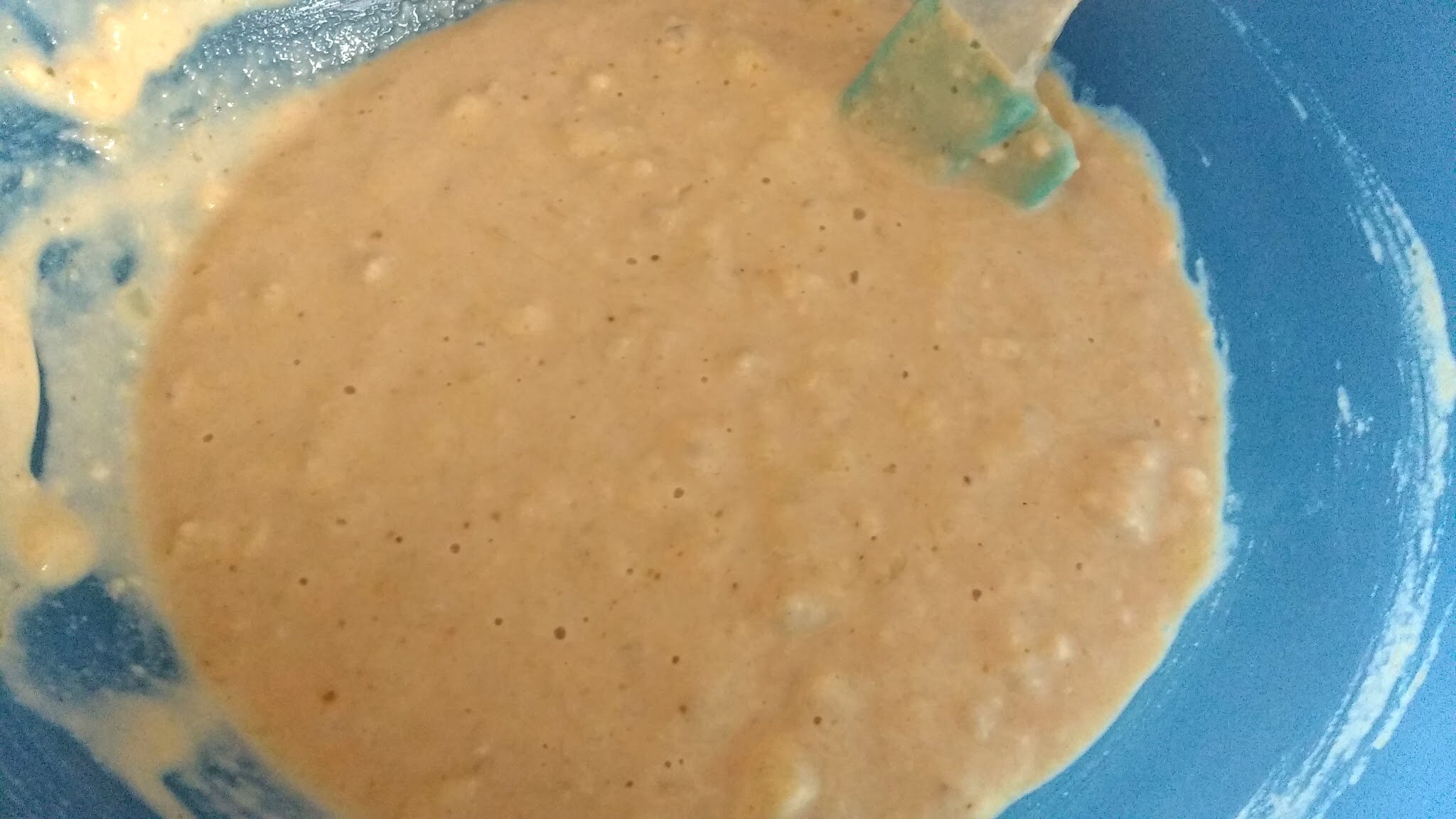 Step 4 :
Brush some unsalted butter on the pan. You can use measuring cups or ice cream scooper to spread the batter on pan. This will ensure that all pancakes are of uniform size.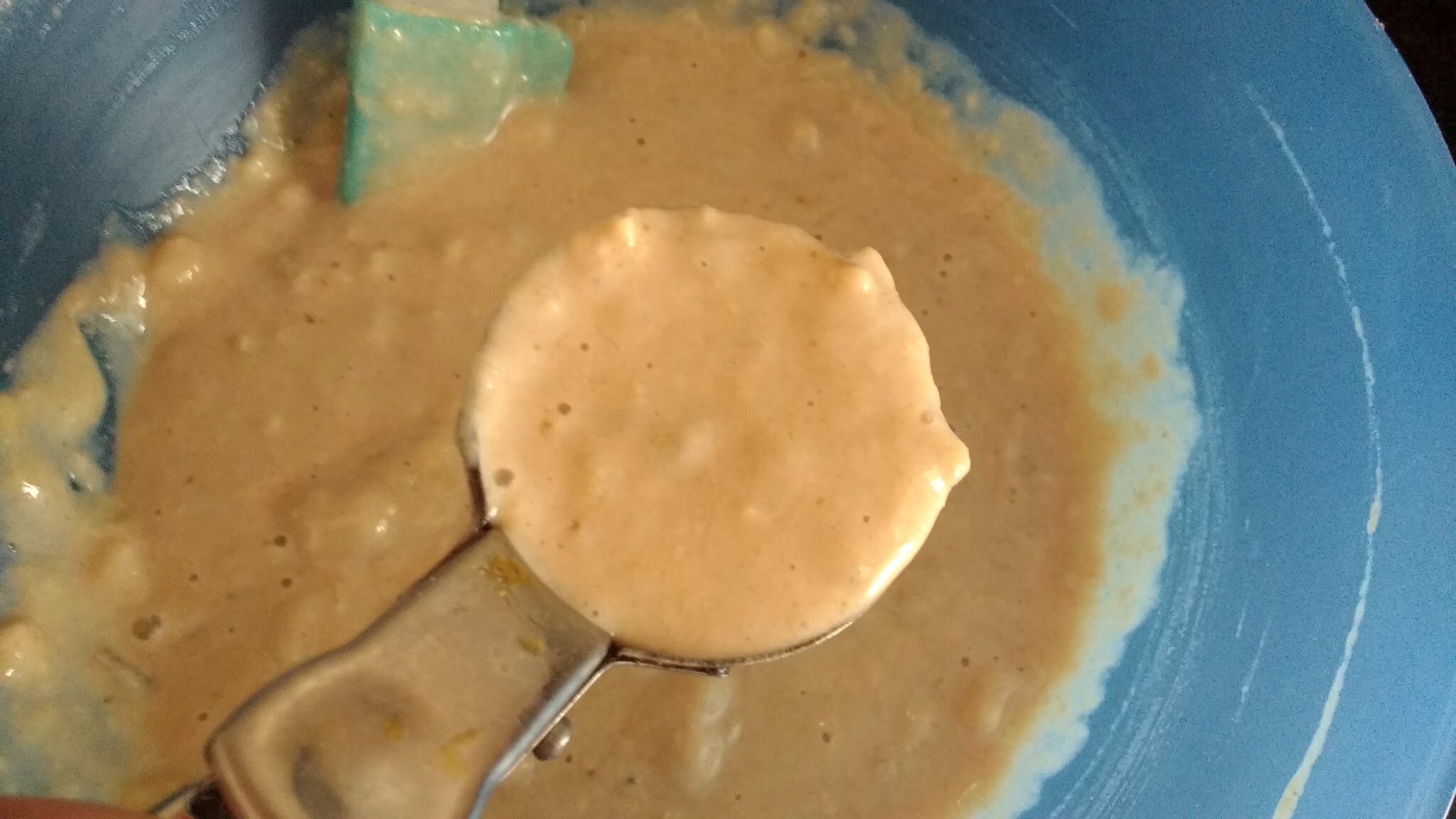 One of the important things to take care is to cook the pancakes on LOW flame. I keep the flame on medium-low flame for the entire time.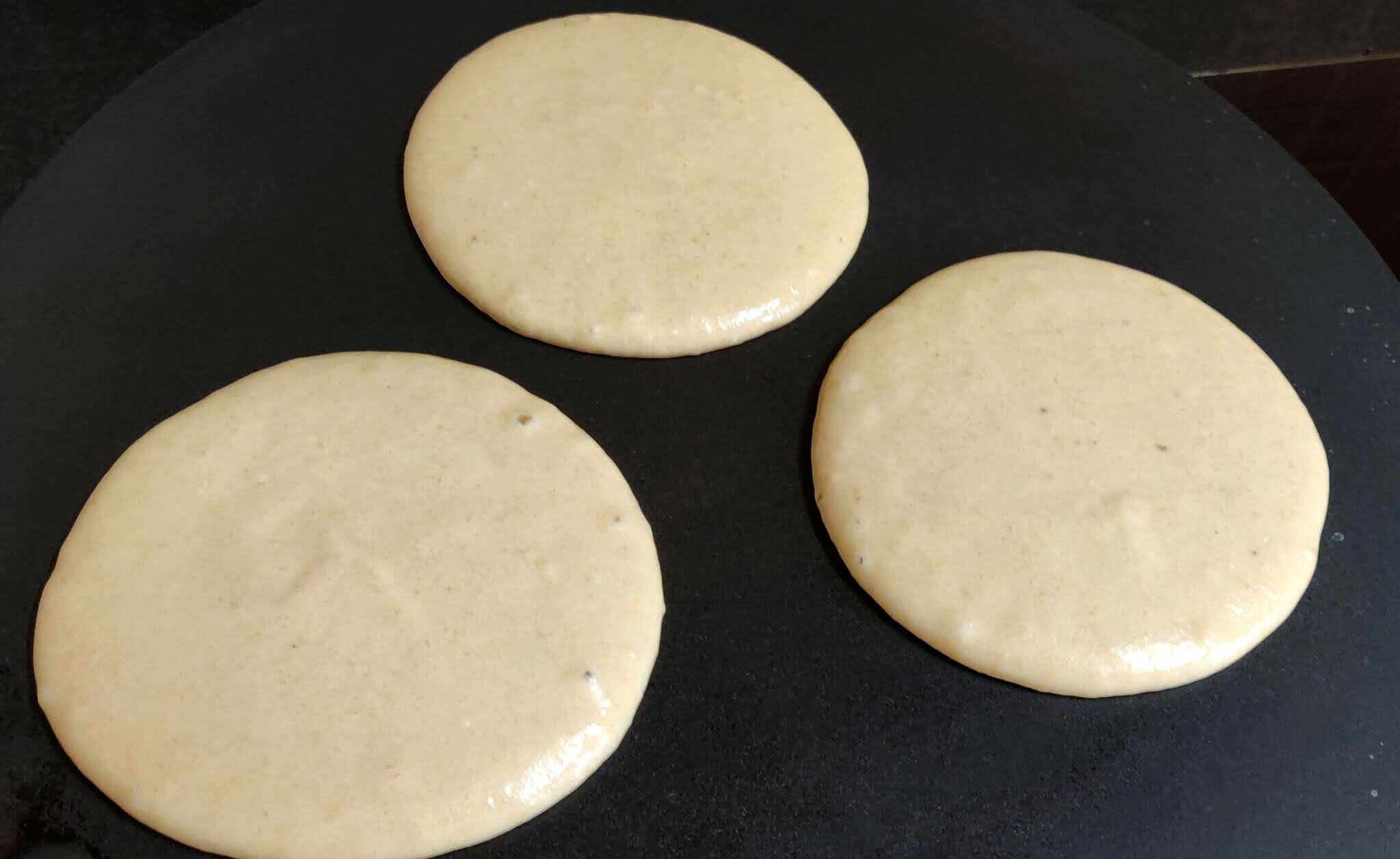 (After 1-2 minutes)
Step 5:
Once small holes appear on the pancakes, flip it.Let it cook from other side for 1-2 minutes. Repeat till you get golden brown colour on both sides.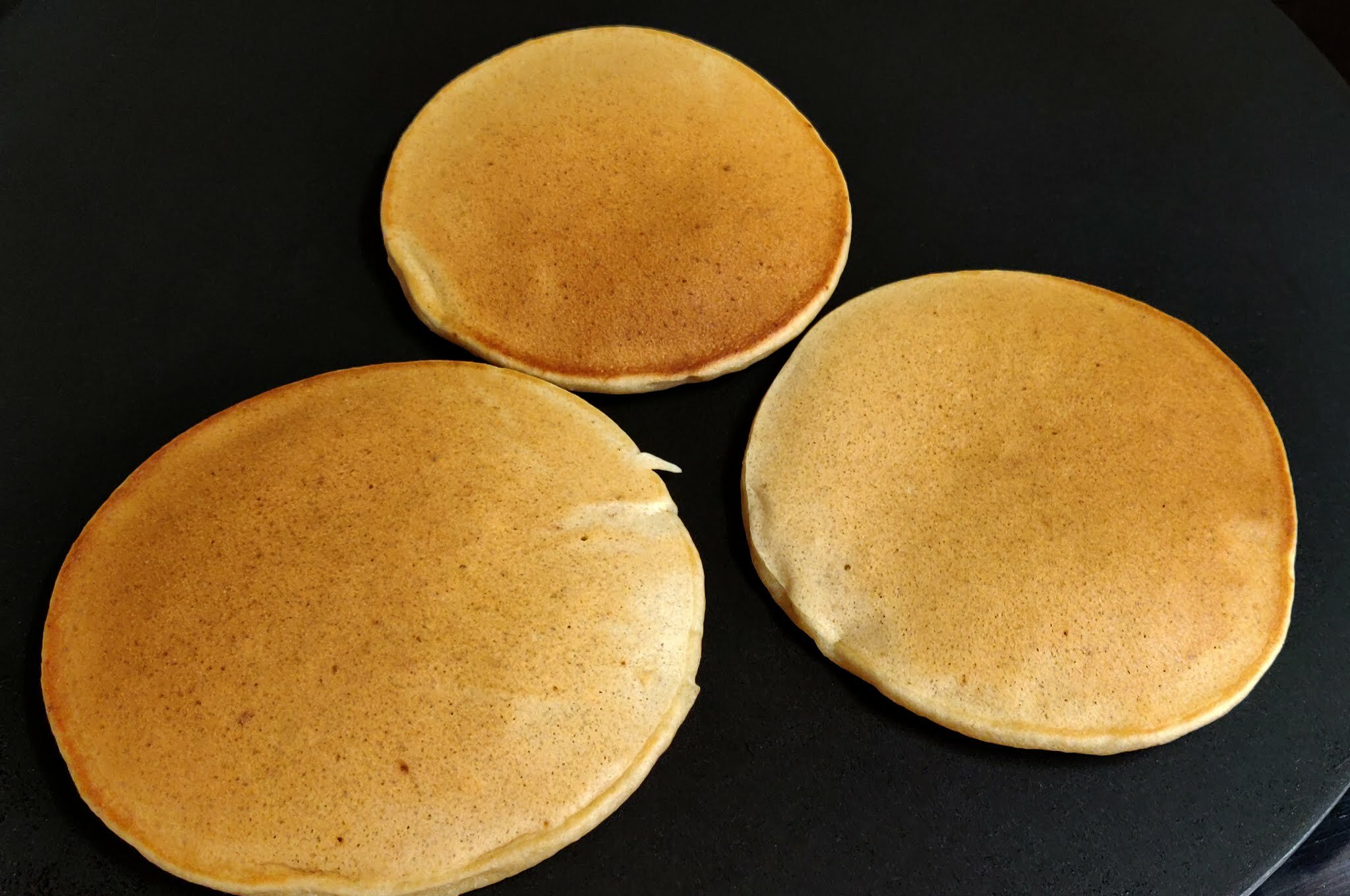 Top up these pancakes with few banana pieces and drizzle some honey, maple syrup or chocolate sauce. Enjoy these soft and fluffy whole wheat banana pancakes. Bon Appetit!!  🙂
Pin it for later :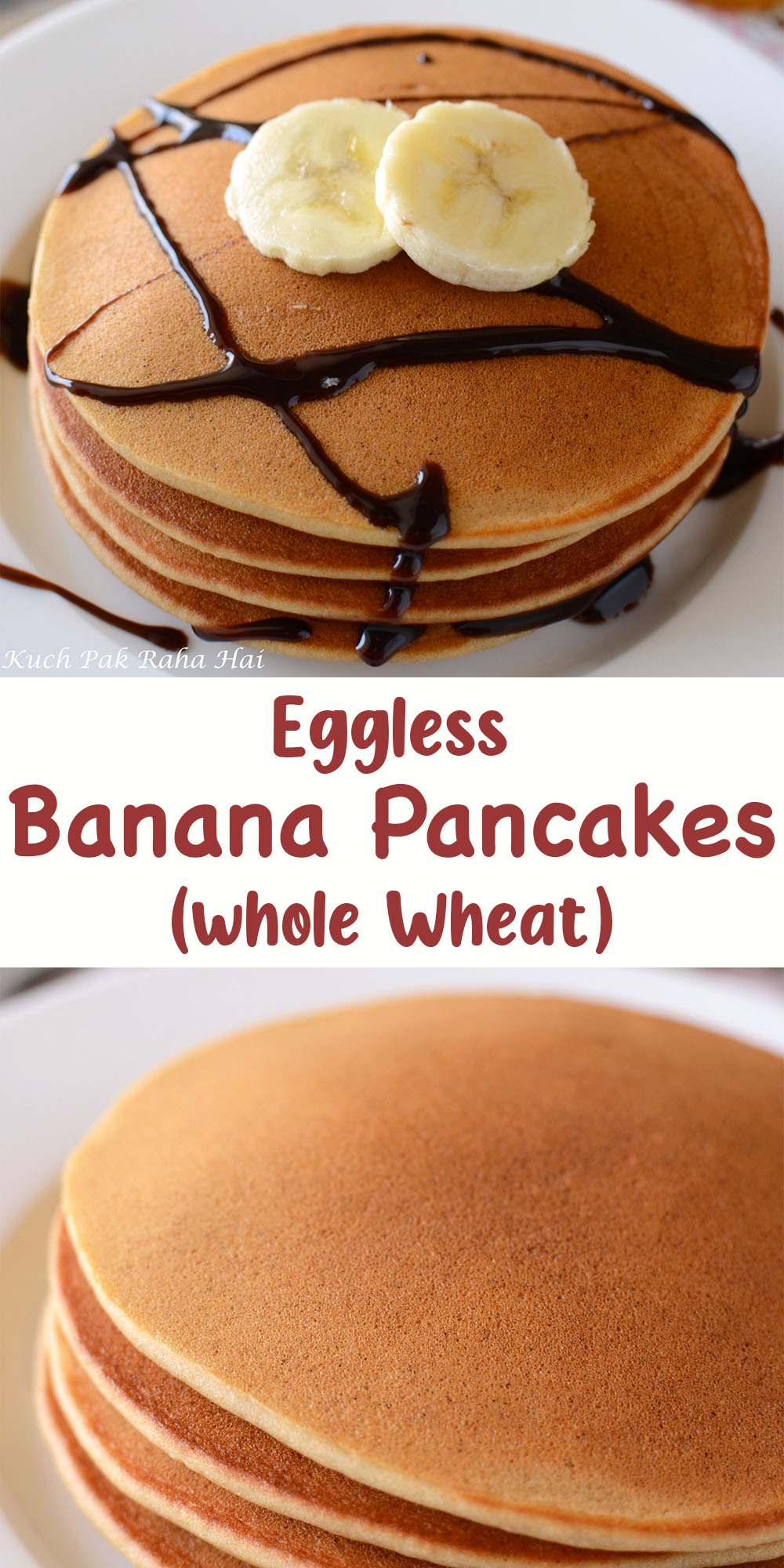 Tips for making perfect banana pancakes :
1. Always use ripe bananas for making pancakes. More ripe the bananas are, sweeter they will be.
2. Make these pancakes on medium-low flame. If the flame is too high, the pancakes will either stick to the pan or get cooked from outside with raw insides.
If you try this recipe share pics on social media channels, then don't forget to tag us on Instagram or Facebook or use the #kuchpakrahahai. Your feedback & suggestions are valuable to us.
Let's stay connected
Facebook| Instagram| Pinterest| Youtube