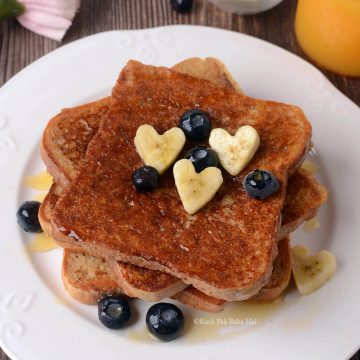 This easy to make, irresistibly delicious banana french toast is going to be your favourite breakfast recipe. With its lightly crispy exterior and tender insides, it makes for a wholesome yummy breakfast or brunch. It is made without eggs (vegetarian) & can be made vegan.
Traditionally french toasts are made by dipping bread in a batter of eggs & milk. Instead of eggs we will be making this french toast with banana. As mother's day is just around the corner, it is also a perfect option to surprise your mom for breakfast in bed or brunch.
The banana french toast recipe shared here is:
Dairy free / Egg free / Nut free
Vegetarian / Vegan
Can be made gluten free
Easy & quick breakfast or brunch recipe
Banana French Toast Ingredients:
Bread: You can use whole wheat, sourdough, whole grain, bricohe or white bread to make french toasts (It is better if you use 1 or 2 day old bread). If the bread is too soft, it can get soggy.
If you want to make vegan gluten free french toast, use gluten free bread varieties like almond flour or rice flour bread & make sure the bread you are using has no eggs or dairy (marked as vegan).
Milk: You can use whole milk or skimmed milk to make the dipping batter. For vegan toasts, use plant based milk like almond, soy or oat milk can be used.
Bananas: Use ripe banana to make these french toast as they are naturally more sweeter.
Flavourings: I like to add cinnamon powder & vanilla extract to flavour these french toast as banana & cinnamon makes an excellent pair. You can also use pumpkin pie mix (aromatic spice mix of cinnamon, clove, ginger & nutmeg).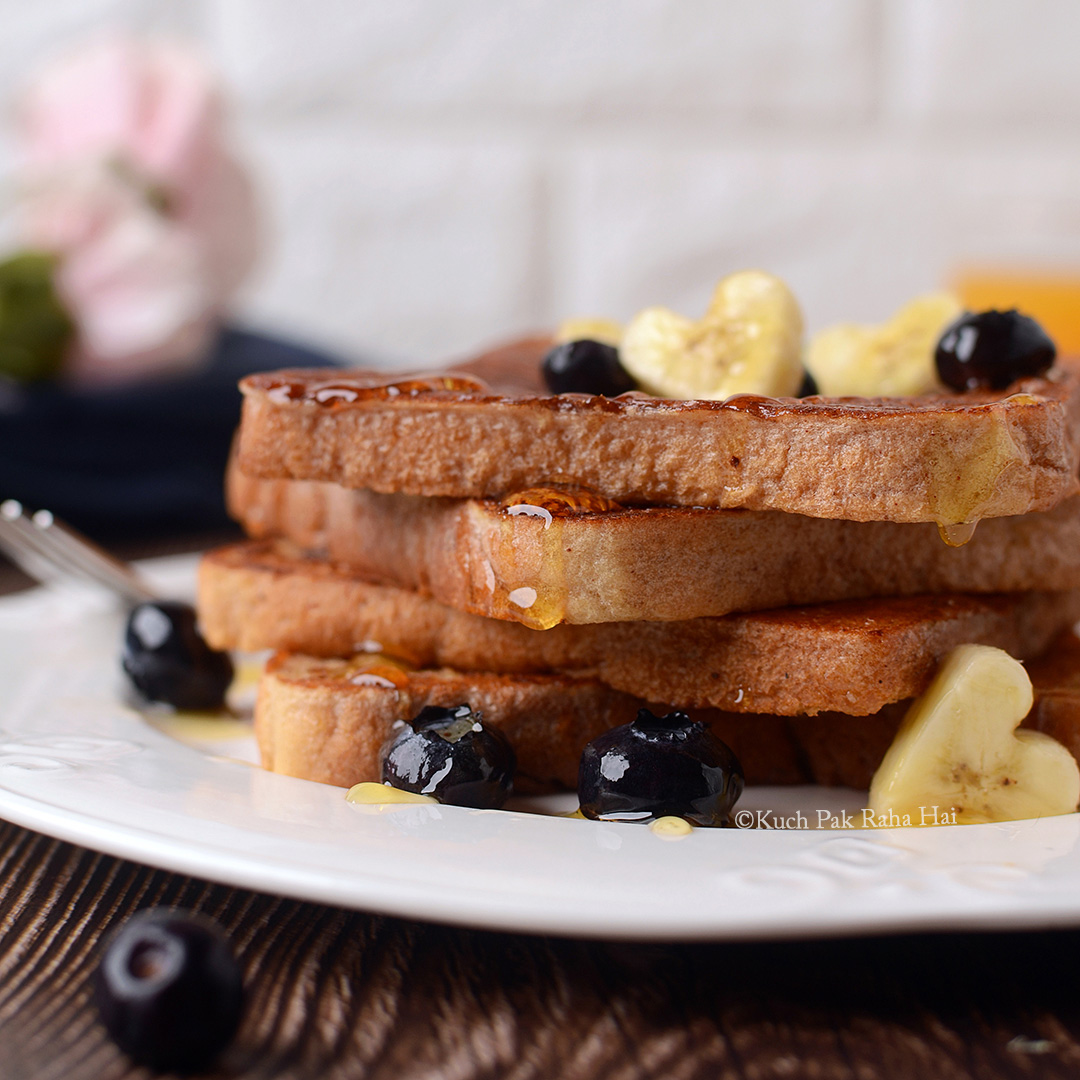 Salt: A pinch of salt instantly balances the sweetness from bananas. Please do not skip it.
Butter: These banana french toast tastes absolutely divine when cooked in butter. To make them vegan, you can use oil, plant based butter or margarine.
Corn Starch:  Cornstarch or cornflour is a white colour gluten free flour derived from corn grain. A small quantity of it when added in batter makes the outer crust slightly more crispy. However it is an optional ingredient. I have tried making these french toast without cornstarch & they turned out fine too.
Toppings: You can devour these delicious banana french toasts with sliced bananas, caramelized banana, strawberry, blueberries, peanut butter, nutella, honey or maple syrup.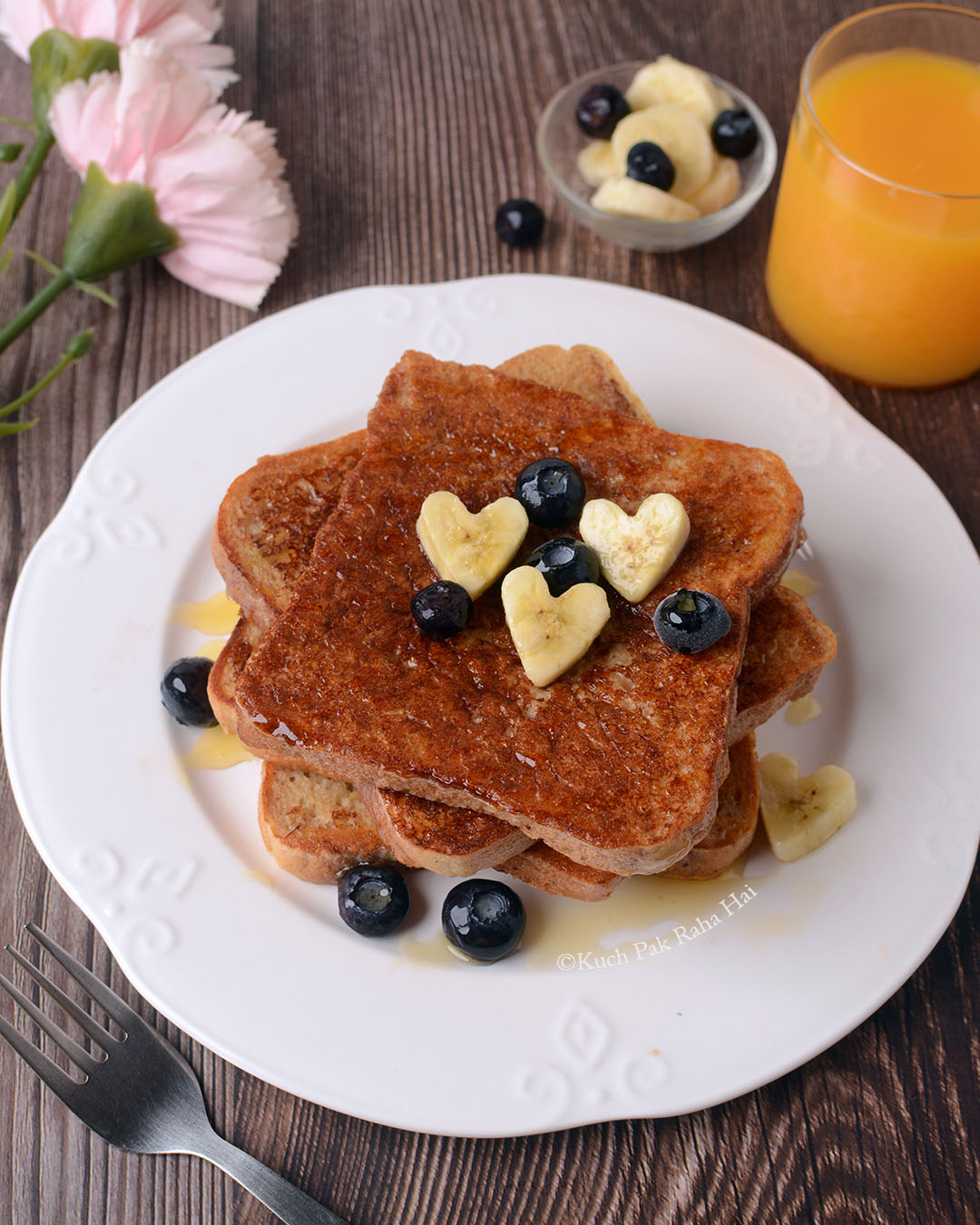 More easy quick breakfast recipes:
Ingredients: (Makes 5-6 toasts)
Ripe Banana – 2
Milk / Plant based milk- 1/2 cup
Bread Slices- 5 to 6
Cinnamon powder- 1/4 tsp
Vanilla Extract- 1/2 tsp
Cornflour / Cornstarch- 2 tsp (optional)
Salt – A pinch
Butter / Vegan Butter- For cooking
For topping:
Banana Slices / Berries
Honey / Maple syrup
Directions:
Step 1:
Add bananas, milk, cinnamon, vanilla, cornflour (if using), salt in a blending jar. Blend to make smooth mixture.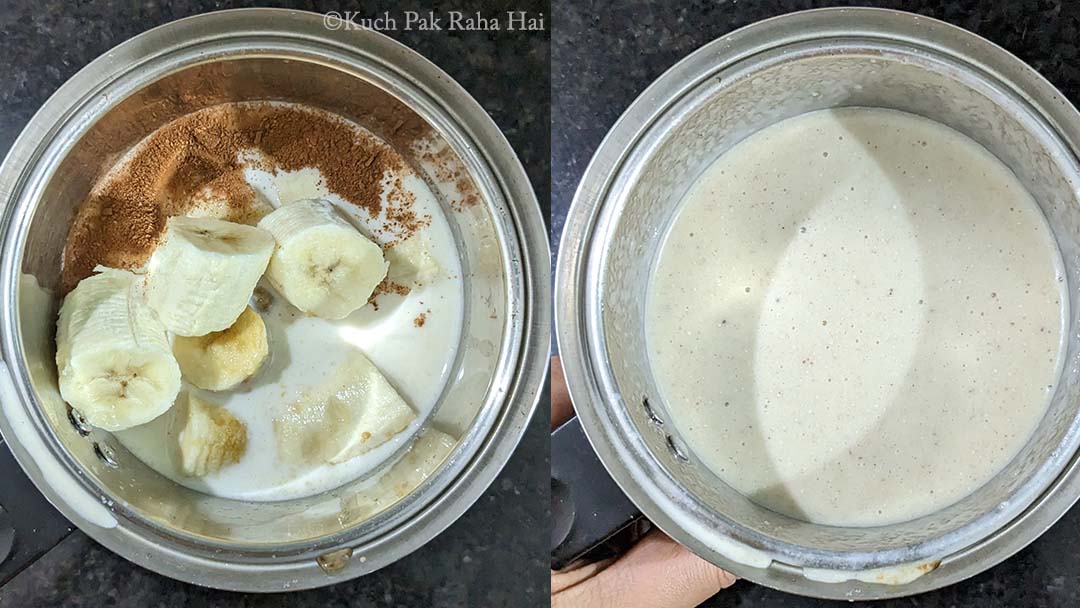 Step 2:
Transfer this mixture in a flat bowl or dish in which you can dip the bread.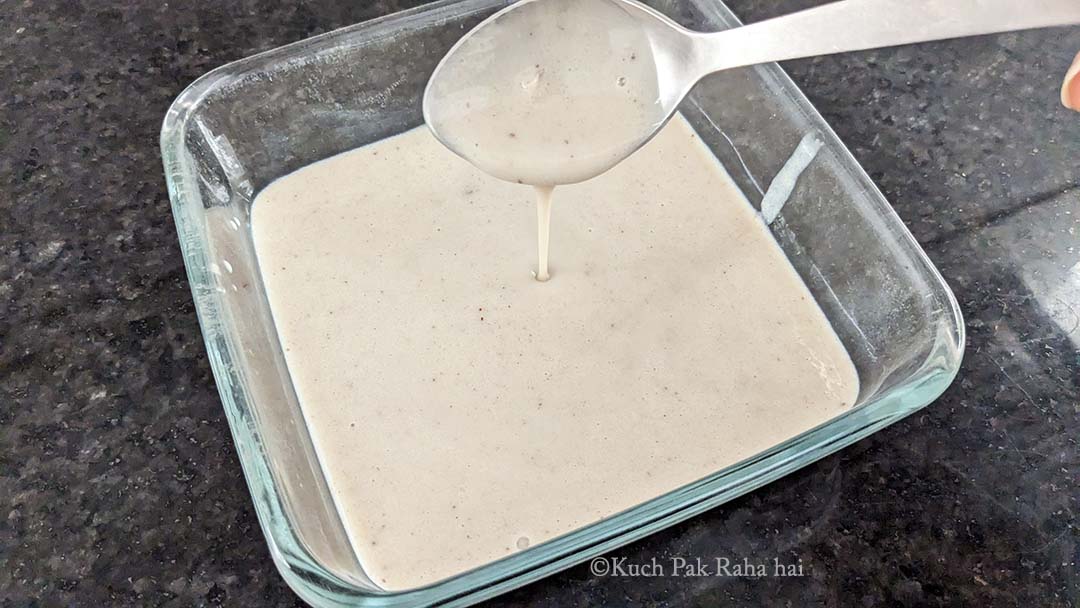 Step 3:
Heat 1/2 tsp of butter or vegan butter in a skillet or non stick pan. Spread it with brush or spatula.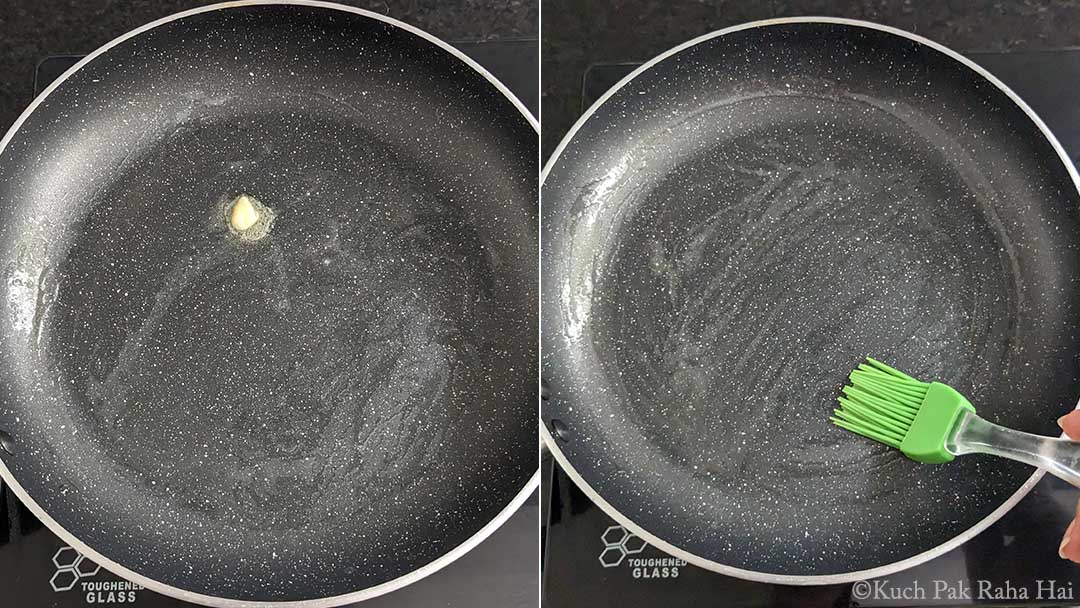 Step 4:
Take a bread slice and gently dip into the banana milk mixture. Turn it swiftly so that other side is also coated. Don't let the bread sit in the batter as otherwise it can get soggy.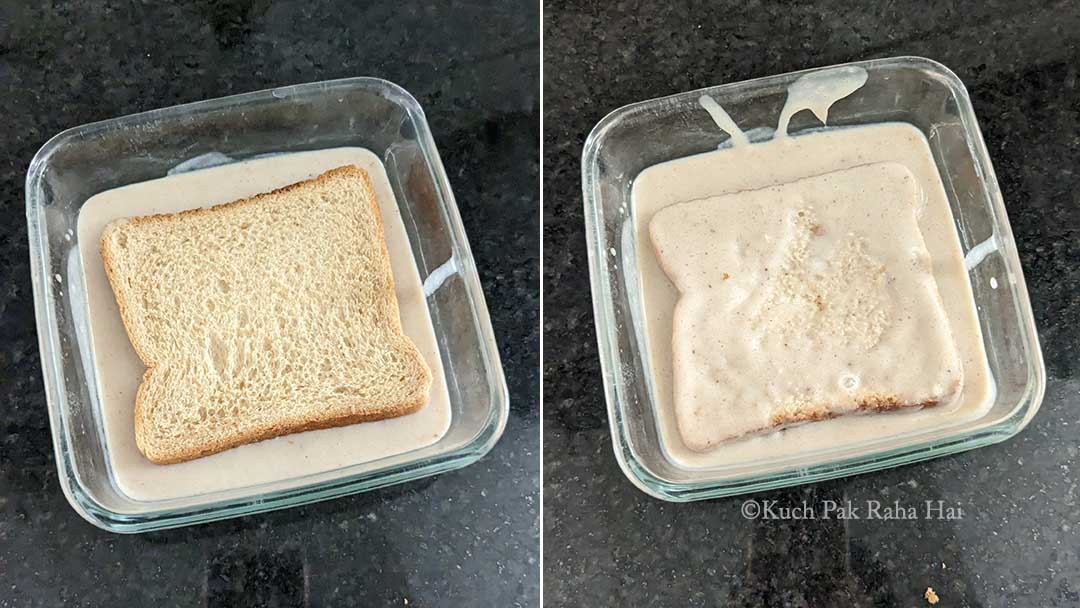 Step 5:
Immediately transfer this bread in preheated pan and cook on medium low flame for 3-4 minutes on each side till golden brown. Don't fry them on high flame as you want to give bananas the time to caramelise.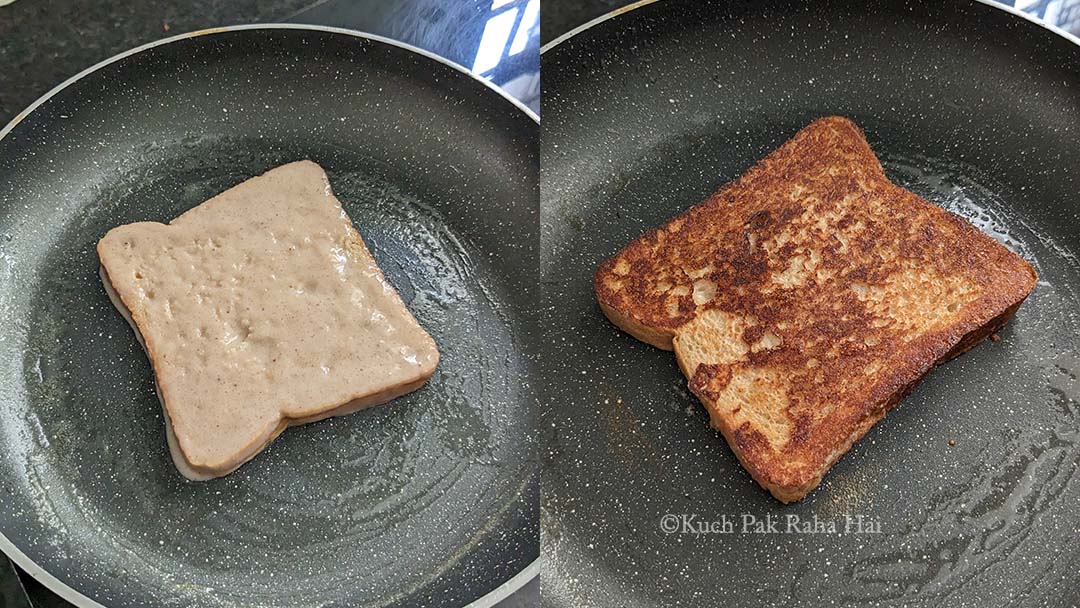 Serve them hot with more banana slices, berries and generous drizzle of honey or maple syrup.
Additional Tip:
If you are making a big batch of these banana french toasts, then use a big skillet or non stick pan in which you can make 3-4 toasts at a time.
Pin for later: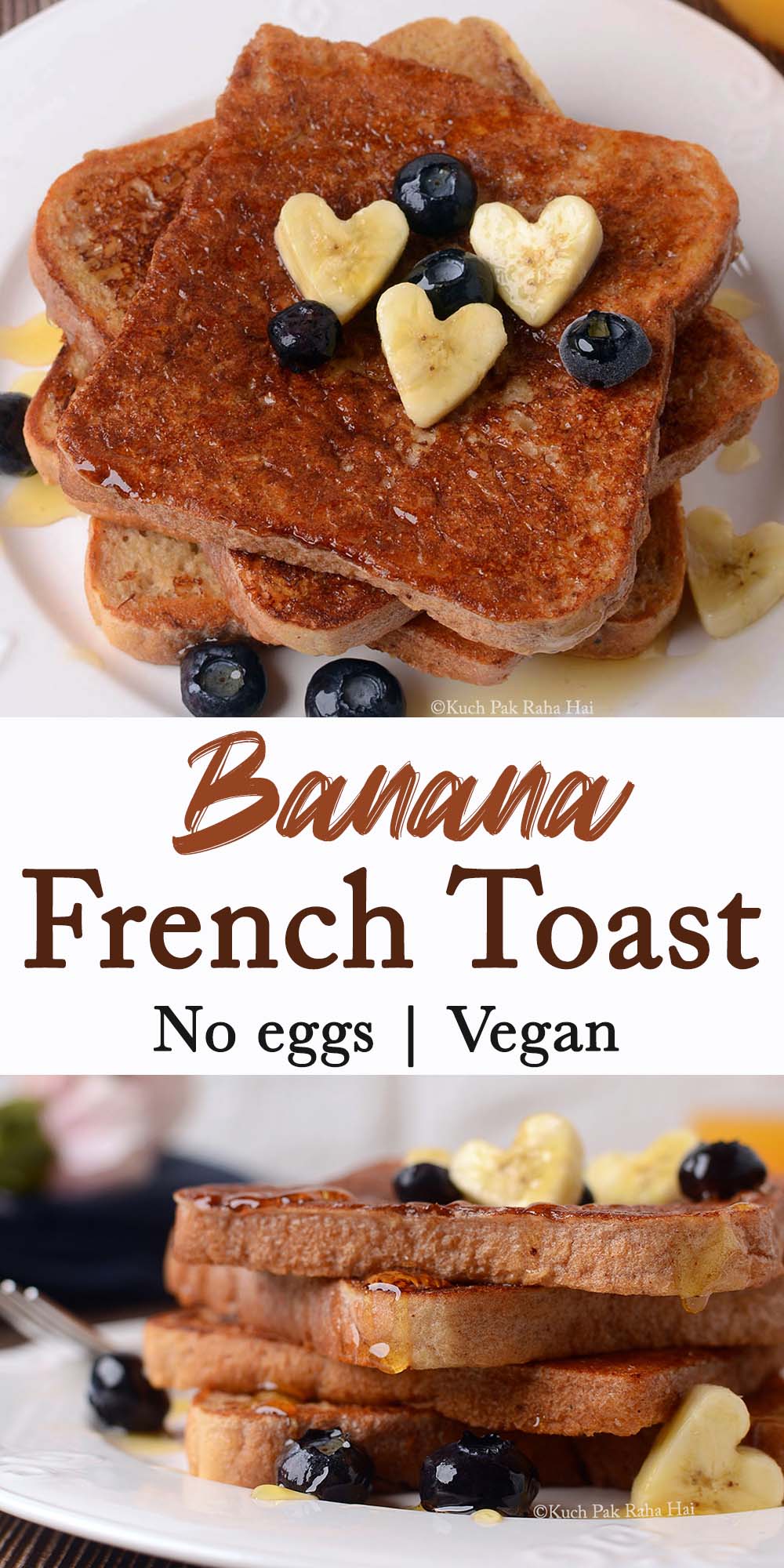 More banana recipes:
If you try this easy vegan french toast recipe & share pics on social media, then don't forget to tag on Facebook, Instagram or use #kuchpakrahahai.
Let's stay connected
Facebook | Instagram | Pinterest| Youtube