Shahi Stuffed Tomatoes is a delicious, mouth-watering recipe in which juicy tender tomatoes are stuffed with a rich filling consisting of mashed potatoes, cottage cheese (paneer), nuts and spices. This dish is popular in mostly Northern India (and not to forget to mention my grandmother's favourite).
The highlight of this dish is the tantalising flavour imparted by the combination of mushy, sweet-sour tomatoes along with crunch of nuts, creaminess of the filling and aromatic Indian spices. It is easy to prepare at home and looks so rich that you will not even think twice before preparing it. It is a wonderful option that can be added when you have some guests to serve as you can make all the preparations beforehand and let the dish cook while attending your guests. It does not even take much time in cooking.
The stuffed tomatoes can be prepared in Air Fryer, Non Stick pan or even in Tandoor. In this post I am sharing the way to prepare them in air fryer and non stick pan. The variations in this dish are endless. The stuffing I have made consists of cottage cheese, potatoes, cashews and raisins as core ingredients. For garnishing, grated Mozzarella cheese is used. You can skip nuts if you are allergic to them. Skipping cottage cheese/Mozzarella cheese from the recipe will give you a vegan, gluten-free Stuffed Tomatoes. You can use Mushrooms, sweet corn, peas or any other vegetable of your choice in the filling (provided they taste good with the tomatoes).
Hope you all would like the recipe!!
List of Ingredients: (Makes 10 pieces)
Medium sized tomatoes-5
Cooking oil -1 tbsp
For stuffing
Boiled Large Potatoes-2
Cottage Cheese/Paneer-50 gms
Raisins- 2 tbsp
Cashews chopped-3 tbsp
Cooking Oil-2 tbsp
Cumin seeds- 1 tsp
Chopped Green chillies-2
Ginger paste-3/4 tsp
Red chilli powder-1/2 tsp
Coriander powder-1 tsp
Garam Masala-1/2 tsp
Salt- To taste
For garnishing:
Mozzarella Cheese-1/4 cup (optional)
Chopped Coriander leaves-2 tbsp
Steps To Prepare:
Step1:
Heat ghee in a non stick pan. Add cumin seeds, ginger paste and chopped green chillies to it. Once the seeds being to crackle, add red chilli powder and coriander powder.
Once the spices start giving nice & rich aroma, add chopped cashews and raisins to it. Stir for 1 minute.
Add grated boiled potatoes and paneer to it. Mix all the ingredients well. Cook it for 1-2 minutes. Keep it aside.
Step2:
In this step we are going to make tomatoes hollow. Wash the tomatoes properly. Chop very small flat portions from top and the bottom (in order to balance the tomato). Cut it into half.
Hollow the insides of the tomato using a spoon and knife.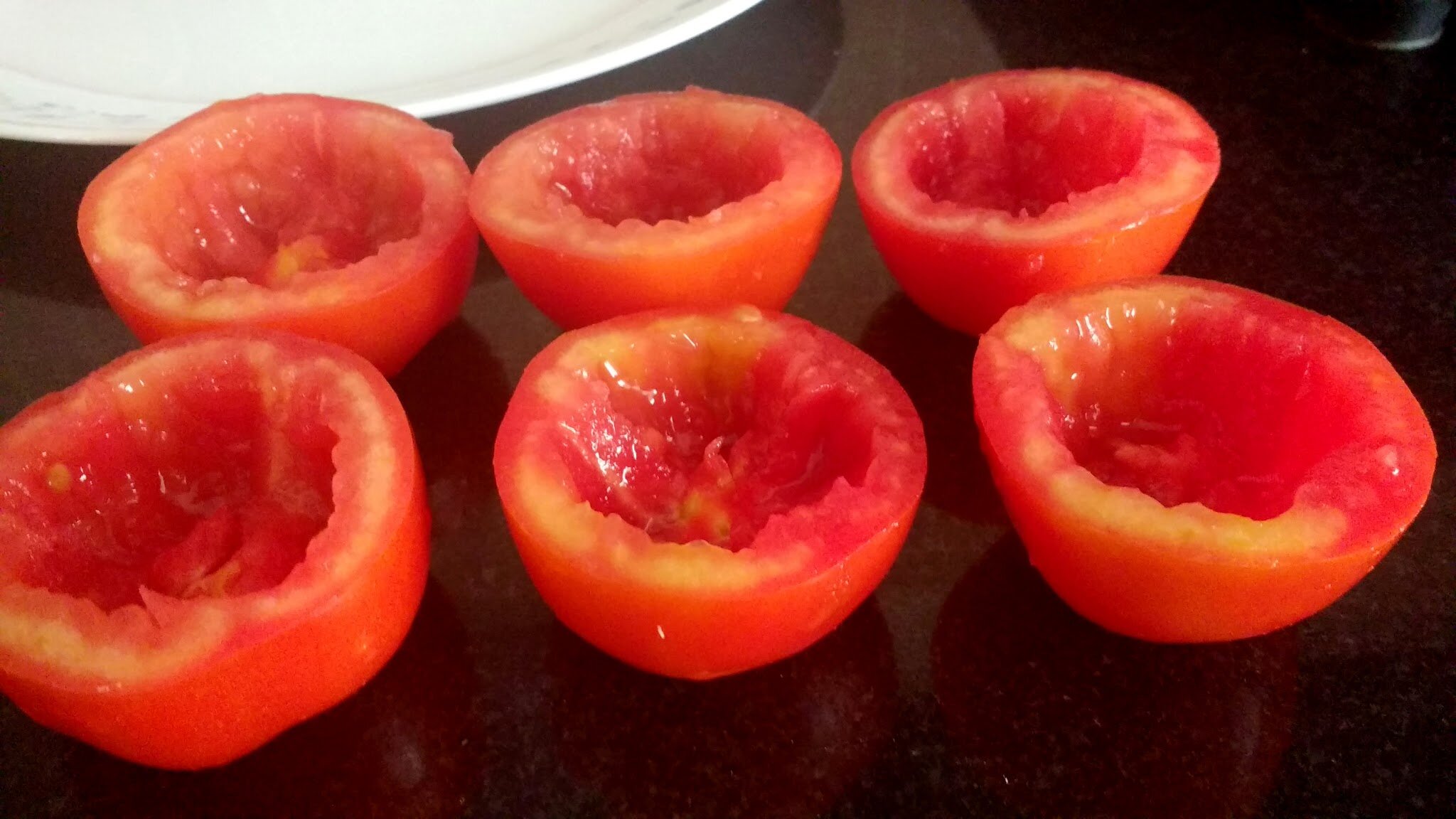 Whatever pulp you get at this step, don't discard it. You can puree it and use in any other of your recipes like Indian curries or Red pasta sauce.
Step3:
Stuff the insides of hollow tomato with the stuffing prepared in step1.
From this step, you can either prepare them in Airfryer or in a non stick pan.
Preheat the air fryer at 180 degrees for 5 minutes. In the mean time, brush the tomatoes lightly with some cooking oil.
Once the air fryer is preheated, air fry them for 10 minutes.
If the tomatoes have turned soft and wrinkles have appeared on its skin that means they are cooked else cook them for another 3-5 minutes.
At the end, garnish them with some grated Mozzarella cheese and air fry for another 2 minutes (just to melt the cheese).
Your Shahi Stuffed Tomatoes are ready!!
Non Stick Pan preparation:
Heat cooking oil in a non stick pan. Place the tomatoes in the pan and cover them with a lid. Let them cook on low flame for 5 minutes.
Check after 5 minutes. If the tomatoes have turned soft and wrinkles have appeared on its skin that means they are cooked else cook them for another 3-5 minutes. At the end garnish them with some grated Mozzarella cheese and cover for a minutes to let the cheese melt.
Garnish the prepared Shahi stuffed tomatoes with chopped coriander leaves. Serve them hot with chapatis/naan!!