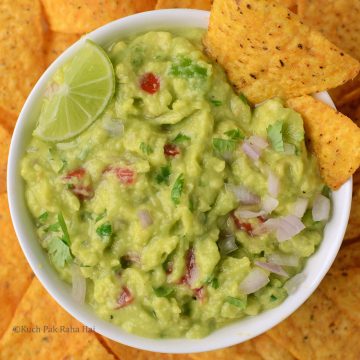 Guacamole is a Mexican dip made with mashed avocado, onion, jalapeños, lime, salt & cilantro etc. You can enjoy it with nachos, tortilla chips or spread it on toast for yummy breakfast.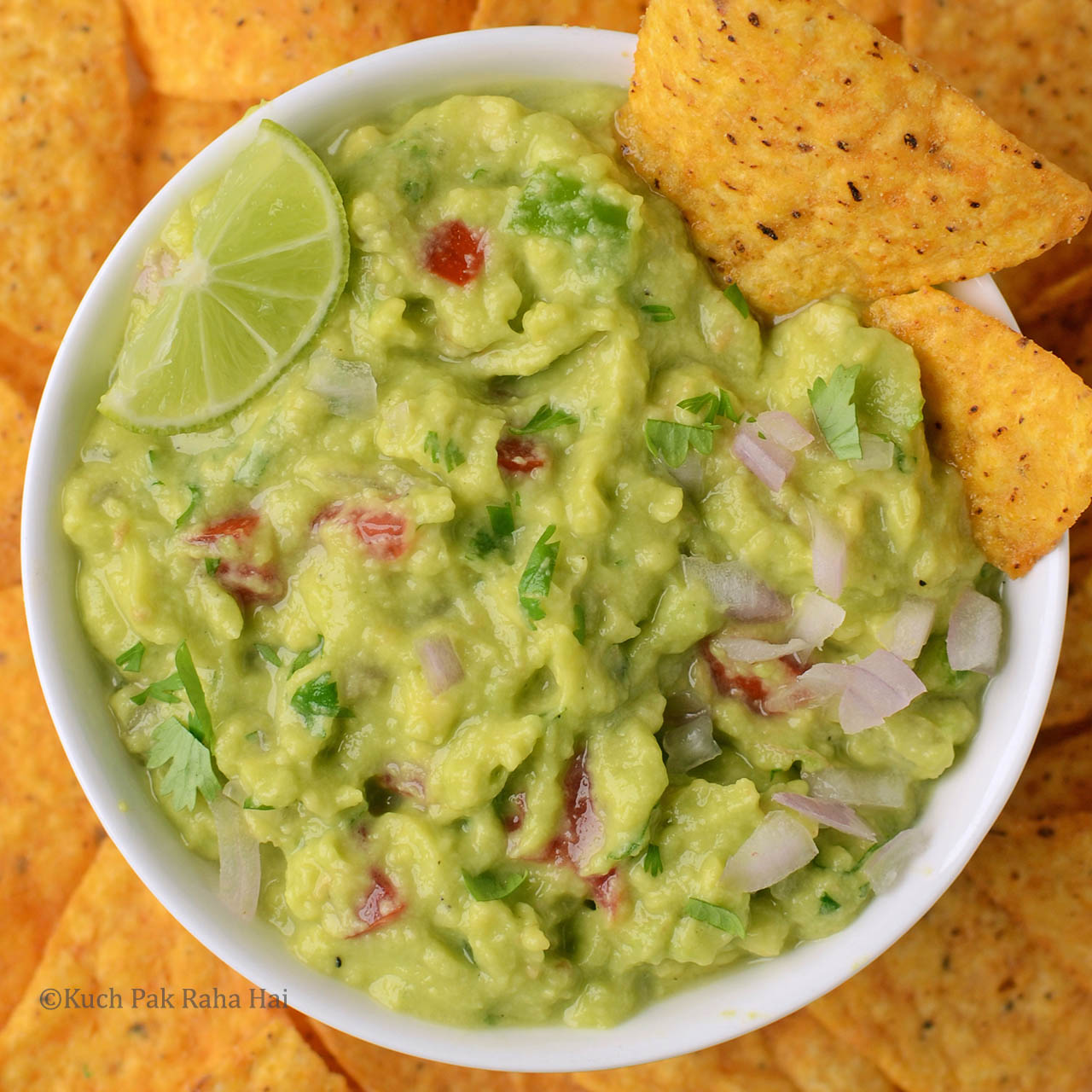 Avocado, also called alligator pear or butter fruit, is known for its characteristic inherit creamy rich buttery texture. It is a rich source of fibre, healthy fats, vitamins & minerals like vitamin C, E, K, potassium & magnesium etc.
This guacamole recipe is :
Easy to make
Vegan (Dairy free)
Vegetarian
Gluten free
No cook
If you are looking to substitute butter in your breakfast, then avocado is a perfect choice for you (10 grams butter has 73 calories & 10 grams of avocado has 15 calories). You can easily replace butter with guacamole for yummy & healthy toast.
How to know if an avocado is ripe?
To test the ripeness of avocado, gently press it with a thumb. If it's hard to touch that means it is not ripe yet. If it indents too much, that means it is over ripe. If it indents slightly i.e. just soft to touch, it's perfect to make guacamole.
The only thing that can make or break the guacamole is the ripeness of avocados. If it is completely ripe, its flesh can easily be scooped out with the help of a spoon. Unripe avocados have a raw texture & are bitter in taste. On the other hand, over-ripe avocados get too mushy and have slightly off smell & taste.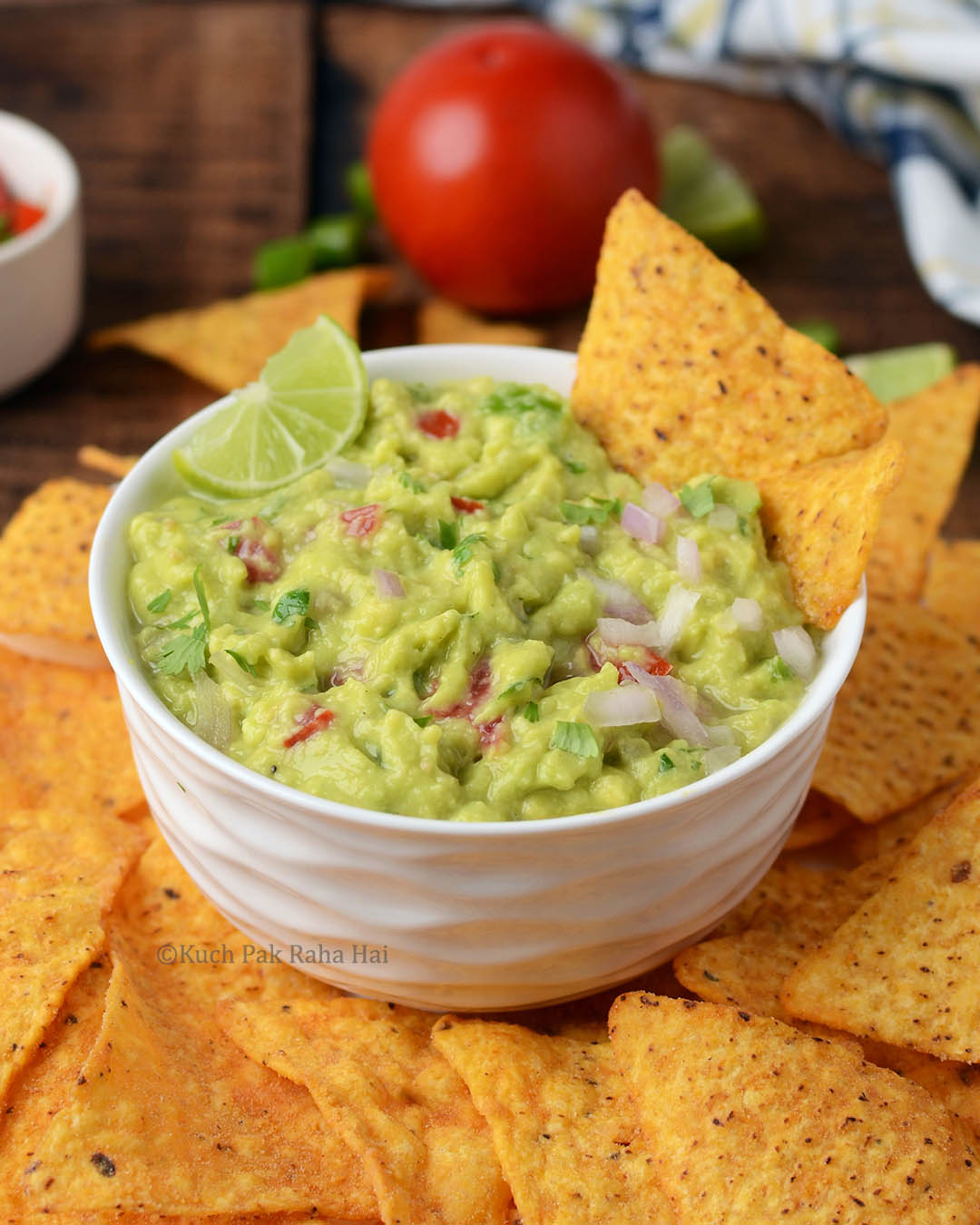 Ingredients in guacamole:
To make guacamole (pronounced as gva-kuh-moh-lee) all you need is avocado, red onion, tomatoes, jalapeños, lemon juice, cilantro, crushed black pepper & salt.
Cilantro & lemon juice adds so much of freshness & flavour to this dip. As jalapeños, are not easily available in India, you can also use green chillies.
Guacamole Variations:
Roasted Corn: Roasted sweet corn kernels add smokiness, slight sweetness & so much flavour to the guacamole. Do give it a try next time on games night or for potluck.
Garlic: If you are a garlic lover, add in 2-3 cloves of fincely minced garlic cloves or garlic powder to guacamole
Black Beans / Kidney Beans: I sometimes add boiled kidney beans to the prepared guacamole & gave it a gentle mix. The beans give bite to the dip & add protein also.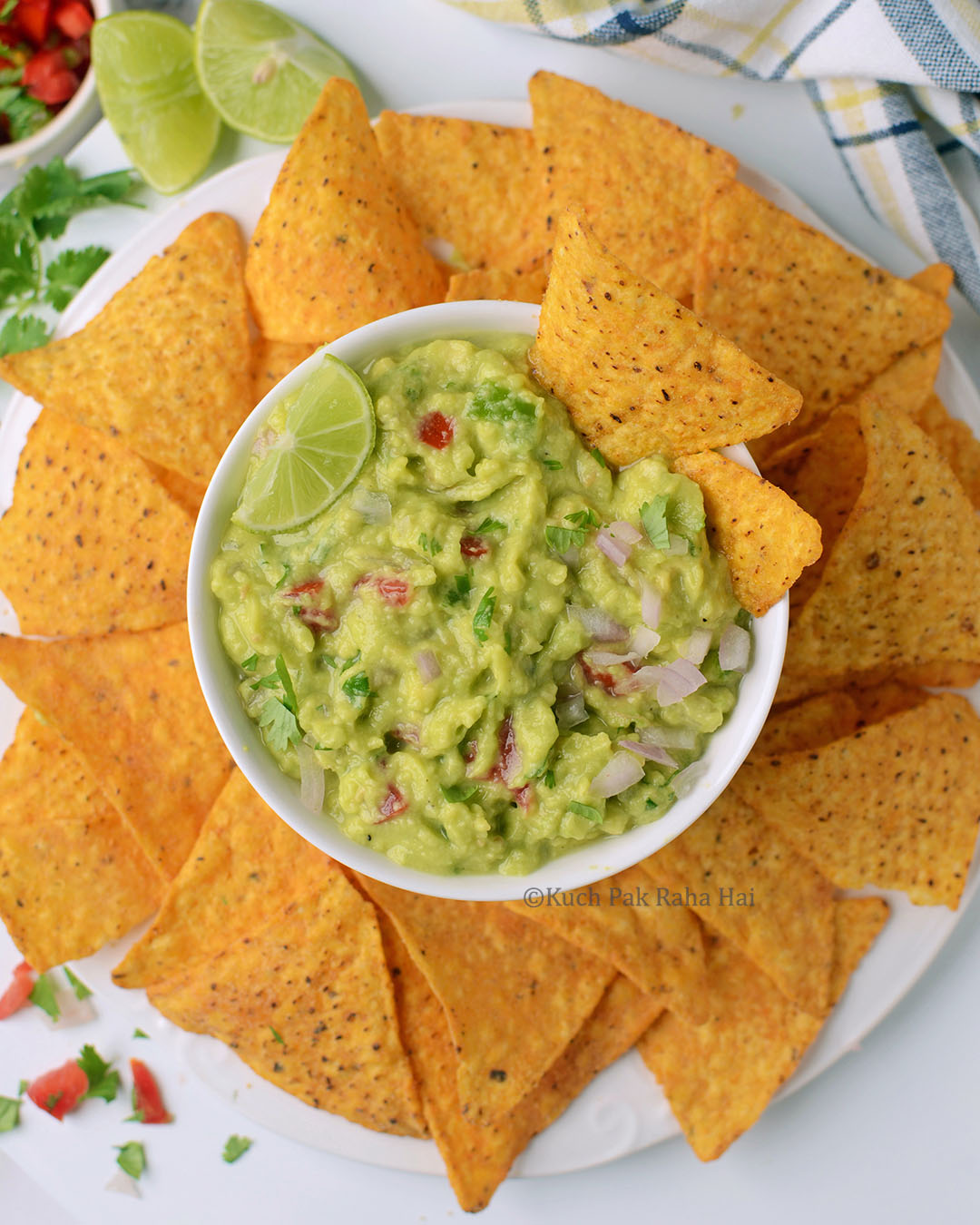 Guacamole Serving suggestions:
You can serve guacamole with nachos, tortilla chips, burrito, quesadillas, or tacos. It is also great to serve with other appetisers or snacks as a healthy dip like crispy smashed potatoes. You can add it to salads like mexican quinoa salad, use as sandwich filling or spread over toasted bread for healthy breakfast.
More dip or chutney recipes:
Ingredients:
Ripe Avocado-2
Chopped jalapeños-1
Chopped onion- 1/4 cup
Chopped tomato- 1/4 cup
Garlic (minced)- 2 cloves (optinal)
Lemon juice- (1+1/2) tbsp
Chopped Cilantro / Coriander-1/4 cup
Salt- 1/3 tsp (to taste)
Crushed black pepper- 1/4 tsp
Notes:
1. If jalapeños are not available, you can use pickled jalapeños or green chillies.
2. To add some smokiness, you can also add a big pinch of roasted cumin powder.
Directions:
Step 1 :
Halve the avocados and remove the seed with the help of a knife. Scoop its pulp with the help of a spoon. Mash with a fork or masher.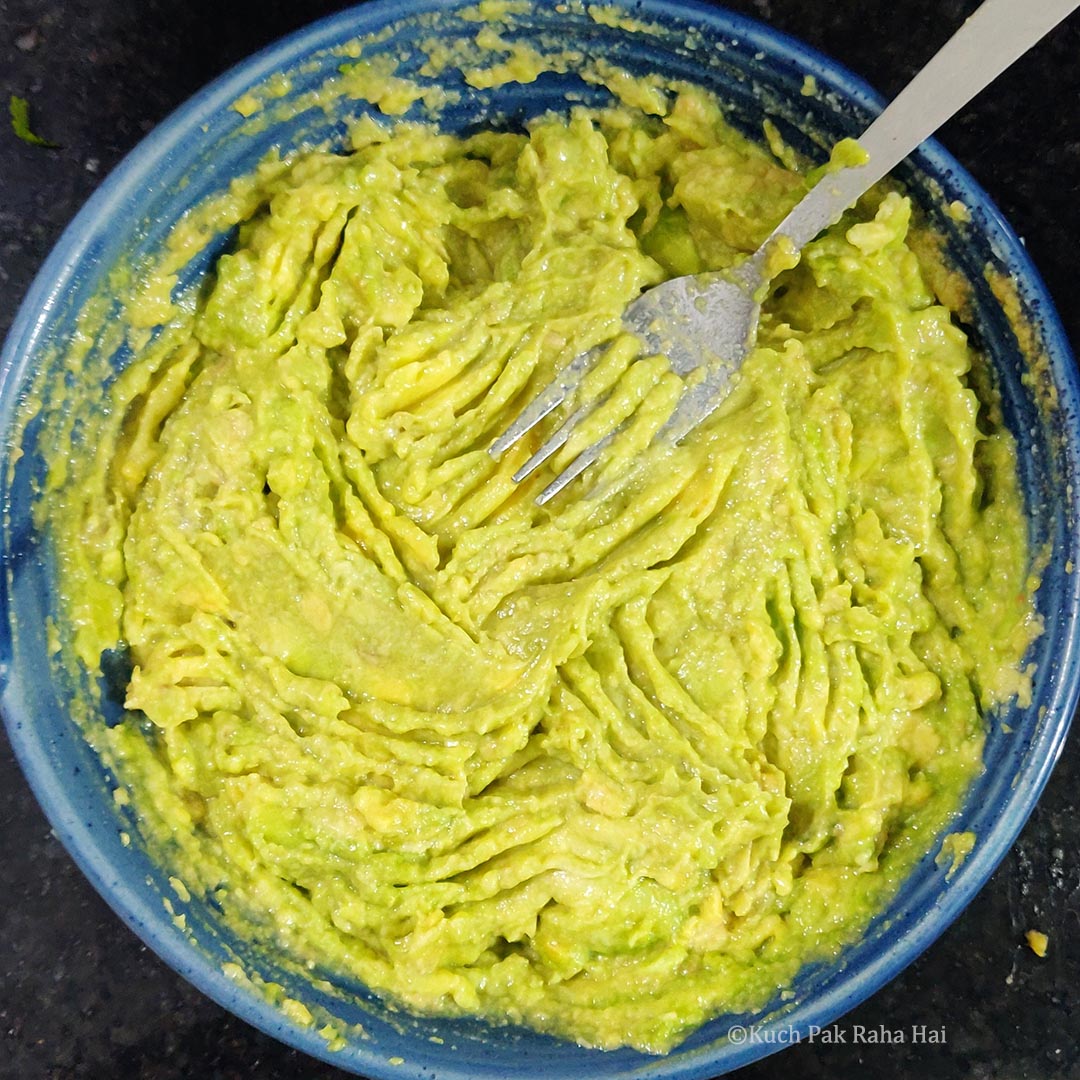 Step 2:
To these mashed avocados, add rest of the ingredients. Mash with the help of a fork or masher, just enough to mix the ingredients.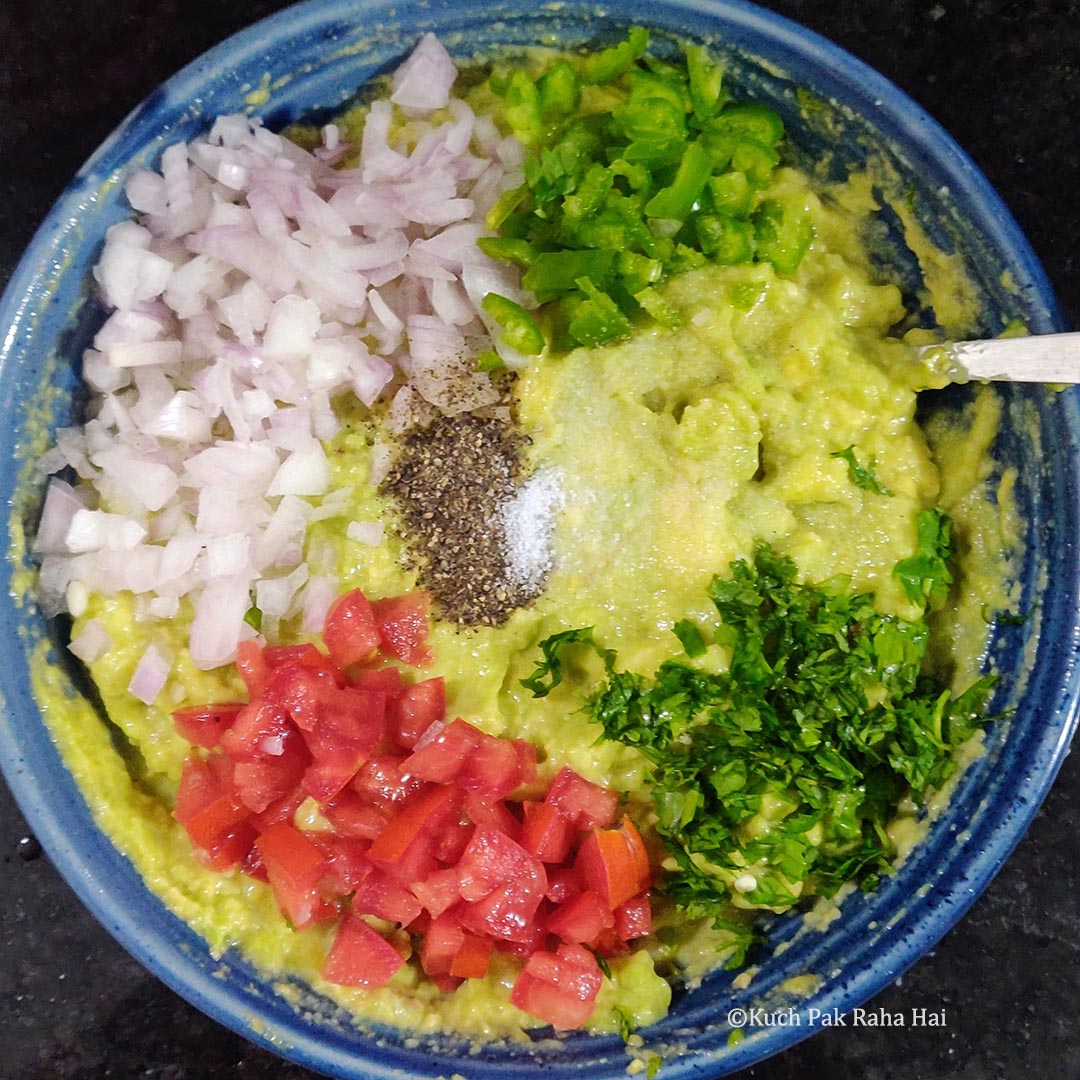 Serve it straightway with nachos, tortilla chips or quesadillas.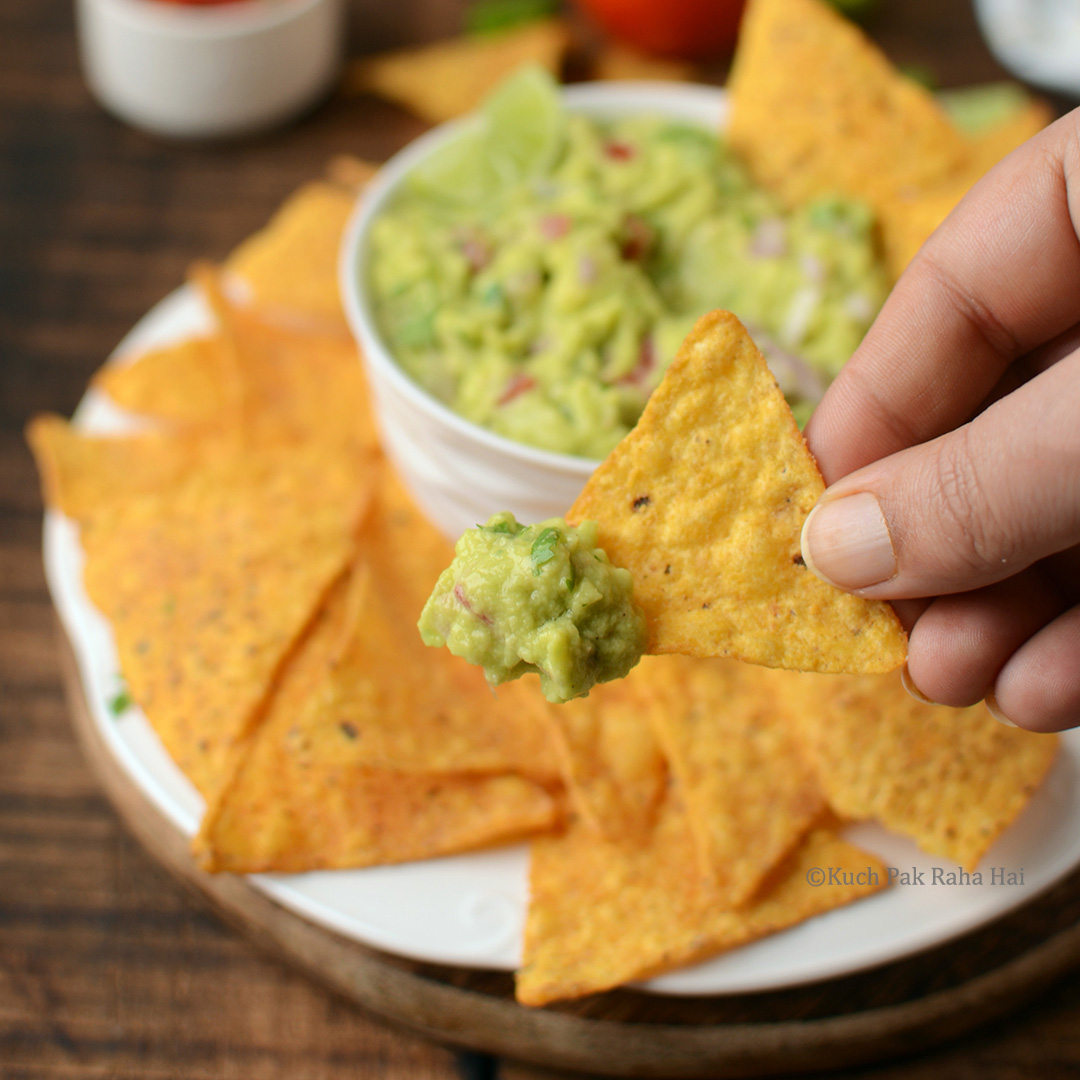 Tip:
Avocado tend to brown just like apples when exposed to air. I would advice to prep all the other ingredients first & then cut the avocados. Add lemon juice to the pulp as soon as you scoop it, to prevent oxidation.
How to store guacamole?
As avocado has tendency to brown quickly on coming in contact with air, it is advisable to always store it properly for longer life. My tried & tested method is to keep avocado's seed (which we scooped out) inside the prepared guacamole, cover it with cling film and store in fridge. This way it stays fine for 2-3 days.
If you try this recipe & share pics on social media, then don't forget to tag on Facebook, Instagram or use #kuchpakrahahai.
Let's stay connected
Facebook | Instagram | Pinterest| Youtube