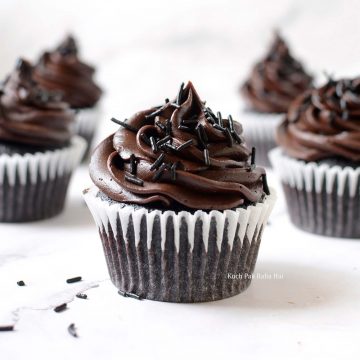 'Soft, moist & tender eggless chocolate cupcake topped with silky smooth rich chocolate ganache' definitely sounds like every chocolate lover's dream. Every bite of these sinfully delicious cupcakes is surely going to taste like heaven. It is egg free, easy to make recipe and yes..super delicious!!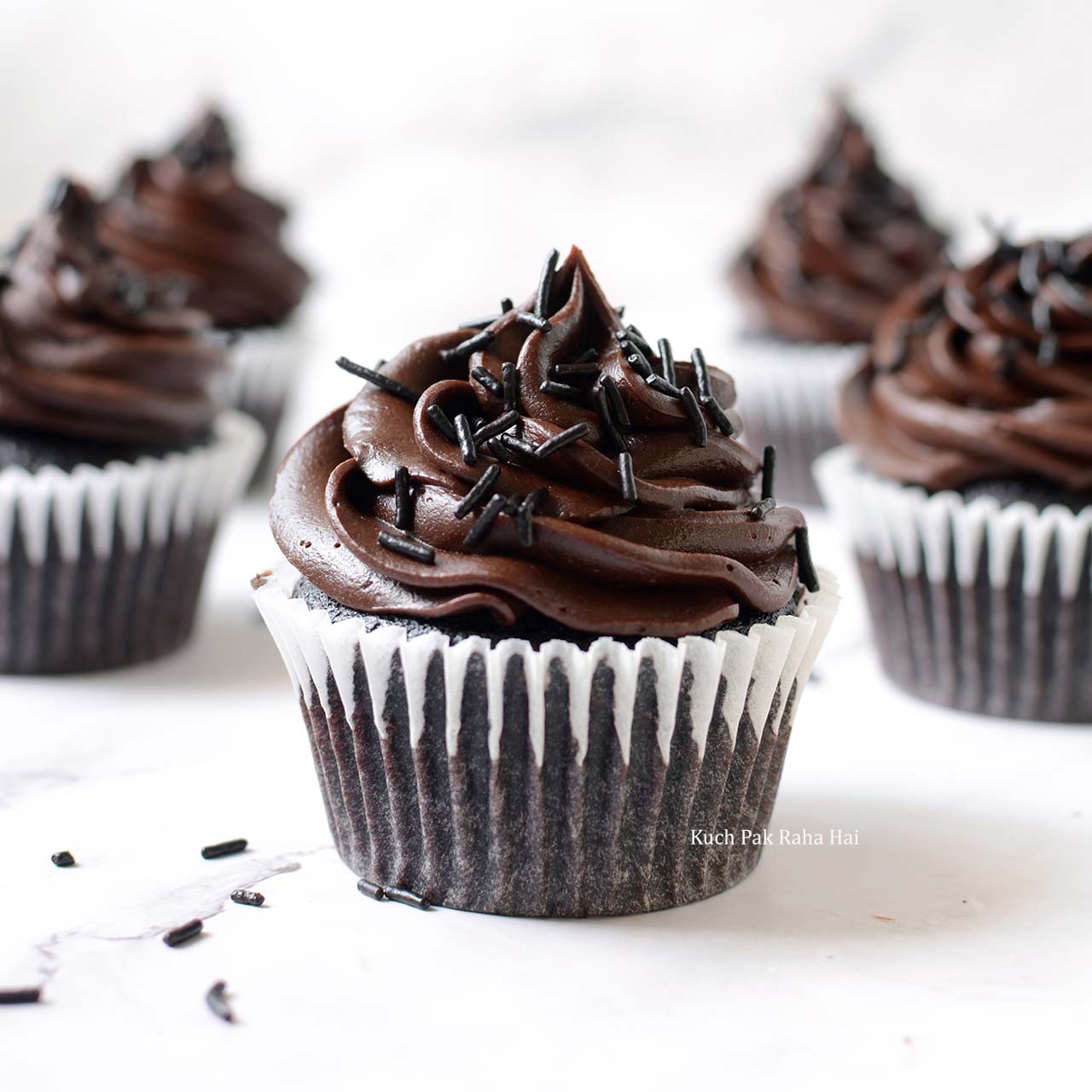 The chocolate cupcake recipe shared here is:
Eggless (No eggs)
Easy & quick to make
Easily made vegan
Made without condensed milk or yogurt (curd)
I have tasted many eggless chocolate cupcakes from different bakeries and stores, but I have always found this homemade chocolate cupcake recipe to be the best. Whether its anniversary, valentines day, birthday or any other special occasions you can make these sinfully delicious chocolate cupcakes anytime with easily available ingredients at home.
I have frosted these cupcakes with a silky smooth chocolate ganache. You can even use whipped cream, chocolate buttercream or cream cheese frosting. They can be decorated further with some sprinklers, chocolate vermicelli, chocolate chips or a drizzle of salted caramel.
Mother's day is just around the corner and this recipe is perfect to celebrate the occasion. My mother & I, we both love chocolates and have made these cupcakes together so many times that I decided to dedicate this post especially for this day.
Ingredients for Chocolate Cupcakes:
Dry Ingredients: I have used all purpose flour & unsweetened cocoa powder for making these cupcakes. As chocolate is the highlight of these cupcakes, use good quality cocoa powder. You can use Cadbury, Hershey's or any other brand of your choice.
Oil: Use any neutral flavour oil like sunflower, canola or olive oil for making these cupcakes.
Buttermilk: A mixture of (milk + vinegar) is used as homemade buttermilk for this recipe. You can use readymade buttermilk too.
Sugar: I have used granulated sugar in making these chocolate cupcakes. You can use brown sugar or coconut sugar too. Granulated sugar sometimes takes time to dissolve so you can powder it after measuring.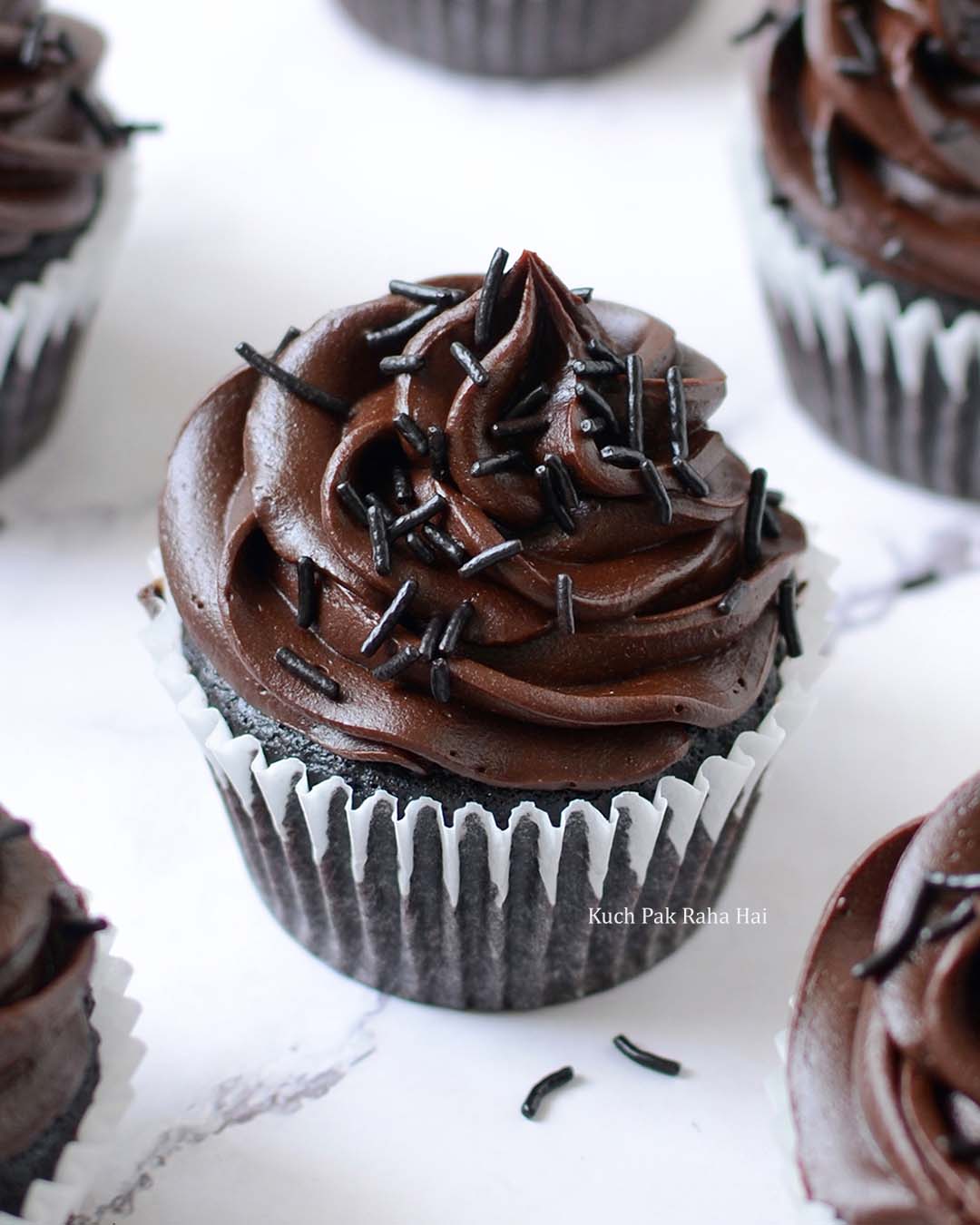 How to make chocolate ganache frosting?
You need only two ingredients to make this yummy simple chocolate ganache frosting. Always follow 2:1 ratio by weight for making ganache i.e. for 2 parts of chocolate use 1 part cream.
Chocolate: Always look out for the one which has cocoa butter in its ingredient list. You can use dark chocolate or milk chocolate for making ganache. It is always better to chop the chocolate for making ganache as it helps it in melting faster.
Cream: Cream gives the richness and smoothness to the ganache. It is better to use heavy cream (at least 30% fat cream) for making ganache. Once I couldn't find heavy cream so tried making ganache with low fat cream (25% fat) & it worked as well.
Tips to make perfect chocolate cupcakes:
1. Start frosting the cupcakes when they have cooled down completely. It is always better to bake your cupcakes a day earlier and frost them next day.
2. Always fold the batter gently. Never over mix the cake batter as too much mixing can cause gluten formation and you will be left with chewy and dense cupcakes.
3. Use best quality chocolate for making the ganache.
4. Coffee & salt, although used in small quantities in chocolate cupcakes, help in elevating the taste of chocolate on palate. Feel free to skip coffee if making for kids.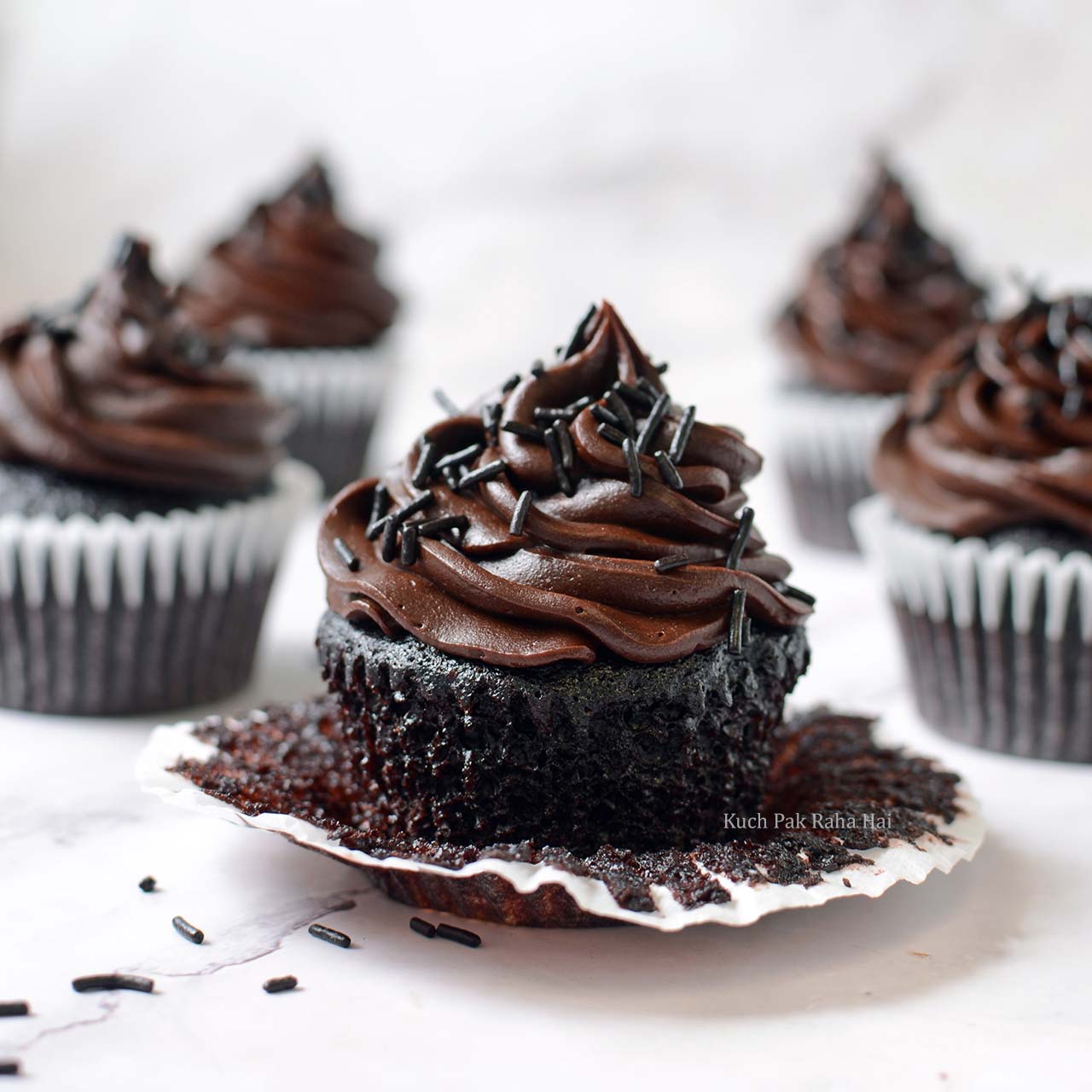 Can I make these chocolate cupcakes vegan ?
These chocolate cupcakes are made without eggs or condensed milk. Only dairy product used in this recipe is milk. You can easily make vegan chocolate cupcakes by replacing it with non dairy substitutes like soy or almond milk.
More eggless bakes recipes:
Youtube Video:
Hope you would like this easy egg free chocolate cupcake recipe.

Ingredients:
All purpose flour-3/4 cup (90 grams)
Cocoa (unsweetened)-1/4 cup (20 grams)
Granulated Sugar-1/2 cup (110 grams)
Warm Milk-2/3 cup
Oil-1/3 cup
Vanilla Extract-1 tsp
Vinegar-(1+1/2) tsp
Baking Soda-3/4 tsp
Salt-1/8 tsp
Instant Coffee- 1/2 tsp (optional)
For Chocolate Ganache:
Chocolate- 150 grams
Heavy Cream- 1/3 cup (75 grams)
Notes:
Measuring Cup used: 1 cup = 240 ml
This recipe makes 7 to 8 chocolate cupcakes.
For more details & substitutions, check out the post above.
Directions:
Step 1:
Sieve together flour, cocoa, baking soda and salt. Keep these sieved dry ingredients aside.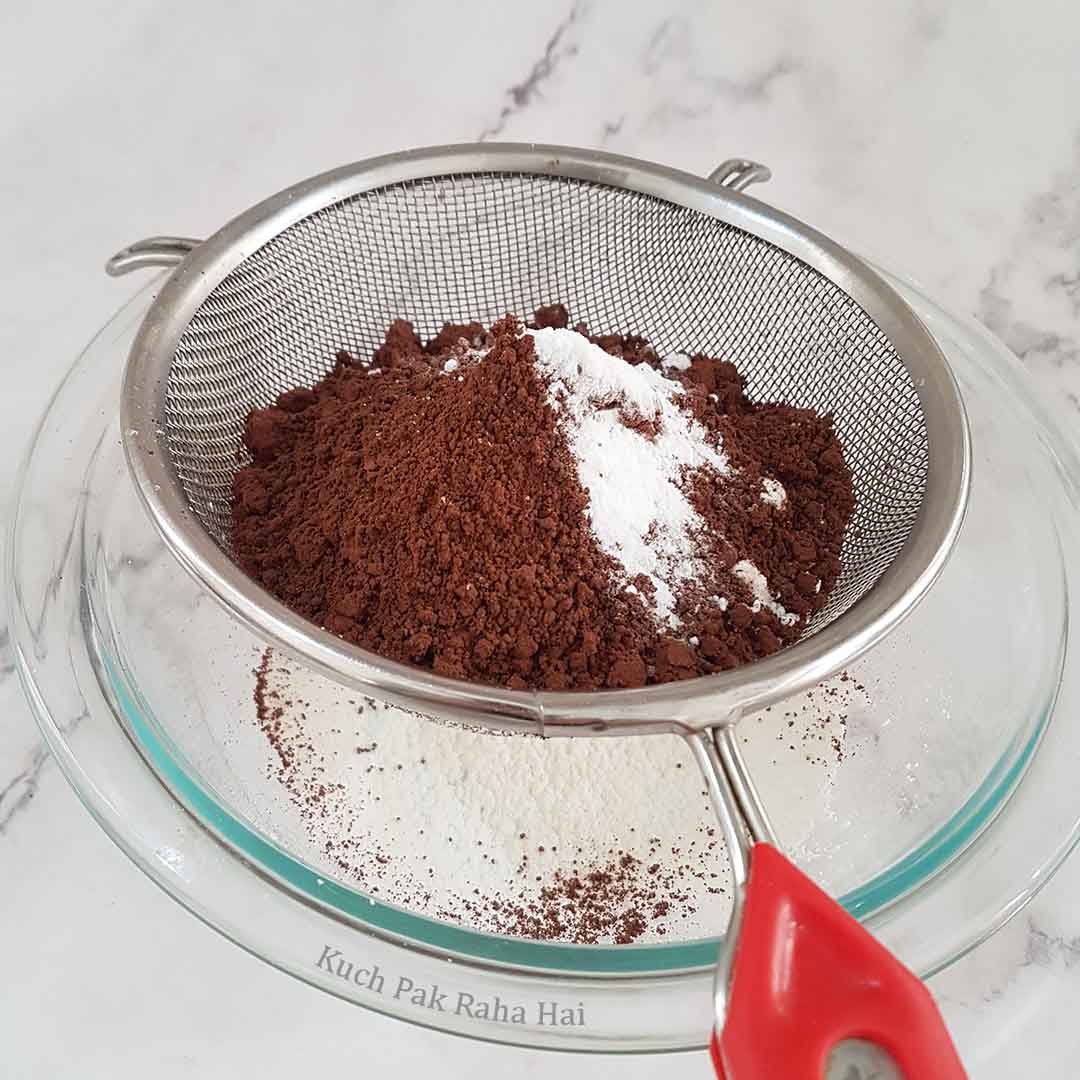 Step 2:
In a bowl, mix together warm milk, vinegar and keep it aside for 10 minutes. After 10 minutes, add sugar, oil, vanilla and instant coffee to it. Whisk well till sugar is dissolved completely. Keep it aside.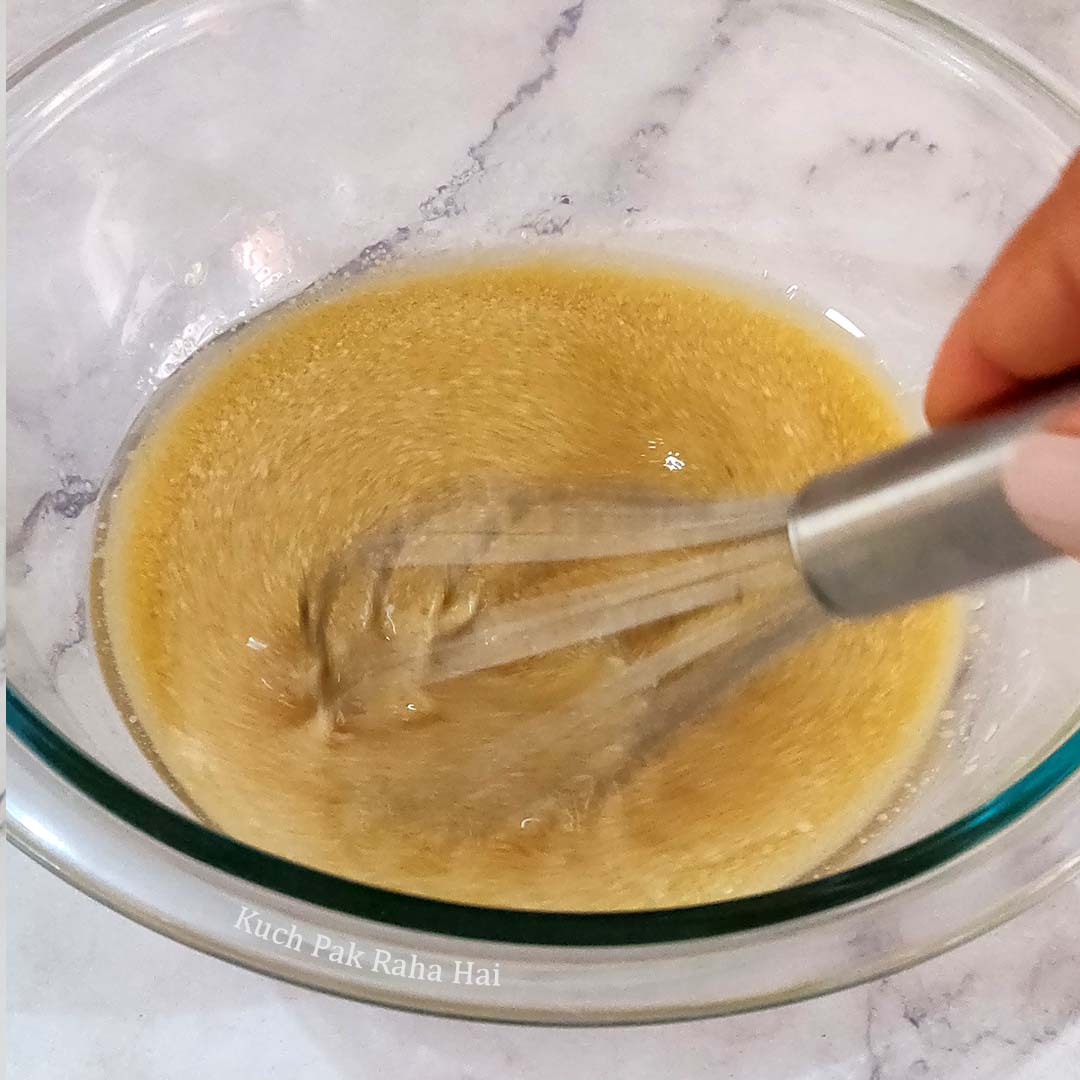 Step 3:
Prepare the cupcake batter by folding the dry ingredients into the wet ingredients gently. The batter should become smooth and lump free.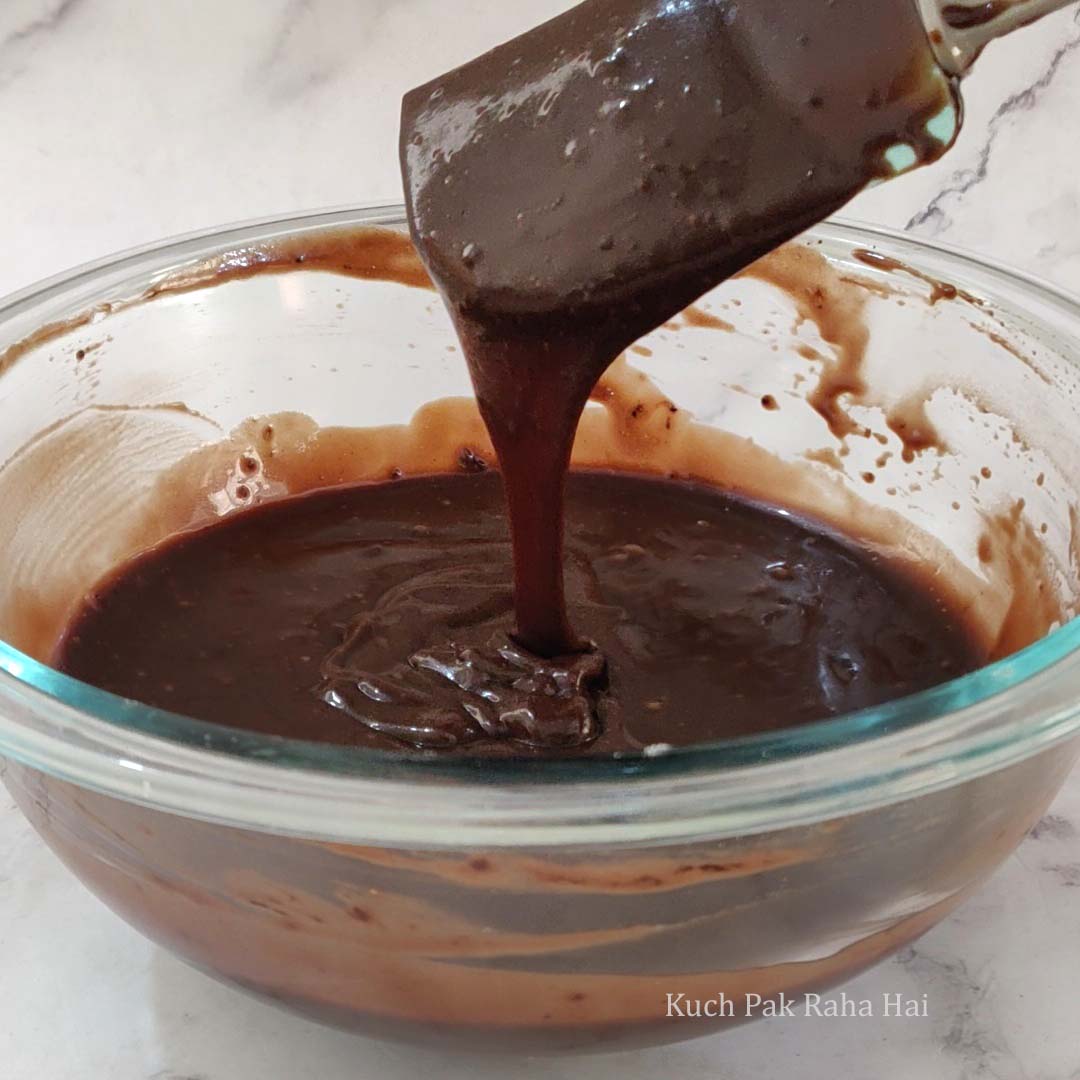 Step 4:
Line the muffin tray with liners. Also set the oven for preheating at 180°C (356°F). Using an ice cream scooper or large spoon, transfer this batter into cupcake liners.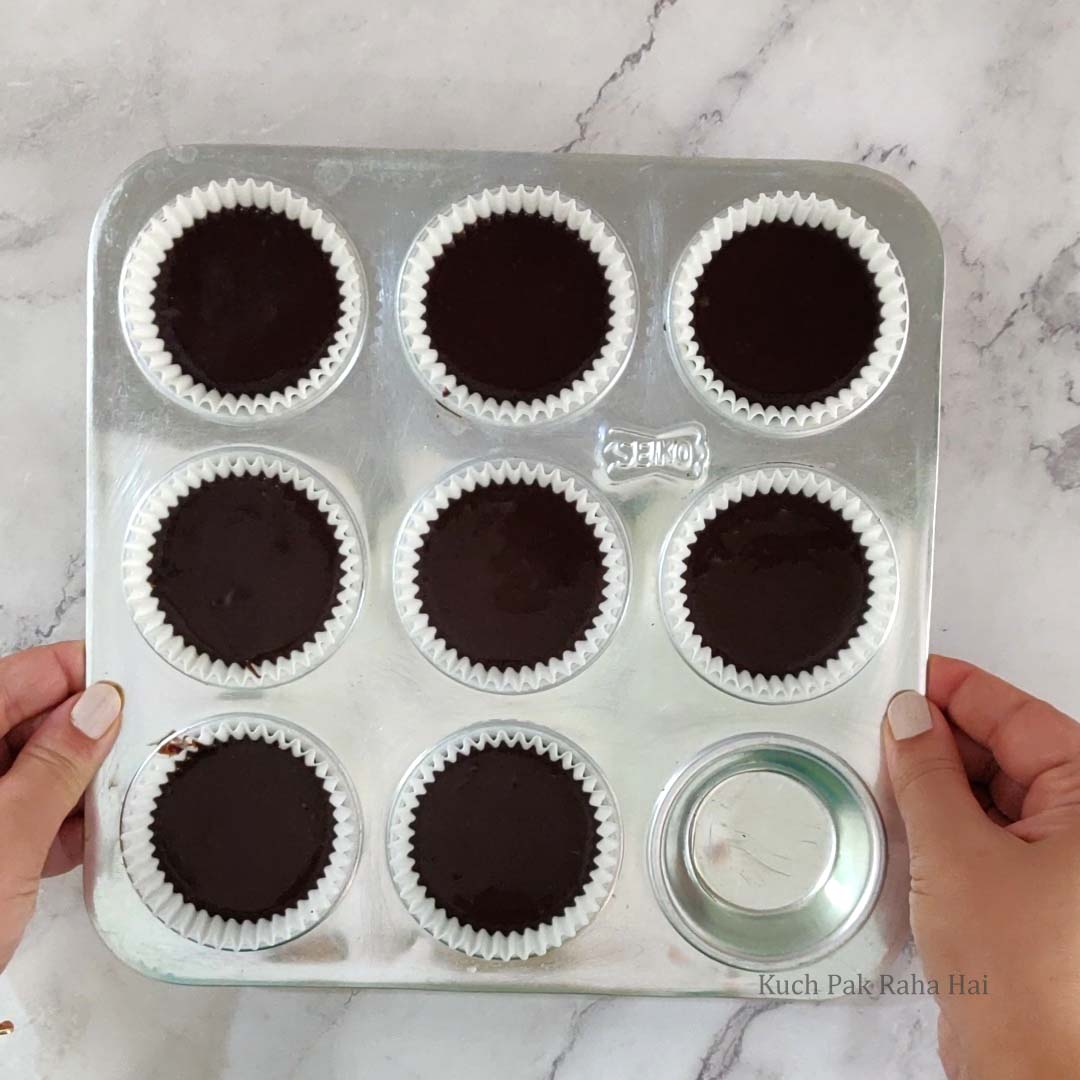 Step 5:
Bake them in a preheated oven at 180°C (356°F) for 18 to 20 minutes. Pierce the centre of any cupcake with a skewer. If you find any wet batter on the tip bake for additional 2 minutes.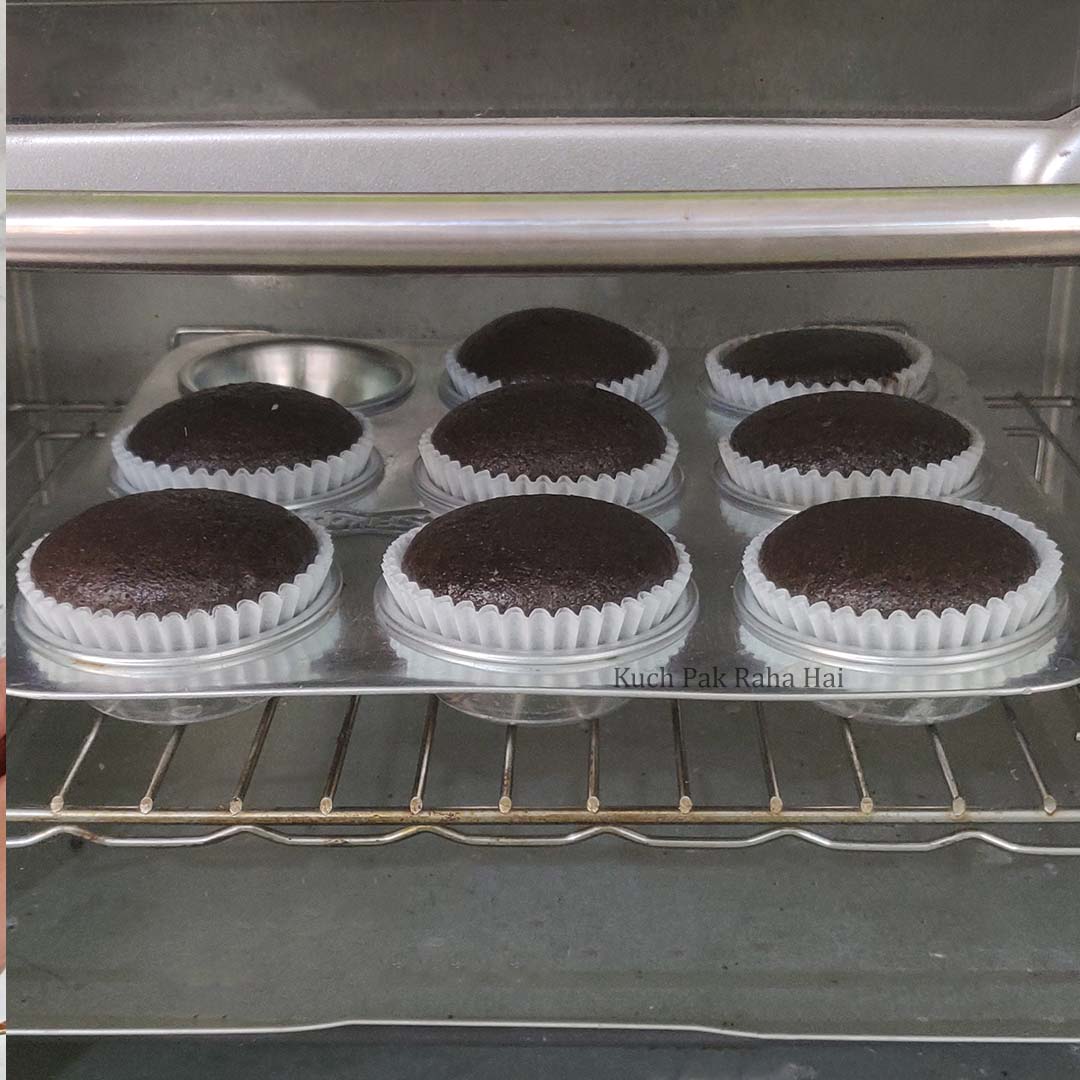 Let the cupcakes cool down completely on a wire rack before your start icing.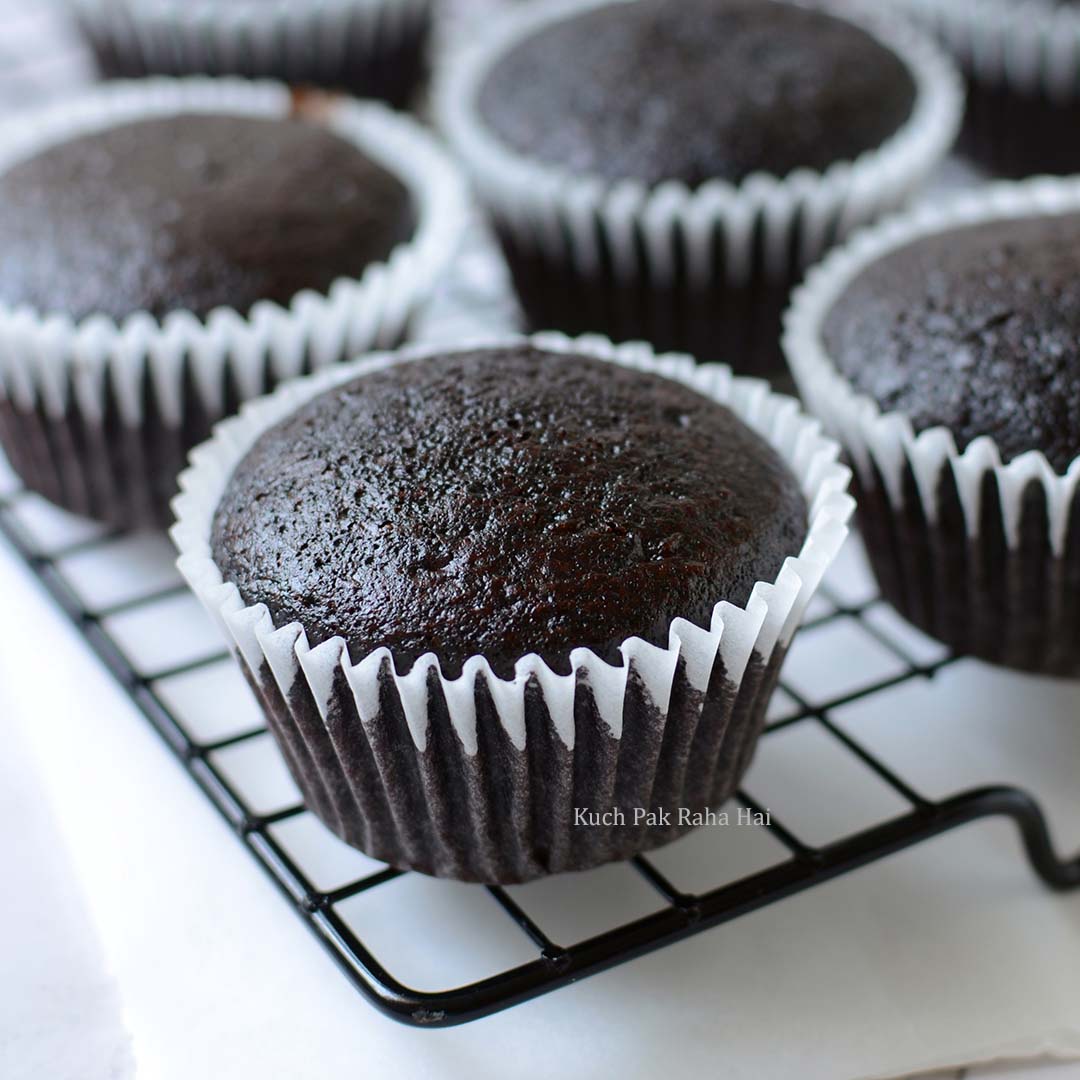 Just look at the texture of these cupcakes – absolutely soft and moist!!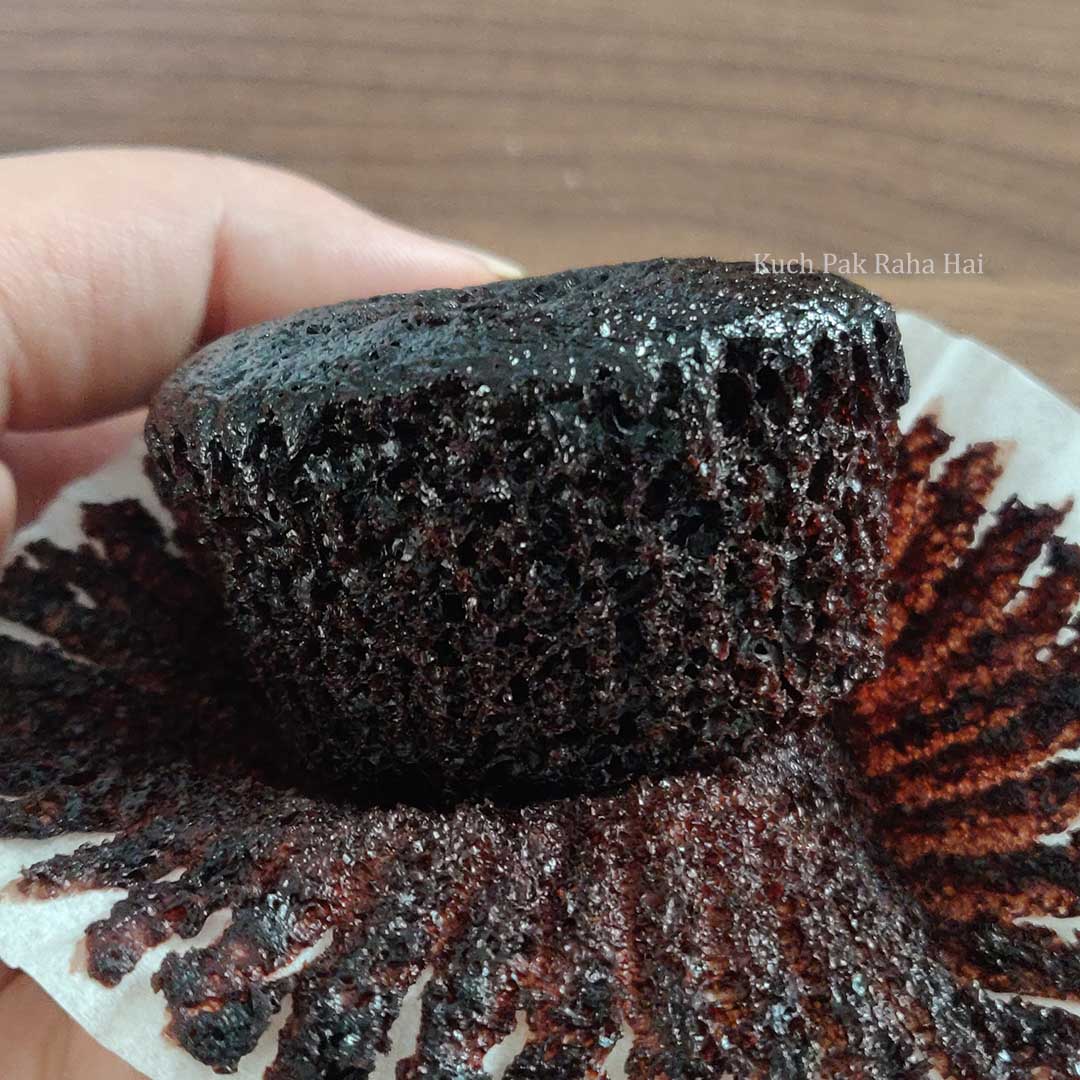 Chocolate Ganache Frosting:
Follow the steps below to prepare chocolate ganache for cupcakes:
1. Chop chocolate into smaller pieces. Keep them aside.
2. Take cream in a microwave safe bowl and heat it in bursts of 20 seconds two times. You can also perform this step on stove top. Just heat the cream and do not boil it.
3. Transfer the chopped chocolate into this heated cream. Let it rest for 1 to 2 minutes.
4. Mix well with the help of spoon or spatula till you get smooth lump free ganache.
5. Let it cool down completely at room temperature. Cover it with a cling wrap & let it rest for 2 to 3 hrs to set completely. If it is winter season, you can leave it on kitchen counter else keep it in fridge for 1 to 2 hrs.
6. Transfer it in a piping bag and frost it over the cooled down chocolate cupcakes (details shown in video).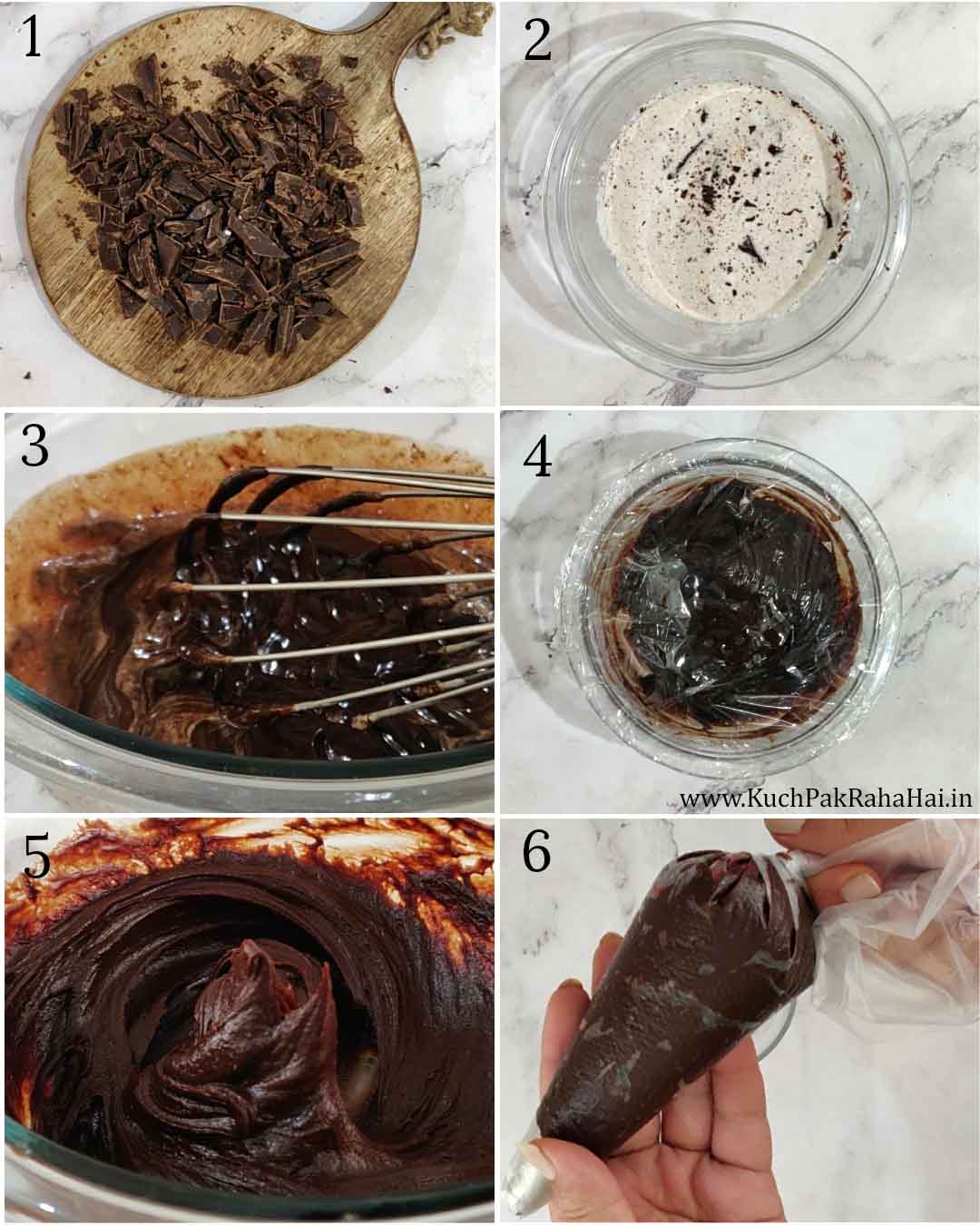 (You can use star or french nozzle)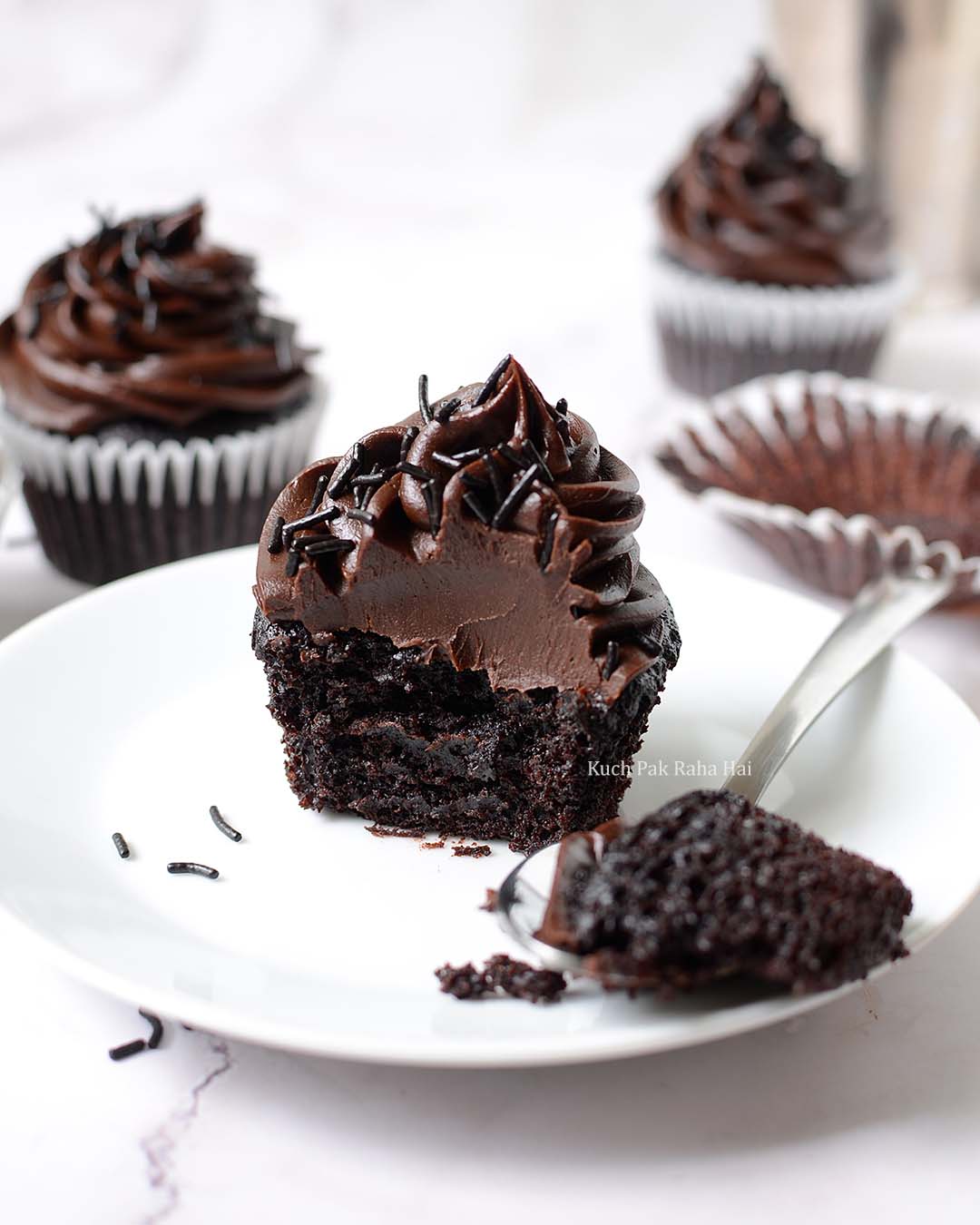 Can I bake a chocolate cake with this recipe?
Yes you can bake a chocolate cake with this same recipe in 6″ round cake pan. Bake it at 180°C (356°F) for 30 to 35 minutes. If you are looking to make chocolate cake with condensed milk, you can checkout this eggless chocolate cake recipe.
If you try this egg free chocolate cupcakes recipe & share pics on social media, then don't forget to tag on Facebook, Instagram or use #kuchpakrahahai.
Pin for later: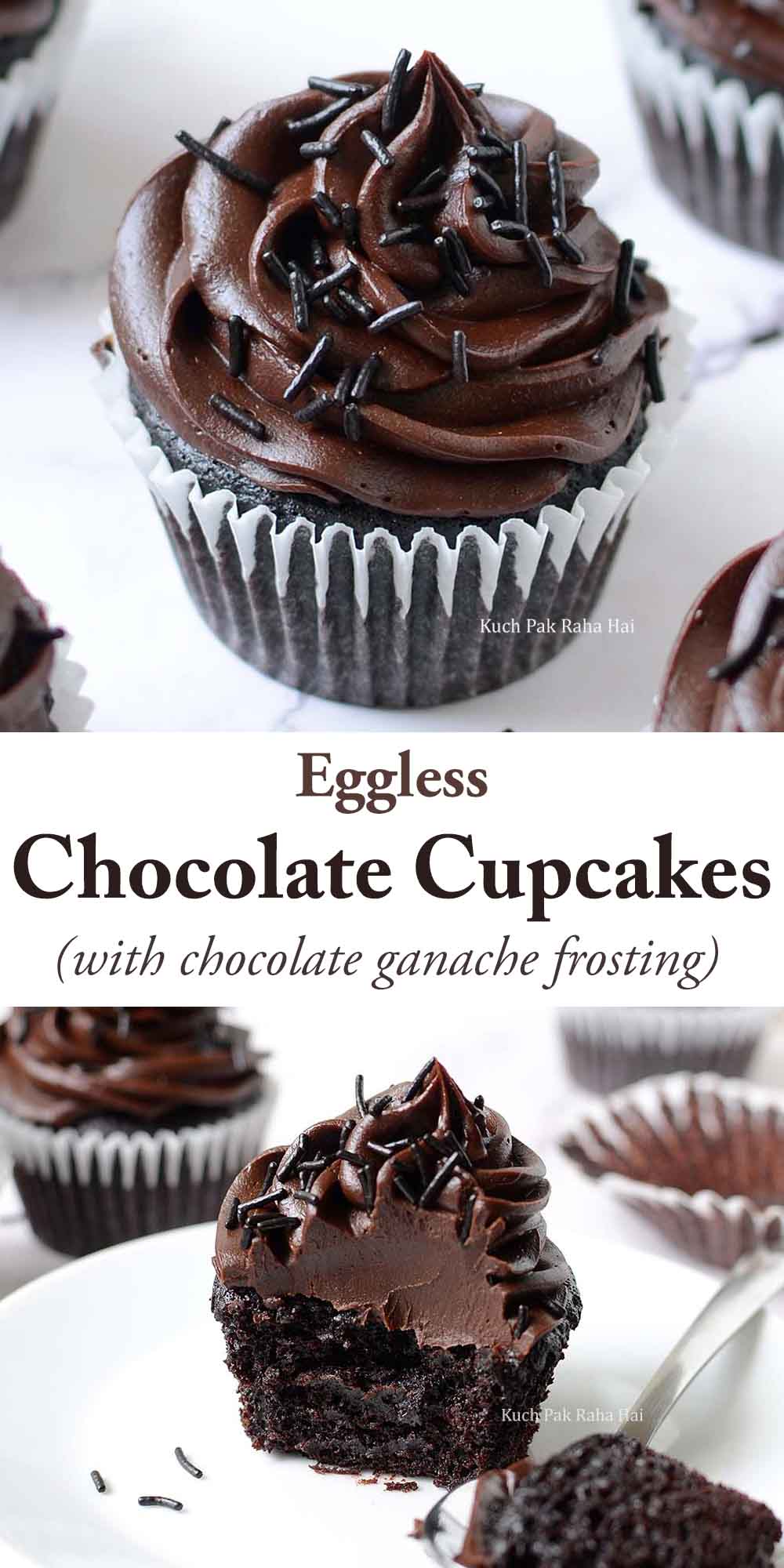 Let's stay connected
Facebook | Instagram | Pinterest| Youtube