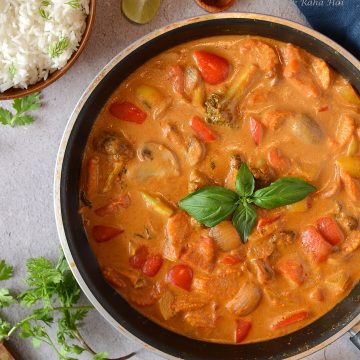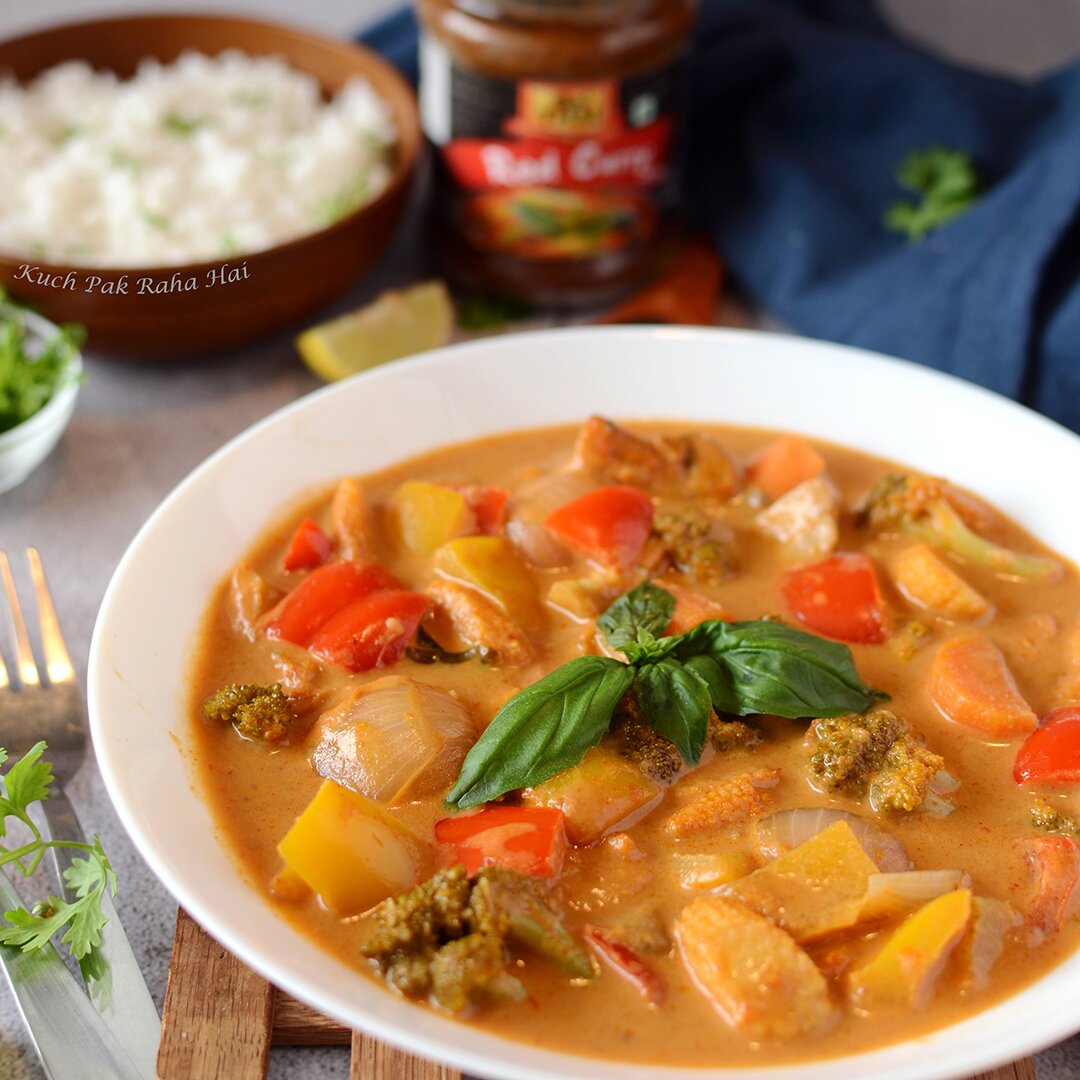 Thai Red Curry is a delicious, flavourful spicy curry from Thailand. The red curry paste made using dried red chillies, spices & fresh herbs is cooked in coconut milk with vegetables & meat. Traditionally the red curry paste has shrimp paste also but in this post we will be making vegan or vegetarian thai curry.
I tasted Thai red curry for the first time in India, and honestly did not like it much. The vegetables were mushy, the flavours were amiss & I could actually taste coconut oil in every bite. Since then I had red curry many times, but the best one was at a Vegan restaurant "Dow" in Koh Phi Phi, Thailand which we visited last year on my birthday. As we are strictly vegetarian, it sometimes becomes difficult to explain to local people that we don't even eat eggs. In this case it is better to stick to a vegan restaurant. I am so glad we found this place as it totally changed my perception about Thai curries.
I got inspiration of making Red Thai curry from this place as I loved the way how perfectly their curry was balanced & bursting with flavours. It was spicy, slightly sweet with citrusy notes in perfect amalgamation with coconut milk & lots of fresh vegetables.
While making this Thai Curry at home I was tasting it repeatedly, trying to balance the flavours & get the exact taste. Finally I have a perfect recipe for this restaurant style vegan Thai red curry which I am sure you are going to love too.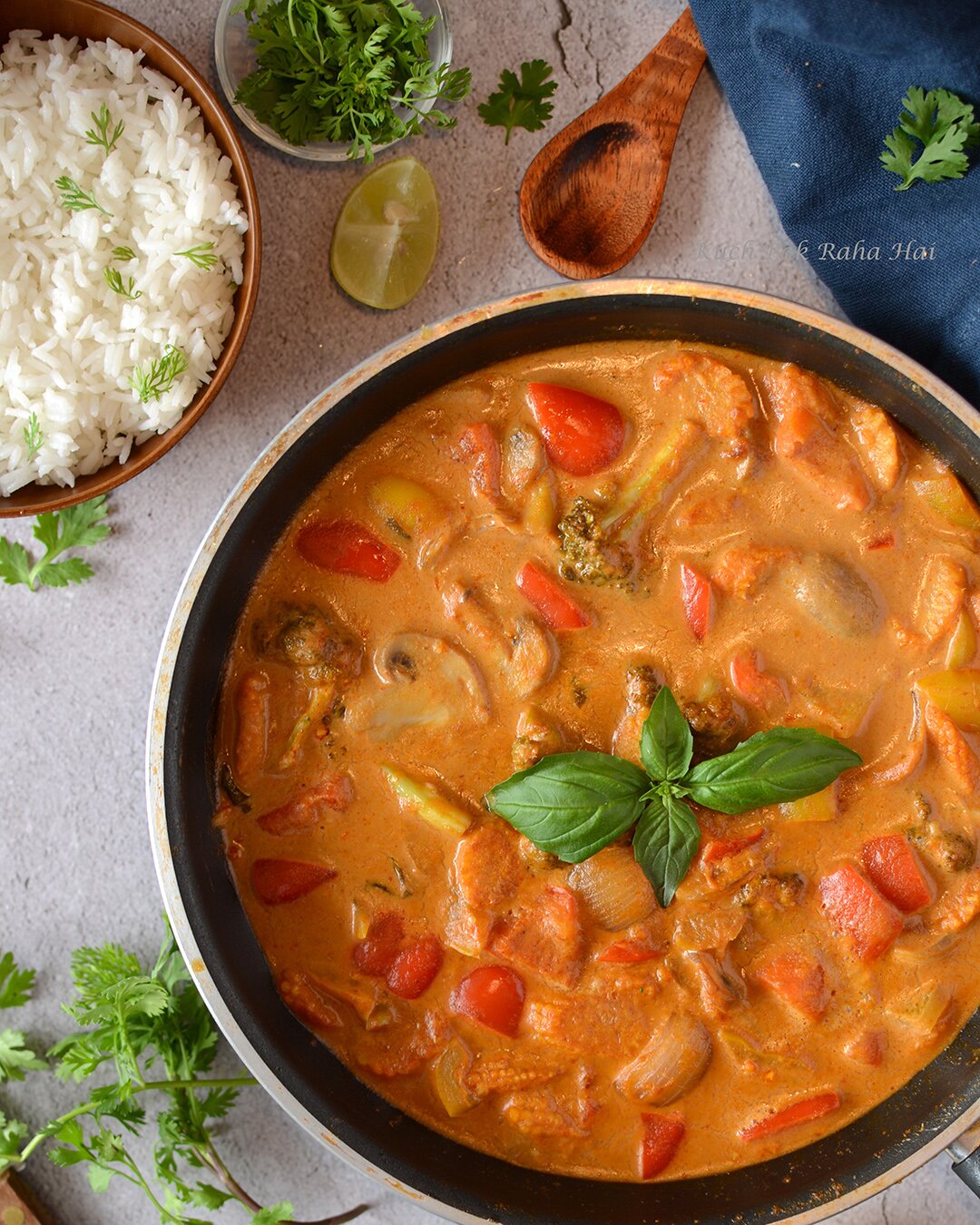 The traditional red curry paste is made using dried red chillies, lemongrass, galangal, shallots, garlic, white pepper & shrimp paste. You can prepare this red curry paste at home also but finding & collecting so many ingredients is another daunting task.
I have used ready made vegetarian Red Curry paste from Real Thai brand. The curry made using this paste tastes pretty close to the version which we had at the Thai restaurant. The ingredients on this label are as following : dried red chilli (21%), garlic, lemongrass, shallot, salt, galangal, kaffir lime peel, spices (coriander seed, cumin powder). I have used Dabur Coconut milk as it is one of the commonly available brands in India. You can use coconut milk of any brand.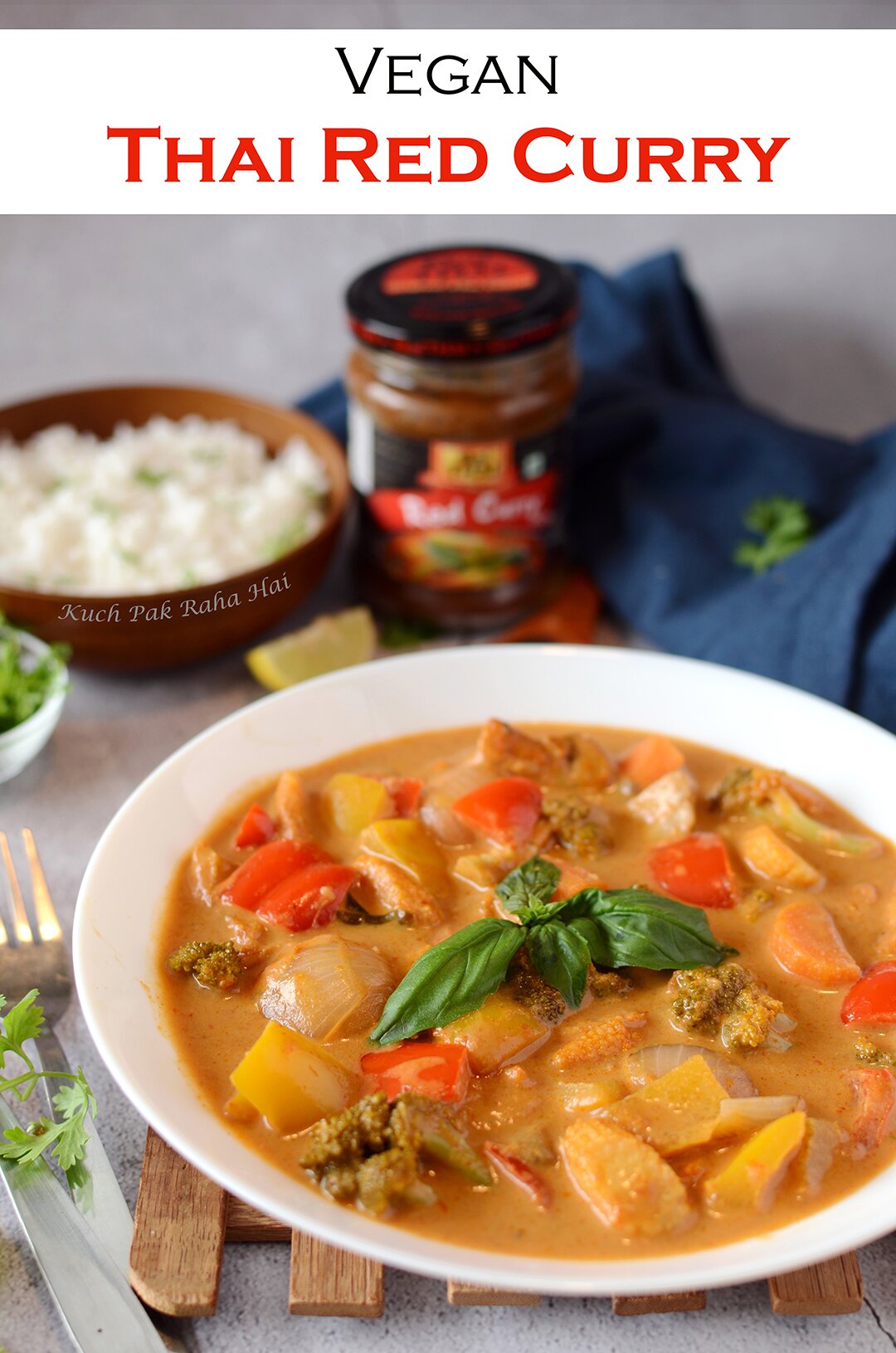 Thai curry is a complete meal in itself with so many colourful vegetables🌿🍄🍆🍅 & healthy fats from coconut milk. It is served with steamed rice or rice noodles. You can serve it with brown rice too as a healthier alternative. It is a one pot curry recipe which is easy & quick to make. Also a great lunch or dinner idea which you can make in advance & just re-heat at the time of serving. Below I have shared all the substitutes or tips to adapt this curry recipe as per your needs.It is a Vegan & Gluten Free dish.
Other Meal Ideas which you might like: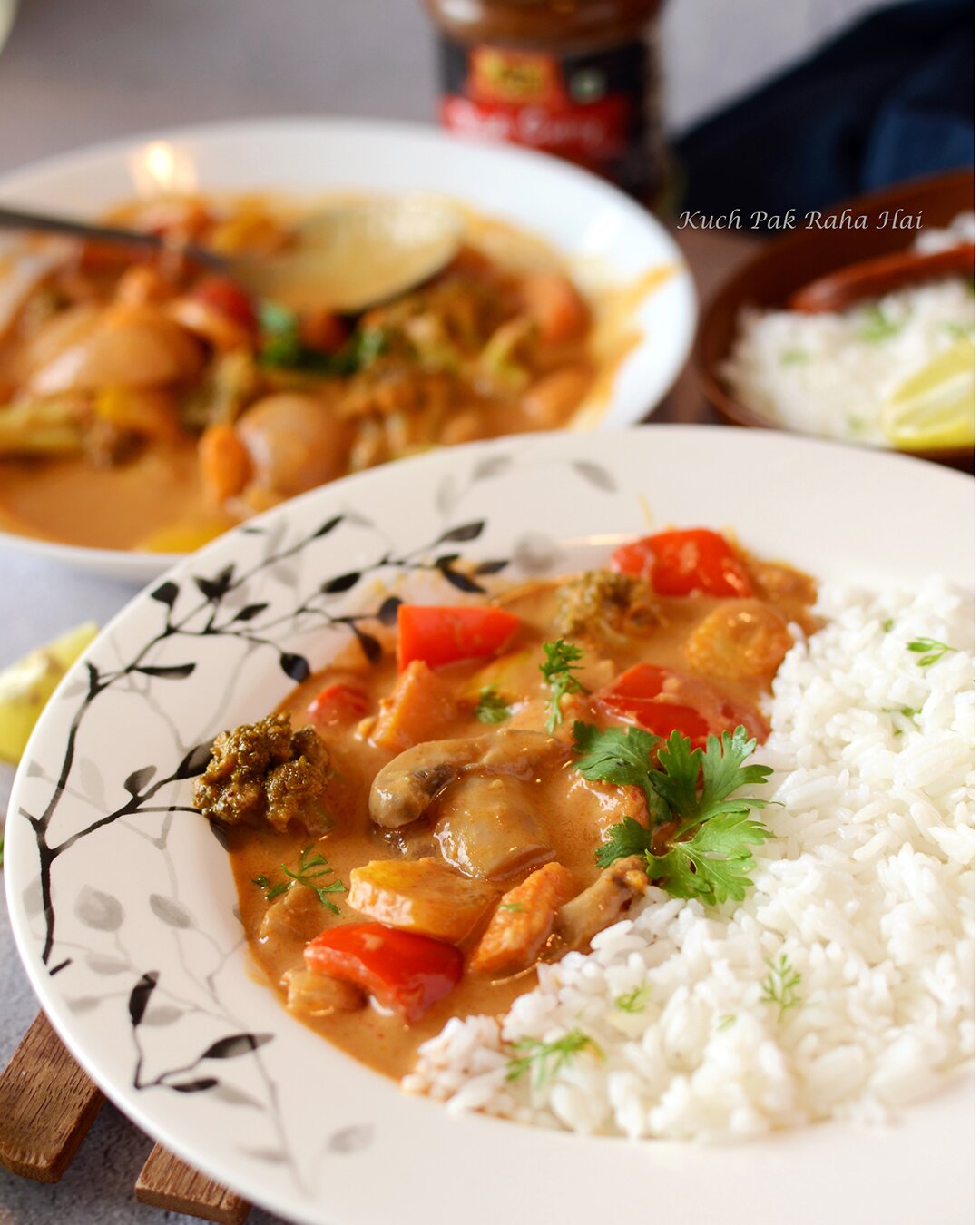 Hope you will like this yummy Vegan Red Thai Curry. If you try this recipe & share the pics on social media handles, then do tag us on Facebook or Instagram.
Ingredients : (Serves 2)
Cooking Oil-2 tbsp
Ginger Paste – 2 tsp
Minced Garlic cloves- 3 to 4
Chopped Onion-1 cup
Broccoli Florets- 1/2 cup
Chopped Baby Corn-4 to 5
Chopped Mushrooms-4 to 5
Chopped Carrots – 1/4 cup
Chopped Red Bell Pepper – 1/2 cup
Chopped Yellow Bell Pepper – 1/4 cup
Red Thai Curry Paste-2 tbsp
Water-1/2 cup
Coconut Milk-1 cup
Basil Leaves-5 to 6
Brown Sugar / Coconut Sugar – 1 tsp
Soy Sauce-1/4 tsp
Salt – To taste
Lemon Juice – 1 tsp
Substitutions / Additions:
1. You can add any cooking oil (except mustard oil). I have used Olive oil here. For more intense flavour you can use Coconut oil too.
2. You can add veggies of your choice or adjust the quantity as per your liking. Other vegetables which you can add are – Pumpkin, Eggplant Cauliflower , Green capsicum, Spring onion, Sweet corn & Zucchini etc. Also, Tofu or Paneer can be added in it to add some protein to this red curry.
3. Though the red curry paste already has ginger, garlic in it but adding some fresh ginger-garlic always enhances the taste.
4. Little bit of sweetness balances the overall acidity of the curry. So before being skeptical about adding sugar in red curry do try it yourself & see the difference. I have added brown sugar here but you can honey too for healthier alternative (but please note honey is not vegan).
5. Citrusy notes are another highlight of Thai curries. In authentic recipes, fresh kaffir lime leaves are used. However I couldn't find any at local grocery shops here so I have added fresh lemon juice. You can add some lemon grass too.
6. I would advise adding salt towards the end of the recipe as thai curry paste & soya sauce both have salt in them. Taste the curry in the end & add salt accordingly.
7. It is better if you leave the vegetable crunchy in this curry but if you want softer veggies you can increase the cooking time slightly.
Steps to Prepare :
Step 1:
Heat oil in a heavy bottomed or non stick pan.Add ginger paste & garlic cloves to it. Sauté for 30 seconds.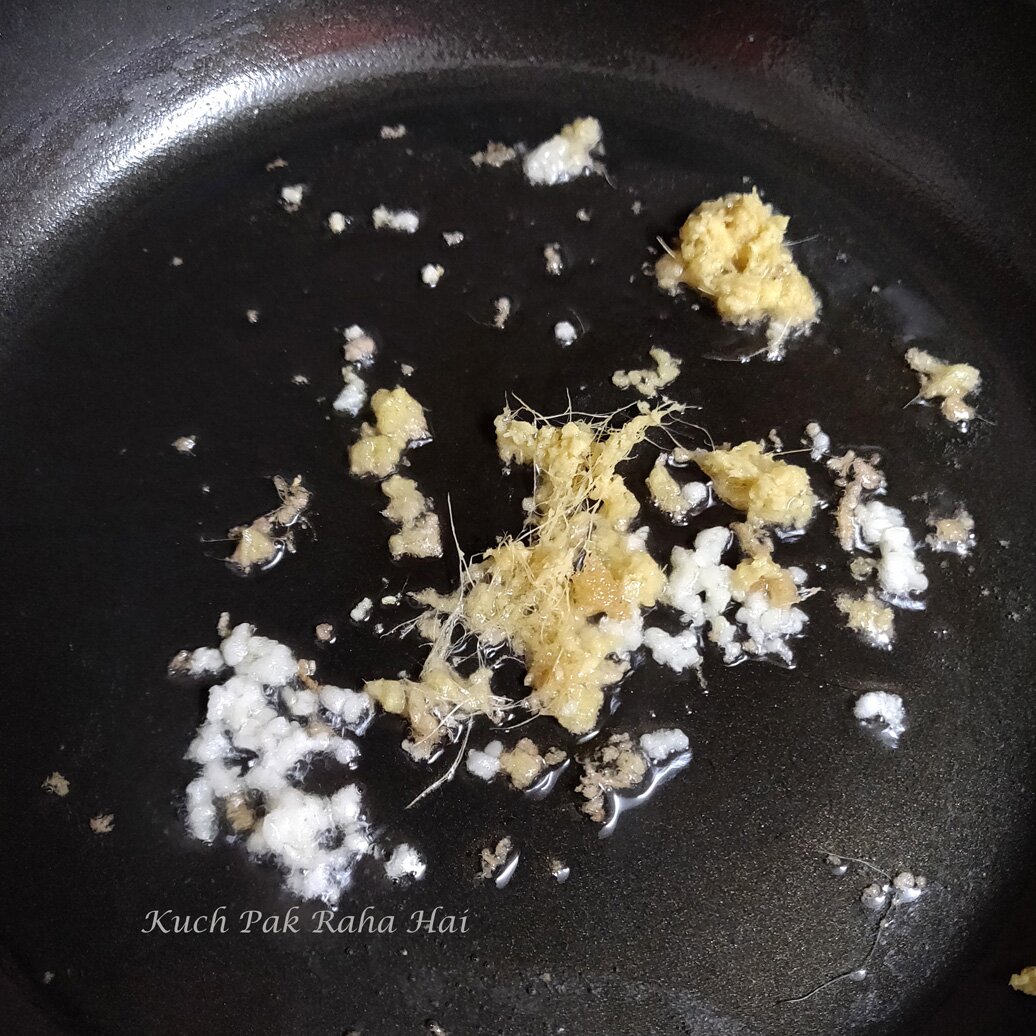 Step 2:
Add onion to it & let them turn slightly pink. Add broccoli florets & stir for 30-40 seconds. Keep the flame medium high while sautéing veggies.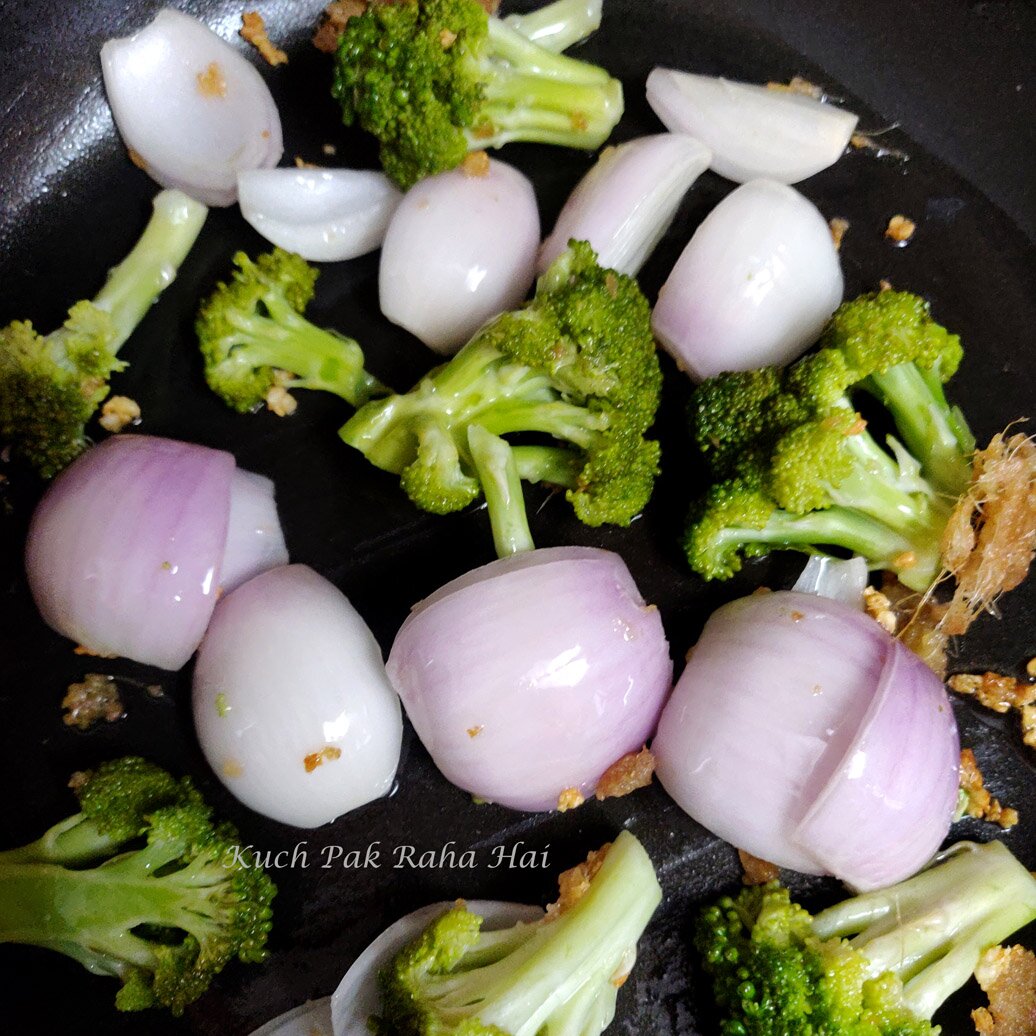 Add carrots, baby corns, mushrooms, red & yellow bell pepper also. Sauté all the veggies for another 30-40 seconds.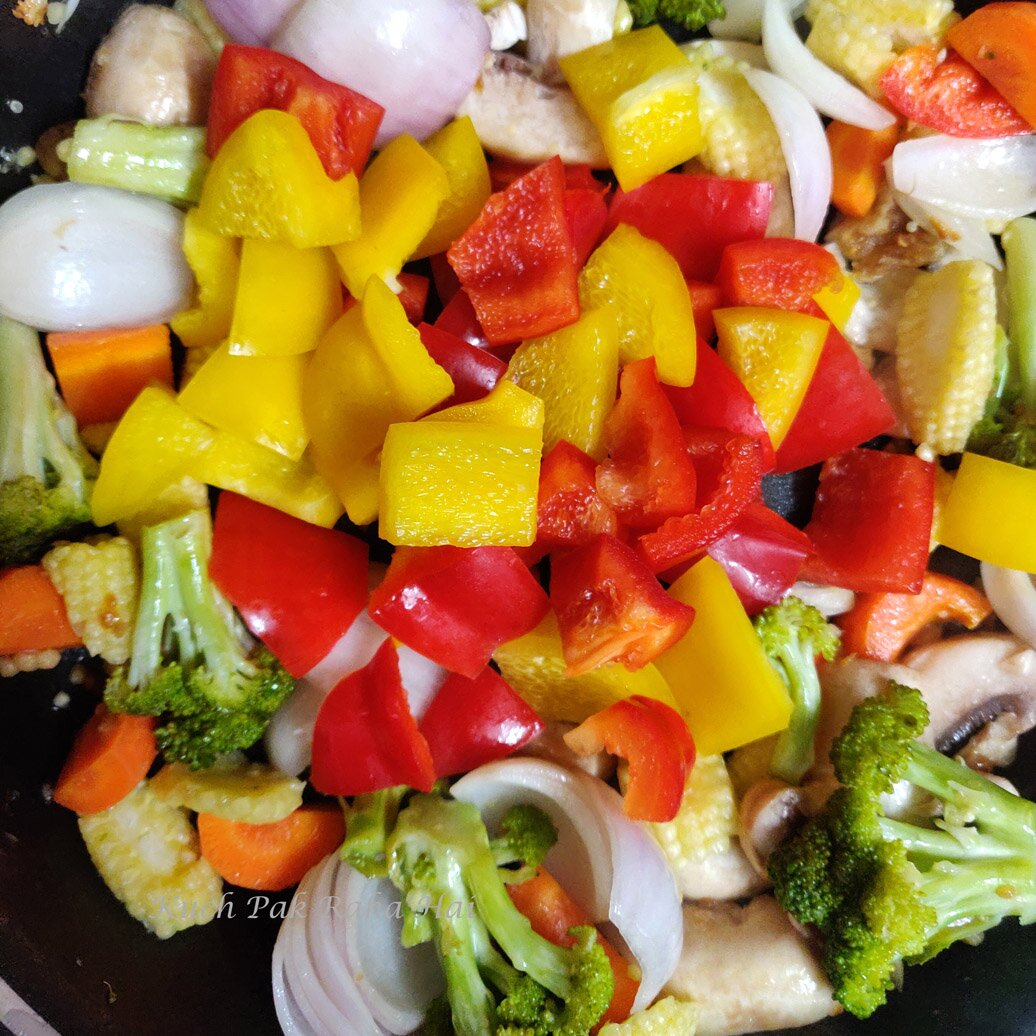 Step 3:
Add red curry paste to these veggies. Roast it for 10-15 seconds. Some people generally mix curry in water first before adding to veggies but I like to lightly sauté it with veggies first.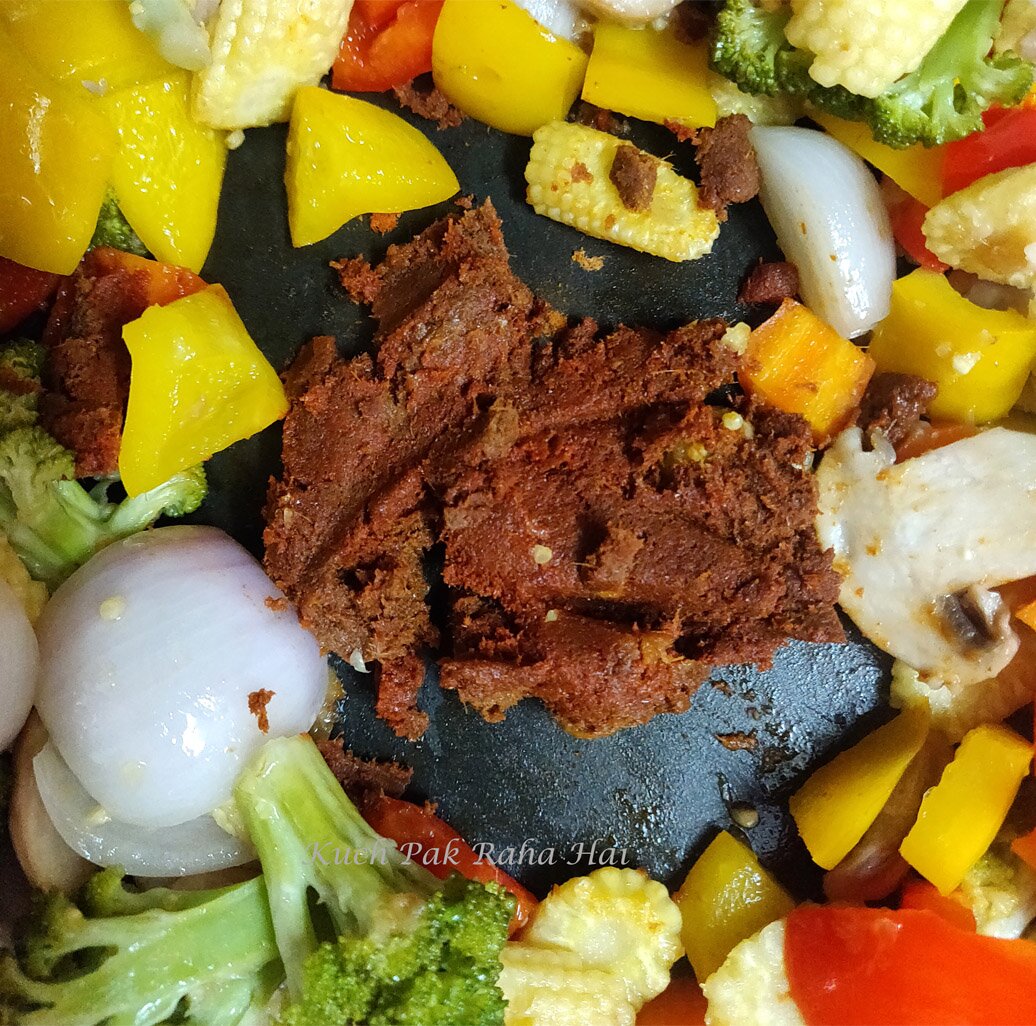 Thai Red Curry Paste:https://amzn.to/33KyEGJ
Add water now & simmer the veggies in it for 3-4 minutes. This gives veggies the time to absorb the flavours & also soften a bit. I like my vegetables to be crunchy in this curry, however if you want them to be little softer then cover the pan with a lid too.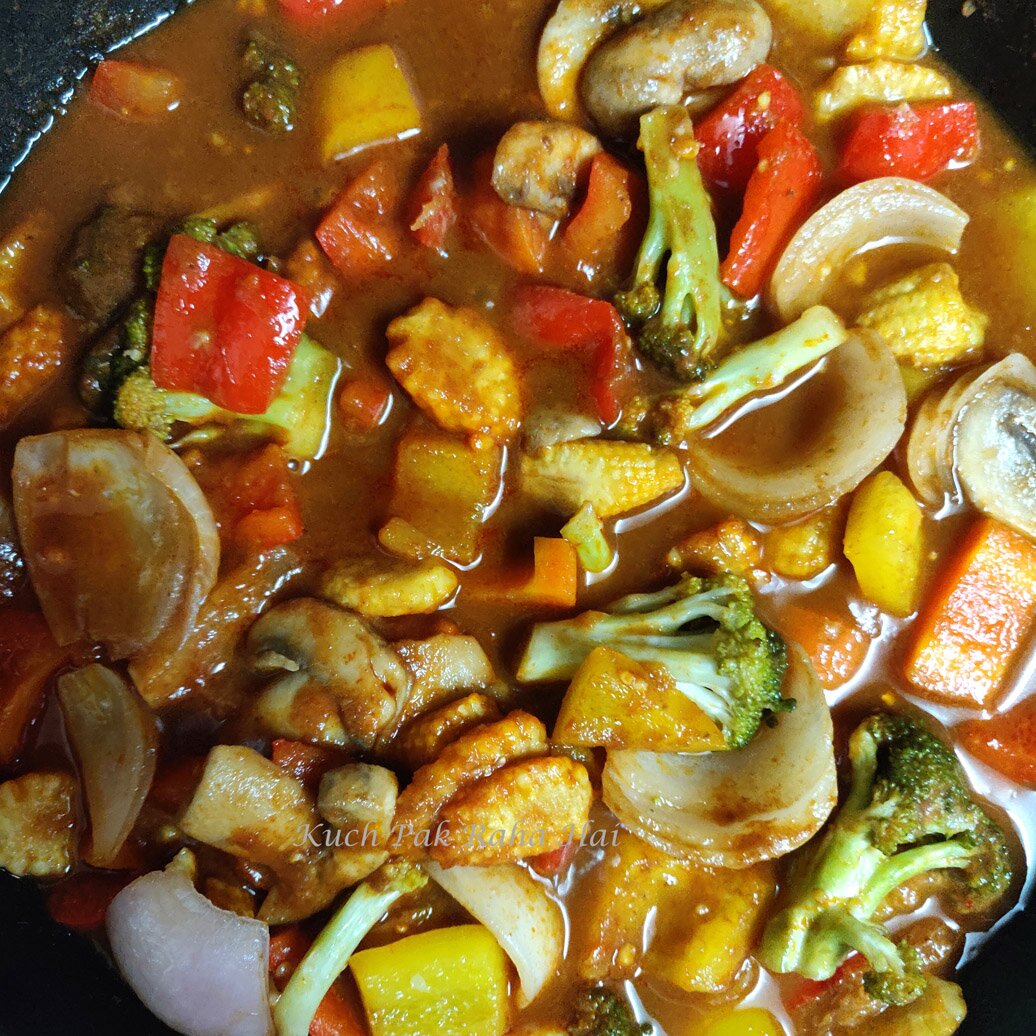 Step 4:
Add coconut milk now along with sugar, soy sauce & gently mix it. If you want to include tofu, add it now. At this stage taste the curry once & add the salt as per your taste. The curry paste & the soy sauce both have salt in them so add it keeping this in mind.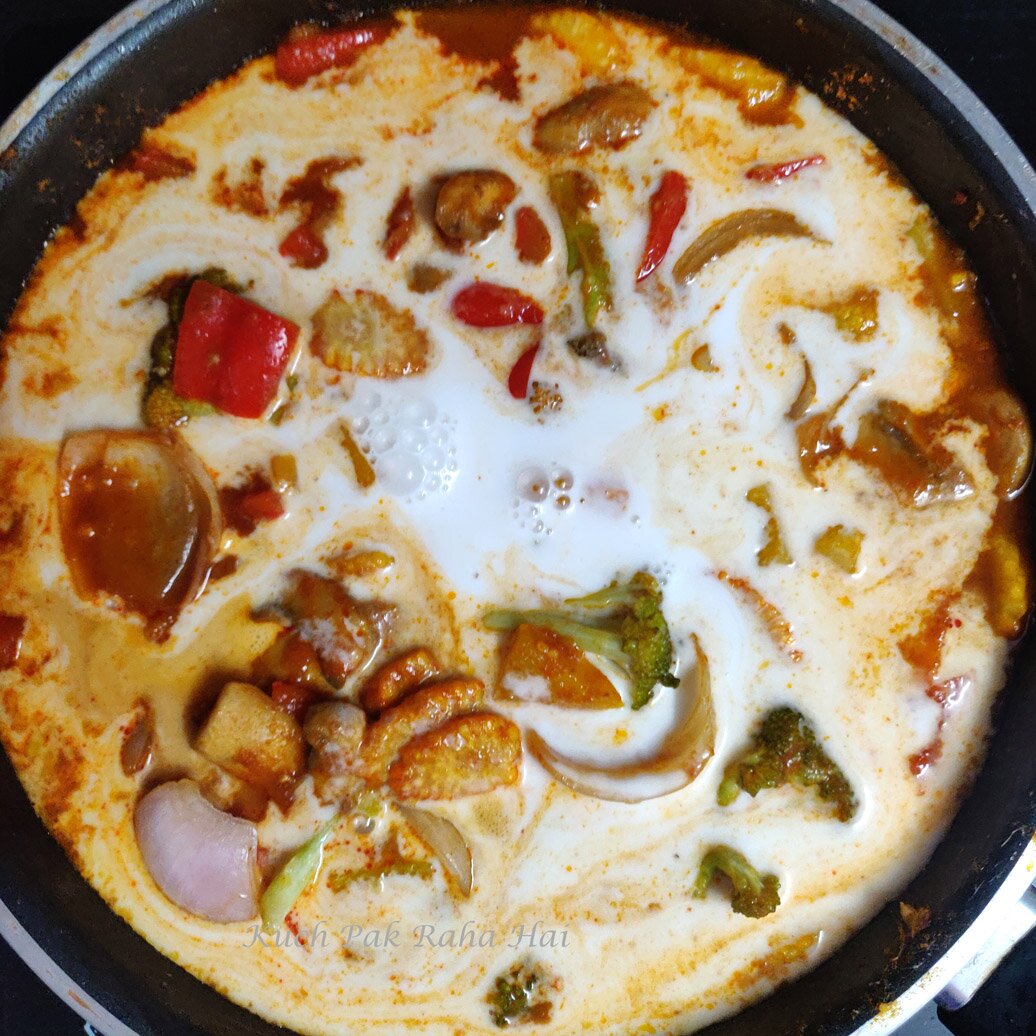 Coconut Milk :https://amzn.to/3itGVTn
Lightly tear the basil leaves & add them too. Let this curry simmer for 4 to 5 minutes more.Towards the end add some lemon juice. Give a gentle stir to mix all ingredients well.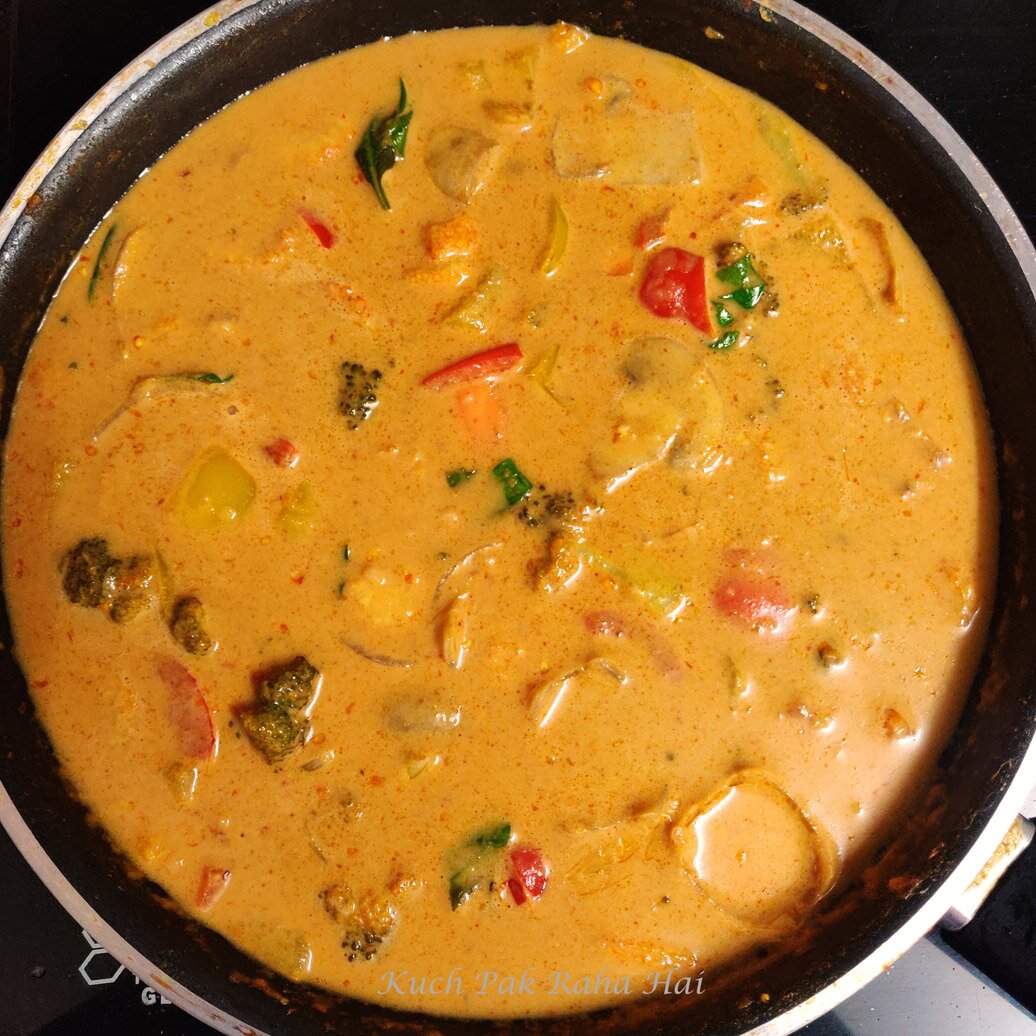 Garnish this red curry with some more fresh basil leaves or chopped cilantro. Delicious flavourful Vegan Thai Red Curry is ready !! Serve it piping hot with steamed rice or noodles.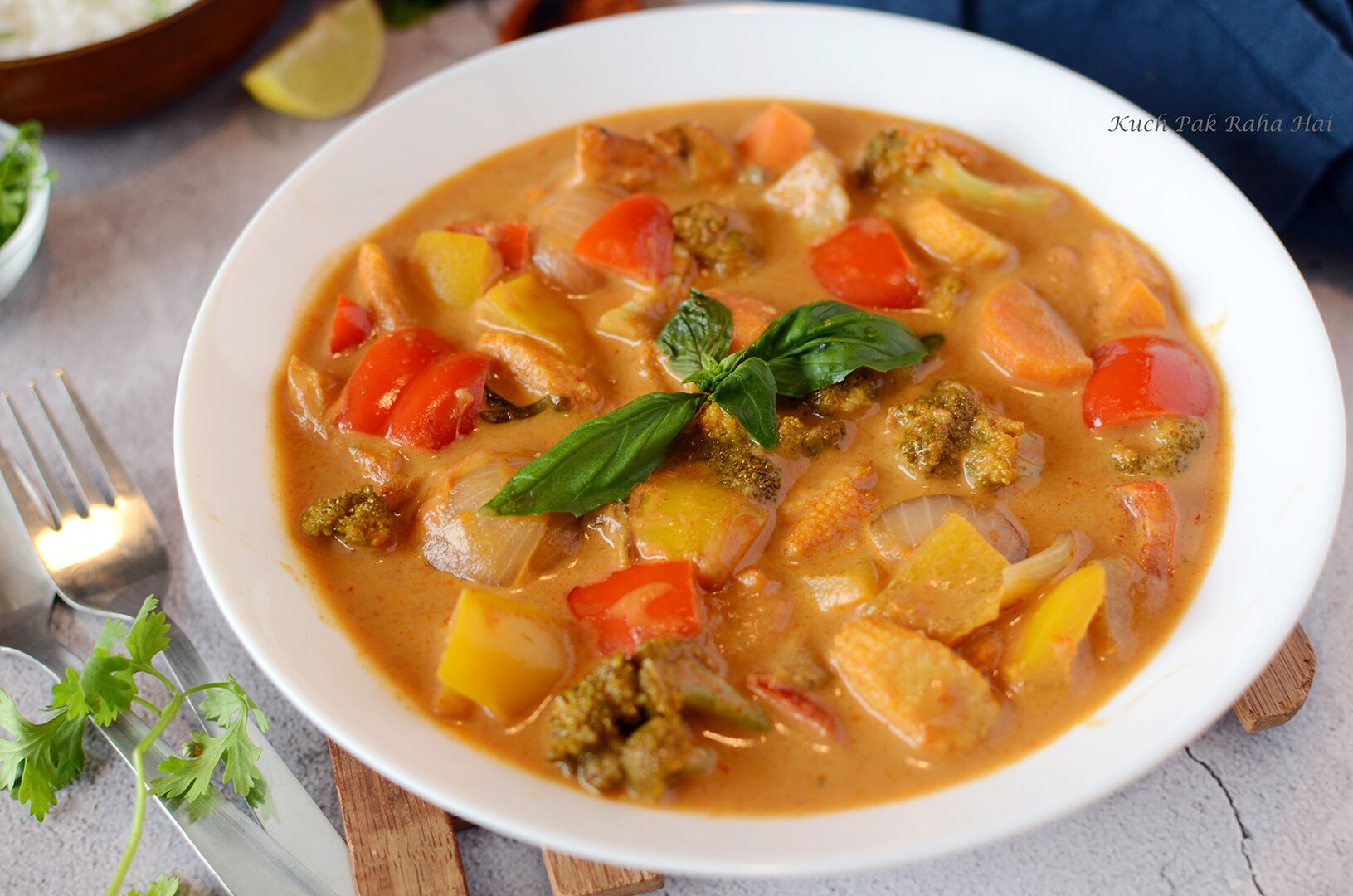 We have a Youtube Channel too where food videos are shared every week. You can Subscribe to our channel or connect with us on Facebook, Instagram or Pinterest .
Bon Appetit 😃 !!