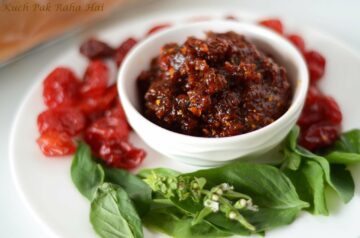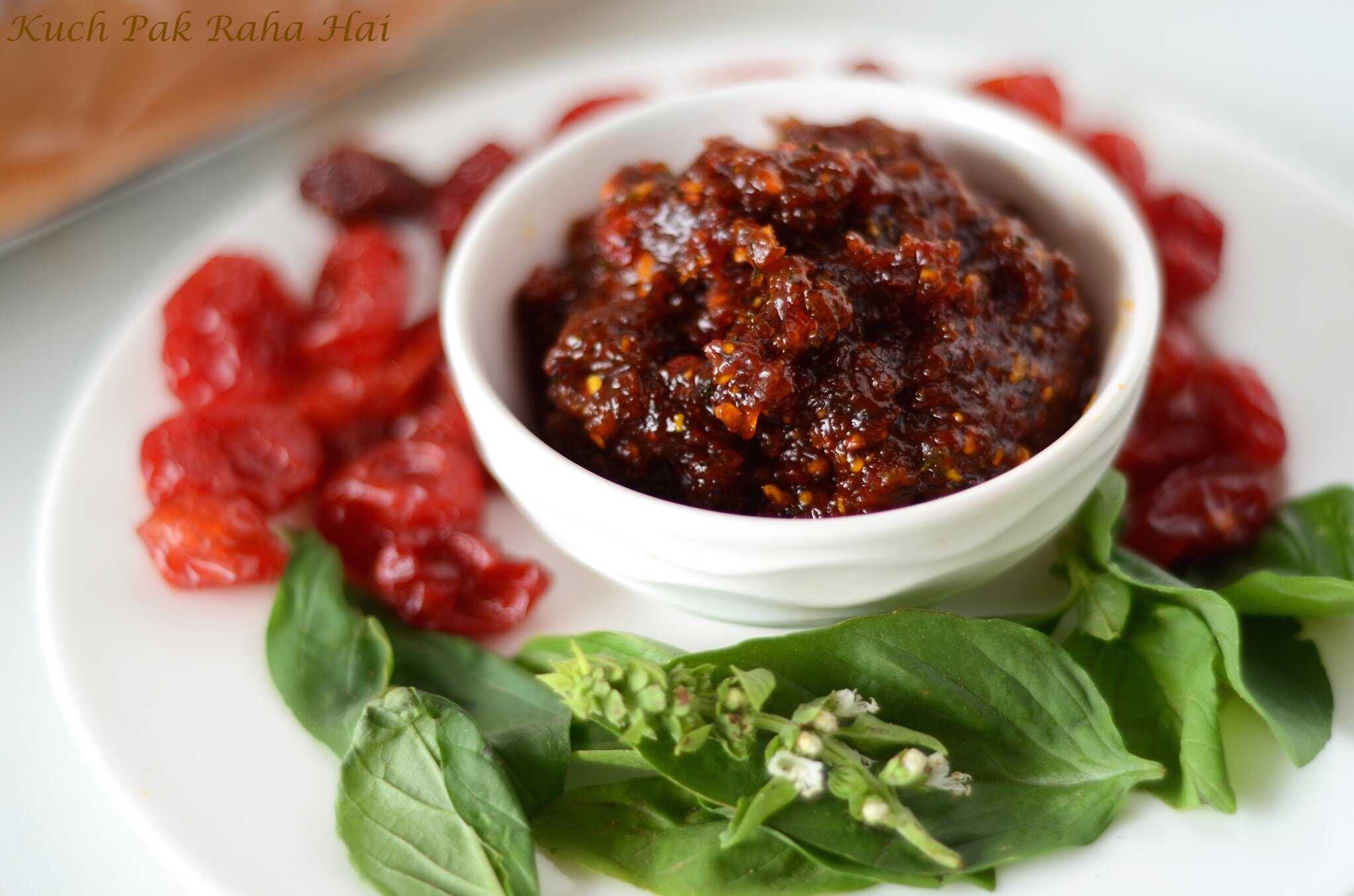 "Sun Dried Tomato Pesto" is a delicious aromatic blend of sun dried tomatoes and fresh basil leaves. It is a magic wand which instantly adds oodles of flavour and freshness to any recipe. You can add it in your baked pasta, garlic bread, sandwiches or soups and this recipe will never disappoint you.
Going little in the background of this dish, Pesto is the name for the sauce comprising of basil leaves, pine nuts, garlic, parmesan cheese and olive oil. As the flavour of sun dried tomato is in itself quite sweet and salty, its addition in the pesto sauce multiples the zing and flavour.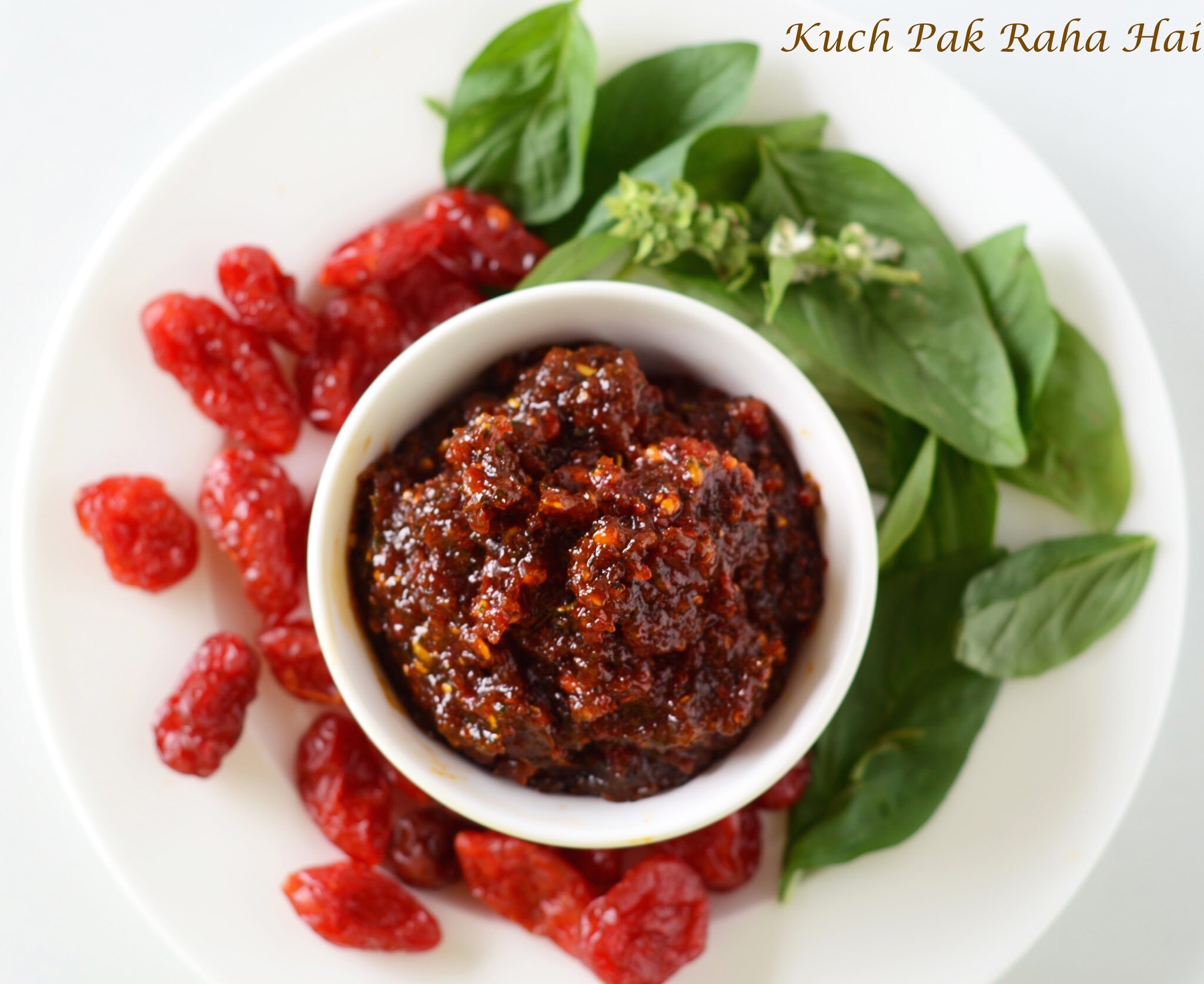 The story behind making of this Pesto goes like this. I bought these two packets of sun dried tomatoes from my trip back to Bangkok. Although you get fresh tomatoes all the year round in India, but the vibrant colours and taste of the dried fruits and vegetables at one of the general stores there instantly made me fall in love with them. Apart from these sun dried tomatoes packet, I also got a bunch of other fruits like dried pineapple, mango and kiwi. I added some of these tomatoes to warm water before actually using them in any of the recipe and yes they tasted refreshingly different in the dish. Then one day I came across the Sun dried tomato pesto option in one of the restaurant menu, and the thought struck me "Oh I too have these at home and why the hell I have not tried this pesto yet :-/" .
So here I am sharing with you this yummy zingy pesto sauce recipe. Hope you all would like it!! 🙂
I have skipped the "Parmesan cheese" from the recipe as I wanted to store the pesto for longer time. You may add it of you want. Also, as we have hotter climate at the place where I live, I have restricted the quantity of pine nuts to 10-12. You can increase its quantity as well 🙂
List of Ingredients :
Sun Dried Tomatoes-1 cup
Garlic Cloves- 3
Fresh Basil leaves – 3/4 cup
Pine Nuts (Chilgoze in hindi)- 10 to 12
Salt-1tsp ( or to taste)
Black pepper- 1/2 tsp
Red Chilli flakes – 1/2 tsp
Olive Oil-1/4 cup plus 2 tbsp
Steps To Prepare:
Step1:
Add dried tomatoes, basil leaves, pine nuts, salt and black pepper in a food processor and start blending them.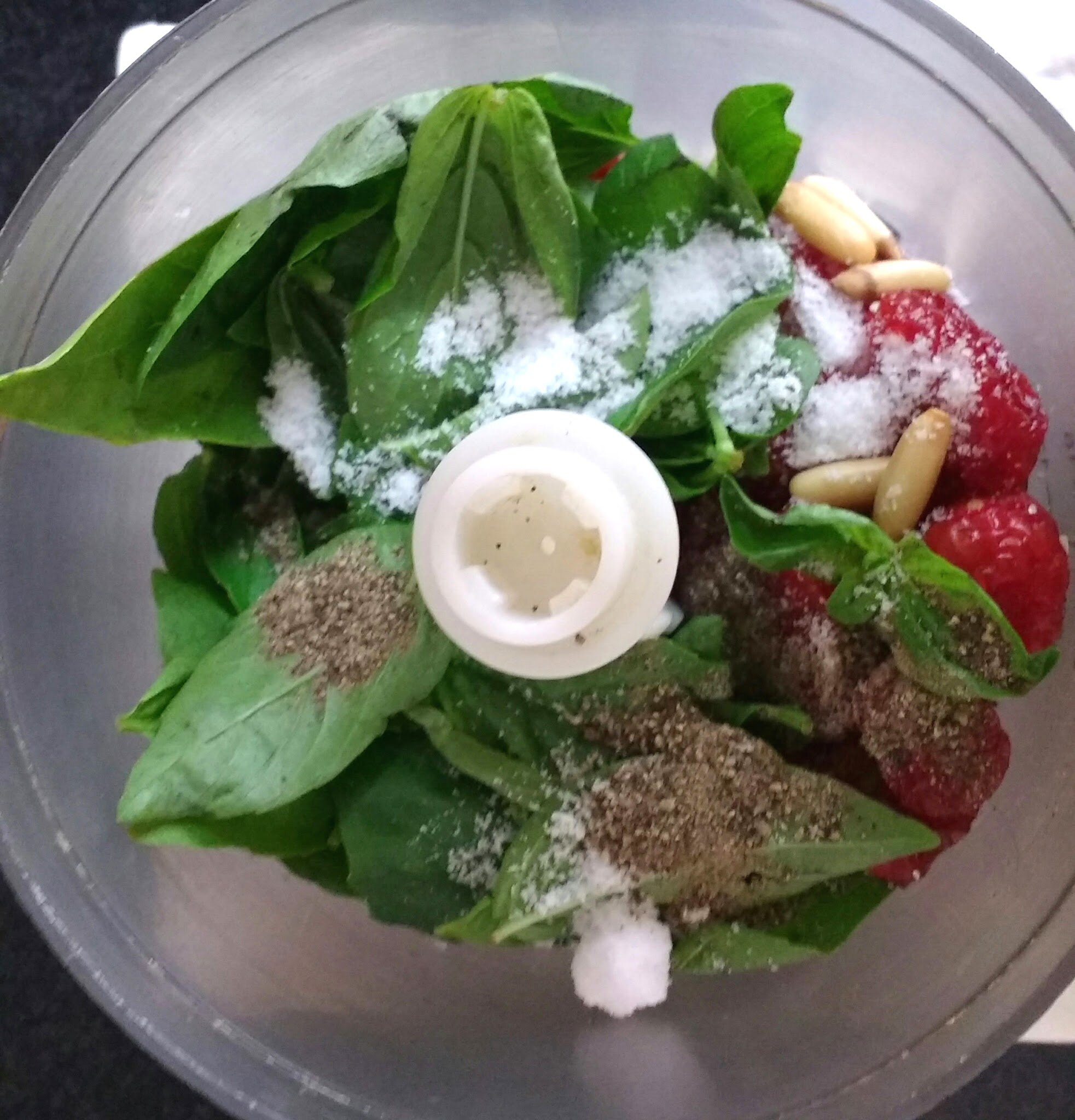 Step2:
Drizzle the olive oil gradually while it is mixing. The mixture would slowly attain paste like texture.

Step3:
Add chilli flakes in the end and blend once again.
If you are planning to store the pesto for few days then pack the top of the jar, in which you are going to store it,with olive oil in the jar. It would increase its shelf life.
Enjoy Pesto on top of your bread slice or with your pasta!!!