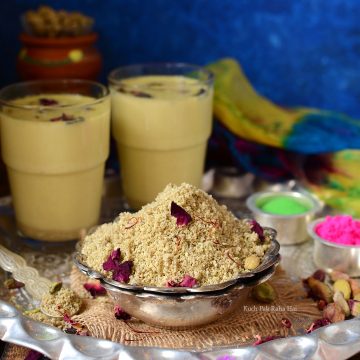 Thandai Masala powder is a premix using which you can easily make thandai anytime at home. Thandai powder is made with almonds, cashews, saffron, peppercorn, fennel, dried rose, melon seeds, cardamom & poppy seeds etc and is finally blended with milk to make thandai drink.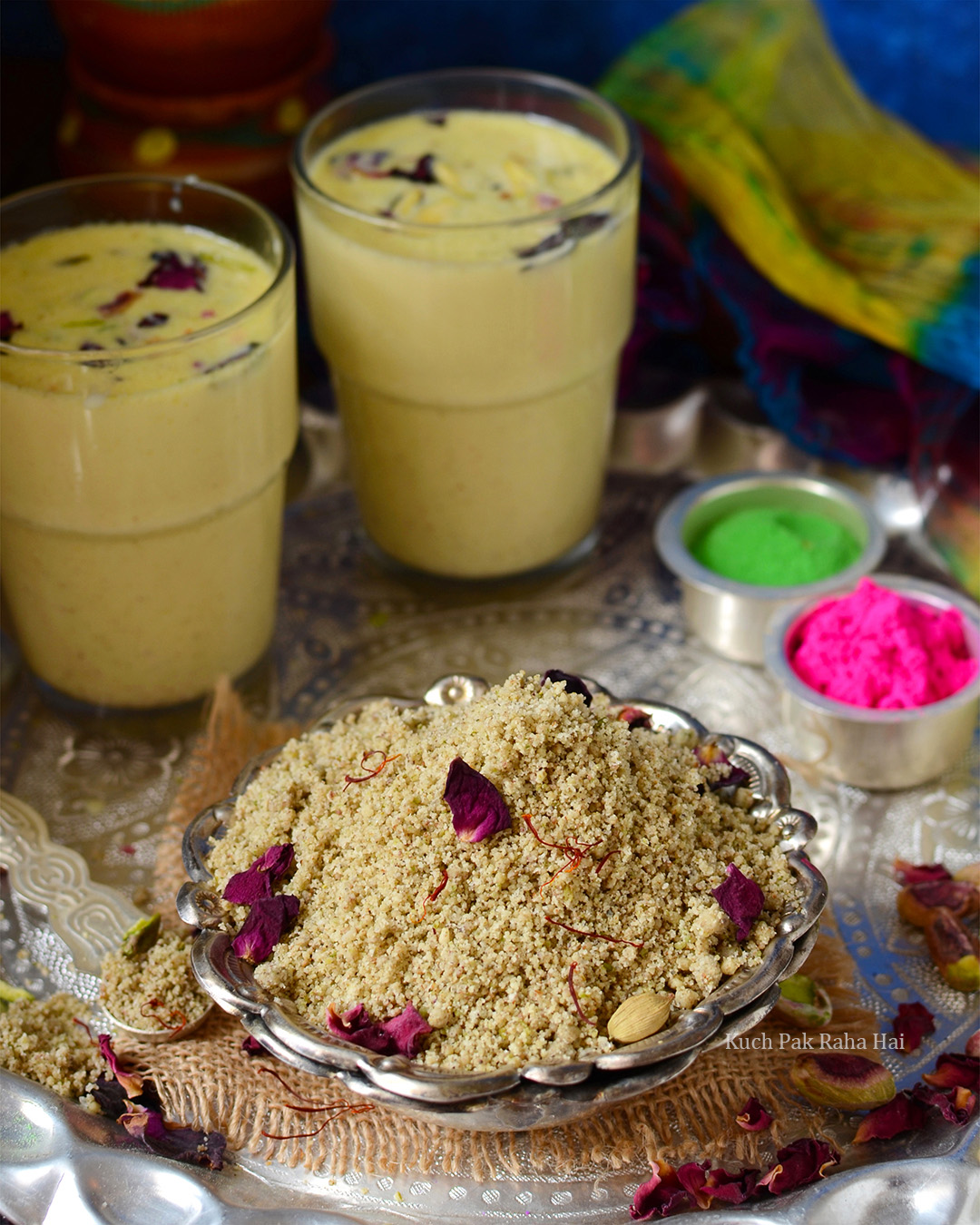 Thandai is an Indian drink which is served chilled & especially made on festivals like Holi or Shivratri. 'Thandai' is a hindi word derived from 'thand' & literally means coolness. It is also known as 'Shardai' in some Indian regions.
It tastes absolutely delicious, full of flavours and refreshing in summers. Many people also use 'Bhaang' or cannabis in making Thandai but we have not used it in this recipe here. This Thandai powder mix is quite versatile and you can even use it in other fusion recipes like cakes and cheesecakes.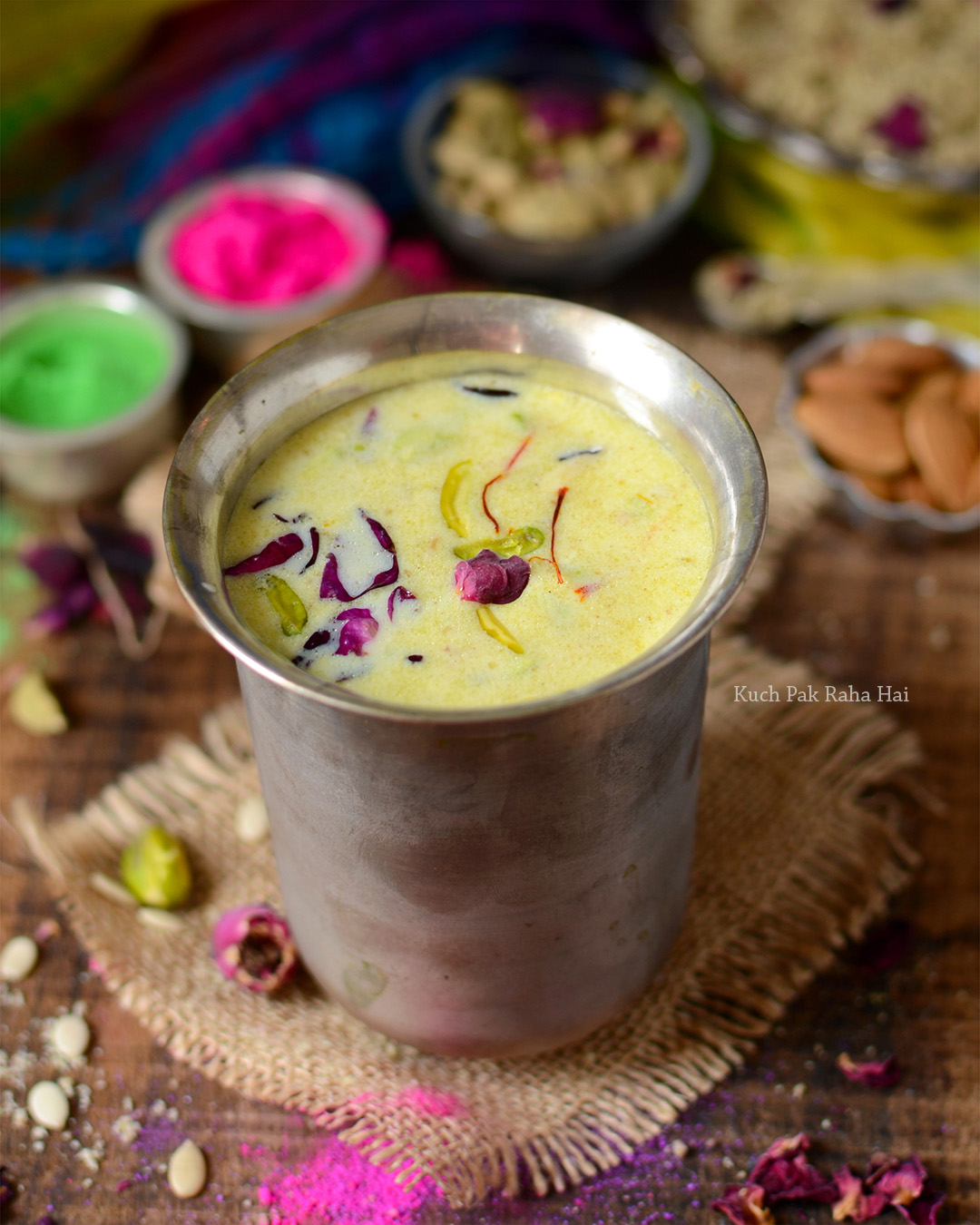 You can make this thandai masala powder beforehand and store it in refrigerator. Whenever you want to serve thandai all you have to do is blend it with milk of your choice. You can use full fat milk for richer taste or for making thandai vegan you can use almond / soy / oats milk.
Holi festival is just around the corner and Thandai is one such drink which is a 'must-have' in my home on this day. It is served with other holi delicacies like gujhiya, namak paare, dahi bhalle , pakore (fritters) and tastes absolutely divine.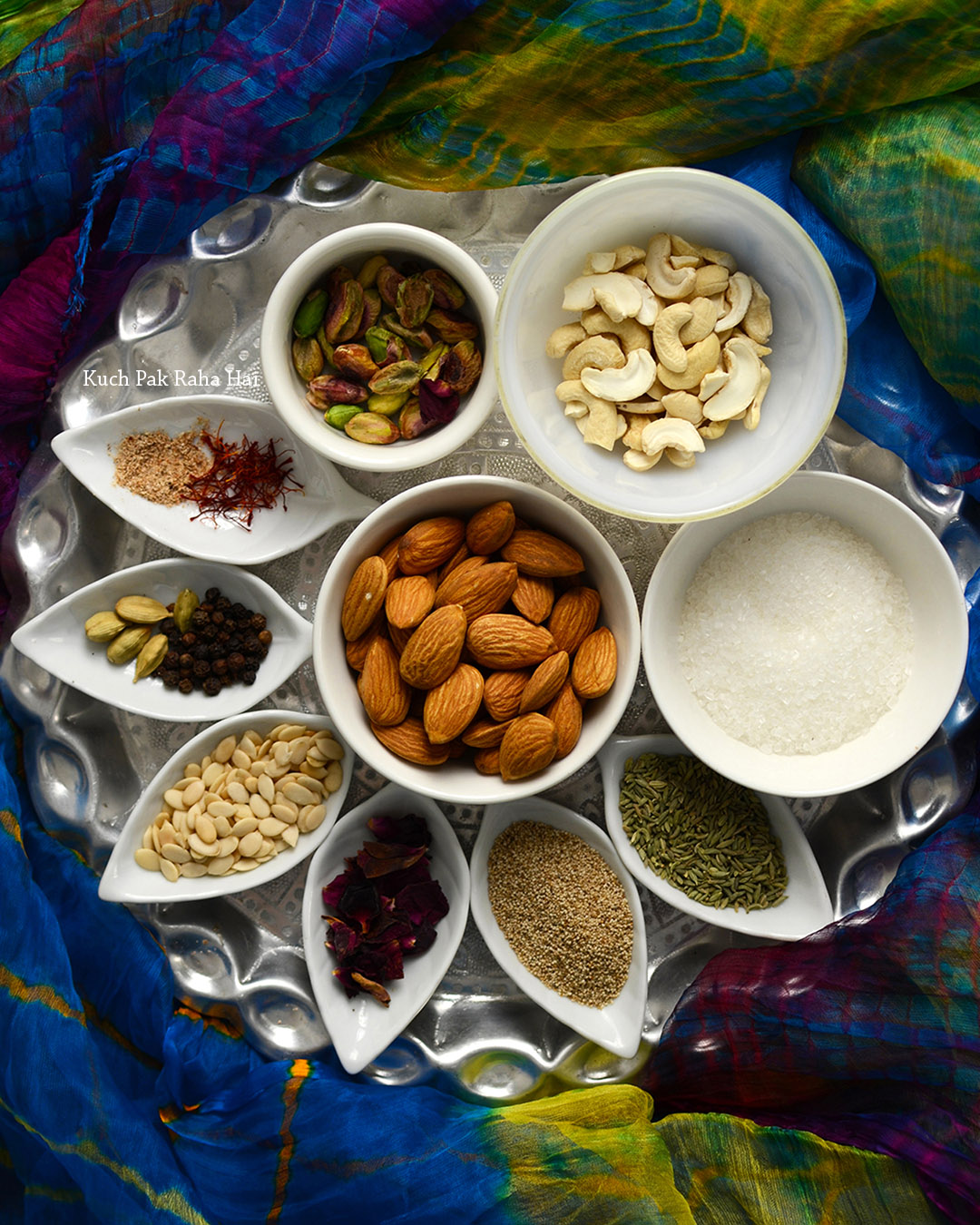 I love having chilled thandai otherwise also on hot sultry days. The drink smells heavenly because of the generous use of cardamom, fennel and saffron & instantly soothes your nerves.
As a kid I remember my mother telling us about the cooling properties of thandai as it contains magaj (melon seeds), khus khus (poppy seeds) and rose petals. Also it aids in digestion and gives an instant boost of energy.
All the ingredients and step by step recipe has been explained below. Also don't forget to read the recipe notes and substitutions mentioned at the end of the post 🙂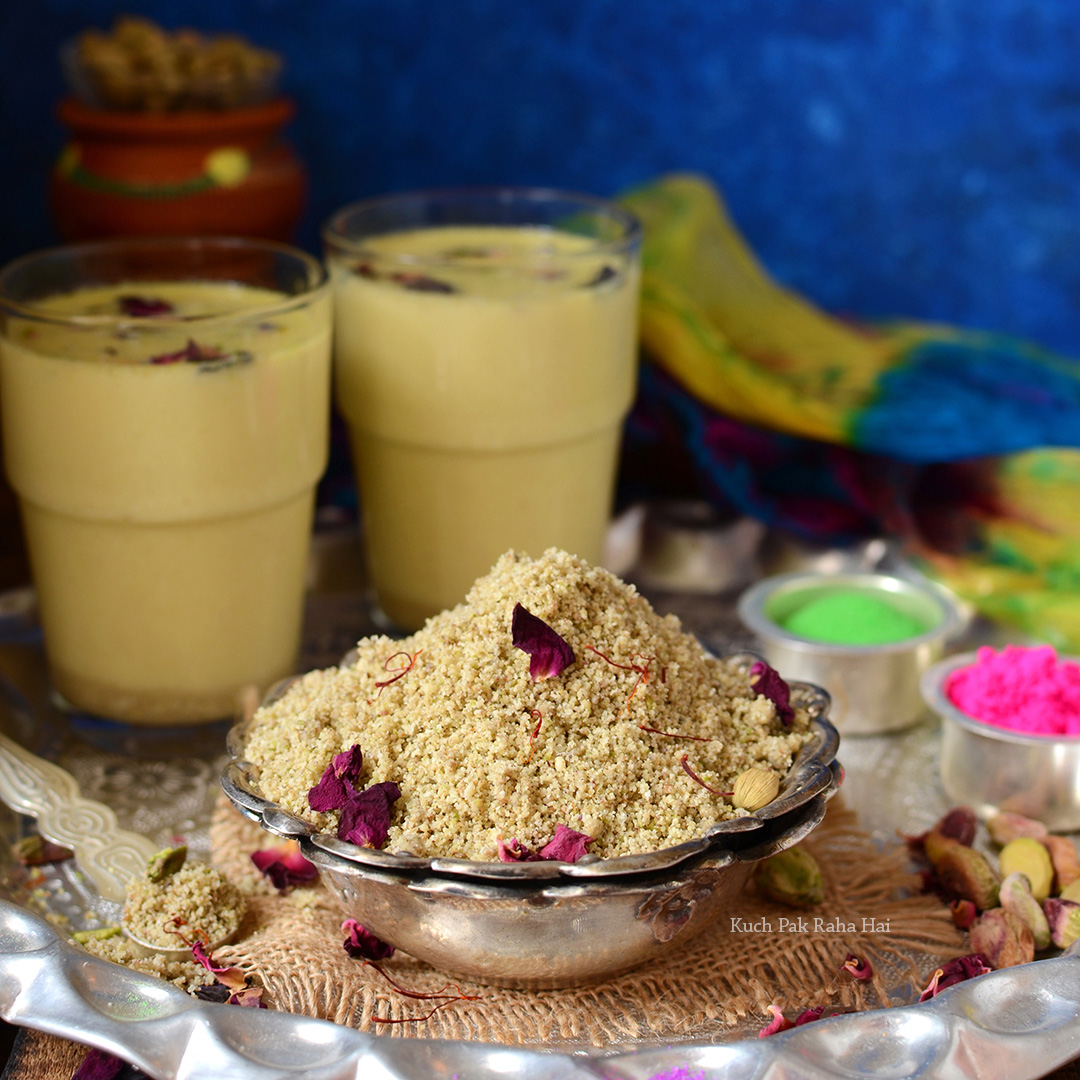 More holi special recipes:
Ingredients:
For Thandai Masala Powder:
Almonds ( Badam )- 1/2 cup
Cashews ( Kaju )- 1/2 cup
Pistachios ( Pista )- 2 tbsp
Cardamom ( Elaichi )- 6 to 7
Black Peppercorn( Kali Mirch )- 1/2 tsp
Fennel Seeds ( Saunf )-2 tbsp
Melon Seeds ( Magaj )-2 tbsp
Poppy Seeds ( Khus Khus )-1 tbsp
Dried Rose Petals ( Gulab )- 1 tbsp
Nutmeg Powder ( Jayphal )- 1/4 tsp
Saffron Strands ( Kesar )- 10 to 15
Sugar- 4 tbsp
For Thandai:
Milk- 2 cups (500 ml)
Sugar-1 tbsp ( or to taste)
For Garnshing: (Use any)
Chopped Almonds
Chopped Pistachios
Dried Rose Petals
Saffron strands
(Recipe Notes / Substitutions mentioned in the end of post)
Directions:
How To Make Thandai Masala Powder
Step 1:
In a grinder add elaichi (cardamom), black pepper, saunf (fennel), melon seeds, poppy seeds, dried rose petals and 2 tbsp sugar.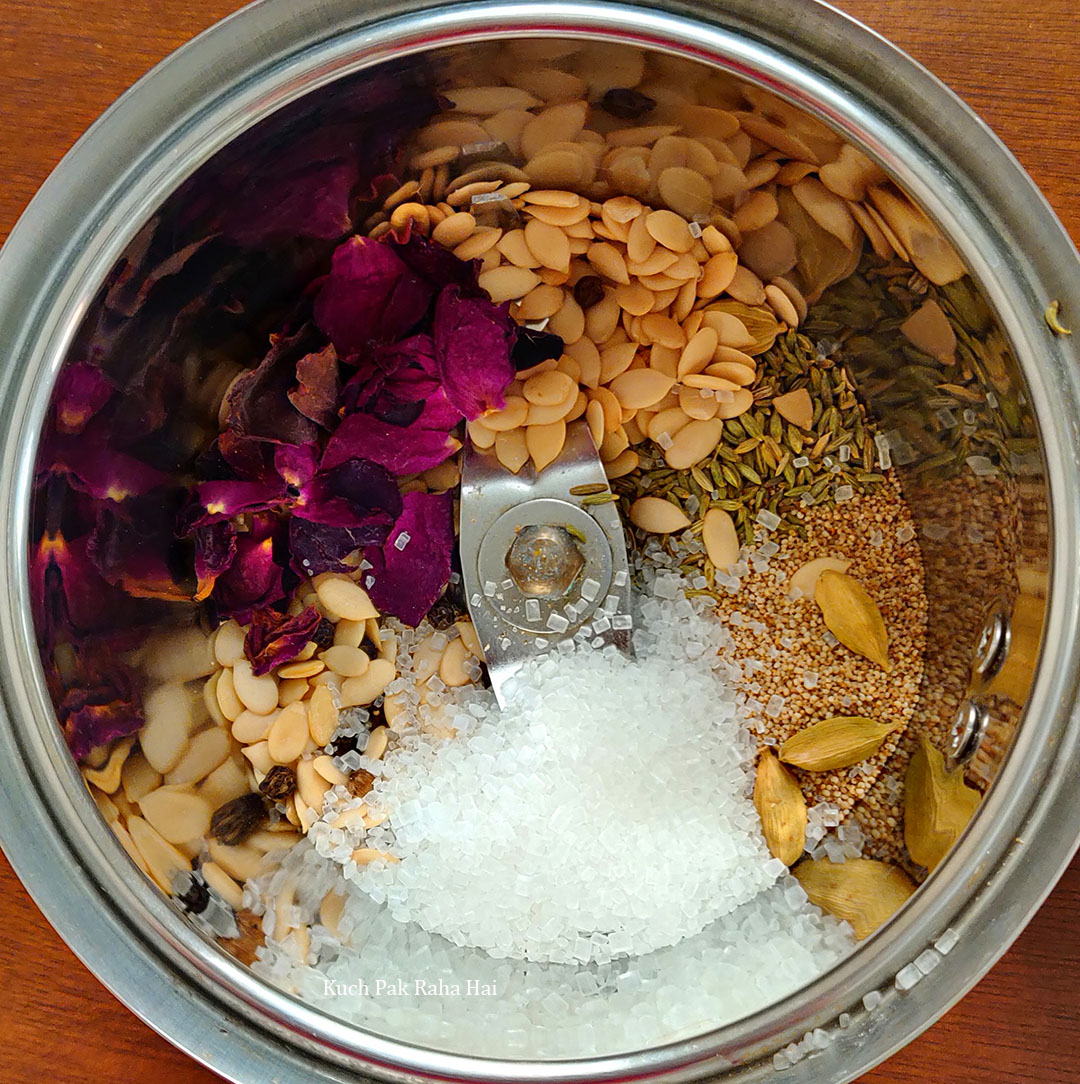 Grind it to form fine powder. Sieve this mixture once so that there are no big particles left.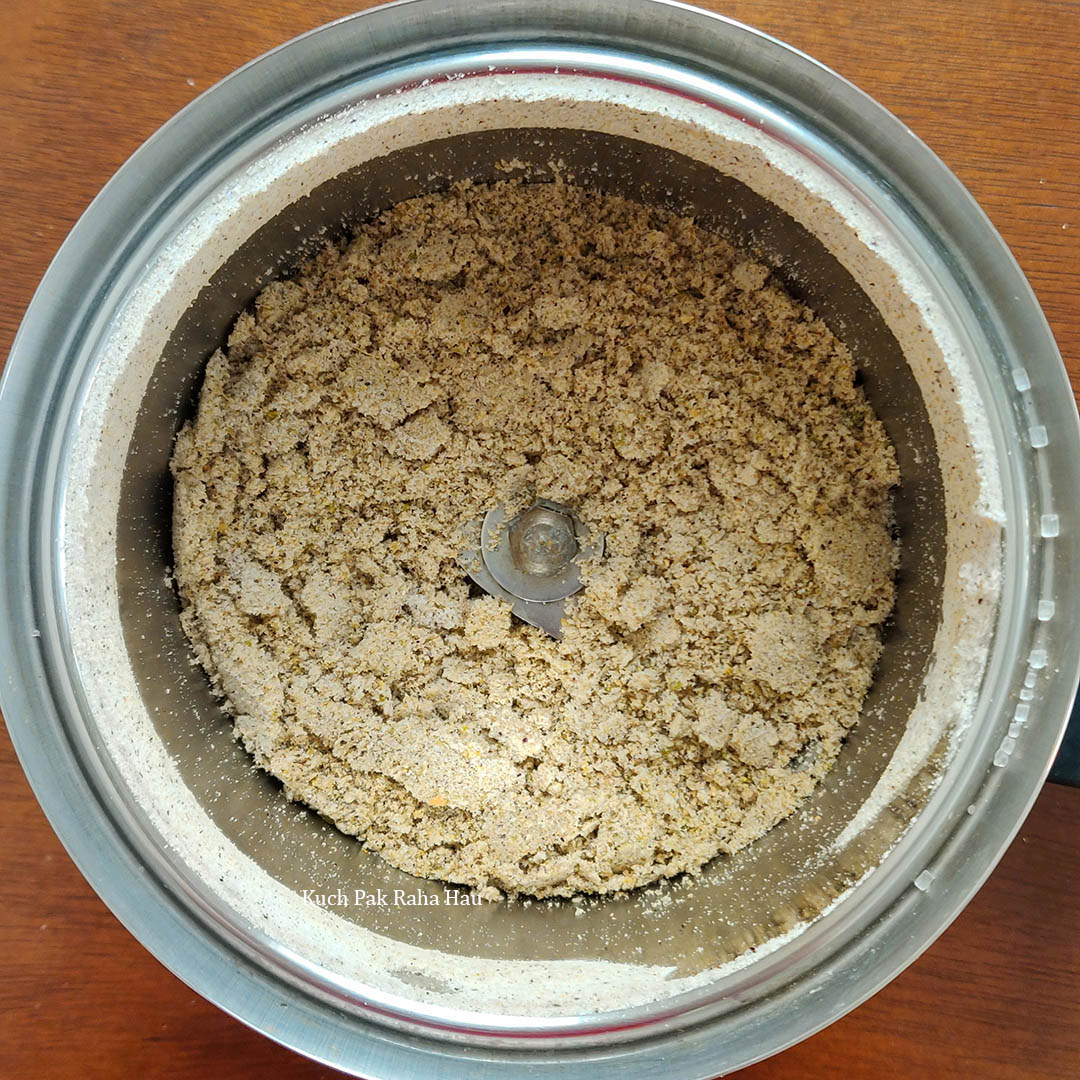 Grind once again if required. Here as you can see all the contents got finely grounded so I did not grind them again. Keep this aside.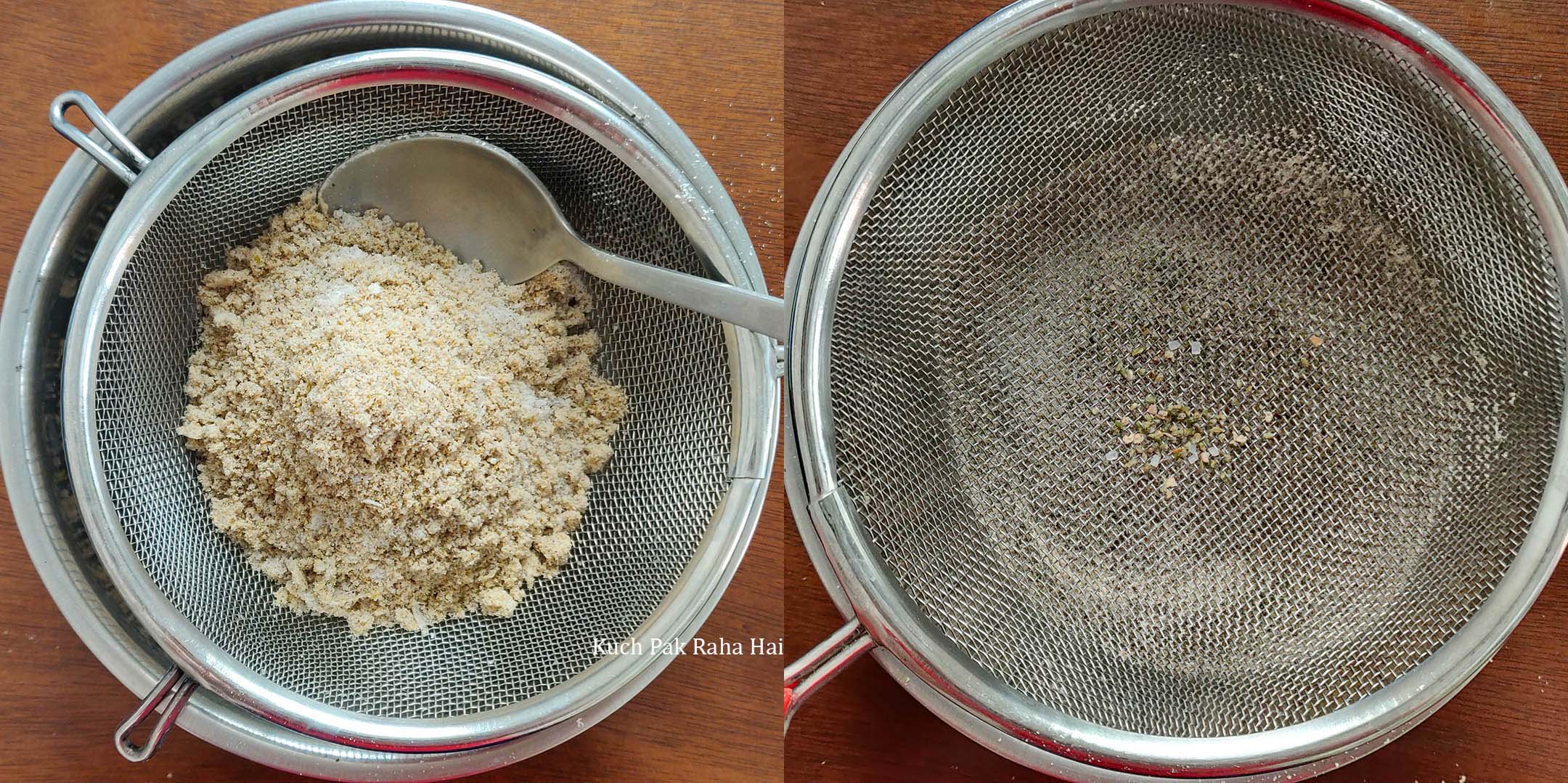 Step 2:
To the same grinder jar, add almonds, pistachios, cashews and remaining 2 tbsp sugar. Grind them in pulses and not continuously as we don't want the fat to get separated form these nuts.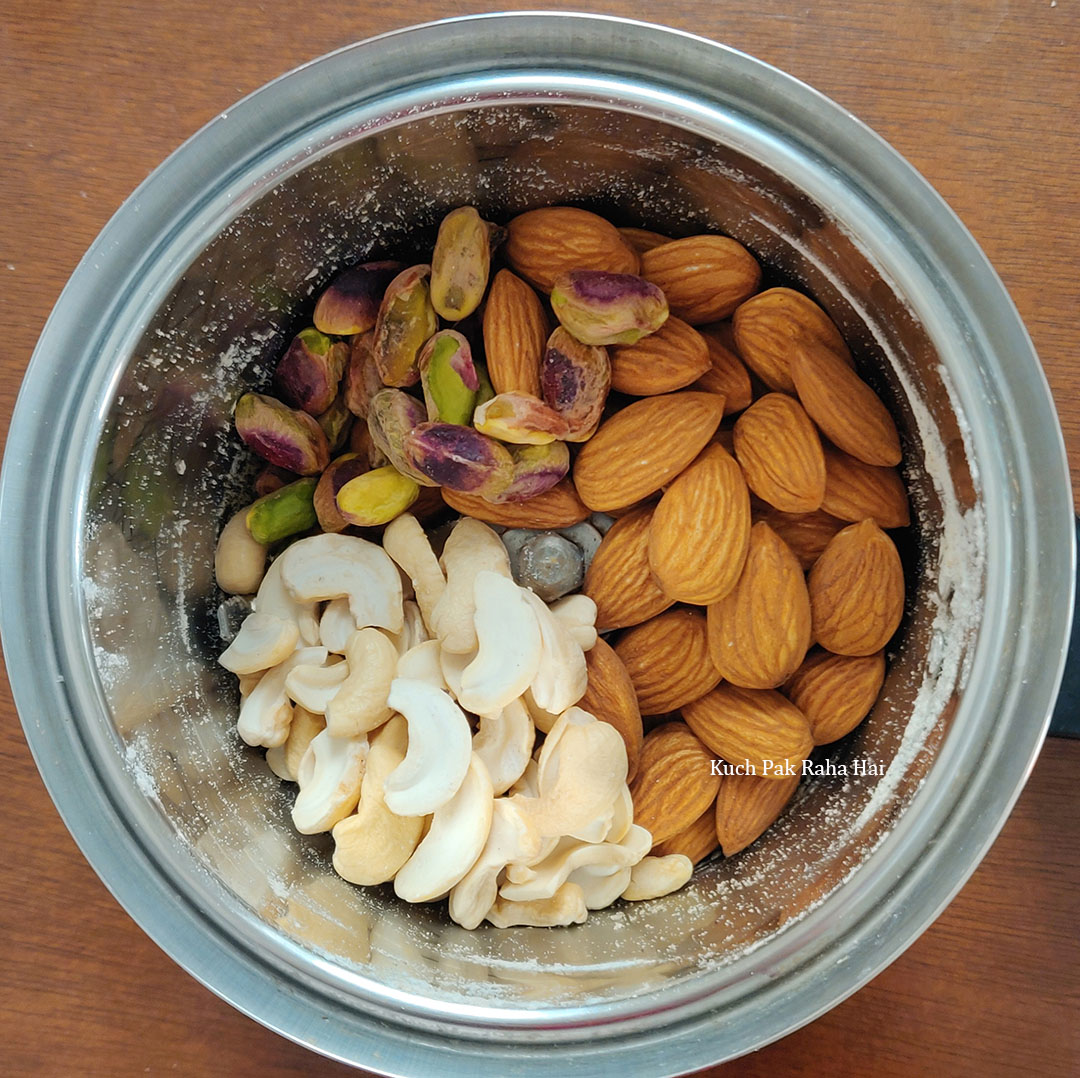 (This is also the reason why nuts were not grounded with other ingredients in first step as grinding for longer can overheat them leading to fat getting separated.)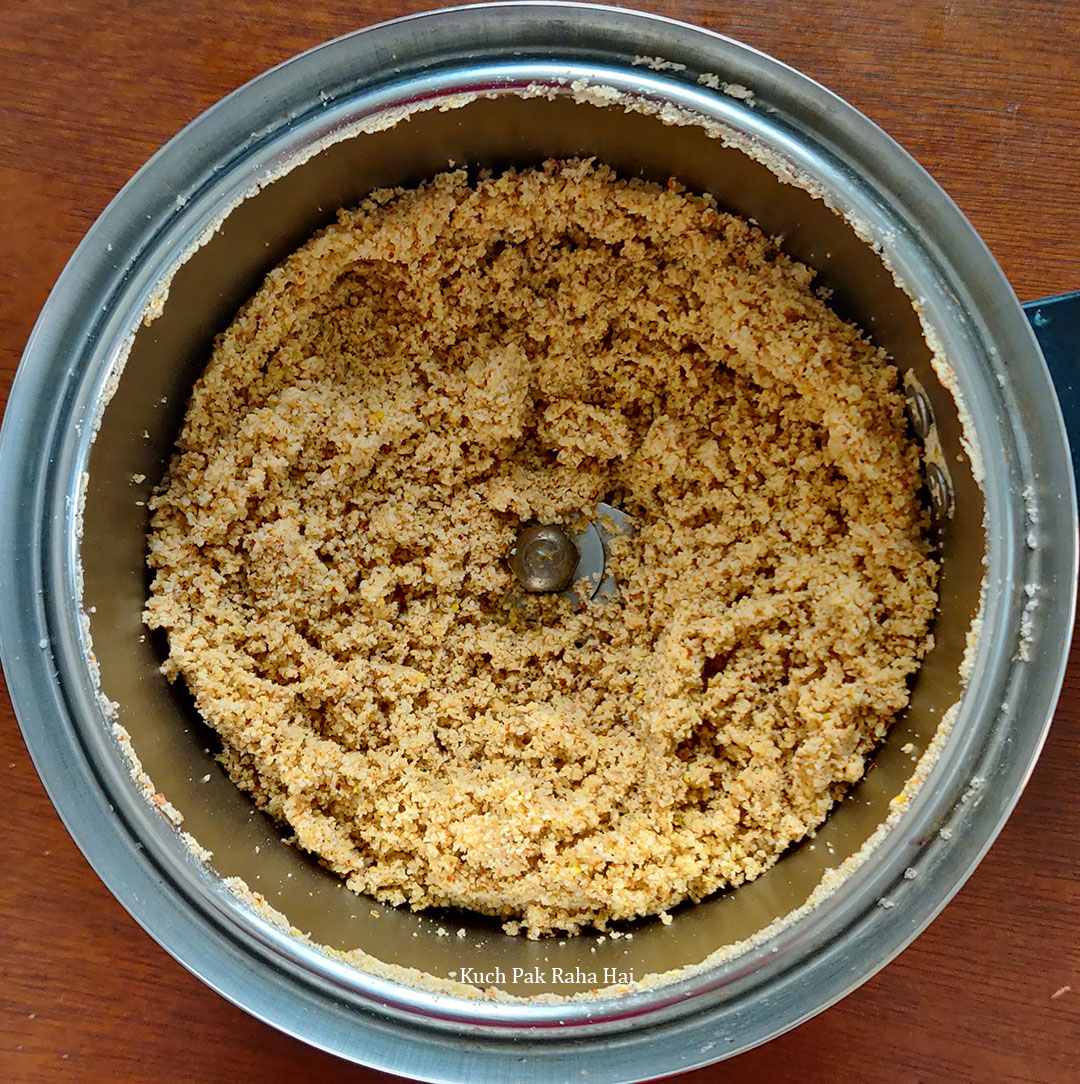 Step 3:
To the above mix, add all the remaining ingredients and the powder which we prepared in step 1. Grind it in 2-3 pulses so that all ingredients are mixed properly.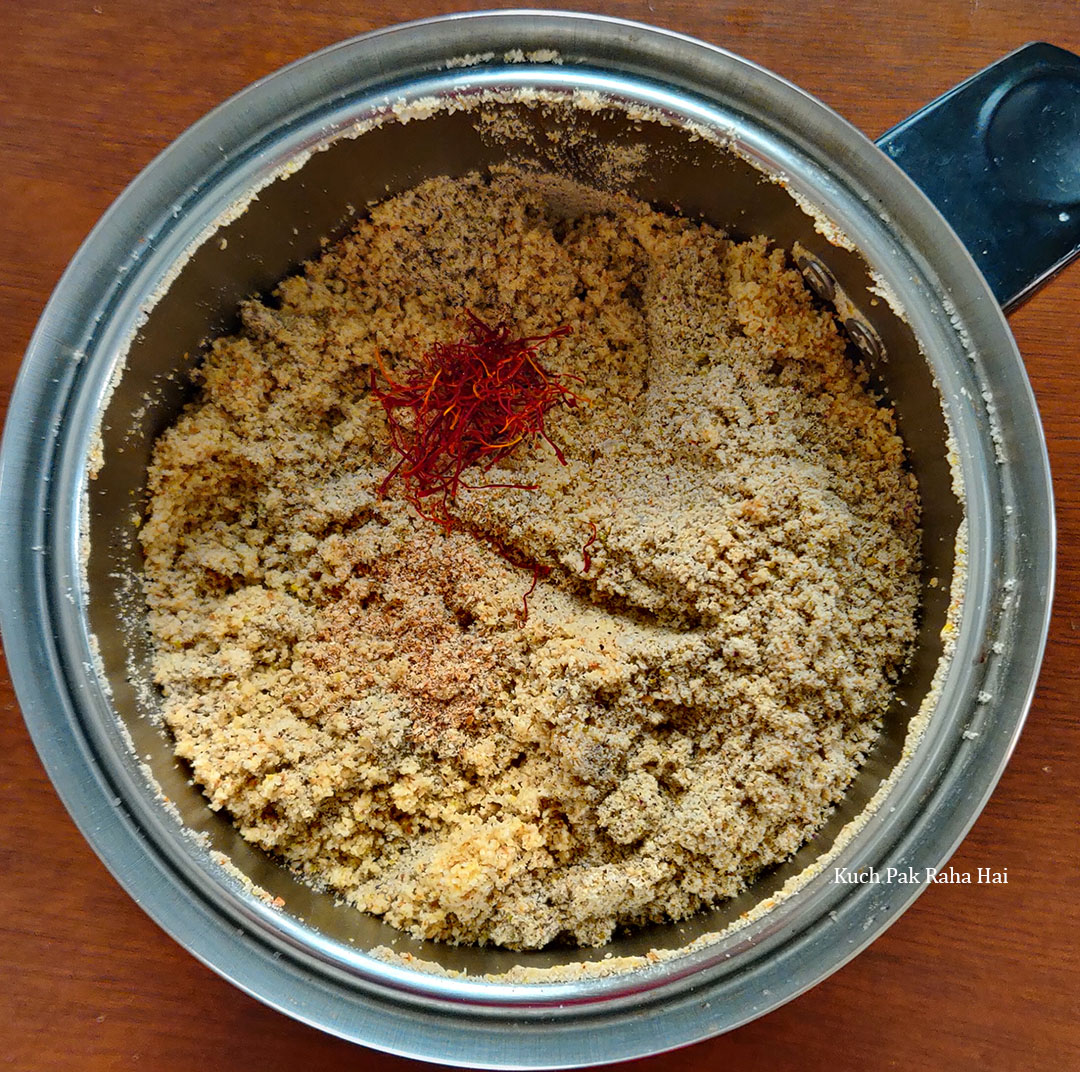 Thandai Masala Powder is ready. Store it in an airtight jar in refrigerator for upto 6 months.
How to make Thandai from Thandai Powder
Take a pitcher or big vessel. Add hot milk, 3 tbsp of thandai powder and sugar to it.You can also add few strands of saffron for additional colour. Mix well using a spoon or spatula. Taste it once and adjust the sugar as per your taste. Place this bowl in refrigerator for 3 to 4 hours to chill completely.
Chilling period gives enough time to incorporate all the flavours of thandai in milk. You can even chill it overnight if you are planning to serve next morning.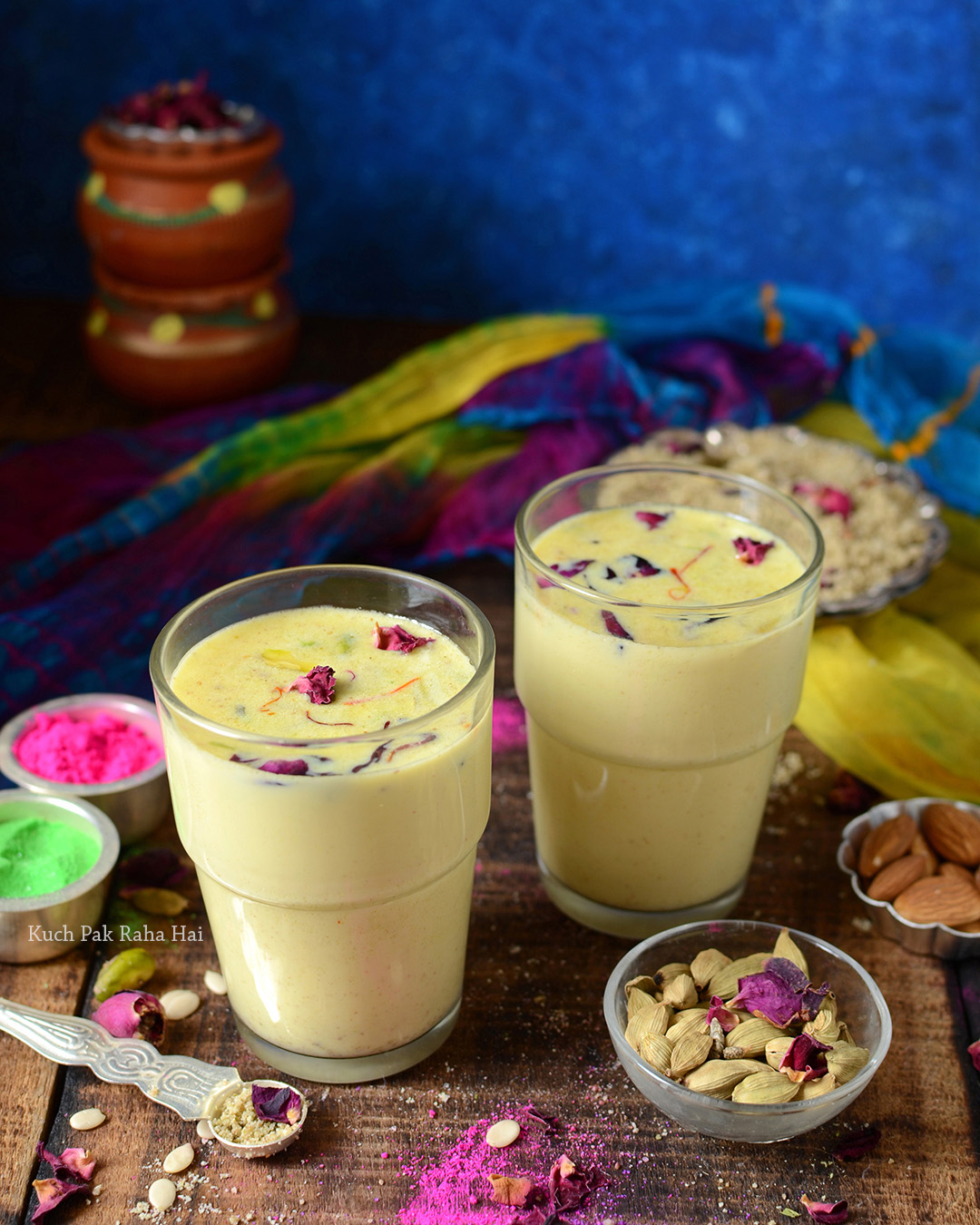 How to serve Thandai
Add some ice cubes in a glass. Stir Thandai milk once after bringing out of fridge and pour over these ice cubes. Before serving Thandai milk you can pass it through a sieve to separate all the coarse particles from powder. However I like to serve it as it is.
Garnish with some more chopped almond, pistachios or saffron strands. Serve it chilled.
Thandai Variations that you can try :
You can add in some fresh mango puree for 'Mango Thandai' or rose syrup for 'Rose Thandai'.
Can we make Thandai Vegan?
Yes, definitely!! Instead of regular milk use almond or oats milk while preparing thandai.
Recipe Notes:
1. If you don't have dried rose petals, add little bit of rose water or gulkand while preparing Thandai Milk. (Don't add rose water or gulkand in the thandai masala as their moisture can reduce its shelf life).
2. Saffron or Kesar gives a lovely golden hue and fragrance to the Thandai. Instead of Kesar, you can even use a little bit of turmeric (haldi). Though it will not add to the aroma but will definitely give colour to the milk.
3. Black pepper can easily be replaced by white pepper.
4. Adding Jayphal (nutmeg) and Pistachios is optional.
5. For a richer taste you can use full fat milk. However as it already contains lots of nuts, seeds, saffron etc it tastes equally good with toned (low fat) milk as well.
Cheers. Happy Cooking !! 🙂
Pin for later: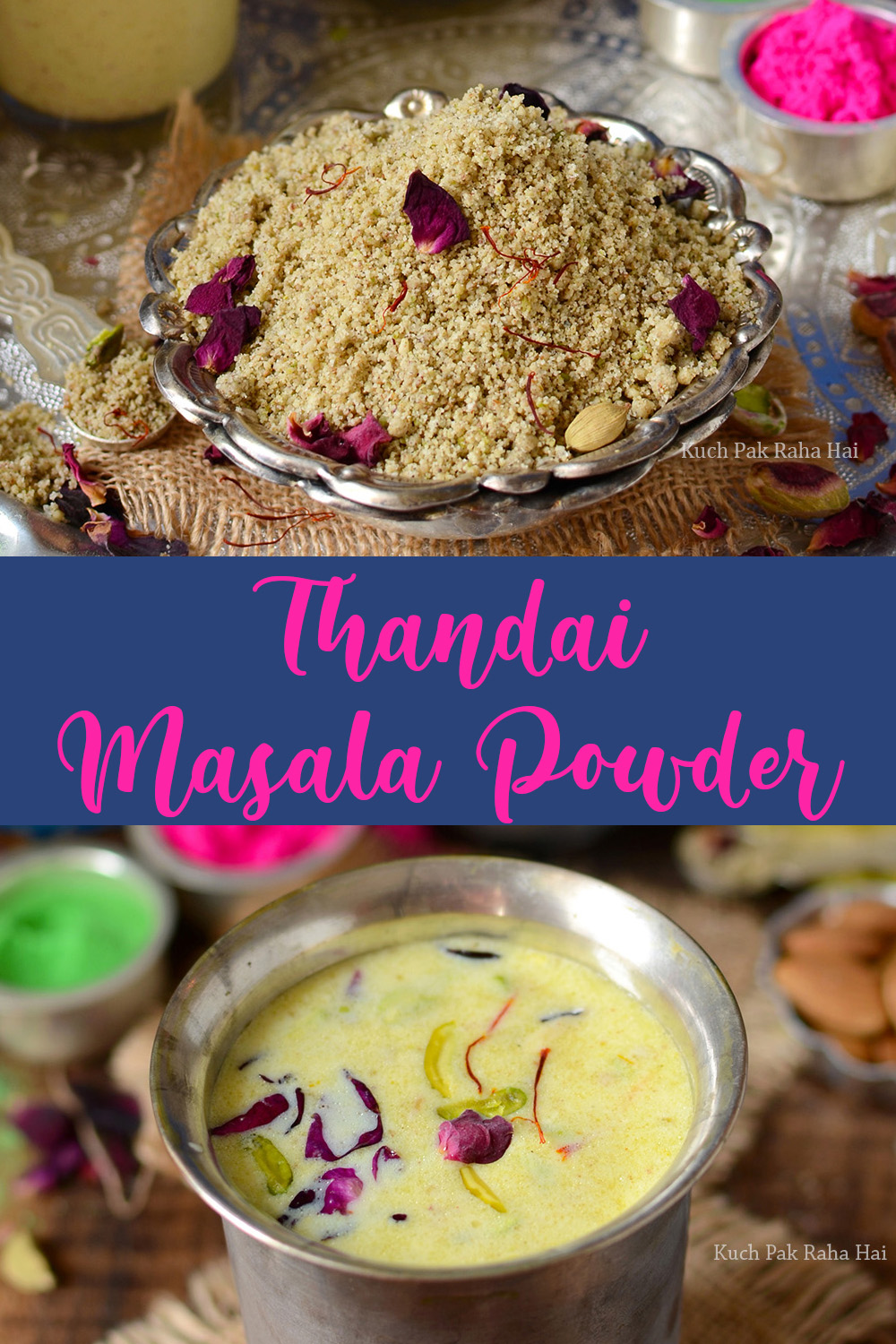 Other Holi special recipes you might like:
If you try this Thandai recipe & share pics on social media, then don't forget to tag on Facebook, Instagram or use #kuchpakrahahai.
Let's stay connected
Facebook | Instagram | Pinterest| Youtube