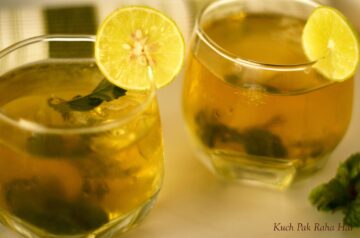 These days I had been reading so many benefits of drinking "Green Tea" everyday in magazines and social sites that I got tempted to re-include it in my everyday diet. I am writing 're-included" as I used to drink it some times back and then quit it as I found its taste to be bitter and not appealing. The next question arose on how to consume hot boiling cup of green tea in such sweaty summers. So I tried out and came up with this twisted yet tasty and cool variation of Green Tea. Now I generally keep it in fridge on day-to-day basis and drink it post workout or whenever its hot. Refreshing and Healthy!!
I have added rock sugar in this drink for sweetness. You may also replace it with ordinary sugar or brown sugar as well.
List Of Ingredients:
Water-600 ml
Rock Sugar-3 tsp
Lemon- 2 tsp
Mint(Pudina) leaves-8 to 10
Green Tea Bags-2
Steps To prepare:
Step1:
Boil water in a pan. Add rock sugar and mint leaves to it and let them boil on low flame for five minutes till all the sugar is dissolved.
Step2:
Transfer the boiled water to a pan and dip two green tea bags into it for half an hour.
Step3:
Take the tea bags out of the bowl and place the bowl in fridge for cooling down for an hour.
Step4:
Bring the bowl out of fridge and squeeze lemons over it.
Add some ice cubes to it and serve!!