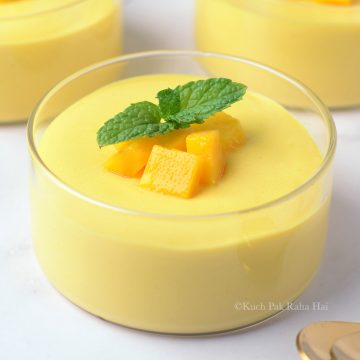 Dreamy, decadent, rich yet airy mango mousse is a perfect summer dessert to enjoy this season. It is so easy to make, can be made with fresh mangoes or canned mango puree & has no gelatin or eggs.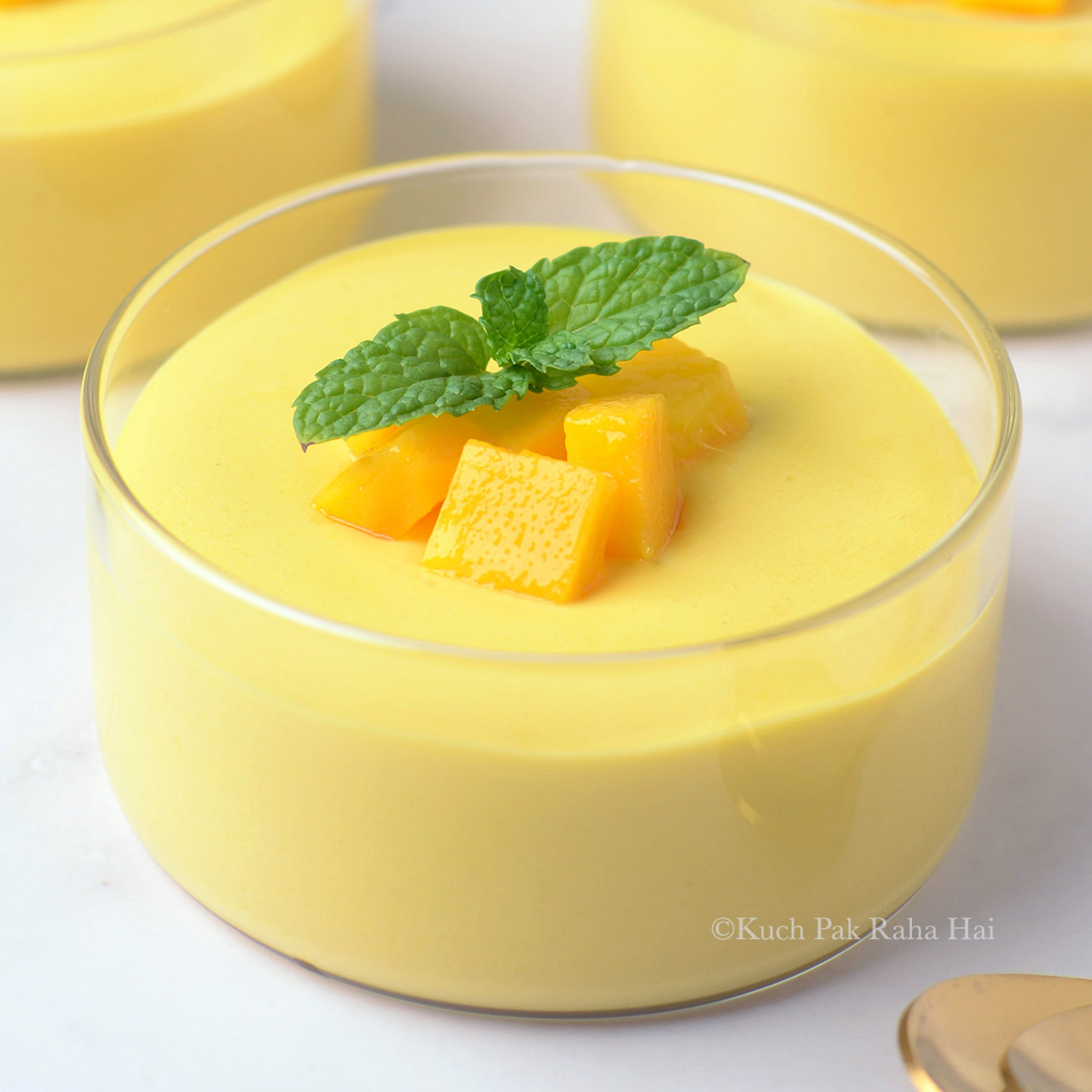 With just 6 ingredients, you can make this fabulous luscious no bake mango dessert & that too in less than 30 minutes. It is perfect for parties, potluck or can be enjoyed just like that on a summer evening with loads of chopped juicy mangoes.
This vegetarian mango mousse recipe has:
No eggs / No gelatine
No condensed milk
No white chocolate
No cornstarch (cornflour)
Mousse, known for its lush taste & light airy texture, comprises of 4 main components- base, aerator, binder & flavouring. Depending on the type of mousses you are making, the base is chocolate or fruit puree like mango, strawberry or passion fruit etc. Whipped cream or eggs works as aerator & help in incorporating air pockets in the mousse.
Binders like gelatin or agar agar acts as setting agent for mousse and is mostly used in fruit based mousse recipes. To further enhance the taste, flavourings or aromatics like vanilla extract, cinnamon powder, cardamom powder etc are used.
I have tried different variations of mango mousse recipe (with condensed milk, cornstarch etc) and in every version I felt the airiness of the mousse was missing. However, agar agar gave the best result as it helped in setting the mousse while keeping the air pockets intact.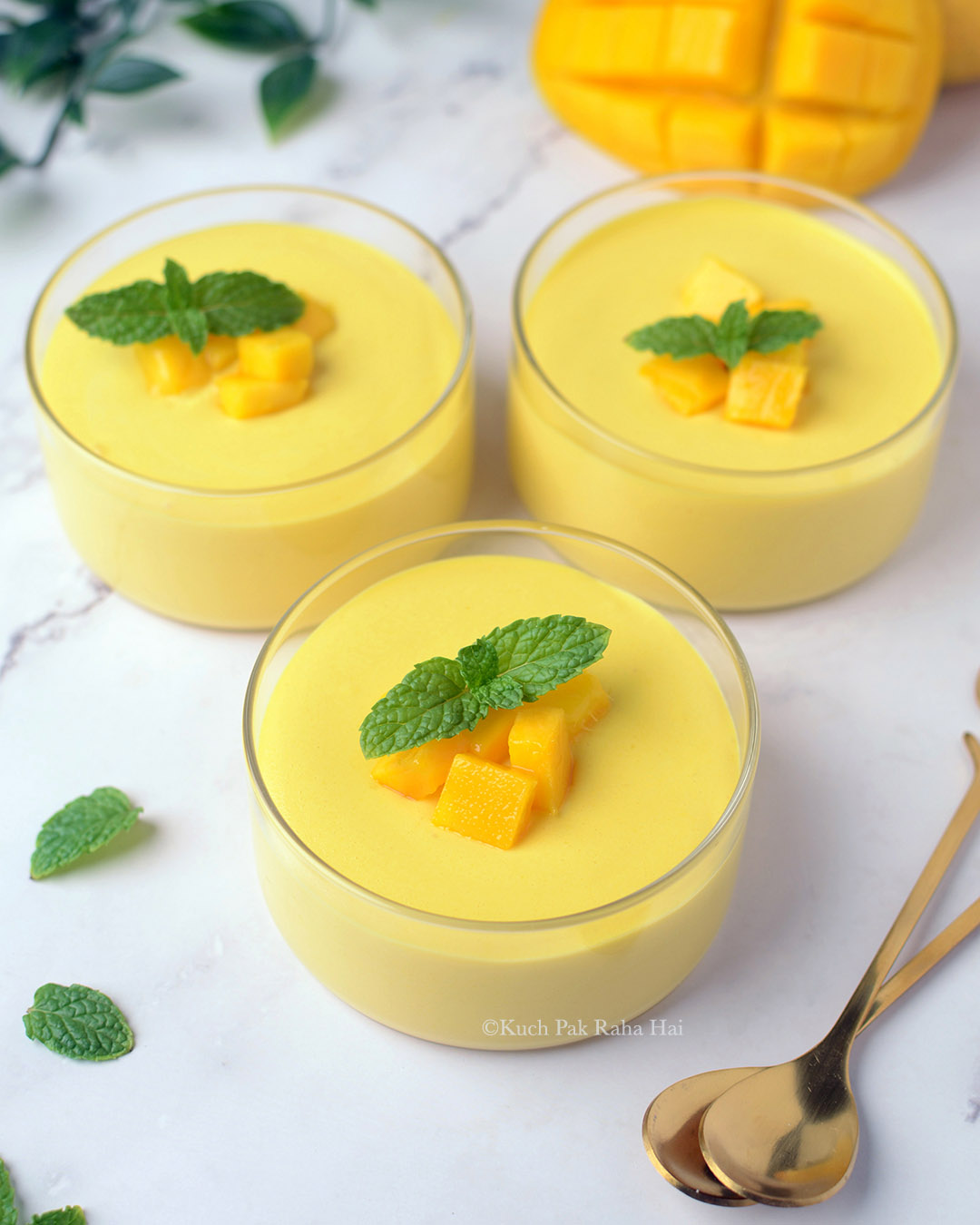 Mango Mousse Ingredients:
Mangoes: You can use any variety of mangoes like Alphonso, Dasheri, Kesar, Banganapalli etc to make this mango mousse. Always prefer non fibrous variety as it gives smoother texture after blending.
I have used 'kesar' (saffron in english) variety of mango to make this mousse as it was readily available near my home. If fresh mangoes are not available, you can also use canned mango puree or pulp.
Heavy Cream: Heavy cream or heavy whipping cream gives the richness to the mousse. Use cream with at least 30-35% fat content for making mousses. Always chill the cream well before whisking or beating.
Agar Agar: Agar agar is plant based vegan substitute for gelatin. It is available in both powdered & flakes form. Unlike gelatin, it is always dissolved in room temp water first and then simmered to dissolve completely. Never add agar agar directly to hot liquid.
Flavouring: You can use vanilla extract, cardamom powder or few saffron strands to enhance the taste of this mango mousse.
Sugar: I have added some granulated sugar while making mango puree to balance the overall sweetness of mousse. If you are using canned mango puree which already has sugar, then you can skip adding it. You can also increase the amount of sugar if the mangoes are less sweet.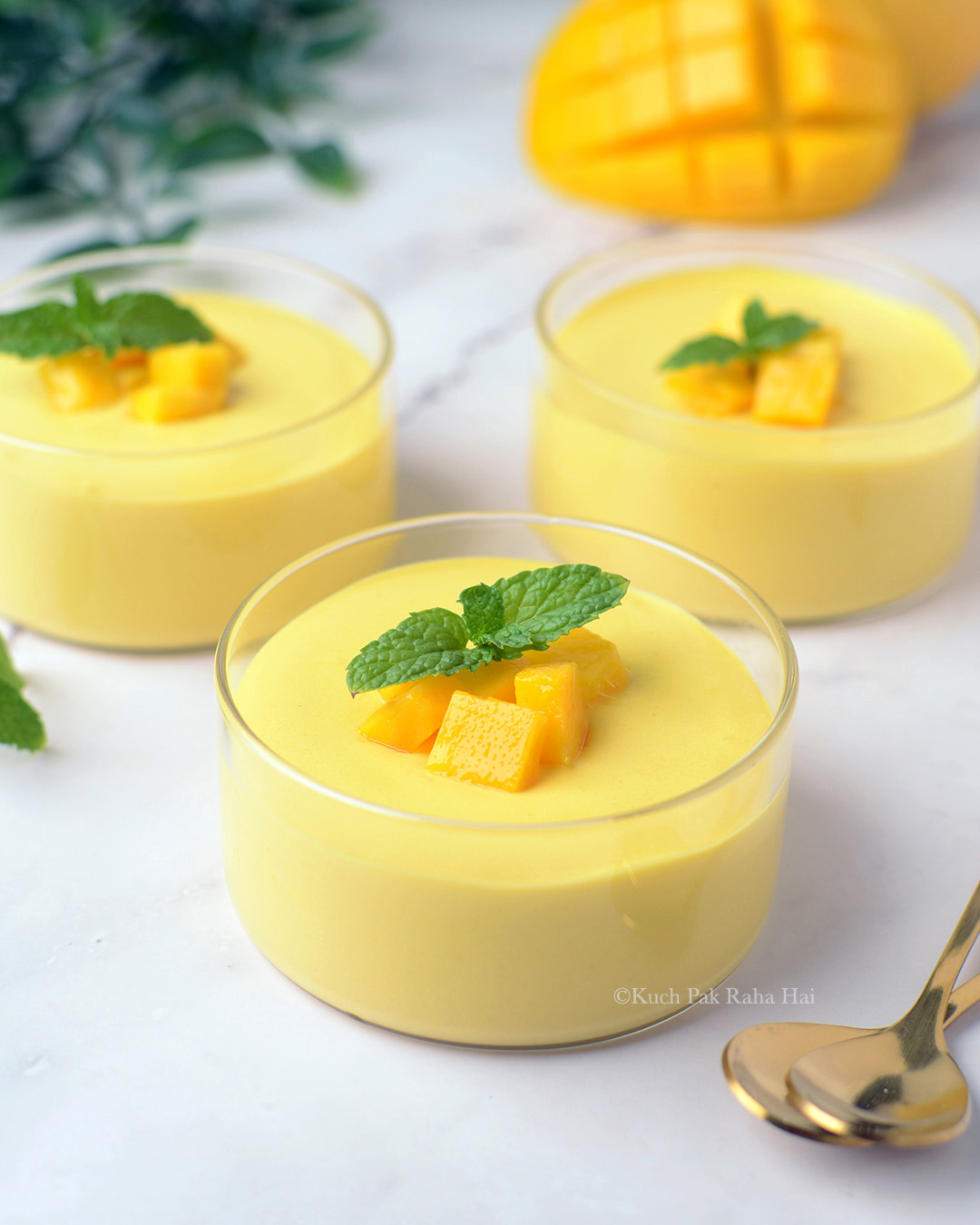 Can I use non dairy whipping cream to make mango mousse?
These days non dairy whipping cream from brands like tropolite & rich's is readily available in market and can be used for making mousse. As most non dairy creams are already sweetened, omit adding sugar when using them.
More mango recipes you would like:
Ingredients: (Makes 5-6 servings)
Chopped Mangoes – 1+ 3/4 cups (approx. 280 grams)
Heavy Cream (unsweetened) / Whipping Cream – 1 cup (242 grams)
Granulated sugar – 4 tbsp (to taste)
Vanilla Extract – 3/4 tsp
Agar Agar (powder)- 1+1/4 tsp
Water – 2 tbsp
For garnishing:
Chopped Mangoes – 3 to 4 tbsp
Mint Leaves – 4 to 5 sprigs
Notes:
Mesauring Cup used 1 cup = 250 ml
Sugar can be adjusted as per taste or depending on how sweet mangoes are.
Heavy cream should be chilled.
Instead of vanilla extract, you can also use 1/4 tsp cardamom powder & few saffron extracts
Directions:
Step 1: (Making Mango Puree)
Peel, deseed and chop the mangoes. Add these chopped mangoes with granulated sugar in a blending jar. Blend to make smooth puree. Strain it once to remove any fibre or small pieces (straining is optional step). Keep this mango puree aside.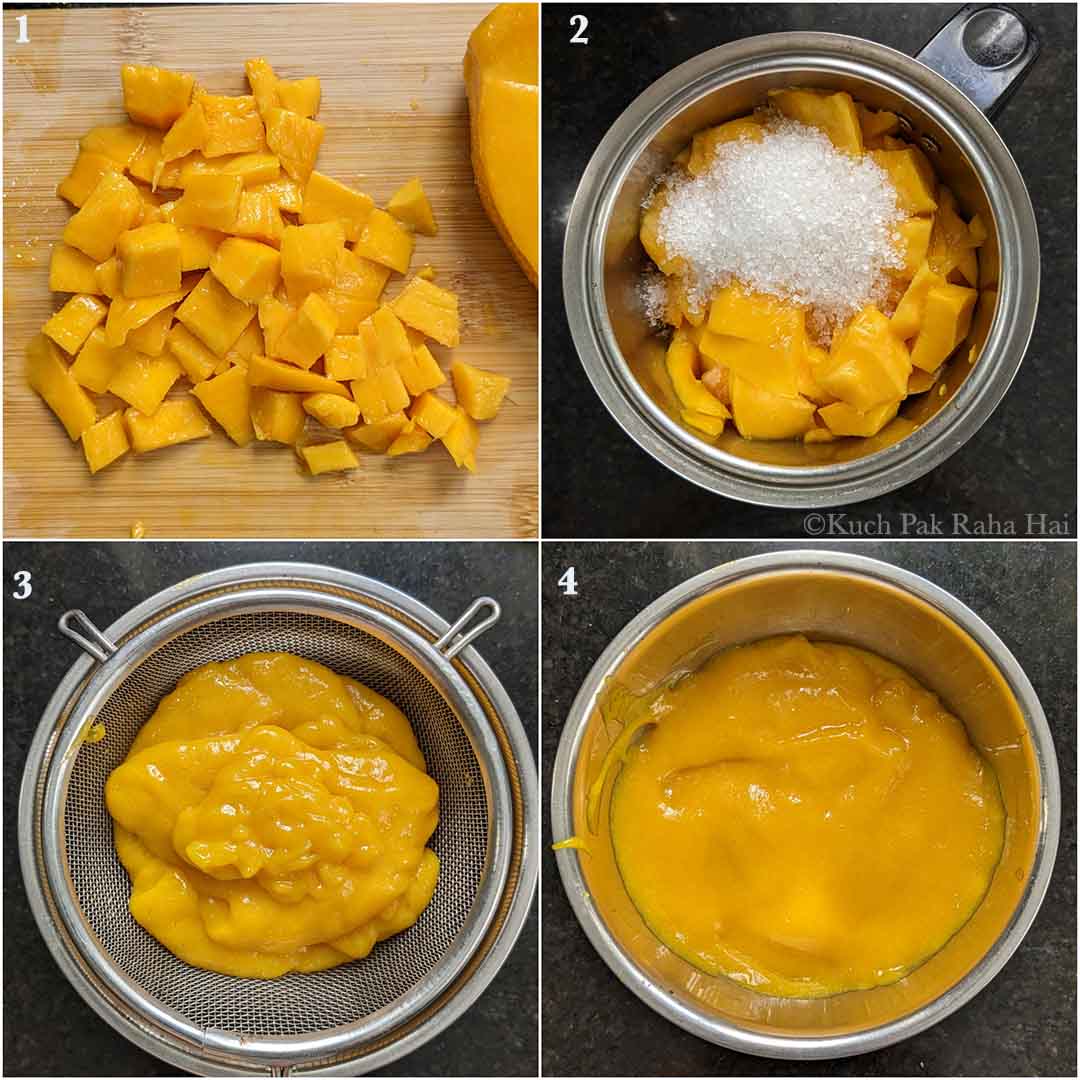 Step 2: (Whisking Cream)
Transfer the chilled heavy whipping cream in a bowl. For better & faster whipping, chill the bowl & whipping blades too. Whip it till soft peak stage. Keep aside.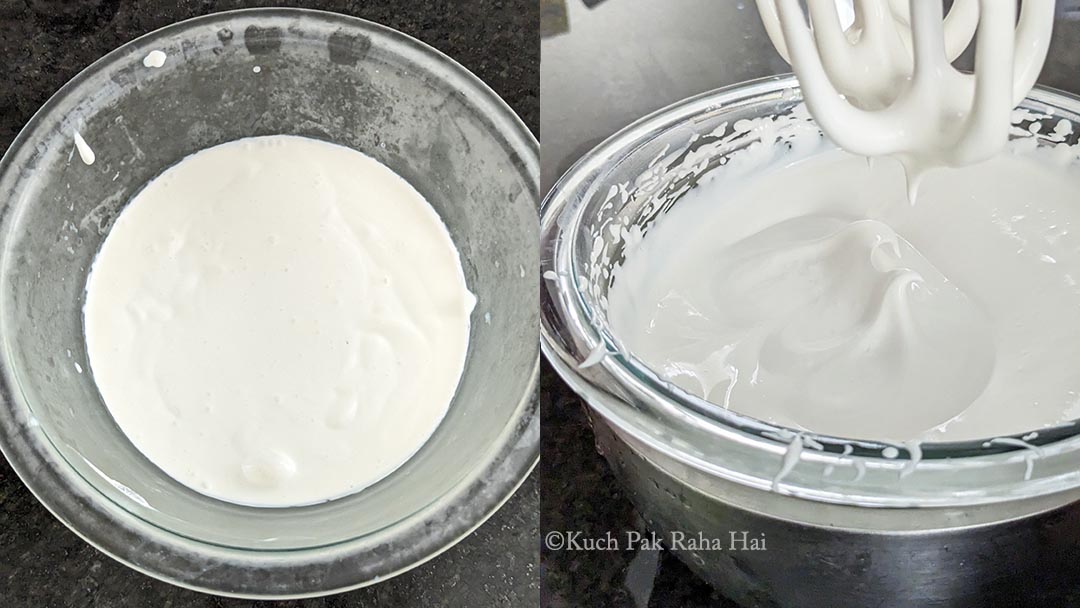 Step 3: (Activating Agar agar)
Mix agar agar with water and let it rest for 5 minutes. Then add it to mango puree & whisk for 1 to 2 minutes. Now heat this mango agar mixture on medium low heat while whisking continuously. Let it simmer for 3-4 minutes till the puree begins to thicken up. Turn off the flame and let it cool down for 5 minutes.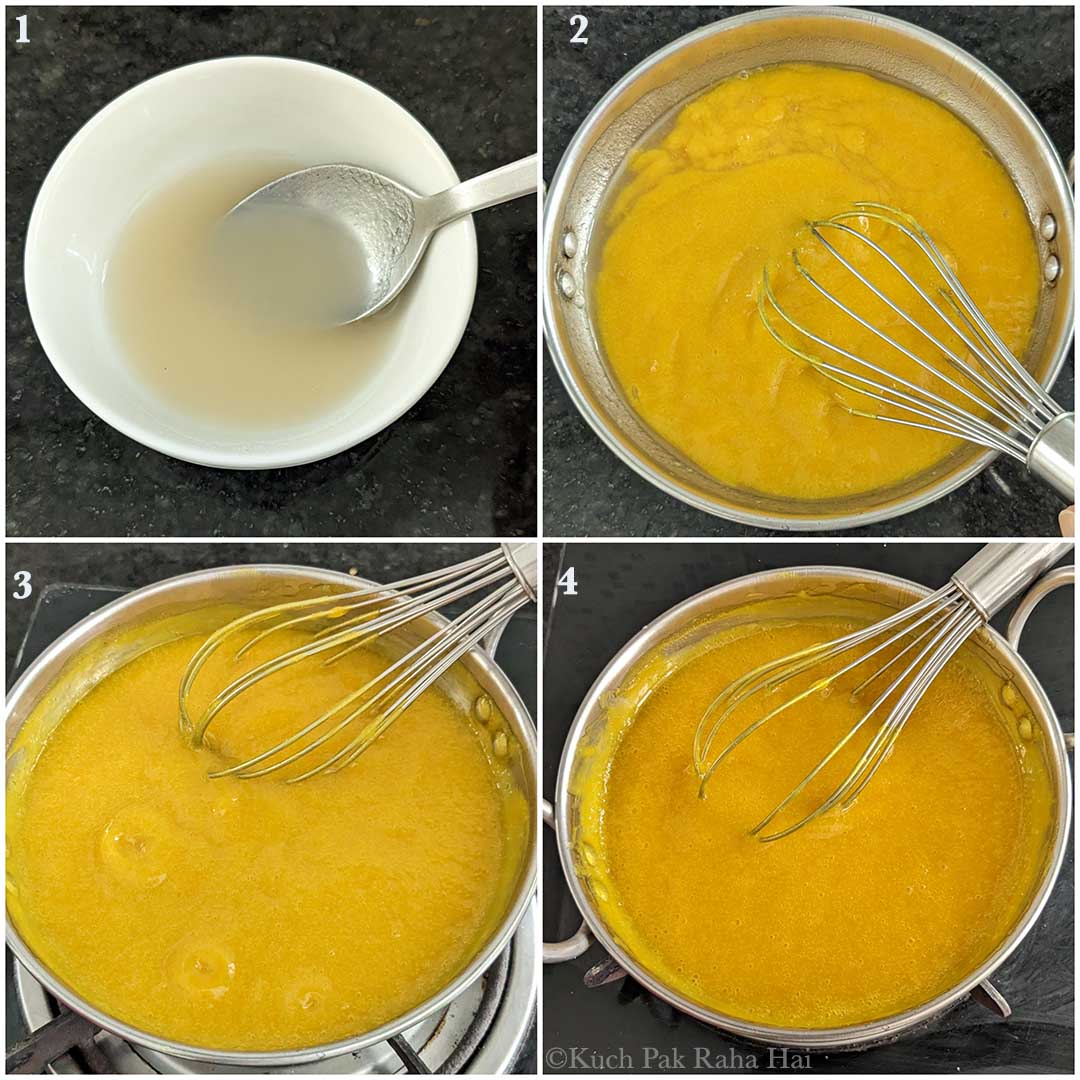 Step 4:
Add vanilla extract to the whipped cream and start adding mango puree little by little while folding gently (don't whisk too much as we don't want to deflate the whipped cream). Once done, transfer the mousse mixture using a spoon in individual servings cups.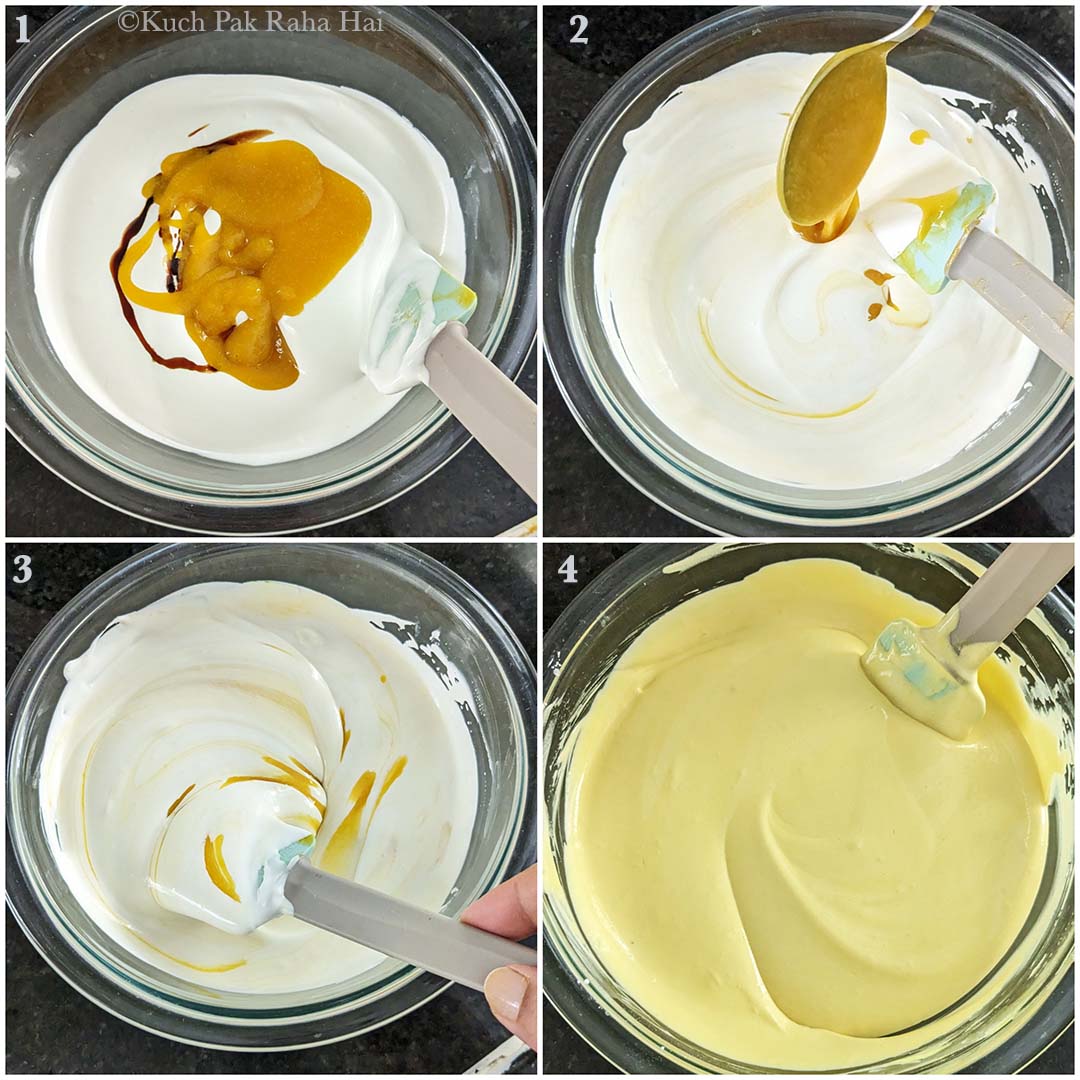 Step 5:
Chill for at least 2-3 hrs or better overnight to set the mousse completely. Covering the top of the cups or bowls with cling film makes sure the mousse doesn't absorbs other odour in fridge. Garnish with fresh mango pieces or mint leaves before serving.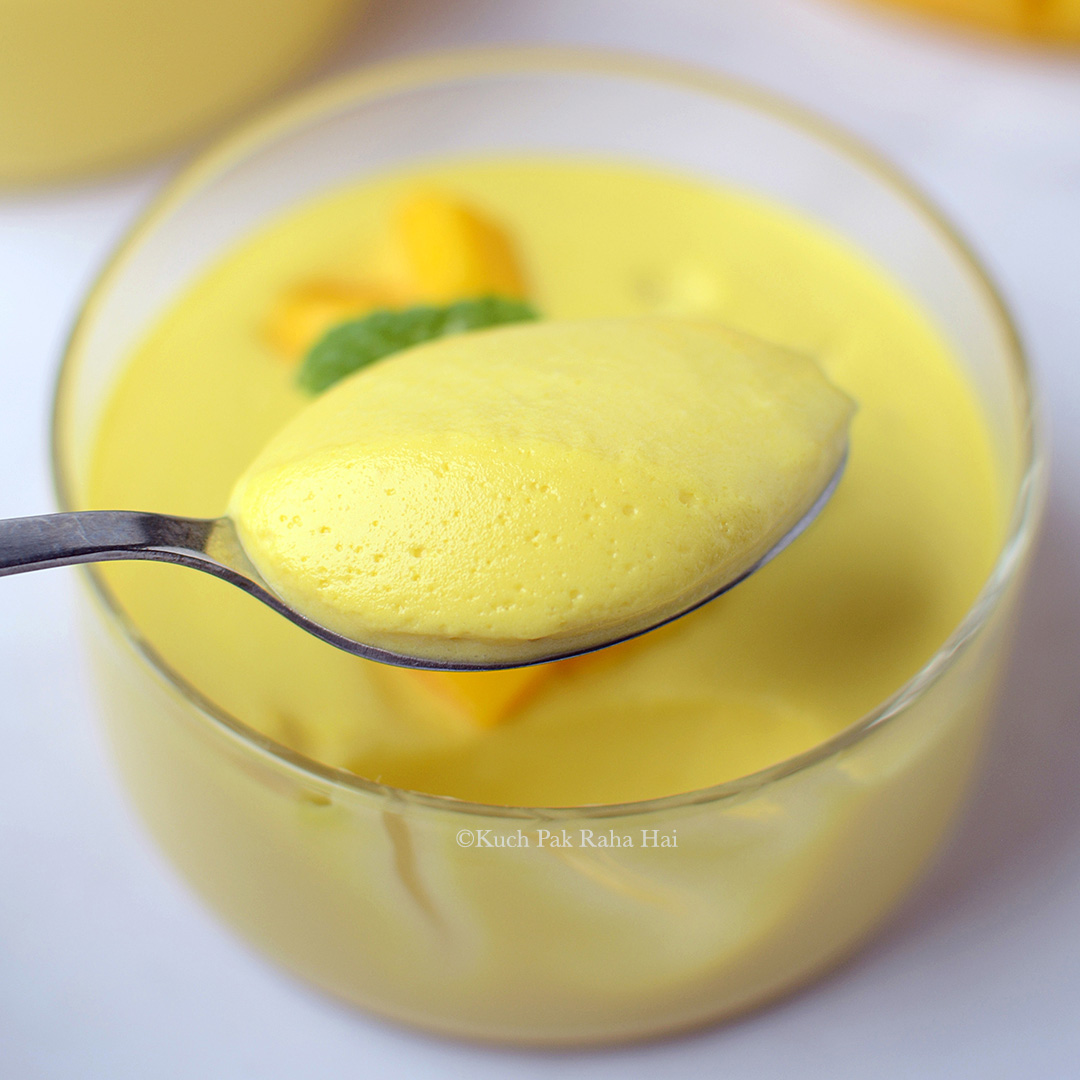 Tips:
1. If the mango agar agar mixture begins to set before adding to the whipped cream, then heat it on low flame for 1-2 minutes.
2. For bright yellow colour in mango mousse, you can add few drops of edible yellow food colour while making mango puree or while whisking the cream.
3. Chilling the bowl in which you are about to whip the cream makes the whipping process faster. You can also keep it submerged in ice cold water while whisking the cream. If the cream becomes warm while whipping, it can take longer to whip or even split.
Can I make mango mousse in advance?
Yes you can make this delicious mango dessert ahead of time and store in fridge for 2-3 days. They can be set in small jars, dessert bowls or cups. Just make sure to cover their tops with cling film to prevent from drying or absorbing other odours in fridge.
Pin for later: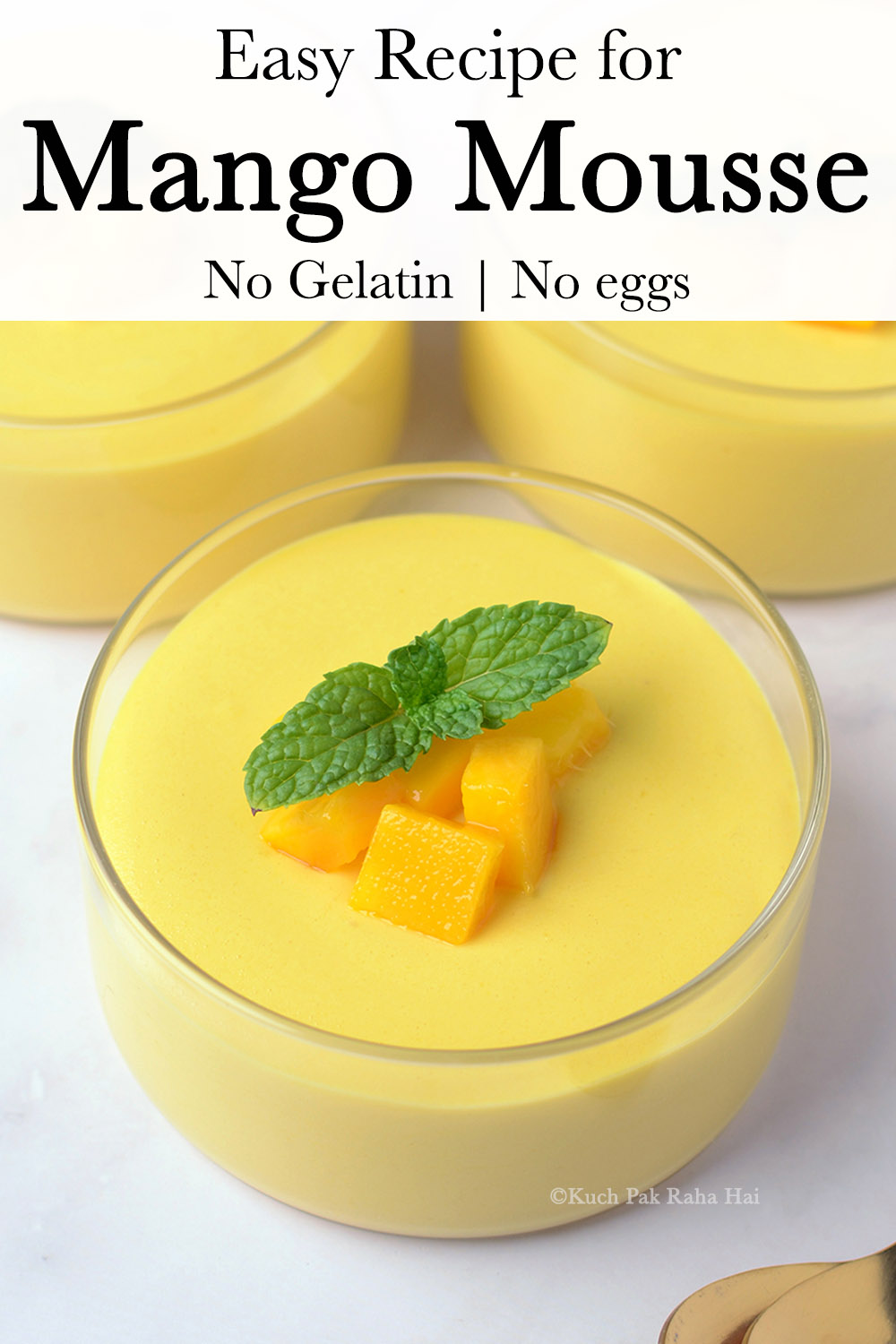 If you try this easy eggless mango mousse recipe & share pics on social media, then don't forget to tag on Facebook, Instagram or use #kuchpakrahahai.
Let's stay connected
Facebook | Instagram | Pinterest| Youtube
(Disclaimer: The post above contains amazon affiliate links. Buying from here will not cost you anything extra but we might earn a small commission from it.)