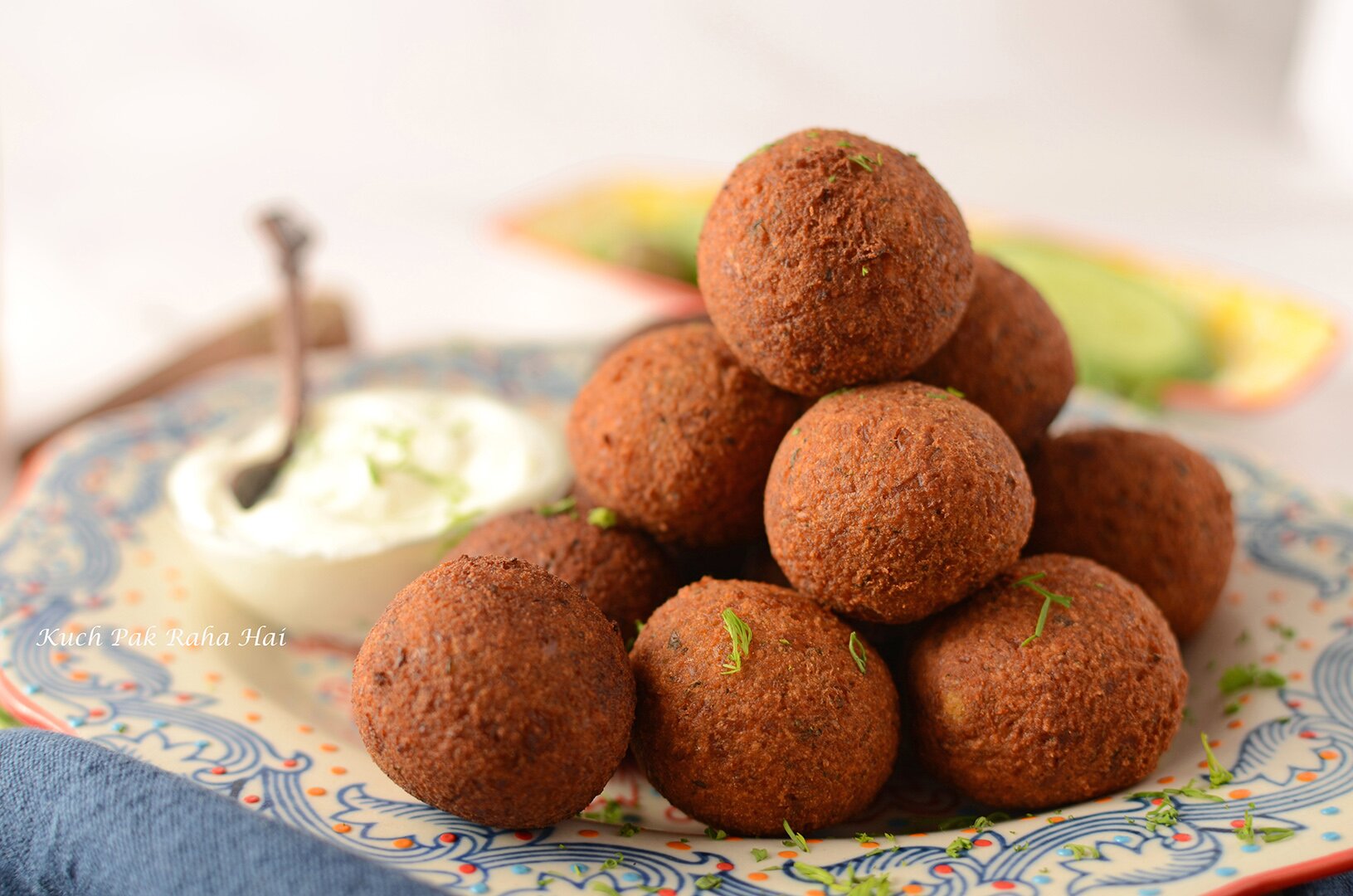 Falafel is a traditional Middle Eastern dish made using ground chickpeas , onion, garlic & few spices. It is deep fried patty or ball, served as snack or in salad bowl with hummus, tahini or tzatziki sauce.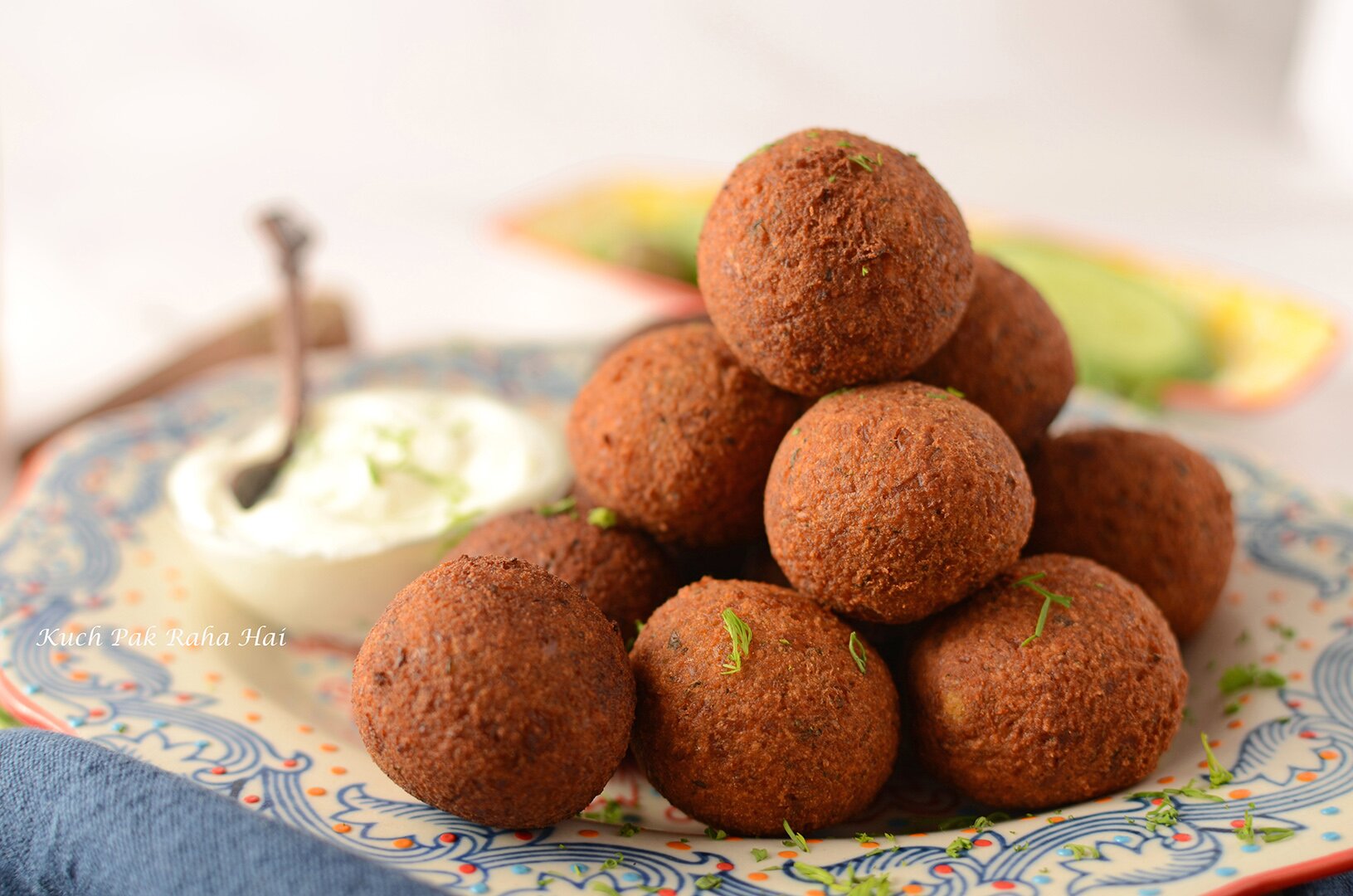 This falafel recipe shared here is :
Vegan
Gluten Free
High Protein
Easy to make
In this post I have shared here 4 ways of cooking falafel :
Chickpeas are essential part of plant based or vegan diet as they are rich source of protein, fibre & carbohydrates. Though falafel is known to be made with chickpeas but sometimes ground fava beans are also used in combination to make falafel mixture. In this post, the falafel recipe is made with dry chickpeas only.
What is falafel?
The word Falafel also spelled as 'Felafel', is derived from the arabic word "Falafil" which is plural of word "Filfil" meaning pepper. Falafel are made by grounding raw soaked chickpeas along with onion, garlic, fresh herbs & few spices. The mixture is then shaped into balls & deep fried on stovetop.
The origin of Falafel is a controversial topic but most of the sources mention "Egypt" to be its place of origin & later it got popular in other middle eastern countries.
I like to read about the food & local cuisines of different countries & cities. While reading about various dishes in middle eastern cuisine, I was surprised how chickpeas is part of so many dishes there like hummus, balela salad, falafel, curries, soup & shawarma etc.
How to cook falafel?
Traditionally falafel balls are deep fried on stovetop . However if you are looking for healthy falafel recipe with lower calories, you can also cook them in air fryer, oven or appe pan (ebelskiver pan). The ingredients & process of making falafel will be same in each method, the only change will be in last step i.e. the cooking method.
What to serve with falafel:
You can serve falafel with dips like :

Falafel Serving Ideas:
One of the key highlights about falafel balls is the versatile ways it can be used. You can make it part of your salad bowl by topping it up with fresh cucumbers, tomatoes, olives & generous drizzle of Tahini sauce.
Stuff it inside pita bread with some lettuce, onion slices, cucumbers, sauces & you have a wholesome yummy meal ready. You can even use them in sandwiches or burgers as meatless patty.
In case you are planning a 'Mezze' or middle eastern snack platter, do check out Lavash Crackers (no yeast) recipe too as it will be an excellent addition and is so easy to make.
Youtube Video:
Tips to make perfect falafel:
Some of the kep tips or learnings which I am sharing by my experience:
1. Fresh veggies like onion, coriander & garlic etc are added in the mixture which not only impart flavour but also add some moisture to the falafel balls. Don't add too much of veggies as this will increase the moisture content & you will not able to roll balls out of it. (Been there, Done that 😄!!)
2. Fry on Medium-Low flame, if the oil is too hot the falafel balls will quickly get brown from outside without the inside getting cooked properly.
3. Keep the raw falafel balls in fridge to set completely. If you want to keep them a little longer (than below mentioned time) then it is better to store them in airtight box to prevent outer covering from drying.
4. Though by following the exact recipe & steps you should be able to make falafel, still if your batter has too much moisture or you are not able to make patty / balls using it, add some bread crumbs.
More chickpea recipes:
Hope you will like this cripsy delicious Falafel recipe !!
Ingredients:(For 20 pieces)
Chickpea(Chhole)- 1 cup
Chopped Coriander/Cilantro-1/2 cup
Garlic Cloves- 4
Medium Onion- 1
Green Chilli- 1
Lemon Juice- 2 tsp
Salt- 1.5 tsp (or to taste)
Red Chilli powder- 1/2 tsp
Black Pepper (Kali Mirch)- 1/2 tsp
Cumin Seeds (Jeera)- 1.5 tsp
Soda bi carb (Cooking Soda)-1/4 tsp
Oil – For frying/cooking
Directions:
Step 1:
Rinse chickpeas well under running water to wash off all the impurities. Soak chickpeas for 6 to 8 hours in fresh water. Soaking is an essential step, so please dont skip it.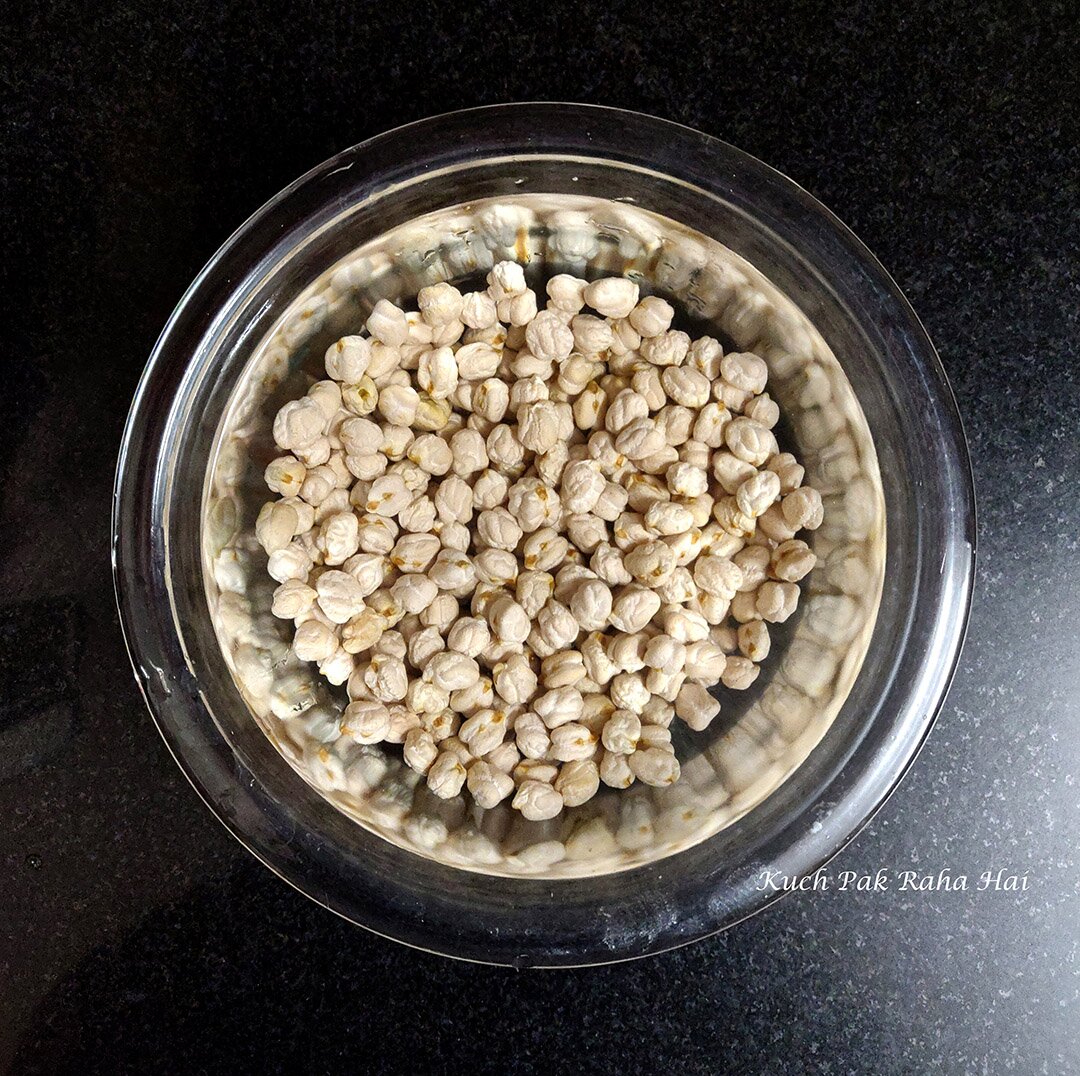 I generally soak chickpeas overnight. If you want to soak them little longer, remember to change the water in between. Below is the pic of chickpeas after 8 hours of soaking.
Step 2:
Once the chickpeas are soaked, drain all the water & place them on a sieve (over a bowl) for 15 minutes to drip off all the excess water.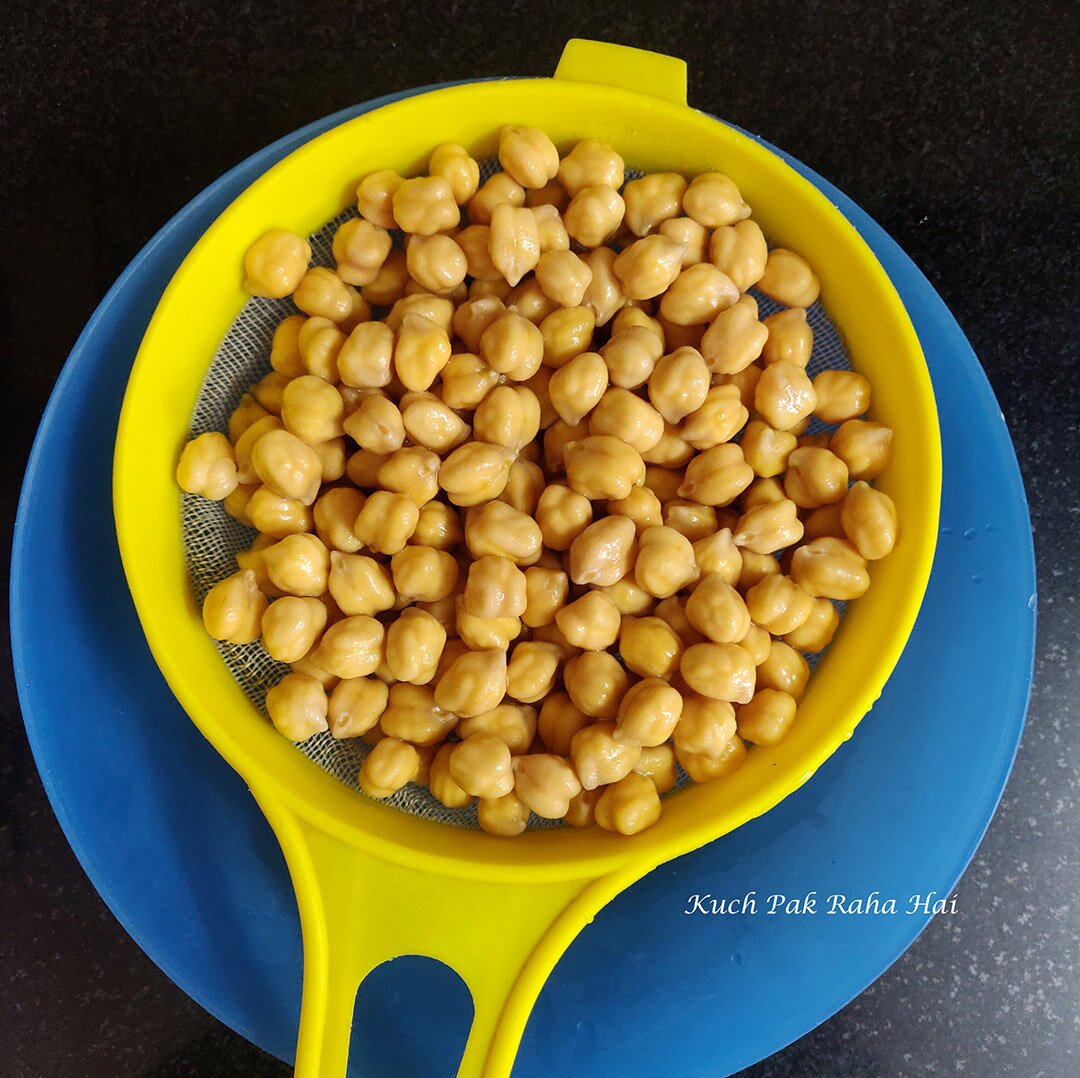 Step 3:
Transfer the soaked chickpeas in a grinding jar. Add all the vegetables- chopped corainder, onion, garlic cloves, green chilli & lemon juice. The vegetables impart a fresh flavour to the falafel while also providing enough moisture to keep them soft from inside.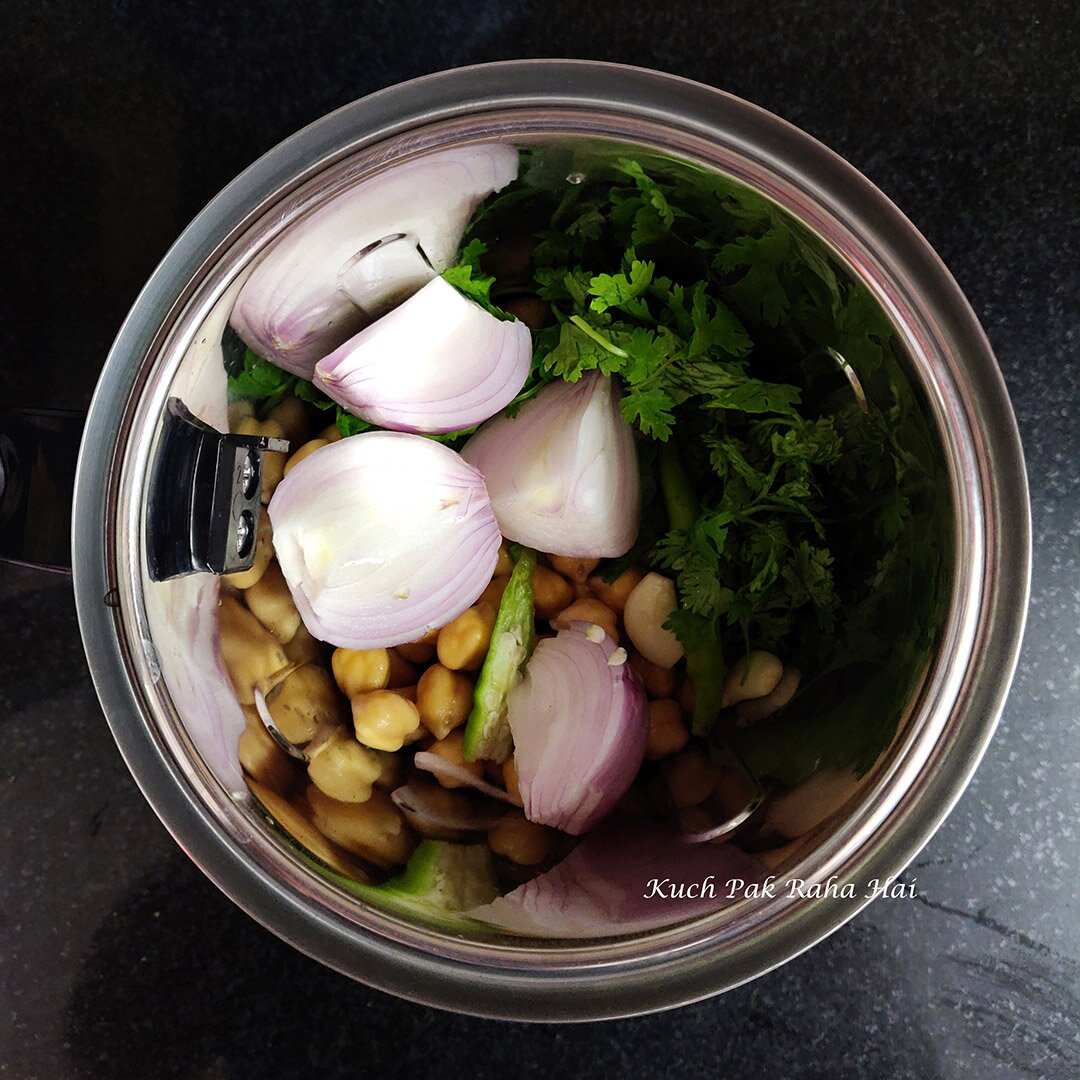 Step 4:
Add all the spices & soda bicarb to the above jar. The spices can be adjusted as per your own taste.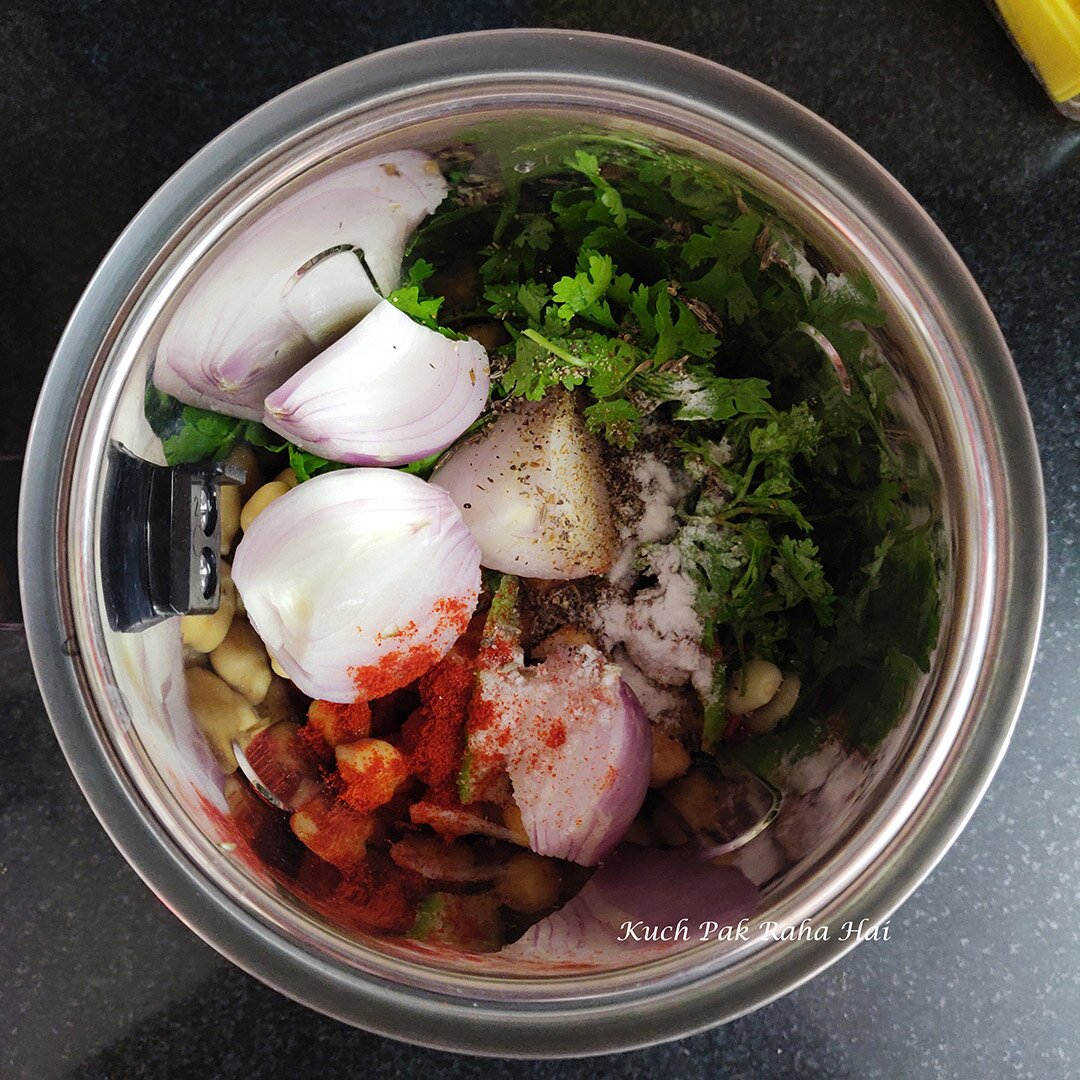 Step 5:
Grind them well. As we are not going to add any liquid, it is better to grind the mixture in pulses & if required use a spatula to scrape off the sides. Once the batter is ready, taste it & adjust the salt, lemon juice or other spices if required.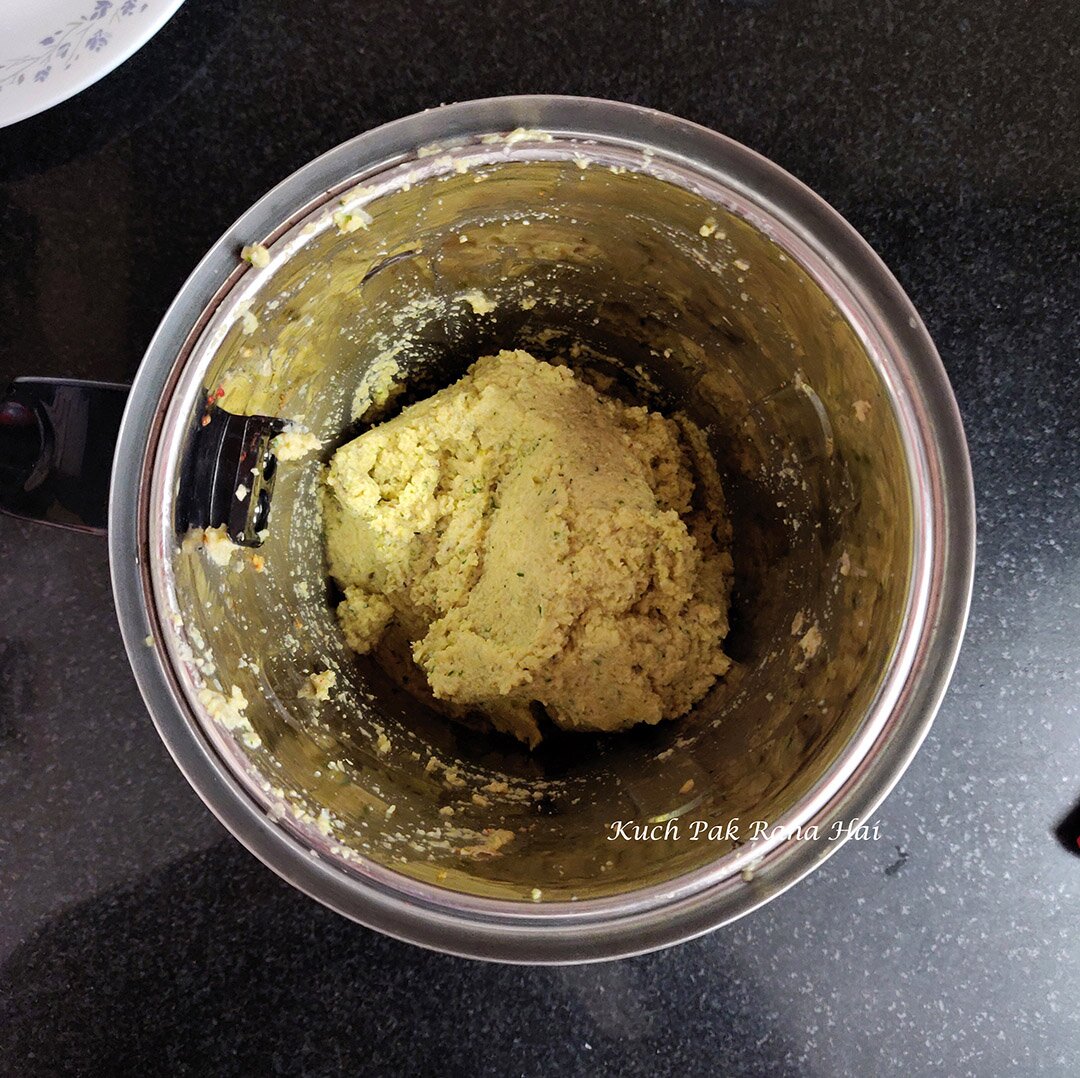 Step 6:
Transfer the mixture in a bowl make falafel balls out of it. Here, I have divided the entire mix in 20 balls of 1.5 tbsp (roughly) each. One tip I would like to share is not to make the balls too bigas it increases the cooking time plus it increases the chance of being raw from the centre. Keep these falafel balls in fridge for 30 minutes to 1 hour to set completely.
Deep Fried Falafel
To deep fry falafel, heat oil in a heavy bottomed pan or kadhai. In batches of 4-5 fry the falafel balls on medium-low flame. Don't fry them on high flame as this will lead to quick browning from outside without letting the insides getting cooked properly.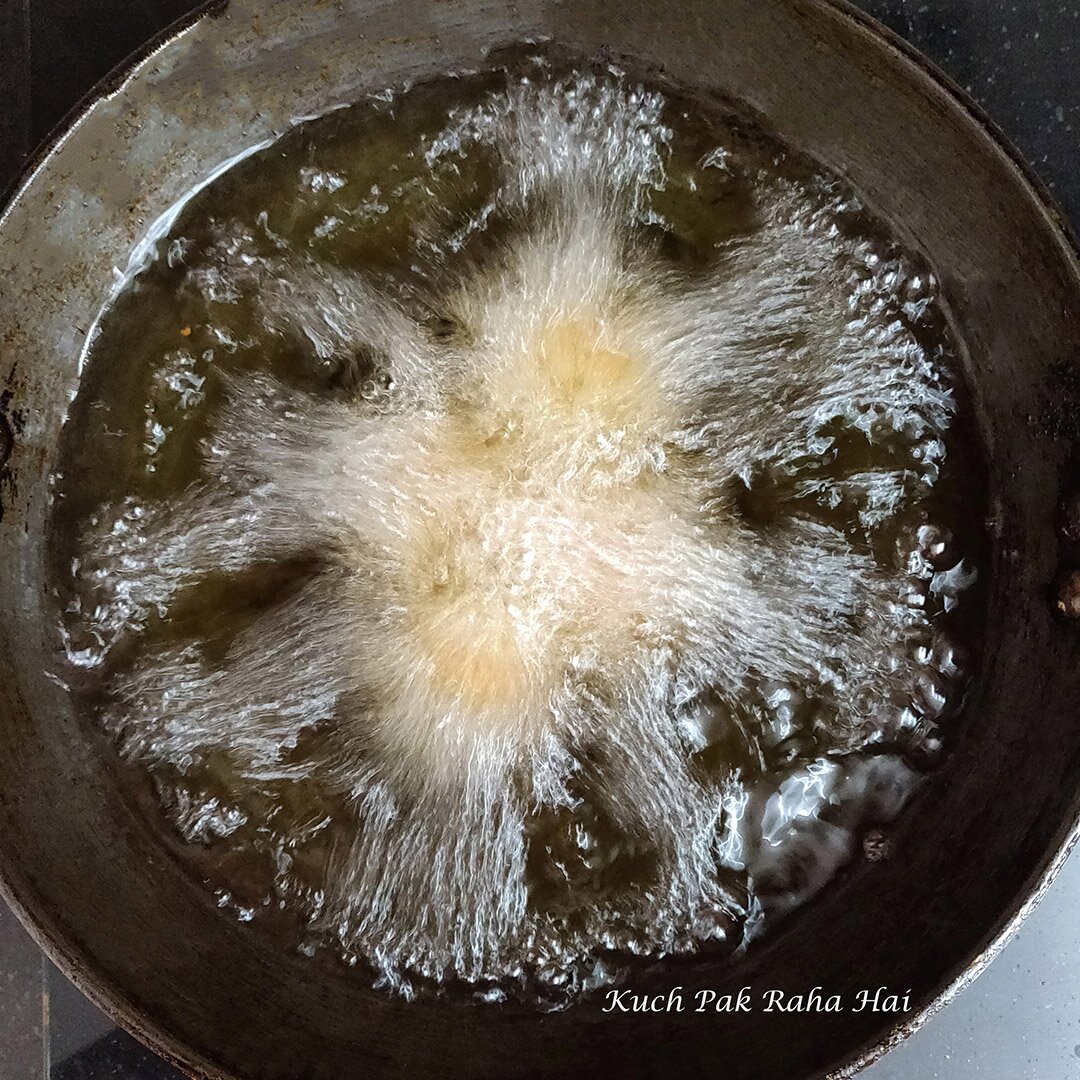 Transfer these falafel balls on a tissue paper to drain any oil.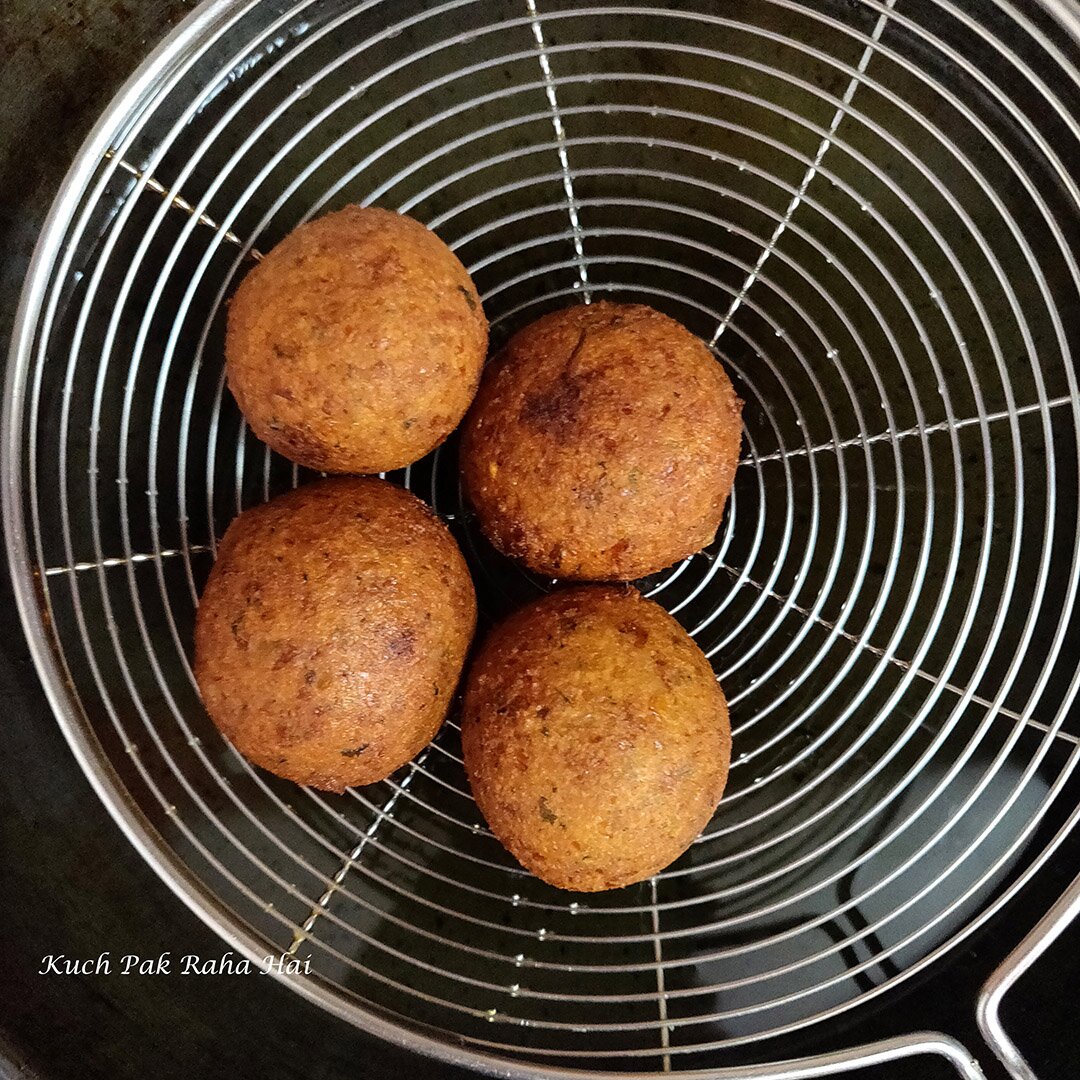 Crispy Falafel balls are ready. Serve them hot with hummus, mayonnaise or Tzatziki dip (Yoghurt Dip).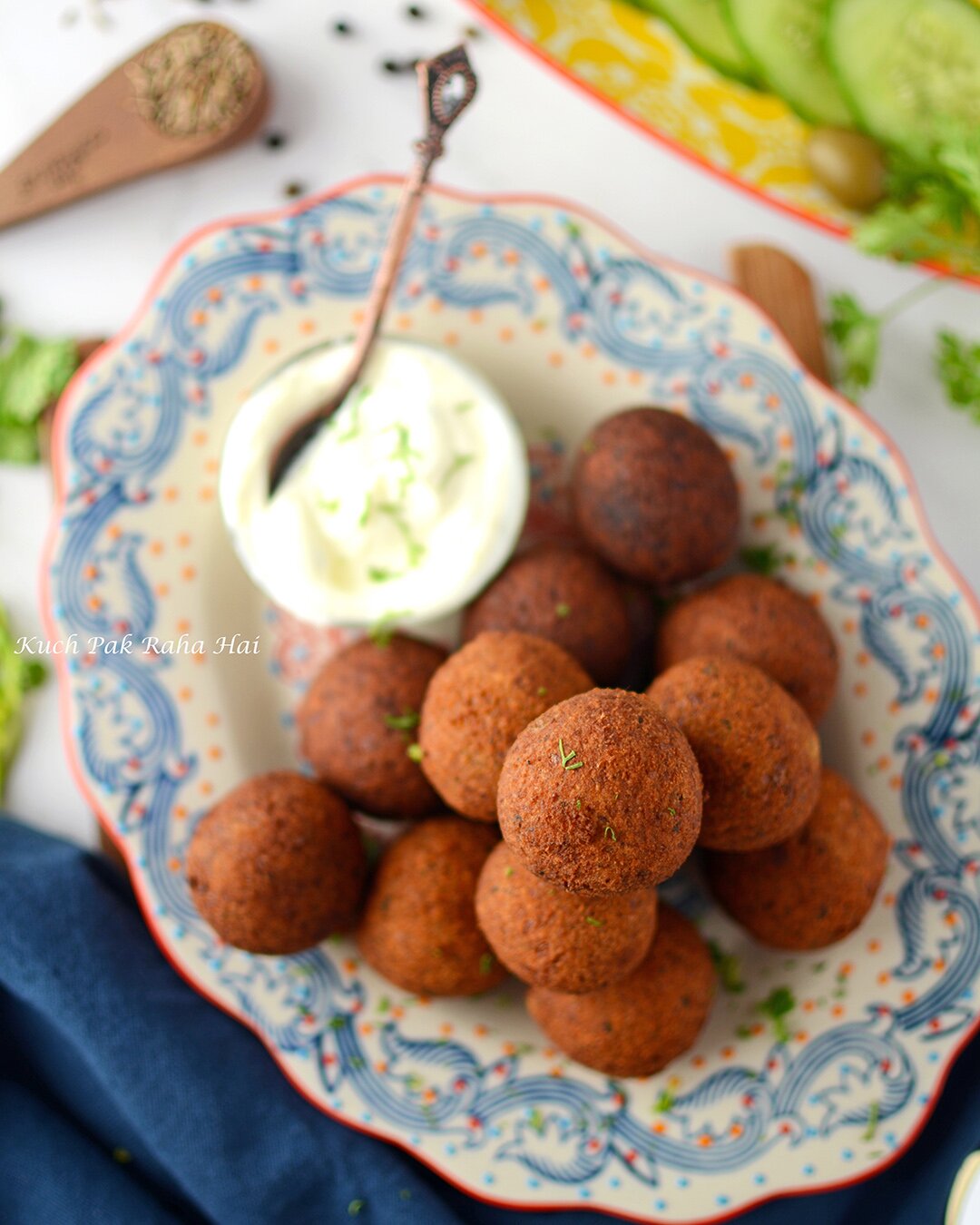 Air Fryer Falafel
You can easily make falafel balls in air fryer too. You can add a teaspoon or two of olive oil in falafel mixture to prevent drying from inside. Also, generous brushing of oil on the exteriors during air frying helps in even cooking and beautiful golden colour on top.
1. Brush some oil on raw falafel balls & also on grill of air fryer. Brushing oil on grill prevents the balls from sticking to it.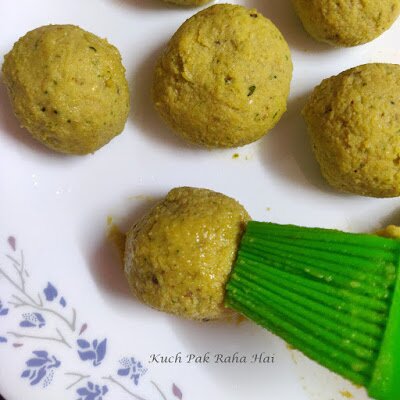 2. Preheat the air fryer at 180 degree Celsius. Once preheated, air fry falafel for 15-20 minutes. The time varies from brand to brand so keep an eye after 15 minutes. After 5 minutes of cooking time, brush some olive oil on top.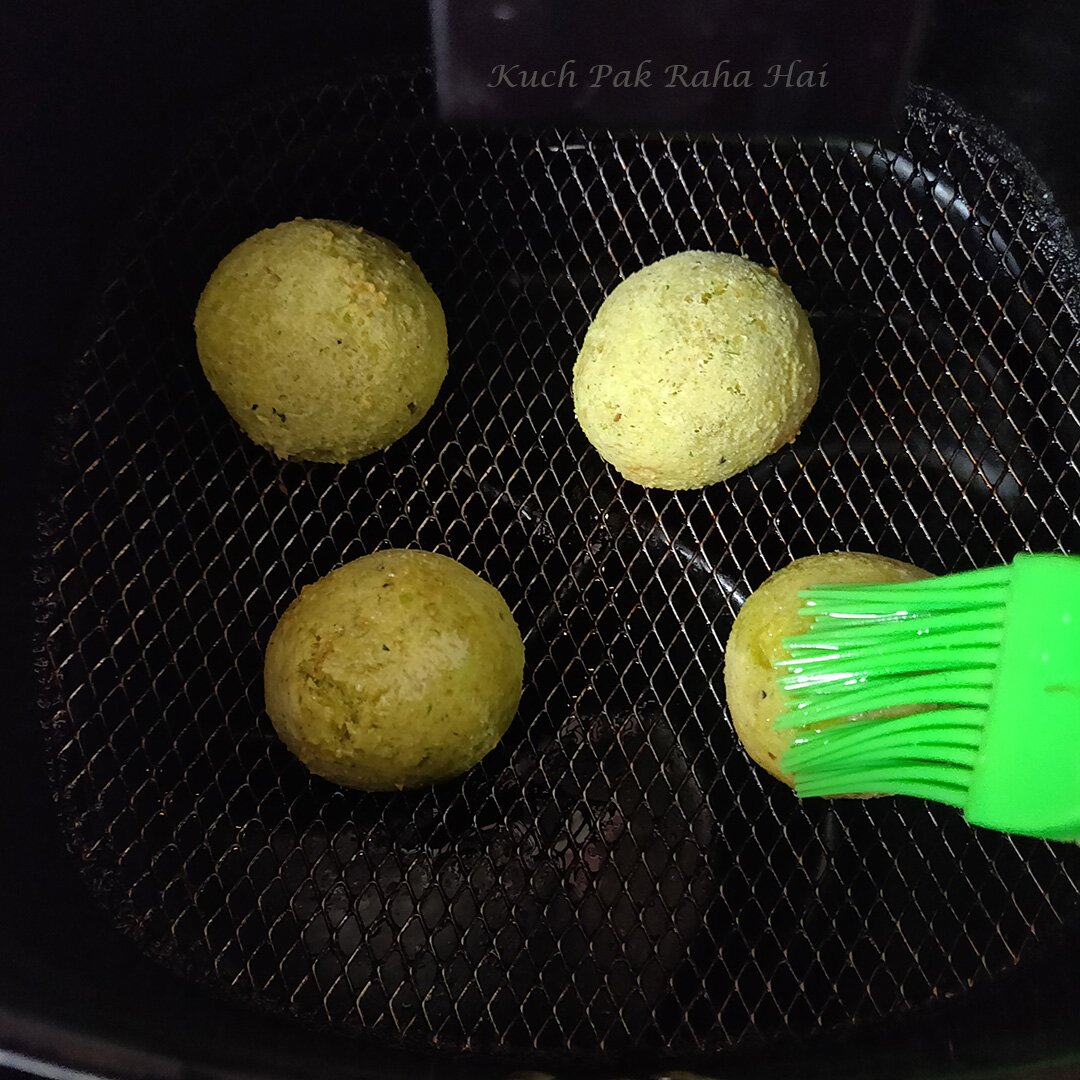 3. After 10 minutes the balls will start to cook from outside & they will not be sticky or soft anymore. Gently shake the basket & let the falafel cook from all sides.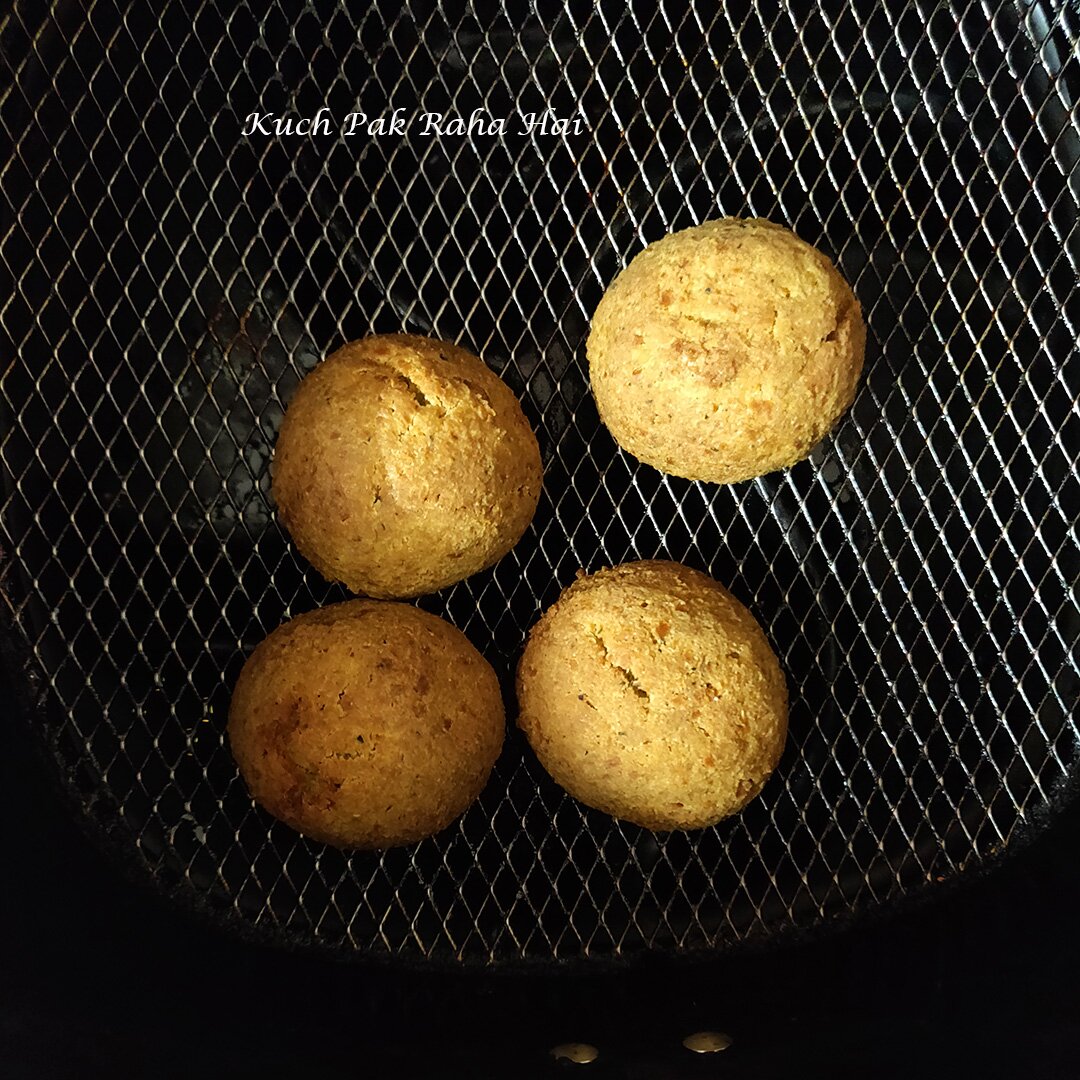 Delicious crispy healthy Falafel Balls are ready to serve!! Both Appe pan & Air Fryer is made in lesser oil & if you are someone who avoids deep frying, this is going to be an absolute treat.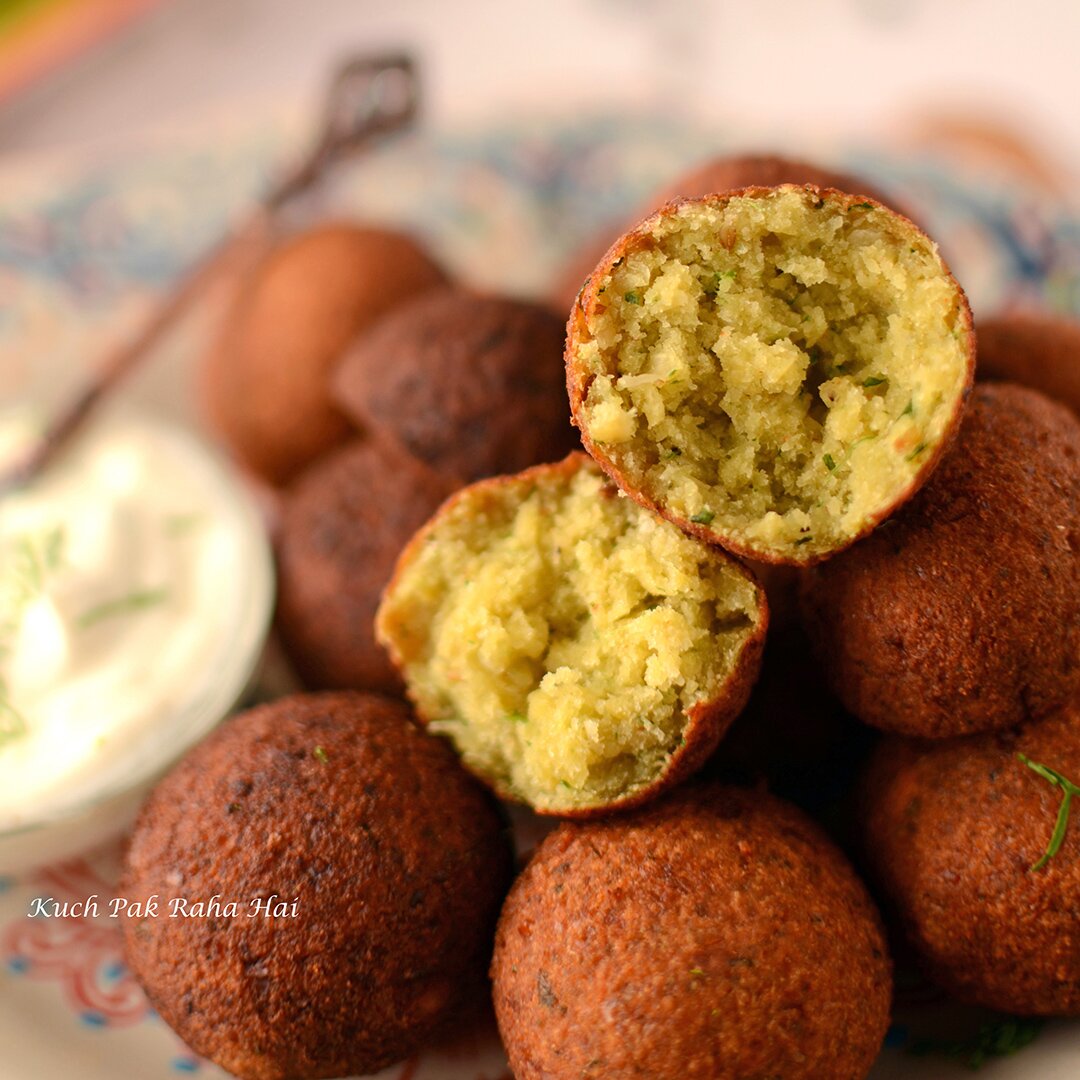 Baked Falafel
Apart form deep frying and air frying, you can also bake falafel. The recipe remains same as above, the only difference would be in change of shape.
Baking falafel in shape of balls would reduce the surface area coming in contact with the baking tray. So we would flatten them between our palms. This also makes sure the falafel gets completely cooked from middle & also you get lovely golden brown colour on both sides.
For baking falafel you would need 3-4 tbsp of oil. Use best quality of olive oil for maximum flavour. Follow the steps as below for baking :
1. Set the oven for preheating at 180°Celsius. By the time oven is preheating, let us move to the next step.
2. Line the baking tray with parchment paper and generously brush it with oil. Take out Falafel balls which were resting in fridge and slightly press them between your palms. Transfer them on this greased paper. Apply some more oil on their top.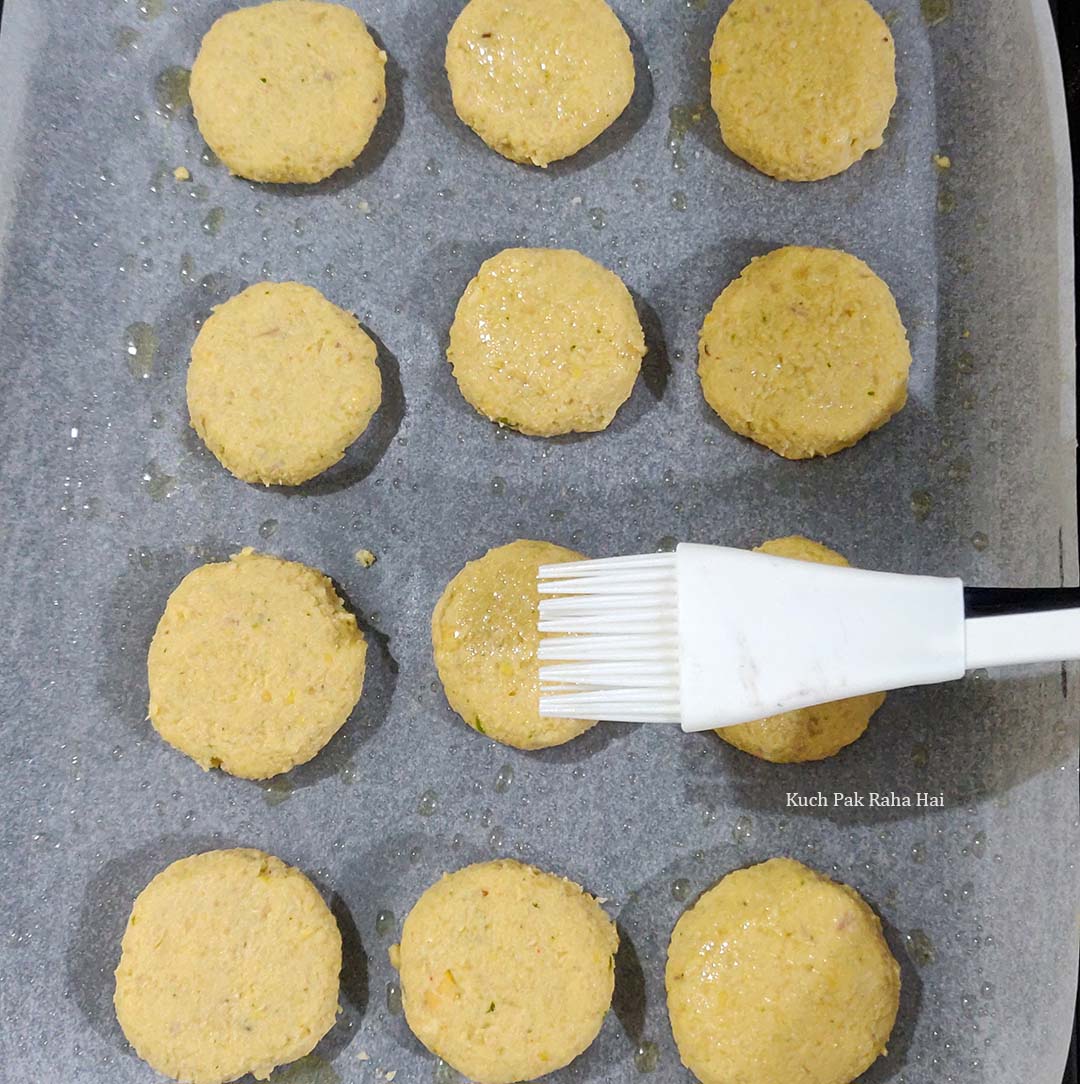 3. Once the oven is preheated, bake them at 180 degree Celsius for 25-30 minutes. In mid time, bring them out of the oven & flip (as shown below). Brush some more oil. Generous brushing of oil ensure that falafel does not get dried while baking.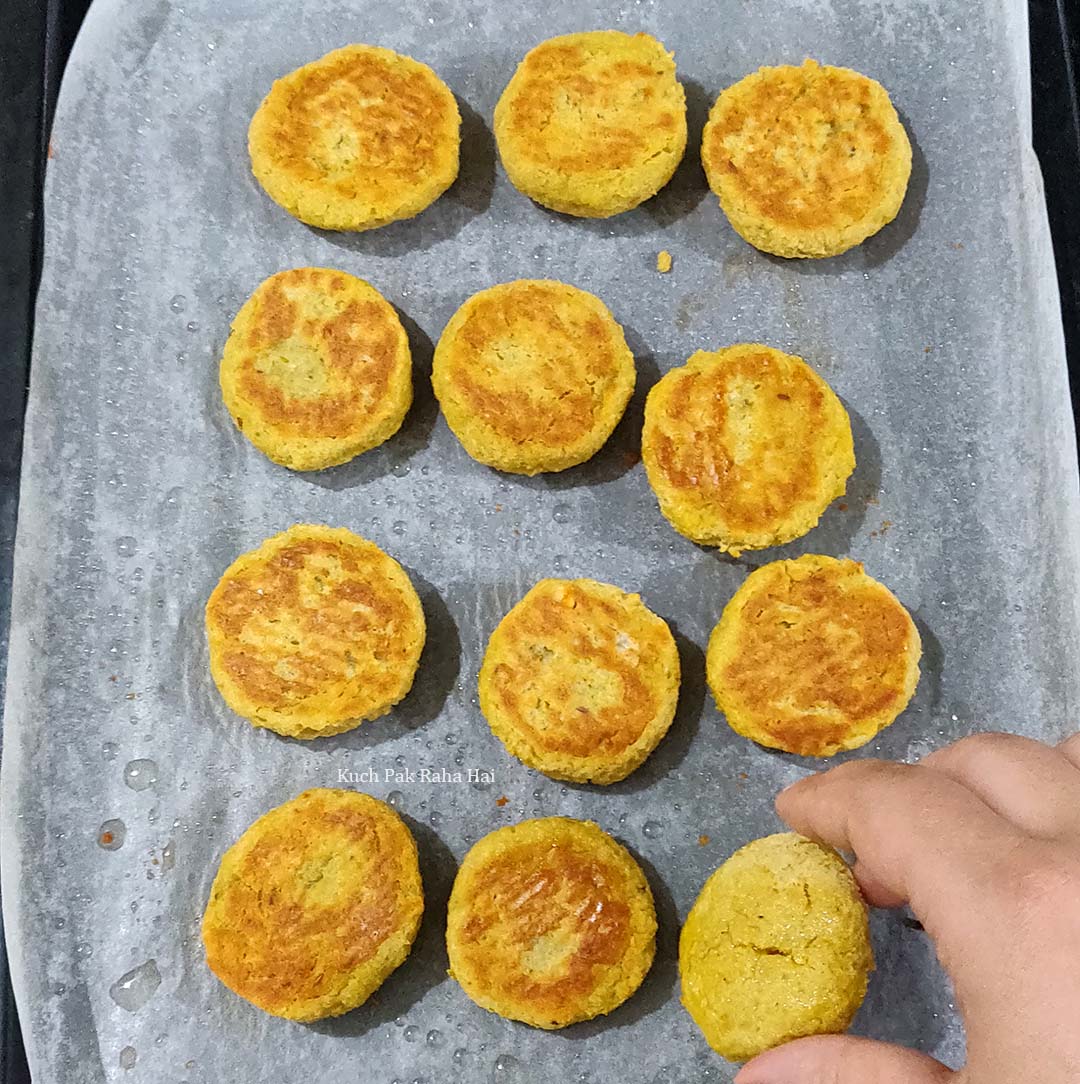 Enjoy these baked falafel with hummus or any dip of your choice.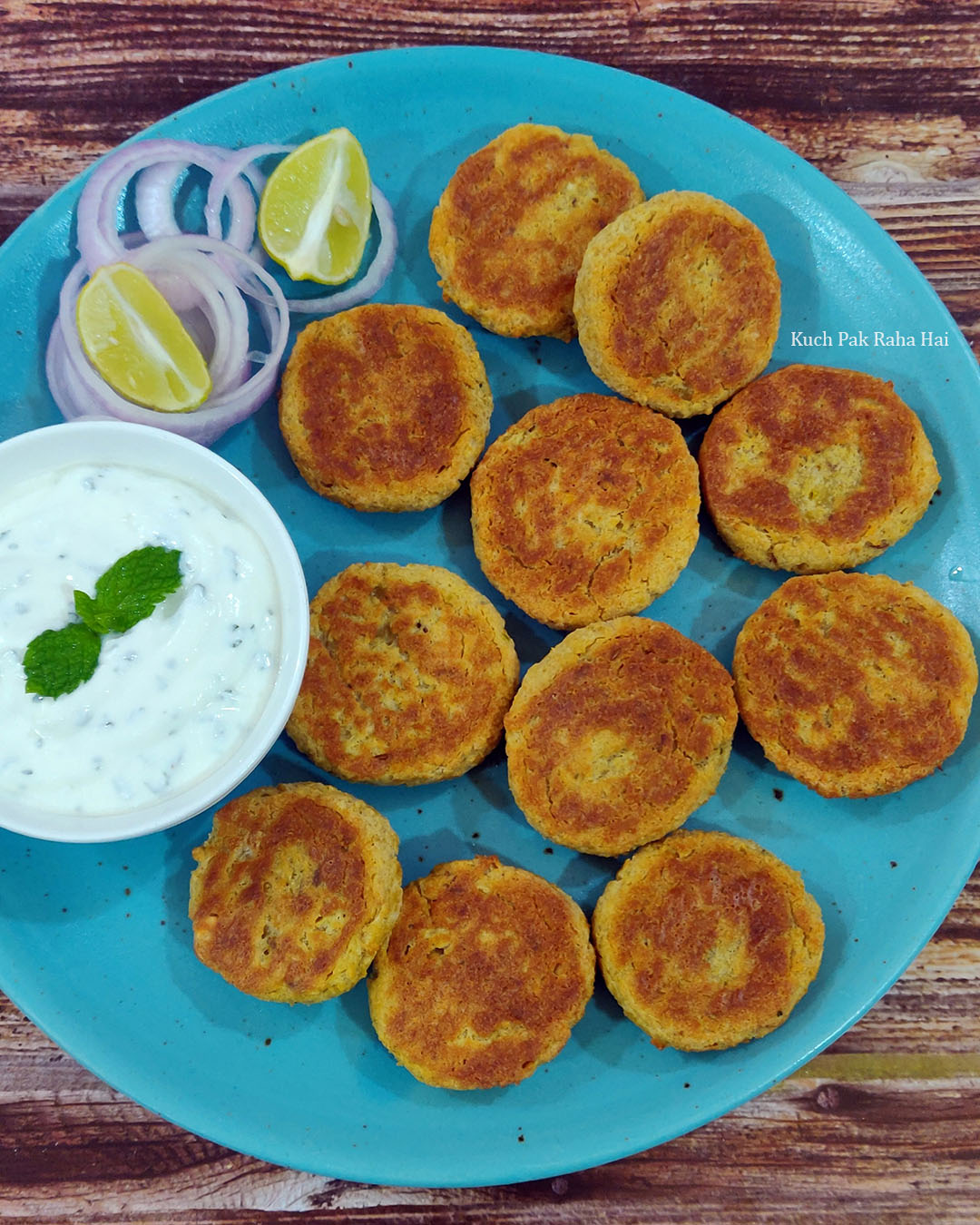 Falafel in Appe Pan
If you wish to avoid deep frying falafel balls, you can make them in Appe pan, also known as "Aebeleskiver Pan". The falafel tastes almost as the deep fried ones. You will need just 3-4 tablespoon oil to make them in this pan. Just make sure the size of falafel balls is such that it is slightly smaller than the size of pan cavities as it helps in rotating them while cooking.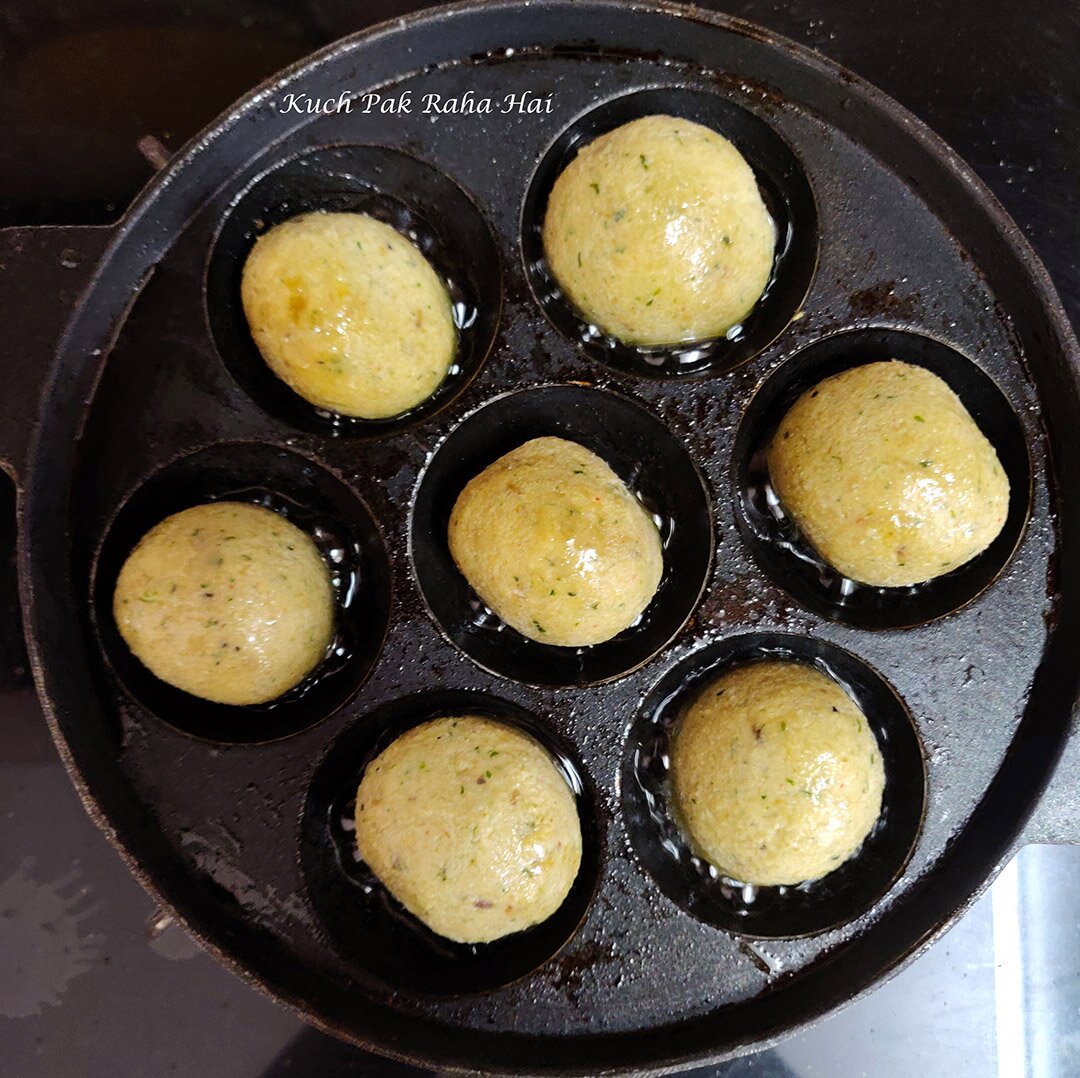 Brush some oil on Appe pan cavities & let the pan heat a bit. Place the falafel balls & drip some oil on top of them as shown below. The oil coating prevents them from drying. Keep the flame to LOW.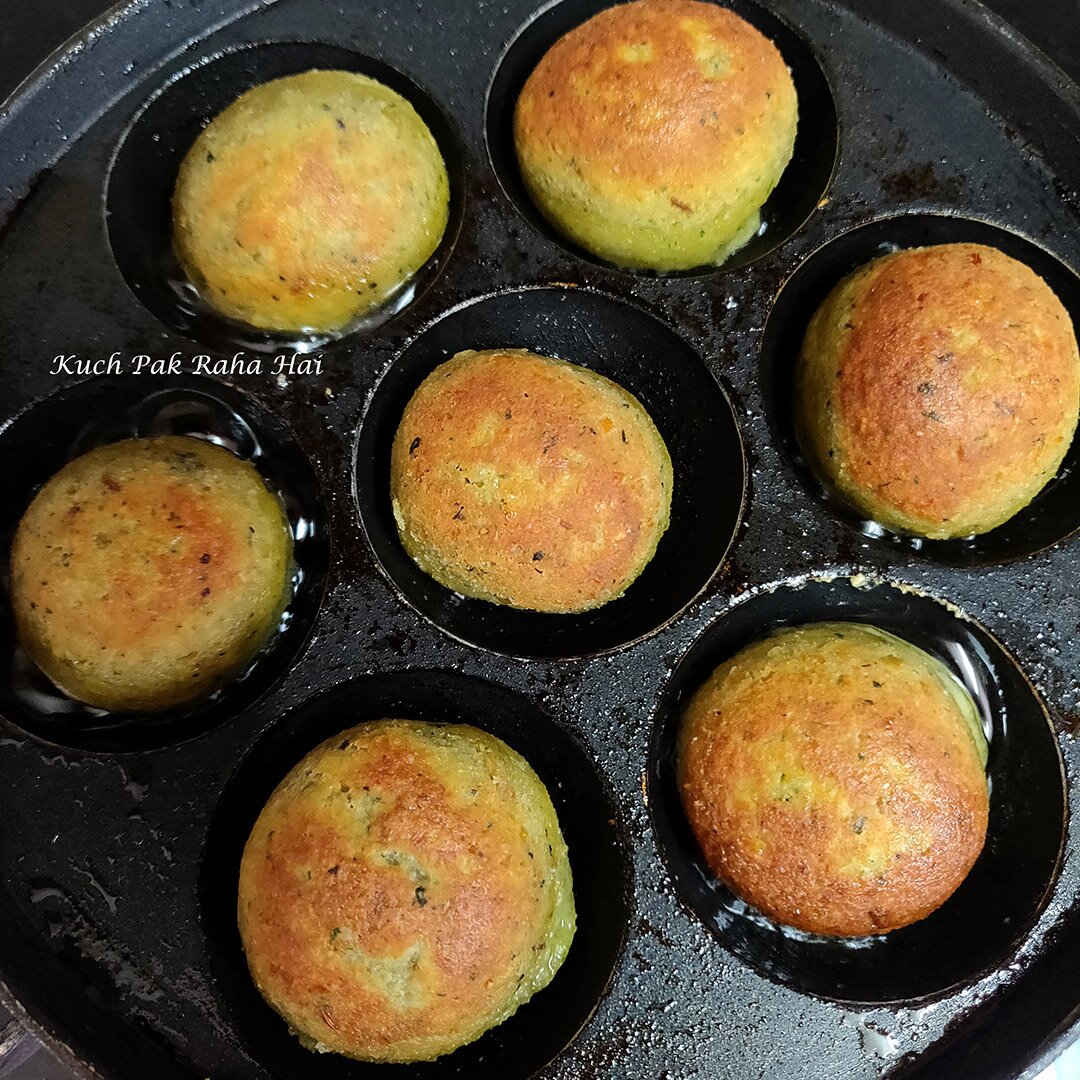 Rotate the balls using a knife or silicon spatula to let it cook from other side too.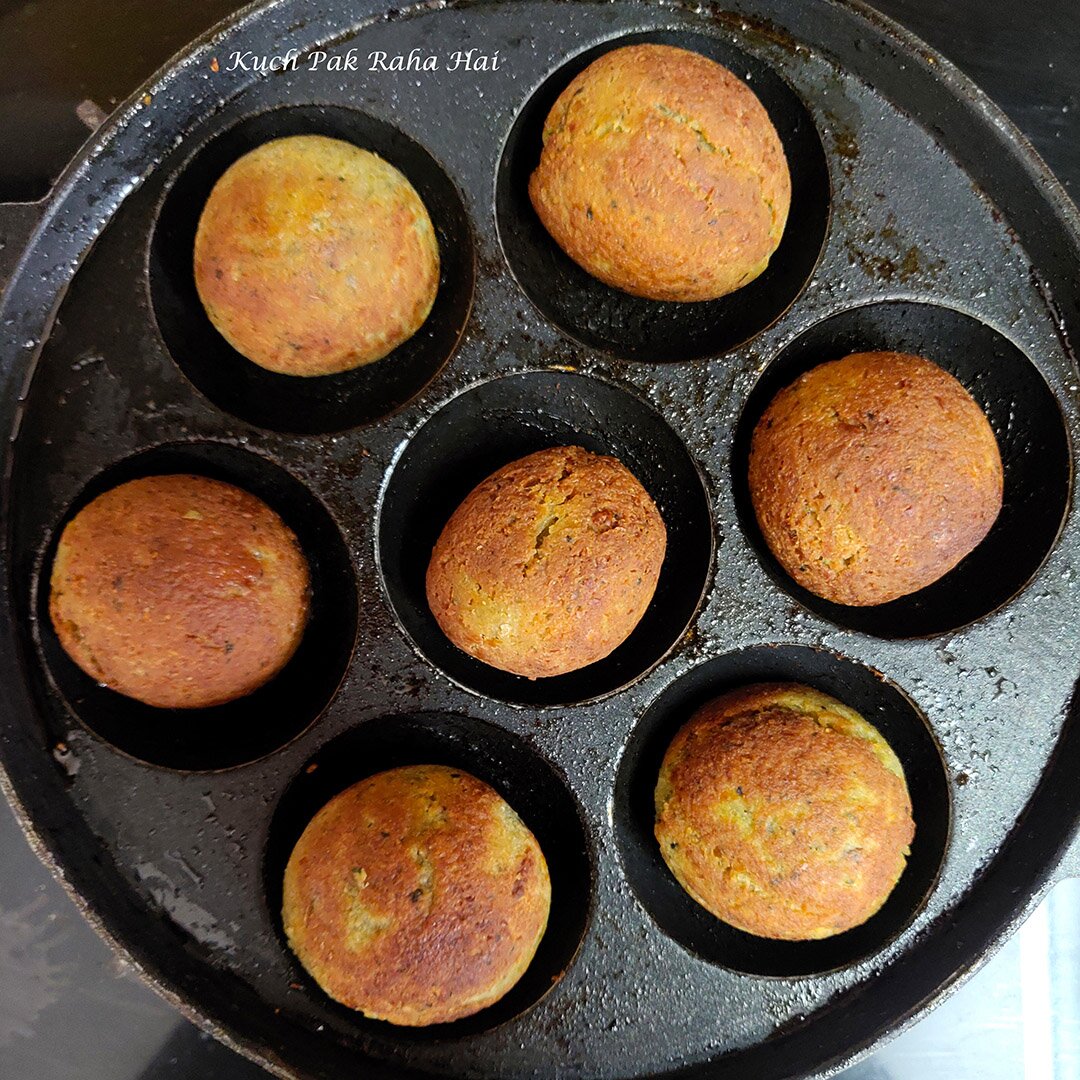 If the oil is soaked up, add little bit more & cook from the remaning sides till falafel is cooked evenly from all sides.
If you try this easy falafel recipe & share pics on social media, then don't forget to tag on Facebook, Instagram or use #kuchpakrahahai.
Let's stay connected
Facebook | Instagram | Pinterest| Youtube
Pin for later: