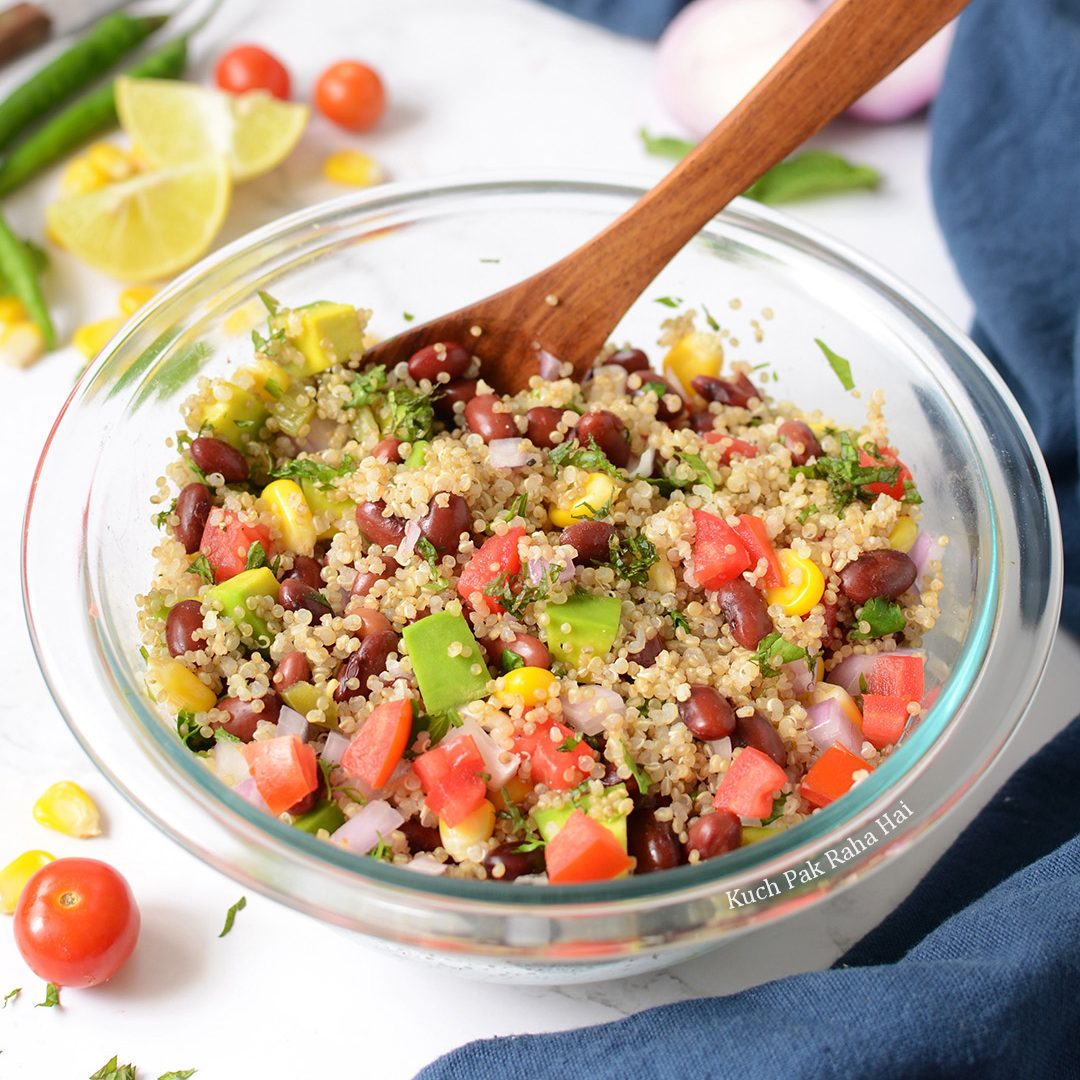 Mexican Quinoa Salad is a delicious healthy salad recipe made using quinoa, black beans (or kidney beans), onion, tomatoes, sweet corn, jalapeños, lemon juice & cilantro etc. It is a flavour packed, easy salad recipe which is also vegan, gluten free.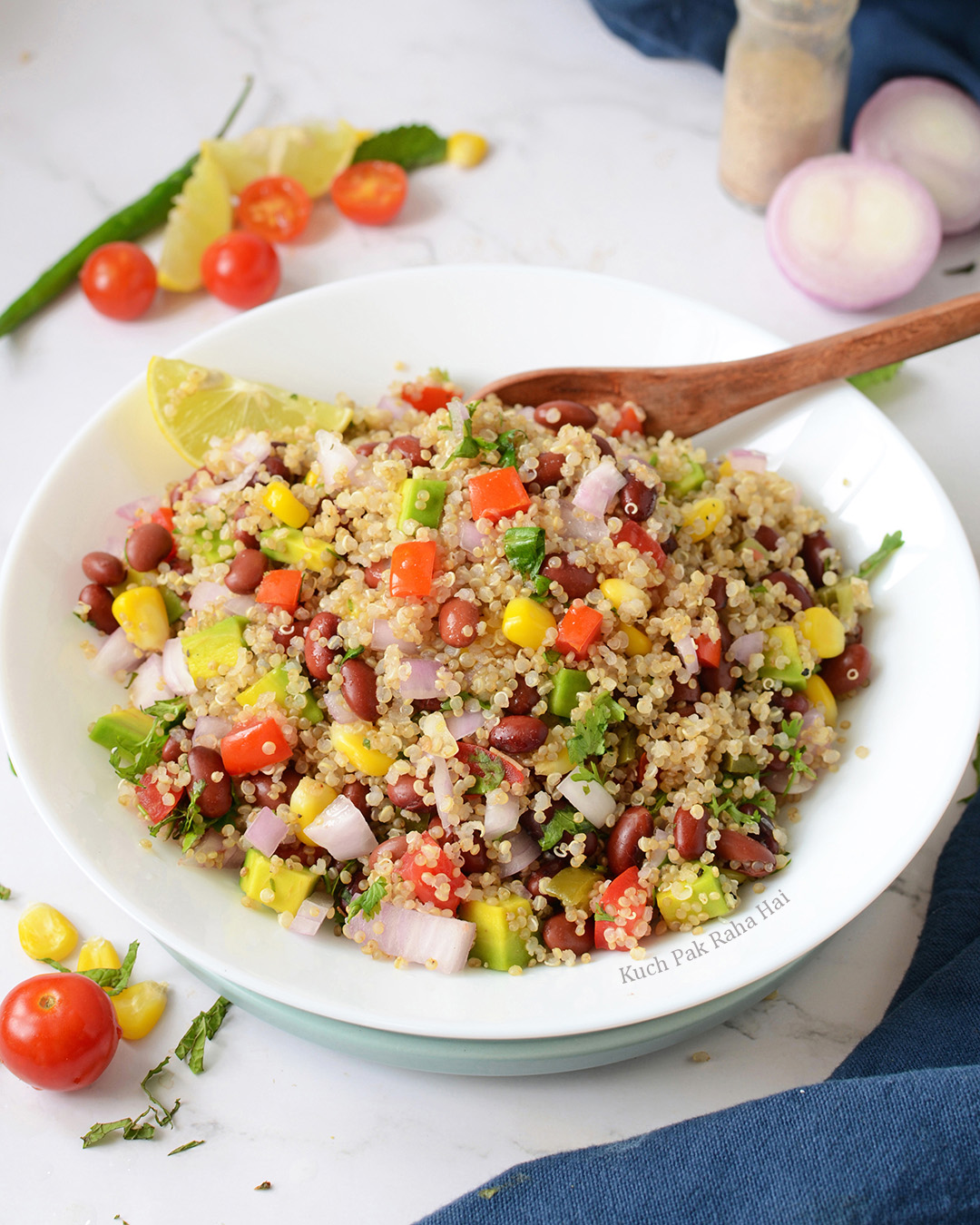 This Mexican Quinoa salad is :
Vegan
Gluten Free
Easy to make
Protein Packed
Generally people consider salads as an accompaniment to the main meal but this quinoa salad is so nutritious, tasty and filling that it makes for a complete meal in itself.
What is Quinoa?
Quinoa is gluten free pseudo-cereal & a good source of fibre, protein, antioxidants and minerals like folate, magnesium and iron etc. It is often referred as superfood also as it contains all 9 essential amino acids. I find quinoa to be a great substitute for rice with curries or lentils like dal palak or dal fry.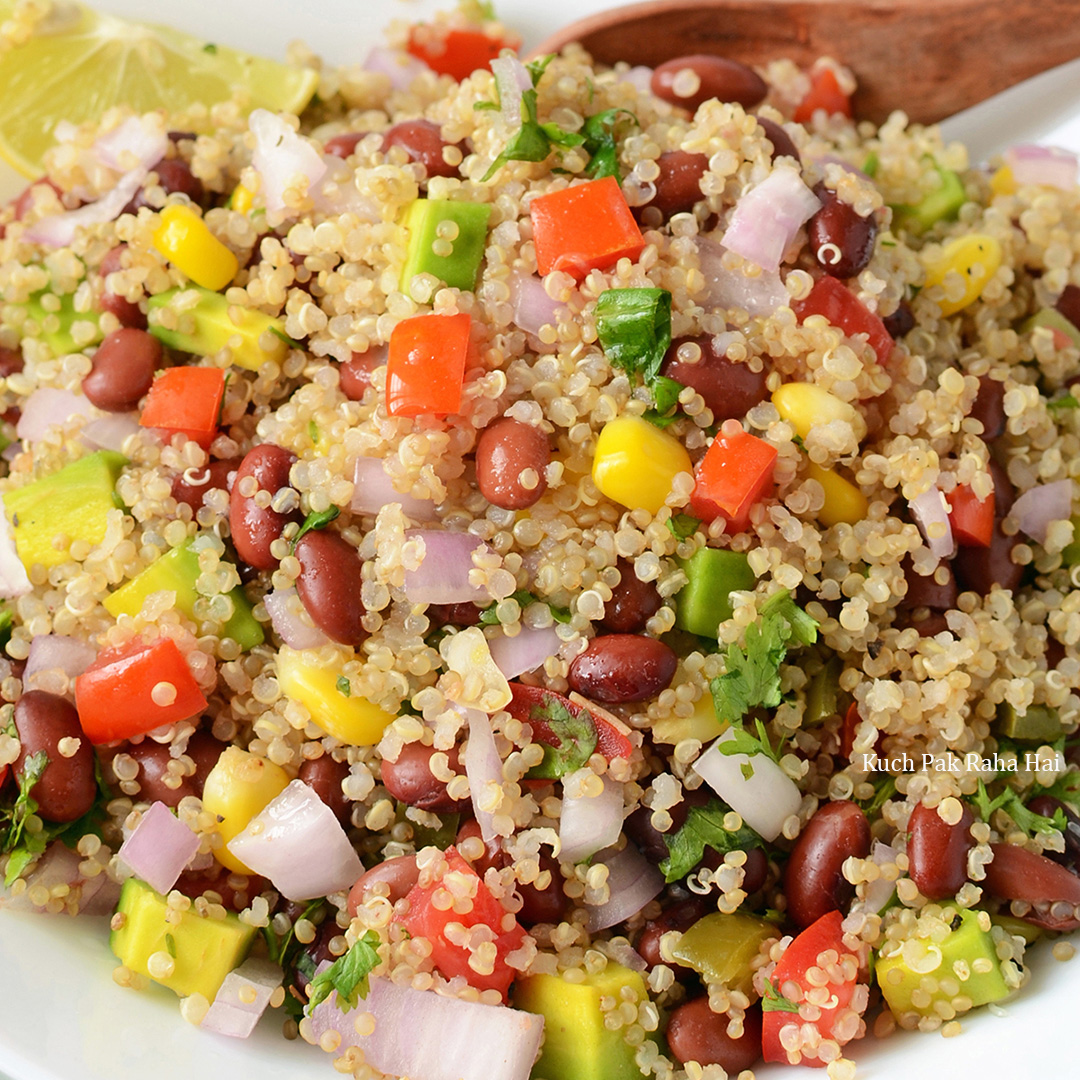 Quinoa Salad Ingredients:
The combination of high protein beans and quinoa with buttery avocados, crunchy onions, sweet corn kernels, zesty lemons and heat from jalapeños makes this salad absolutely flavourful and appetising. Some mint is also added in the dressing which adds to its overall freshness.
Avocados are rich source of healthy mono-unsaturated fatty acids and give creaminess to the salad. Black pepper, jalapeños add heat and compliment the citrusy notes. Feel free to add some guacamole or roasted tomato salsa to this salad for more flavour.
The substitutions in this healthy quinoa salad recipe are mentioned after the ingredients list. Feel free to adjust the salt, pepper or spiciness in this salad as per your preference.
More quinoa recipes :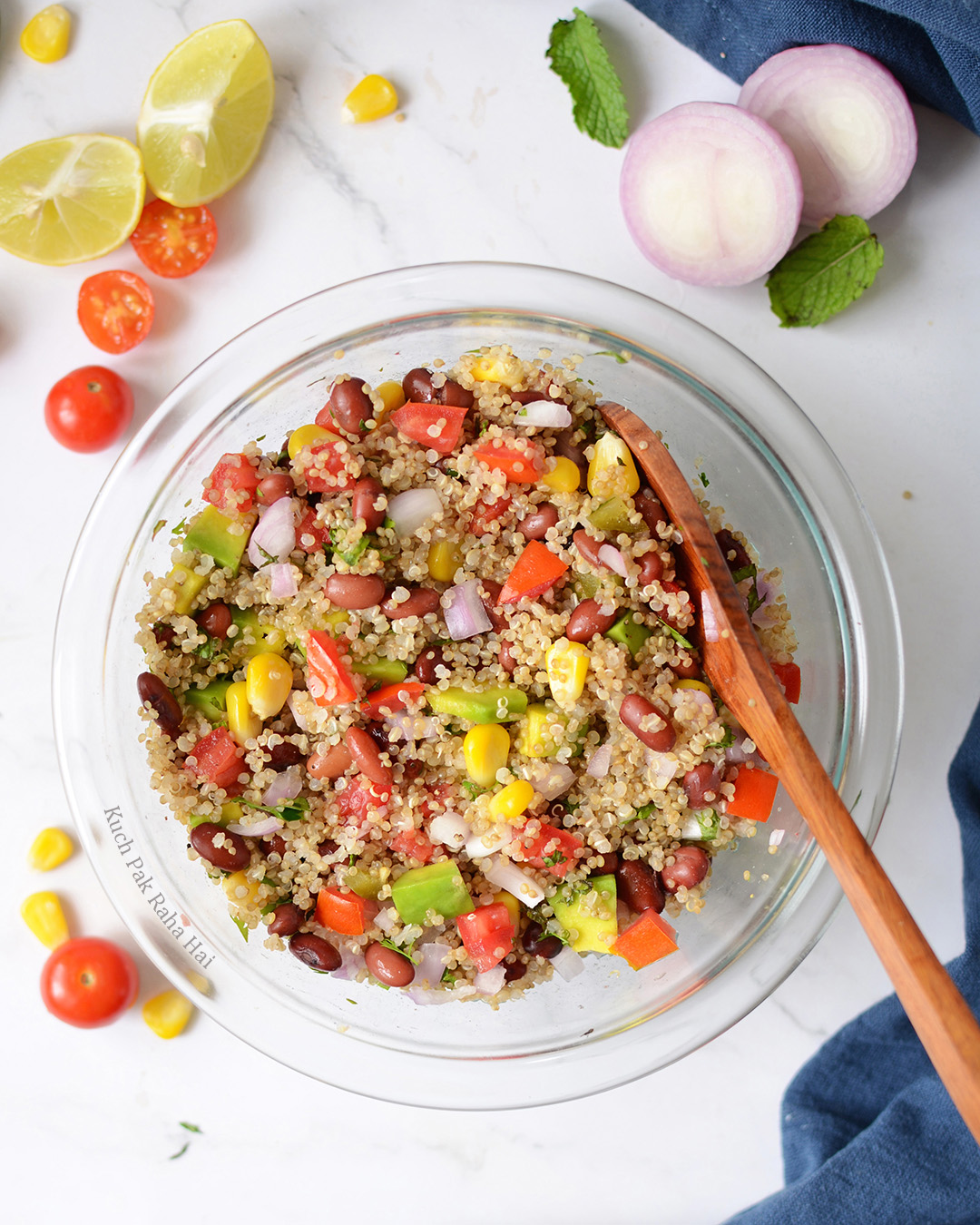 Ingredients :
Quinoa (uncooked)-1 cup
Water-2 cup
Salt-1 tsp
Boiled Black Beans-3/4 cup (

or kidney beans

)
Onion- 1
Tomatoes- 2
Chopped Cilantro-1/2 cup
Boiled Sweet Corn-1/2 cup
Avocado-1
Jalapeños- 1 to 2 (to taste)
For Dressing:
Lemon Juice- 2 tbsp
Salt- 1/2 tsp (to taste)
Crushed Black Pepper-1/2 tsp
Honey / Maple Syrup-1 tsp
Olive Oil – 1 tsp
Chopped Mint Leaves / Cilantro-2 tbsp
Substitutions:
1. To make this salad vegan, use maple syrup instead of honey. You can even skip it.
2. If you don't have jalapeños, you can use coloured bell peppers.
3. Instead of black pepper, some paprika powder can also be used.
4. You can even use some cherry tomatoes instead of regular tomatoes.
Directions:
Step 1: Cooking Quinoa
Wash the quinoa thoroughly 2-3 times to get rid of all dust. In a pan, bring water to boil , add quinoa and salt to it. Cover it for 15-18 minutes till the quinoa is cooked properly.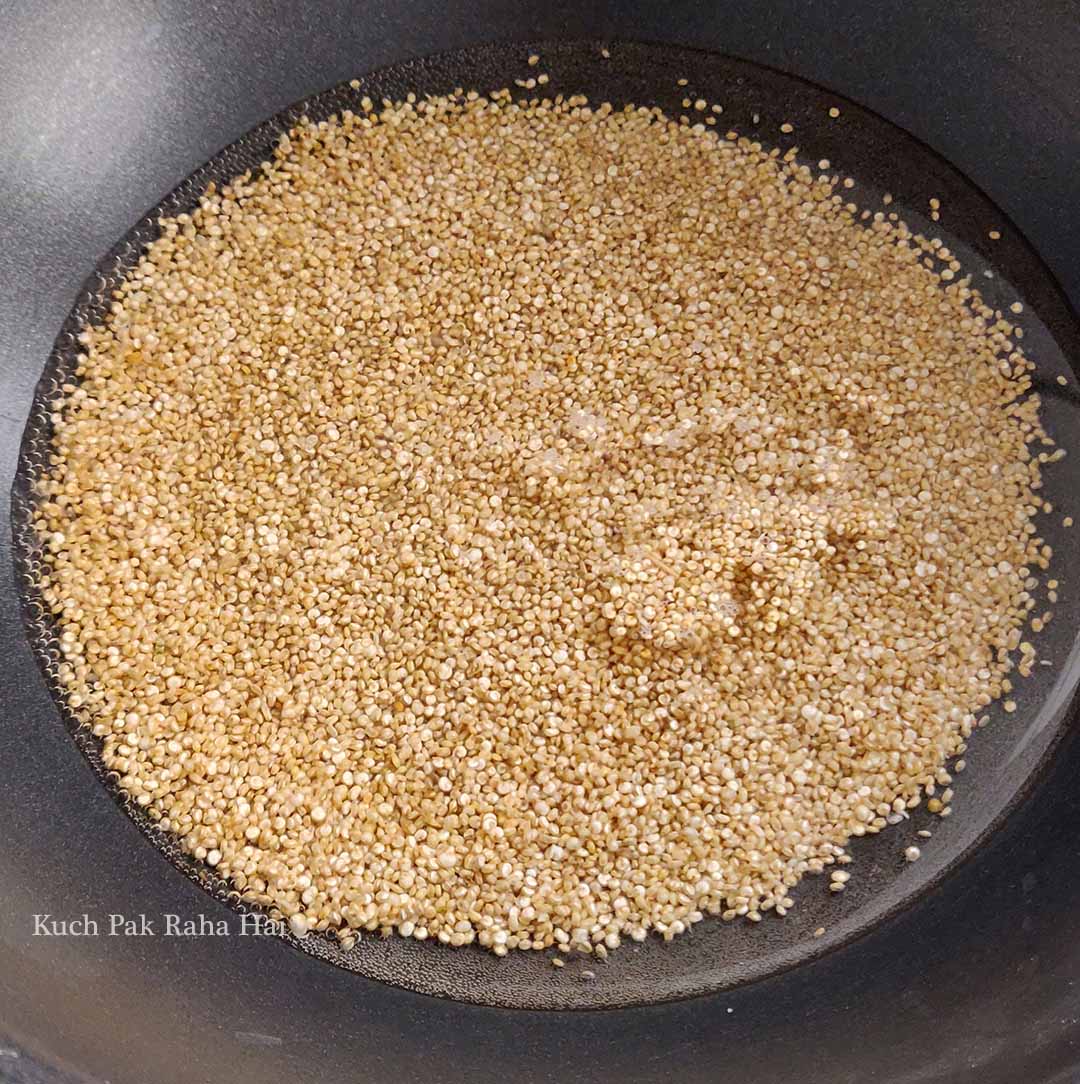 Once the quinoa is cooked, fluff it up with a fork. (You can boil quinoa in instant pot too. By the time quinoa is cooling, let us move to next step.)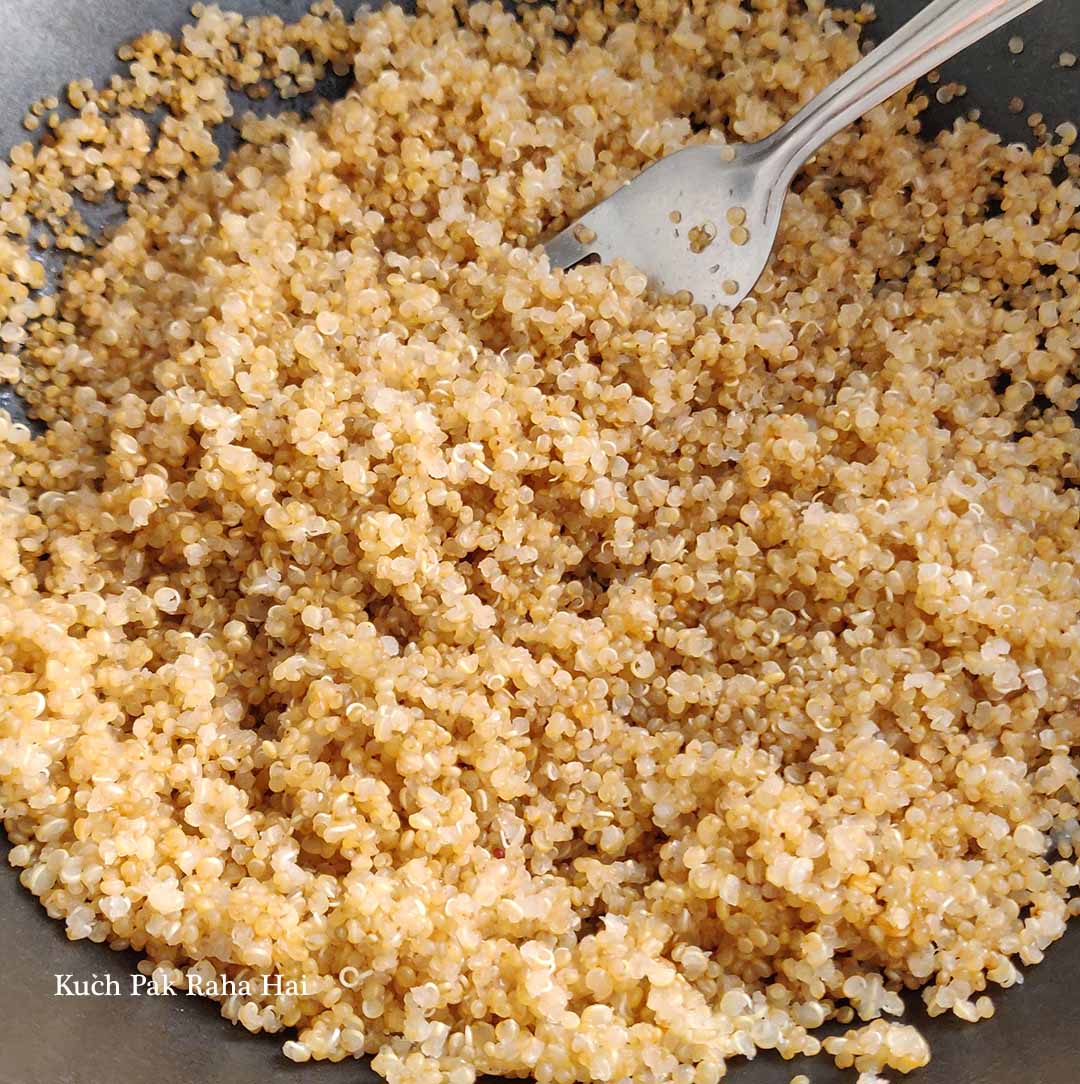 Step 2:
You can use fresh or frozen corn kernels in this salad recipe. I have used frozen corn kernels here and steamed them for 5-7 minutes before using in salad. (Tip : You can cook them with quinoa also. When quinoa is getting cooked, in last 5-7 minutes add some corns to the pan in which quinoa is boiling.)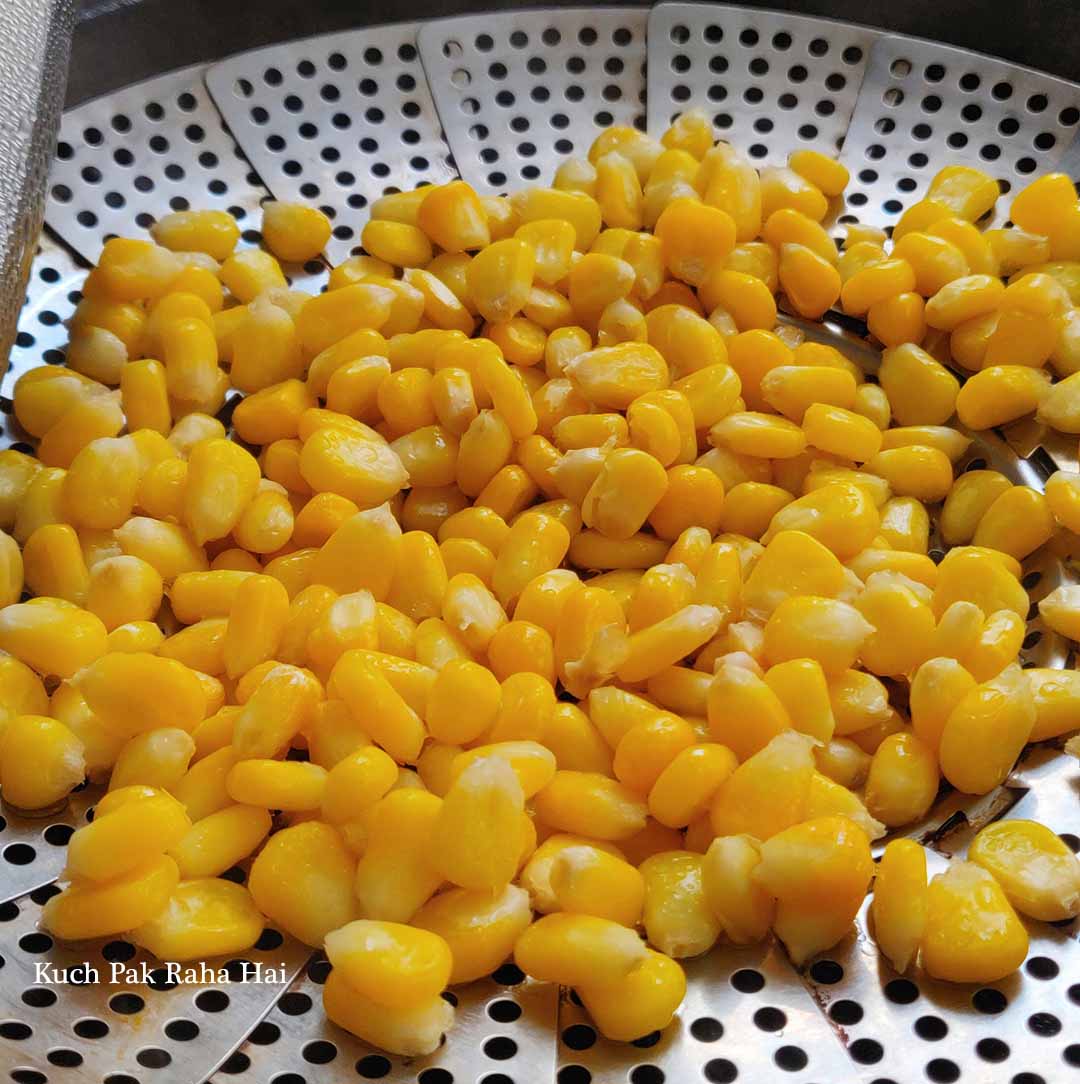 Step 3:
If you are using canned black beans / kidney beans, skip this step. I did not have its can so I boiled it first. I am using red kidney beans here which were first soaked overnight and then pressure cooked for 25-30 minutes. Drain all the water from them by transferring them on a colander.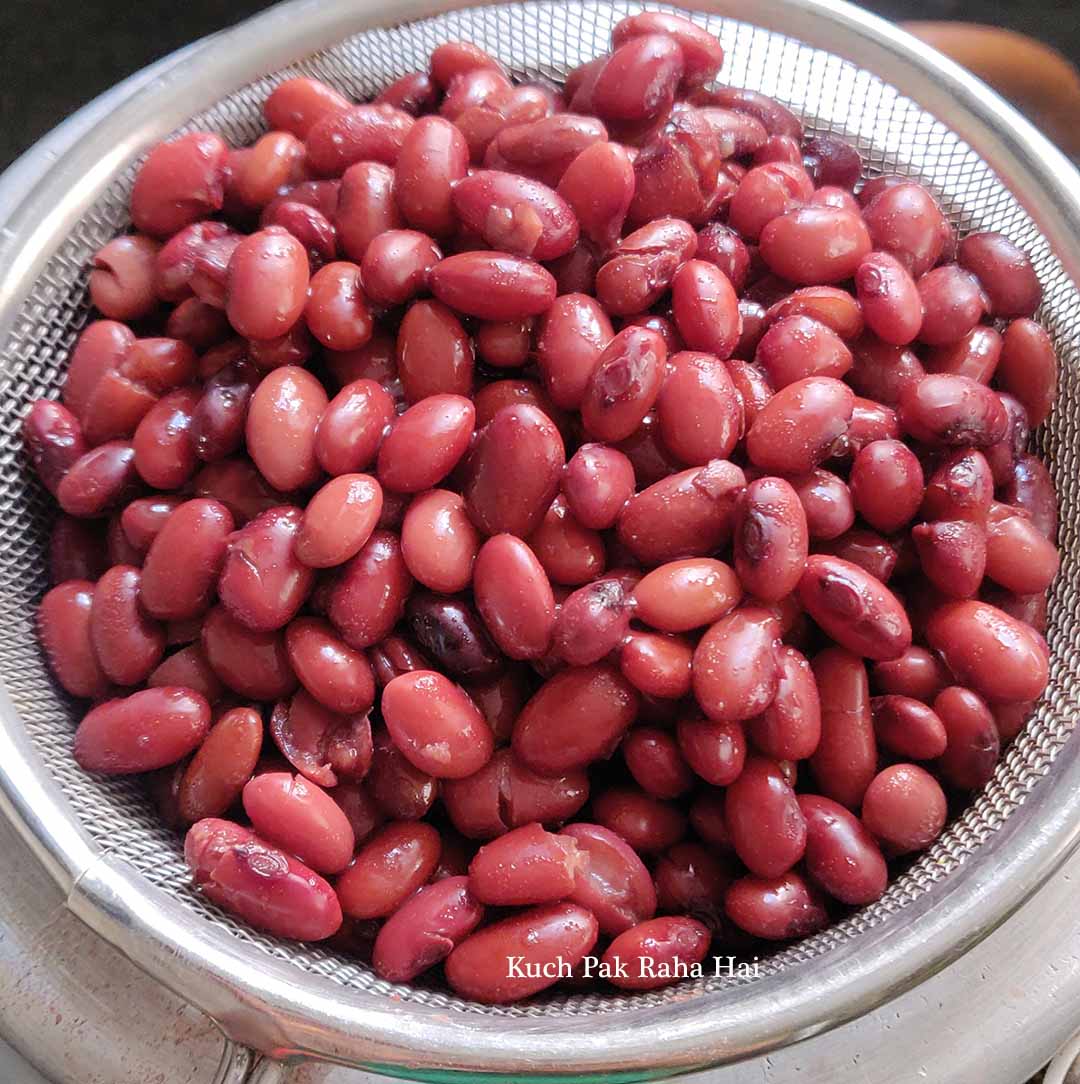 Step 4: Salad Dressing
Mix all the ingredients of salad dressing and give a good mix. Keep this dressing aside.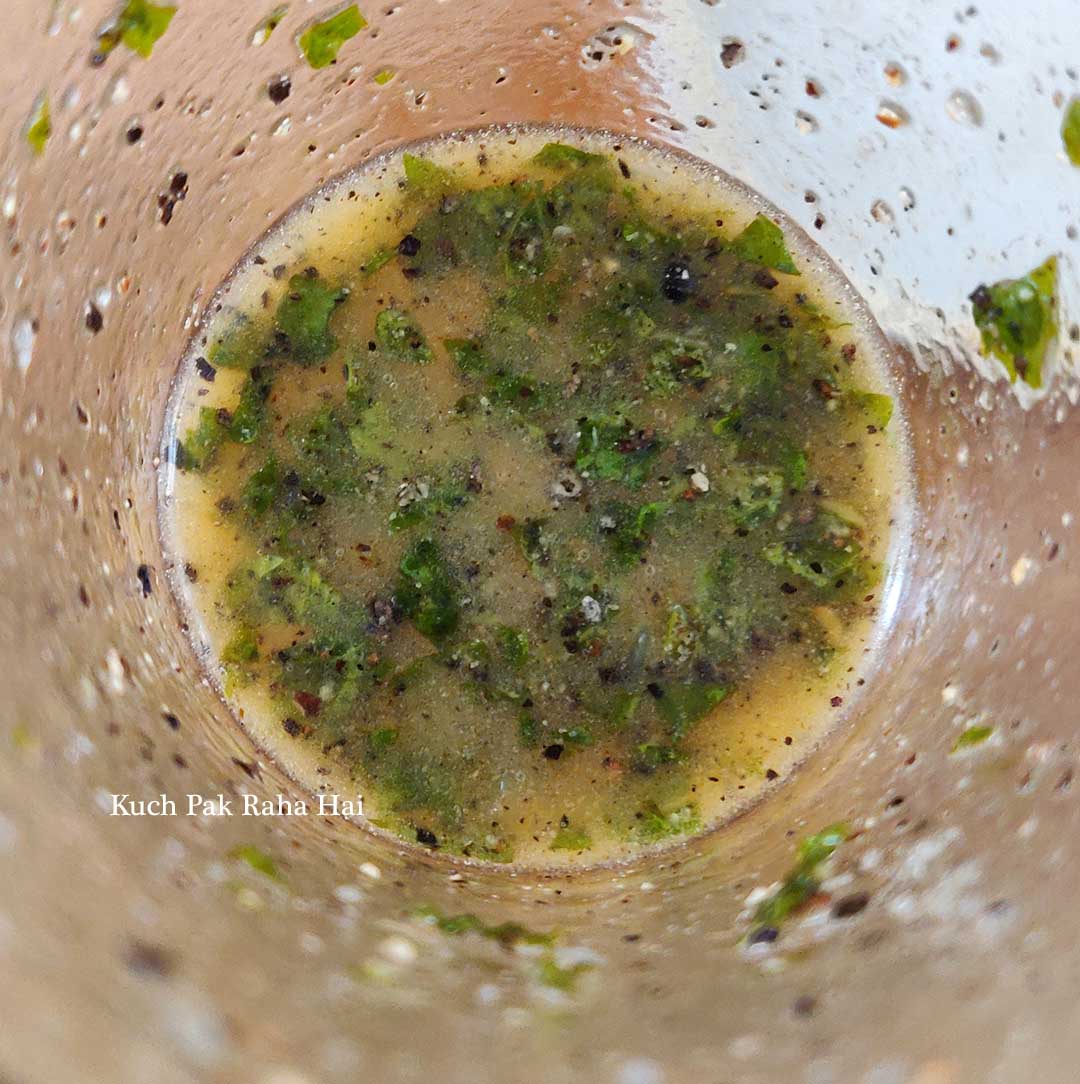 Step 5:
Deseed the tomatoes and chop them along with rest of the vegetables (except sweet corn). Transfer these chopped vegetables, boiled sweet corn, black beans / kidney beans, cooked quinoa to a mixing bowl. Pour salad dressing over it & mix well. Taste and adjust salt/black pepper as per your taste.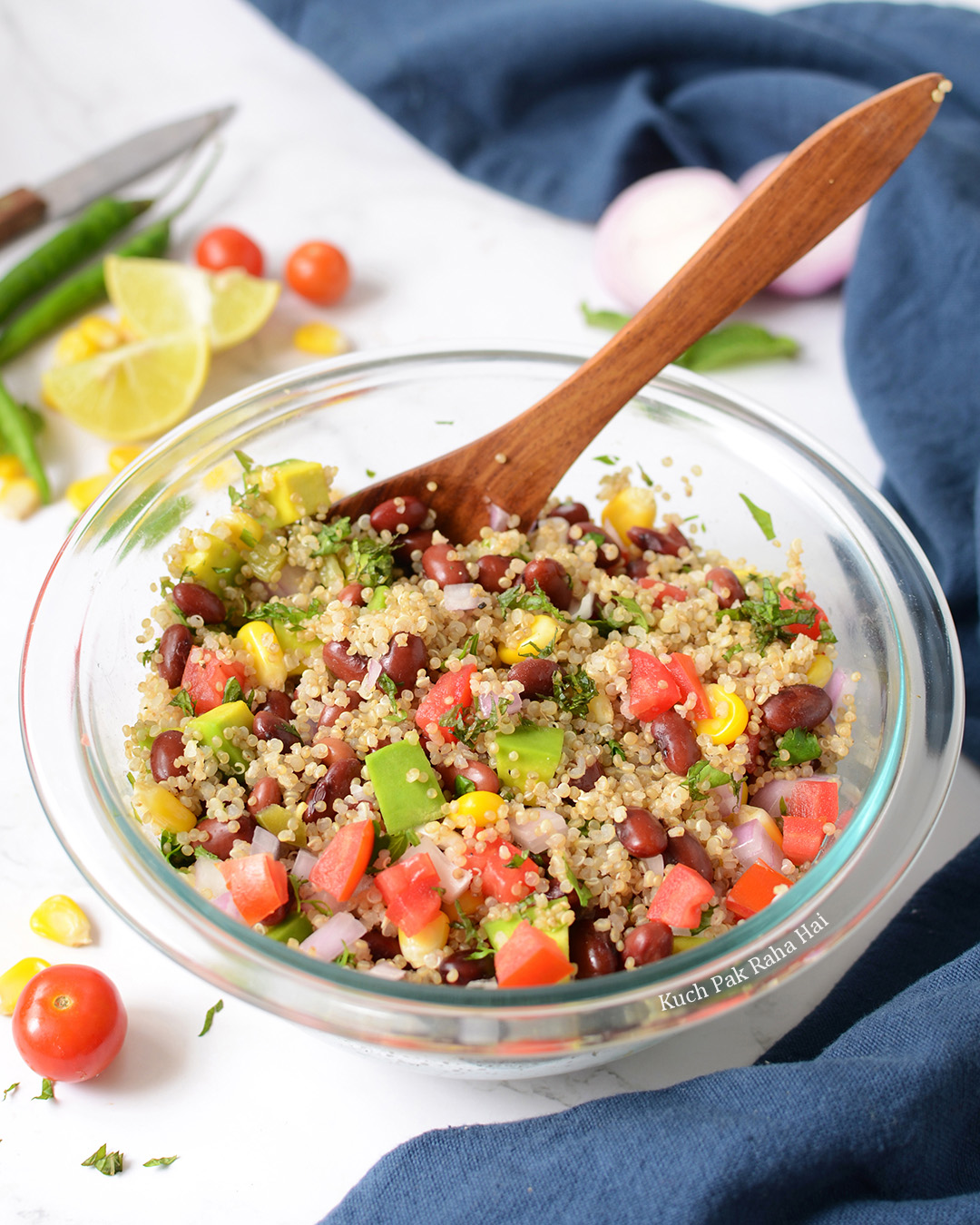 You can enjoy this delicious Mexican Quinoa salad with some guacamole or salsa!!
More vegetarian or vegan salads that you might like:
Pin for later: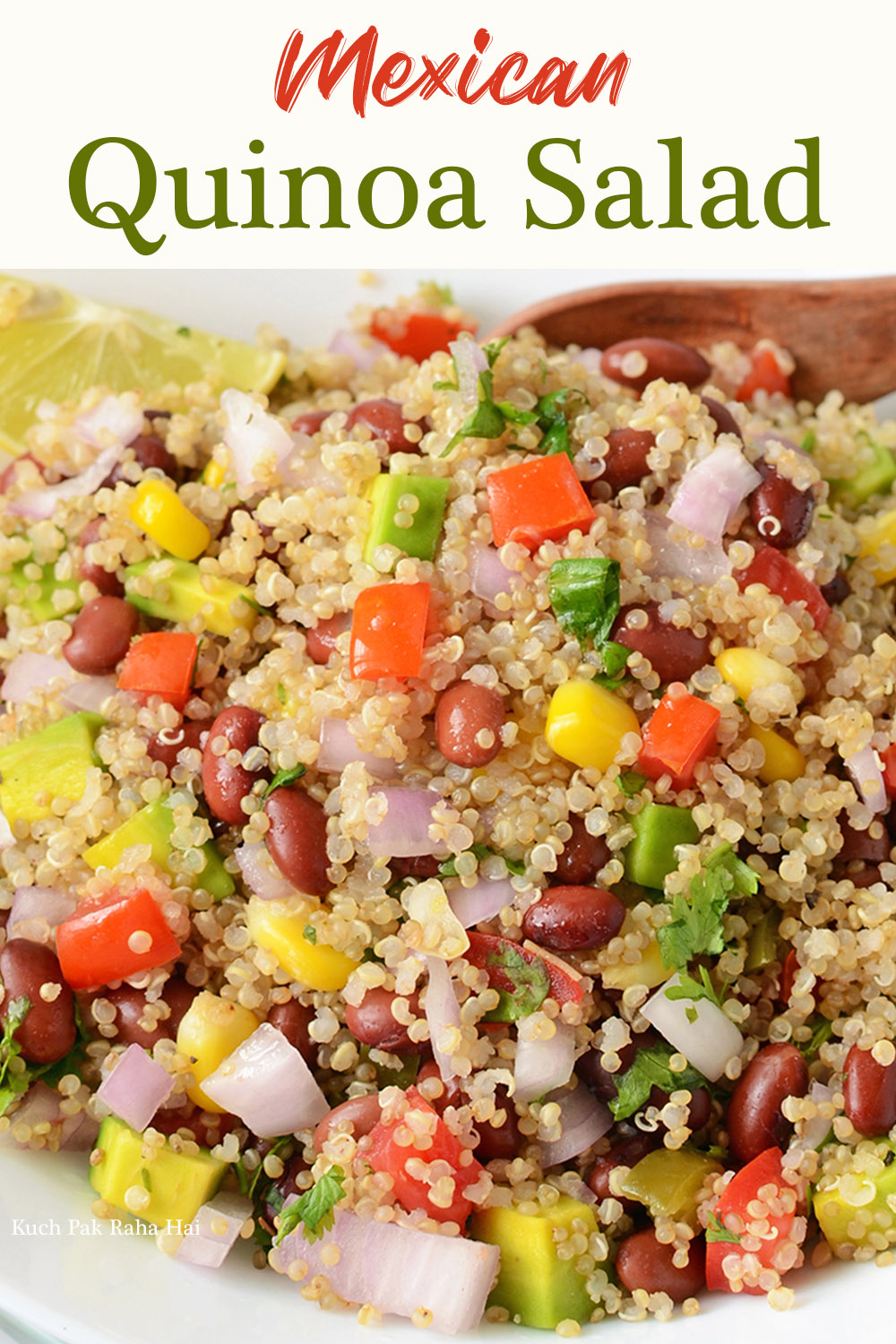 If you try this easy Mexican quinoa salad recipe & share pics on social media, then don't forget to tag on Facebook, Instagram or use #kuchpakrahahai.
Let's stay connected
Facebook| Instagram | Pinterest | Youtube
Kitchen Products Used :
(The links shared above are Amazon affiliate links. For more details, refer to the privacy policy page. You can also shop from our Amazon storefront.)