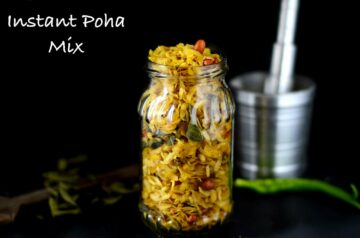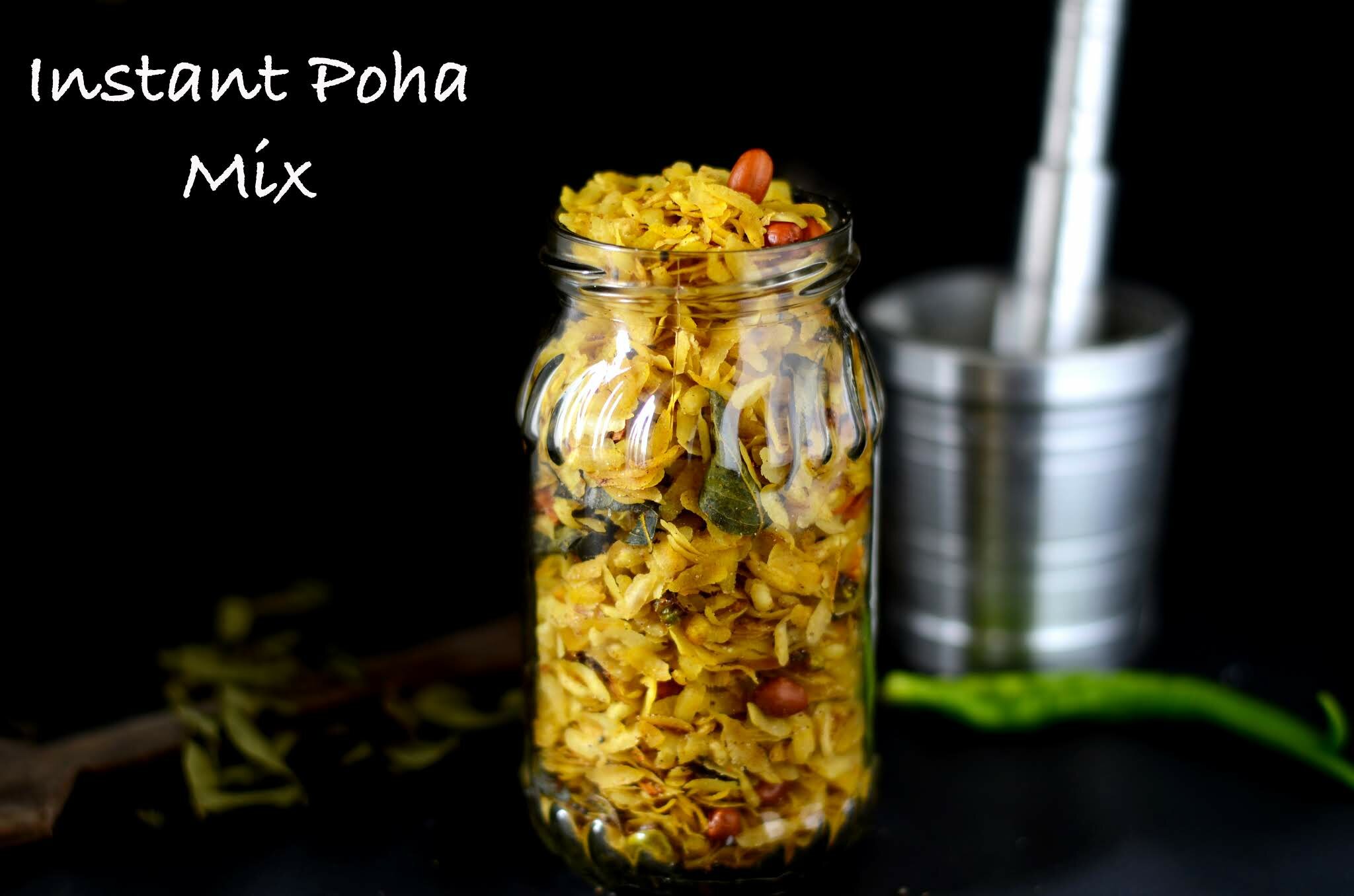 Instant Poha Mix is a recipe which will help you get your breakfast ready in just 5 minutes. Prepare this poha premix in advance and at the time of consumption all you have to do is add boiling water. It is an ideal option for quick easy breakfast, can be given to students or kids living in hostels or you can carry it while travelling.
These days market is flooded with so many Instant mix packs like Instant Upma, Instant Dosa, Instant Idli etc but we really don't need to purchase them as these mixes can be easily prepared at home and that too preservative/additive free.
Few days back I had shared the recipe for Instant Upma mix which was much liked by everyone. Such recipes are of great use for someone who is novice in cooking or really does not have much time for preparing elaborate meals. These mixes are can be given to students living in hostels or PGs as all you require is hot boiling water to get them ready to eat. It is great for carrying while travelling also.
As said in a famous English proverb "Necessity is the mother of invention", my quest for these instant mixes started after my brother went abroad for higher studies. Before leaving India, we taught him some basic recipes like Dal, chapati, potato sabzi but he never had that kind of time to shop for groceries or for cooking. He always relied on Ready-To-Eat packets or store bought Instant mixes. So, me and my mother decided to do little bit research on these mixes and prepare them at home as daily consumption of preservatives and artificial additives is definitely not good for health. Moreover you can always customise them as per your own requirement like if you are allergic to nuts you can skip them or adjust the level of spices as per your own taste etc.
How to use Poha premix?
This Instant Poha Mix can be prepared in bulk and whenever you want to prepare poha you just need some hot boiling water. It can be prepared in microwave oven (explained in the end of this post) or in a pan also.
One important thing you have to take care while preparing the mix is to use "THICK POHA".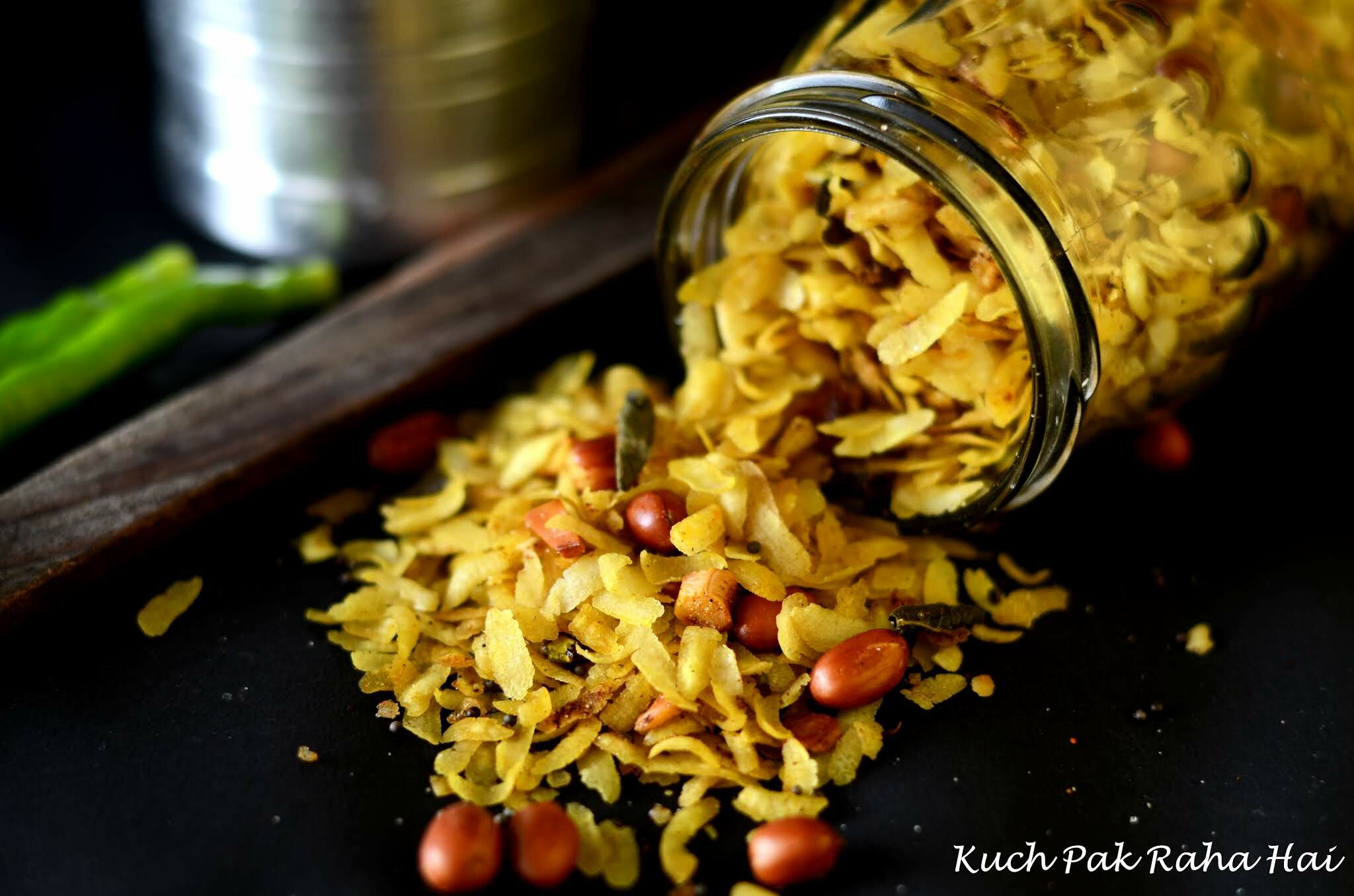 I have also shared a youtube video for this same recipe. If you like it, please do Subscribe to our channel 🙂
Watch here :
List of Ingredients:
Poha (Thick) – 2 cups
Cooking Oil- 2 tbsp
Peanuts-1/4 cup
Chopped Cashews-1/4 cup
Chopped green chillies-2
Curry Leaves-12 to15
Mustard Seeds- 2 tsp
Red Chilli Powder-(1+1/2) tsp
Turmeric powder- 1 tsp
Amchoor powder (Mango powder)- 3/4 tsp
Sugar-1 tsp
Salt-2 tsp (or to taste)
Steps To Prepare:
Step 1:
Hand pick the impurities from Poha and sieve it. This step is necessary as we are not washing the poha. Heat a non stick or heavy bottomed pan and roast the poha on medium flame till it become crunchy and slightly changes its colour.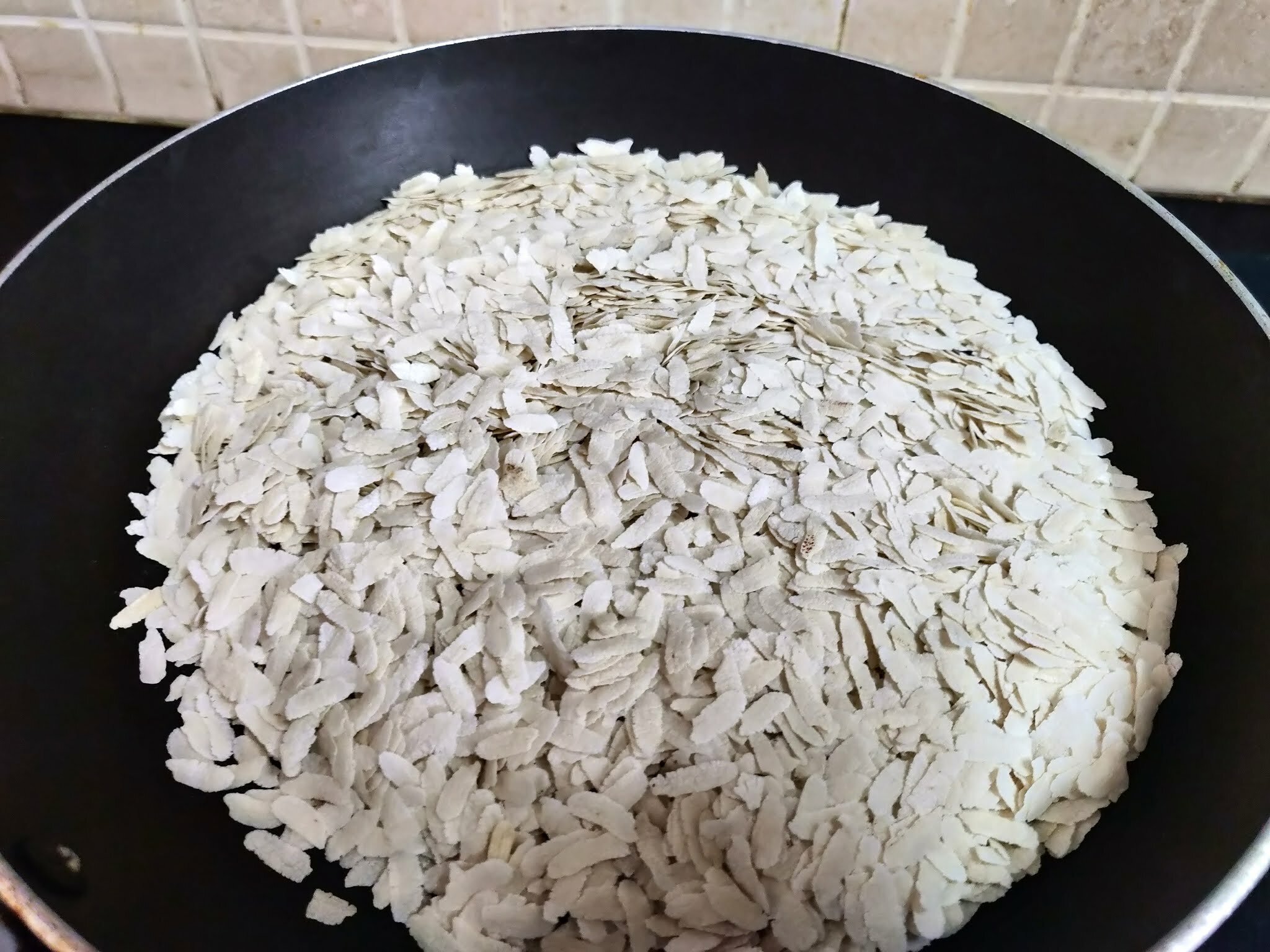 Keep aside the roasted poha aside in a plate or bowl.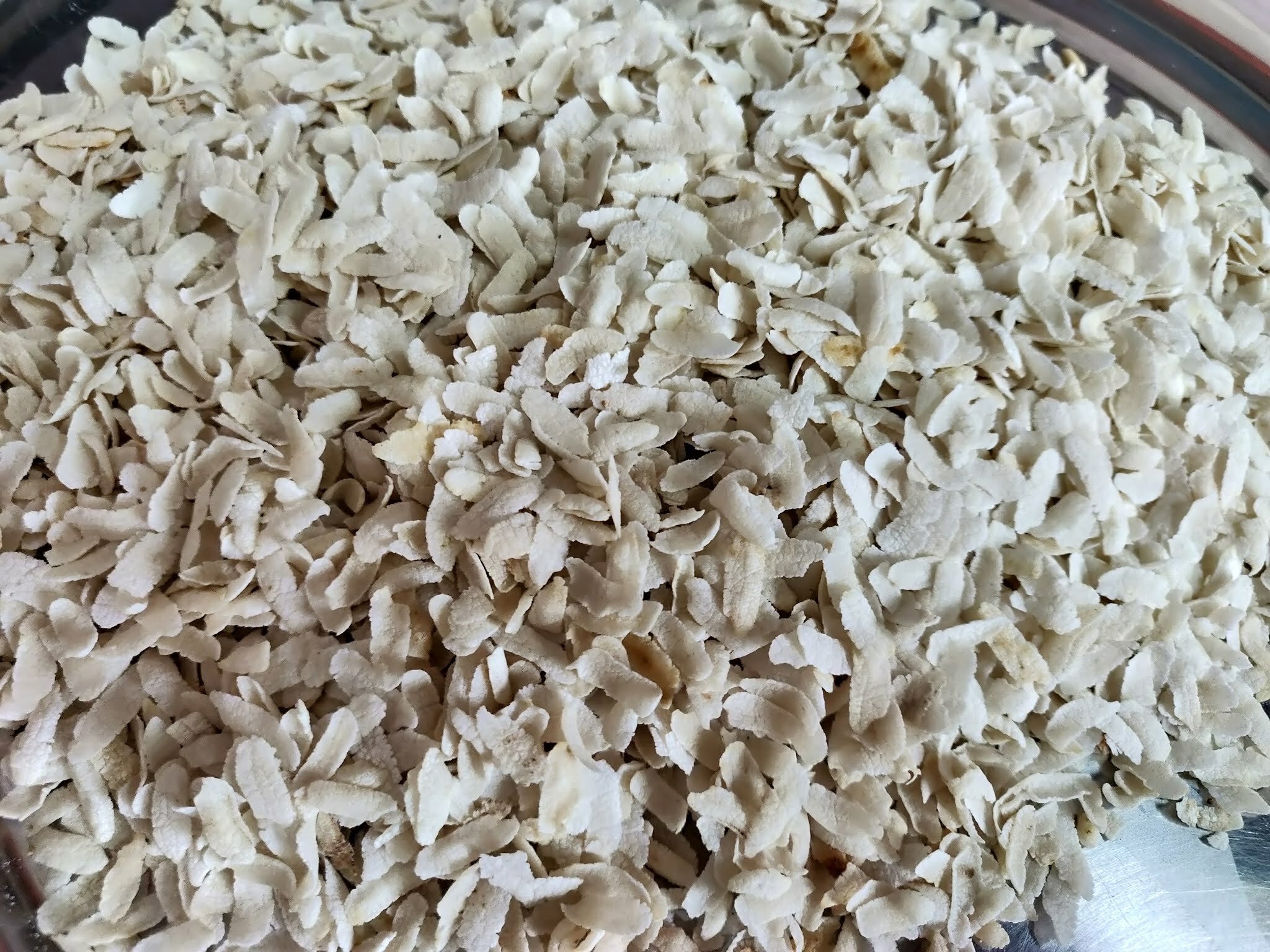 Step 2:
Heat cooking oil in the same pan. On low flame, roast peanuts and cashews till they become golden  brown in colour.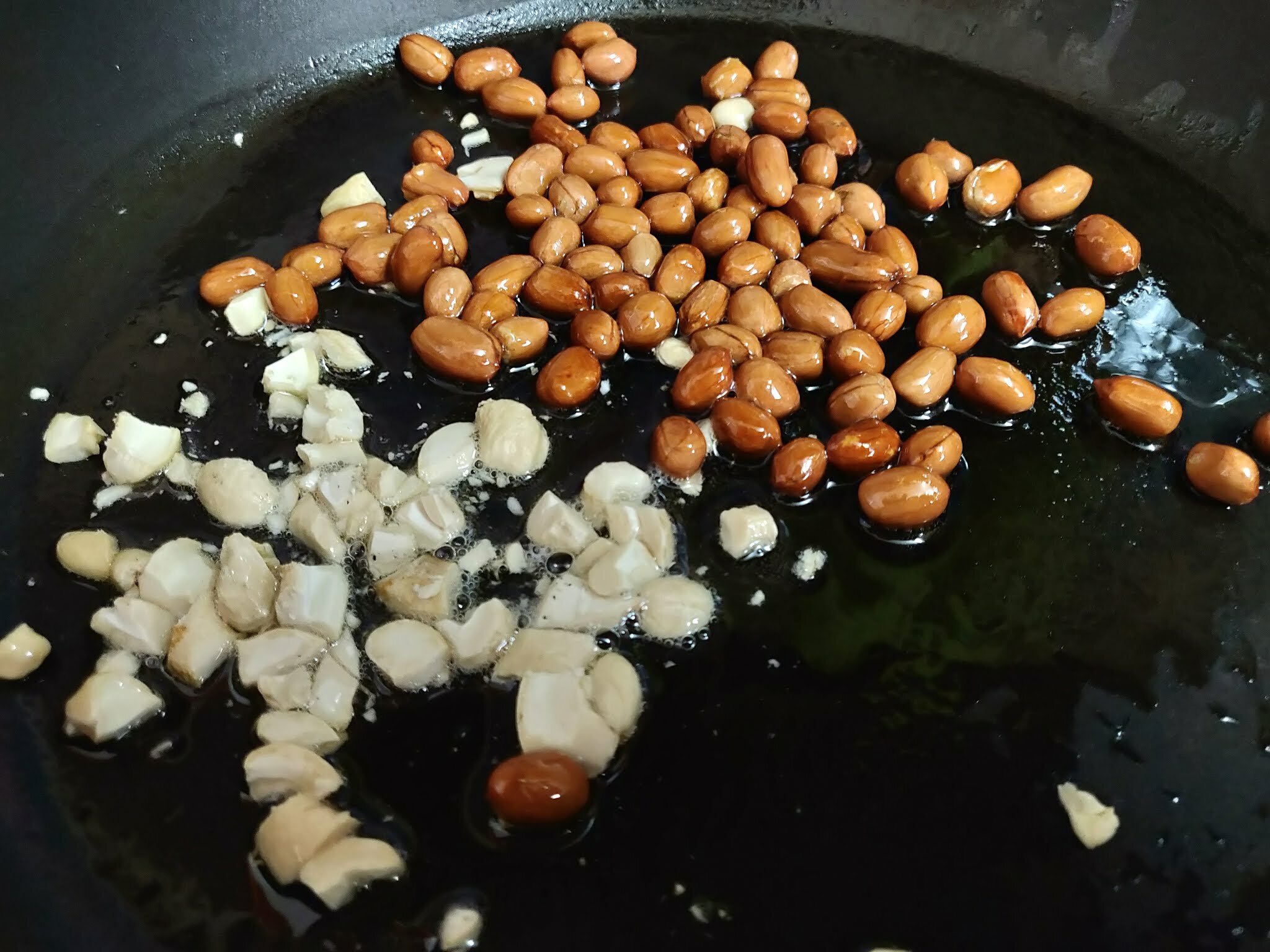 Step 3:
Add chopped green chillies to it and stir for 10-15 seconds. Then, add curry leaves and stir for another 15 seconds.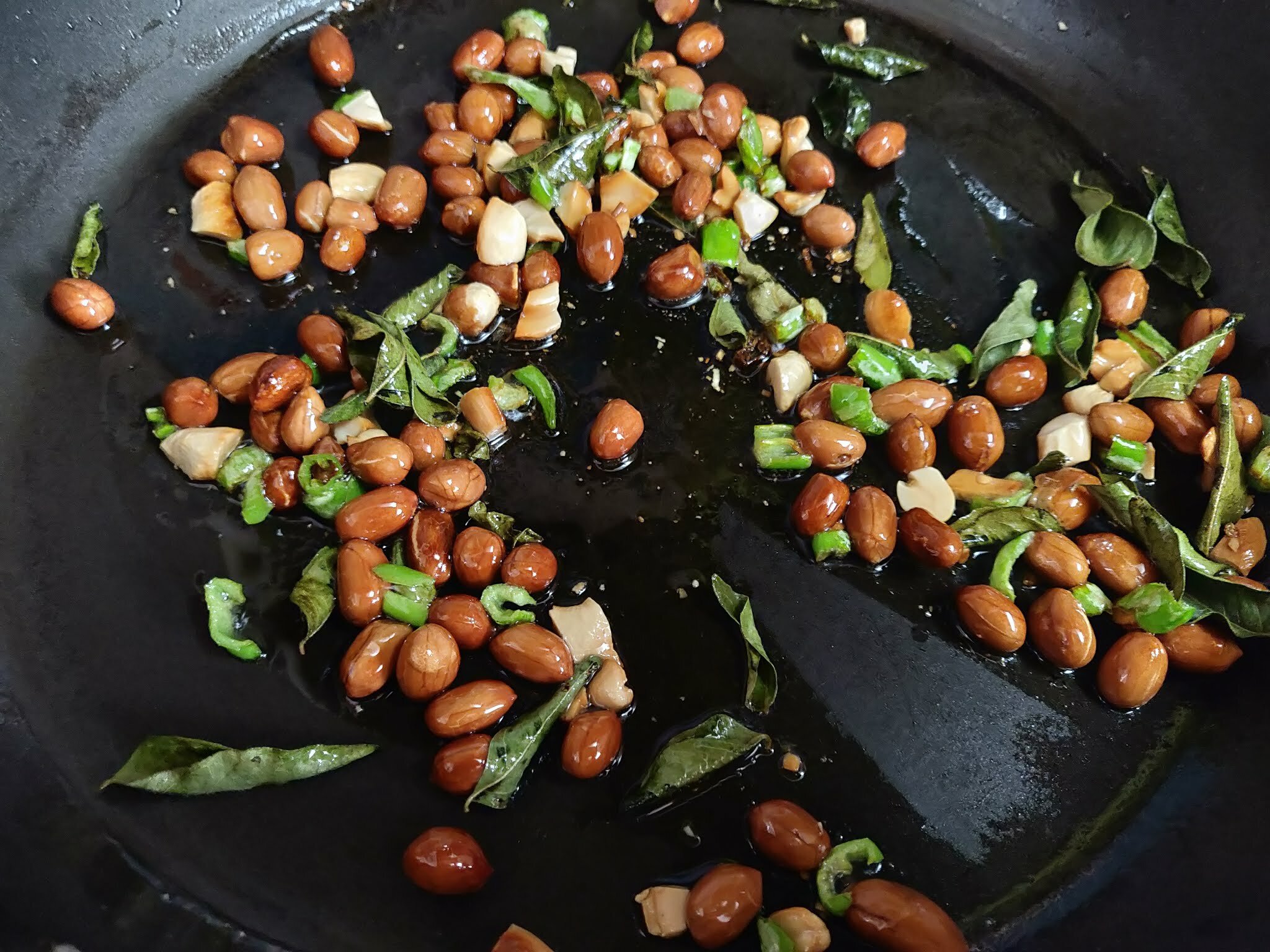 Step 4:
Add mustard seeds to the pan. When the seeds begin to crackle, add turmeric powder and chilli powder. Stir for few seconds.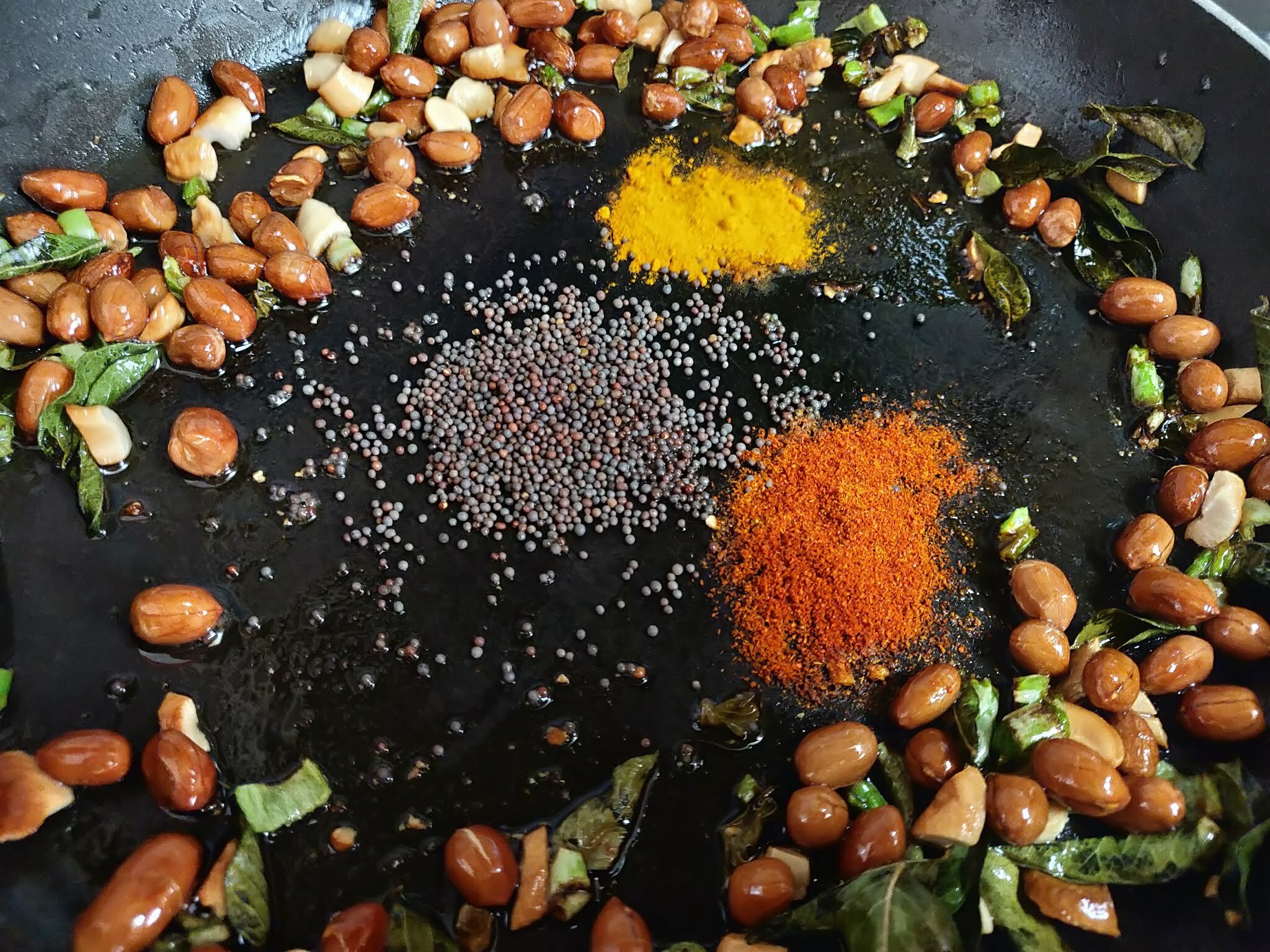 Step 5:
Add the roasted poha to this spice mixture. Add salt, amchoor (mango) powder and sugar to it. Toss the pan gently so that all ingredients are mixed evenly. You can even use spatula or spoon but be gentle as we don't want the poha to break into pieces. Switch off the flame.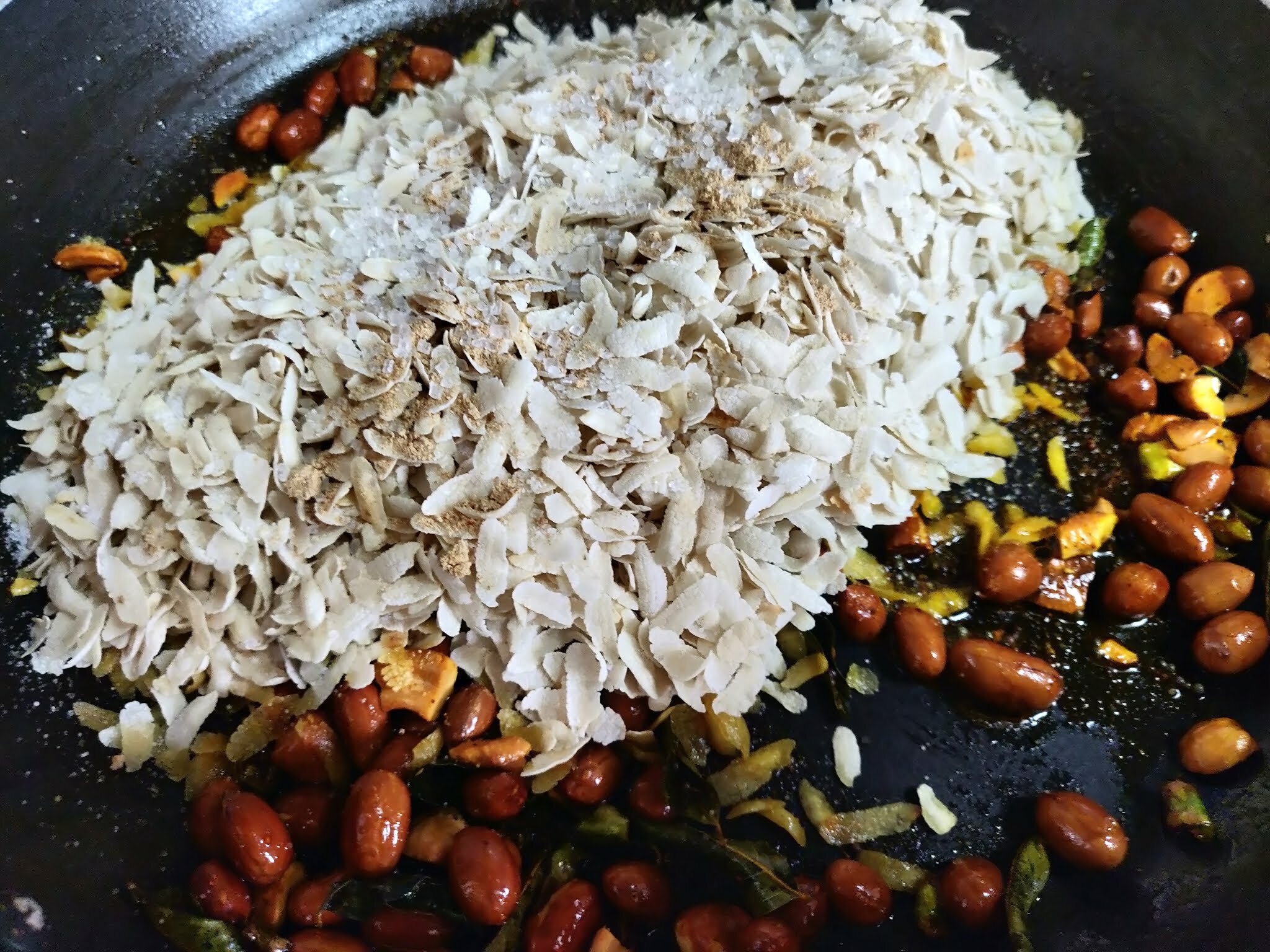 Leave this poha mixture in the same pan to cool completely. Once the mixture is cooled, store it in an airtight container. This can be easily stored for upto two months. Instant Poha mix is ready to use.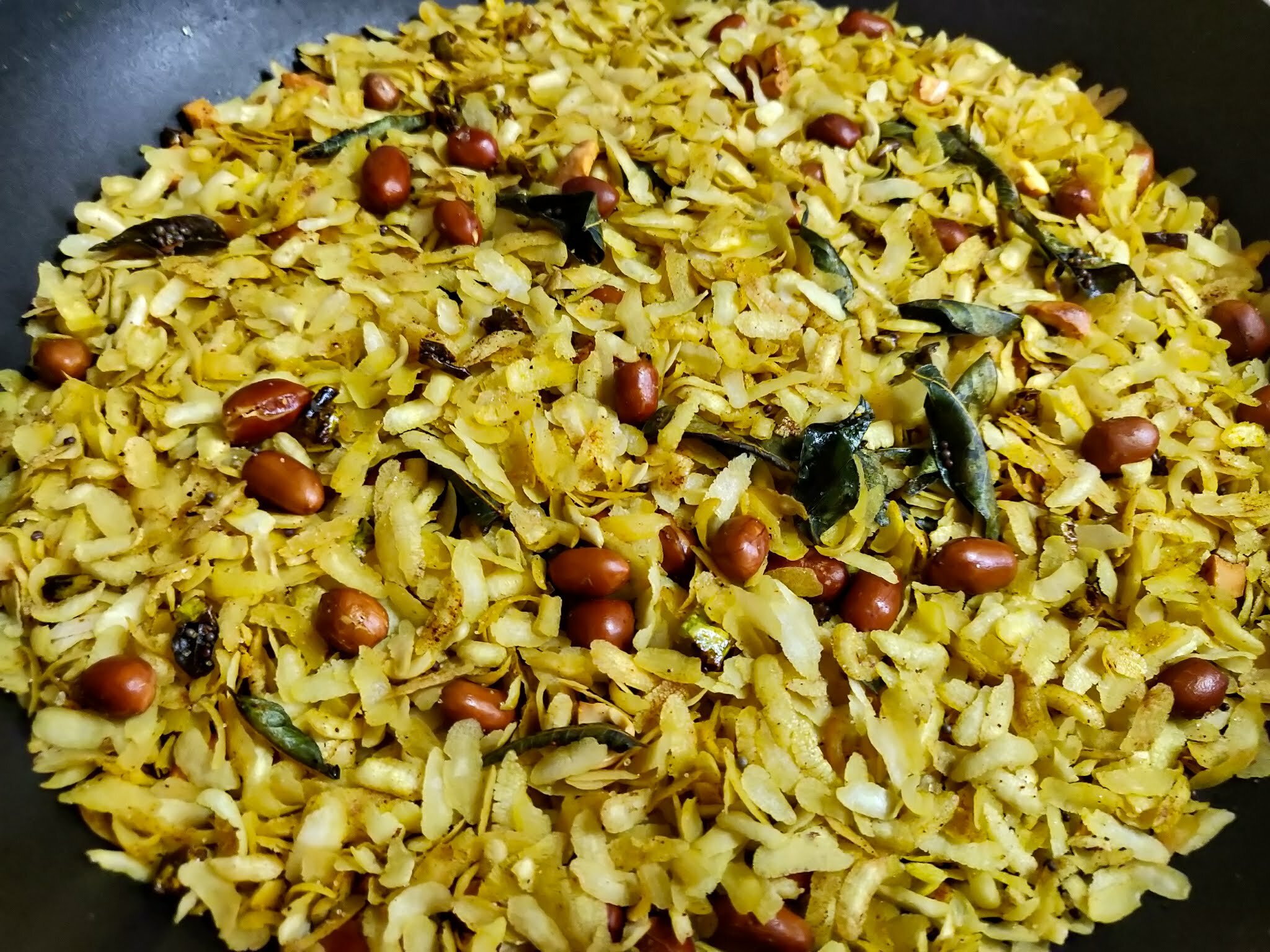 Preparing fresh Poha using this Instant Poha Premix
Whenever you want to prepare poha for your breakfast or for snack time, take the required quantity of  instant poha mix in a small airtight bowl.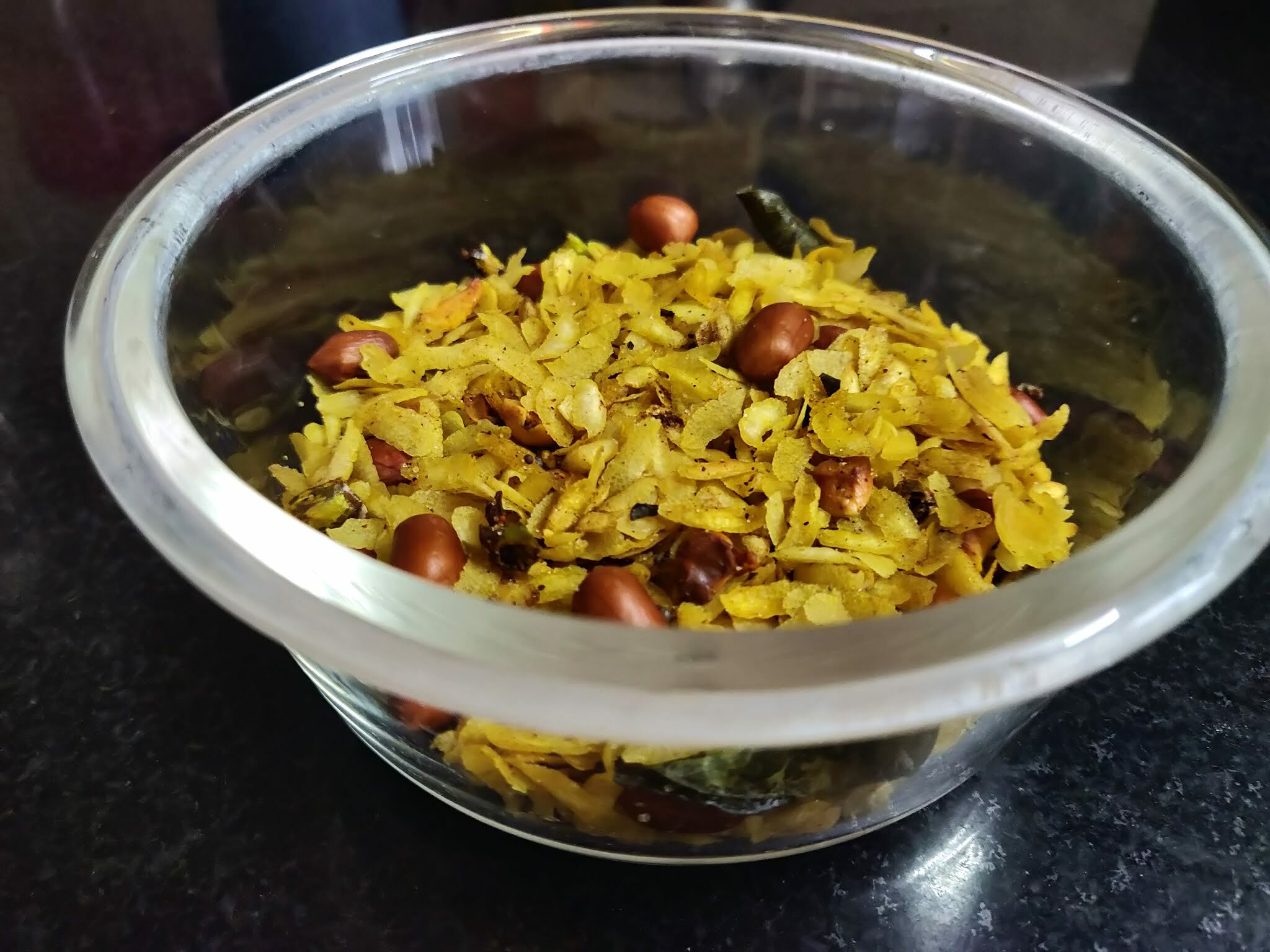 Fill it up with hot boiling water such that the water is just little above the poha mix. Close the lid for 5-7 minutes. After opening the lid, fluff it with the help of a fork. I have used Borosil Klip & Store container.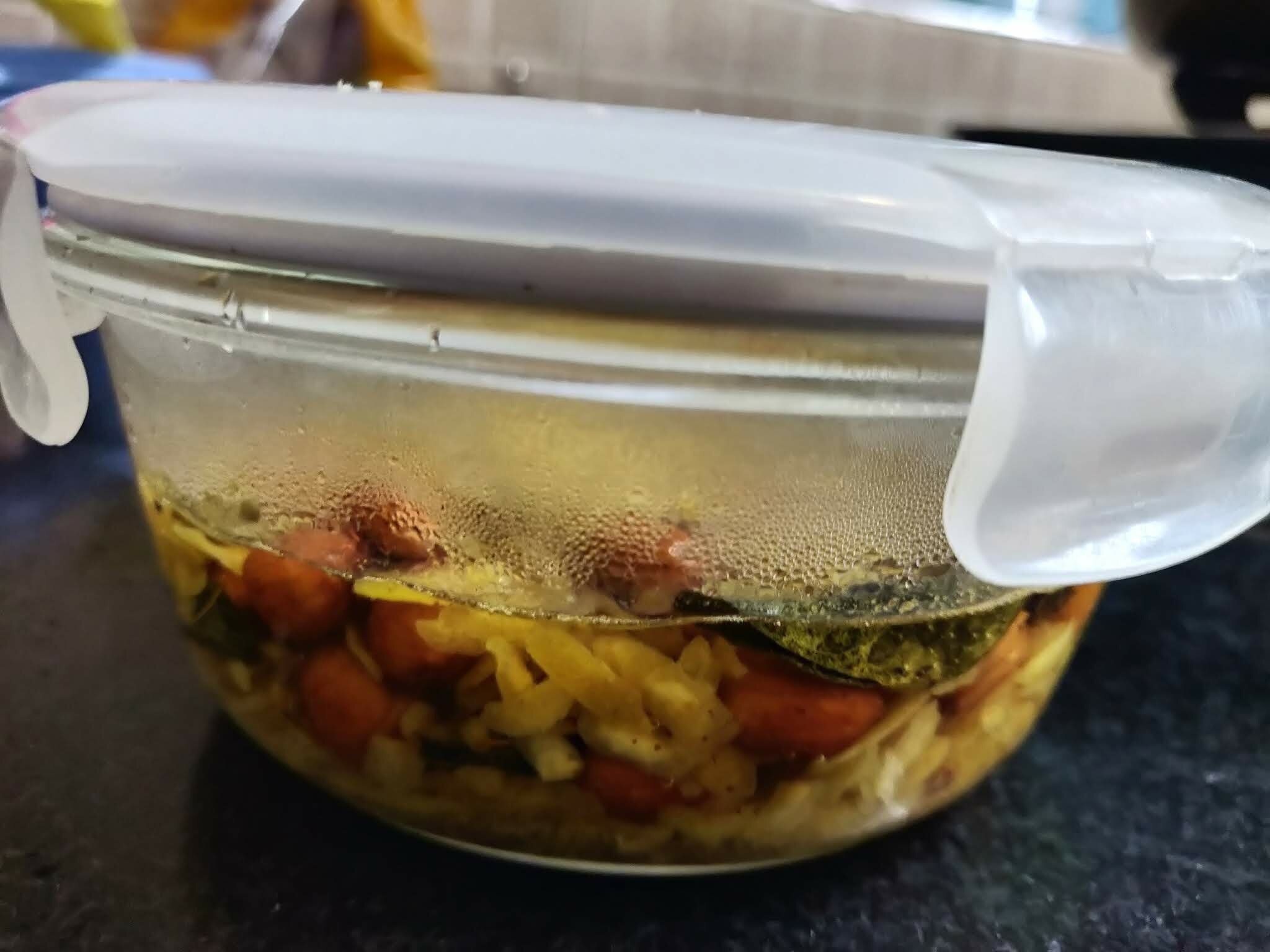 Fresh steaming hot poha is ready!! You can sprinkle some chopped coriander leaves or lemon juice over it. Sautéed Onion/Veggies/boiled potatoes can be added in the bowl before filling it with hot water. You can even prepare this poha in a pan (on flame) using similar steps.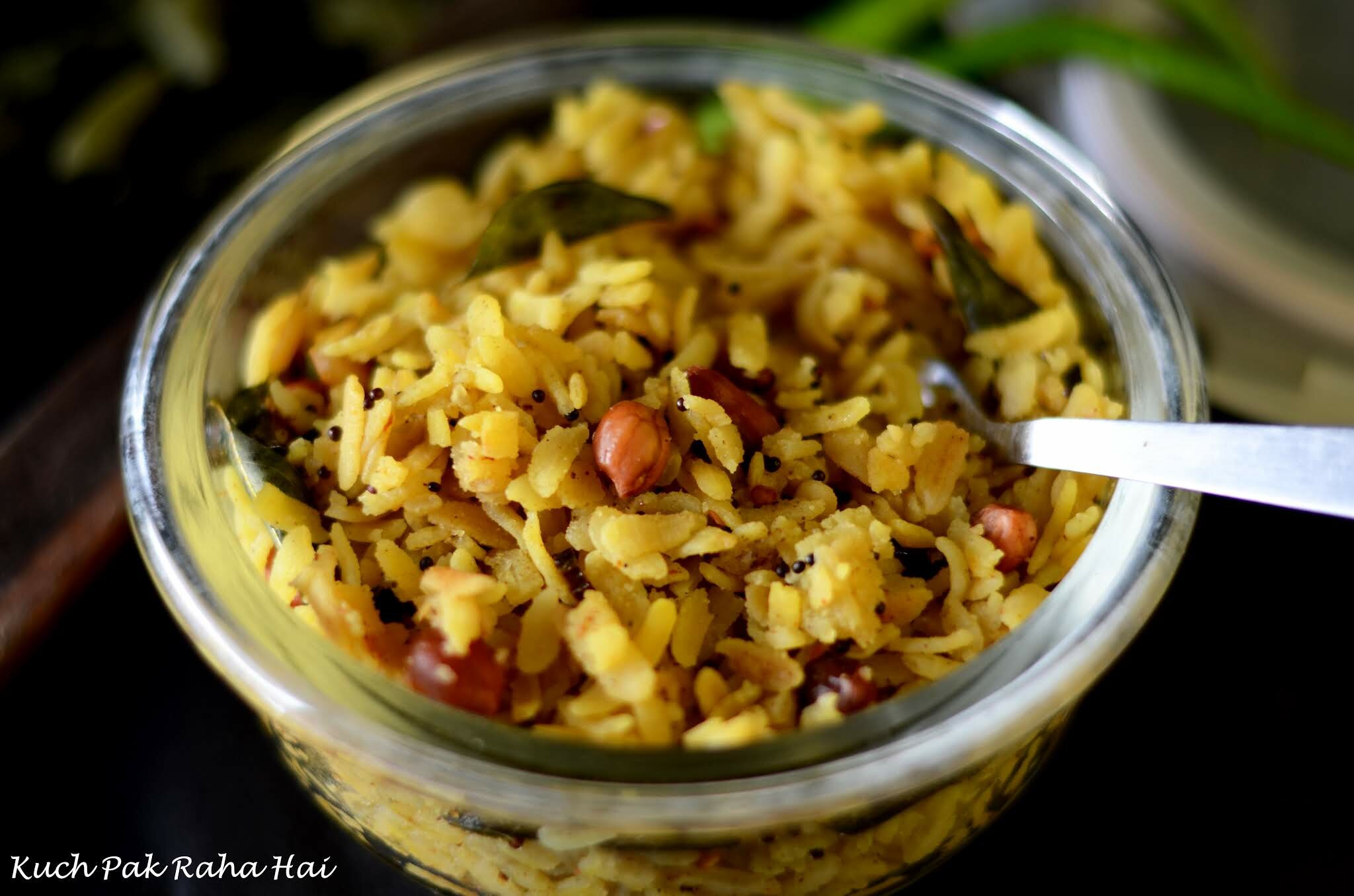 Bon Appetit!!
More recipes you might like :
If you try this recipe & share pics on social media, then don't forget to tag us on Facebook or Instagram or use the hashtag #kuchpakrahahai.
Let's stay connected
Facebook| Instagram| Pinterest| Youtube