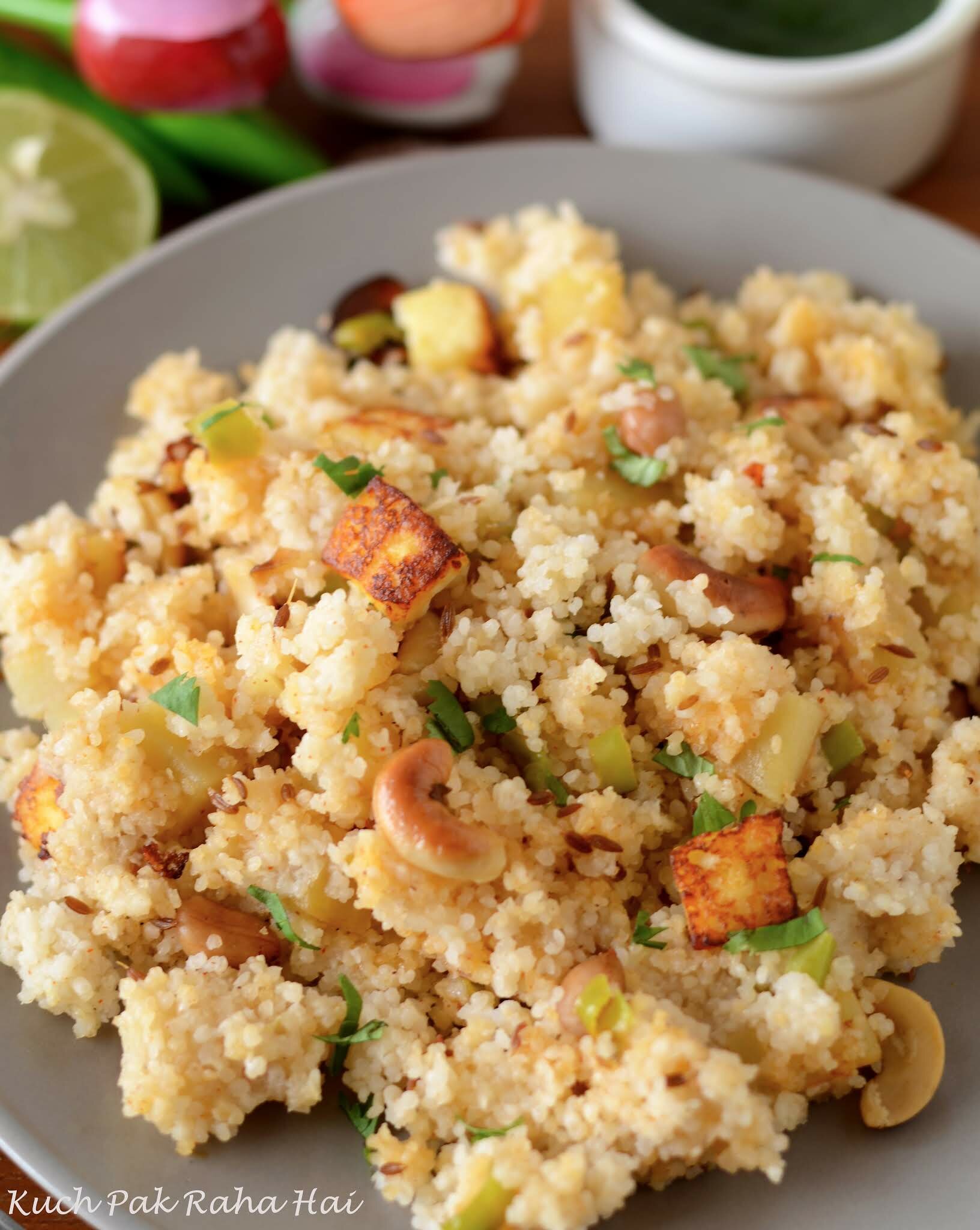 Sama Rice Pulao is one of the popular delicacies enjoyed by people during Navratri fasts. Sama Rice is known by many other names like Samvat Rice, Vrat Rice, Sama ke Chawal, Bhagar Rice, Jungle Rice & Samo etc.
Although this grain is not actually a variety of rice but people call it so because of its texture and colour. In actual, the grain belongs to millet family and is called 'Barnyard Millet'. It has small granular texture and is off-white in colour. It is a gluten free grain which makes it suitable option for consumption not only on fasting days but also if you are on gluten-free diet.
The other recipe shared on this blog using this grain are: Sama Rice Potato Cutlets, Samo Rice Dosa & Samo Rice sweet pudding. The texture of barnyard millet makes it suitable for use in both savoury & sweet recipes. You can check out more fasting/ gluten free recipes by clicking here.
I have used those spices & ingredients in this recipe which are commonly consumed by most people during their fasts (vrat). However, you are free to incorporate more veggies or use spices of your choice to make it more nutritious and flavourful. The Sama Rice pulao is a healthy dish that can be relished during fasts. As it is made using little fat (oil/ghee), it is quite lite on palate & stomach especially when you are consuming mostly fried items in these days.
I personally like to have this Pulao with freshly made coriander chutney. You can also have curd or Mint Raita with rice as they go really well with its flavours
Hope you would like this Sama Rice Pulao recipe!! For more Navratri recipes, click here.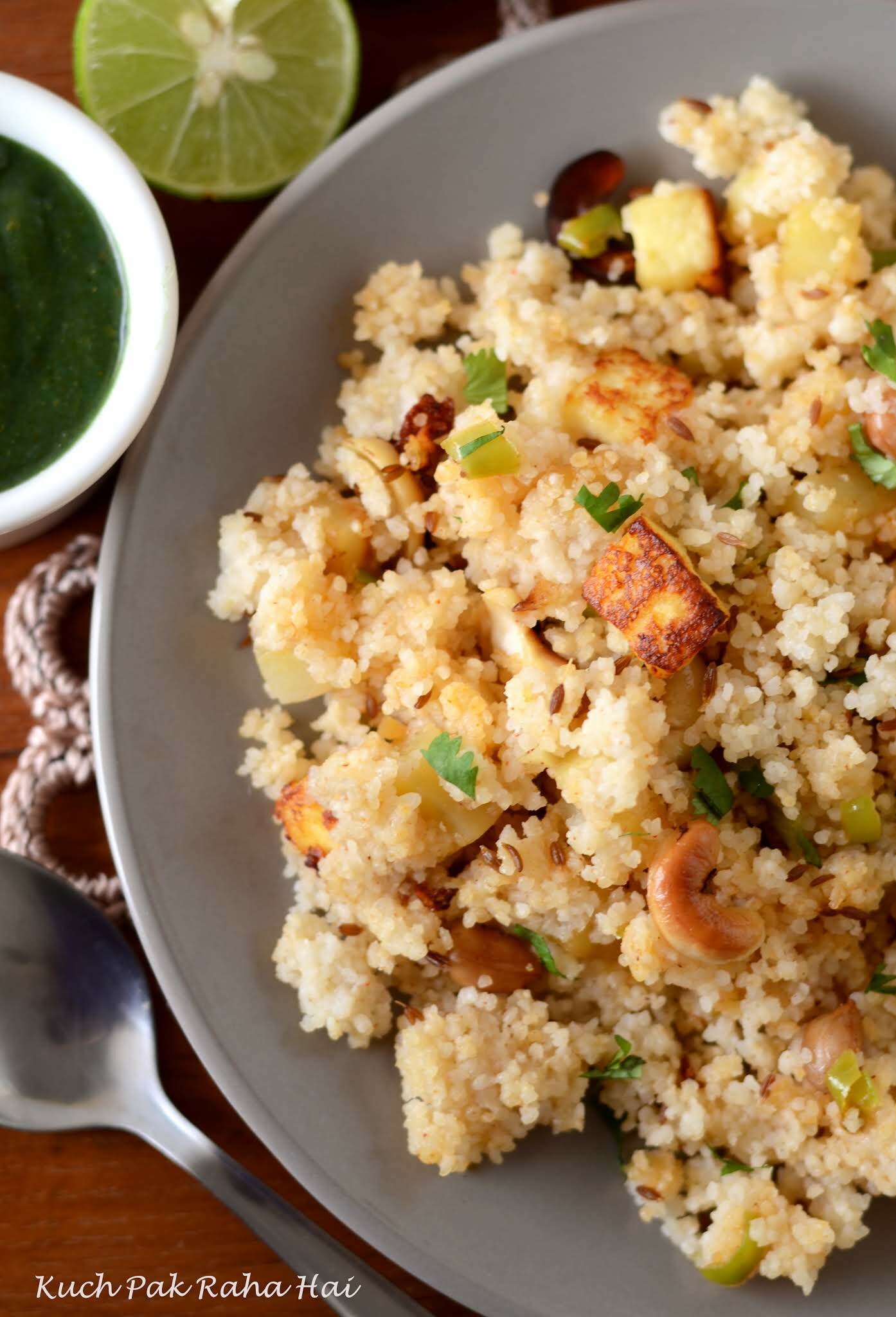 List of Ingredients: (Serves 2)
Sama Rice/Samvat Rice/ Barnyard Millet-1/2 cup
Water-1 & 1/2 cup
Ghee/Cooking Oil-2 tbsp
Cubed Paneer- 1/4 cup
Split Cashews – 10 to 12
Peeled & Cubed Potatoes- 1/2
Peanuts-6 to 8
Cumin seeds (Jeera)-1 tsp
Red Chilli Powder-1/2 tsp (or to taste)
Chopped Green Chillies-1
Rock Salt (Sendha Namak)- To taste
Chopped coriander-1 tbsp (For garnishing)
Lemon Juice – 1 tsp (optional)
Steps To Prepare:
Step1:
Wash & drain the sama rice well. This is required to wash away the impurities. Then soak them in clean water for 30 minutes. In the mean time, lets proceed to next step.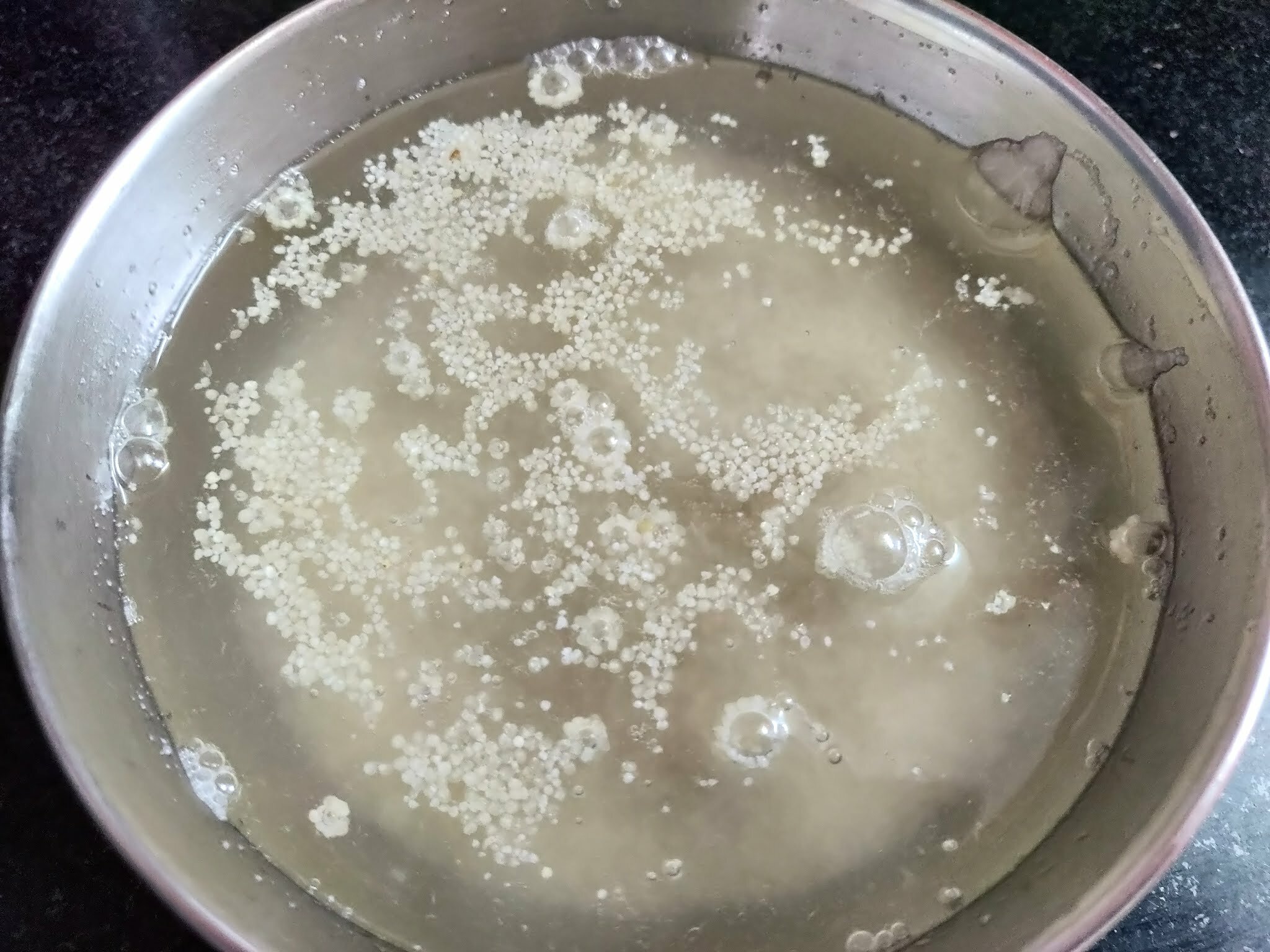 Step2:
In a heavy bottomed or non-stick pan, heat cooking oil or ghee. Fry cubed paneer on medium flame till it is golden brown. Keep these fried paneer cubes aside.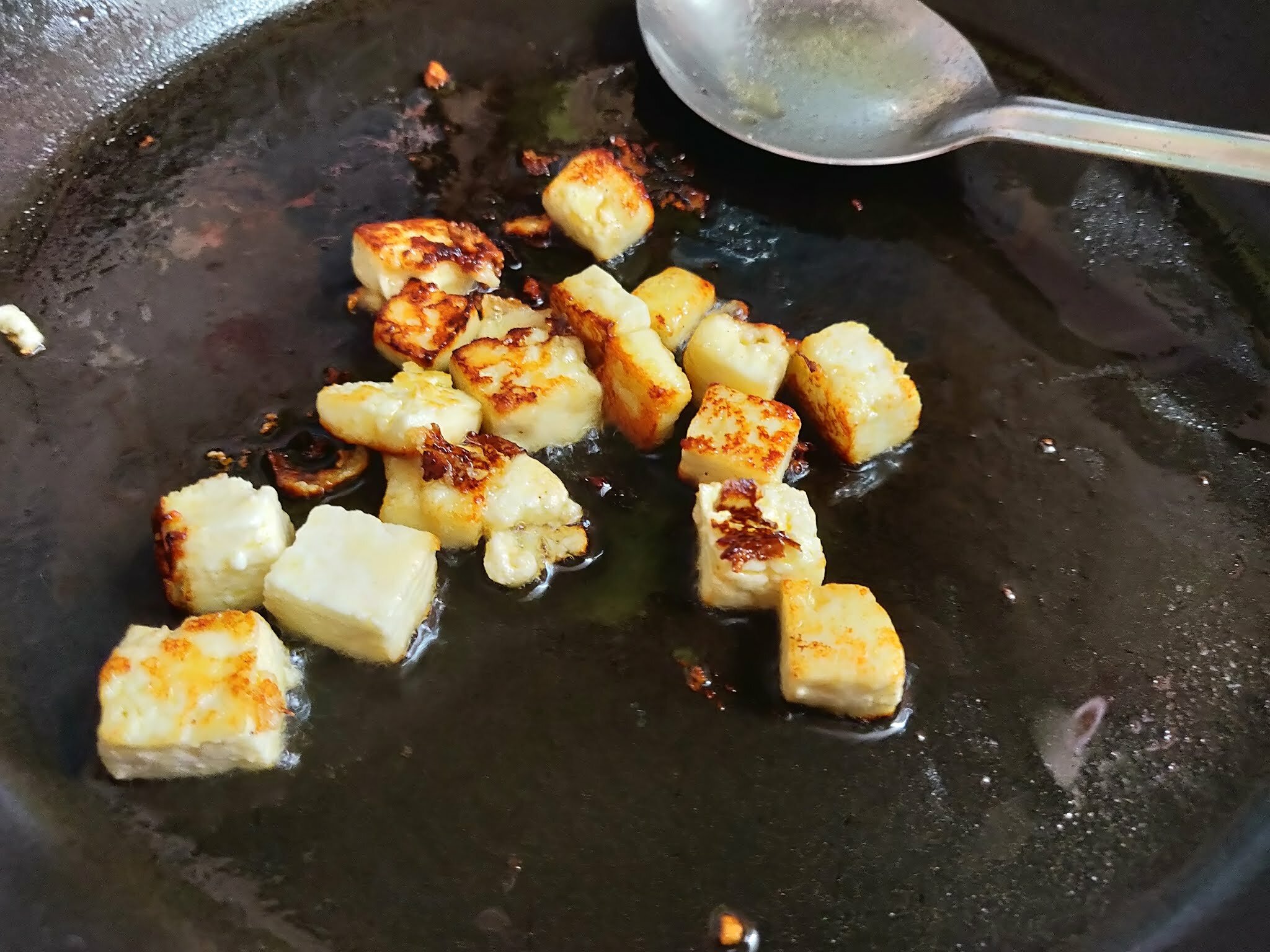 In the same pan, add split cashews & fry them till they turn golden in colour. Keep these roasted cashews aside.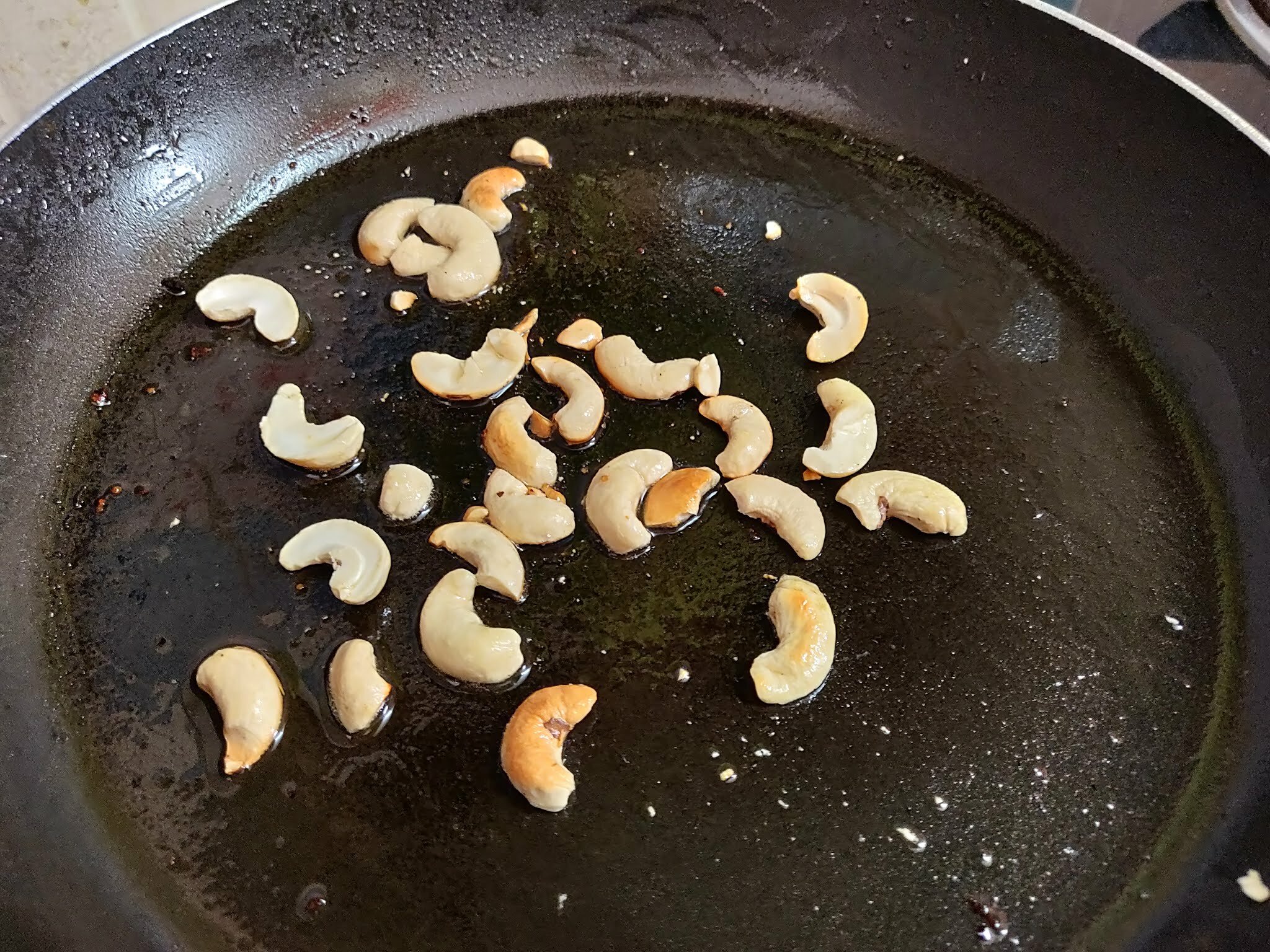 Step3:
In the same pan, add cubed potatoes and saute them for 4-5 minutes. Add peanuts and roast them on low flame for 2-3 minutes.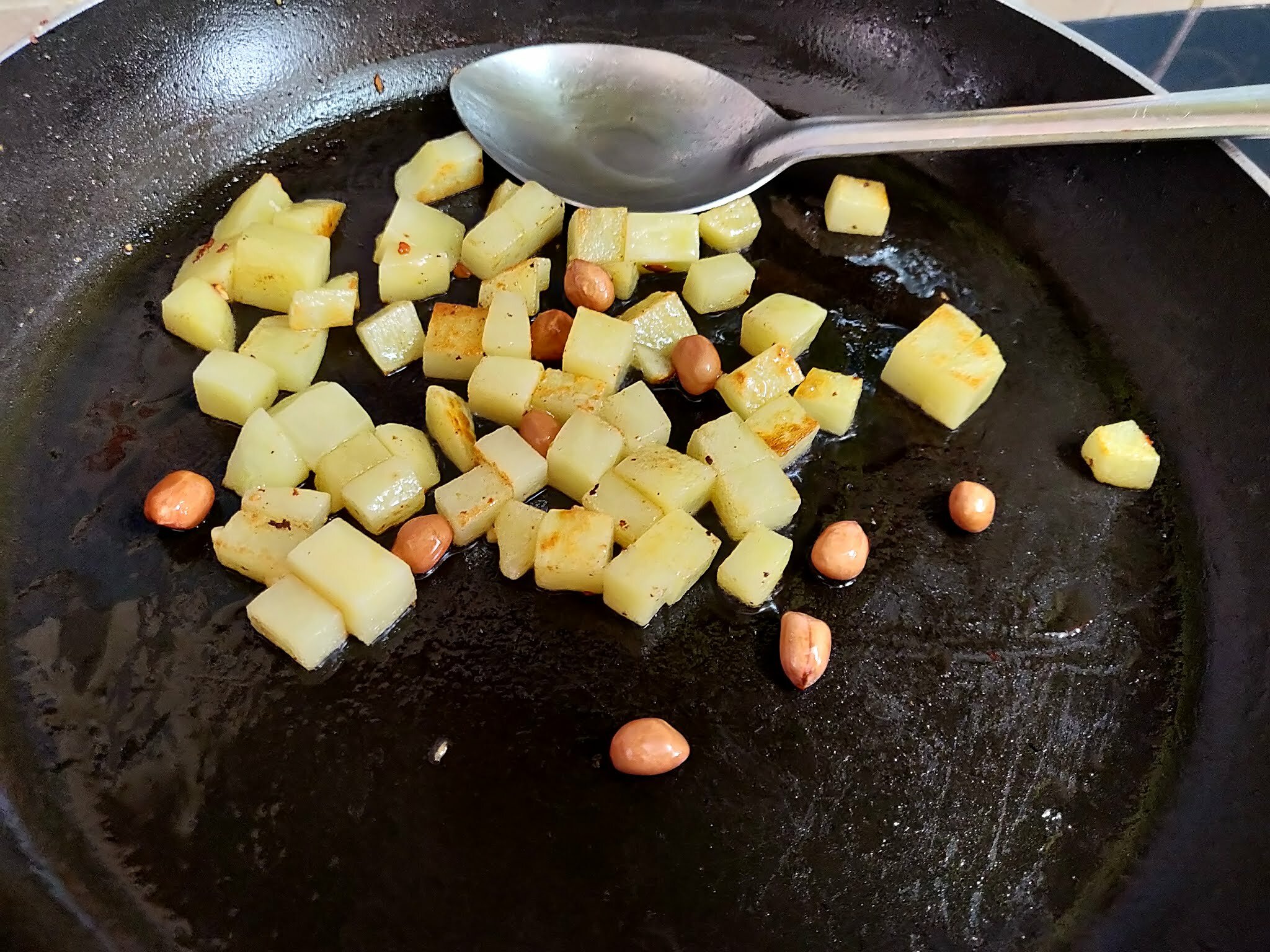 Then add chopped green chillies, cumin seeds and red chilli powder. Roast them for 10-15 seconds till they start releasing their aromas.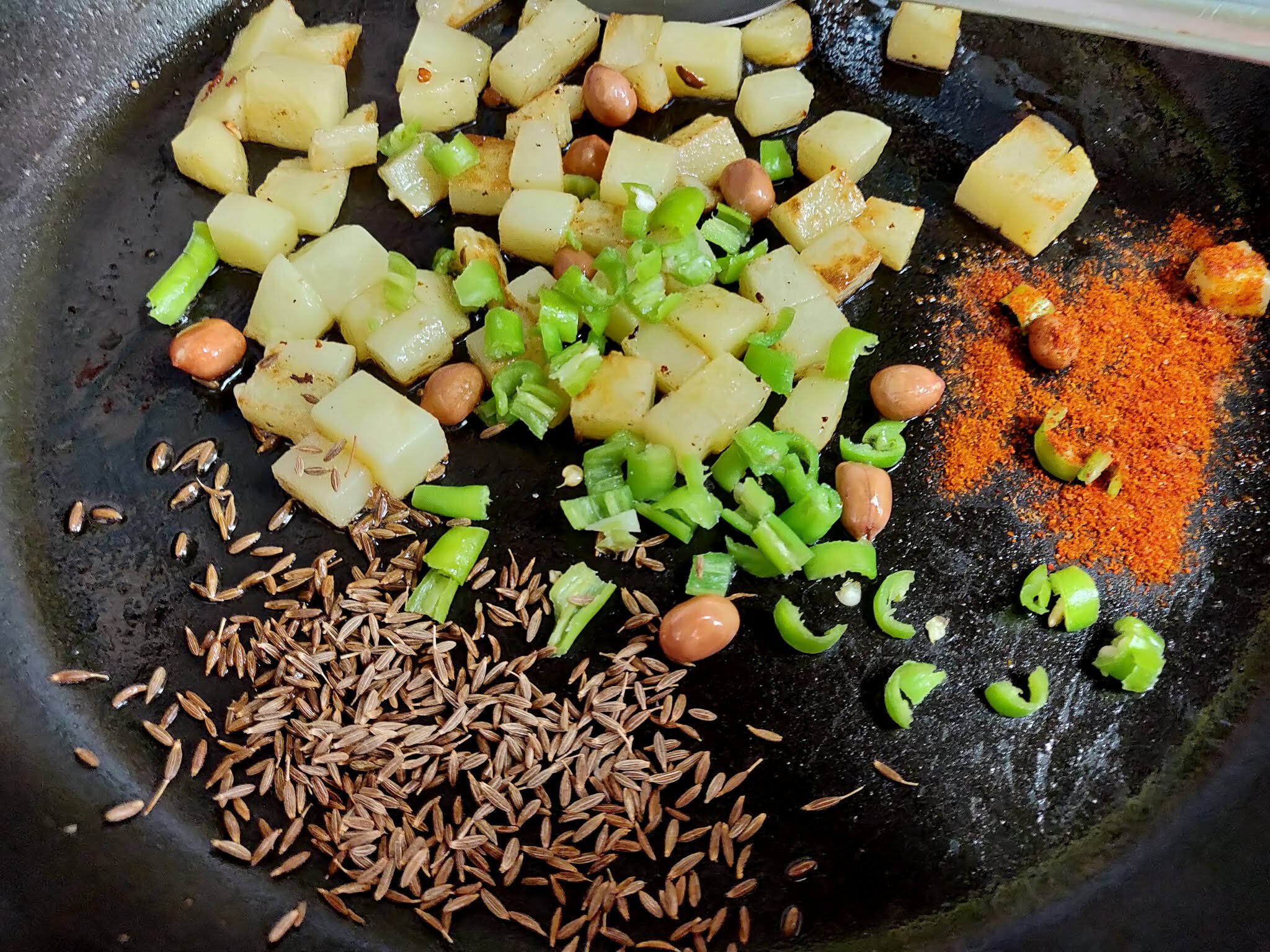 Step4:
Drain all the excess water from rice. Add these soaked rice in the pan. Stir gently so that rice is mixed well with all the spices. Add water & rock salt (sendha namak) to it. Let it cook on low flame.
(If you like the consistency to be on softer side i.e. more of the khichdi texture then just add 1/2 cup water more.)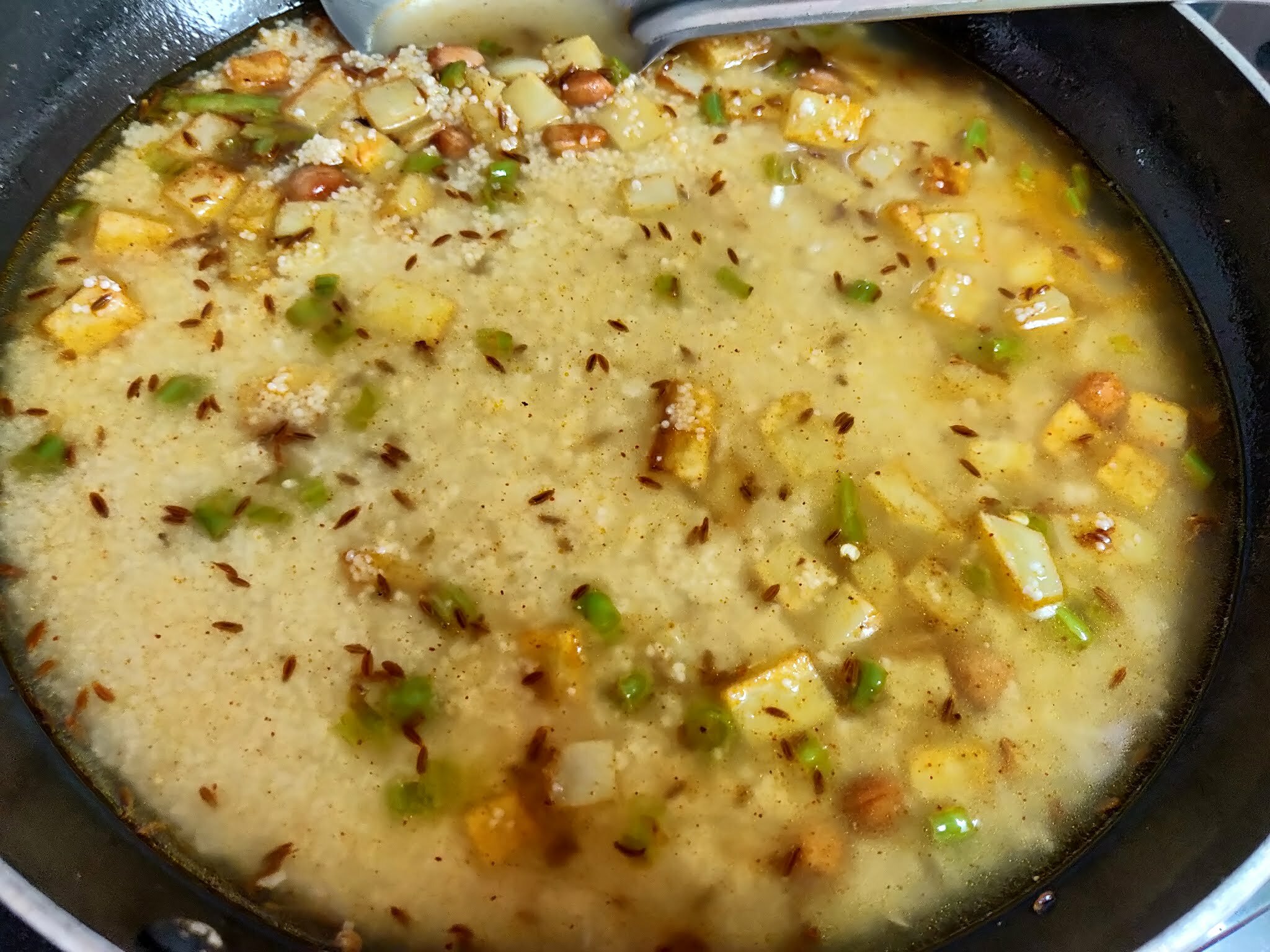 Step5:
When the water reduces to half cover it with a lid. Let it cook covered for 3-4 minutes.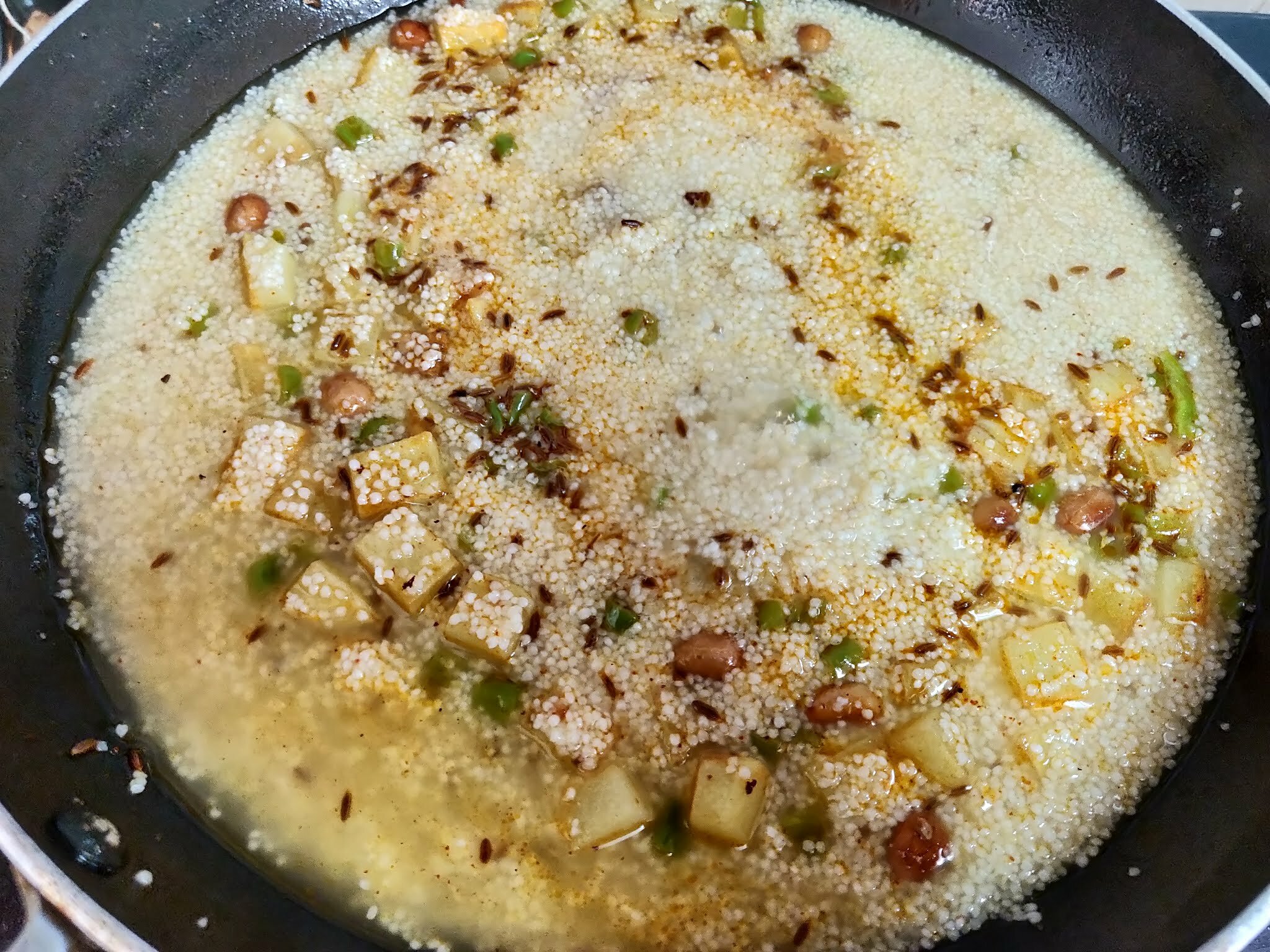 After that add fried paneer & cashews which we kept aside in step1. Fluff it gently with the help of a fork and switch off the flame if there is no more water left, else let it cook for 1-2 minutes more.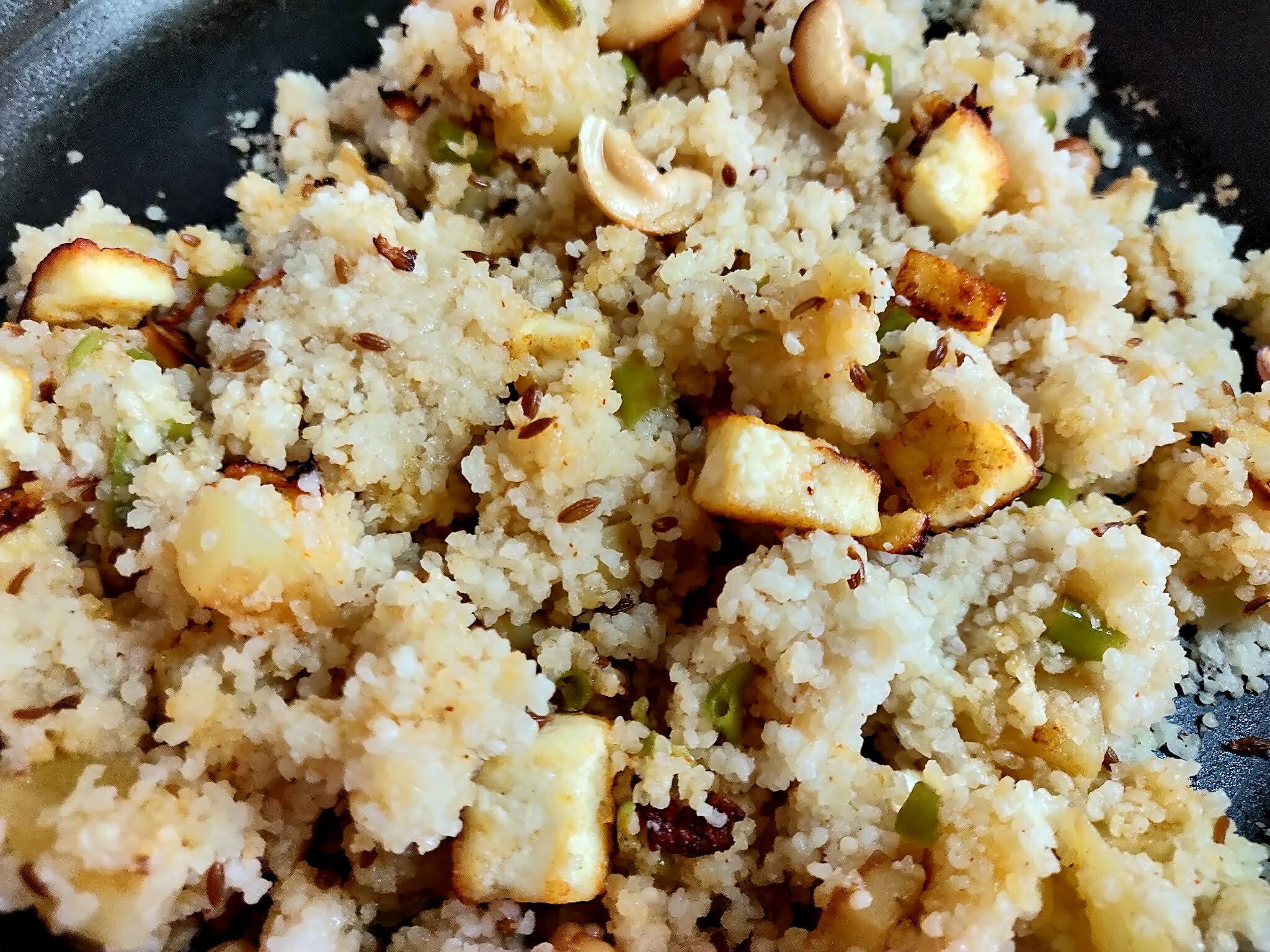 Garnish with fresh chopped coriander leaves. You can sprinkle some lemon juice over it but that is totally optional. Serve it hot with raita, curd or Coriander chutney!!