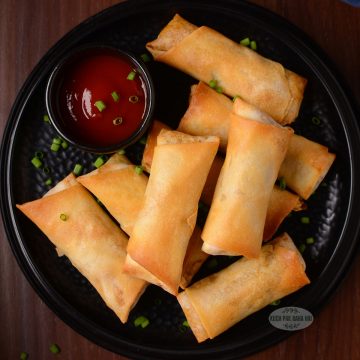 Crispy vegetable spring rolls is a popular tasty snack or appetiser recipe in which stir fried vegetables tossed in lip smacking sauces are wrapped in crunchy outer covering. They can easily be made at home in air fryer or stovetop (both cooking methods are covered in this post).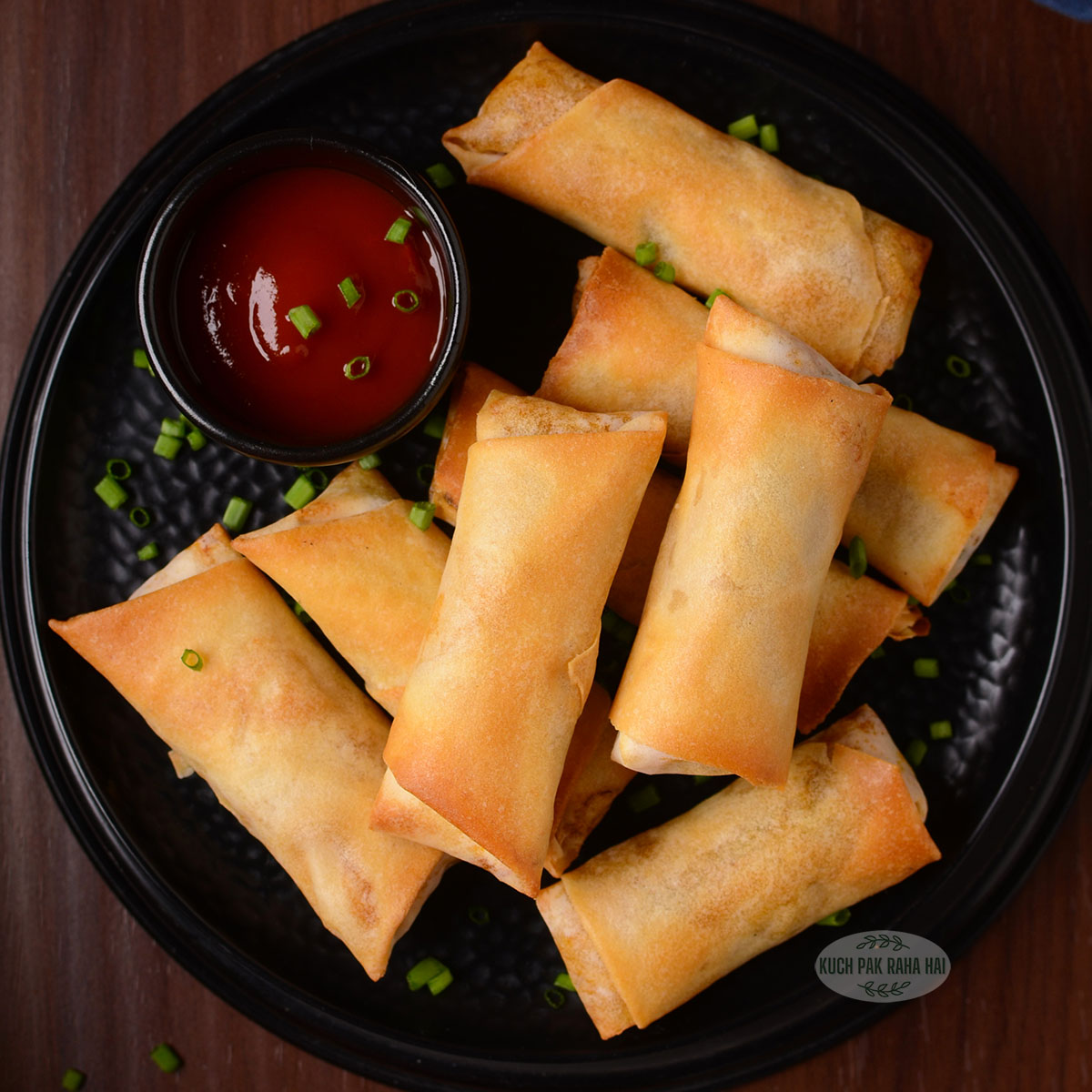 The vegetable spring roll recipe shared here is:
Vegan
Vegetarian
Easy to make
Can be air fried or deep fried
Great as finger food for party or game days
You will find these veggie spring rolls in almost every Chinese or Asian style restaurant's menu. With this easy peasy recipe, you can make them at home anytime using vegetables of your choice.
The cooking method for these veggies rolls can be chosen as per your preference. Traditionally they are made by deep frying on stovetop. However if you avoid deep fried foods then you can cut down the calories by opting for air frying. Me and my husband love spring rolls, so to make them healthy-ish we prefer air frying.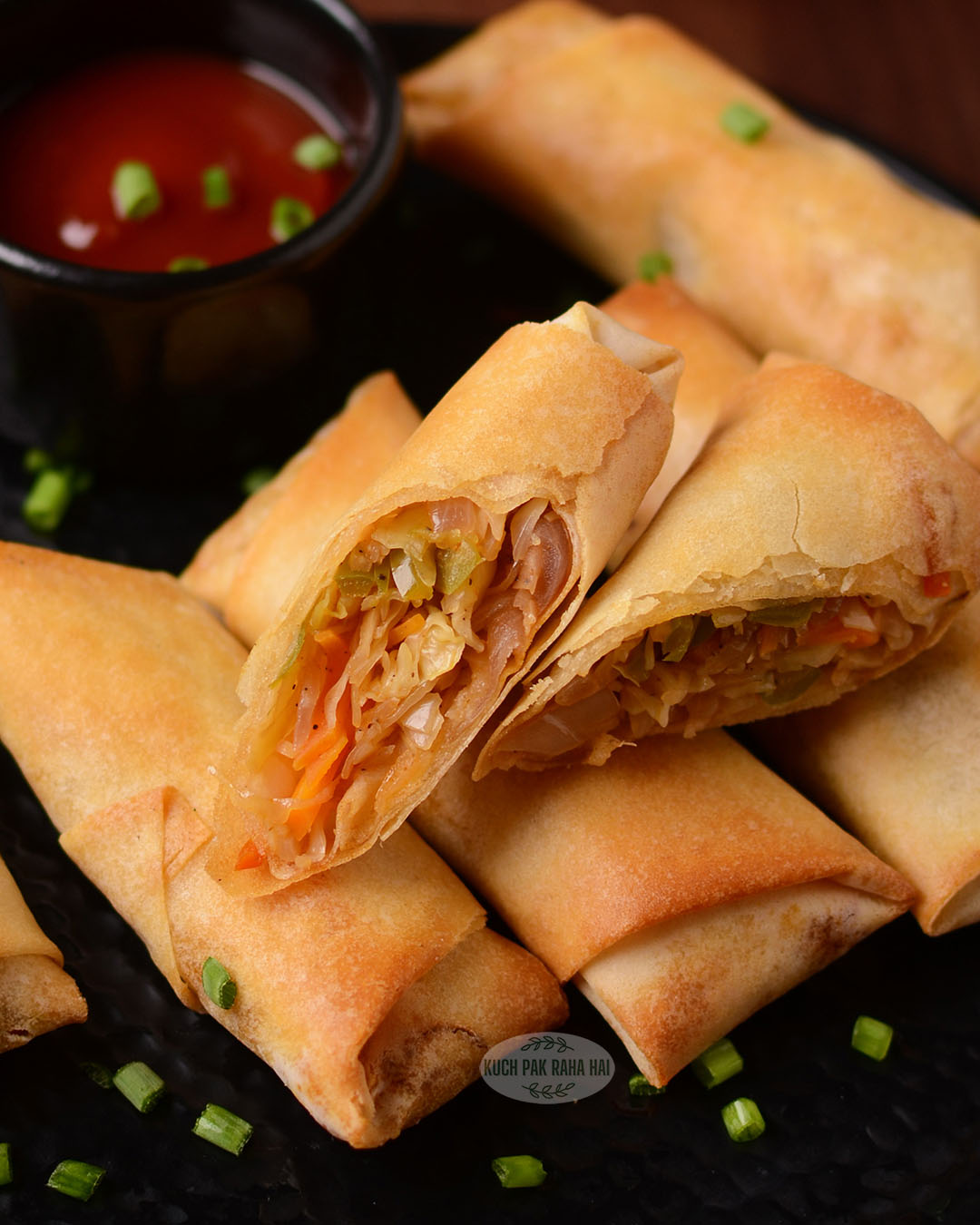 Veg Spring Rolls Ingredients:
Spring Roll Sheets: Here I have used store bought spring roll sheets (or wrappers) which are easily available online or nearby supermarket these days. These spring roll pastry sheets are so convenient to use & such a time saver.
To make these spring rolls, earlier I used to make its wrapper sheets from scratch but it was time consuming & tedious process (especially if making for party or potluck). I found a great alternative for it which is Switz brand spring roll sheets.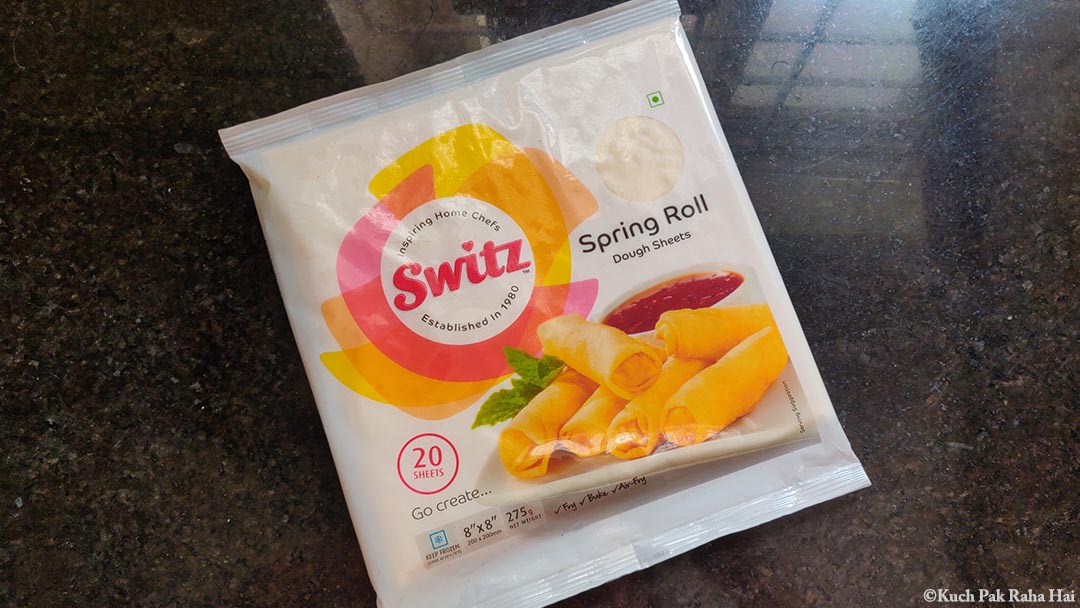 These sheets come frozen & need to be thawed before using. To thaw them either transfer leave them in fridge overnight or on kitchen counter. I have used 6″x6″ (15cm x 15cm) wrapper sheets to make spring rolls.
Vegetables: Cabbage, carrots, capsicum (Bell peppers) & onion have been used to make the spring roll filling. You can use any veggies as per your liking except vegetables like cucumbers or tomatoes which are too high in moisture.
Aromatics: Almost any asian preparation is incomplete without ginger & garlic. Though freshly minced ginger garlic adds max flavour but you can can use store bought ginger garlic paste too. Some freshly chopped spring onion adds freshness & aroma to the spring rolls.
Sauces: Soy sauce, chilli sauce (sriracha), vinegar and ketchup are added to the filling for punch of flavours.
Seasoning: The spring roll filling is seasoned with simple salt & crushed pepper. You can use black pepper or white pepper for this.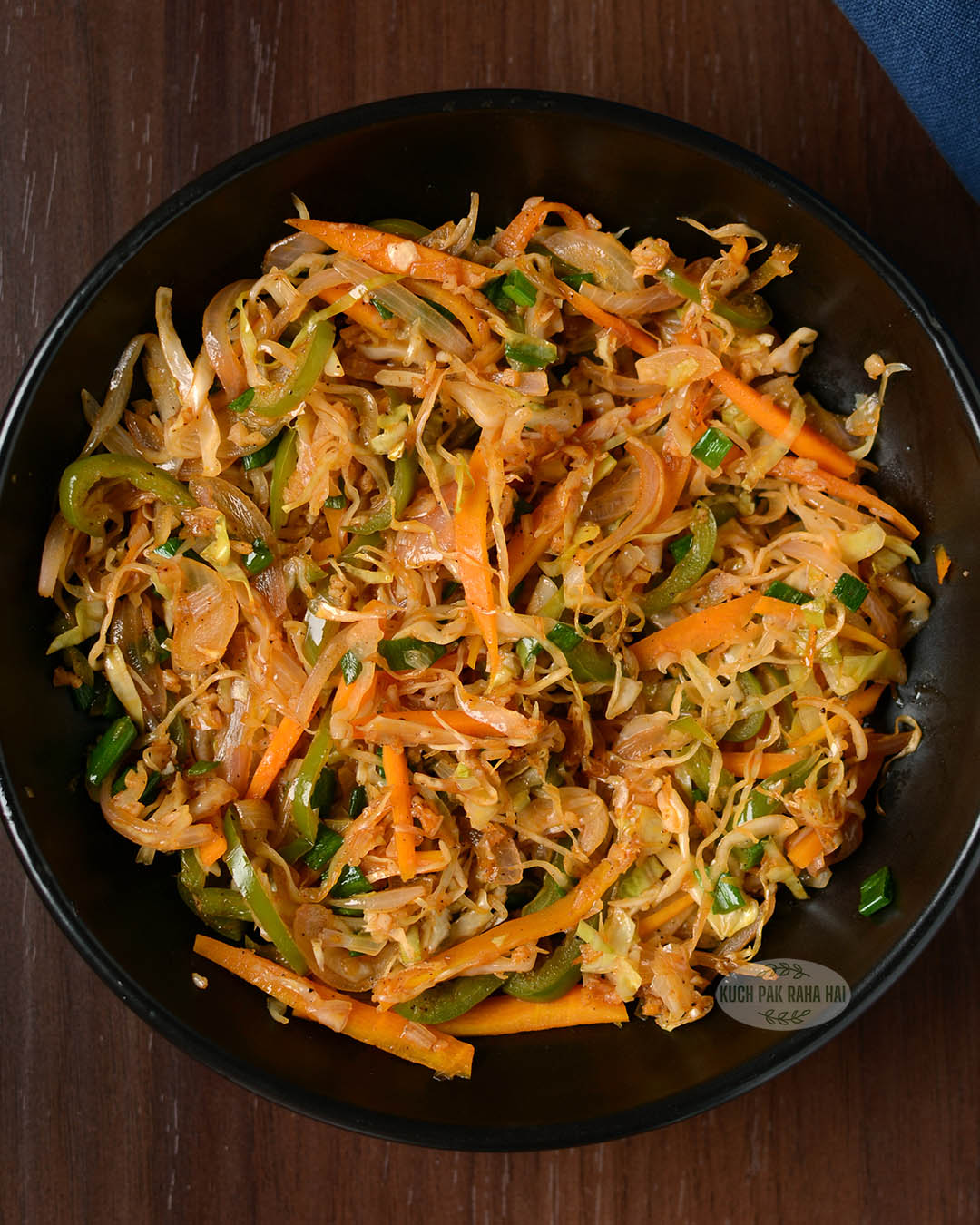 Cornstarch & Water: A mixture of cornflour & water is called slurry & acts as a glue for keeping the spring roll together. If you don't have cornstarch you can even use all purpose flour (maida).
Spring Roll Filling Ideas / Variations:
You can do different variations of spring roll filling by adding ingredients like boiled noodles, vermicelli noodles, glass noodles, mung bean sprouts, tofu (for protein) or vegetables like french beans, coloured bell peppers, purple cabbage and mushrooms etc.
Spring Roll vs Egg Roll: People often get confused between these, however the difference lies in their texture. Vegetable spring rolls have crispy flaky texture whereas egg rolls have slightly thicker chewy outer covering with bubbly appearance.
Spring roll wrappers are made with flour, salt & water only making them totally vegan. whereas eggroll wrapper dough sometimes also contain egg.
Tips to make perfect spring rolls:
1. Keep all the chopped veggies ready with you before you start sautéing as you won't have time to cut vegetables in between.
2. One important tip here is to always sauté the vegetables on high flame. This way the veggies retain their slight crunch which tastes good later on. If the flame is kept low or the pan is not sufficiently hot, the veggies tend to release water in the pan & become mushy.
3. Always add less salt initially as soy sauce or ketchup also has salt. You can increase the salt later after tasting. If you are making these rolls for kids, then skip adding chilli sauce.
4. When you are making vegetable spring rolls in air fryer, arrange them in single layer and keep some gap between them. This ensures proper cooking and browning of each piece.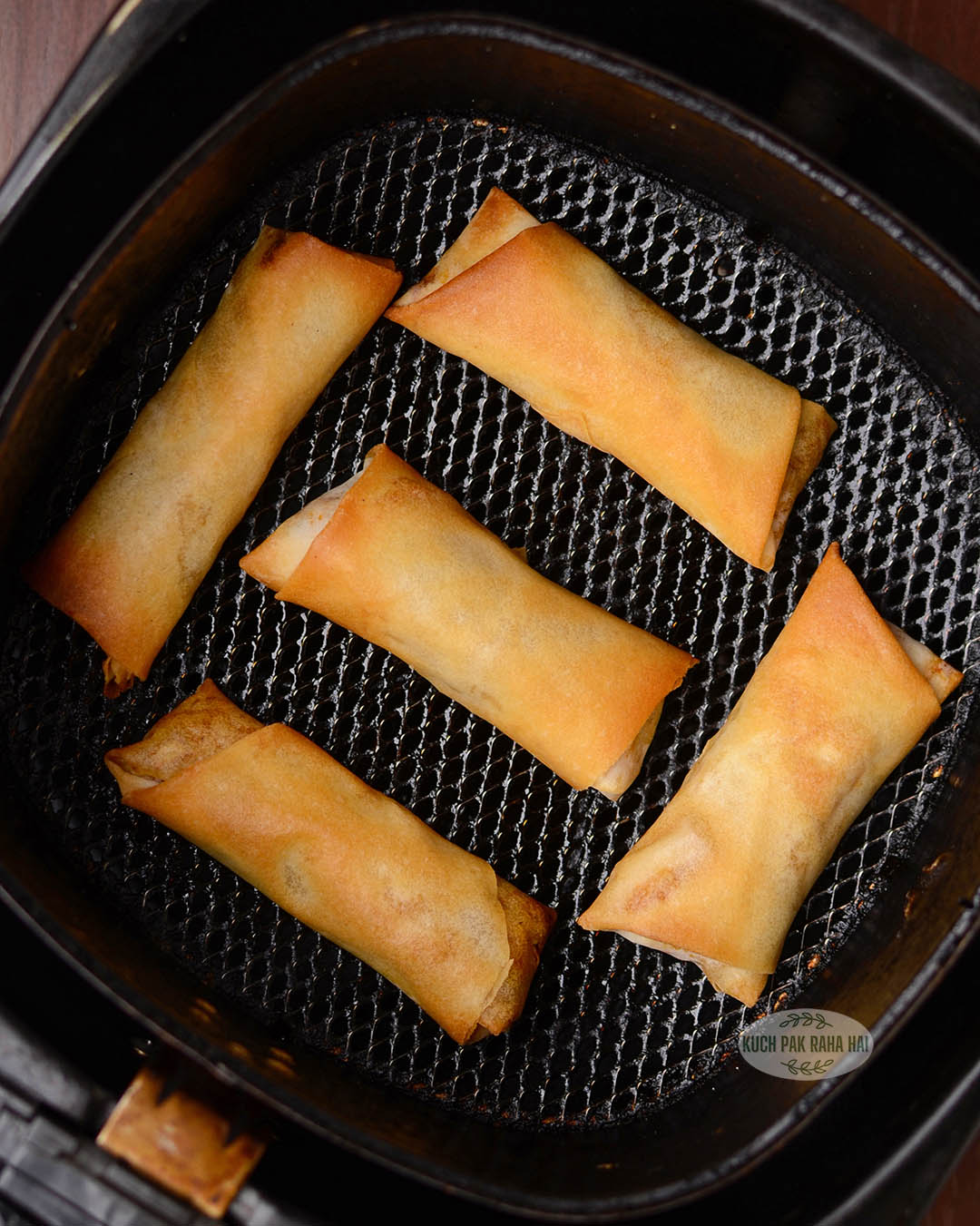 Serving Suggestions:
These crispy vegetable spring rolls can be enjoyed as snack, starter or appetiser with dipping sauces like sweet chilli sauce, ketchup, schezwan sauce, chilli sauce like sriracha etc.
For a complete meal, it can also be served as sides with dishes like fried rice, stir fried noodles, hakka noodles, lo-mein, sweet sour tofu or mushroom rice.
Can I freeze these spring rolls?
Yes you can freeze spring rolls. Once you have made spring rolls (don't fry them), transfer them on a parchment paper while keeping some gap between them so that they don't stick to each other while freezing. Once frozen, transfer them in a zip lock bag.
Whenever you want to have them, either deep fry directly from frozen on stovetop or air fry in a preheated air fryer (as explained in instructions). No need to thaw frozen vegetable spring rolls.
More similar recipes you would like: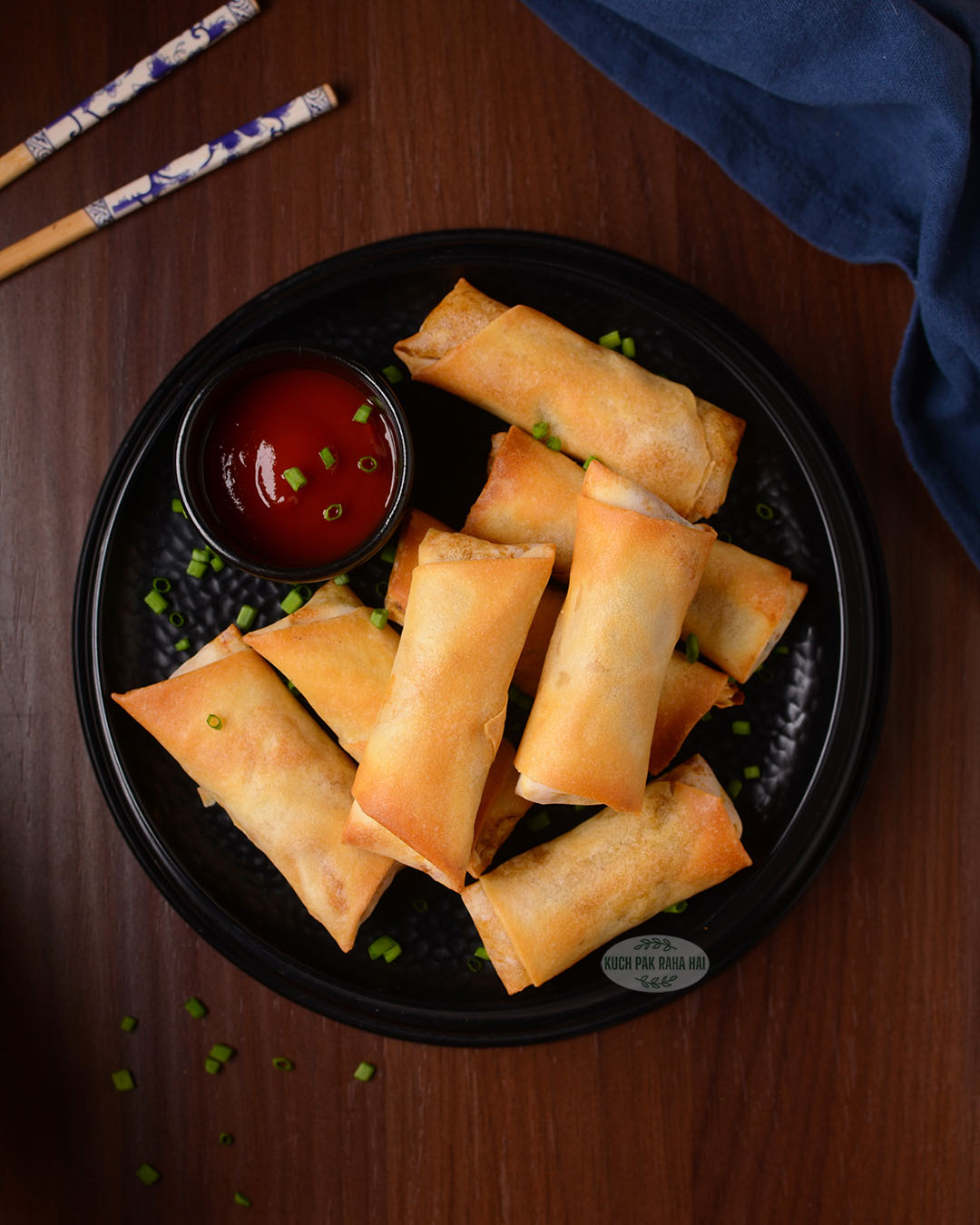 Ingredients:
Spring Roll Sheets- 10
Oil- 2 to 3 tbsp
Ginger (minced)- 2 tsp
Garlic (minced)- 4 to 5 cloves
Spring Onion Whites (finely chopped)- 2 tbsp
Cabbage (Shredded)- 2 cups
Onion (sliced)- 1/2 cup
Carrot (julienne)- 1/2 cup
Capsicum (julienne)- 1/2 cup
Soy Sauce -1/2 tsp
Vinegar- 1 tsp
Red Chilli Sauce / Sriracha- 2 tsp
Ketchup- 2 tsp
Salt- 1/2 tsp (to taste)
Crushed black pepper-1/2 tsp
Spring Onion (greens)- 2 tbsp
Cornstarch / APF – 2 tbsp
Water- 1 tbsp
Directions:
Step 1:
Heat 1 tbsp oil in a pan. Add ginger, garlic & spring onion (white part) to it & sauté for 15-20 seconds. Add sliced onion to it and sauté for a minute. Add carrot, capsicum to it and sauté for 2 minutes.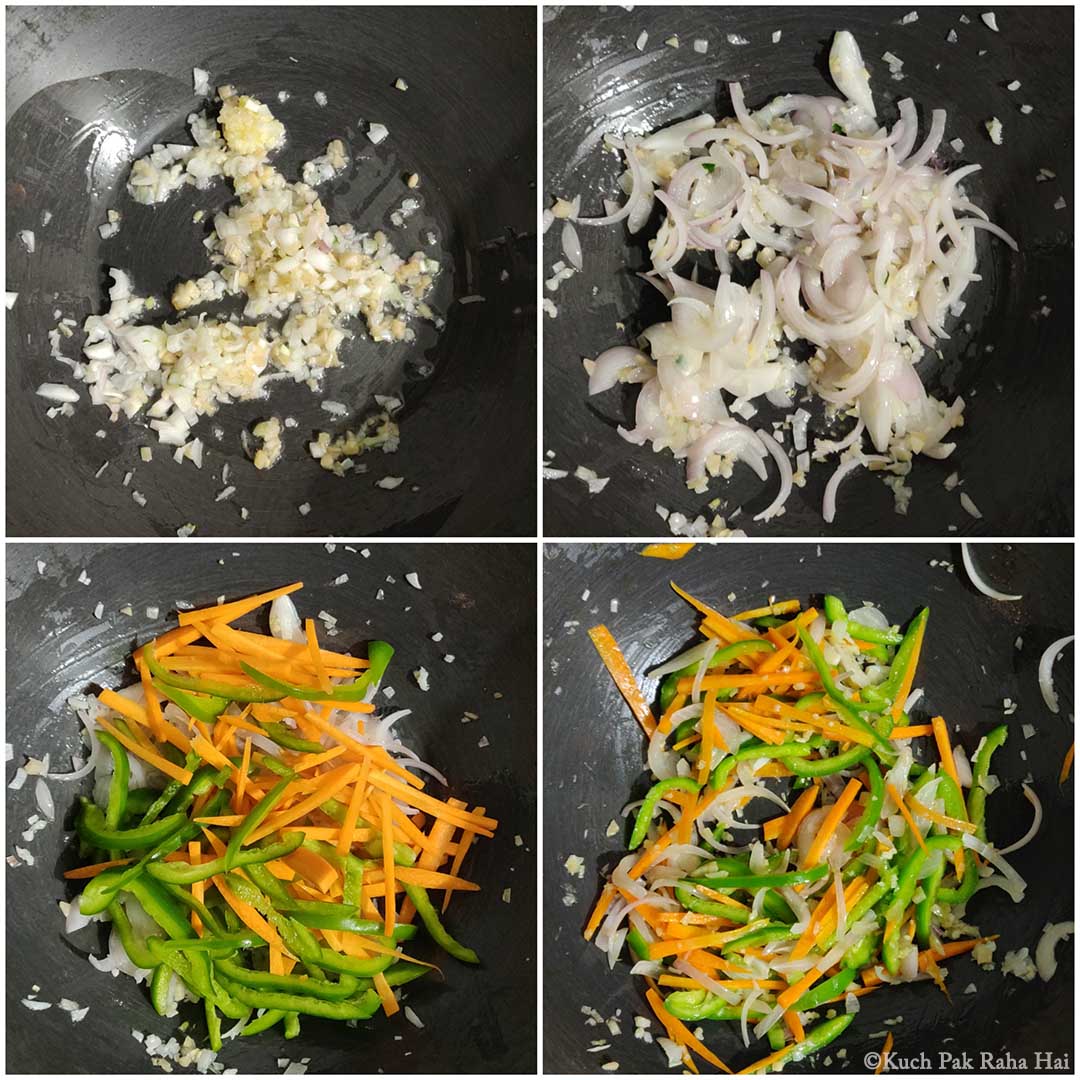 Step 2:
Add shredded cabbage to the pan along with salt, black pepper, soy sauce, ketchup, vinegar & chilli sauce. Keep the flame to high and mix well while tossing the vegetables in sauce. Sauté for 5-6 minutes. Towards the end add spring onion greens and mix well.
Step 3:
Transfer this vegetable filling in a bowl and let it cool completely. In the meanwhile prepare slurry (thick paste), by mixing cornstarch (or flour) & water in a small bowl. Keep aside.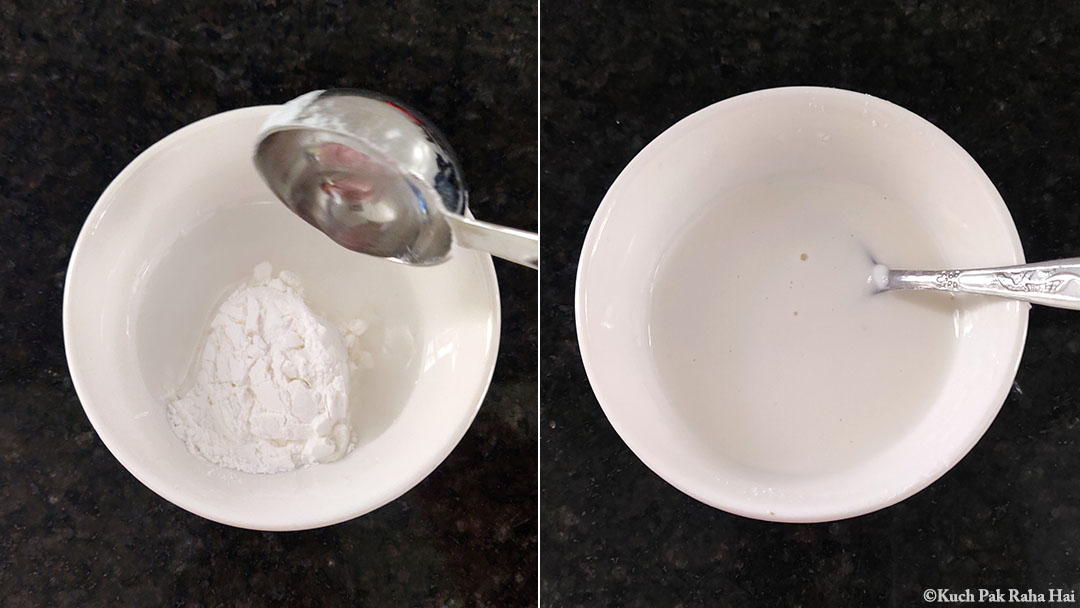 Step 4:
Spread one spring roll sheet on a kitchen counter such that one of its corner is pointing towards you. Apply cornflour mixture on all four corner. Keep 2-3 tbsp filling on it as shown in image. Fold one corner over this filling while tucking it inside and then side corners over it. Make a tight roll & seal the edges with cornflour slurry. Place it on a greased plate. Similarly make all rolls.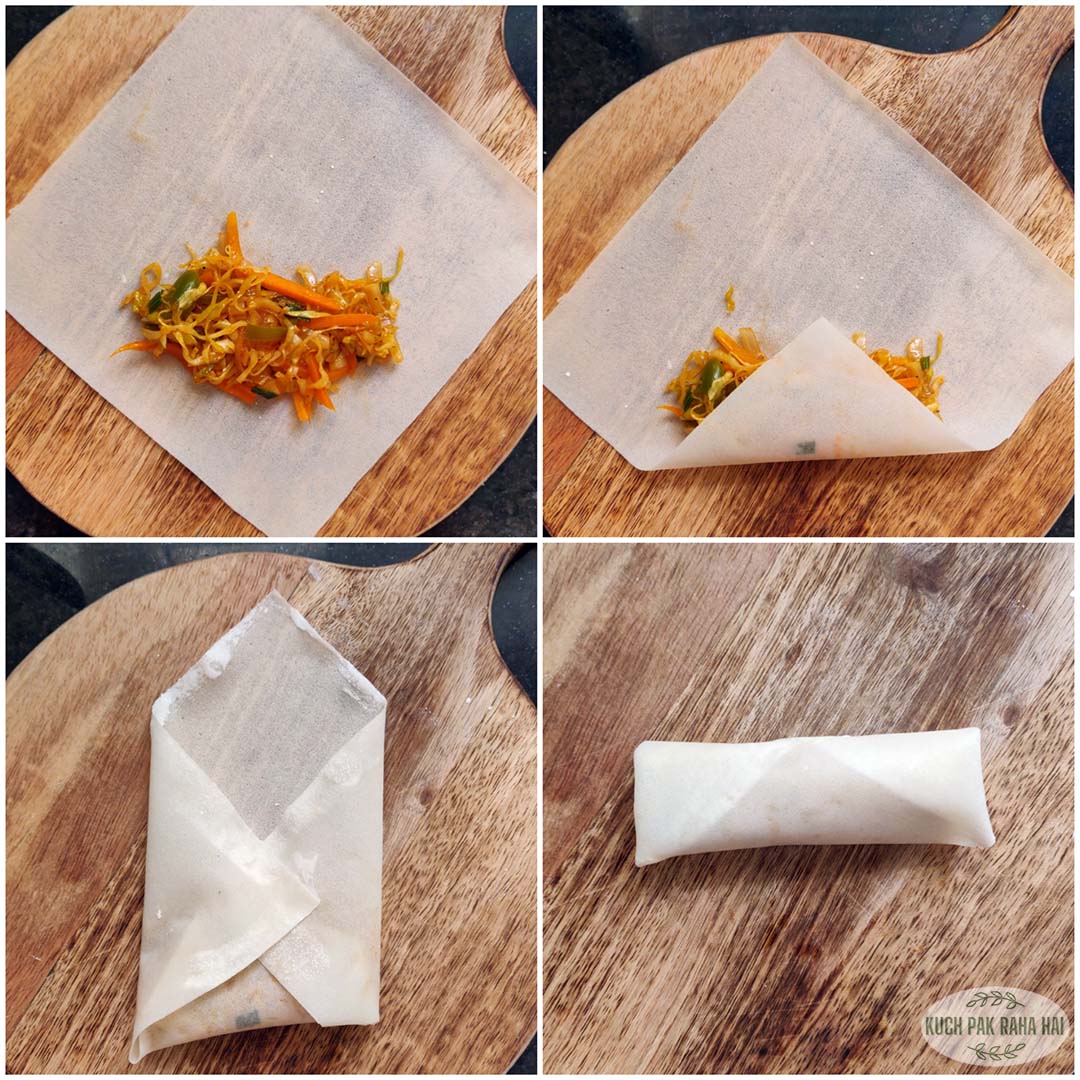 Step 5:
To make spring rolls in air fryer, first set the air fryer for preheating at 180°C (356°F) for 3-4 minutes. While it is preheating, brush oil over all prepared spring rolls. (If you are deep frying them, then skip this step)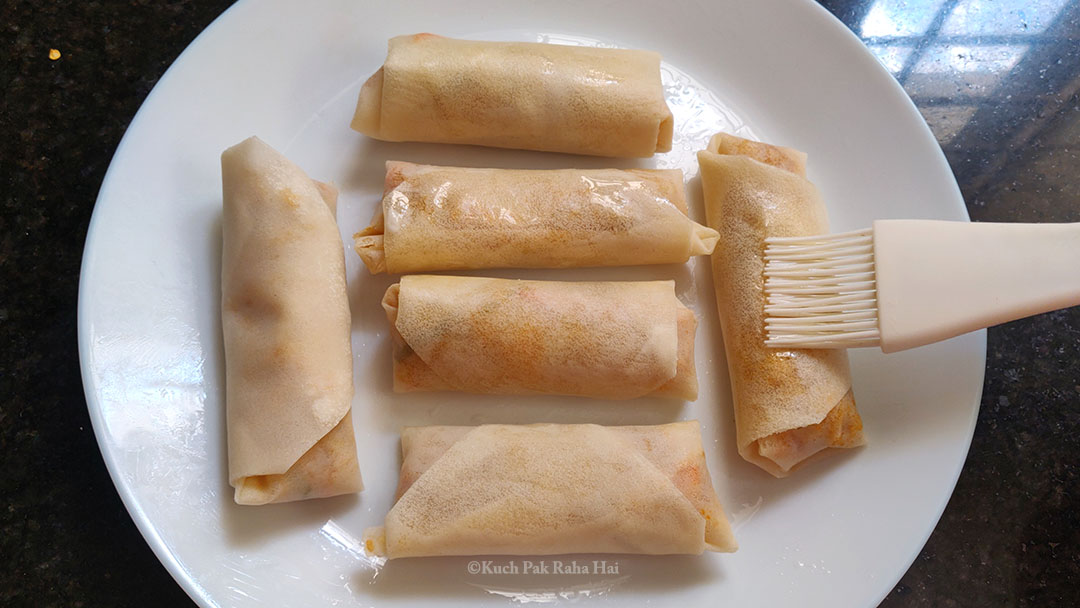 Step 6:
Transfer these rolls in air fryer basket and air fry at 180°C (356°F) for 8-10 minutes till they are crispy golden from outside. Brush some more oil after halftime if required as brushing oil helps in getting even golden colour.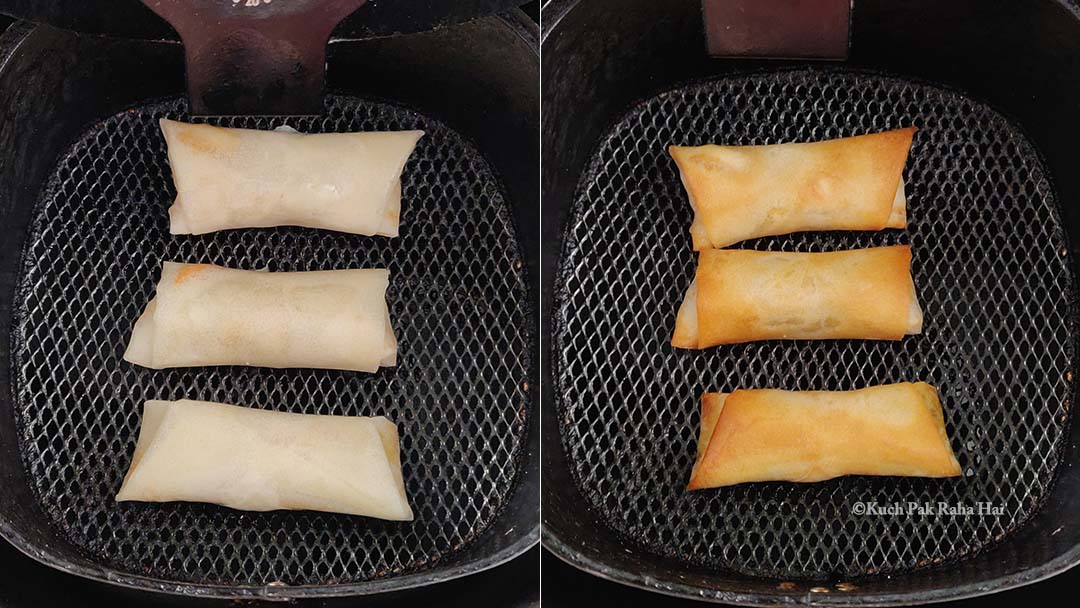 (The air frying time can vary slightly depending on the air fryer's size & model, so check the spring rolls after 8 minutes. If required, then air fry for 2-3 minutes more).
Garnish these veg spring rolls with spring onion greens. Serve them hot and enjoy with sweet chilli sauce or ketchup.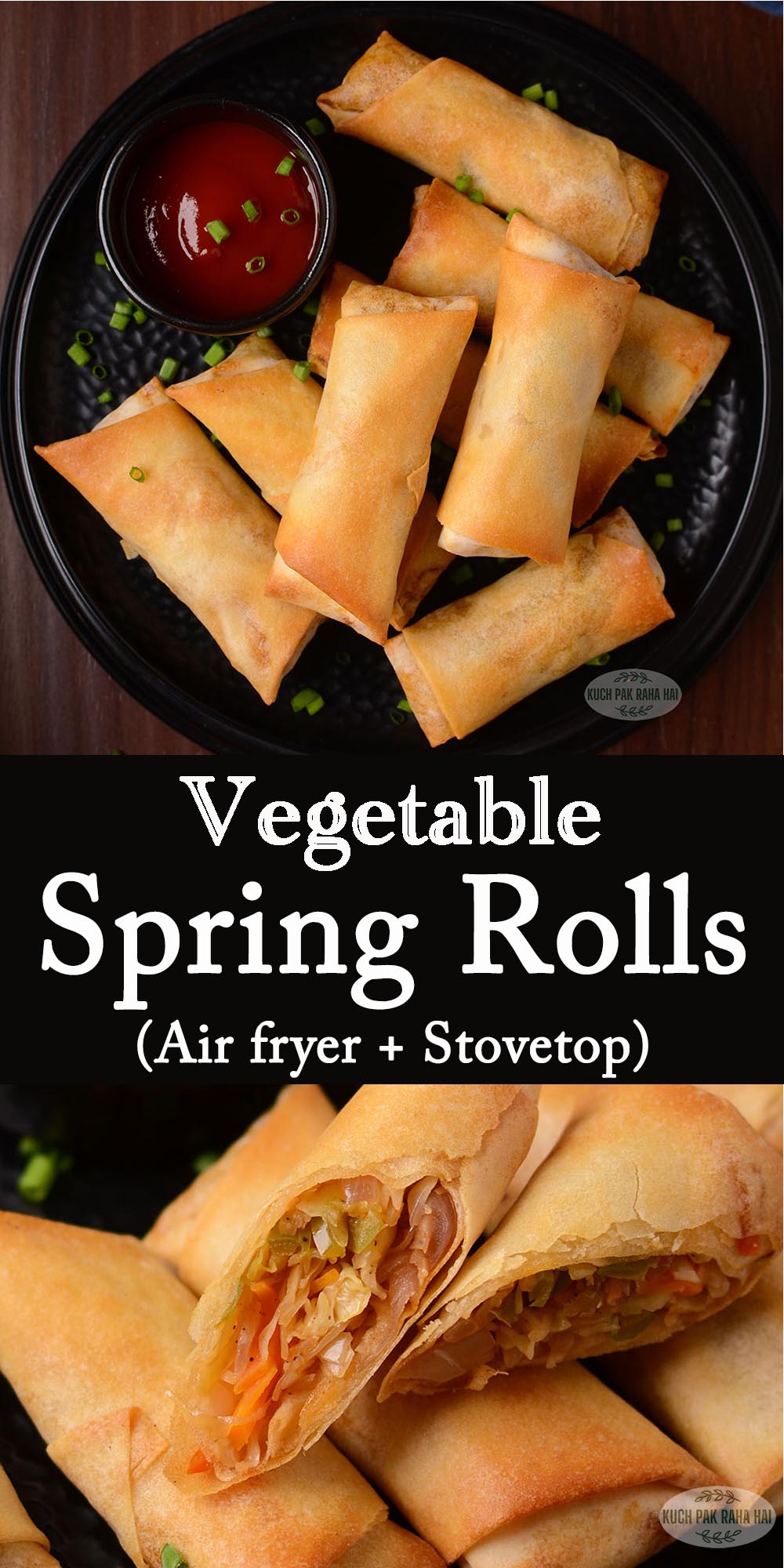 How to make spring rolls on Stovetop?
1. Heat oil for frying in a pan. Once the oil is heated, carefully transfer these spring rolls one by one in it. You may fry 4 to 5 rolls at a time. Don't overcrowd the pan as we need space for turning them also.
2. Fry these spring rolls on medium heat till they are golden in colour. Once done, transfer them on a tissue paper to get rid of any excess oil.
The spring rolls should always be fried on medium high heat as frying them on low temperature will make them oily & less crispy.
If you try this chinese veg spring roll recipe & share pics on social media, then don't forget to tag on Facebook, Instagram or use #kuchpakrahahai.
Let's stay connected
Facebook | Instagram | Pinterest| Youtube