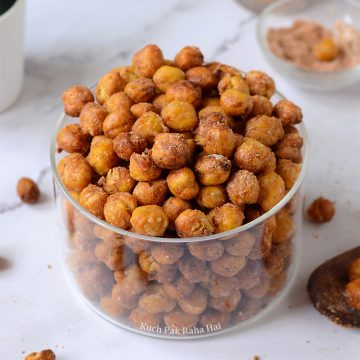 Crispy air fryer chickpeas is a tasty, crunchy snack recipe made by air frying chickpeas seasoned with salt, red chilli and other mixed spices. It is a healthy snack recipe made using very little oil and is completely vegetarian  or vegan & gluten free.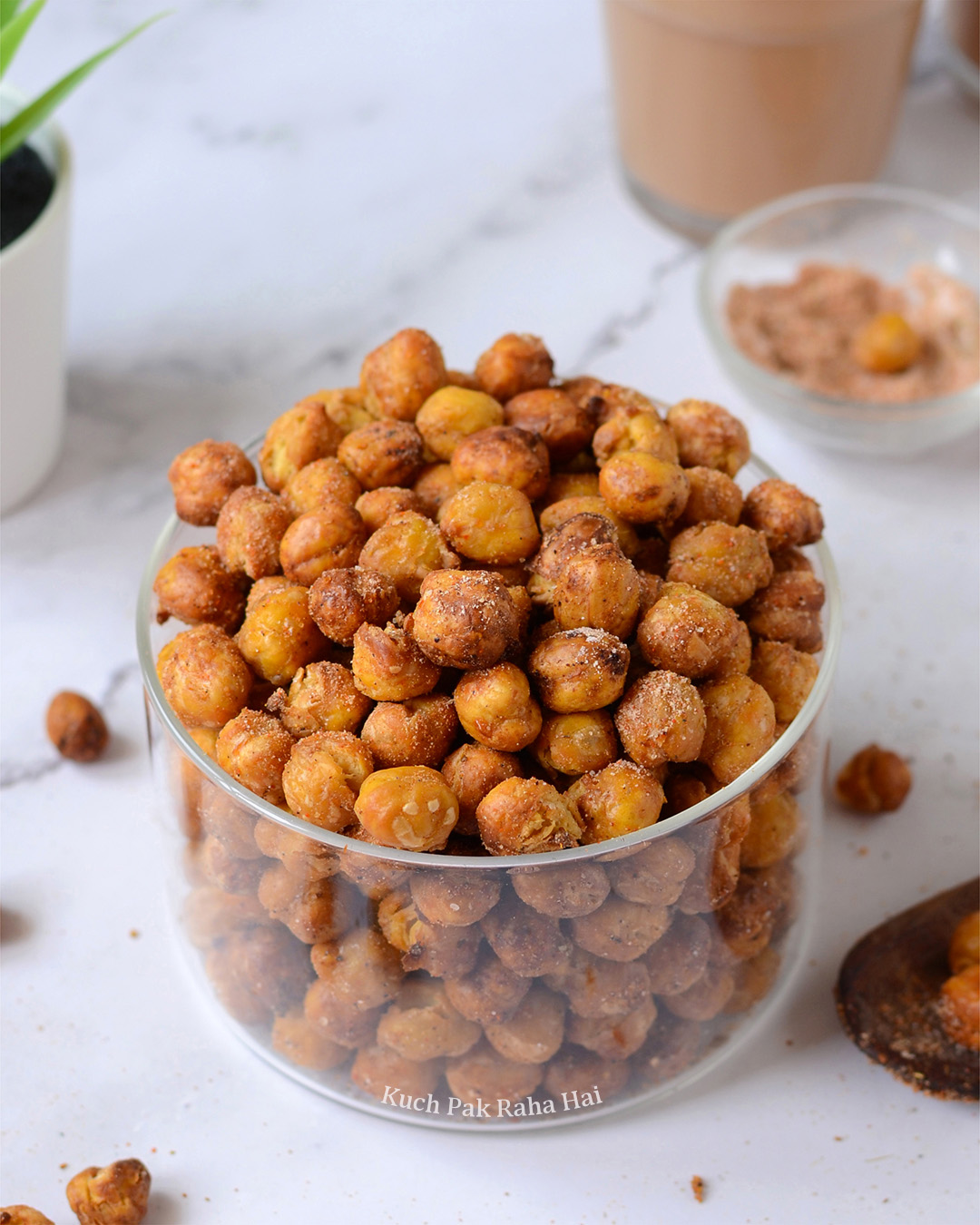 In India, crispy chickpeas is also known by many other names like 'Chana Kurkure Namkeen, 'Crispy Chana Masala' or 'Kabuli Chana Namkeen'. Traditionally it is made by deep frying the boiled chickpeas but I tried making it in air fryer and it turned out just perfect with so little oil. I have tried baking the chickpeas too but liked the air fryer version more.
These chickpeas in air fryer are a great snacking option as they are :
Protein packed
Low Oil
Vegan
Gluten Free
Easy & Quick to make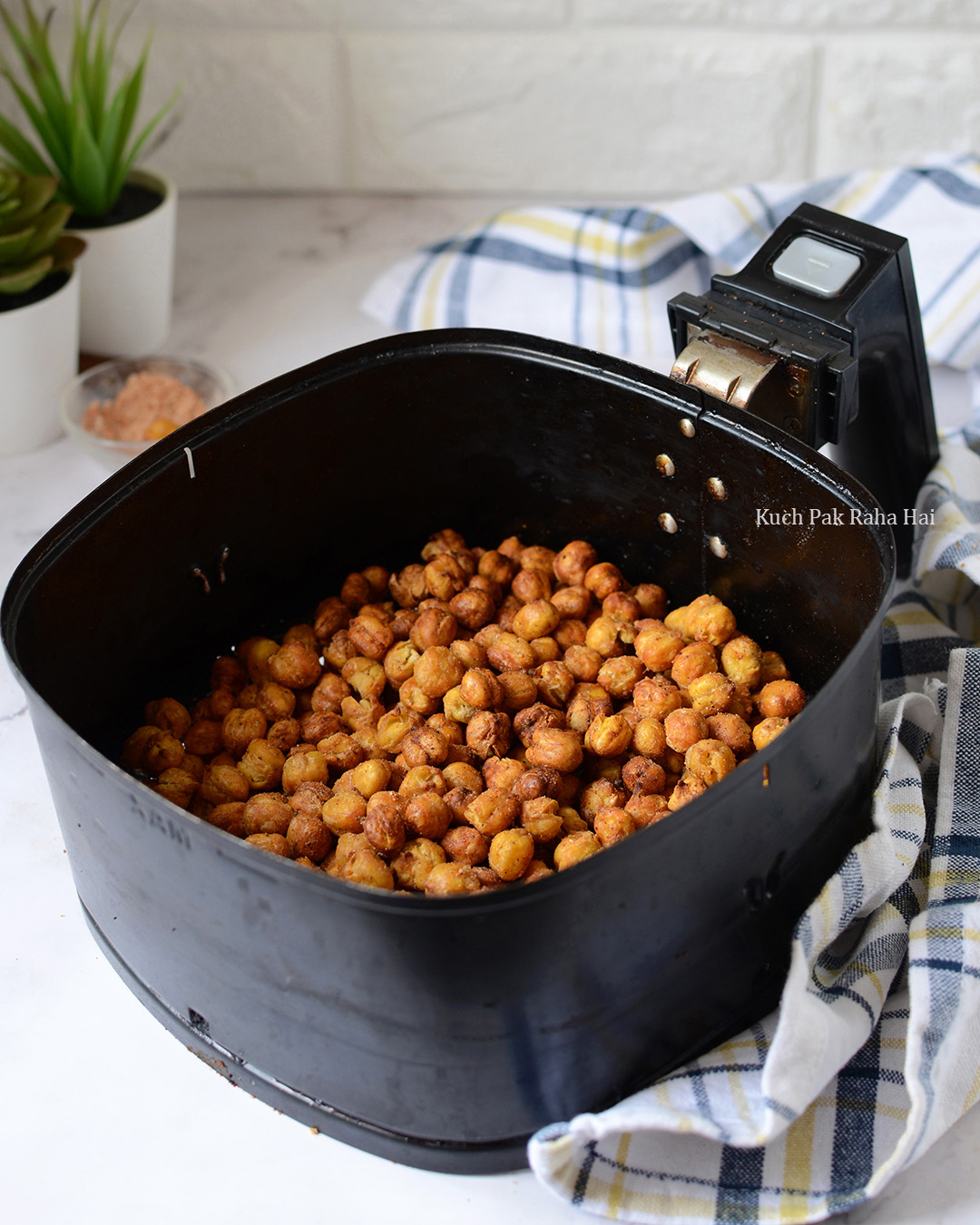 Evening tea time at my home is incomplete without snacks. Everyone just loves something crunchy and salty with their cup of tea. I find these  handful of masala crispy chickpeas to be a great accompaniment as they instantly satiate the salt cravings and are so much better than market bought biscuits or namkeen.
These crispy chickpeas are also a great option for packing in lunch box as mid day snacks. You can even add some of it on your toasts, poha or on top of your hummus for additional crunch.
Chickpeas are also known as 'Garbanzo beans' or 'Chhole' (in hindi). They are a great source of plant based protein & fibre in vegetarian/vegan diet. It makes one feel full for longer, therefore it is often recommended for weight management also.  If you are looking to include more of chickpeas in everyday diet then do check out the recipes below: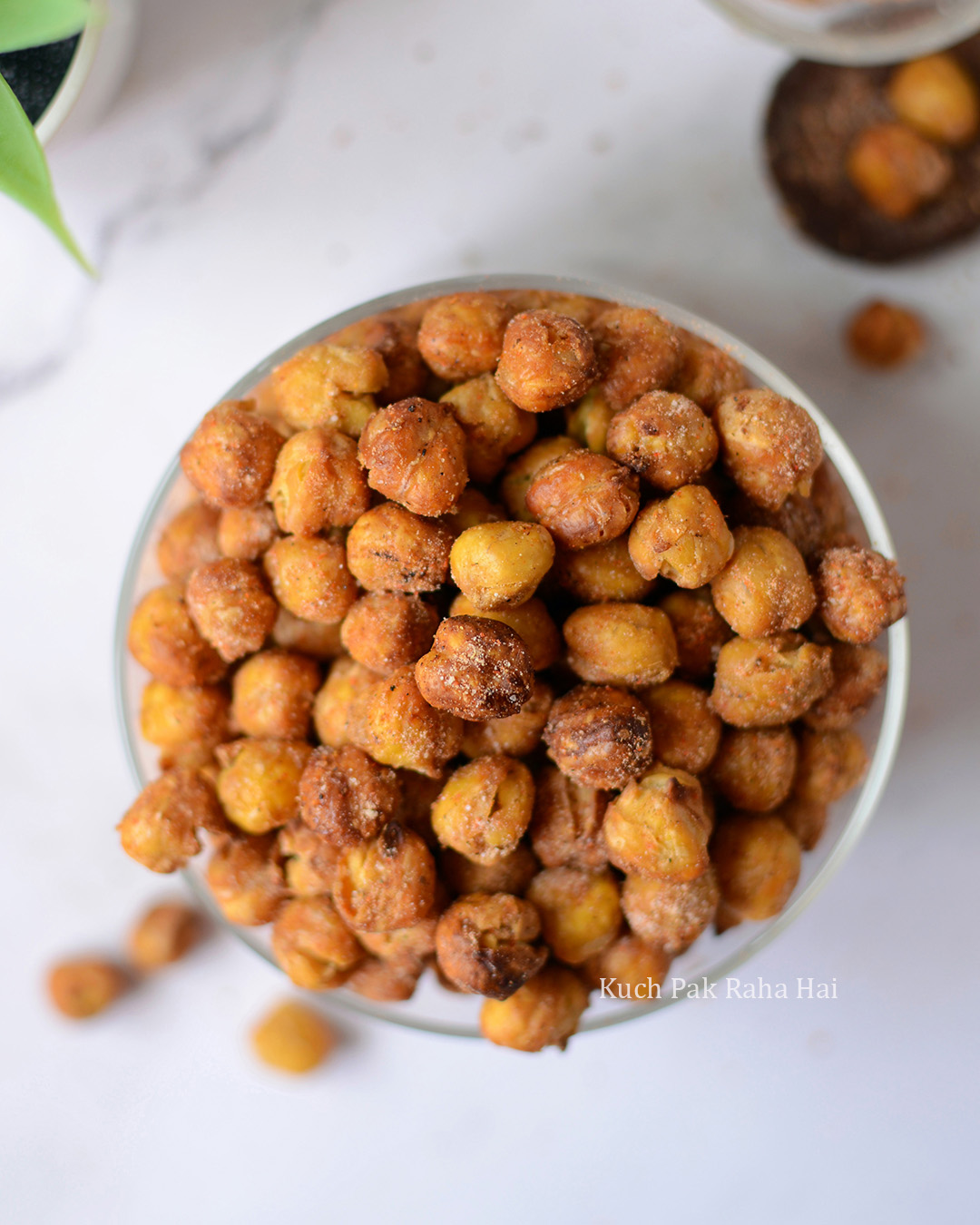 Ingredients used in making these air fried chickpeas –
Chickpeas – I have made these crispy chickpeas from scratch by first soaking and then boiling them. You can even use canned chickpeas.
Cooking Oil / Ghee –  Little bit of fat is required for crisping the chickpeas. You can use either ghee (clarified butter) or any other cooking oil like olive oil, sunflower oil for vegan version.
Spices (Seasoning) – I have used Indian spices like red chilli powder, chaat masala, amchoor (mango powder) etc to season these chickpeas. You can experiment with other different flavours by adding onion powder, garlic powder, black pepper, cheese powder or dried mint etc.
Salt – I have used a mix of table salt & black salt here. You can even use rock salt or pink salt.
I have also shared a youtube video for this same recipe. If you like it, do subscribe to my channel 🙂
Watch here :
How to store air fried crispy masala chickpeas?
Store them in an airtight container for upto 2-3 days. I generally prefer to make a fresh batch every 3-4 days. Also use a dry spoon while taking them out from jar as moisture can reduce the shelf life, turning them soft.
List of Ingredients:
Chickpeas- 1 cup
Olive Oil -1 tbsp
Salt-1 + 1/2 tsp ( or to taste)
Spices:
Red Chilli Powder /Paprika-1/4 tsp
Chaat Masala-1/2 tsp
Amchoor (Dry Mango Powder)-1/4 tsp
Black Salt-1/4 tsp
Water-For boiling
Substitutions:
If you don't have black salt you can skip it or replace it with rock salt or pink salt.
Feel free to add any spices or seasoning of your choice like paprika, lime salt, roasted cumin powder. onion or garlic powder.
You can use ghee or any other cooking oil like sunflower oil, rice bran oil.
You can also use canned chickpeas for this recipe.
Steps To Prepare:
Step 1:
Wash the chickpeas well under running water to get rid of dust & impurities. Soak the chickpeas for 6-8 hours or overnight. This softens them up & also reduces the cooking time later on.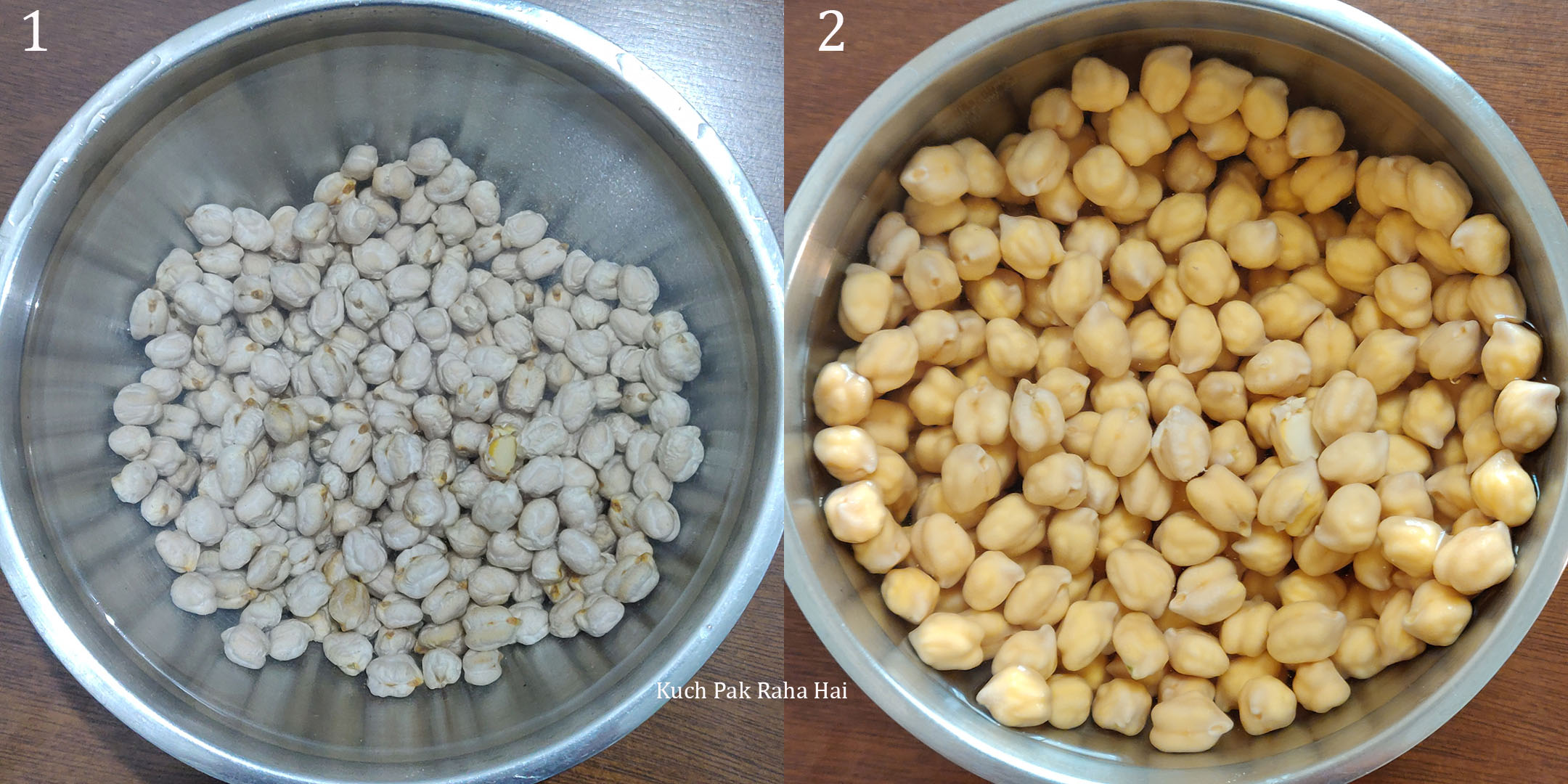 Step 2:
Discard the water in which chickpeas were soaked. Rinse them under running water and add them to a pressure cooker. Add roughly 1 litre of water and 1/2 tsp salt to it. After 1 whistle slow down the flame for 20-25 minutes. Switch off the flame & wait for the pressure to release.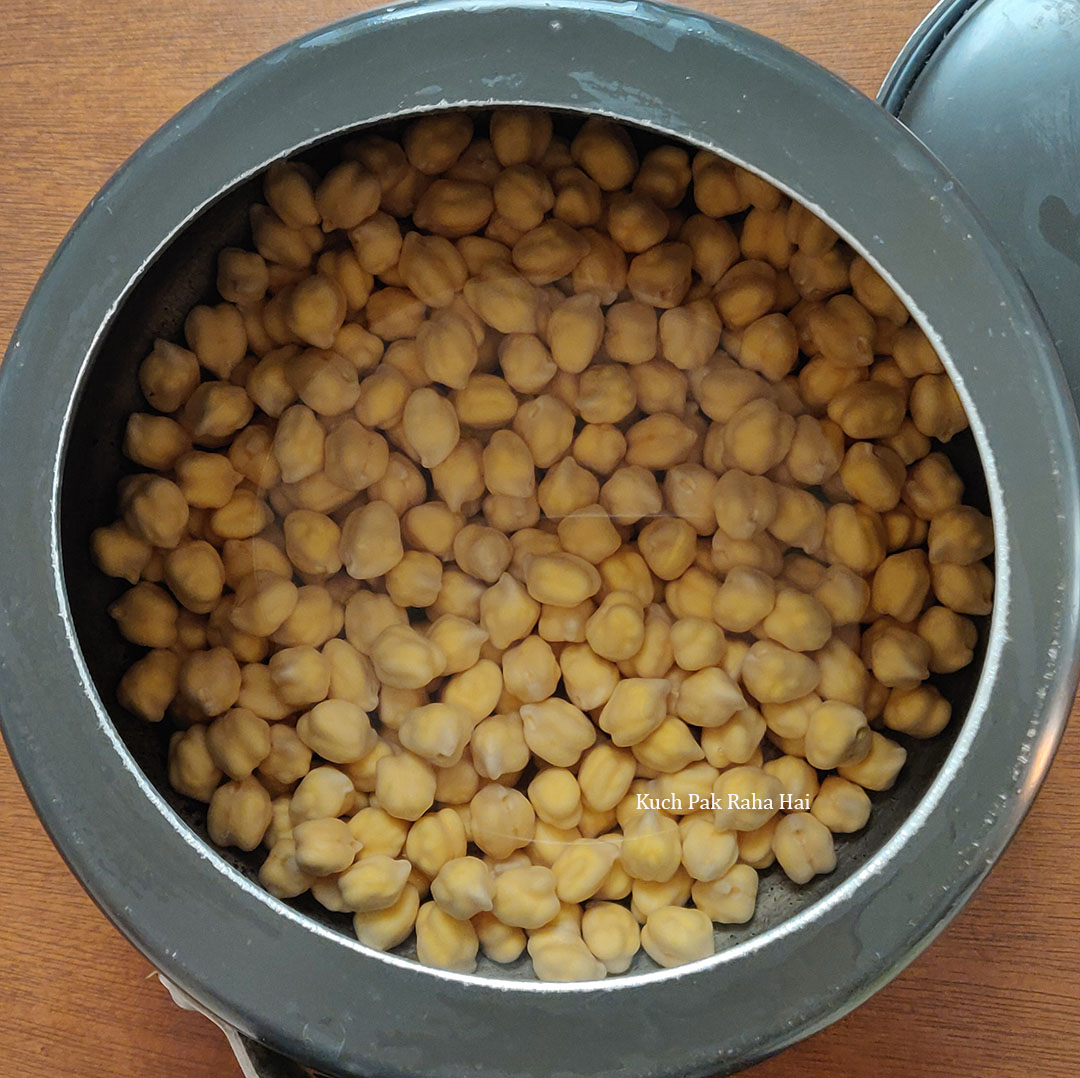 Step 3:
Transfer these boiled chickpeas on a sieve and let all the water drip from them.
Spread them on a kitchen cloth for 1 hour to dry completely. We want to dry   as much as possible moisture from chickpeas as more the moisture, longer they take to become crispy.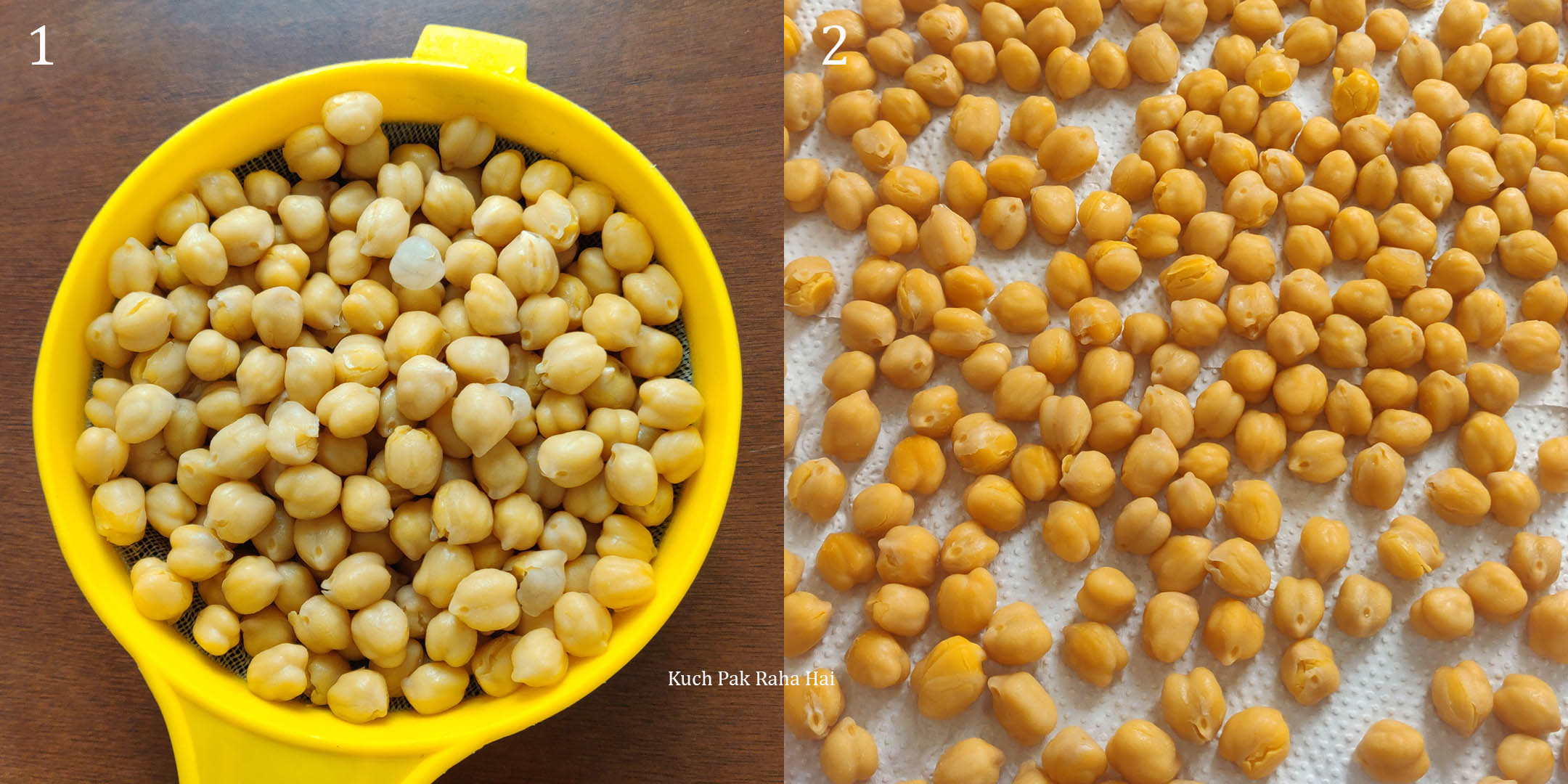 Step 4:
Once the chickpeas are dried, transfer them to a bowl. Add oil, 1 tsp salt and toss it well so that all chickpeas are evenly coated. You can even spray the oil. Keep it aside.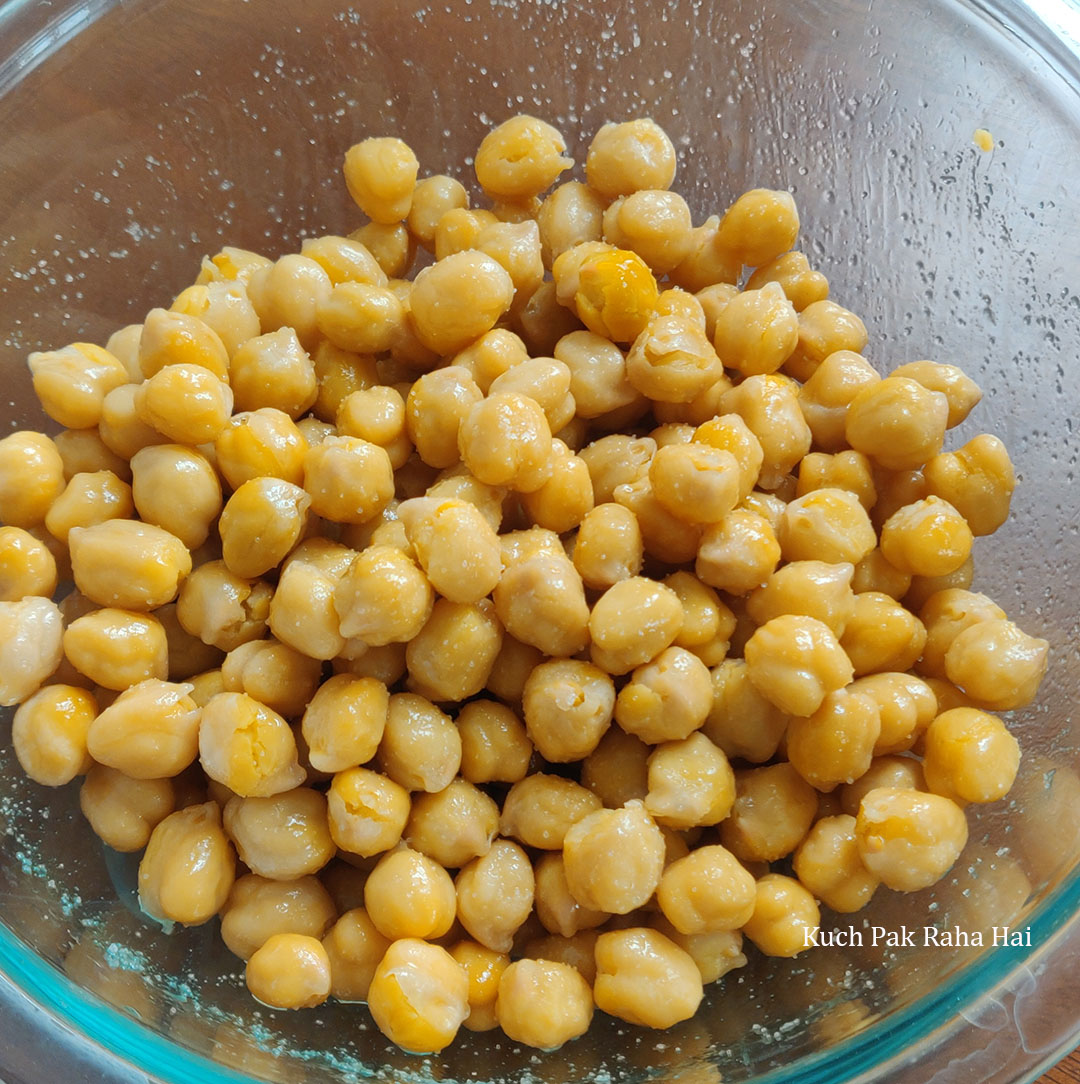 Step 5:
Preheat air fryer at 200 degree Celsius for 10 minutes.
Step 6:
Transfer the chickpeas from bowl to air fryer basket (We will use this same bowl in the last step too so don't rinse it off) . Set them to air fry at 200 degree Celsius for 18 minutes. Keep shaking the basket every 5 minutes. While they are air frying lets move to next step.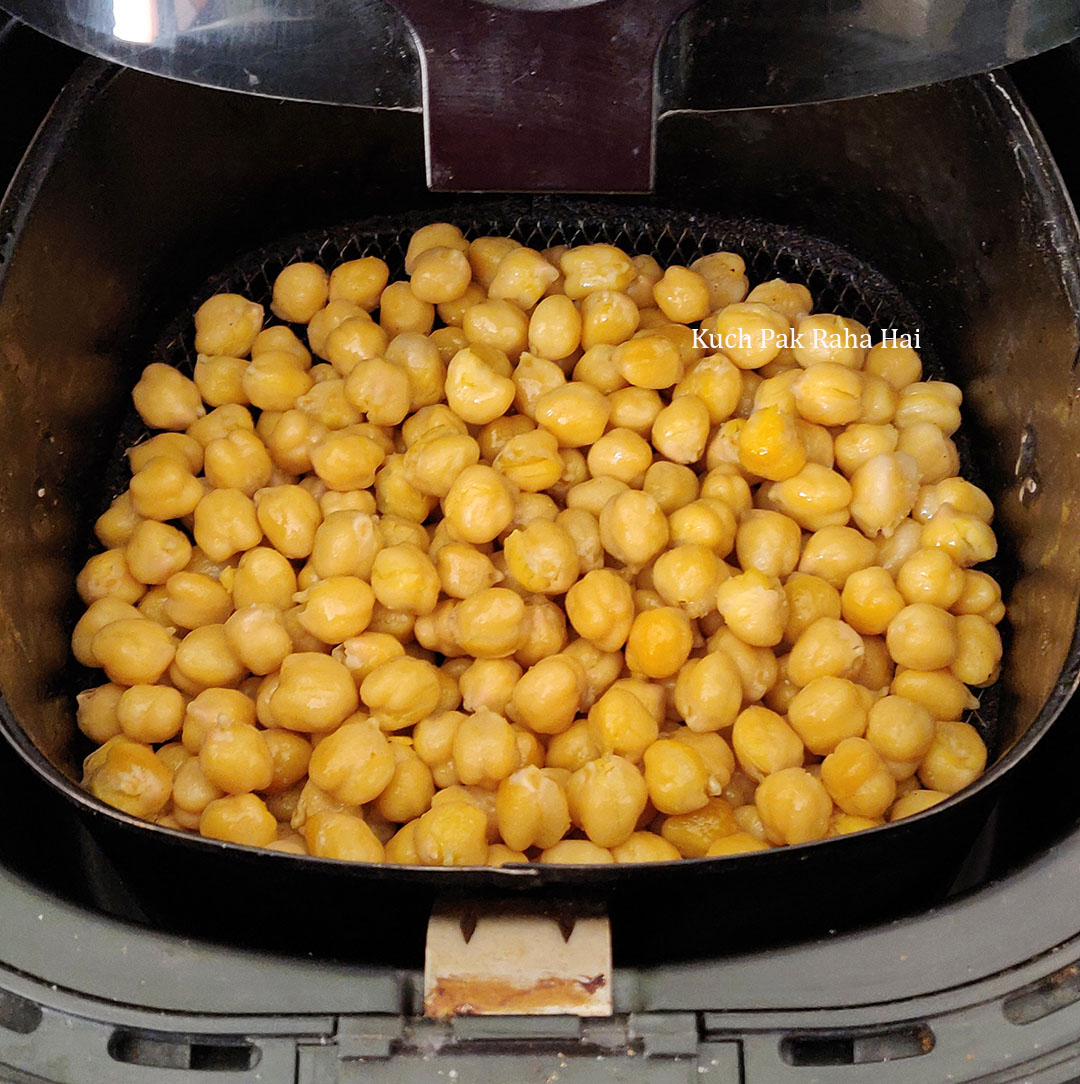 (You must be wondering why we have not added the seasoning to the chickpeas before air frying. This is because in 18 minutes of cooking time all spices get burnt, giving a bitter after taste to chickpeas (been there, done that!!).)
Step 7:
Add all the spices and black salt in a mixing bowl. This will be our seasoning mix. Keep it aside.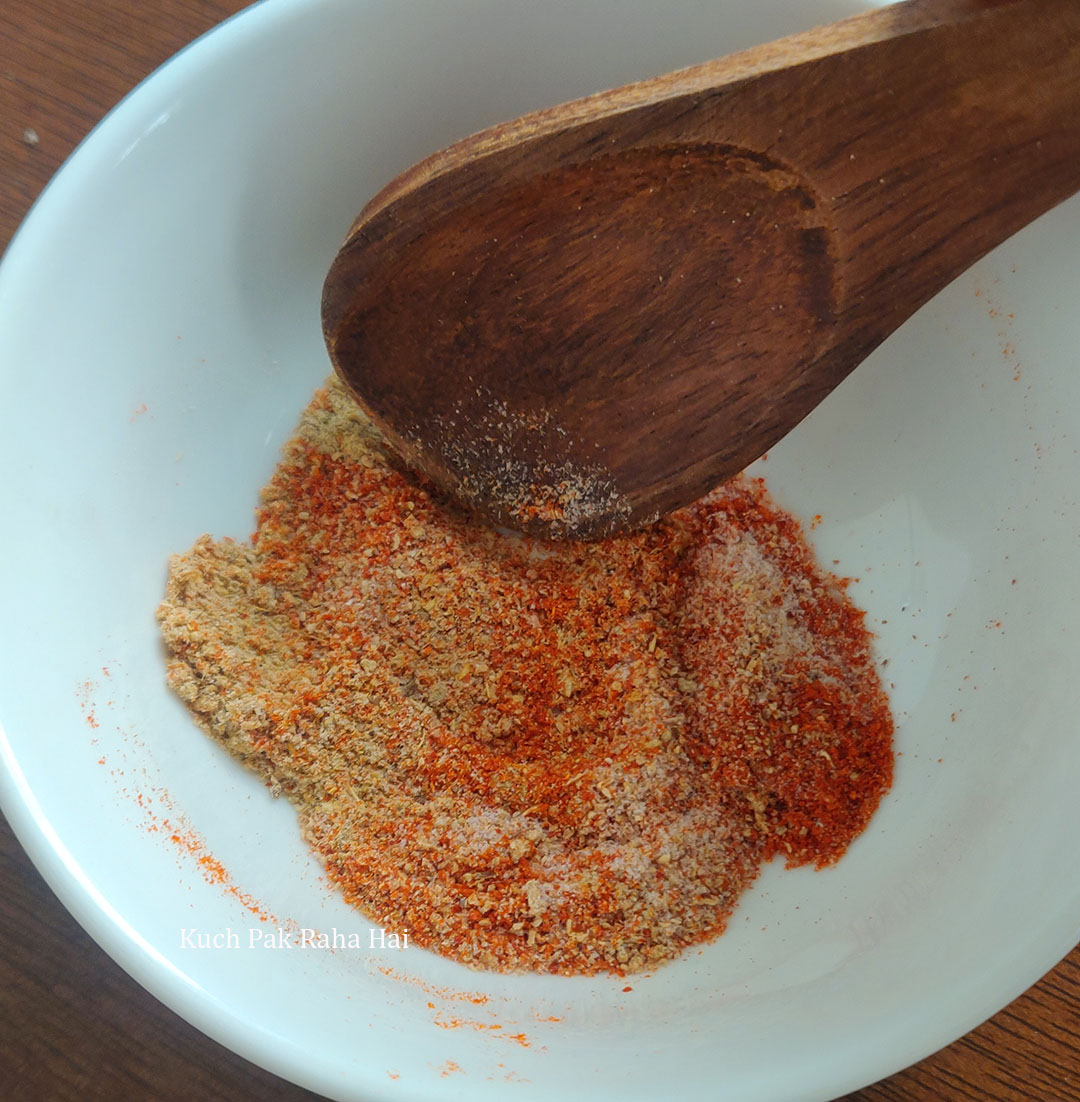 Step 8:
When there are only 2 minutes left in air frying time add some of the seasoning mix. Don't add all of it. Shake the basket well in order to mix the seasoning & chickpeas. Air fry for the remaining time.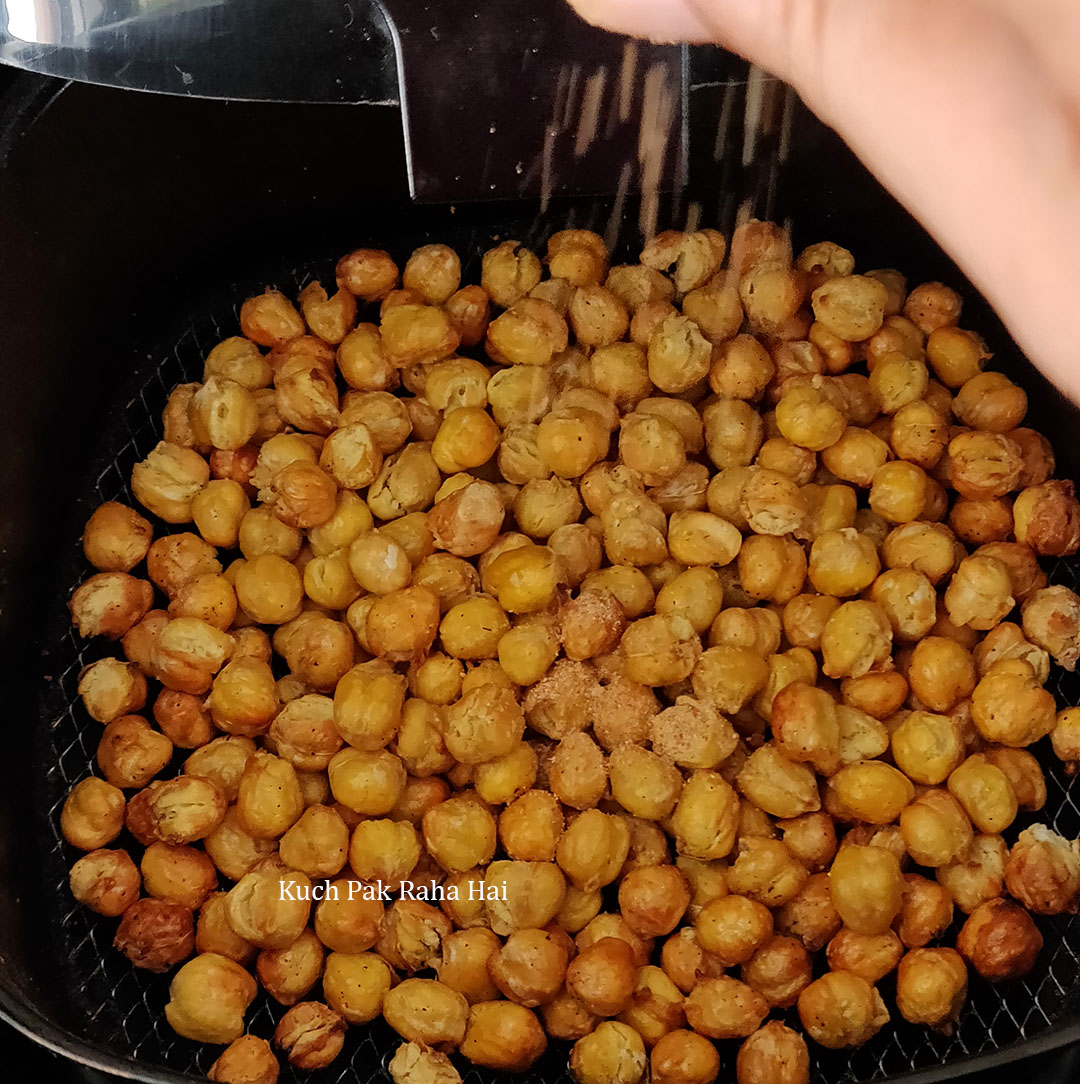 In the same bowl in which we mixed chickpeas & oil, transfer these air fried chickpeas and add all the remaining seasoning while they are still hot. Toss it so that all the spices stick to the chickpeas. (I have asked to use the same bowl as it would have little bit of left over oil which will help the spices to stick to the chickpeas.)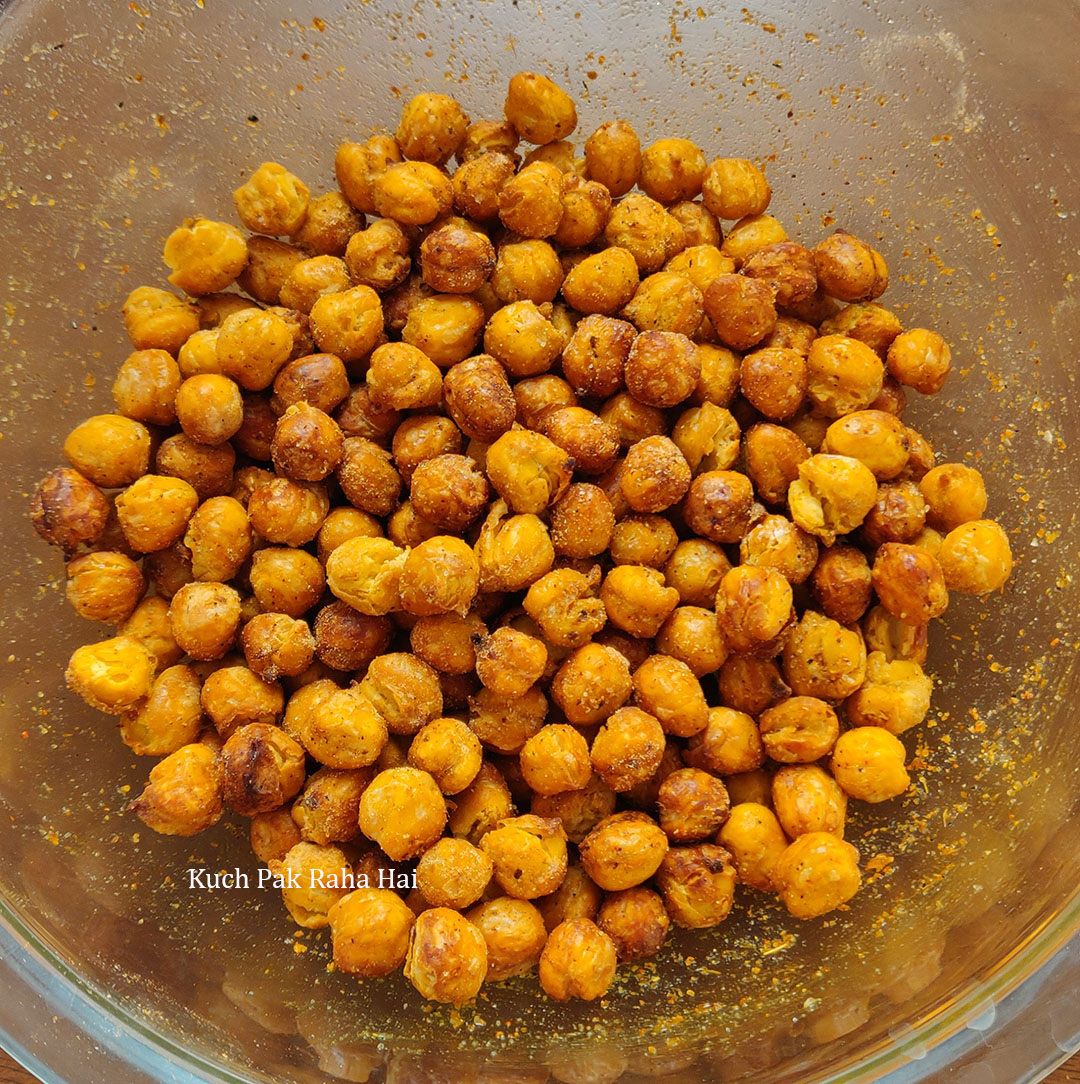 Taste it once and feel free to increase the salt or red chilli powder/chaat masala. Please note cooking time varies from air fryer model to model. So keep an eye on chickpeas after 15-16 minutes.
Enjoy these crunchy spicy chana masala or air fried crispy chickpeas !!
Bon Appetit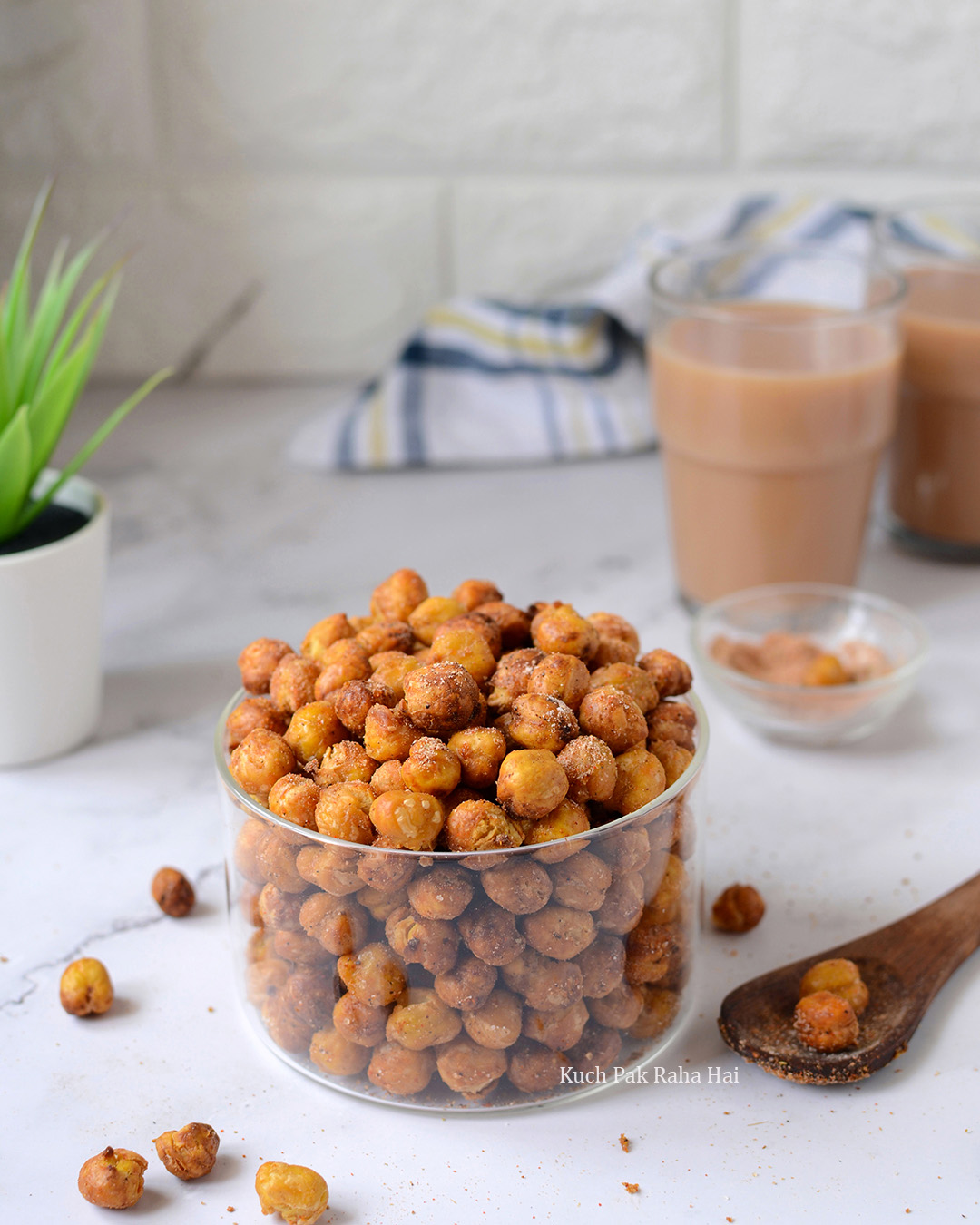 Notes :
What to do if these air fried chickpeas become little soft later on?
The first time I tried these chickpeas in air fryer, I air fried them for 15 minutes. At that time they seemed crispy but after an hour they turned slightly soft from centre. I then air fried them for 3 minutes more & they got perfectly crunchy again and did not turn soft later on.
From above experience, I deduced the cooking time in my Philips Air Fryer needs to be around 18 minutes for crispy chickpeas. If you are making it first time and the same happens with you then air fry them for 2 more minutes.
Pin it : https://pin.it/2i9wbQQ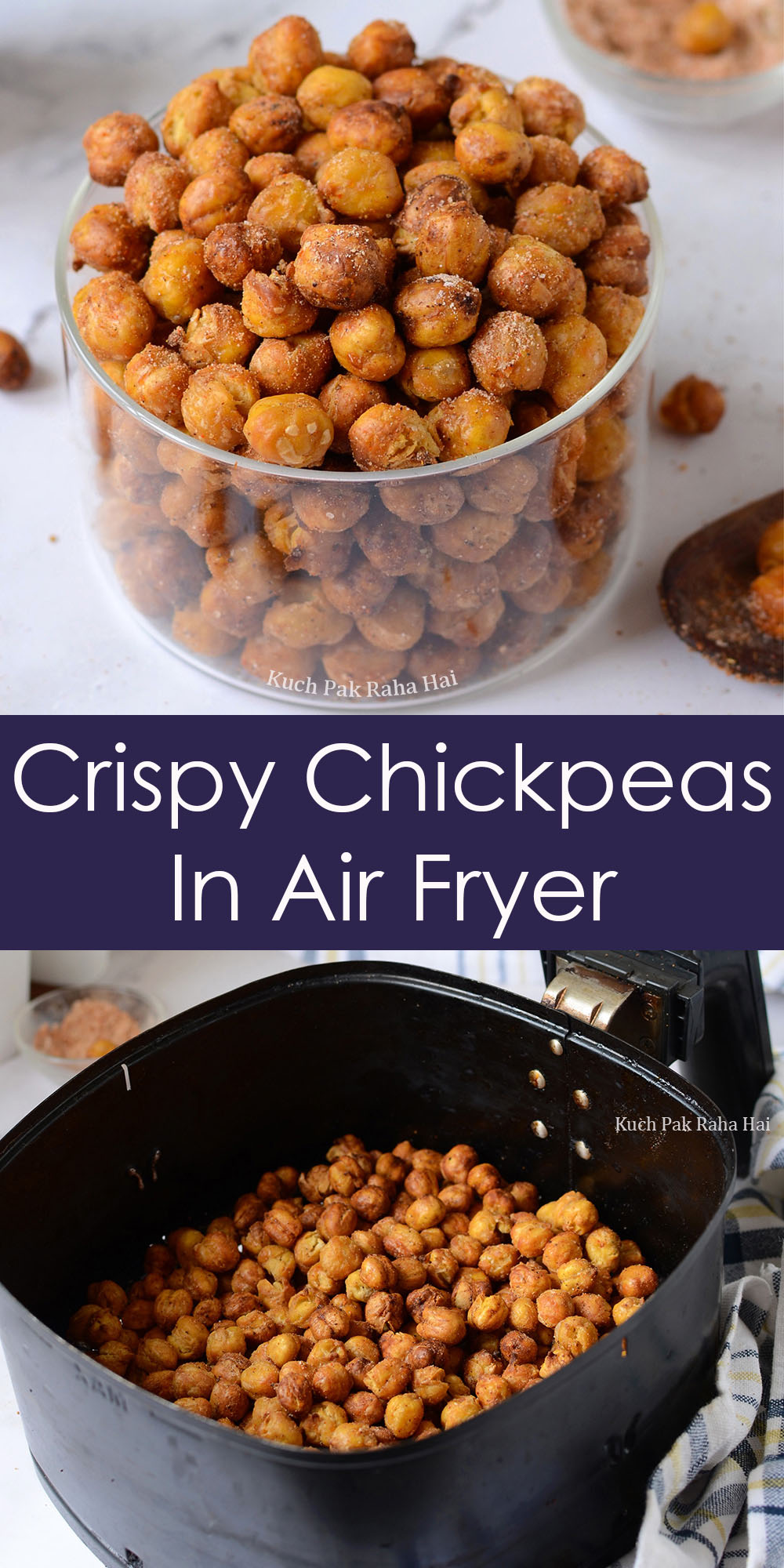 Kitchen Products Used :
(P.S: The above links are amazon affiliate links)
More Air Fryer Recipes you might like :
If you try this recipe & share pics on social media, then don't forget to tag us on Facebook or Instagram or use the hashtag #kuchpakrahahai.
Let's stay connected