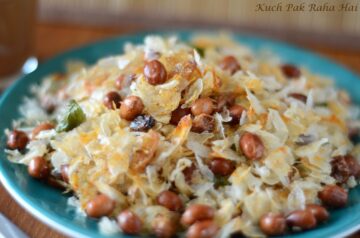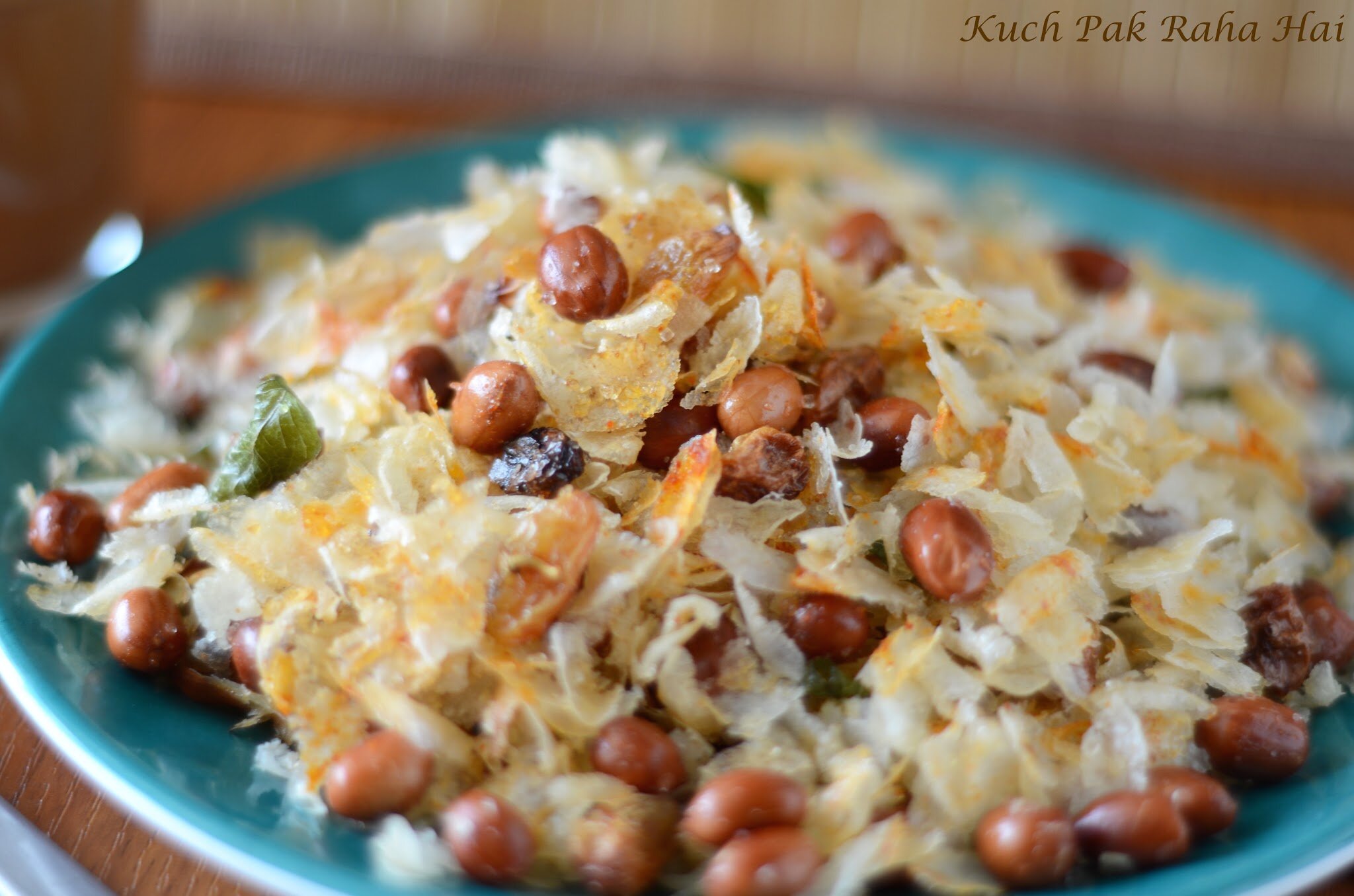 "Roasted Poha Namkeen" is a crunchy, salty and low-oil munching snack that you can put your hands on at any time of the day without feeling guilty. Your search for healthy, tasty and guilt free snack ends here. It is so easy to prepare and will not even take much of your time. It is also known as Chivda Namkeen or Poha Chivda Namkeen!!!
This namkeen is made without deep frying any ingredient. Thin Poha is used in this recipe which imparts the desired lightness to the Namkeen without making it too heavy, also reducing the need for oil in preparation. It is combined with goodness of peanuts to add crunch, raisins for adding chewy sweetness and curry leaves for that lovely aroma and flavours.
It is ideal option for healthy evening snack with your hot cup of Masala tea. You can also pack and carry this to office for satisfying your mid day hunger pangs thus saving yourself from reaching to those salty and unhealthy packets of chips or biscuits. You can add some more interesting ingredients like dried coconut pieces, fennel seeds, cashews or other spices as per your taste. This crunchy healthy snack can also be given in kids tiffin which I am sure they would happily munch with their sandwiches or parathas.
Other Poha Recipes shared on this blog are :
Also, you can try making chiwda or namkeen using Ragi flakes which is another healthy low oil snack recipe. It tastes really good, is low in fat & full of nutrients.
Hope you would like this simple & quick to make Roasted Poha Namkeen!!
List Of Ingredients:
Thin Poha- 2 cups
Peanuts- 3/4 cup
Raisins- 3 tbsp
Curry Leaves-10 to 15
Salt- 1/2 tsp (or to taste)
Sugar -2 tsp
Red Chilli Powder-1 tsp
Oil-1 + 1/2 tbsp
Steps To Prepare:
Step1:
Dry Roast thin poha on medium flame for 2-3 minutes tossing them intermittently. Keep them aside.

Step2:
Heat oil in a pan. Add peanuts to it and let them fry on medium-low flame till it turns golden brown in colour. The peanuts would start giving a nice warm aroma, with slight crackling noise.

Step3:
In the same pan, add raisins and curry leaves. Stir it for few seconds till leaves are crisp.

Step4:
Add roasted poha to the above pan and mix gently with a help of a spoon for 1-2 minutes. Switch off the flame. Add sugar, salt and red chilli powder to the namkeen and mix again. Keep it aside and let the mixture cool down completely.
Store this Namkeen in an airtight container and enjoy it with your hot steaming cup of tea!!