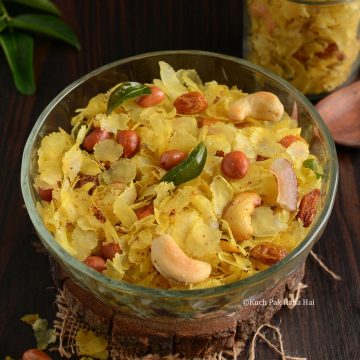 Roasted Poha Chivda is a crunchy flavoursome Indian snack recipe made with poha (flattened rice flakes), peanuts, cashews, raisins & few spices. It is easy to prepare & a great option as healthy evening snack with tea or coffee.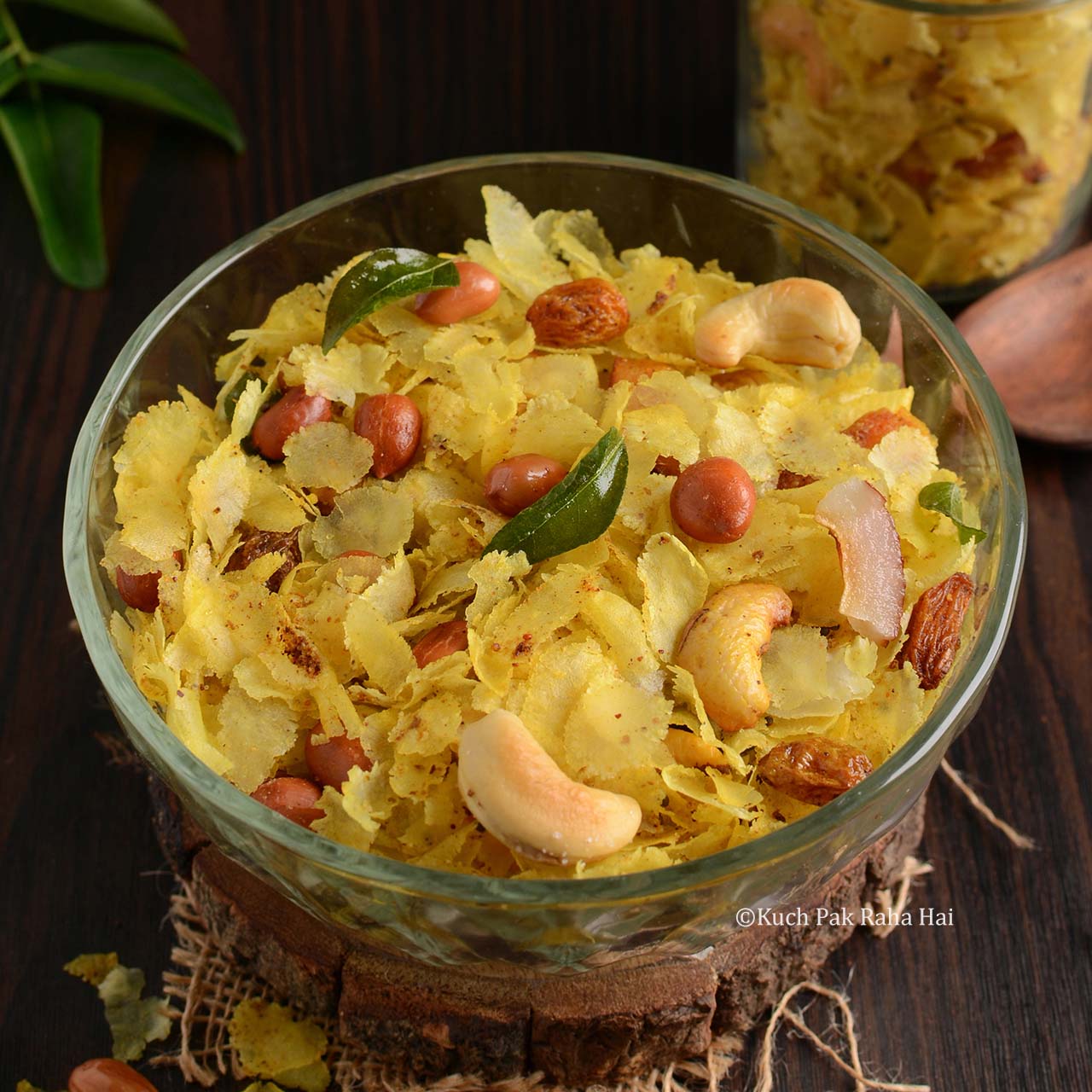 The thin poha chivda recipe shared here is:
Vegan
Gluten Free
Roasted (not deep fried)
Can be made in less than 30 minutes
Traditionally chivda namkeen is made by deep frying poha & nuts but with thin poha variety you can easily make it by roasting on stove top using low oil. You can also pack it in kids tiffin as snack or take it to office, thus saving yourself from salty and unhealthy store bought chips or biscuits.
As I like this poha chivda a little khatta meetha (sweet sour), I have used raisins, powdered sugar & amchoor (dry mango powder).With crunchy roasted nuts, sweet raisins, crispy coconut chips and aromatic curry leaves, every bite of this poha namkeen is absolutely delightful.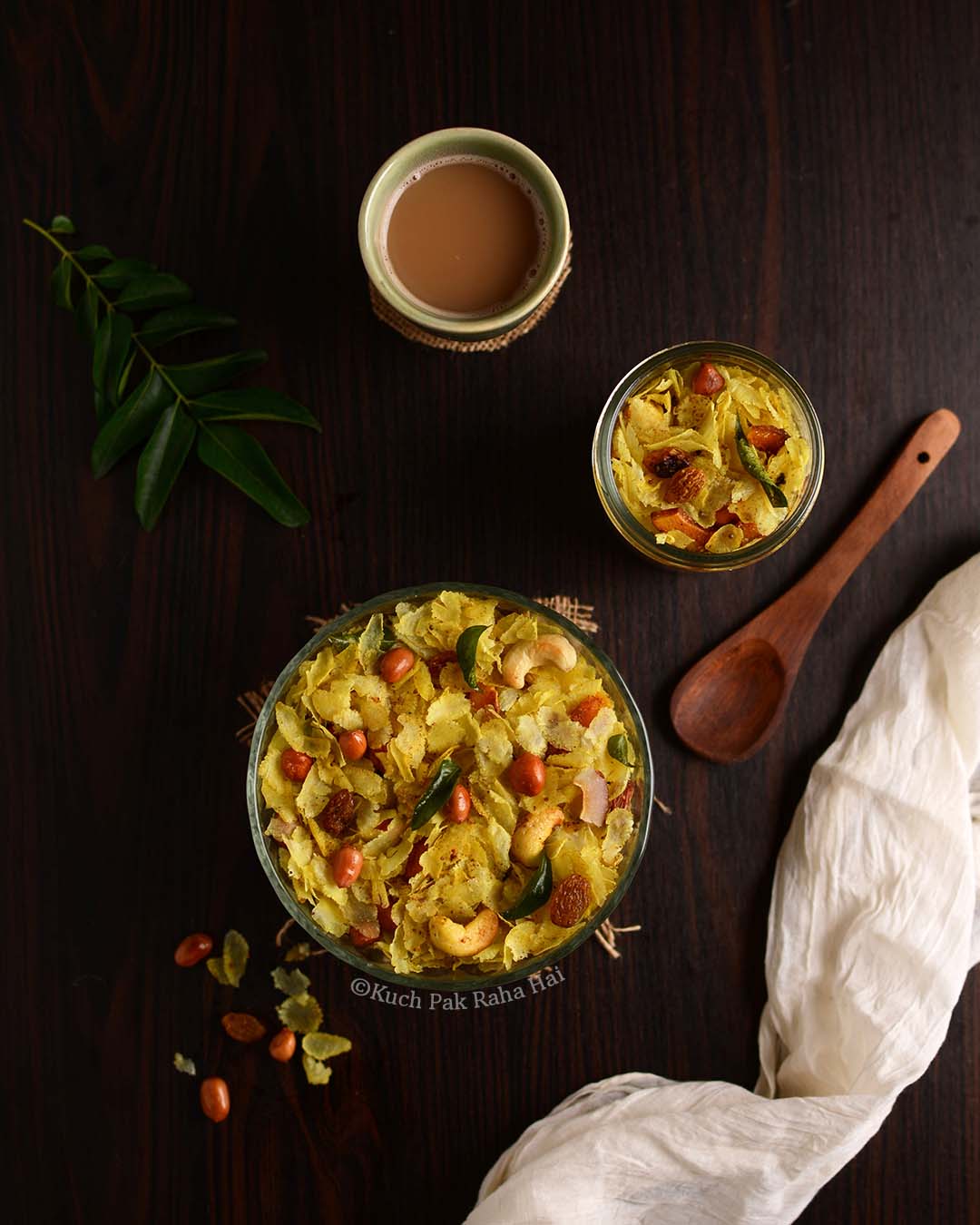 The recipe is quite flexible & customisable as you can add nuts of choice or adjust the spices as per your taste. If you wish you can skip sugar or amchoor from the recipe. Apart from peanut & cashews, you can also use some sliced almonds or chana dal.
How to store thin poha chivda ?
Always store chivda in an airtight container as it can turn soft quickly on coming in contact with humidity. Also, use a clean dry spoon to take out the chivda namkeen of the jar for a longer shelf life. You can store it this way easily for 10 to 12 days.
Can I use thick poha in this chivda recipe?
This recipe specifically used thin poha as it can be easily roasted on low flame. Thick poha takes more oil to crisp up so thin poha is always used for this namkeen recipe. While buying poha, carefully look at the packet details as they clearly specify thick poha & thin poha on it these days.
If you have thick poha, you can try below recipes :
Also, do check out Ragi Chivda Namkeen which is even better than poha namkeen in terms of nutrition.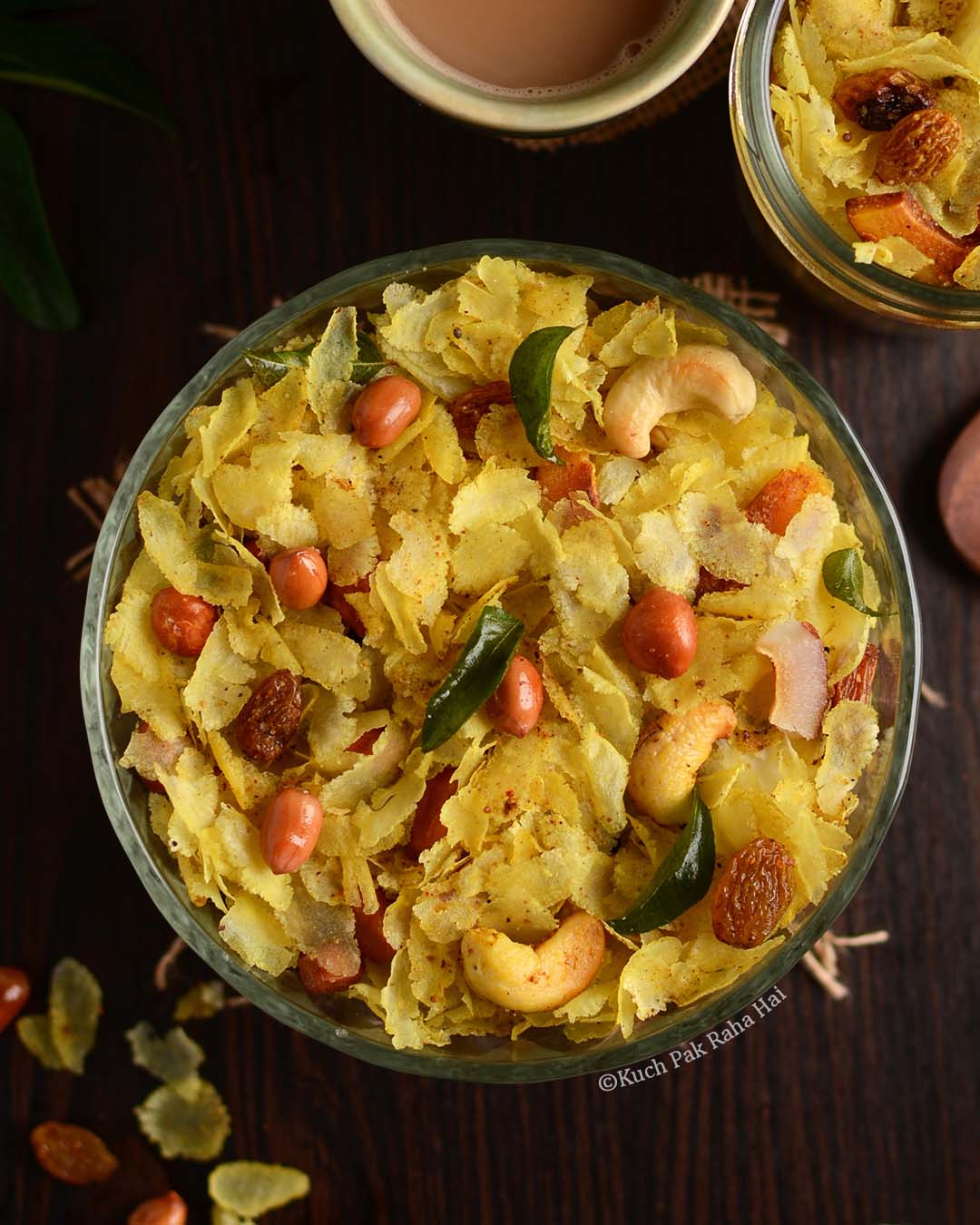 More tea time snacks recipes:
Hope you would like this simple & quick roasted poha namkeen!!
List Of Ingredients:
Thin Poha- 3 cups
Oil- 2 tbsp
Cashews (Kaju)- 1/3 cup
Peanuts- 1/4 cup
Raisins (Kishmish)- 3 tbsp
Dry Coconut- 1/4 cup
Curry Leaves-10 to 12
Mustard seeds (Rai)-1 tsp
Asafoetida- 1/8 tsp
Turmeric (Haldi)- 1/4 tsp
Red Chilli Powder-1/2 tsp
Powdered Sugar -2 tsp (optional)
Amchoor- 1 tsp
Salt- 1/2 tsp (or to taste)
Notes:
1. You can also add few almonds or chana dal in this recipe.
2. Feel free to skip sugar if you don't want to add it.
Steps To Prepare:
Step 1:
Dry roast thin poha on medium-low flame for 4-5 minutes till it becomes crispy. Toss it carefully in between. Keep roasted poha aside.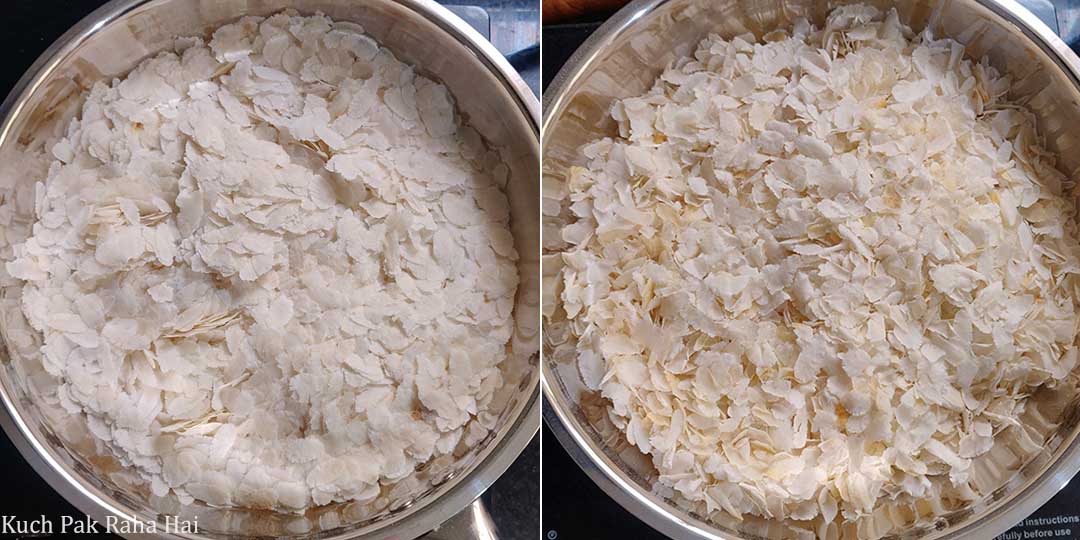 Step 2:
Heat oil in a pan. Add peanuts, cashews to it and let them roast on medium-low flame. After 1-2 minutes add, dry coconut chips. Stir well & roast them also.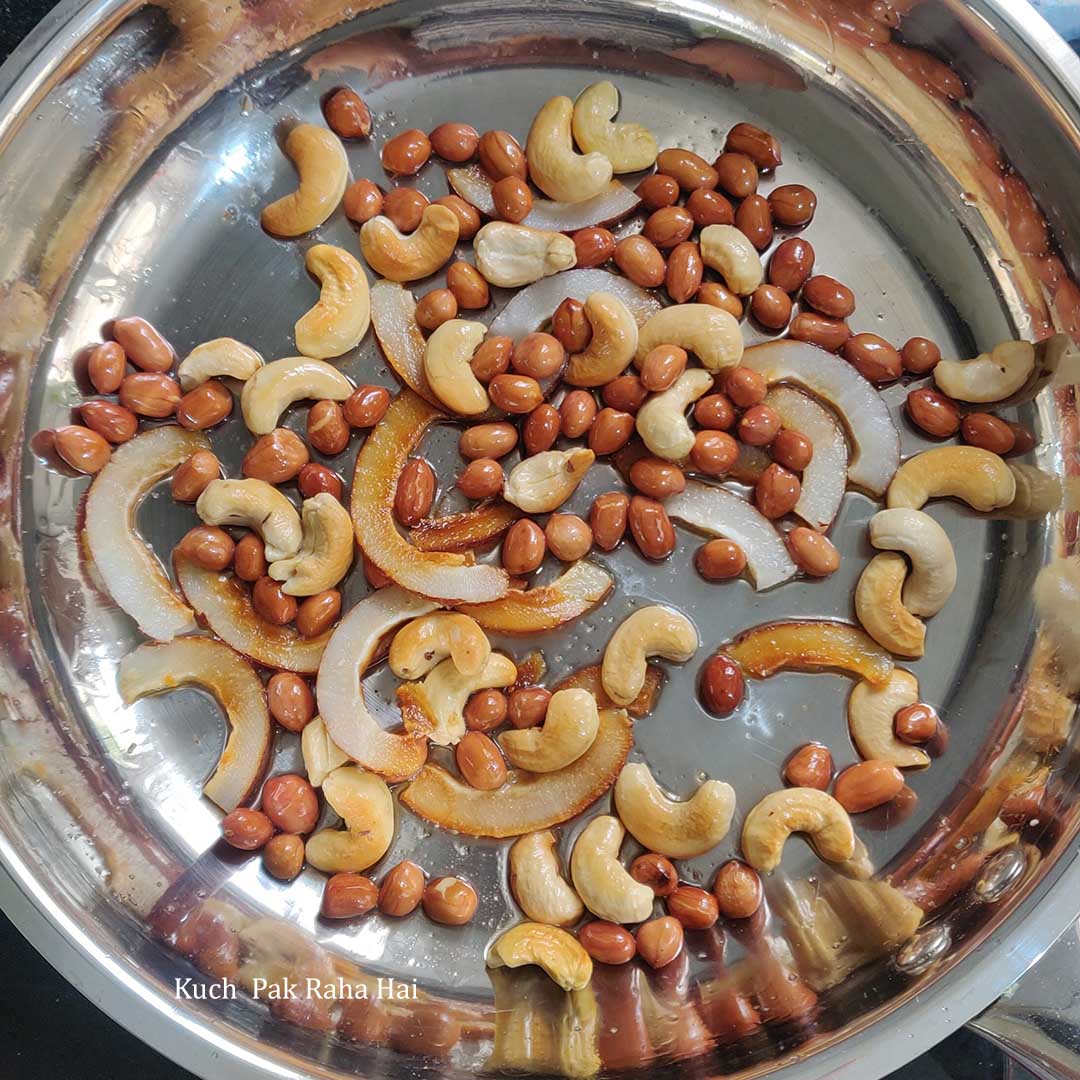 Step 3:
Once the nuts & coconut are roasted, shift them on one side of pan. Add mustard (rai), asafoetida (hing), turmeric, red chilli powder to it. Mix all the spices well. After 10-15 seconds, add curry leaves, followed by raisins. Stir well.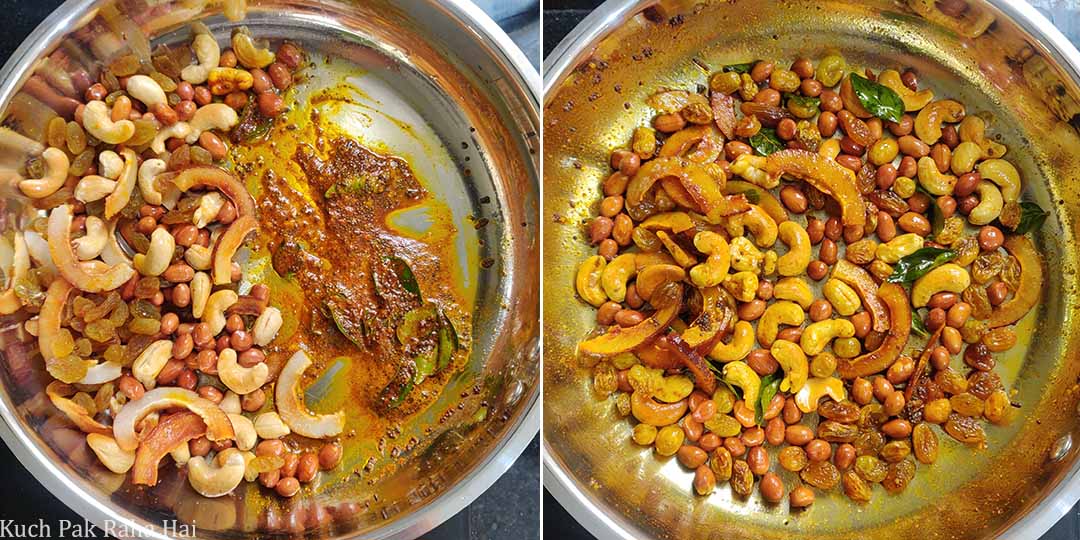 Step 4:
Add roasted poha, salt, amchoor & powdered sugar and mix gently with a help of a spatula for 1-2 minutes. Switch off the flame.  Keep it aside and let the mixture cool down completely.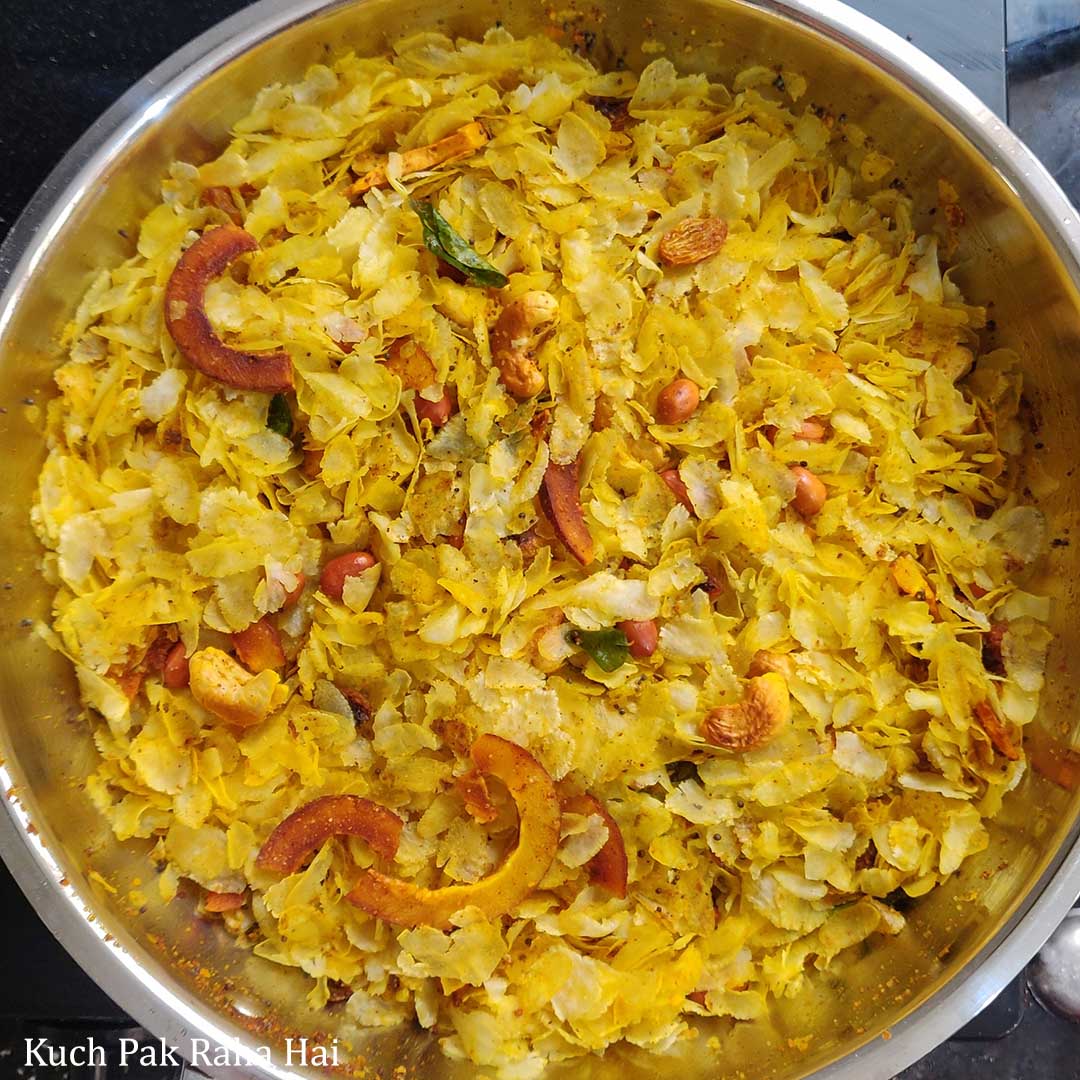 Store this poha chivda in an airtight container and enjoy it with hot cuppa tea or any beverage of your choice!!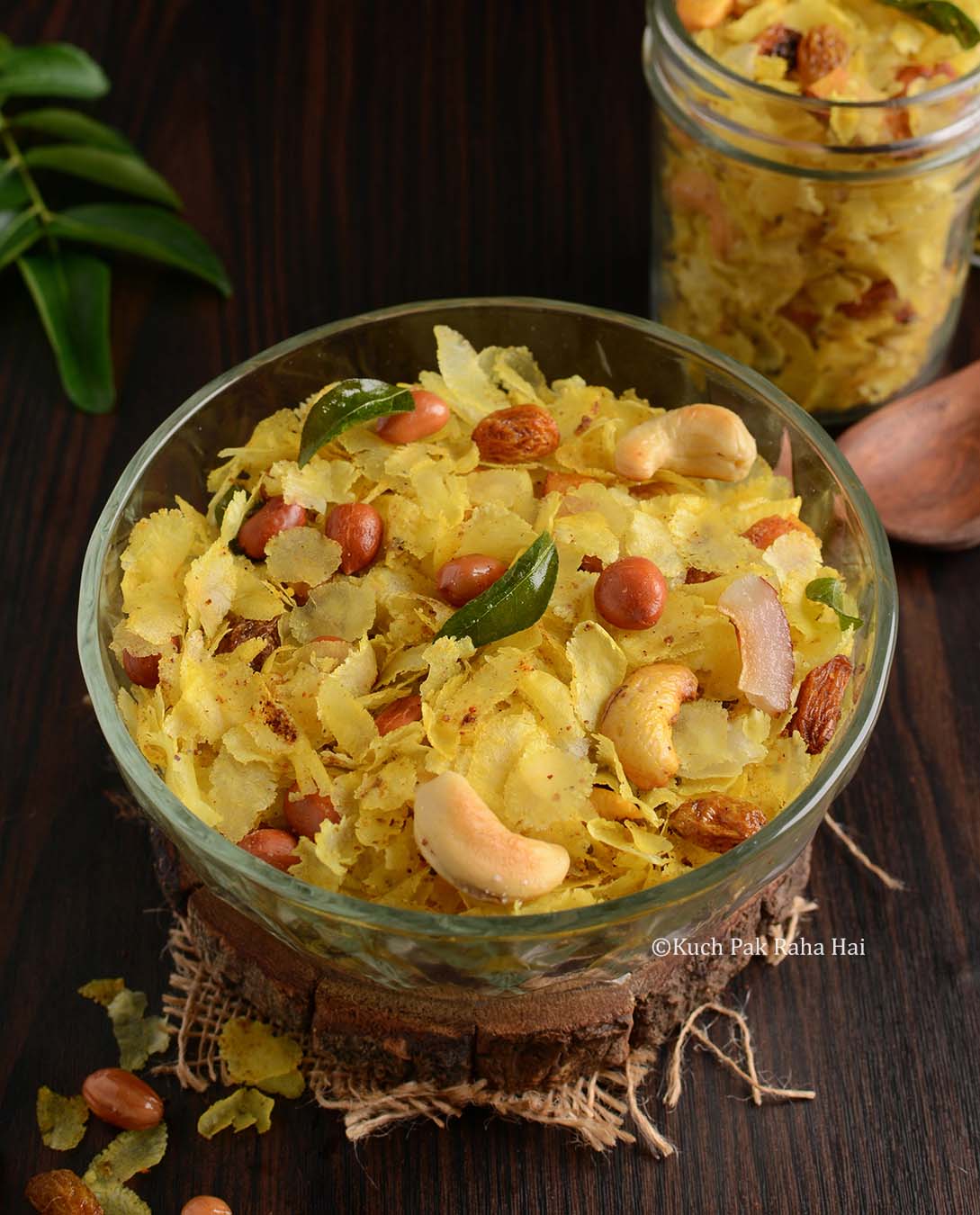 If you try this roasted poha chivda namkeen recipe & share pics on social media, then don't forget to tag on Facebook, Instagram or use #kuchpakrahahai.
Pin for later: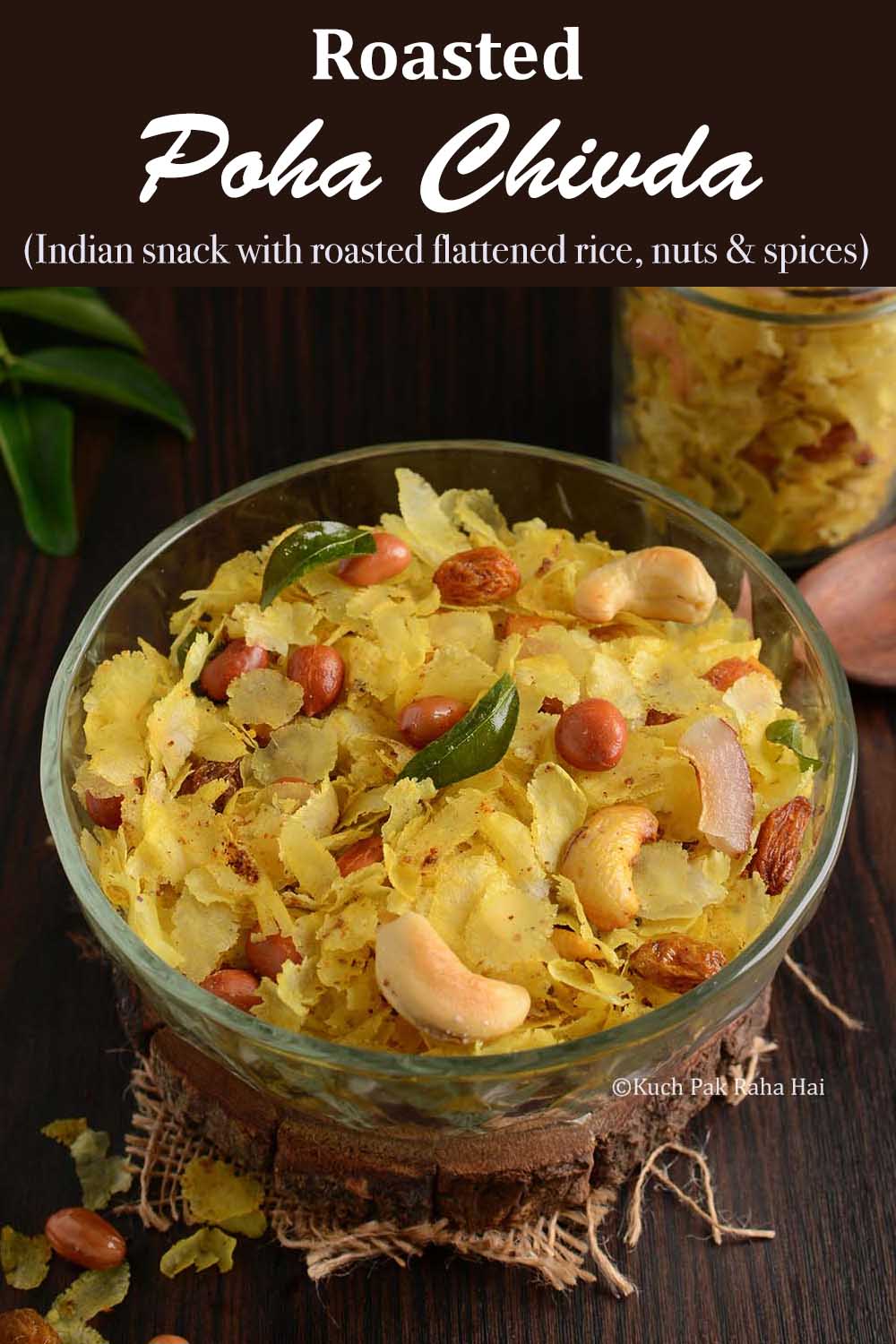 Let's stay connected
Facebook | Instagram | Pinterest| Youtube