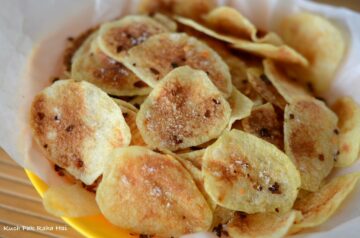 Easy recipe to make low oil crispy potato chips in microwave in just 5 minutes !!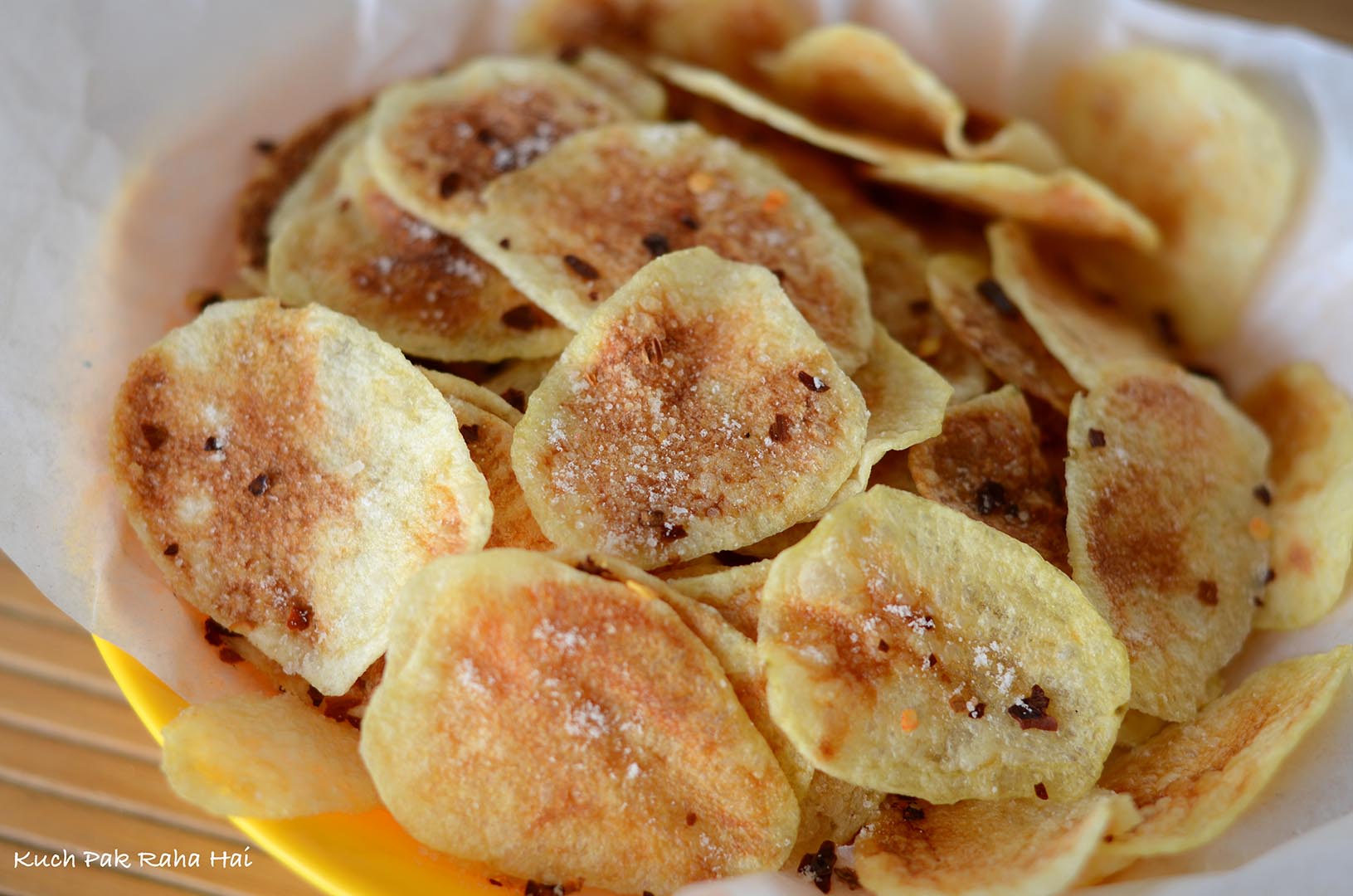 Potato Chips are one of the most popular snacks & are liked by people of all ages. These microwave potato chips are :
Vegan
Gluten Free
Made with very little oil
Traditionally they are made by deep frying which makes them calorie loaded. In this recipe we will be potato chips in microwave which I find to be a easier and quicker method especially when you just want to make small serving. They turn out absolutely crispy light as regular potato chips but with zero guilt.
Many a times we have to stay away from this favourite snack of ours when we are trying to eat healthy or trying to keep our kids away from junk food because of the load of calories it brings along. With this low oil microwave potato chips recipe you will no longer have to crave for these crispy yummy potato chips. You can enjoy them anytime without feeling guilty.
Tips to get prefect crispy potato chips:
1. Slicing of potatoes: Slice the potatoes as thinly as possible using a grater or in a food processor. If the potato slices are not thin enough, you will not get that light crunchy texture.
2. Rinsing them with cold water: Rinsing the potato slices is an important step as it helps in getting rid of excess starch from potatoes which is crucial to make the potatoes crispy. Later they need to to be dried over a kitchen tissue or towel to get rid of excess mositure.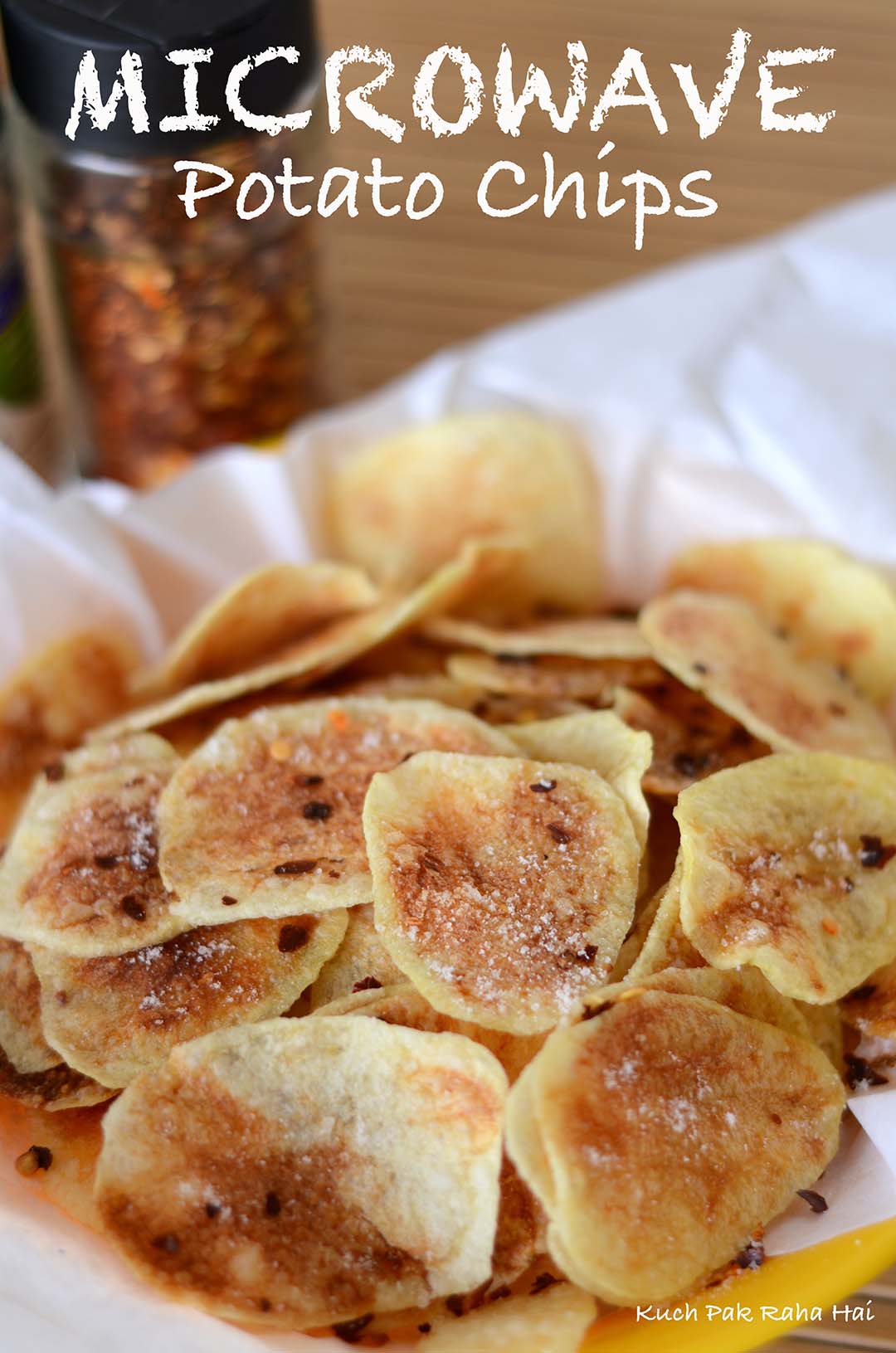 I have sprinkled some sea salt on the slices before keeping them in microwave. You can even add some chilli or paprika powder if you like them on spicier side. Although I like my potato chips without any accompaniments but you can serve them with any of your favourite dips or sauces.
Each batch of potato chips takes up to 6 minutes to prepare. So you will get small-small batches of chips each time but I would say the effort is all worth it when you are trying to avoid ready made potato chips sold in market which are deep fried and loaded with so much of salt and preservatives.
Hope you would like this easy peasy Microwave Potato Chips recipe!!
More low oil snacks recipes:
Preparation Time: 10 minutes
Cooking Time: 5-6 minutes
List of Ingredients:
Potatoes-3
Table Salt/Rock salt-1 tsp
Olive Oil/Cooking Oil-1 tbsp
Ice Cold Water-For soaking potato slices
Note : Other seasonings that you can use-chilli powder, paprika powder, onion powder, garlic powder, cheese powder.
Steps To Prepare:
Step 1:
Peel the potatoes and wash them thoroughly. You can skip peeling the potatoes if the peel is really thin and fine.I would advice you to choose slightly elongated potatoes as they give wafers which are longer in size (just the type you get in market).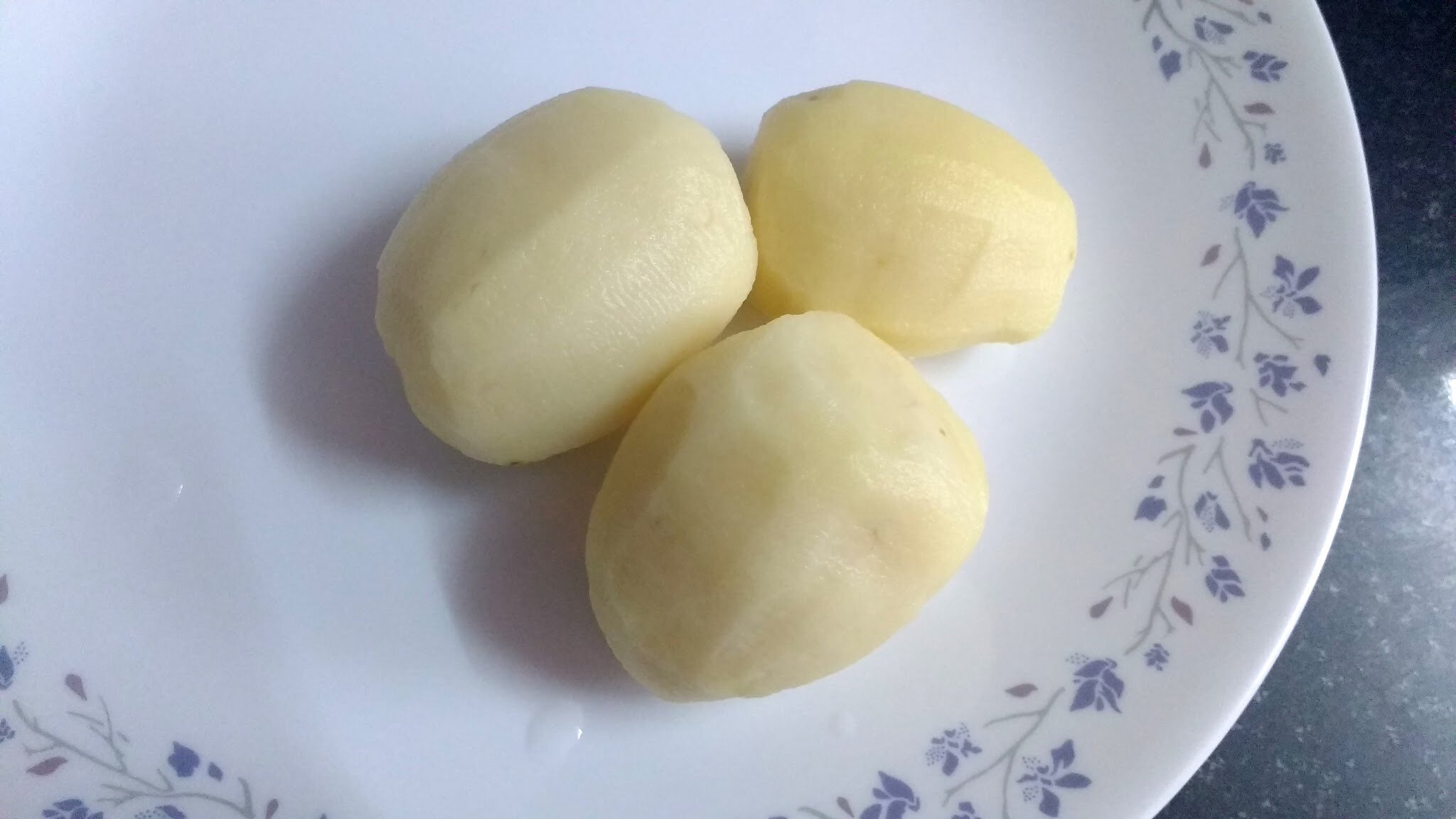 Step 2:
Cut the potatoes into very thin slices. You can use sharp knife, food processor or manual slicer. The potato slices should be really thin else they would take longer to cook.

Here I am using 'Ganesh Vegetable Dicer' for slicing these potatoes. This equipment is quite easy to use and handy as well. It comes with multiple detachable blades and is especially useful when you want to slice the vegetables like potato, cucumber, carrots or make julienne for salads, fillings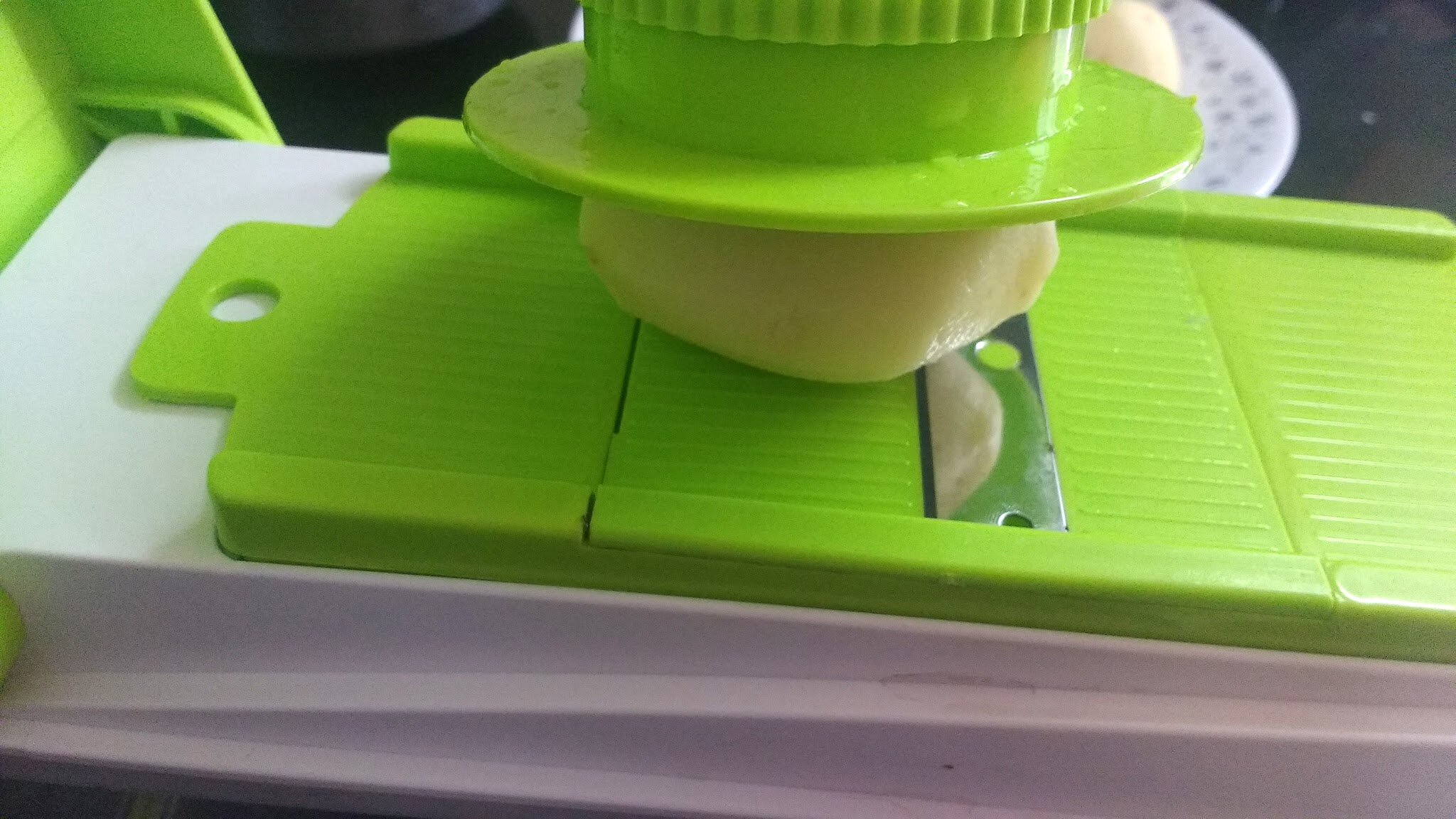 Step 3:
Dip these slices into ice cold water for at least 5 minutes. This step is necessary in order to wash out excess starch from these potato slices which in turn helps them to become crisp quickly. Rinse them once again under running water before proceeding to next step.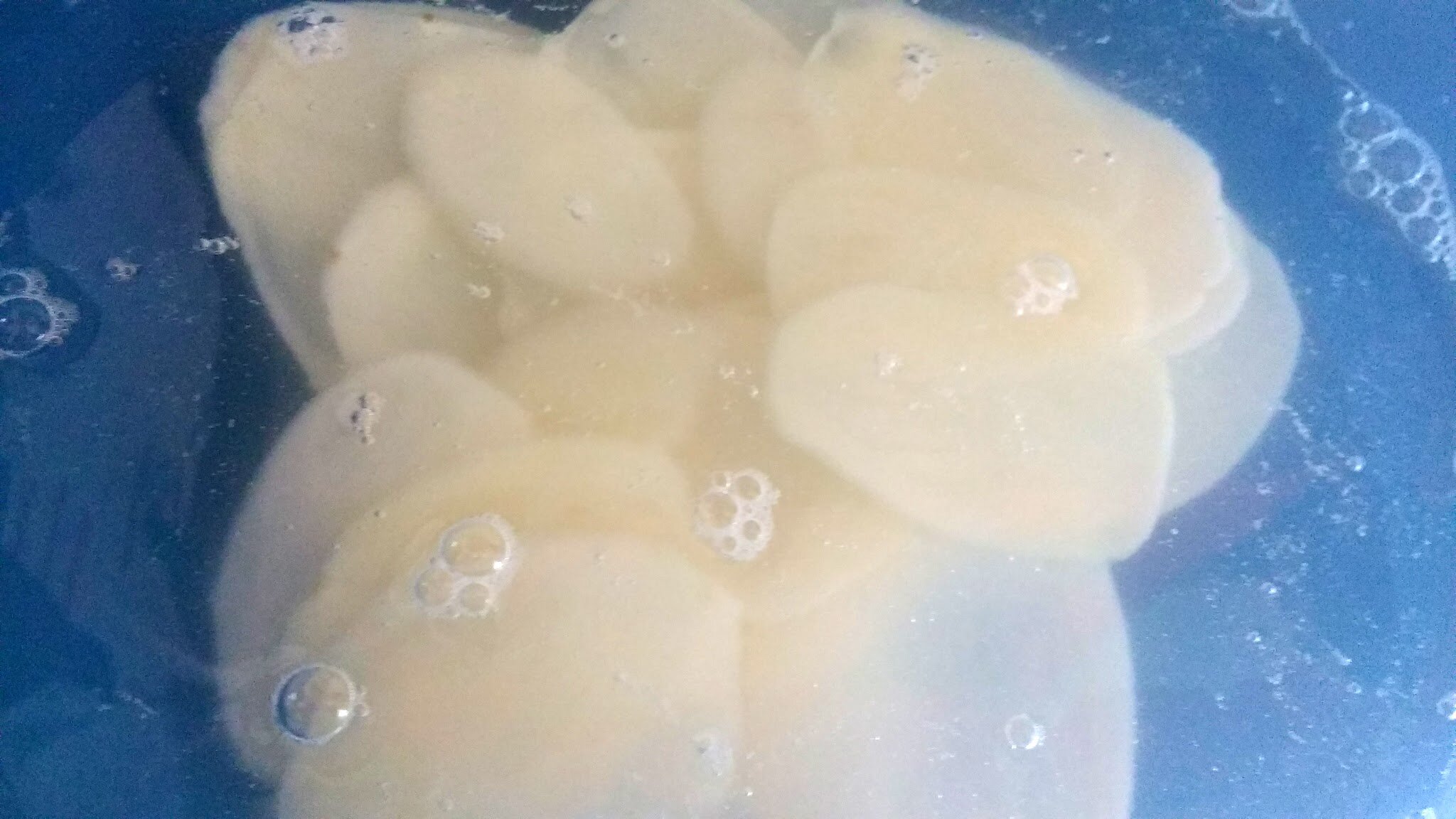 Step 4:
Take kitchen tissue or paper towel. Spread these potato slices on it and cover it with another kitchen towel. This way all the extra water is soaked from these slices. Repeat this for all the slices. Keep them aside.

Step 5:
Take one microwave safe plate preferably dinner size or larger. Brush some olive oil onto it using silicon brush.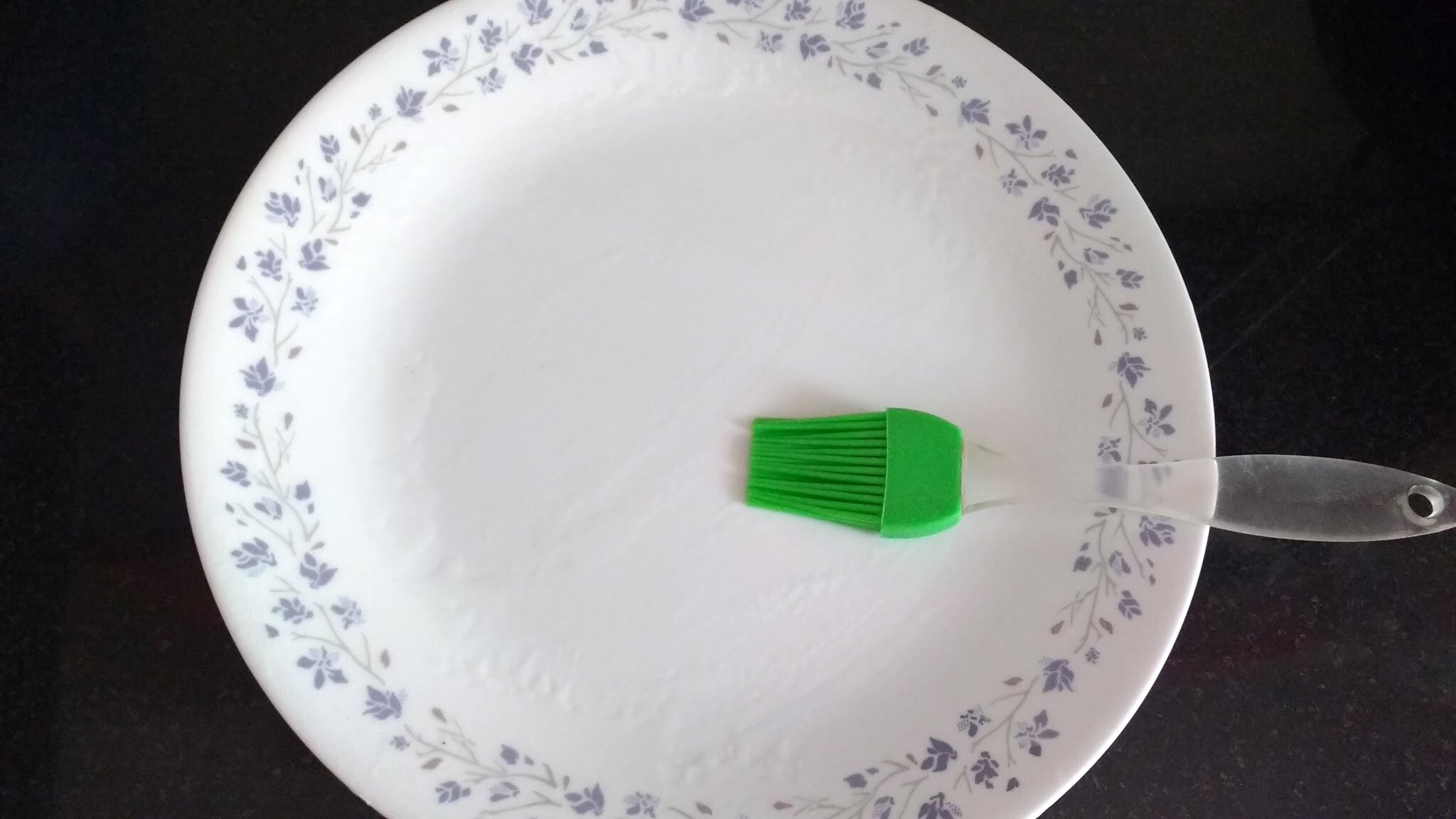 Step 6:
Spread out the potato slices on this plate such that no two slices overlap or touch each other else they will stick to one another. Brush some oil on them again and sprinkle salt over it.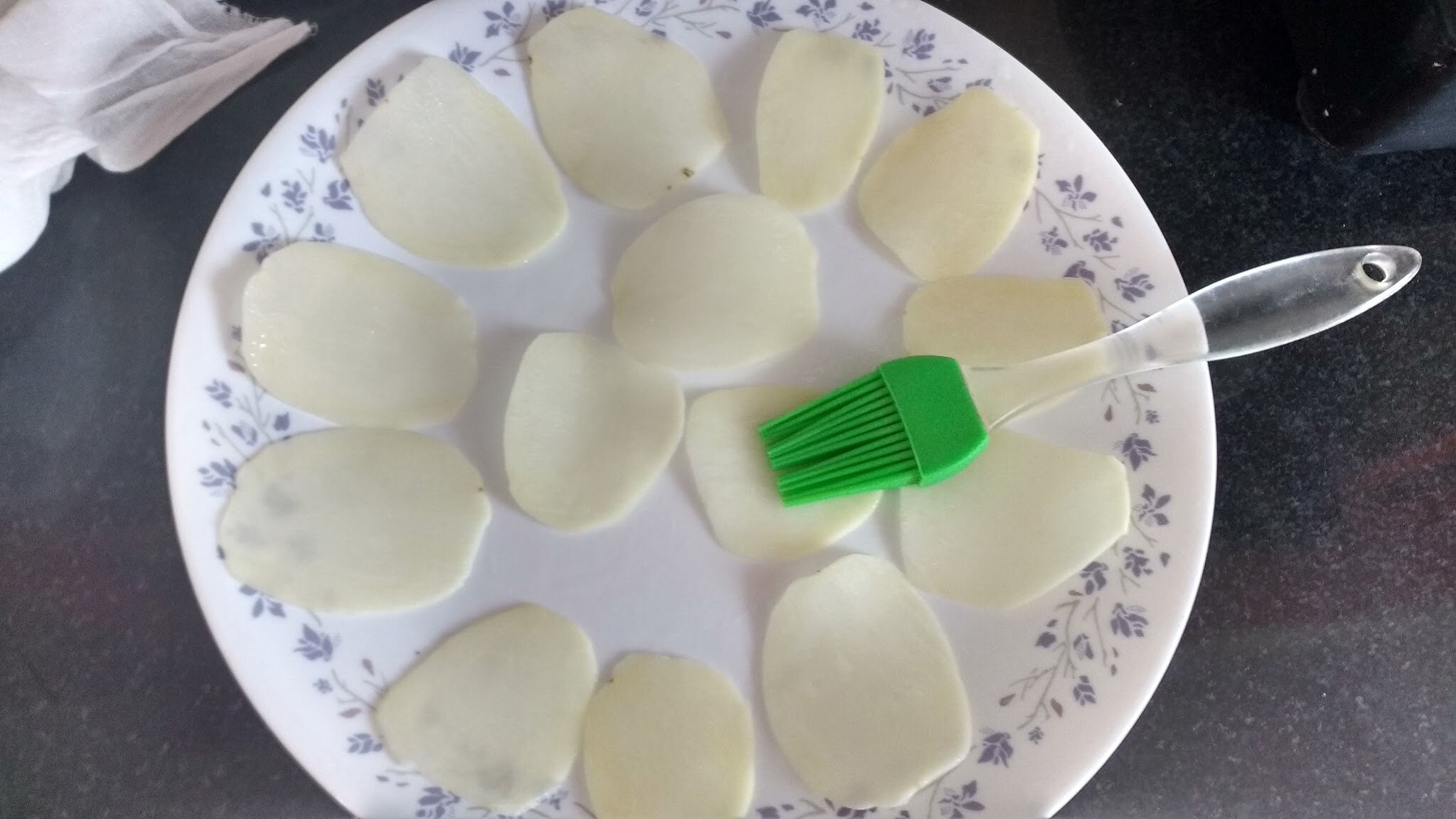 Step 7:
Microwave these potato slices on 100 percent power for 2.5 minutes. Bring them out. You will notice the browning has started.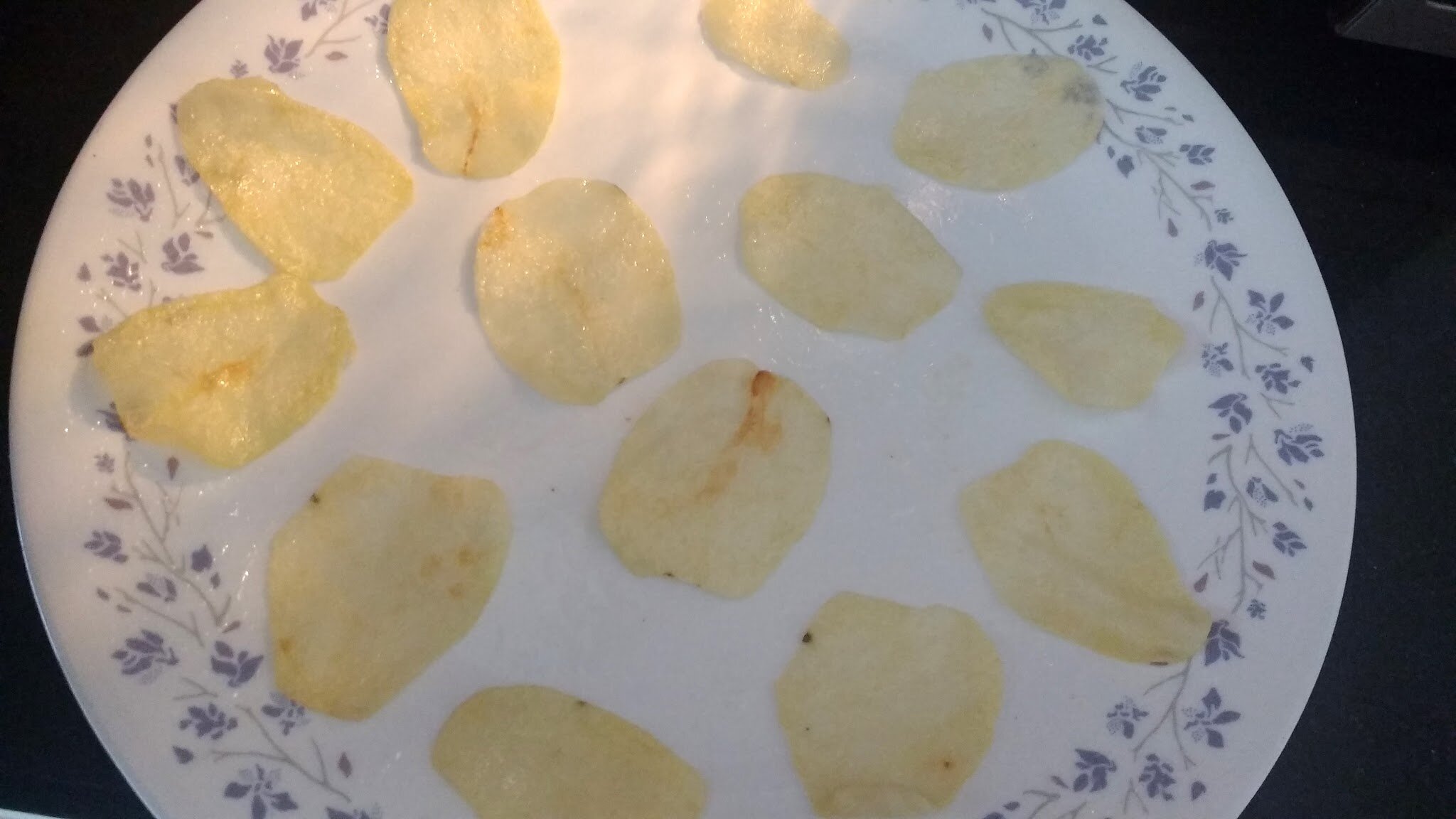 Flip over the slices. Microwave once again at 50 percent power for another 2.5-3 minutes. This time varies slightly from oven to oven. Keep an eye on it when you are making it for first time.
Once they are ready transfer them to another plate or a wire rack.The chips may not seem to be crispy when hot. They will become crispier when cooled down.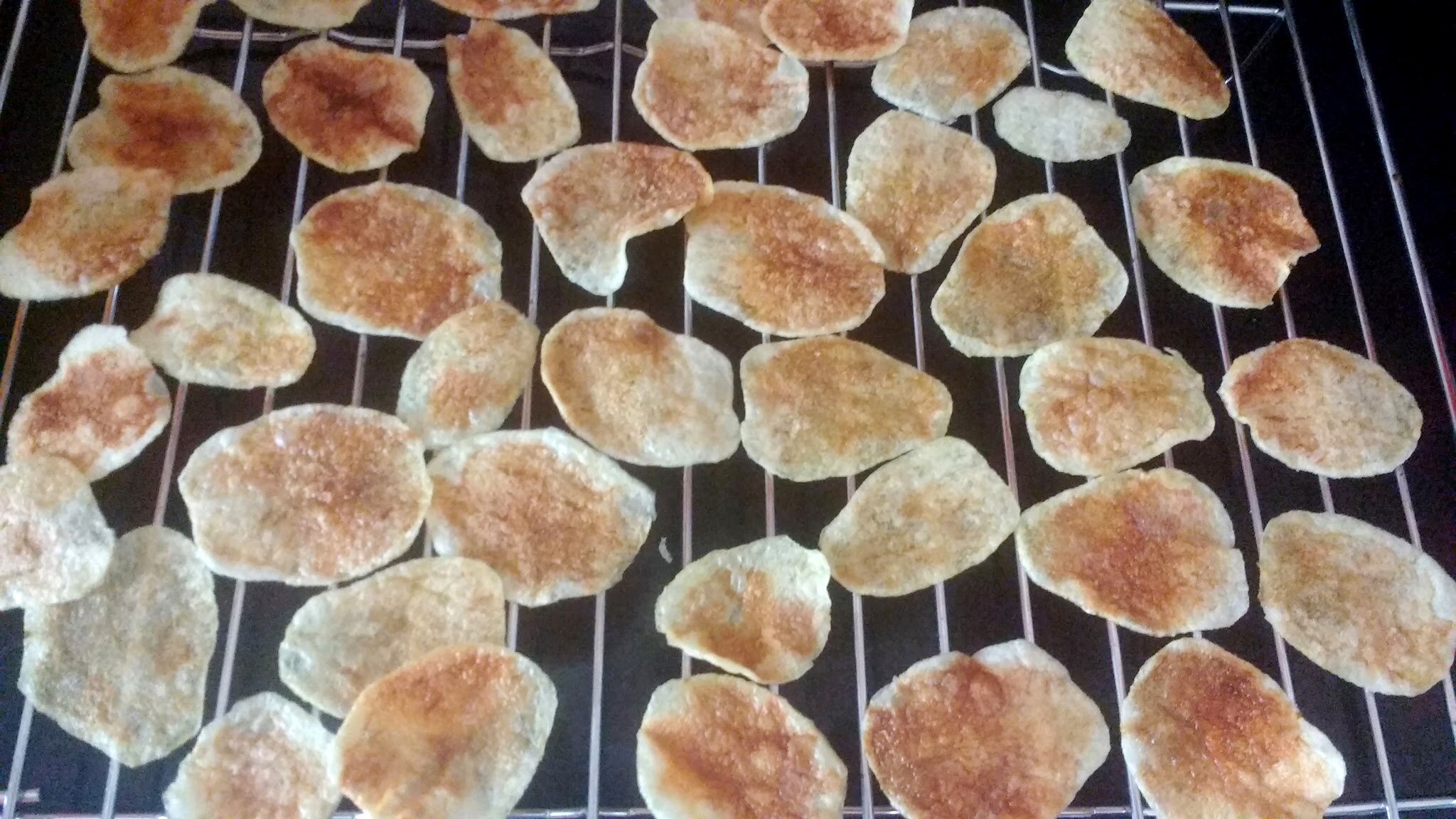 Enjoy these crispy no guilt potato chips with your evening tea or favourite movie!!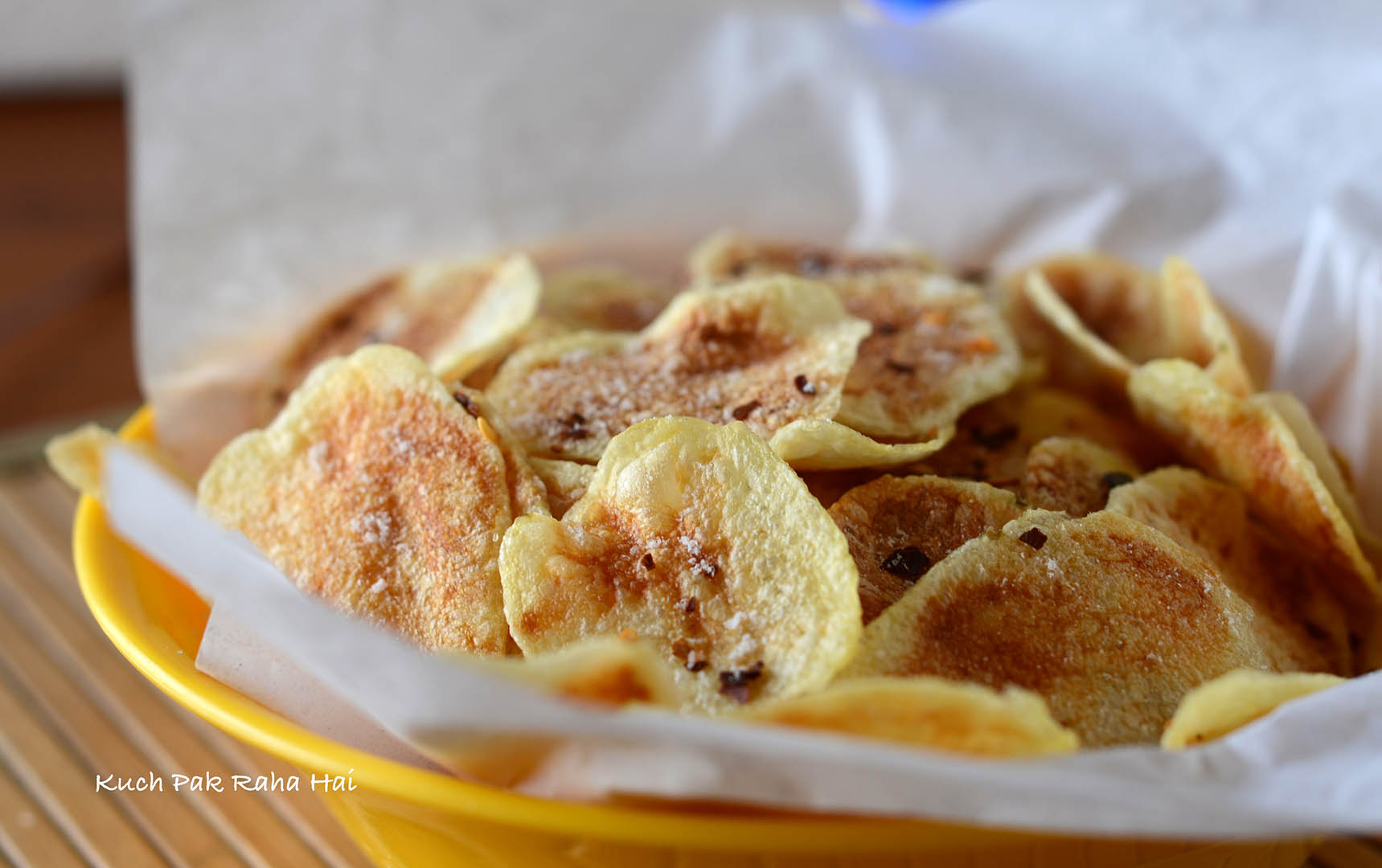 If you try this recipe & share pics on social media, then don't forget to tag us on Facebook or Instagram or use the hashtag #kuchpakrahahai.
Let's stay connected
Facebook | Instagram | Pinterest | Youtube