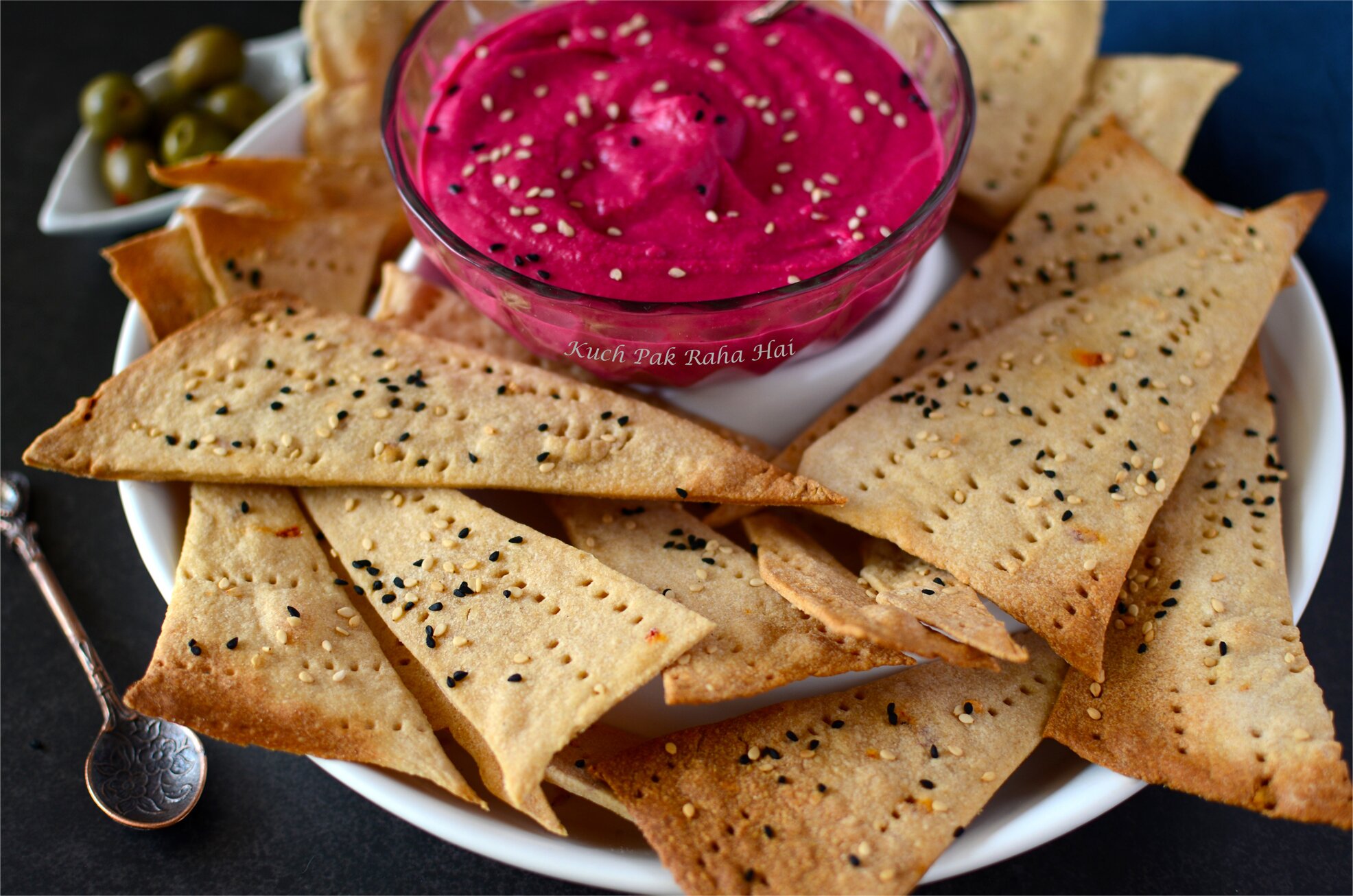 Crispy lavash chips recipe made with whole wheat flour (no yeast). These baked lavash crackers are perfect to serve as snack or appetiser with hummus, dips or salads.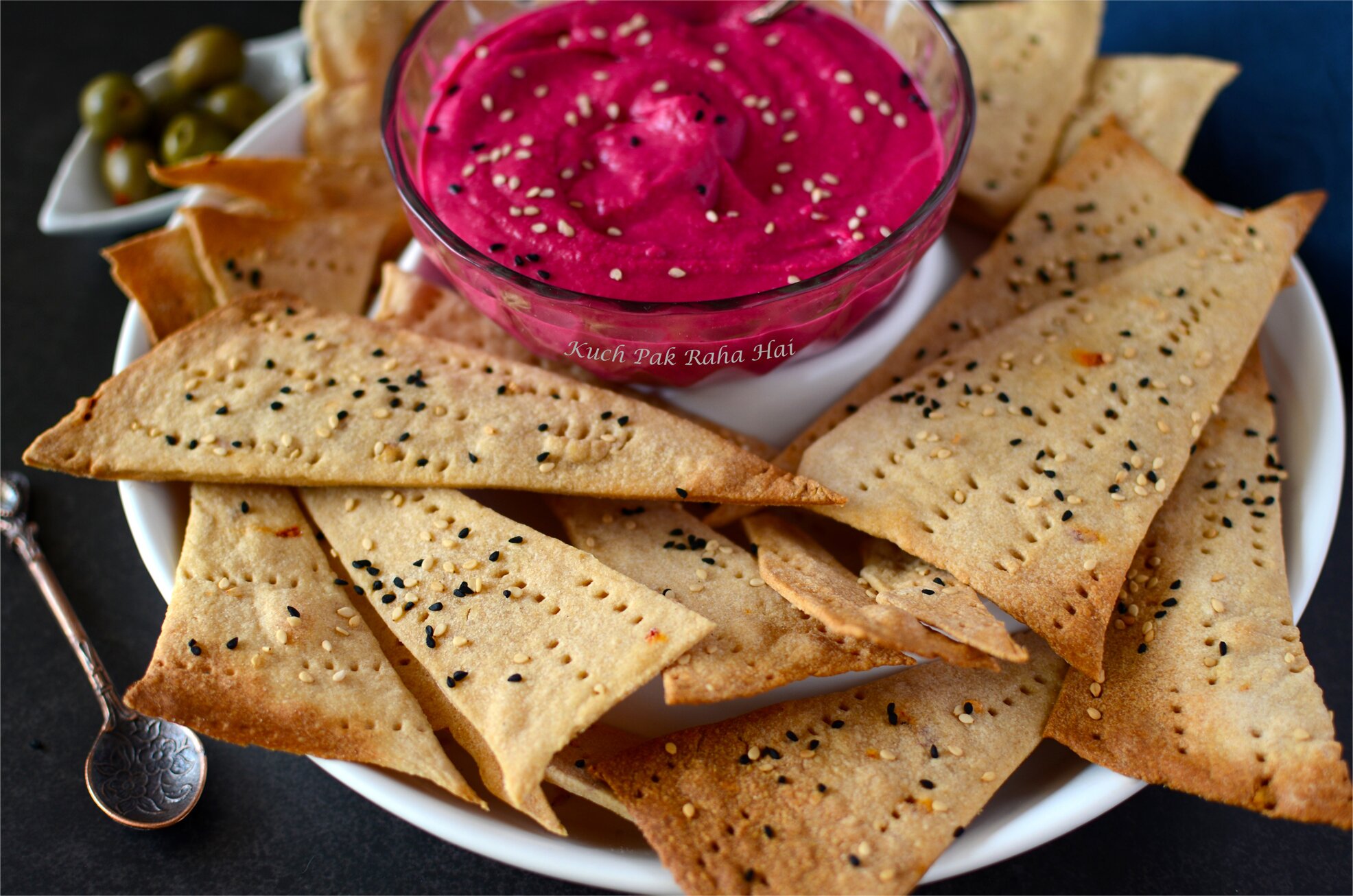 Lavash is a thin, large & soft flat bread originating from Armenia. It is a also a part of mediterranean cuisine in Turkey, Azerbaijan, Iran & other countries surrounding Caspian Sea. Typically the soft lavash bread is made in Tandoor or clay oven.
In this post we will be making baked lavash chips at home using whole wheat flour. Lavash chips or crackers are a perfect party or binge watch snack, perfect to go with any kind of dip. They are crispy, crunchy and healthy too as they are baked & made using whole wheat flour. This is a no yeast recipe and VEGAN too.
Ingredients for Lavash Chips:
These lavash chips can easily be made with just few ingredients at home. The recipe is adapted from original lavash soft bread recipe which uses flour, salt, oil, water and sometimes yeast & sugar. We will not be using yeast & sugar in making these lavash crackers. One of the key highlights is the generous sprinkling of sesame seeds on top which not only gives them a beautiful appearance but enhances the taste.
I have used red chilli flakes as seasoning but you can use other herbs or spices too like oregano, thyme, garlic powder or even Indian spices like cumin or carom seeds. For sprinkling on top, sesame seeds (til) & nigella seeds (kalonji) have been used. If you have black sesame seeds you can use them too.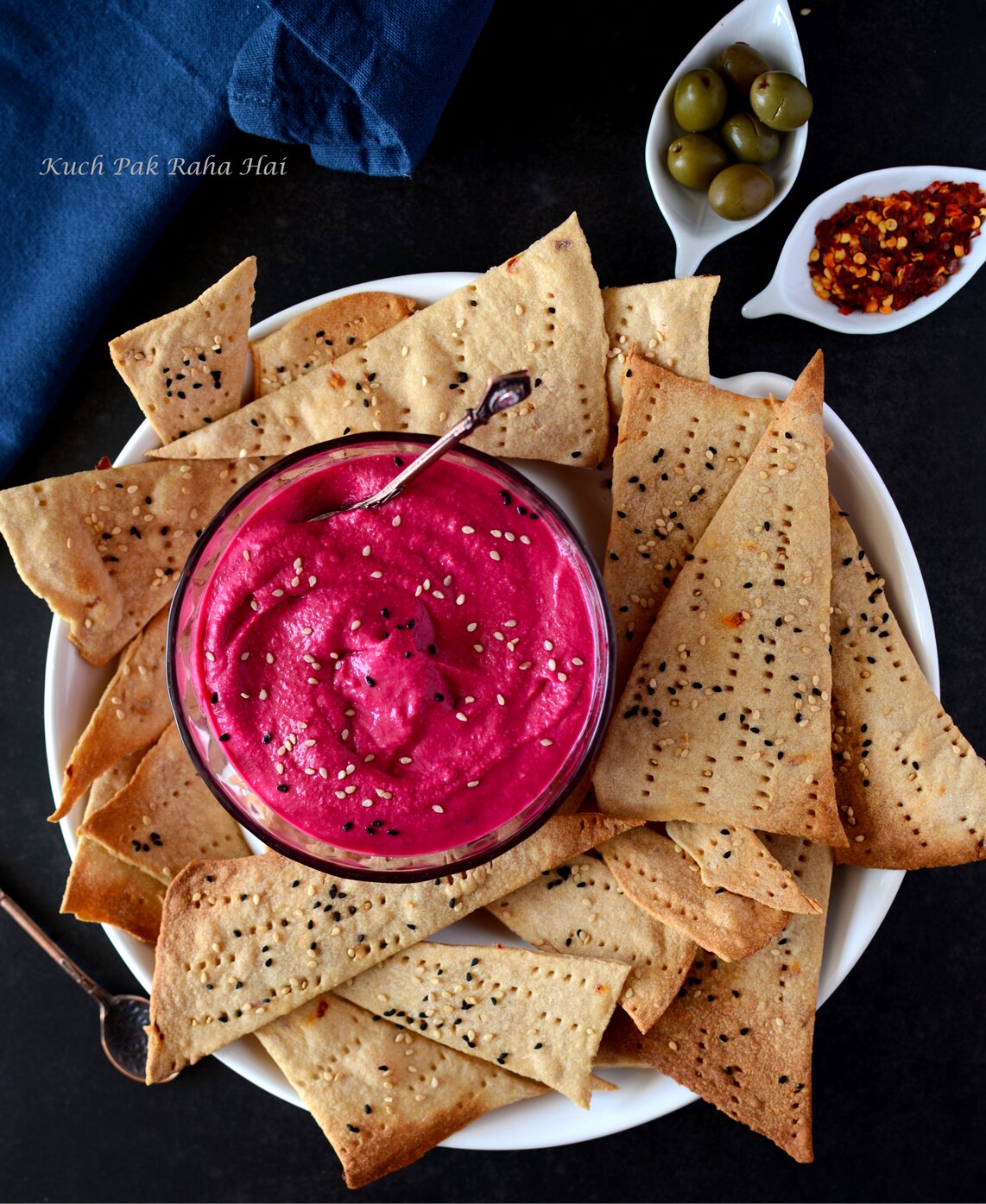 I usually accompany these crispy lavash chips with homemade hummus or tzatziki. I find this combo such a great alternative to regular deep fried chips or snacks with mayonnaise. As hummus is made with boiled chickpeas and lavash is made using whole wheat flour, in combination with olive oil & sesame seeds this is a delicious healthy snacking option.
The lavash dough is simple to make, just make sure you knead it well & give it time to rest (explained in steps below). The dough should be rolled as thinly as possible. Thinner you roll them crispier they will turn out.
How to store lavash crackers?
You can make these lavash chips ahead of time & store it in airtight container. Store them only when they have cooled down completely.
Youtube Video :
If you are making a mezze platter with lavash crackers then you can include pita bread, carrot sticks, cucumber sticks, olives and following dishes in it:
Ingredients:
Whole Wheat Flour – 1 cup
Salt – 1 tsp (to taste)
Red Chilli Flakes – 1/4 tsp
Olive Oil – 1 tbsp
Warm Water – 1/3 cup
Sesame Seeds (Til) – 1 tsp
Nigella Seeds (Kalonji) – 1 tsp
Olive Oil – For brushing
Directions:
Step 1:
In a mixing bowl, add whole wheat flour, salt & red chilli flakes in a bowl. If you dont want to add red chilli flakes add any other herb of your choice. Mix well.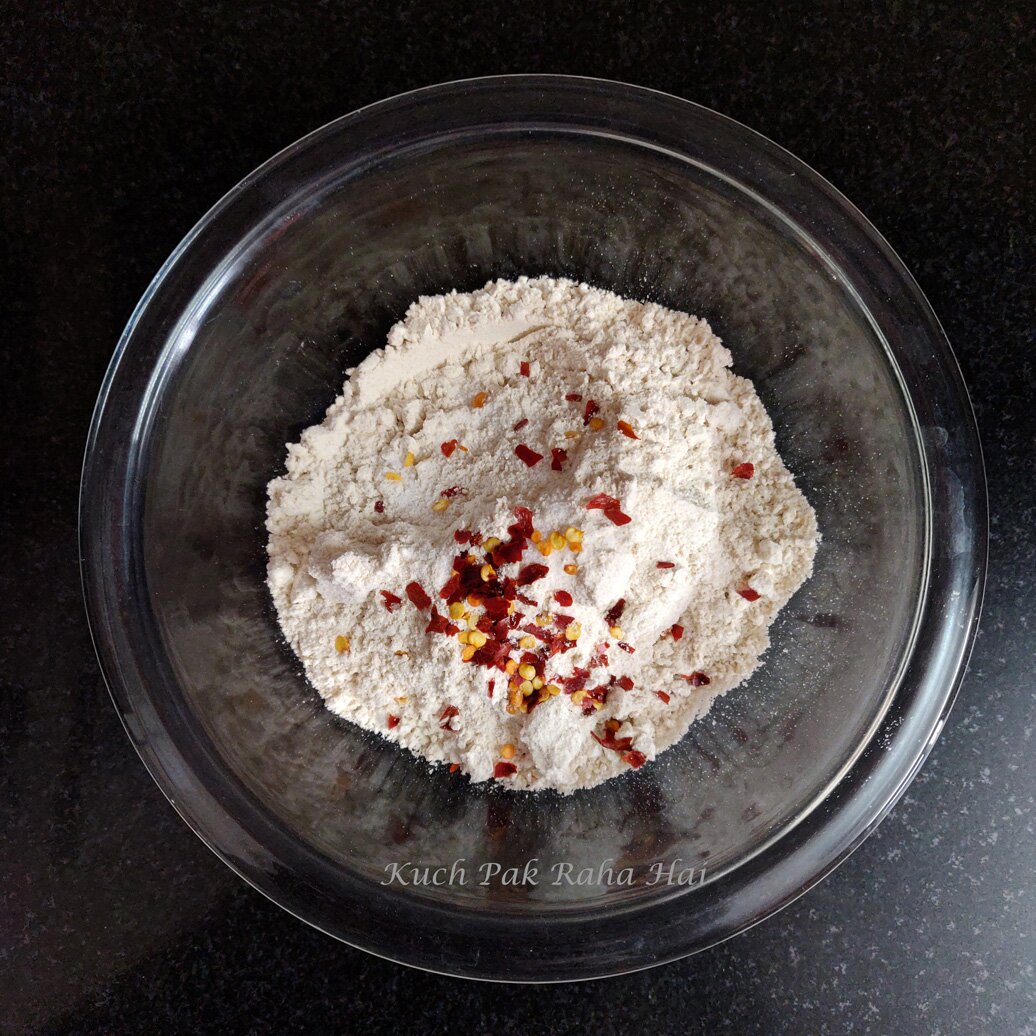 Step 2:
Make hollow in centre of flour & add warm water and olive oil in it.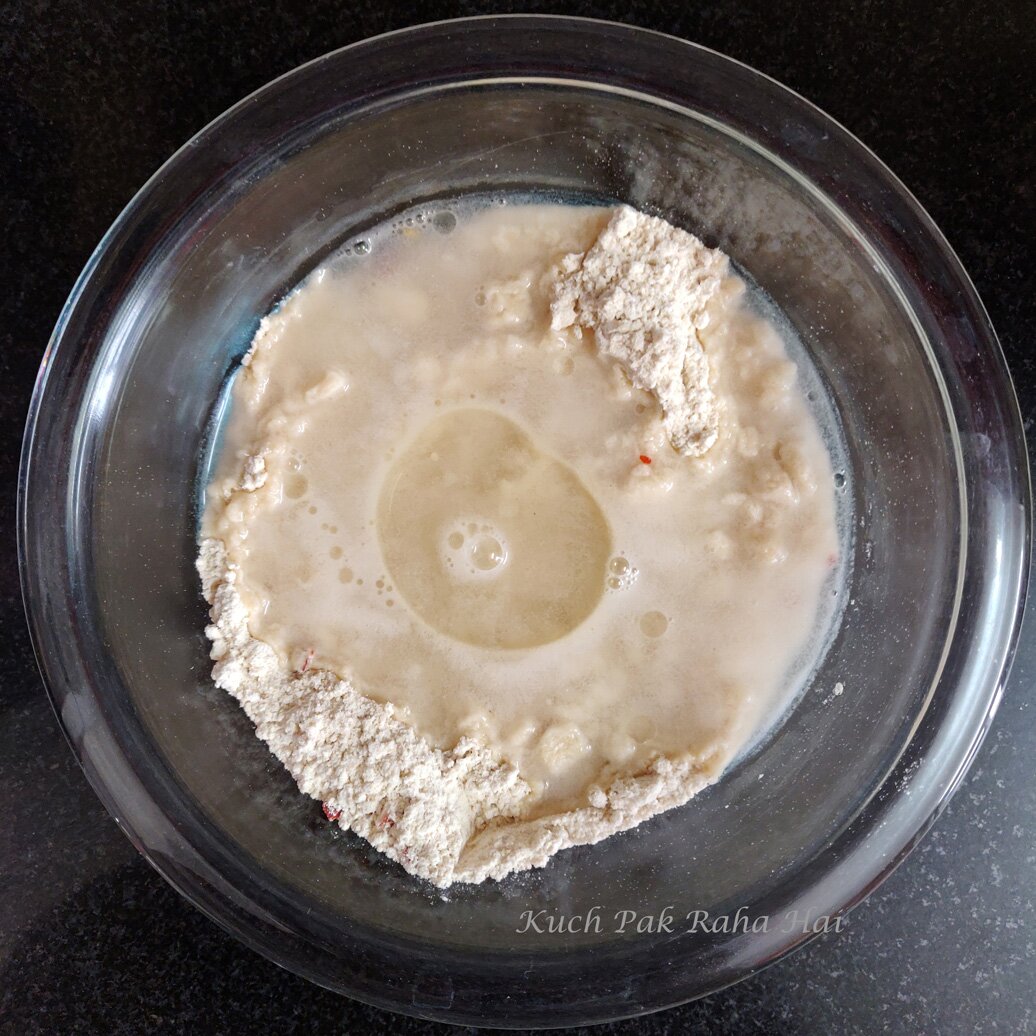 Step 3:
Using your fingers first mix all the ingredients & then knead to form a soft dough. If required add 1 to 2 tbsp of water more while kneading.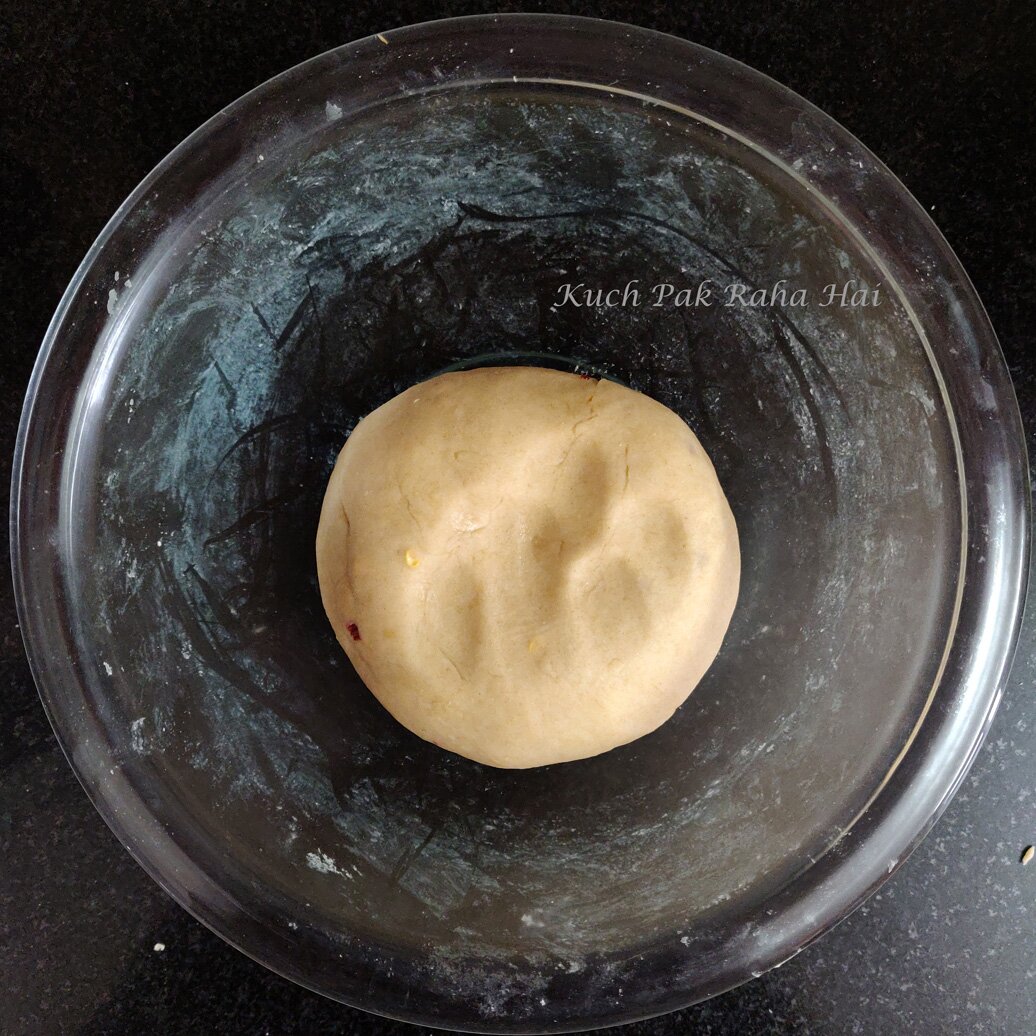 Step 4:
Cover this dough with a damp kitchen towel/cloth & let it rest for 30-40 minutes.
Step 5:
Whenever you are ready to make the chips, set the oven for preheating at 180 degree Celsius. If you are using OTG, then turn the TOAST mode on (both rods on). By the time oven is preheating lets move to next step.
Step 6:
Divide the dough in two equal parts. We will use one part first & for the time being leave the second part covered with damp cloth. Roll the dough into a ball & then flatten it between your palms. Now sprinkle some flour on your kitchen counter & roll it as thinly as possible in roughly rectangular shape. It should become slightly translucent.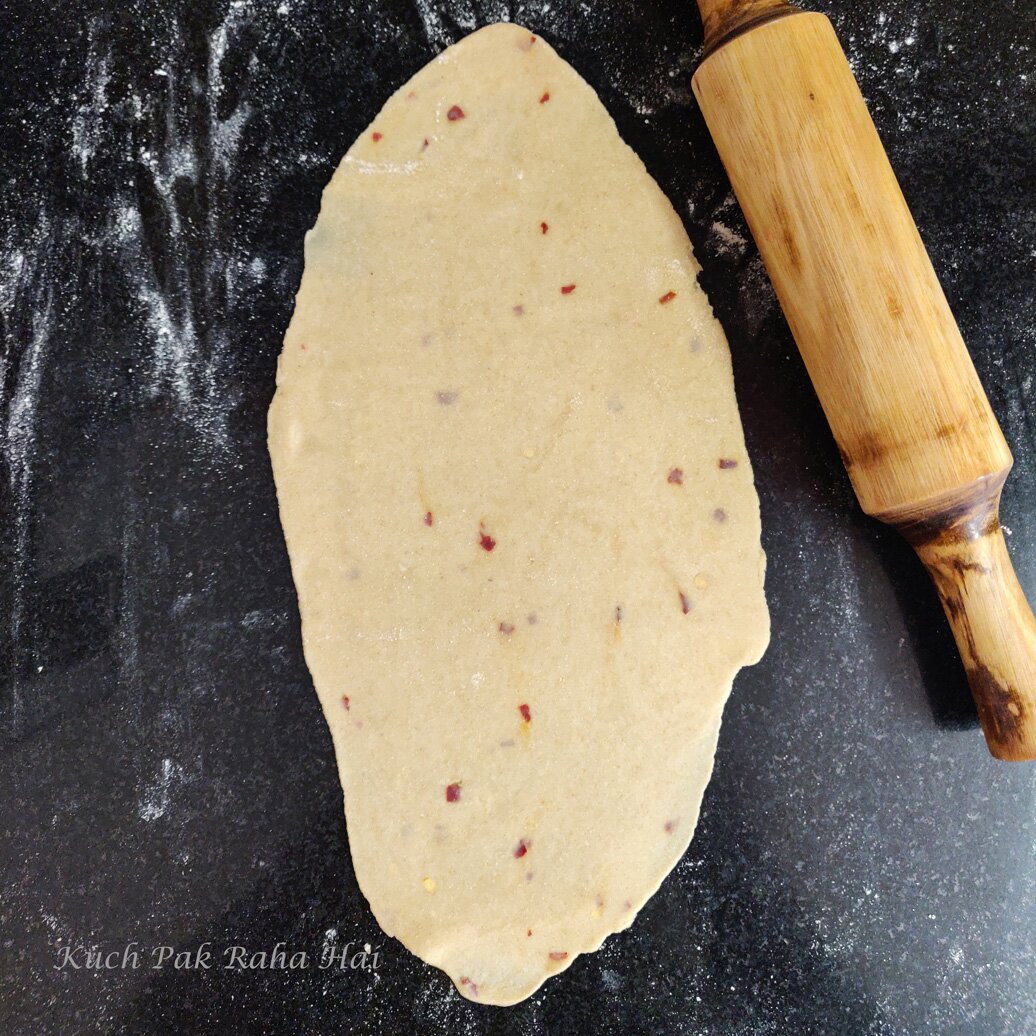 The trick is to thinly roll the dough. Those parts that will remain thick will not crisp up properly so try to roll as evenly as possible.
Step 7:
Brush some olive oil on the baking tray & transfer this sheet on it.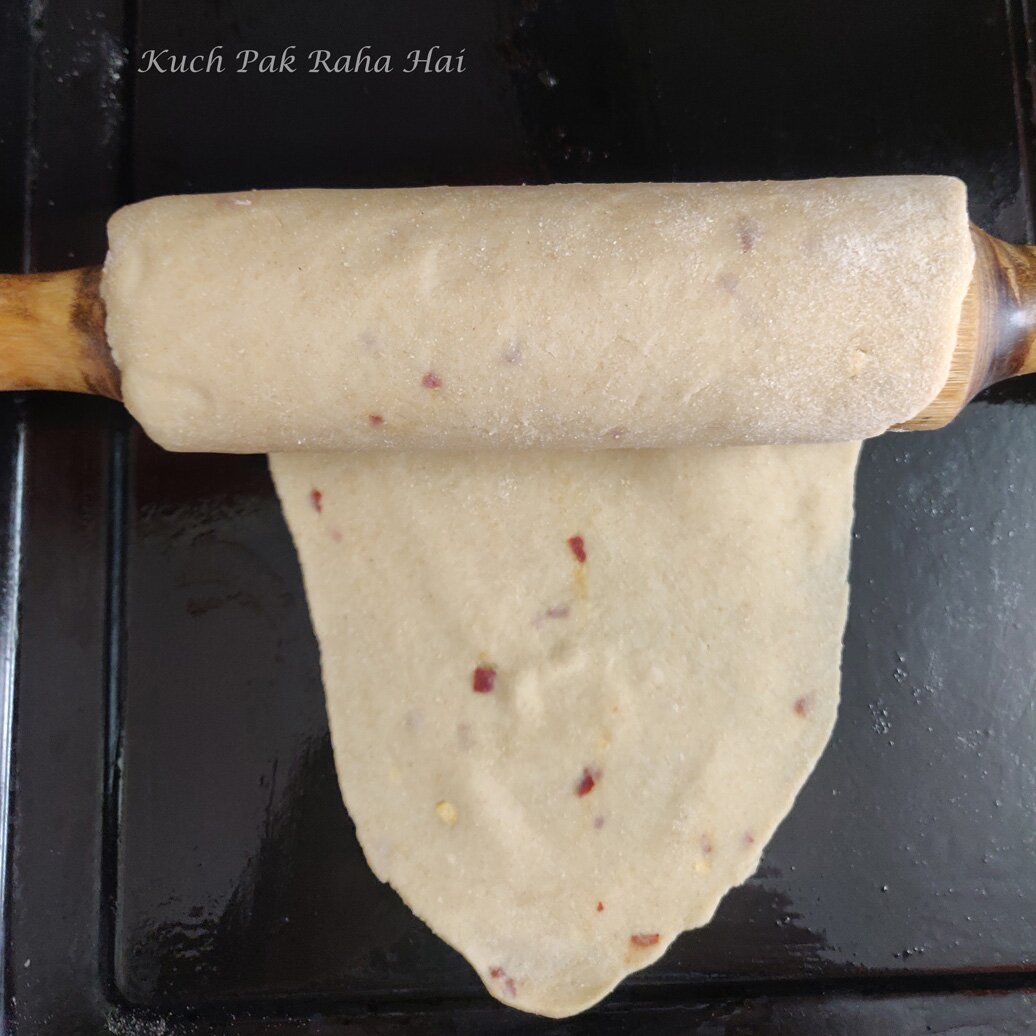 Step 8:
Make holes in it using a fork or knife. This act of pricking the dough is called 'docking' which prevent it from rising during the baking process.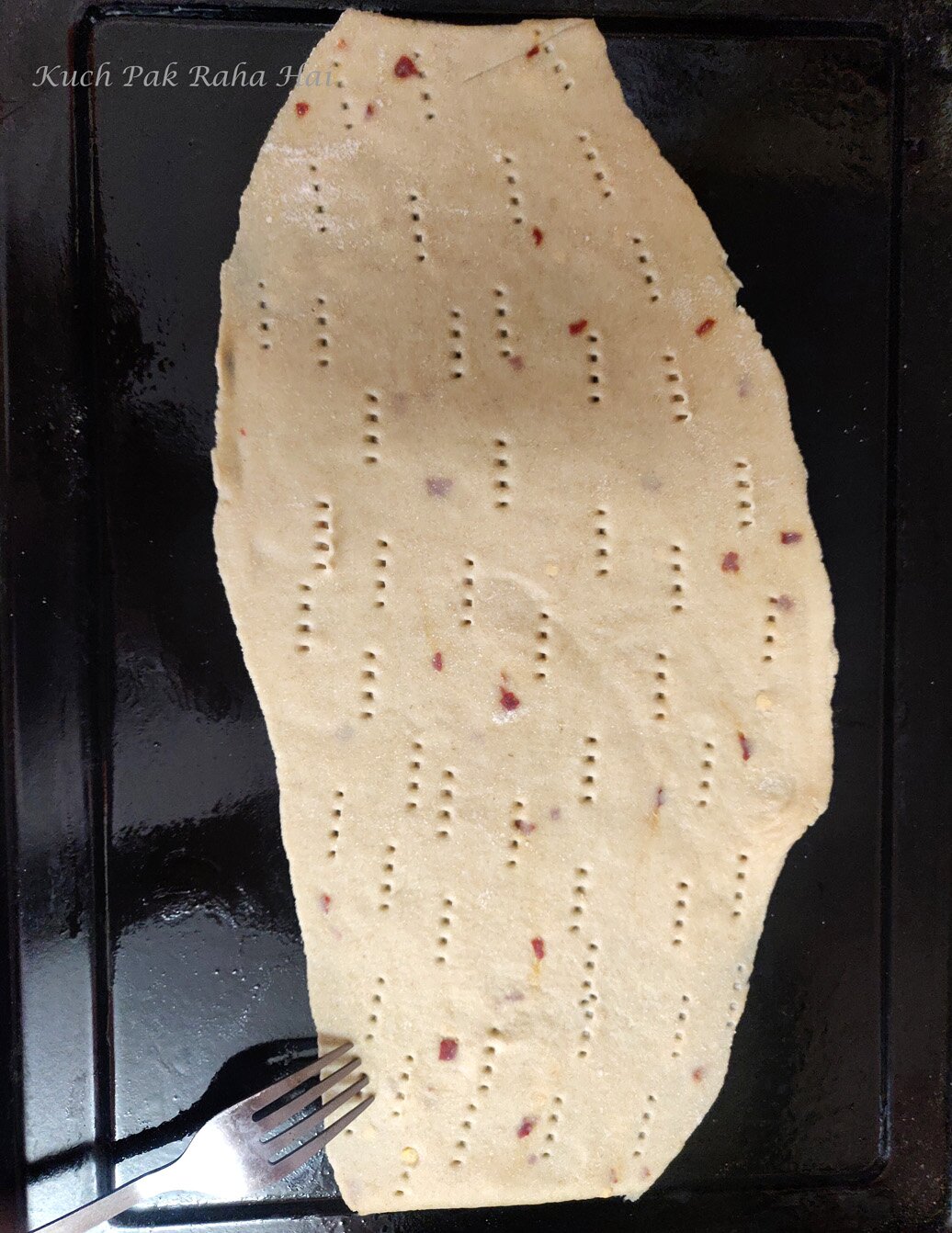 Step 9:
Cut the rolled dough in triangular pieces. If you want, you can chop off the excess from sides. Brush some olive oil on them.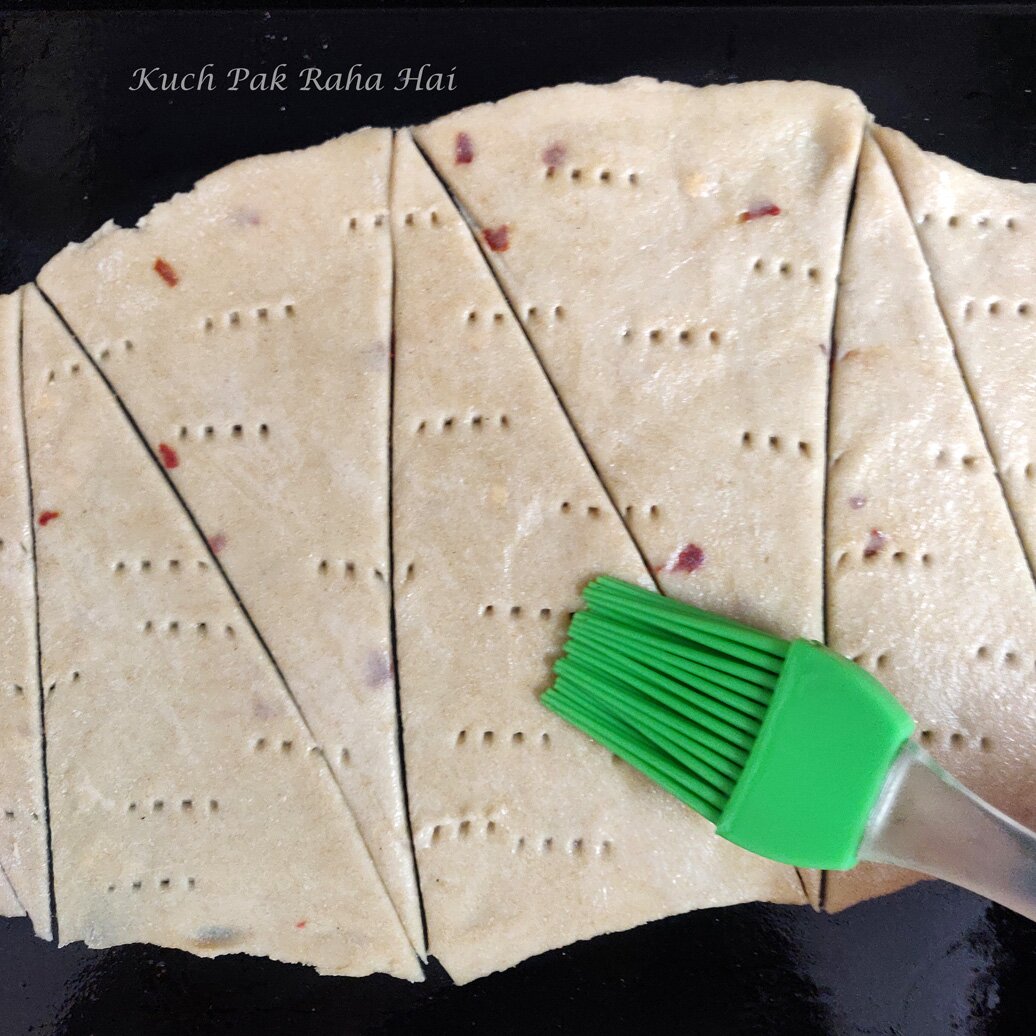 Sprinkle sesame seeds & nigella seeds on them. Gently pat it with fingers so that seeds stick to the dough. Don't put too much pressure while tapping.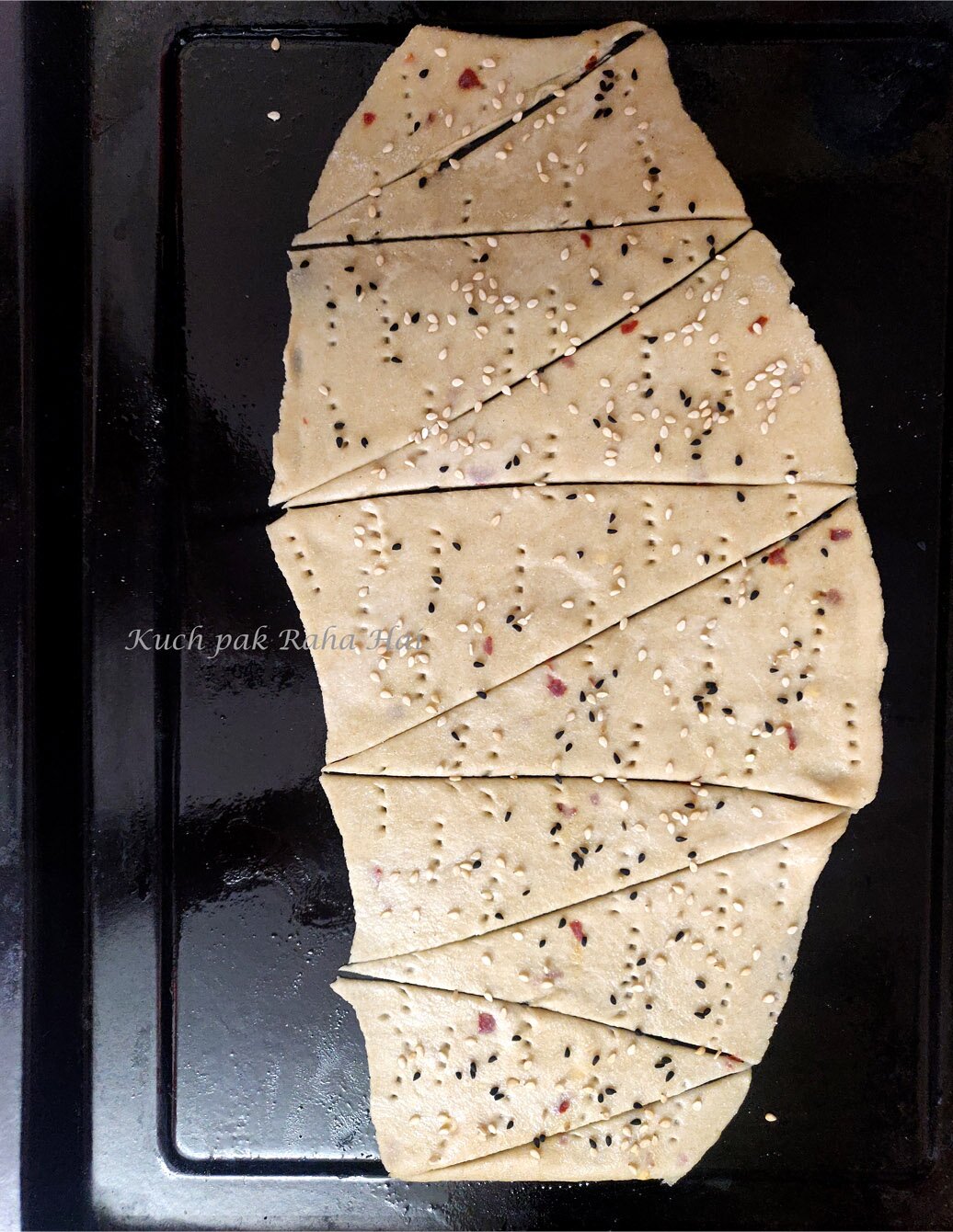 Step 10:
Bake these lavash chips at 180 degree Celsius for 10-12 minutes till the corner start turning golden brown. Keep an eye after 10 minutes.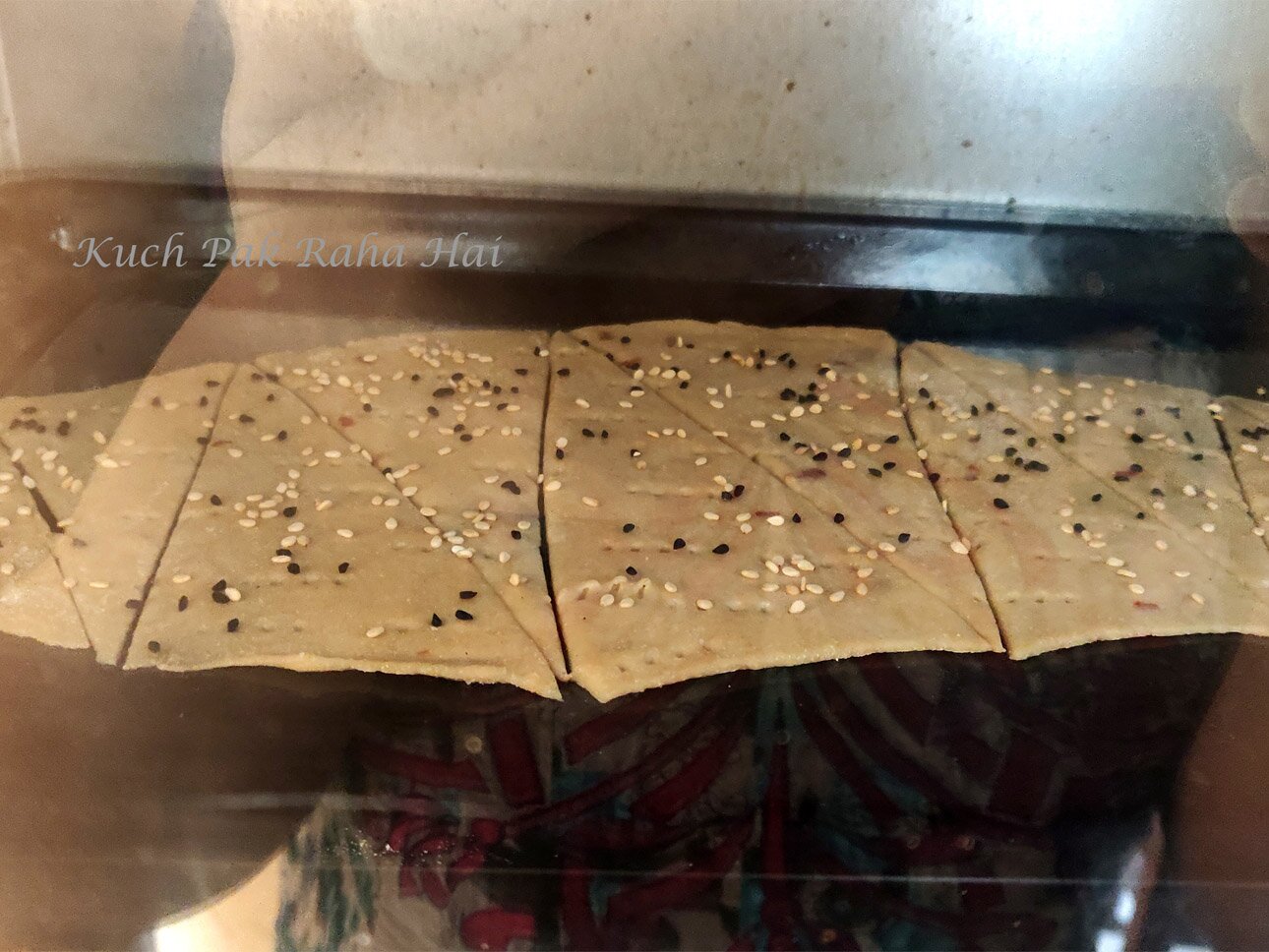 Bring them out of oven & let them cool completely before serving.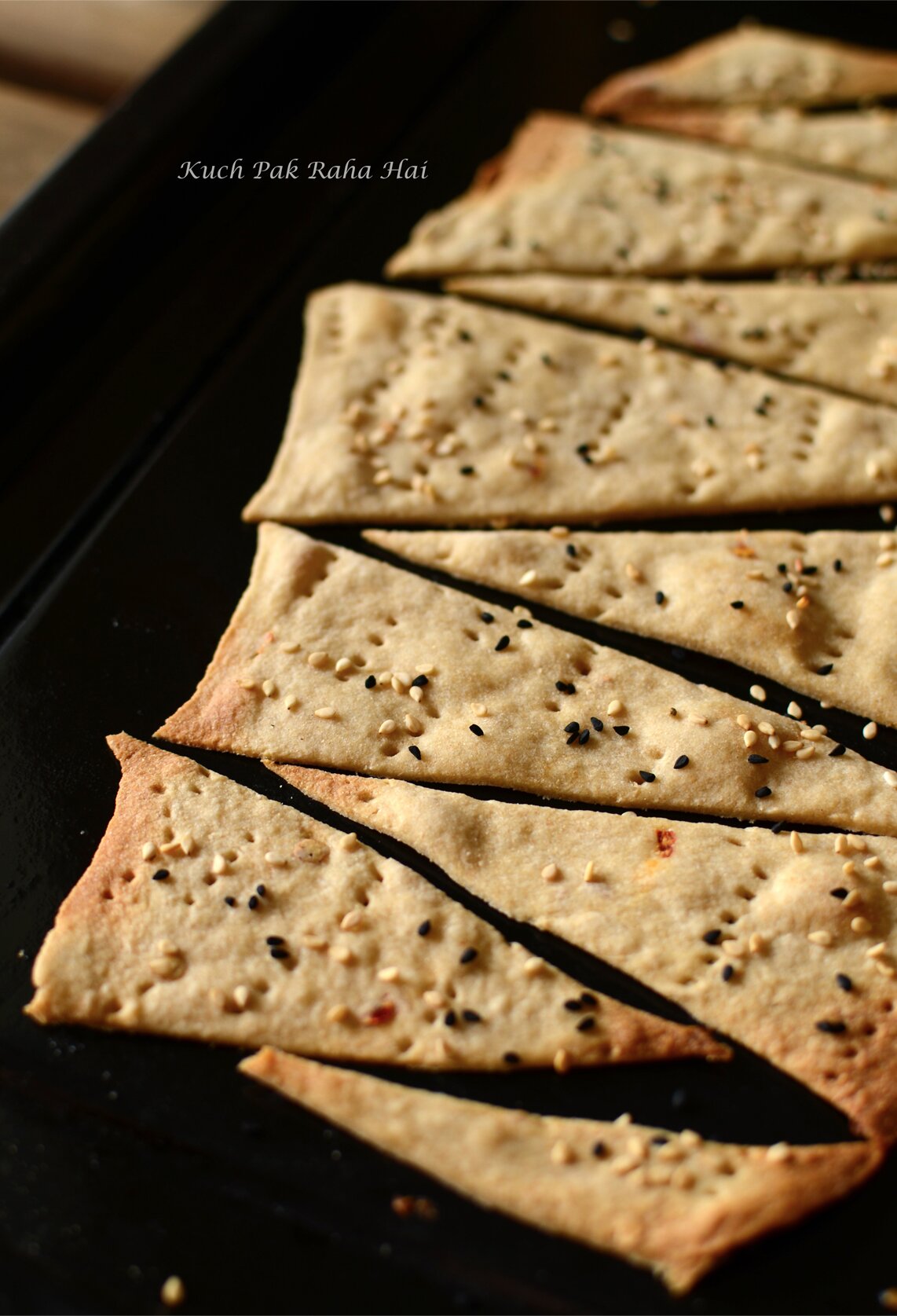 Enjoy these crispy lavash chips with any dip of your choice. Here I have served them with roasted beetroot hummus.
How to store Lavash Crackers?
Once cooled down completely, store then in an airtight container. If baked properly, they remain good for 2-3 days.
Pin for later: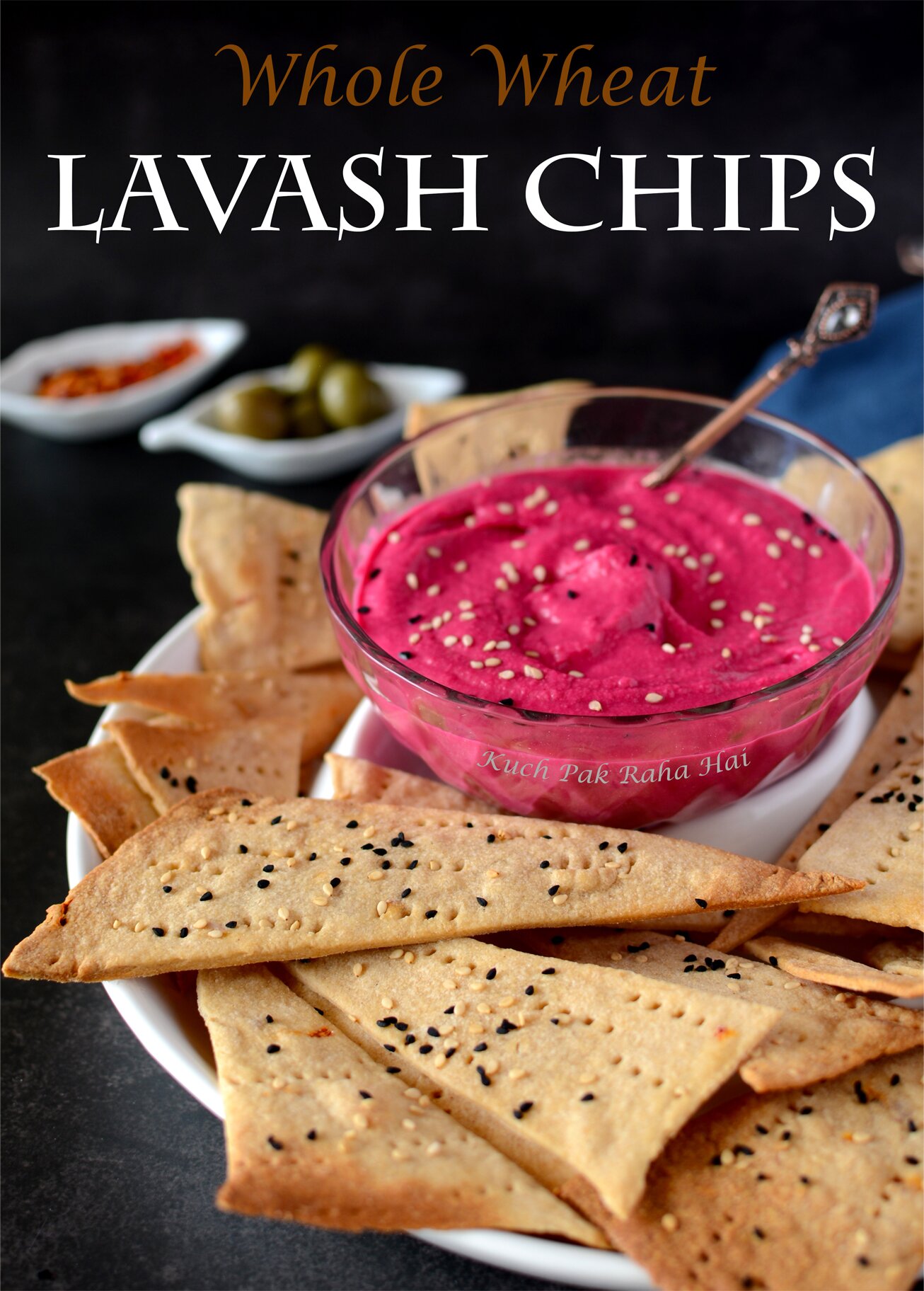 More dip recipes below that go well with these lavash crackers:
If you try this easy lavash chips recipe & share pics on social media, then don't forget to tag us on Facebook, Instagram or use the #kuchpakrahahai.
Let's stay connected
Facebook| Instagram| Pinterest| Youtube