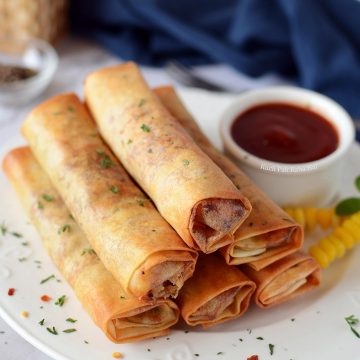 Herbed Cheese Rolls is a delicious vegetarian snack or starter recipe that can be made easily in air fryer. It is an absolute crowd pleaser with light crispy exterior, filled with melt in the mouth cheese inside, mixed with fresh vegetables and aromatic herbs.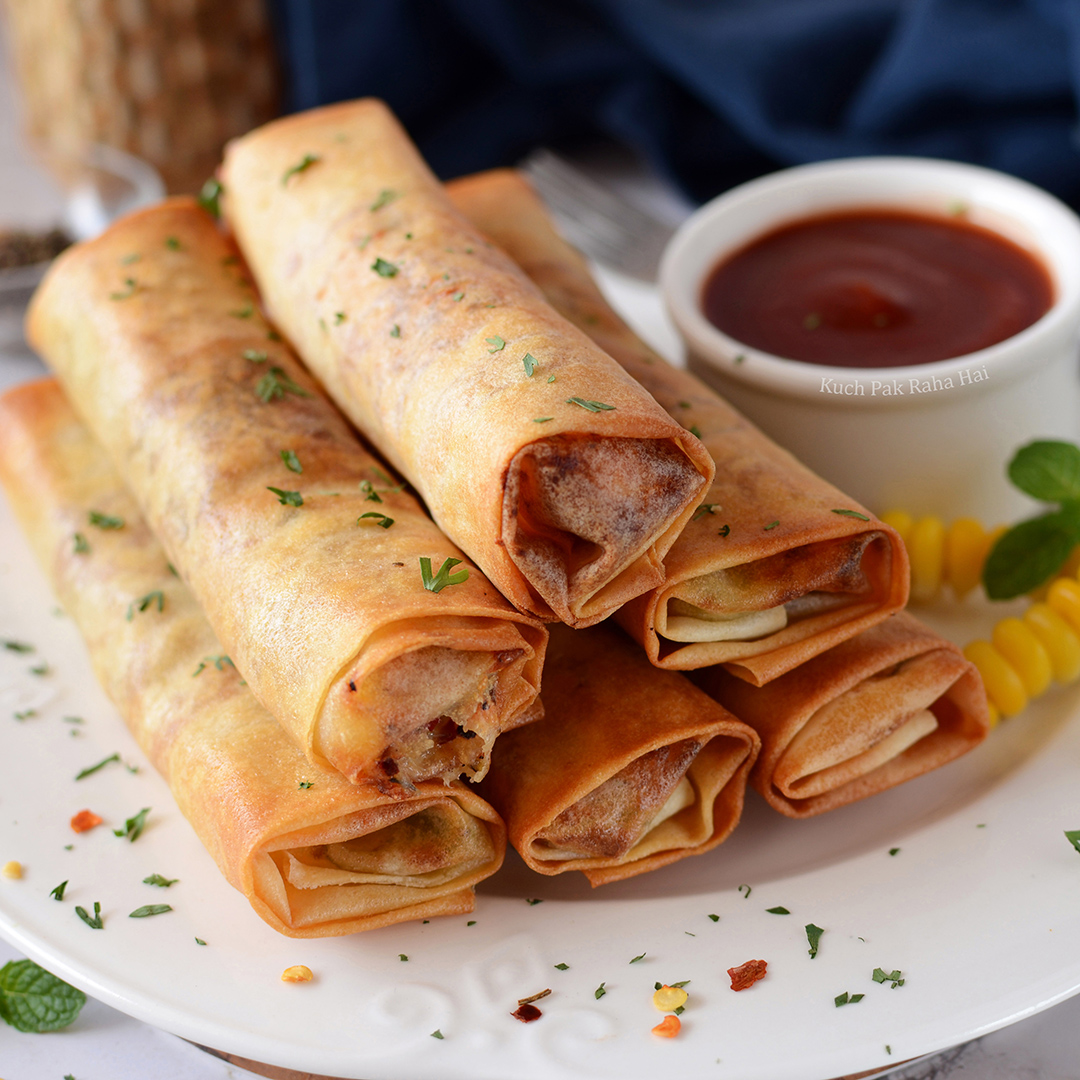 These cheese spring rolls can be easily prepared at home with just few ingredients. They can be both deep fried or air fried but I have shown air fryer method in this post. Generally If we deep fry spring rolls the outer layer becomes oily but with air fryer you just need to brush a little bit of oil and the outer covering remains light & crunchy.
Air fryer Cheese Rolls Ingredients:
Vegetables: The cheese rolls recipe shared here is customisable and you can vary it as per your own taste. I have used red bell pepper, green bell pepper (capsicum), onion and sweet corn kernels for stuffing. Other vegetables that you can use are olives, jalapeños, green chillies, yellow bell pepper, mushrooms etc.
Seasonings: The filling inside these cheese rolls is seasoned with red chilli flakes, crushed black pepper, dried oregano & mixed herb seasoning.
You can choose any vegetables of your choice & spice it up with herbs or seasoning of your choice. If you are making these cheese rolls for kids, then feel free to skip red chilli flakes.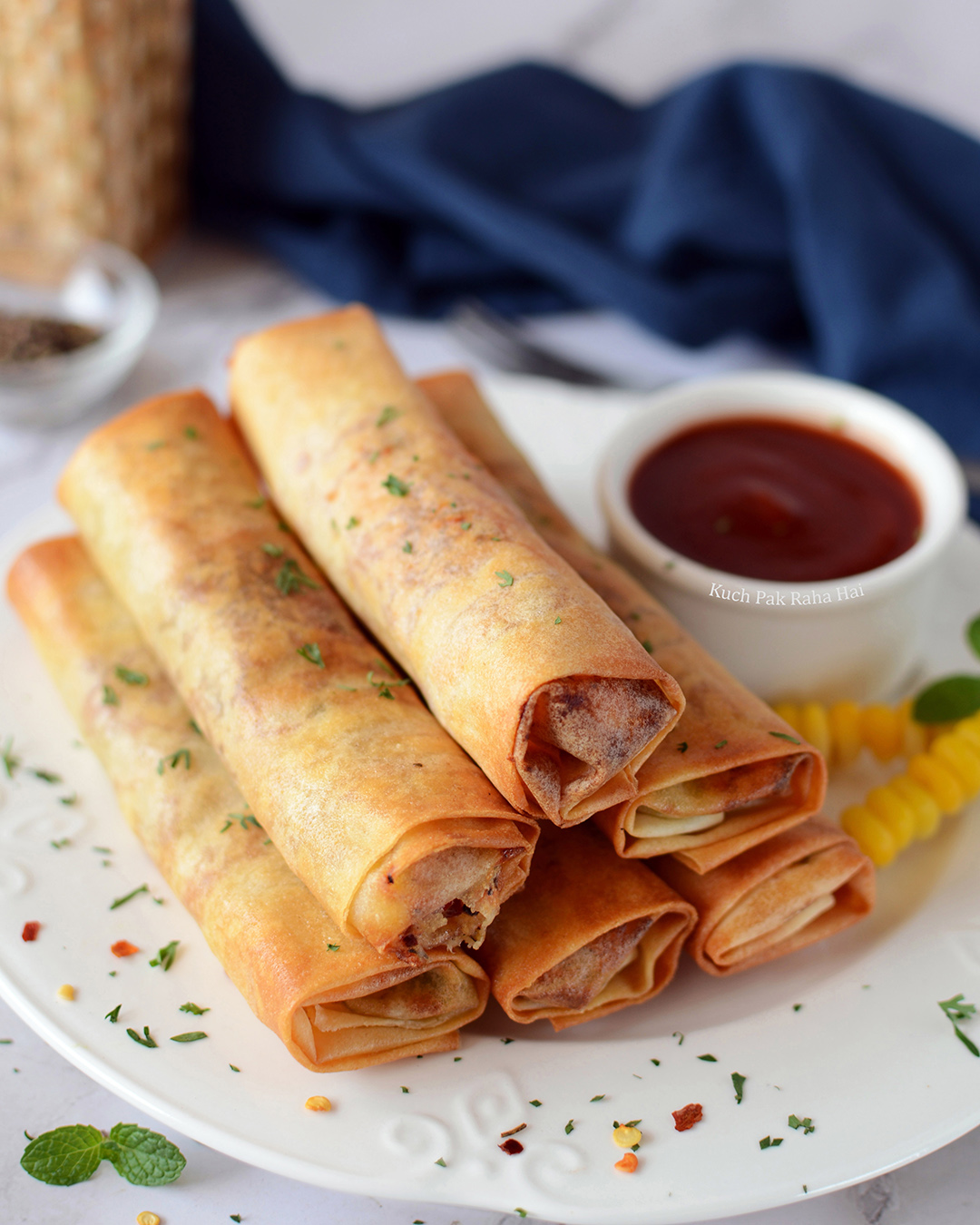 Spring Roll Sheets: I have used Switz brand Spring roll sheets here. They come in 2 sizes 6 x 6″ inches and 8 x 8″ inches. Here 8 x 8″ inches square sheet has been used. They are easily available in stores these days or you can order from Big basket or Amazon. They are supposed to be kept in deep freeze and thawed for 40 minutes before use. As per the packet instructions once thawed they cannot be frozen again.
Oil / Butter:  For brushing these spring rolls, I have used Olive oil. You can use melted butter, garlic butter or herbed butter also for more flavour.
Can I make these air fryer cheese rolls ahead of time?
These cheese rolls are perfect for large party gatherings or super bowl games. You can prepare these cheese rolls ahead of time, brush them generously with oil / melted butter & keep them covered with slight damp cloth till you are ready to air fry them. Whenever you are ready to serve them, just preheat the air fryer and transfer these rolls in it. You don't need to sweat at the last moment in the kitchen.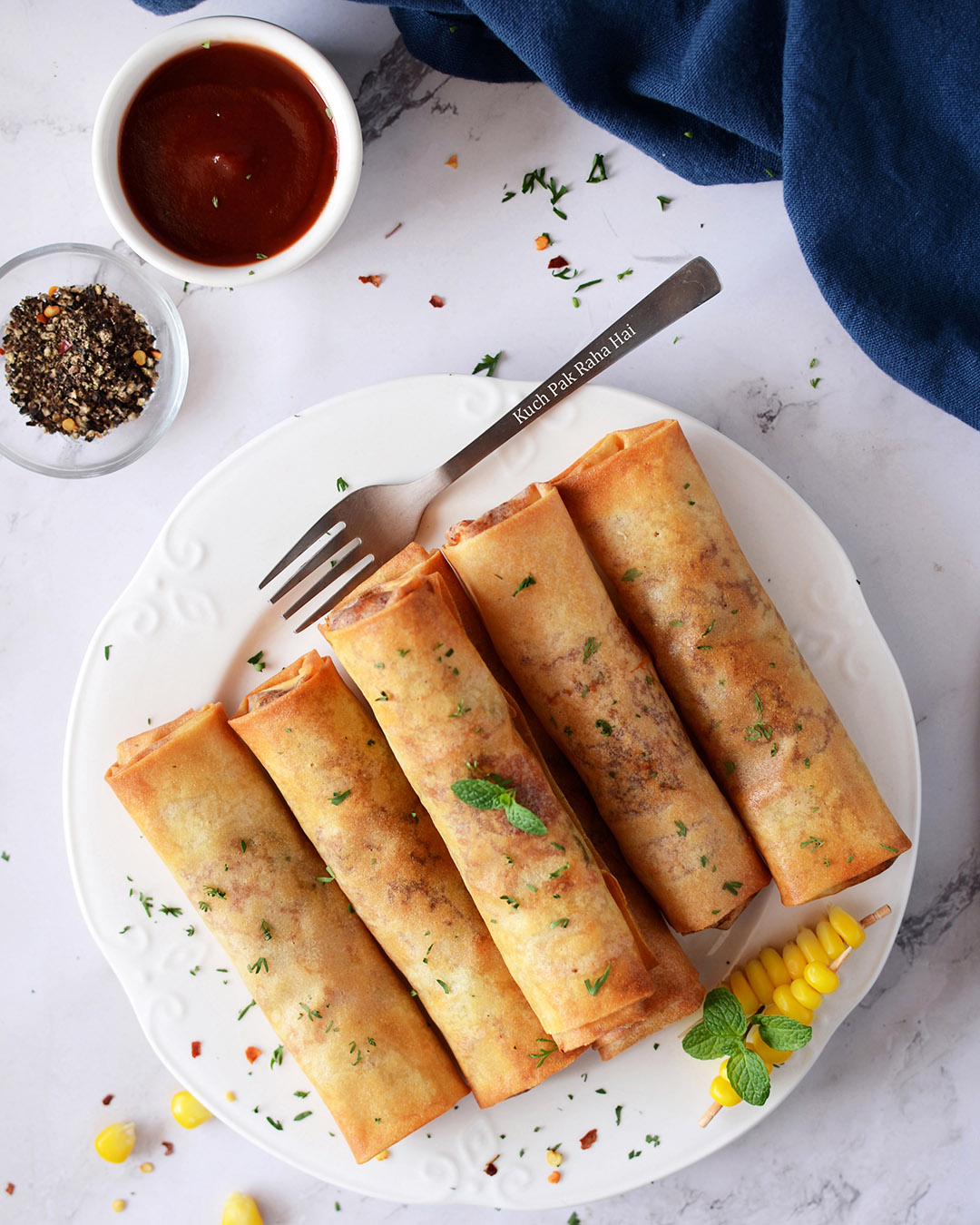 Hope you would like this delicious Herbed Cheese Roll Recipe!! More air fryer recipes you might like: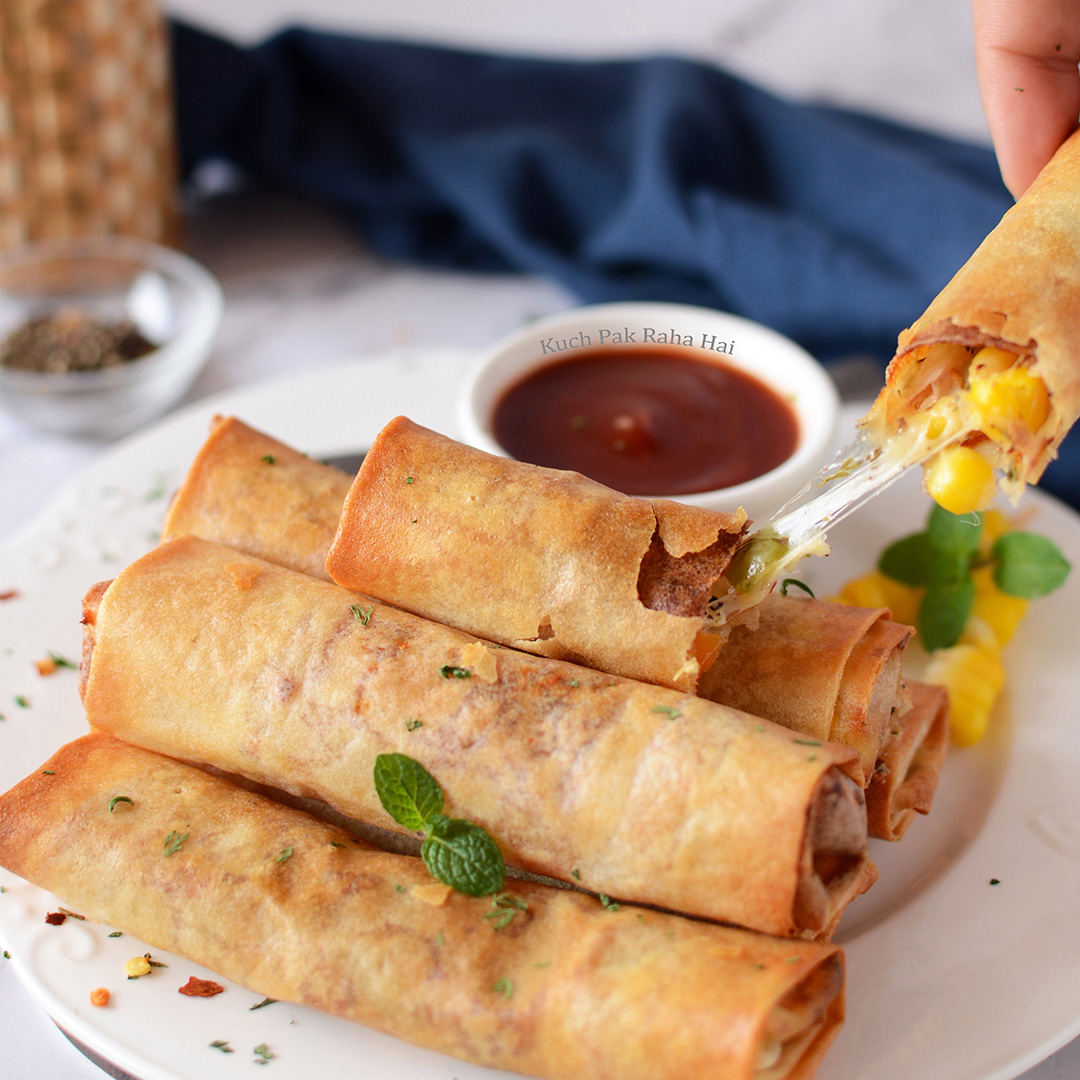 Ingredients: (Makes 5 pieces)
Spring Roll Sheet-5
Mozzarella Cheese-1/2 cup
Chopped Onion-3 tbsp
Boiled Sweet corn-3 tbsp
Chopped Capsicum-3 tbsp
Chopped Red Bell Pepper-3 tbsp
Dried Crushed Oregano- 1/4 tsp
Red Chilli flakes-1/2 tsp
Crushed Black pepper-1/4 tsp
Italian seasoning-1/4 tsp
Chopped Parsely / Coriander-1 tsp
Salt-1/2 tsp (To taste)
Olive Oil / Melted butter- For brushing
All purpose flour (Maida) -1 tbsp
Water – 3/4 tbsp
Notes:
1. Adjust the seasoning as per your taste
2. As spring roll sheets, mozzarella cheese and mixed seasoning already have salt, add salt accordingly.
Directions:
Step 1:
Add all the vegetables, herbs, seasoning, salt and mozzarella cheese in a mixing bowl. This will be the filling for roll. Keep it aside.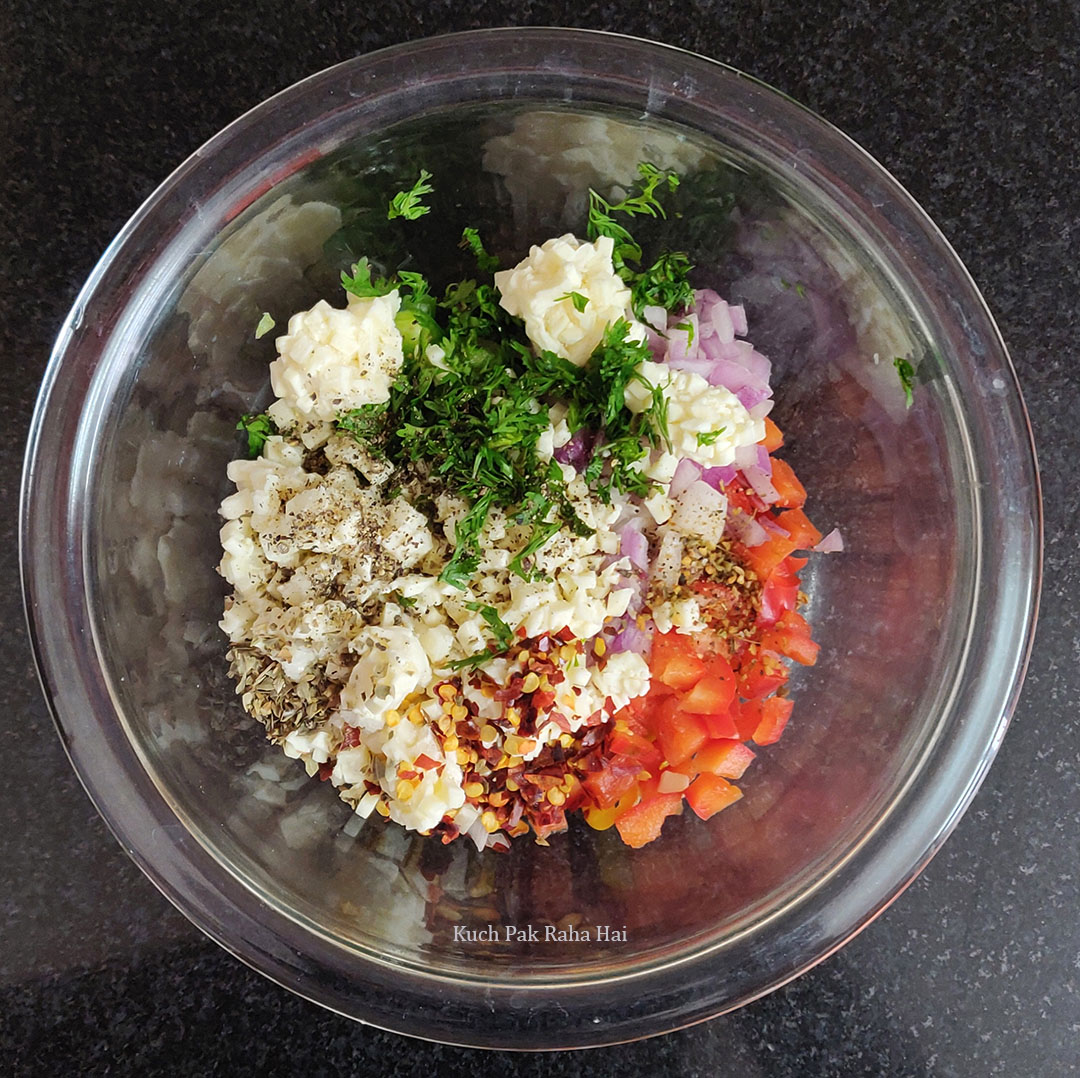 Step 2:
Add all purpose flour(maida) and water in a mixing bowl. Mix well & prepare a thick slurry. We will be using it to seal the edges of spring roll. Keep it aside.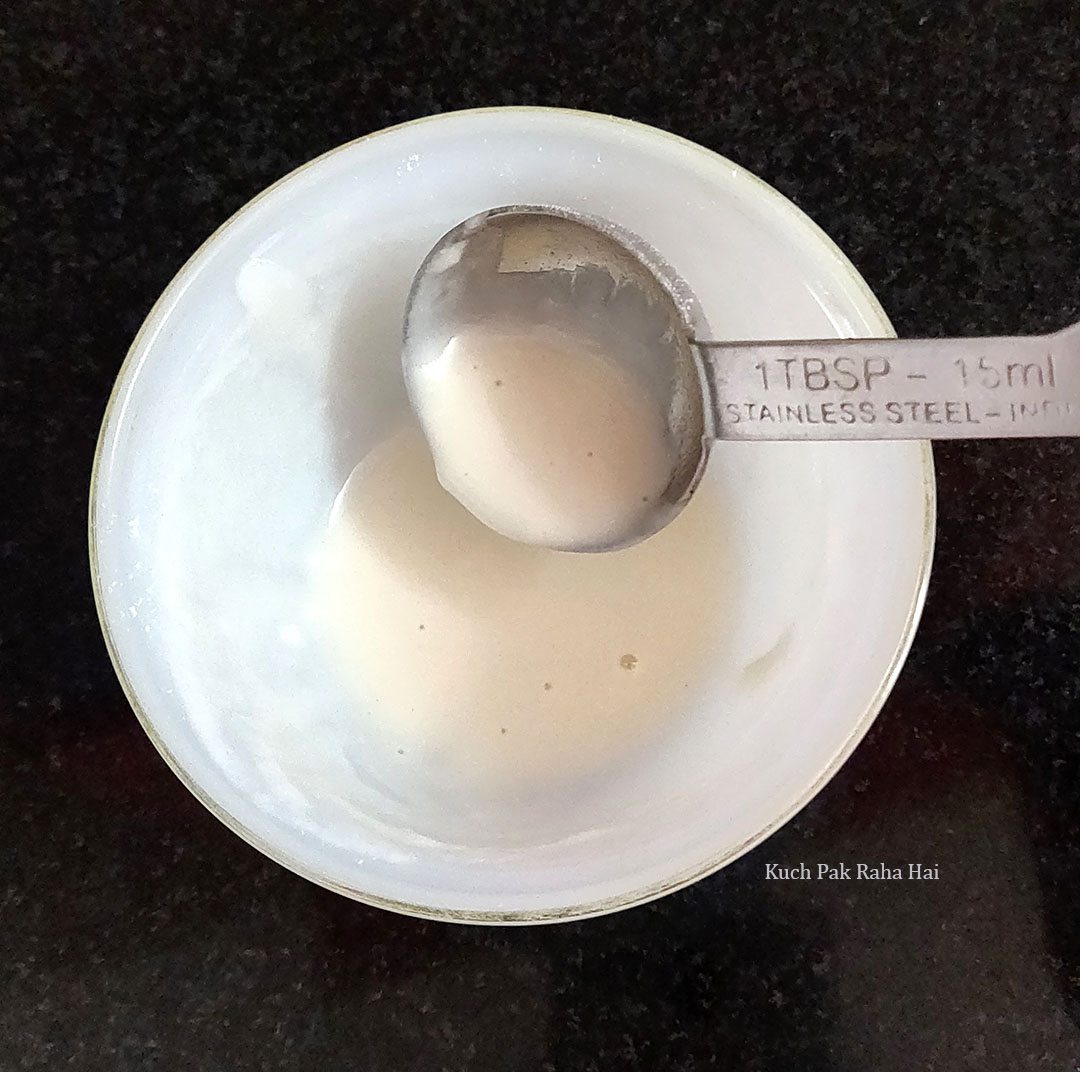 Step 3:
I have used Switz spring roll sheets here. You can use any brand of your choice.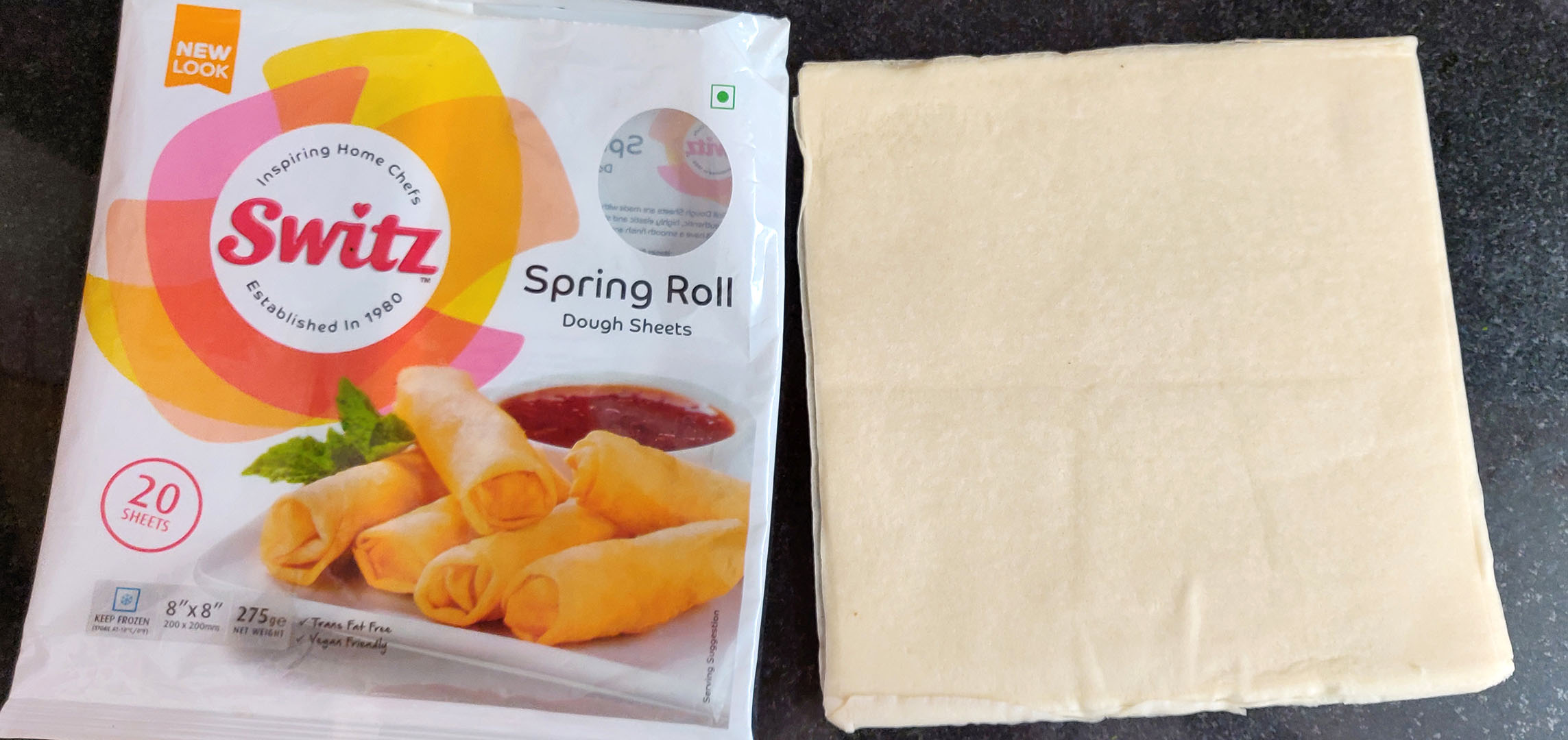 Spread a spring roll sheet on a kitchen counter. Cover the remaining sheets with a slightly damp cloth to prevent them from drying & cracking.
Place the filling on one side of the sheet such that majority of the filling is in the centre. As the cheese will melt while air frying and it will flow side wise, we are leaving space for that. Don't stuff this roll with too much of cheese as we want to give enough space for cheese to boil & melt.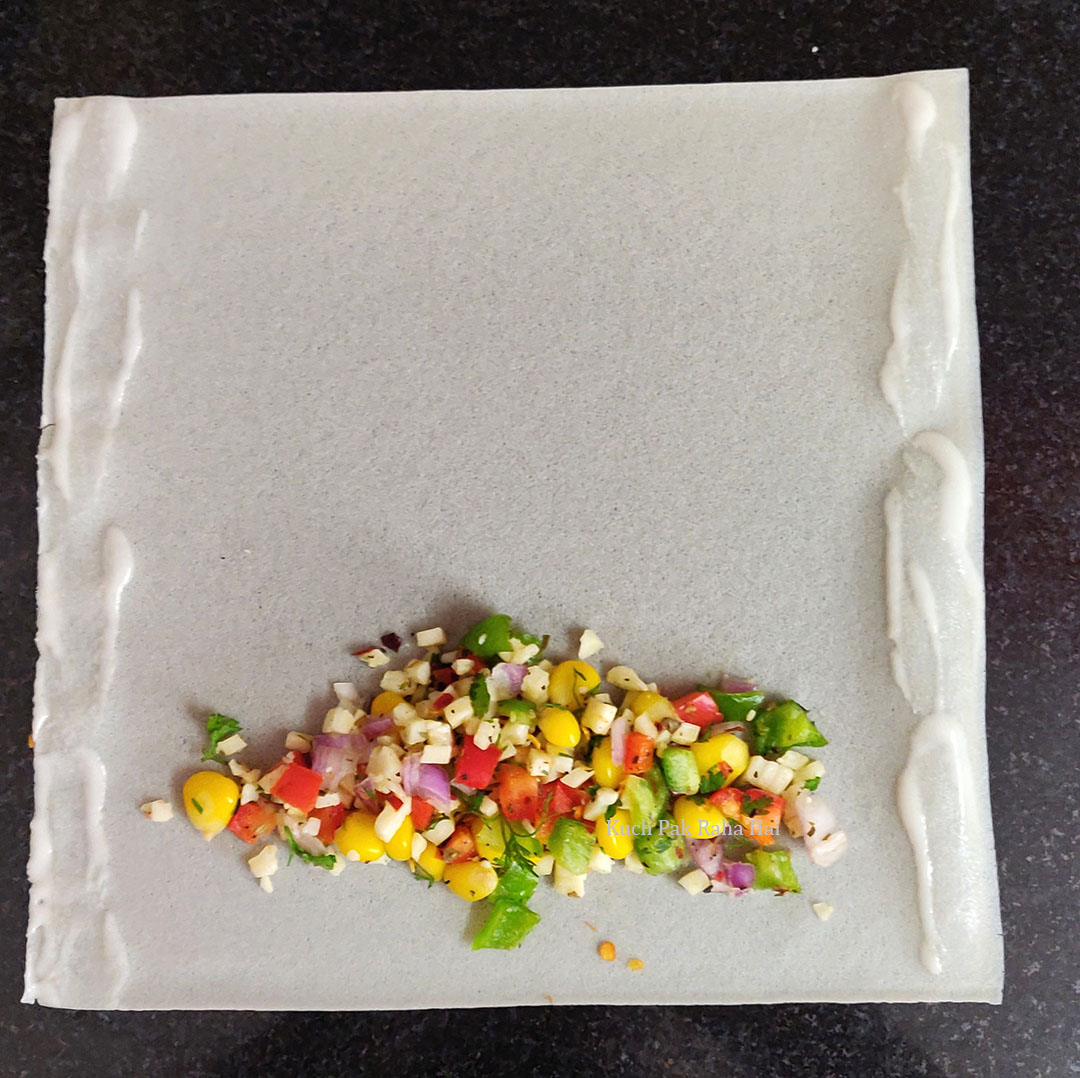 Apply some slurry on sides and fold them inwards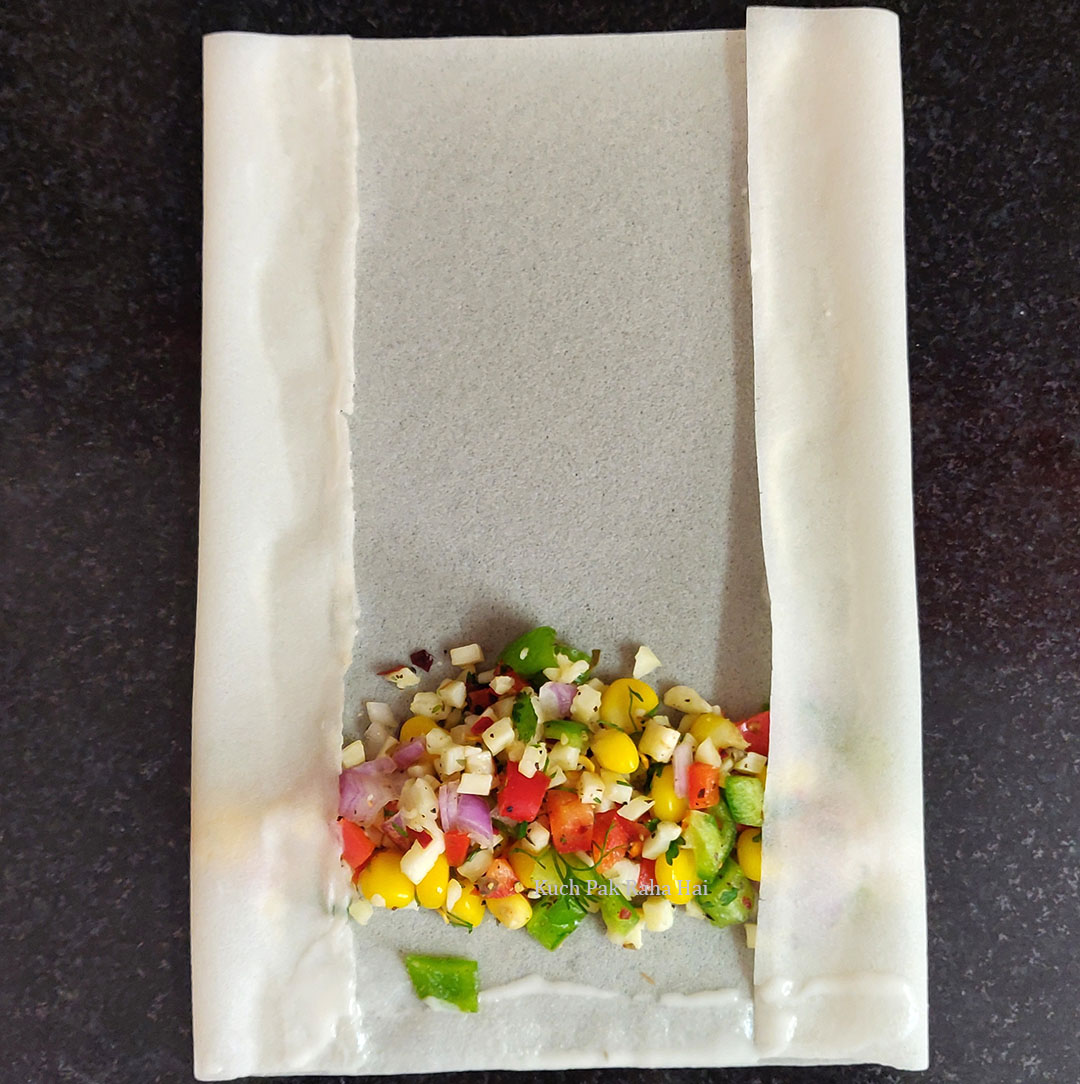 Roll it gently and apply slurry on last edge also. Sealing is an important step so make sure you stick the edges well.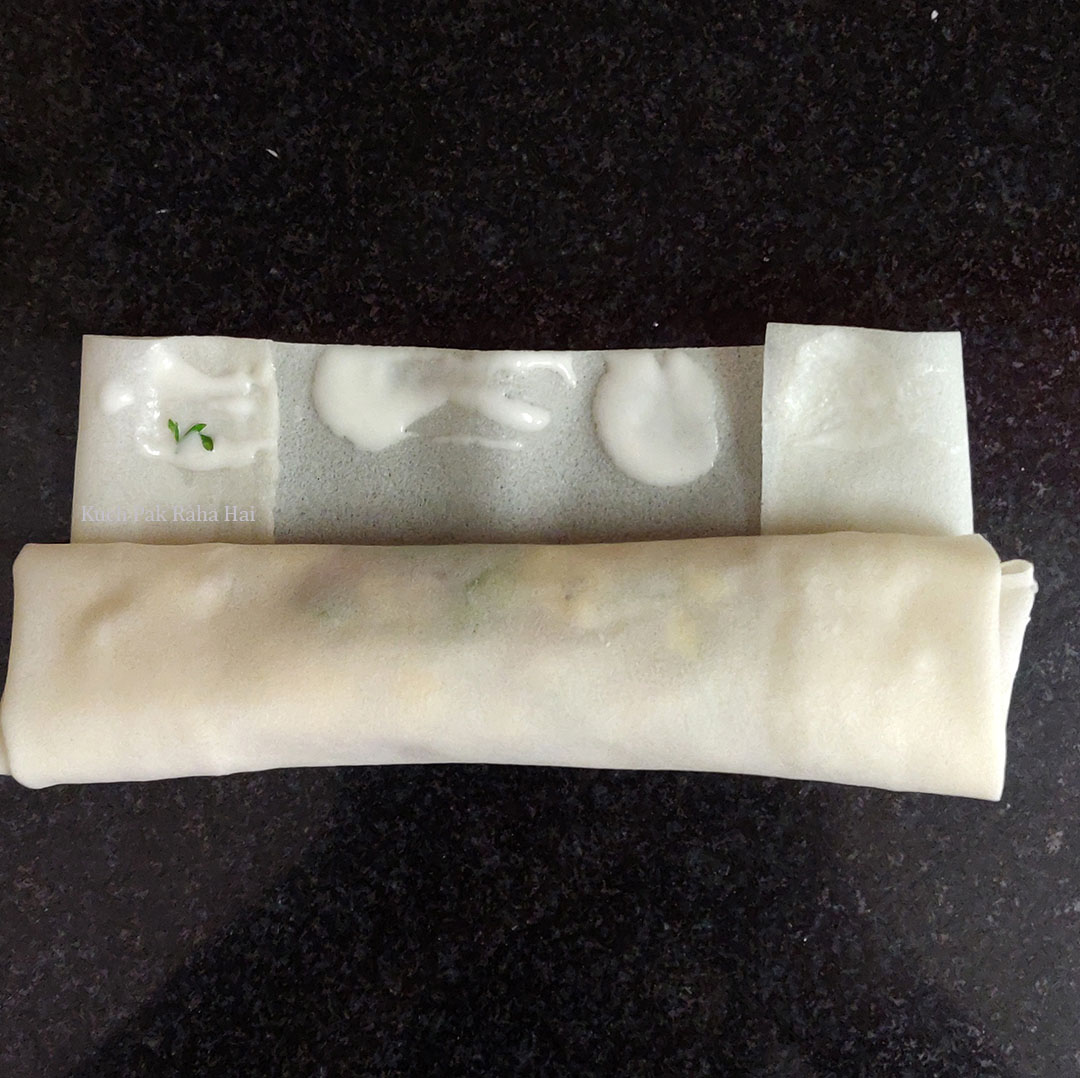 Step 4:
Prick these rolls with a toothpick 4 to 5 times. As the steam forms inside cheese roll during cooking, pricking is important as it prevents the cheese from oozing out and gives the steam a vent to escape. Do not prick if you are going to deep fry them.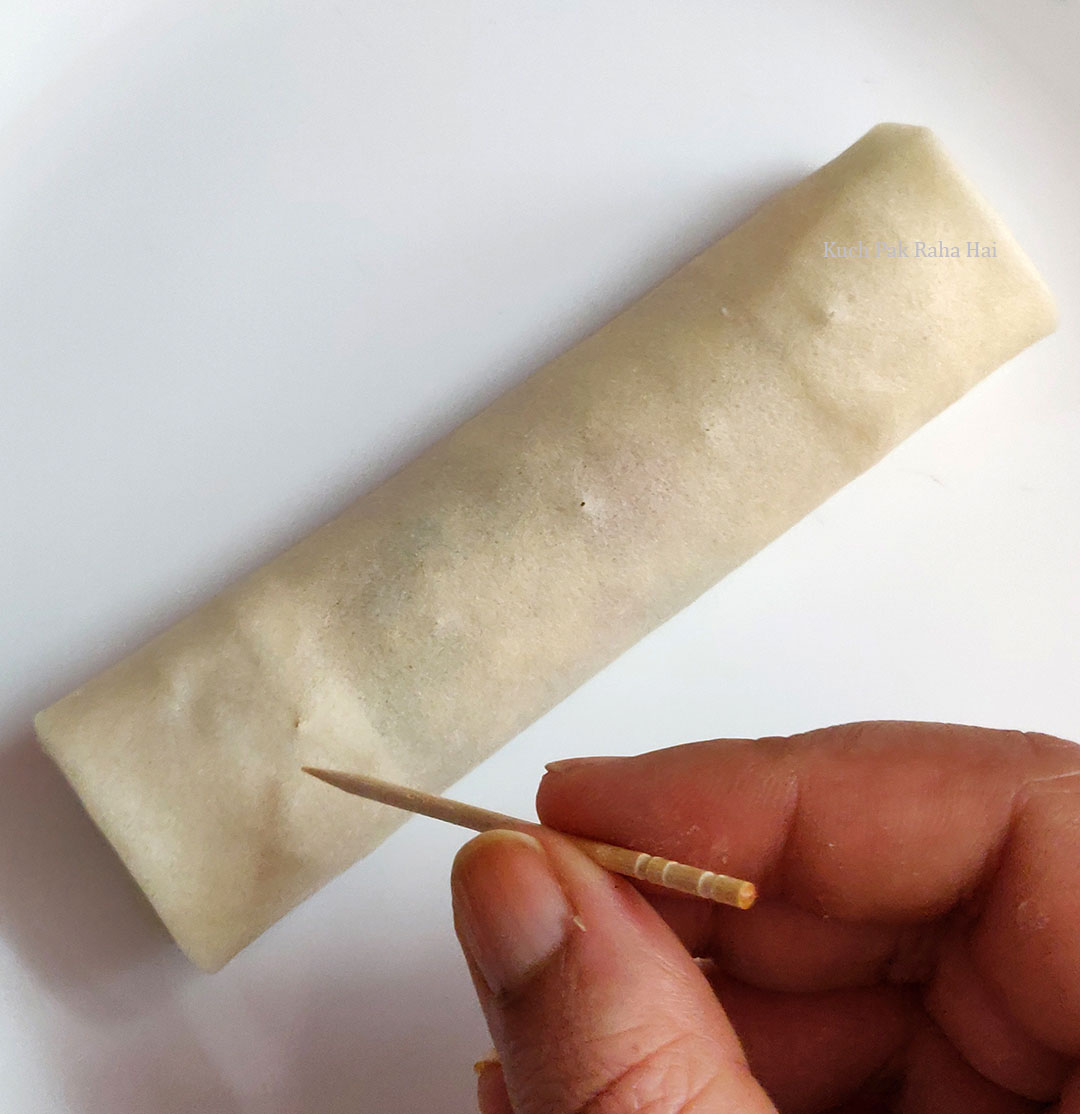 Step 5:
Brush some oil on this spring roll and keep it aside. Cover this with a slight damp cloth to prevent from drying.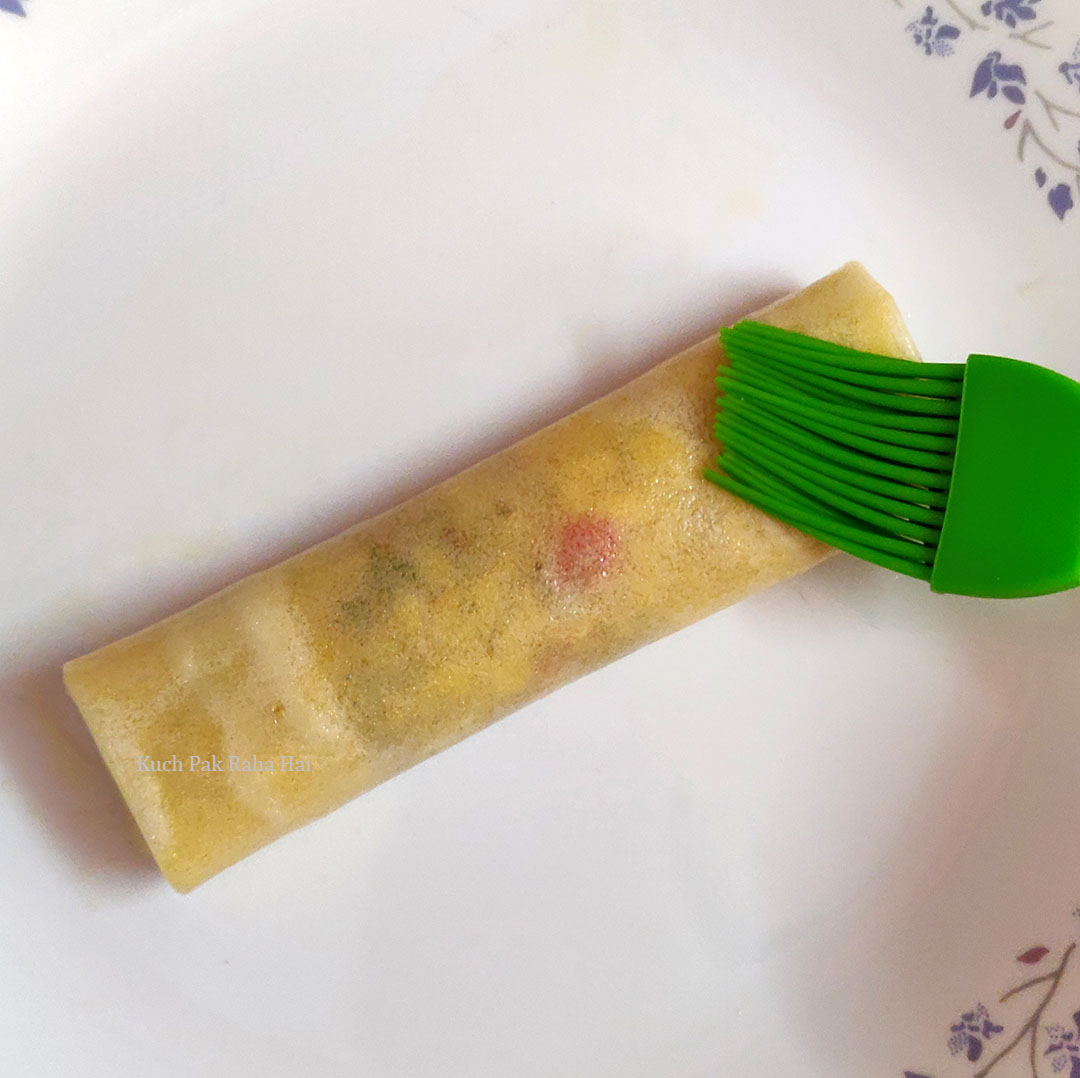 Repeat this for rest of the pieces. By the time you are rolling these cheese rolls, set the air fryer for preheating at 180 degree Celsius.
Step 6:
Brush some more oil on these cheese rolls before placing them in air fryer. Air fry these at 180 degree Celsius for 8 min & at 200 degree Celsius for remaining 1-2 minutes to get that golden colour on top.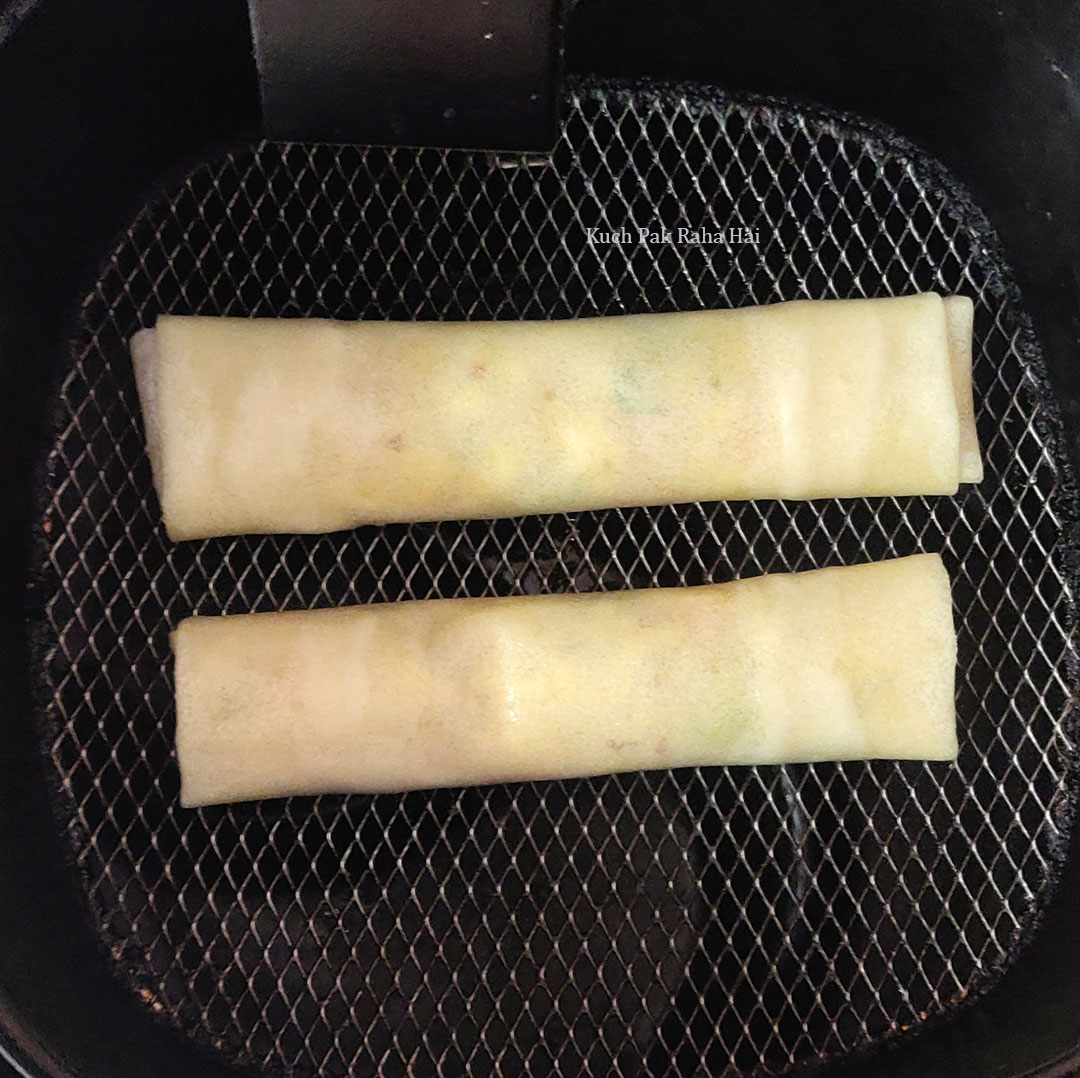 The cooking time & temperature may vary as per the air fryer model so keep an eye on the last 1 or 2 minutes.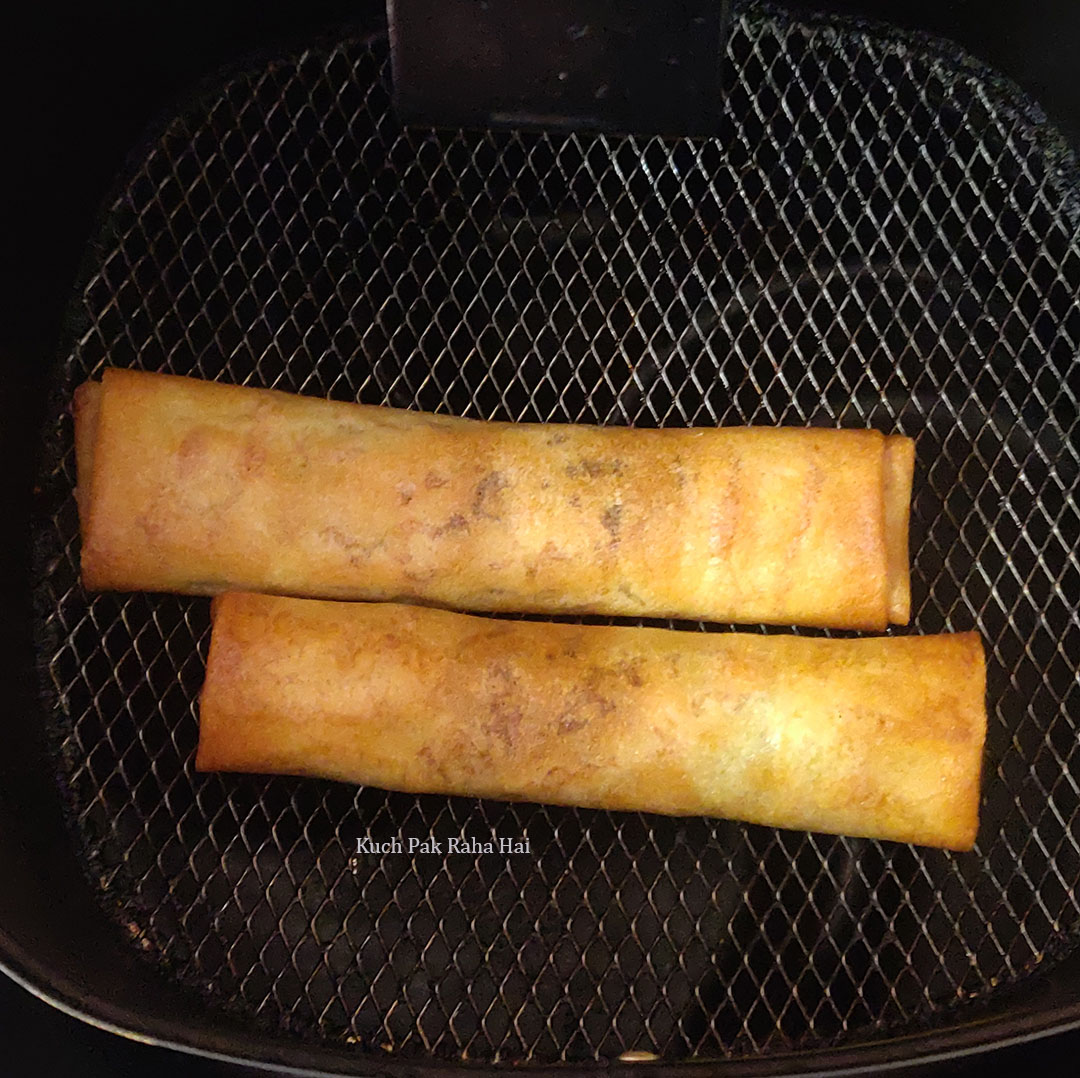 Serve these delectable herbed cheese rolls with ketchup or any dip of your choice. Bon Appetit!!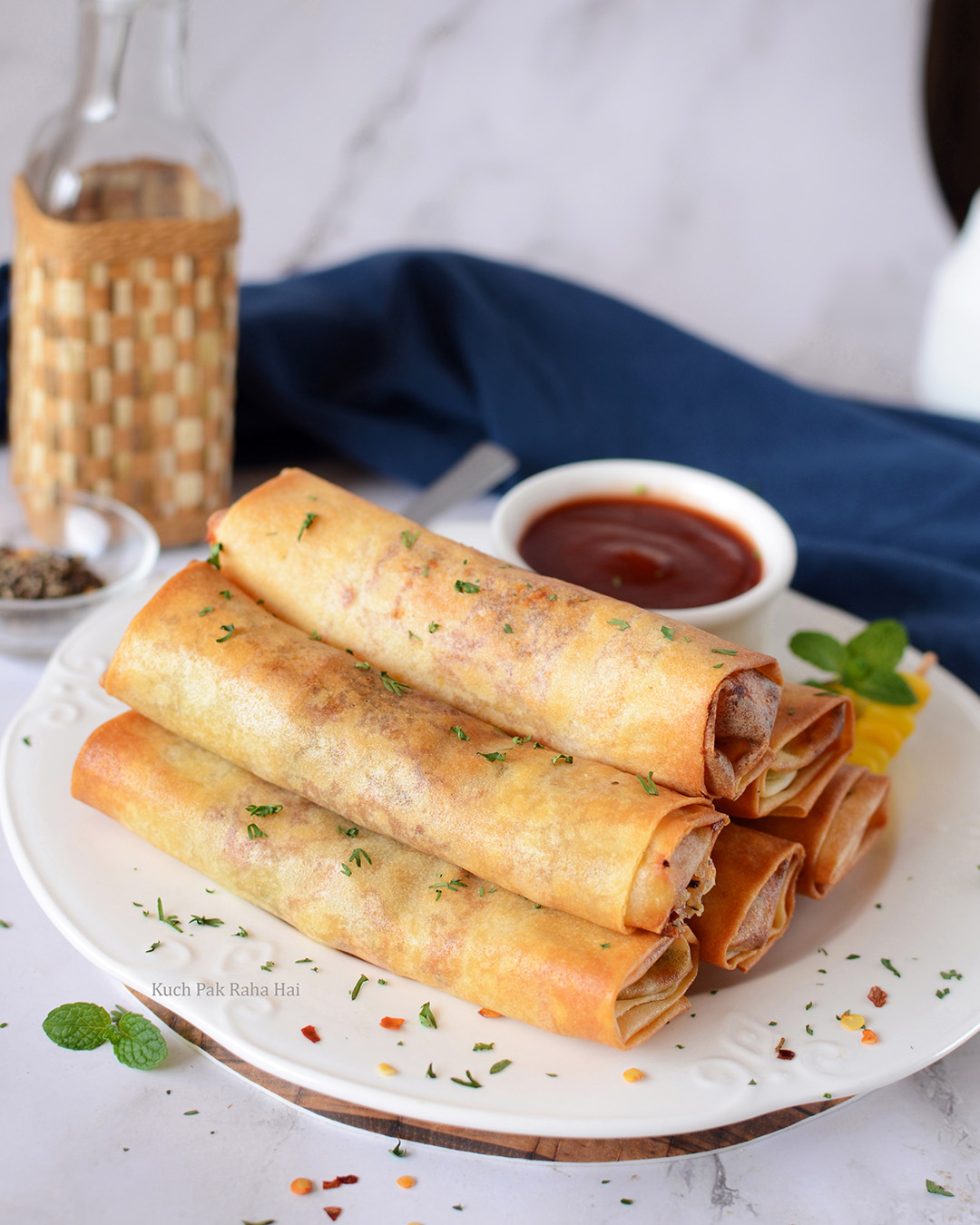 Let's stay connected
Facebook|Instagram|Pinterest |Youtube
Pin it for later:

(Kitchen Products used-
Please note the above link shared are amazon affiliate links. For more details, refer to the privacy policy)