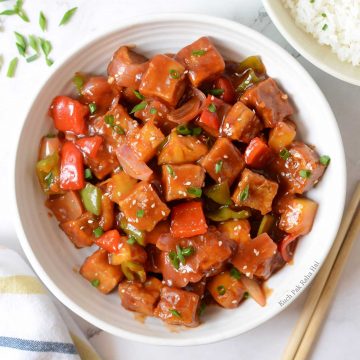 Crispy tofu tossed in a lip smacking sweet and sour sauce along with crunchy onions, bell peppers and juicy pineapple chunks. It is an easy to make, vegan, gluten free, flavour packed tofu recipe (both oven & air fryer methods included).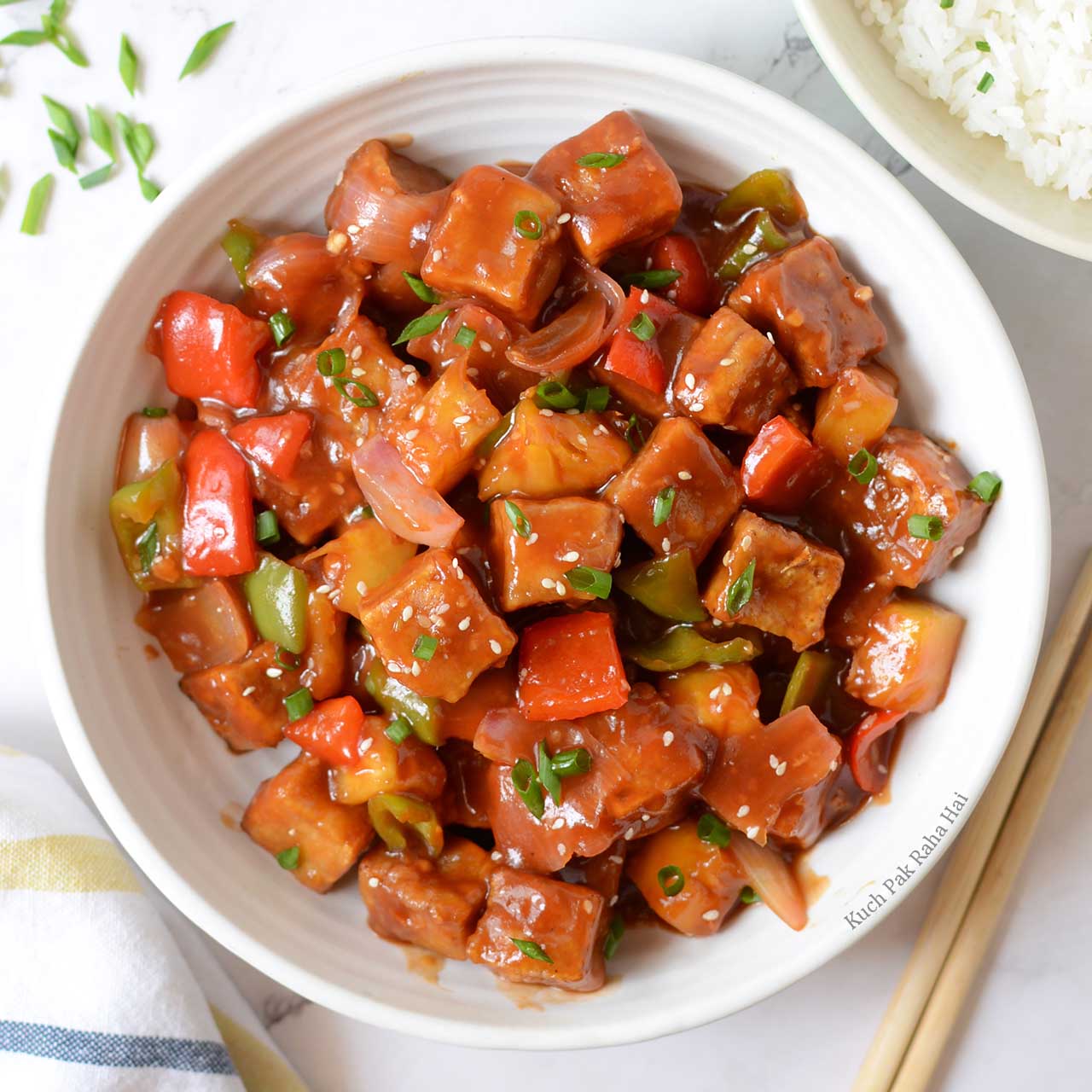 In order to keep the recipe healthy, instead of  deep frying we will bake the tofu. The tofu can be baked in oven or air fryer. By the time the tofu is getting baked, we will sauté the vegetables and prepare the sauce.
The highlight of this takeaway style tofu recipe is perfectly balanced sticky sweet and sour sauce tantalizing your taste buds such that you won't be able to stop at one serving. Along with some stir fried or steamed rice, it makes a for a satisfying wholesome meal.
The baked / air fried sweet sour tofu recipe is:
Vegan
Gluten Free
Vegetarian
Easy to make
Healthy & Easy to make
The sweet n sour tofu recipe is quite flexible in terms of what can be added to it. Apart from tofu, onions, bell peppers & pineapple you can also add carrots, broccoli or vegan chicken which is easily available in grocery stores these days.
Ingredients for sweet & sour tofu:
Tofu: Use firm or extra firm tofu for this recipe as silken tofu does not hold its shape well.
Vegetables: I have used onion, green & red bell pepper here. Other vegetables that you can add are baby corn, carrots, broccoli.
Pineapple: You can use fresh or canned pineapple chunks for this recipe.
Cornstarch: It is used twice in the recipe. Once to coat the tofu so that it becomes crispy from outside and the second time to thicken the sauce.
Sweetener: The sauce is sweetened using brown sugar and some tomato ketchup. You can even use regular sugar, honey or maple syrup instead of brown sugar.
Vinegar: It is added to give sourness to the sauce. You can use white vinegar, chilli or rice vinegar.
Ginger & Garlic: Little bit of ginger and garlic cloves adds flavour to the sweet and sour sauce. I have used fresh garlic cloves but in case you don't have fresh garlic feel free to use some garlic powder.
For garnishing: In the end you can garnish it with some freshly chopped scallions, spring onion greens or toasted sesame seeds.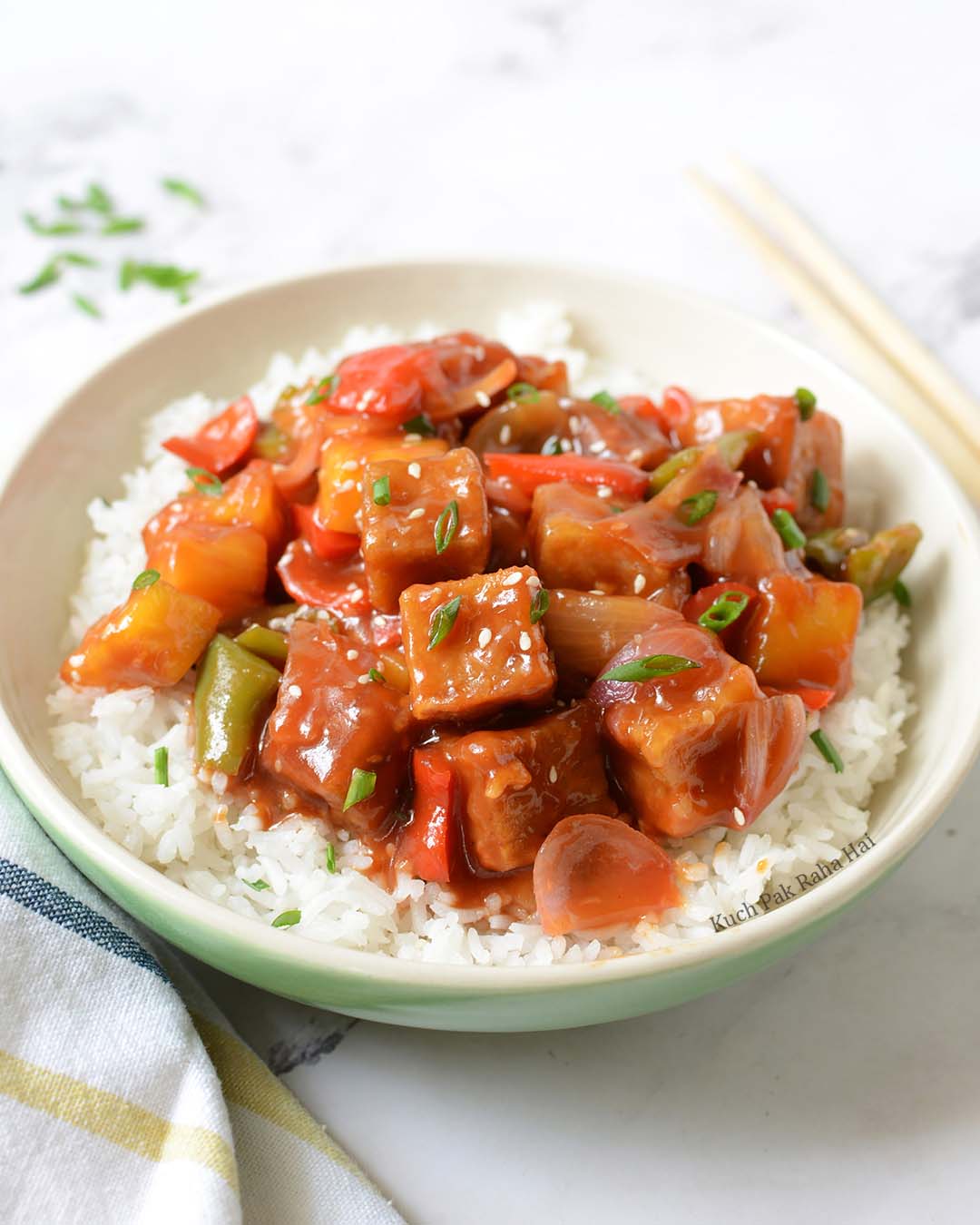 What can be served with sweet & sour tofu?
You can serve this sweet and sour crispy tofu with:
Stir fry, steamed white or brown rice
Stir fry noodles, soba or hakka noodles
Quinoa or cauliflower rice
If you are making it less saucy, you can have it as snack or make it part of buddha bowl.
Can I make sweet sour sauce without pineapples?
Yes you can skip adding pineapple as this tofu recipe tastes good even without it but for authentic taste and flavour I would recommend not to skip it.
Hope you would like this simple quick sweet & sour tofu recipe. More vegan recipes you might like: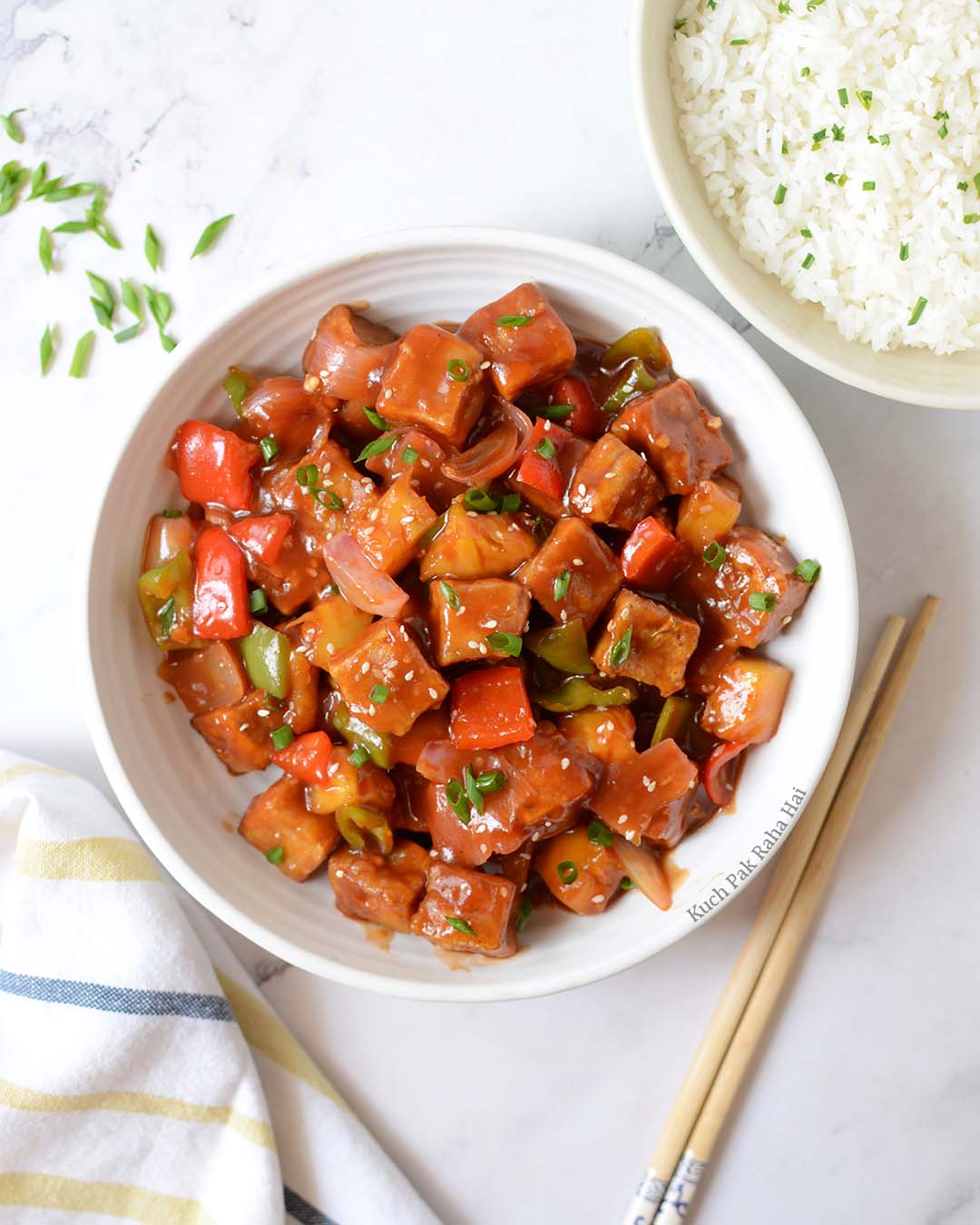 Ingredients:
Tofu (extra firm)- 300 gms (10 oz)
Cornstarch-3 tsp
Salt-1/8 tsp
Black pepper (ground)-1/4 tsp
Oil – 2 tsp (divided)
Onion (cubed)- 1/2 cup
Green Bell peppers (cubed)- 1/3 cup
Red Bell pepper (cubed)-1/3 cup
Pineapple (cubed)- 1/2 cup
For sauce:
Sugar / Brown Sugar- 2 tbsp
Tomato Ketchup- 4 tbsp
Vinegar- 2 tbsp
Soy Sauce – 2 tsp
Water- 1/3 cup
Salt-1/4 tsp (to taste)
Cornstarch- 2 tsp
Grated Ginger-1 tsp
Garlic(crushed)- 2 to 3 cloves
Notes :
I have used light brown sugar here. If you are using dark brown sugar the colour of the sauce might turn out a bit darker.
If you like spicy food then you can also add some sriracha sauce or chilli flakes.
Directions:
Step 1:
We first begin by pressing the tofu block between kitchen towels or tissue. Press it with your palms gently or place a heavy book / kitchen pan over it to get rid of excess moisture. Leave it like this for at least 15 minutes.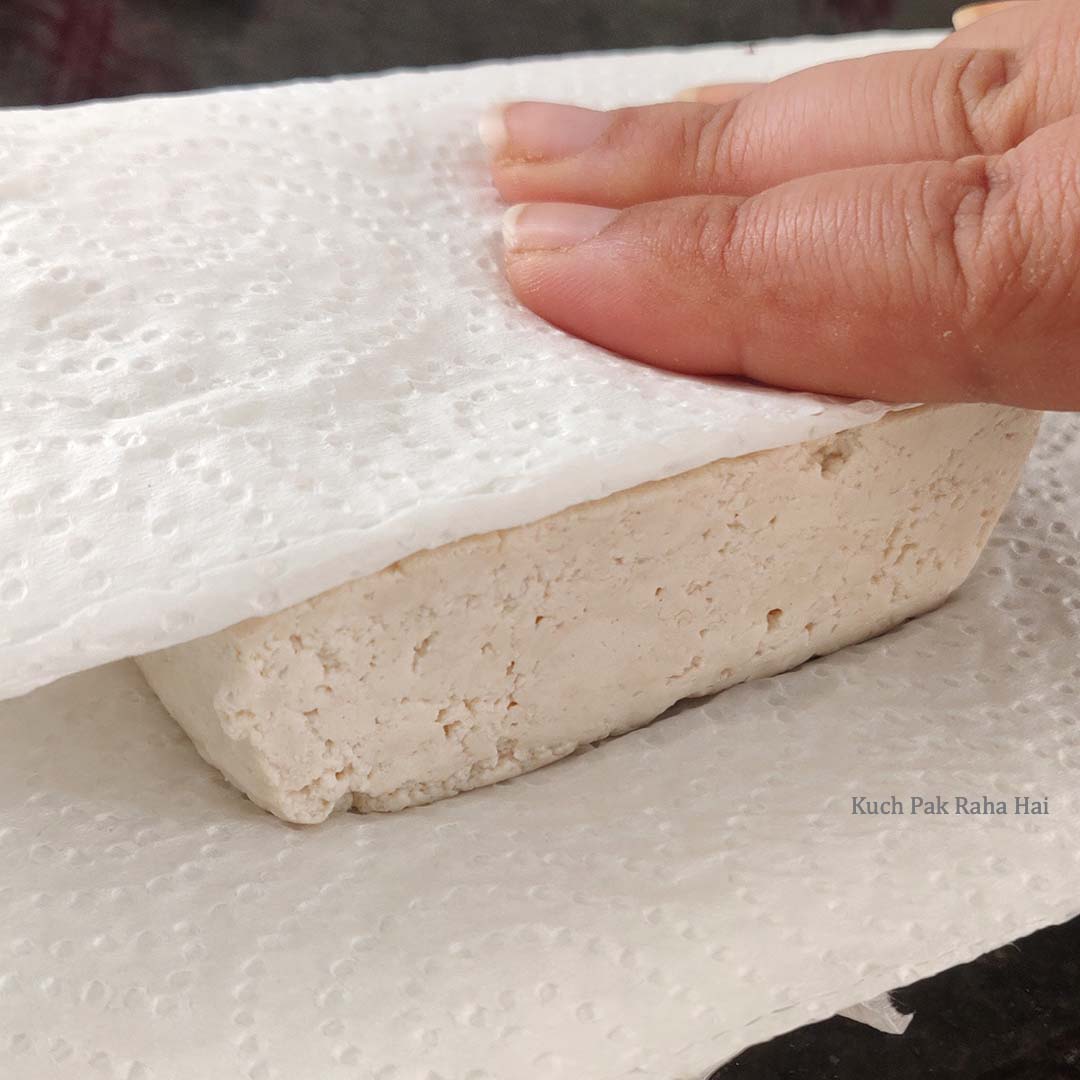 Step 2:
Once drained out, chop the tofu block into bite size cubes. While we are proceeding to the next step, set the oven for preheating at 200°C (400°F).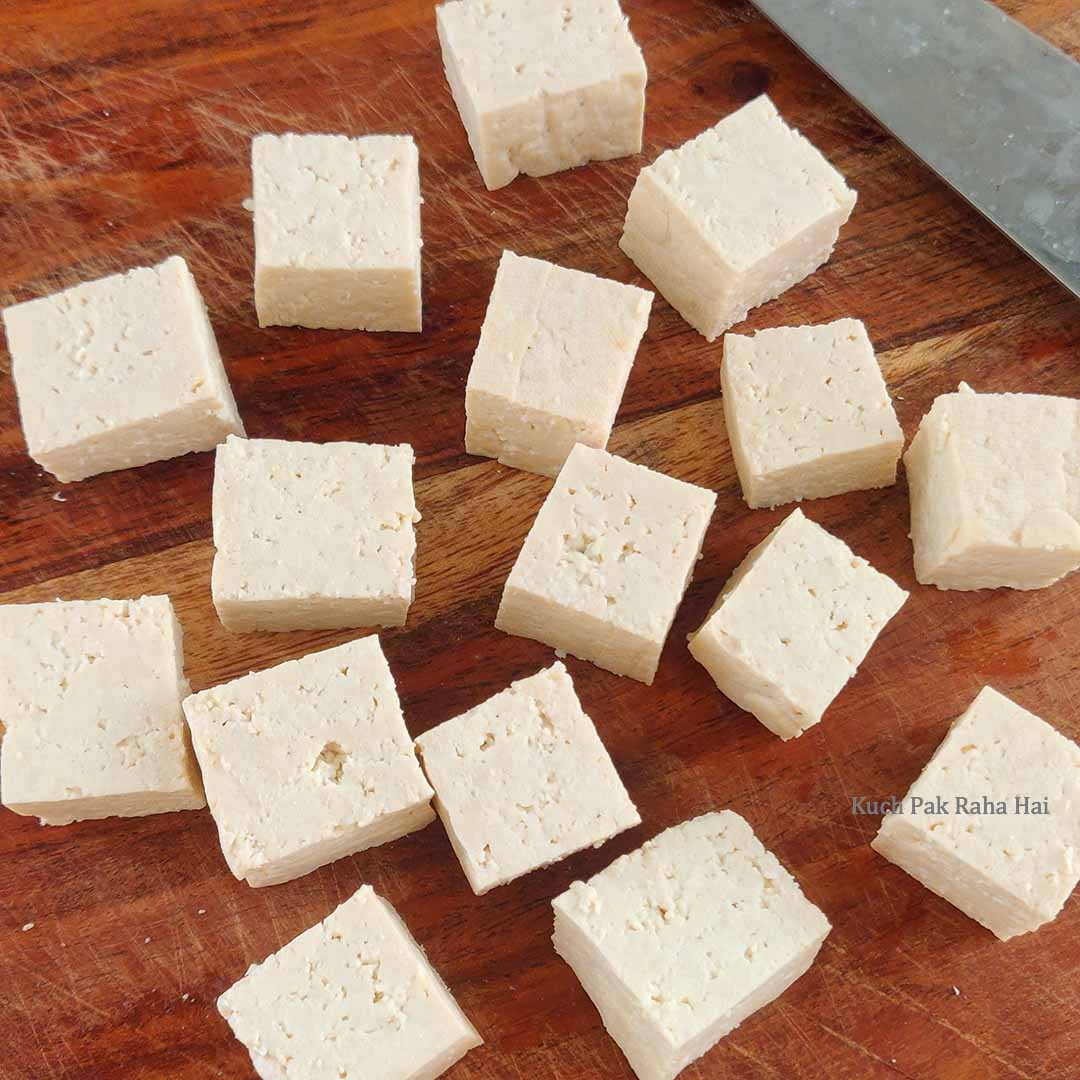 Step 3:
Drizzle half of the oil on tofu cubes and toss carefully (a). Then mix cornstarch, salt and black pepper in a bowl(b). Sprinkle it over tofu and toss or mix using your hands so that each piece is coated(c). You can sprinkle more cornstarch if required(d).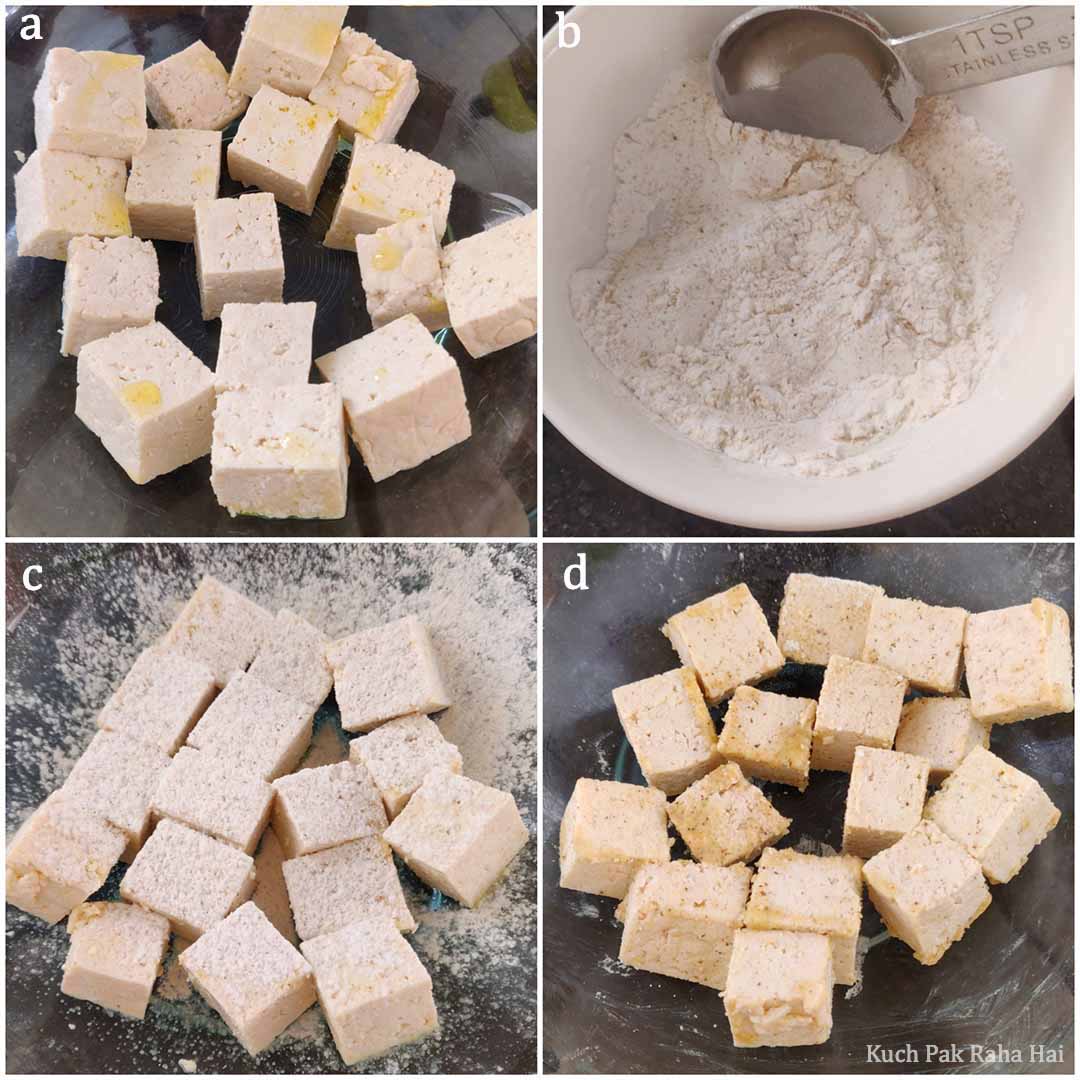 Step 4:
Spread these tofu pieces on a lined and greased baking sheet. Bake them at 200°C (400°F) fo 25 to 30 minutes while flipping them after 15 minutes of time. Spray oil if required. The time may vary slightly depending on how crispy you want them. (While the tofu is baking, let's prepare the sauce. For air frying instructions, check the end of post.)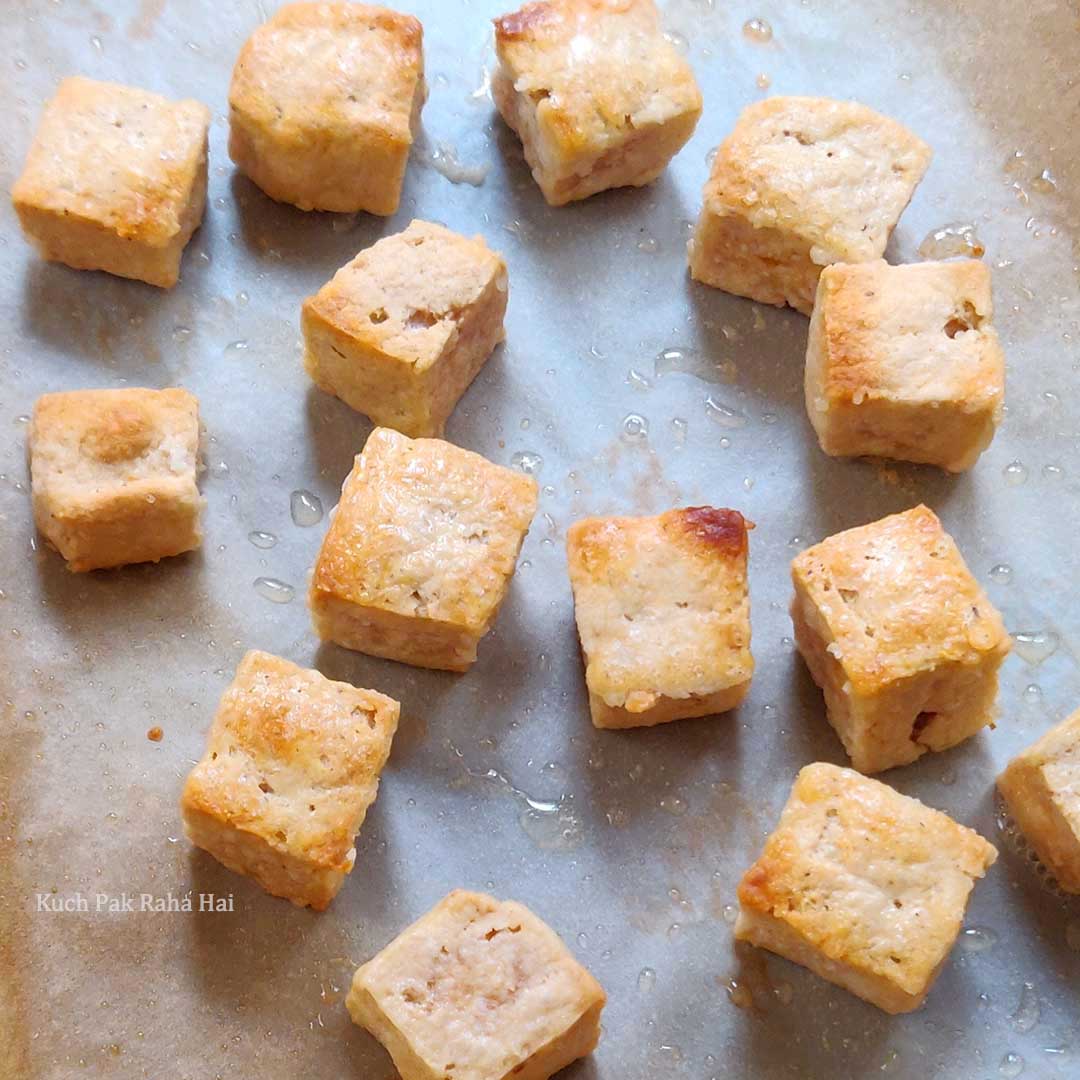 Step 5:
Heat remaining oil in a pan add onion & bell pepper to it. Sauté for 2 minutes. As we want the vegetables to be crunchy we will not overcook them. Add crushed garlic cloves, grated ginger and pineapple chunks. Saute for 1 more minute.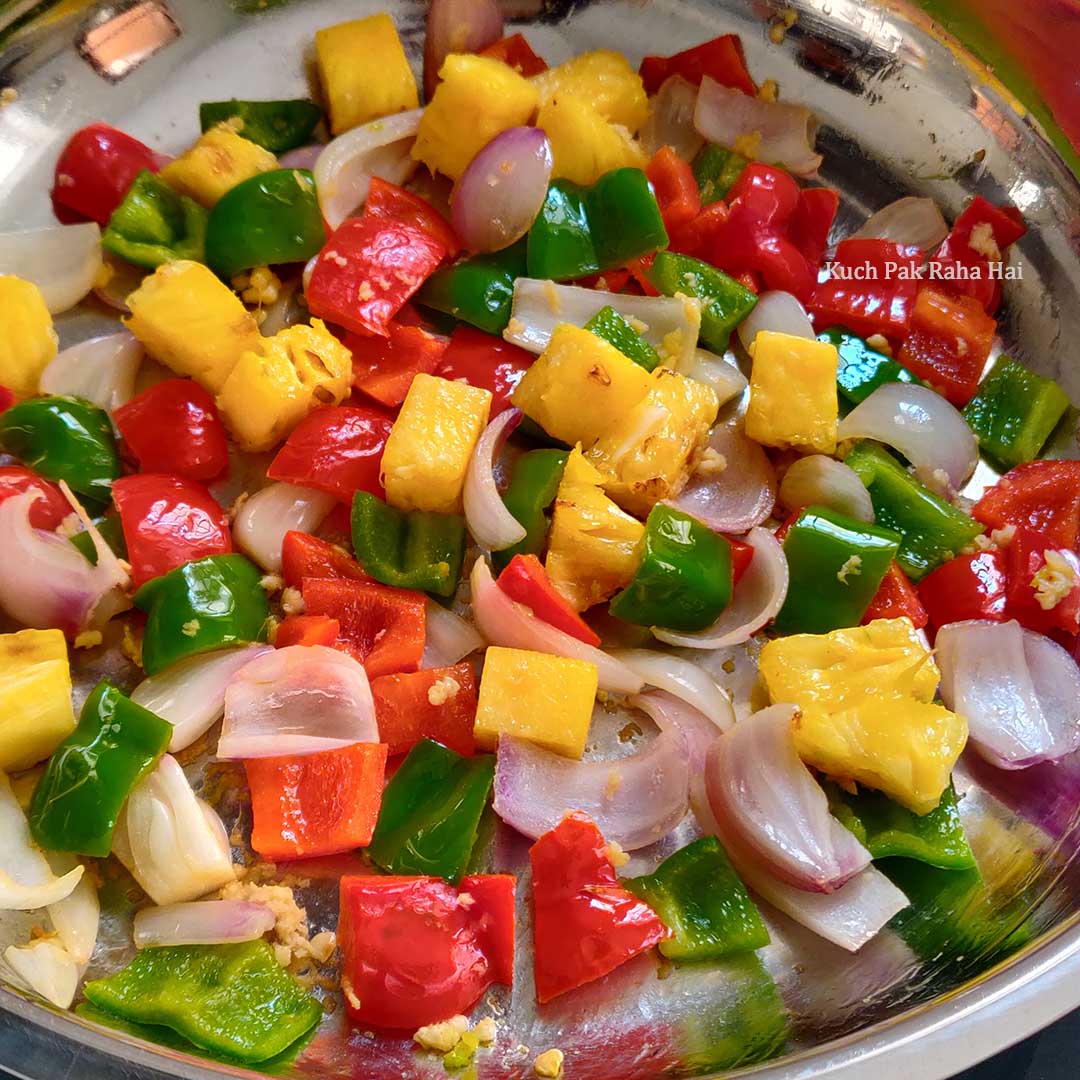 Step 6:
In a bowl take all the ingredients of the sauce, whisk well.
Add this sauce to the same pan as above. Simmer for 2 to 3 minutes till the sauce begins to thicken up. Keep stirring in between. Once the sauce thickens ups, switch off the flame. Taste and adjust the salt or sweet sour flavour by adding more ketchup or vinegar as per your taste. Add crispy tofu to it and toss well.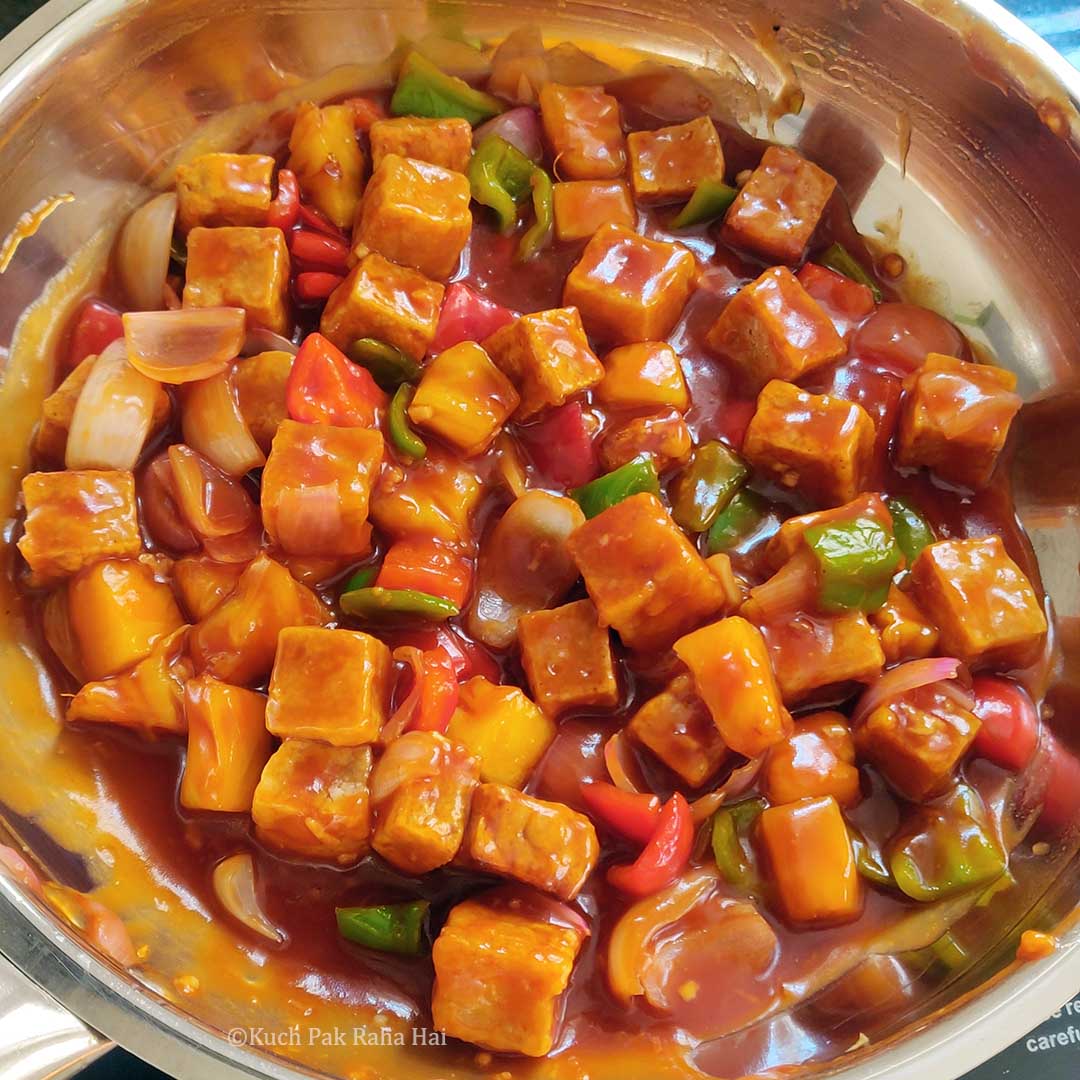 Garnish with chopped spring onion greens & toasted sesame seeds. Serve this delicious sweet and sour tofu with some steamed rice or noodles.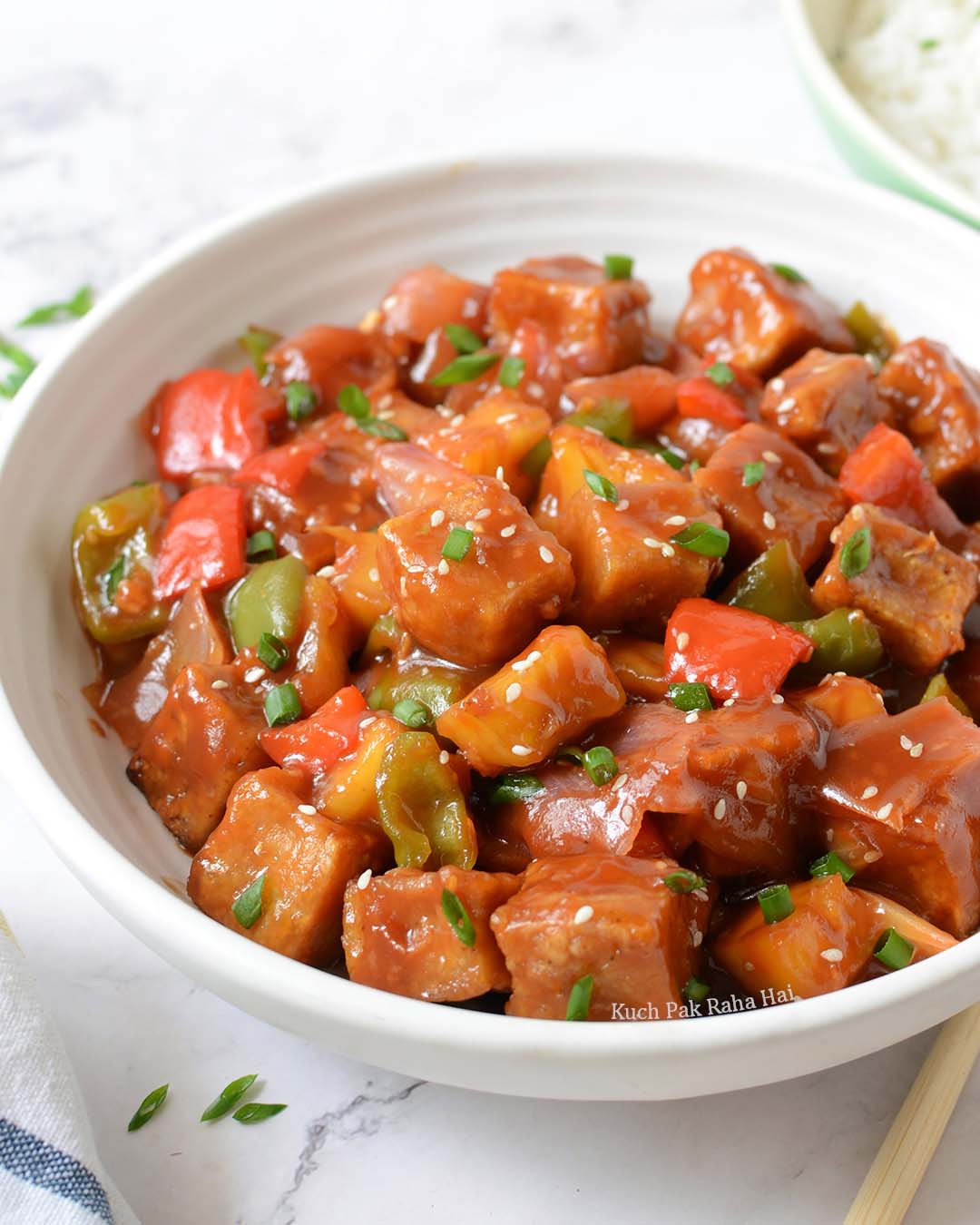 Air Fryer Sweet & Sour tofu:
Instead of baking you can air fry the tofu. All steps will remain same except for the part where we are baking the tofu.
Preheat the air fryer at 200°C (400°F). Transfer the cornstarch coated tofu inside the air fryer basket, spray some oil on top and air fry at 200°C (400°F) for 10-12 minutes. Flip it after half time and spray some more if required. For more detailed images and steps check out the Crispy Air Fryer Tofu post on blog.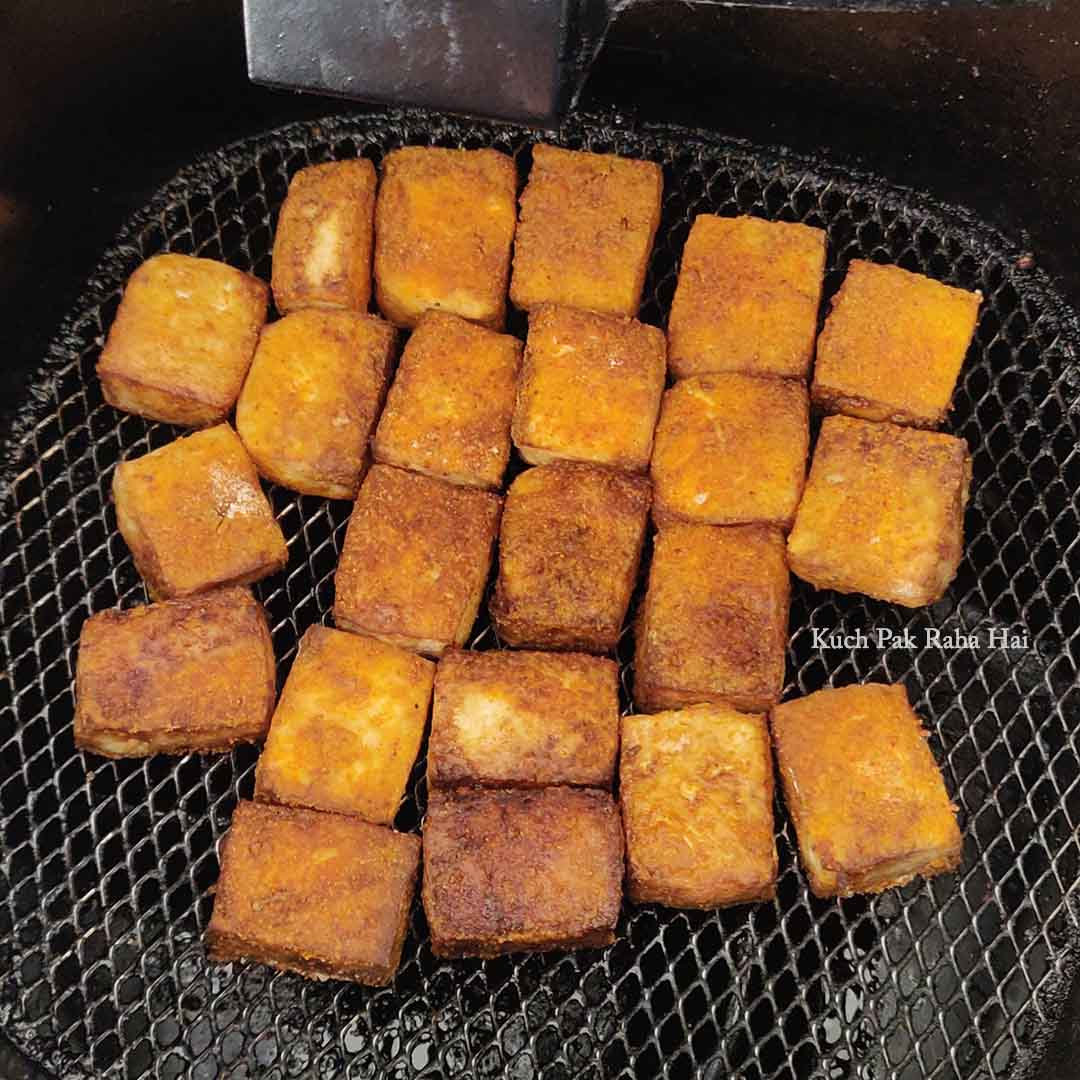 Can I prepare sweet & sour tofu ahead of time?
Yes you can prepare it ahead of time and reheat it in a pan or microwave before serving. However if you want tofu to be crispy, toss it in the sweet sour sauce just before serving as if kept too long with the sauce it can turn little bit soft.
How to store left over sweet & sour tofu?
Store them in an airtight container in fridge for 2 to 3 days. Whenever you want to reheat add 1 to 2 tsp water and microwave for 30-40 seconds.
More air fryer recipes:
Pin for later: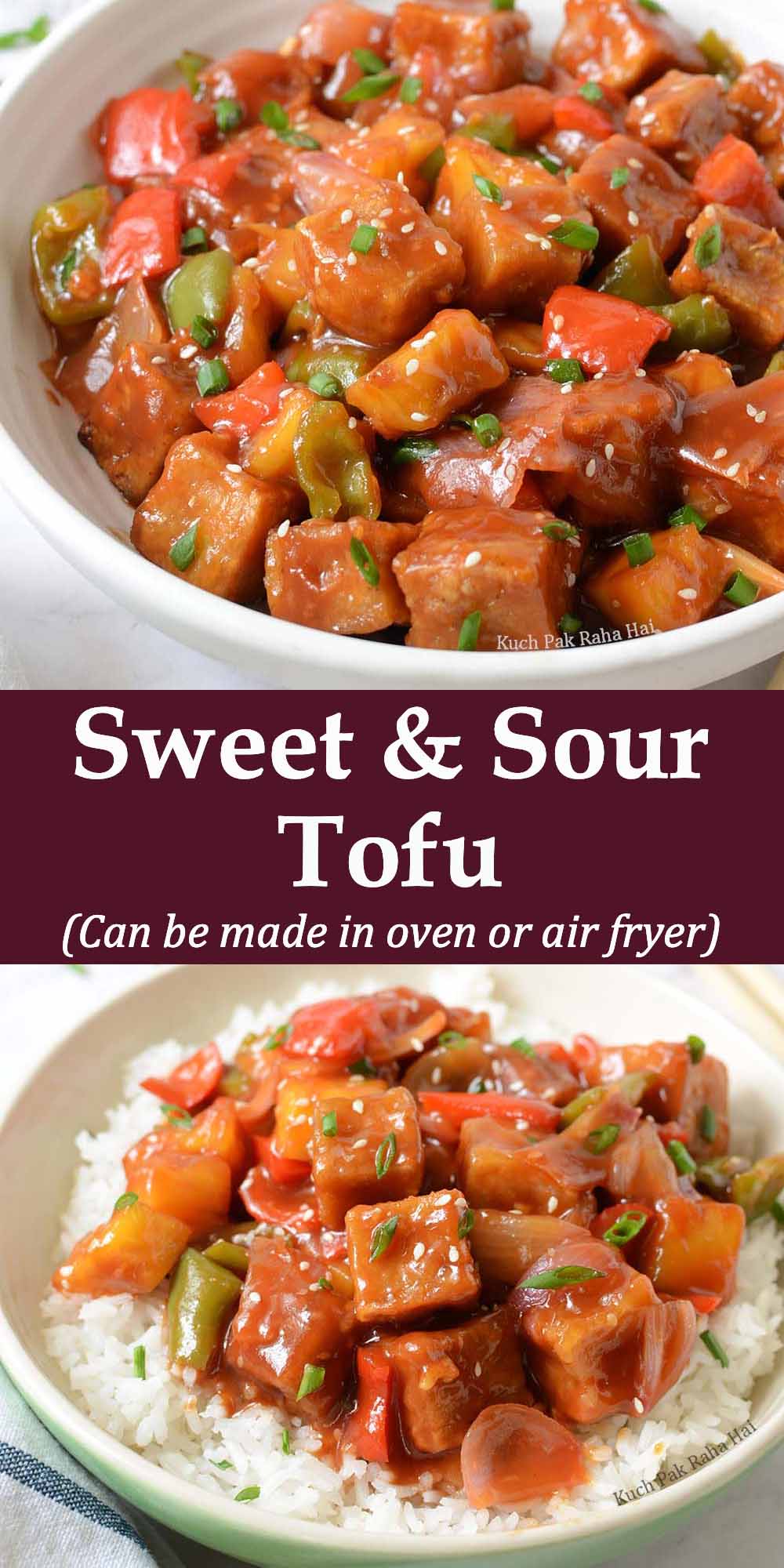 If you try this air fryer sweet and sour tofu recipe & share pics on social media, then don't forget to tag on Facebook or Instagram or use #kuchpakrahahai.
Let's stay connected
Facebook | Instagram | Pinterest | Youtube