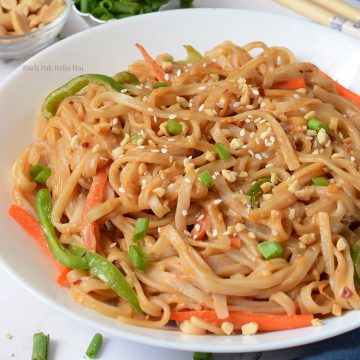 Thai Peanut Noodles is a flavoursome lip smacking noodles recipe made with sweet spicy asian style peanut sauce. It is a vegan, gluten free, easy and quick dinner recipe which can be prepared in less than 20 minutes.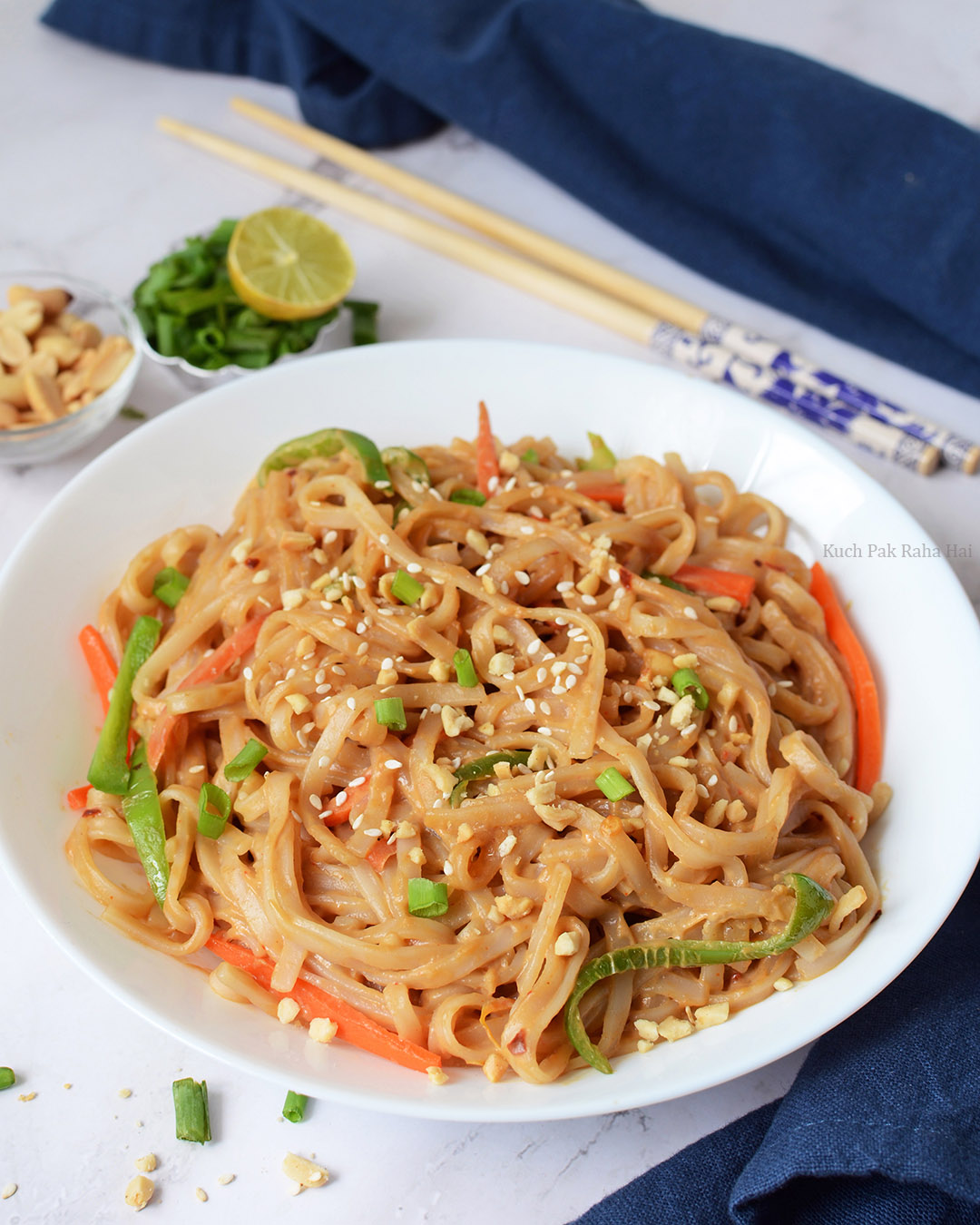 I tasted these spicy peanut sauce noodles on my trip to Koh Phi Phi (Thailand) and instantly fell in love with them. They had a nutty spicy taste with just the right amount of sweetness and are definitely a treat for peanut lovers.
You just need a handful of ingredients from your pantry to make this easy simple peanut sauce. The recipe is quite flexible as you can always adjust the spiciness or sweetness as per your choice. These peanut noodles are so effortless to prepare and is a perfect quick dinner recipe on a busy day.
Ingredients for peanut sauce noodles:
Noodles:  As I wanted to keep this recipe gluten free I have used 'blue elephant' brand rice noodles (you can use any brand of your choice). You can also use brown rice noodles, soba noodles, udon noodles or pasta like spaghetti or fettuccine too.
Vegetables: The best part about this easy peanut noodles recipe is the flexibility to add any veggies of your choice. Here I have added ginger, garlic, carrots & bell peppers but you can even add some blanched broccoli, french beans, mushrooms or purple cabbage.
Peanut Butter: It is the key ingredients for making peanut sauce. You can use creamy or crunchy peanut butter for it. The peanut butter I have used is unsalted & unsweetened. If you are using sweetened or salted one then don't add too much of salt or sweetener in beginning. Adjust it after tasting the sauce.
Sauces: Soy sauce, sriracha, vinegar adds flavour and heat to the sauce. If you like less spicy food or making this peanut noodles for kids then skip adding sriracha.
Sweetener: You can use honey, maple syrup or brown sugar as sweetener in sauce. In the end it all comes down to the balance of sweet sour & spicy flavours of peanut sauce.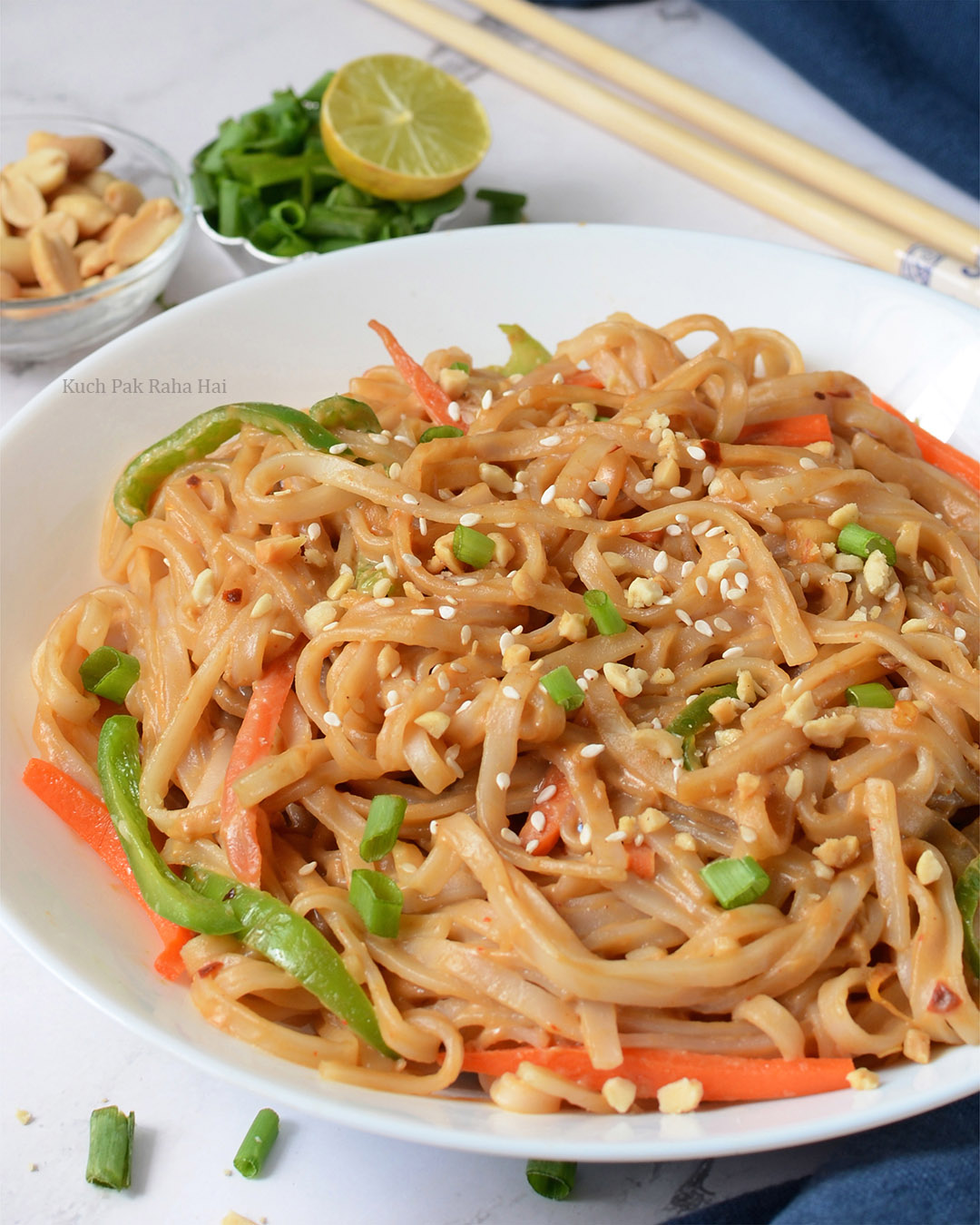 How to make peanut sauce noodles?
The three components of peanut noodles are- peanut sauce, sautéed vegetables and rice noodles.
Boiling the noodles- We begin with boiling the noodles as per the packet instructions. By the time our noodles are boiling, we will sauté the veggies and prepare the sauce.
Sautéing Veggies- Ginger and garlic are essential in this recipe. They are used in quite less quantity but pack so much flavour & punch. First we will sauté ginger-garlic & then add rest of the vegetables. We will keep these sautéed vegetables aside and in the same pan prepare our peanut sauce.
Preparing Peanut Sauce– To prepare peanut sauce we will add little bit of water in same pan to bring down its temperature and then proceed by adding peanut butter, soy sauce and sriracha etc to make our peanut butter sauce.
Toss the boiled noodles & sautéed vegetables in this sauce. Finally garnish with roasted sesame seeds and crushed peanuts for additional crunchiness. Some freshly chopped spring onions and a squeeze of lemon works wonders in adding freshness to them.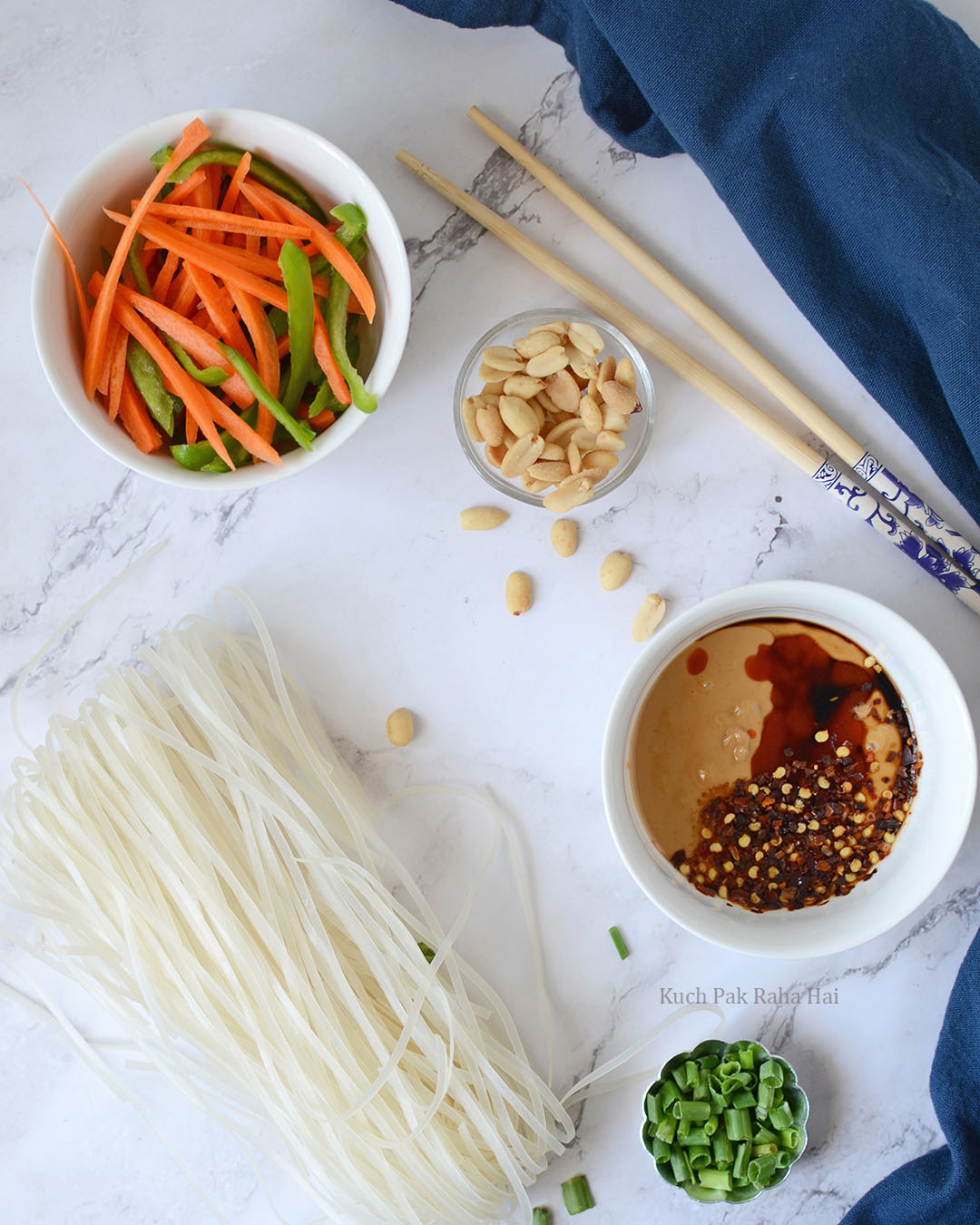 Are peanut noodles vegan?
Yes, this it is absolutely vegan!! You can add more vegetables or protein like crispy tofu to these peanut noodles. I even sometimes skip noodles and use this peanut sauce as salad dressing.
Can I make these peanut noodles well before the serving time?
If you are planning to serve these noodles after few hours, I would recommend to boil the noodles and prepare the sauce in advance but don't mix them. Mix the noodles, sautéed veggies and peanut sauce just before serving. As the noodles soak up all the sauce if kept for too long, it is better to mix them a few minutes right before the serving.
More healthy vegan recipes: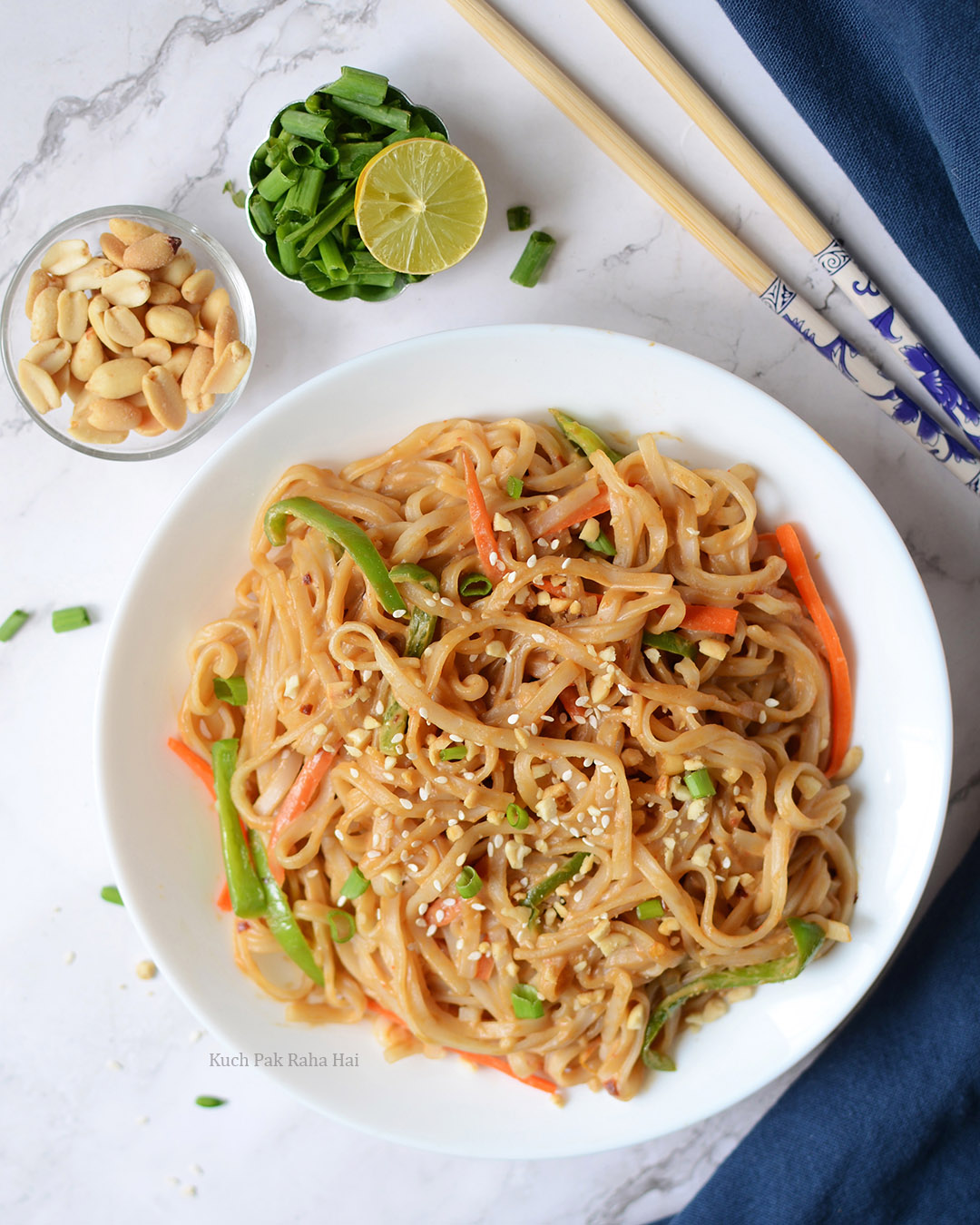 Ingredients: (Serves 2)
Rice Noodles- 120 grams (4 oz)
Water- For boiling noodles
Cooking Oil- 2 tsp
Grated Ginger- 1 tsp
Garlic cloves- 3 to 4
Carrots (julienne)- 1/3 cup
Bell Pepper (julienne)- 1/3 cup
For Peanut Sauce:

Peanut Butter-1/4 cup (unsalted)
Water- 3 to 4 tbsp
Soy Sauce- 1/2 tbsp
Vinegar / Rice Vinegar- 3/4 tbsp
Sriracha Sauce- 1 tbsp
Brown Sugar / Honey- 1 tsp
Red Chilli Flakes- 1/2 tsp
Salt- 1/2 tsp (to taste)

For Garnishing:

Chopped Spring Onions Greens- 1 tbsp
Roasted sesame seeds- 1 tsp (

optional

)
Crushed Roasted Peanuts- 2 tsp
Notes:
1. Use any cooking oil of your choice like sesame, coconut or olive oil.
2. You can add more vegetables/protein of your choice like red or yellow bell peppers, broccoli (blanched), crispy tofu, paneer (Indian cottage cheese).
3. You can use creamy peanut butter variety or if you like to have some crunch you can use crunchy peanut butter too.
4. Adjust the spiciness in this recipe as per your taste. If you like spicy food, then you can increase the quantity of sriracha sauce or use some chilli oil.
5. If you would like to have more creaminess in these peanut noodles, feel free to add a splash of coconut milk.
Directions:
Step 1:
In a big vessel, add 2-3 litres of water and bring it to boil. Once the water comes to boil, add rice noodles to it. Let the noodles boil for 8-10 minutes or as mentioned in the packet instructions. By the time noodles are boiling lets move to next step.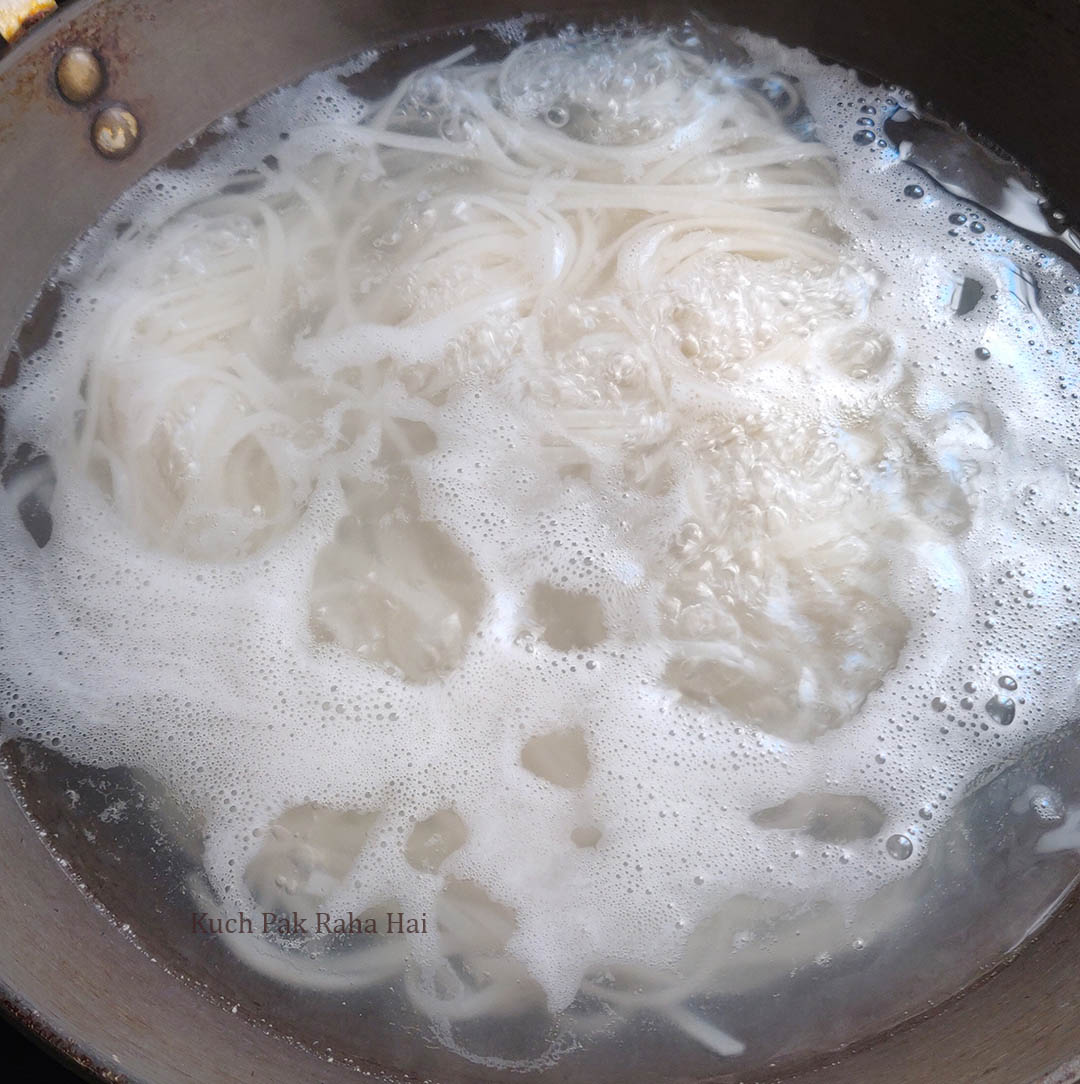 Step 2:
Heat oil in a heavy bottomed pan. Add finely chopped garlic and ginger paste to it. Sauté for 30-40 seconds.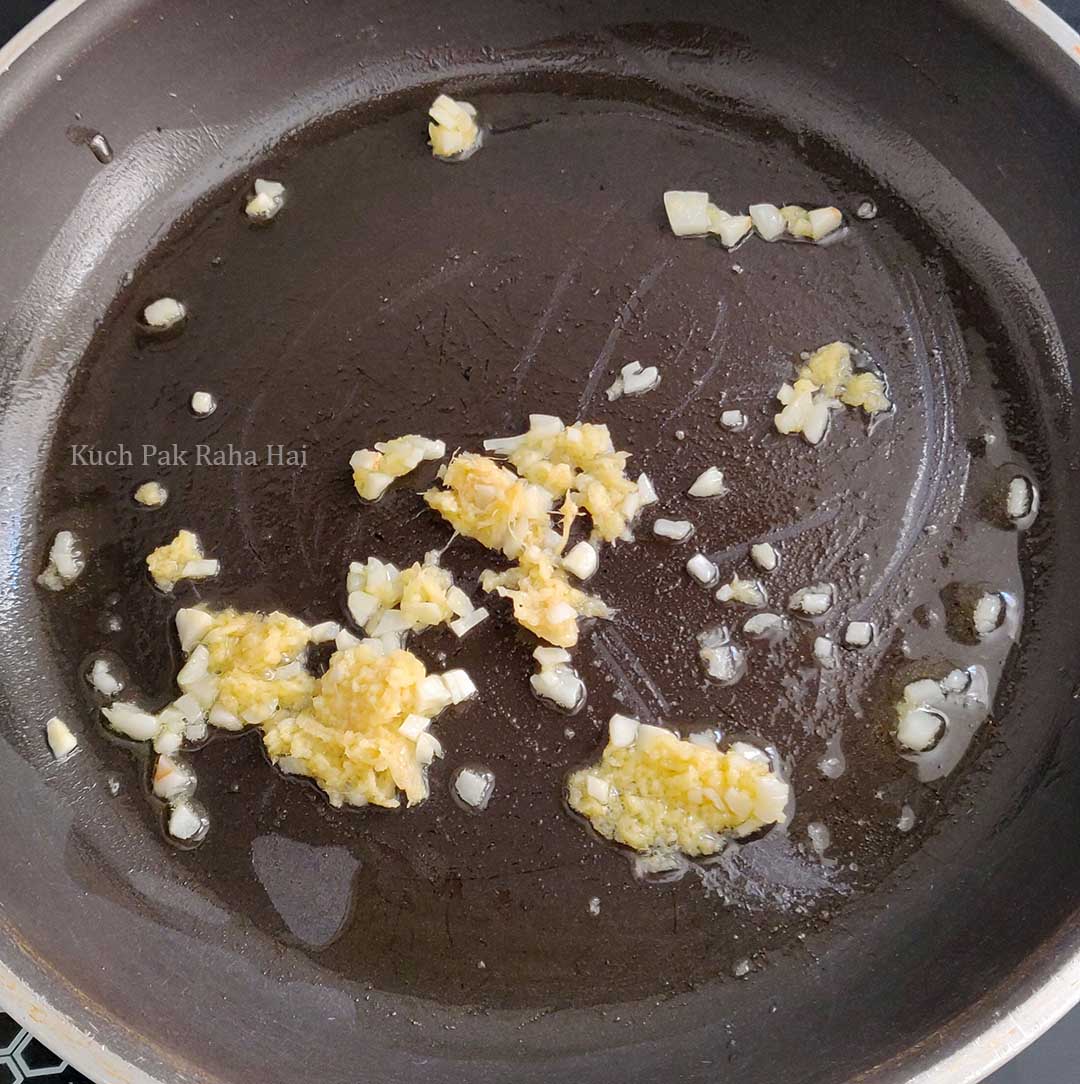 Step 3:
In the same pan add all the chopped veggies here and sauté for 3-4 minutes on medium-high flame. We will not overcook the veggies as we want them to be crunchy. Transfer these veggies in a bowl and keep it aside.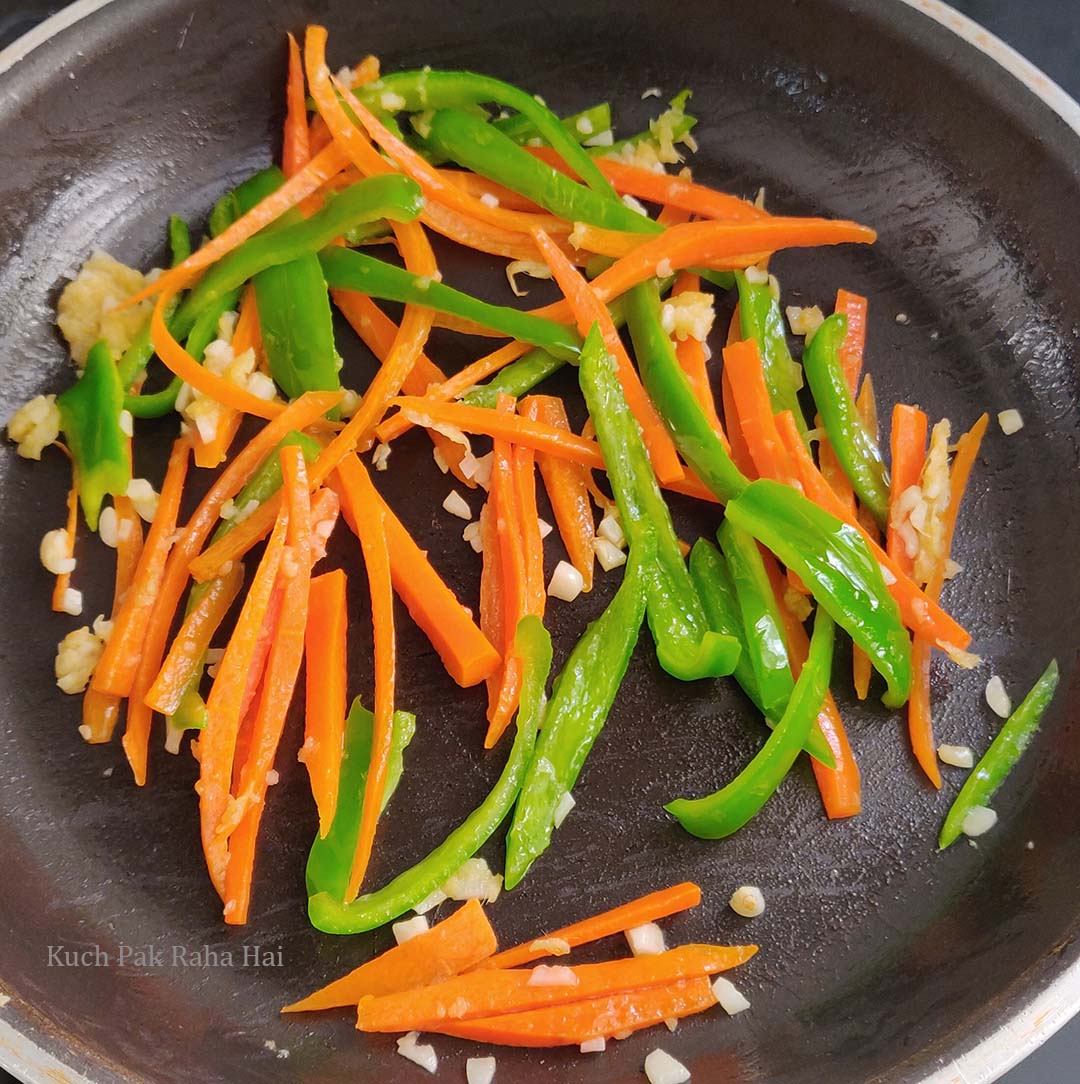 Step 4:
In the same pan, first add water and then add peanut butter, soy sauce, vinegar, sriracha, honey (or sugar) salt, chilli flakes. Mix well and simmer for 1- 2 minutes. Once the sauce is ready switch off the flame. Taste it once, adjust the honey/sugar and salt as per your taste.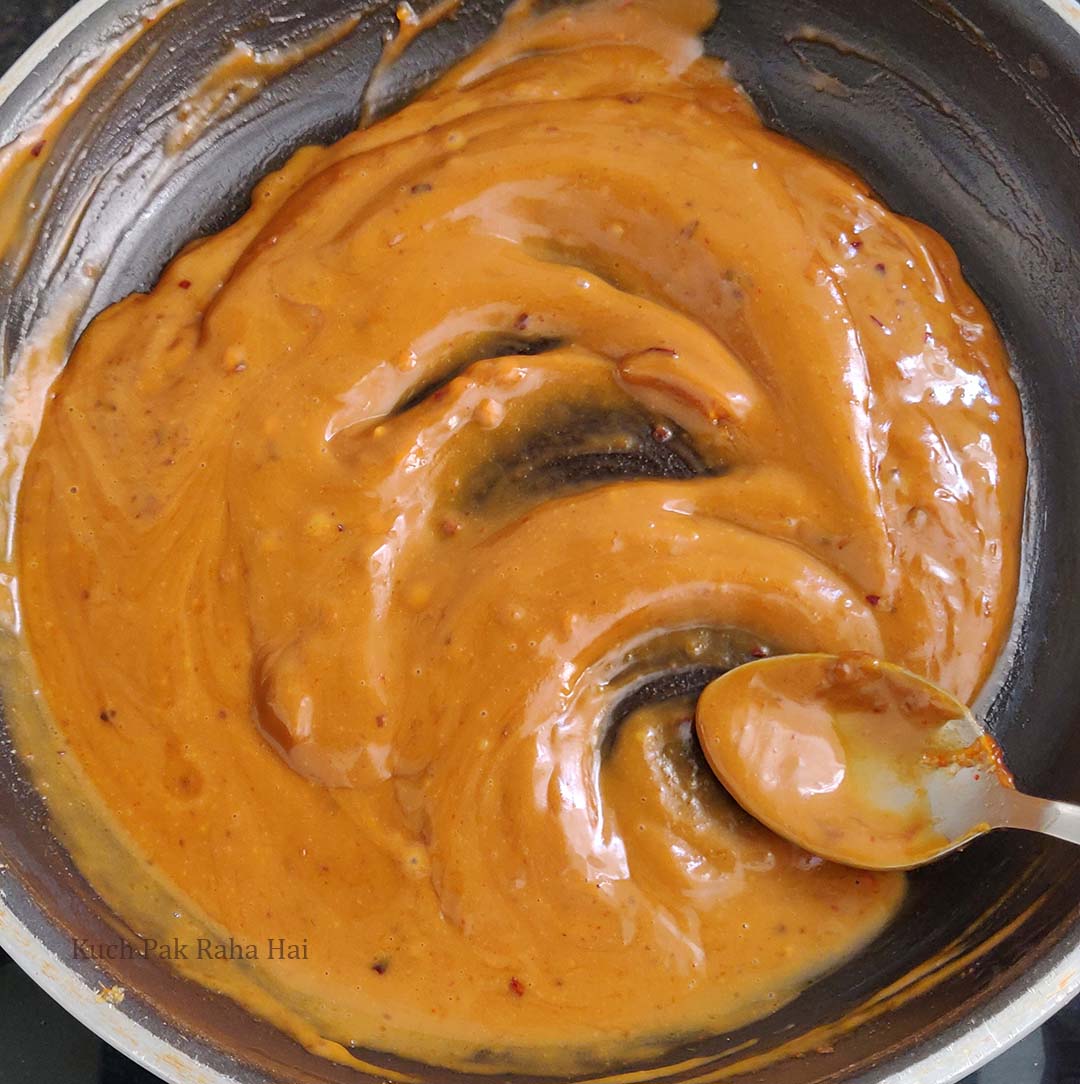 Step 5:
Rice noodles must have cooked by this time. Transfer them on a colander and rinse under running water / cold water.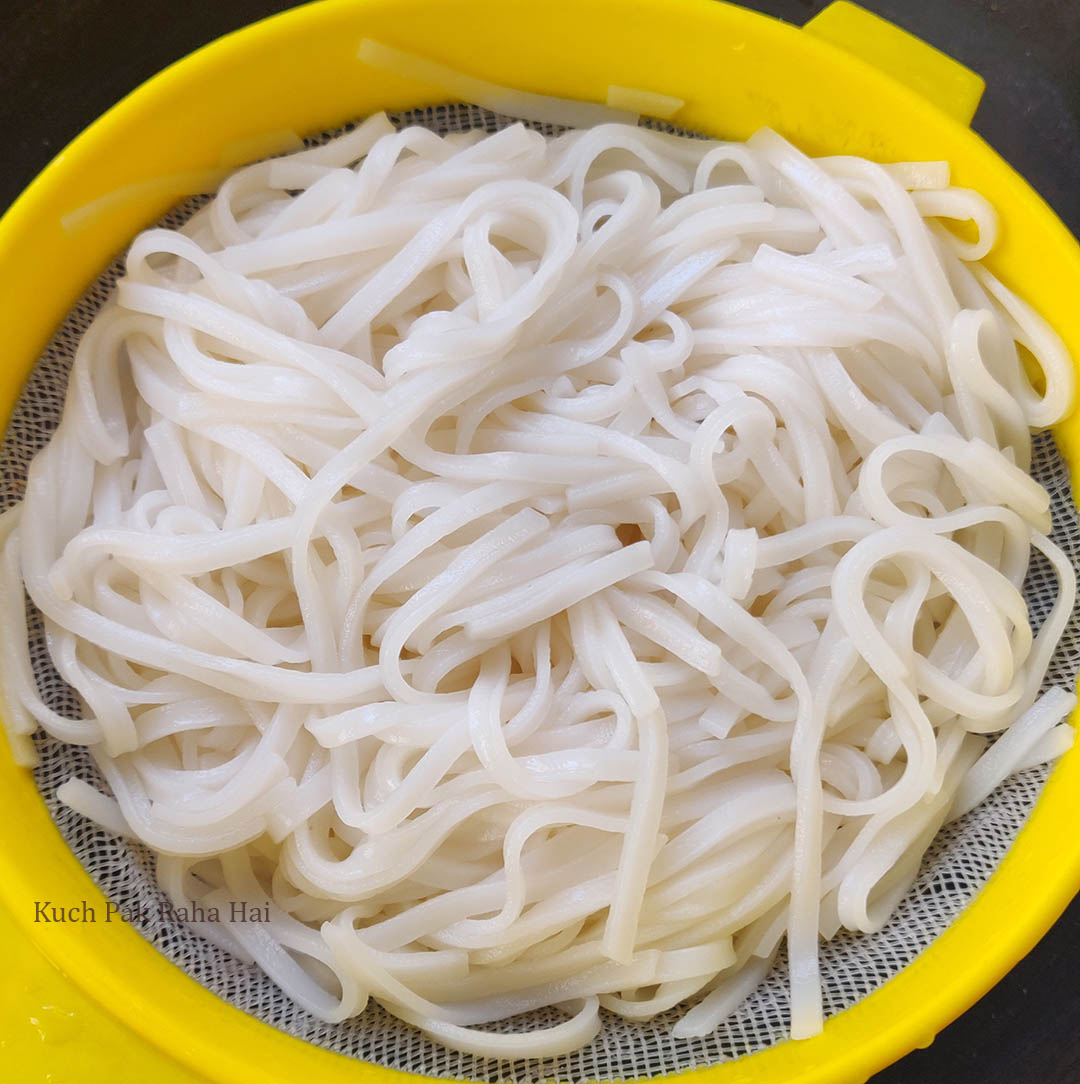 Step 6:
Add these boiled noodles, sautéed veggies to the peanut sauce pan. Mix well with the help of tongs or forks and simmer for 1-2 minutes.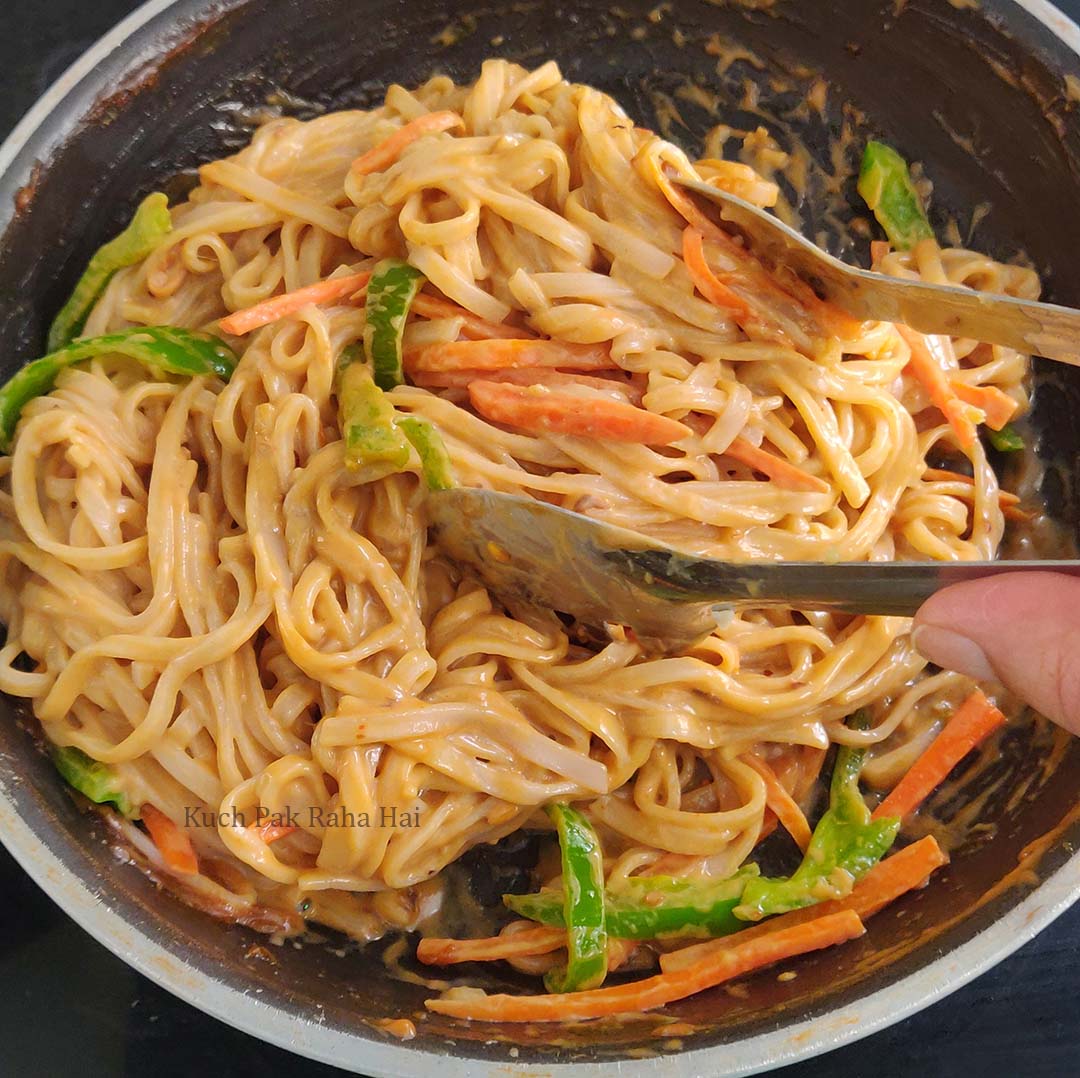 Garnish with some toasted sesame seeds / crushed peanuts or chopped spring onion before serving.
Pin for later: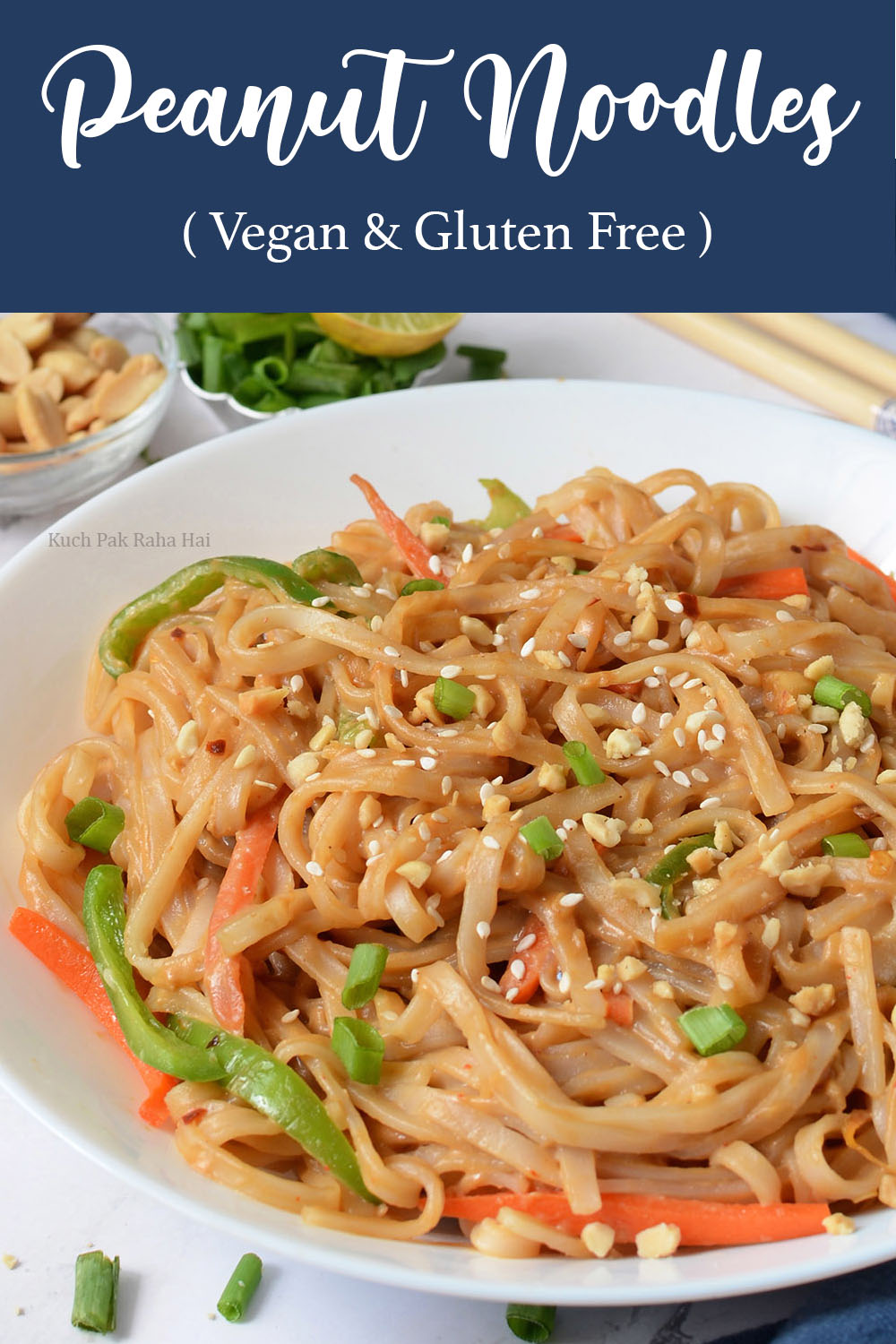 Other recipes you might like:
Kitchen Products Used:
If you try this easy peanut noodles recipe & share pics on social media, then don't forget to tag on Facebook, Instagram or use #kuchpakrahahai.
Let's stay connected
Facebook| Instagram | Pinterest |  Youtube