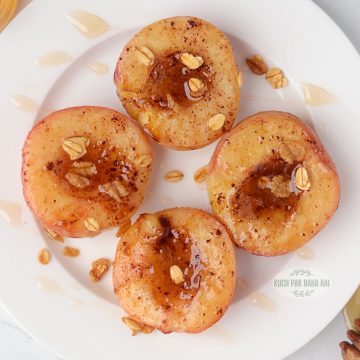 Sweet, juicy, tender air fried peaches are perfect for healthy dessert. They are easy, quick to make and can be enjoyed with a drizzle of honey, granola or scoop of vanilla ice cream for a tasty summer treat.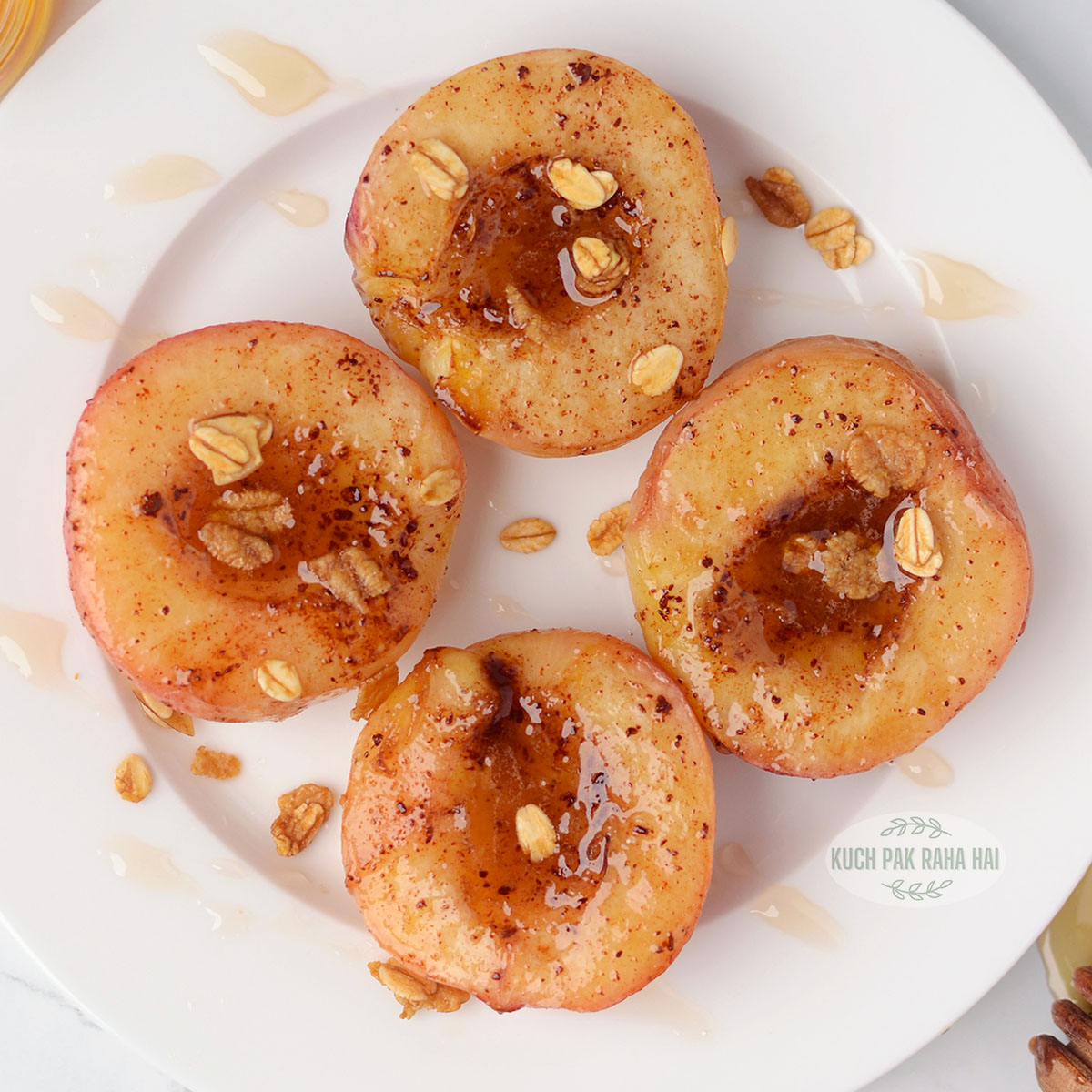 These air fryer peaches taste just like grilled peaches but are more simple to make. The recipe shared here is:
Vegan
Gluten free
Vegetarian

Gets ready in less than 15 min
Peach pie, Peach cobbler, Peach cake- there are endless peach recipes that you can make but if you are looking for an easy summer dessert with fresh peaches then this air fryer peach recipe is a must try.
The best part is you can even make it in small batches (even 1 or 2) in your air fryer and is healthier than other regular desserts like cakes or donuts.
Air Fryer Peaches Ingredients:
Peaches: When it comes to air frying, fresh peaches are the best choice. You can use yellow or white peaches as per availability (I have used white variety here). Always look for ripe peaches which are just slightly soft to touch. If they are overripe, they might turn too mushy on air frying.
Butter: We will be using softened (not melted) butter to make these peaches in air fryer. I prefer salted butter as slight saltiness compliments the sugary taste of peaches and vanilla ice cream. You can use unsalted butter too.
Cinnamon: The warm cinnamon flavour pairs so well with caramelised peaches. Use good quality cinnamon powder.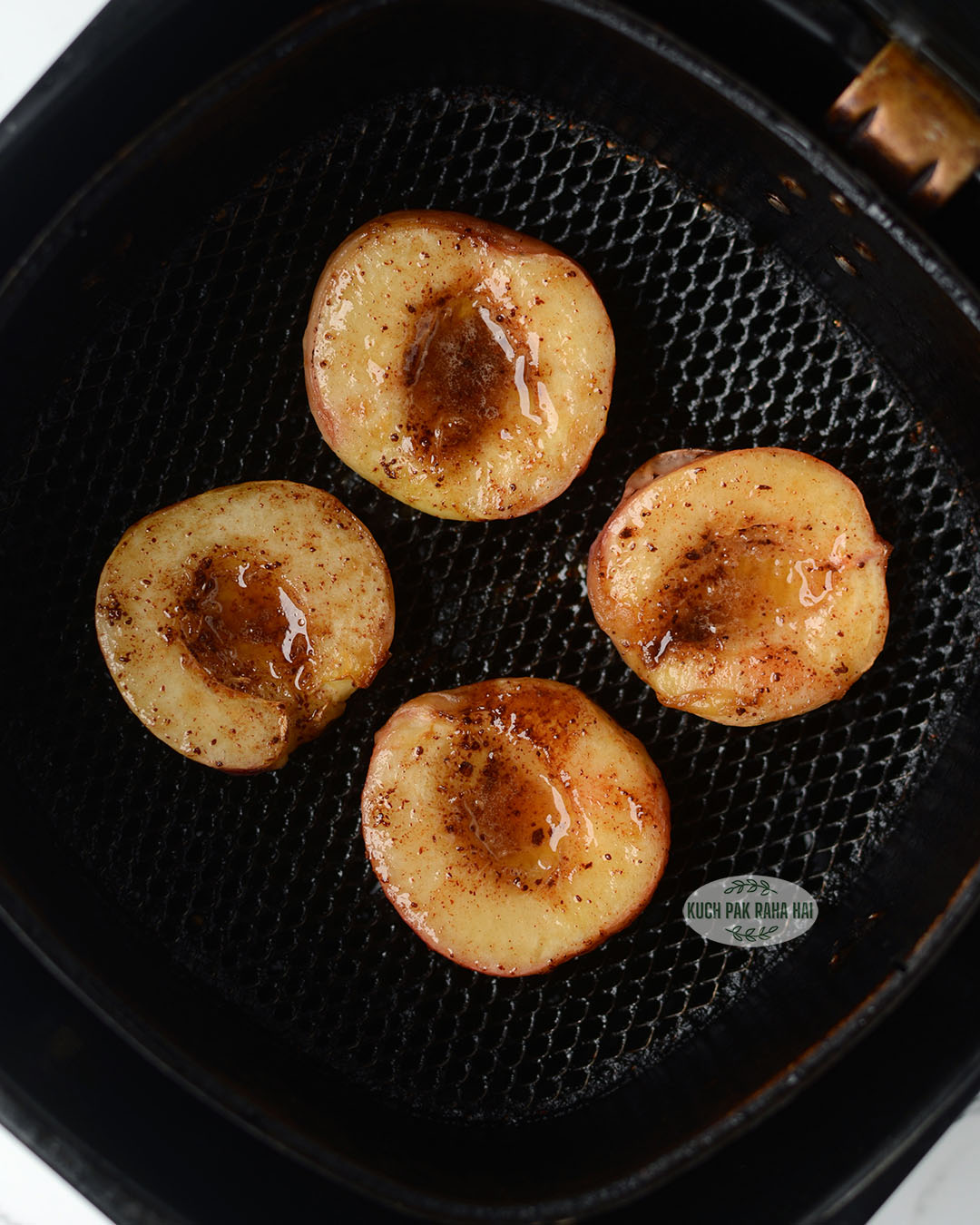 Sweetener: Brown sugar tastes best in this peach recipe. Instead of brown sugar, coconut sugar can also be used.
Oil: Any cooking oil like olive oil, coconut oil or avocado oil can be used to brush on the peaches. It prevent them from getting dry while air frying.
Serving Ideas:
Toppings: To make these caramelised peaches even tastier, you can-
Drizzle some honey (or maple syrup) over them or garnish with gresh mint leaves.
Add granola or chopped nuts like pecans, walnuts for crunchy element
Top up with some whipped cream, yogurt or scoop of vanilla or peach ice cream.
Apart from having these succulent peaches as dessert, you can also serve them as accompaniment to pancakes, waffles, make fruit salad using them or use as topping on porridge, overnight oats or smoothie bowl.
Hope you would like this simple air fryer peach recipe. Some other recipe you would like to try-
Ingredients:
Fresh Peaches- 2
Olive Oil / Coconut Oil- 2 tsp
Butter / Vegan Butter – 1+1/2 tbsp (softened)
Brown sugar / Coconut sugar- 2 tsp (to taste)
Cinnamon (powdered)- 1/3 tsp
Toppings (optional):
Honey / Maple syrup
Granola
Directions:
Step 1:
Wash the peaches well and dab them dry with kitchen towel. Cut them into half and twist the two halves in opposite directions to separate them. Remove the pits from the centre using a knife.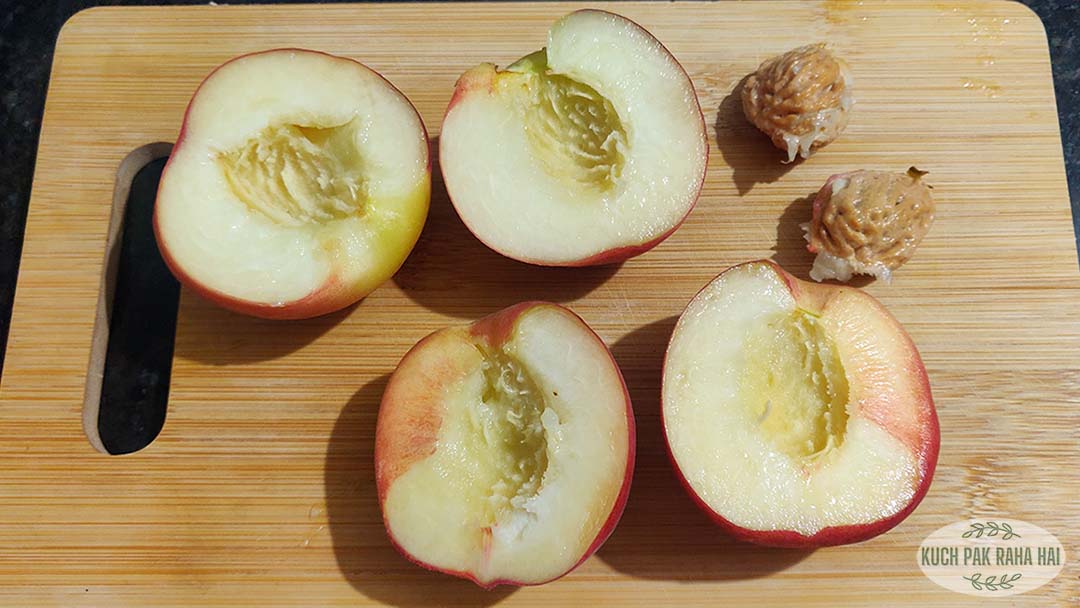 Step 2:
Set the air fryer for preheating for at 180°C (356°F) temp for 2-3 minutes. While it is preheating, mix the softened butter with brown sugar & cinnamon.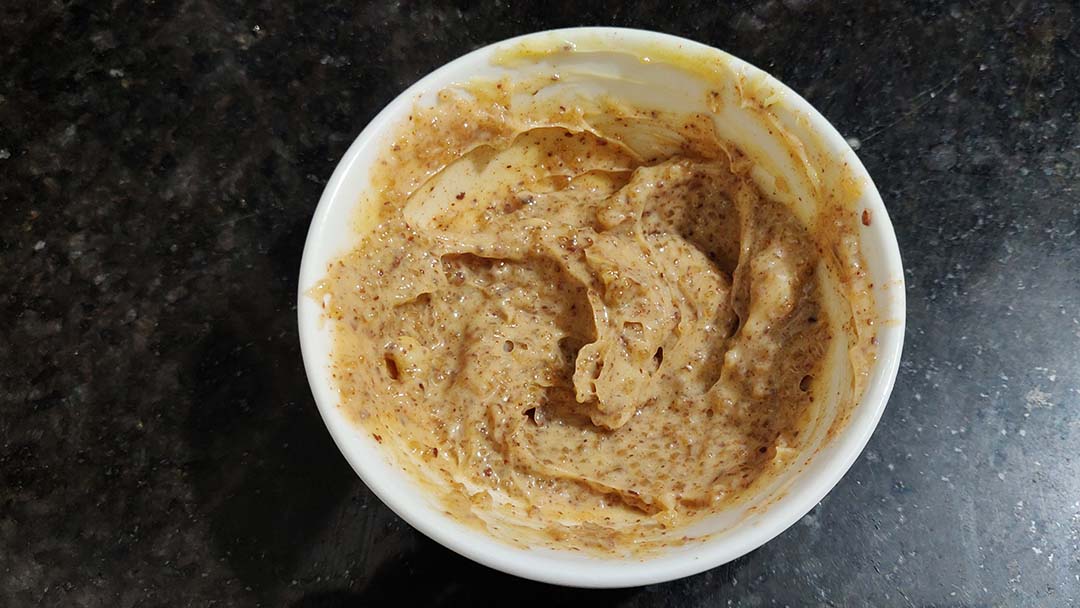 Step 3:
Brush oil on both sides of cut peaches. Place them in air fryer basket with peel side up and air fry for 5 minutes at 180°C (356°F) temp.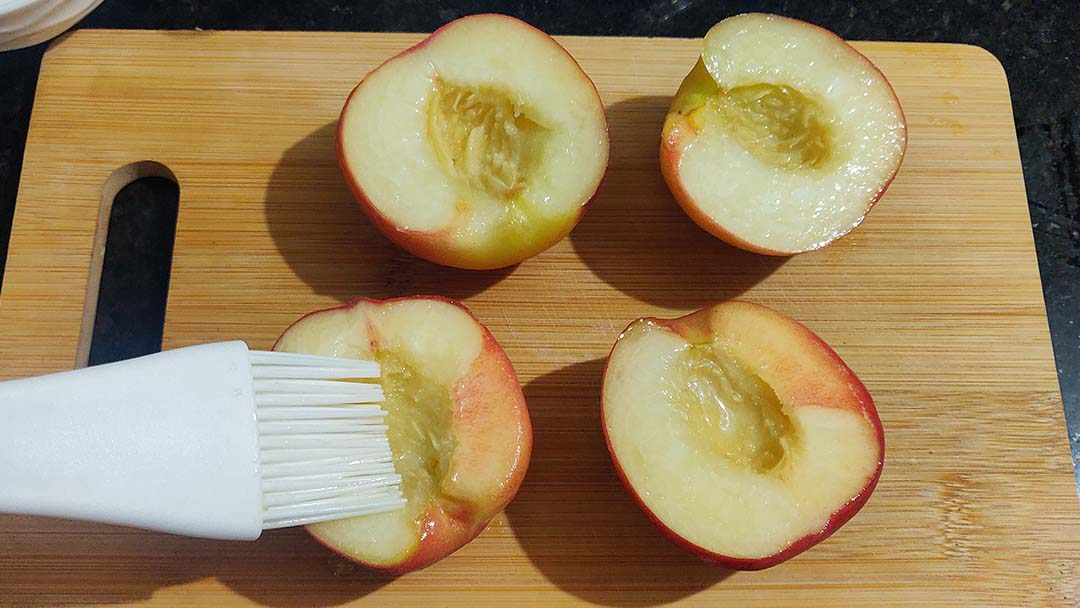 Step 4:
After 5 minutes, turn over the peaches with the help of a spatula. Add spoonful of cinnamon butter in the centre of each peach while also spreading some of it on the sides.
Step 5:
Air fry for 5-6 minutes more till the peaches become tender and sugar starts to caramelise. Check them with a knife or fork for tenderness. You may have to adjust 1-2 minutes of cooking time depending on the air fryer model.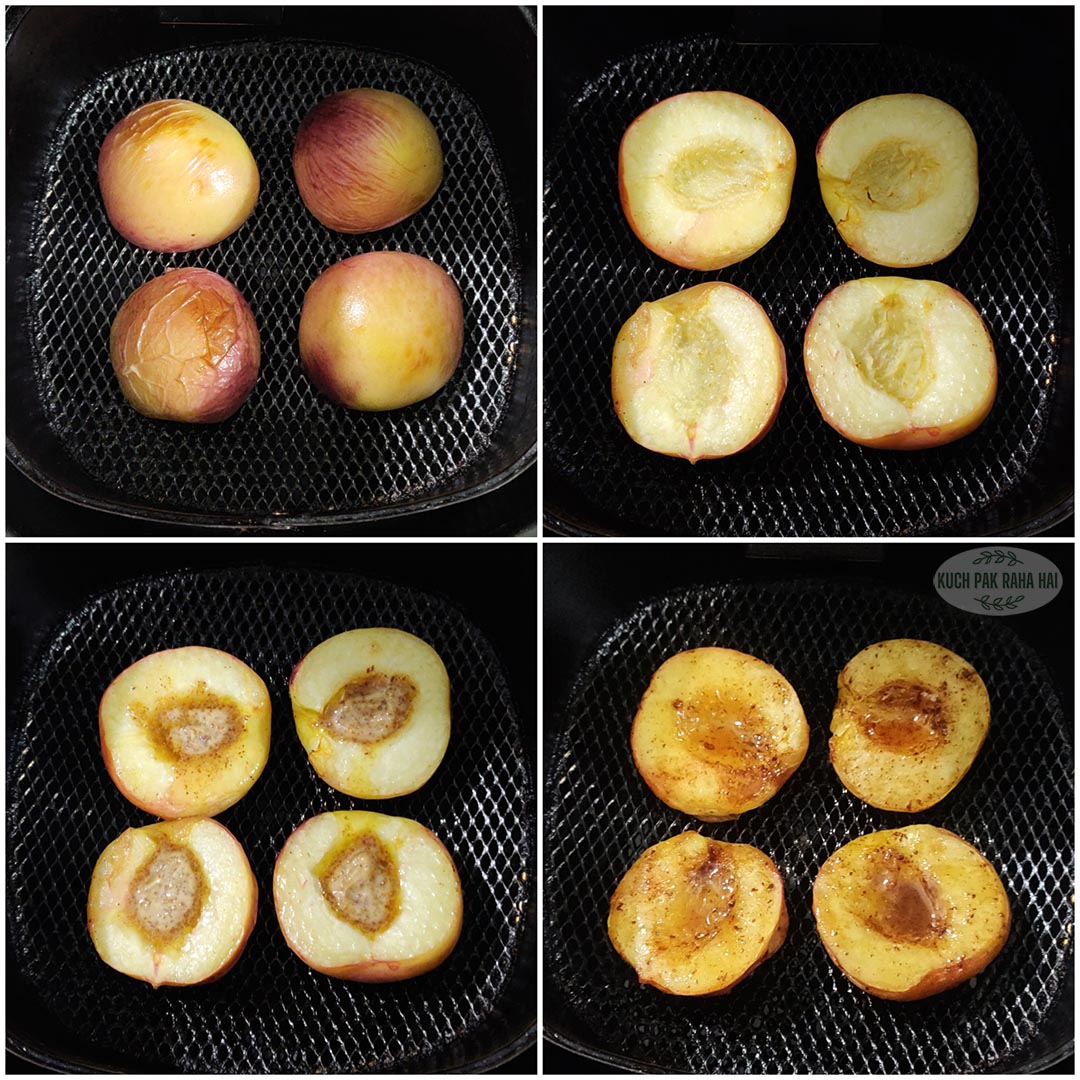 Lift them carefully with the help of a turner or spatula and transfer on a plate. Drizzle some honey on these warm peaches and add some granola. Top up with whipped cream or scoop of vanilla ice cream (optional).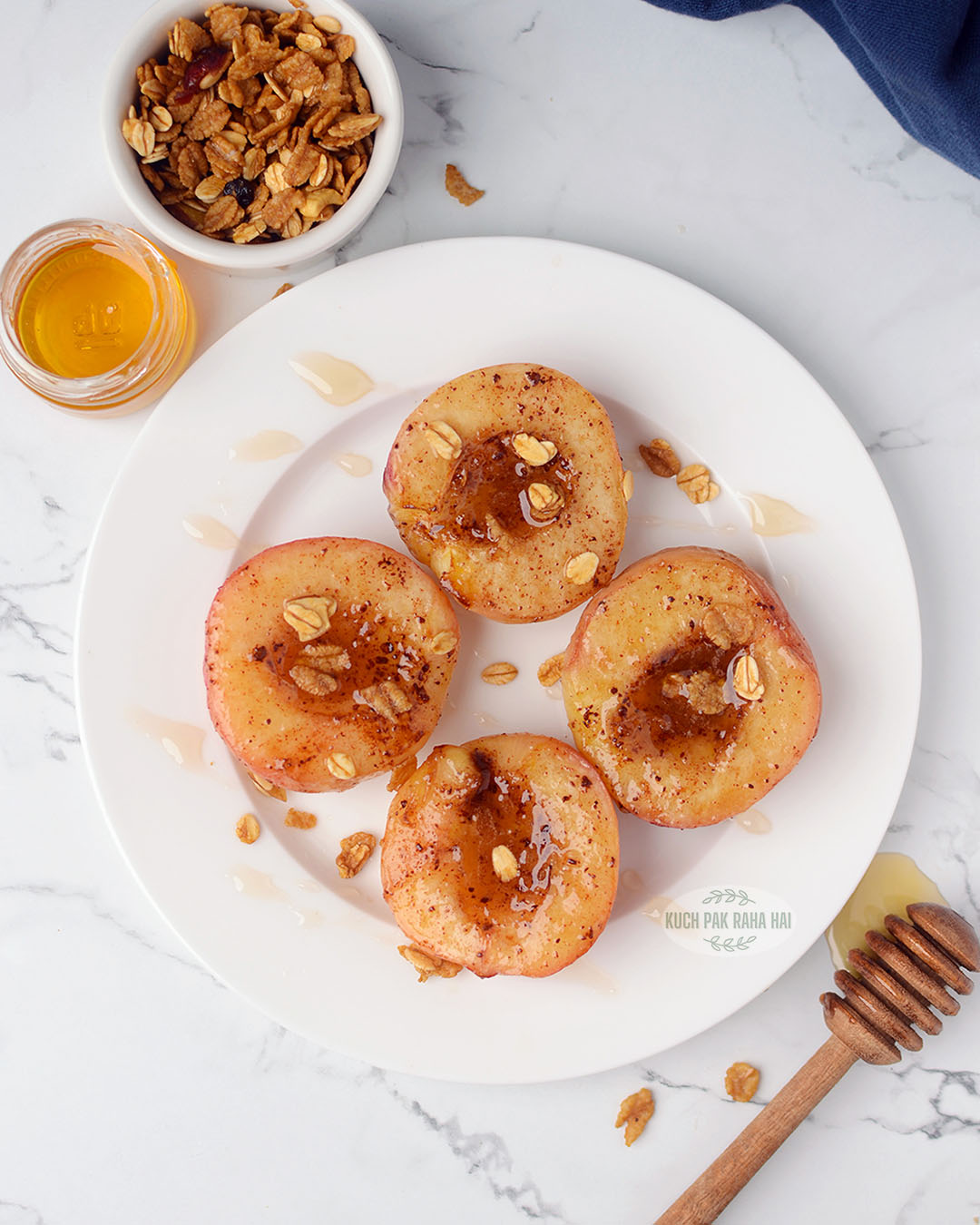 How to store or reheat leftover reheat air fried peaches?
You can store the peaches in an airtight container in fridge easily for 2-3 days. Whenever you want to have them microwave for 30-40 seconds or air fry 1-2 minutes.
Can we freeze air fryer baked peaches?
I would not recommend freezing these air fried peaches as they are already tender and after freezing & thawing they turn too squishy.
Pin for later: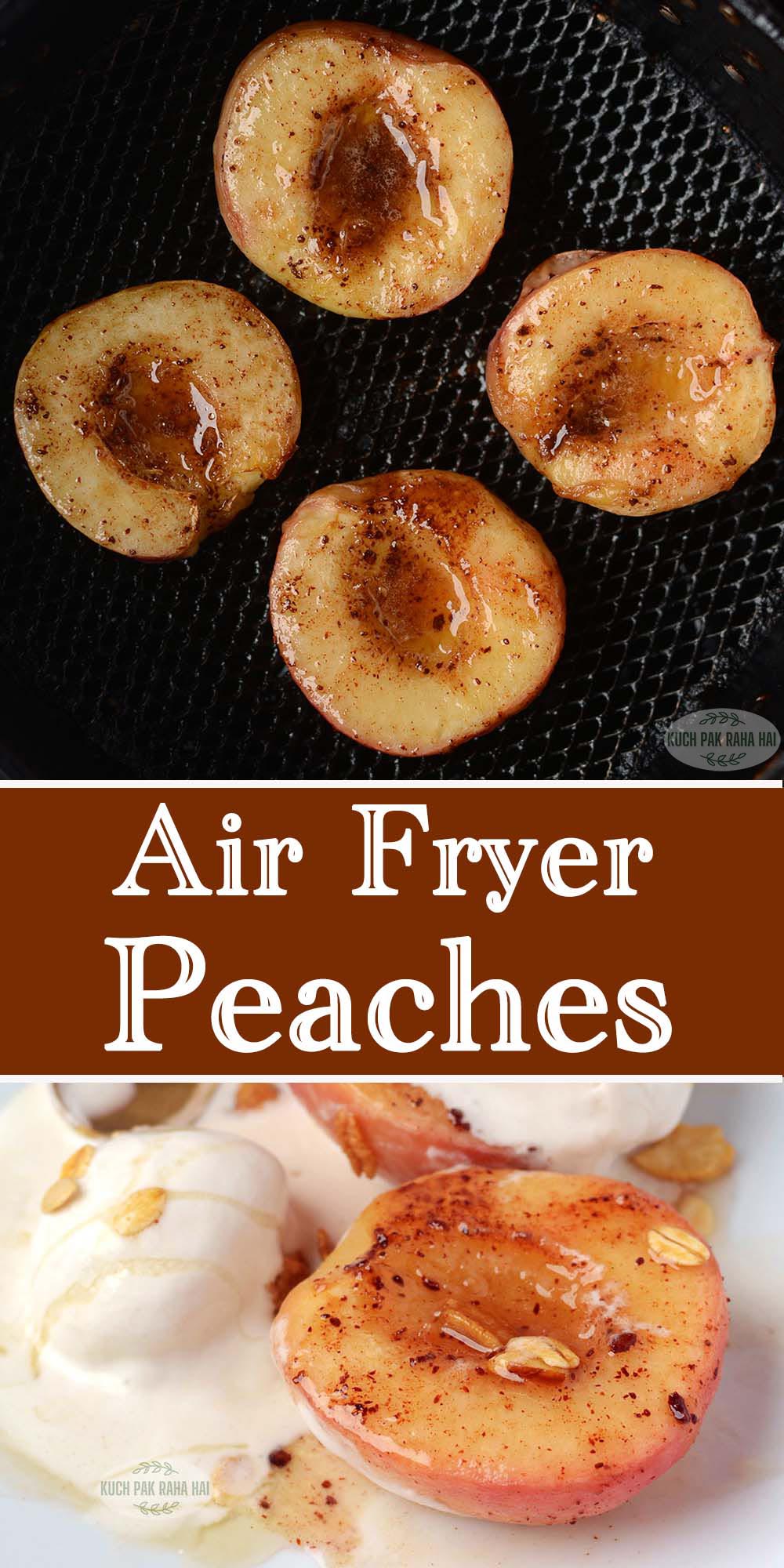 If you try making peaches in air fryer & share pics on social media, then don't forget to tag on Facebook, Instagram or use #kuchpakrahahai.
Let's stay connected
Facebook | Instagram | Pinterest| Youtube