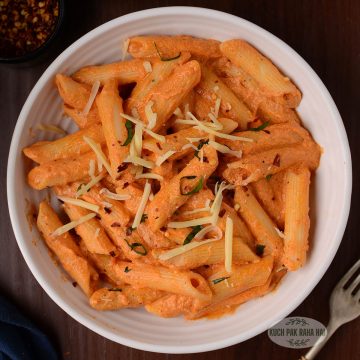 This rich, creamy, healthy cottage cheese pasta tastes absolutely delicious, is so easy to make and gets ready in just 15 minutes. It is perfect for lunch or dinner especially on busy weekdays.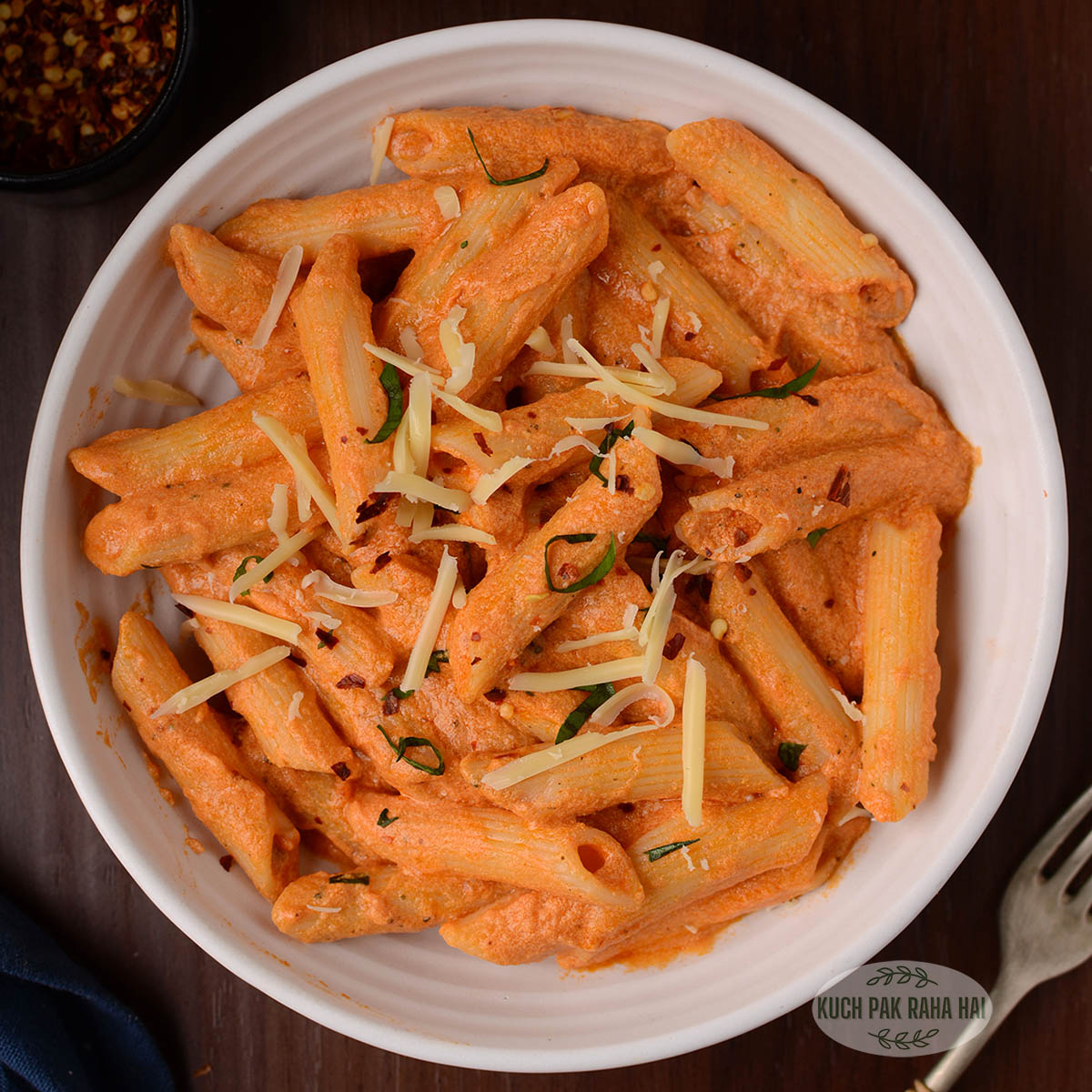 The cottage cheese pasta sauce recipe is:
Vegetarian
Gluten free
High Protein
Kids friendly
Instead of using heavy cream, cheese or butter to make the pasta sauce creamy, we will be using cottage cheese which is healthier & lower in fat. The pasta sauce turns out wonderfully smooth and no one can even tell that it is made with cottage cheese.
Recently I saw so many short videos on social media where people were using cottage cheese in ice creams, puddings or overnight oats and that raised my curiosity to try it once. However when I tasted it the first time, it tasted more on savoury side to me and I could easily imagine it in this delicious lip smacking pasta sauce.
If you are trying to incorporate more protein in your diet, then cottage cheese should definitely be in your list as a 100 gram serving of low fat cottage cheese has roughly 12 grams of protein and 3 gms of fat. It can be blended to make smooth, fluffy texture which can then used in different pasta recipes like pasta salad, pesto pasta, spaghetti, lasagna or baked pasta.
Is cottage cheese same as paneer?
Paneer is also known as 'Indian cottage cheese' and hence it is easy to get confused between the two. Both are made by curdling milk but the taste and texture is different.
Paneer is set as a solid block where cottage cheese is loose in texture and more creamier than paneer (as you can see in image below). Paneer does not have any taste of its own and tastes bland whereas cottage cheese is slightly salty.
If I have to describe my own experience, it tasted like a combination of cream cheese & greek yogurt. (Note: This is not a promotional post. You can use any brand of cottage cheese)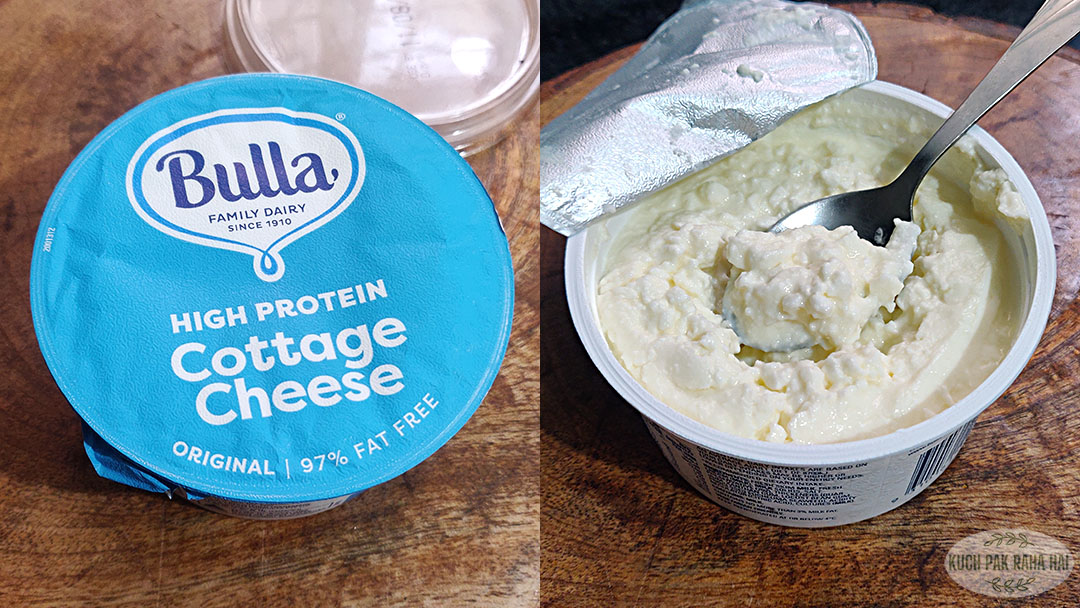 Cottage Cheese Pasta Ingredients:
Pasta: Use any short pasta variety like penne, fusilli, farfalle or bow tie for this recipe. To make it healthier or protein packed, you can use whole wheat pasta, gluten free pasta, chickpea or red lentil pasta.
Marinara Sauce: Feel free to use homemade or store bought marinara sauce (or red pasta sauce) to make this yummy cottage cheese sauce. If you want to make it from scratch with fresh tomatoes, check out red sauce pasta recipe.
Cottage Cheese: I have used 97% fat free cottage cheese here but you can use whole milk cottage cheese for creamier texture.
Seasoning: This protein pasta sauce can be seasoned with Italian seasoning, chilli flakes, crushed black pepper or dried herbs like oregano, basil or thyme as per your taste. As cottage cheese is already salted, it is always better to taste the sauce before adding salt.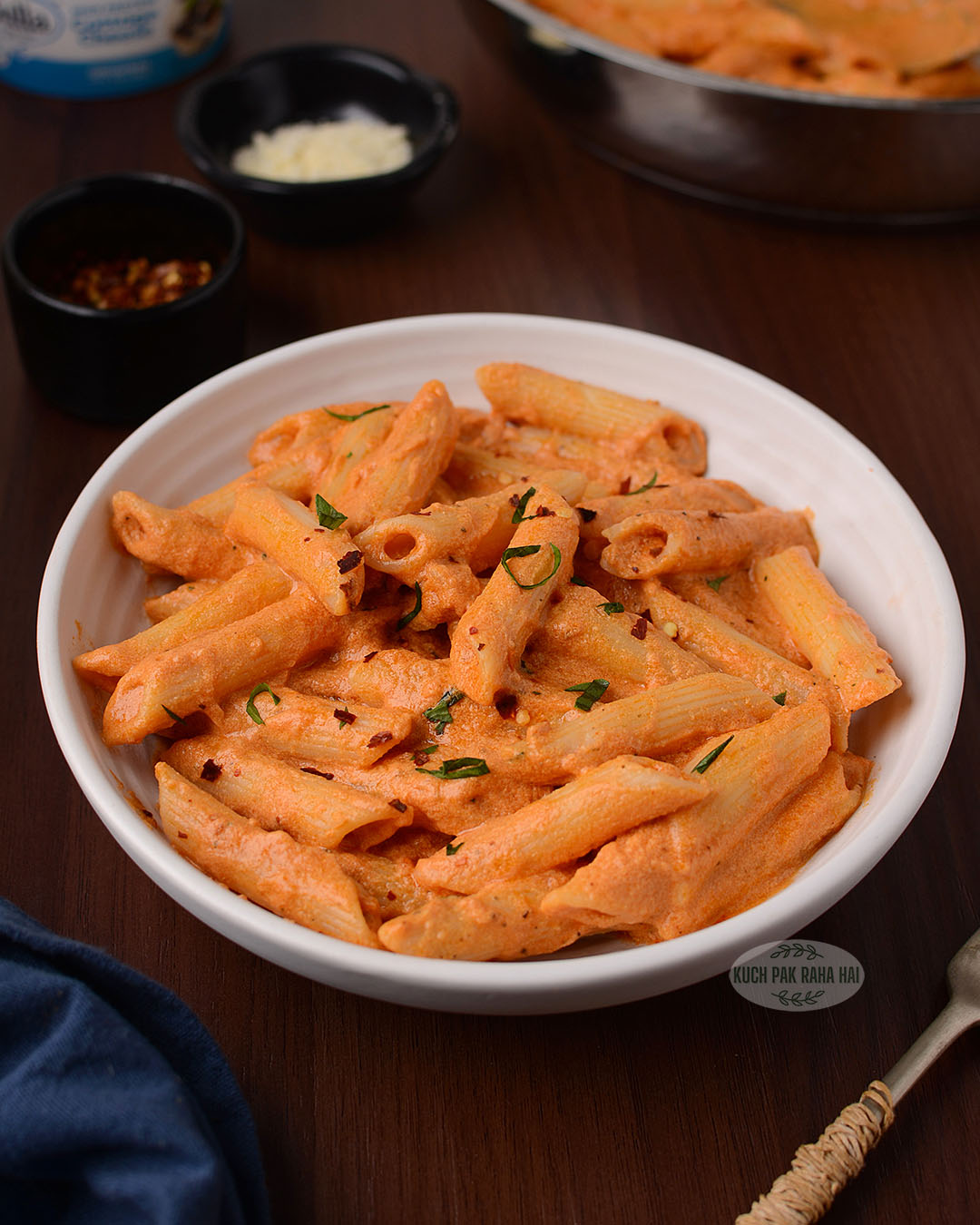 Optional: You can add your choice of protein or make this pasta more filling by adding vegetables like spinach, sautéed mushrooms, steamed broccoli, bell peppers and onion etc.
You can enjoy this cottage cheese tomato pasta with soups like tomato soup, mushroom soup or with sides like air fryer garlic mushrooms, air fryer broccoli, stuffed garlic bread sticks or this air fryer cheesy garlic bread.
Hope you would like this pasta with cottage cheese recipe. More pasta recipes:
Ingredients: (2 Servings)
Penne Pasta (uncooked)- 2 cups
Water- For boiling
Salt- 1/2 tsp (to taste)
Cottage Cheese- 1/2 cup
Marinara Sauce / Pasta Sauce- 3/4 cup
Olive Oil – 2 tsp
Red Chilli Flakes- 1/2 tsp (to taste)
Italian seasoning- 1/2 tsp
Parmesan- 3 to 4 tbsp
Chopped Basil Leaves – 3 to 4
Directions:
Step 1:
Bring water to boil in a deep pot. Add 1/2 tsp salt to it and boil pasta as per the packet instructions. Reserve roughly 1/2 cup pasta water for later.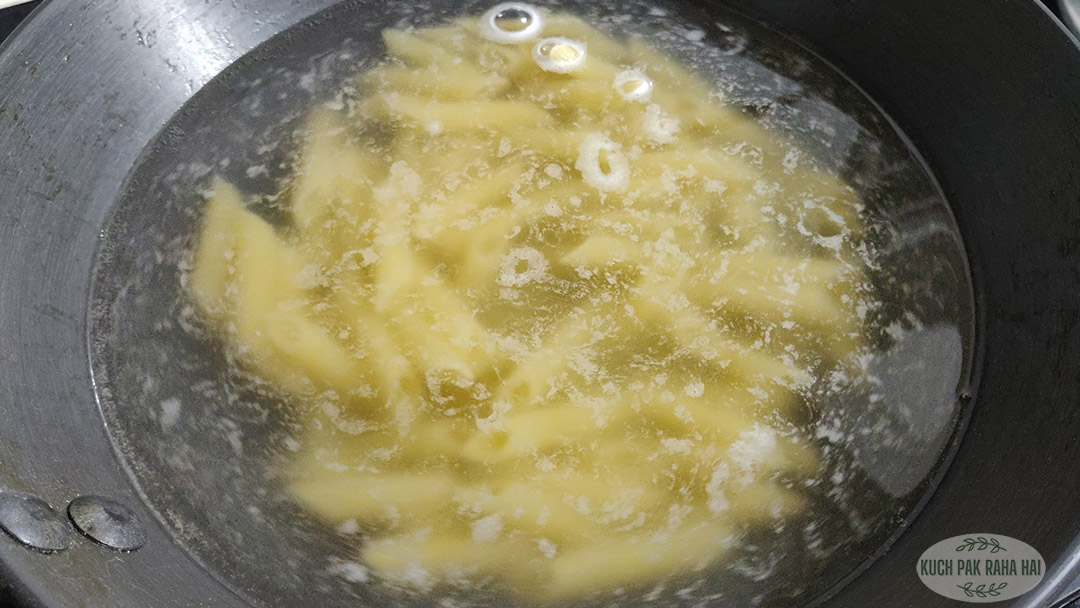 Step 2:
In a blender jar, add cottage cheese, marinara sauce & 3 tbsp pasta water. Blend till you get smooth sauce. Add little bit of more pasta water if required during blending. Keep it aside. (Note: If you like more tomatoey pasta, instead of 3/4 cup you can use 1 cup marinara sauce while blending)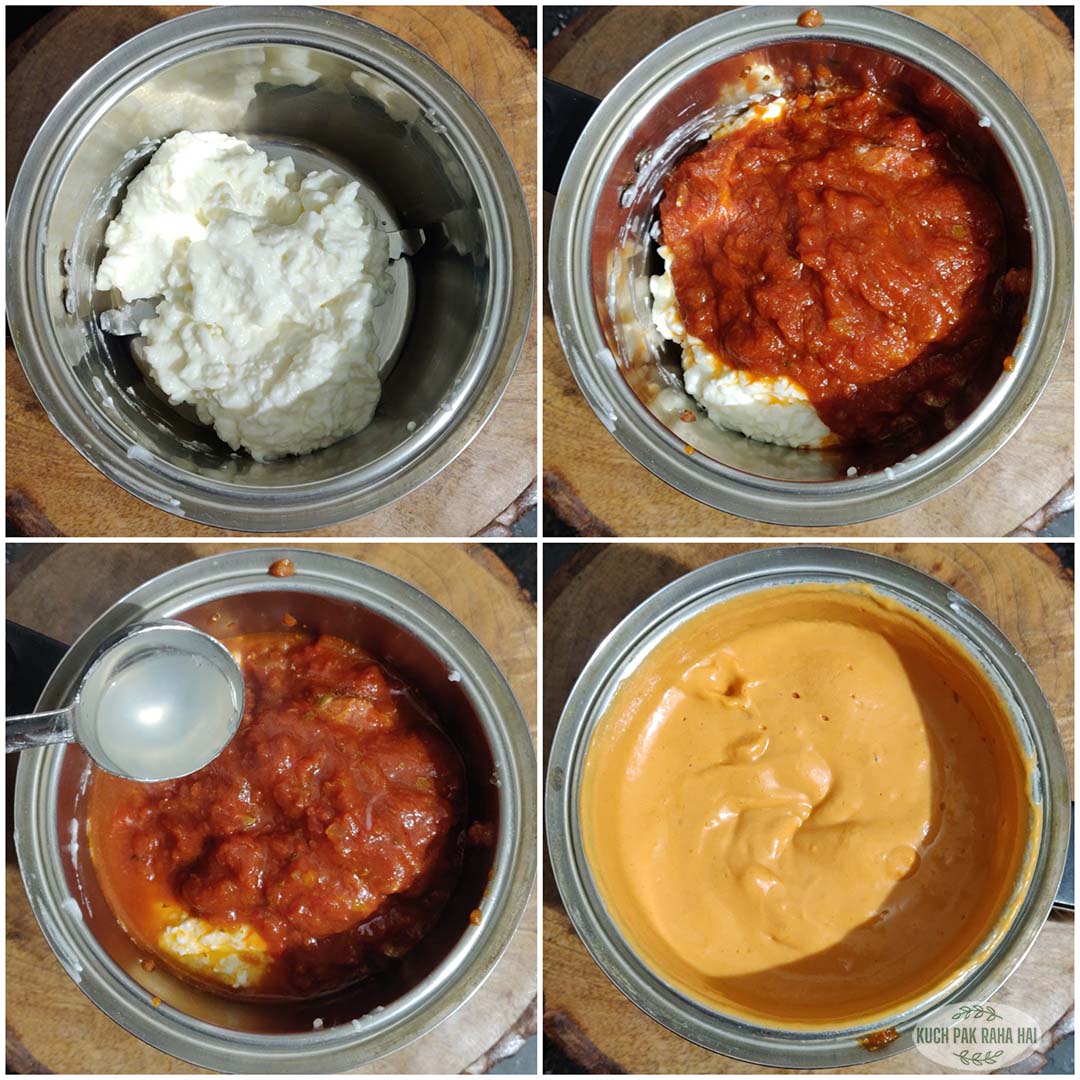 Step 3:
In a pan, add olive oil, chilli flakes and sauté for 15-20 seconds. Simmer down the flame (as we want to warm the sauce and not boil it). Add the blended cottage cheese sauce to it and mix well. Taste and add salt, Italian seasoning (or crushed black pepper) as per your taste.
Step 4:
To the above sauce, add boiled pasta, parmesan cheese and toss gently. Add more pasta water if the sauce seems too thick. Serve it immediately. Garnish with freshly chopped basil leaves or more grated cheese.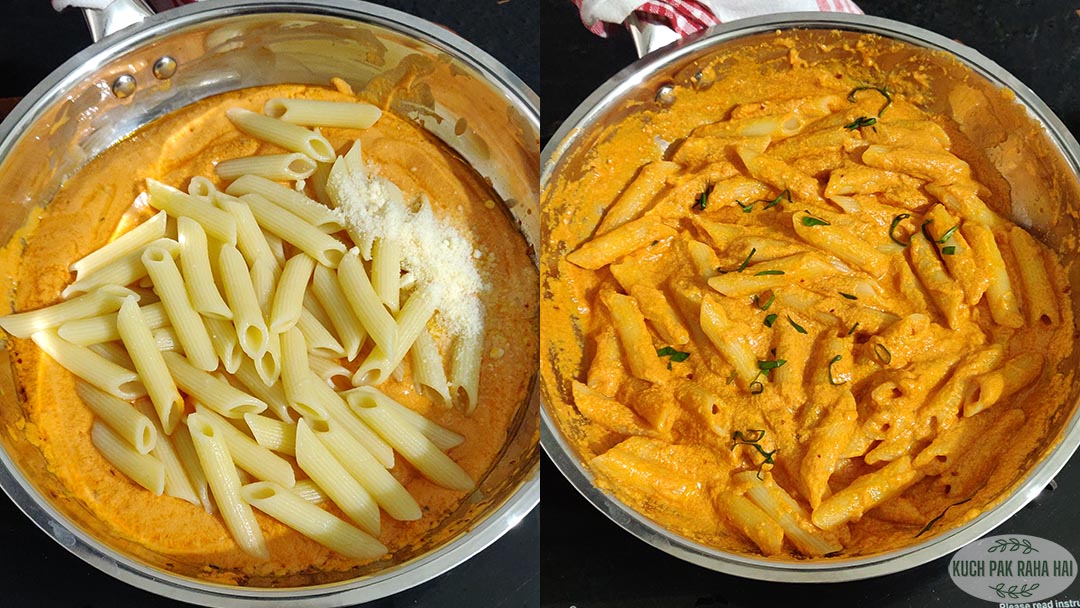 How to store and reheat this pasta?
You can easily store this cottage cheese pasta for 2-3 days in fridge. It can be reheated in microwave or in a pan on stovetop. You can also keep some reserved pasta water in fridge and use it to thin out the sauce while reheating.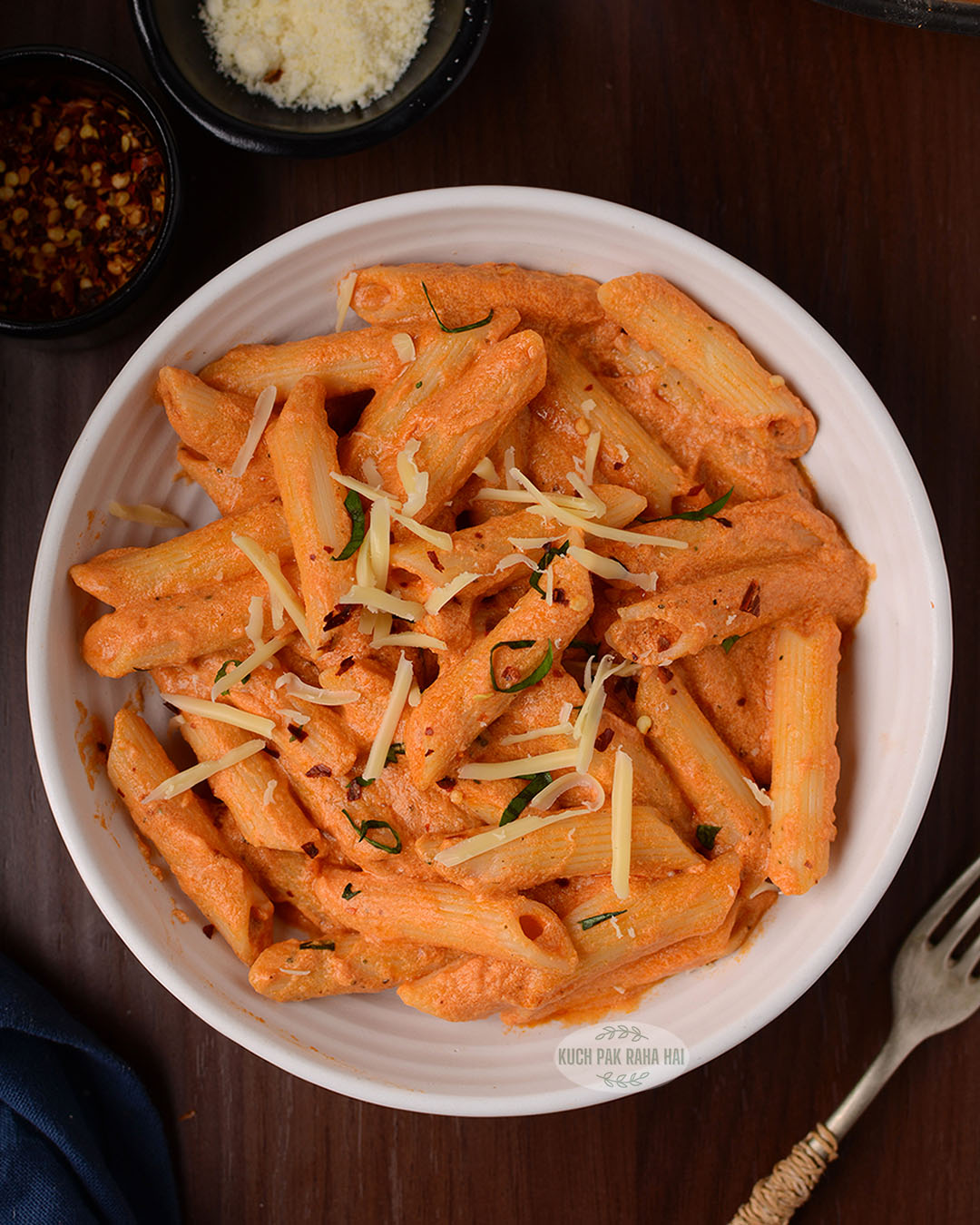 If you try this cottage cheese pasta recipe & share pics on social media, then don't forget to tag on Facebook, Instagram or use #kuchpakrahahai.
Let's stay connected
Facebook | Instagram | Pinterest| Youtube
Pin for later: