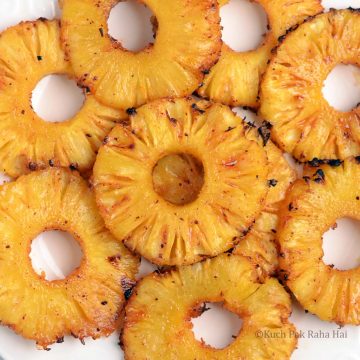 Air fried warm juicy caramelised pineapples rings with hints of cinnamon makes for a perfect snack, side dish or dessert anytime. They are vegan, gluten free and gets ready in less than 15 minutes.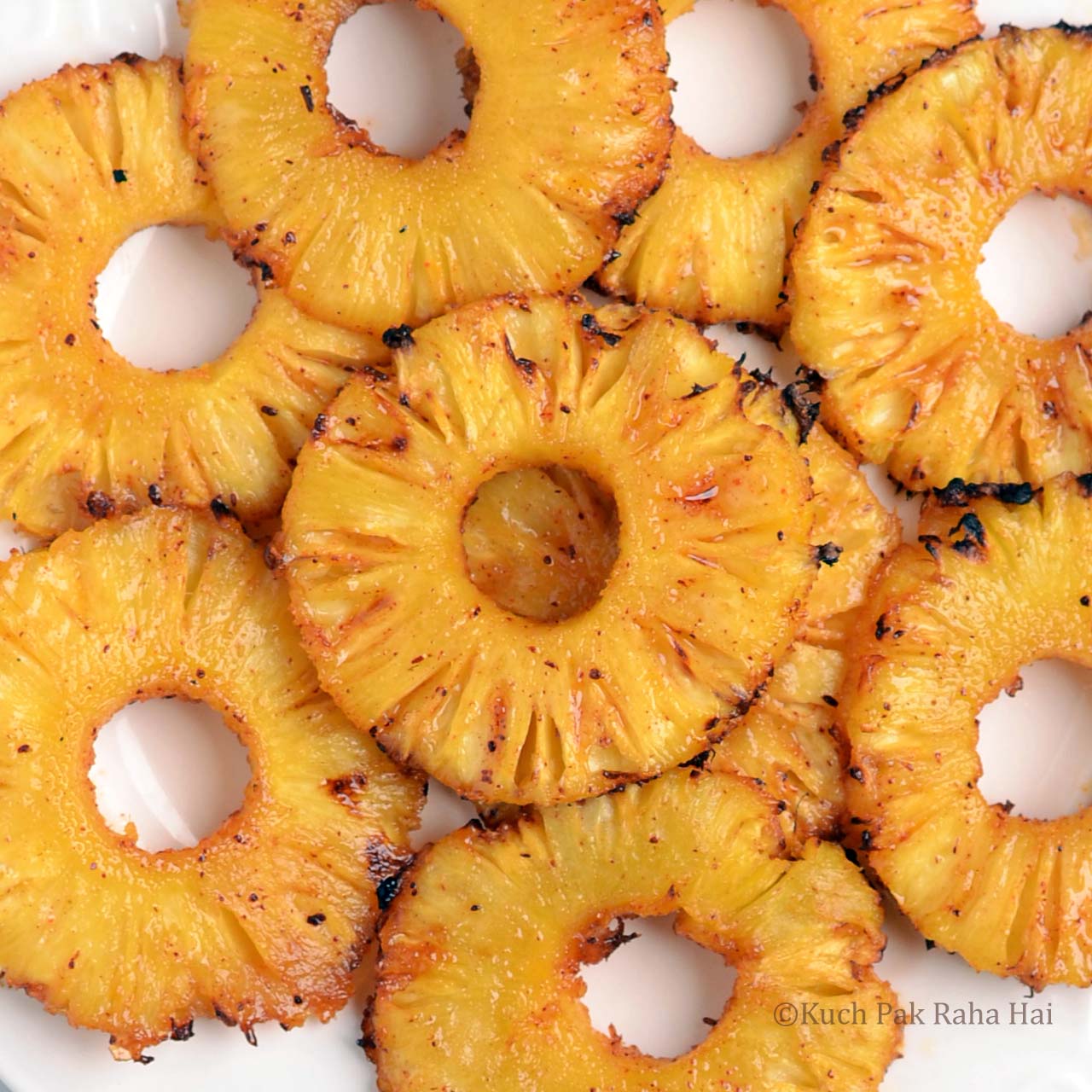 This air fryer recipe is super easy to make with no elaborate preparations involved. It is :
Vegan / Vegetarian
Gluten Free
Kids Friendly
Simple & Quick to make
The first time I tried grilled pineapple cinnamon was at 'Absolute Barbecues' restaurant in Hyderabad (India). They skewered a whole peeled pineapple, coated it in a mix of brown sugar with cinnamon and barbequed till the sugar had completely caramelised on it.
They would then cut it in slices and serve it warm on each table. The tender juicy pineapple with slightly charred edges coated in caramelised sugar tasted absolutely divine. After coming back home, I tried the recipe in my air fryer & the slices tasted almost like the grilled ones.
Ingredients for air fryer pineapples:
The recipe is quite simple & flexible with just 4 basic ingredients- pineapples rings, cinnamon, brown sugar & butter (optional). Butter is optional, you can even skip it or replace it with vegan butter. Instead of brown sugar you can also use maple syrup.
If you like to spice up the recipe, feel free to add some red chilli or paprika powder. You can make preparations for  this recipe before time and at the time of serving all you have to do is air fry the slices.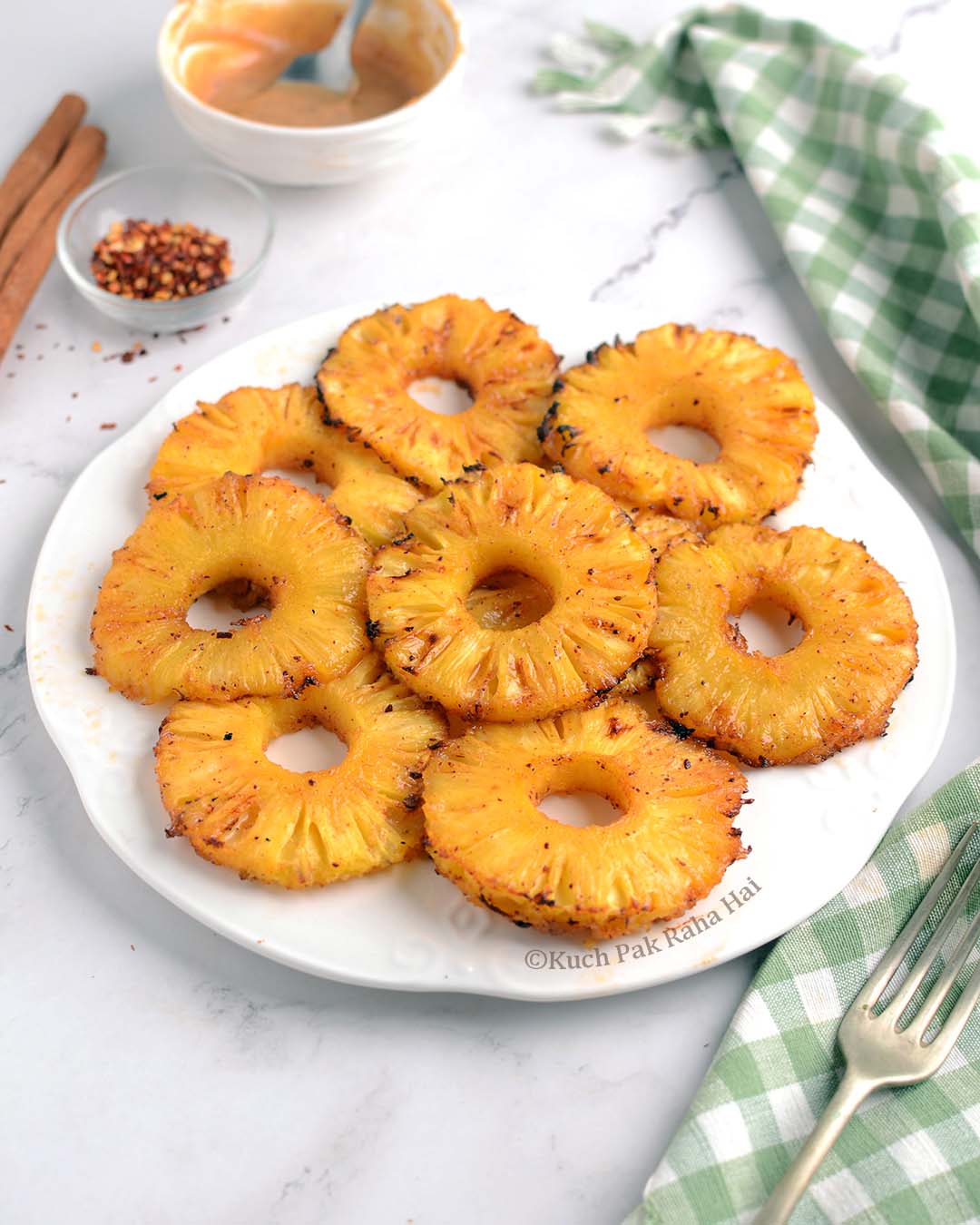 Can I use canned pineapples for this recipe?
Though this recipe is made with fresh pineapples, however you can also use canned pineapples. Just drain all the sugar syrup by transferring the slices on a colander before proceeding with the recipe.
More recipes with pineapples:
Air fried pineapple serving ideas:
1. You can serve these air fried cinnamon pineapple as side dish, snack or appetiser with any dip of your choice. I would suggest picking a slightly spicy dip as it compliments the sweet taste of pineapple.
2. They can be served with a scoop of vanilla or coconut ice cream for a yummy tropical dessert.
3. These air fried pineapple slices can be chopped and used in salads, smoothies. They can also be served with pancakes along with some salted caramel sauce or honey.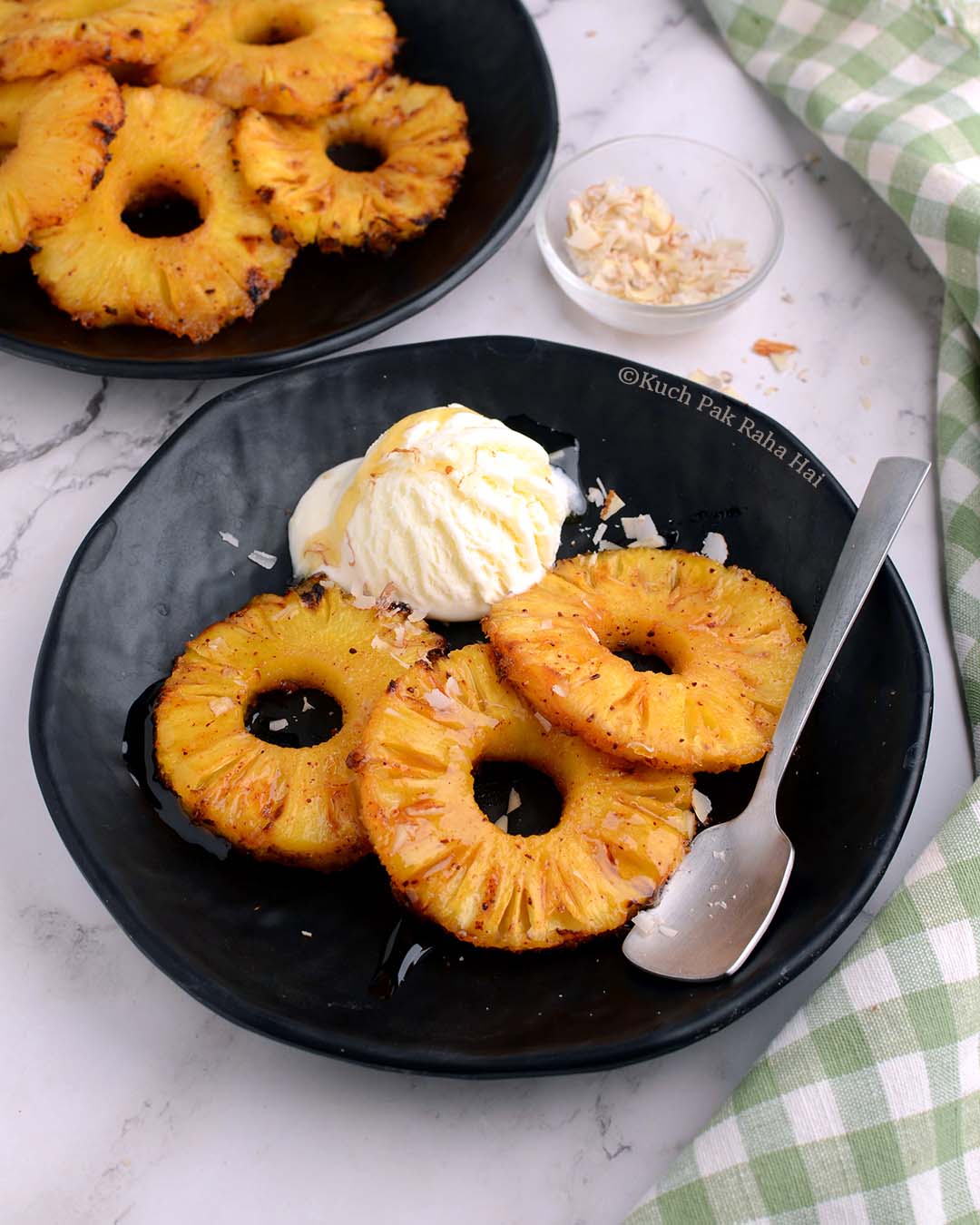 More vegetarian / vegan air fryer recipes you might like to try:
Hope you would like this easy peasy Air Fryer Grilled Pineapple Cinnamon recipe!!
Ingredients:
Pineapple Slices- 10 to 12
Unsalted Butter (melted)- 1 + 1/2 tbsp
Brown sugar- 2 tbsp
Cinnamon- 1/2 tsp
Notes:
1. Instead of brown sugar you can use maple syrup.
2. You can also add few drops of vanilla extract.
3. If you like spicy food, also add 1/8 tsp red chilli powder along with a big pinch of salt. The slight heat from red chilli powder goes well with sweet caramelised pineapples.
Directions:
Step 1:
Mix together the melted butter, brown sugar & cinnamon in a small bowl (If you are adding red chilli powder or salt, add it at this step). Keep aside.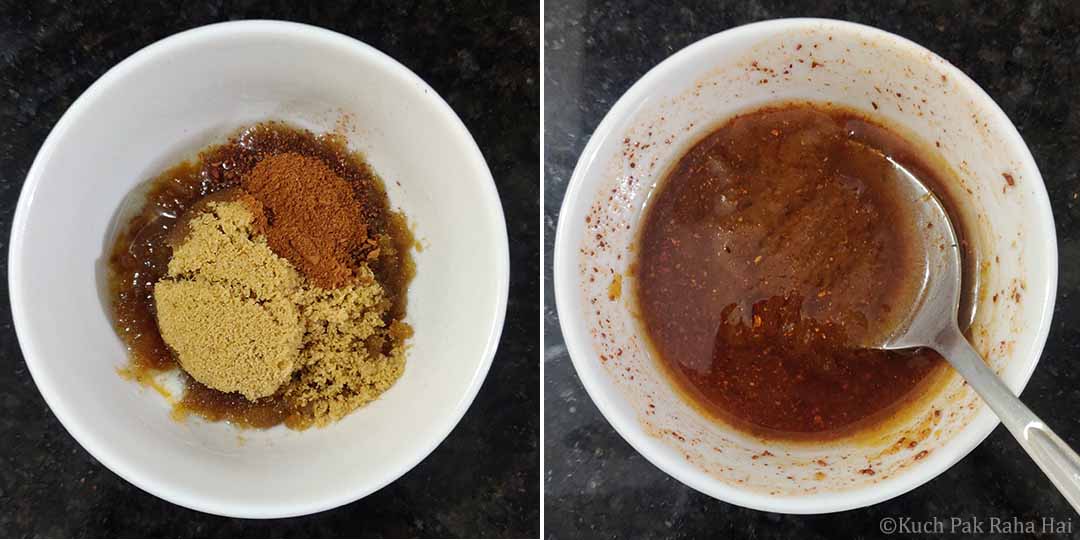 Step 2:
Set the air fryer for preheating at 200°C (392°F). By the time, air fryer is preheating peel, core and slice the pineapples. If you are using canned pineapples, transfer them on colander.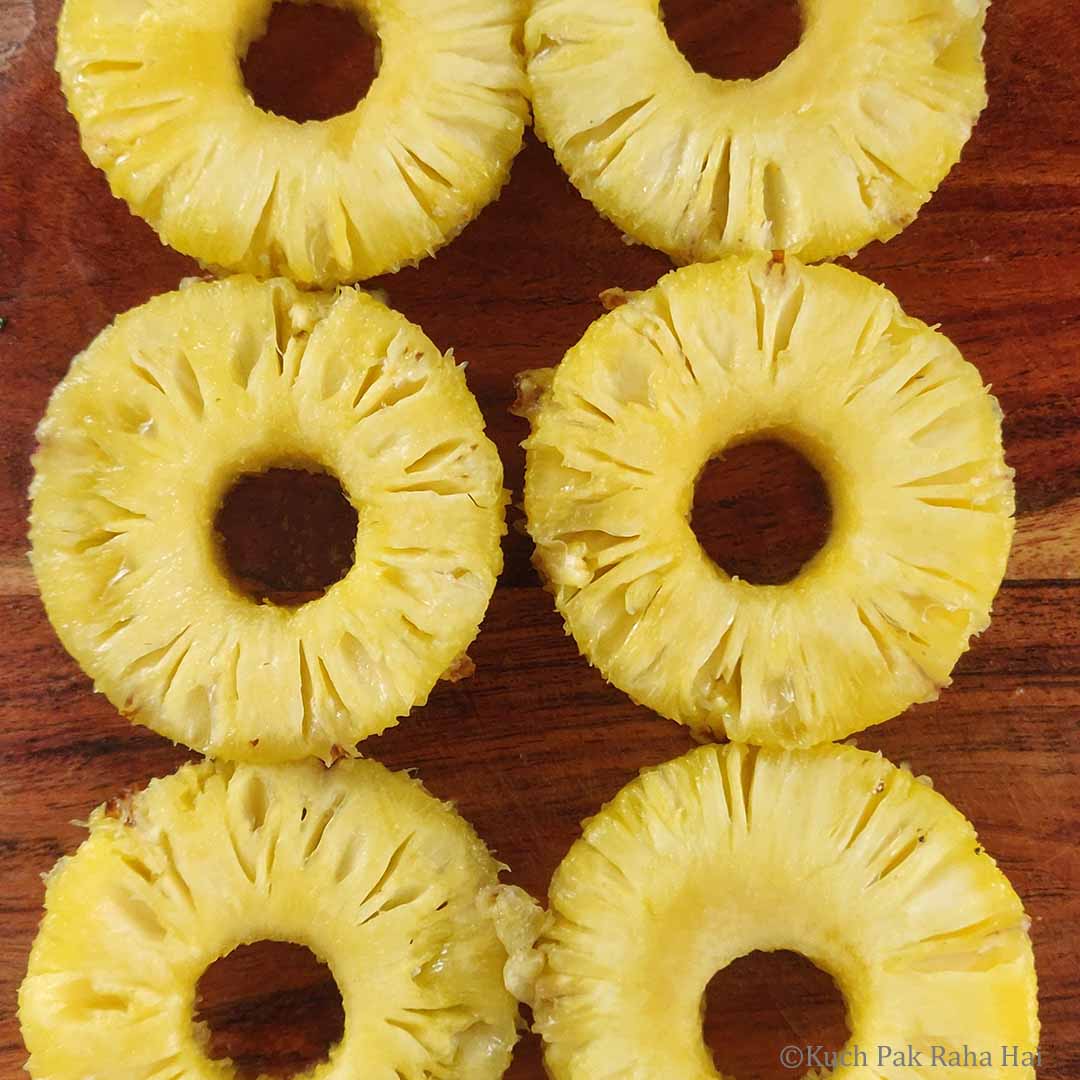 Step 3:
Brush the melted butter cinnamon mixture on both sides of pineapple slices.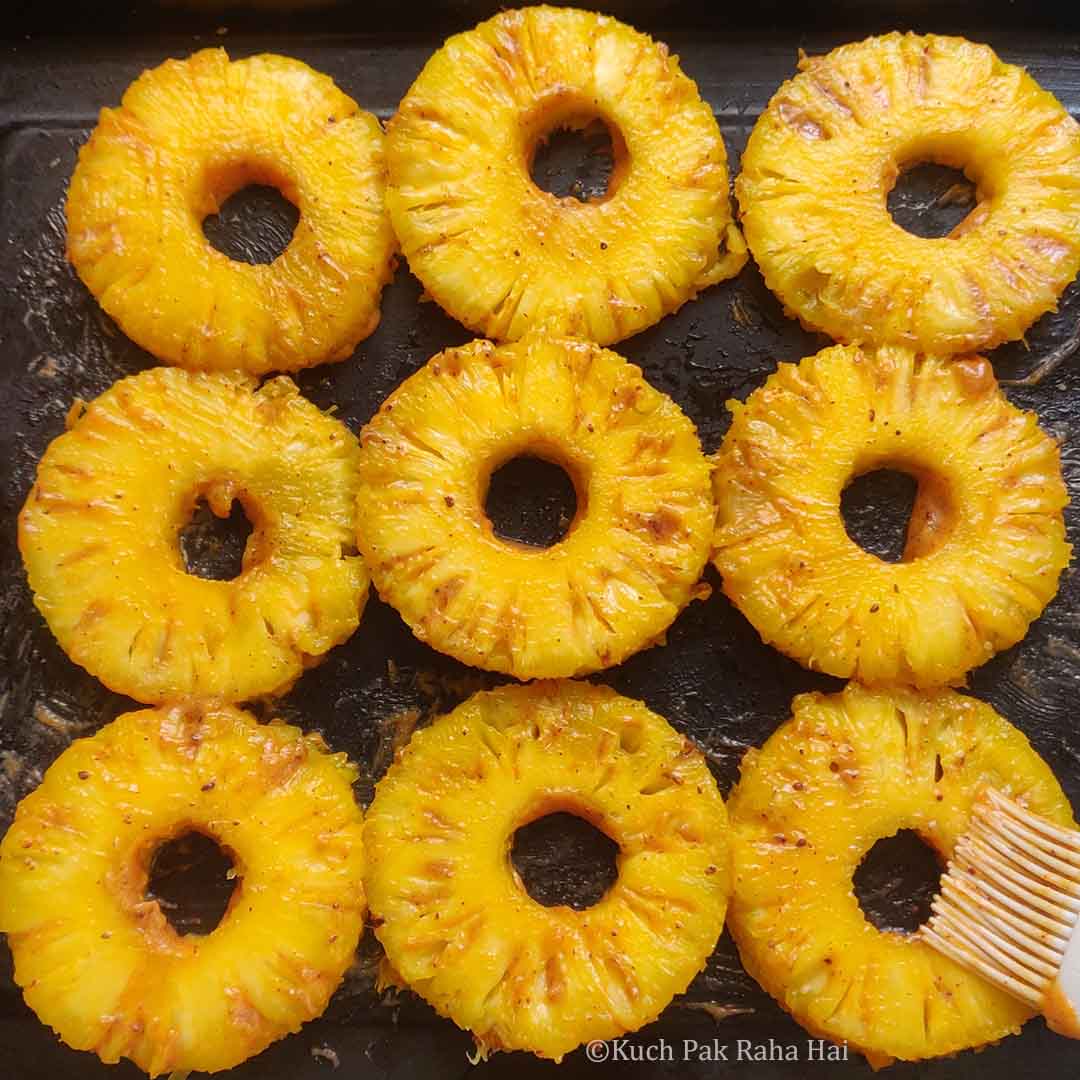 Step 4:
Transfer the seasoned pineapple slices on the air fryer's wire rack. Air fry them in a preheated air fryer for 8 to 10 minutes at 200°C (392°F). Brush some more of the melted butter after 5 minutes for juicier texture. (The cooking time can vary slightly depending on the air fryer model)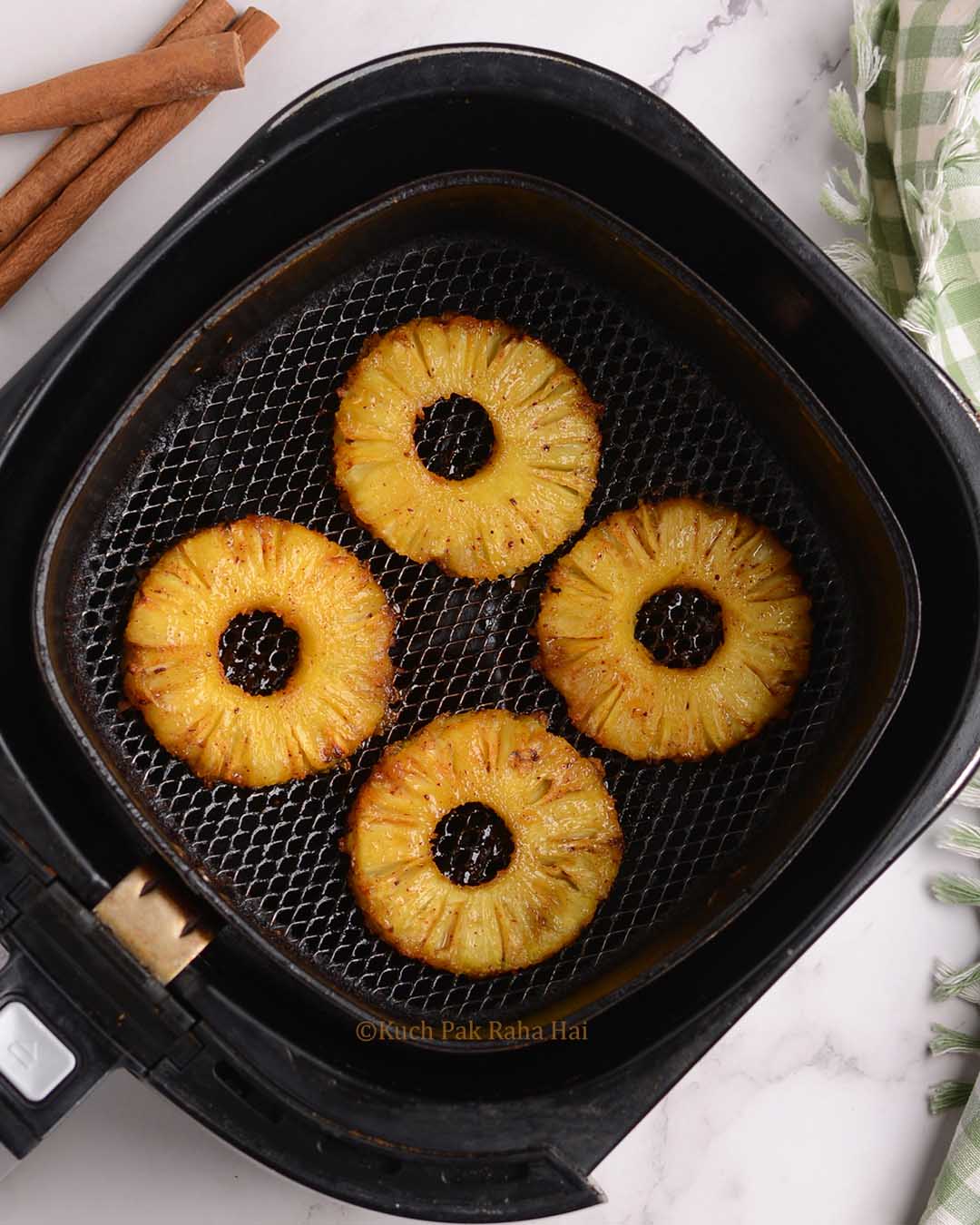 Enjoy these yummy caramelised pineapple slices warm with any dip of your choice or with a scoop of ice cream. Bon Appetit!!
FAQ:
Can I make these air fryer pineapple slices in advance?
Yes you can make them in advance & reheat them in microwave or air fryer just before serving.
Second option is to cover the bowl or tray of marinated slices with a cling film & store in fridge. Whenever you are ready to make them, bring them out on kitchen counter, preheat the air fryer & air fry as per the instructions above.
How to store & reheat the leftovers?
You can store the leftover pineapples in an airtight container in fridge for 2-3 days. To reheat, microwave them for 40-50 seconds or air fry for 1-2 minutes.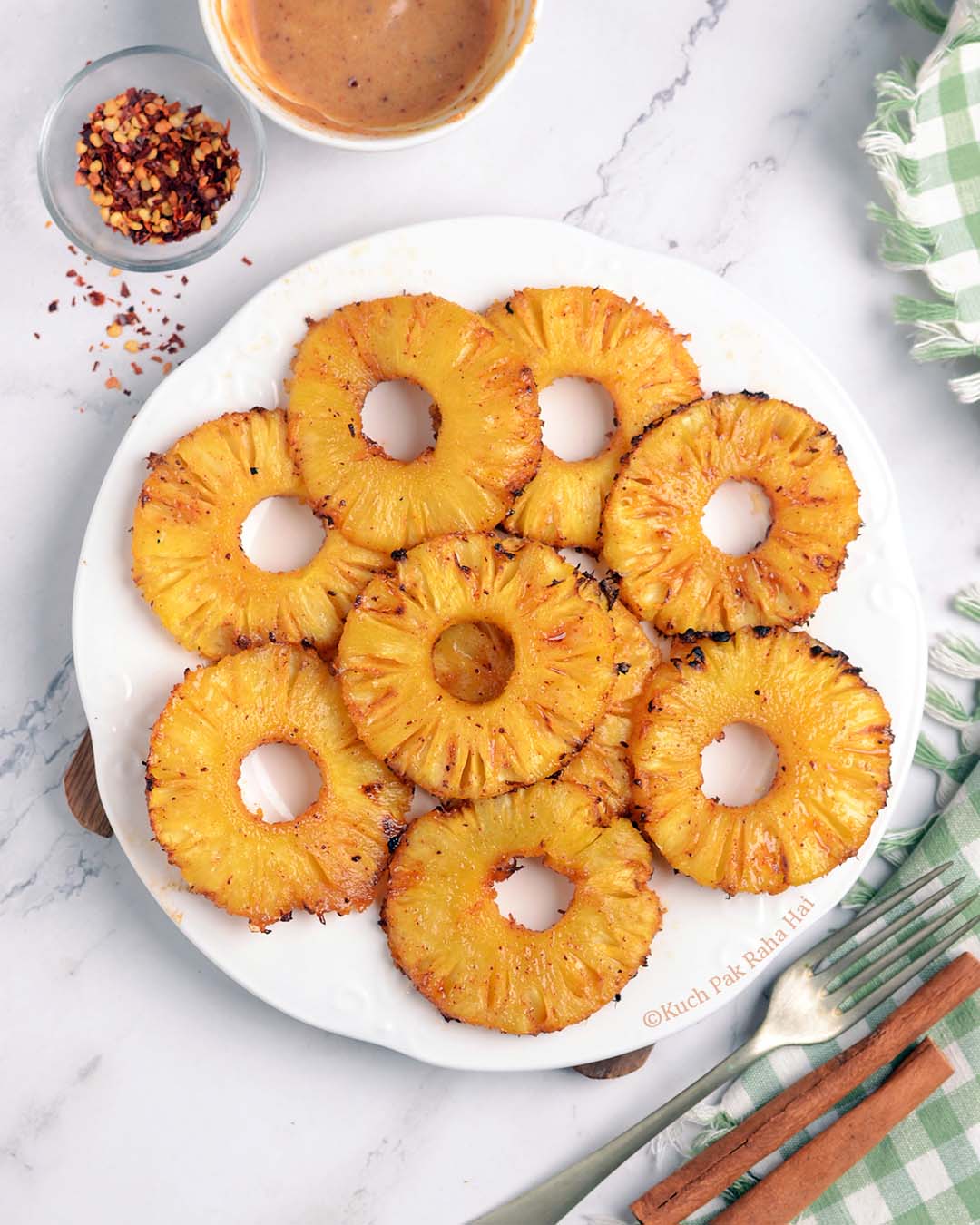 Tips to make perfect air fryer pineapples:
1. If you want to make this recipe for large gathering, cut each of the ring in 4-5 pieces & then follow the recipe using these pineapple chunks. This way you will be able to make large portions and it will be easier to serve too.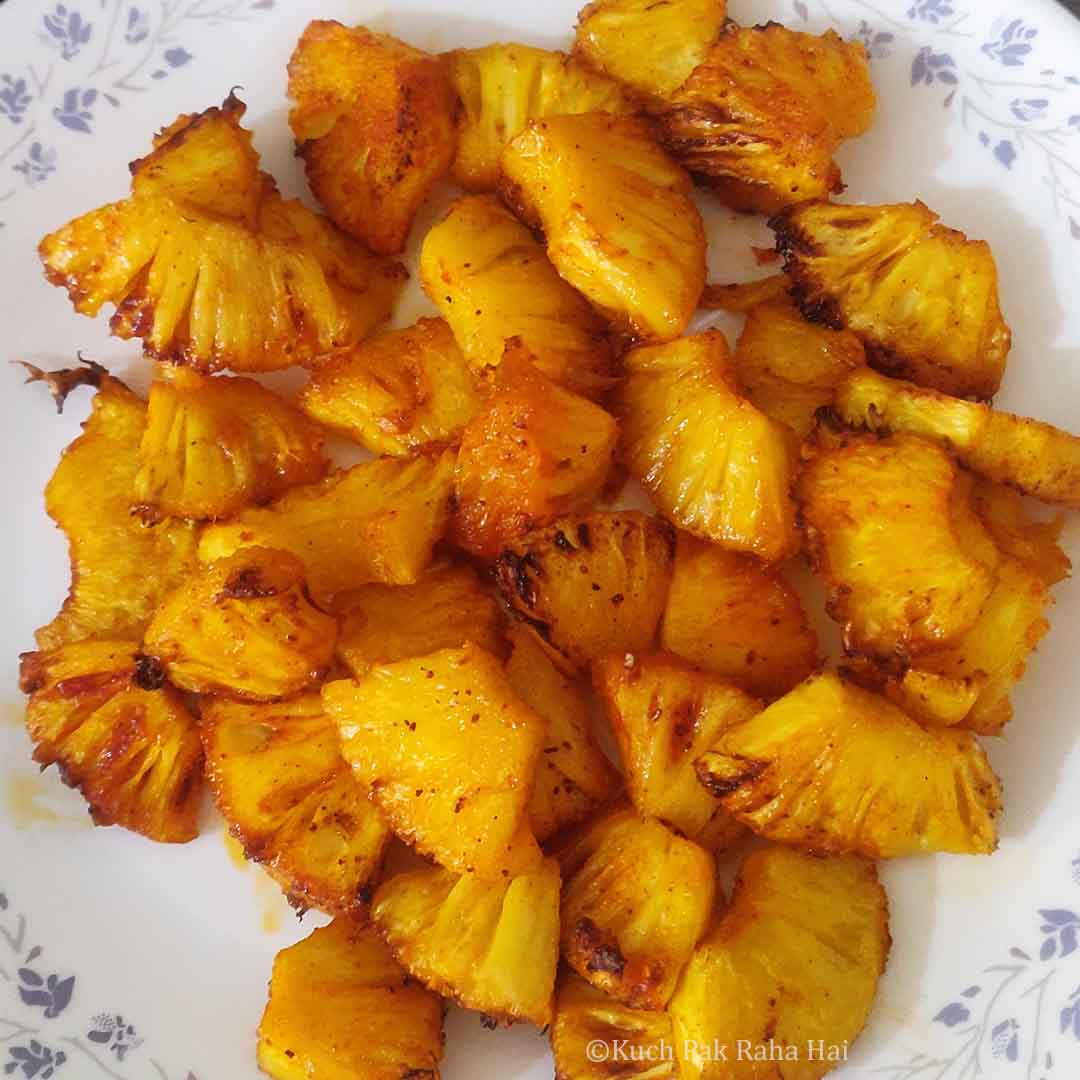 2. Make sure the slices are not cut too thin as they can break while transferring & also the edges can burn off easily.
3. Air frying time can vary from 2 to 3 minutes depending on the air fryer model. Brushing melted butter after half time helps in making sure the slices don't dehydrate or become dry (basting).
If you try this air fried grilled pineapple recipe & share pics on social media, then don't forget to tag on Facebook, Instagram or use #kuchpakrahahai.
Pin for later: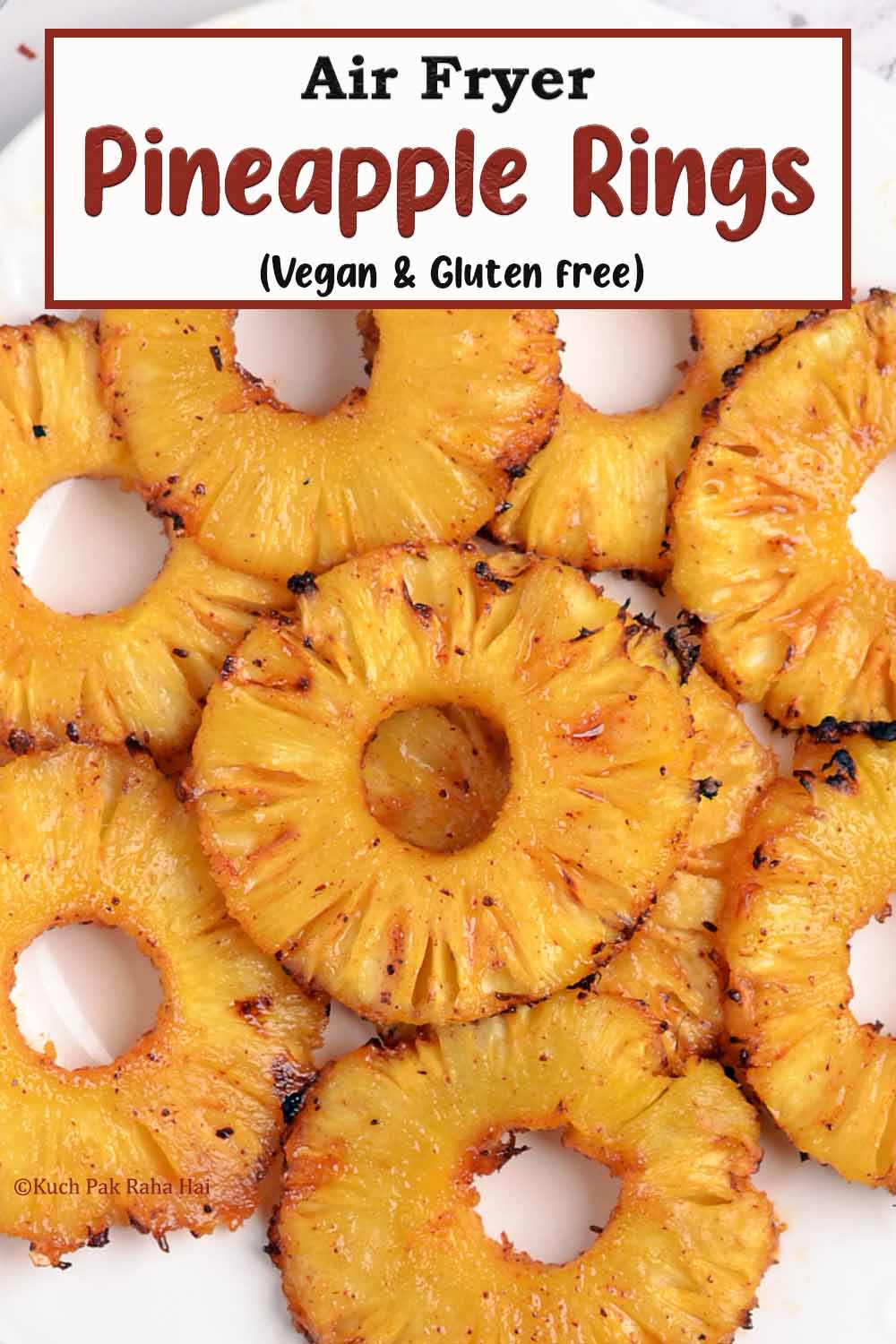 Let's stay connected
Facebook | Instagram | Pinterest| Youtube