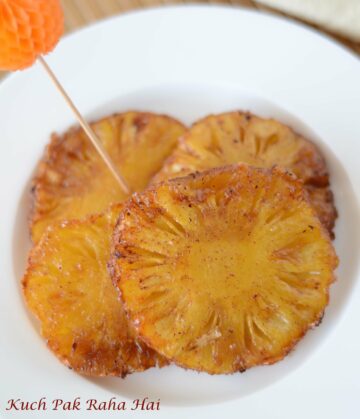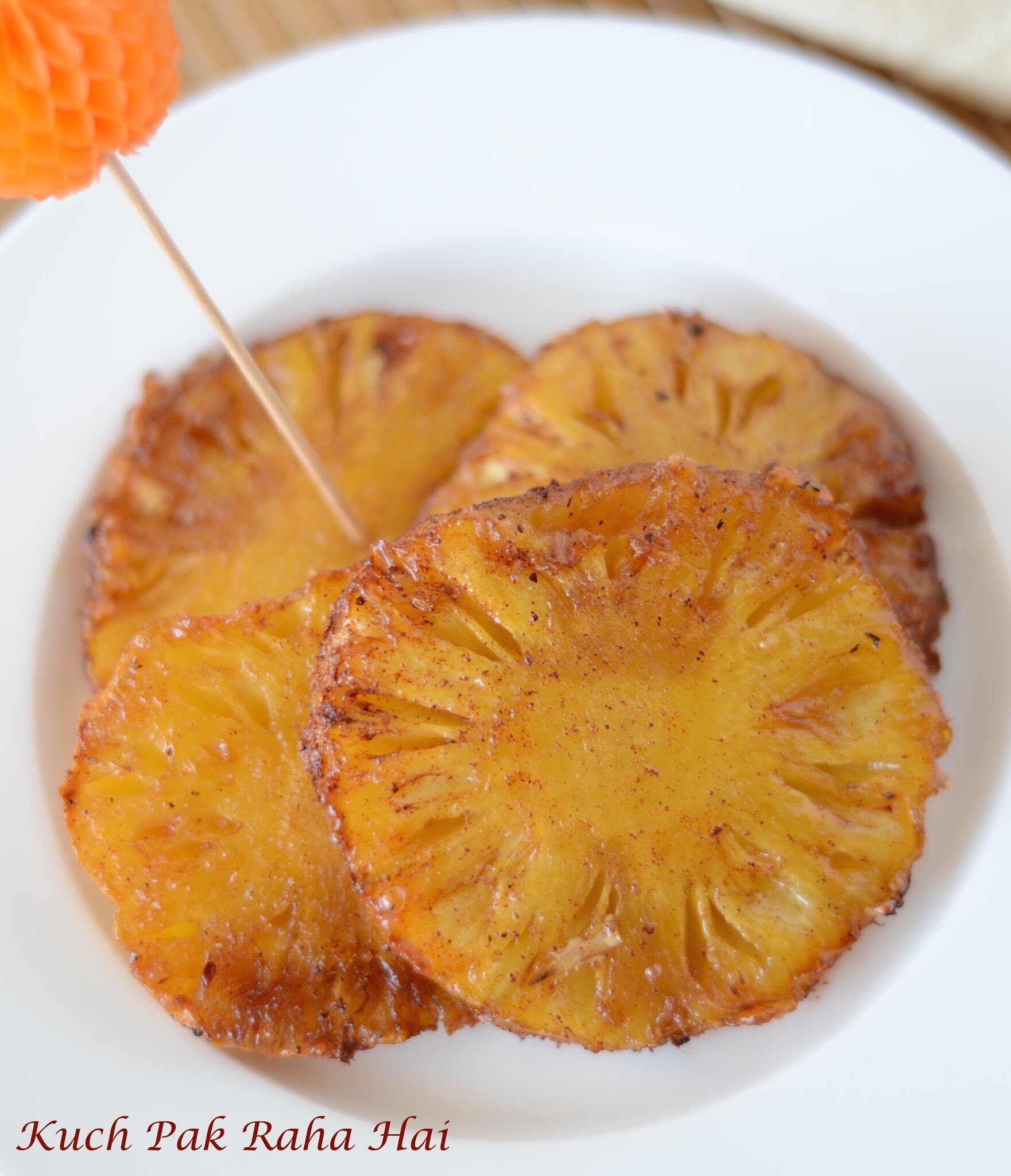 Wishing a very happy New Year to all the blog readers!! In this post I am going to share the recipe for barbecue style 'Grilled Pineapple Cinnamon' made in Air Fryer. It is a delicious vegetarian air fryer recipe made using fresh juicy pineapple slices, cinnamon and brown sugar. It can be served as starters/appetisers , snacks or even side dish.
I tried grilled pineapple cinnamon first time at "Absolute Barbecues" restaurant in Hyderabad,India. They had skewered a whole pineapple which was peeled and coated in a mix brown sugar and cinnamon. It was barbecued till the sugar had melted and caramelised a bit. They would then cut it in slices and serve it warm on each individual table.  The tender juicy pineapple slices coated in caramelised sugar with heavenly cinnamon aroma tasted absolutely delectable. I could not resist replicating it at home using an air fryer.
The recipe is quite simple with 3 basic ingredients-pineapple, brown sugar and cinnamon. If you don't have brown sugar you can use white sugar too. You can make preparations for it before time and at the time of serving all you have to do is place them in air fryer for cooking.
The best thing about grilling these pineapple slices in air fryer is that the sugar on pineapple slices get evenly caramelised from all sides. If you are looking for a vegan or vegetarian barbecue recipe then this is a perfect addition your menu. It is a great party appetiser for large parties or games night.
Hope you would like this Grilled Pineapple Cinnamon recipe!!
Other Vegetarian / Vegan Air Fryer Recipes which you might like :
List Of Ingredients:
Pineapple Slices – 4 to 5
Brown sugar-1/2 cup
Cinnamon-1 tsp
Recipe Notes/ Substituions:
1. If you don't have brown sugar you can use regular white sugar too.
2. Instead of cinnamon you can try adding few drops of vanilla extract to get different aroma.
3. If you are feeling experimental add a big pinch of red chilli powder along with cinnamon & brown sugar. The slight fieriness from red chilli powder goes well with sweet caramelised pineapples.
Steps to Prepare:
Step 1:
Take brown sugar and cinnamon in a zip pouch and shake well. (If you are adding red chilli powder, add it at this step).
Step 2:
Add the pineapple slices in above zip pouch and shake gently once again so that all slices are evenly coated with brown sugar and cinnamon. Keep this in refrigerator for 20 minutes.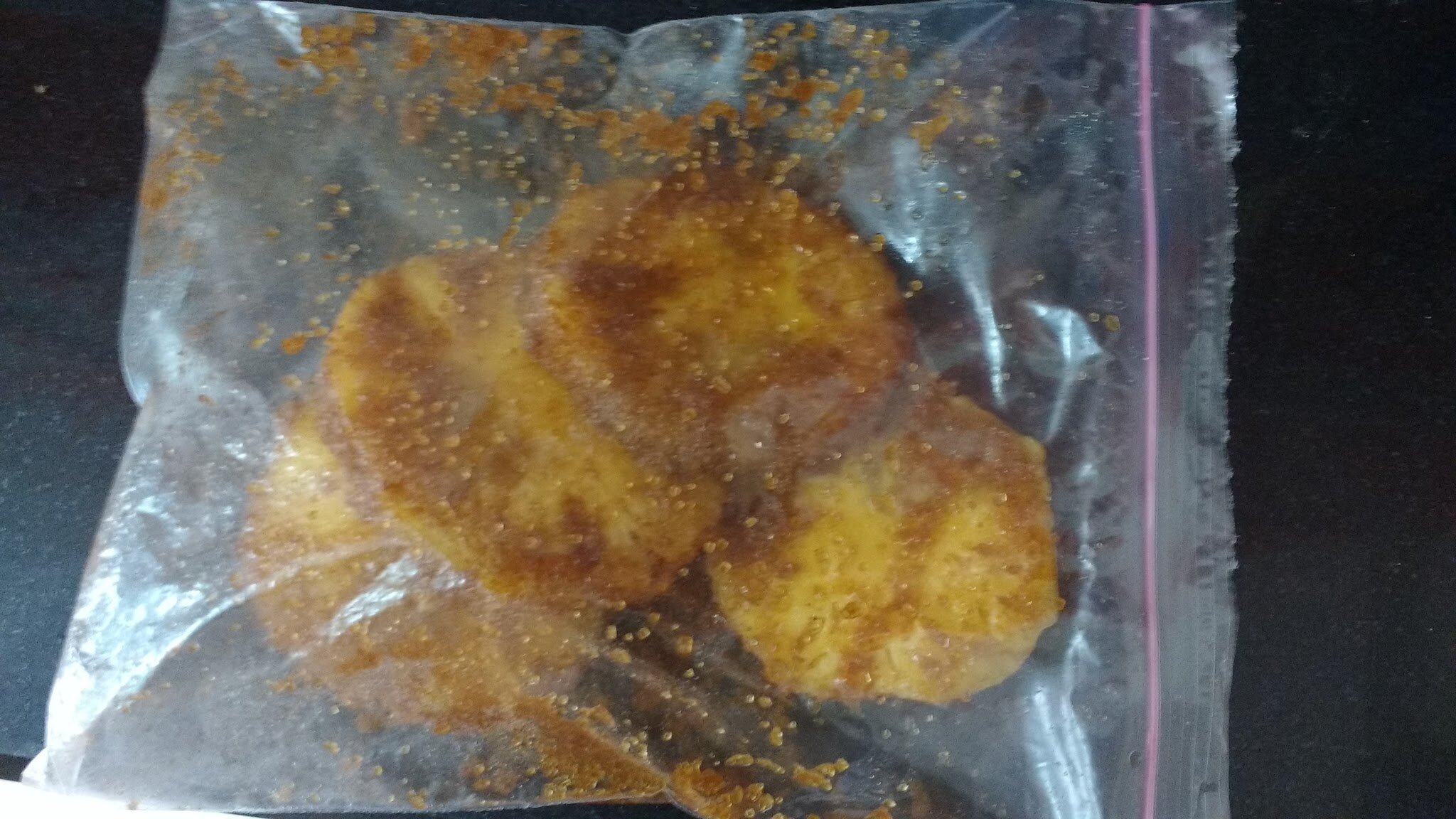 Step 3:
Preheat the air fryer at 180 degree Celsius for 5 minutes.
Step 4:
Place the seasoned pineapple slices on the air fryer's wire rack. Grill them for 10 minutes at 180 degree Celsius.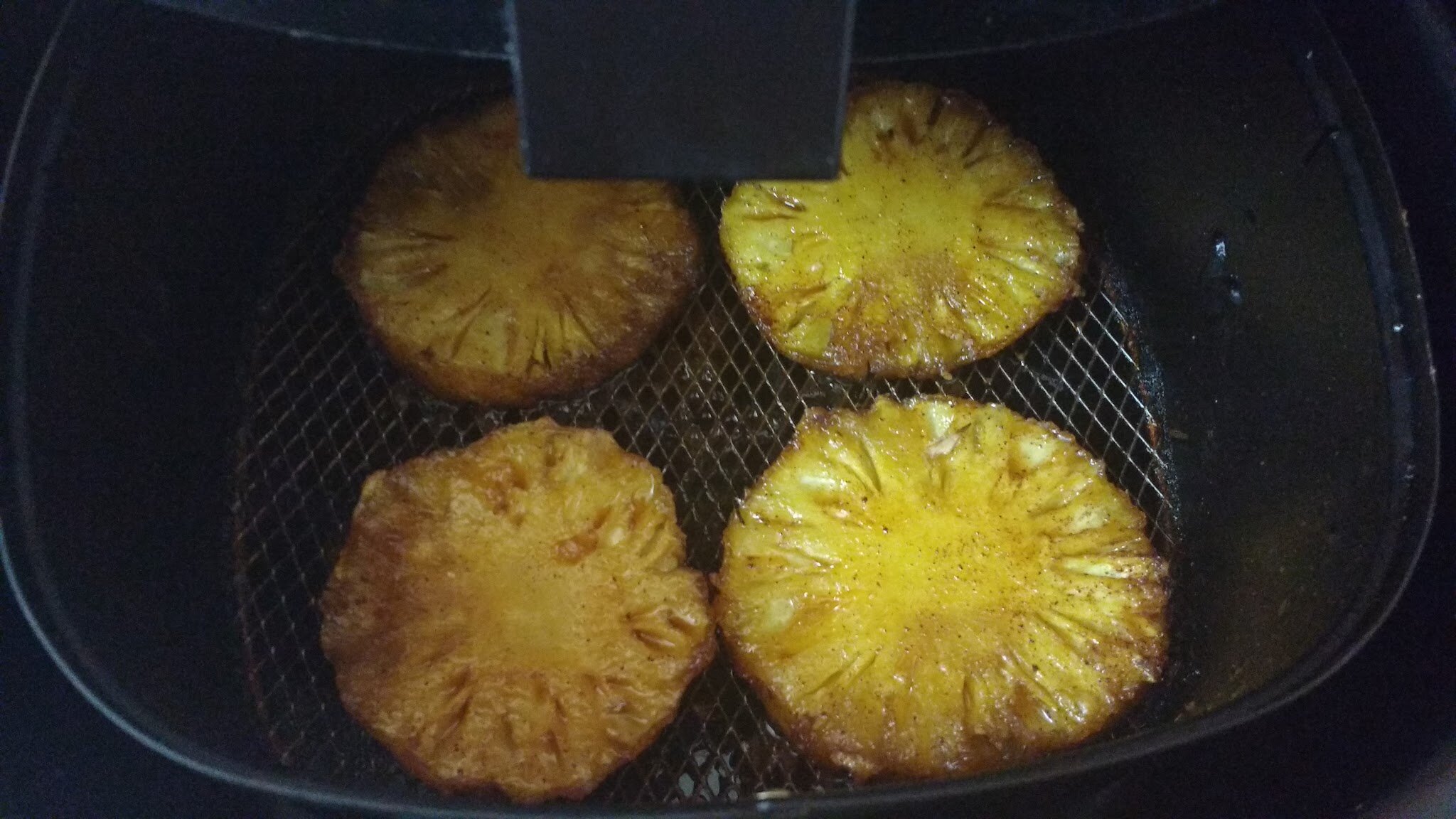 Step 5:
After 10 minutes, turn them over again and grill for another 10 minutes at 180 degree Celsius. The cooking time varies as per the air fryer model so keep an eye on them after 5 minutes.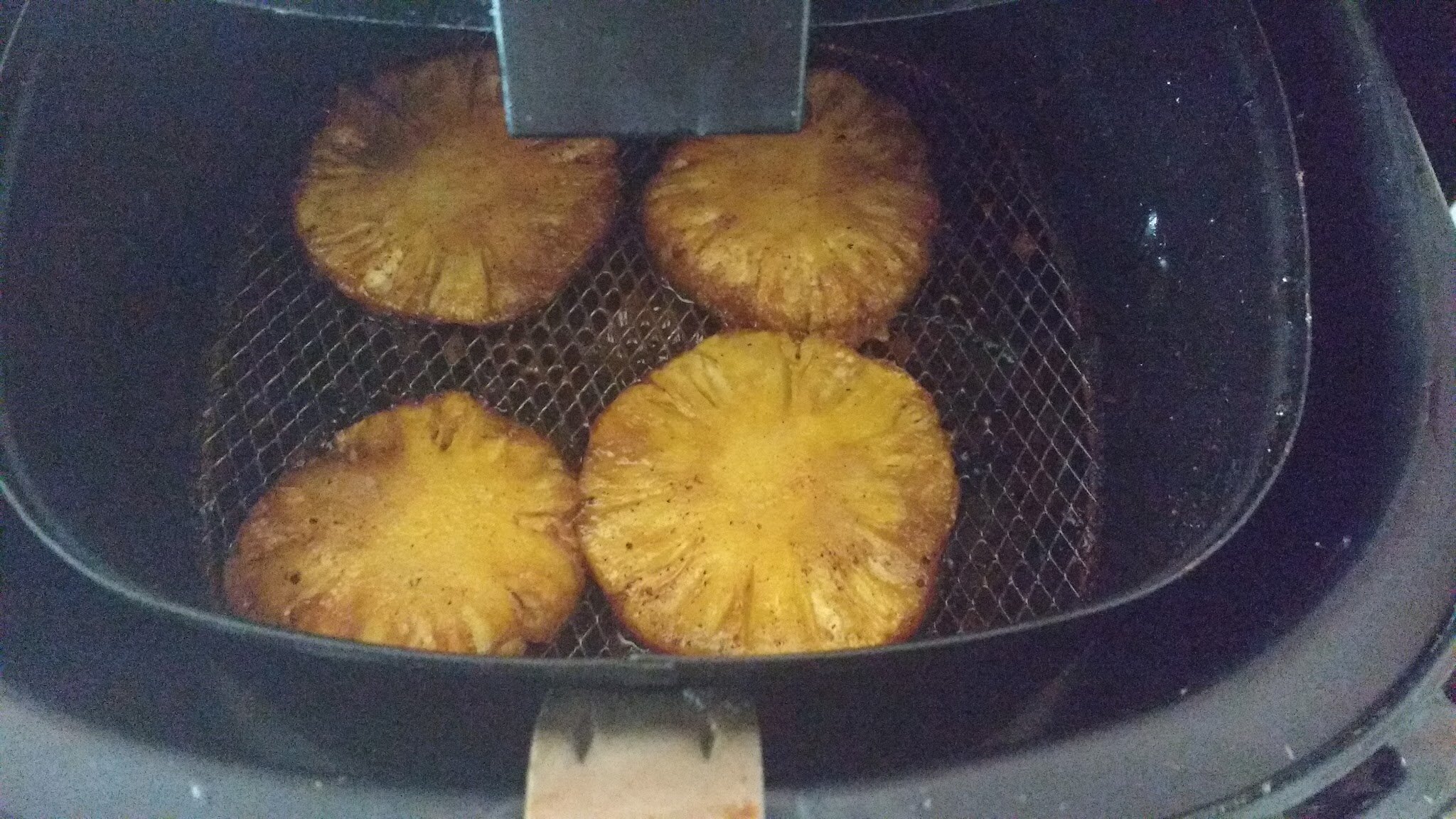 Enjoy the freshly grilled pineapple slices!! I just love the golden brown colour of pineapples and how the aroma of cinnamon in this dish fills up the entire room.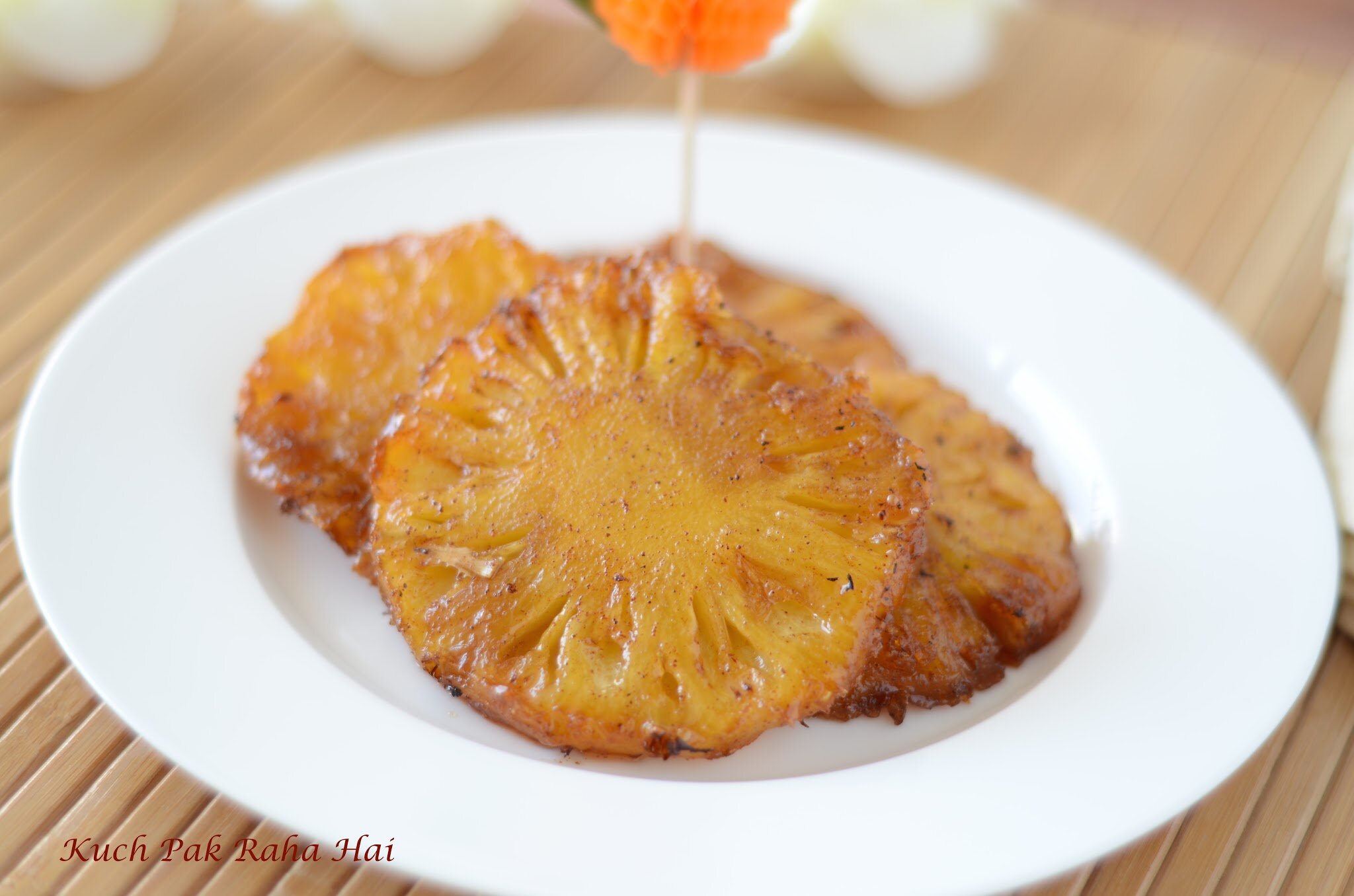 Bon Appetit!!
Let's stay connected