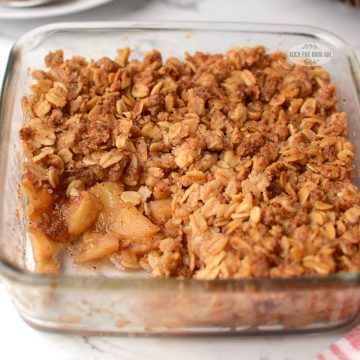 Gooey warm cinnamon apples with crispy buttery oat topping makes for a perfect fall season dessert. The apple crisp recipe shared here can be made vegan too. Both air fryer & oven methods are covered in the post.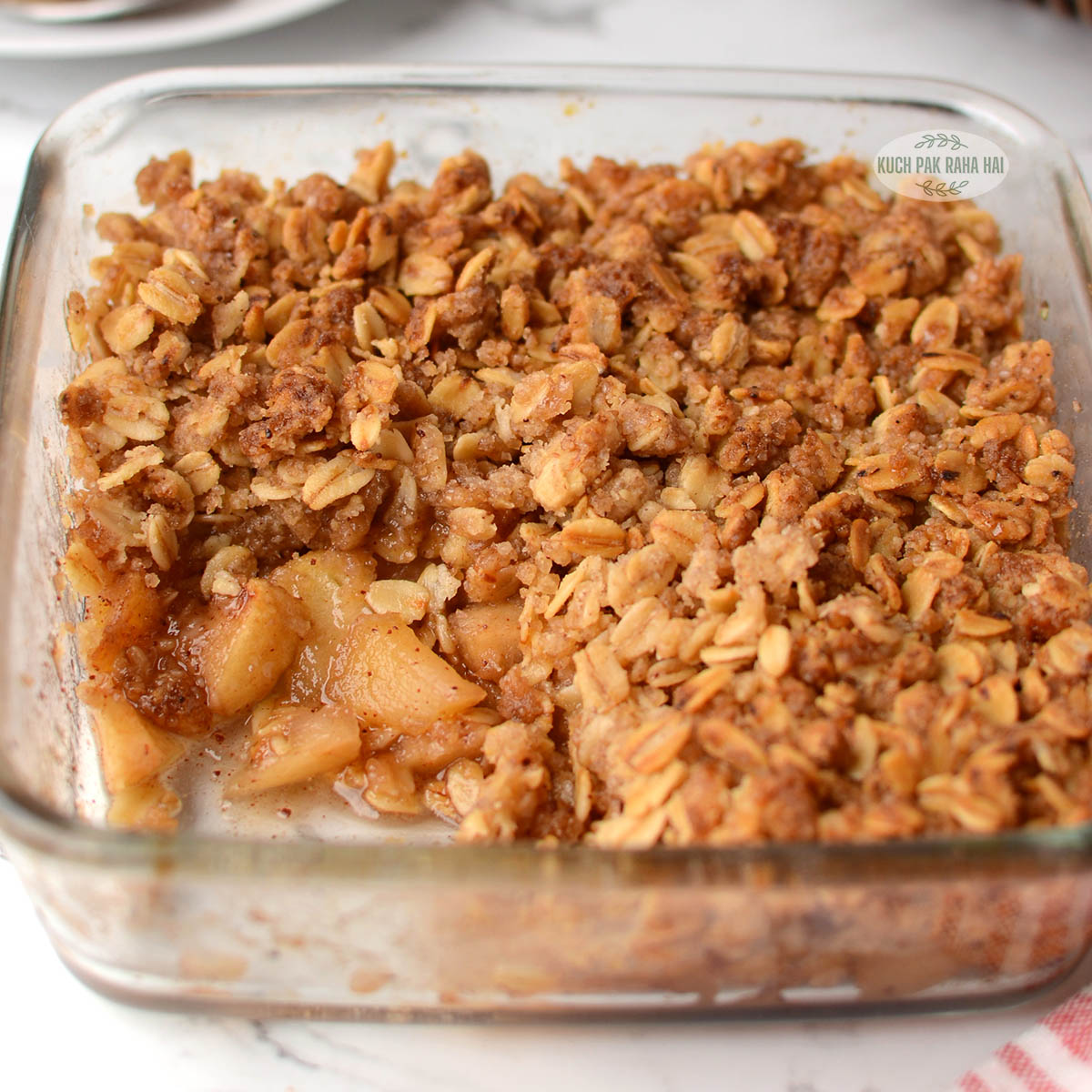 I love the way how the entire house fills with lovely cinnamon flavour while this apple crisp is baking. It is so easy to make that even a novice can make it & tastes absolutely blissful.
You can make it in big batch or halve the recipe to make small batch in ramekin molds for two people. The apple crisp recipe shared here is:
Vegetarian
Can be made vegan gluten free
Can be baked in airfryer or oven
Perfect apple dessert for fall season
Oven vs Air fryer: I have always made this recipe in oven but this time I tried it in air fryer and it turned out good in it too. The only difference while making in air fryer is that you have to cover & cook the apples first whereas in oven you can assemble the entire apple crisp and bake in one go.
Apple Crumble vs Apple Crisp:
It is so easy to get confused with apple crumble and apple crisp but the main difference lies in their topping. The crumb topping is made with flour, butter & sugar resembling the bread crumb texture whereas the crisp-topping has additional ingredients like oats, walnuts to give it crispy texture (hence the name!). You can make also apple crumble in air fryer by similar method as explained in post.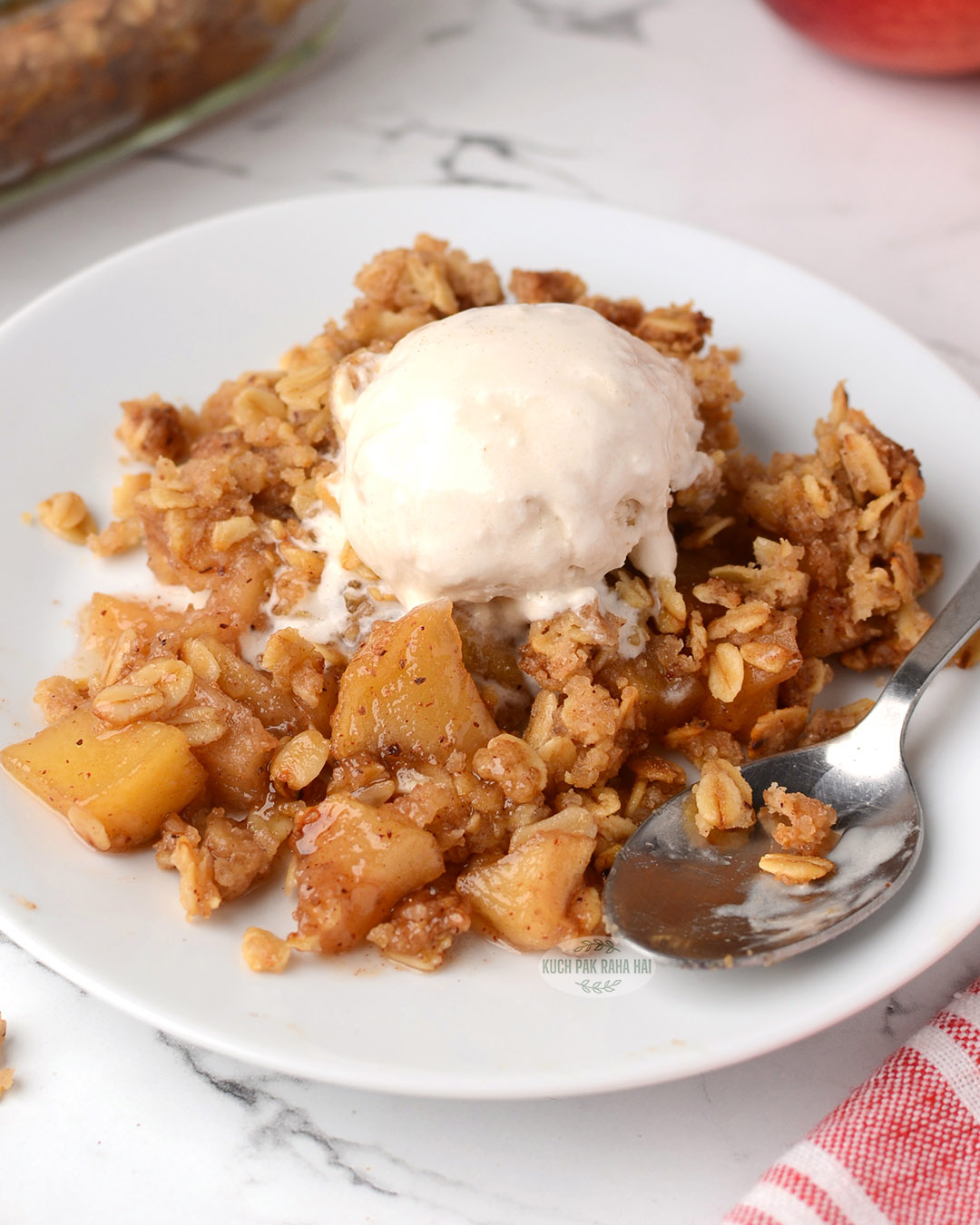 Apple Crisp Ingredients:
Apples: You can use any apple variety available near you like granny smith, red delicious, honey crisp, gala, sun crisp, fuji, pink lady etc. Some people especially prefer granny smith because of their tartness and crunchy texture. Whatever variety you are choosing just make sure the apple are not stale or overripe.
Sugar: Brown sugar tastes best in this recipe as it has molasses which complements the cinnamon flavour. You can use light brown sugar, dark brown, castor sugar or coconut sugar.
In apple filling, instead of sugar you can also use honey or maple syrup. For oat topping, never use granulated sugar as it does not melt completely & leaves a grainy texture.
Cinnamon: Use good quality ground cinnamon as it is the main aromatic in this recipe. I have added it both in apple filling and topping. Apart from cinnamon you can also add ground nutmeg or vanilla extract.
Butter: I have used salted butter for this apple crisp but you can use unsalted butter too. Use cold butter for this recipe as it acts as binding agent for the topping. Butter is the only dairy product used in this recipe and if you wish to make dairy free apple crisp then replace it with margarine or vegan butter.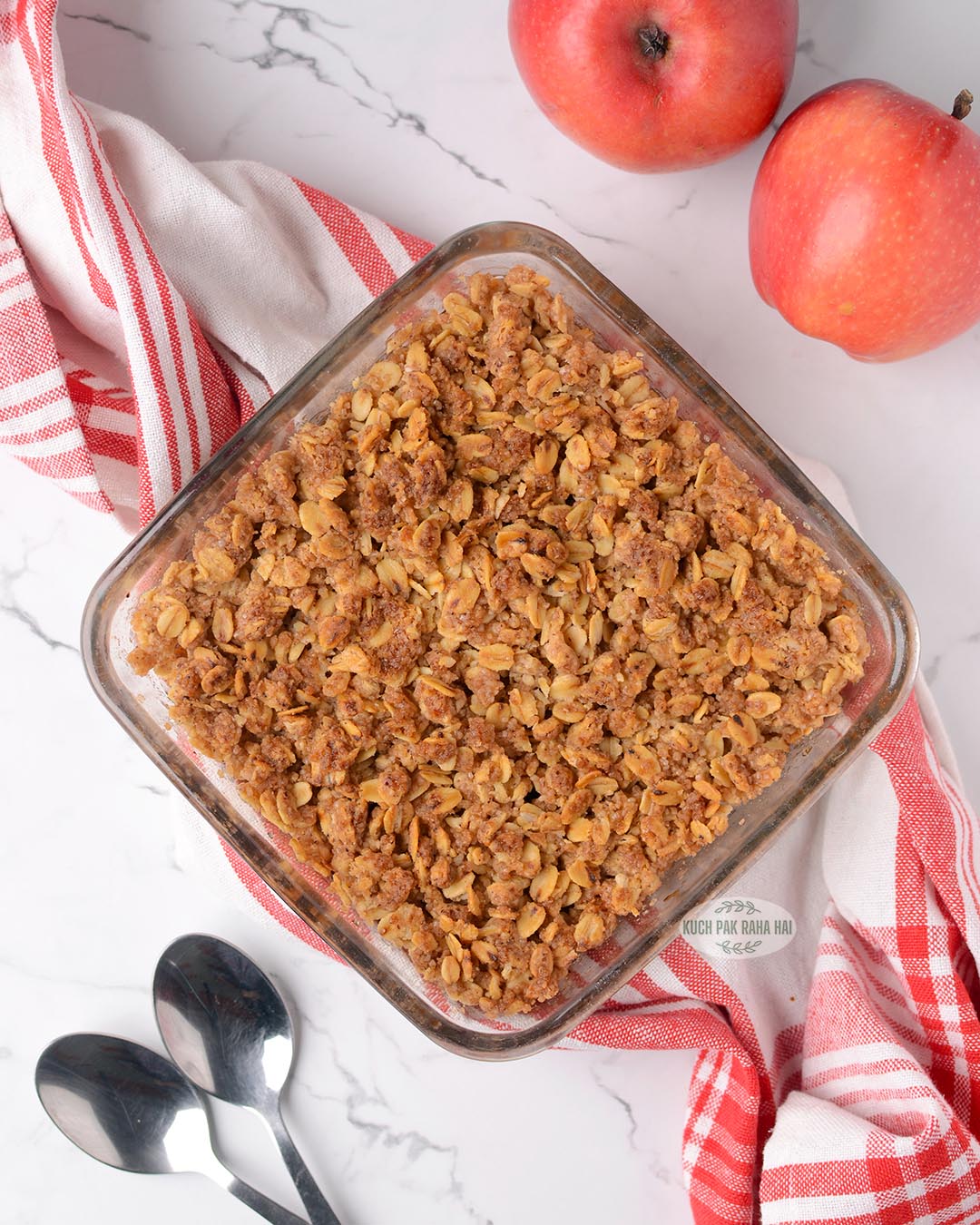 Flour: All purpose flour or plain flour has been used here.
Oats: Rolled oats and instant oats or oatmeal both work in this recipe. I have not tried this recipe with steel cut oats. Flour & oats mixed with cold butter gives the topping a rustic look and on baking the butter spreads evenly which make the topping crunchy.
Apple Crisp Variations:
Vegan Gluten free Apple Crisp: To make this apple dessert vegan & gluten free, you can easily replace flour with almond flour and butter with margarine or vegan butter.
Apple Walnut Crisp: Though this dessert is perfect for autumn season but I often make it in winters too as a quick dessert with addition of lots of walnuts in crumb mixture.
Strawberry Apple Crisp: If you love berries, then replace half a cup of diced apple with chopped strawberries (or blueberries, raspberries) in this crisp recipe.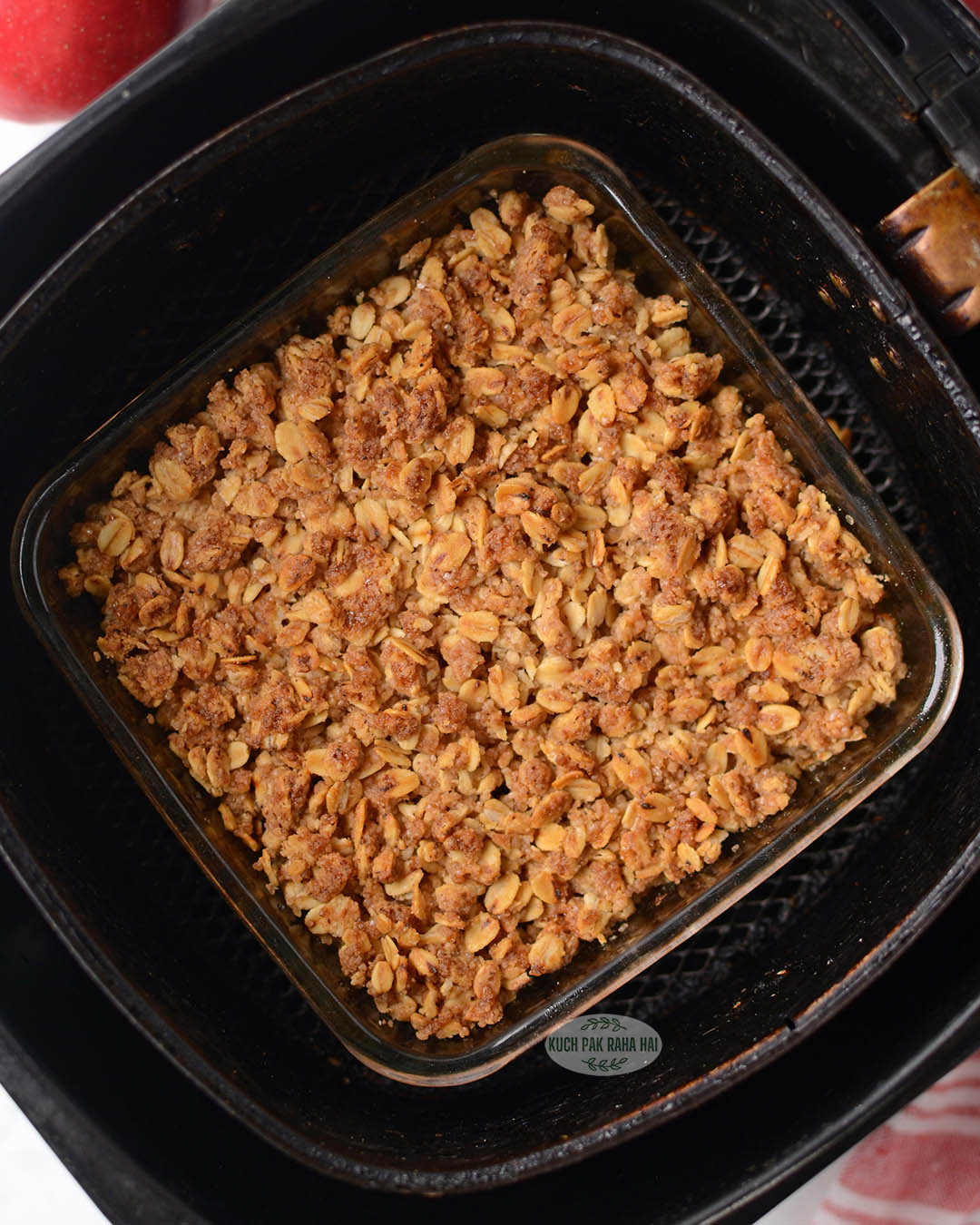 Serving Ideas:
You can enjoy warm apple crisp as it is or accompany it with:
Caramel Sauce
Vanilla Ice Cream
Sweetened Whipped cream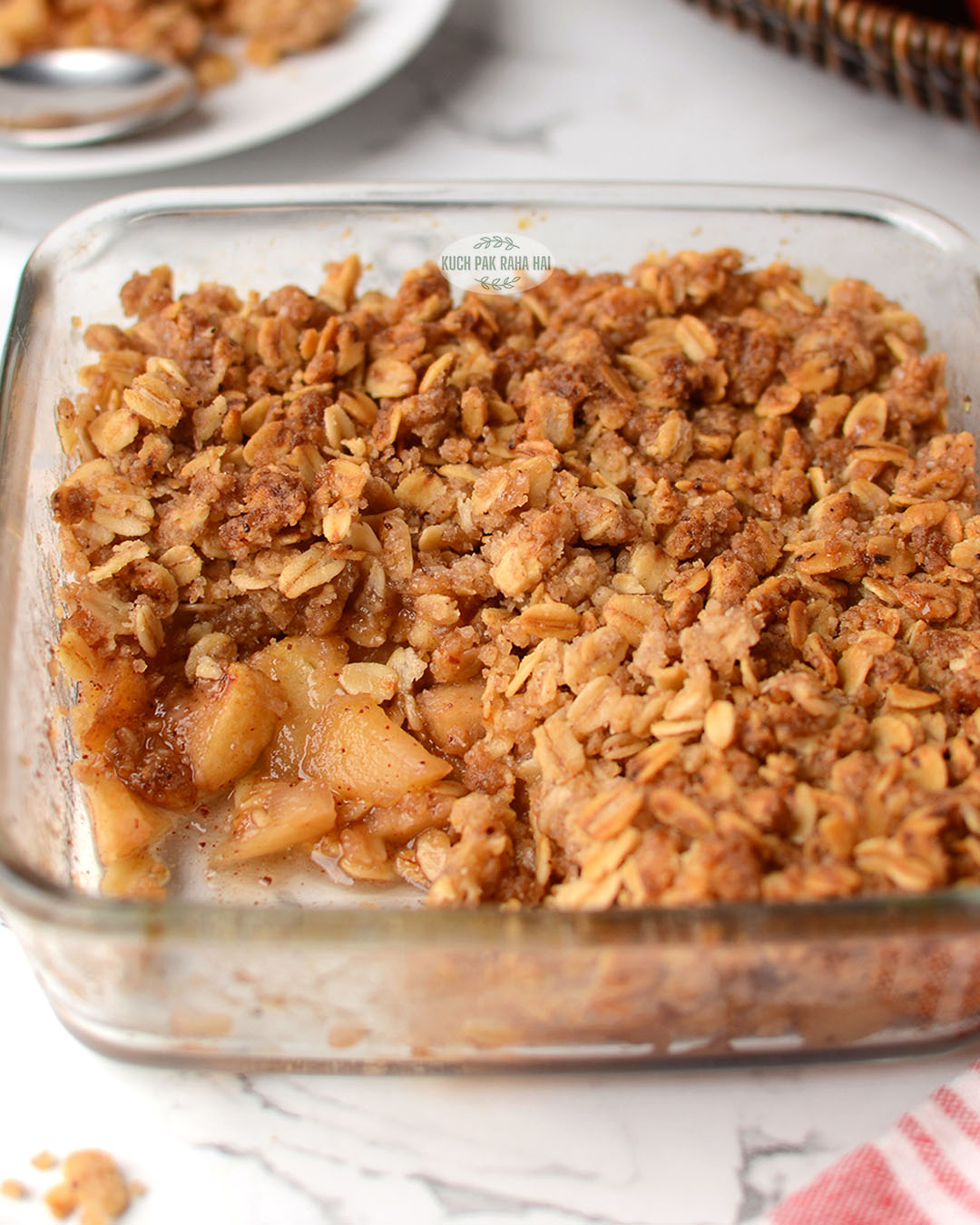 More egg free air fryer recipes you would like:
Ingredients:
For Filling:

Apples- 2 cups (peeled, cored & diced)
Lemon Juice- 2 tsp
Brown Sugar- 2 tbsp
Ground Cinnamon-1/2 tsp
Salt – A pinch
Vanilla / Ground Nutmeg- 1/4 tsp (optional)

For Topping

Rolled Oats- 1/3 cup
All purpose Flour / Almond Flour- 1/3 cup
Brown Sugar- 1/3 cup
Ground Cinnamon-1 tsp
Butter / Vegan Butter (cold & cubed)- 1/4 cup (50 gms)
Chopped Walnuts- 5 to 6 (optional)
Notes:
I like little bit of saltiness in this recipe so I have used salted butter. If you don't like salt in your desserts, use unsalted butter.
If the apple are already tart naturally, you can reduce the quantity of lemon juice or skip adding it.
The above recipe yields 3-4 servings. Double the recipe for bigger batch or halve it to make small batch for two people in ramekin molds.
Directions:
Step 1:
Wash, peel & core the apple to remove all seeds. Chop them while trying to keep all pieces of similar size.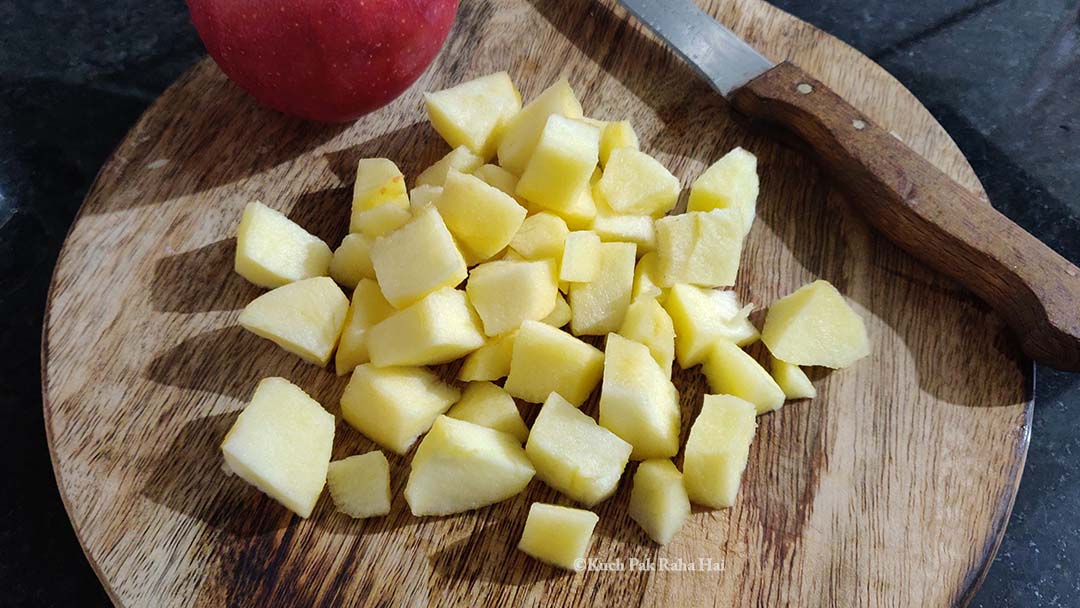 Step 2:
To these chopped apples, add lemon juice, salt, brown sugar, cinnamon & vanilla (if using) and mix well. Transfer them to a 6×6″ inch baking dish. Cover with aluminium foil.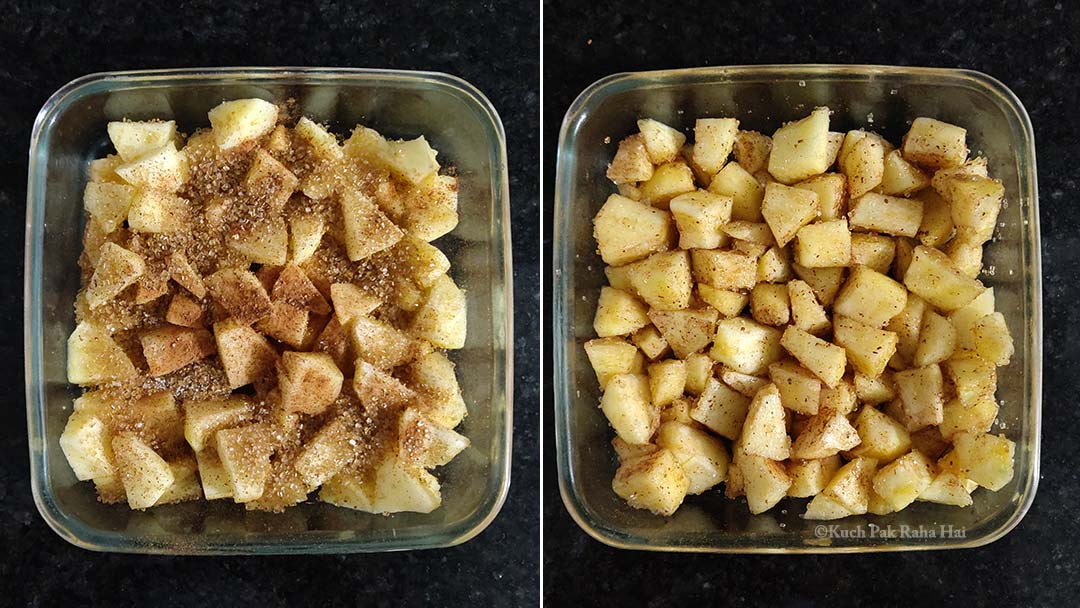 Step 3:
Set the air fryer for preheating at 180°C (356°F) for 3-4 minutes. Keep the covered baking dish in preheated air fryer basket and air fry at 180°C (356°F) temperature for 15 minutes.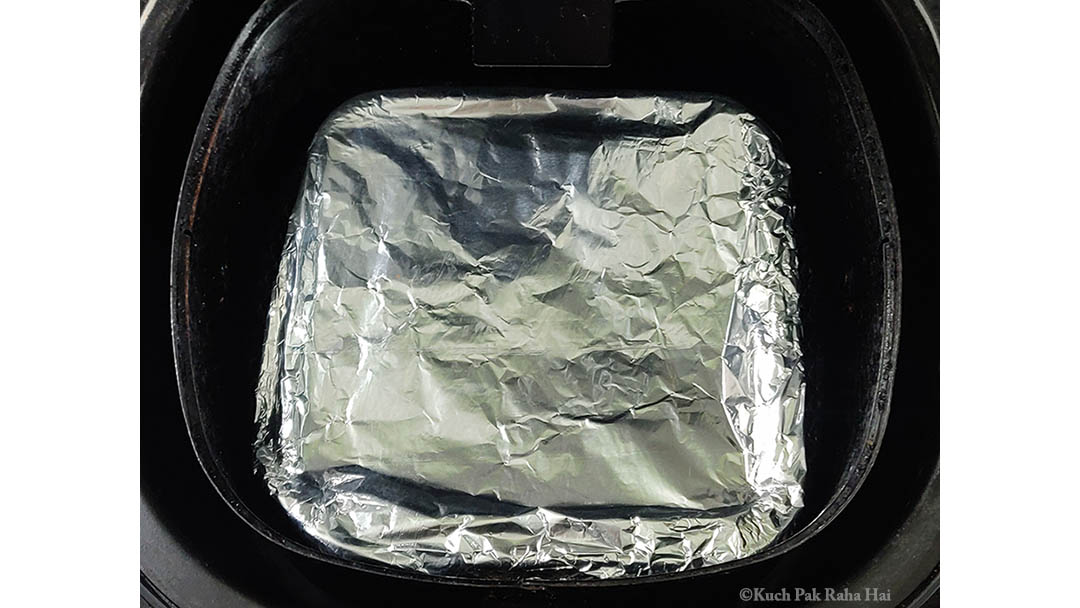 Step 4:
While apples are cooking in air fryer, start preparing the topping. Take oats, flour, cinnamon, brown sugar, chopped walnuts (if using) and cold cubed butter in a mixing bowl. Start mixing with a fork or your fingers to incorporate butter in oats and flour till it becomes crumbly in texture. Keep aside.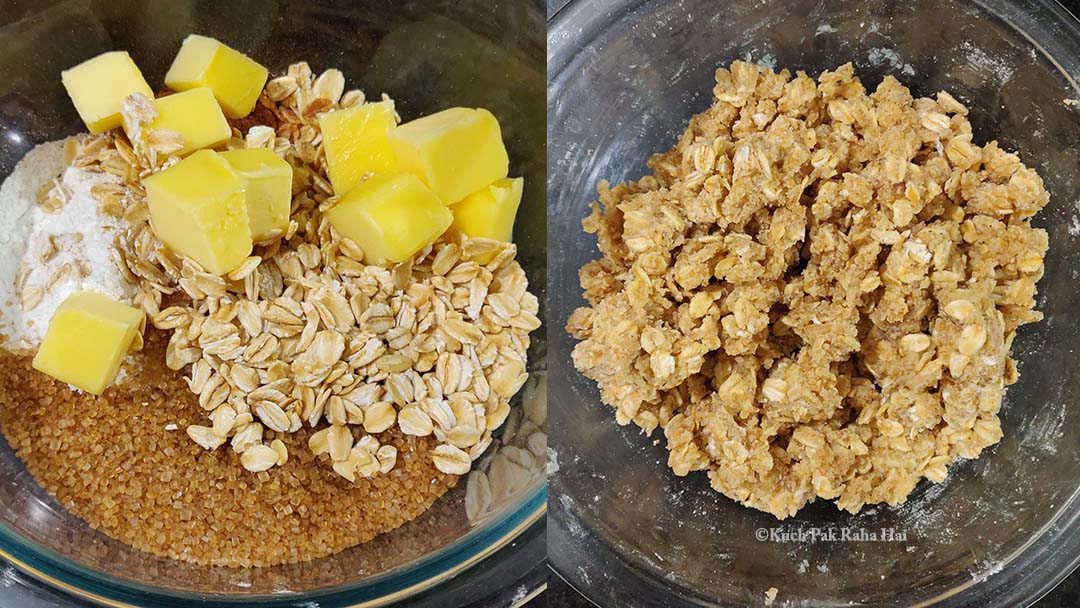 Step 5:
Carefully remove the foil from corner of baking dish & check if the apples have become tender by inserting a fork or knife in one of the pieces. If not then cover & air fry again for 5 minutes else move to next step.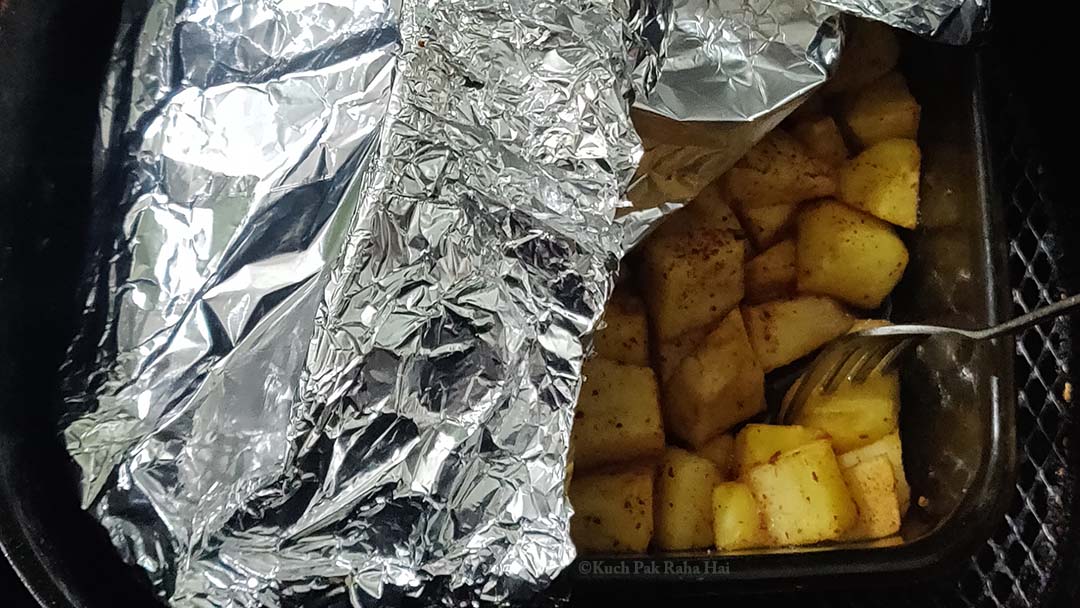 Step 6:
Once the apples are tender, remove the top cover and bring the air fryer basket or tray out. Transfer the crumb mixture on top and spread evenly.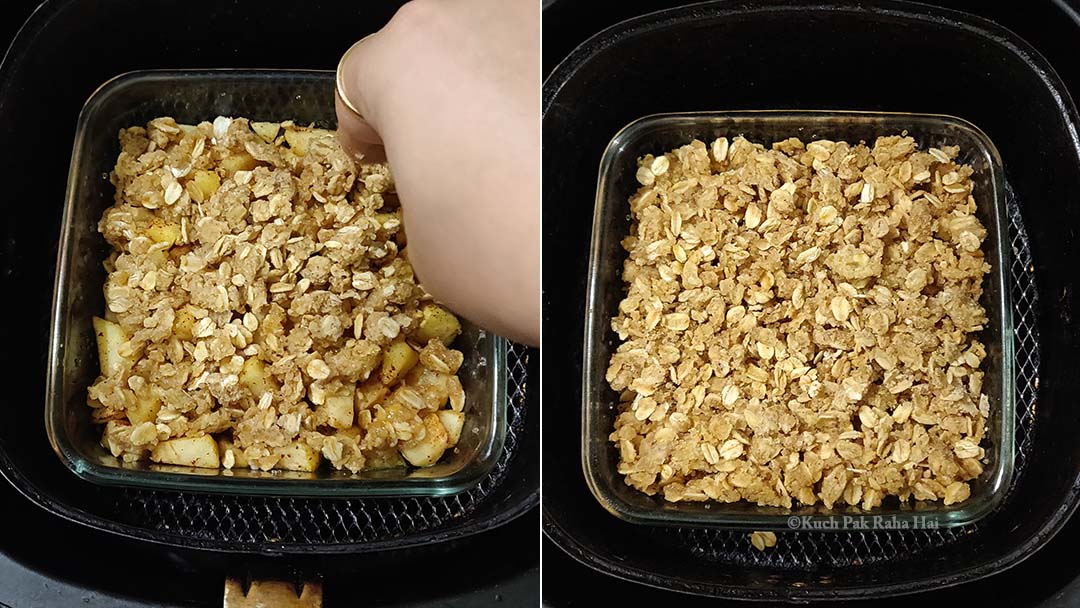 (Be careful as air fryer basket will be hot. You can bring out the baking dish if you want but here I have spread the topping while it was still in the basket.)
Step 7:
Air fry the apple crisp for 6-8 minutes more at 180°C (356°F) till the apple juices starts bubbling and the crust becomes golden brown. Let it cool down for 5-10 minutes and then serve warm with ice cream or caramel / dulce de leche sauce.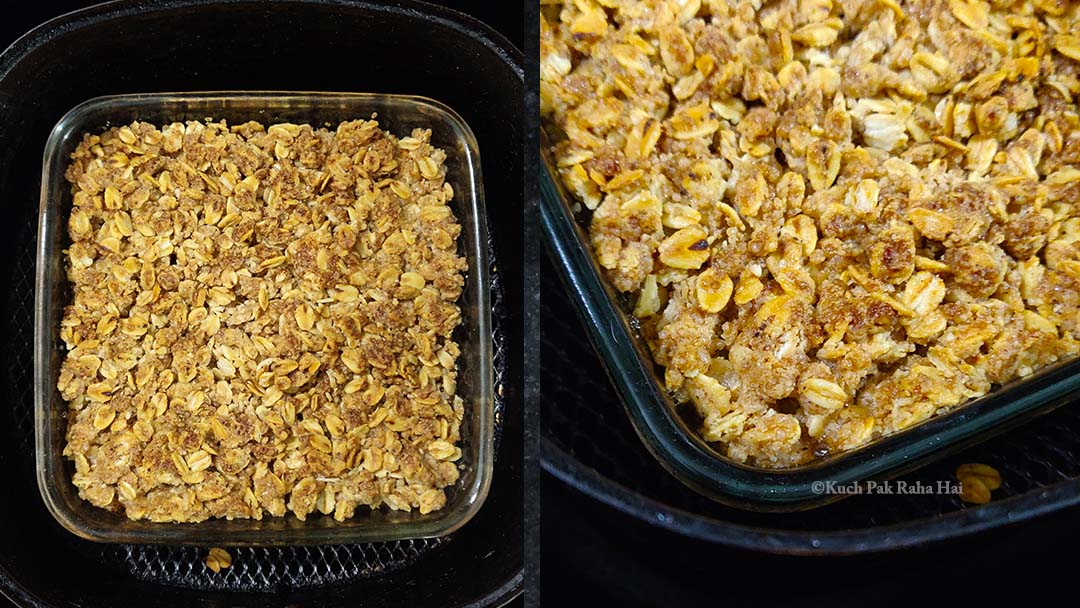 (Tip: If the filling has started bubbling & you are not getting colour on top, then you can increase the temperature to 200°C (392°F) in last 1-2 minutes.)
Apple Crisp in Oven
If you are making this recipe in oven, then transfer the chopped apples in baking dish as explained in step 2 (no need to cover or bake) and directly spread the oats-flour topping on it. Bake in a preheated oven at 180°C (356°F) for 30-40 minutes till you see the apples bubbling and golden crust on top.
How to reheat the leftover apple crisp?
Store the leftovers in an airtight container to prevent the fruit filling from drying. To reheat either microwave for 30-40 seconds or air fry at 180°C (356°F) for 2-3 minutes.
Pin for later: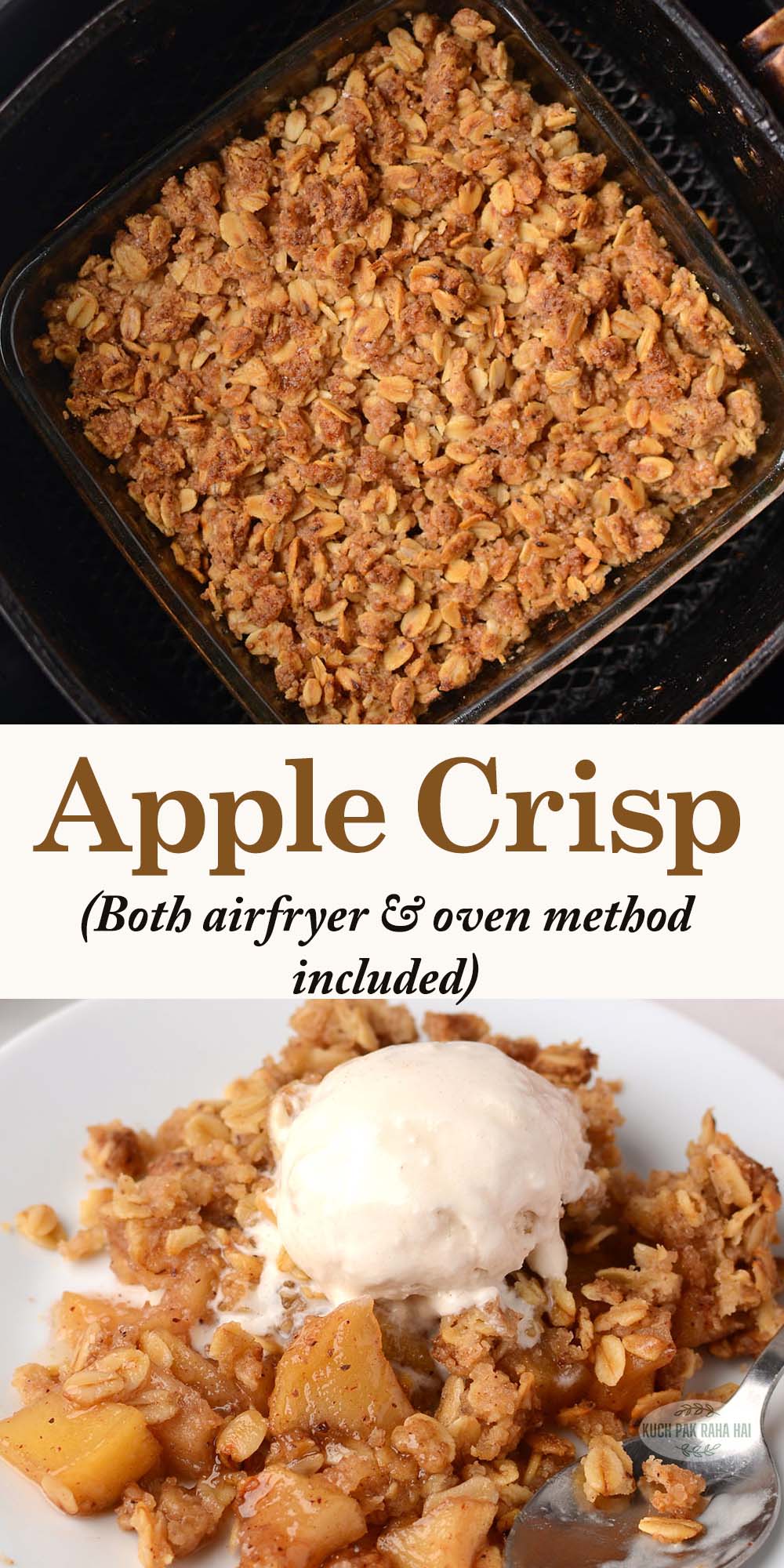 If you try this apple crisp in air fryer or oven & share pics on social media, then don't forget to tag on Facebook, Instagram or use #kuchpakrahahai.
Let's stay connected
Facebook | Instagram | Pinterest| Youtube