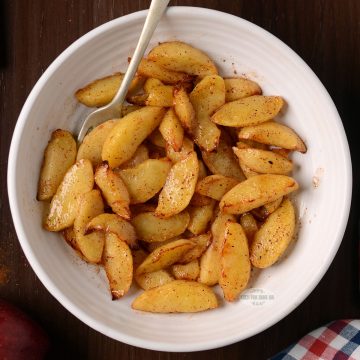 These warm tender air fryer apples taste absolutely divine, are easy to make and great for quick dessert or snack. They are vegan, gluten free, have no refined sugar and made with just 4 ingredients.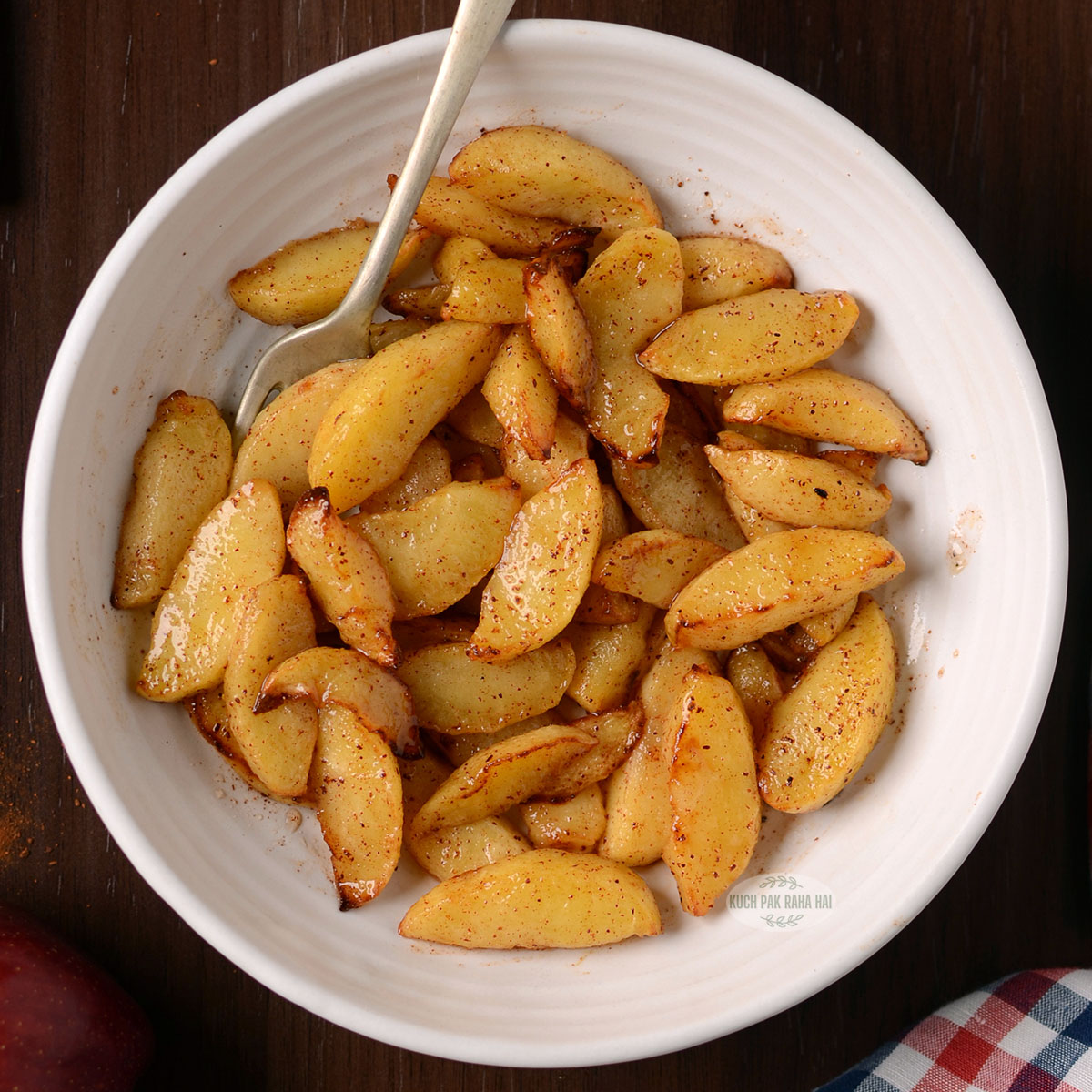 You can enjoy these air fried apple slices on its own, with caramel sauce, ice cream or whipped cream. They also make for a yummy topping on oatmeal or pancakes.
The air fryer baked apples recipe shared here has:
No flour
No butter
No refined sugar
Whether it is air fryer pineapple rings, peaches or banana, I love the way fruits turn out in air fryer with succulent juicy texture & caramelised flavour.
These yummy air fryer apples taste soft, mushy almost like apple pie filling and the house gets filled with lovely cinnamony aroma while the apple are air frying. If you are looking for healthy-ish or low calorie dessert with apples this fall season, then this recipe is your perfect pick.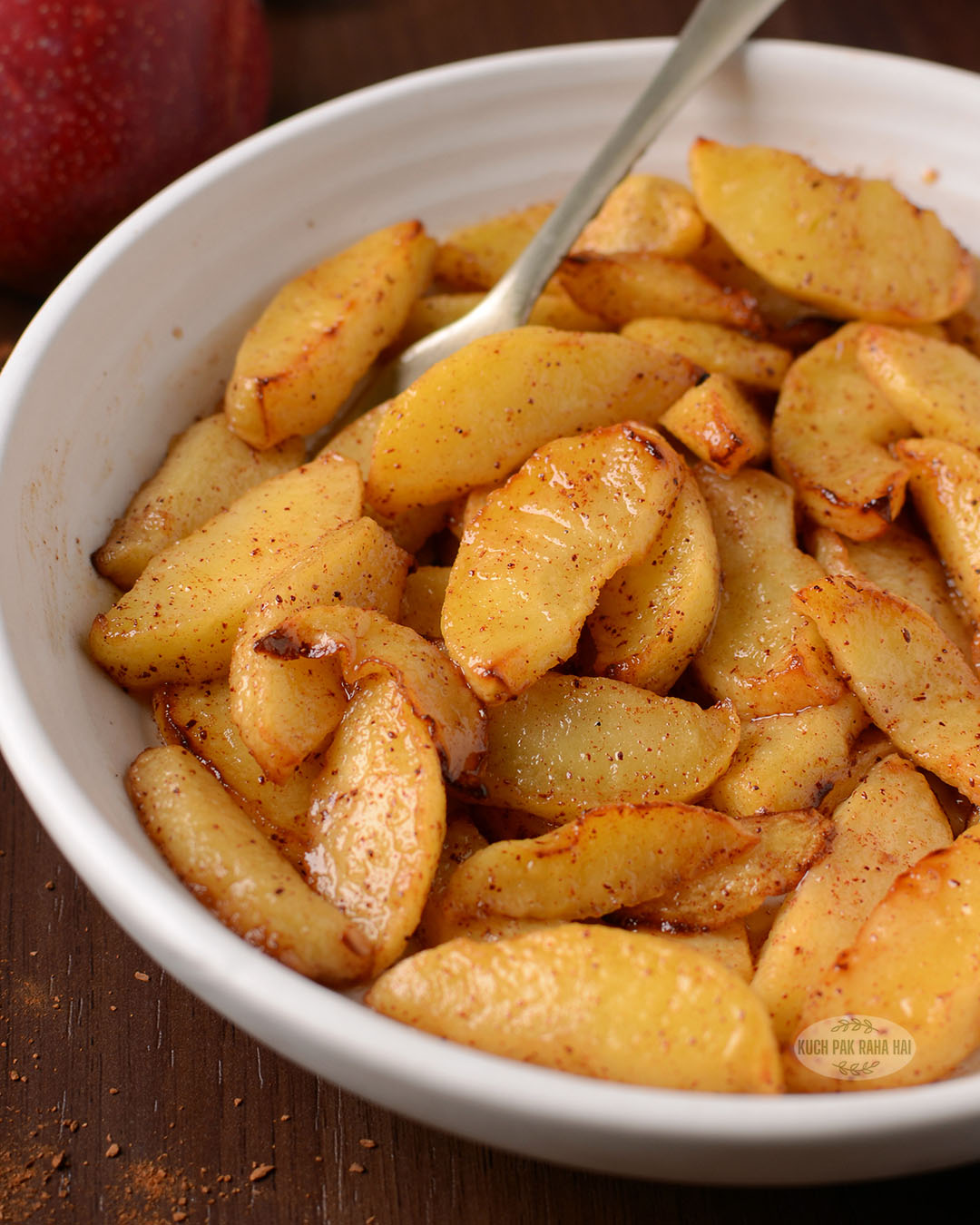 Air fryer Apple Ingredients:
Apples- I have used medium sized gala apples here but you can use any other variety of apples too like fuji, honey crisp or red delicious etc. I have peeled the apples but if you want you can leave the peel on.
Oil- Use any flavourless oil like canola oil, sunflower or vegetable oil. If you like coconut flavour, then you can use that too.
Honey/ Maple Syrup- Honey is a great option if you don't want to use refined sugar. To make the recipe vegan, use maple syrup as substitute for honey.
Cinnamon- Apples taste great with cinnamon. Use good quality powdered cinnamon.
Optional Ingredients-
Sugar- If you like sweeter desserts or the apple variety you are using is tart then along with honey, you can use some sugar also. Just make sure to use fine sugar (castor sugar or brown sugar) as if the sugar granules are too big they won't melt completely.
Butter: You can use butter or a mix of oil and melted butter if you like buttery tastes in apples.
Vanilla: Along with cinnamon, you can also add 1/2 to 1 tsp vanilla extract. 'Apple pie spice' will also work in this recipe.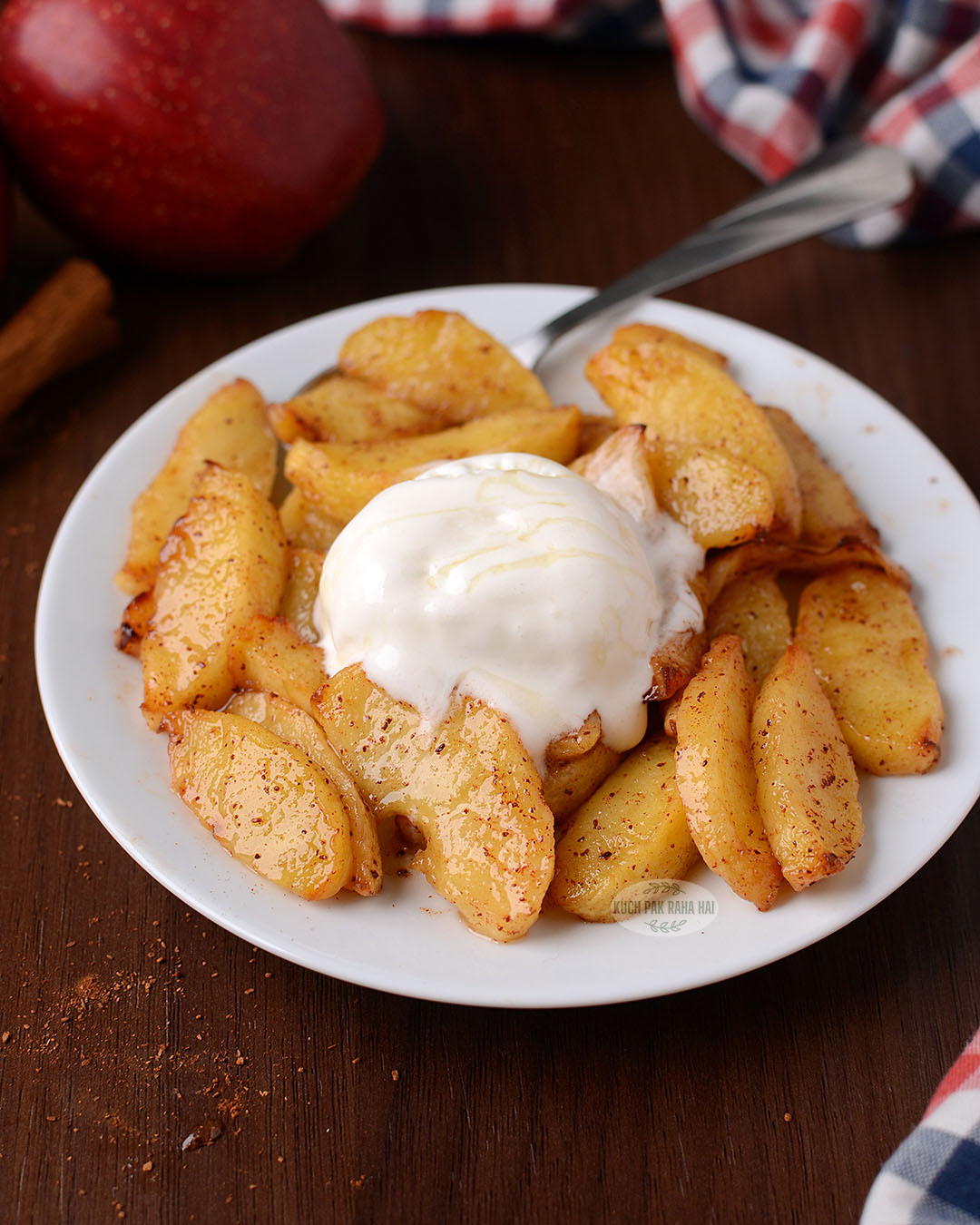 More air fryer apple recipes-
Ingredients:
Medium Apples- 2
Oil-1 +1/2 tsp
Cinnamon (powdered)-1/2 tsp
Honey / Maple Syrup- 2 to 3 tsp (to taste)
(Substitutions: Instead of oil, melted butter & for sweetener fine brown sugar can also be used.)
Directions:
Step 1:
Peel, core and slice the apples medium thick. Try to keep same thickness of all slices for similar cooking time.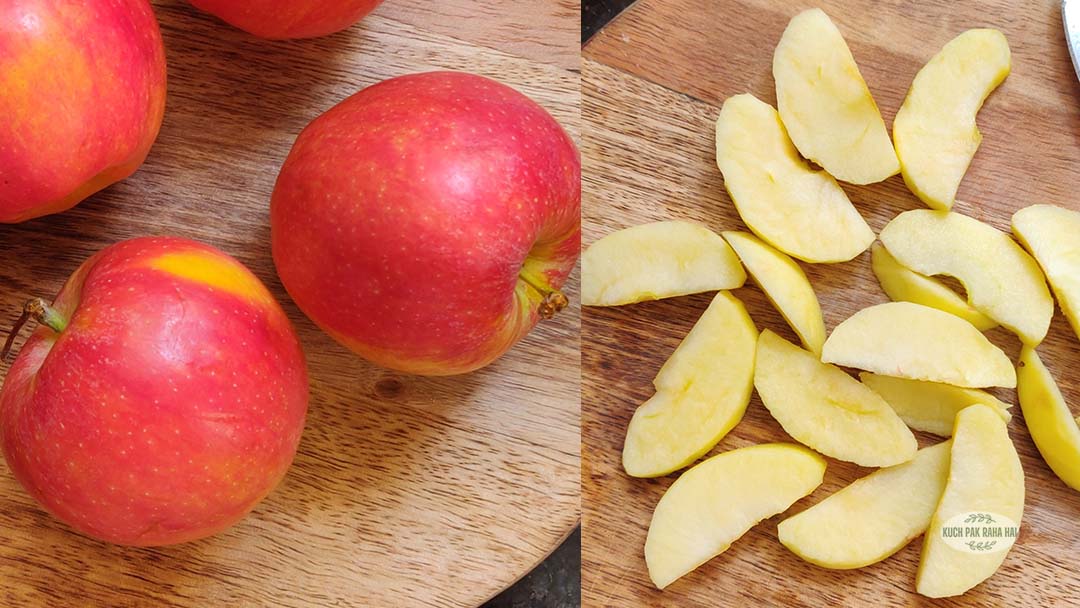 Step 2:
Transfer these sliced apples in a bowl, add oil and 1/4 tsp cinnamon to them. Toss well so that all slices are coated properly.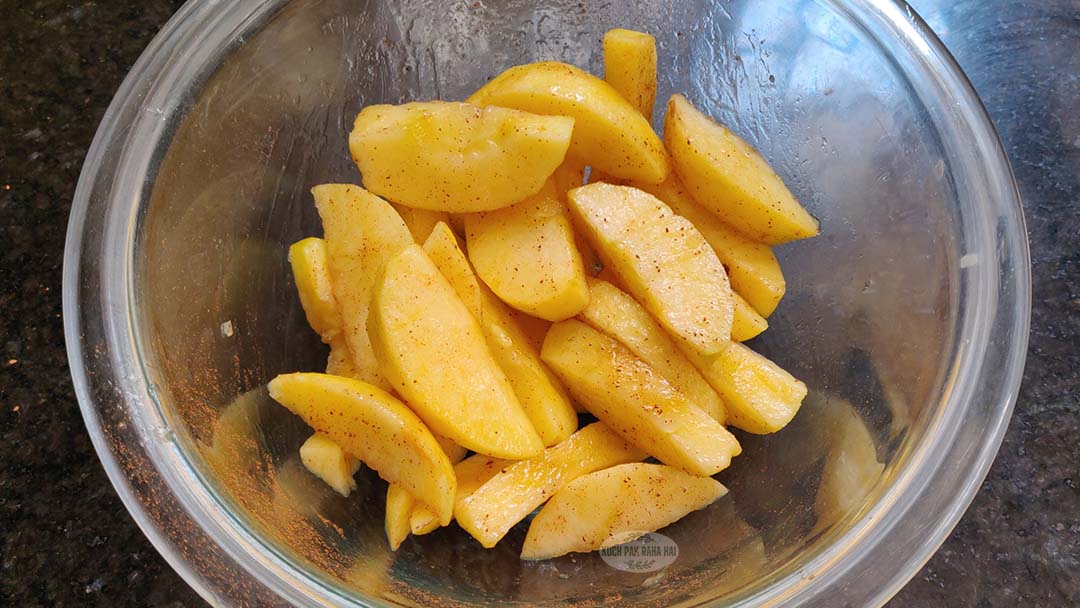 Step 3:
Brush some oil in air fryer basket & spread apple slices in it (avoid overlapping).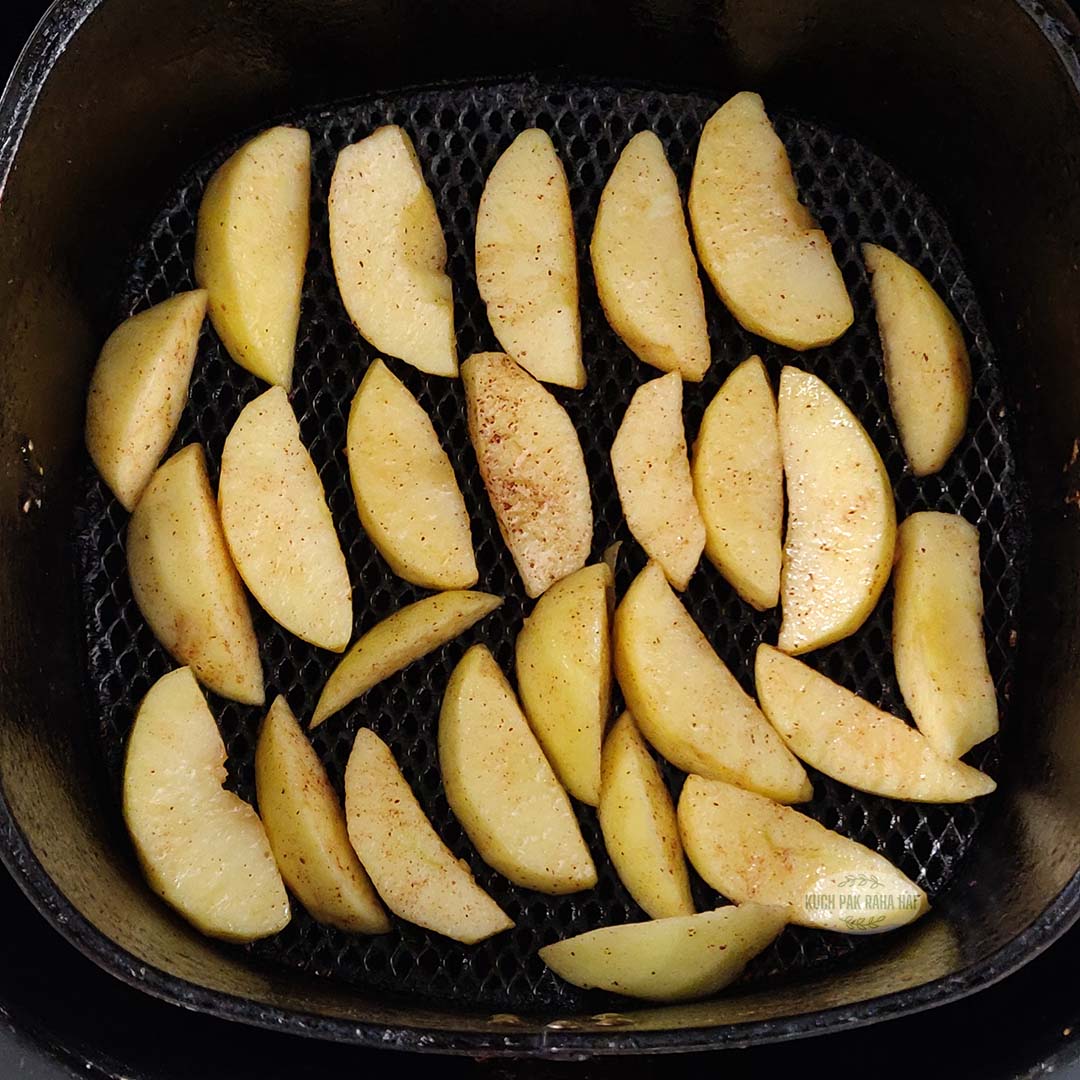 Air fry for 8-10 minutes at 200°C (380°F) till apple become soft and tender (check with fork or knife). The air frying time can vary depending on the variety of apples used and air fryer model. So adjust accordingly.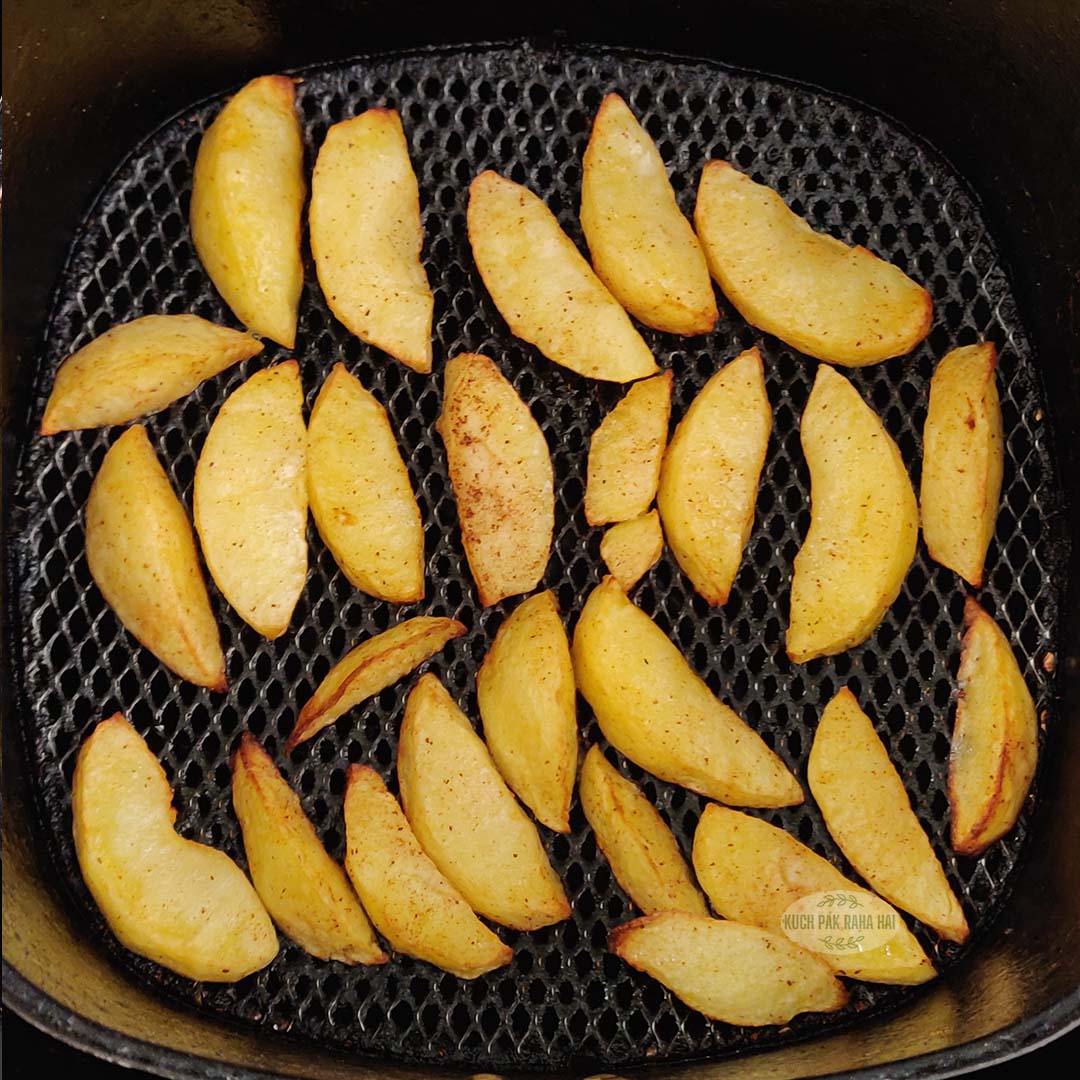 Step 4:
Transfer these air fried apples while they are still hot to the same bowl we used before. Add honey (or maple syrup) & remaining cinnamon powder. You can add more honey or fine brown sugar as per your taste. Toss gently or mix with spatula. Enjoy these tasty warm cinnamon apples.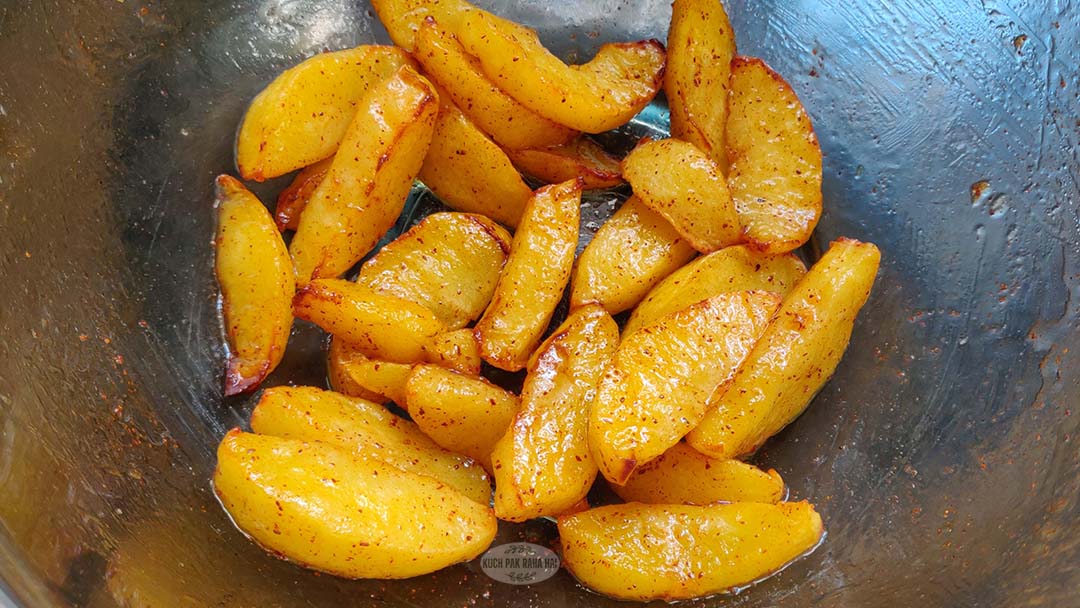 Recipe Tips:
1. Do not cut the apple slices too thin as they will become dehydrated and might not taste juicy later on.
2. If you are making larger quantities, make it in batches depending on the size of your air fryer. My air fryer basket could fit only 2 apples at a time.
3. Don't leave the sliced apples on kitchen counter for too long as they quickly turn brown due to oxidation.
4. For even cooking, spread the apple wedges or slices in a single layer in air fryer basket.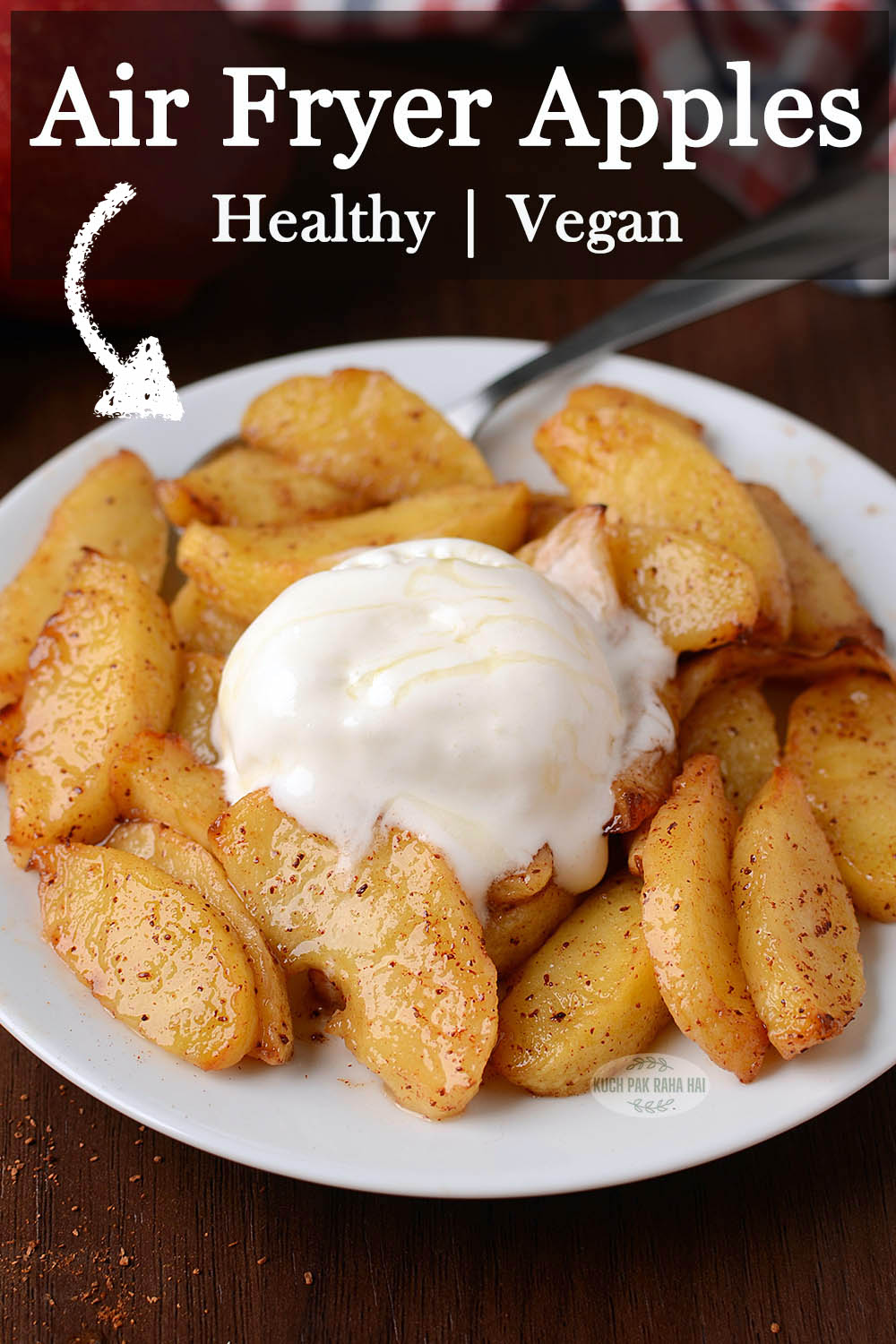 Serving Ideas for air fried apples:
1. For Breakfast- You can add these apples over porridge, chia seed pudding, oatmeal, overnight oats, oats pancakes or french toasts.
2. For Dessert- Enjoy these caramelised gooey apples with drizzle of salted caramel sauce, dulce de leche, vanilla ice cream or whipped cream. You can also sprinkle some chopped walnuts for crunch.
3. For Snack- They are great as yummy filling snack too. I also like to add them to muesli, granola or smoothie bowl.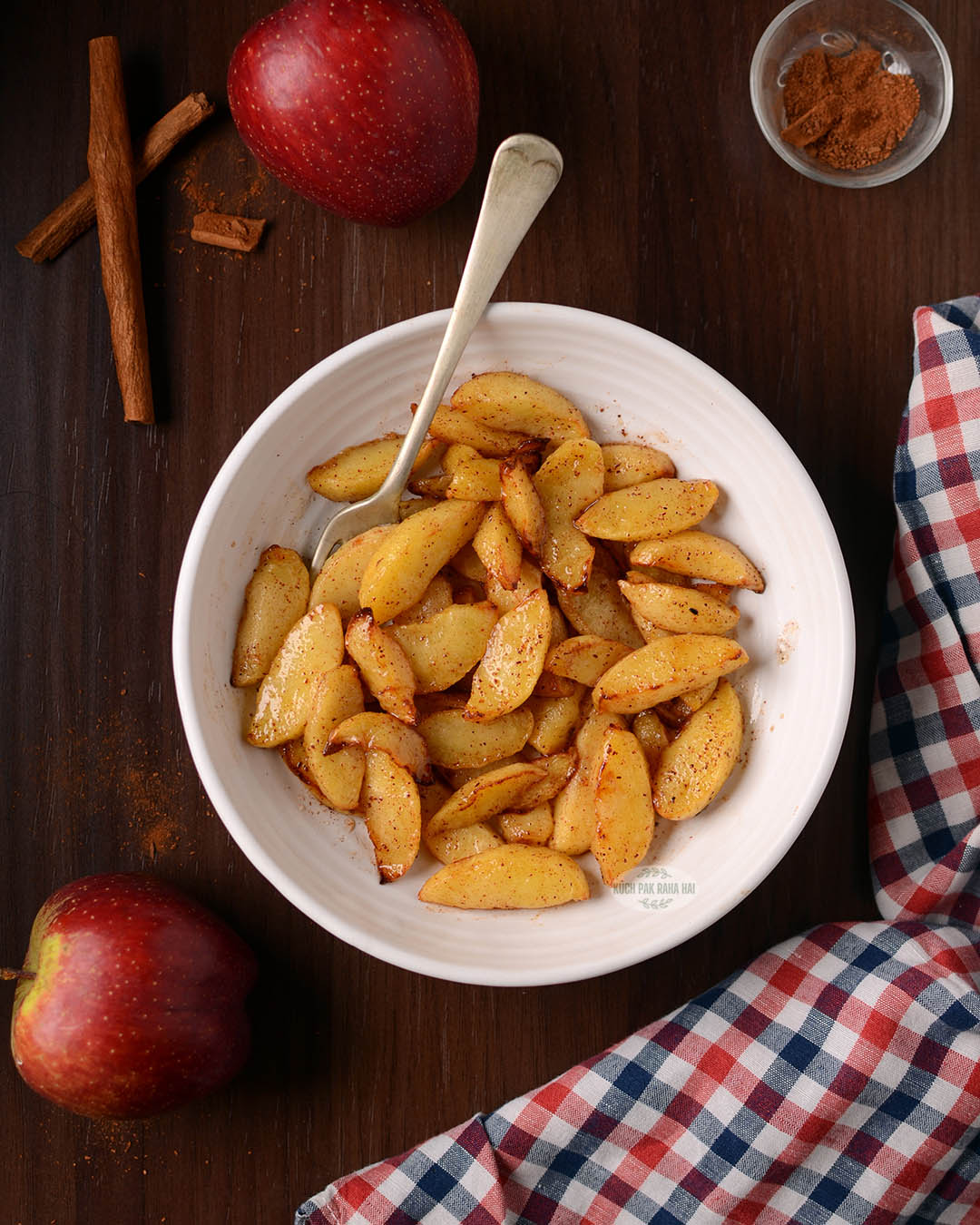 If you try making apples in fryer using this recipe & share pics on social media, then don't forget to tag on Facebook, Instagram or use #kuchpakrahahai.
Let's stay connected
Facebook | Instagram | Pinterest| Youtube