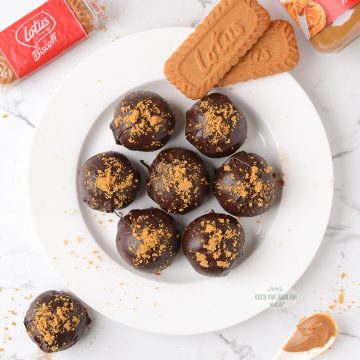 With just 4 ingredients, make these sinfully decadent fudgy biscoff truffles at home. It is an ultimate easy no bake dessert recipe, vegetarian and great for parties, potlucks or as homemade edible gifts.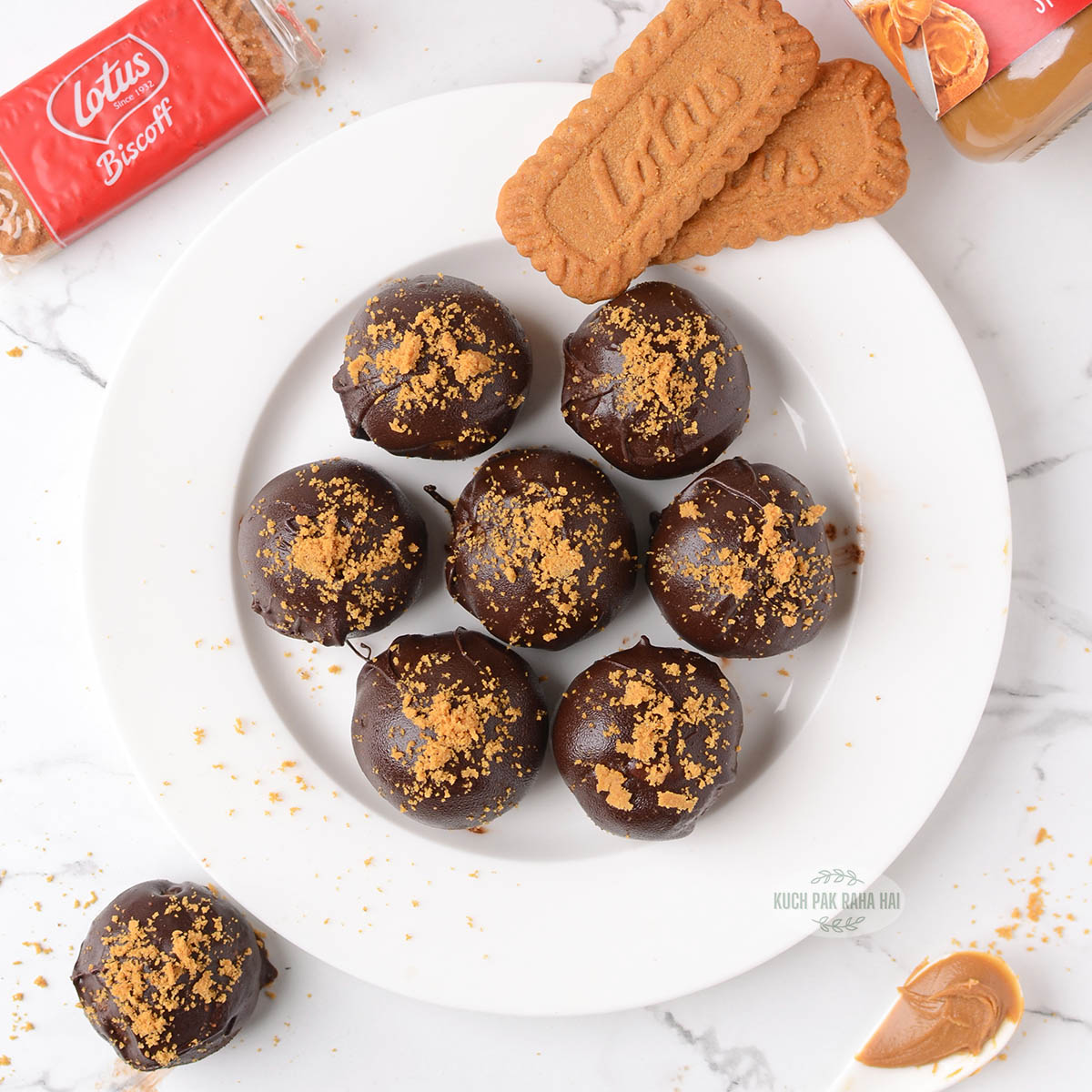 The cookie butter truffles are made with biscoff spread & cookies, has crunchy chocolate shell and taste absolutely amazing. They are:
Vegetarian
Simple no-bake dessert
Made with just 4 ingredients (no condensed milk used)
Perfect for edible gift hamper or baskets on occasions like Christmas, Thanksgiving or Diwali
These truffle balls or biscoff bites are also great addition to dessert tables or kids birthday parties. You can make them in advance and store in fridge till the time of serving.
This year I have made these cookie truffles for Raksha bandhan and everyone in my family loved them so much that I decided to put up the recipe on the blog also.
Biscoff Truffles Ingredients:
Biscoff Spread: Also known as as cookie butter or speculoos spread, it gives the truffles creamy cinnamony caramel flavor. As it is already sweetened, we won't be adding more sugar in the recipe.
Cream Cheese: Cream cheese in these truffles balances the sweetness from cookies & spread with its subtle saltiness and adds richness.
Biscoff Cookies: Lotus biscoff cookies or biscuits are quite popular because of their crunchiness and deep caramel flavour. In these truffles, they intensify the biscoff flavour and also acts as a binding agent.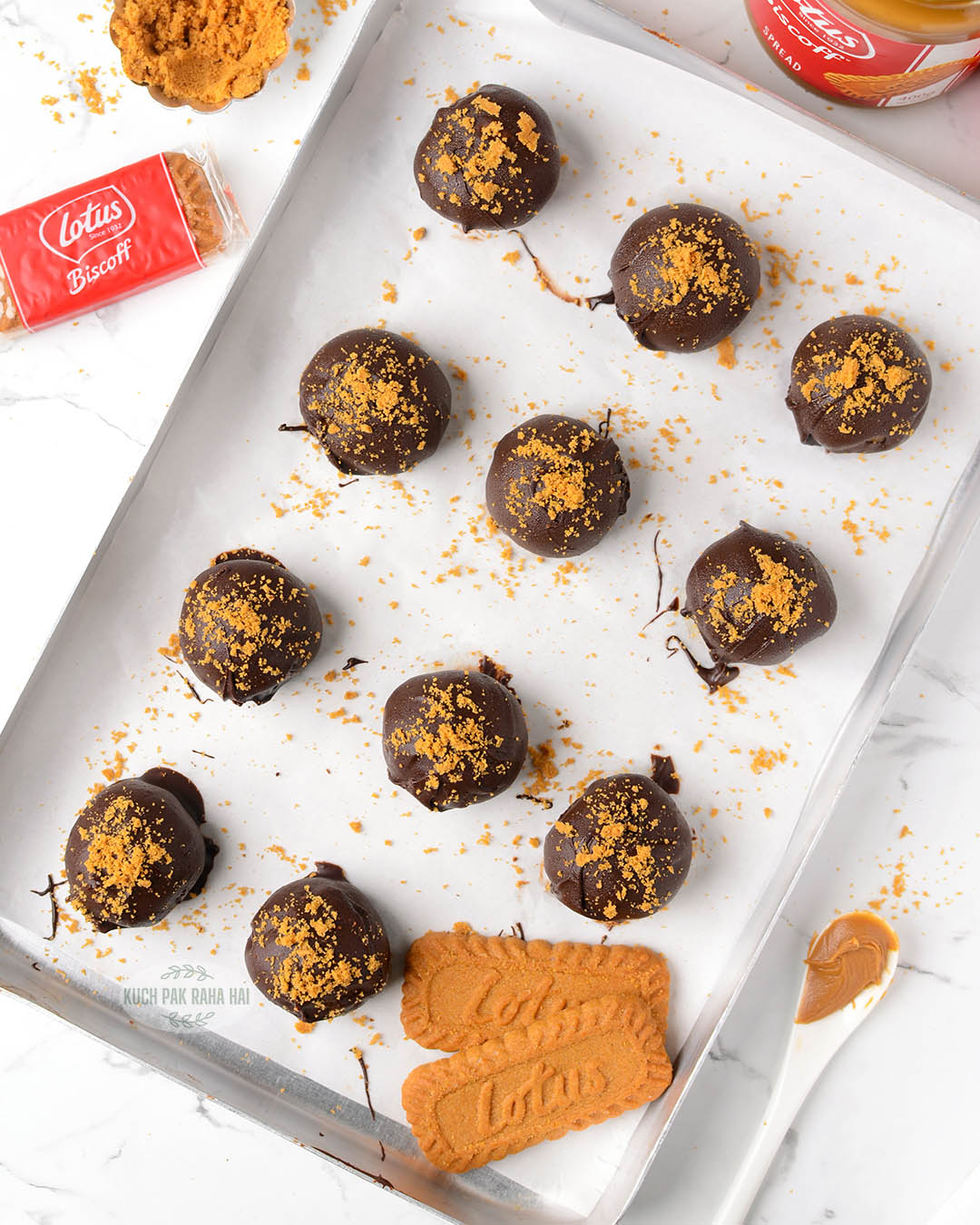 Chocolate: I have used 55% dark chocolate to dip the truffles. I personally like the combination of dark chocolate & biscoff in this recipe. You can use milk chocolate or white chocolate also.
Salt: A pinch of salt in truffles enhances the flavour.
Truffle Variations:
Nuts: To add crunchy element, you can place a roasted hazelnut in centre of each truffle or add chopped nuts in the truffle mixture.
Sea salt: A little sprinkle of sea salt compliments the biscoff & chocolate flavour.
Cinnamon: In winters, you can amplify the warm flavour of biscoff by adding 1/4 tsp of cinnamon powder.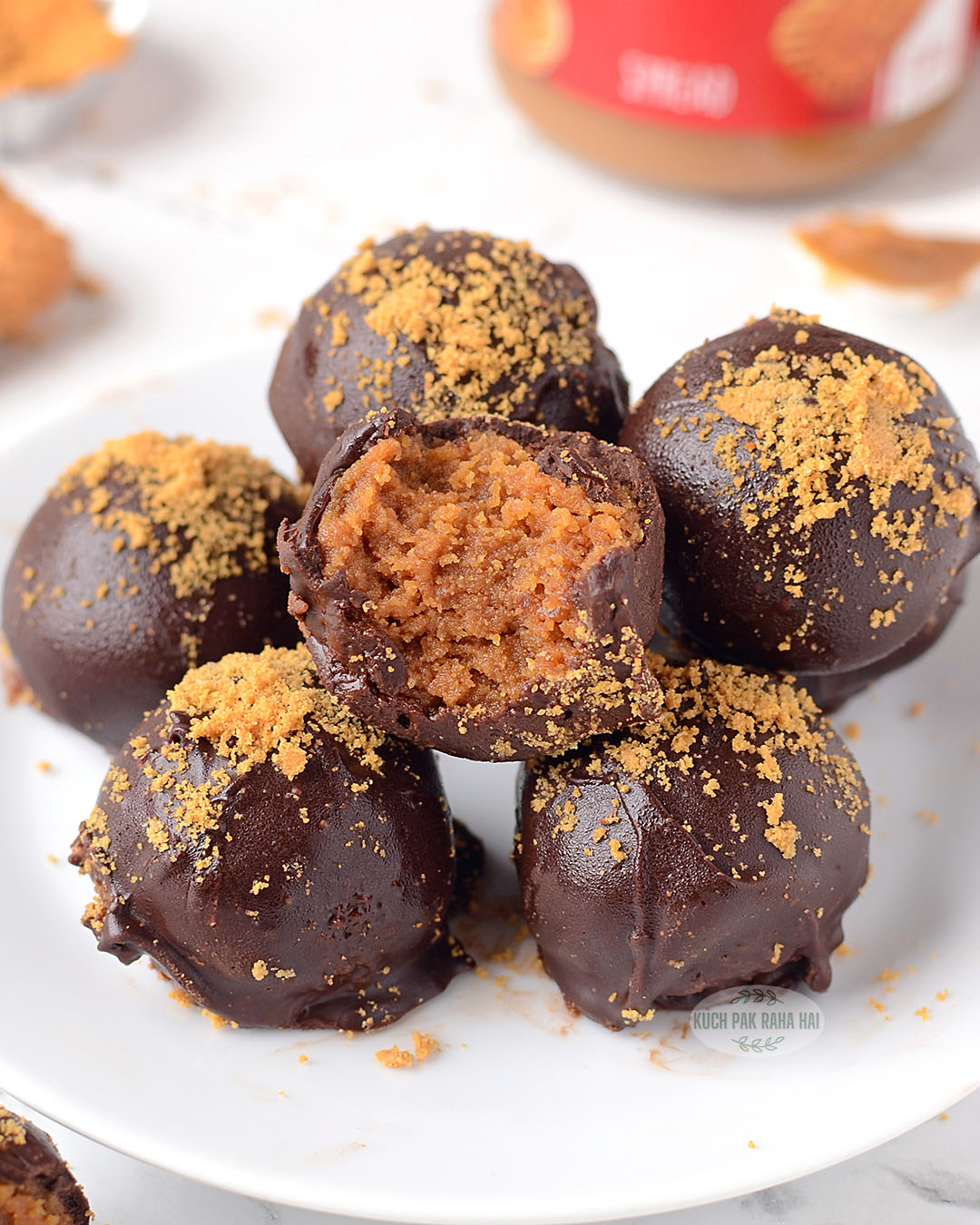 To decorate these biscoff truffles, I have sprinkled some cookie crumbs on top. You can also drizzle some cookie spread after melting it in microwave for 10-15 seconds to get flowing consistency. For more festive look, you can decorate their tops with edible gold foil.
More no-bake desserts recipes:
Ingredients:
Biscoff Spread- 1/2 cup (150 gms)
Biscoff Cookies- 10
Cream Cheese- 1/4 cup (60 gms)
Chocolate- 120 grams (4 oz)
Salt- A pinch (optional)
Note:
The above quantities yield 10-11 truffle pieces. You can double or triple the recipe for more pieces.
Measuring Cup used 1 cup = 250 ml
Directions:
Step 1:
Transfer biscoff cookies in a grinder jar and grind in pulses till you get fine crumb texture. Keep 2 tbsp of this crumb aside (for sprinkling in the end).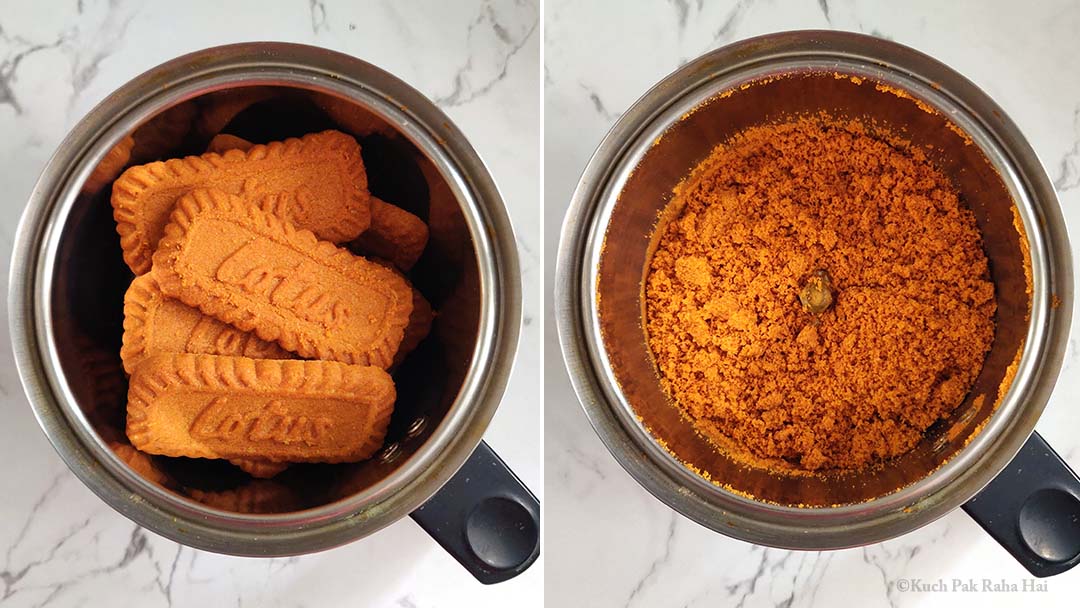 Step 2:
In a bowl add biscoff cookie spread, cream cheese and cookie crumbs. The spread & cream cheese should be at room temp so that they can be mixed easily. Mix using a spatula or spoon. Chill in fridge for 10-15 minutes.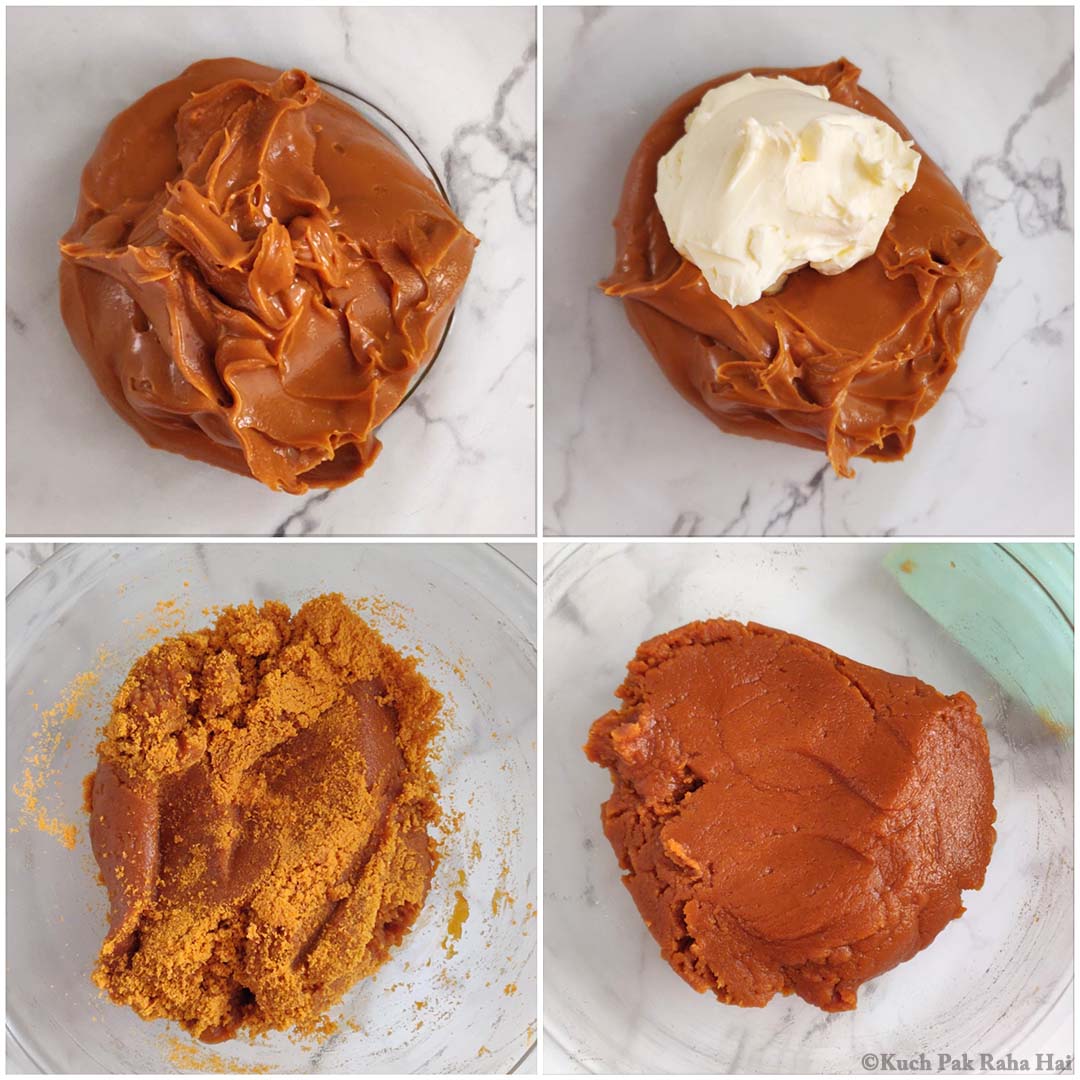 Step 3:
Bring the bowl out & scoop a small portion out of it and roll into lemon size ball. Do this for remaining mixture. Transfer these balls on a parchment paper and let them chill again for 40-60 minutes till they harden up.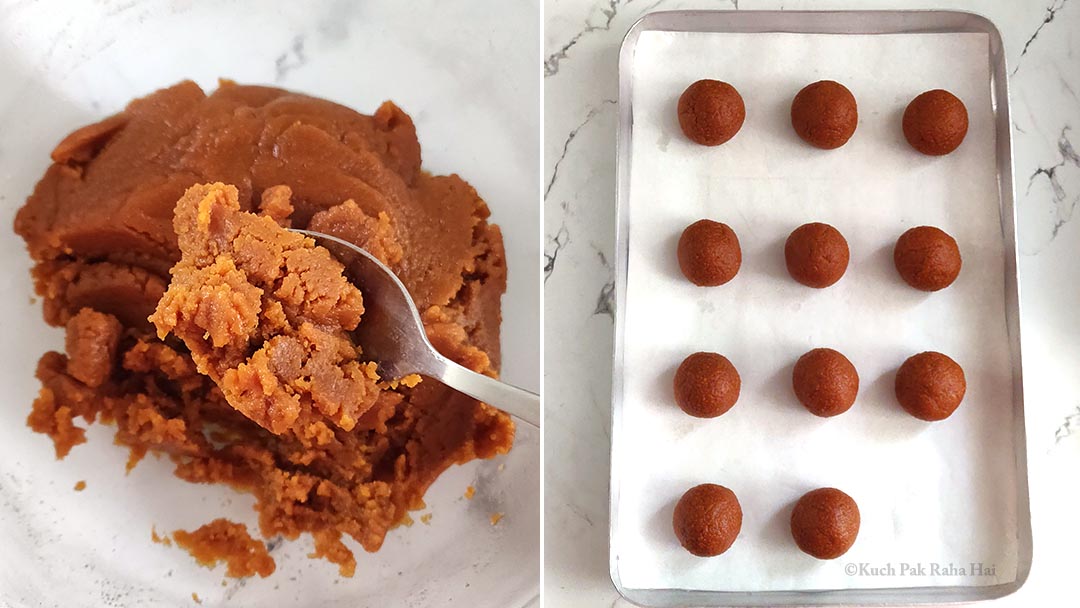 Step 4:
Chop the chocolate and transfer it in heat microwave safe bowl. Microwave at 70% power for 30 seconds. Repeat this 2-3 times till chocolate melts completely. Check each time as chocolate can sometimes burn quickly.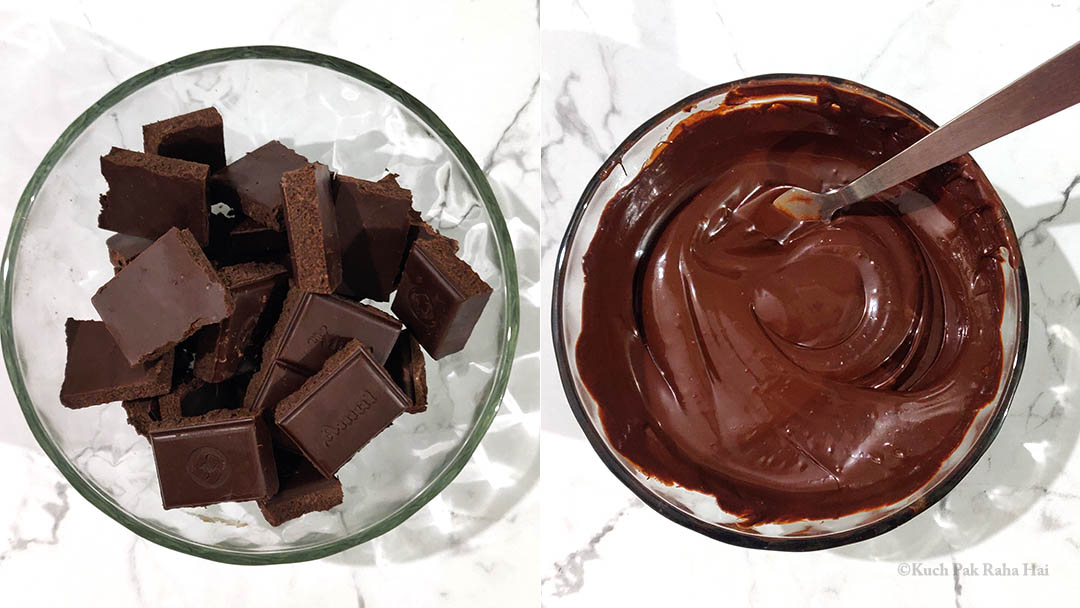 Step 5:
Bring out the truffle balls from fridge. Dip them in melted chocolate one by one & lift with a fork to drip the excess chocolate. Transfer on parchment paper. Sprinkle some cookie crumb over it.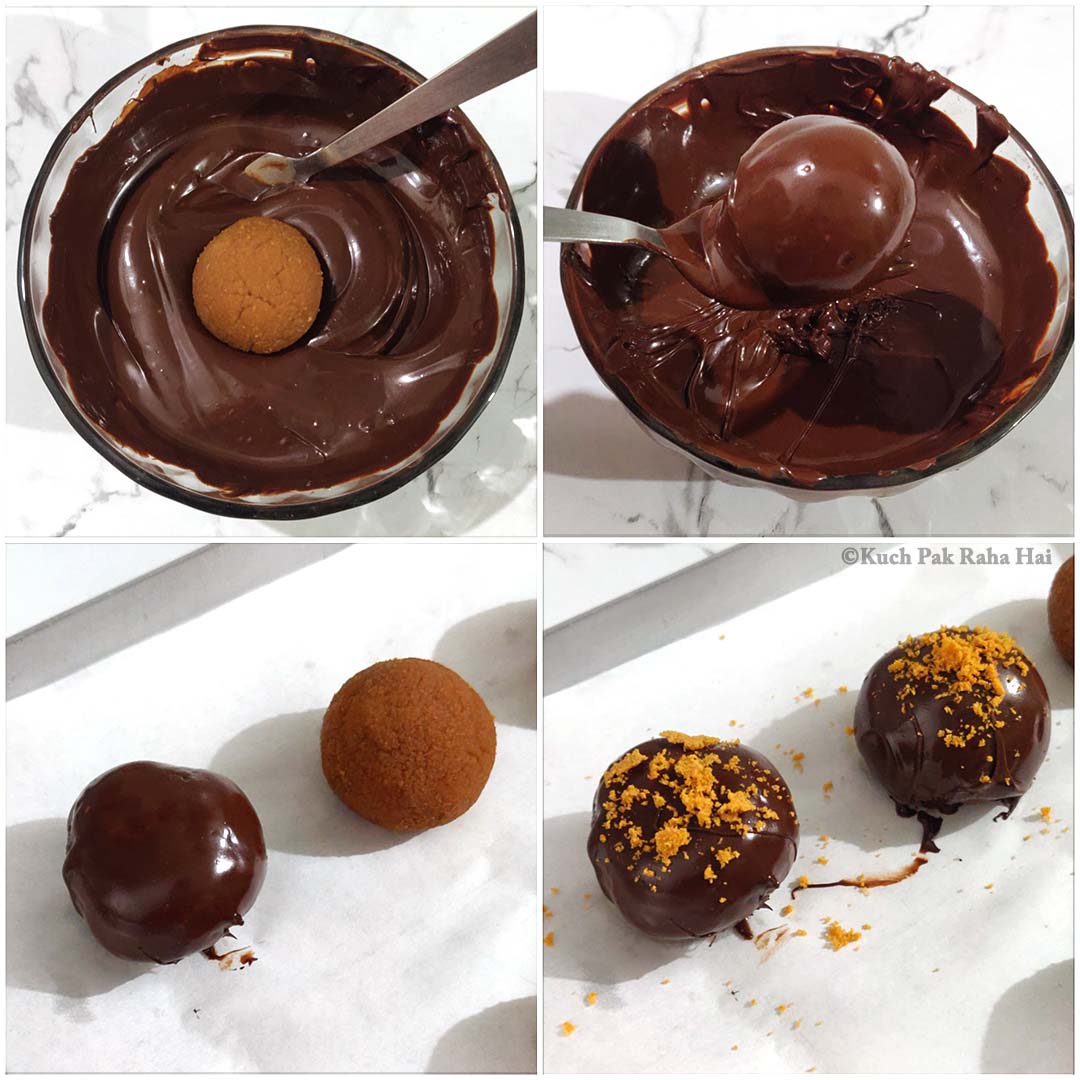 Repeat this for all truffle balls and then transfer the tray in fridge (not freezer) for 15-20 minutes till the chocolate layer is set completely.
Enjoy these sinfully yummy chocolate cookie butter truffles.
How to store Biscoff cookie truffles?
As these truffles have cream cheese, it is best to store them in an airtight container in fridge at all times. This way they can easily be stored for 4-5 days.
Pin for later: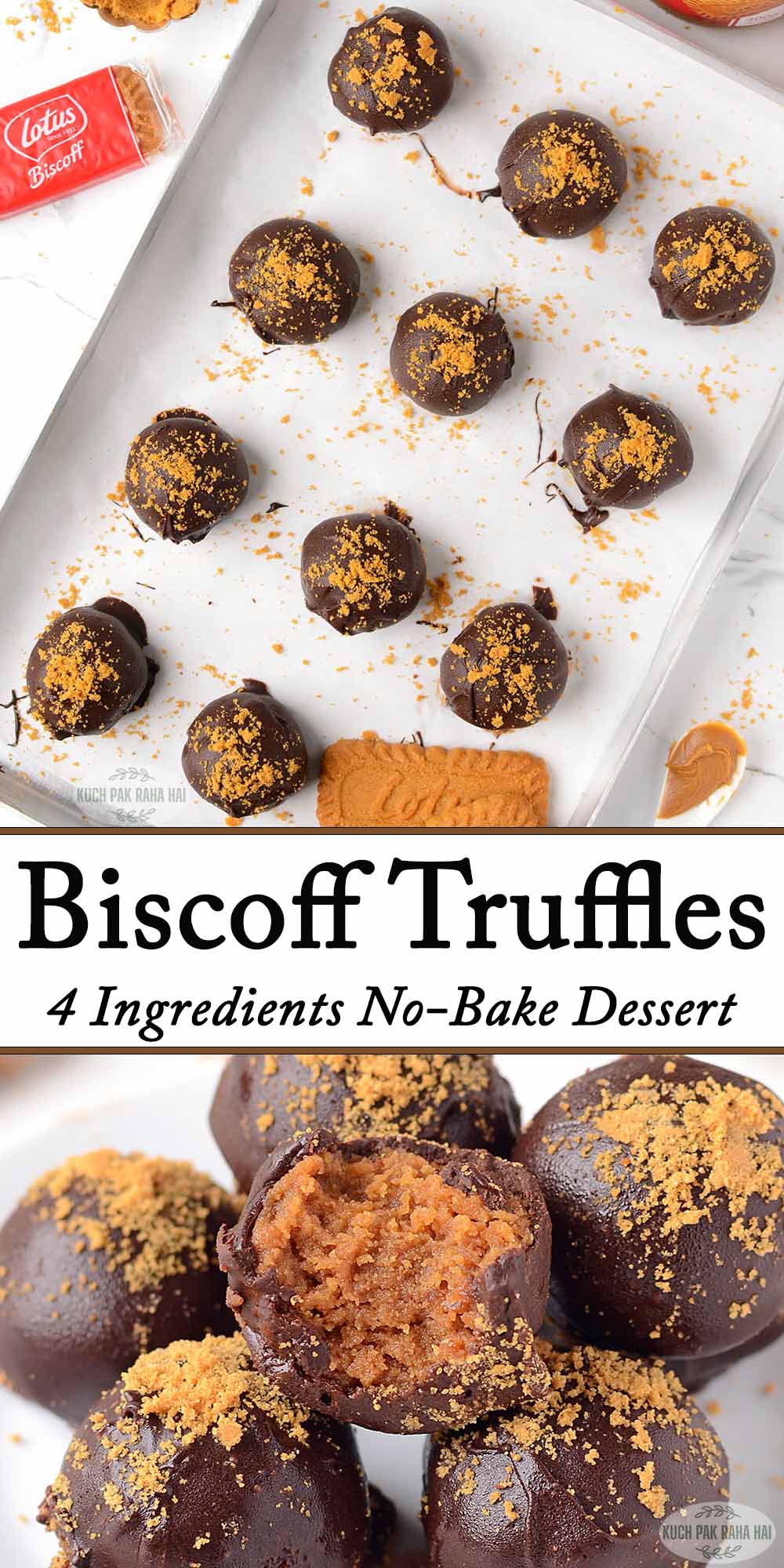 Additional Tips:
1. In winters sometimes the cookie butter becomes too thick and difficult to mix. You can microwave it for 10-15 seconds to soften it up. Do it before you start mixing it with cream cheese.
2. To make all truffles of same size, you can use kitchen weighing scale to divide truffle mixture into equal sized portions.
3. If you don't want to dip the truffles in chocolate, then also its fine. The other option is to simply roll them in finely ground biscoff cookie crumbs.
4.Remember to chill the truffles in fridge & not freezer as otherwise the top chocolate layer can crack.
5. A sprinkle of sea salt also tastes great on these truffles. Along with cookie crum you can srpinkle little bit sea salt on top. If you plan to sprinkle salt on top then don't add it in the filling.
If you try this lotus biscoff truffles recipe & share pics on social media, then don't forget to tag on Facebook, Instagram or use #kuchpakrahahai.
Let's stay connected
Facebook | Instagram | Pinterest| Youtube