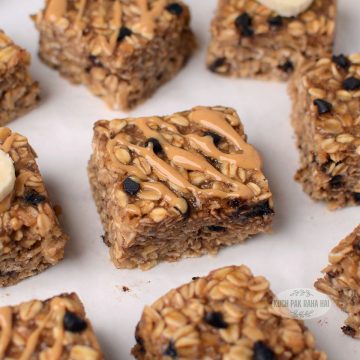 Soft chewy delicious banana oatmeal bars with goodness of oats, peanut butter, chia seeds, banana and milk are perfect for breakfast or snack. They are so simple, quick to make, requires just one bowl and few basic ingredients from your pantry.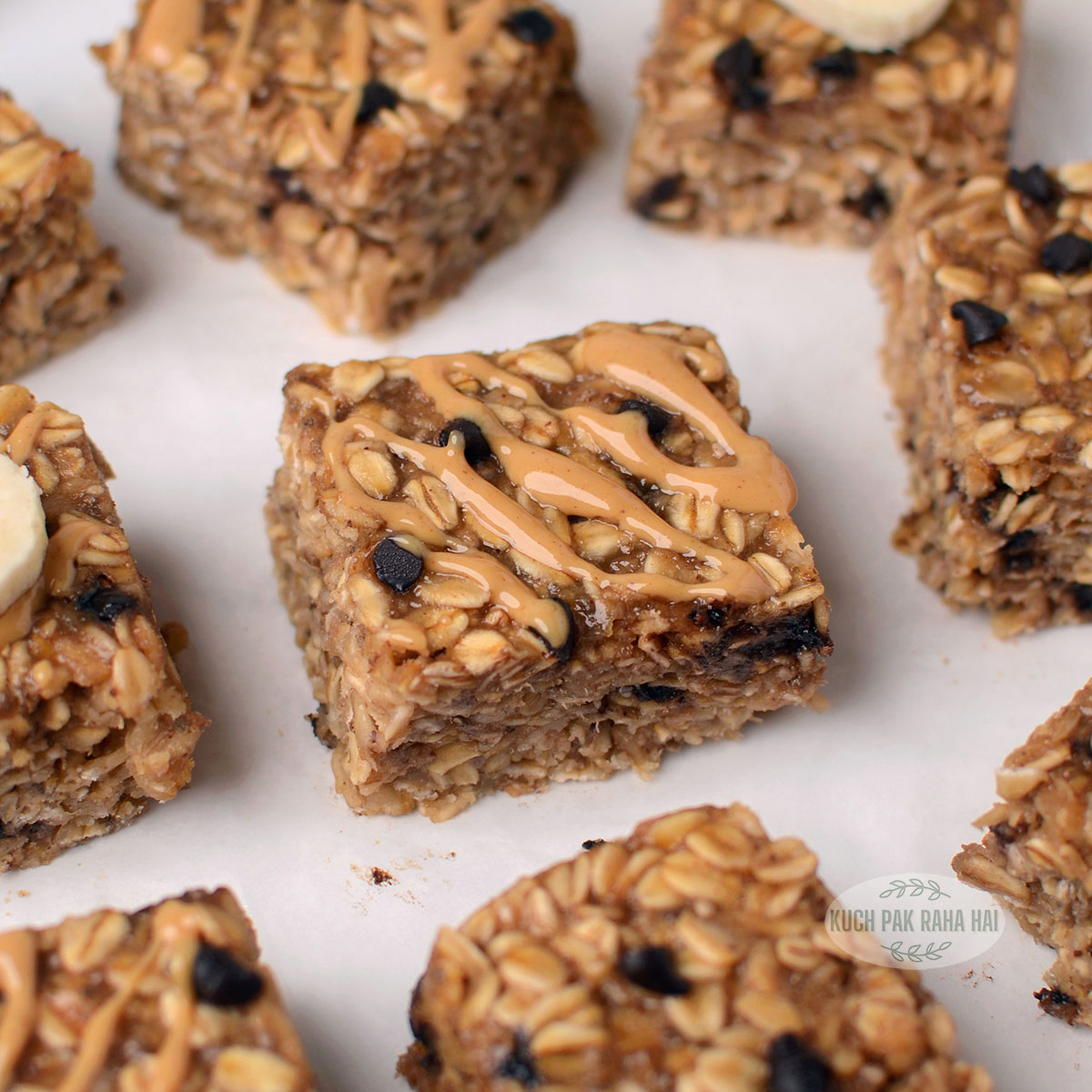 This soft baked oatmeal breakfast bars recipe has no butter, no oil, no leavening agents like baking powder or baking soda and made without eggs. It is:
Vegetarian
Vegan
Gluten free
Refined sugar free
Healthy
It is also kids friendly and you can easily pack it in their lunch box as snack. Topped up with some dark chocolate chips or chopped chocolate pieces these breakfast oat bars can also be enjoyed as healthy dessert.
Oats are known to be good for health as they are rich in fibre, protein, vitamin and minerals like zinc, iron, copper etc. The best part about these peanut butter banana oat bars is that you can calculate the portion size you want to include in your diet and cut bars (or squares) accordingly.
For example, I have made this recipe with 200 gms (7 oz) oats which are cut into 9 square of equal size which means each bar has roughly 22 gms of oats. The recipe is so easy to make and you can even make it a night before for breakfast next day.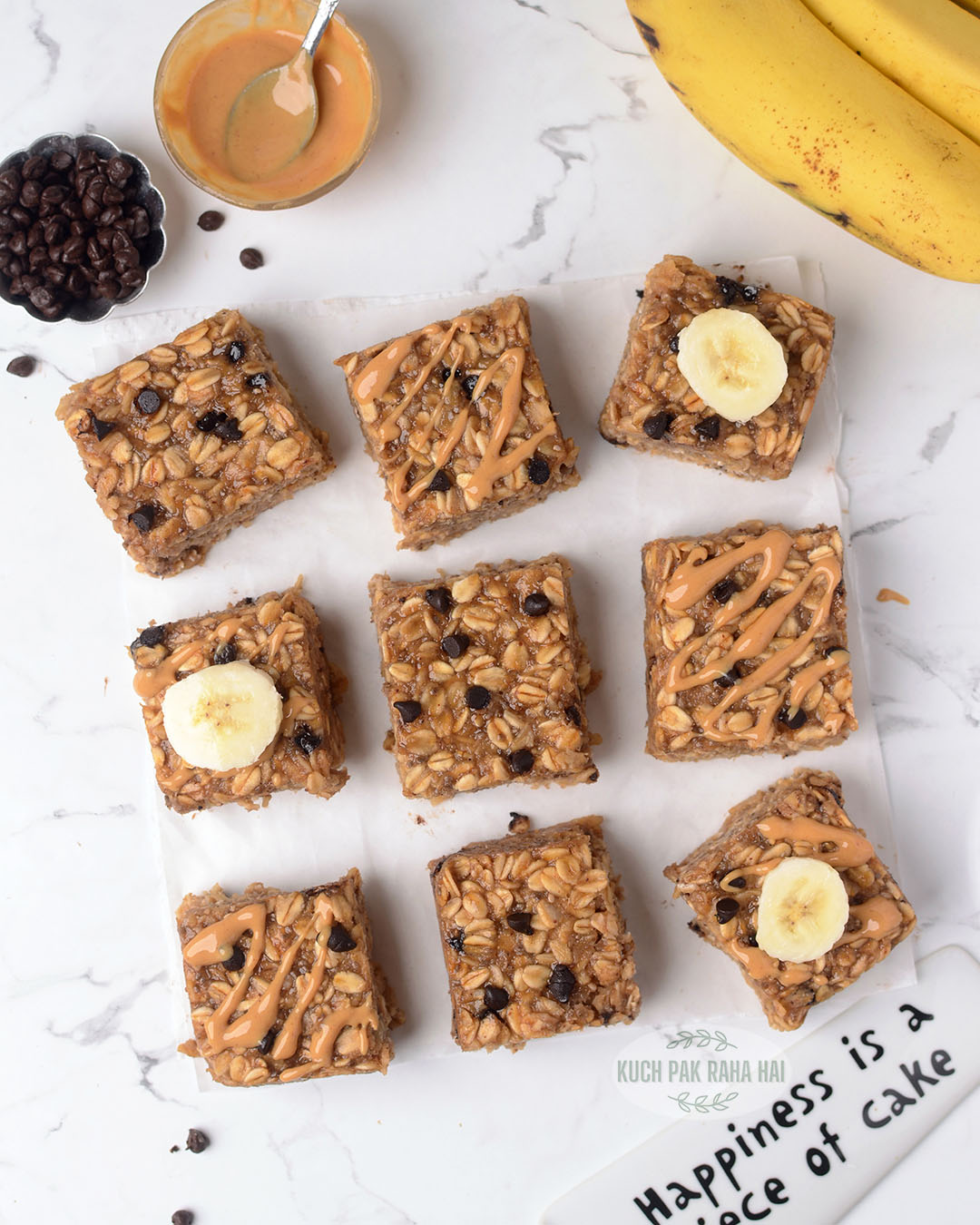 Ingredients for Banana Oat Bars:
Rolled Oats: Rolled oats, also known as old fashioned oats, have been used in this oatmeal bar recipe. They give perfect soft chewy texture to the these bars. Instant oats or steel cut oats may not give you the same result.
Banana: Always use ripe bananas to make this recipe as they are naturally more sweeter. If you are saving some overripe banana for banana bread, then those can also be used here.
Milk: You can use regular milk or plant based milk like coconut, almond, soy, oats milk to make vegan oatmeal bars.
Peanut Butter: I have used unsalted unsweetened creamy peanut butter. If you are using sweetened or salted variety, then reduce the amount of sweetener or salt used in the recipe. Instead of peanut butter you can also use almond butter.
Sweetener: Honey or maple syrup make the oatmeal bars sweet and moist. You can alter its quantity little bit as per taste.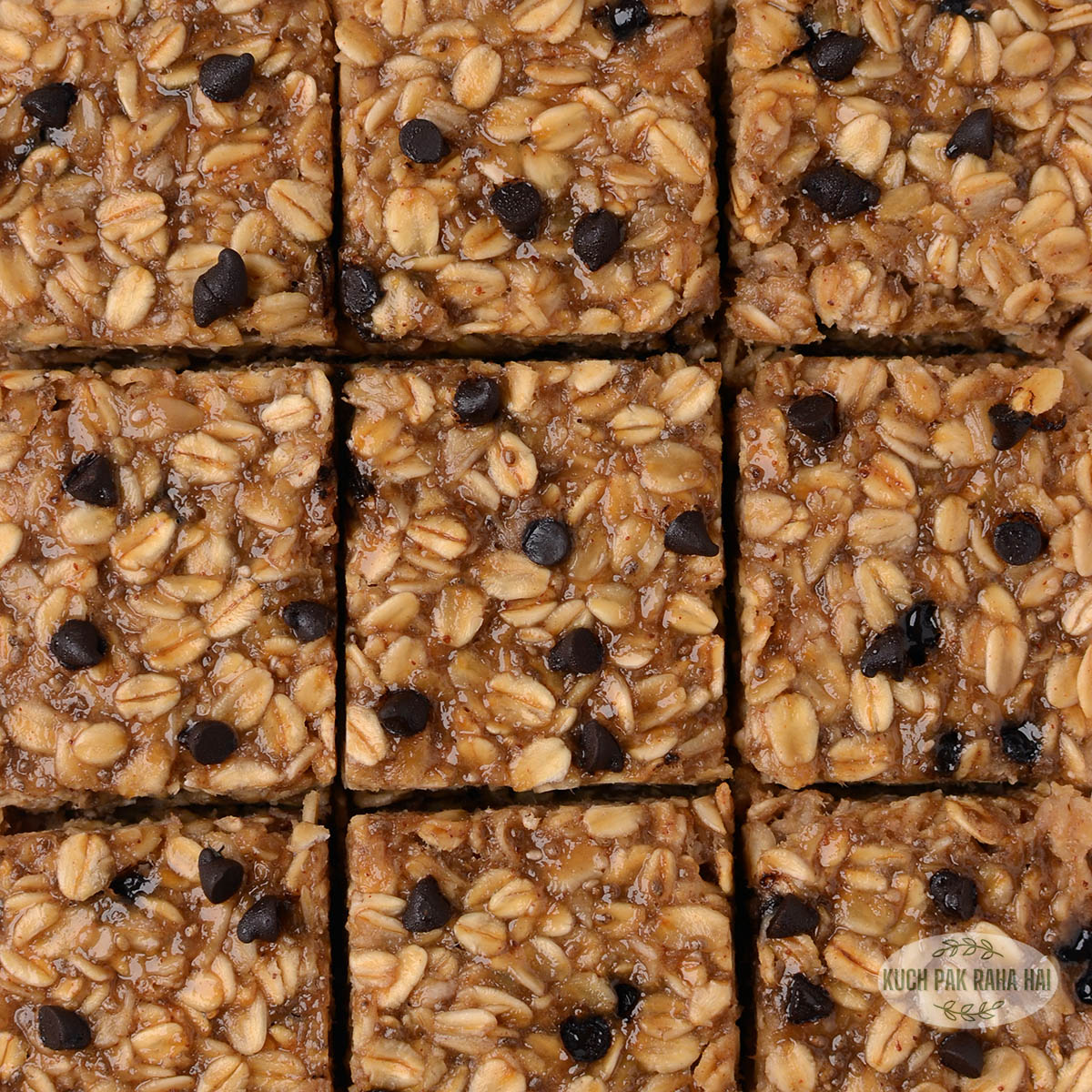 Chocolate Chips: I love to add some dark chocolate chips or chopped dark chocolate pieces in this recipe. If you find dark chocolate bitter then you can use milk chocolate or skip it altogether.
Chia seeds: Chia seeds on coming in contact with liquids form gel like structure and helps in binding the oats. Instead of chia seeds you can even used powdered flaxseeds (flaxseed meal).
Oatmeal Bar Variations:
You can do endless variations with these banana oatmeal breakfast bars by adding other ingredients like:
Chopped dates
Cocoa Powder
Coconut flakes
Dried berries like blackberries, strawberries etc
Roasted mixed seeds like sunflower, pumpkin or sessame
Raisins (golden, black or sultanas)
Chopped Nuts like almond, walnuts, hazelnuts, pecans etc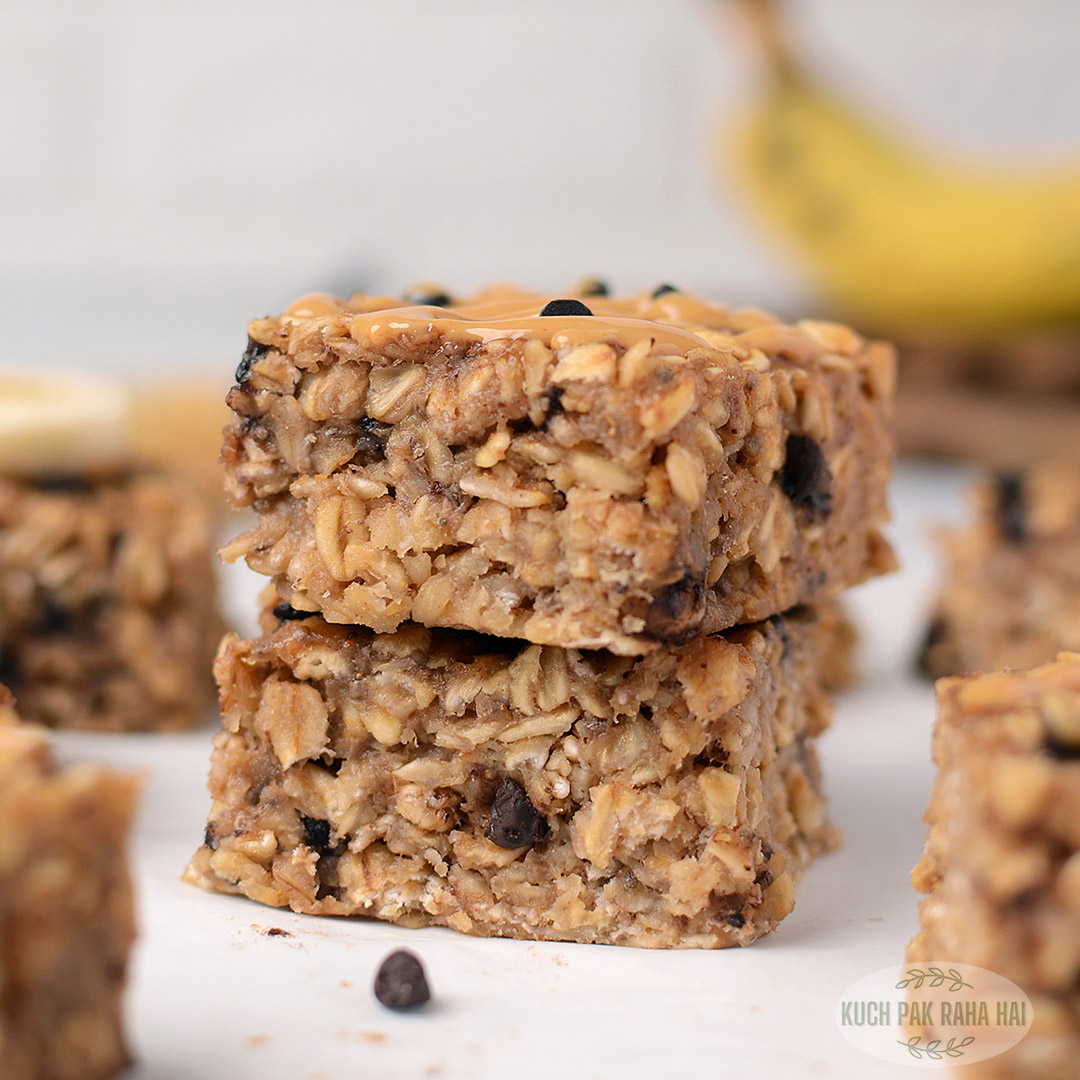 More breakfast recipes with oats:
Ingredients:
Ripe Banana (medium)*-2 + 1/2
Milk / Plant based milk- 1/3 cup
Creamy Peanut Butter – 1/4 cup (

unsweetened & unsalted

)
Honey / Maple syrup- 1/4 cup (to taste)
Chia seeds- 1 tbsp
Rolled Oats- 2 cups (200 gms)
Salt- 1/2 tsp
Vanilla Extract – 1 tsp
Cinnamon Powder- 1/2 tsp
Dark Chocolate Chips- 3 tbsp
For topping: (optional)
Banana Slices
Peanut Butter
Notes:
*equal to 3/4 cup mash banana (177 gms)
Measuring cup used 1 cup = 250 ml
Directions:
Step 1:
Peel bananas and transfer them in a big mixing bowl. Mash them well using a fork or immersion blender.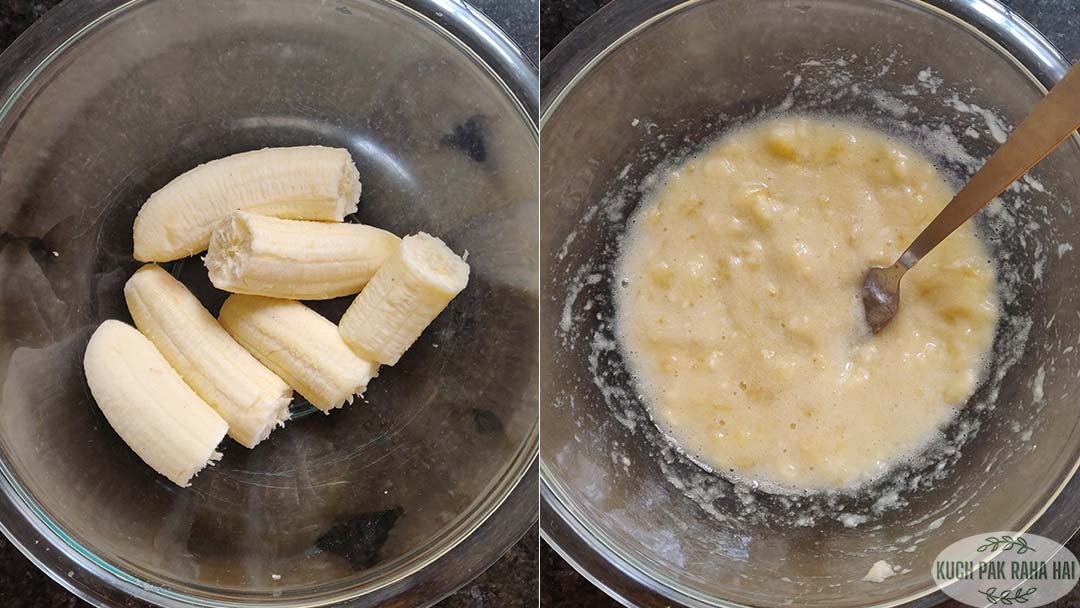 Step 2:
Add milk, peanut butter, honey (or maple syrup), chia seeds, salt, vanilla extract and cinnamon powder to mashed bananas. Whisk well to mix all the ingredients.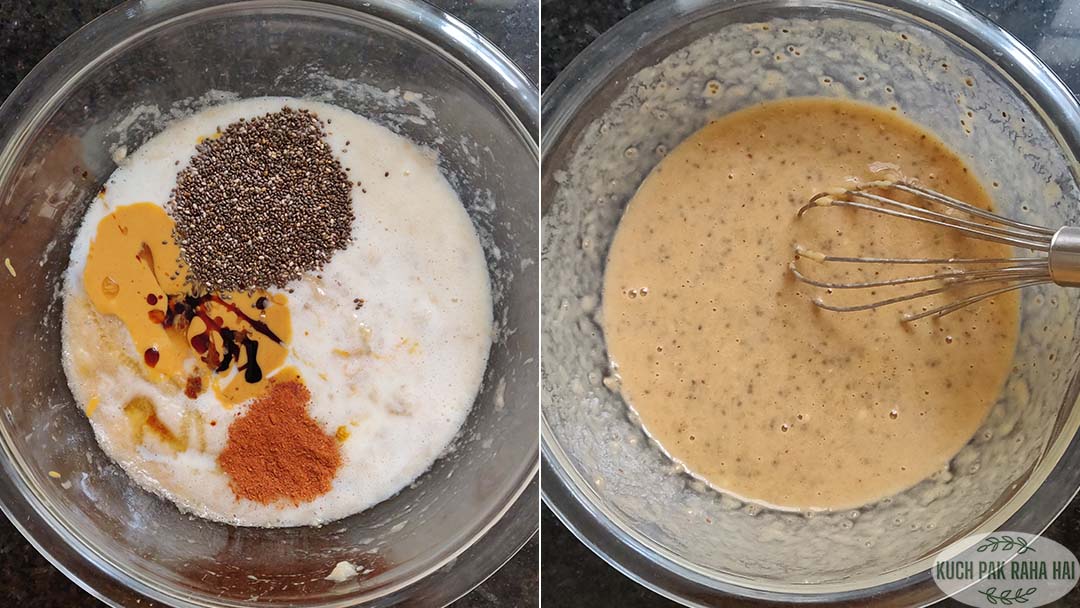 Step 3:
Add rolled oats to the above bowl and fold using a spatula. Add chocolate chips (saving some for top) and mix once again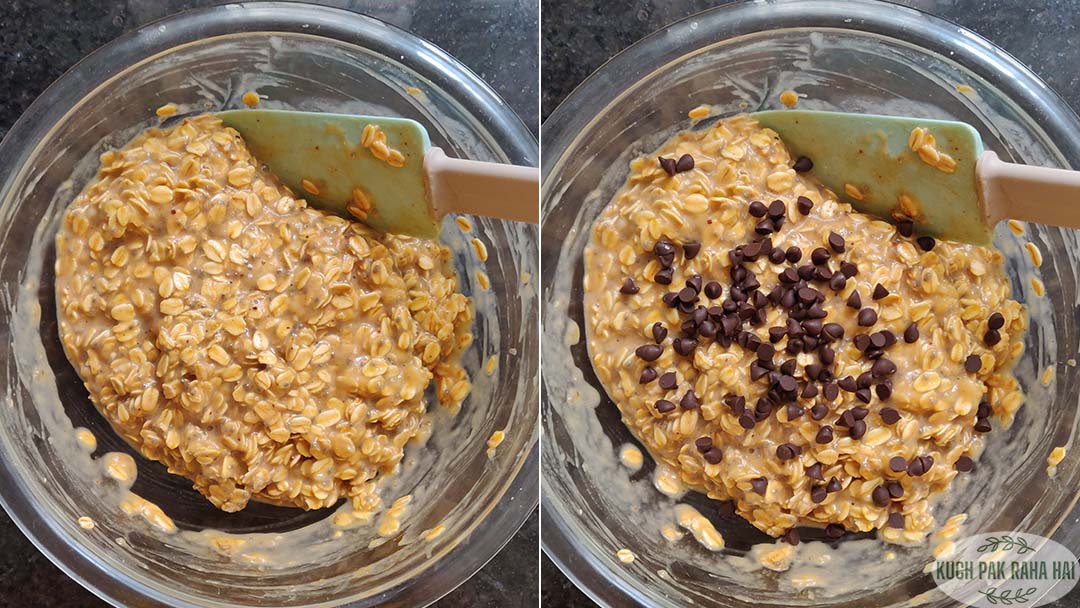 Step 4:
Set the oven for preheating to 180°C (356°F). Line a 6″ square baking tin with parchment paper (leave extra on edges to lift later). Brush or spray some oil on it. Transfer the oatmeal mixture in it and level it with back of spoon or silicon spatula. Add remaining chocolate chips on top.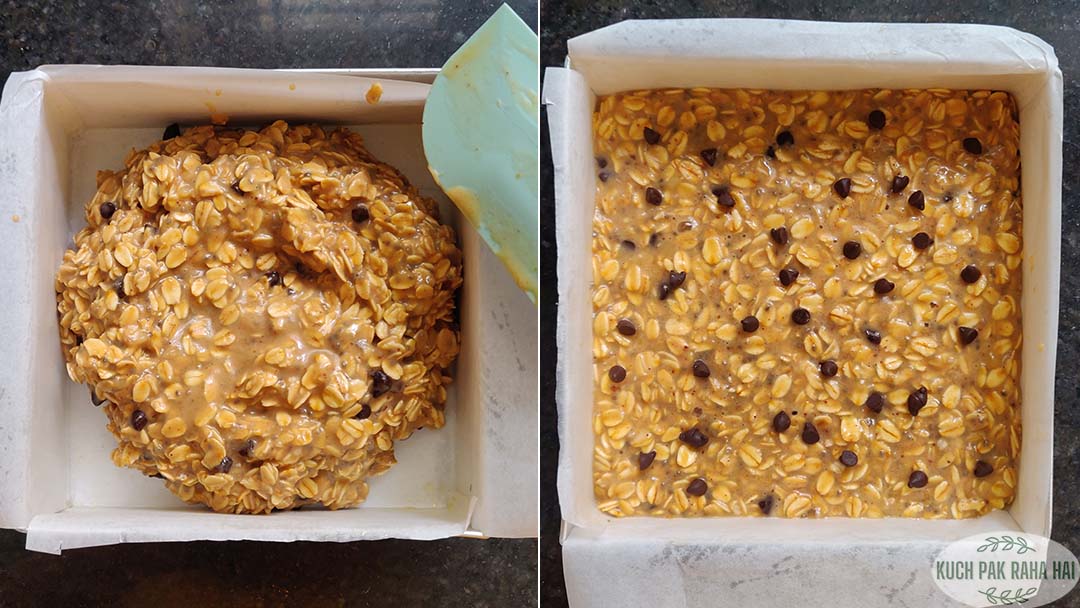 Step 5:
Bake oatmeal in preheated oven at 180°C (356°F) for 25 minutes. Bring the oatmeal out of oven and let it cool down in tin for 20 minutes (helps in cutting neat slices). Lift it with the help of parchment paper. Cut it into squares or rectangle bars.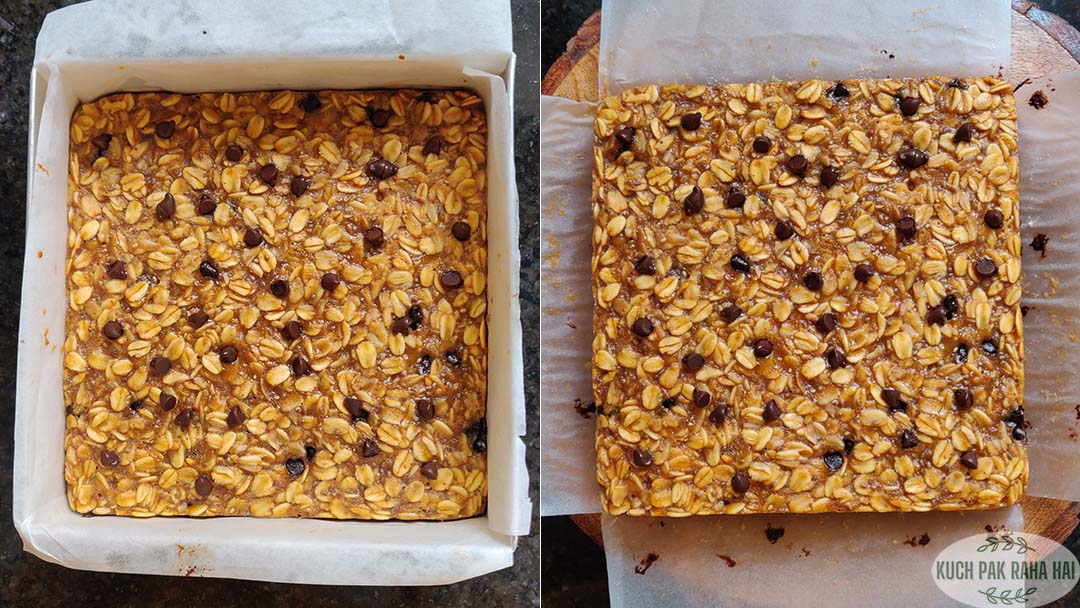 You can drizzle some peanut butter, honey (or maple syrup), chocolate sauce or add more banana slices over these warm yummy banana oatmeal bars. Enjoy with tea, coffee or milk.
Tips:
Microwave 1-2 tbsp of peanut butter in a microwave safe bowl to make it pourable.
To get neatly cut slices, you can chill the oatmeal in fridge before cutting.
How to store breakfast oatmeal bars?
You can store them in an airtight container in fridge easily for 2-3 days. If you are stacking them in layers, keep a parchment paper between them to avoid them sticking to one another. Enjoy them straight out of fridge or warm them in microwave for 10-15 seconds before serving.
Can I freeze these banana oat bars?
Yes they can easily be frozen. After cutting them into squares, transfer them in a resealable freezer safe bag in a single layer and freeze. I have tested freezing it for 2 weeks. Whenever you want to have a bar, bring it out of freezer and reheat for 30-50 seconds.
Pin for later: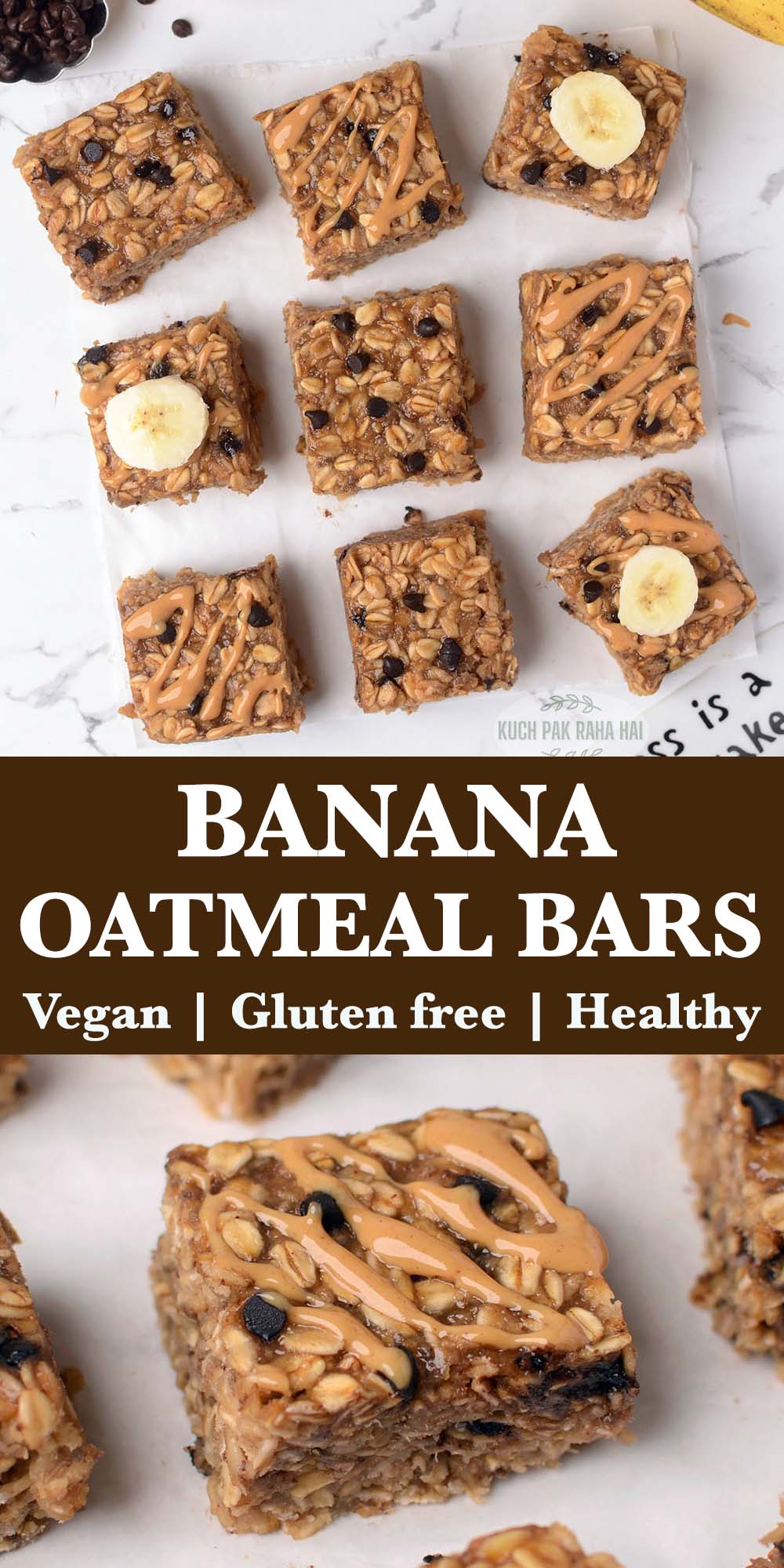 Some more banana recipes you would like to try:
If you try this peanut butter banana oatmeal bars recipe & share pics on social media, then don't forget to tag on Facebook, Instagram or use #kuchpakrahahai.
Let's stay connected
Facebook | Instagram | Pinterest| Youtube